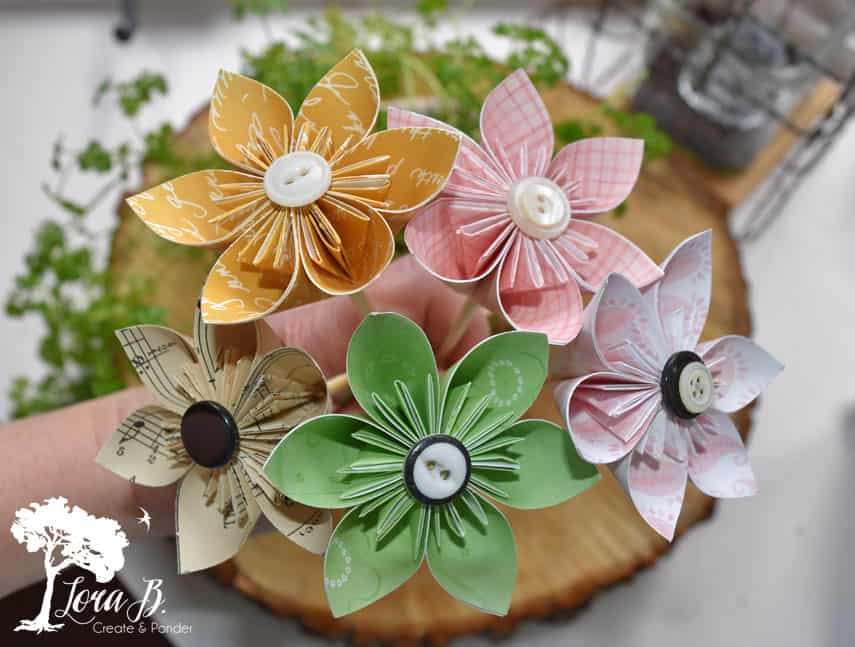 Creating with paper can take us back to our elementary years, when our days could be filled with crayons, paint and no time restraints! This little creative project can bring back that type of relaxation, whether you make these paper flowers with a friend or group of friends or by yourself. The wide variety of patterned papers available have made the decorating possibilities of these pretty flowers more fun, too. Let me show you How to Make Easy Origami Flowers (plus decorating ideas).
How to Make Easy Origami Flowers
For your convenience, this post contains affiliate links. If you make a purchase, I may receive a commission. There is no additional cost to you. My full privacy policy is here. 
Materials Needed: (click for links)
Instructions
Basic Petal Folding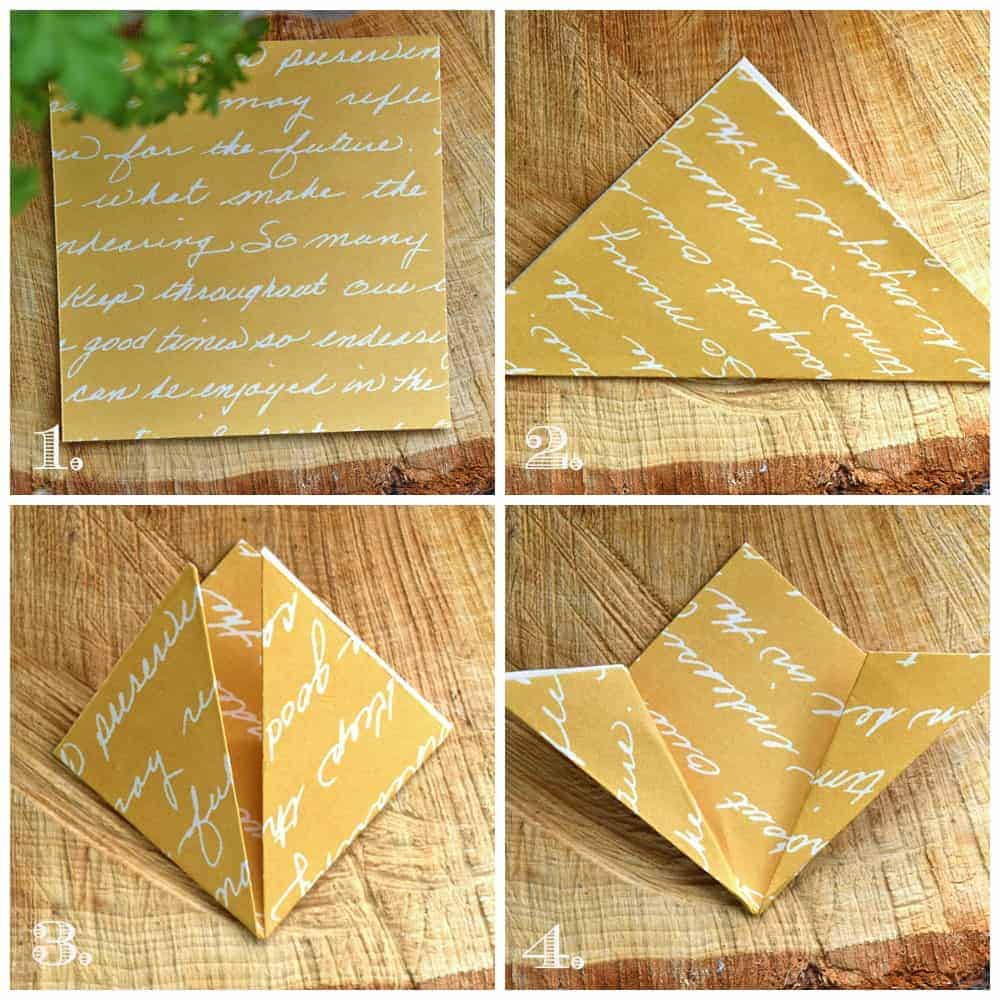 Cut paper into 3″ squares. (you can use any size square, but this is the basic sized flower) If you use a 12″ x 12″, you can maximize your paper use.
Fold your paper square diagonally, bringing the bottom point to the top. Crease fold crisply; a bone folder works well and saves your fingers if you are making a lot.
Fold left and right points to top middle.
Fold those 2 triangles back onto themselves to the left and right.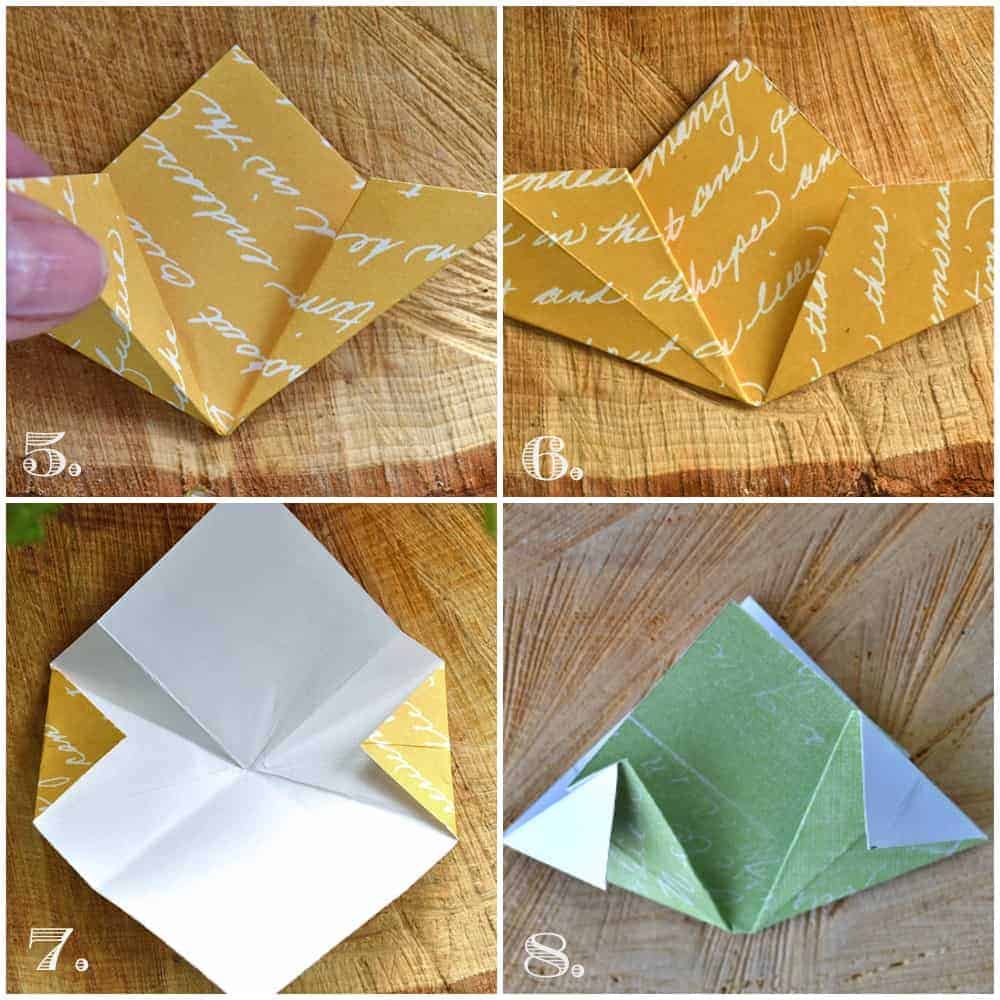 5. I call this the tulip position. Open each side of the tulip and insert your finger.
6. Press down each side. Now they look like kites.
7. You can take your pick on this step. Fold the tops of the kites to the inside like in this pic. Your finished flower will then be showing the matching paper color on the inside, or
8. Fold the kite tops to the outside, which is probably easier if you are just getting started. The middles of your flowers will then be white, or whatever the back side of your paper is. If you look at all the finished pictures of flowers in this post, you'll see the difference; see what you like better.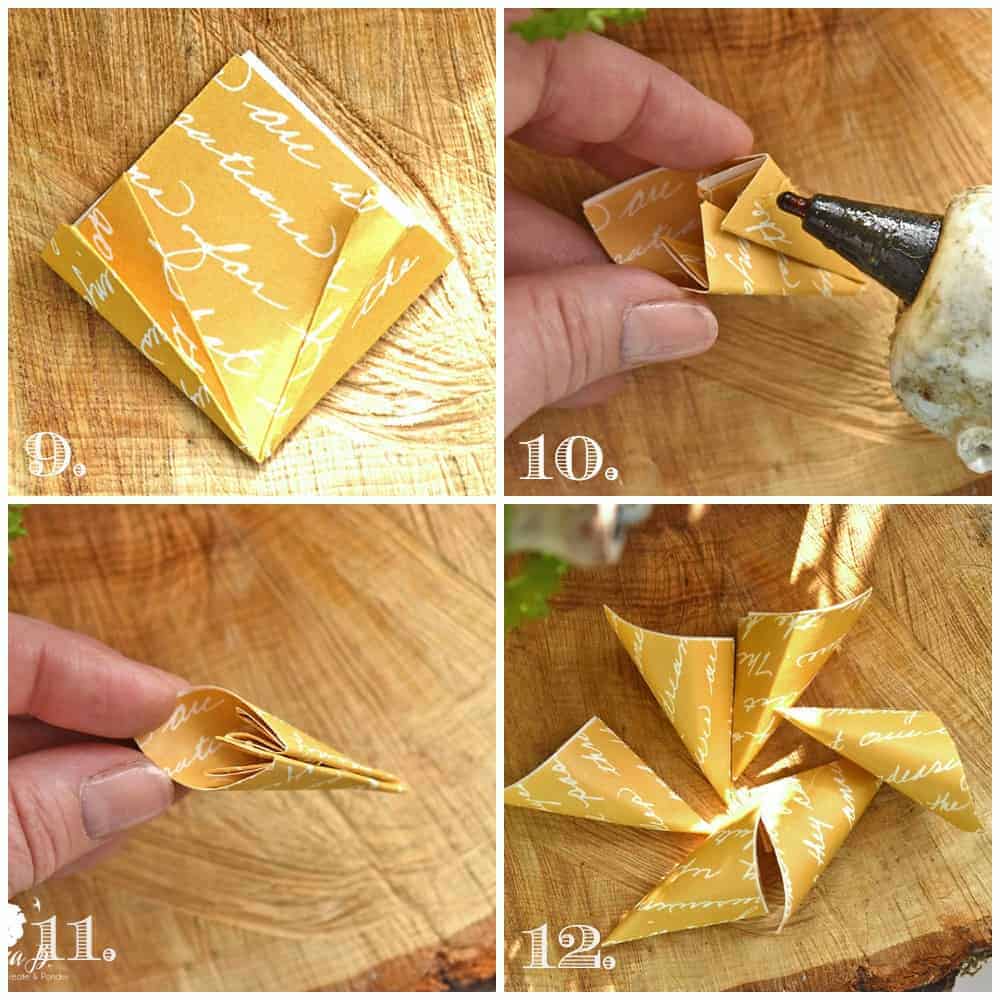 9. Now your folding is done. Make sure your hot glue gun is ready.
10. To make your petal, hot glue 2 inside triangles together and squeeze closed till dry. Do not squeeze or fold the cup part of the petal.
11. This is what your complete petal should look like.
12. To make a basic flower, you'll need 4, 5, or 6 petals.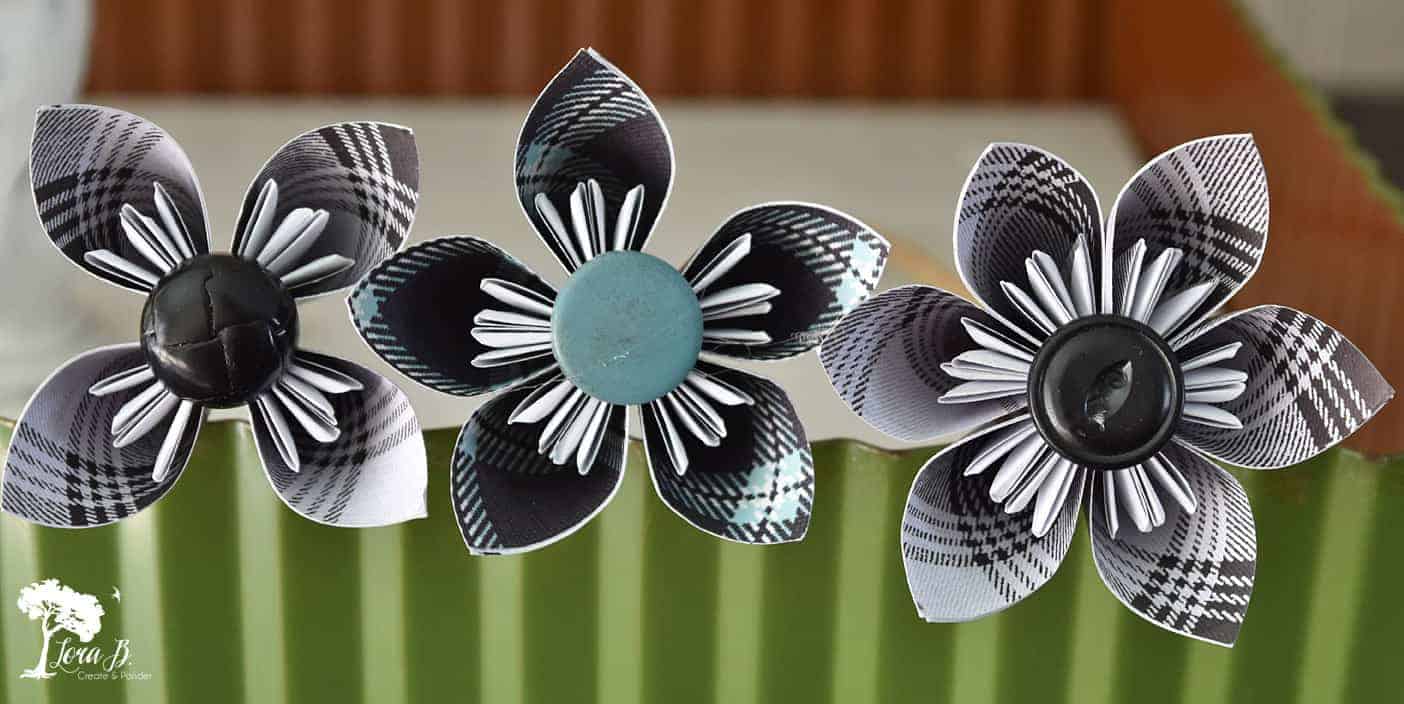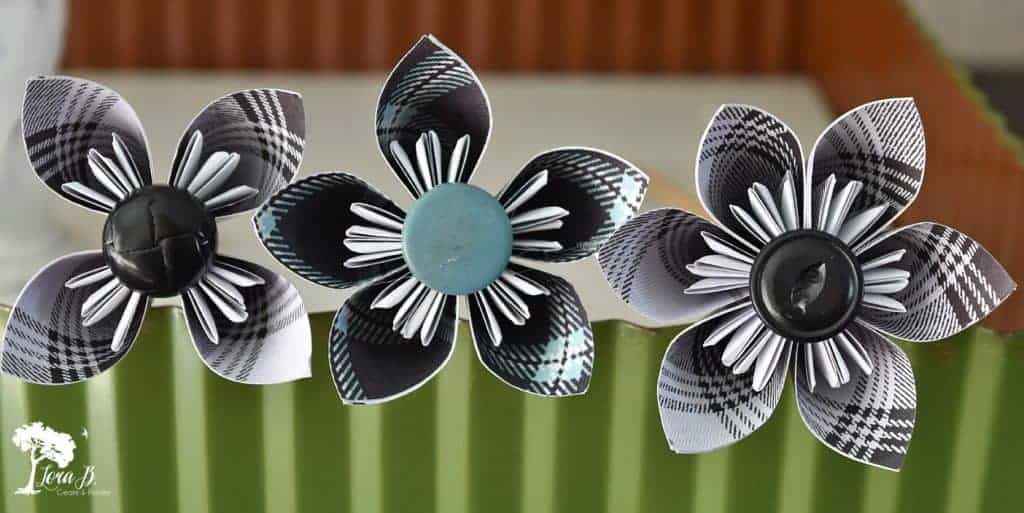 Choose a Stem for your Origami Flower
You can hot glue your flowers together by attaching the petals to each other, but I'd recommend starting by hot gluing them to some type of stick. Patterned paper straws are a fun option, since there are so many to choose from right now. You can also use a pencil or wooden skewer/dowel. You could use a stick from the yard for a more natural style, too.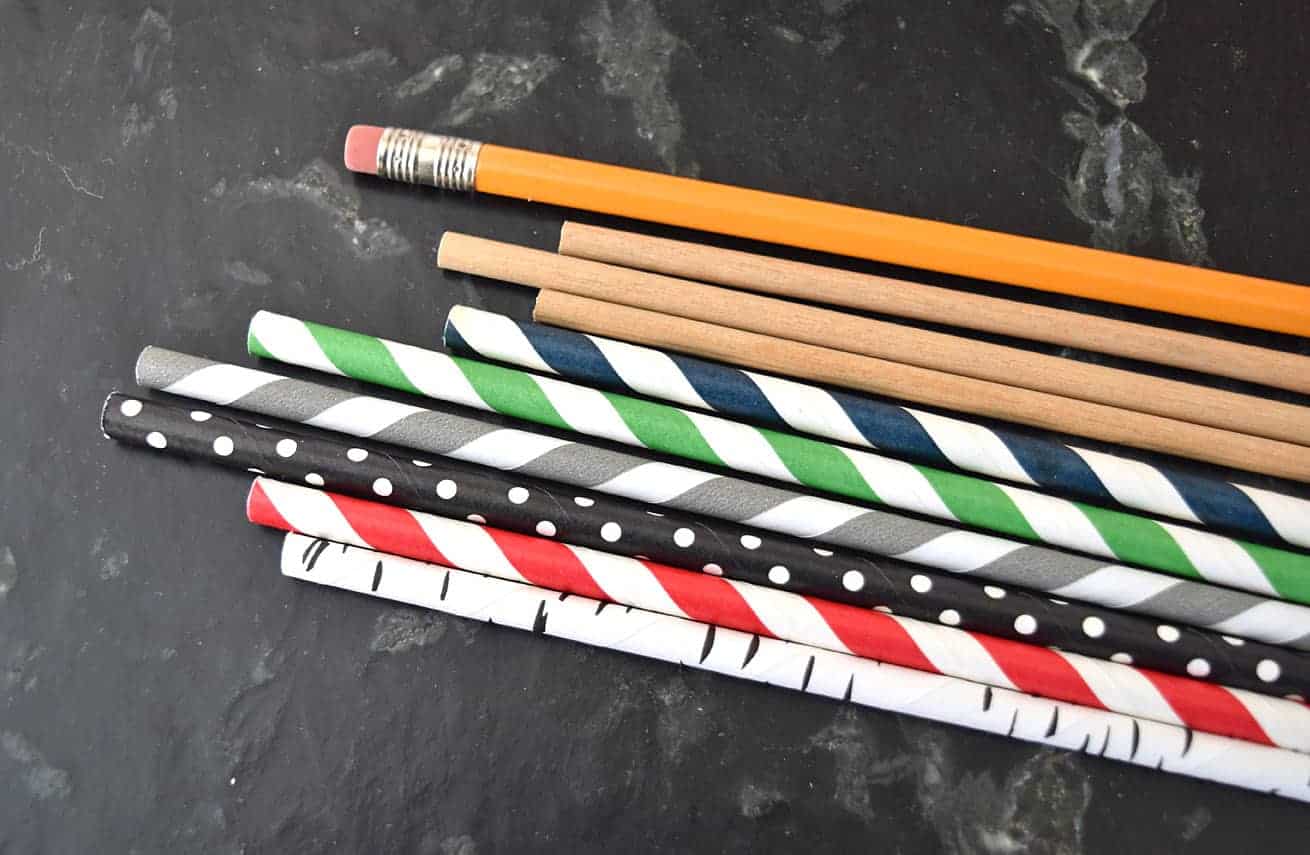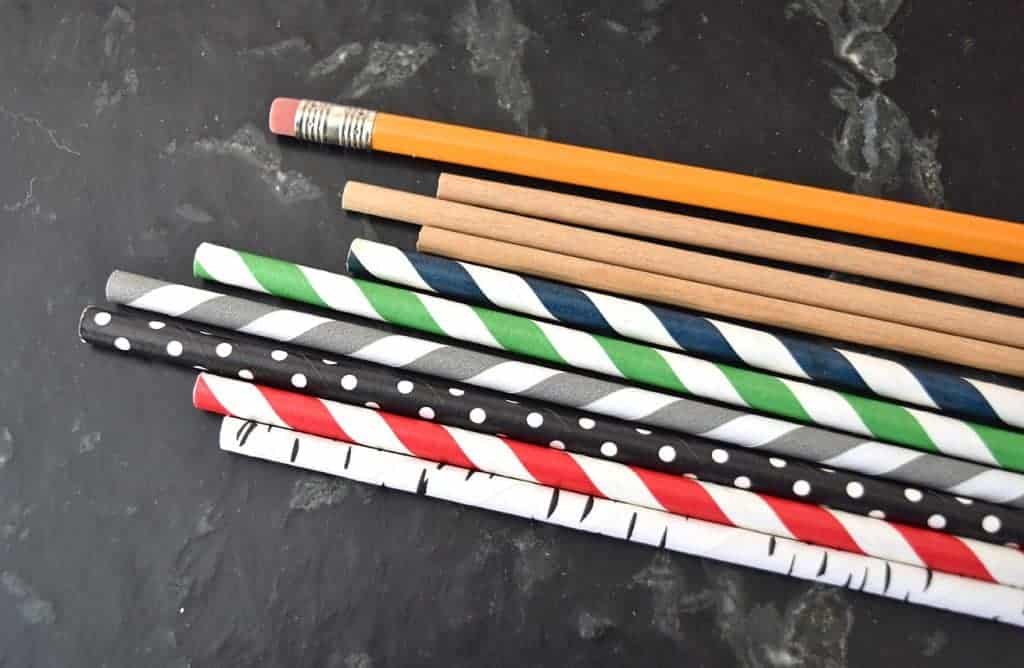 Gluing the flowers to the stem takes practice. Sometimes things can get a little wonky to start: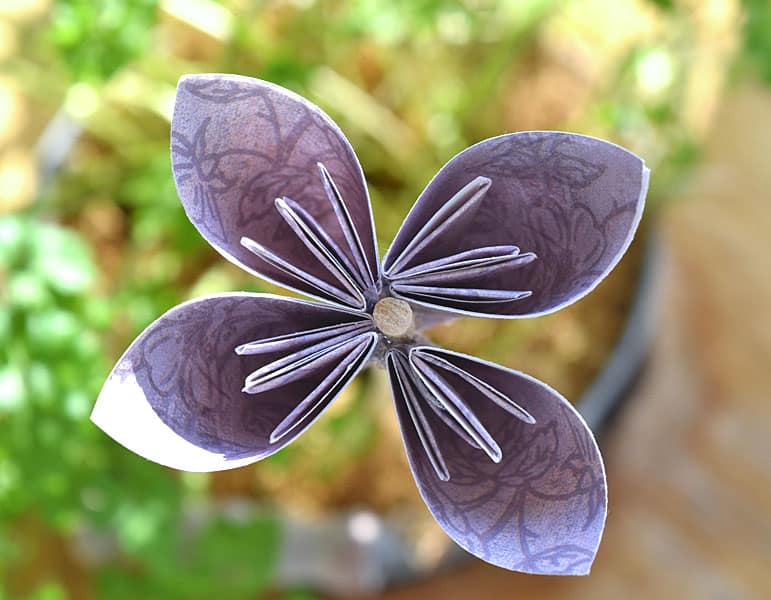 I think it's easier to start with the 6 petal version. You can glue the first 3 petals on and then the last 3 in between: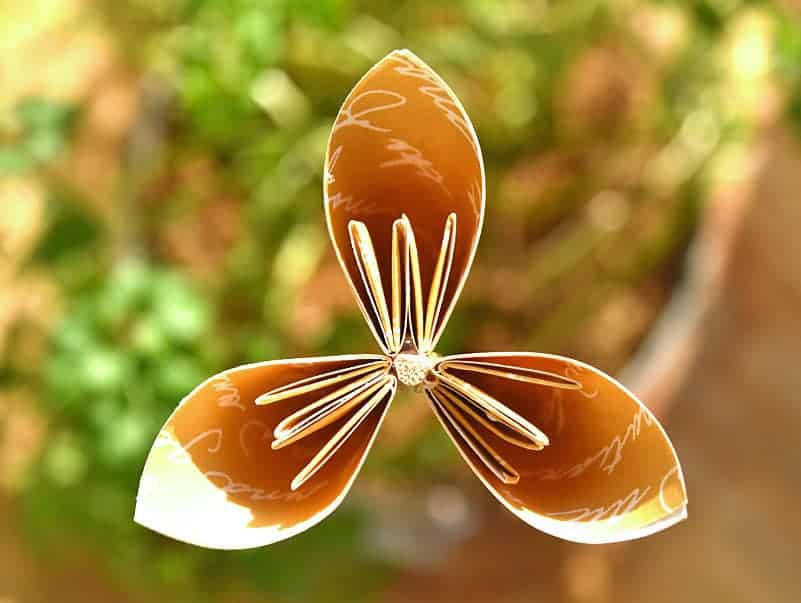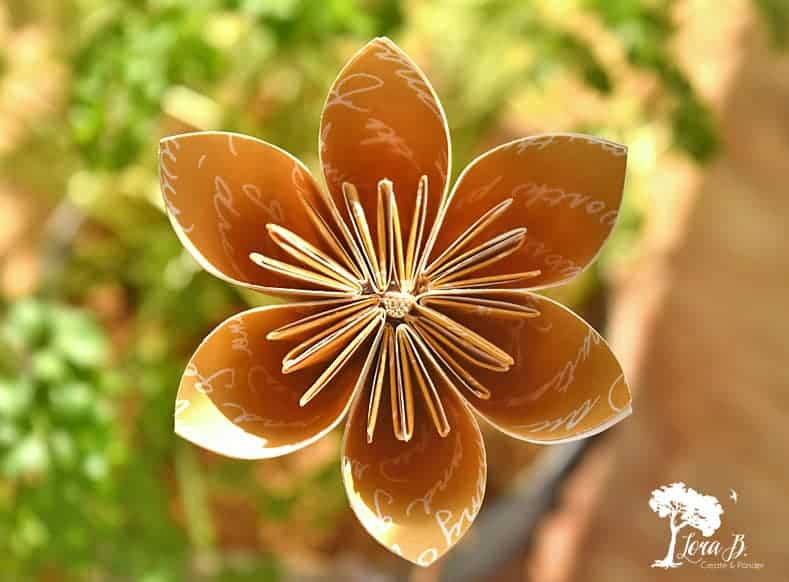 Finish Off with a Center
To finish off your pretty Origami flower, glue on an old button, or some other interesting, junky bauble for a center. Old bingo numbers can be fun, or a cork, or a mini screw or piece of metal junk. Your flowers can reflect your personal style!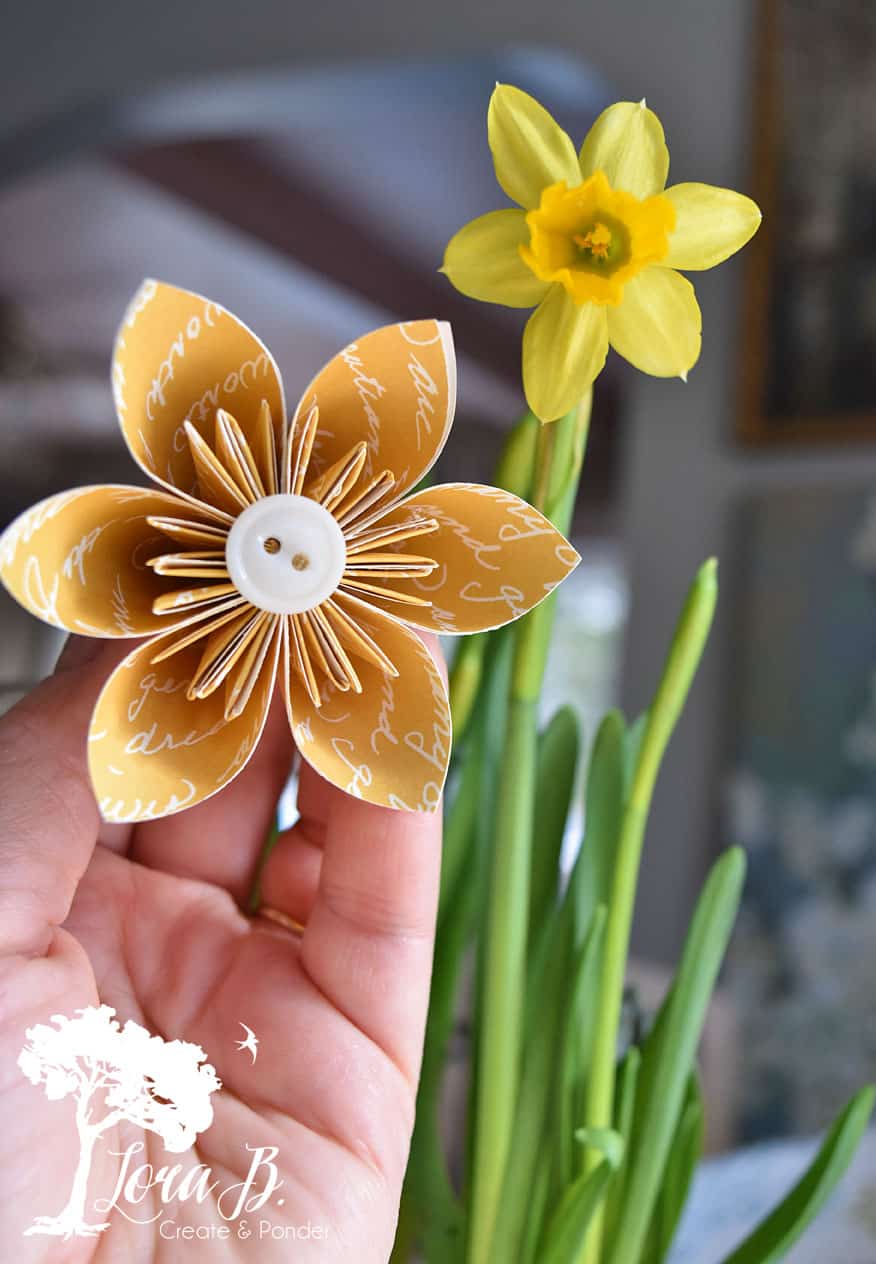 If you like your petals to have a more roundy look, hold your thumb on the center and push the cupped part of the petal to the inside gently. Work your way around the flower. This will plump up the petals so they don't look so skinny. But a nice mixture of skinny and roundy looks good, too.
Take the Basic Origami Petal to the Next Level of Creativity
We used to sell tons of these amazing flowers in my former store. One of our dealers was a paper artist and took the basic petals and flowers to the next level of creativity! Here are some ideas to get your creativity going!
The basic petal, glued into a pinwheel. These are double thick with petals on the front and the back. A stick stuck into one of the petals, stuck into some floral foam makes a whimsical display.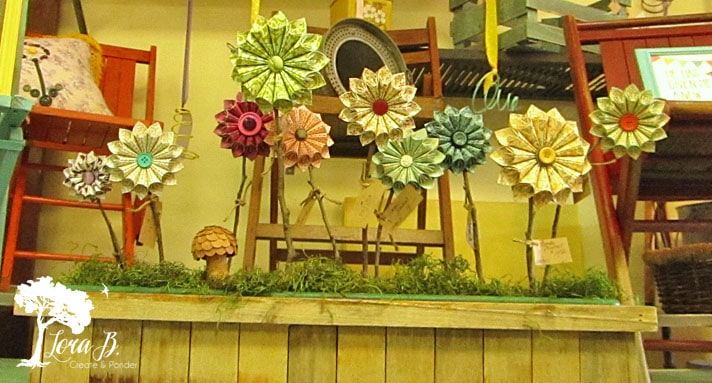 The flowers can be hot glued onto flexible bindwire to have a more free-form display effect: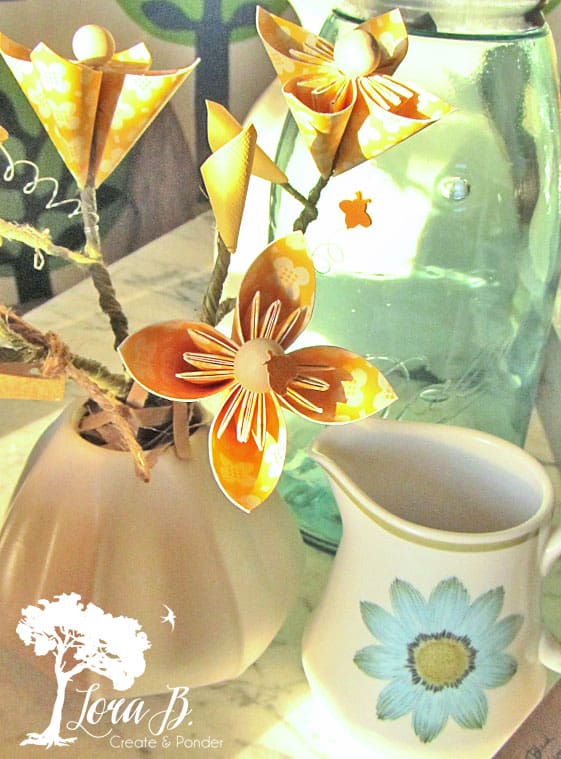 Your flowers can be created to fit your style, depending on your paper and center choice. Or make them to match a party you are hosting.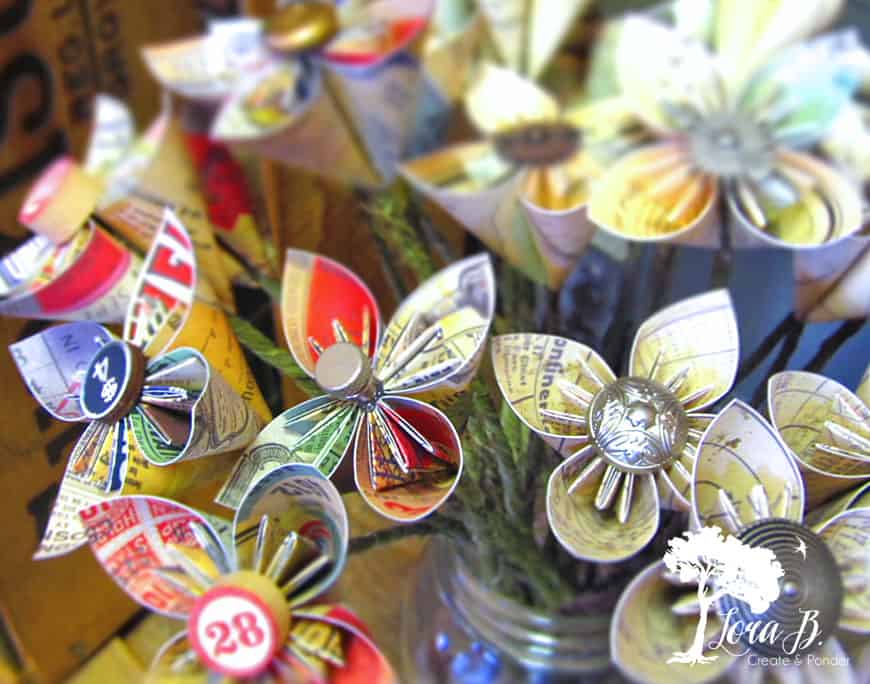 Flowers amassed together can even create fun friends! She created a few of these adorable spiders for us one Halloween: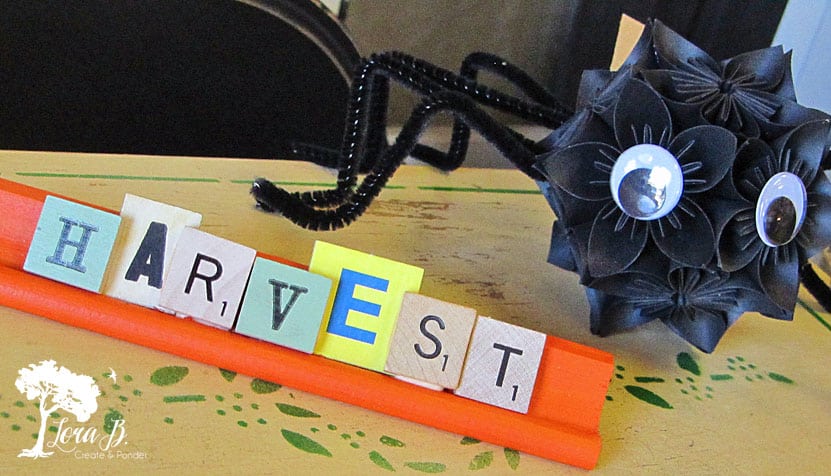 If you make graduated-sized flowers, they can stack upside down to create charming evergreen trees.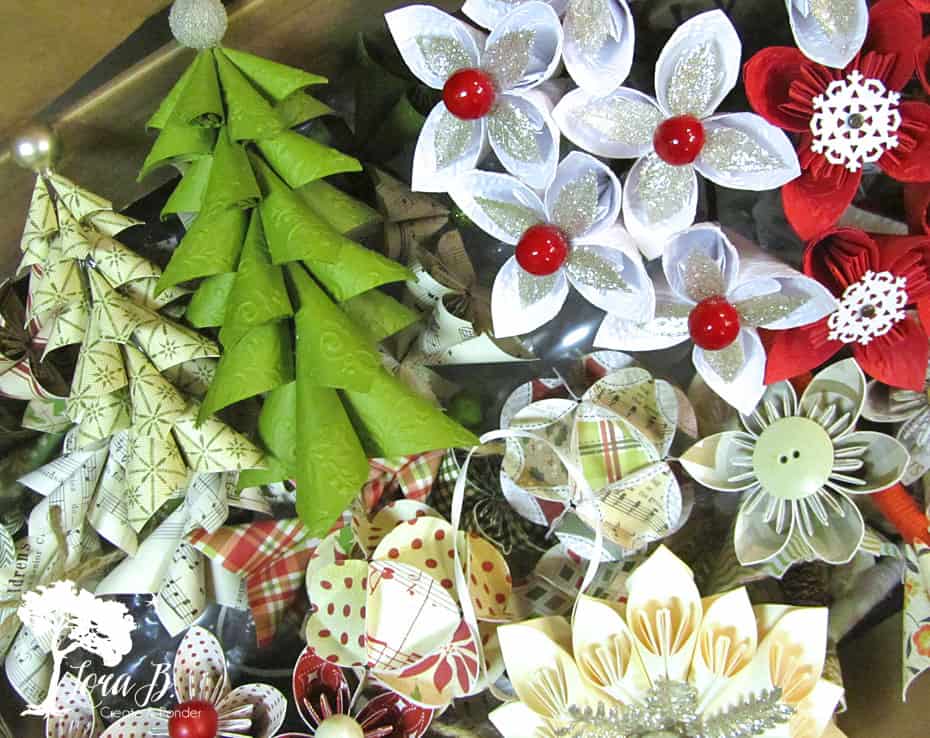 You can add these fun Origami flowers to a wreath form or glue them to a branch. You can stick them in a vase, or in a vintage doorknob for a junky display. However you decide to use them, you can be satisfied you made them yourself! Give them as gifts, decorate your next party with them. Once you get started, it's hard to stop!

Shop to Create the Look: click on pics for more info

Hope you enjoyed this How to Make Easy Origami Flowers (plus decorating ideas). They are such a simple craft and can be so fun to make with a group of friends. You'll enjoy the process and the results in your home decor, or for a special party!