Add Some Pretty to your Pansy Pots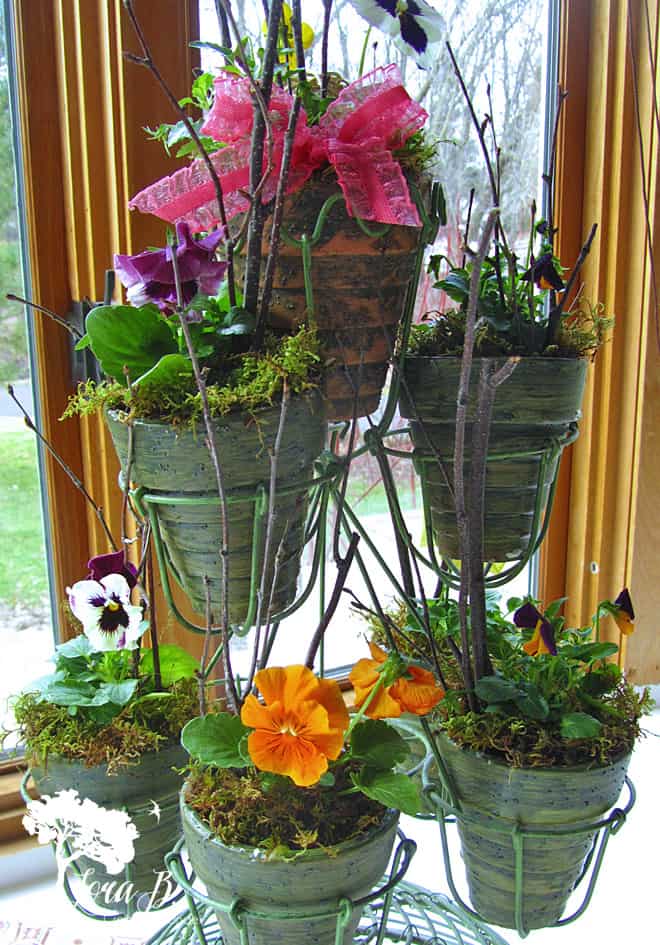 We're hosting a small Easter gathering this year, so I'm making my list of things to accomplish this week. Hopefully the pansies are starting to hit the garden stores, because I want to pot some up for our Easter table. To add extra fun and prettiness to the already welcome sight of fresh plants, I'll gather some items to create a mini arrangement that can be sent home as a springtime gift with our guests.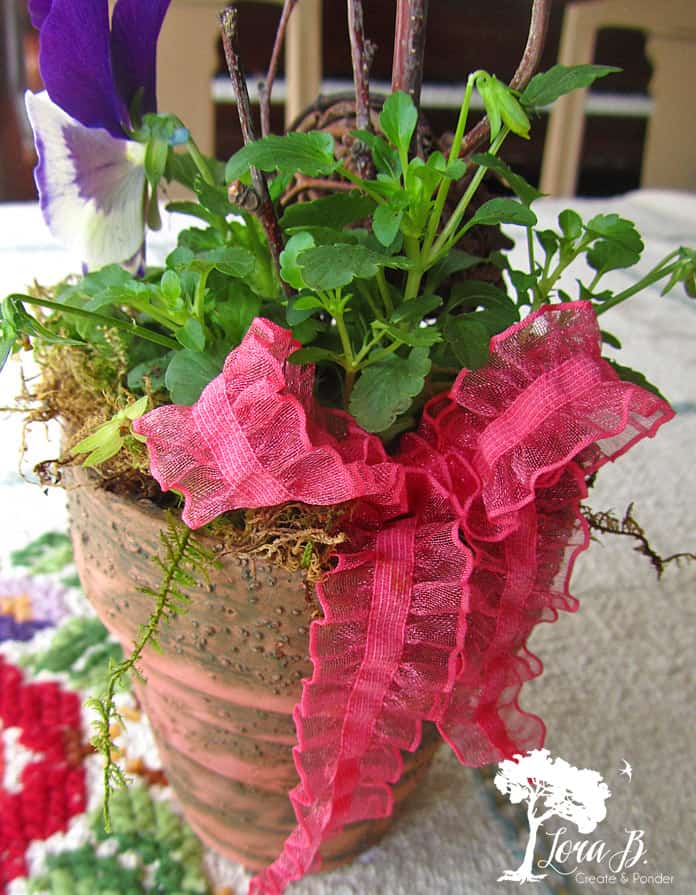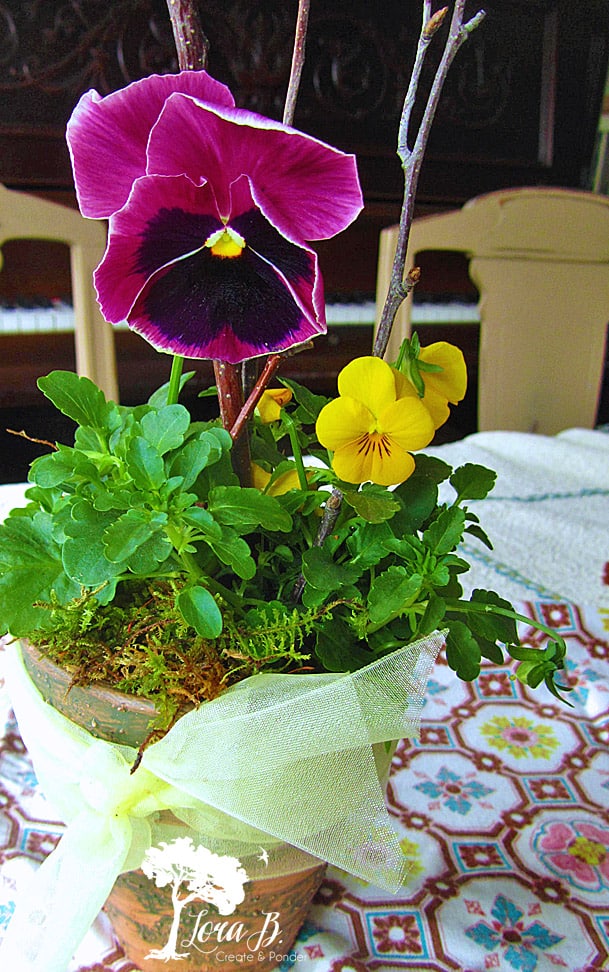 Once I get the flowers potted up in some cute clay pots and cover the dirt with a little moss, I begin to add the flourishes.
There's always some scraps of ribbon laying around my home, so I like to add some to the flower pot for a punch of color and special-ness. Sometimes I wrap the ribbon around the pot itself and sometimes I craft a bow and insert it into the dirt with a U-pin that can be found in floral isles. (You could always use a bobby pin or a paper clip cut in half too).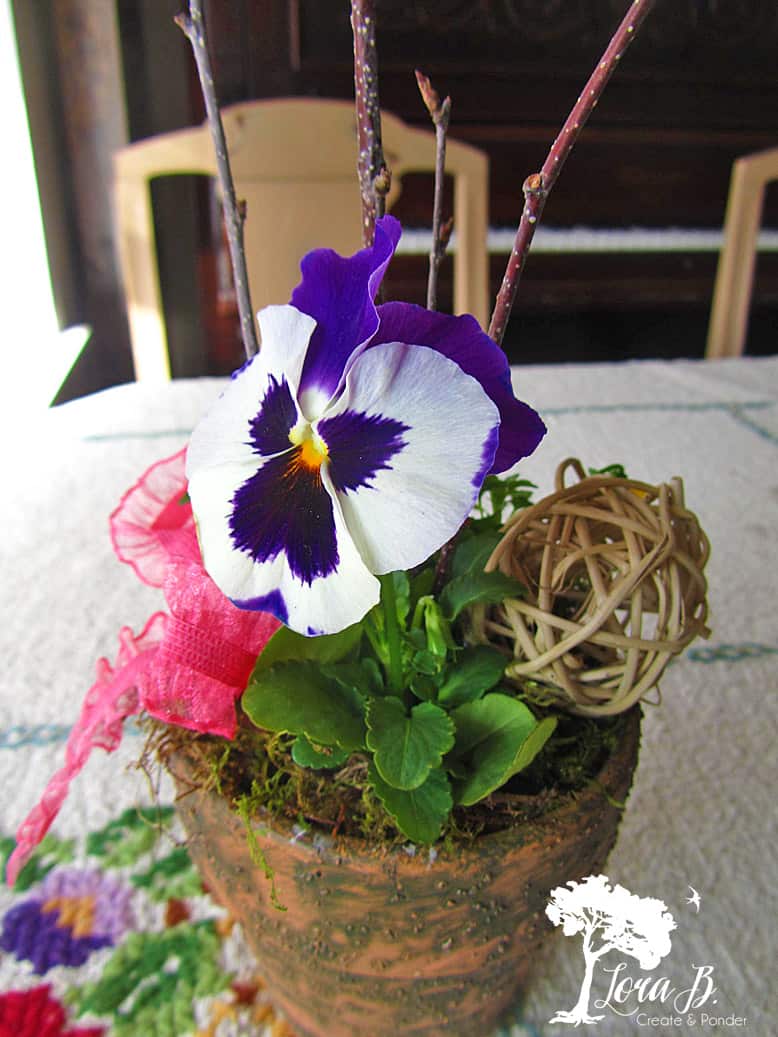 If you have any natural, rougher texture items laying around like these little grapevine spheres, they can add visual interest at the middle of the arrangement also.
Taller sticks will add height to the whole arrangement. Plain sticks or budded branches cut from your yard will multiply the effects by simply adding airiness to the otherwise compact whole.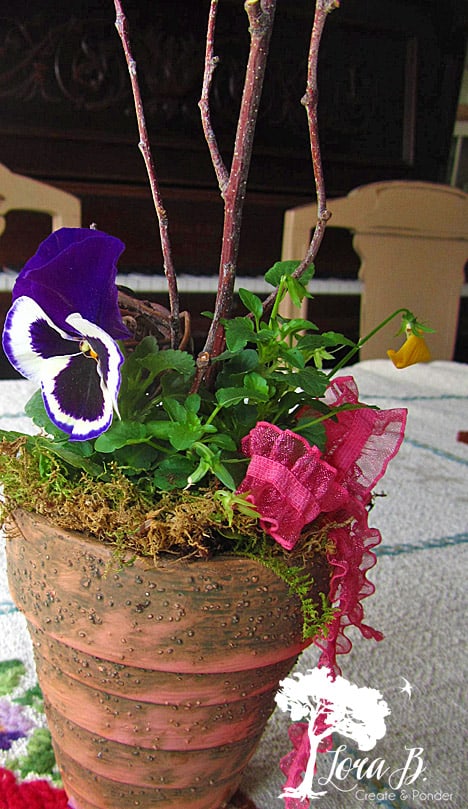 Then add a little life to finish them off. Fake birds or bunnies, frogs, turtles, bugs or butterflies just add that extra special touch to the whole arrangement.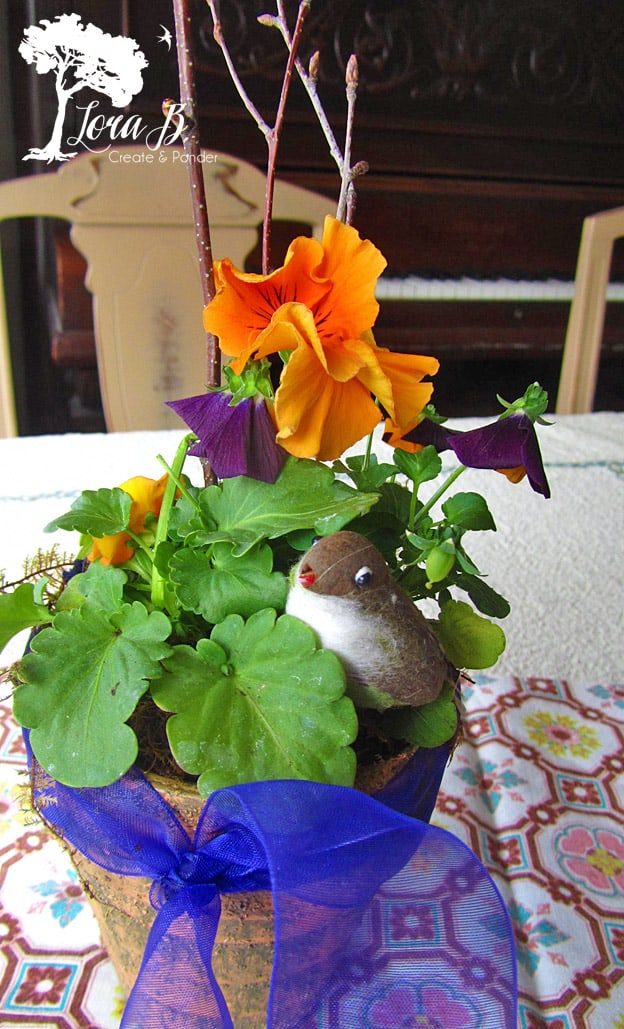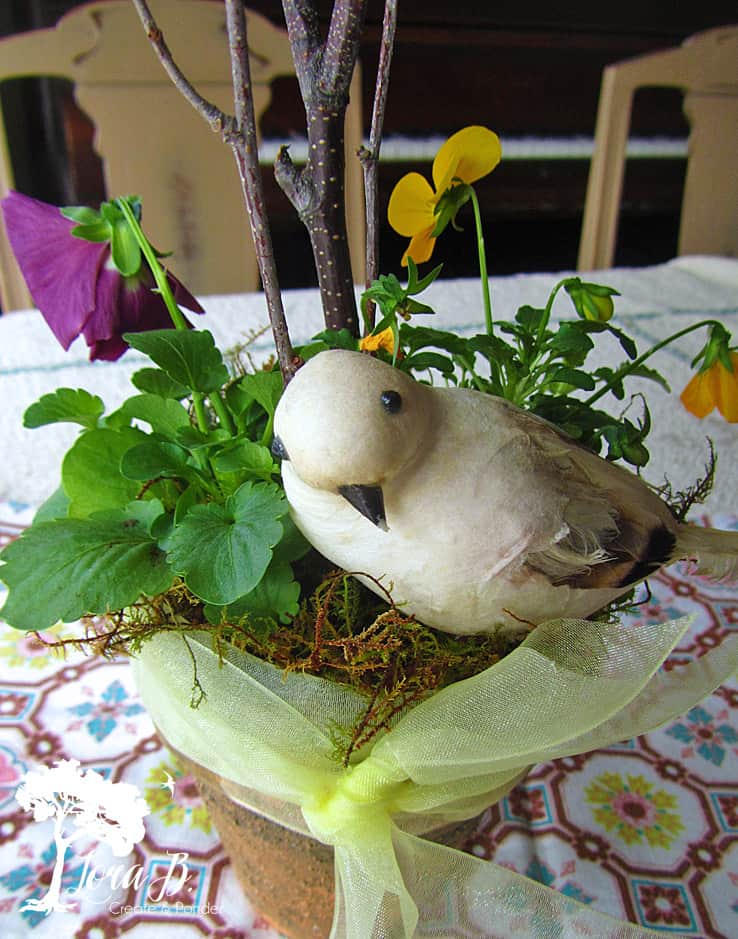 Or if you're a junk lover like me, go for something totally unique and add some junk that you've got laying around. The texture of patinaed metal or old wood added to the flowers is wonderful. You could also sharpie guest's names on some flatware and insert for each place setting.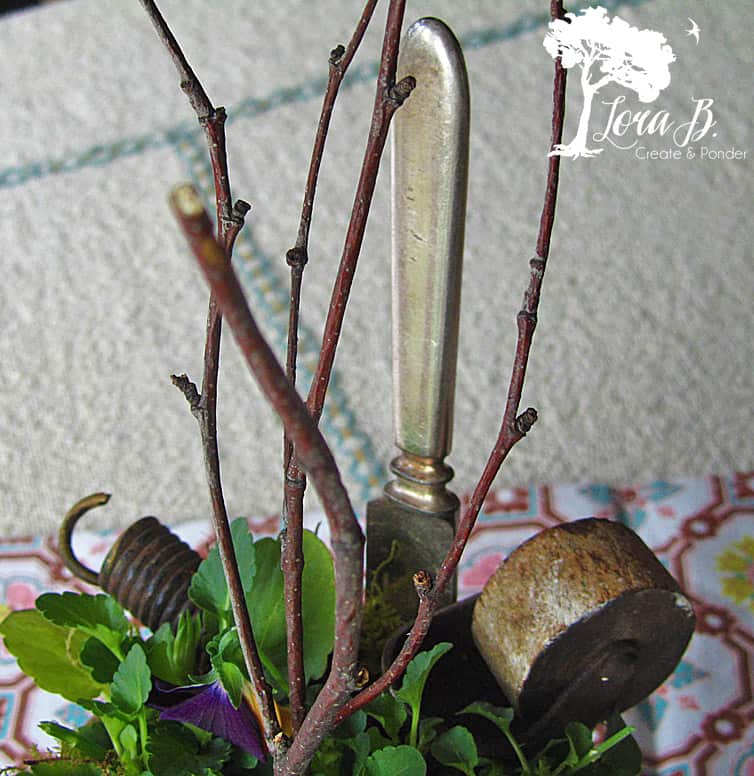 Now I've got you thinking, right?
Go dig through some drawers and make a visit to the garden store for some spring pansies and violets. Think I'm going to add these pots at each place setting along with the "Swedish Huck Utensil Pockets". I'll probably have some Easter candy treats or an edible nest in my "Tart Mold Pedestals". And I've still got plans to decoupage some of the vintage fabrics and trims I used on the "Vintage Fabric Wreath" onto some large styro eggs for the centerpiece.
And maybe I should start to think about the menu…?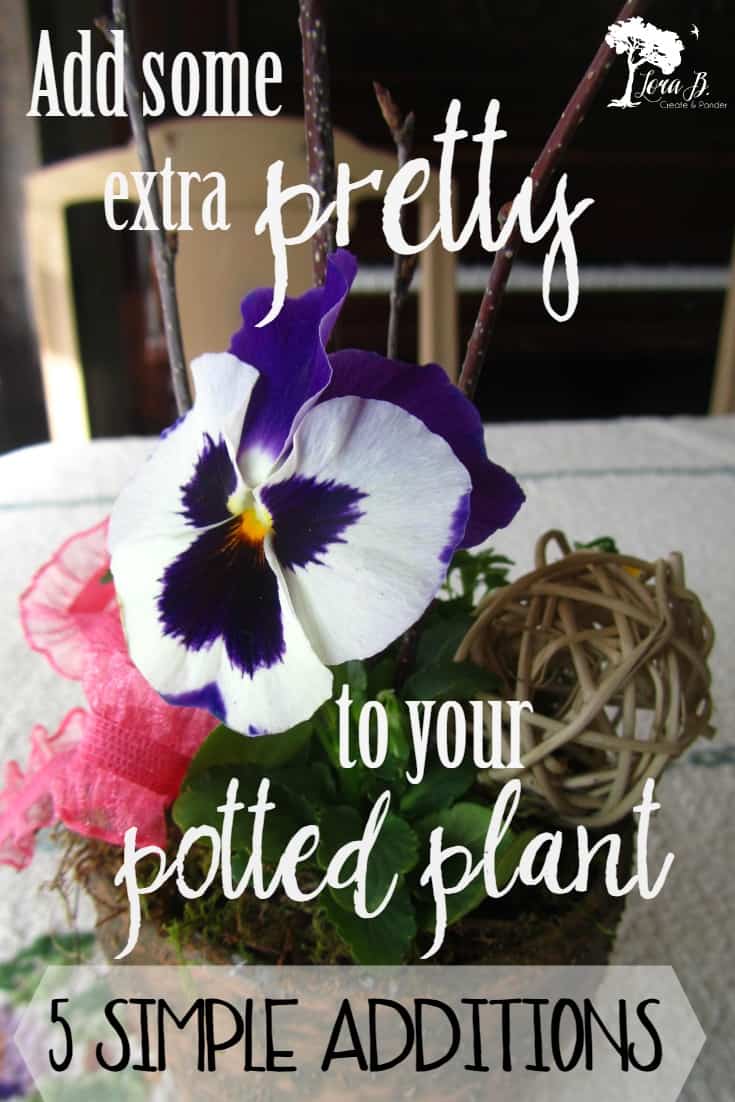 Linking up with these lovely parties: