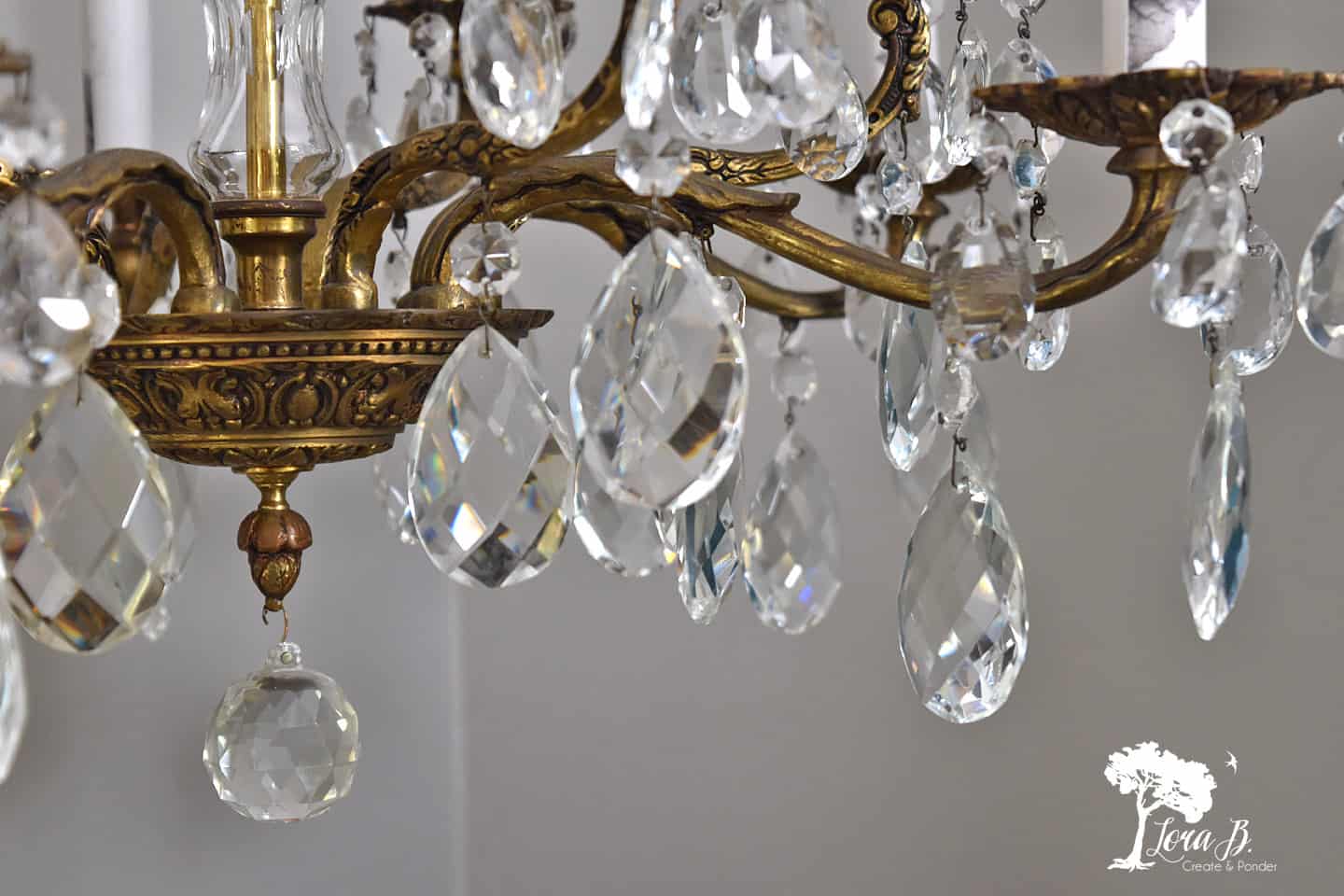 Crystal chandeliers are classic dining room decor, aren't they? They've got that European appeal that was so popular in times past. I love their sparkly beauty, but they've always felt a little fussy for my junk-loving soul. Until I realized I could make peace with their glitzy-ness if I made a couple of changes to their usual use. No, there's no spray paint involved here; I do tend to be somewhat of a vintage purist. But, I'm not opposed to bringing a pretty chandelier into a new decade! Here are 5 Ways to Update a Vintage Chandelier (and keep it's classic appeal).
This pretty 10 arm beauty hung in the dining room of my childhood home. I remember mom spreading out a big towel on the table and climbing up on a chair to wipe all the crystals with an ammonia/water mixture, to bring out their shine. After school, when the sunbeams were shining through the windows, the rainbow color prisms would be splattered over the ceiling and all the walls. It was magical!
Because of my hopeless sentimental spirit, I hoped to use this chandelier in my home somewhere, but hanging it in the dining room was just too…expected for my tastes. With some creative brainstorming, I figured out how I could enjoy this beauty in a new way! This is the third chapter in my daughter's college-bedroom makeover series. You can see the dresser makeover and the architecture that's hanging above her bed in my posts, "Dresser Makeover with a Checklist Printable", and "Dresser Mirror Harp Repurpose".
5 Ways to Update a Vintage Chandelier (and keep it's classic appeal):
For your convenience, this post may contain affiliate links. If you make a purchase, I may receive a commission. There is no further cost to you. My full privacy policy is here. 
To update a vintage chandelier,
Change It's Location!
Use it in any room besides the dining room! I think bedrooms and bathrooms are beautiful spots for a crystal chandelier! They're just more romantic rooms! As the sun is setting and you're treating yourself to a bubbly bath in your clawfoot tub, the crystals will fill the room with rainbows. (Sounds like a romance novel, right?)
Even if that dream never happens, it's the setting you can create when you hang a chandelier in a bathroom. The night-time glow of a chandelier in a bedroom can draw you in to go to bed a little earlier…? Honestly, the romance of a chandelier in a bedroom is instant beauty. It's classic architecture is like adding that beautiful necklace to a ball gown-glam, girl!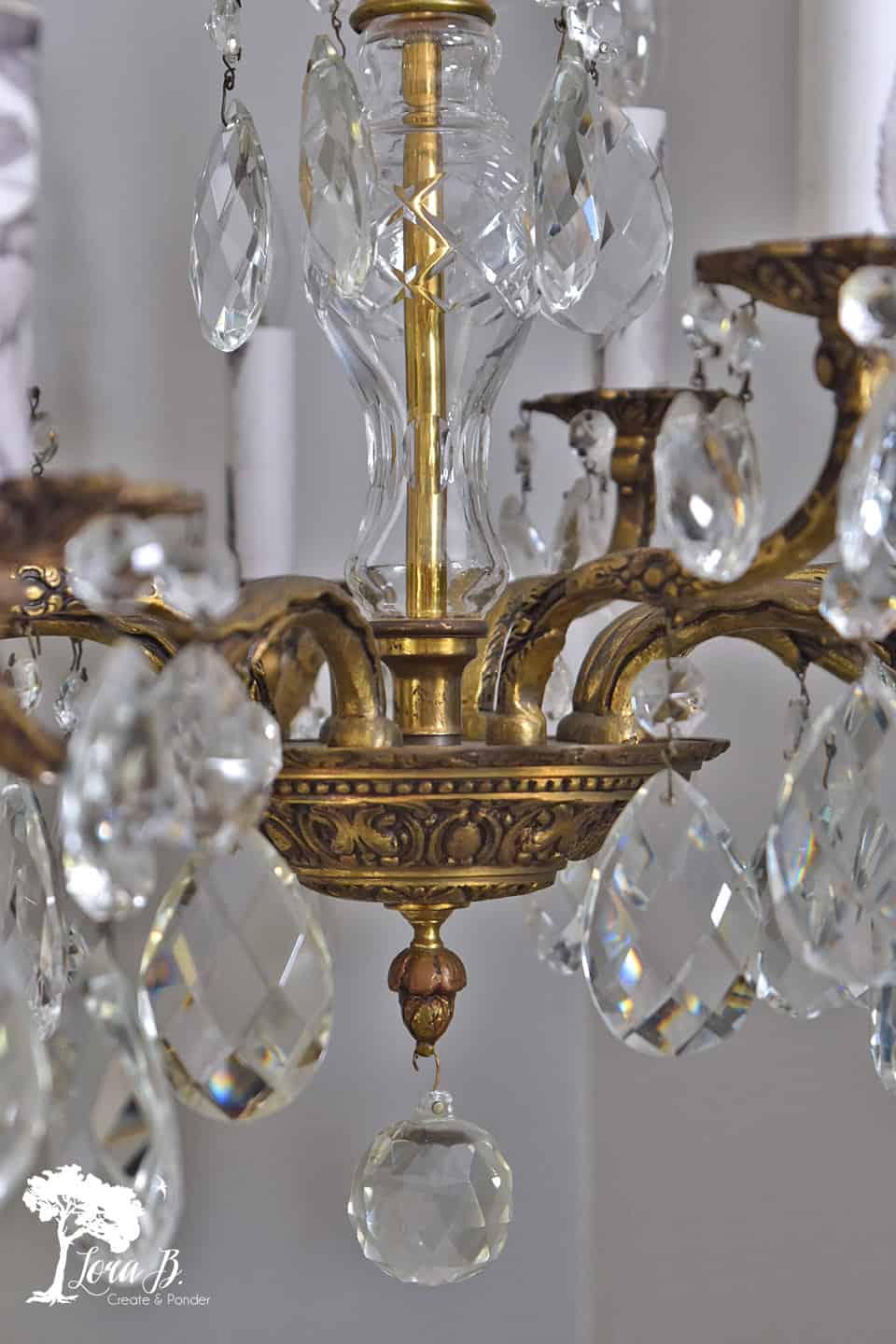 To update a vintage chandelier,
Think Beyond the Middle!
Instead of thinking of your chandelier being your main source of light in the room, use it as an accent light; one of many sources of light options. I like to have at least 3 different lighting options in a room, all fairly evenly spaced.
Once you get past needing to use it in the middle of the room, it's a whole new world! You can have it placed next to a comfy chair or loveseat, place it in a corner as a beautiful accent, even over a bed or bathtub if it's hung securely! The chandelier becomes not only a source of light, but a major decorative accent!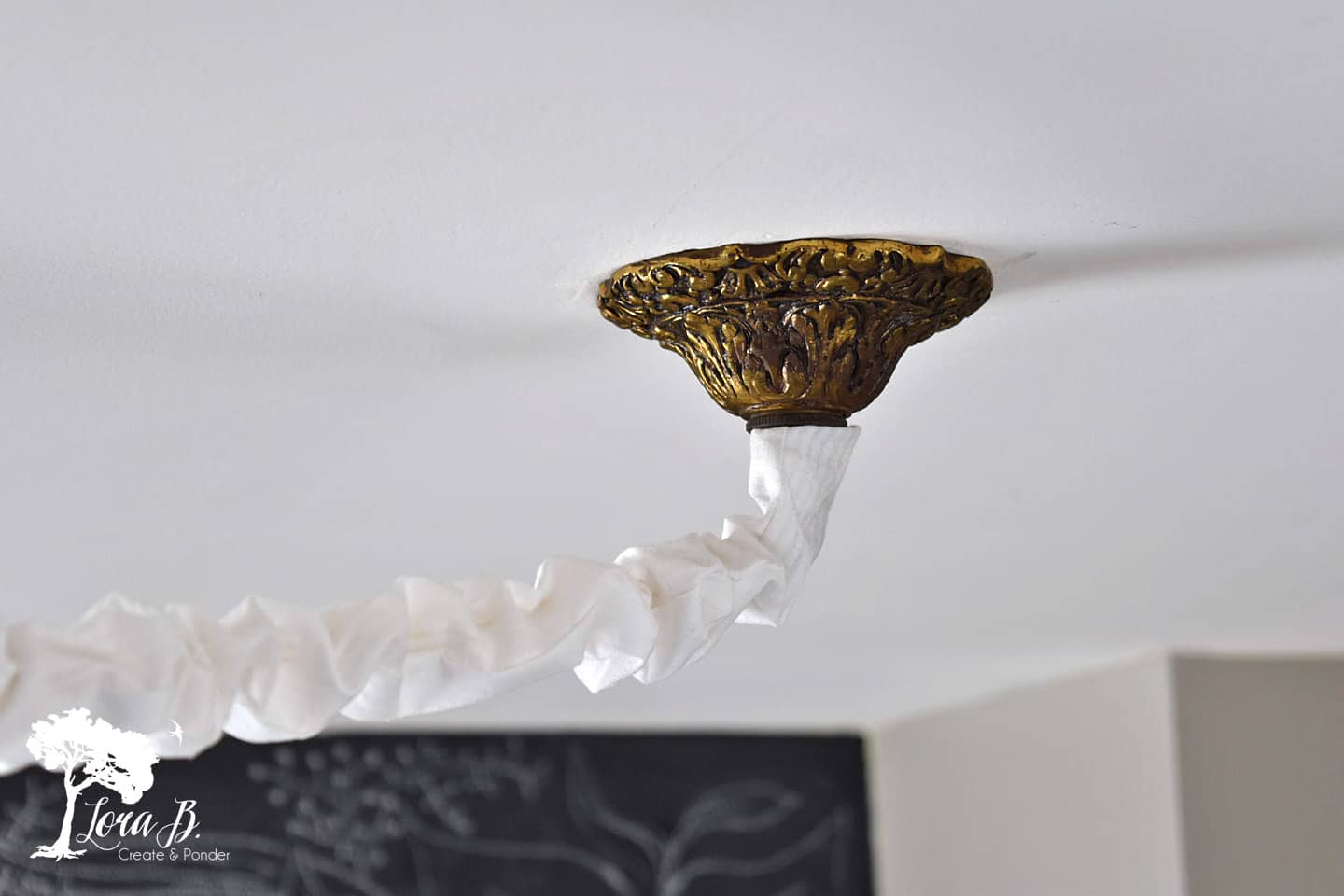 In order to hang the chandelier anywhere you want, Cover the Cord
You don't have to climb up in the attic and switch all your electricity (Mr. Fix-it sure didn't want to). Simply whip up a cord cover to disguise the electrical cord or chain, and you can swag that beauty wherever you want!
Shop the Look>>If you don't want to DIY it, you can get one HERE!
Or, sew a cord cover:
Simply cut 4″ wide strips of white fabric about 3 feet long. With right sides together, I sewed along the long side, leaving the ends open. Then I turned it all inside out (slowly). I made about 5 of these sections and threaded them over the cord. To get them nice and full, you'll want about 2x the length of your span.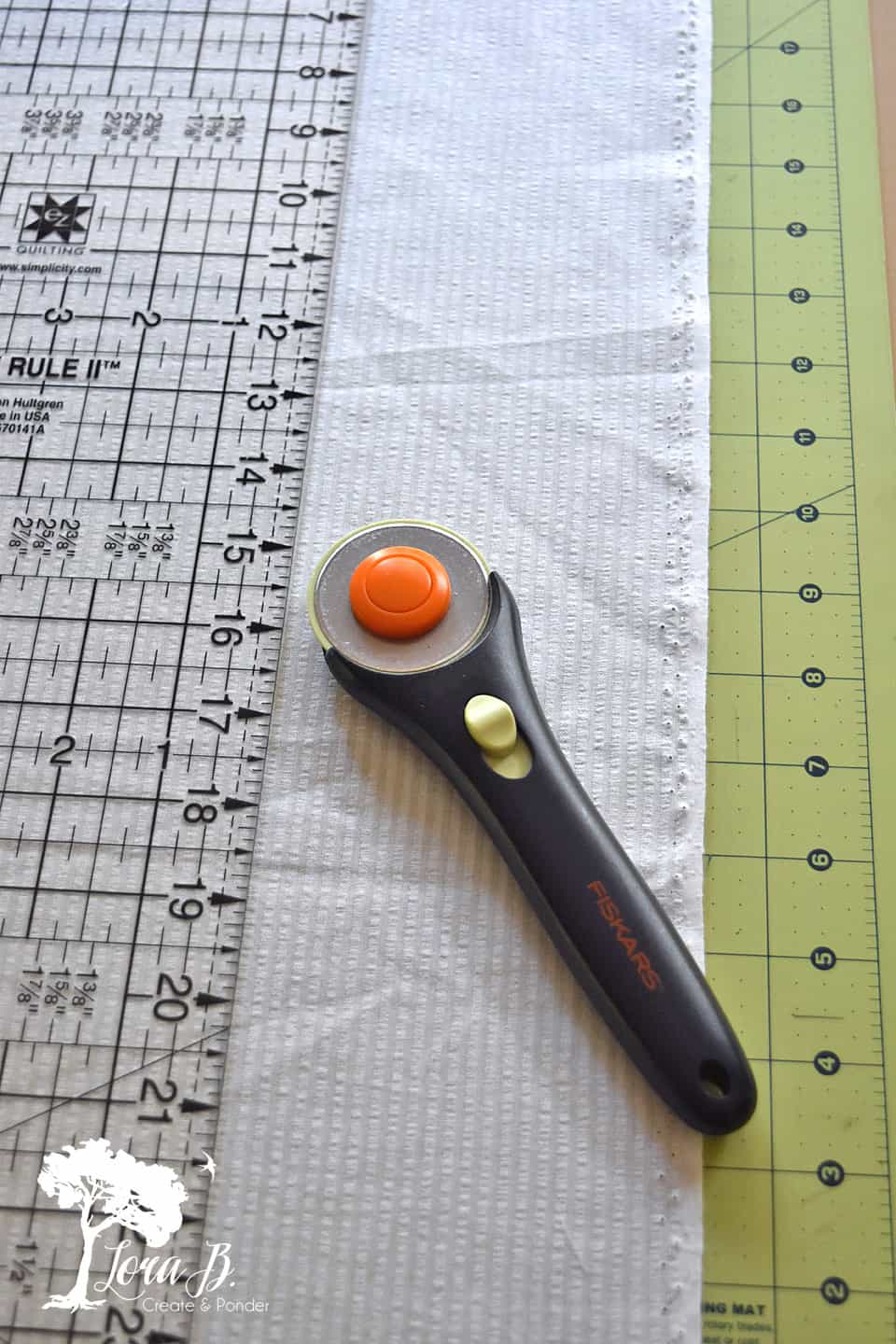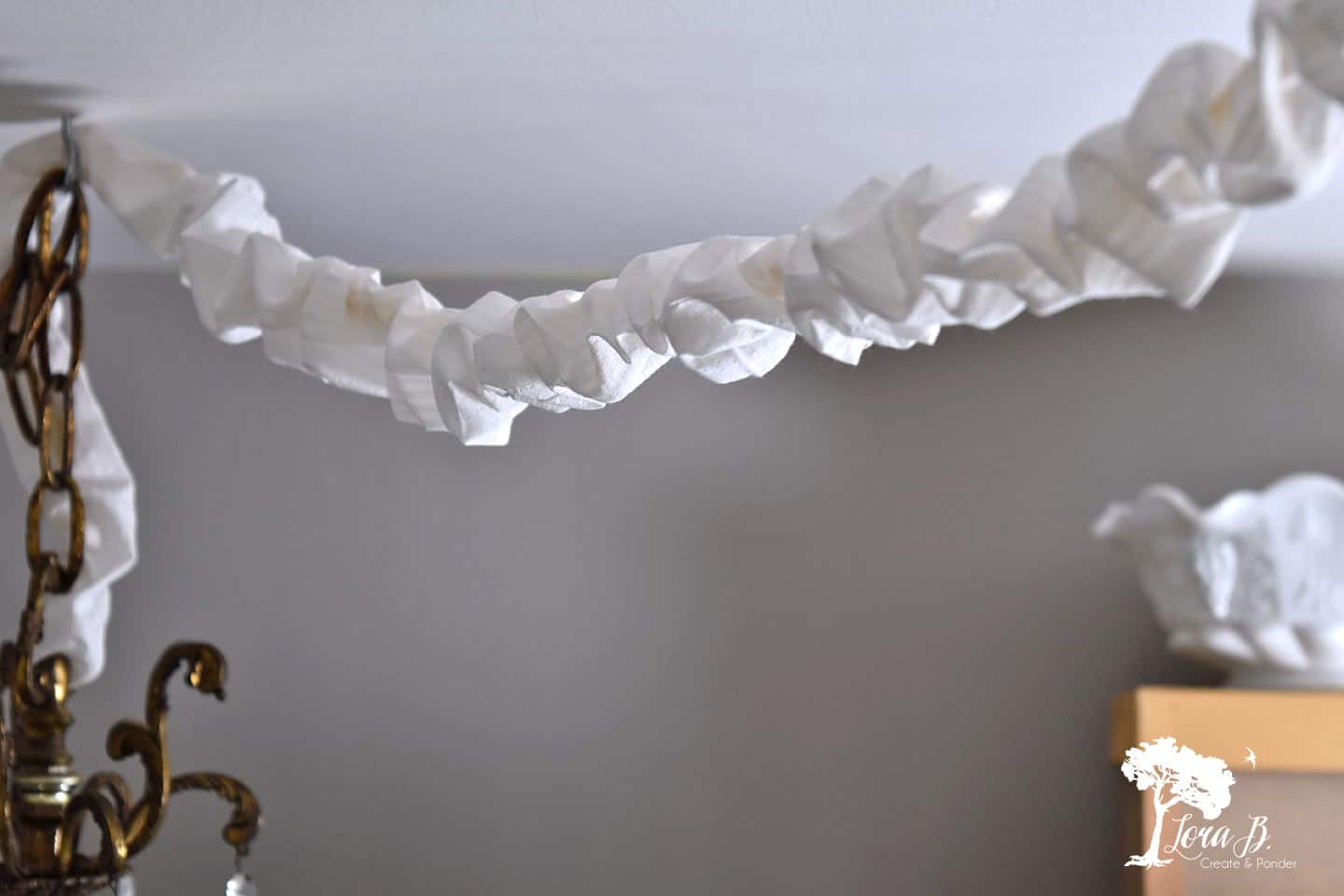 I didn't even sew the segments together; just crunched them all up next to each other. The fabric really softens all that hard crystal and brass and adds another decorative element to the whole look!
To update a vintage chandelier,
Cover the Sleeves with Decorative Paper
Many times the candle sleeves are creamy colored, and I wanted a crisp white in this room. With a little decoupage medium ( you can buy it HERE) and some decorative paper, I was able to totally transform the look of the chandelier! I chose a grey and white floral to coordinate with the headboard fabric.
The crisp gray and white paper updated the whole look of the chandelier, giving it a modern touch while still keeping it's classic appeal.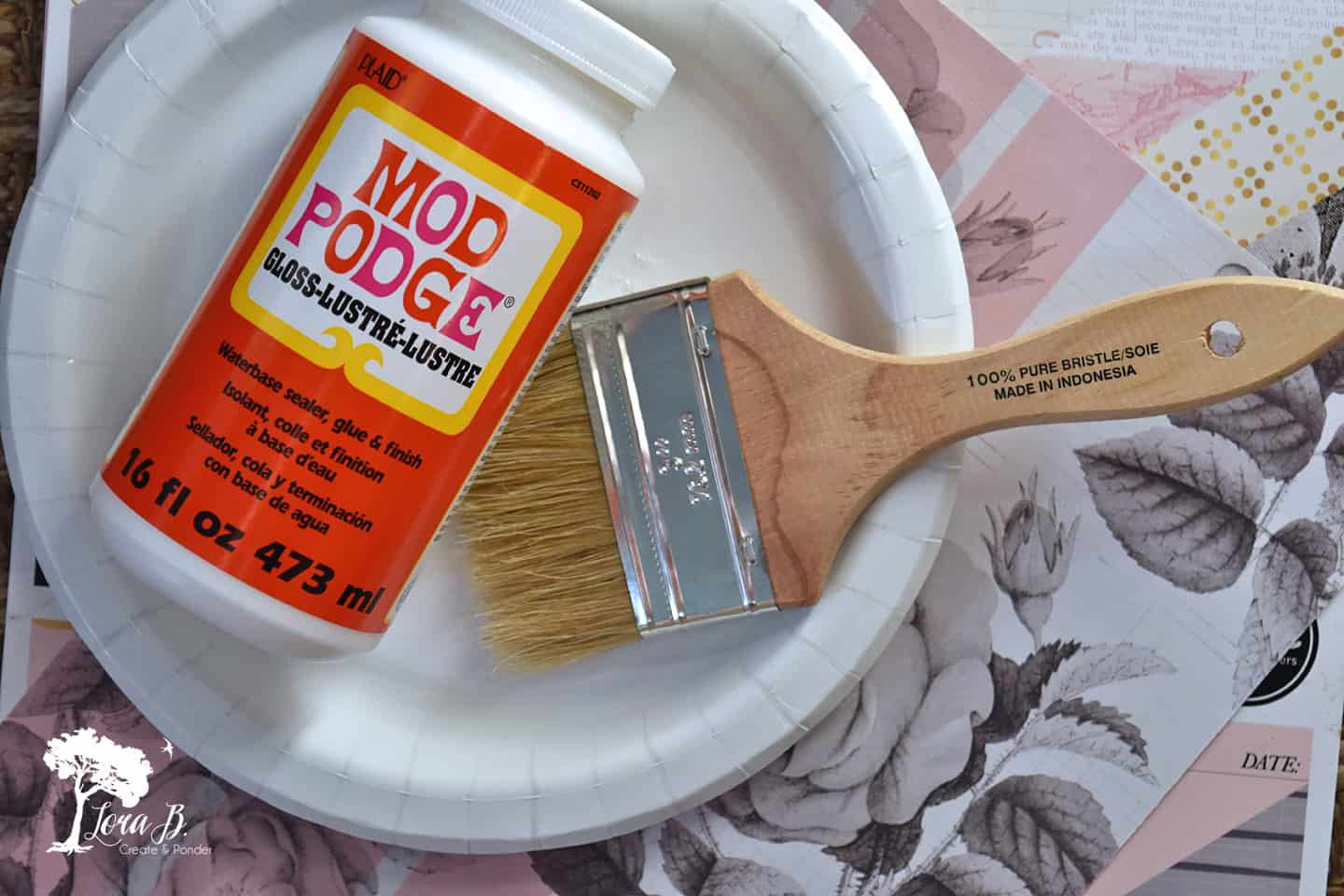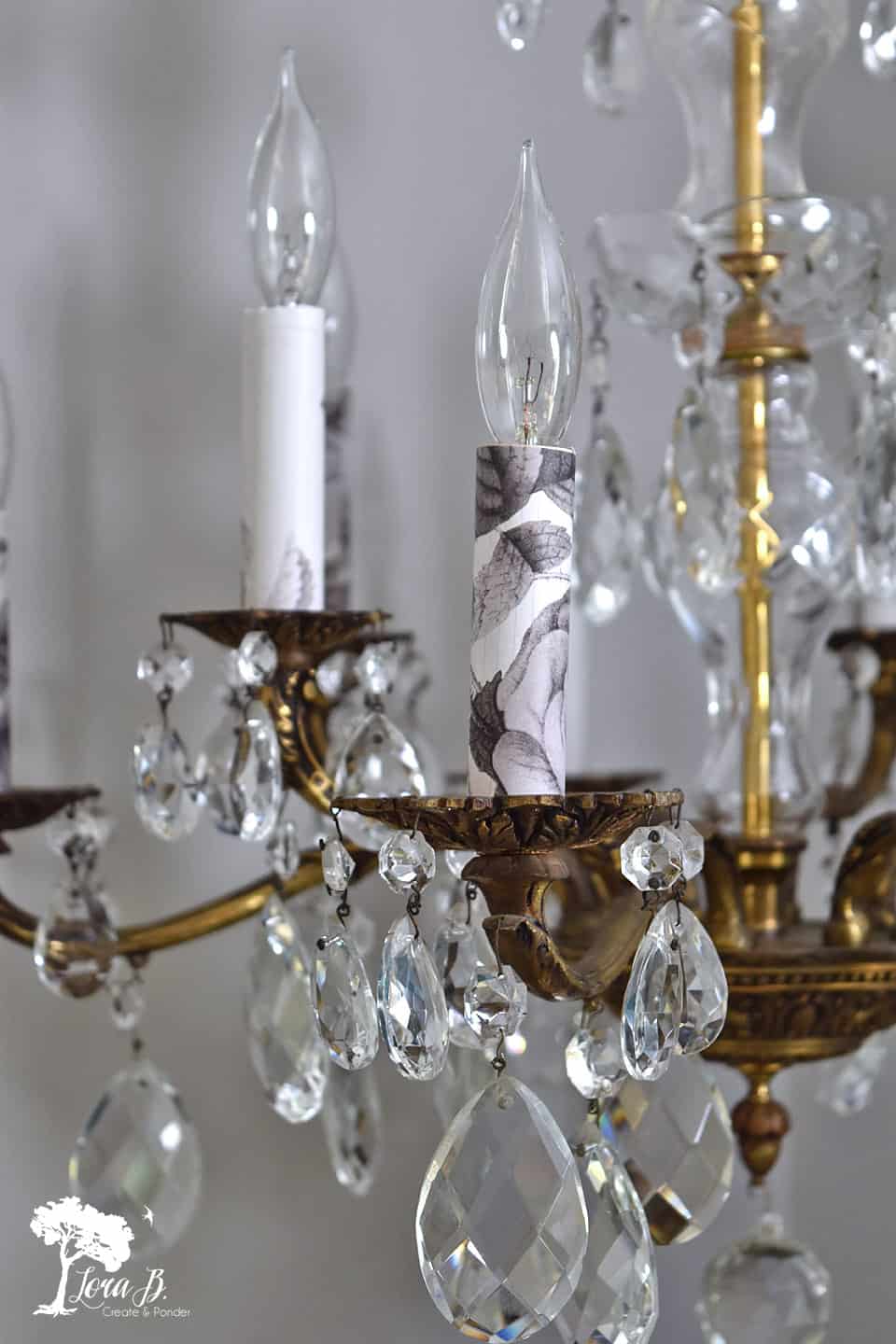 All of a sudden, my love for this sentimental piece came back!
Last, but definitely not least,
To update a vintage chandelier,
Add a Dimmer Switch
Bedrooms and bathrooms don't normally have dimmer switches, but you definitely want one installed to take full advantage of the lighting options of these crystal beauties! ( I like the one HERE, with the option of a on/off button and a slider)
If it's hanging in a guest room, you can have the chandelier just barely on for a warm welcome. But if you're cleaning your bathroom, you can have it on full blast to see all those stray hairs! A dimmer switch gives you all the options…and all the drama!
If you've got a family chandelier stored in a box in the basement, I hope you're contemplating where you can make the best use of it's beauty! Maybe you've always thought they needed to be used in the dining room, and you're liking the idea of using them in a whole new way. I hope you've been creatively inspired with the 5 Ways to Update a Vintage Chandelier (and keep it's classic appeal).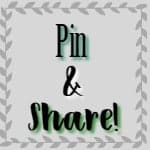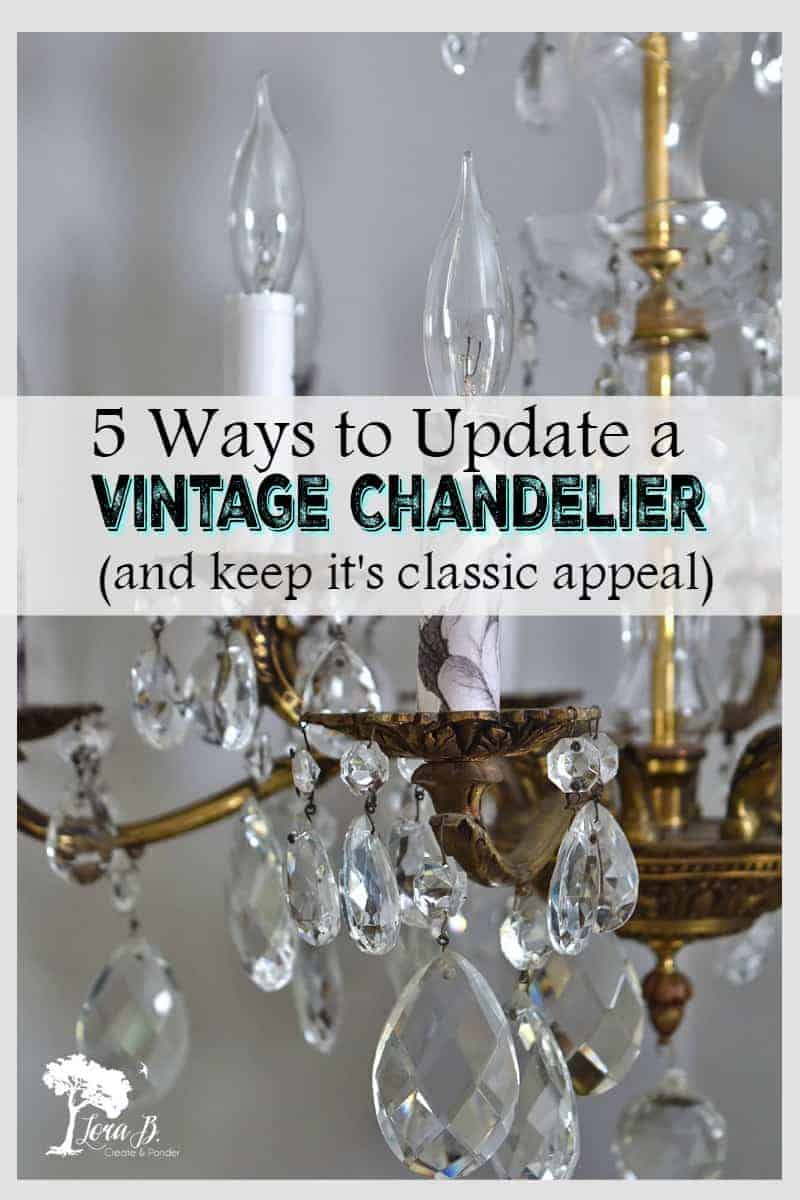 Sharing at these lovely parties: