10 Ways to Decorate with Vintage Christmas Tree Stands
What do you collect? Decorating with Christmas Collections is a fun way to decorate your holiday home. Here are 10 Creative ways to style Vintage Christmas tree stands, either singly or en masse.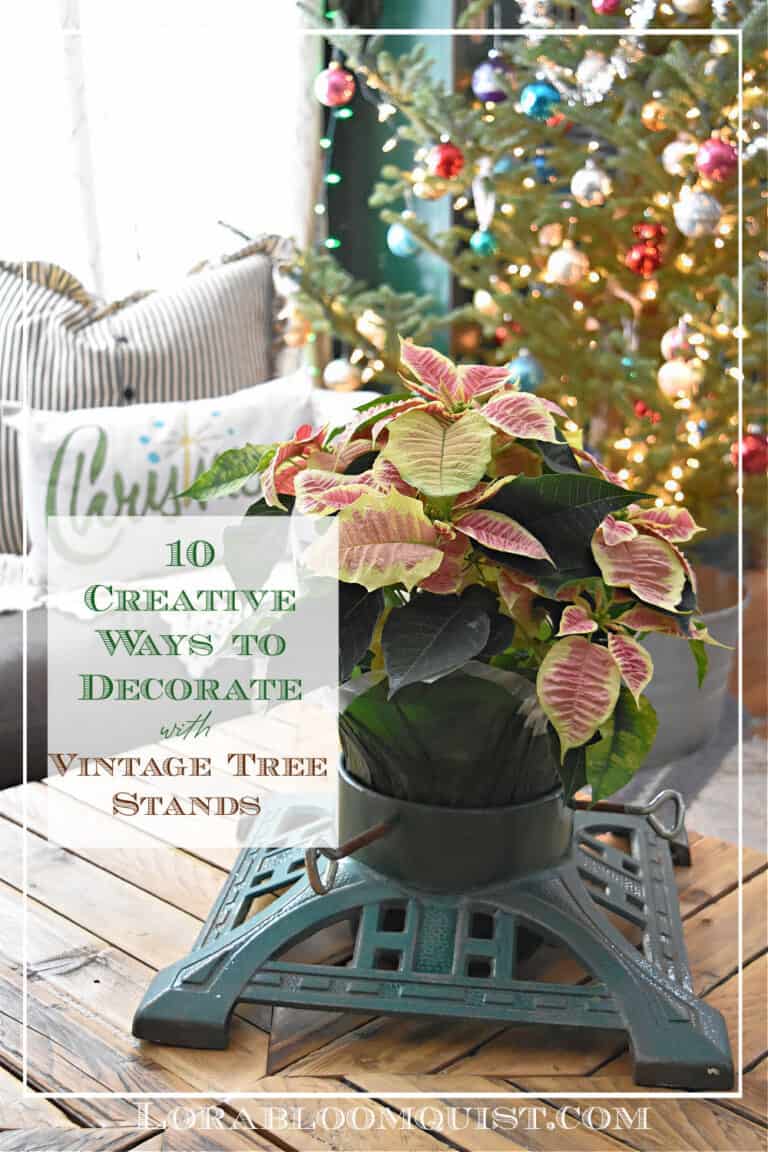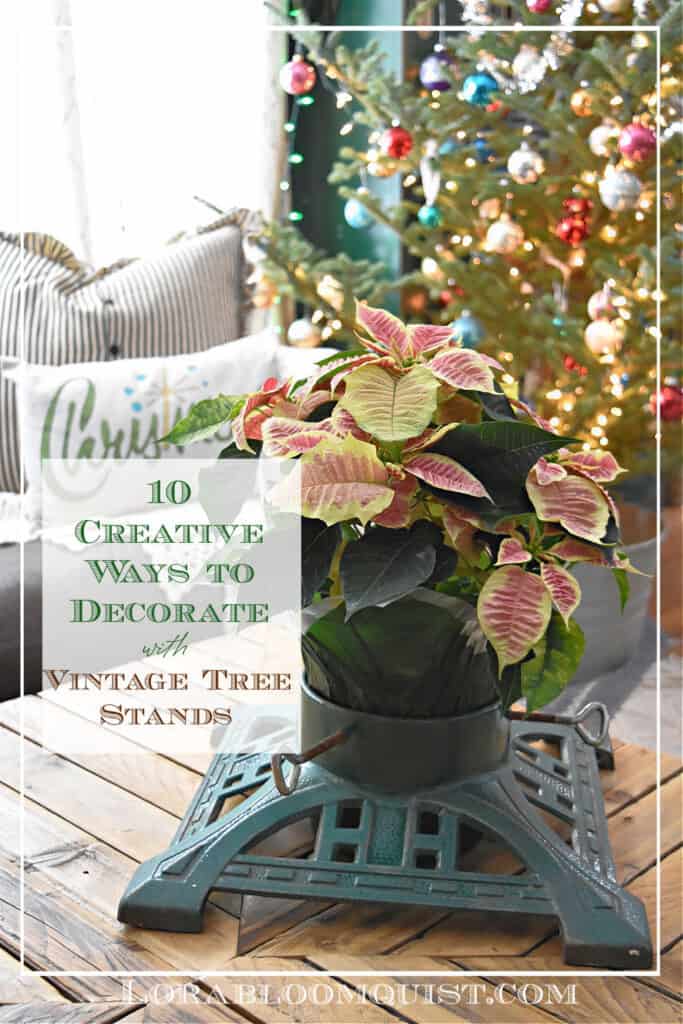 Decorating with Christmas collections is a fun, unique way to decorate your holiday home. For years I've been picking up old Christmas tree stands when they're a great price. There are so many different varieties out there. Each year I come up with a new way to display this ever-growing collection. If you've got one or a whole collection, here are 10 Ways to Decorate with Vintage Christmas Tree Stands.
Today I'm joining my Lifestyle of Love friends, headed up by Cindy at Country Road 407. We're a group of friends that love everything vintage, repurposed, farmhouse and antique. Today we're talking all about collections, which is going to be so fun! If you're visiting from The Crowned Goat, wasn't CoCo's Sweet Shop-themed tree absolutely beautiful? She is so creative! I'll have the rest of the links at the end.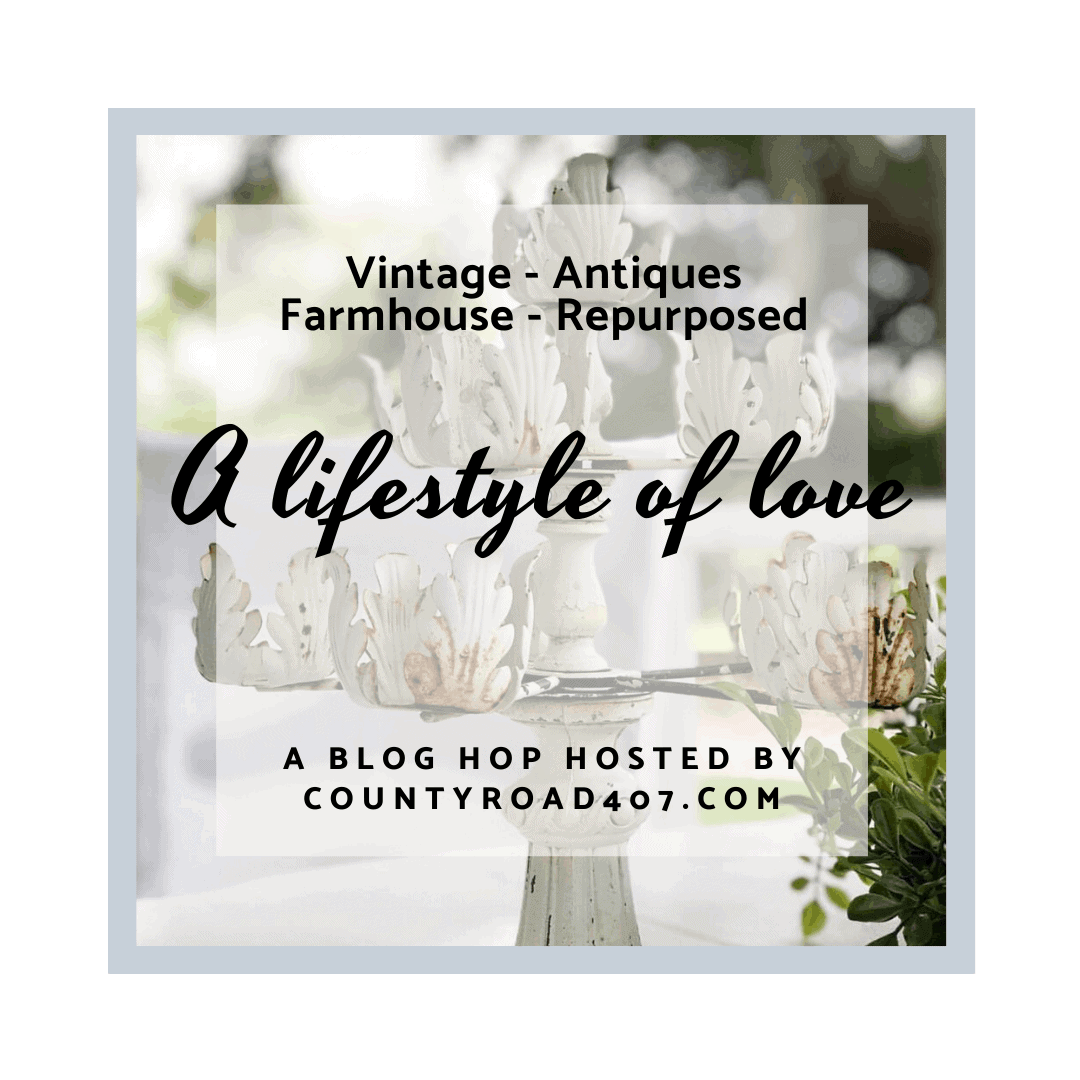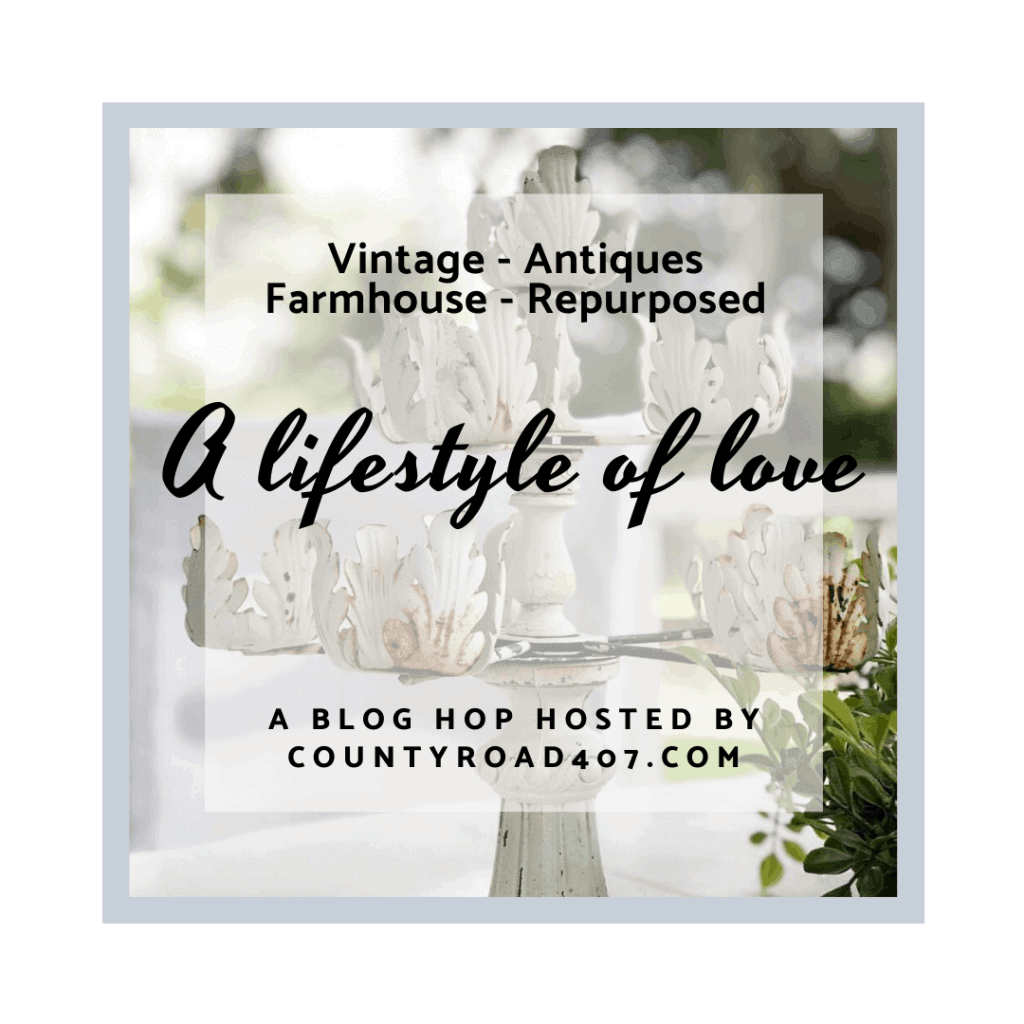 10 Ways to Decorate with Vintage Christmas Tree Stands
For your convenience, this post contains affiliate links. If you make a purchase, I may receive a commission. There is no additional cost to you. My full privacy policy is here.
Why Do We Collect? So Many Varieties!
The different styles of antique Christmas tree stands available is mind blowing. Some have a place to put water and others were meant for artificial trees. The reason we collect is finding is a fun adventure! You never know when you'll come across another piece to add to your collection. And when you can score it for a great price, it makes it all the more satisfying:)
Add a Ribbon to an Old Metal Tree Stand
This heavy sucker is the newest member of the collection; it's big. To turn it into a creative centerpiece, I add clipped sticks and snippets of evergreens from the yard. Then I tied a pretty, seasonal bow around it's neck. I tucked in a few birds and seeded eucalyptus for texture, too.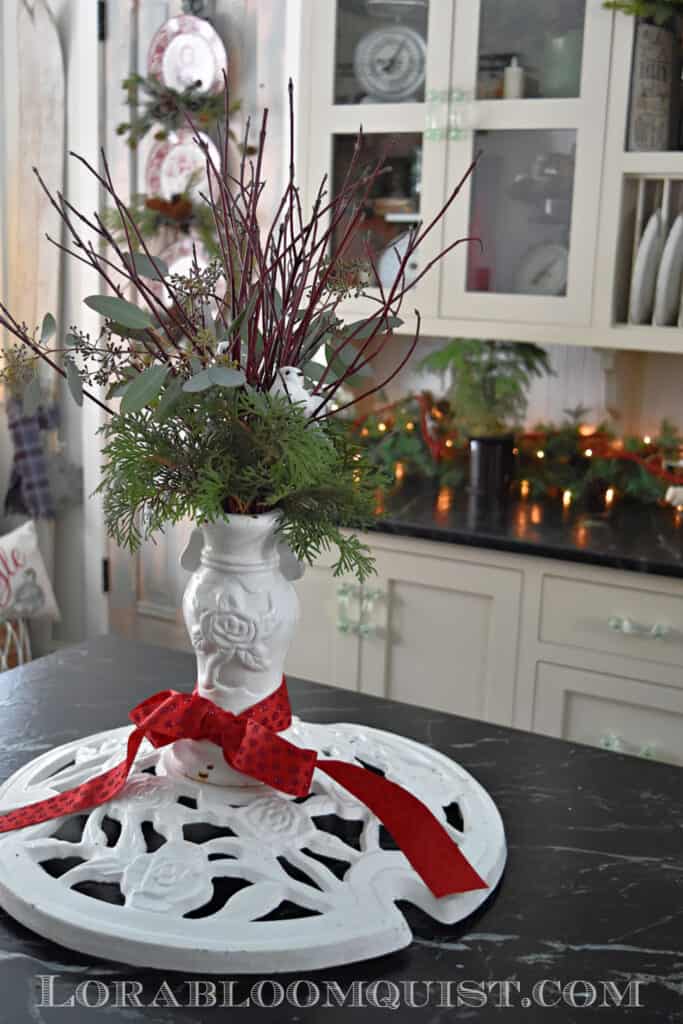 Arrange Flowers in a Vintage Metal Tree Stand
If your tree stand doesn't have a place to put water, insert a plastic cup or vessel with Oasis flower foam soaked in water. Then you can go to Trader Joe's and have fun picking out Christmas flowers, like I did! Wouldn't it be fun to host a Christmas party and have arrangements like these on each table?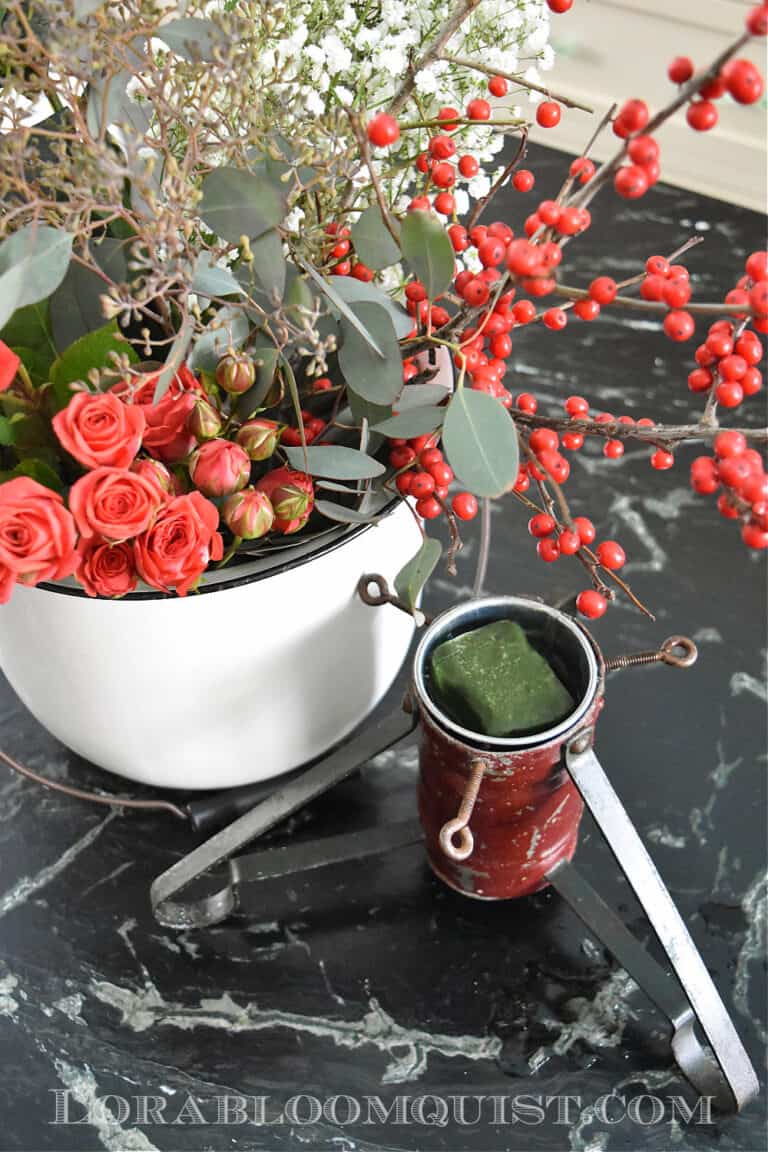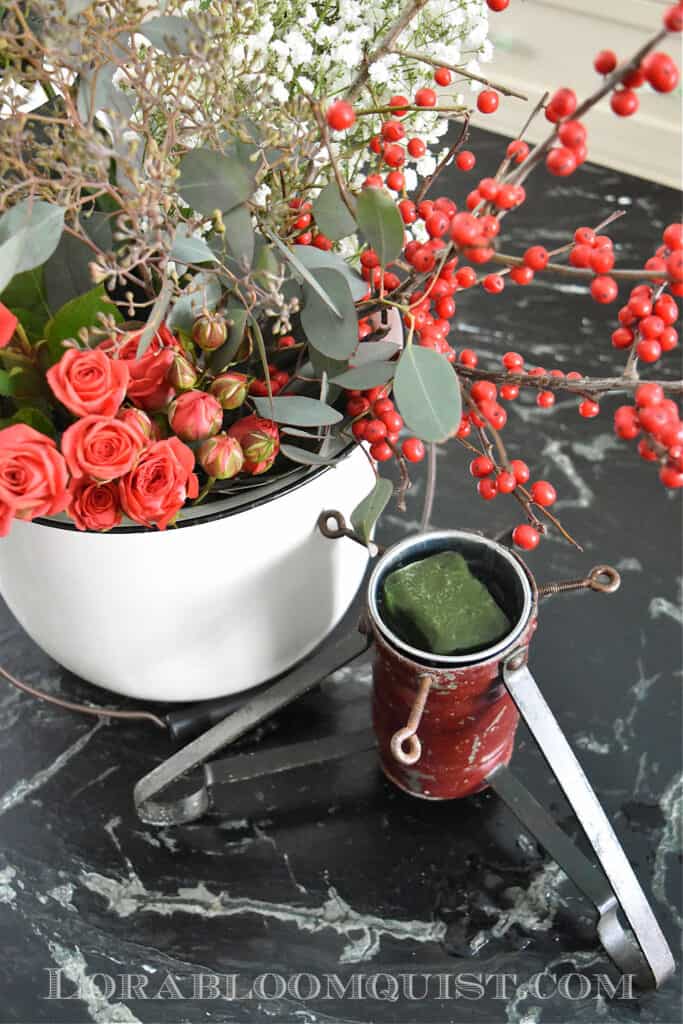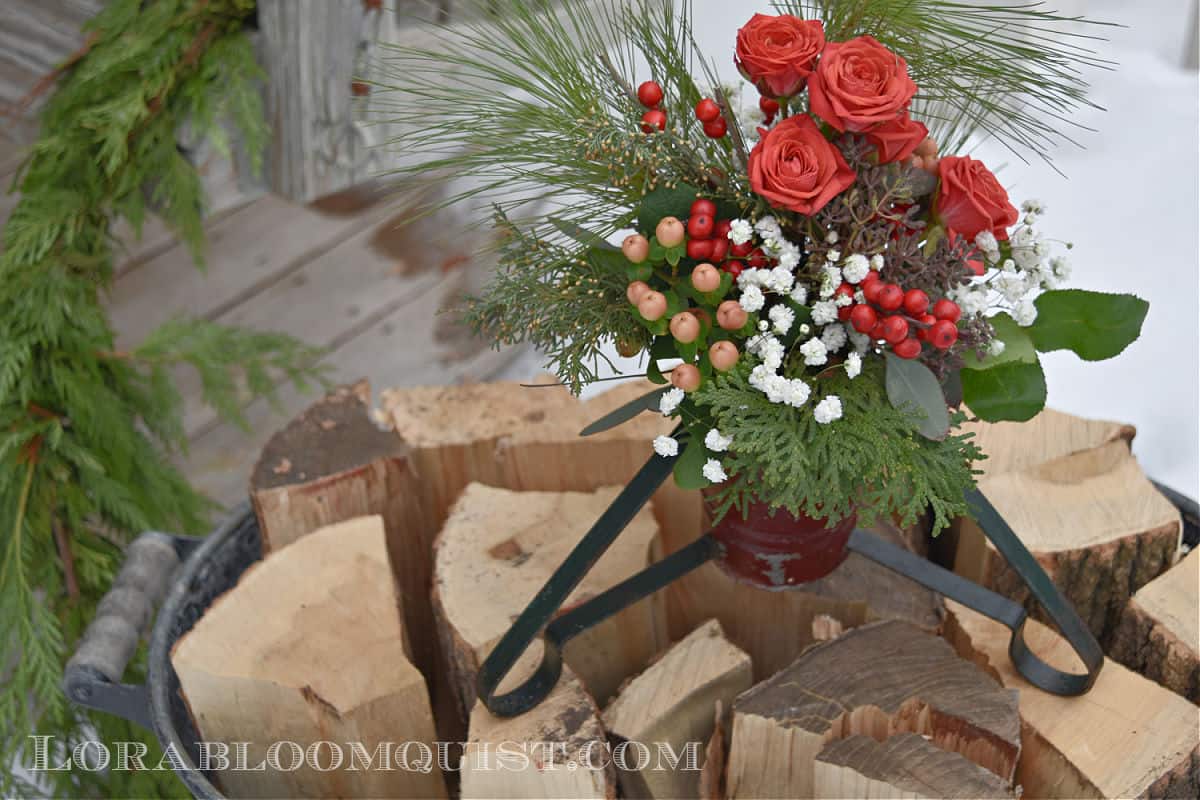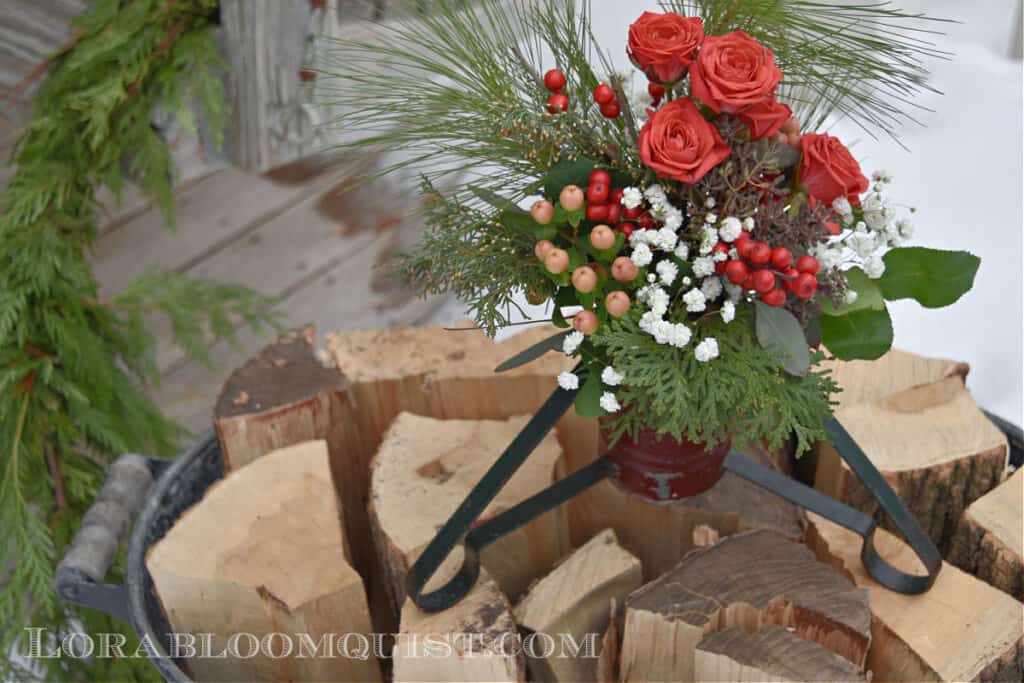 Pinecones, Big and Small
Pinecones are an easy way to add a little texture to vintage metal Christmas tree stands. A grouping of small ones or a giant one sticking out the top, or both together! Faux or real foliage adds another textural element. The mini poinsettias can be popped anywhere! So simple. So pretty.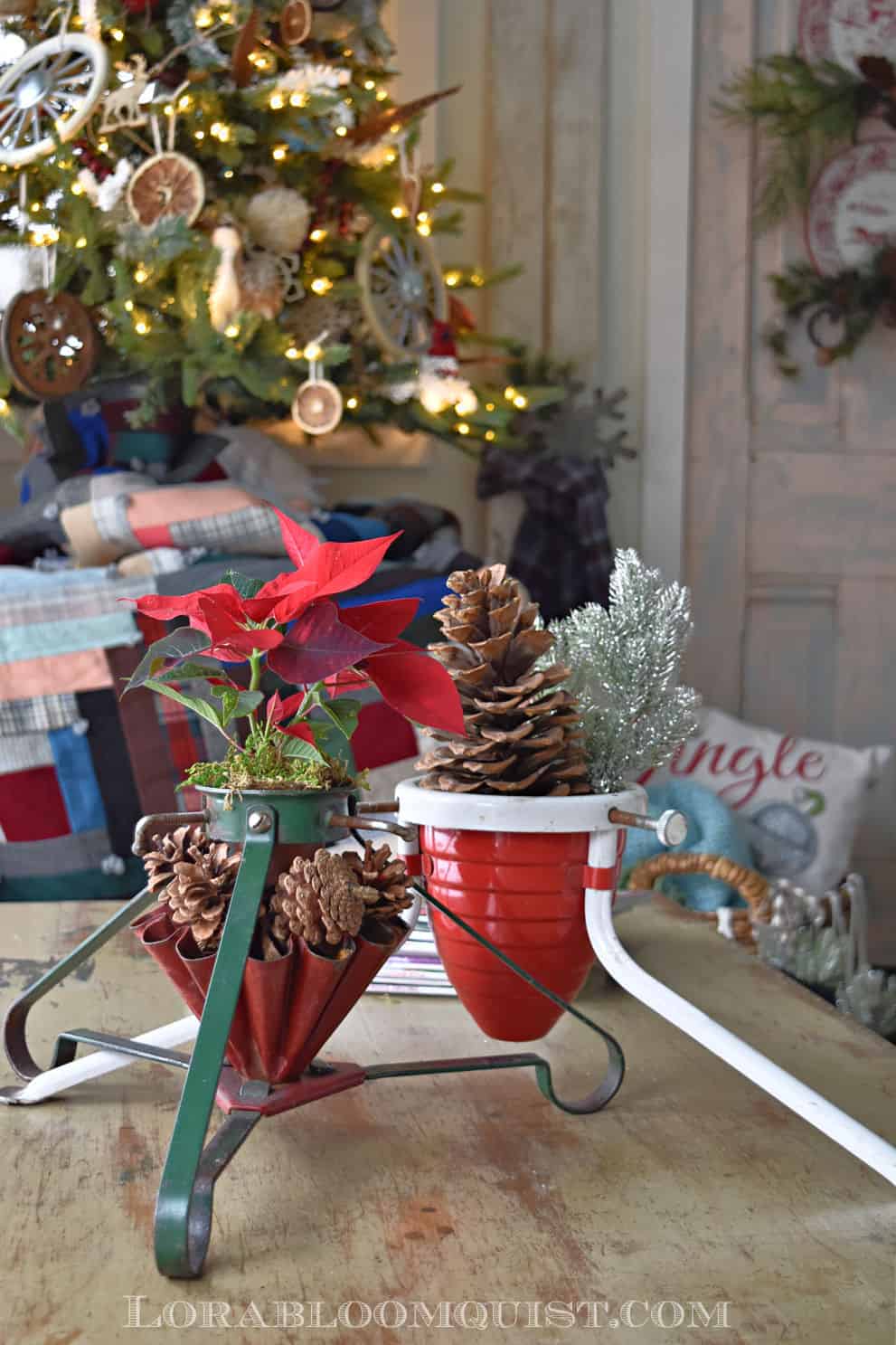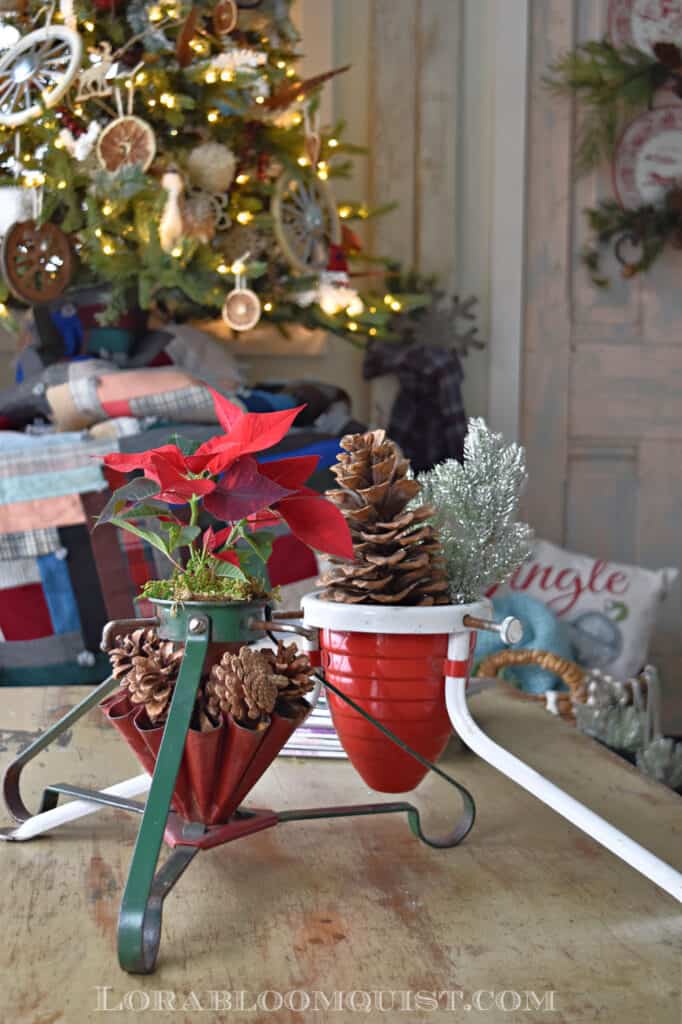 Add Candles to an Antique Christmas Tree Stand
Candles turn everything into pretty decor. You can place the candle right into the tree holder, or put a decorative plate on top of the tree stand with a pillar candle on top. A faux wreath could be around the candle or sprinkle epsom salts on the plate to resemble snow.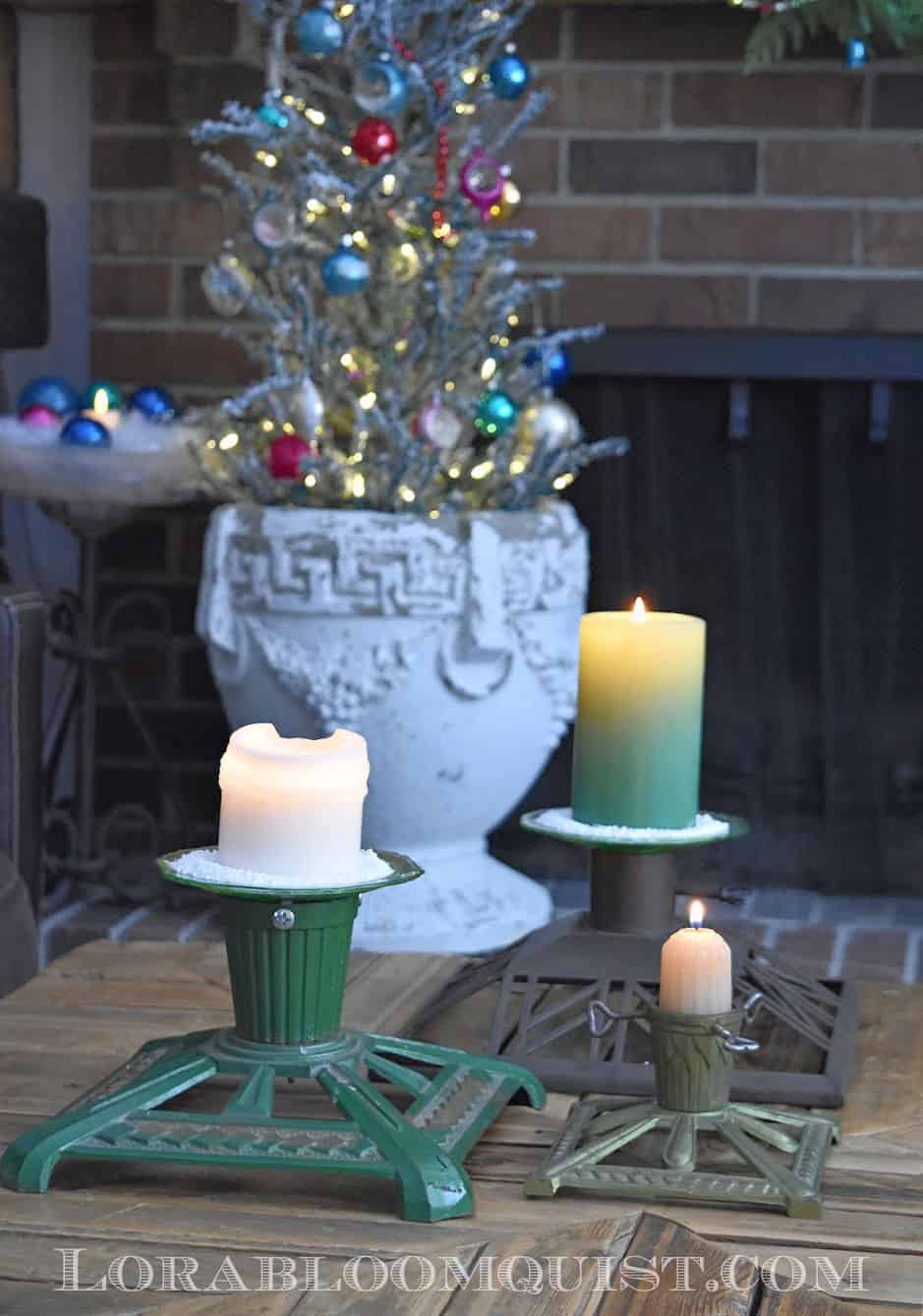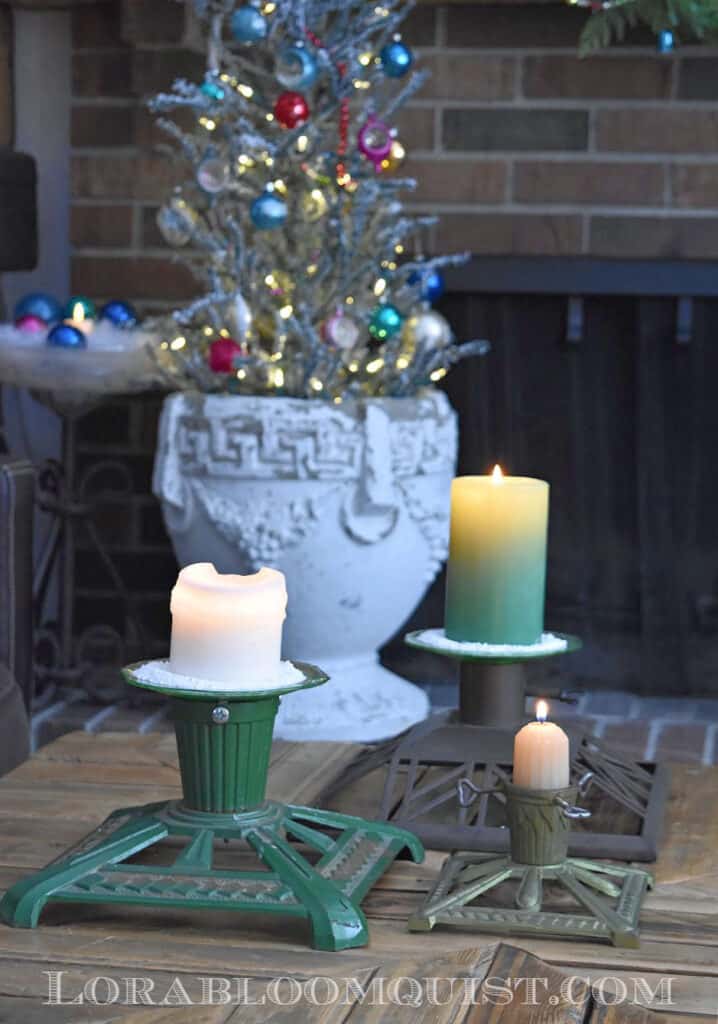 Miniature Trees are a Fun Addition
Mini bottle brush trees or more life-like faux trees are a fun, ironic way to decorate an old tree stand. Simply use the screws to stabilize the tree base.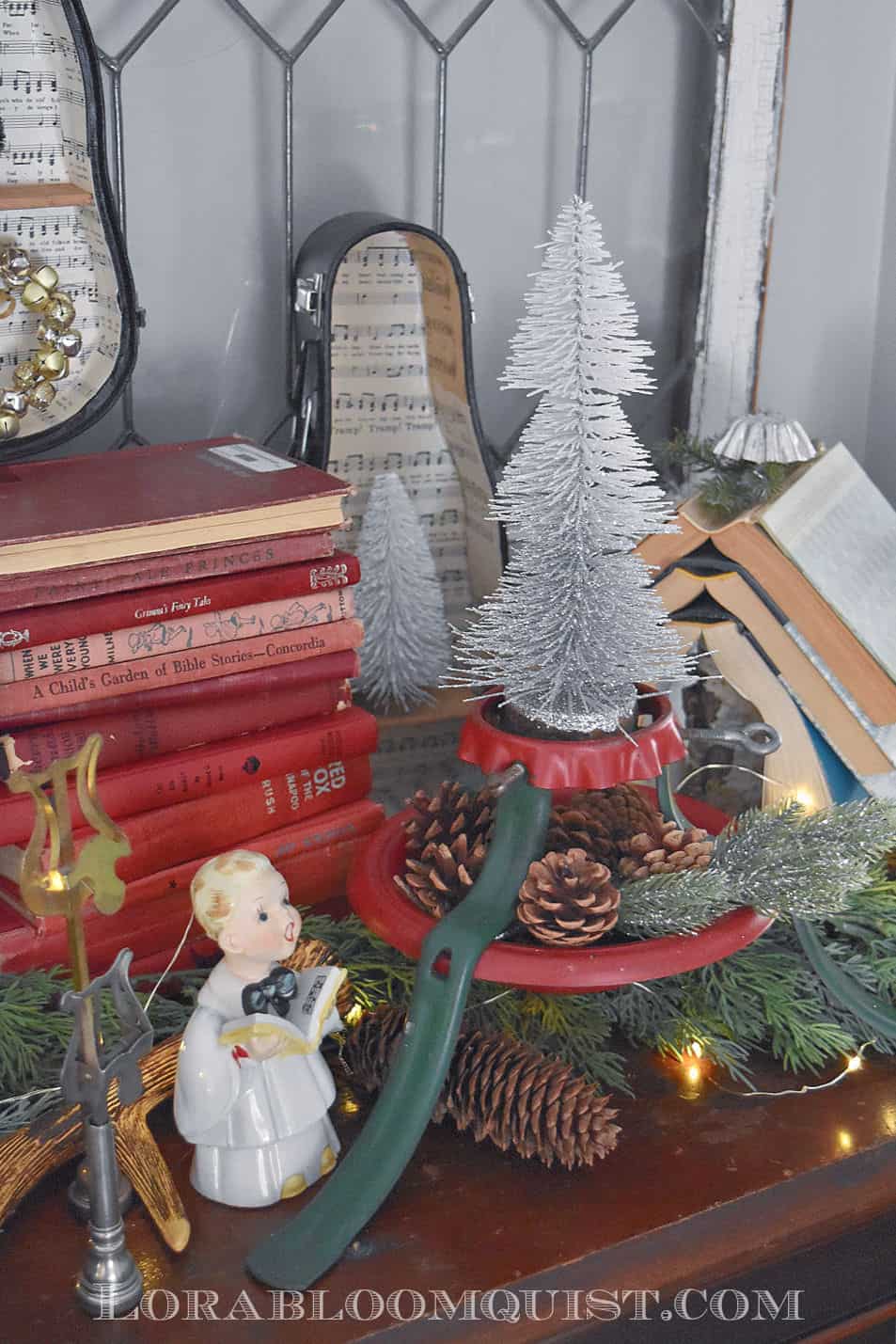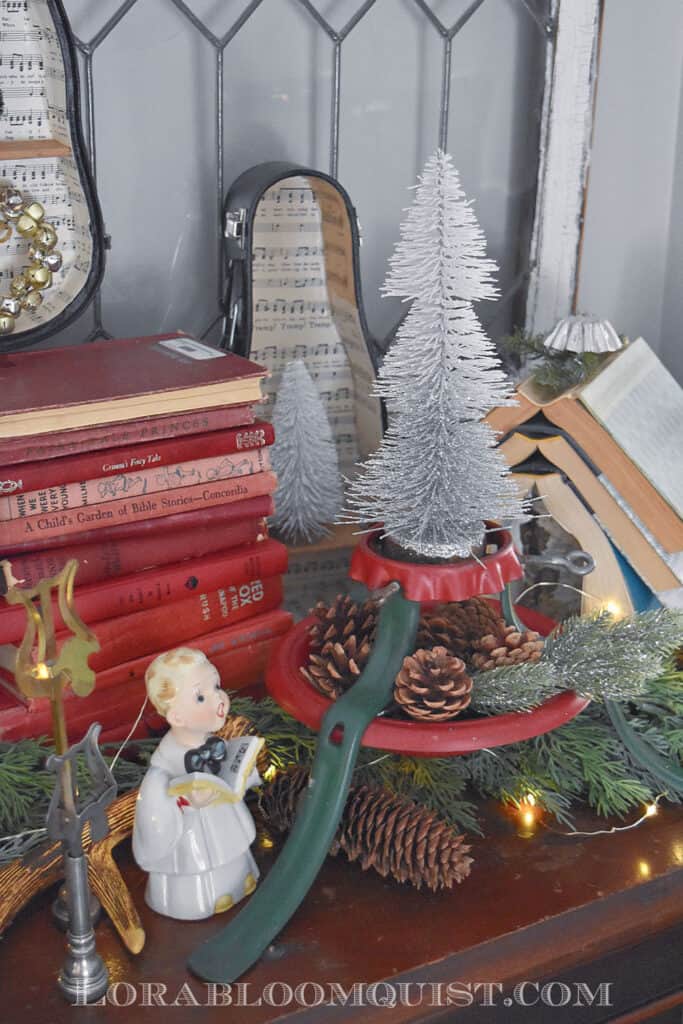 Add a Poinsettia Plant or Live Herb Tree
I love picking up fresh poinsettia plants and herb trees during the holidays. They look extra special if you pop them into a large vintage metal tree stand.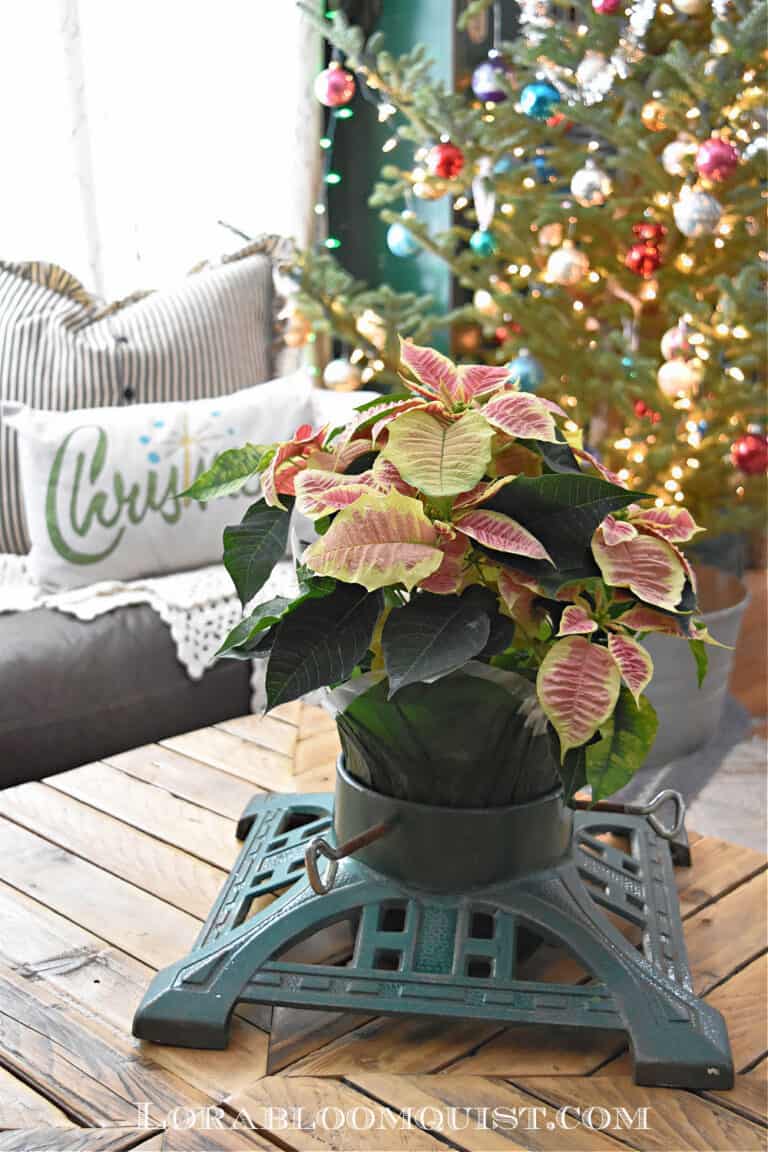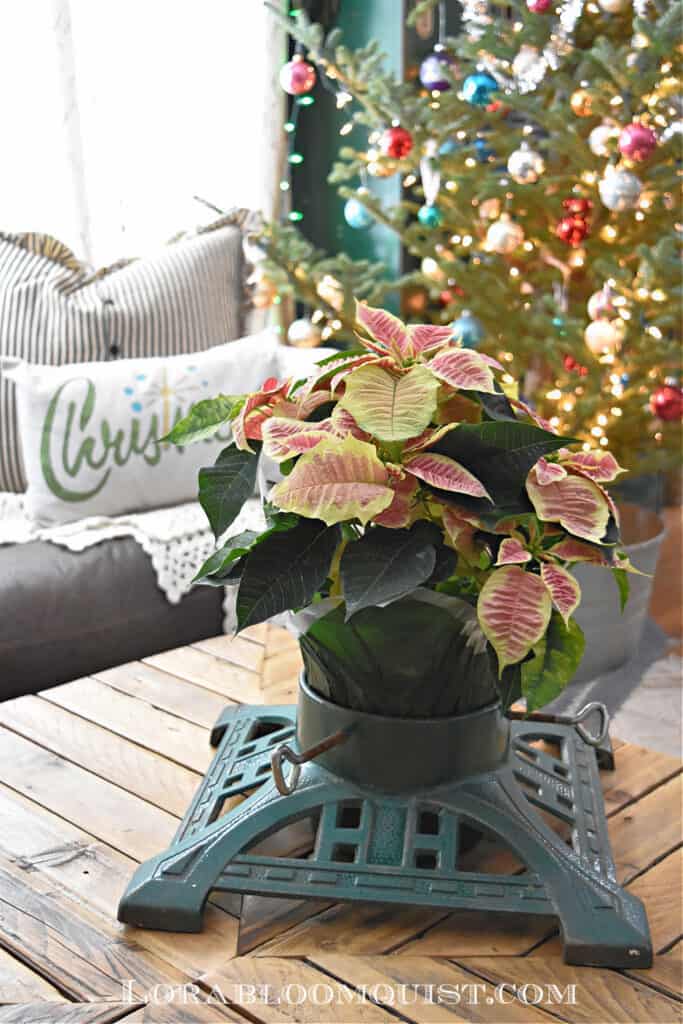 Display your Christmas Collection En Masse
Decorating with Christmas Collections is a unique way for your holiday home decor to reflect you! Each year I find a new way to display my vintage tree stand collection. Here are some ideas for displaying your Christmas Collection en masse!
Hang Your Christmas Collection
When my collection was smaller, I tied the tree stands to an old ladder with rustic rope. It was an artistic way to enjoy their different forms.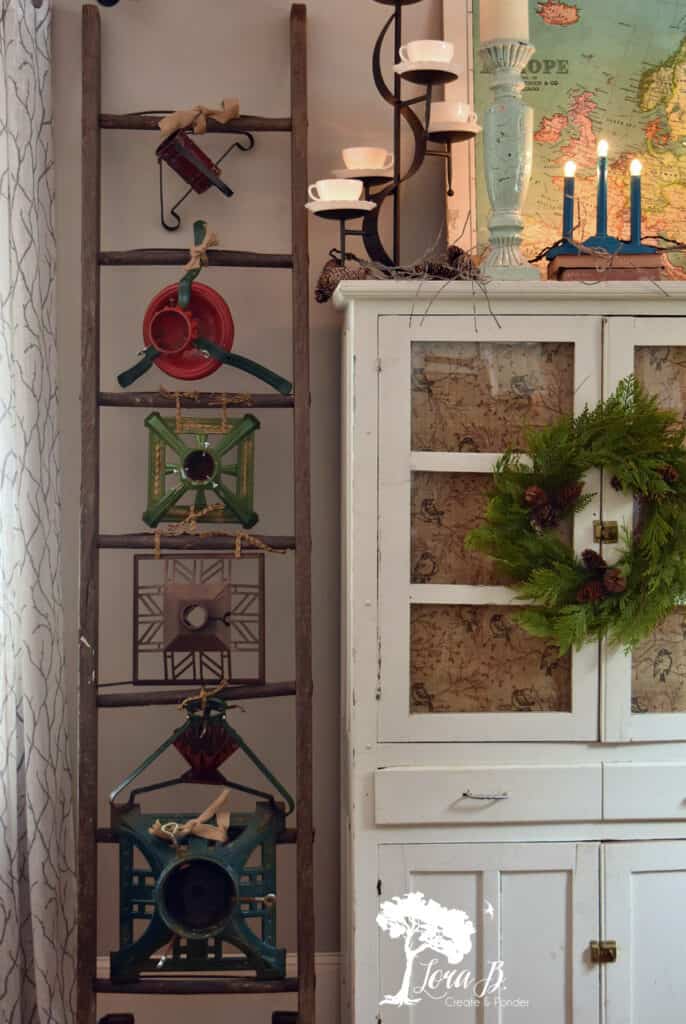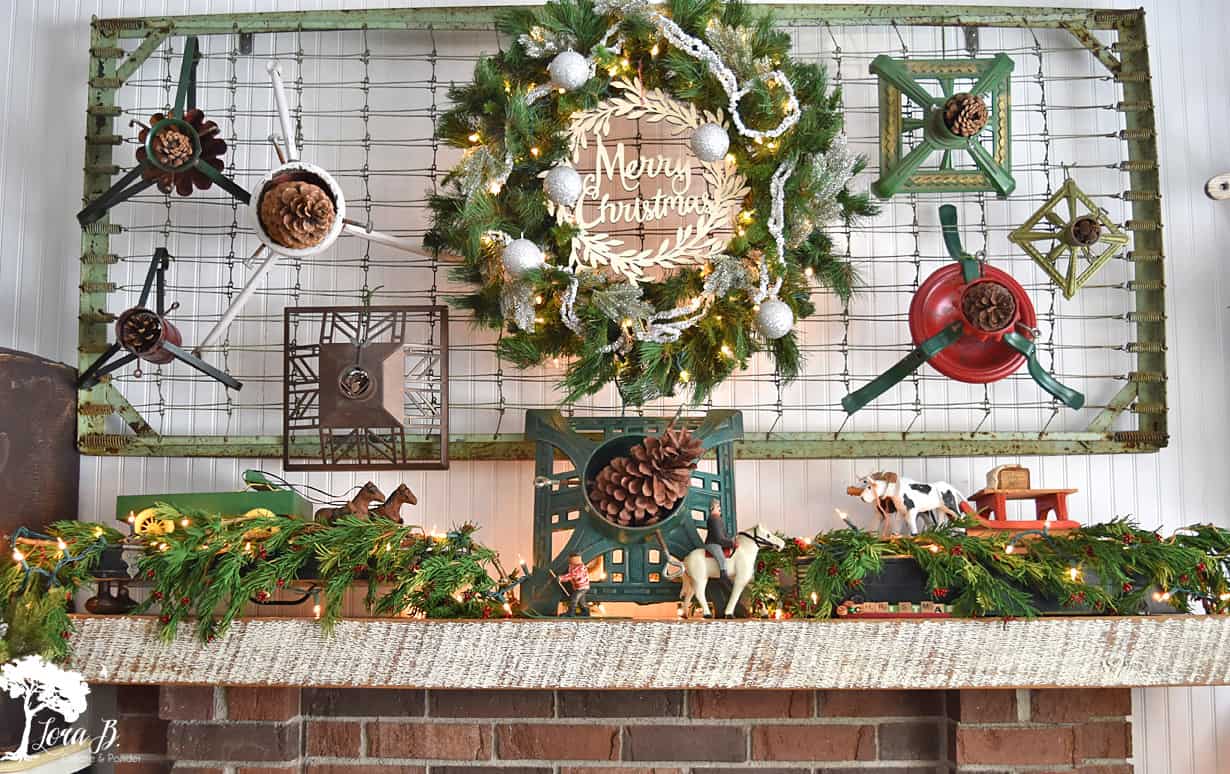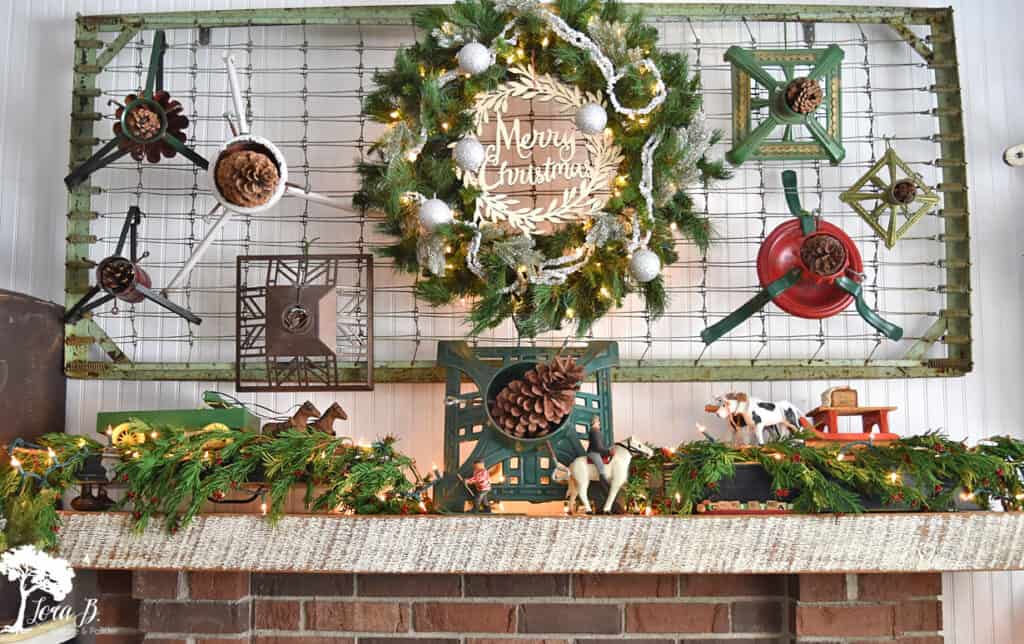 Another year I hung them from my green bedspring over the mantel. The heaviest one had to sit on the mantel.
Fill a Table with Your Christmas Collection
Creating a centerpiece with your Christmas collection can be a creative way to enjoy them also. I placed the tree stands down the center of the table and had the larger ones overflowing to the bay window. Their different colored finishes and details could be seen well while sitting at the table.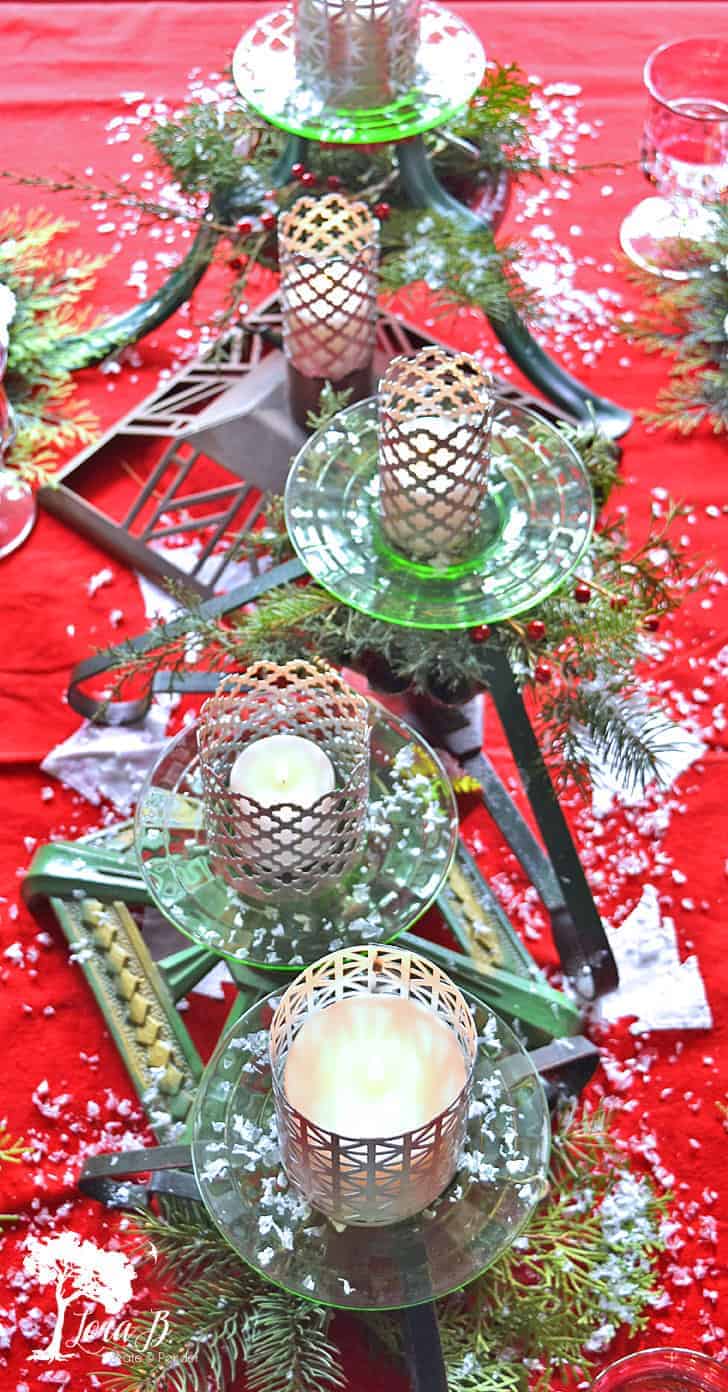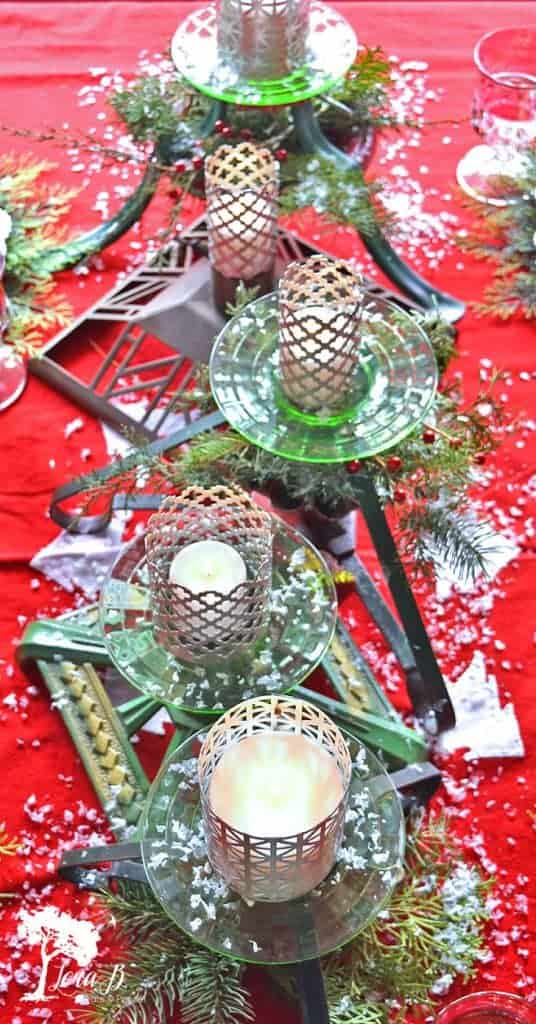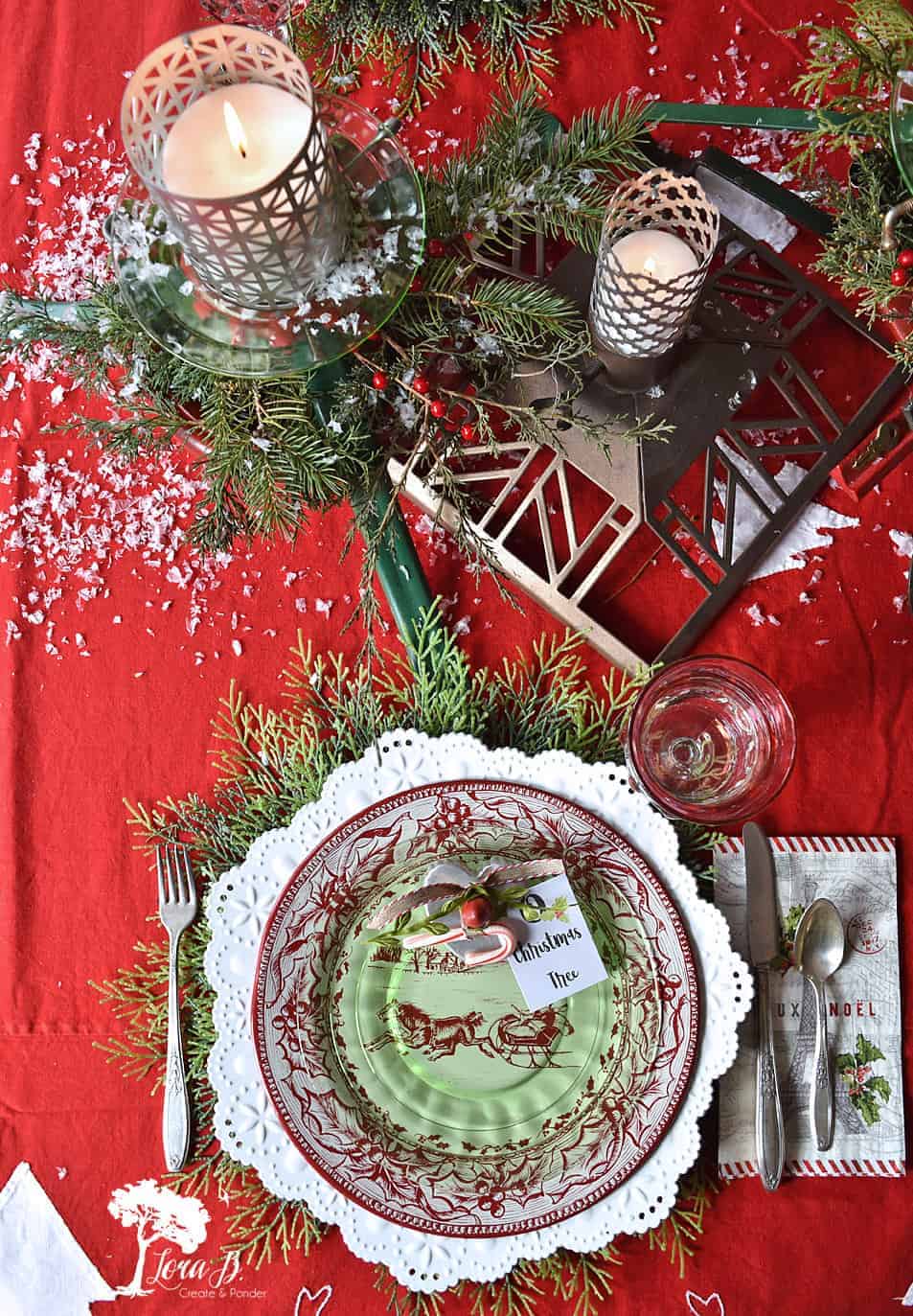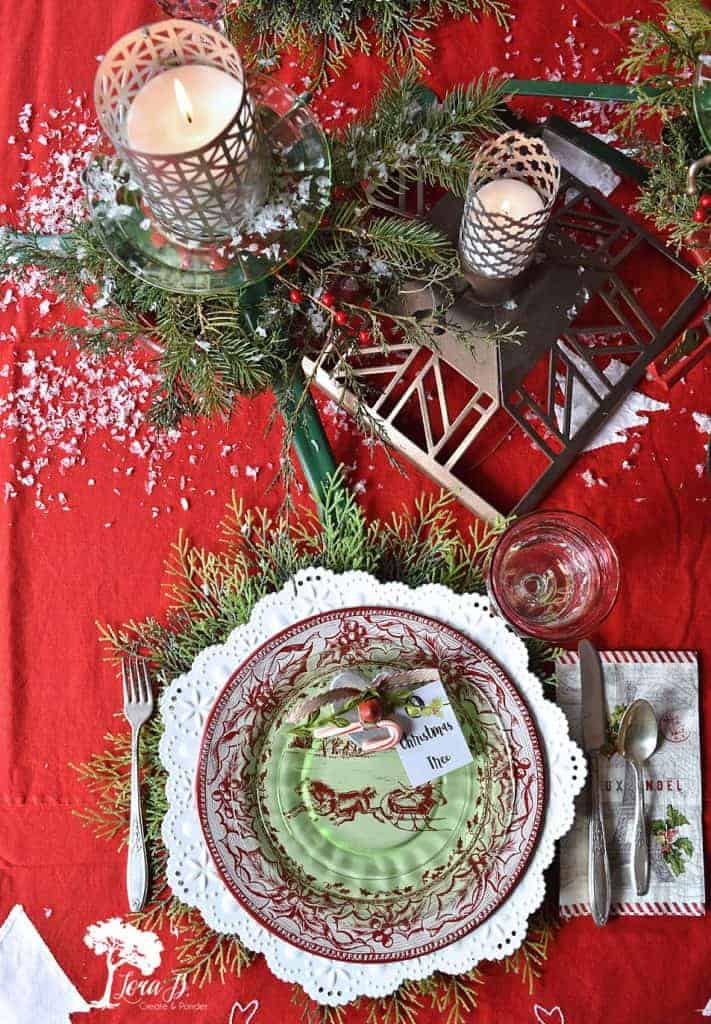 This year the Christmas collection filled the coffee table (until I started giving you all these ideas;) I don't mind them spread out here and there throughout the house, either. I'm running out of new places to display them. Maybe the new hutch in the dining room next year?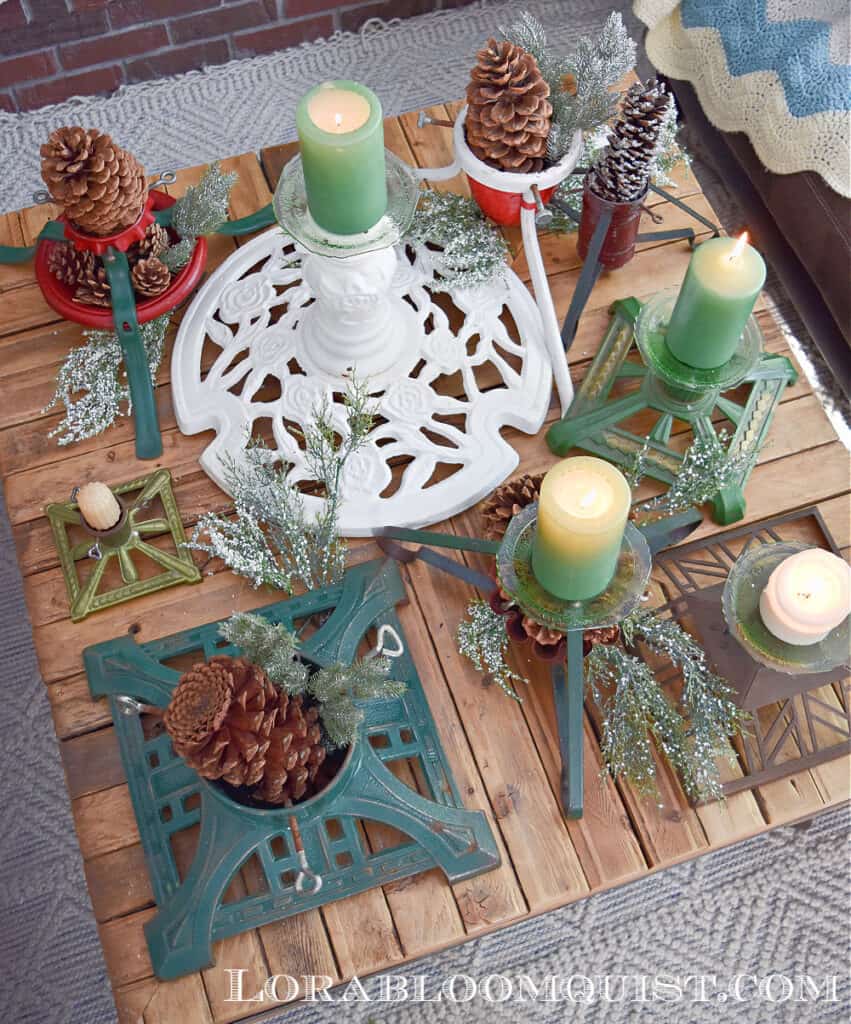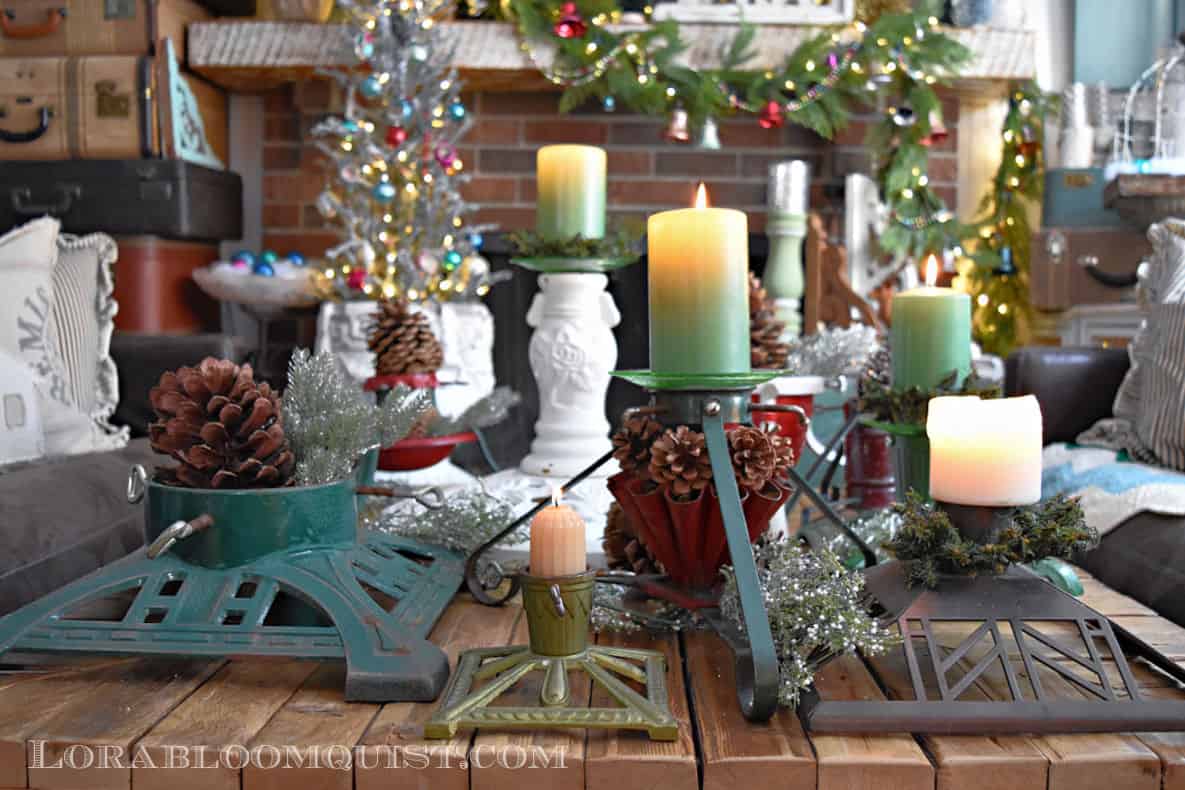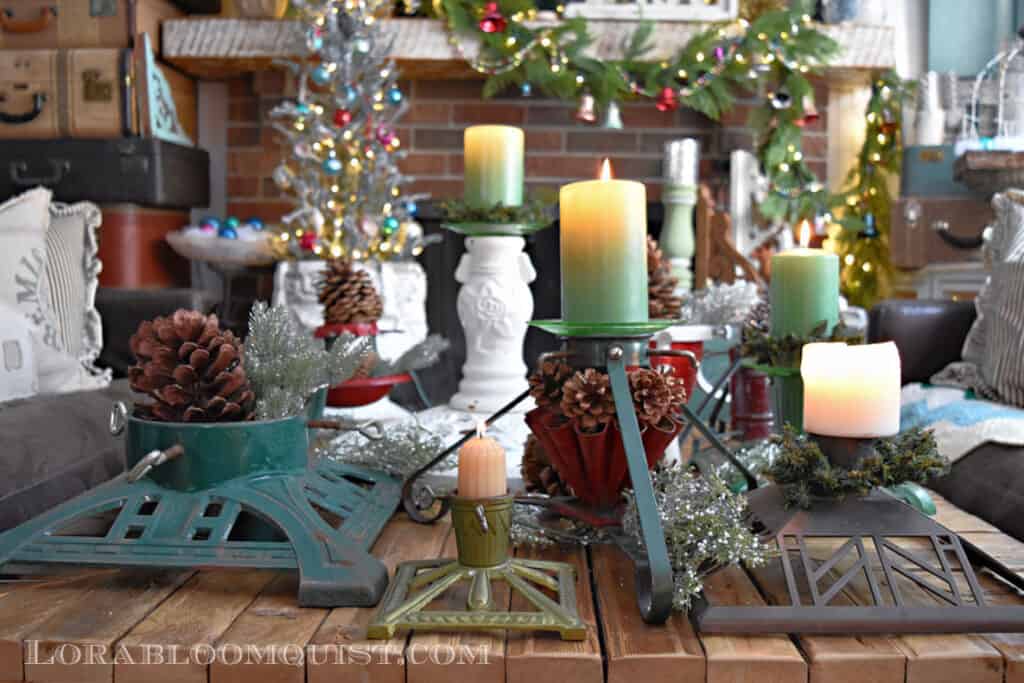 Enjoy this year's Christmas home tour HERE.
And get tons of my Christmas decor and DIY inspiration HERE., including my most popular post, 10 Ways to Decorate a Vintage Sled.
I can't wait to see the rest of my friends' Christmas collections and how they decorate with them! Visit Ann at Dabbling and Decorating next; she's sharing creative ideas to display your vintage collections…and she's probably got as many as me!
Thanks for reading 10 Ways to Decorate with Vintage Christmas Tree Stands. If you enjoyed your visit, Become an Insider to keep the ideas coming!
Pin, share, and enjoy the rest of the Inspiration!
Vintage Christmas tree stand shopping info below.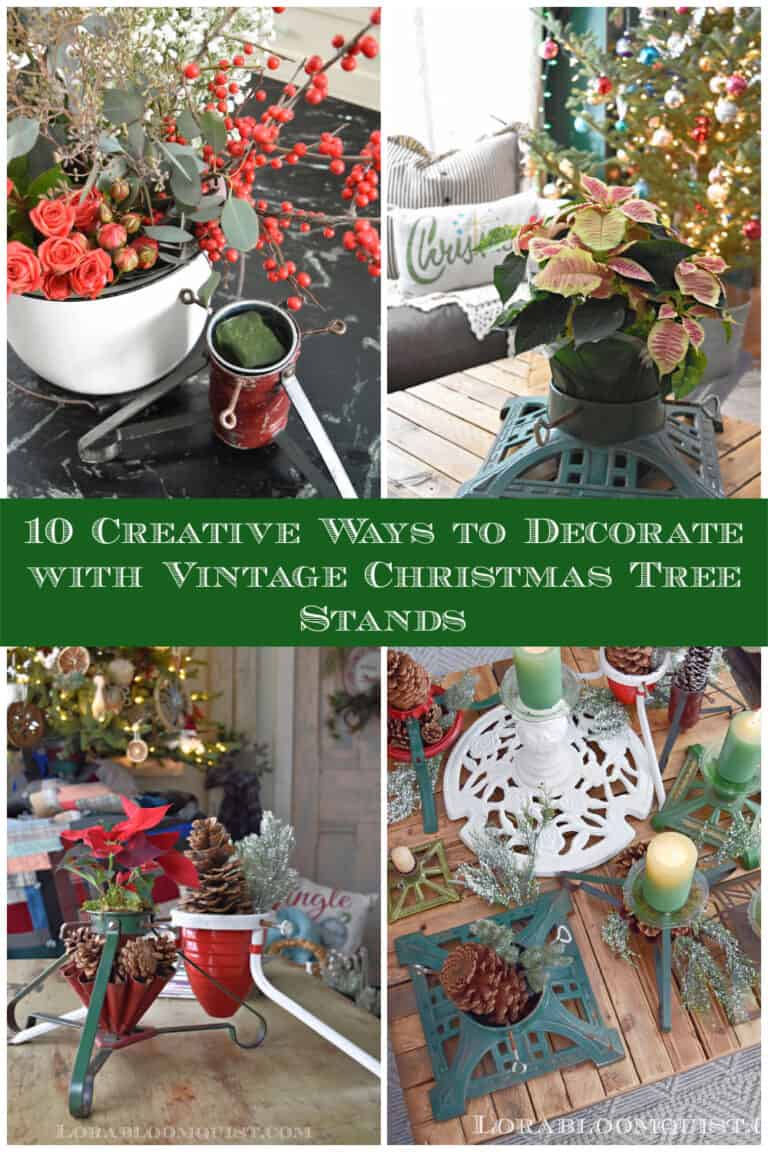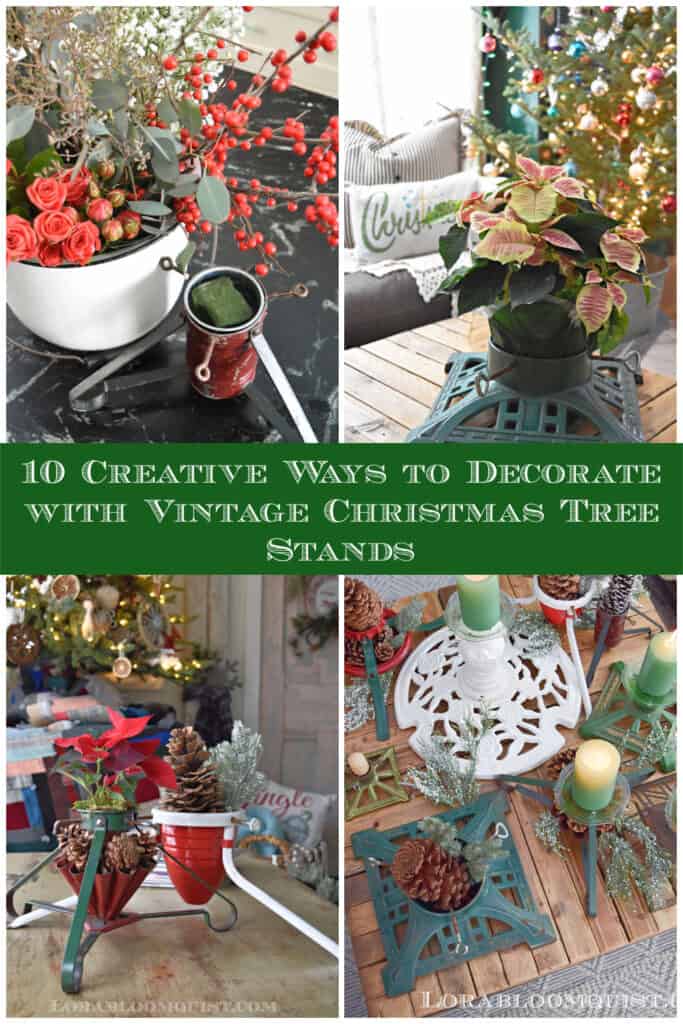 Lifestyle of Love: Collections



Sharing at these lovely parties: