9 Brilliant Upcycled and Repurposed DIY Projects (to make now)
These Clever upcycled and repurposed projects are a great way to reinvent the old. DIY them today!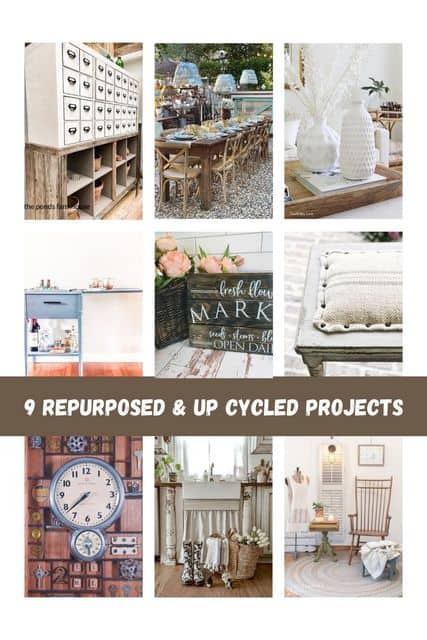 Today I'm joining 8 talented bloggers to bring you some of our best upcycled and repurposed projects! These ladies all have a love for unique home decor and are experts at bringing new life to old things. I can't wait for you to see all their amazing ideas! Here are 9 Brilliant Upcycled and Repurposed Projects (to make now).
Upcycled and Repurposed Projects (to make now)
For your convenience, this post contains affiliate links. If you make a purchase, I may receive a commission. There is no additional cost to you. My full privacy policy is here. 
Upcycled Projects to Hang
(click on titles to get to the full post…and make sure to pin when you're there;)
"Repurposed Printer's Drawer Junk Display"
By Lora at Lora Bloomquist Create and Ponder
I'm kicking off today's projects with one of my family's favorite upcycles. This simple repurpose got rave reviews when I first hung it, and then got even better when I added some junk-loving bling! I even made up a little story to go along with this estate-sale find.
Find our favorite upcycle HERE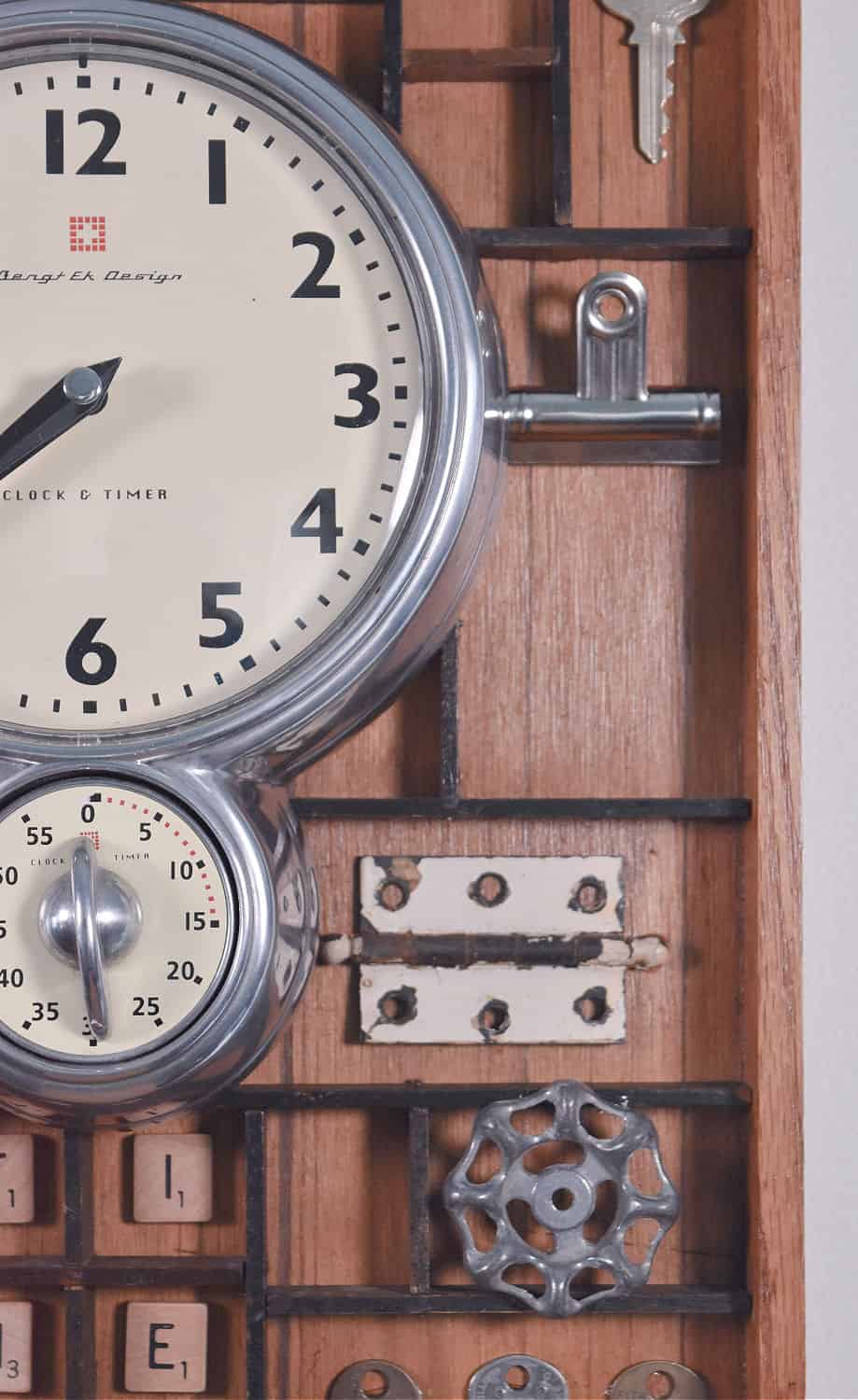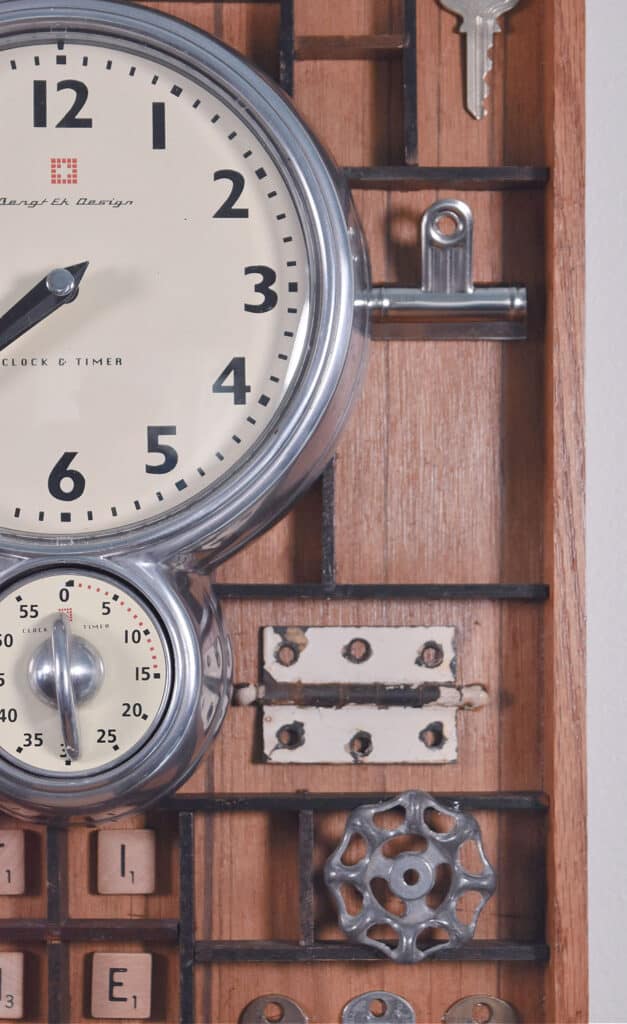 "What to do with Old Shutters"
By Cindy at Reinvented Delaware
Cindy is a vintage-junk loving gal like me. She has the best ideas for repurposing old, found items.
Vintage wood shutters are always a fun find and Cindy came up with the best way to enjoy their patina, while making them functional, too!
Visit Reinvented Delaware for Cindy's easy shutter upcycle HERE.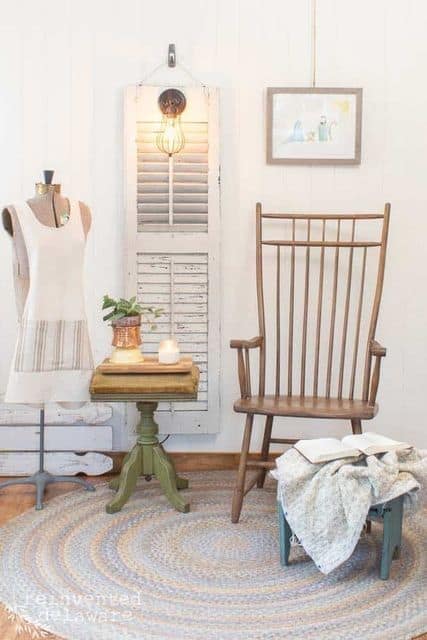 By Wendy at WM Design House
Wendy is actually a new blogger to me, and I think I've already decided I need to become a regular reader of her beautiful blog!
Wendy is a talented designer and creates the most beautiful tablescapes, full of organic textures, combined with rustic beauty.
Above this gorgeous backyard tablescape, Wendy (actually her hubs;) upcycled old garden baskets to make beautiful outdoor hanging lights.
Check out the simple how-to HERE.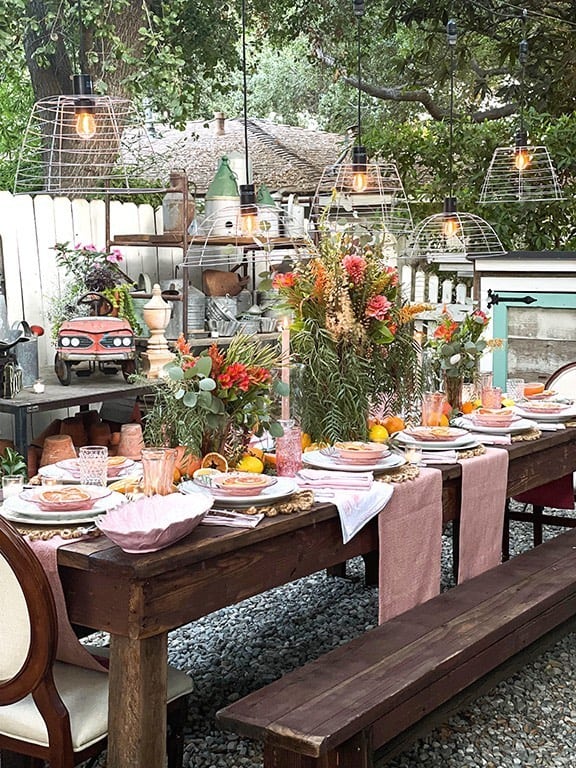 Thrift Store Upcycles
"DIY Thrift Store Farmhouse Sign Makeover"
By Niky at The House on Silverado
Niky, from The House on Silverado and I have been in quite a few blog hops together. I always love her farmhouse-fresh ideas for DIY and decorating.
A couple of thrift store signs that Niky found inspired her to give them a more customized makeover. If you've ever wanted to make your own custom signs, Niky has a few brilliant ideas that I never would have thought of.
See Niky's DIY signs HERE.
"Easy Thrift Store Vase Makeover"
By Michelle at Thistle Key Lane
Michelle and I are also blog hop pals. She loves vintage finds, and pairs them so well with newer items for a fresh look.
Michelle is a thrifter at heart; she loves to treasure hunt and transform her finds with simple DIY's. She also cooks and bakes up some amazing-looking food;)
When a couple of large vases caught her eye at the thrift store, Michelle decided to give them a makeover so she could use them in her home decor.
Get Michelle's tips for upcycling thrifted vases HERE.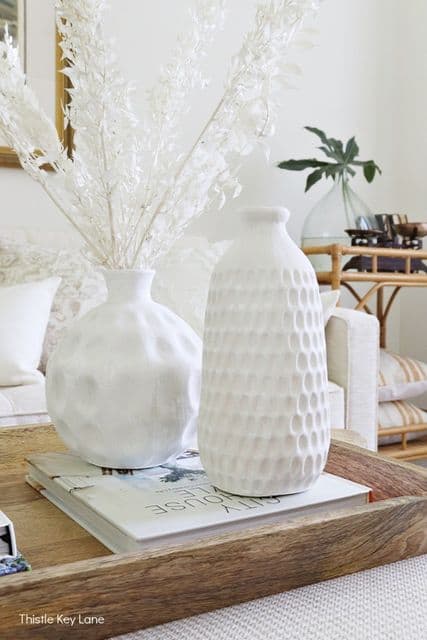 Repurposed Furniture Projects
By Rachel at The Ponds Farmhouse
Rachel is a vintage junk lover like me, and she has the most amazing custom-built, industrial-style home. I love her creativity and her style.
Rachel and her hubs DIY together; they have unending energy, and are working on projects all the time!
In her backyard, they built an amazing greenhouse that Rachel fills with perfectly patinaed beauty. This amazing apothecary cabinet (card file chest) that I assumed was old, is actually an Ikea hack; a thrifted piece that was given an amazing makeover.
See how Rachel transformed this Ikea cabinet HERE.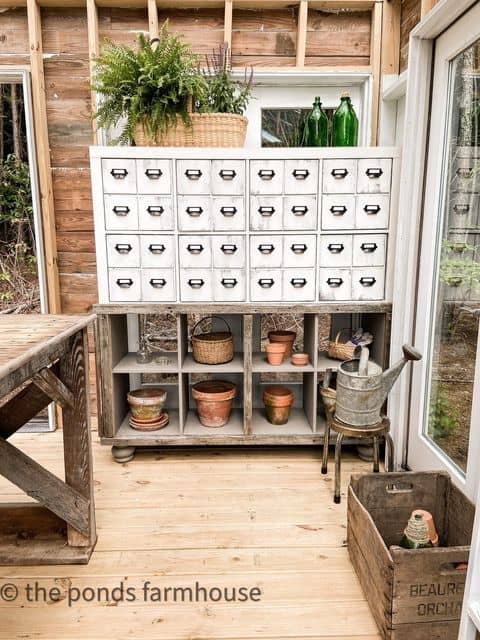 "How to Repurpose a Dated Vintage Furniture Piece"
By Michele at Vintage Home Design
Michele is fairly new to me, but she and I have similar journeys. She was a vintage shop owner for 5 years like I was, and her love of vintage finds and decor runs deep. She is very experienced at bringing new life to old things.
Michelle's amazing themed tablescapes have always caught my attention. Her talent for styling beautiful vignettes can be seen on her blog.
See how Michelle creatively made over a family heirloom HERE.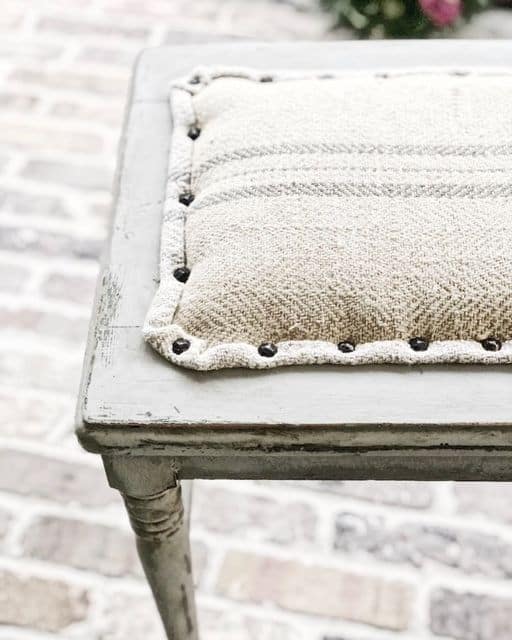 By Regina from Saved from Salvage
Regina has an amazing way of decorating with vintage in a fresh way. The photos on her blog are filled with vibrant color and creativity.
Regina loves incorporating nature into her decor and is challenged by bringing new life to old things.
See how Regina gave a makeover to an old sewing table HERE.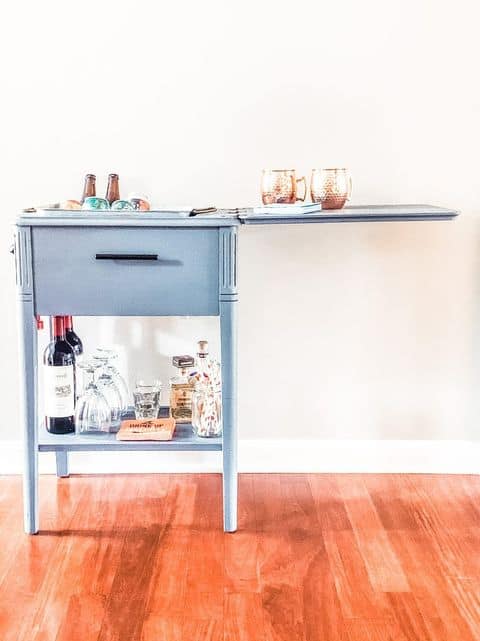 "DIY Farmhouse Kitchen Sink Remodel"
By Jenn at Down Shiloh Road
Jenn from Down Shiloh Road shares her life on her beautiful hobby farm in Illinois. If you love the farm life, you'll be captivated by Jenn's gorgeous photography, filled with vintage, flowers, and farm animals.
Jenn completely transformed her ho-hum kitchen into a fresh, welcoming space that everyone oohs and aahs over.
See how Jen added vintage love to her kitchen sink HERE.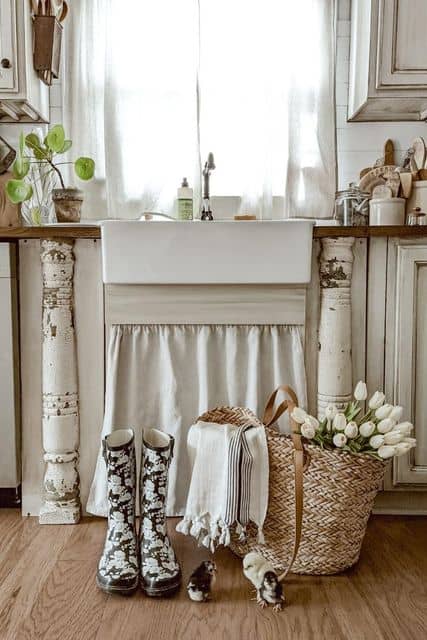 Was that not the most amazing round up of upcycled inspiration? I know I'm inspired. These ladies are so talented and I loved getting to meet some new faces. I hope you found some new favorites, too!
I hope you enjoyed 9 Brilliant Upcycled and Repurposed DIY Projects (to make now) as much as I did. Be sure to become an Insider to keep the ideas flowing!
Please Pin and Share!