Upcycled Old Tin Organizer DIY
What can you do with old tins? Upcycle them into a handy organizer, perfect for your kitchen desk!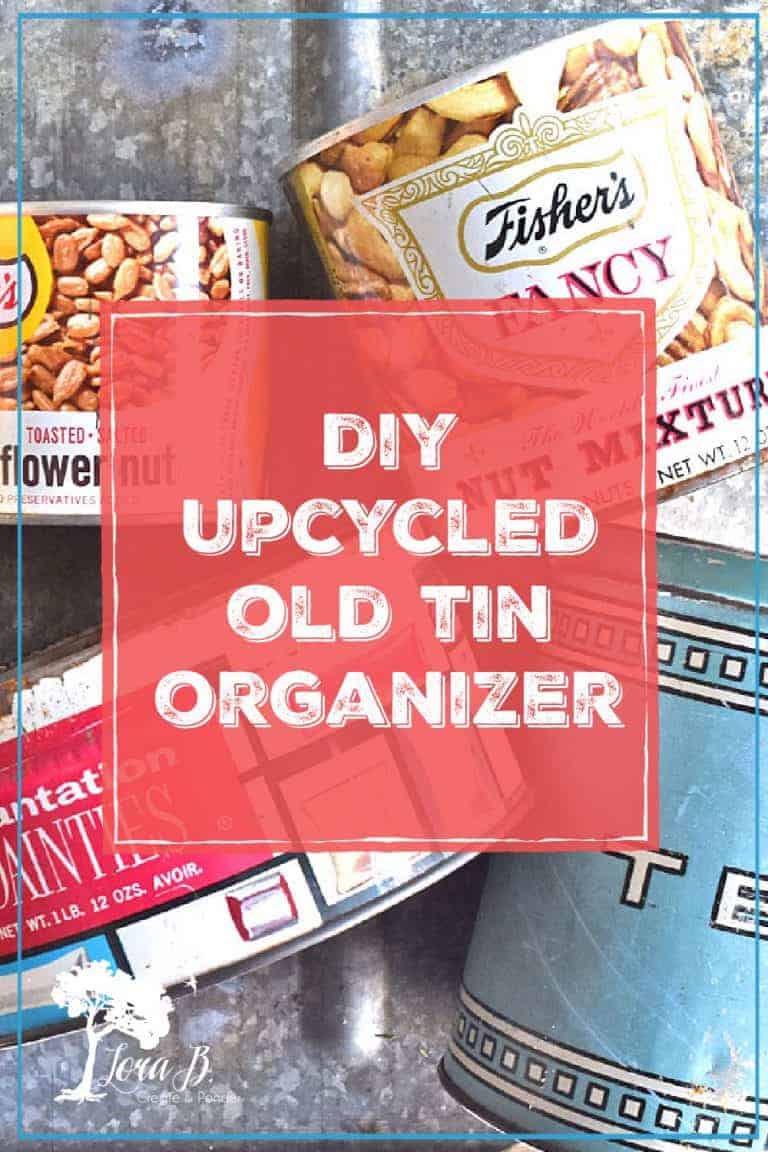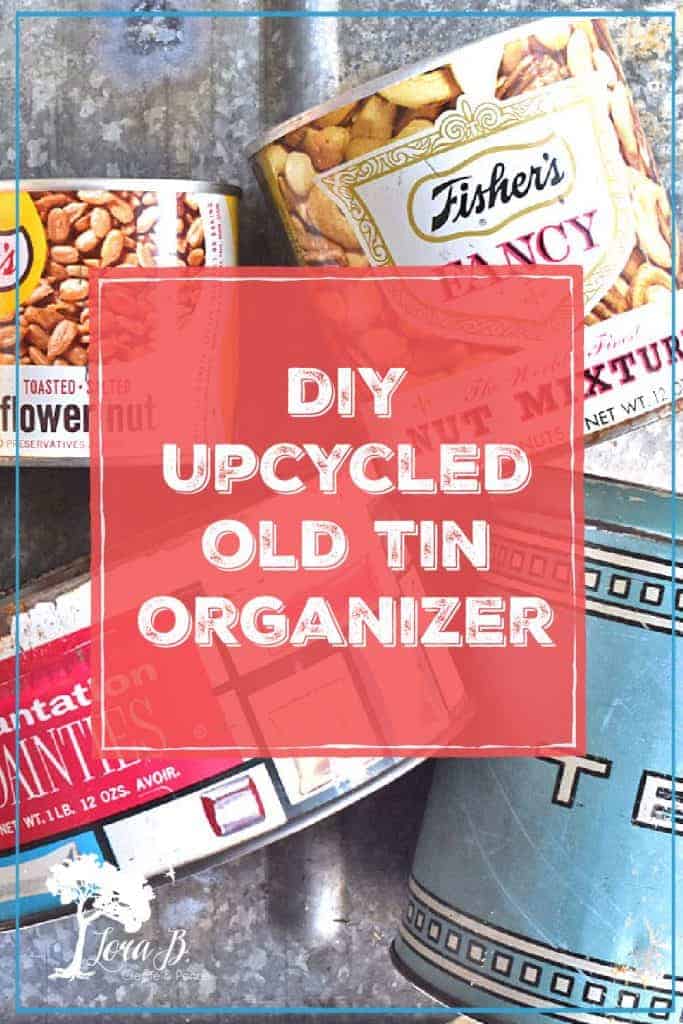 Reusing old kitchen tins that food used to be packaged and sold in is nothing new. In fact, the main place I find these vintage tins is usually the garage or basement workshop of old handymen. The tins I used for this upcycled project were full of screws and nails in my dad's shed. So, yes, they do have sentimental value; all the more reason to enjoy them in a new way! Hopefully this Upcycled Old Tin Organizer DIY will inspire you to make one, too!
Today I'm joining a bunch of creative friends for our monthly Thrifty Style Team challenge. You're going to love the seasonal, timely projects my friends came up with…all inexpensively, of course! Thanks to Julie at RedHead Can Decorate for organizing us! I'll have links to all their projects down below!
Upcycled Old Tin Organizer DIY
For your convenience, this post contains affiliate links. If you make a purchase, I may receive a commission. There is no additional cost to you. My full privacy policy is here.
To Start, Seal and Clean Your Old Tins
Like I said, these great old tins are usually found in pretty dirty places. If they're greasy, I like to use THIS cleaner to cut through the grease. If they're rusty, I use THESE to scrub, being careful with any cute graphics or labels. Then I seal with THIS. It seals and brings out the colors; it also makes any rust look beautiful. You can use the brush on version, or the spray.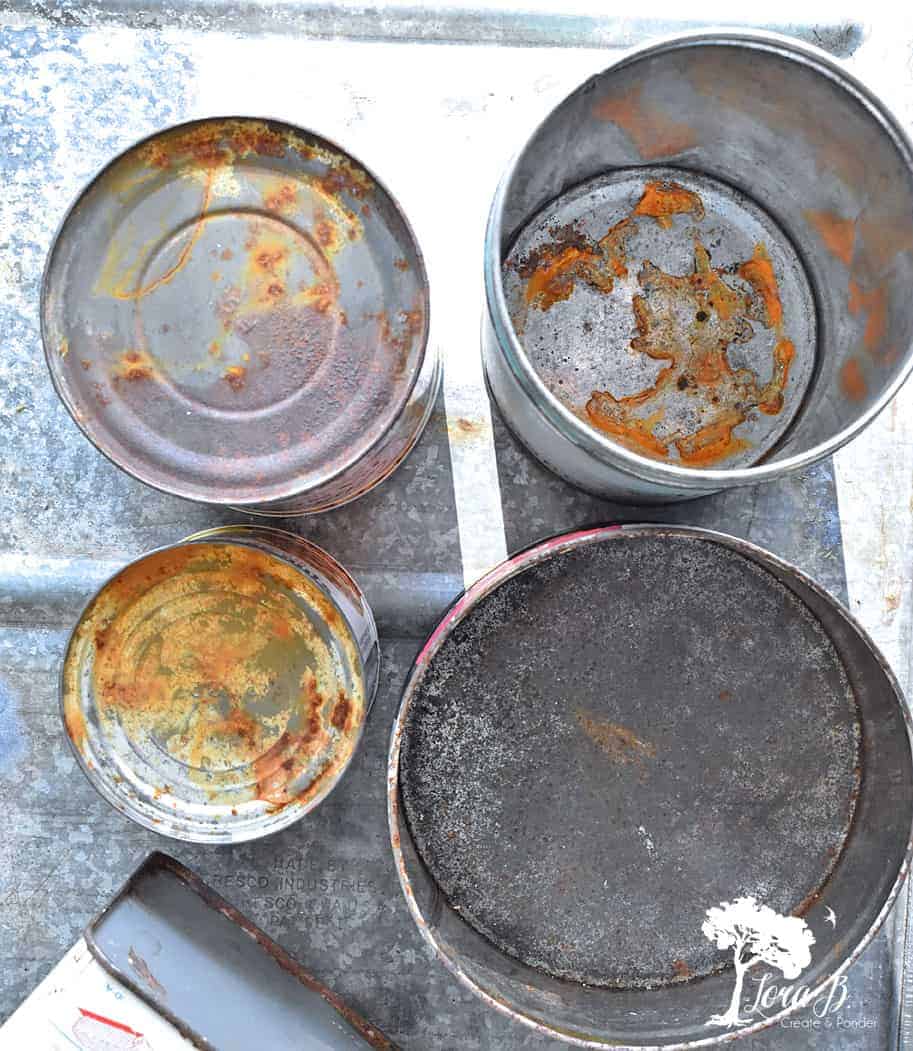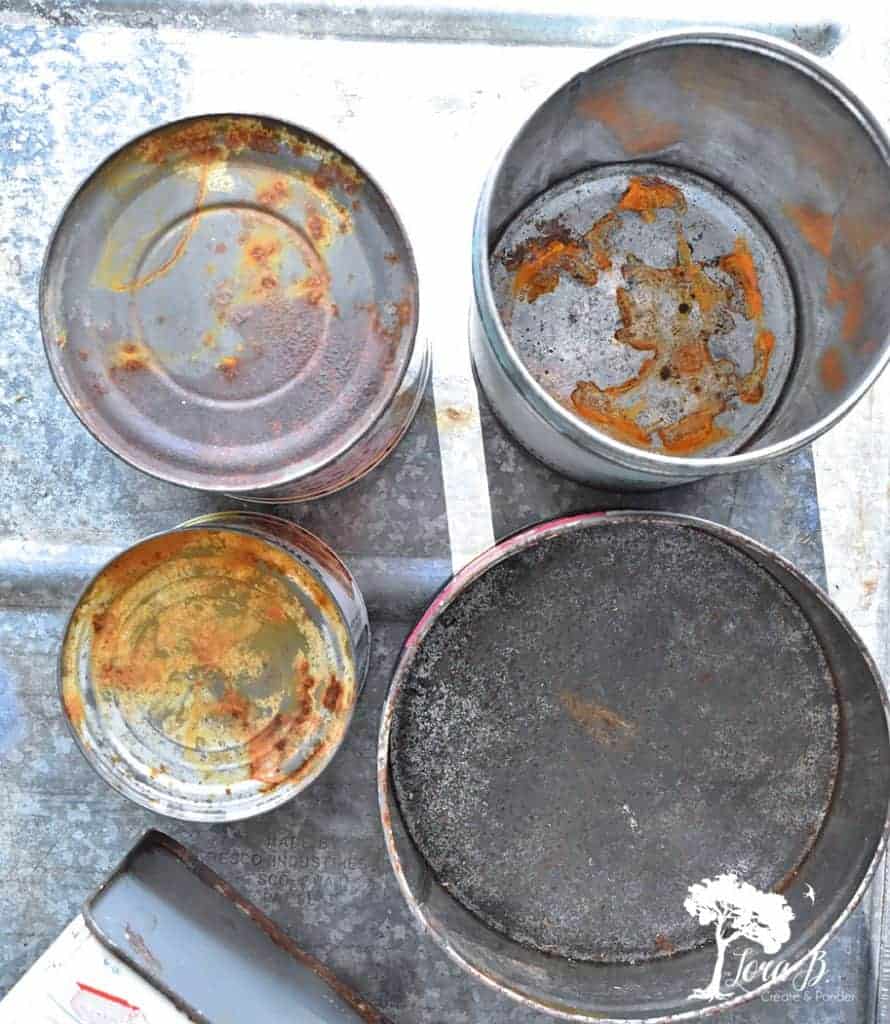 I've been organizing my kitchen desk to start out the new year (with everyone else, right?). I figured these old food tins would be perfect for some upcycled desk storage! (Actually, I didn't use the saltines one, but I'll figure out something for that one).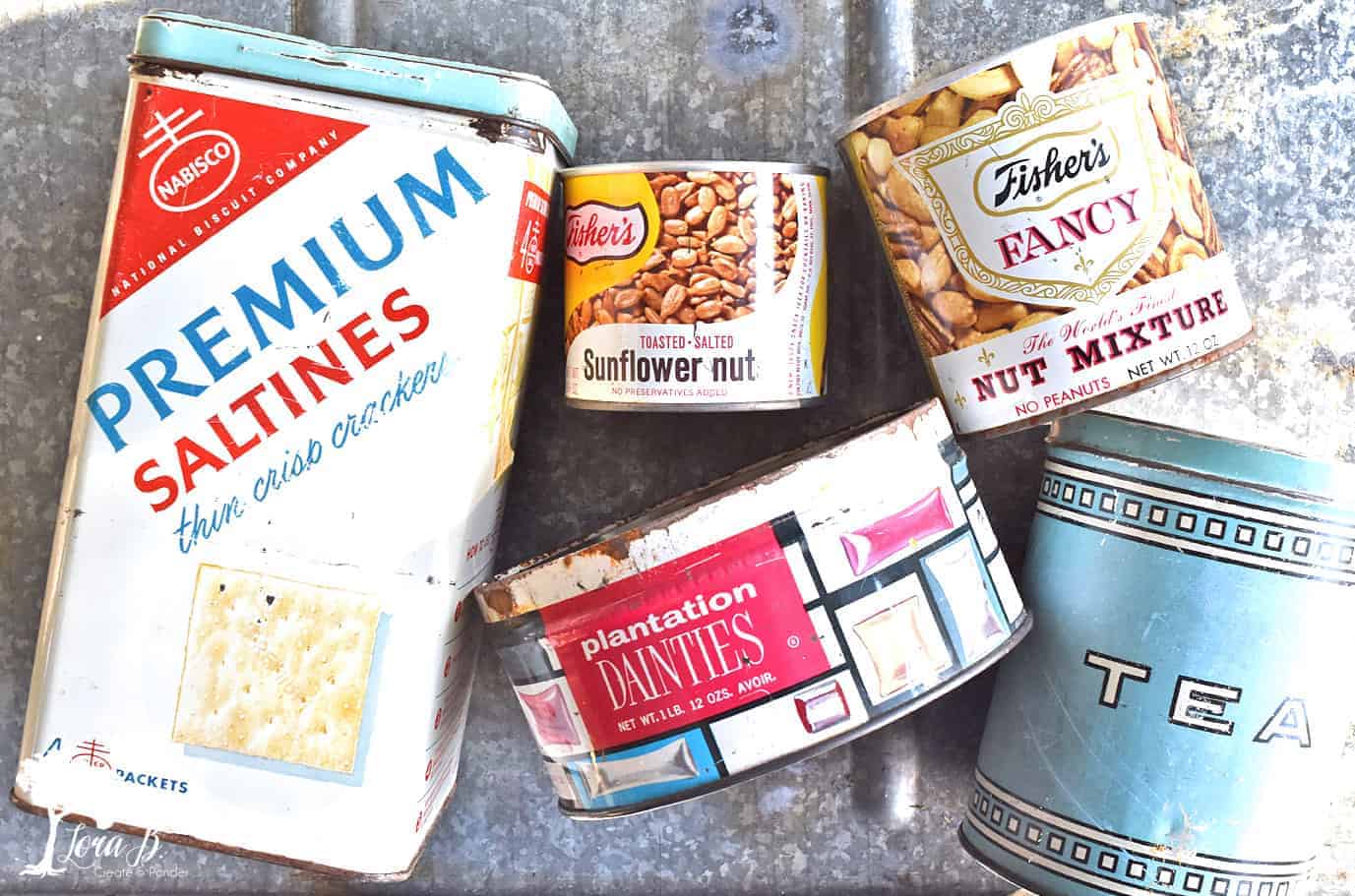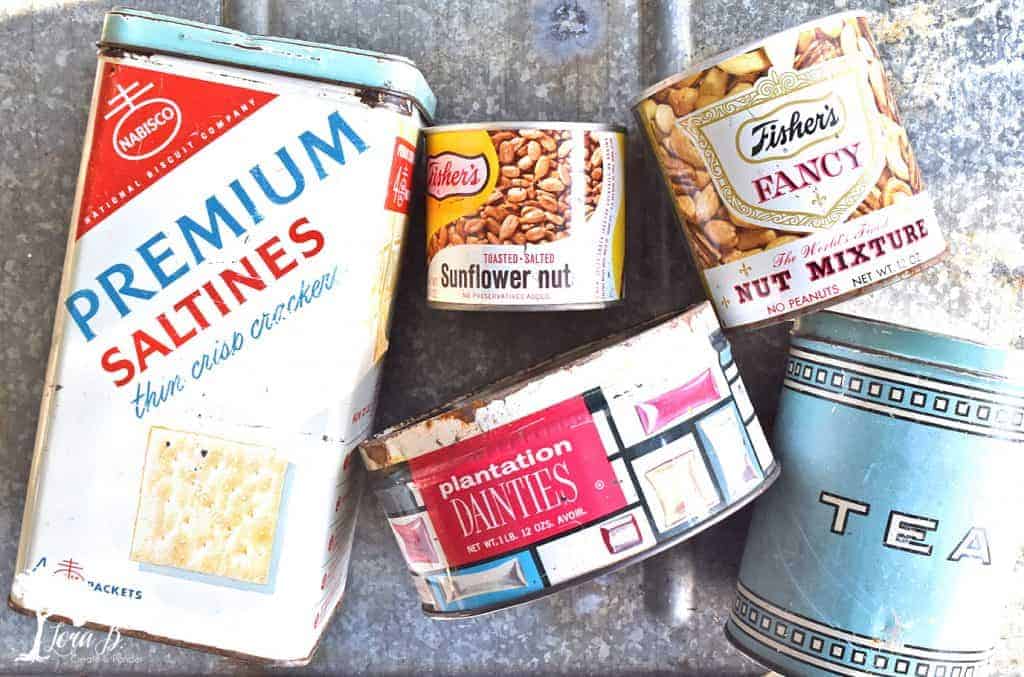 Gather Your Tools and Get Started Upcycling
Here are the things you'll need for this project:
old tin containers
spindle
wooden knob (optional)
screws-regular and double ended
Drill
Lazy Susan mechanism (optional)
Saw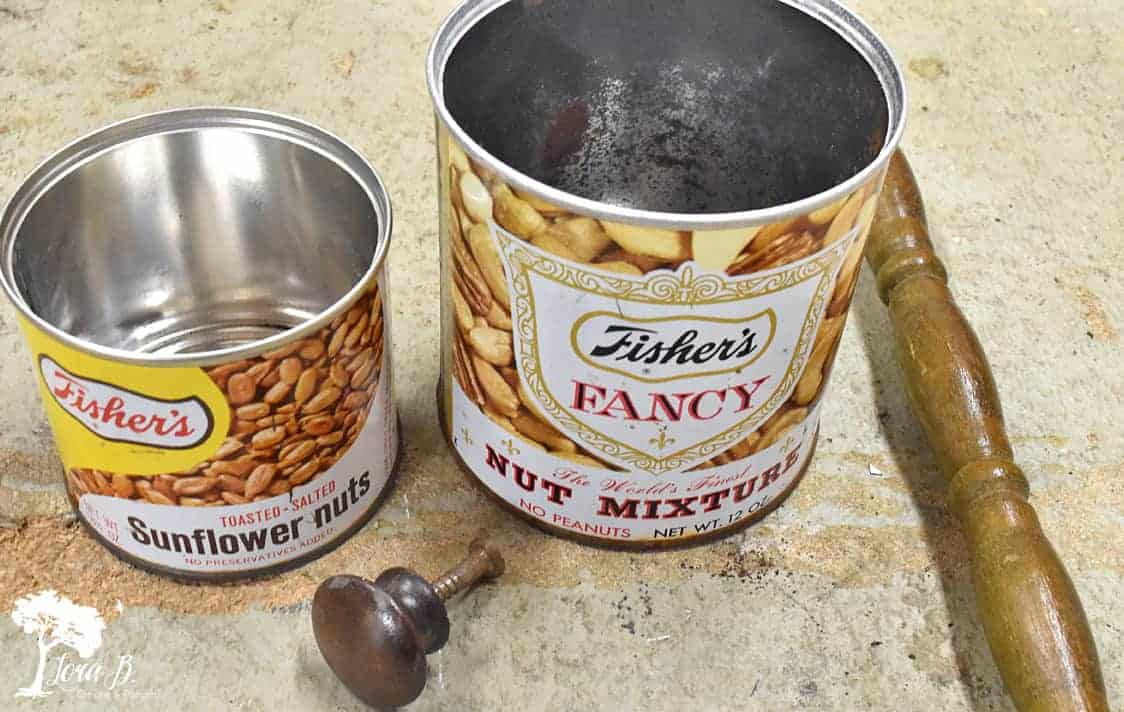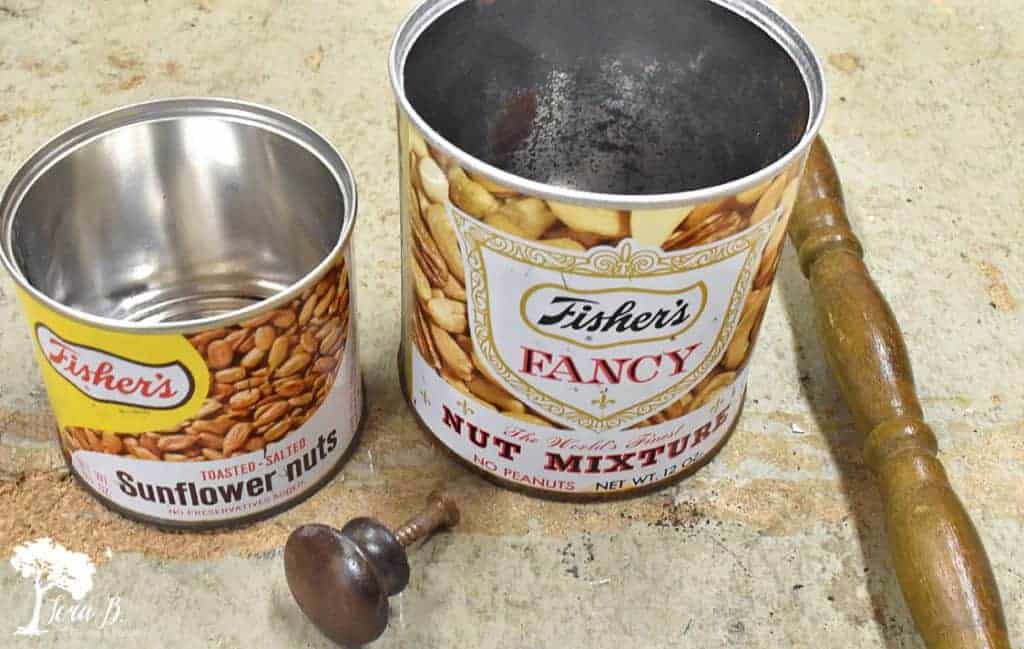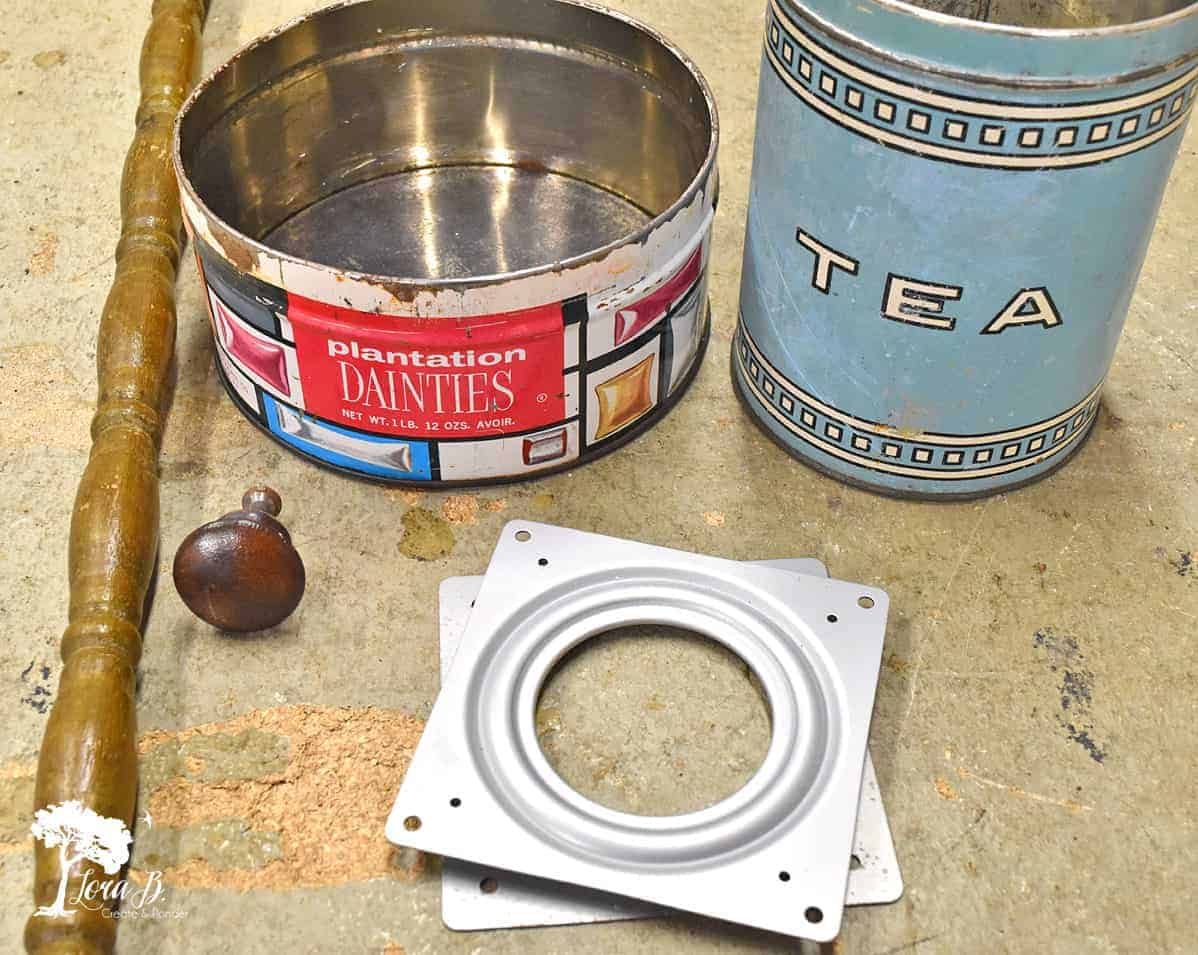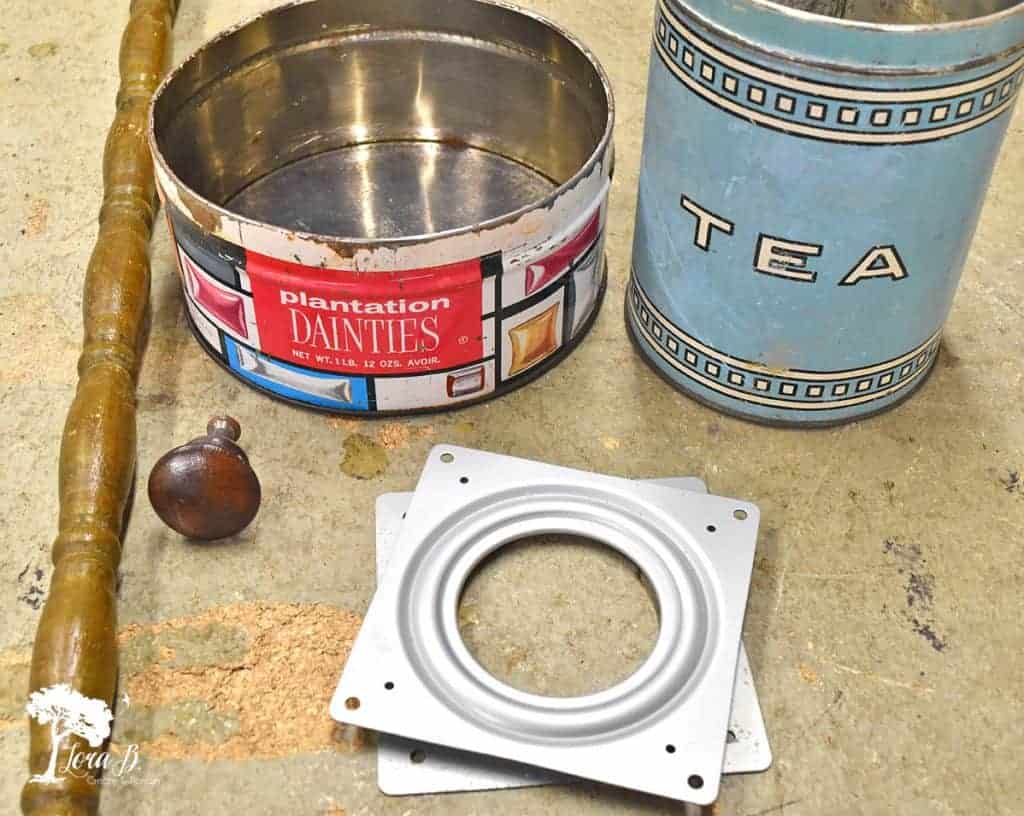 Decide which of your tins work well together. I grouped mine by color: the nut ones together and the tea and mints together because of their aqua colors. I also decided to keep the top of the tea container on, so I could put twine in it.
Cut your spindles to length, dependent on what spacing you want. I wanted 3-4″ between the two tins, so I could put pens, scissors, hole punches, etc in them.
Drill Holes in Old Tin and Spindle Sections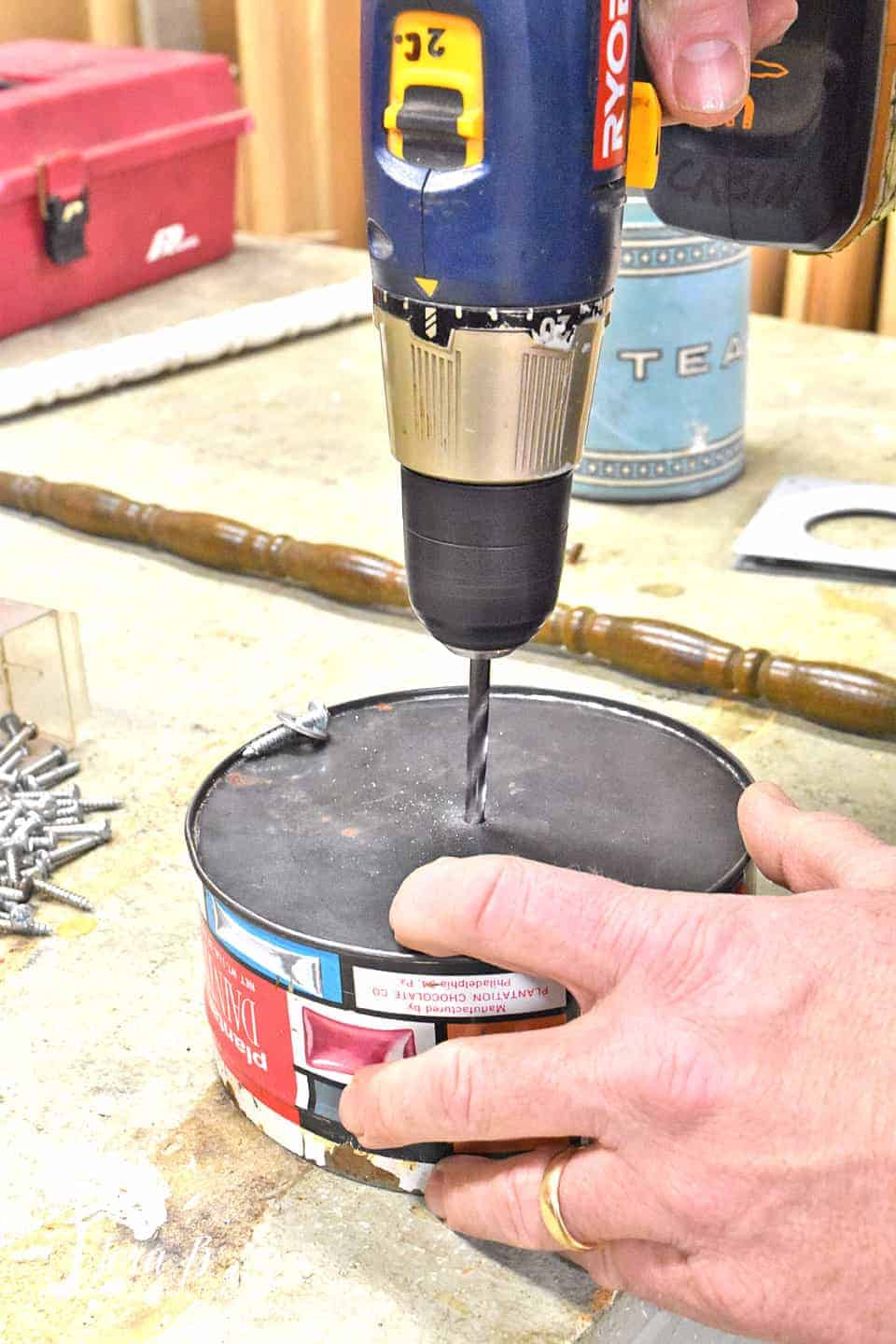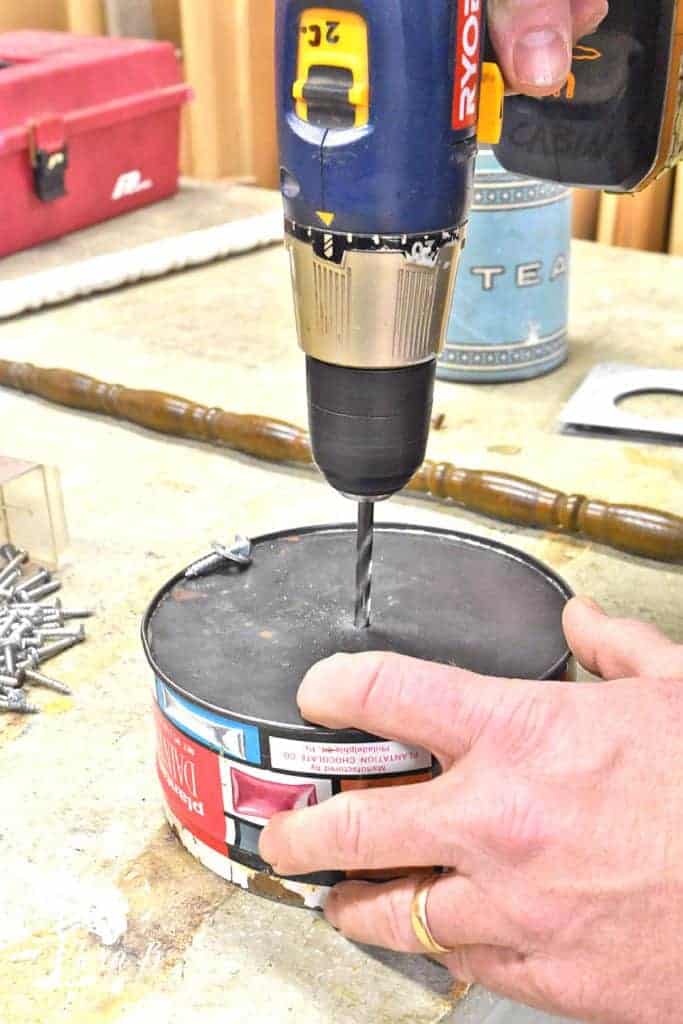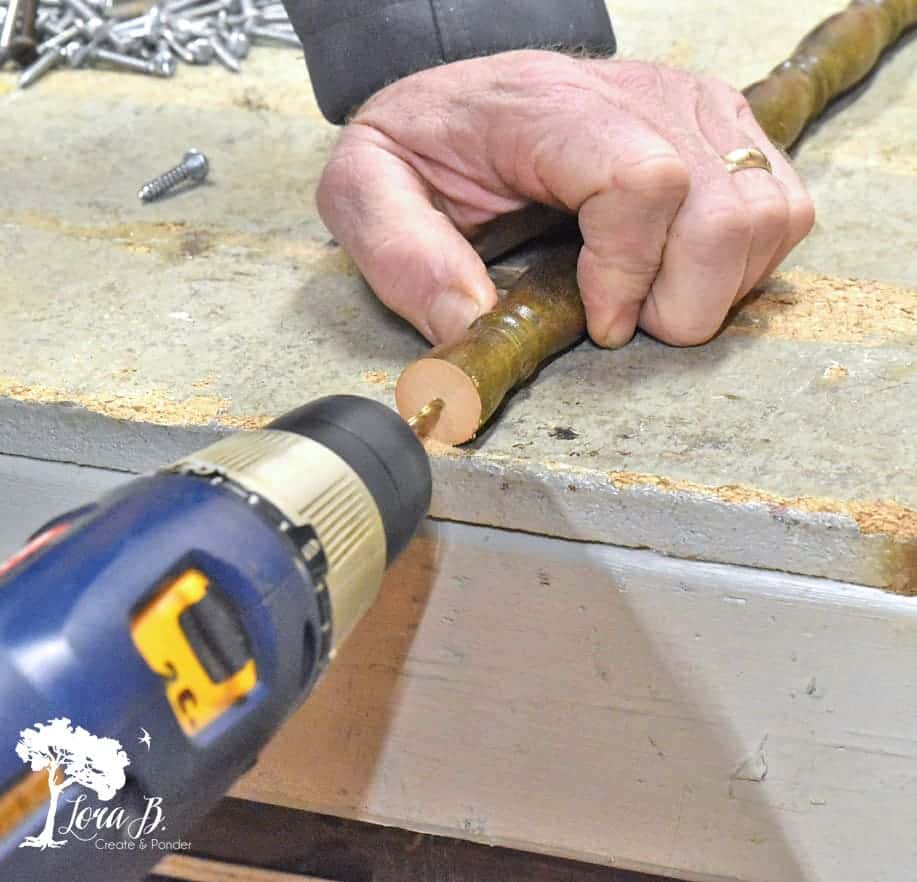 Place Lazy Susan on Old Tin, If Desired
If your bottom tin is large enough, you can place a lazy susan device on the bottom, so your upcycled organizer will spin. It's just a fun extra to make it more handy.
We attached the lazy susan device with a pop rivet gun. It could also have been glued on with THIS, but Mr. Fix-it prefers mechanical attachments;)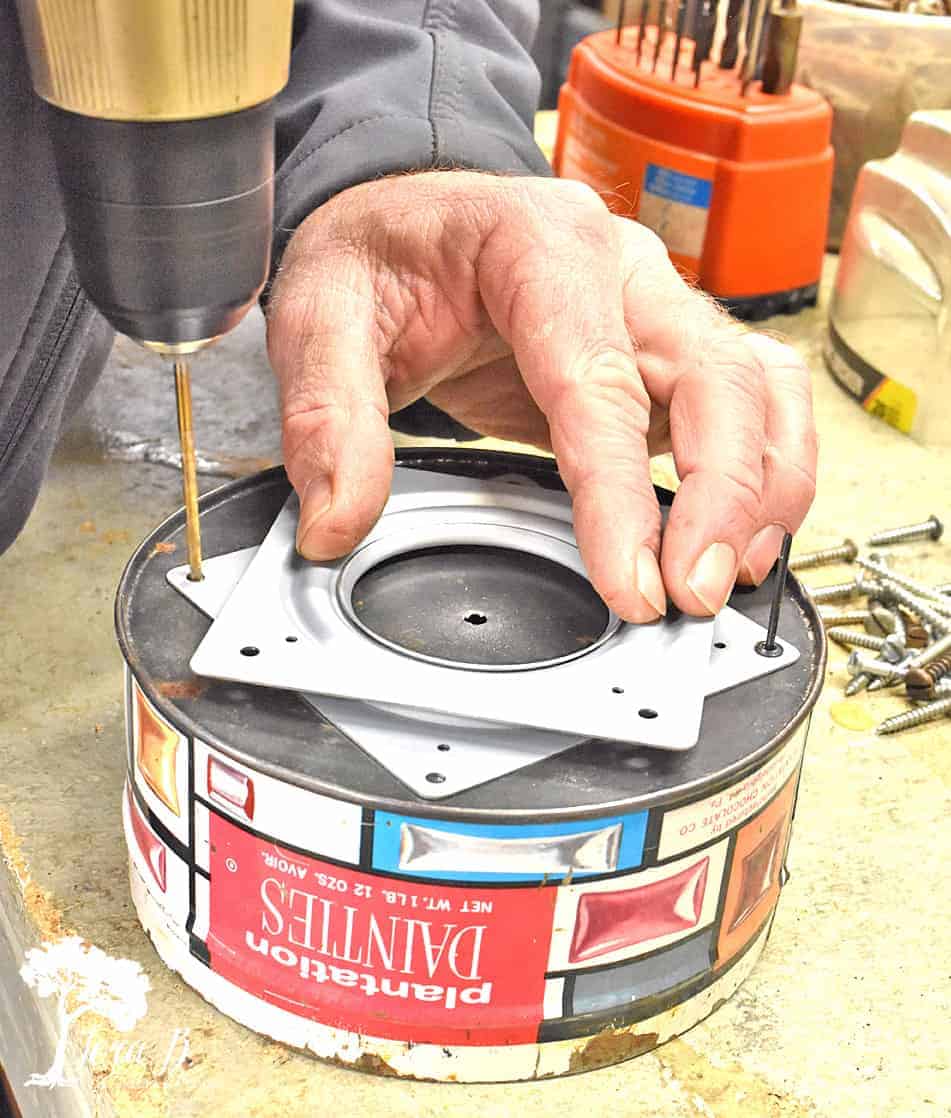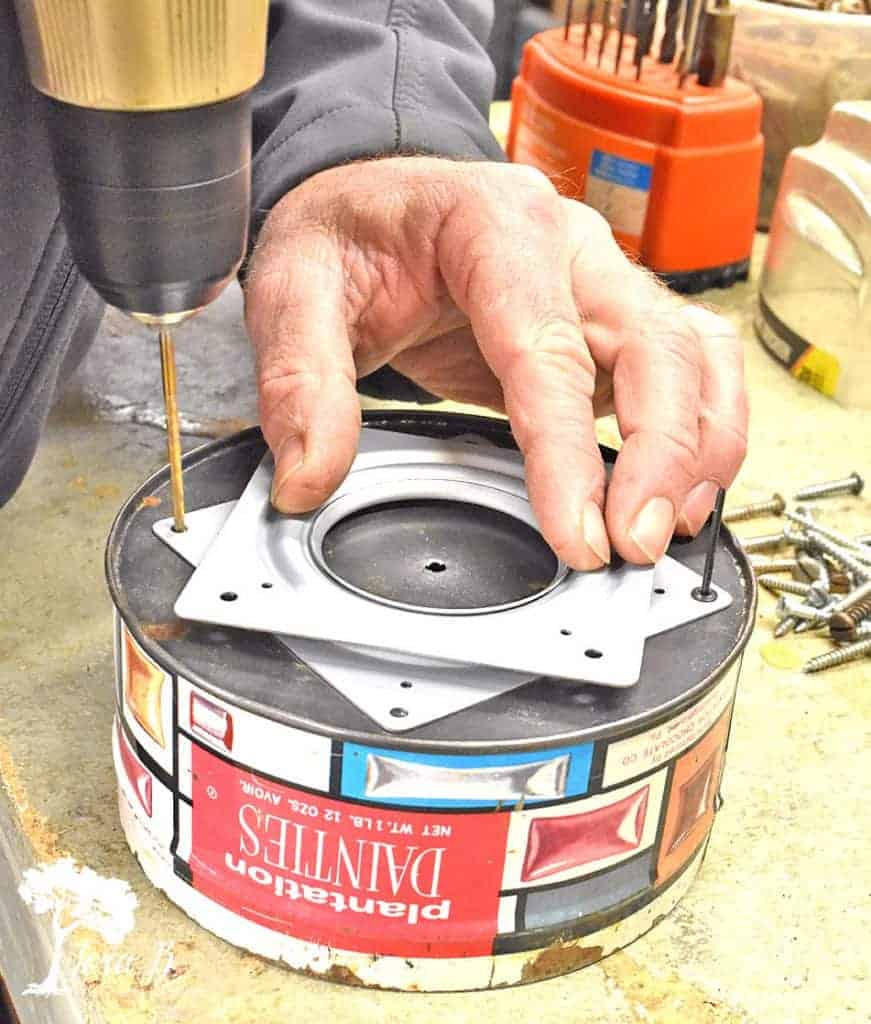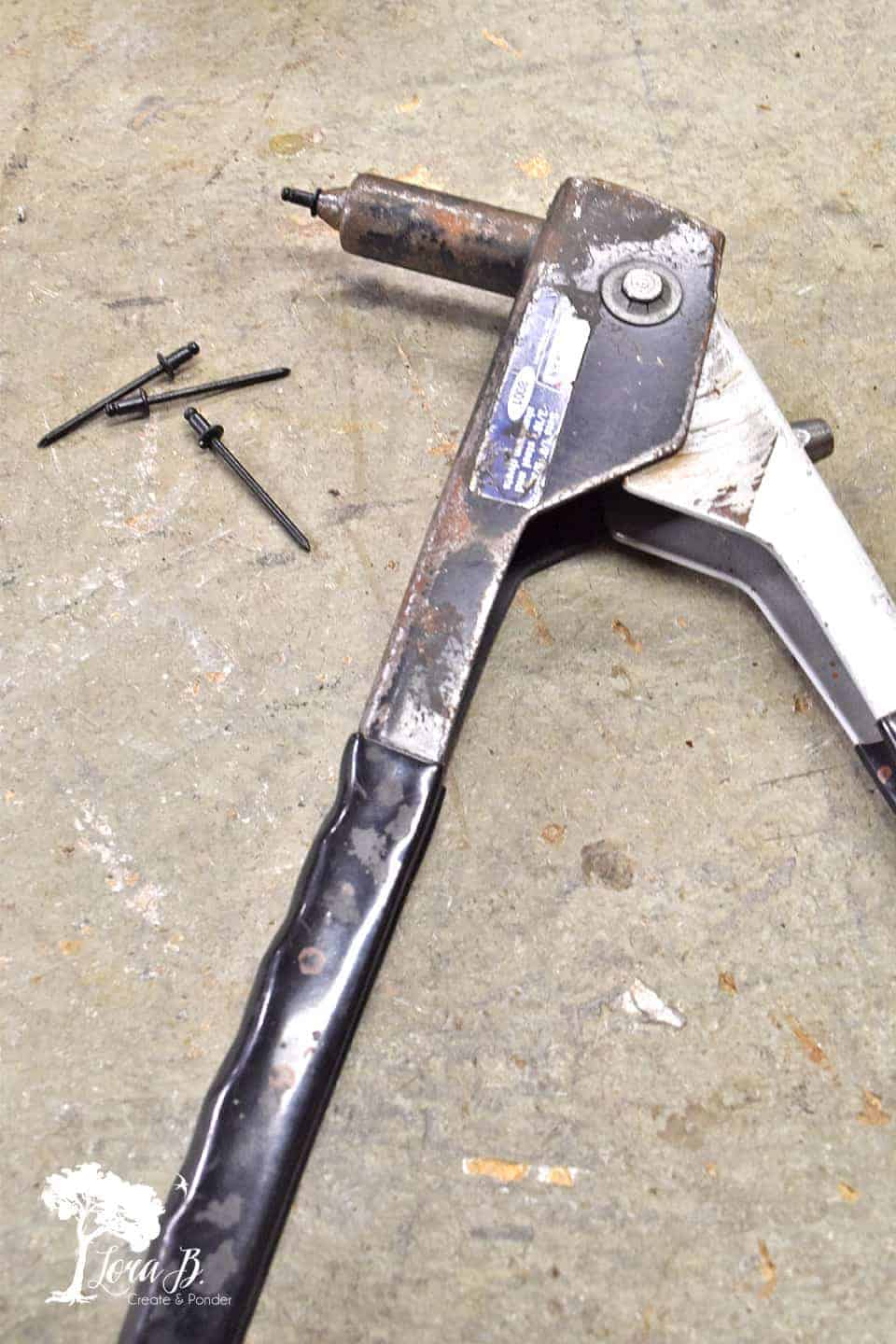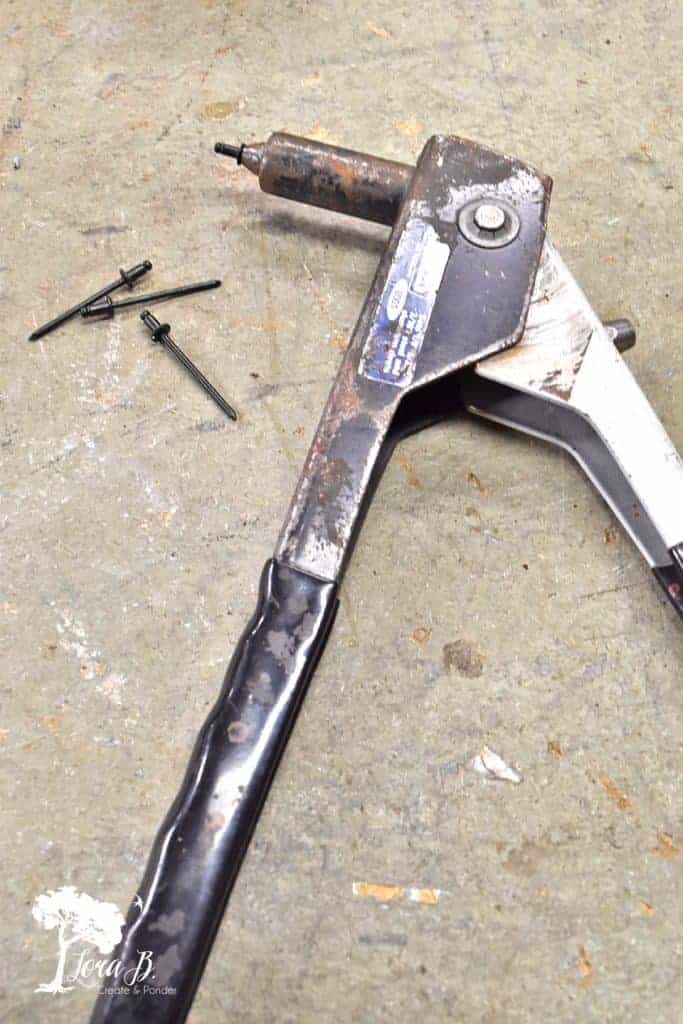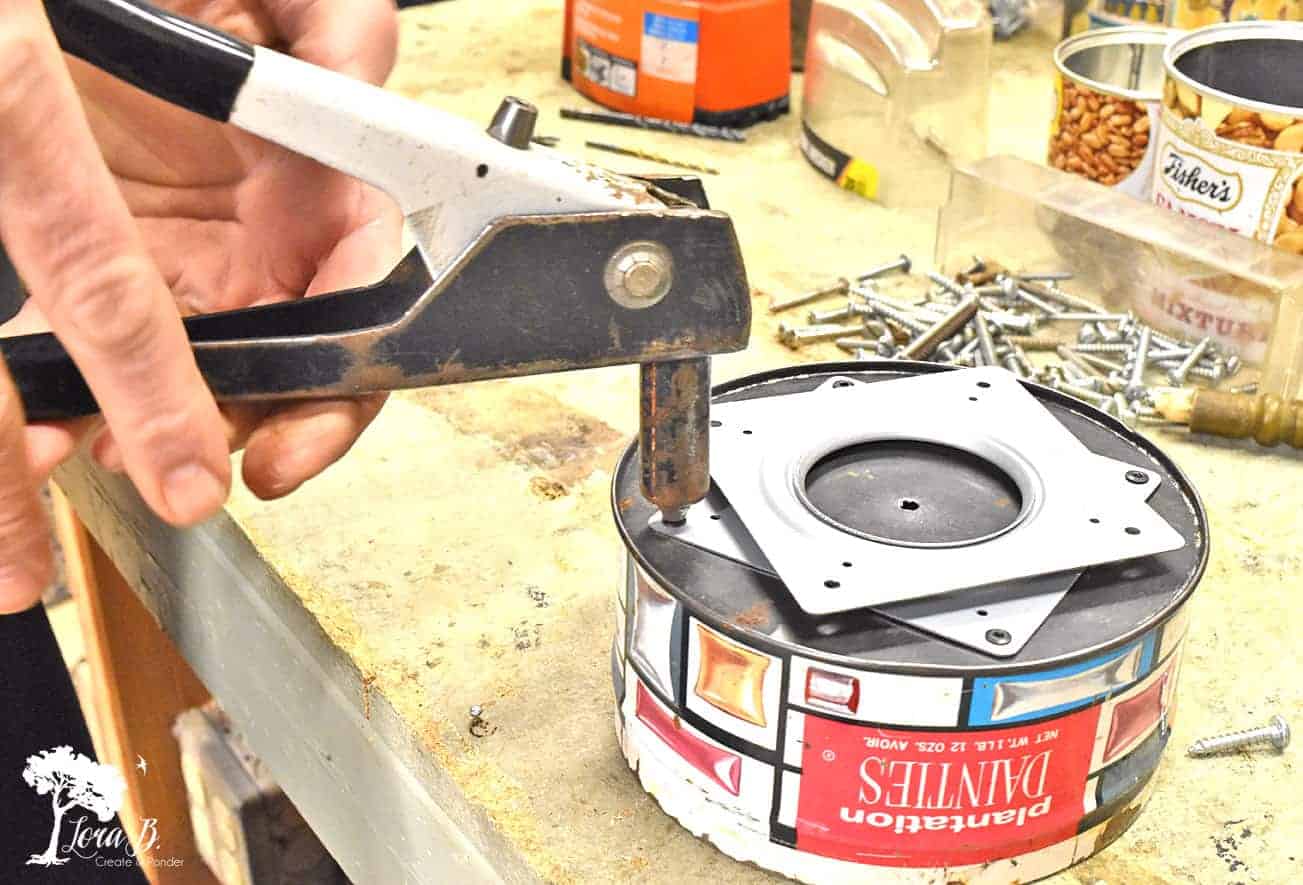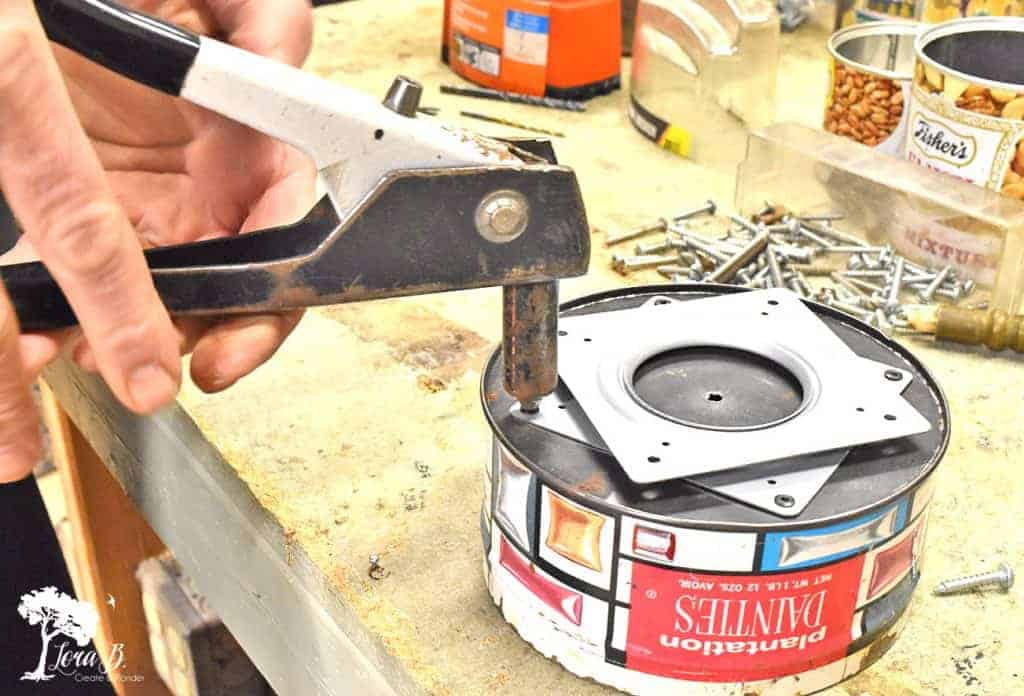 Use Washers to Assemble the Old Tin Organizer
Mr. Fix it likes our projects to be engineered well (because that's what his real job is;). Because the spindles are thinner, larger washers helped to make the whole organizer more stable.
We used a combo of smaller washers and large fender washers at the seams for a tight, stable fit.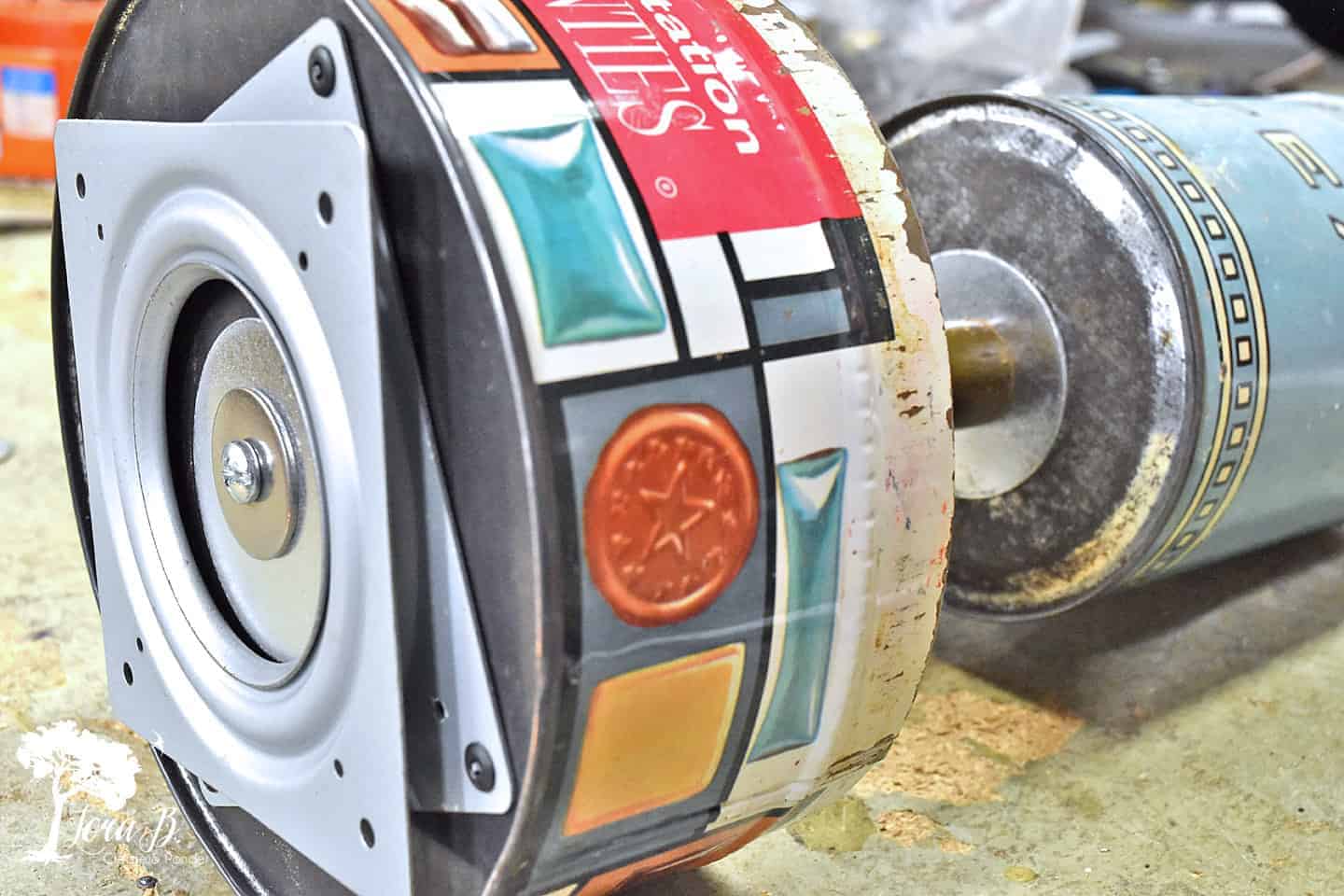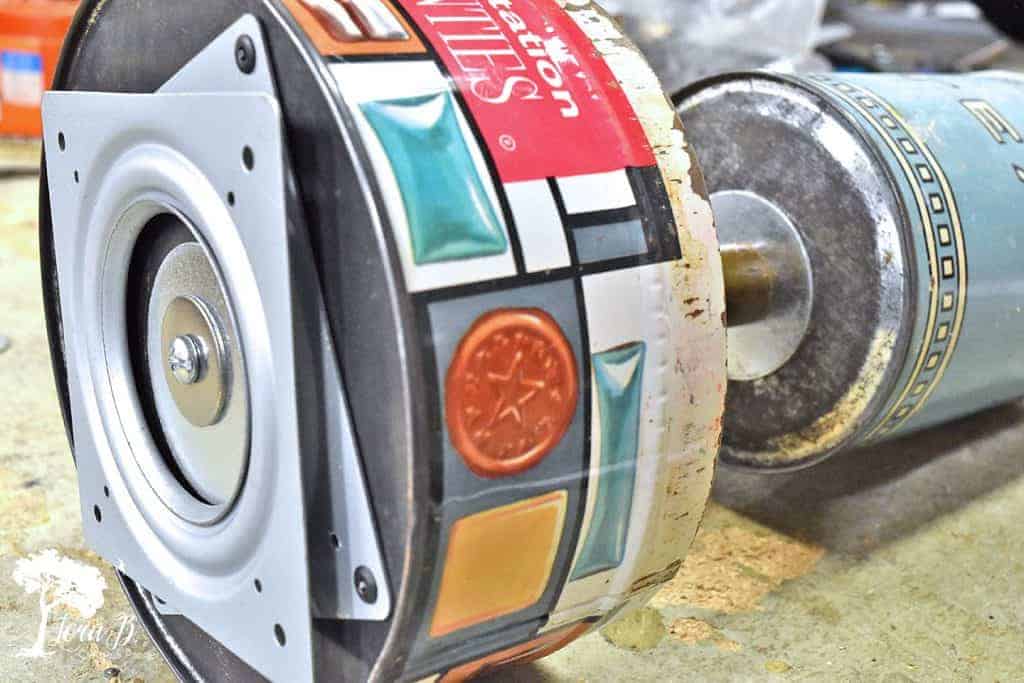 Enjoy Your Upcycled Organizer on your Kitchen Desk
Ready for the big reveal? They're perfect for my newly cleaned and organized kitchen desk! I love using repurposed vintage items to organize and display.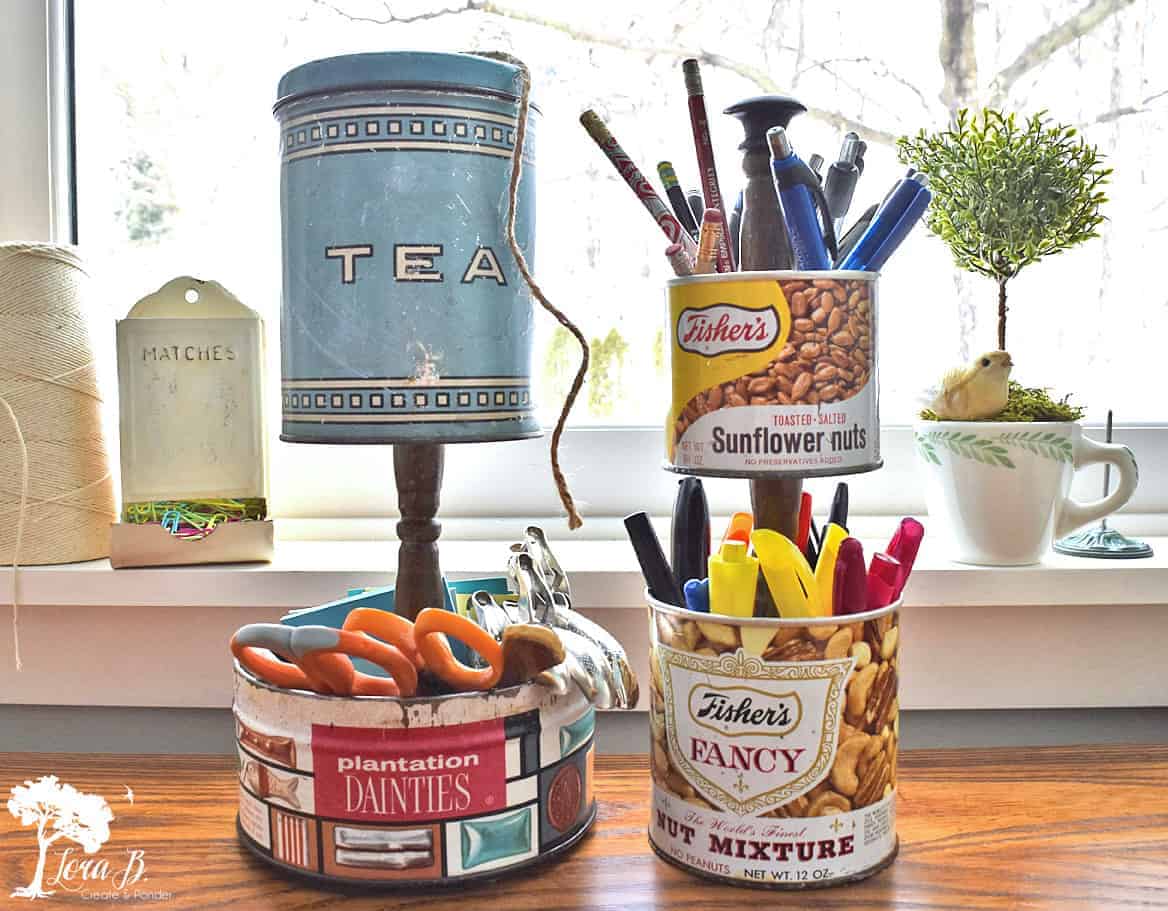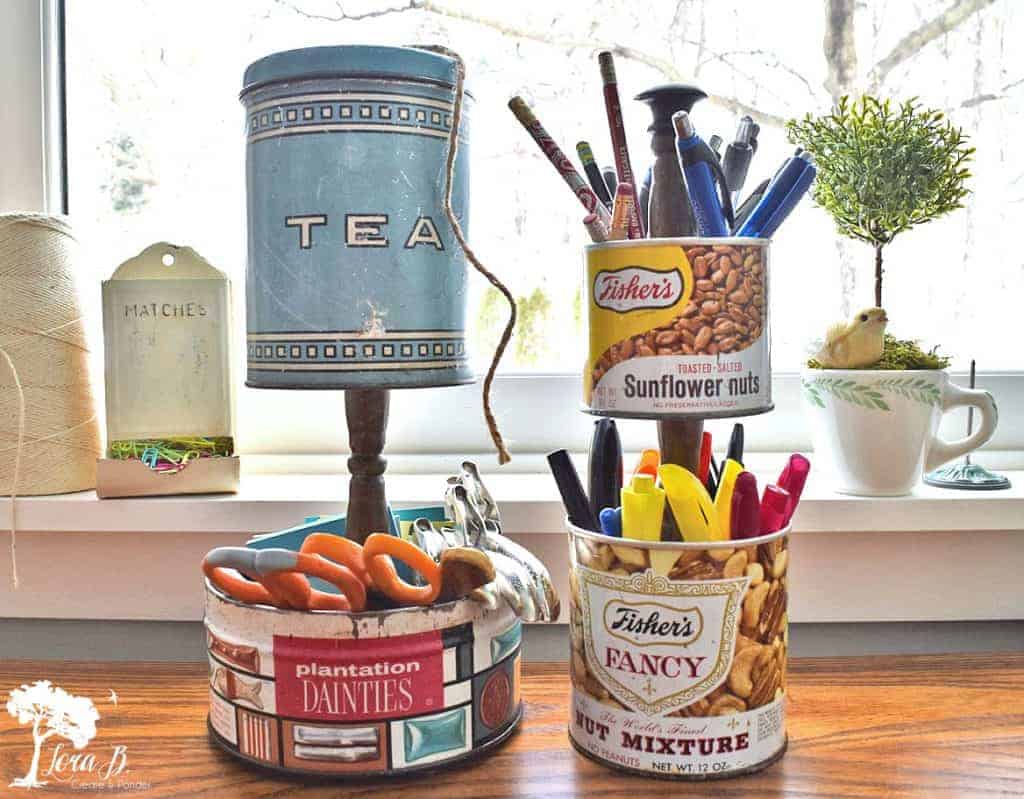 We used this same idea when we repurposed some vintage metal serving trays in "How to Upcycle Vintage Metal Trays into a Tiered Stand". That project was fun to use for desk organization, too! And my "Repurposed Vintage Sewing Machine Drawer Organizer" was a popular organizing upcycle, too!
Hope this Upcycled Old Tin Organizer DIY gave you some ideas for those vintage tin containers you may have lurking in your garage or basement! Can't wait to see what the rest of the Thrifty Style Team came up with this month!
Please Pin, Share, and Enjoy the Rest of the Inspiration!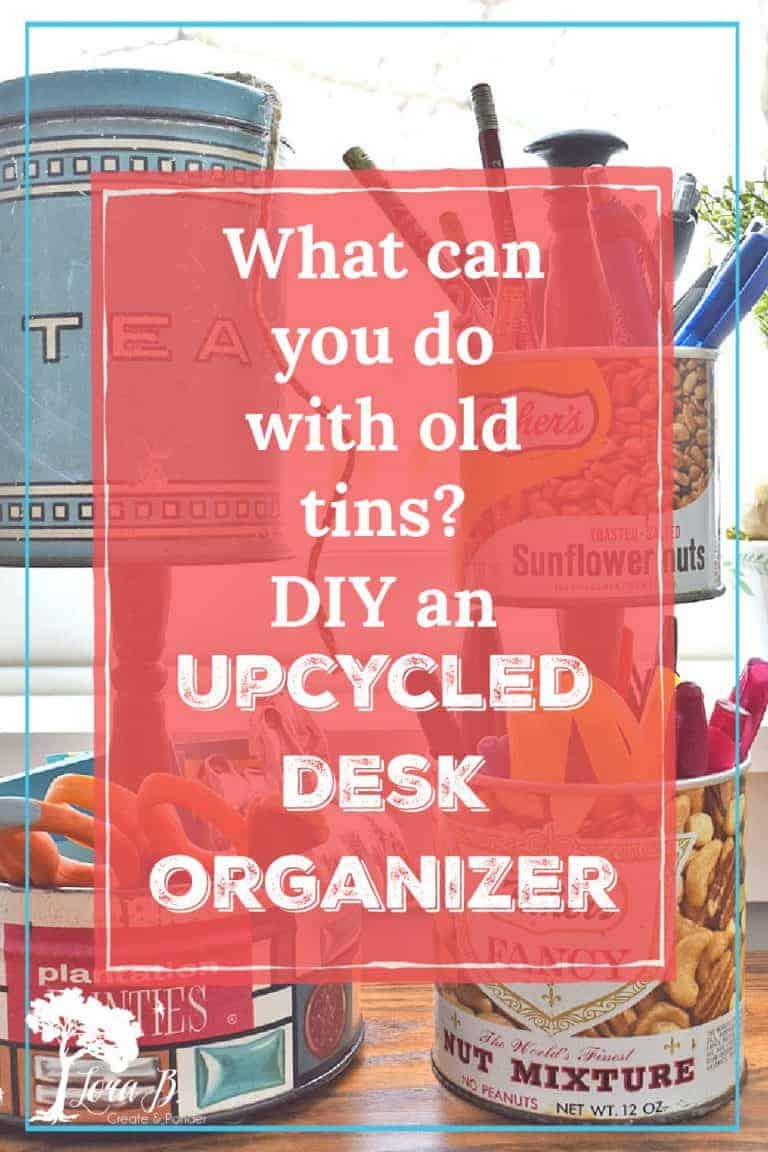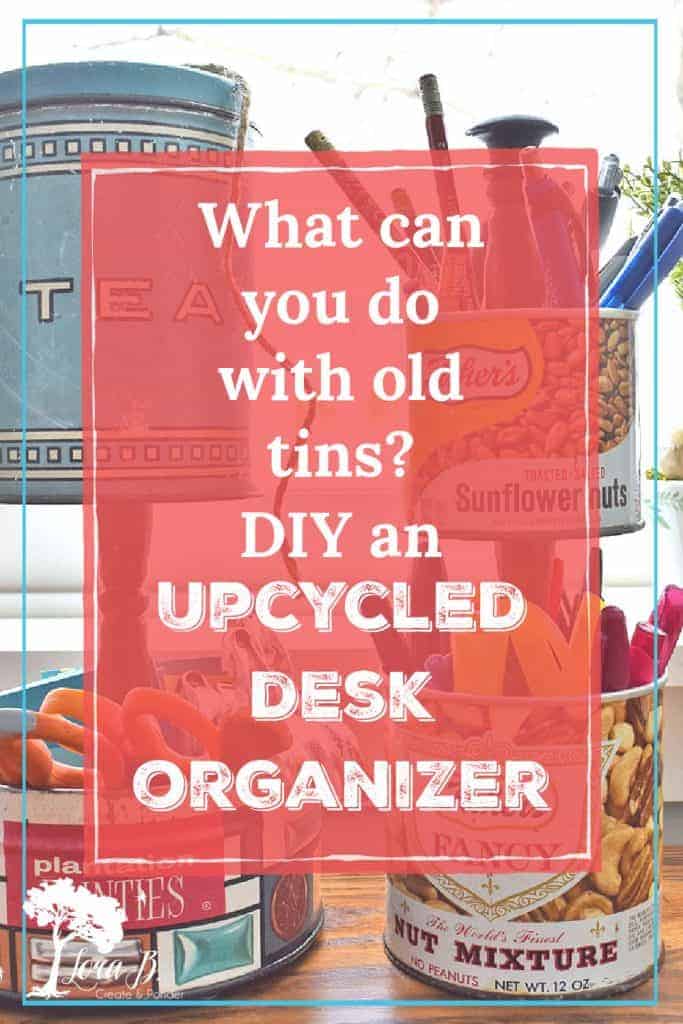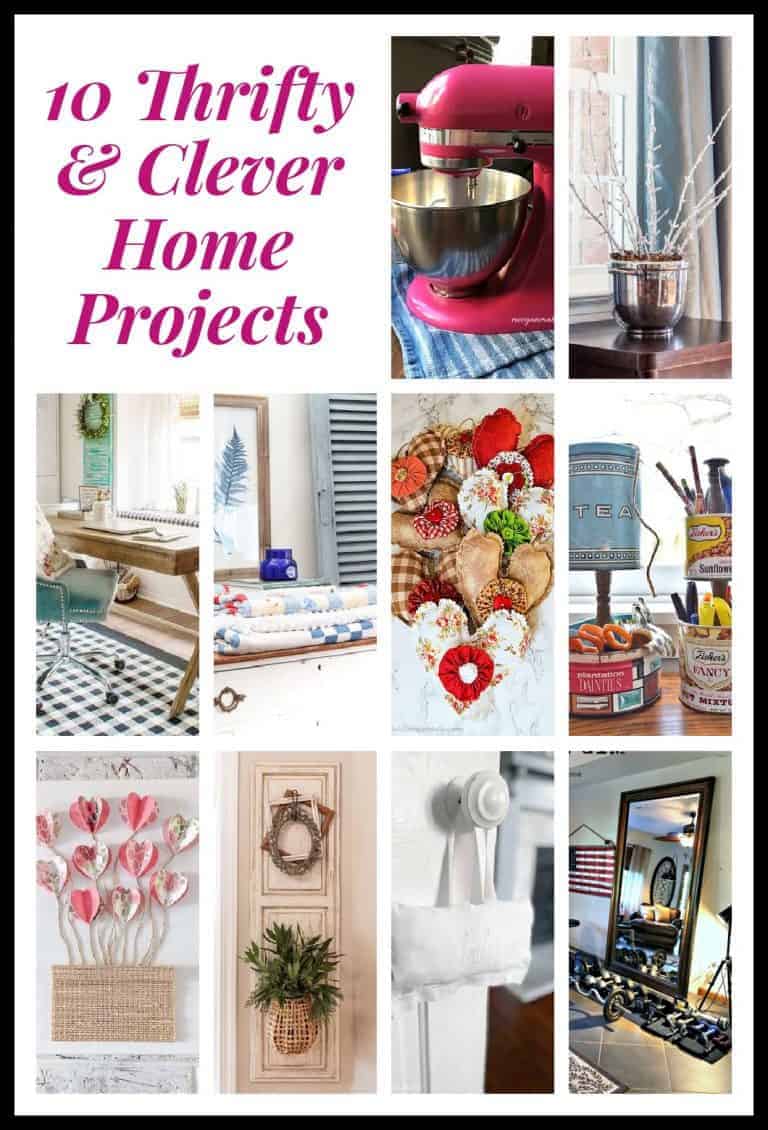 What Meeghan Makes "How to Refresh a Stand Mixer with Spray Paint"
Sweet Pea "DIY Frosted Branches"
DIY Beautify "7 Thrifty Cleaning and Organizing Solutions for the Home"
The Tattered Pew "Bergere Painted Shutters"
Cottage at the Crossroads "Fabric Hearts with Yo-yos"
Postcards from the Ridge "Paper Heart Wall Art"
The Painted Hinge "How to Make Wall Decor out of Cabinet Doors"
2 Bees in a Pod "Repurposed Vintage Tea Towel"
Red Head Can Decorate "DIY Home Gym"
The How To Home "DIY Family Charging Station"

Sharing at these lovely parties: