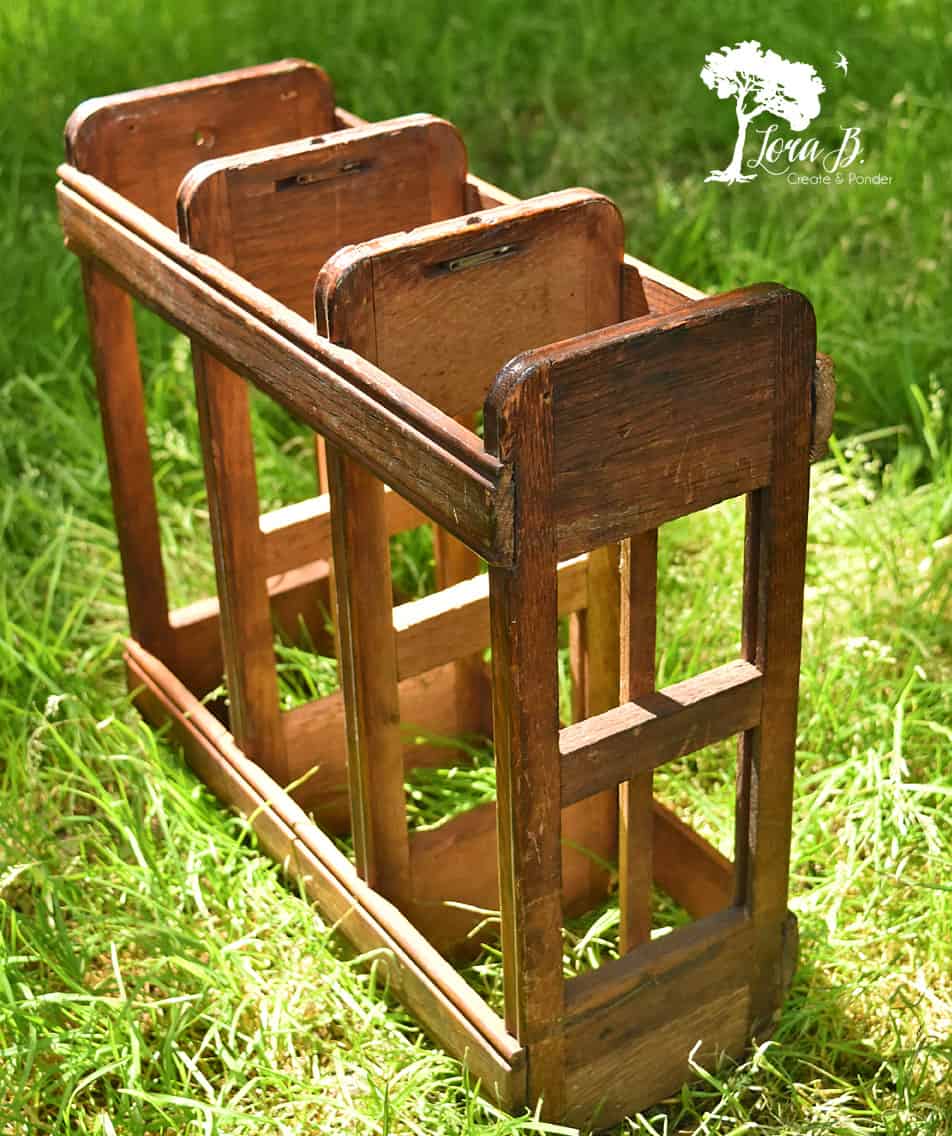 It's the second Wednesday of the month, which means I've been working on another project for a "Thrifty Chicks Challenge"! (You can check out last month's challenge with a chair theme in my post, "Leg-O-Matic Chair Refresh") This month this talented group of DIY ladies and I challenged ourselves to a "kitchen" theme. I designed and created a Sewing Machine Drawer Kitchen Organizer, a fun re-purpose for an old sewing machine!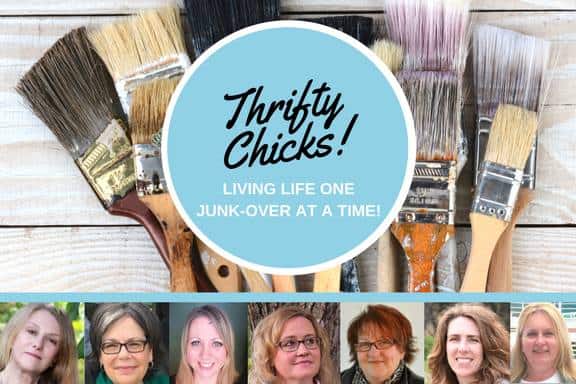 I have all the links to their creative projects at the end of this post. Make sure you check them out!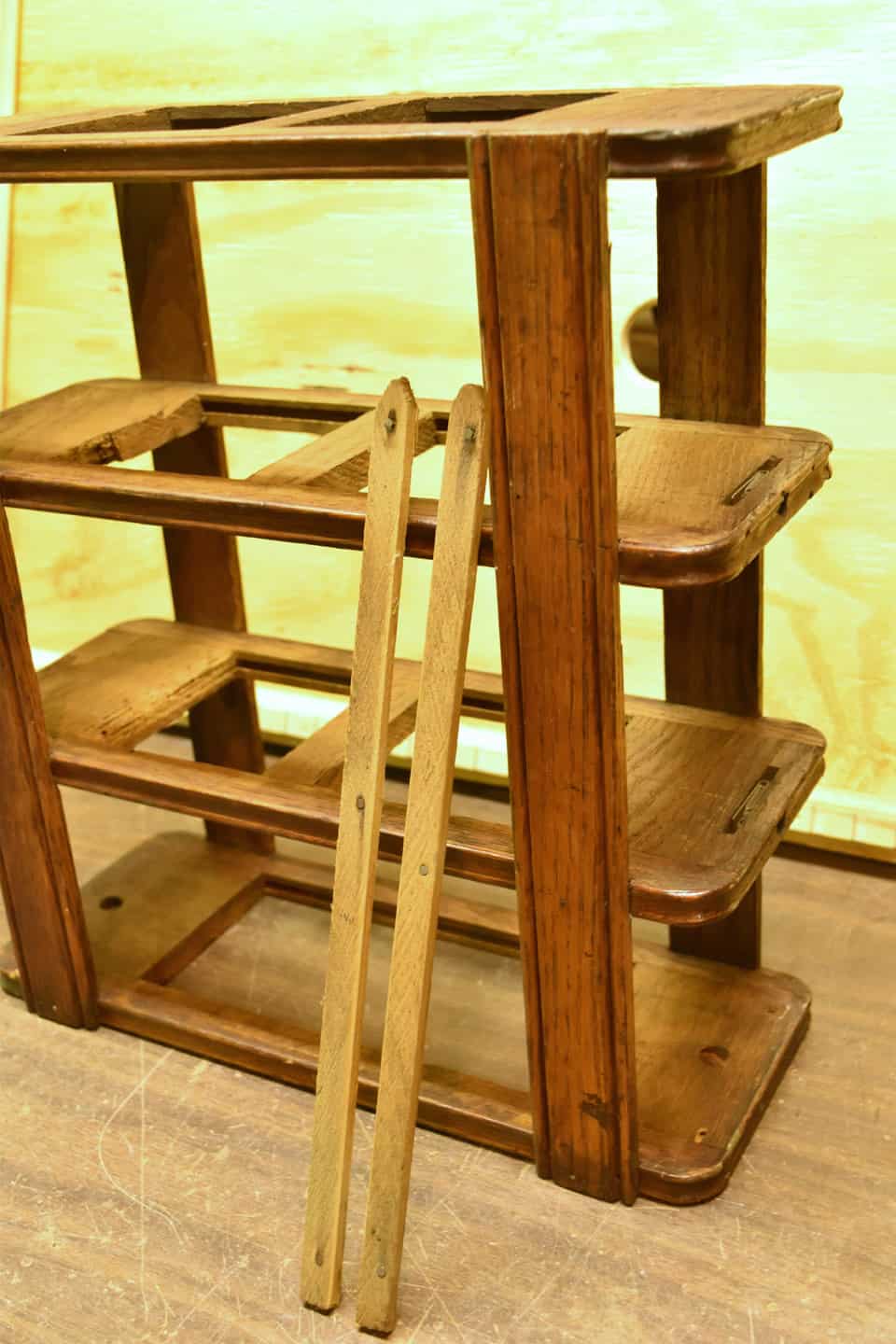 Instead of creating something from kitchen items, I decided I needed to refresh a roadside find I'd found this spring ("Curbside Junking Adventures and Tips") for the kitchen. I created a kitchen organizer from the skeleton of a vintage sewing machine drawer.
Another junker or the homeowner had obviously realized there were many creative styling ideas for the drawers themselves; hang them on the wall, place jars in them for a centerpiece…there's ideas all over Pinterest. But, I guess they thought the drawer skeleton was beyond creativity. That's when I love a challenge!
I had piled the drawer skeleton on top of a few bins in the basement, and had haphazardly stood it up, like in the top photo. Guess that's why my brain was leaning towards using it in the "standing" position. And it's so much more fun to create something completely opposite of how it was originally used, right??
The bottom and the sides would need to be closed with something to create spaces on the inside. Yardsticks are a DIY'ers best friend, and I luckily still have a leftover stash from the store (and still pick them up whenever I find them).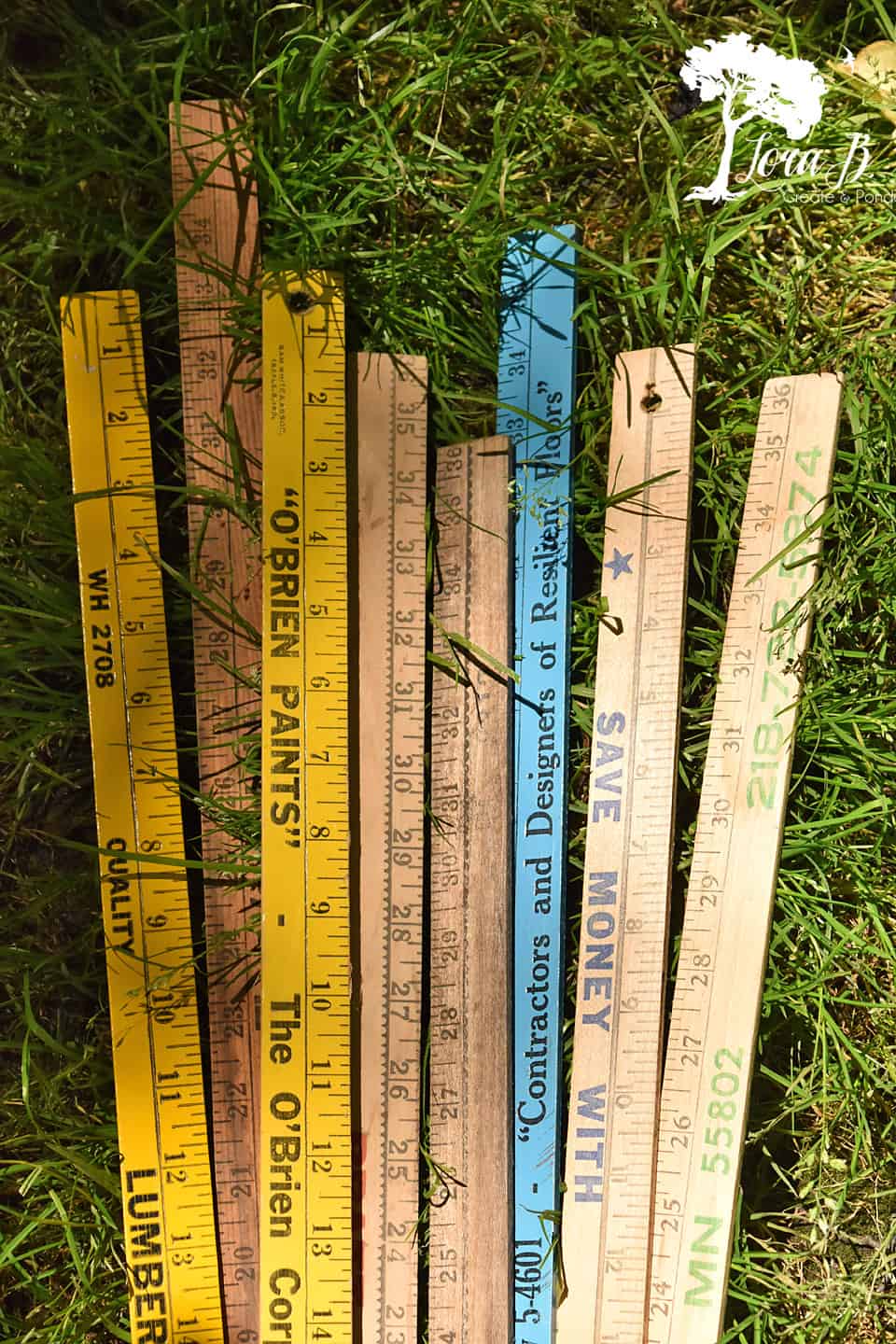 Mr. Fix-it and I talked over the plan. I'm the designer and finisher, he's the engineer and carpenter. And the partnership is going much more smoothly now that we don't have the stress of filling a store…just sayin'.
First, pop the drawer glides off (in pic above). You won't need these…at least for this project;)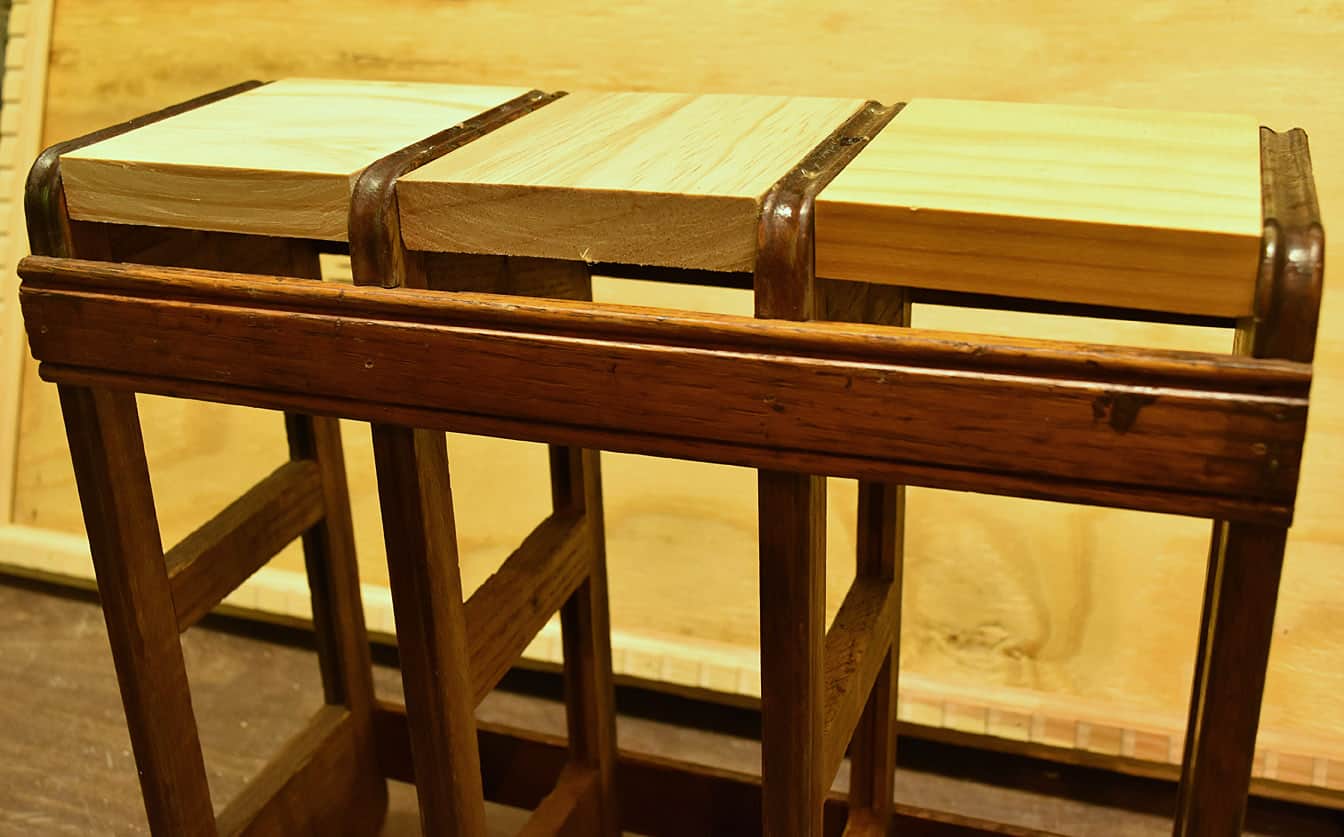 He was going to put a board across the whole bottom, and I said I think we need to put the squares between each section, so the new board will not be seen when it's finished. He cut the squares to perfectly fit, accounting for the width of the rulers to wedge in on either side…you'll see that soon.
Then I sanded it all to smooth off the rough edges and give a little more character.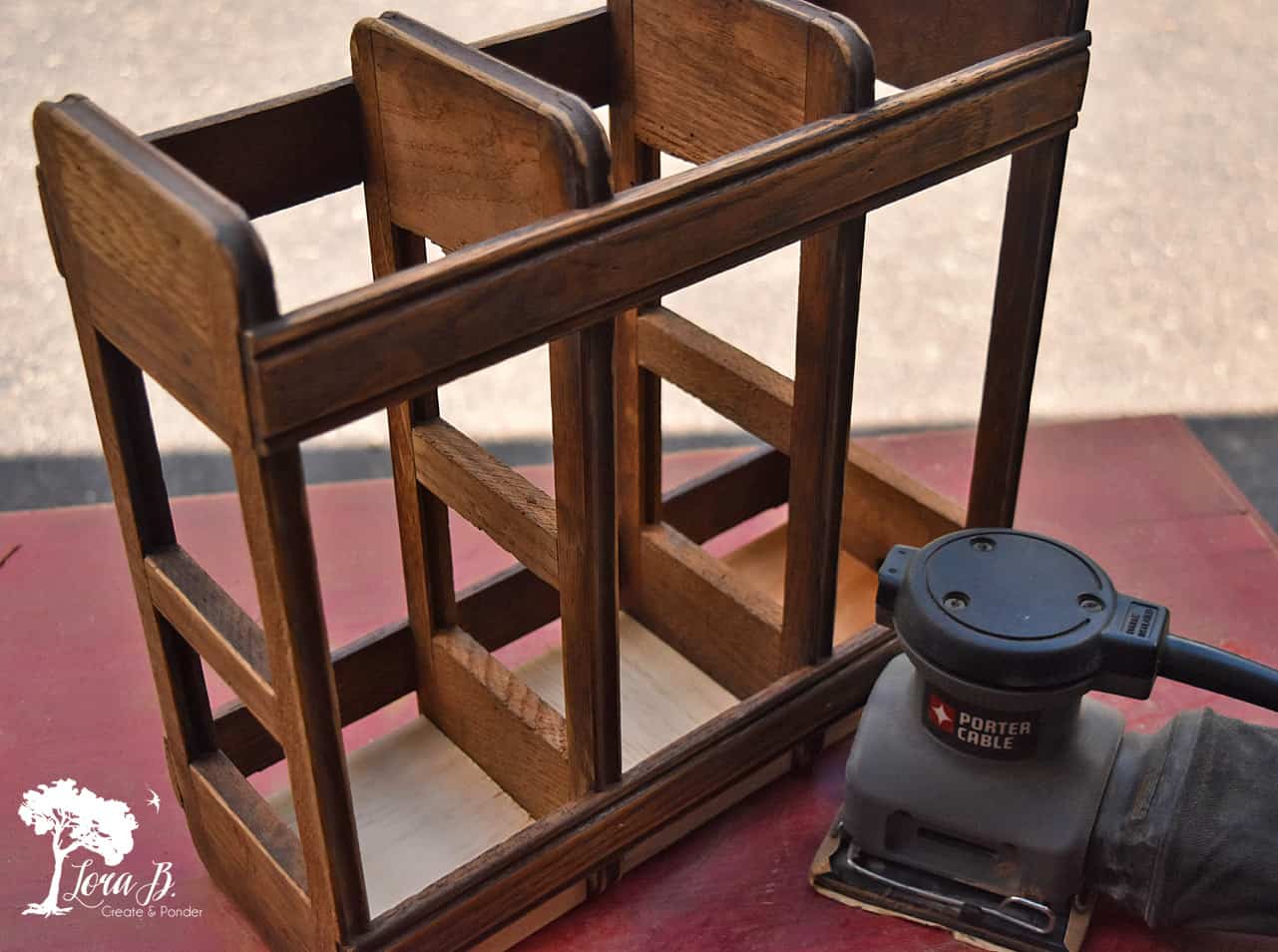 While I was sanding, he was cutting yardsticks to size to fit in the ends and the sides.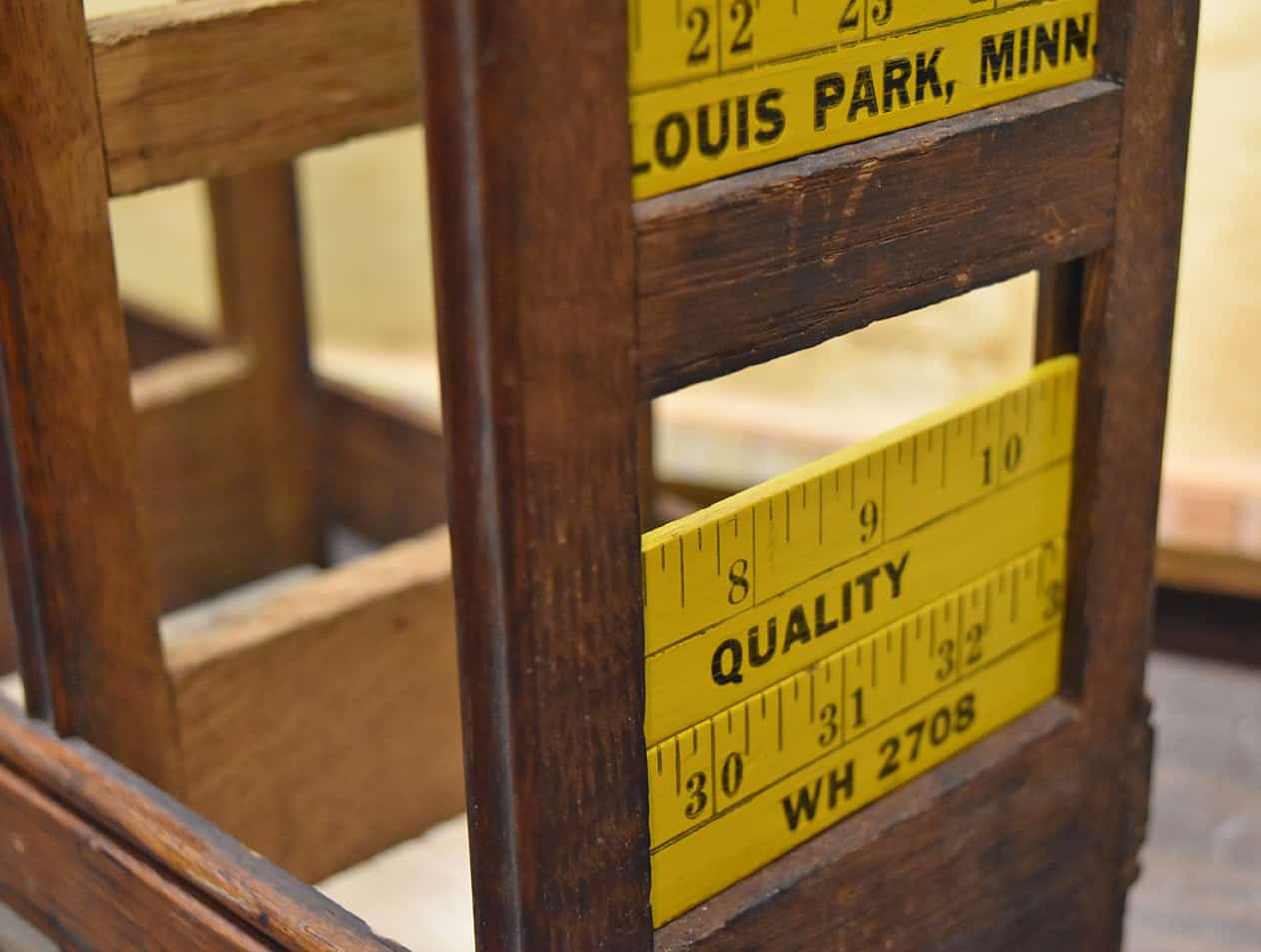 Because we wanted them to perfectly fit into the grooves that are already there. He pushed the yardstick flush left into the groove and then cut it only slightly wider, in order to get them in. He also notched a couple in case that would help get them in. The last row needed to be smaller, obviously, so he cut it lengthwise to fit.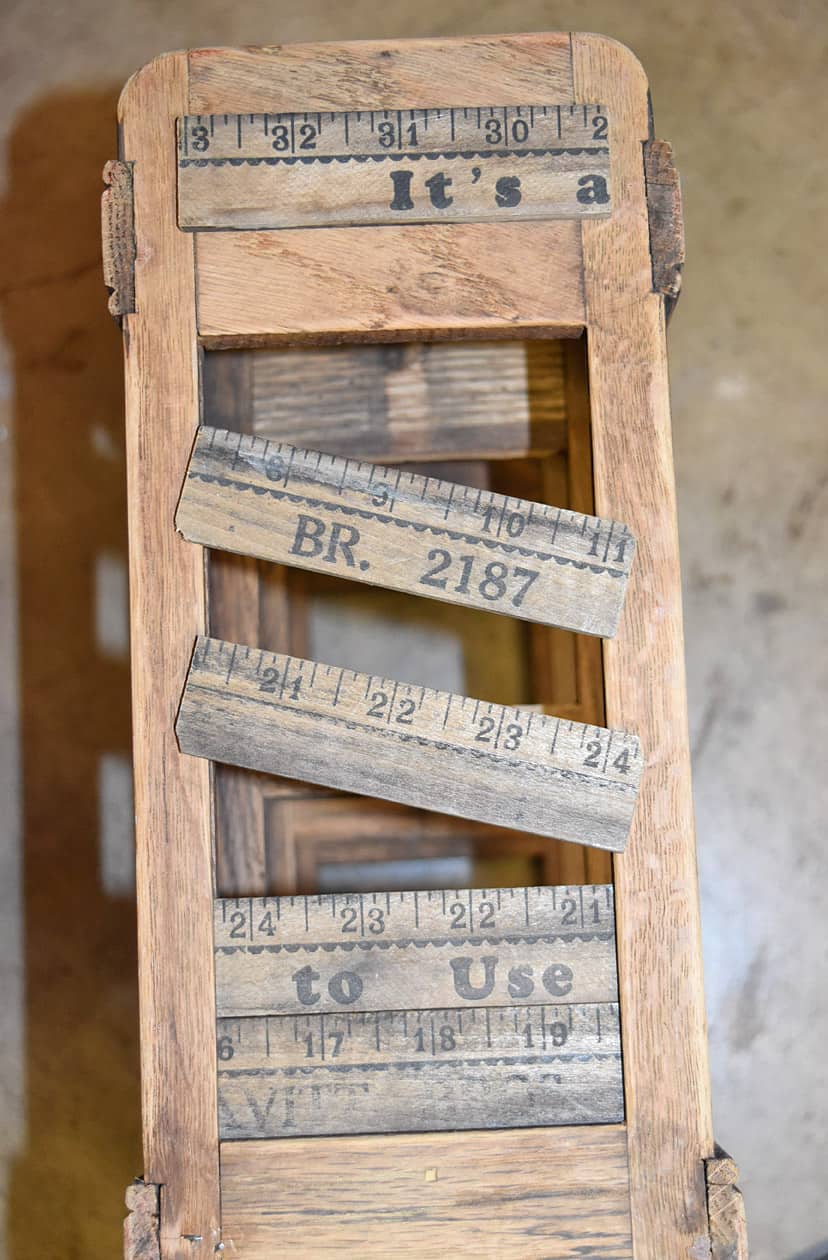 We put the yardstick sections in either end first, because we knew it might be tricky. He nailed them in with small nails, but I think gluing them in with wood glue would work just fine too. We just need instant gratification around here…no time for glue drying!
Then we cut the yardsticks in 12″ sections for the sides. I wanted one side to be colorful and the other to be subdued. We spaced the yardstick sections evenly, with small spaces between each. He clamped them so they wouldn't move while he nailed them in. He did use his pneumatic nailer, btw.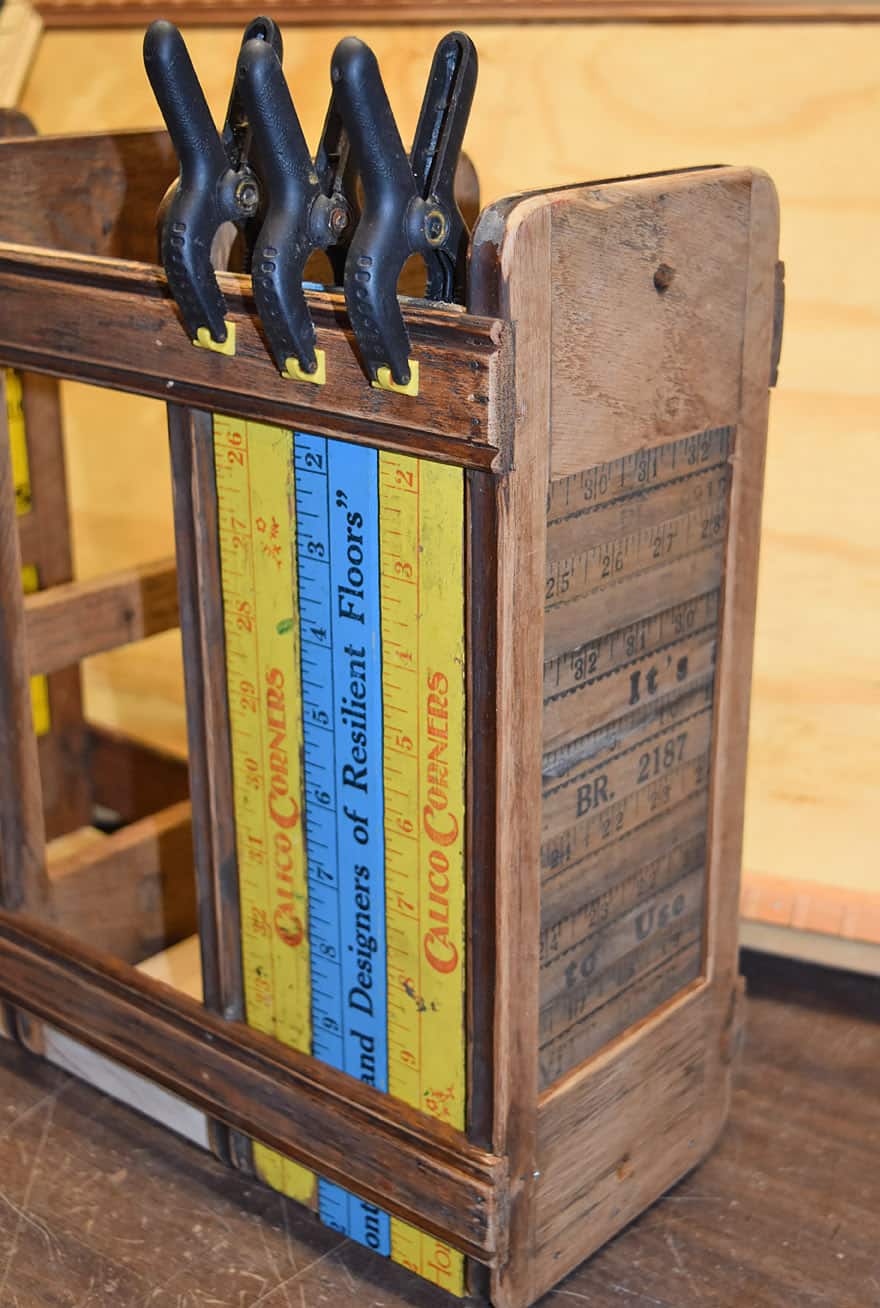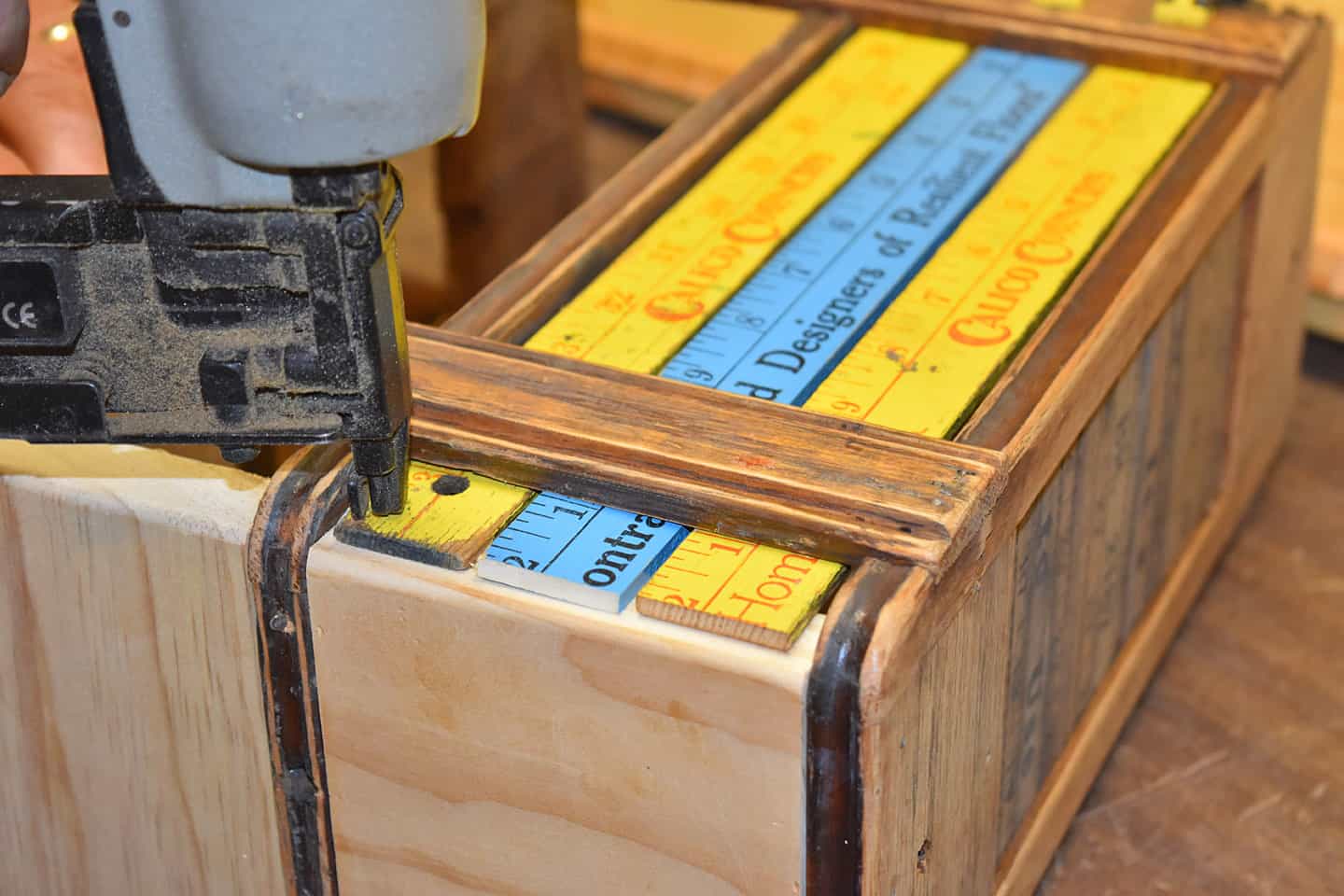 Looking a little Swedish, don't ya think? You bet ya…I live in MN!
Here's the junk lover's classic side: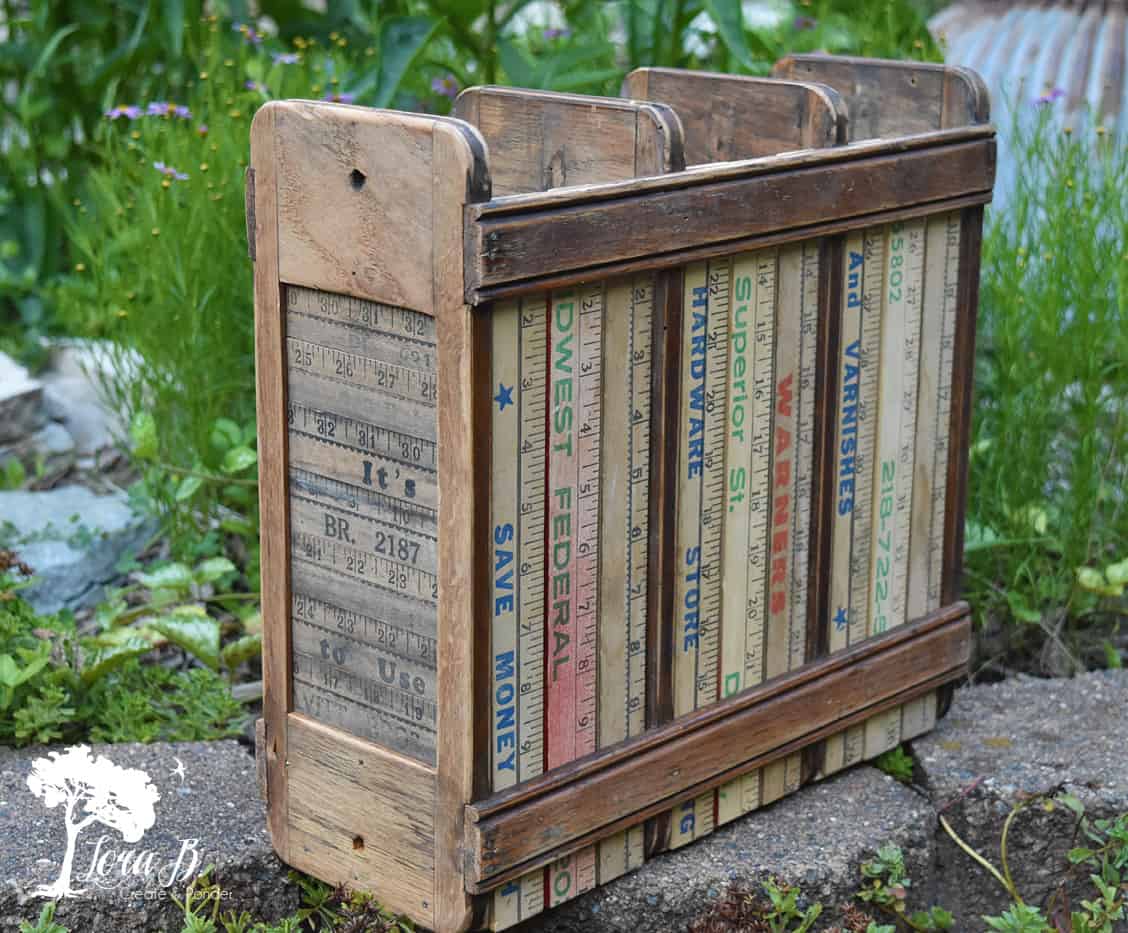 Here's the Scandinavian cabin side: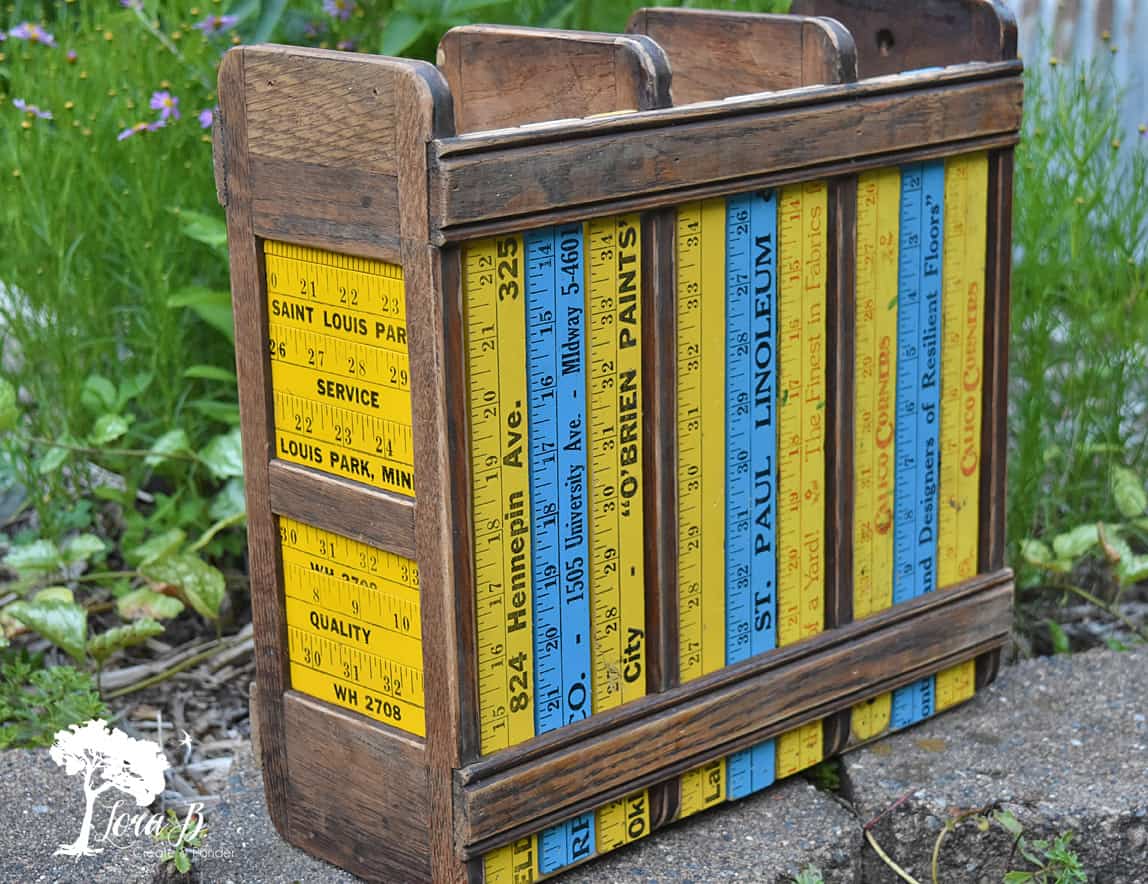 But of course, this cutie needs to get a finishing coat of poly brushed on it and get some finishing touches of junky bling for usefulness at either end.
And remember…this project is meant to be used in the kitchen for our Thrifty Chicks challenge…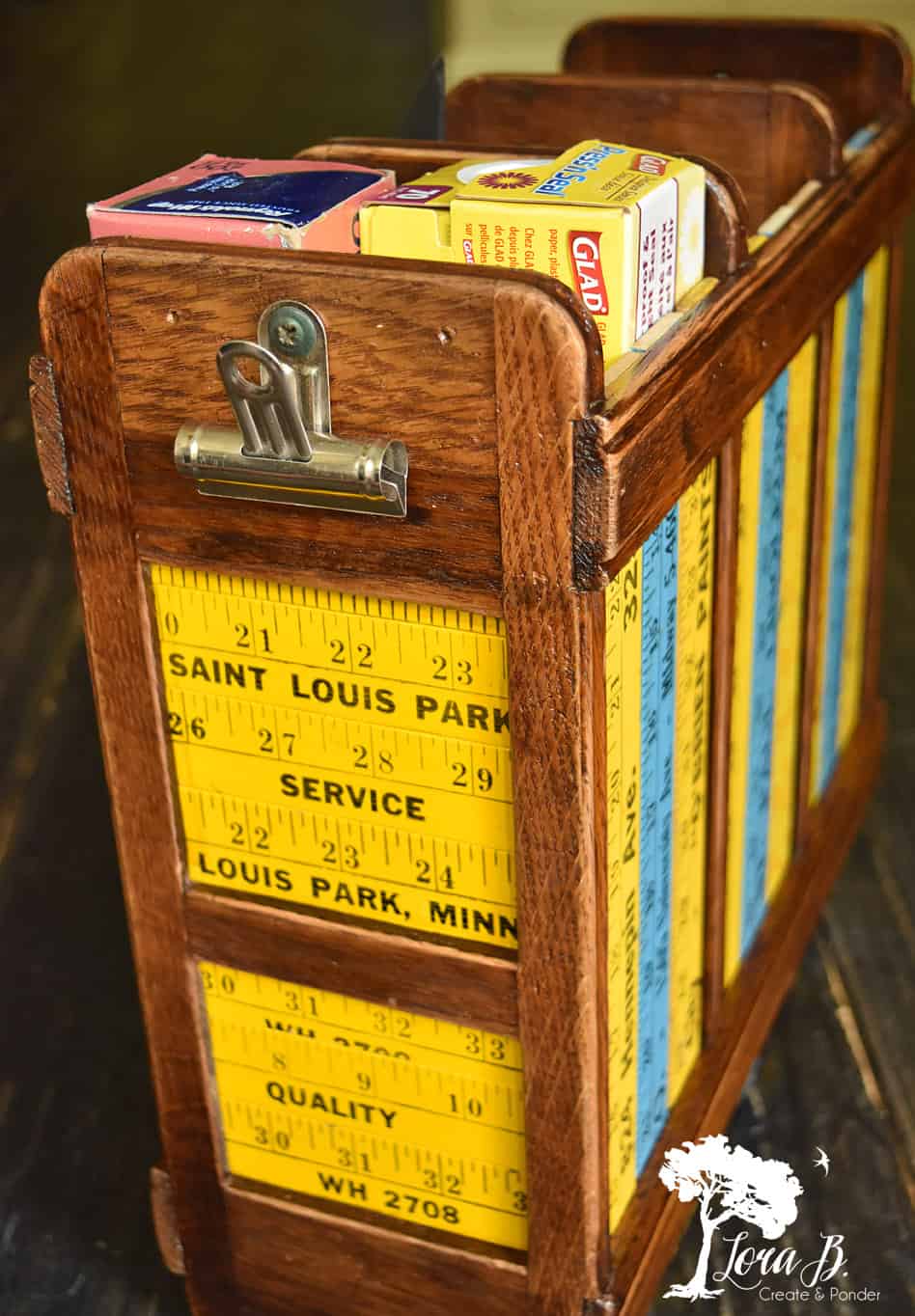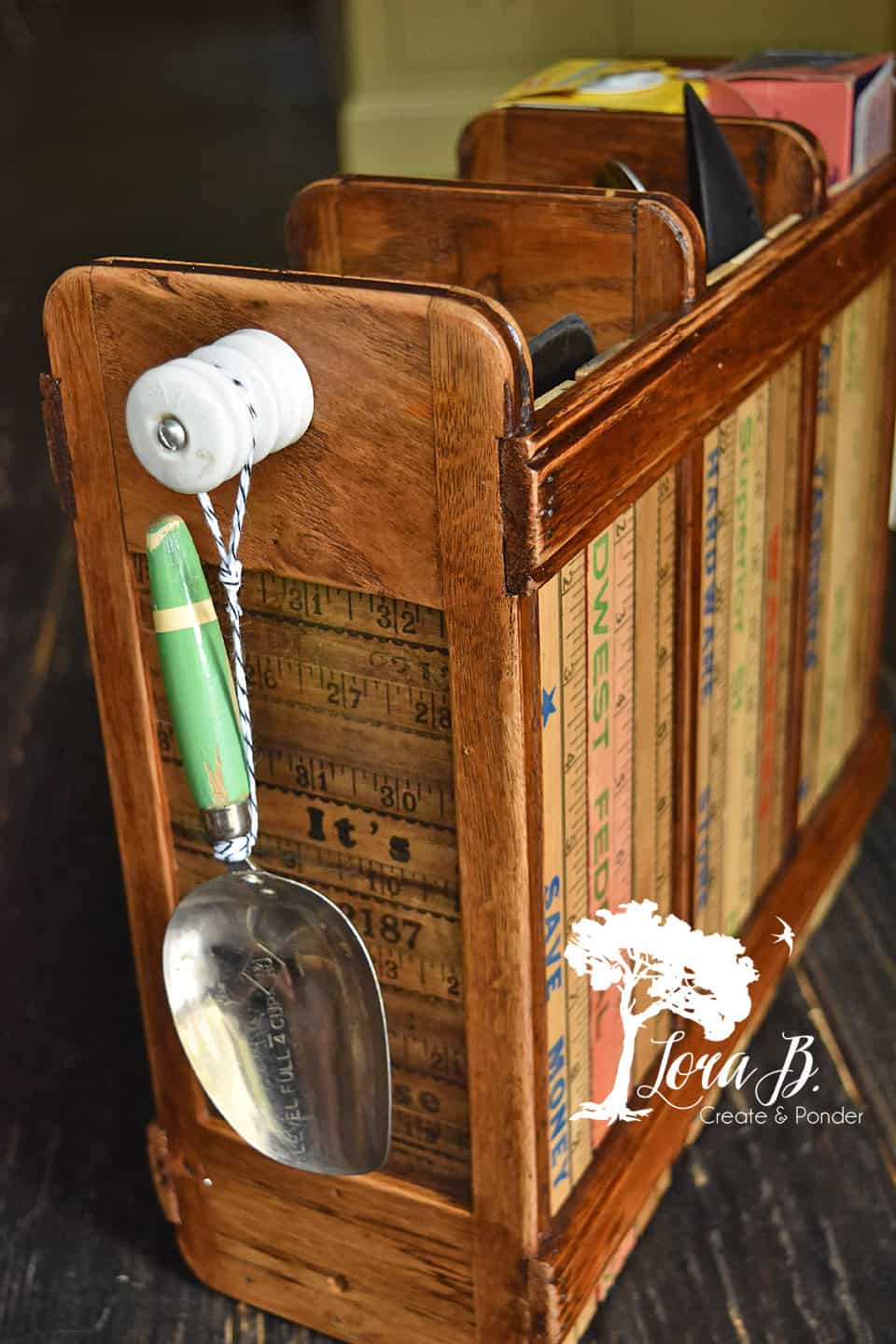 So I put an old clip at one end and an old insulator at the other and filled the tall spaces perfectly with tinfoil, cling wrap and long cooking utensils! It's a one-stop-shop kitchen organizer! Perfect for the cabin, RV, or even out by the grill!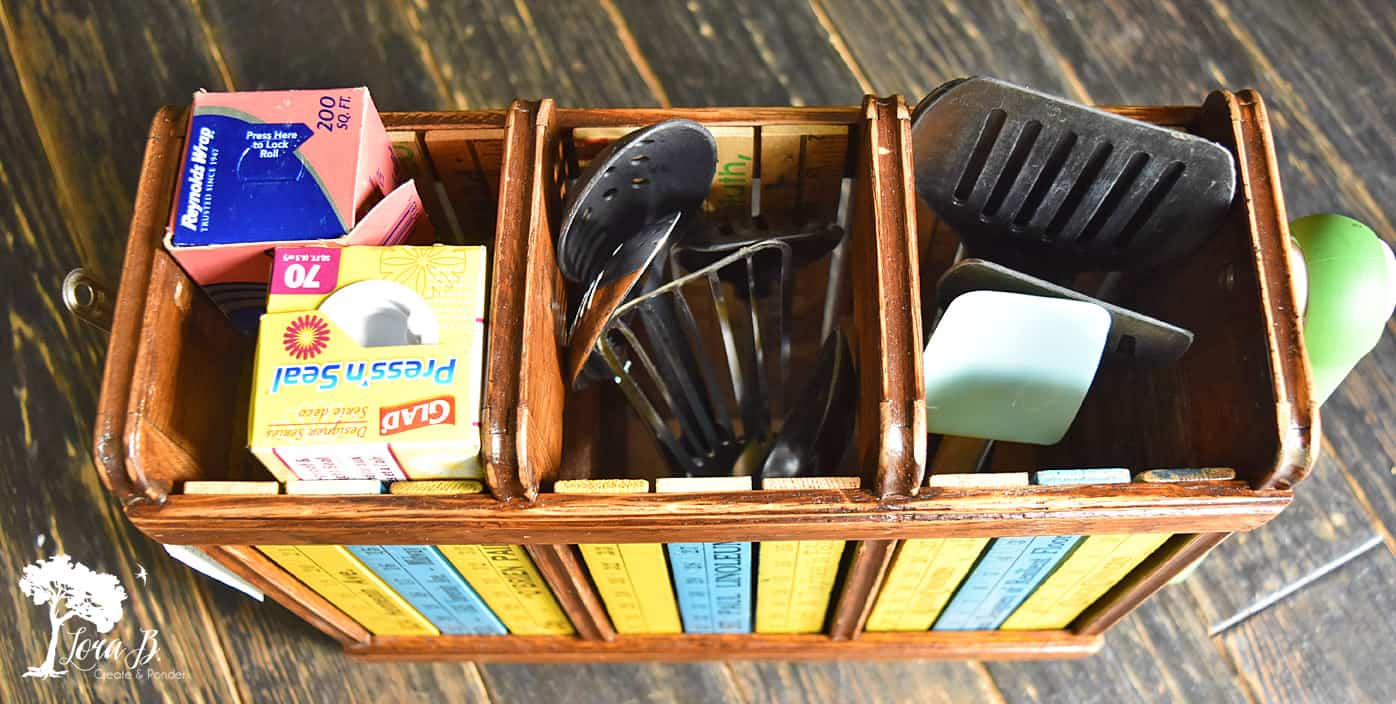 But for now, I think I'll enjoy it right next to my stove and mixer…
Do you have any other kitchen-y ideas of what I should put in here? Would love to hear!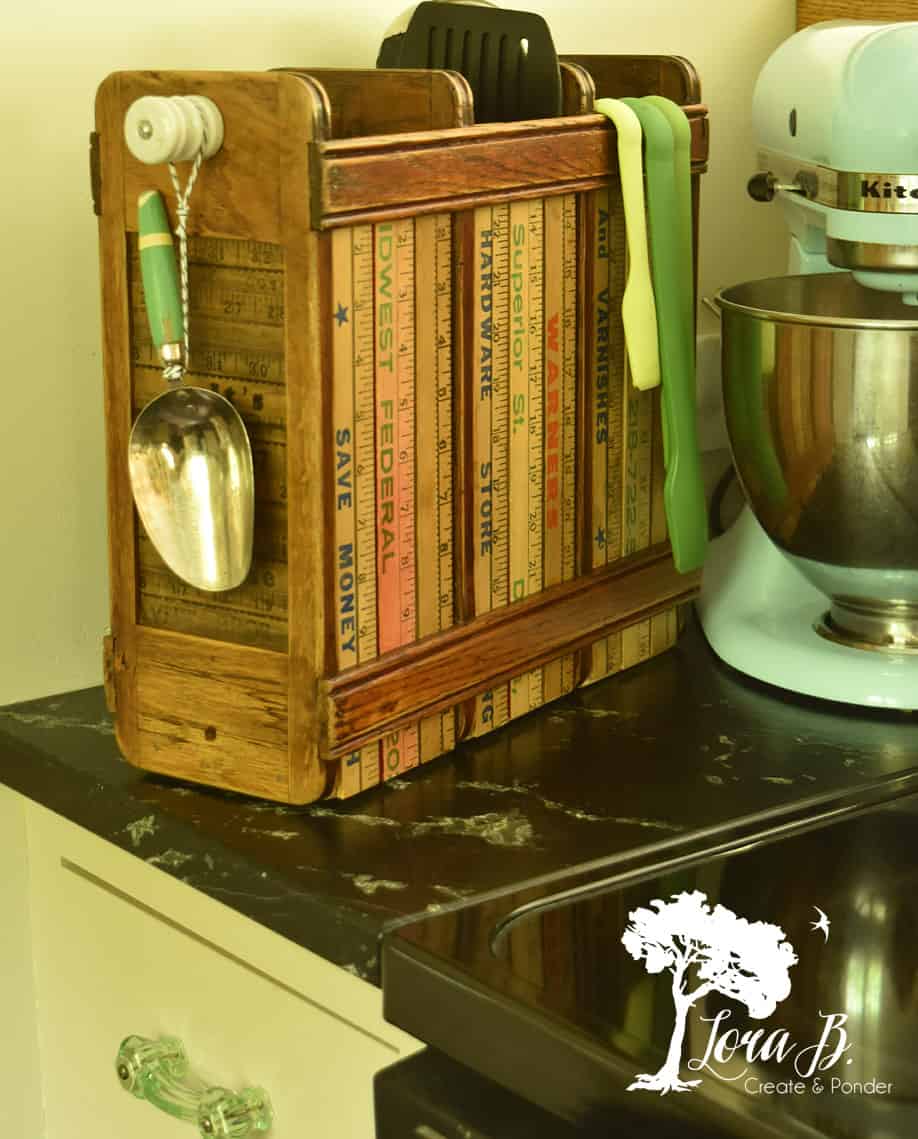 Next time you spy an old sewing machine drawer skeleton, where someone has already grabbed the drawers, remember this fun project!  And make sure you check out all the other Thrifty Chicks' kitchen projects below. Think this Sewing Machine Drawer Kitchen Organizer might get my vote for one of my favorite upcycles!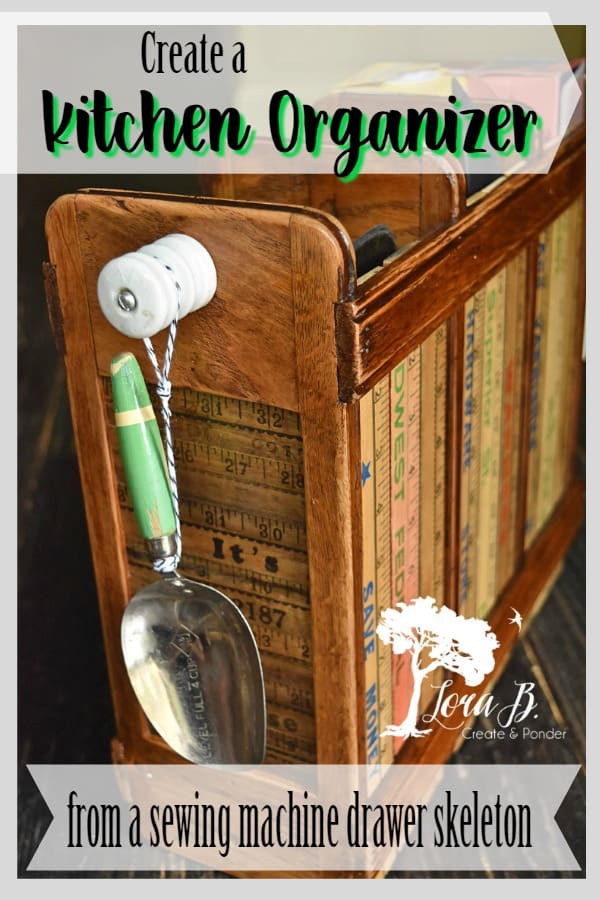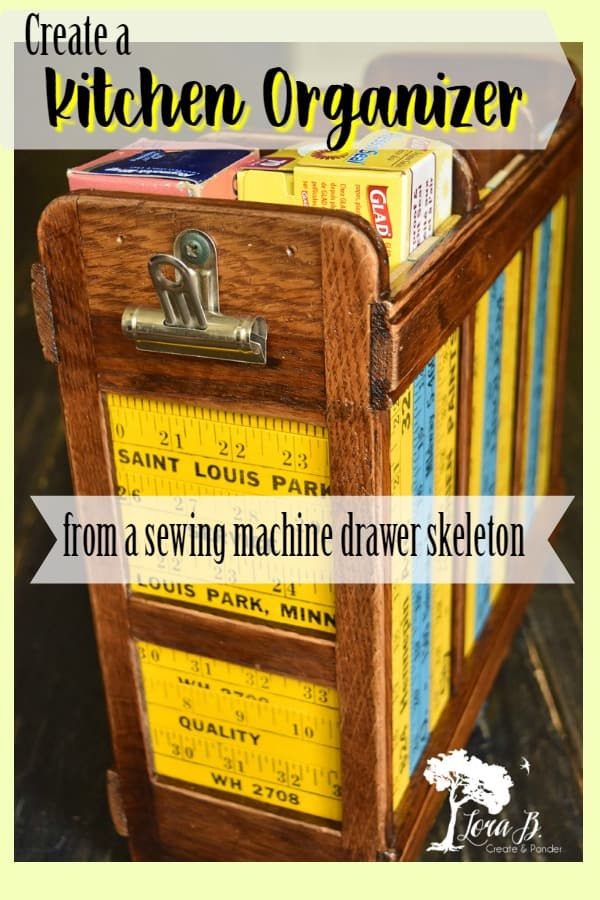 And from my Thrifty Chicks friends: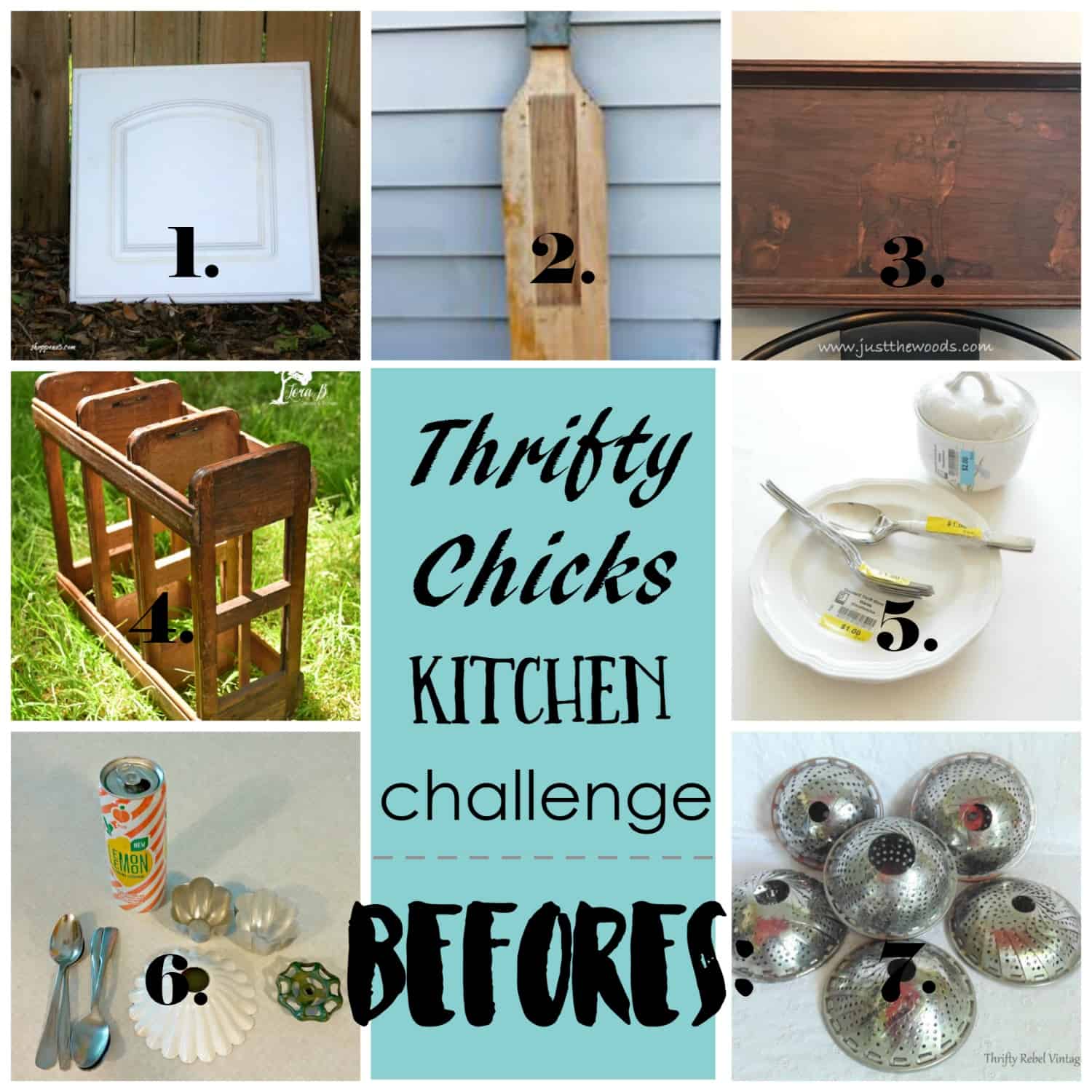 Debra from Shoppe No. 5, "A Kitchen Cabinet Door into a Towel Holder"
Diana from Adirondack Girl @ Heart, "Christmas In July DIY Project"
Kandice from Just the Woods, "How to Make a Coffee Bar Sign"
Me;)
Marie from The Interior Frugalista, "DIY Silverware Windchime"
Tania from Little Vintage Cottage, "What To Do With A Collection of Random Kitchen Do-Dads"
Tuula from Thrifty Rebel Vintage, "How to Make Repurposed Folding Strainer Flowers"

Sharing at these lovely parties: