Repurposed Vintage Sewing Machine Drawer Organizer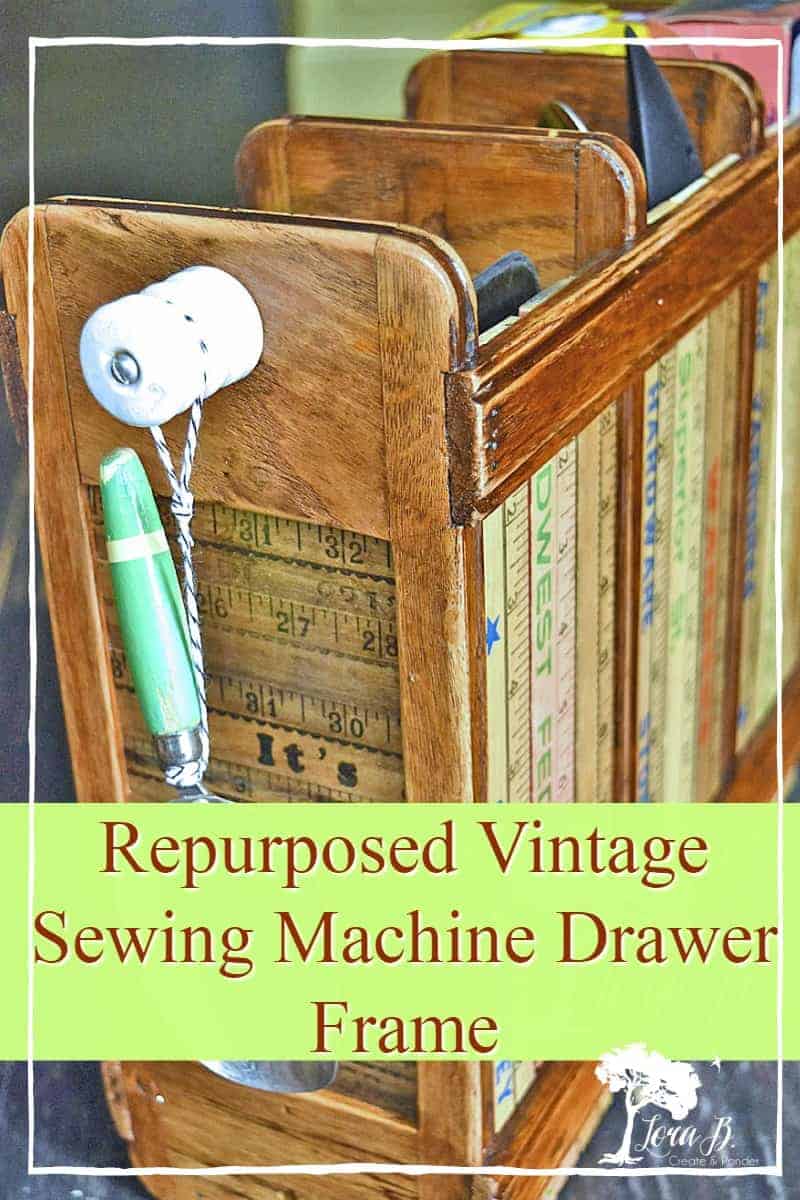 Vintage sewing machines were workhorses for an earlier generation. But most have done their duty and have been replaced with newer, computerized versions. The old machines and the tables that were built around them are beautifully made; it's sad to see them disposed of. When I spied just the frame of a vintage sewing machine drawer on a curbside pile, I knew it's pretty wood needed a new purpose. Here's how to create a Repurposed Vintage Sewing Machine Drawer Organizer you can use for function or beauty!
Today's project is part of our monthly Thrift Chicks Challenge, where a group of creative bloggers all create around a theme. (You can check out all our themed projects HERE). This time around we are creating with a "kitchen" theme. Can't wait to see what my friends came up with! I'll have all the links to their projects at the end.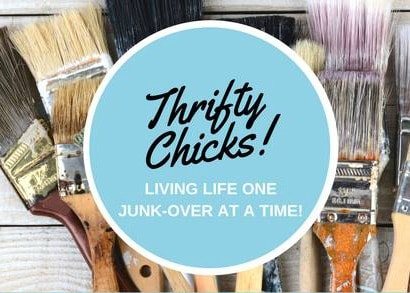 Repurposed Vintage Sewing Machine Drawer Organizer
For your convenience, this post contains affiliate links. If you make a purchase, I may receive a commission. There is no additional cost to you. My full privacy policy is here.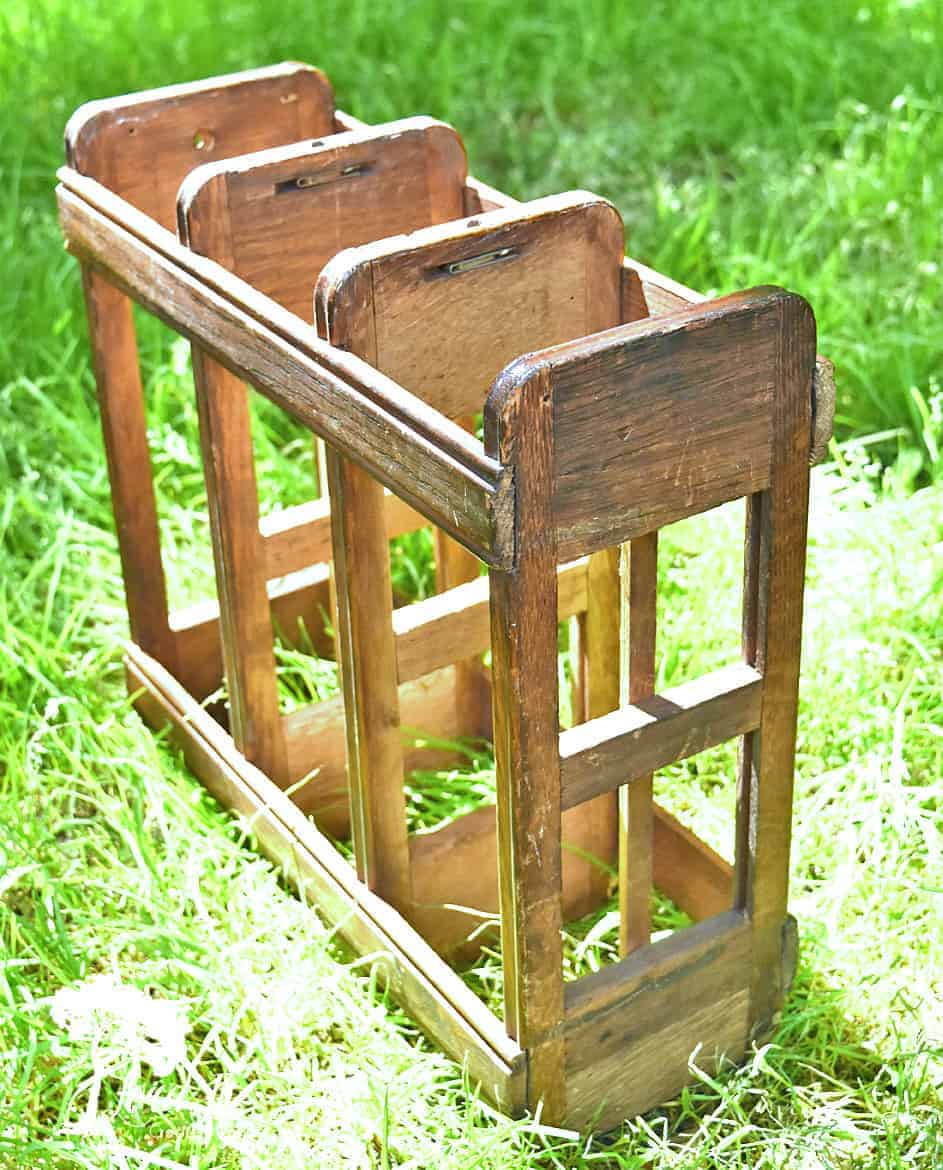 Start with a Vintage Sewing Machine Drawer Skeleton
Instead of creating something from kitchen items, I decided I needed to refresh a roadside find I'd found this spring ("Curbside Junking Adventures and Tips") for the kitchen. I created a kitchen organizer from the skeleton of a vintage sewing machine drawer.
There are plenty of creative uses for the drawers of vintage sewing machines (just check Pinterest), but I hadn't seen anyone figure out what to do with these drawer skeletons. I don't like any vintage pieces to go to waste, especially if they're made with great old wood!
You'll also need some vintage yardsticks and some scrap pieces of wood for this repurpose.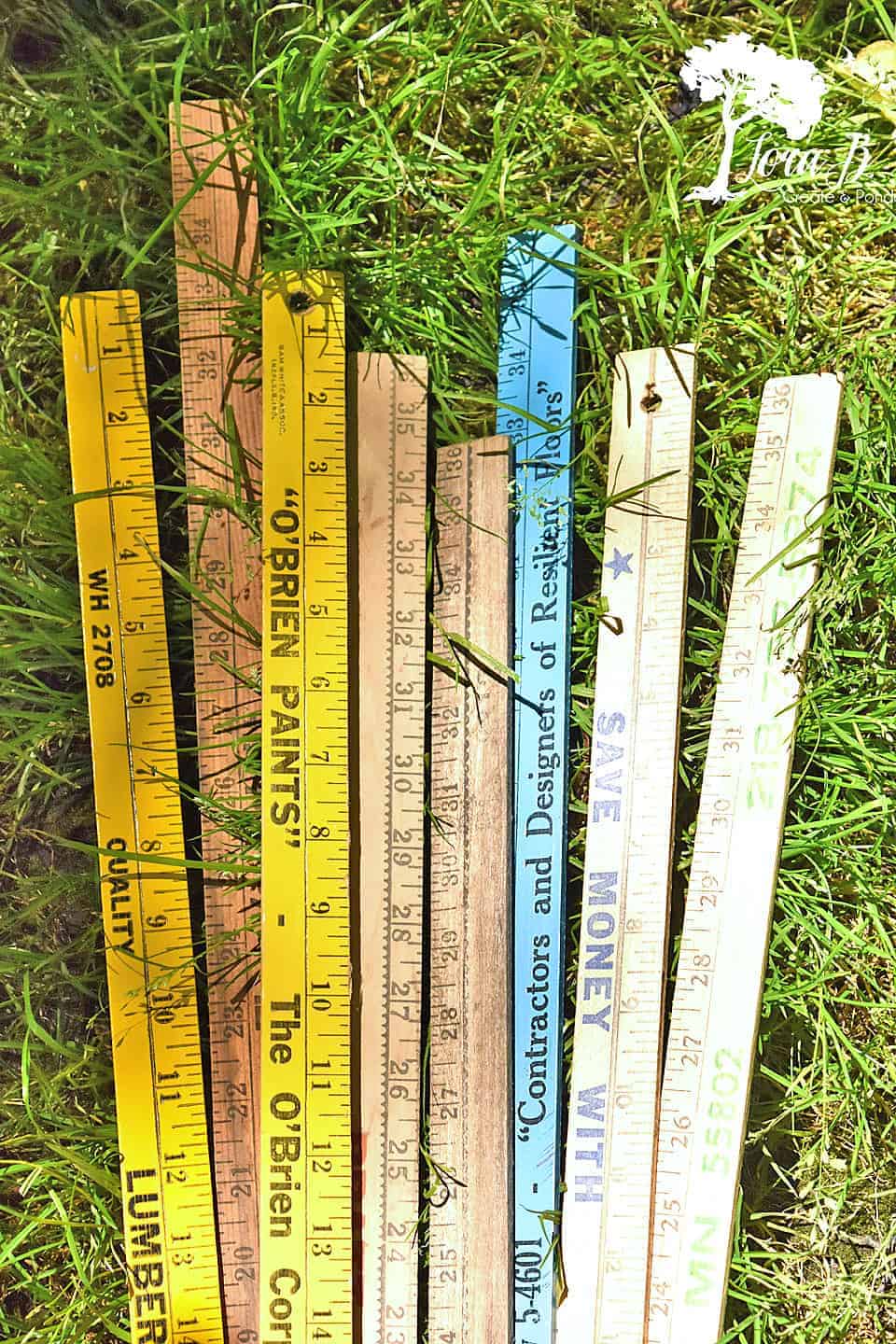 Create the Bottom of your Sewing Machine Drawer Organizer First
First, pop the drawer glides off. You won't need these…at least for this project;)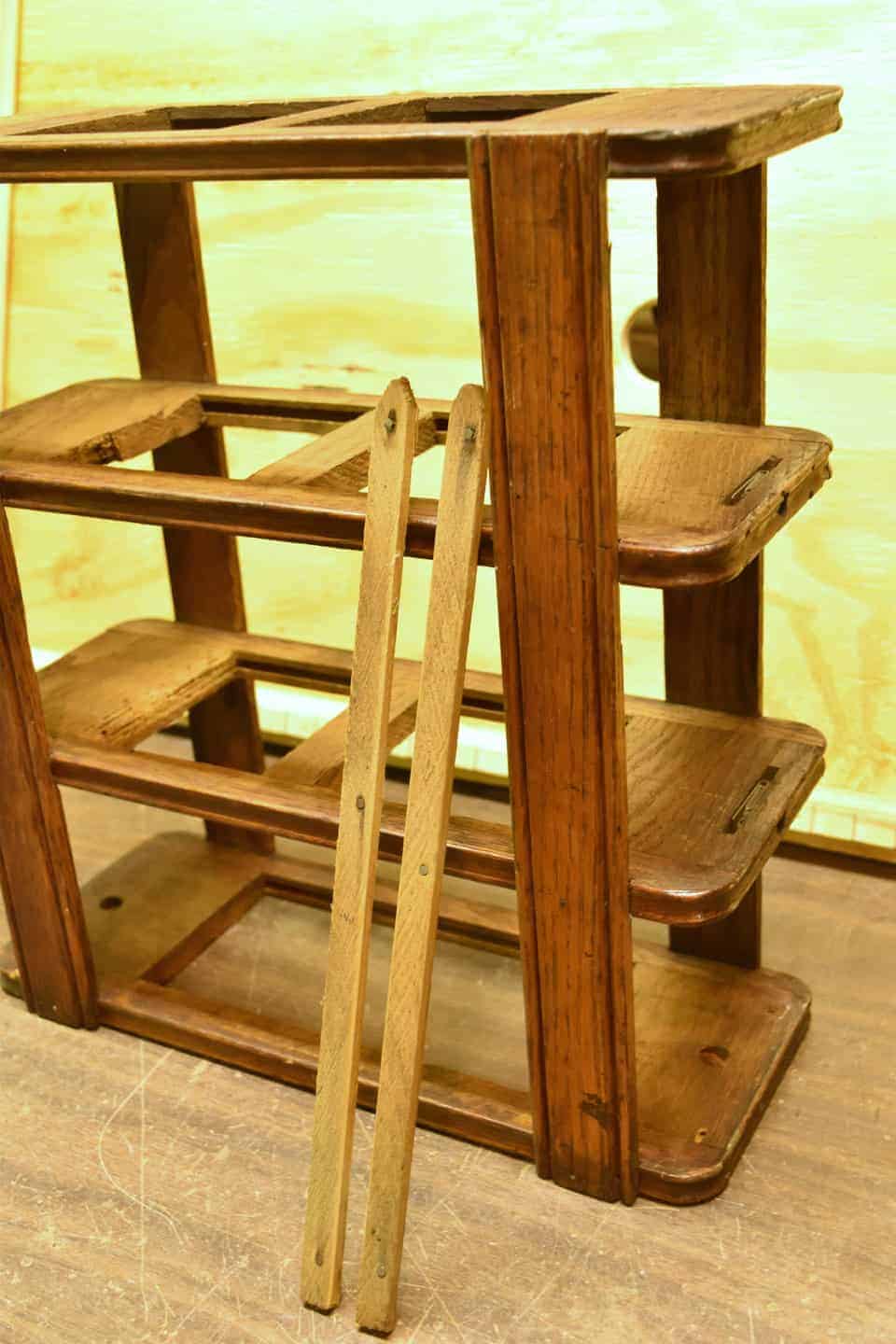 To create the bottom of the organizer, cut squares of scrap wood to fit between each section, leaving room for the width of the rulers to wedge in on either side…you'll see that soon.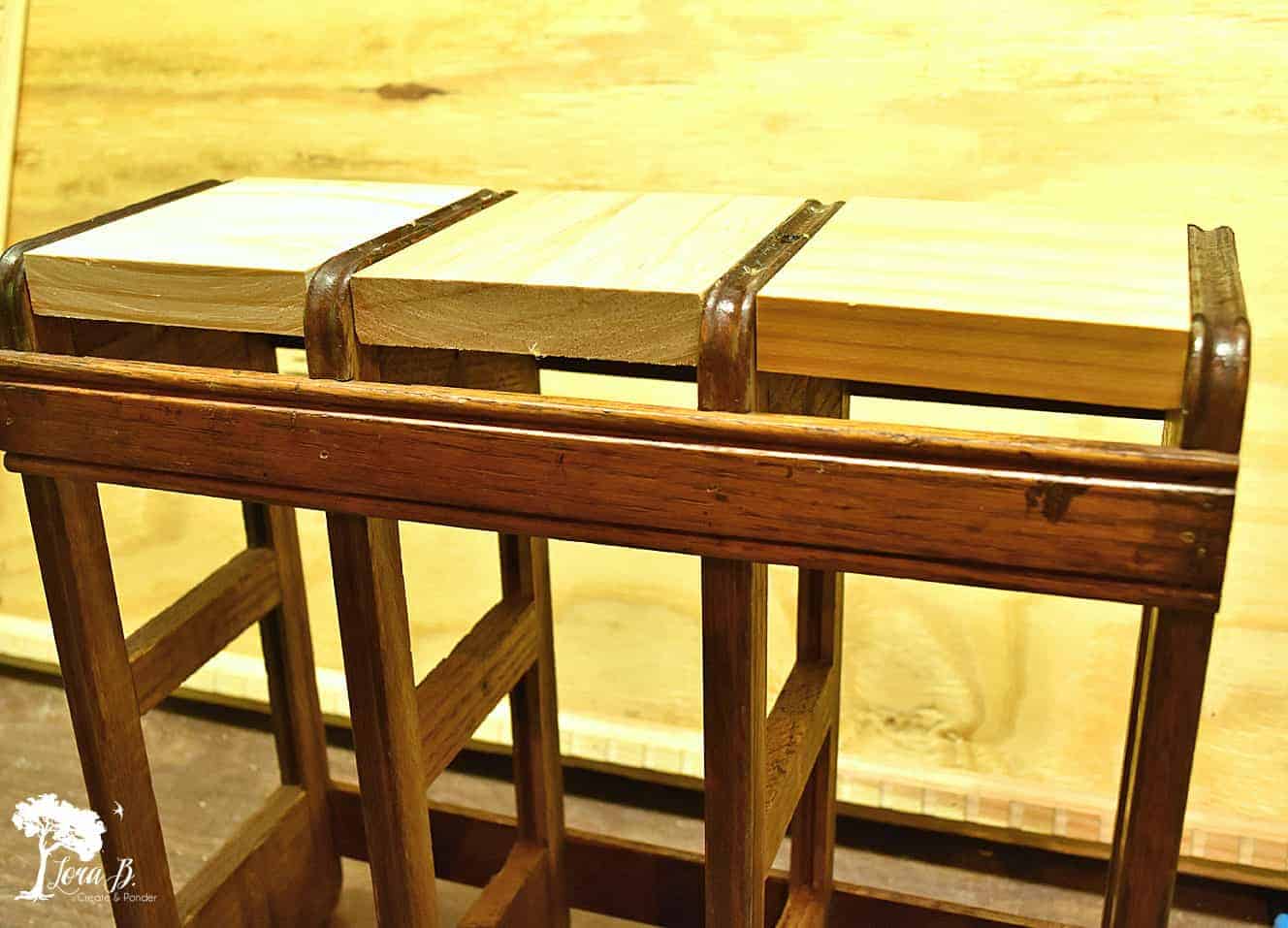 Then sand it all smooth to bring out the character of the old wood. (HERE's the palm sander I like for smaller hands)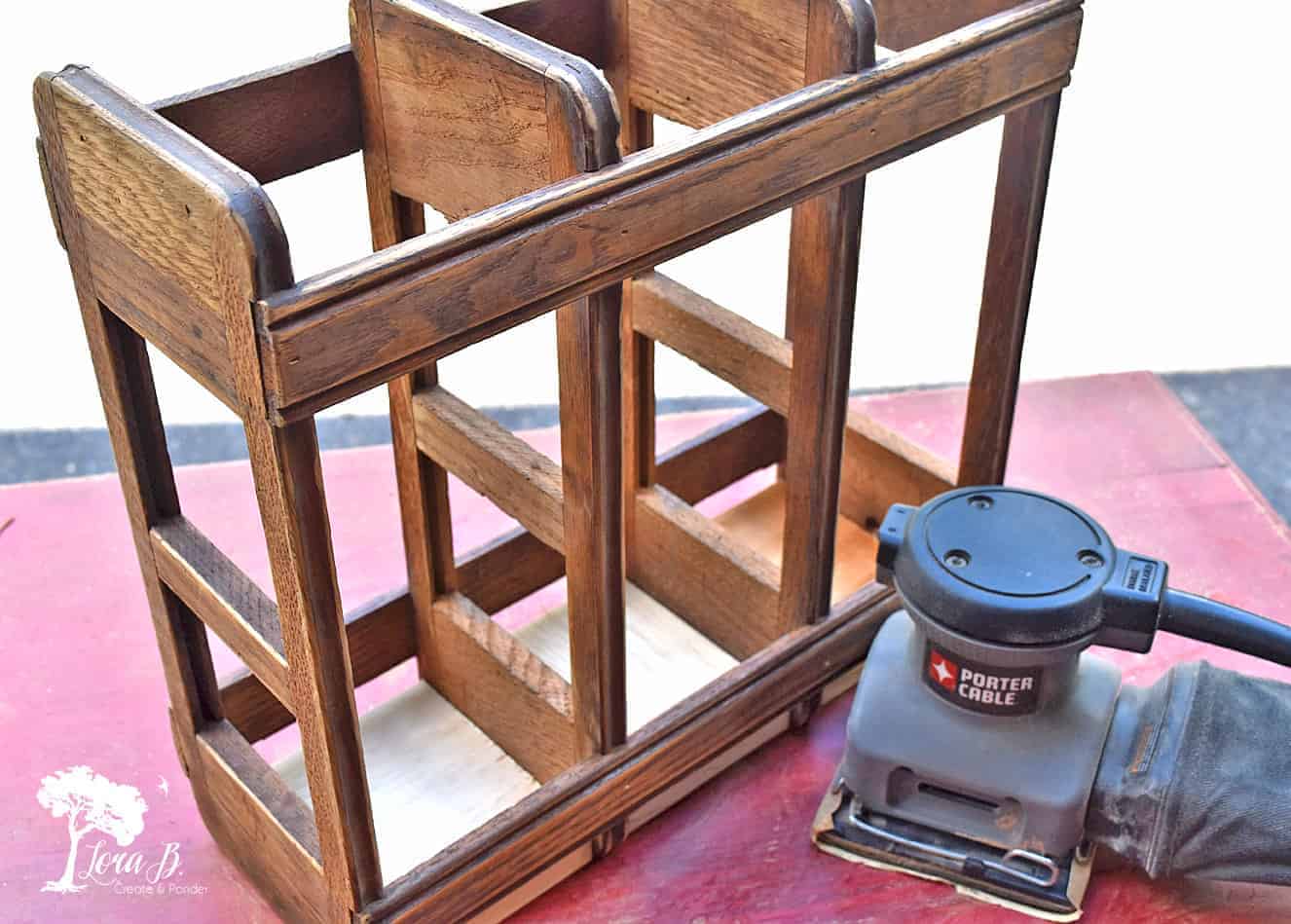 Next, Cut the Yardsticks and Fit into the Ends of the Organizer
Cut pieces of yardsticks slightly larger that the square openings on the ends. We put a little notch in the corners, but they weren't needed. Just angle the pieces as you place them in the groove. The last piece will need to be slightly less deep to fit.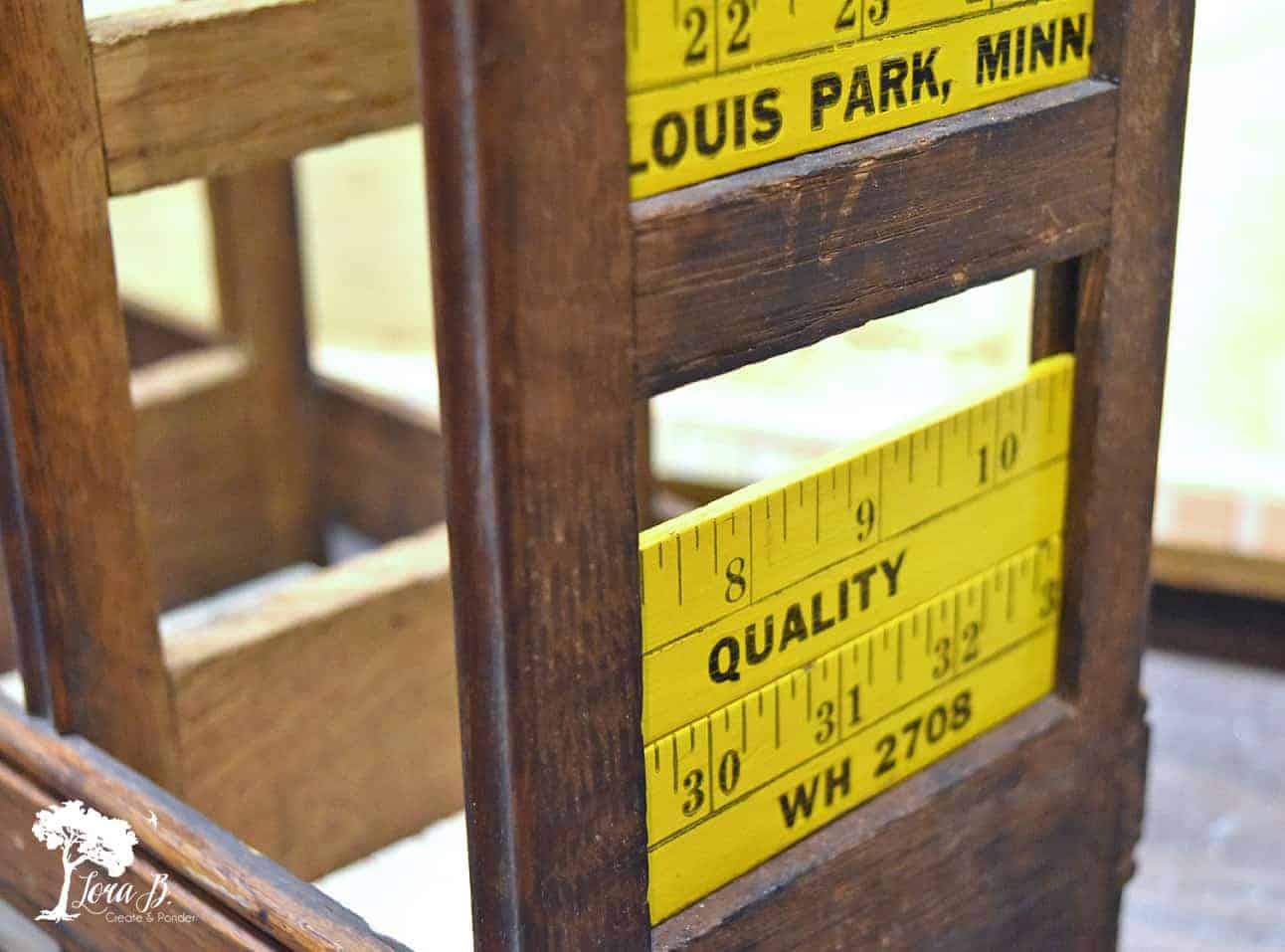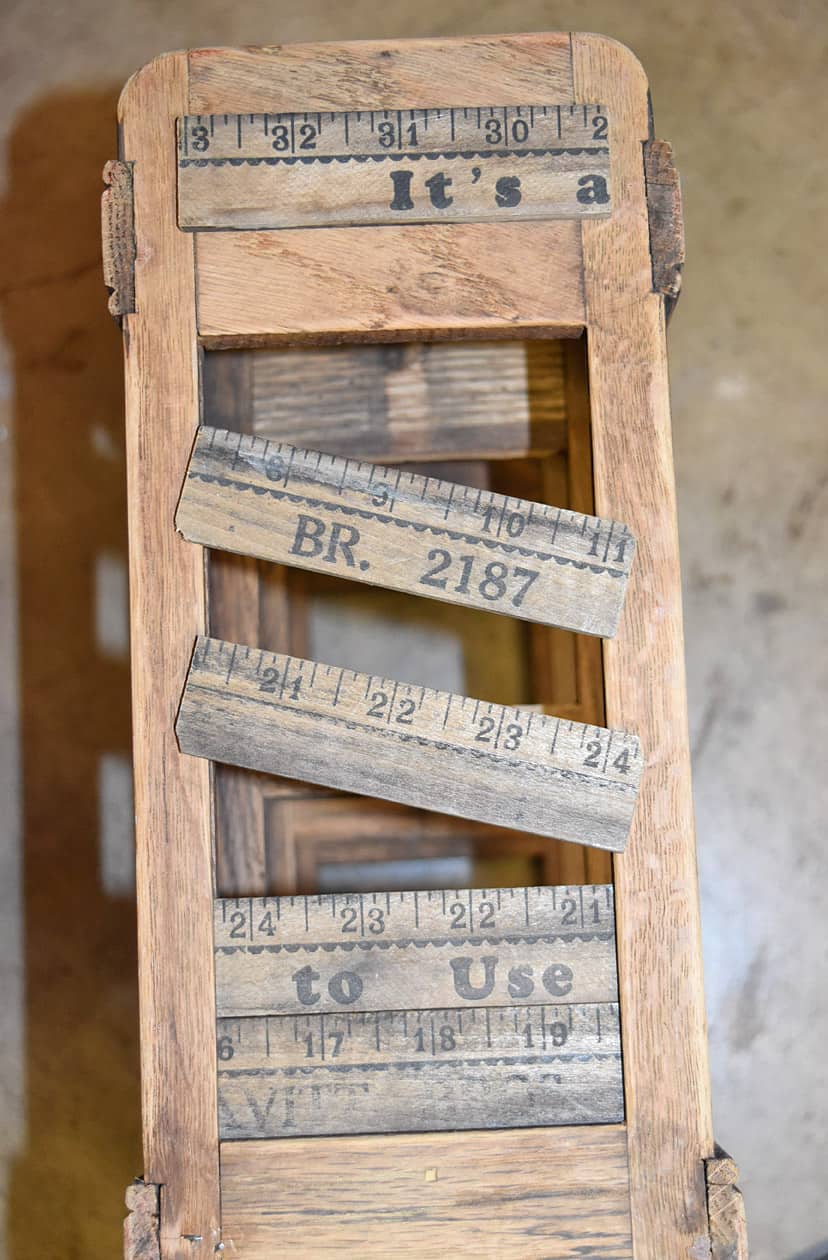 Finish off both ends of the sewing machine drawer frame with the short sections of yardsticks. Use either wood glue or small nails to keep them in place.
Cut Yard Stick Sections for the Sides of the Sewing Machine Organizer & Nail In
For the sides, cut yardsticks in 12″ sections. I wanted one side to be colorful and the other to be subdued. We spaced the yardstick sections evenly, with small spaces between each to span the space. While you're spacing them, clamp so they won't move while nailing in. It goes quickly with a pneumatic nailer.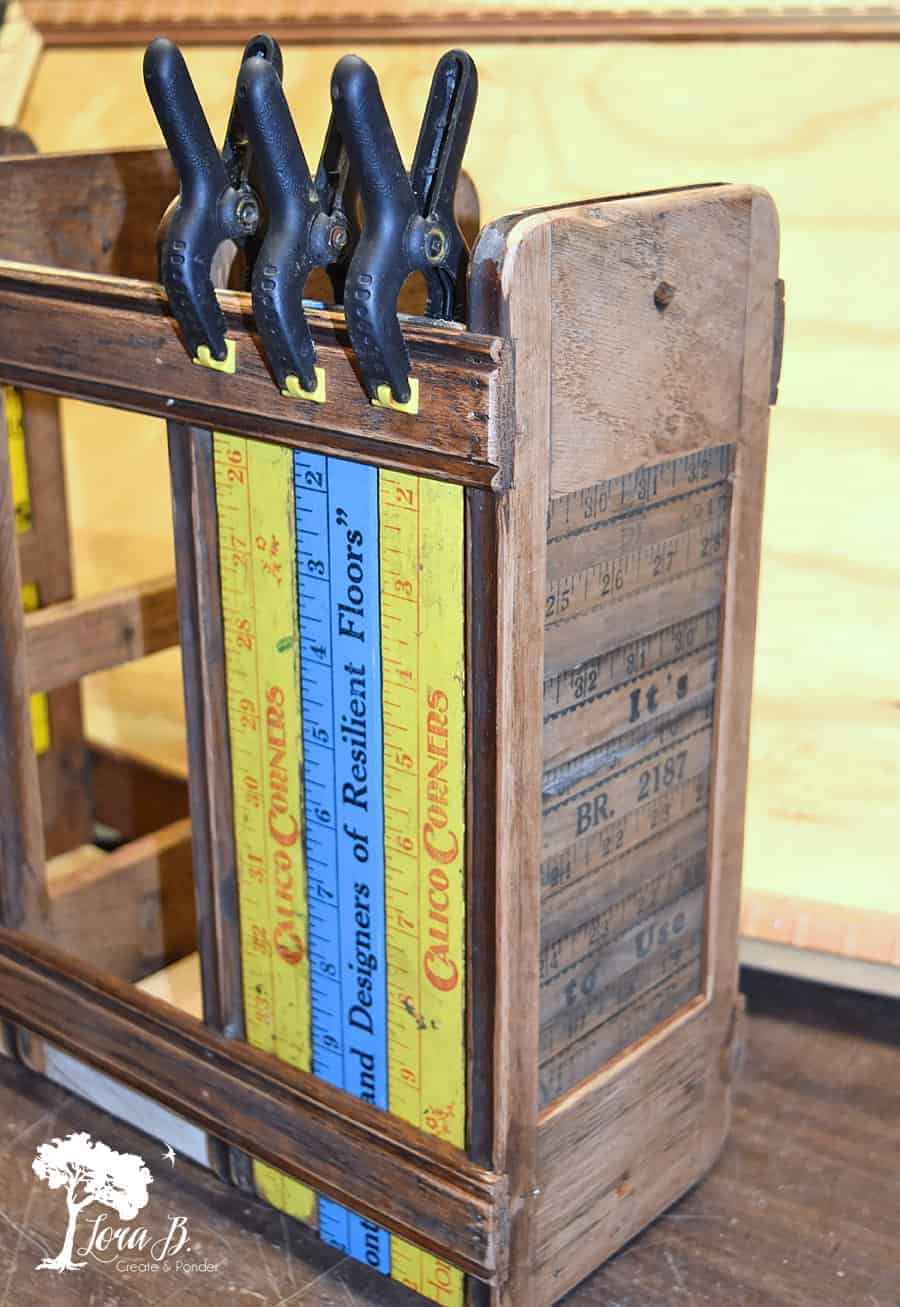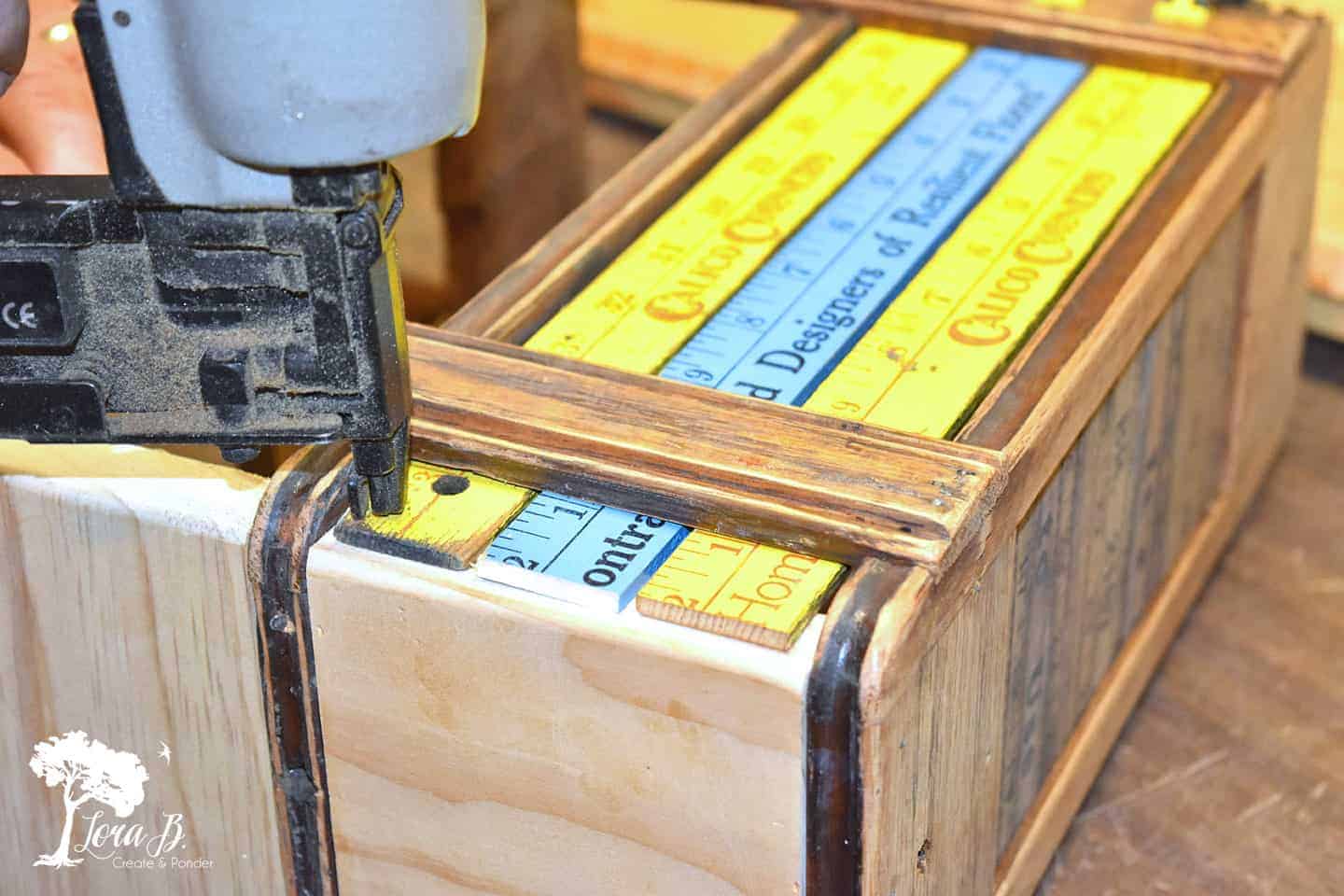 Here are the 2 looks on either side: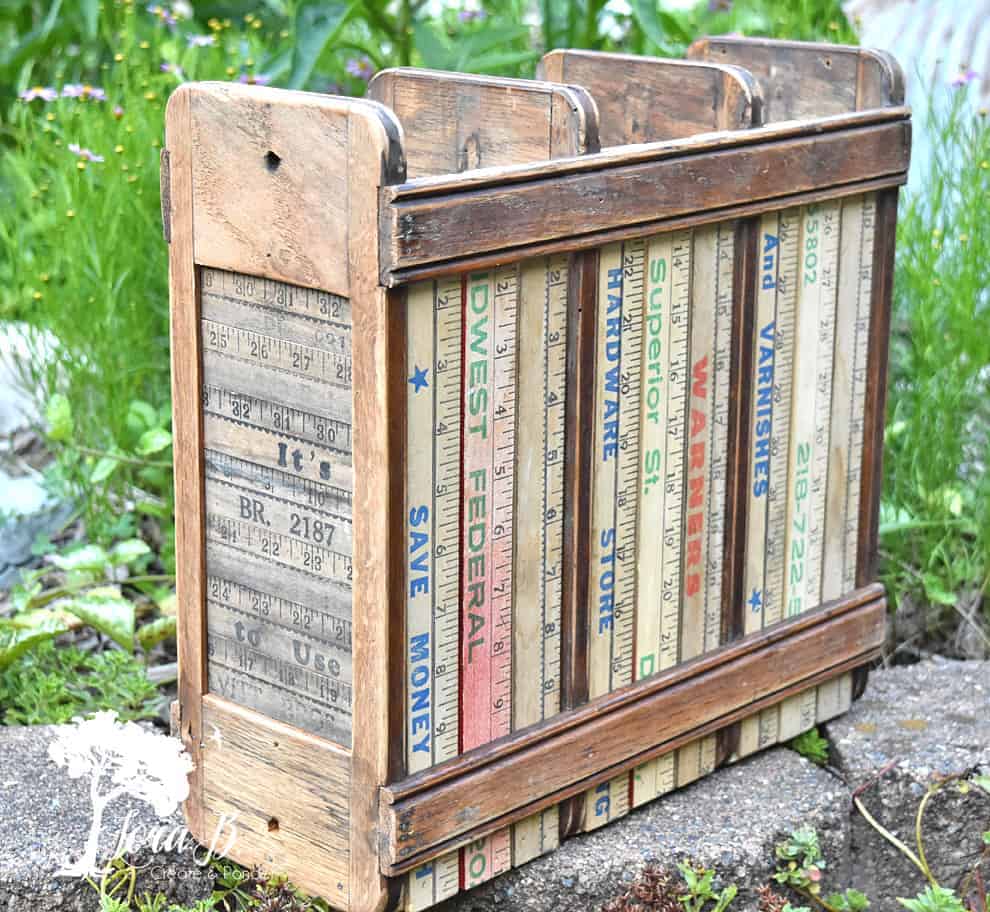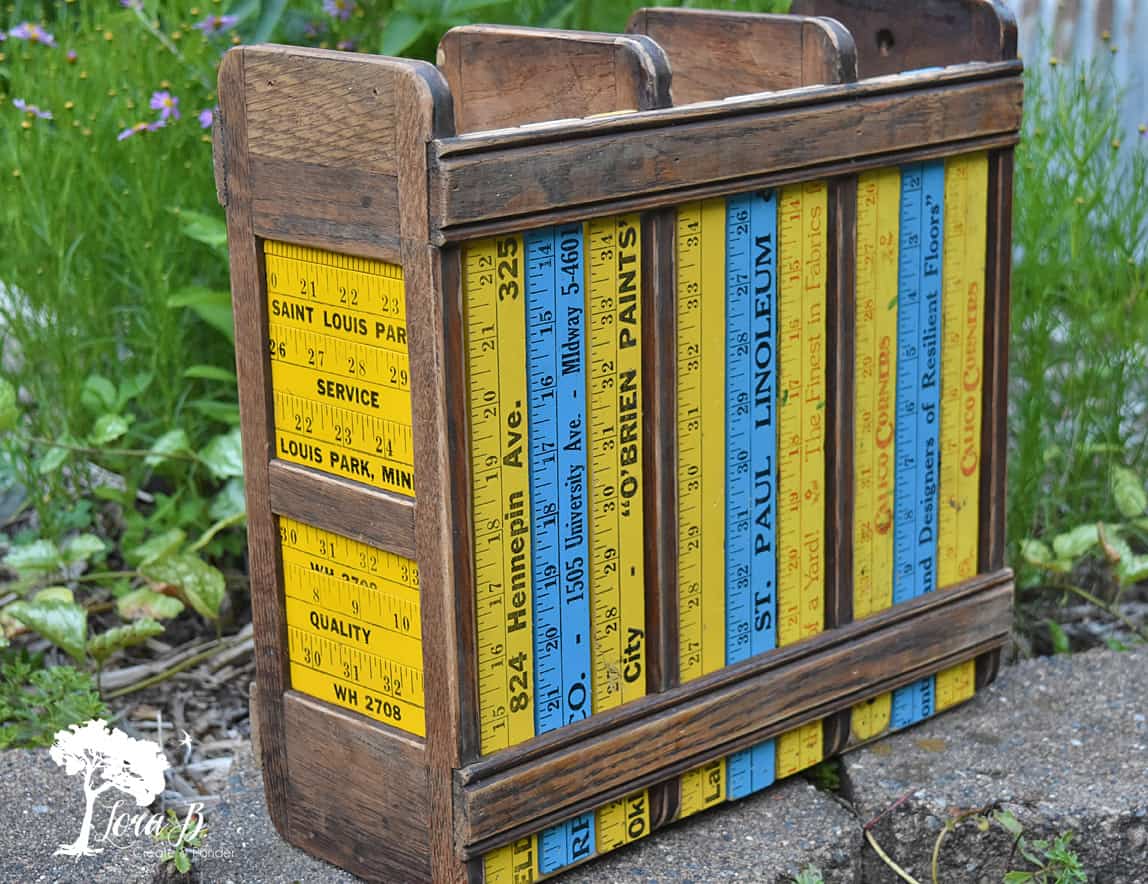 Seal with a Coat of Poly
To bring out the beauty and character of the yardsticks and the old wood sewing machine frame, brush on a coat or 2 of waterbased poly (my favorite is HERE).
Almost done, but this project needed a little something at each end to increase it's use, plus give it a little junky bling.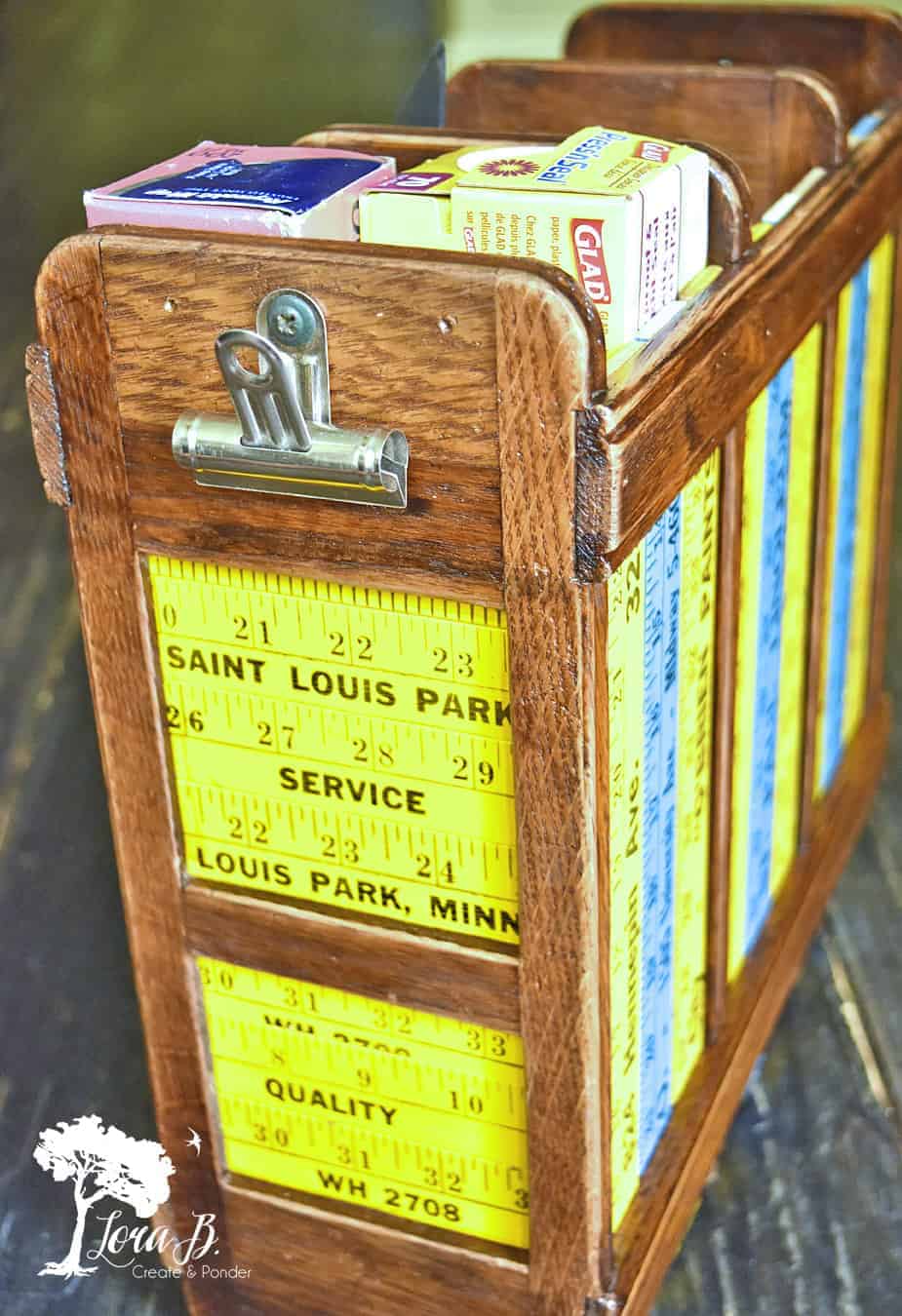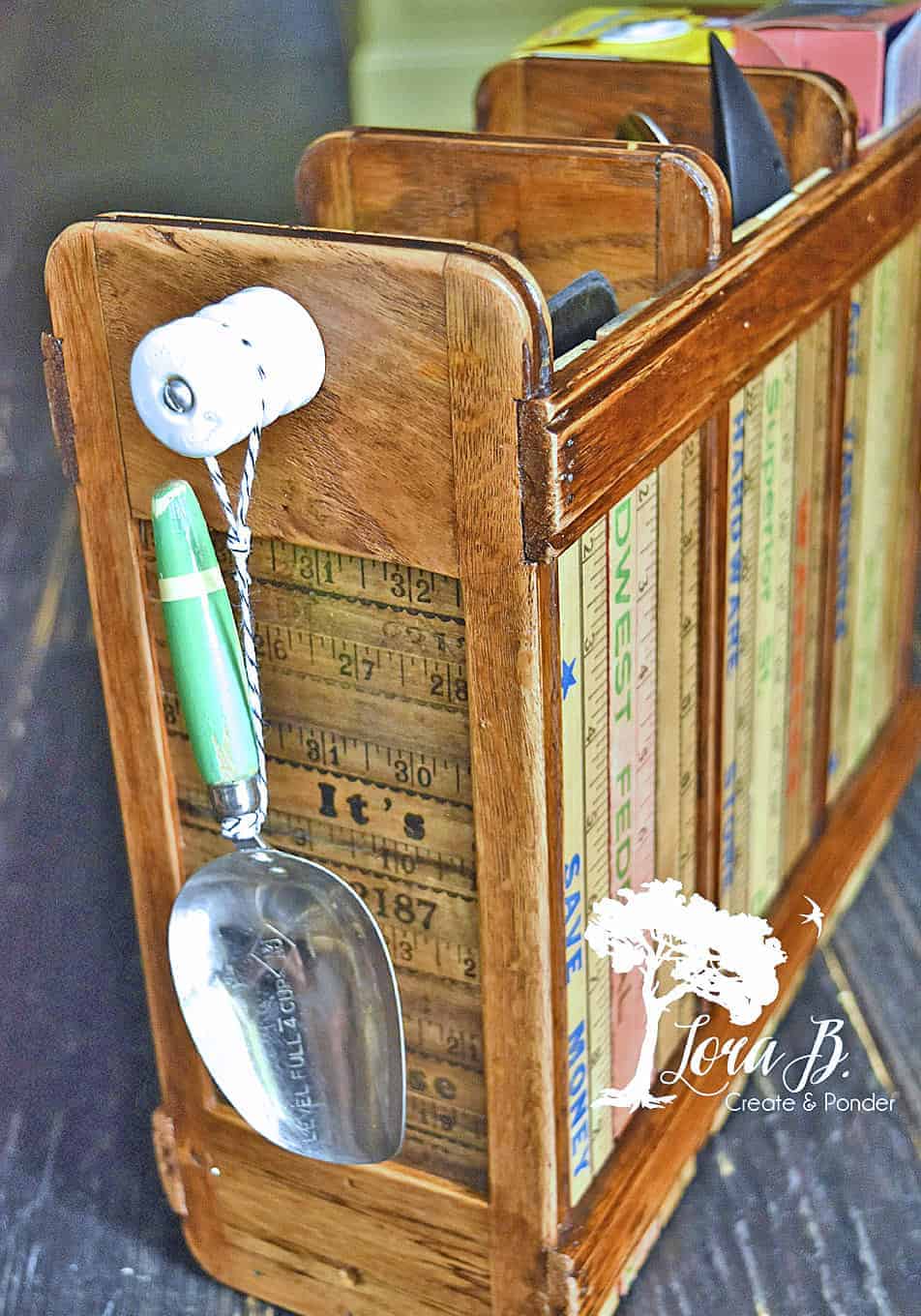 Attach a Hanger or Clip to Each End of the Organizer
An old insulator and a vintage clip were screwed to each end. They can be used to hang a utensil or clip a recipe card.  The tall sections can hold whatever you want. To go along with our "kitchen" theme, I placed rolls of  tinfoil, cling wrap and long cooking utensils in the different sections. It's a one-stop-shop kitchen organizer for the cabin, RV, or even out by the grill!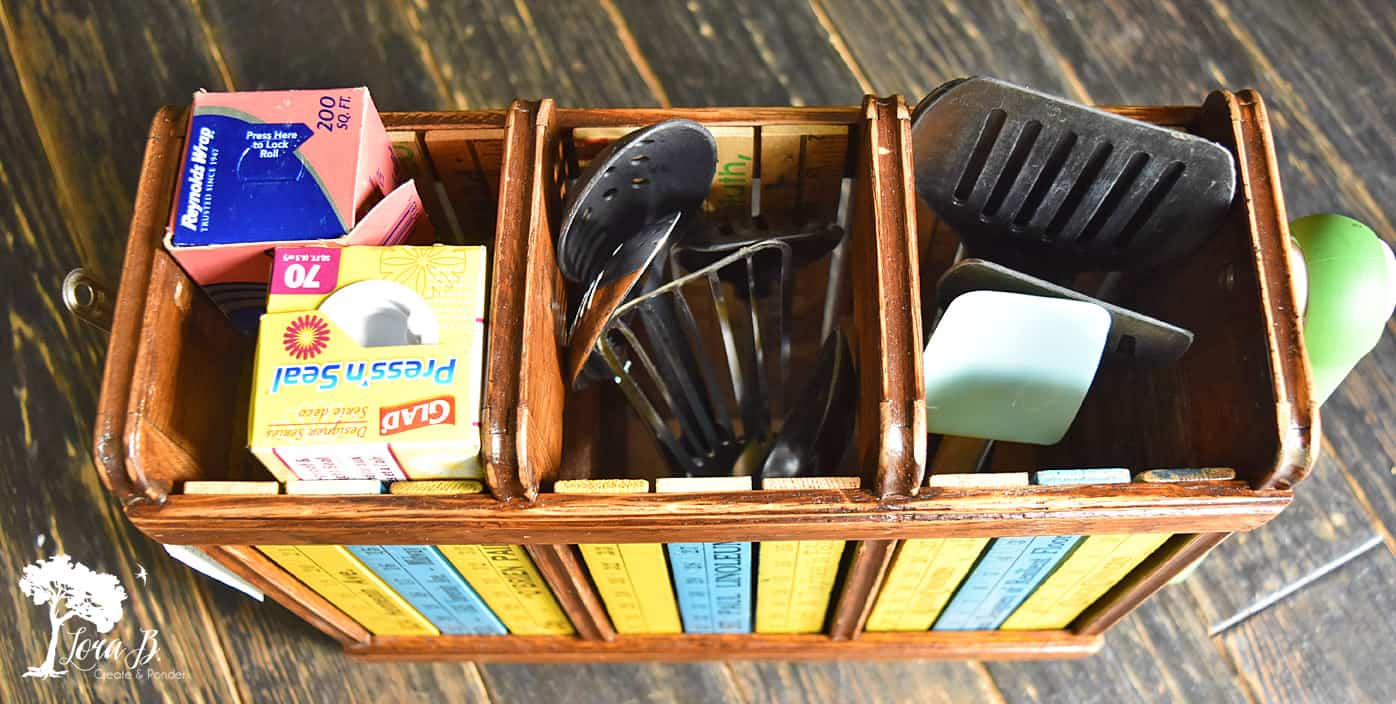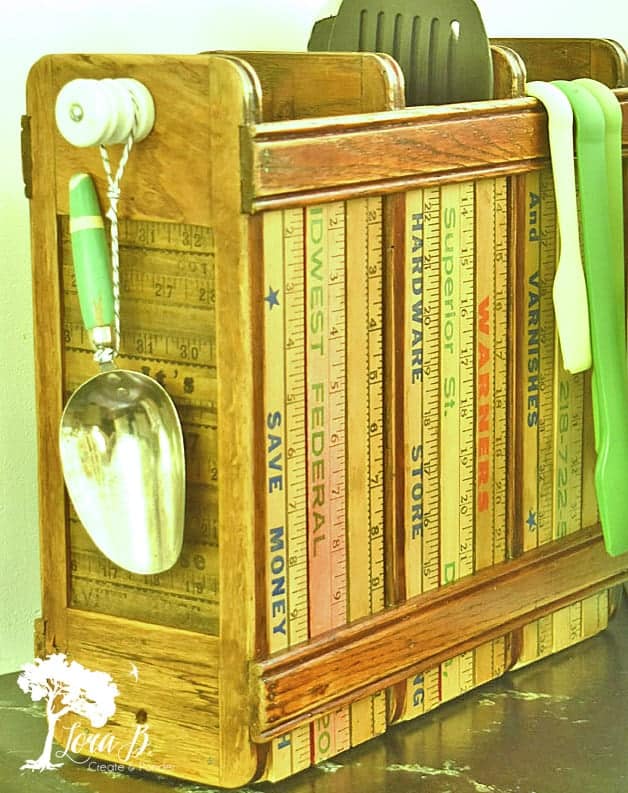 Next time you spy an old sewing machine drawer skeleton, where someone has already grabbed the drawers, remember this fun project!  And make sure you check out all the other Thrifty Chicks' kitchen projects below. Think this Repurposed Vintage Sewing Machine Drawer Organizer will enjoy a long life on my kitchen counter!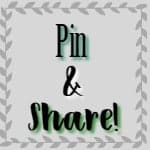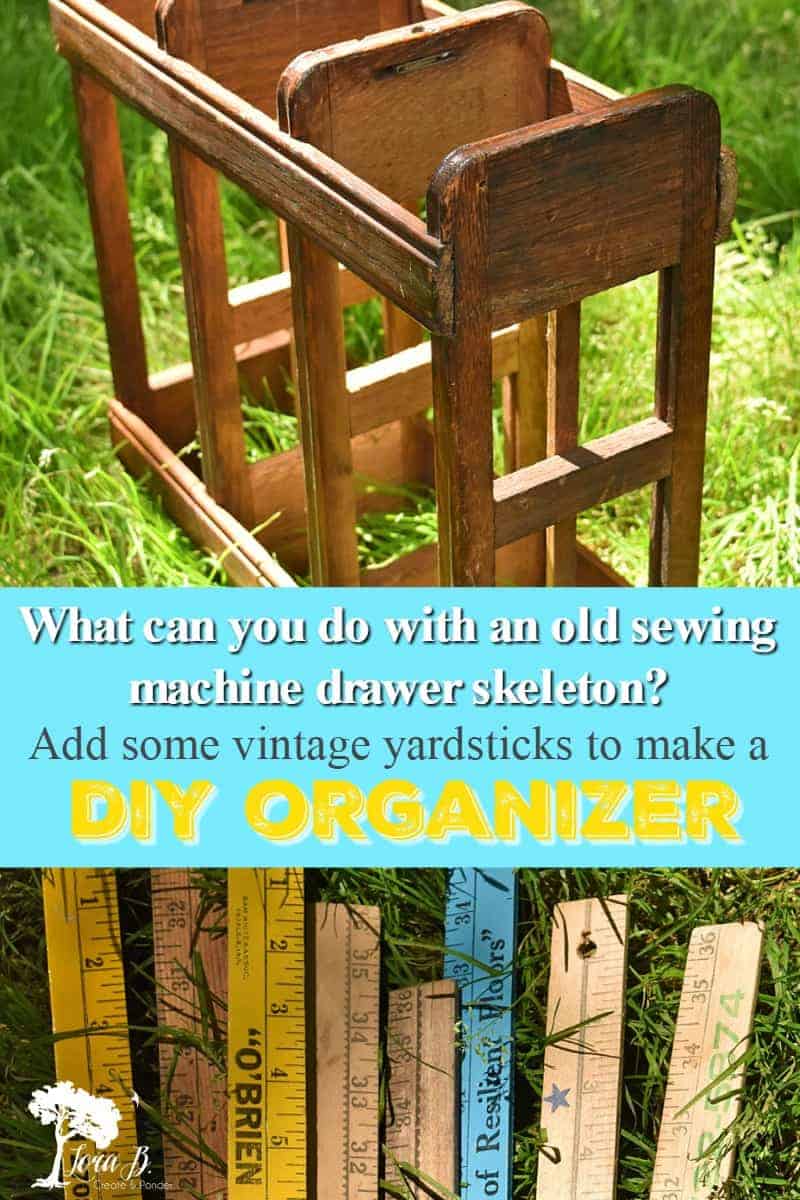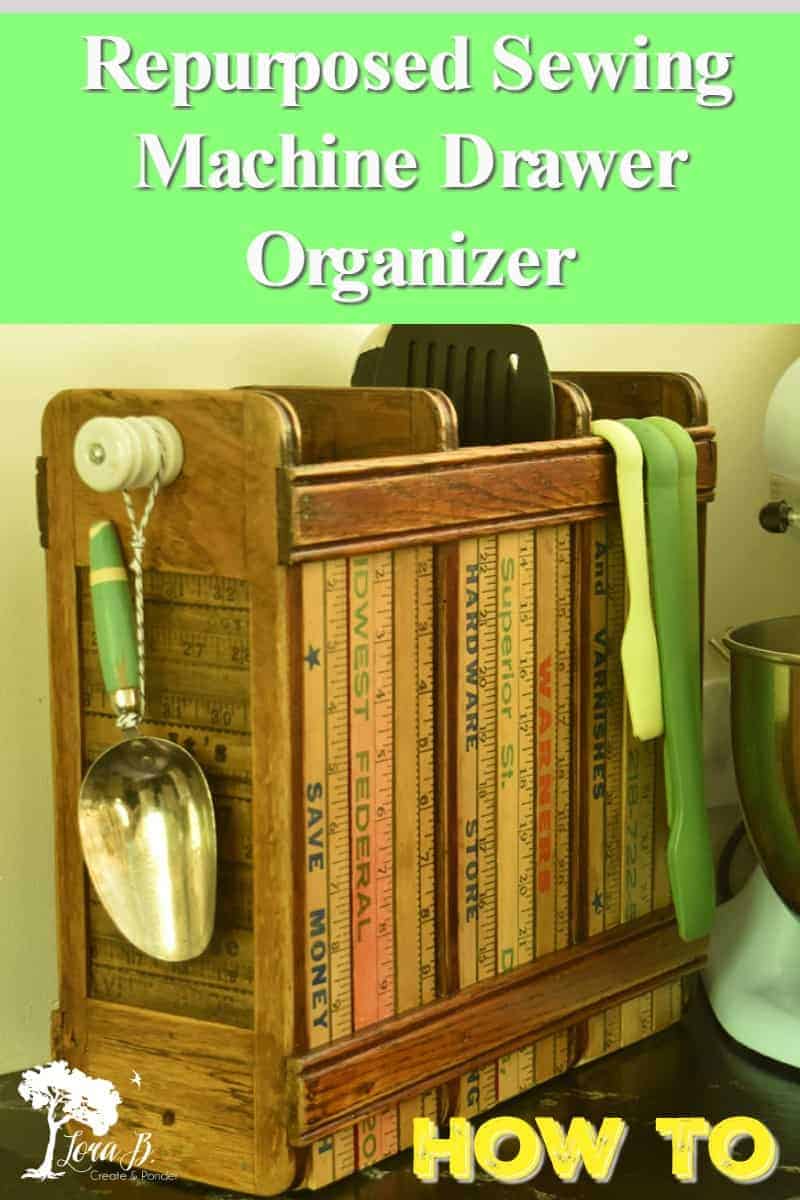 Thrifty Chicks Junkovers Challenge: Kitchen Ideas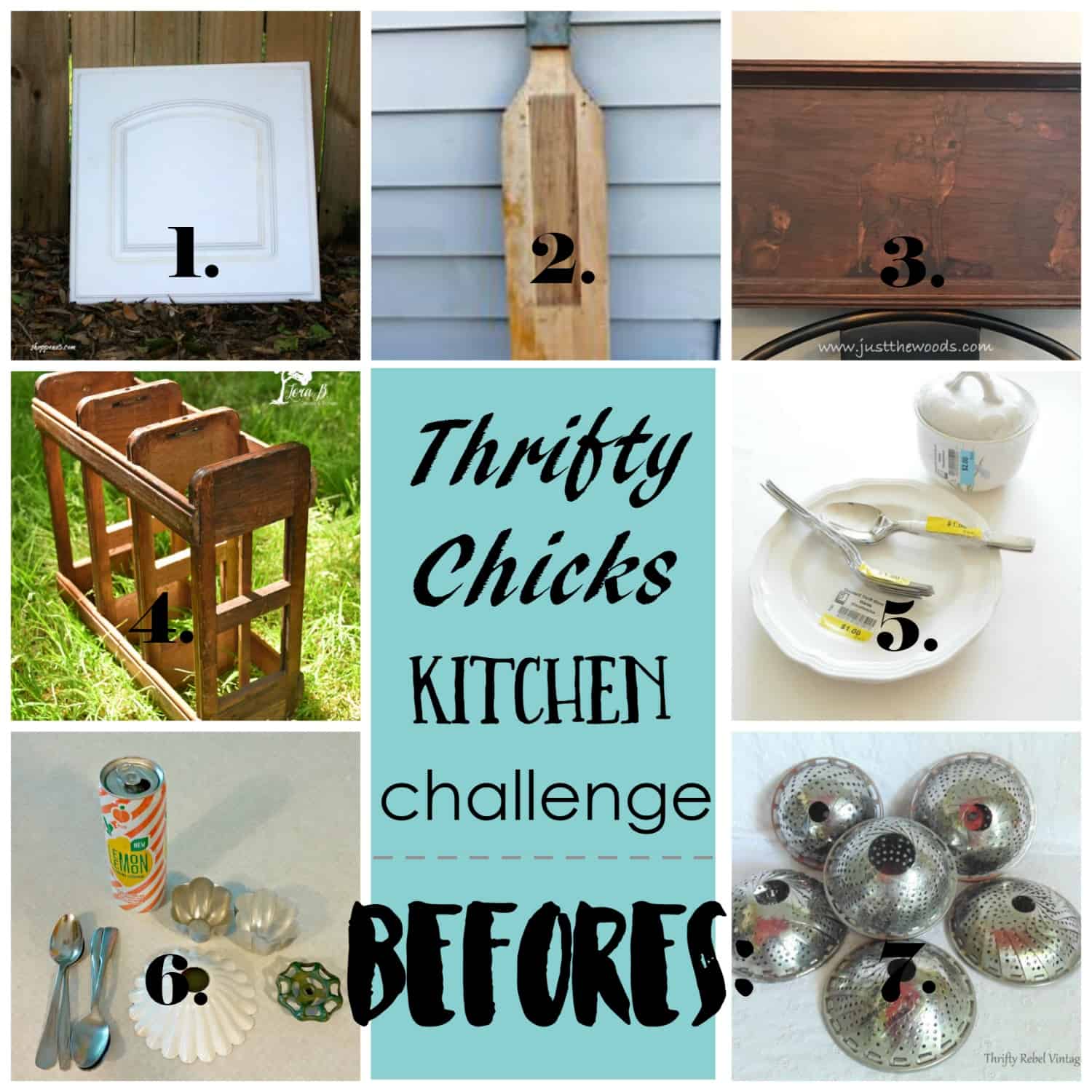 Debra from Shoppe No. 5, "A Kitchen Cabinet Door into a Towel Holder"
Diana from Adirondack Girl @ Heart, "Christmas In July DIY Project"
Kandice from Just the Woods, "How to Make a Coffee Bar Sign"
Me;)
Marie from The Interior Frugalista, "DIY Silverware Windchime"
Tania from Little Vintage Cottage, "What To Do With A Collection of Random Kitchen Do-Dads"
Tuula from Thrifty Rebel Vintage, "How to Make Repurposed Folding Strainer Flowers"

Sharing at these lovely parties: