Tips for When to Use a Paint Sprayer vs. Spray Paint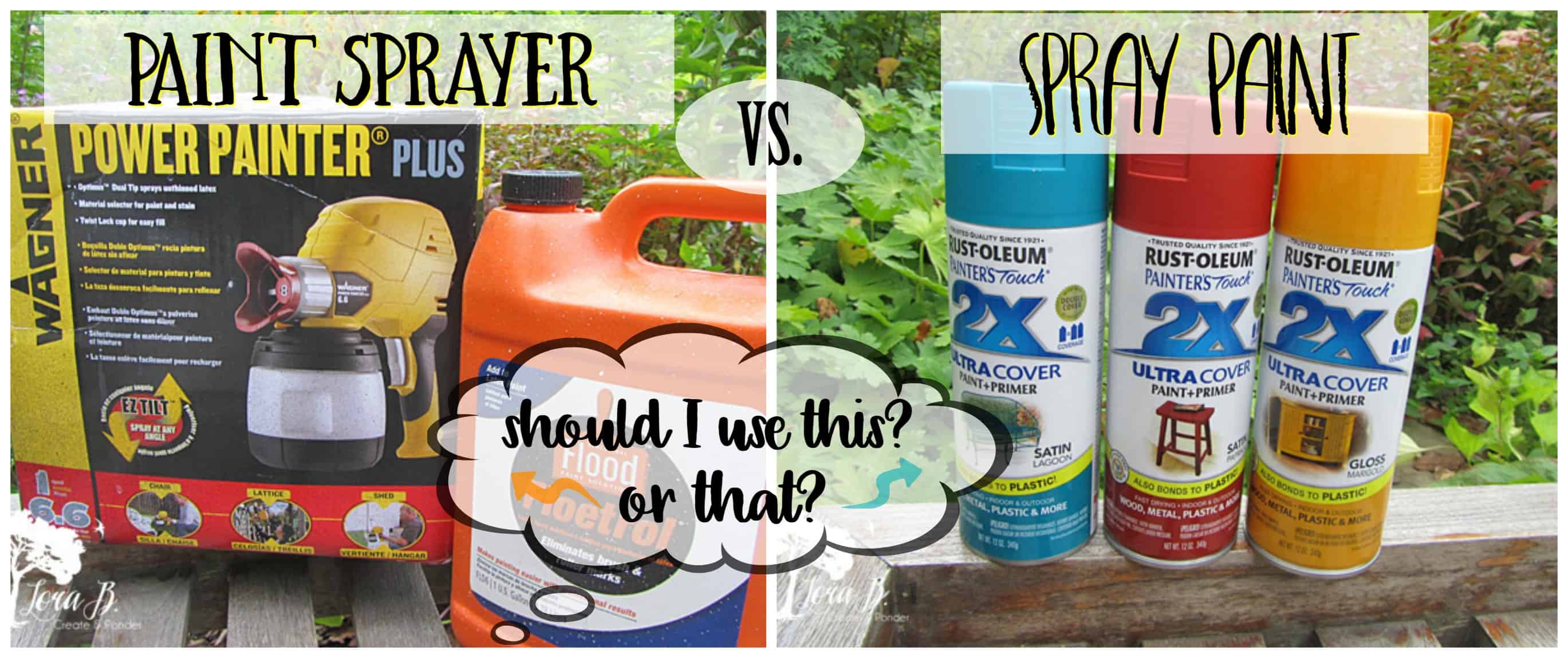 Hot summer days are the perfect time to spray paint outside. The wind is usually less and the summer sunshine bakes the paint quickly. The question is, does your project require cans of spray paint, or should you purchase or use a paint sprayer? Let me share some of my Tips for When to Use a Paint Sprayer vs. Spray Paint. Then you can start planning your next summer weekend painting project!
Tips for When to Use a Paint Sprayer vs. Spray Paint
For your convenience, this post contains affiliate links. If you make a purchase, I may receive a commission. There is no additional cost to you. My full privacy policy is here. 
When Deciding on Spray Paint vs. a Paint Sprayer, Consider Size
The main consideration when deciding on whether to use spray paint or a paint sprayer is the amount of space you need to cover. Leggy metal items such as patio furniture or small accessories are perfect for cans of spray paint. The oil based formula sticks well and covers easily.
Cans of spray paint can be less than $5 each if you get them on sale. For ease of use, definitely choose the type that has primer included (I love THIS variety). I definitely recommend using a handle that you can attach to the can. (find it HERE). It will save your trigger finger and ensure a much more even application.
If the piece you are painting is larger with a big expanse of real estate, definitely consider purchasing an airless paint sprayer. All those spray paint cans can add up quickly if you're painting a larger piece. Using spray paint cans on a large piece will also highlight uneven coverage and can turn out streaky.
If you are painting a large piece of furniture such as a cupboard, a wardrobe, or wicker furniture, purchasing an airless paint sprayer will be much more economical. The bonus is your choice of paint colors will be unlimited and you can use it over and over for other projects. (THIS ONE looks more lightweight than mine).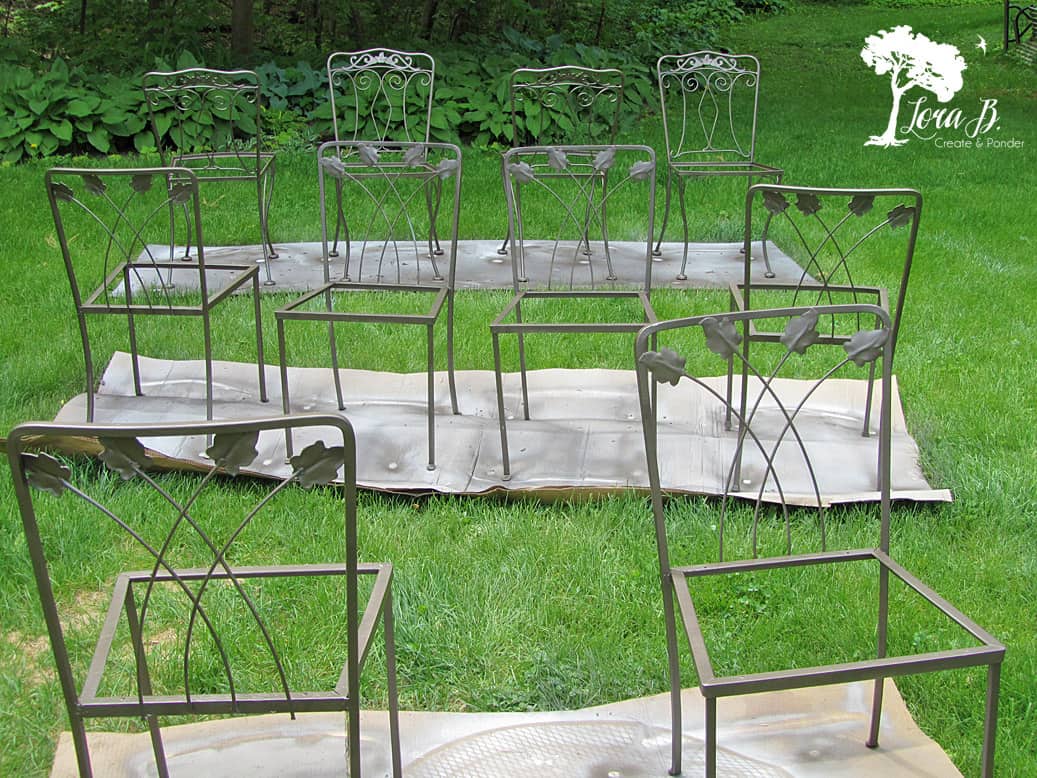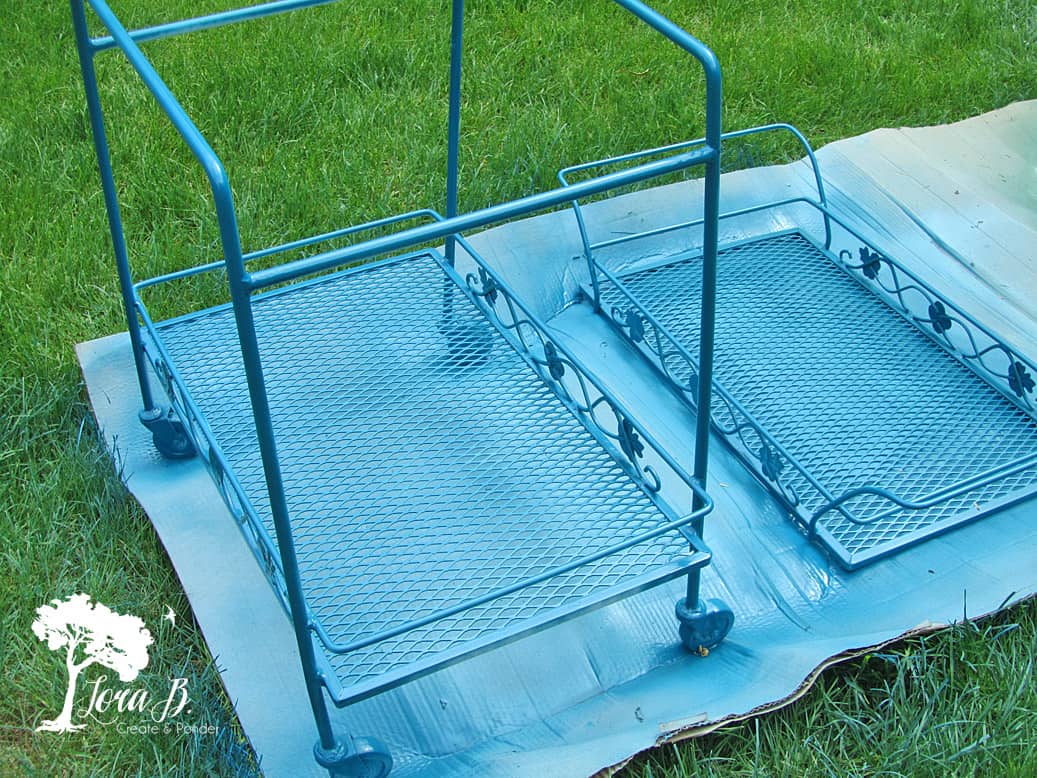 (Cans of spray paint are the perfect application for scrolly, vintage metal furniture)
When Deciding What Type of Paint to Use, Consider the Material
Wood and wicker are softer materials. Water based latex paint applied with a paint sprayer seems to give a more flexible finish. When using an airless paint sprayer, there's a much wider flow of paint, which covers larger expanses better and more evenly. The carpenter that built our custom kitchen cabinets tipped me off to adding THIS PRODUCT to the paint as an additive when using an airless sprayer. It thins the paint a little, which is better for the sprayer, and maximizes how the paint functions and dries.
Application Tips for Both Spray Painting and Airless Paint Sprayers
Have a brush handy for when you spy drips.
Start on the underside; tip the piece upside down first.
Apply several thin coats rather than thick, which will drip.
Apply coats from a different direction each time to get all the angles covered.
Let dry in hot summer sun as you are building up the coats.
Guess What Type of Paint I Sprayed These Pieces With:
Brush painting anything with cubbies or dividers is torture. Here are some pieces I painted using the different spray options we've talked about. Let me explain why I chose the option I did.
Small wooden divided display pieces:
Spray paint cans. I used cans of orange spray paint to paint these. They had a shiny, fake-ish wood texture which oil-based spray paint in a can would stick to better. I could also turn them over and spray with many coats from different angles.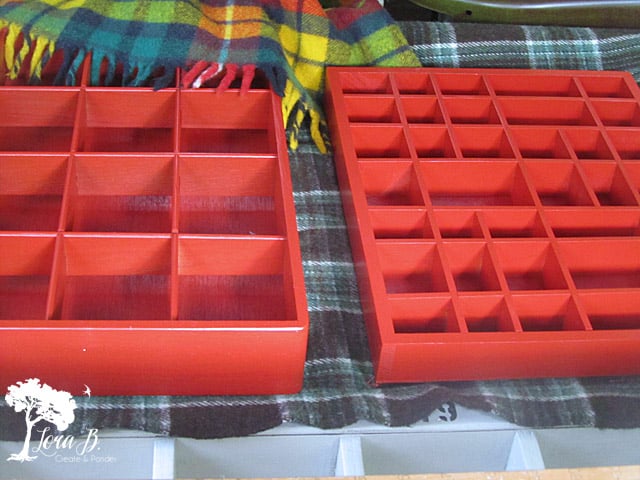 Wooden cubby piece of larger furniture:
Paint Sprayer. This piece was made of rustic pine that I had sanded and would soak up latex paint + primer well. Not only was there more space to cover on this piece, I could paint a couple pieces at once since I was using a basic paint color.
The piece was laying down and I could make many passes from all the different angles to make sure I covered it all thoroughly. Once I finished, I stenciled the numbers, added the wooden trim and then gave the whole piece a finish coat of poly using a poly sprayer (find the one I use and love HERE).
For more information about using polyurethane in an airless sprayer, see "How to Spray Polyurethane Easily & Quickly"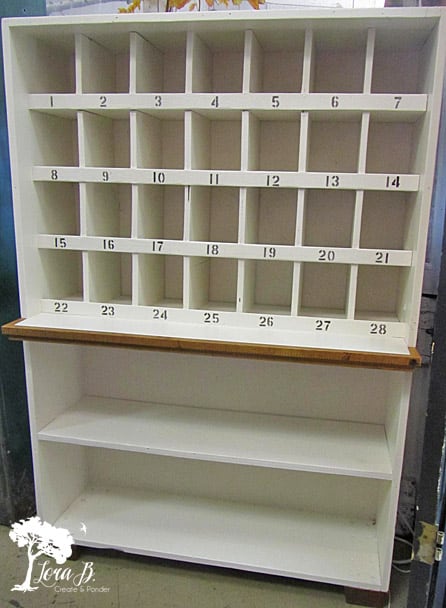 Wood chair with rattan weave back:
Paint sprayer. This cute little accent chair was also painted with the airless paint sprayer. It could have easily been painted with a couple cans of spray paint, but I do prefer the texture of interior latex paint with a coat of poly on the top for an inside chair. It just feels more classy to the touch; hard to describe. If it was an outdoor garden chair, I'd totally go for a can of spray paint for ease of application.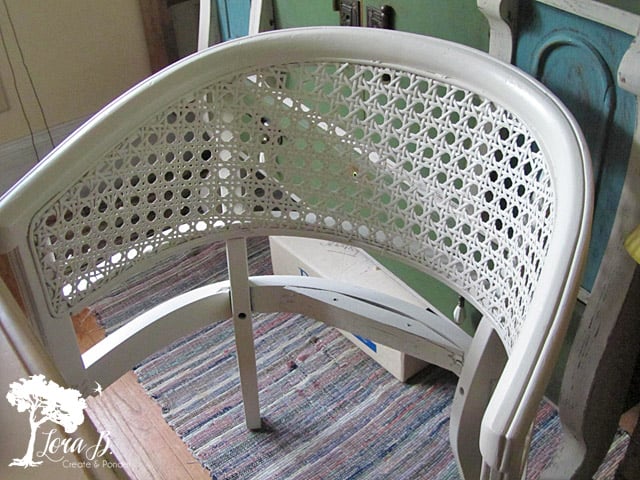 Did These Tips Help You Decide Which Spray Paint Application to Use?
I hope these tips and considerations will help you tackle your next sprayed, painted project! Summer is the best time of year to work on paint projects like these outside. Whether you are giving your porch or patio set a new look, adding a few new-to-you accent pieces or giving your inside furniture a makeover, not having to brush paint is the way to go!
Thanks for visiting! Let me know if these Tips for When to Use Spray Paint vs. a Paint Sprayer was helpful. If you have any further questions, ask away in the comment section, below!