Outdoor Party Tips: The Entrance and Furniture
decorating ideas for your next outdoor Celebration or graduation party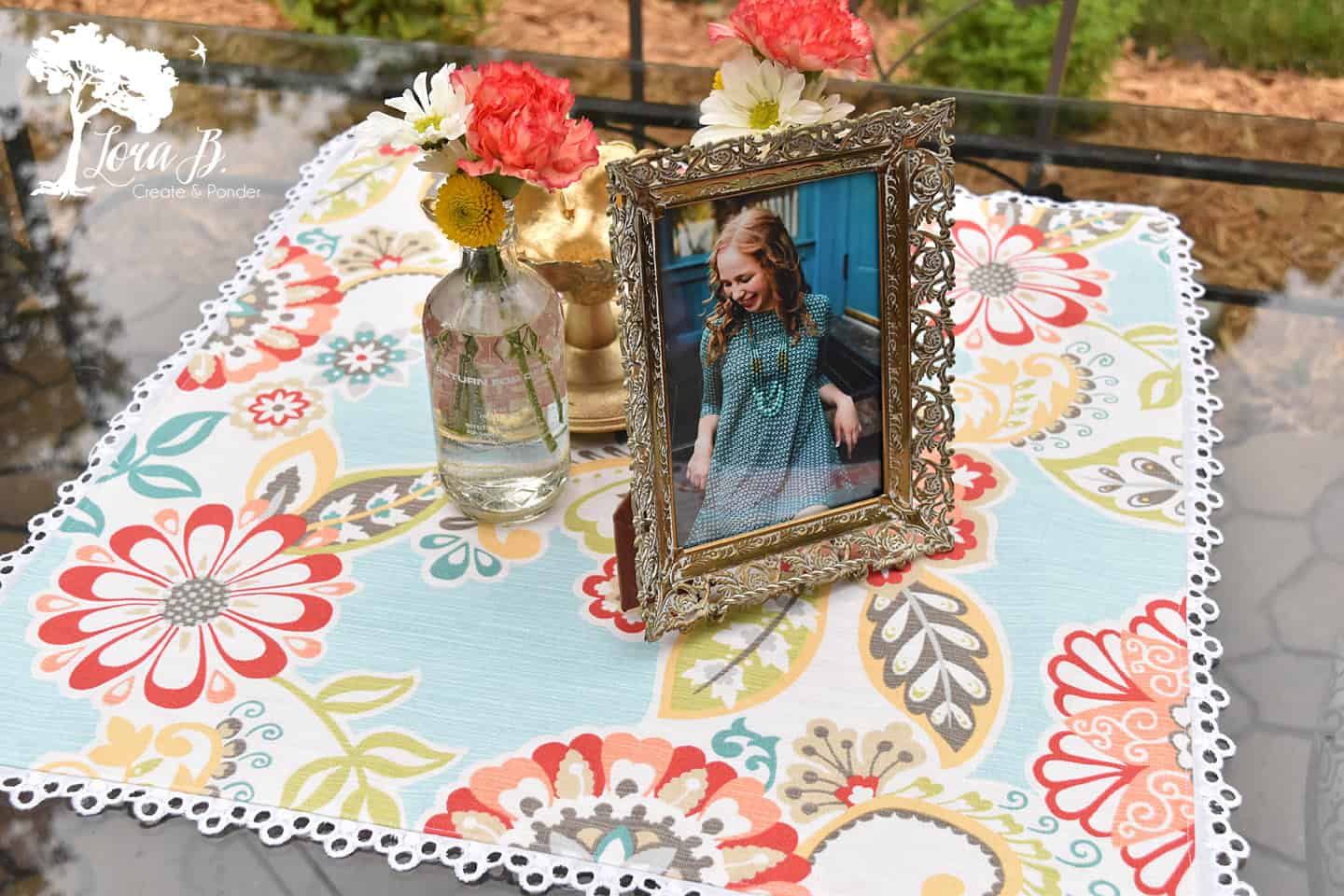 We just had a doozy of an outdoor grad party celebration for my daughter, Happy Girl. As I've been pondering all the work that went into this special day, I figured I could share how my brain goes about planning a big event like this, whether it's a shower, an anniversary, a birthday, or a grad party. All week I'll be breaking down the different aspects and sharing the recipes our guests loved. You can read about the first planning stage in my post, "Grad Party Planning Tips, The Decor".
The wonderful thing about outdoor parties is that the artistic canvas is huge! Outside spaces provide so much more space. Inside parties are just so limited, spatially…there's walls and a ceiling in the way. But outside…the sky is the limit, literally!
The tips I'm sharing here are what I think through to ensure our outdoor parties are safe and successfull for our guests. I created a printable list of all these tips, so you can have them accessible the next time you need. You can sign up to receive it after I show you…
As your guests walk to your home or enter your yard, you will want to:
Create an Entrance, So Guests Know Where to Enter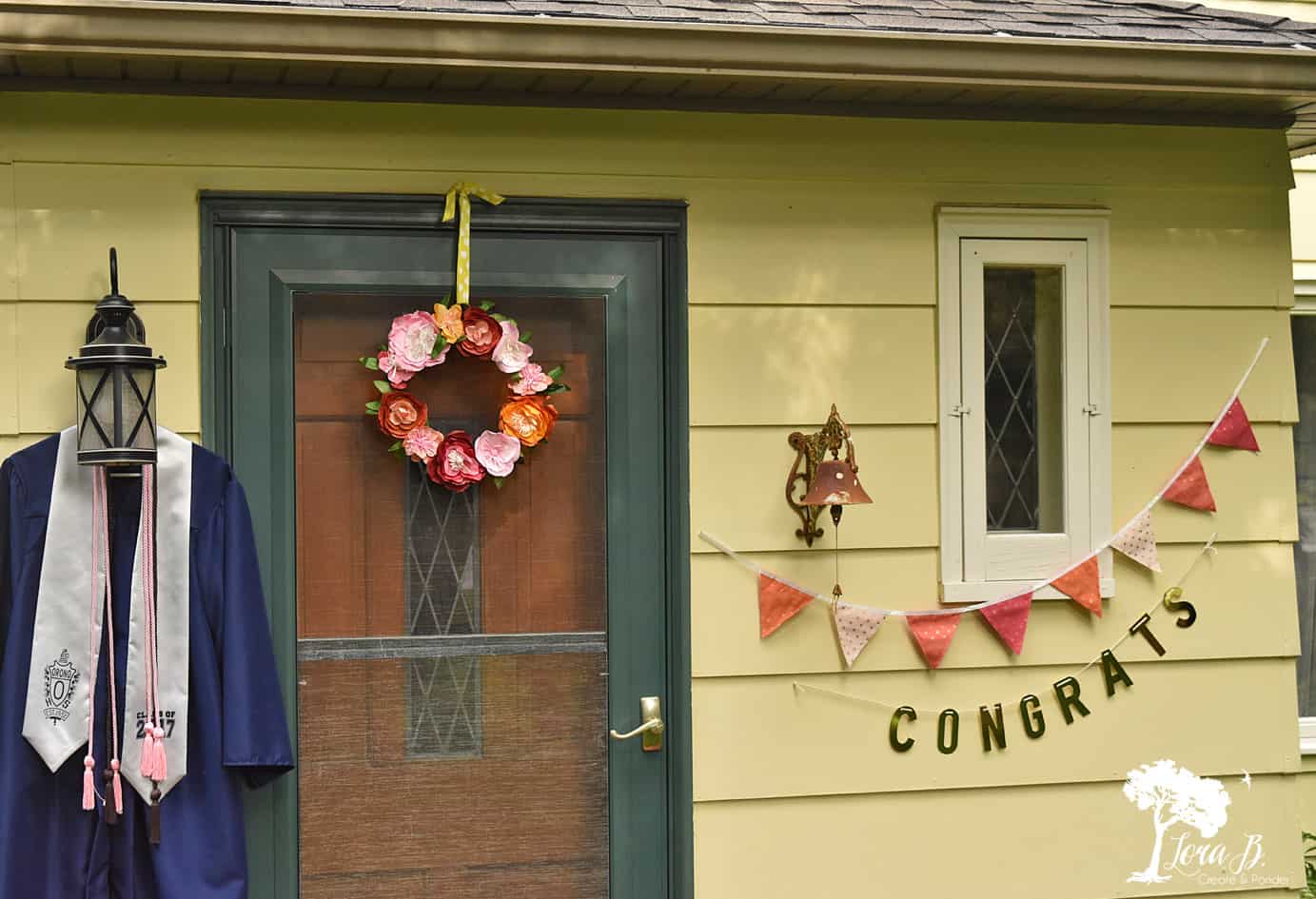 Balloons at the end of the driveway would have been great, but I decided Happy Girl's graduation gown along with some festive decorations that set the theme colors and style for the party would welcome our guests nicely. Guests should easily be led to where the party is being held. Shepherds hooks stuck into the grass with photos could also lead guests to where the party is being held in a back or side yard.
Have a Variety of Seating Options and Standing Areas
Our party guests included everyone from toddlers to elderly and I wanted to make sure there were appropriate, comfortable seating for all. I also wanted there to be plenty of standing space for conversation and tables scattered for beverages to be set down.
Luckily, (well, I prayed long and hard about it) we had beautiful weather. But sometimes it's just nicer to not sit in the sunshine. So we  Mr. Fix-it and Mr. Freckles set up our 3 tents that we've had since the good old days when I had vintage sales events in my yard. One was placed near the front of the yard and one was placed in the back by our garage.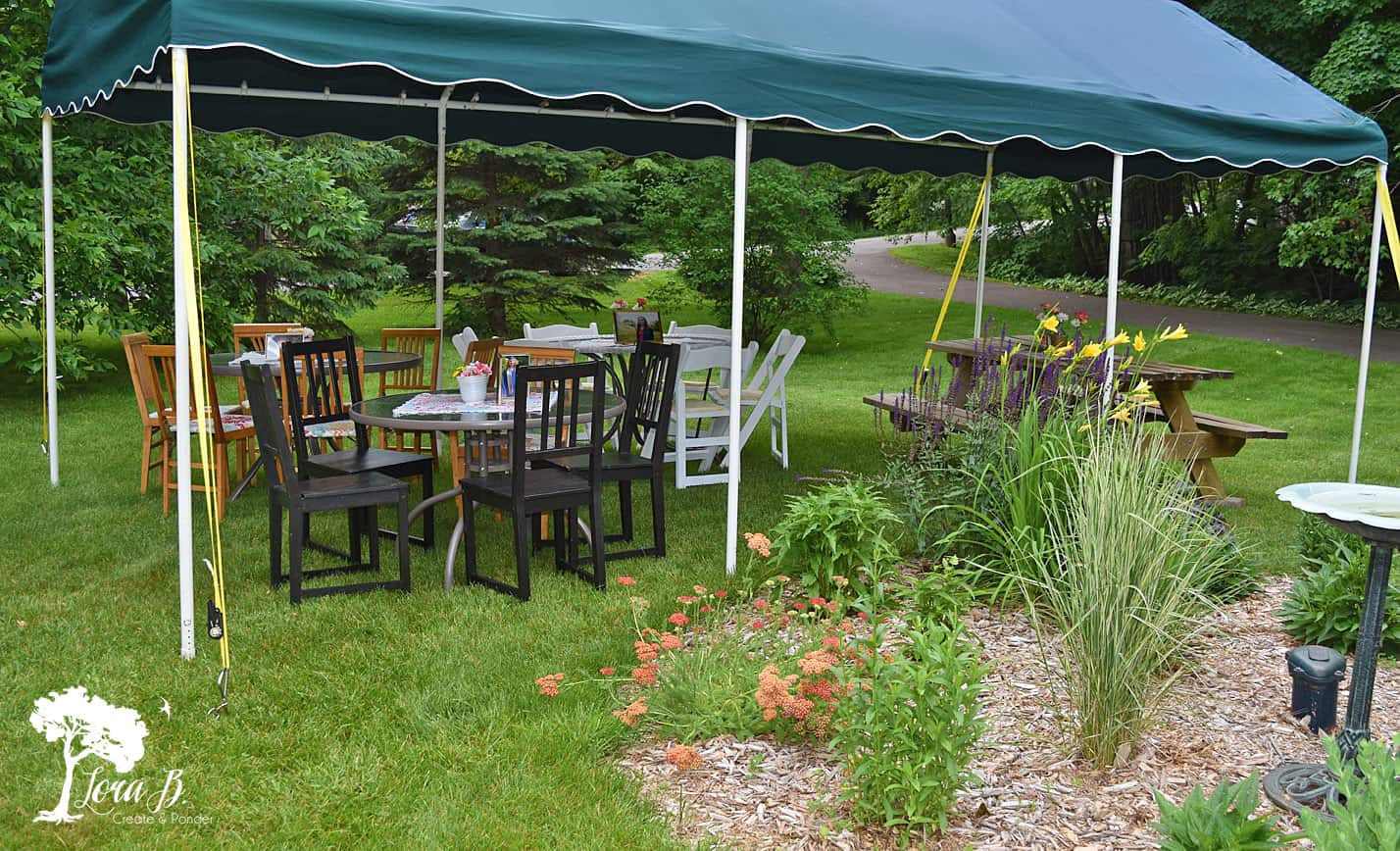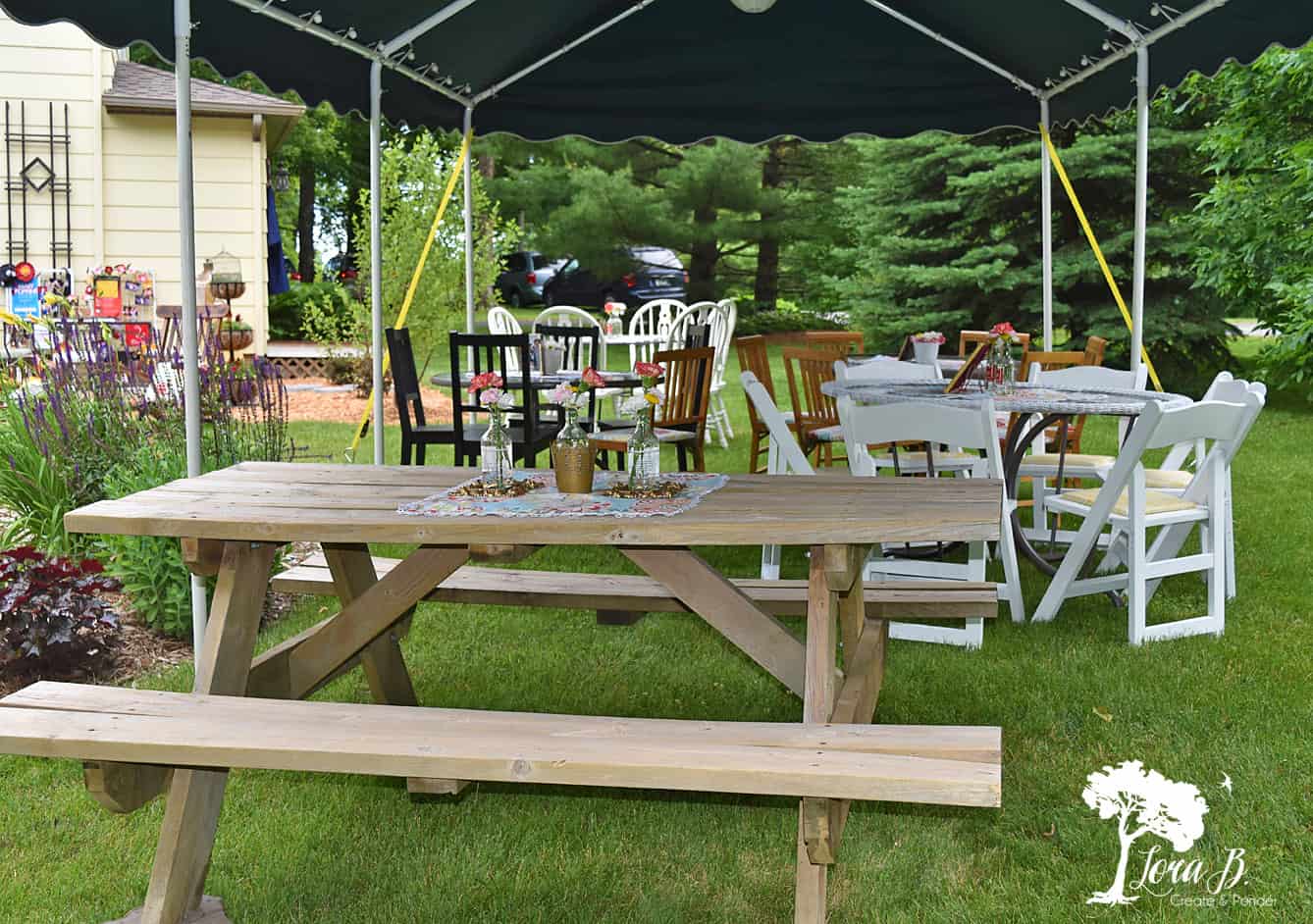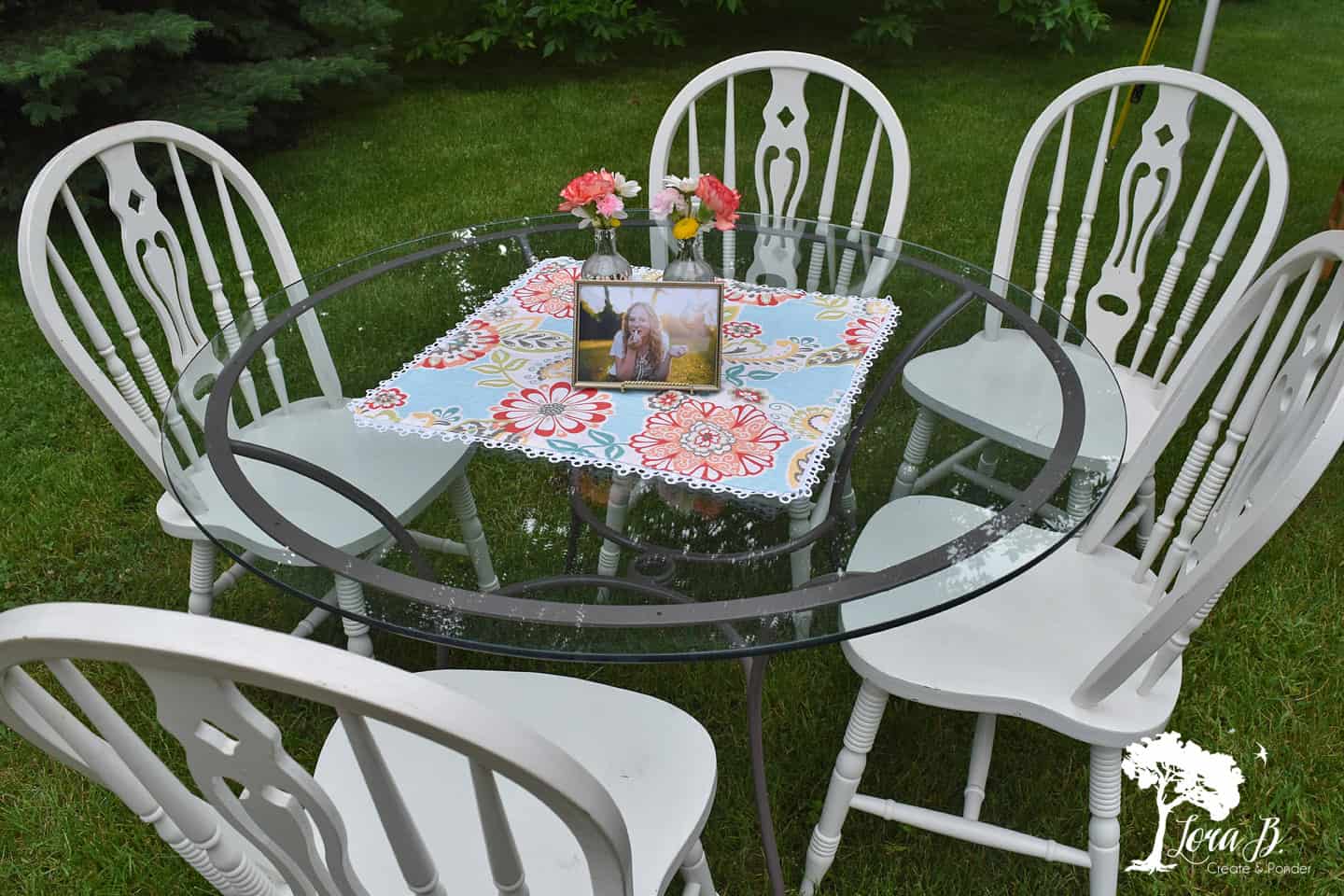 I placed most of the round, glass-top tables I found and painted (see "Curbside Junking Adventures and Tips") along with my  refreshed church sale chairs (see "Leg-O-Matic Chair Refresh" up front, figuring most of the teenage friends that had never been to our home before would sit here.
In back of our house, in front of the garage we placed the other 2 tents with rectangle shaped tables to fill the space with lots of seating. I guessed that this would be where family and old friends would sit, because they're more acquainted with our home.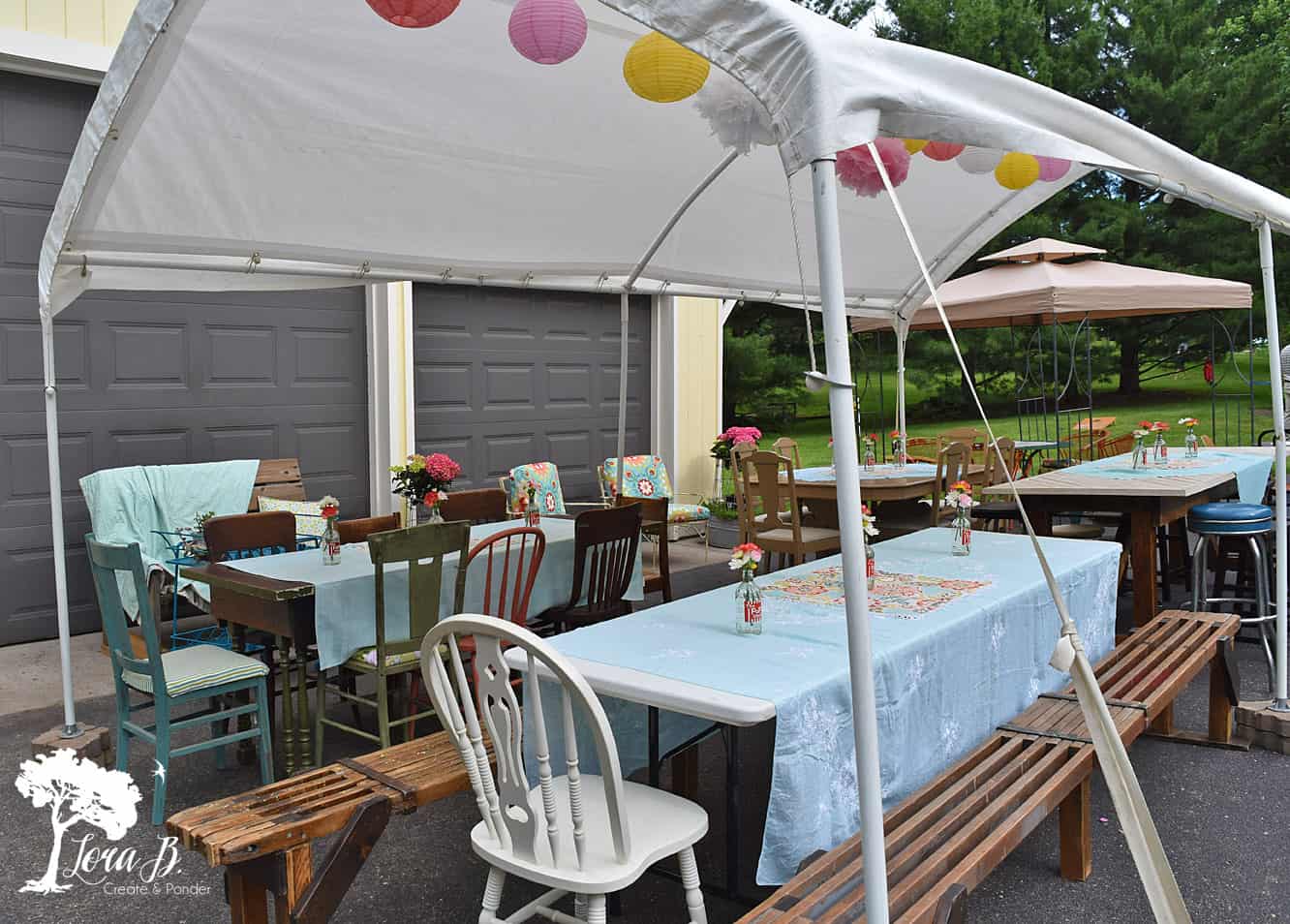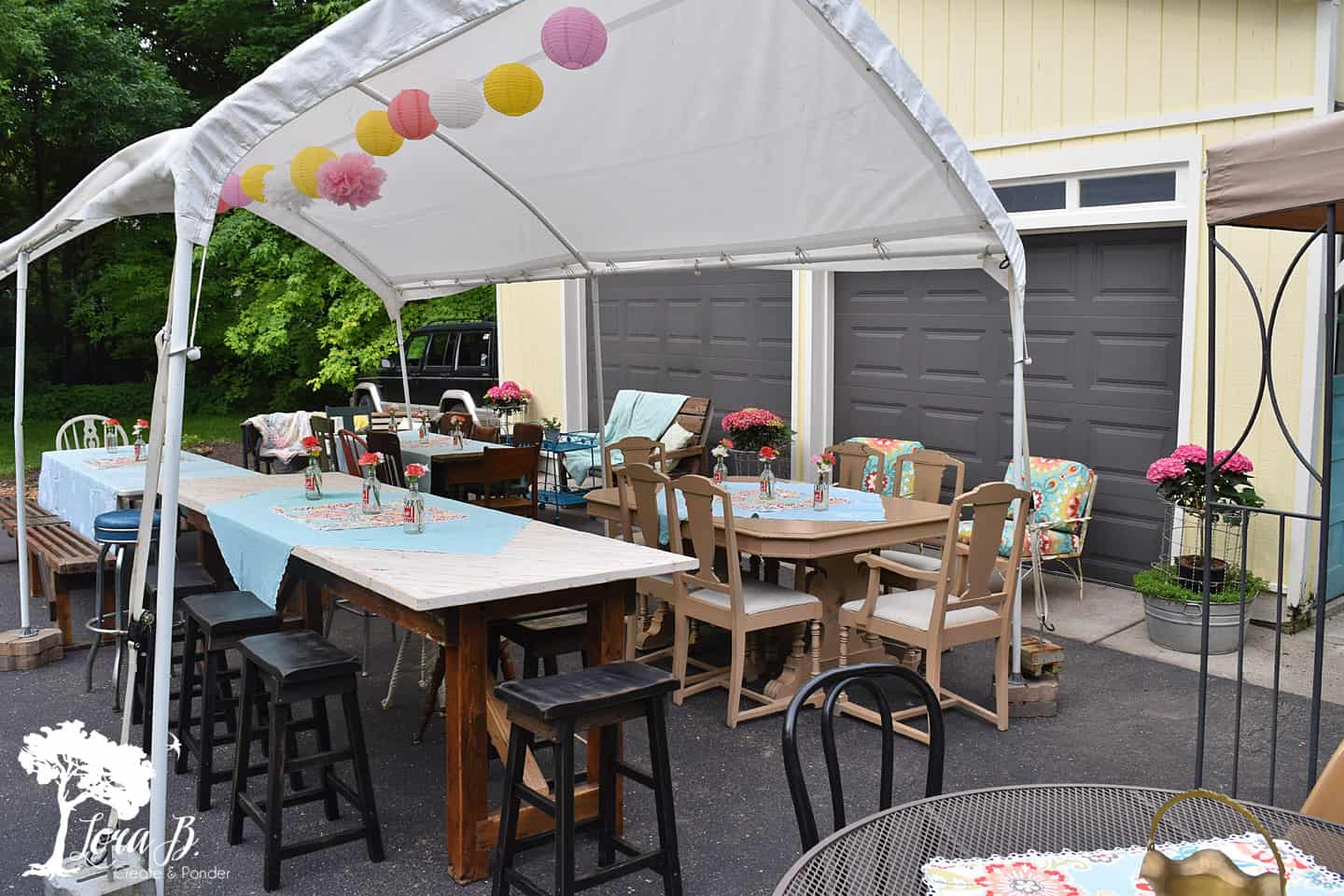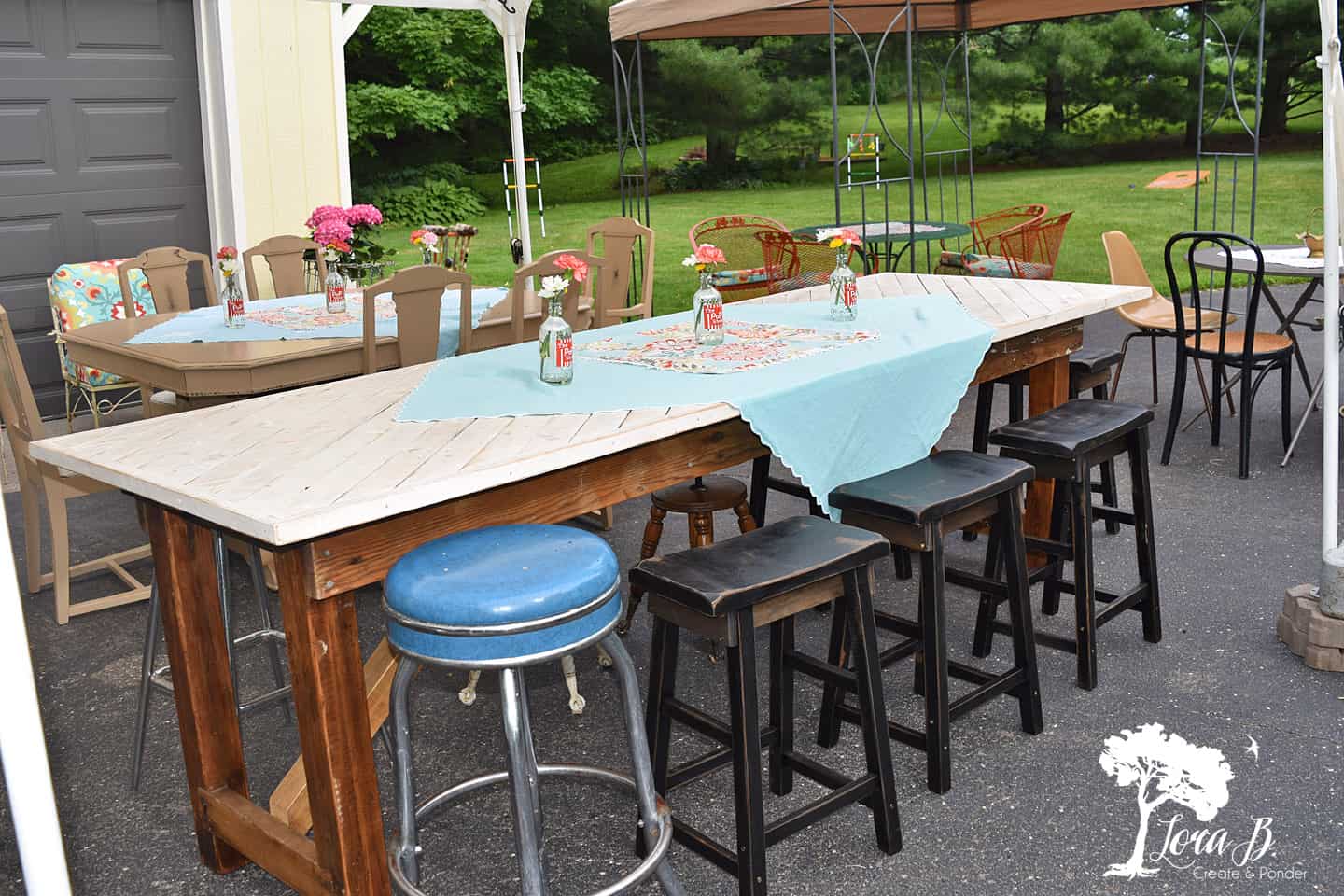 Besides enlisting our dining room table and 6 chairs, we used the scaffolding benches we just made (see "From Painter's Scaffolding to Rustic Bench")  along with a chevron topped bar-height table we made a couple years ago and a door table. The mish-mosh of chairs were store leftovers, along with some newly acquired benches from the curb and church sales.
We had the breakfast buffet located on our covered porch/deck right outside the kitchen, so I designated that area and a large area by the photo and memory displays to be chair-free for standing conversations. (My two sweet friends did a wonderful job of spreading hospitality to our guests, while my dear siblings made sure all the food was yummy).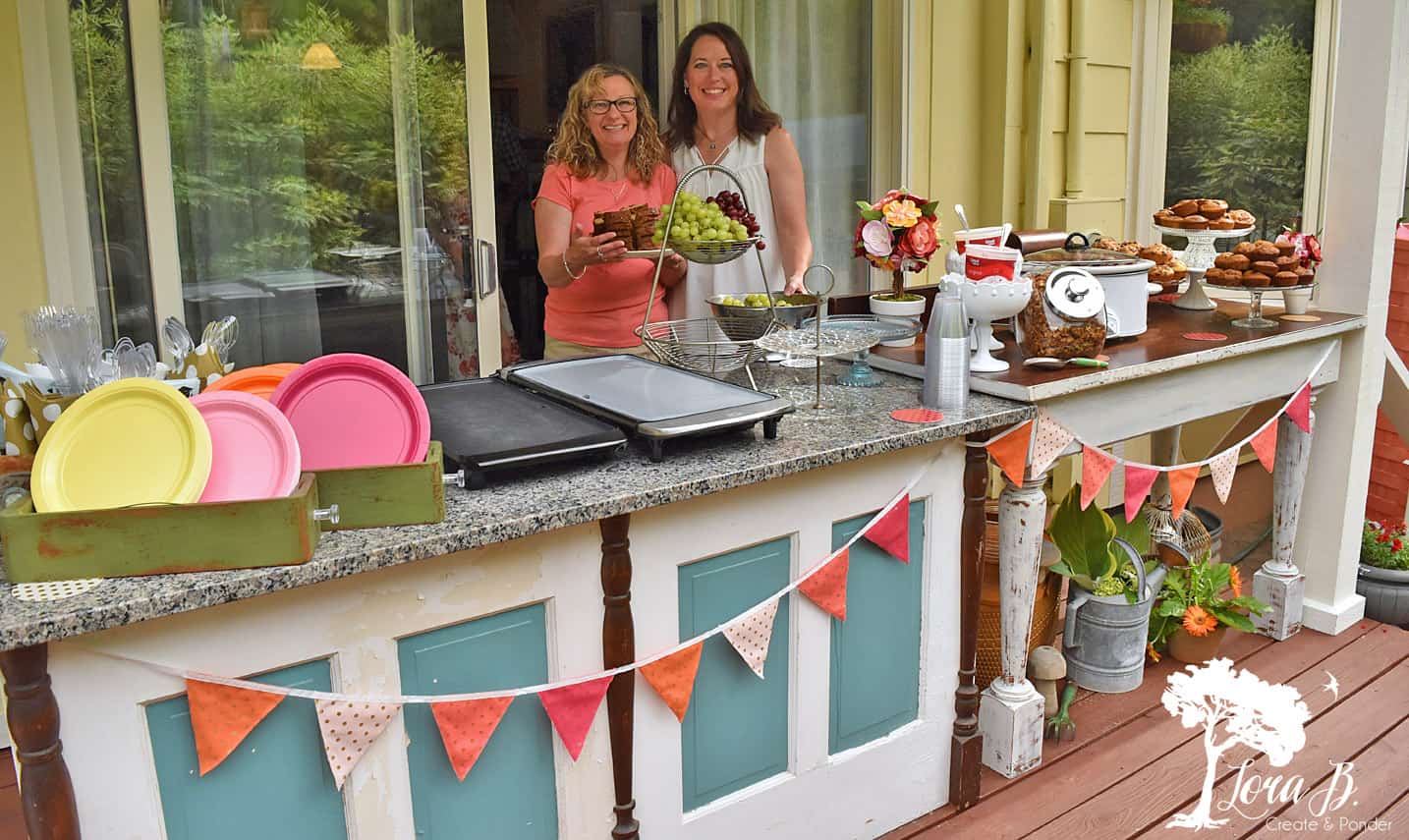 Out in the grass, I placed some kid tables with some nearby teak furniture ("Two Sewing Machine Bases are Better Than One") for their parents. My pretty recovered patio chairs gathered around the tables. ("Refreshing Patio Chairs: Stapled Cushion How-To")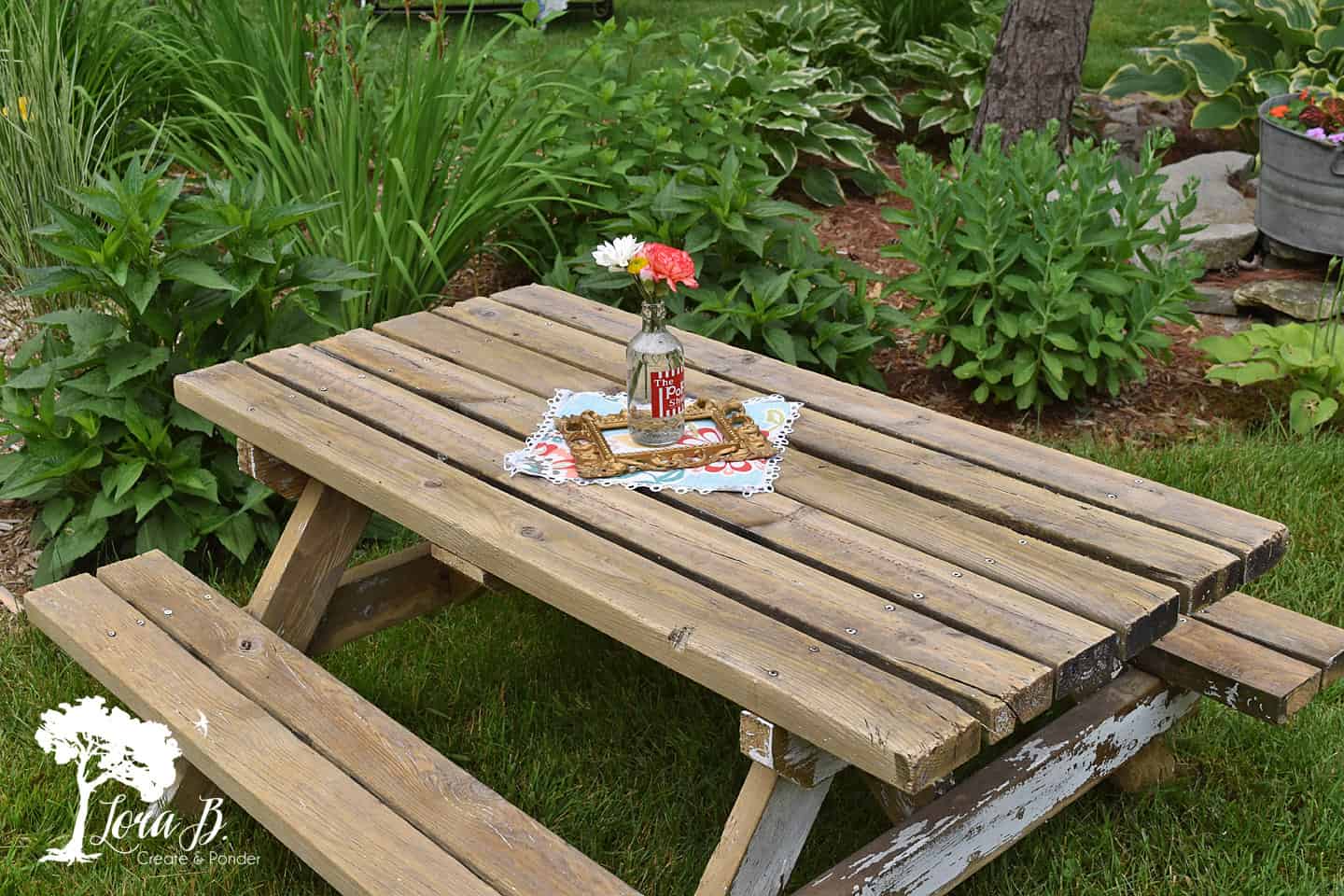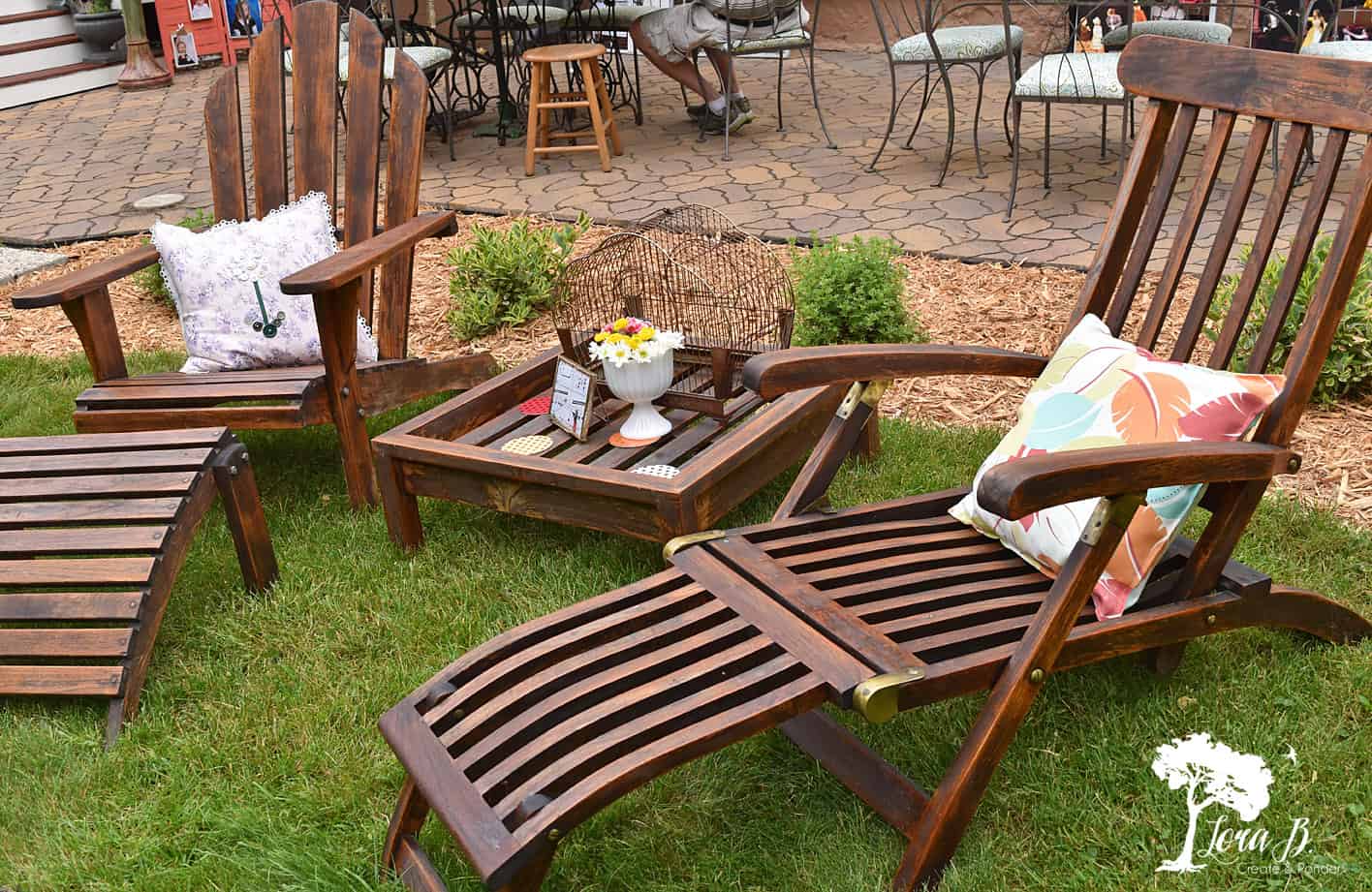 I gathered my vintage metal chairs, along with my vintage glider into another grouping. (See "How To Refresh and Enjoy Vintage Metal Lawn Chairs")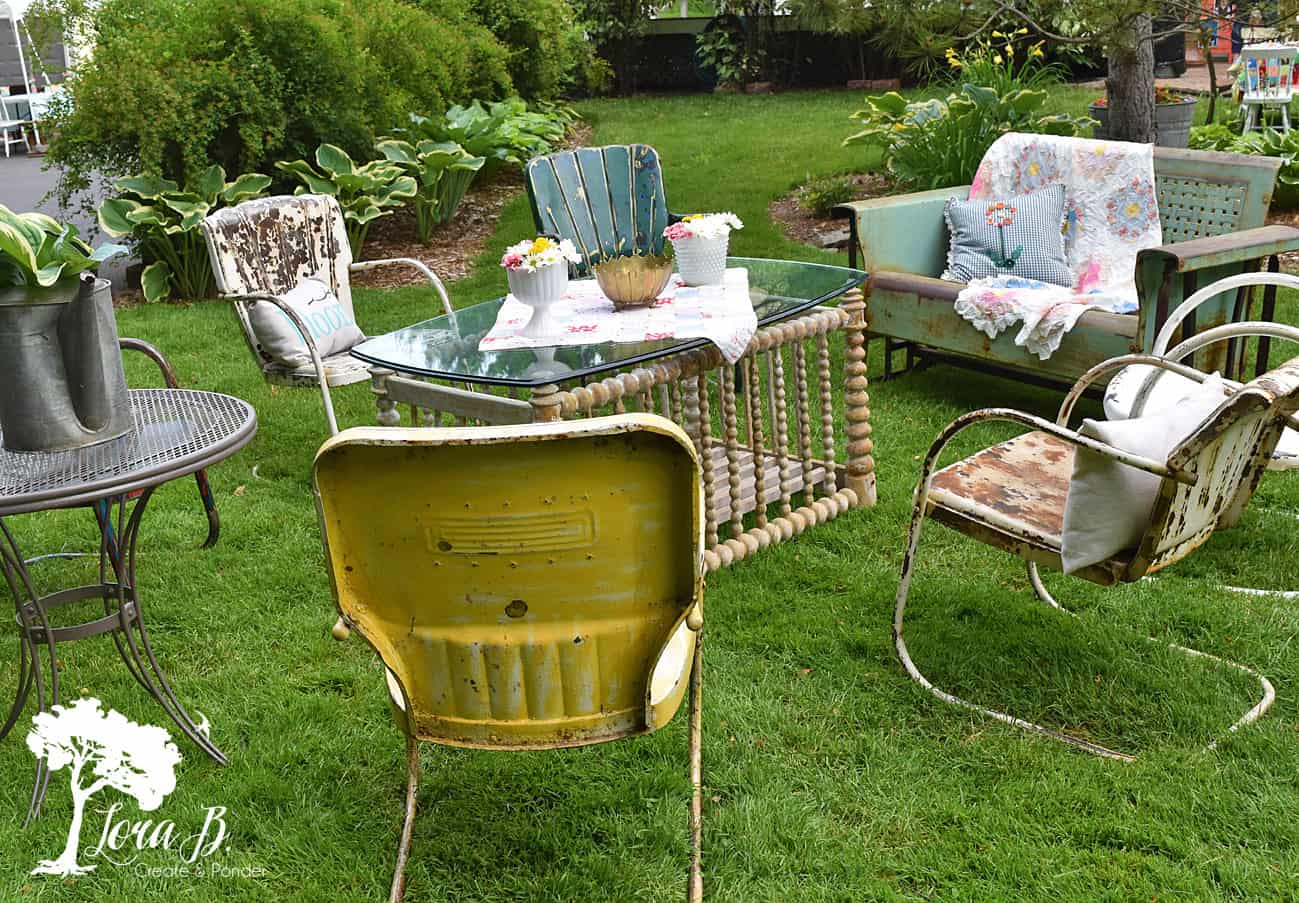 And because the metal chairs are hard and cold, I added some softness for comfort and appeal.
Bring Pillows and Blankets from Inside to Soften Hard, Outdoor Seating
I brought armloads of summer quilts and pillows and placed them on all the hard wood benches and metal chairs for a more welcoming look. Having the softness and extra pattern in not-so-pretty areas (like next to the garage) really helped with the welcoming factor.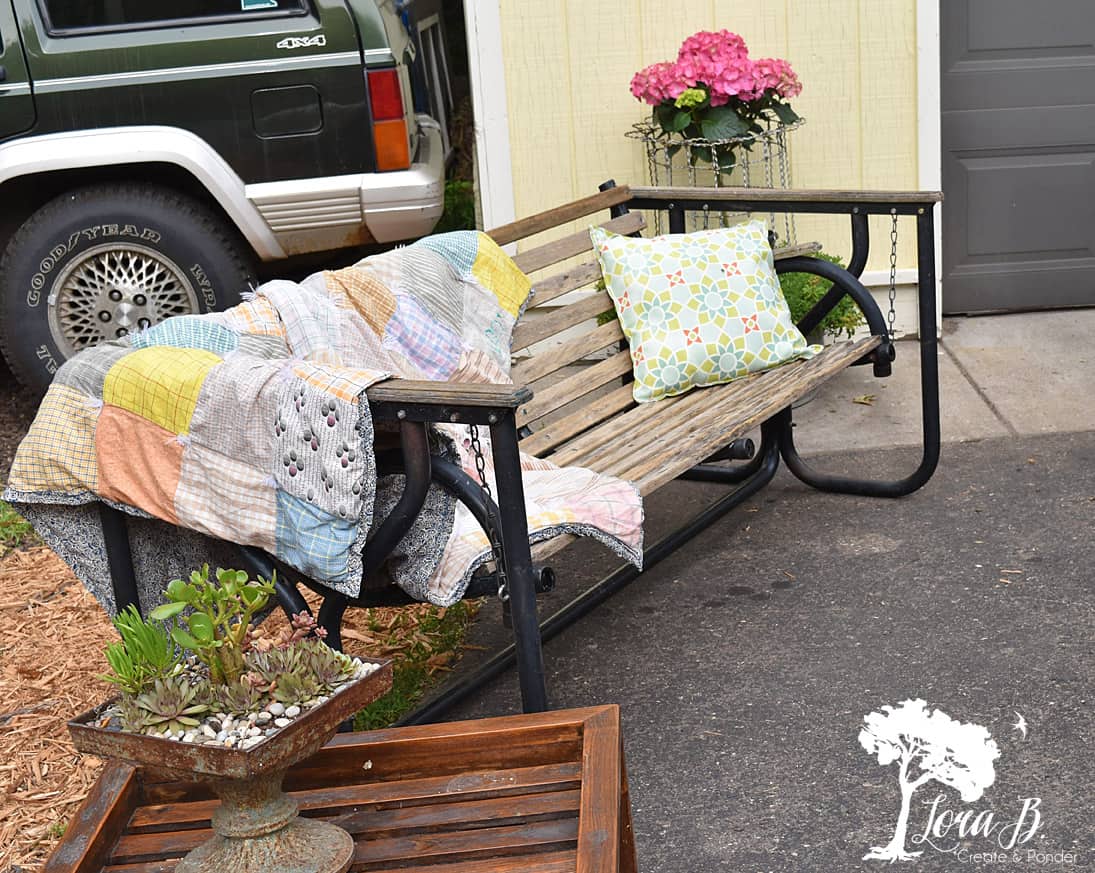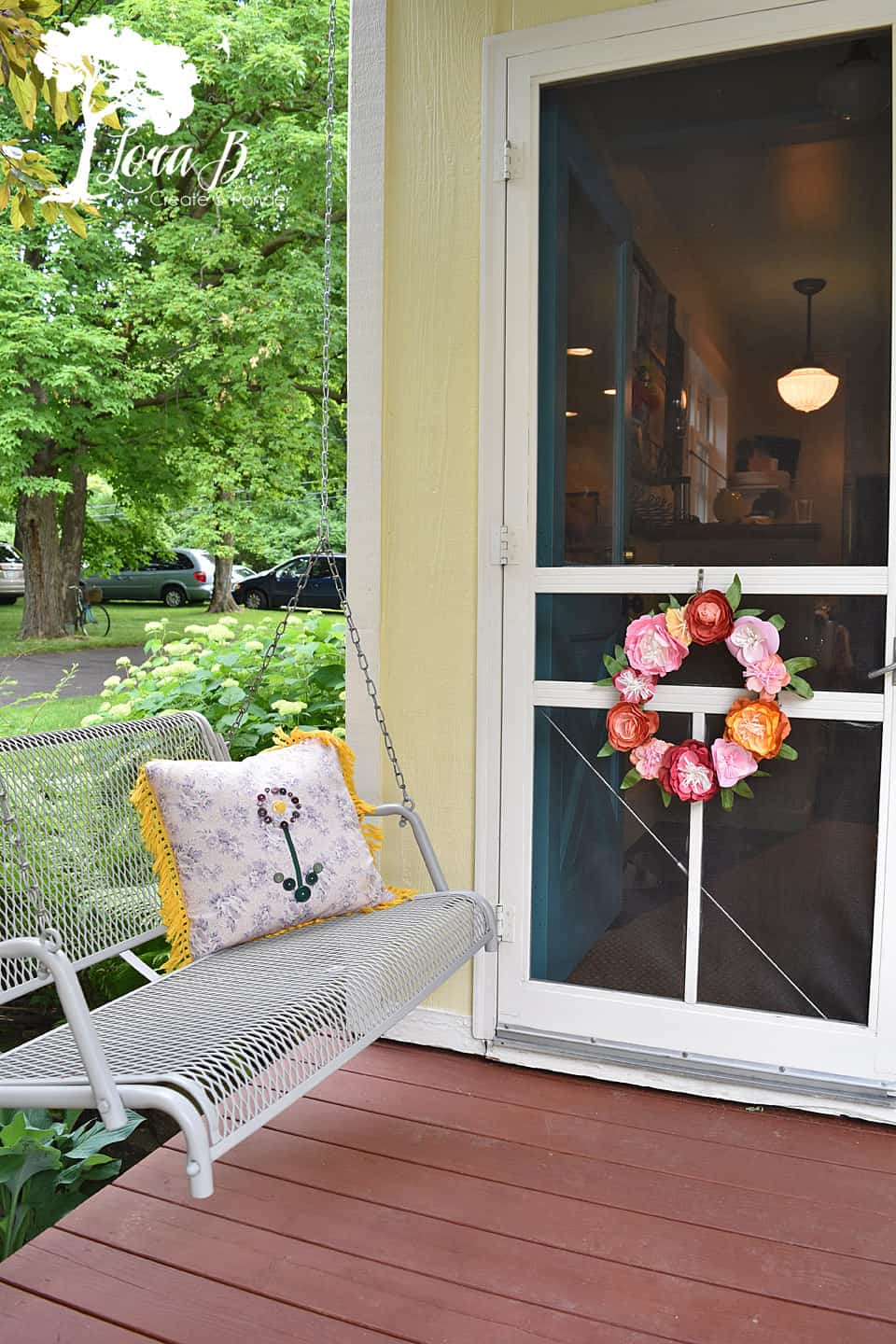 Besides bringing out your indoor linens, don't be afraid to…
Use Your Indoor Furniture for your Outdoor Party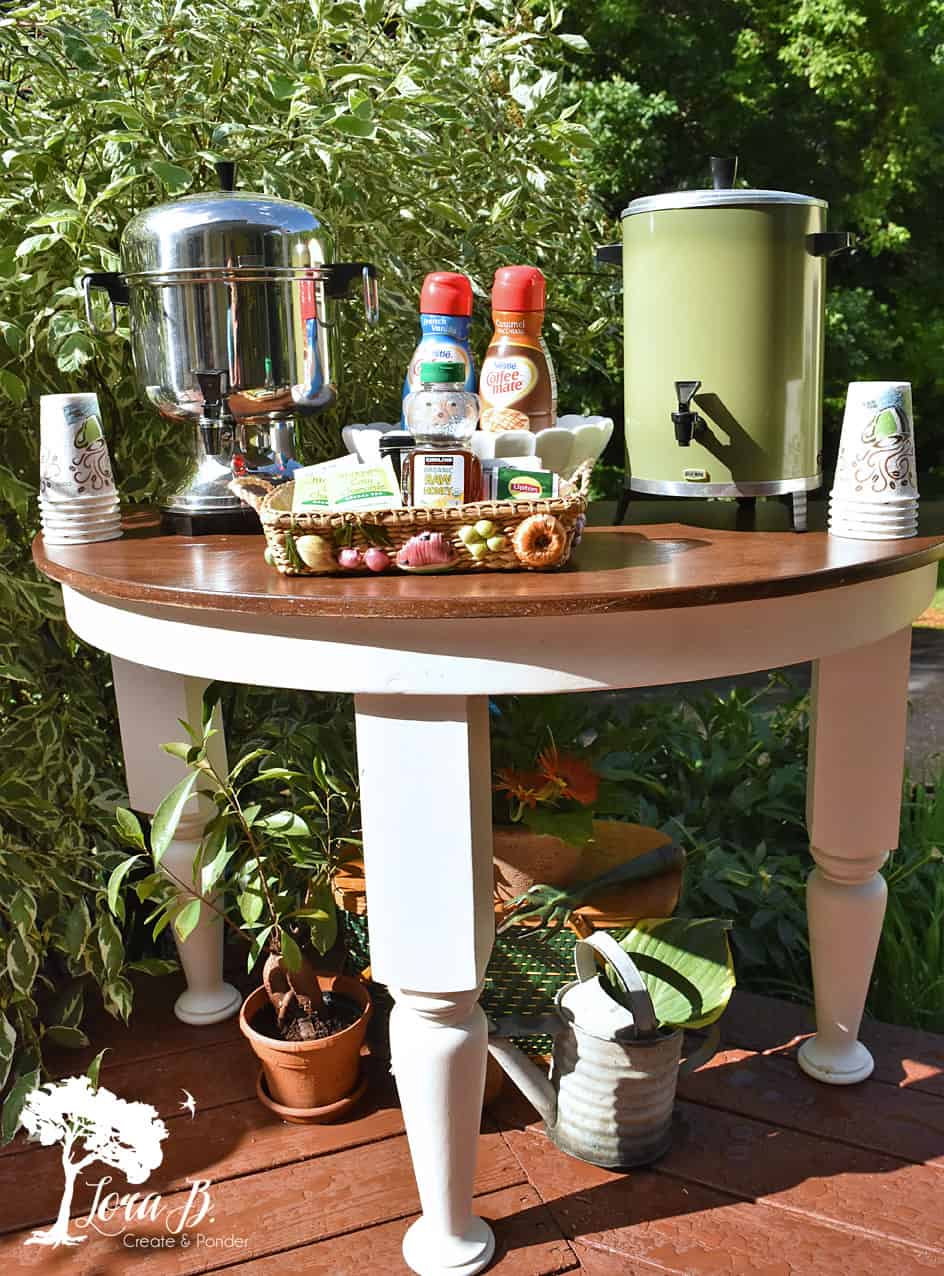 I used 2 wood topped, painted leg tables we had made for the store as serving pieces. Using heavier pieces like these outside gives structure to the overall layout. Make sure you add some pretty at the base for interest. I kept with the garden party theme and placed picnic baskets, watering cans and vintage garden tools underneath.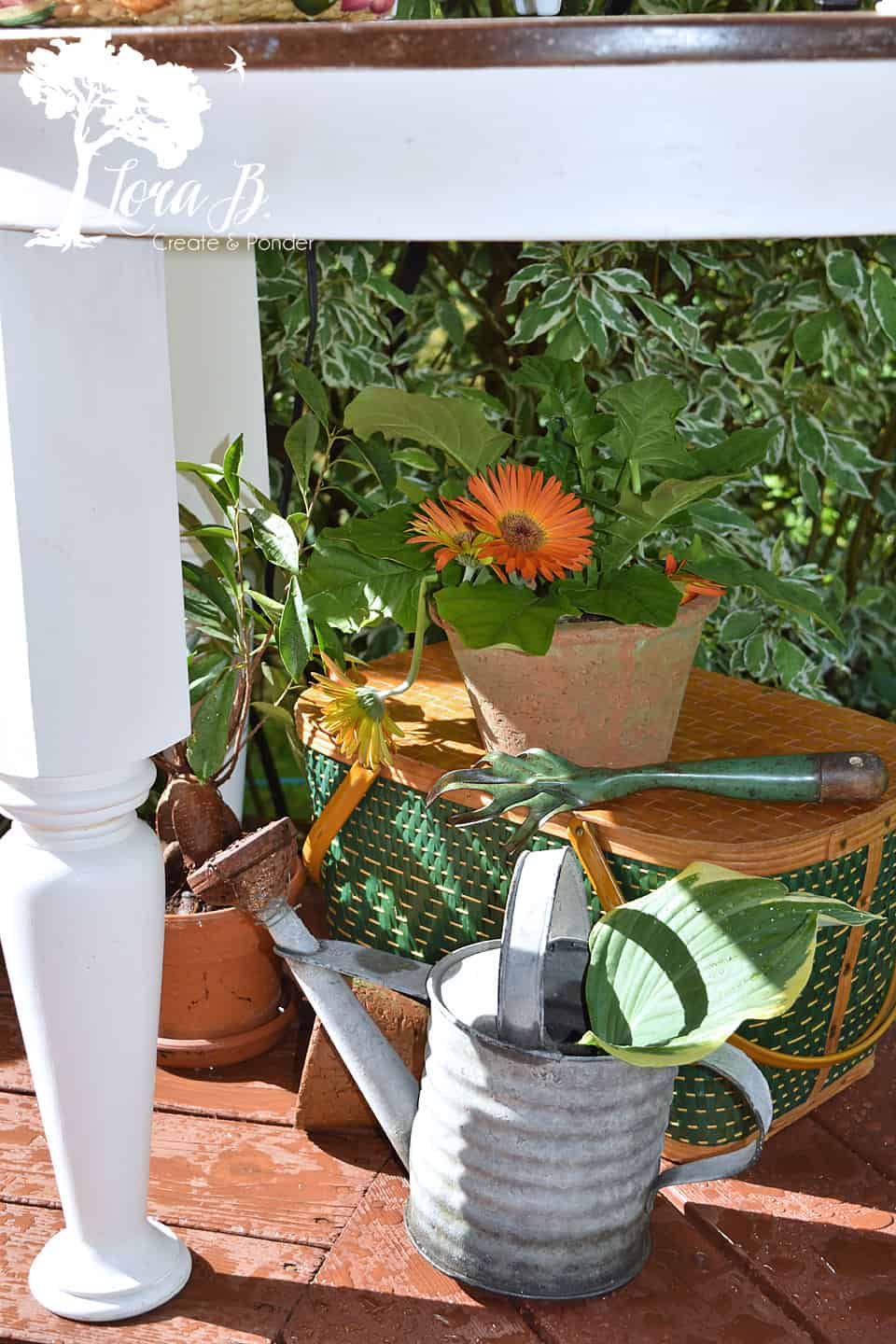 Because I worked on tables and chairs for the last couple of months, we had seating for 112 without renting anything! Which was wonderful, since we must have had about 200 people!
By thinking through these tips, your outdoor party will be safe, special and successful for all! If you'd like a printable version of these "Outdoor Party Tips", simply subscribe to my newsletter and I'll send you the secret password to my Resource Library. You'll also have access to all the other free tips, tricks and pretty printables there anytime you'd like.
Good luck with your next outdoor party! May you have sunshine and beautiful weather!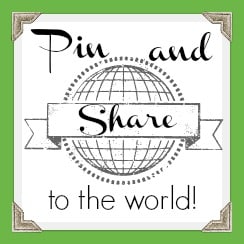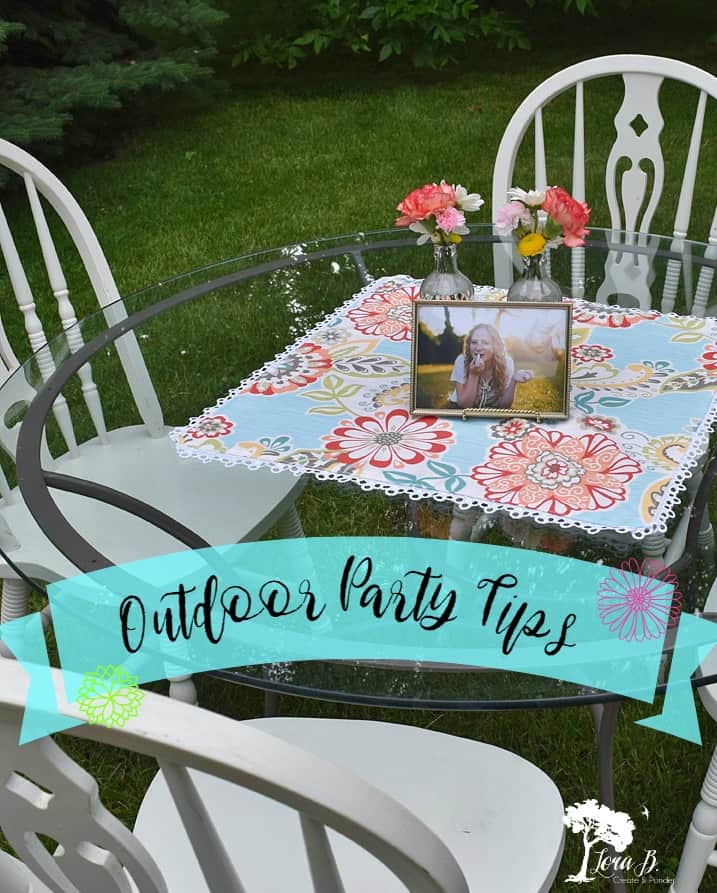 Linking up with these lovely parties: