How to Enjoy a Windowsill Display: A Study in Blue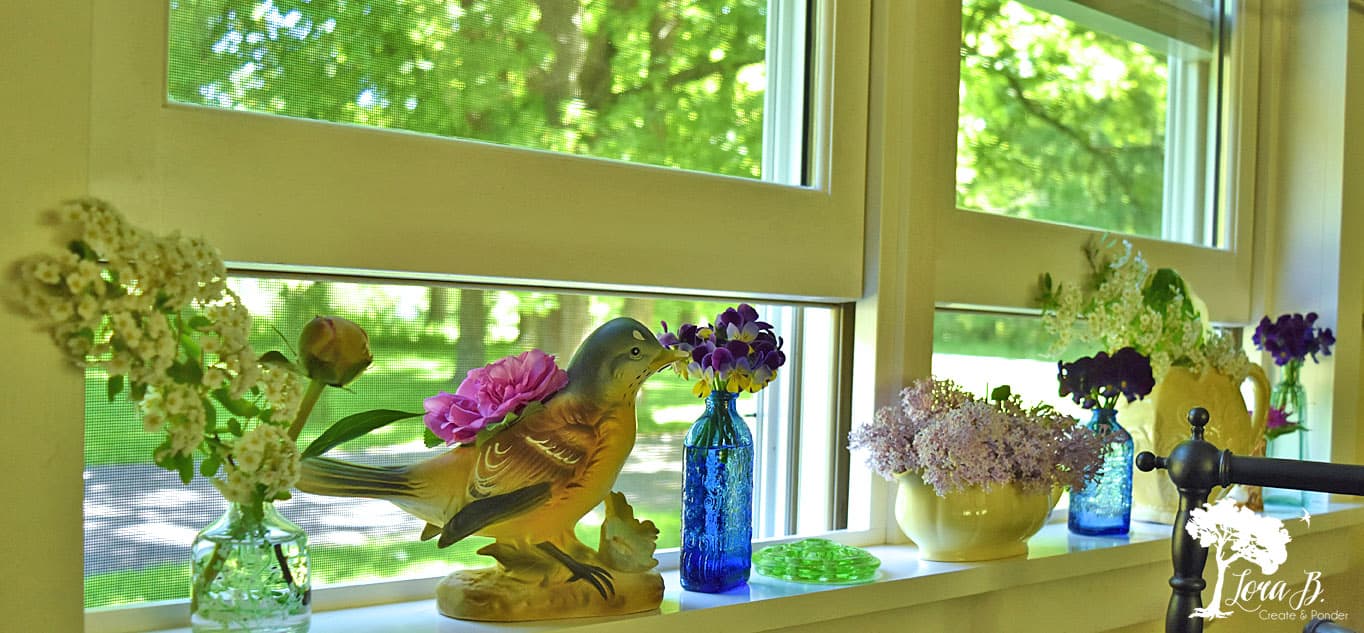 Do you have a windowsill near your kitchen sink? I think this little display area in a home can be one of the most satisfying spaces to decorate in your entire house.
When we remodeled our kitchen, the wall over my kitchen sink reincarnated from a tight 24 inch 60's crankout wedged between orange stained upper cabinets, to 5 feet of light, bright, breezy double hungs. I'll never forget when Mr. Fix-it cut the huge hole in the wall and I realized the beautiful view I would have of our maple trees and expanse of yard beyond. Quite a treat for a city girl whose house was 15 feet from the neighbors growing up. And so perfect to see my kiddos riding their big wheels down the driveway slope;)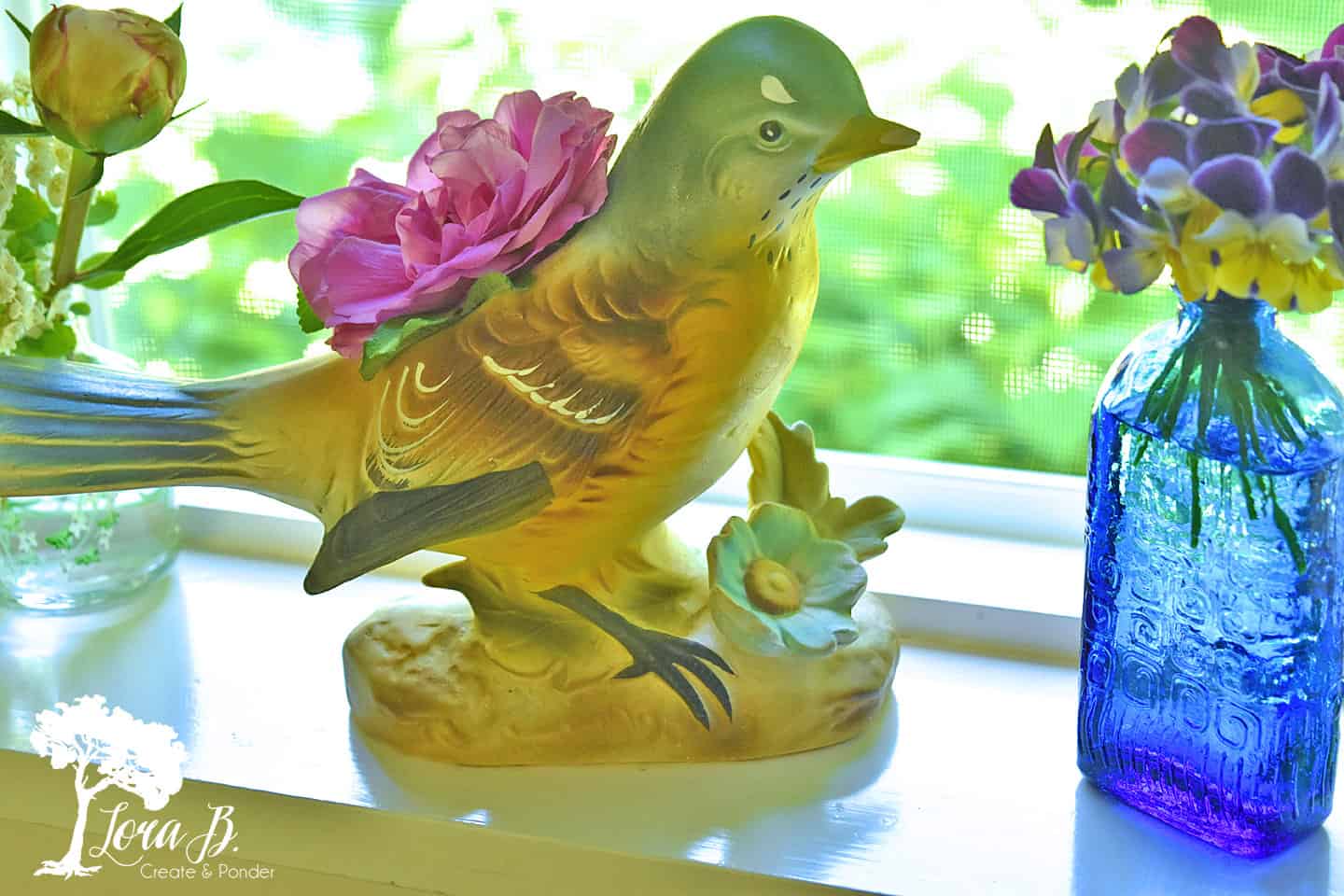 I, like you, spend quite a few hours of my day in the kitchen, so enjoying a pretty, ever-changing display on my windowsill, along with the nice view, just makes me smile when I'm washing dishes or making supper.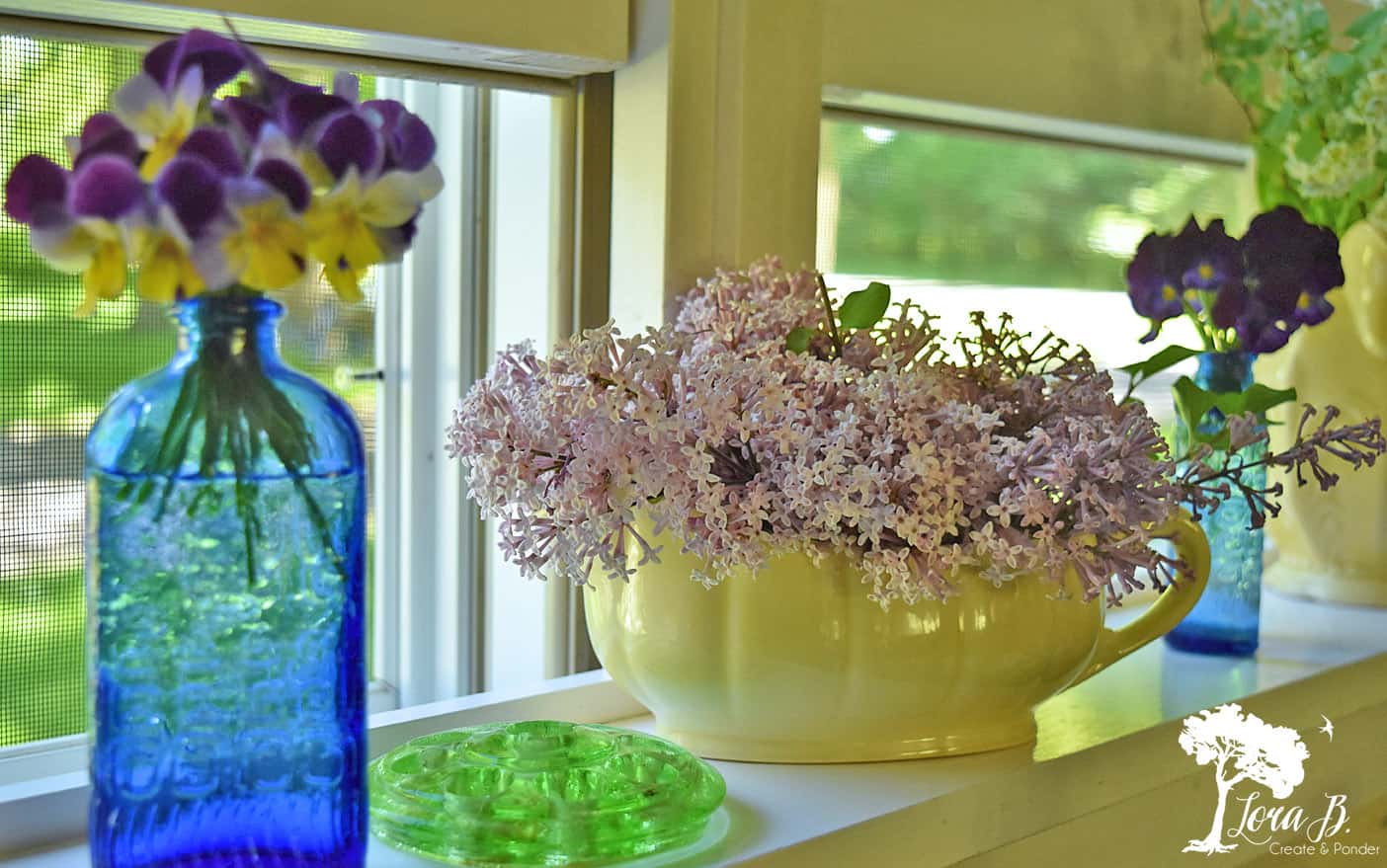 My windowsill display almost changes weekly, highlighting whatever season or holiday we're in, or featuring the current prettiest blooms in the yard and garden.
The display is fairly haphazard; I grab whatever vases are nearby and walk out to the yard, scissors in hand. It's so relaxing to just meander and cut whatever catches my eye. The best time to gather a bouquet is in the morning when the plants are full of moisture, but I find myself wandering the gardens at dusk also.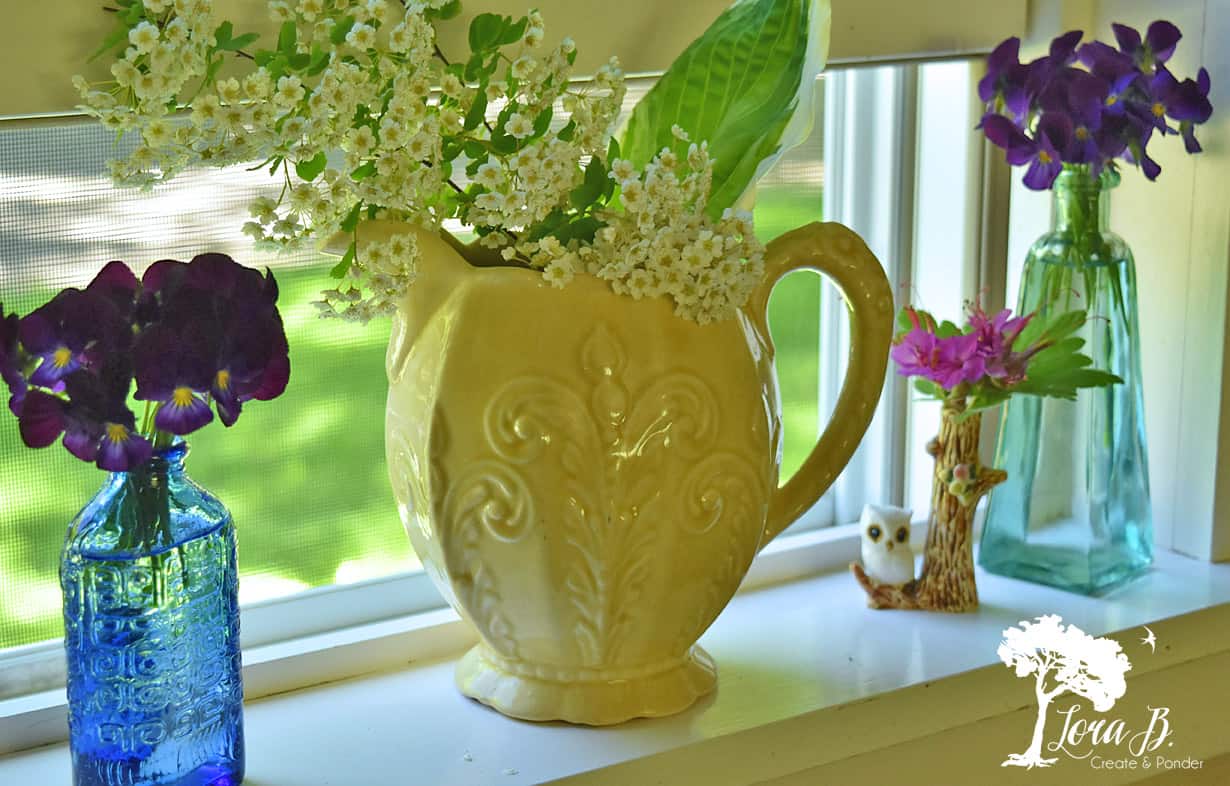 The blue-tonesd flowers have been reigning lately and I coincidentally had just picked up these pretty little blue vases at a church sale (read more about my love of church sales in "For the Love and Comfort of Church Sales" and  "Church Sales 101" ) And colored glass just looks so pretty with the sunshine streaming through it, doesn't it? The small neck size on the vases are perfect for dainty little stems, like these wild violets.
My row of bridal veil spirea is in full bloom, which you saw last week with my pretty green depression dishes set for a junky garden party ("Green Depression Glass and a Little Junk for a Garden Party"). I love to clip a couple of their arching branches and enjoy them inside.
The importance of any flower or plant is elevated when it's placed somewhere intentionally; taken out of it's natural growing place.
If you grow grass in a container, rather than just seeing it in the yard, it's special. (Selling Tips: Growing Grass, Selling Grass)
If you take produce out of your refrigerator drawers and add them to a flower arrangement, they're special. ("Get a Big Bang from your Big Box Store Bouquet")
Likewise, if you clip a flower or even a branch from your yard or garden and pop it into a pretty vessel with water on your kitchen windowsill, it's special!
So treat yourself today to a little pretty right where you spend quite a bit of your time. It could be your desk, your car…or your kitchen windowsill;)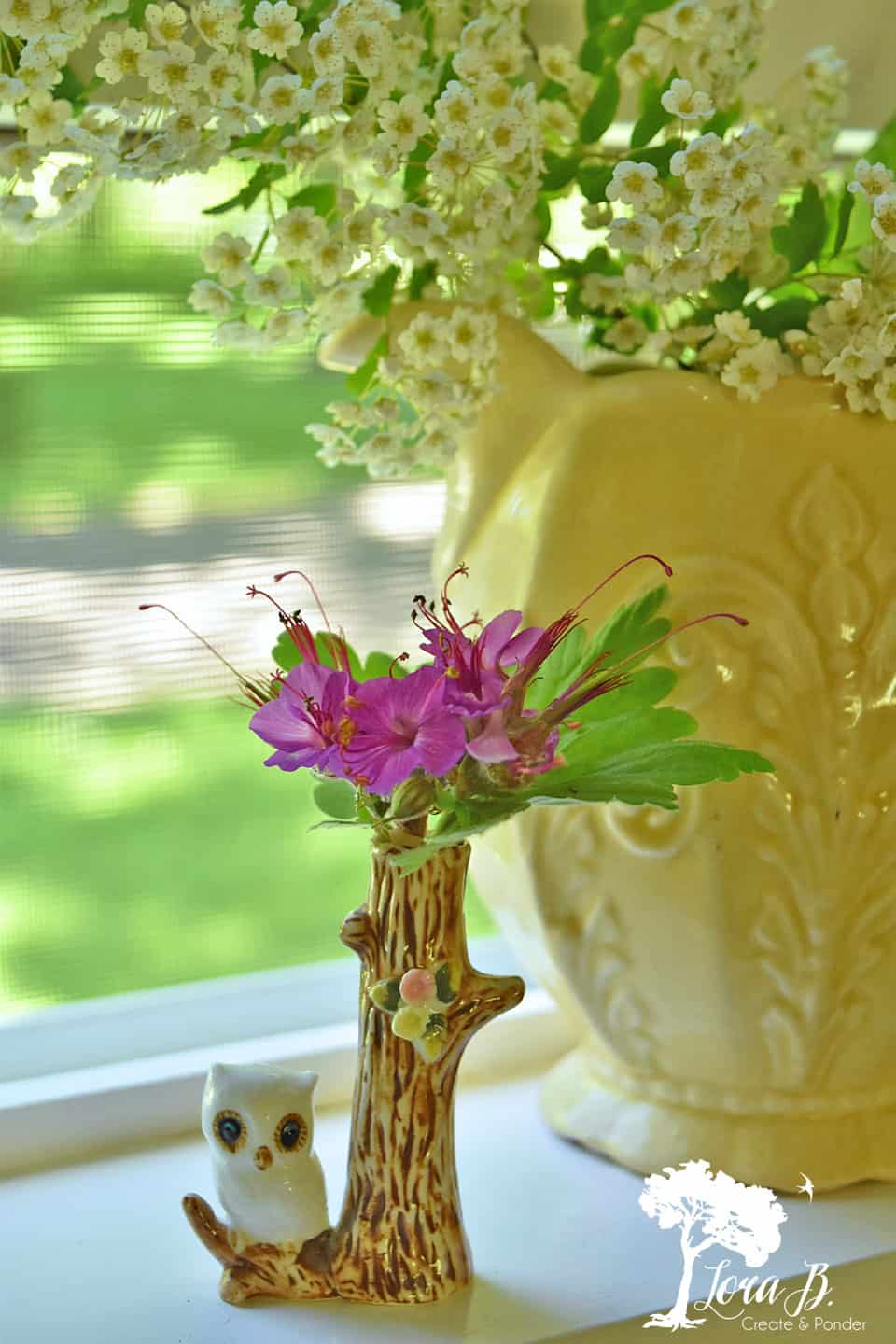 It's just a way to enjoy the small things in life…and to enjoy whatever beautiful flowers are blooming in your yard…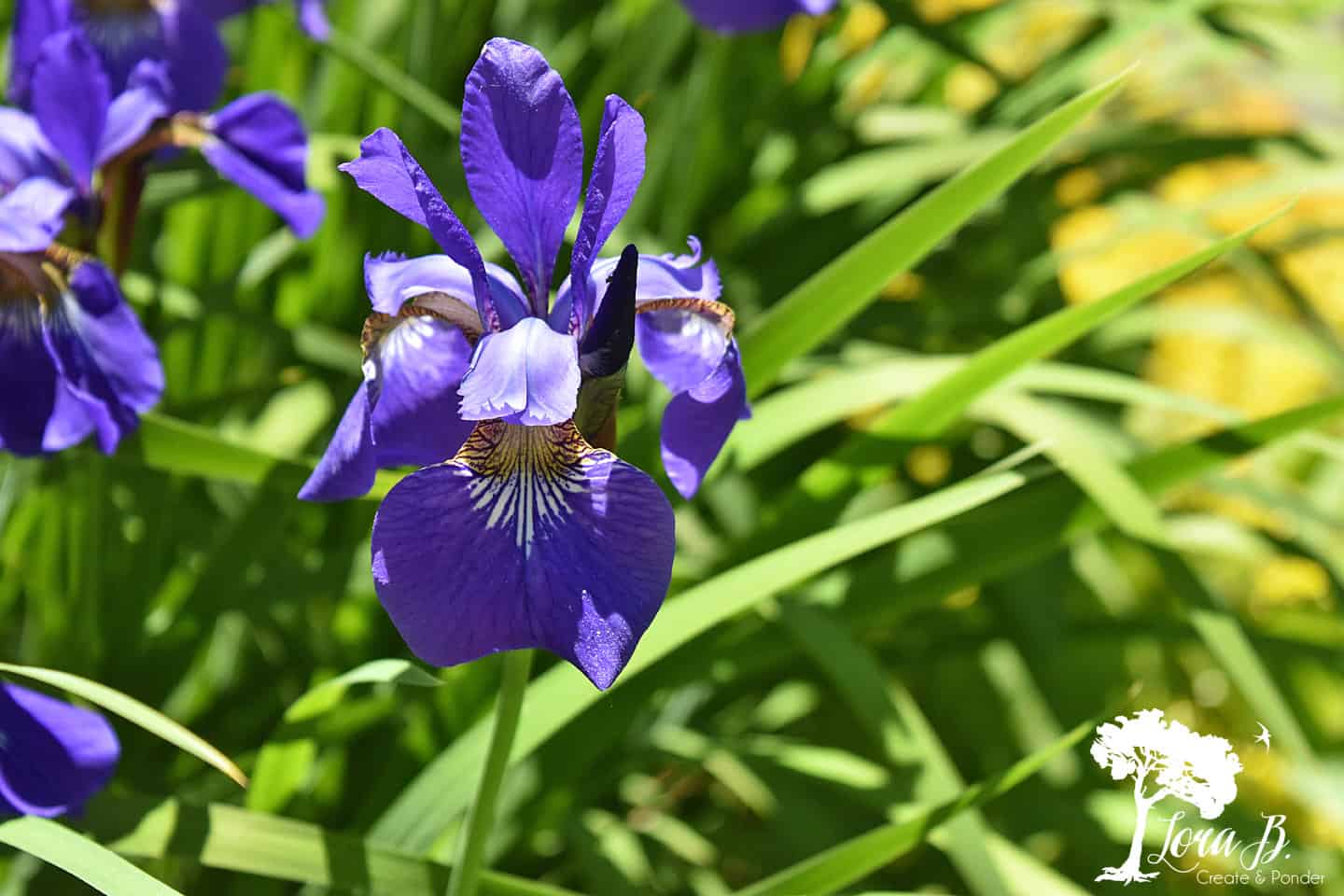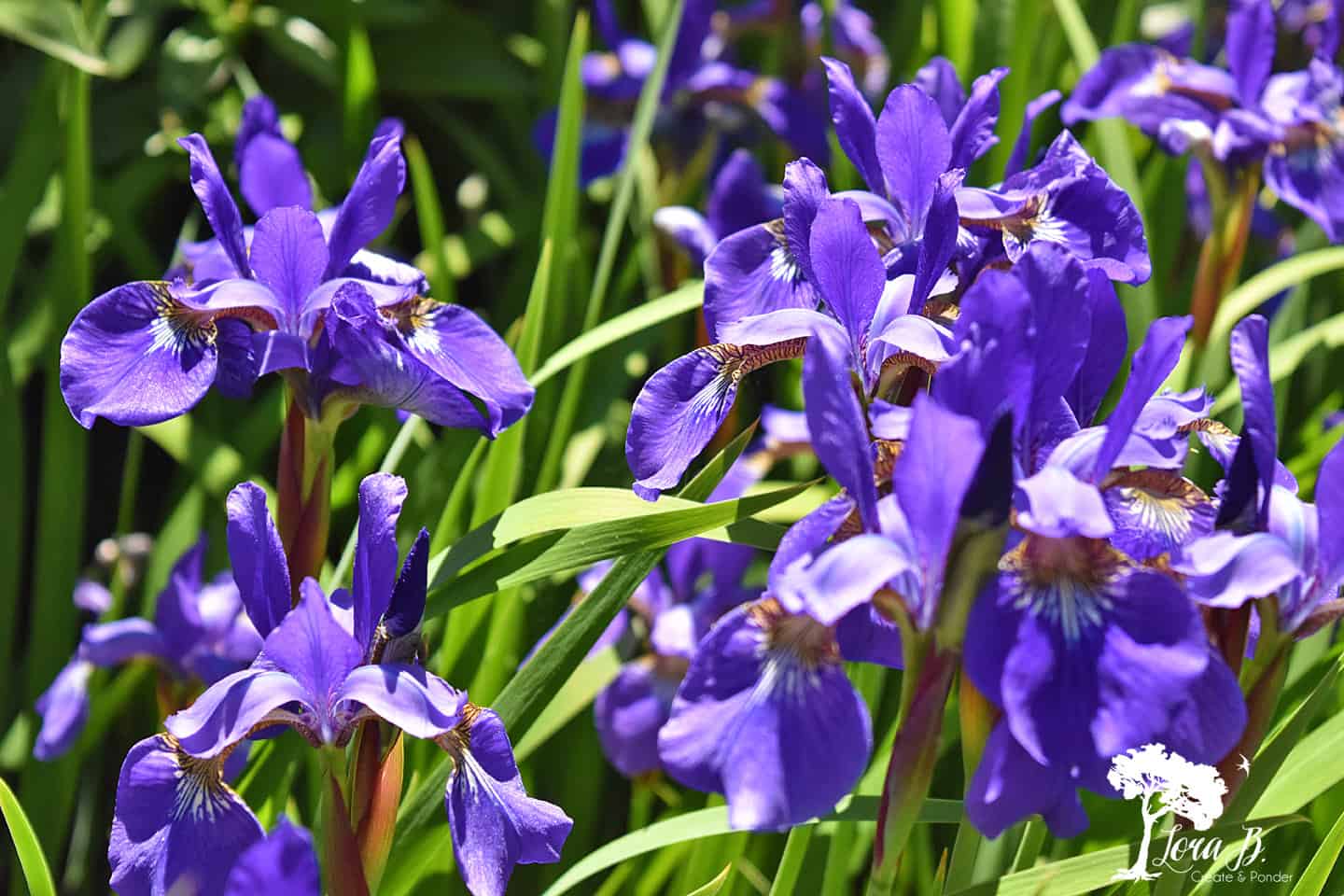 I think by next week I'll be enjoying pink on the kitchen windowsill…because my peonies are just starting to open!!
Do you enjoy a little windowsill display somewhere in your home? Or are you motivated to start one? I'd love to hear!

Sharing at these lovely parties: