Simple Garden Theme Decor DIY
Make this simple garden theme decor accent to add to your Spring and Summer decor. Or as an easy party table decoration for a shower or wedding.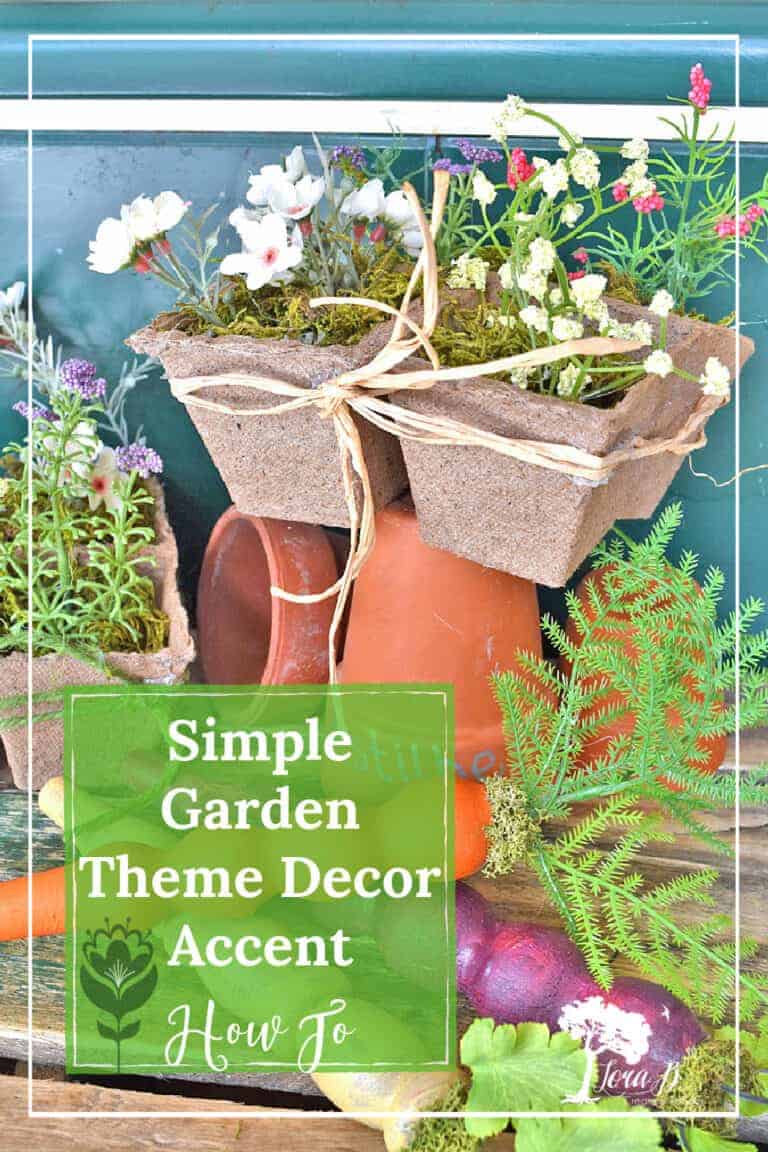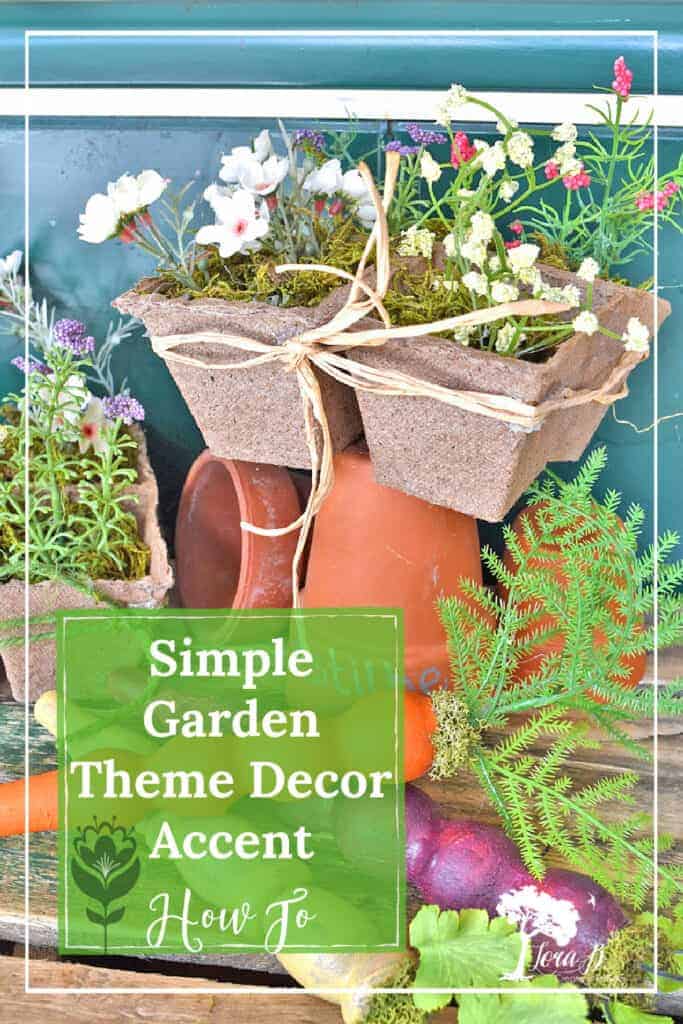 Spring has sprung, and it's time to pull out your garden-themed decor! Whether you're decorating your porch or looking for ideas for a special party, garden themed decor is perfectly on time. Today I'm going to share a super Simple Garden Theme Decor DIY you can add to any of your garden decorating!
This post is part of our monthly Thrifty Style Team series, hosted by Julie at RedHead Can Decorate. We've got a great variety of inexpensive Spring-inspired ideas for you today! I'll have all the links to the beautiful posts at the end.
To enjoy some of our other Thrifty Style Team series, check HERE.
This time of year, I can't wait to bring out all my garden-themed decor! Vintage tools, pretty pictures of cottages with gardens all around, bunnies, and flower pots. We can't do anything outside yet, since I live in the north, so the garden decor tides me over until I can! Today's little project is perfect to tuck into the garden decor.
Simple Garden Theme Decor DIY
For your convenience, this post contains affiliate links. If you make a purchase, I may receive a commission. There is no additional cost to you. My full privacy policy is here. 
Materials needed:
assorted small faux flowers/herbs
Start Your Garden Theme Decor with Texture
This DIY is to copy the idea of seed starting, except using faux foliage. Begin with a textural recycled compartment container. I used some seed starter packs I had laying around because I love their rustic brown texture. But you could also use an egg carton.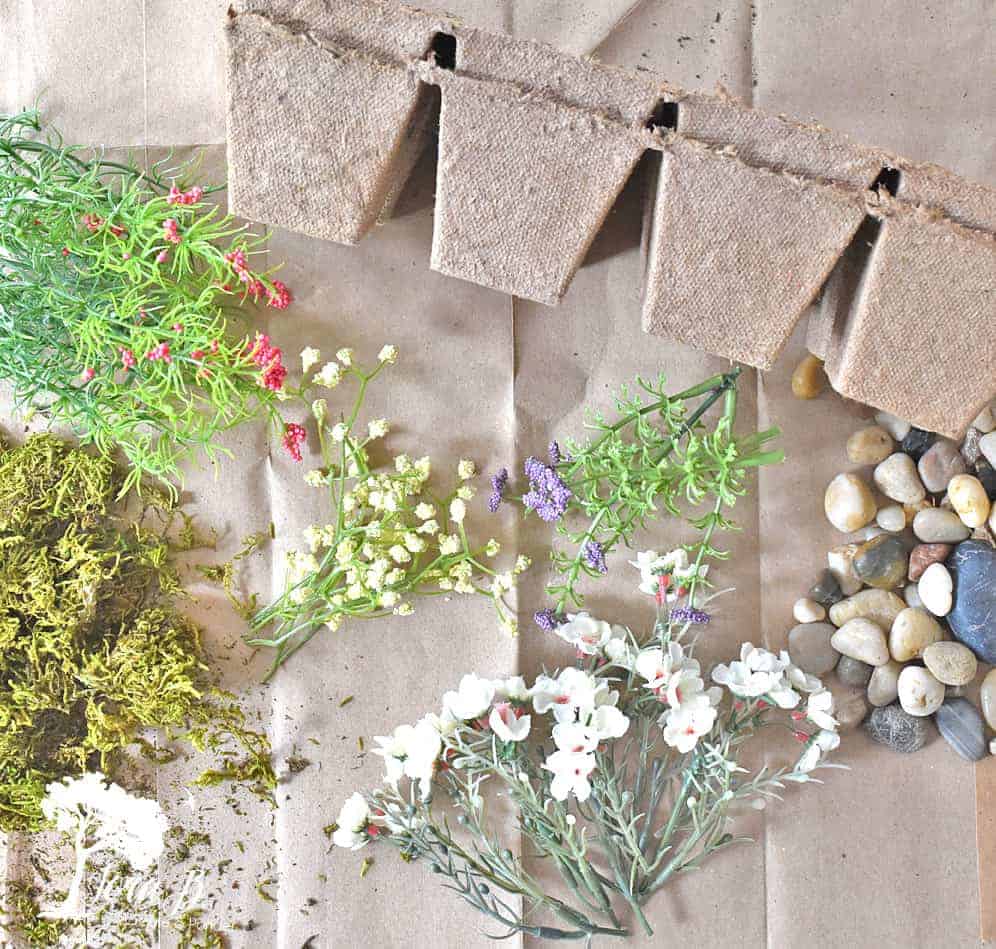 Add Weight to Your Floral Arrangement
This idea came from something I saw in a cute shop recently. But when I picked it up, it felt cheap. Weight=Value. Whenever I create a floral arrangement, I always hide some weight in the bottom. A baggie of sand or some cheap rocks is all it takes. The difference when you pick it up is huge!
Floral arranging tip: Weight=Value
If your recycled compartments have holes, put tape over them. Then hot glue pebbles to the bottom of each spot. You don't need much; a couple rocks will be fine.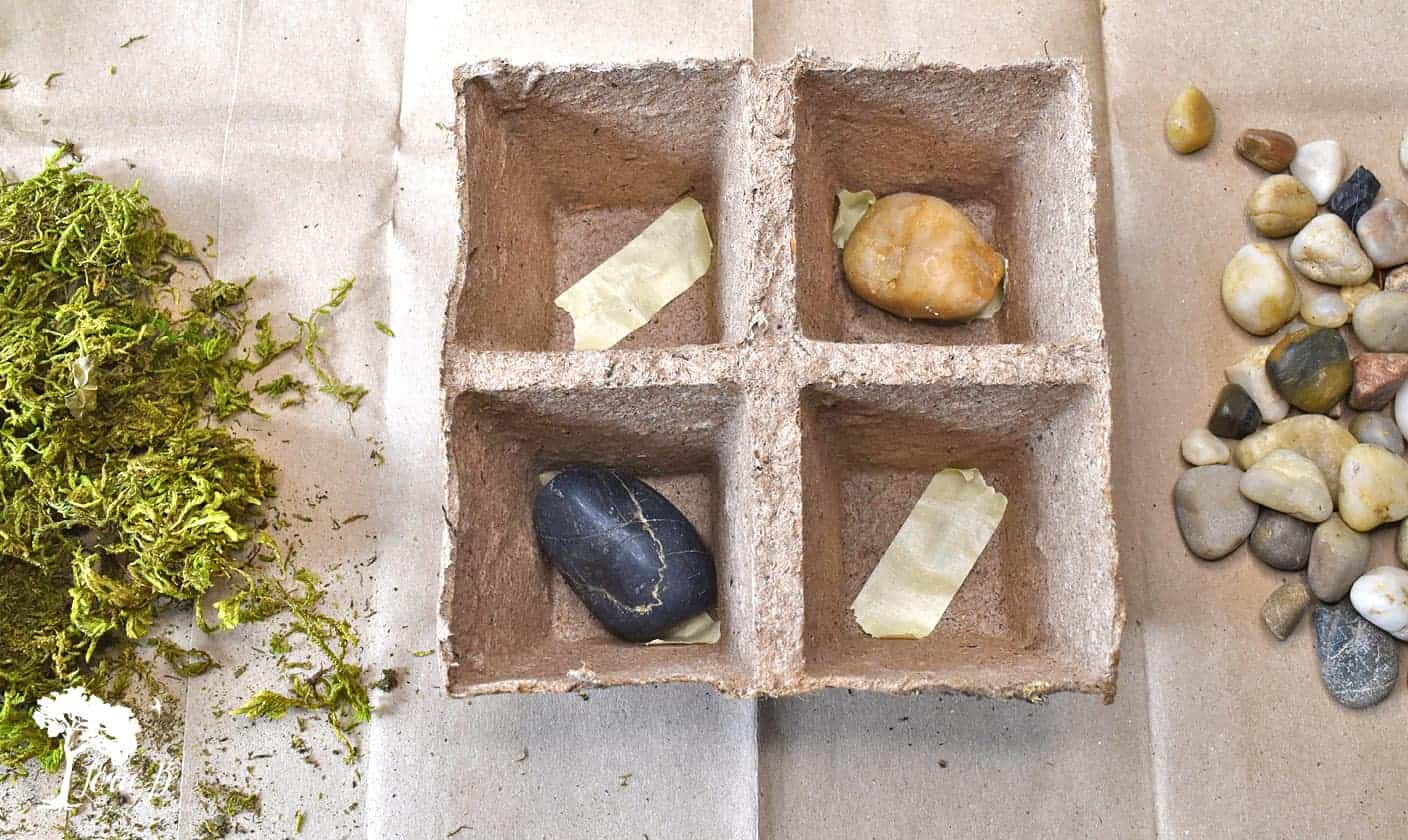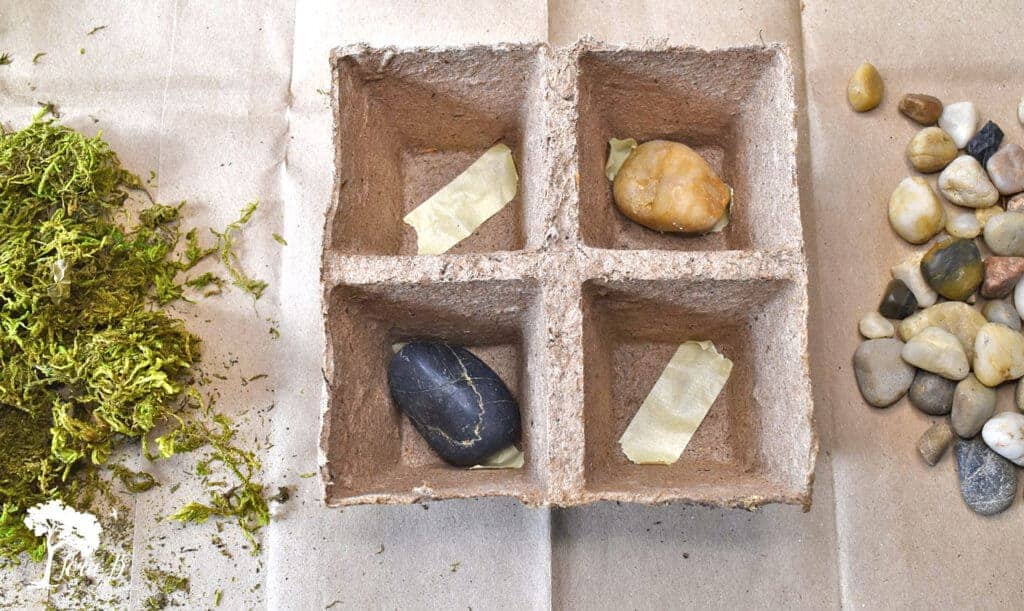 Fill Compartments with Moss
Using a hot melt glue gun, fill compartments with sheet moss, 3/4 full.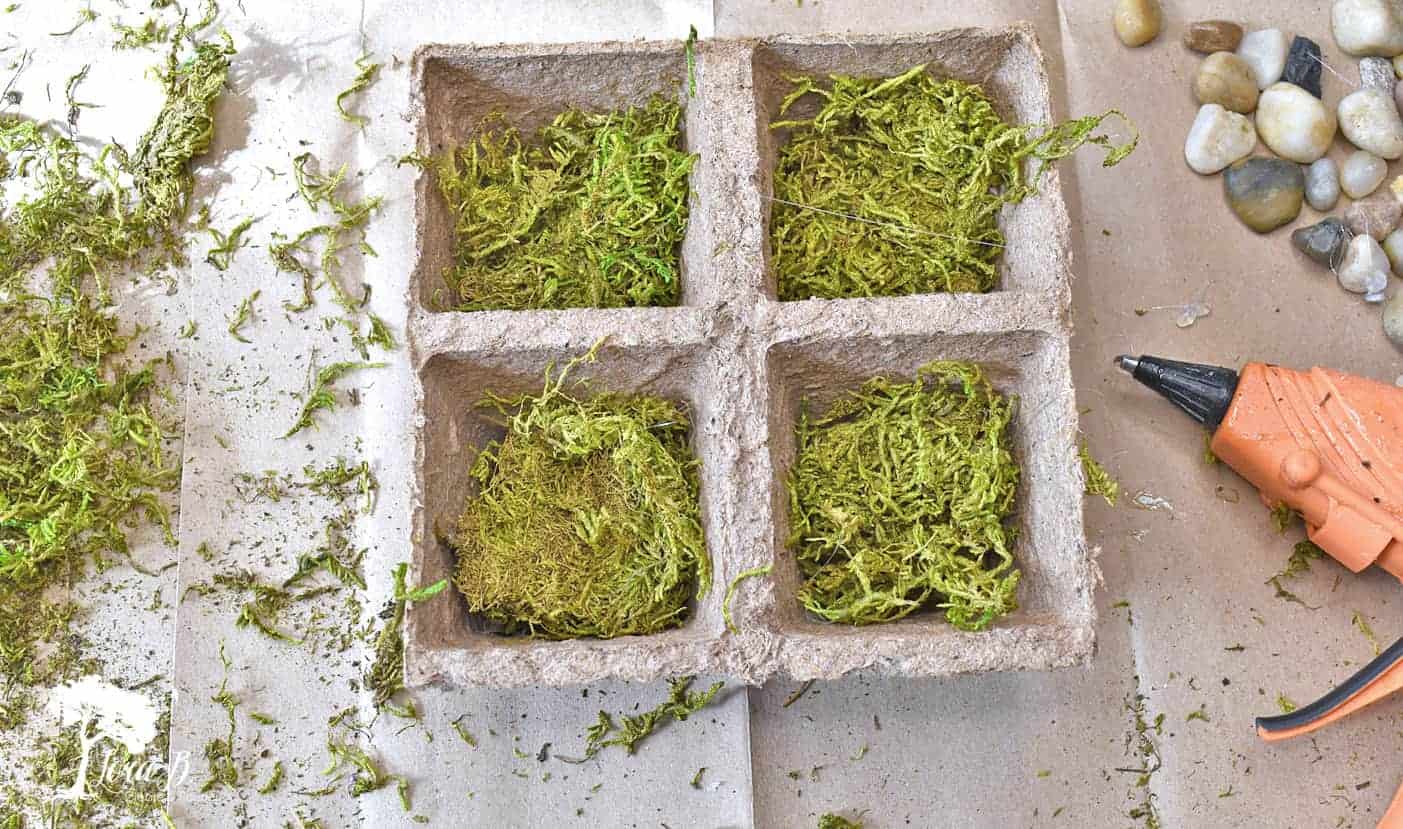 Add Snips of Faux Flowers 
Then simply hot glue snippets of flowers into the middle of each compartment. You could also do herbs. Use a wood skewer to hold down stems while glue is drying. Add a little more moss on top to cover glue blobs.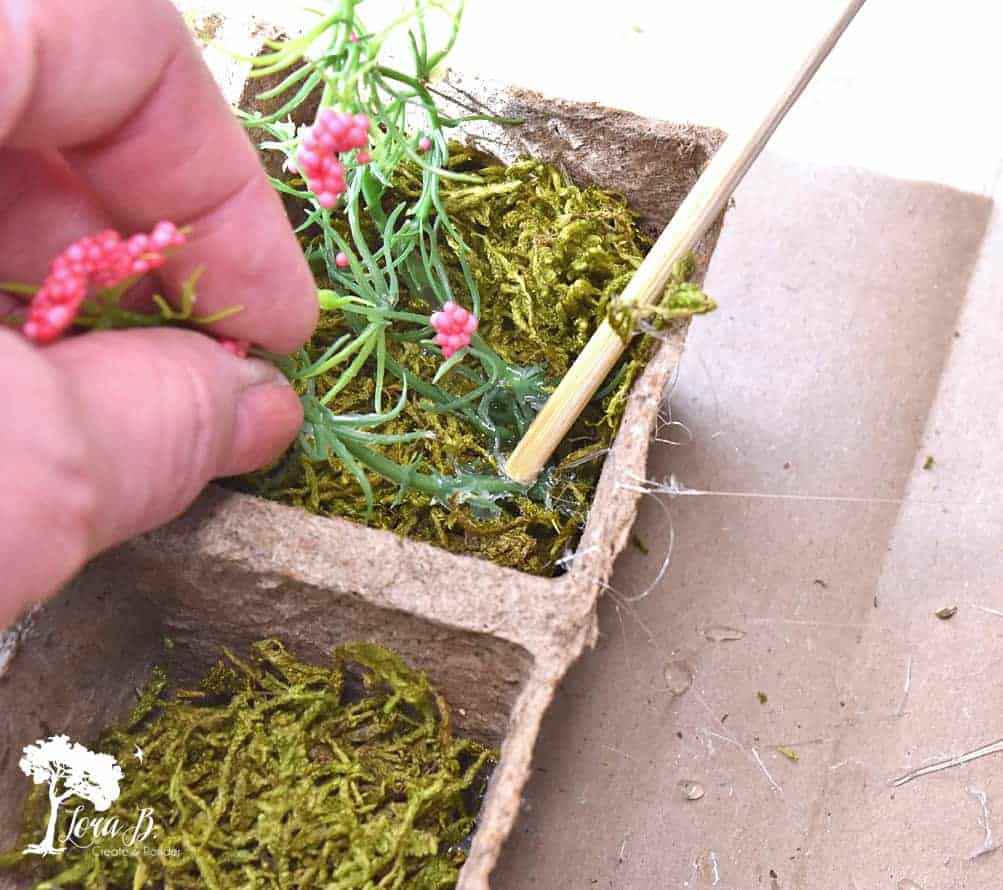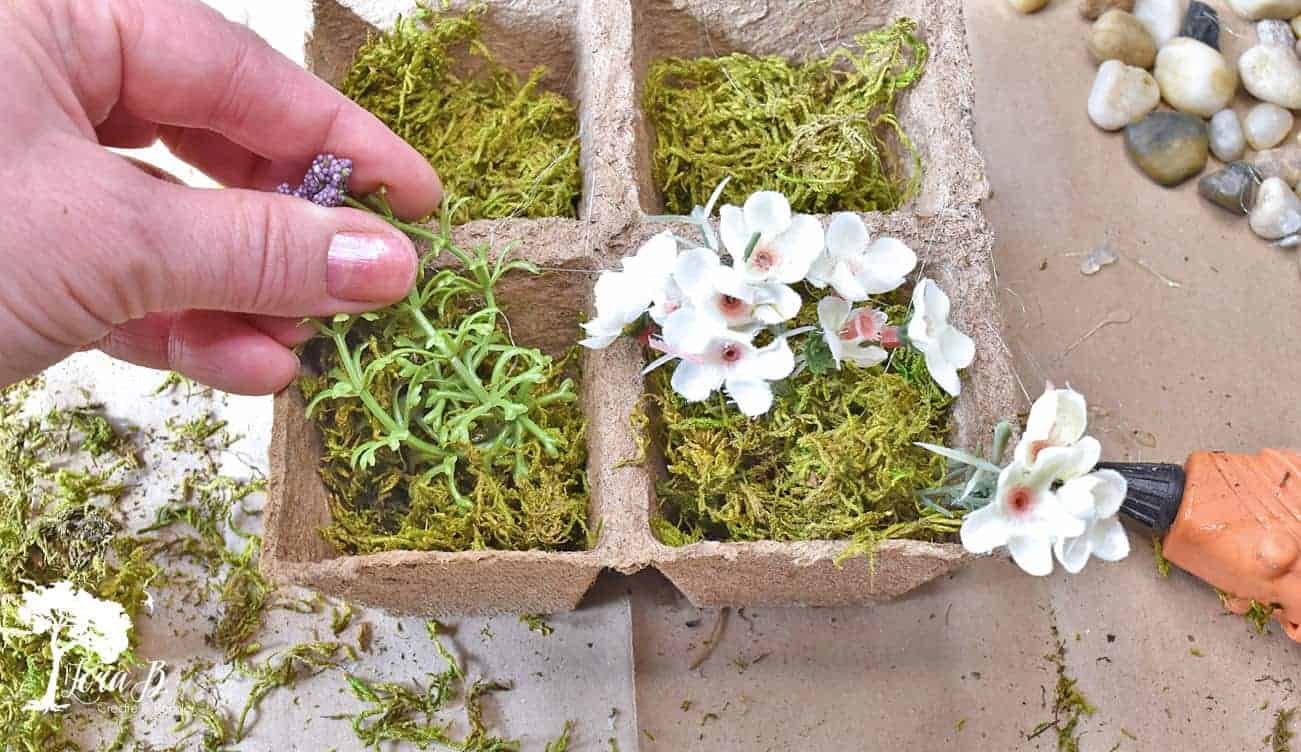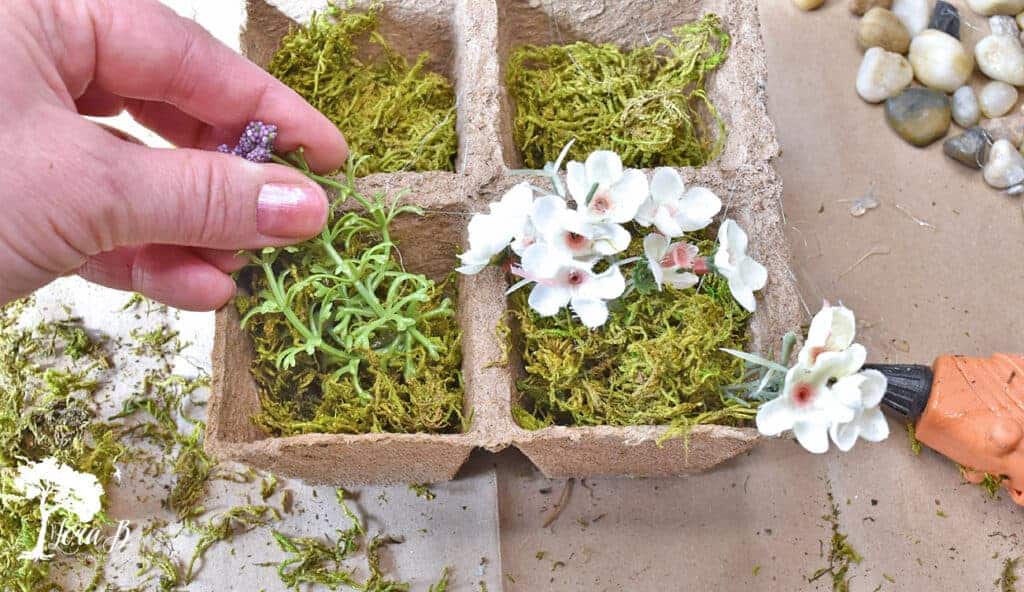 This project is a great way to use up scraps from other floral projects. At a floral design workshop I went to years ago, they said if you could make money from the scraps on the floor, you were smart! Whether you sell or not, this project takes something ho-hum and turns it into something pretty.
Add a Final Garden Theme Accent to Your Arrangement
Tie and glue a couple strands of raffia or twine around your arrangement as a final textural touch. Add a little bit of glue at the corners to keep it in place. I did one of each, but think I like the wilder raffia look better.
Last but not least, finish any of your hot glue projects with the hair dryer to get rid of all those strings.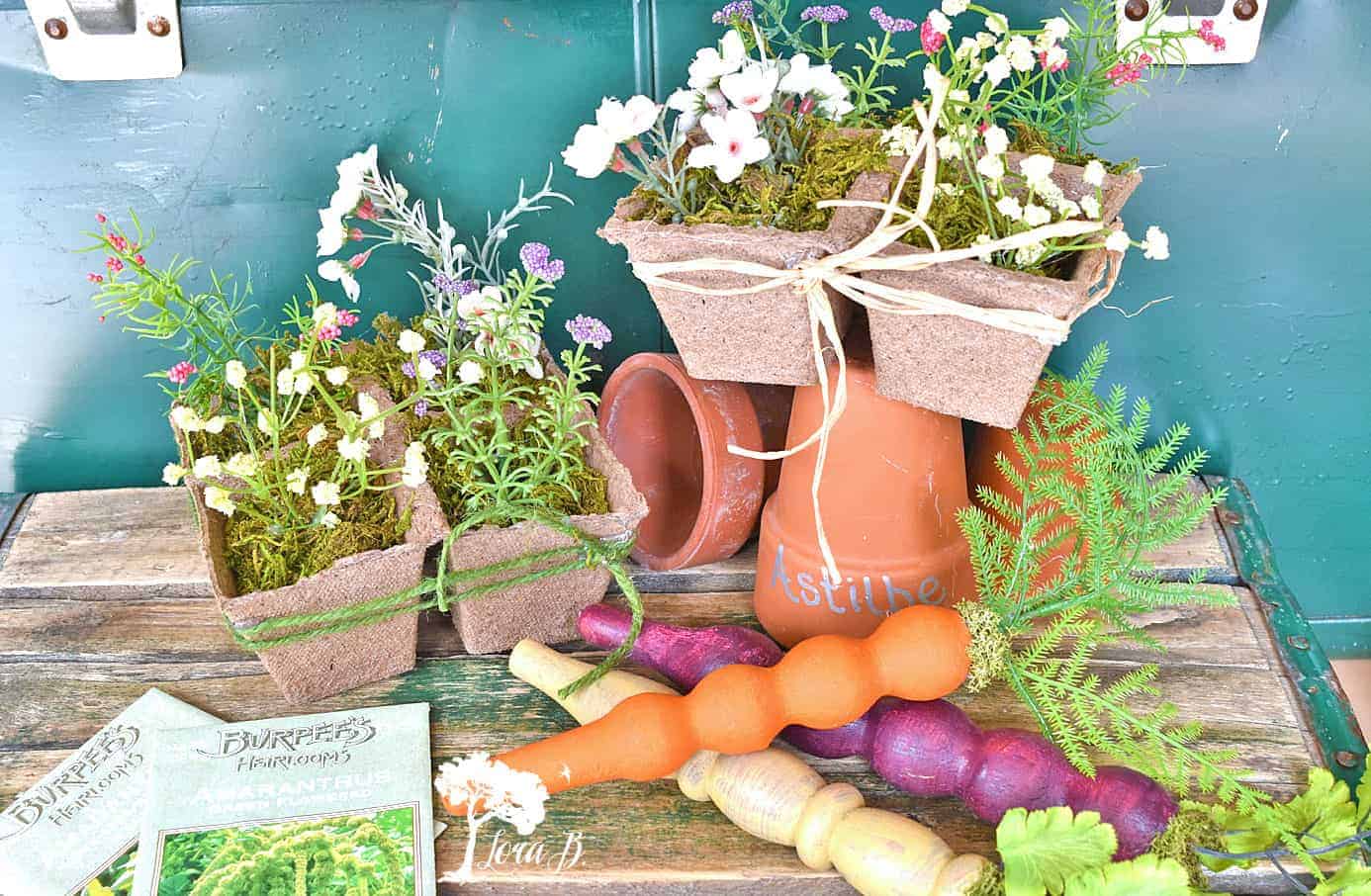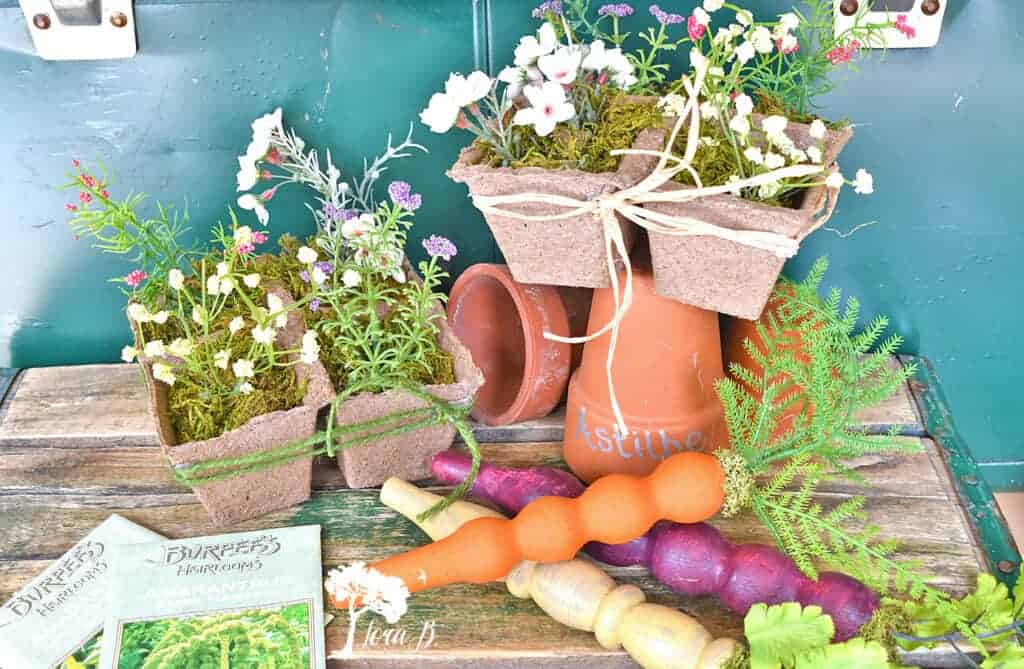 This simple little DIY project is perfect to tuck into any garden decor, whether in a cupboard display or on the tabletop. So easy and cute!
Find my Repurposed Spindle Carrots How To HERE.

Hope you enjoyed this Simple Garden Theme Decor DIY! I'm pulling out all my garden decor and can't wait to tuck these little floral arrangements in. Can't wait to see what the rest of the Thrifty Style Team came up with today!
Please Pin, Share, and Enjoy the Rest of the Inspiration!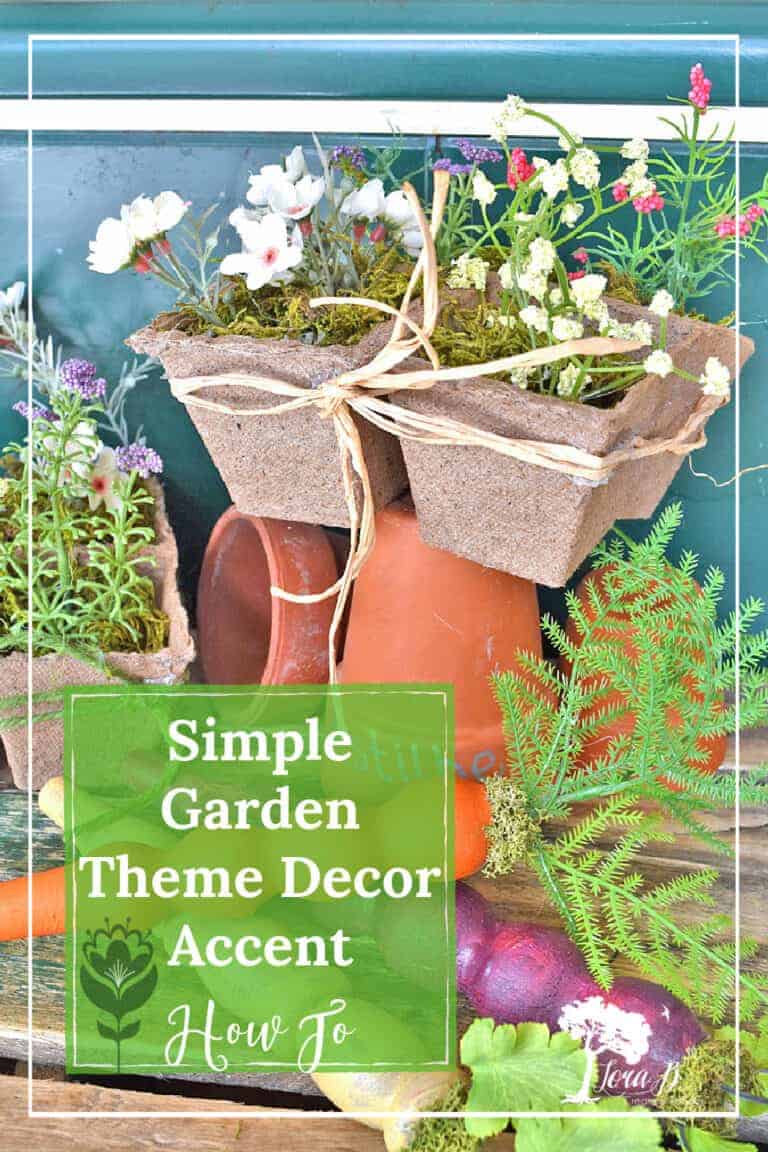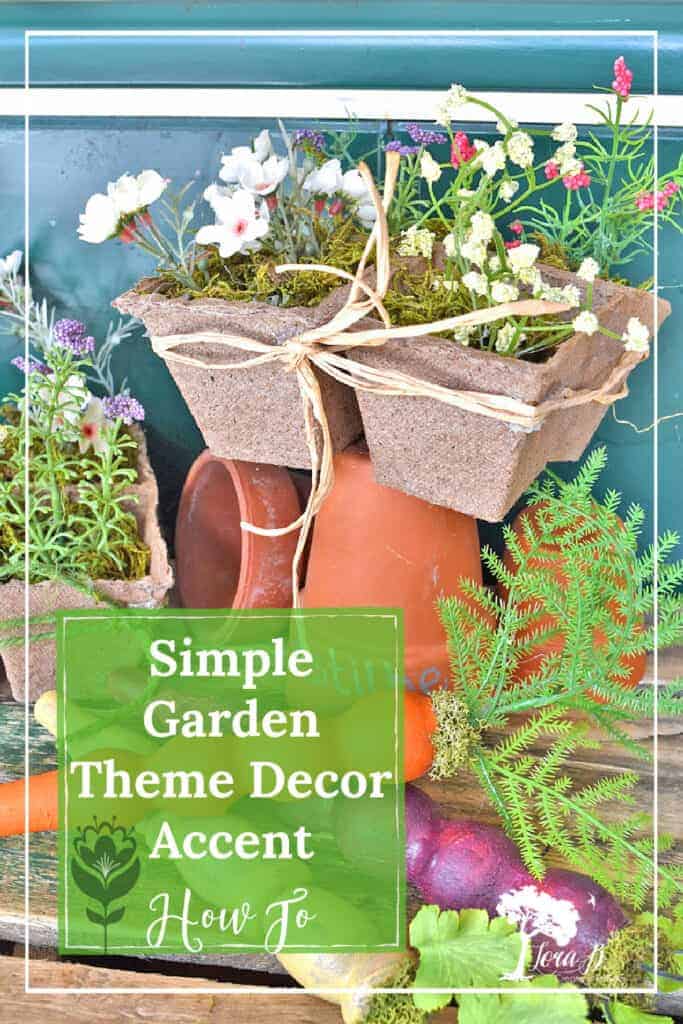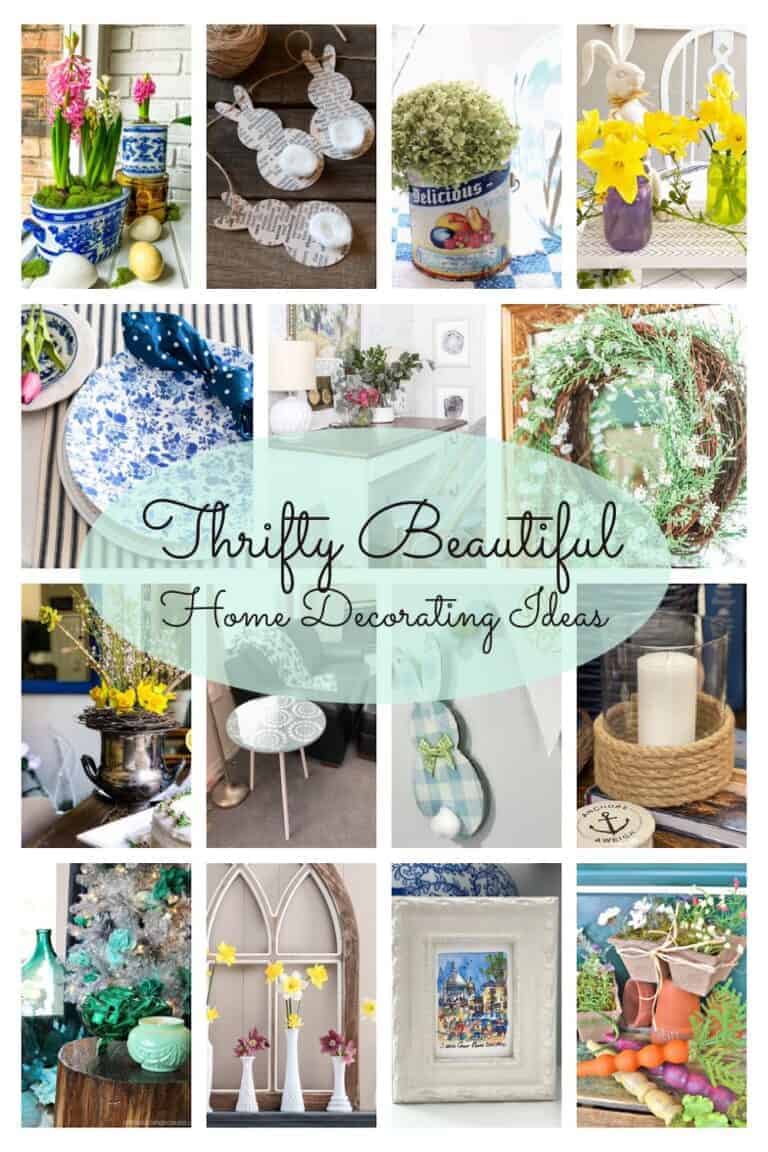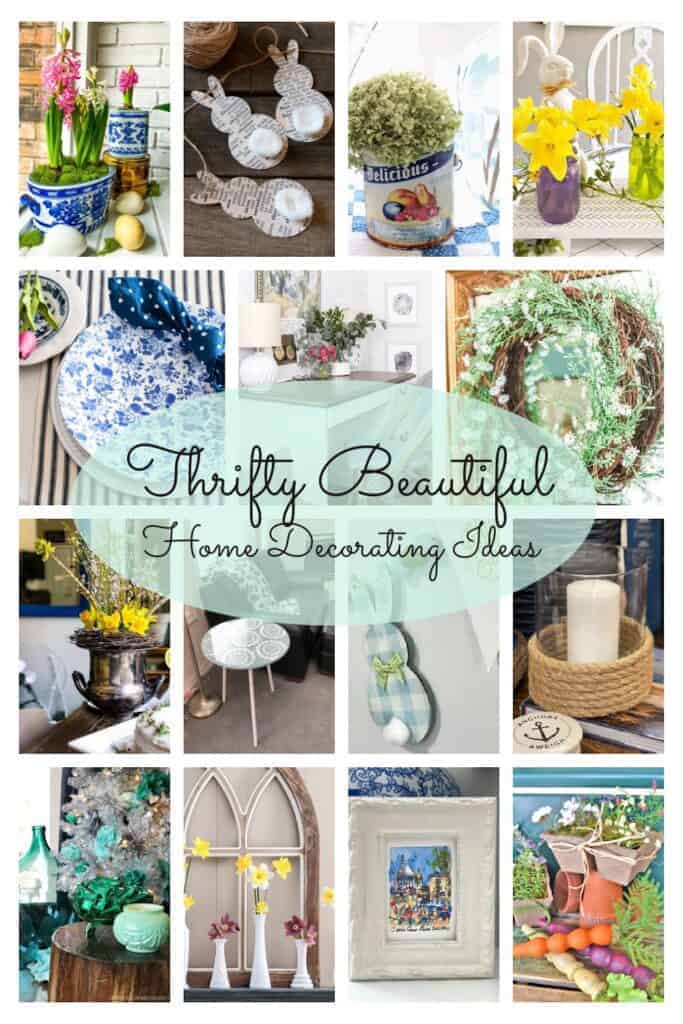 RedHead Can Decorate, "Simple Minty Green Scrunched Tissue Paper Tree"
I Should Be Mopping the Floor, "DIY Potted Hyacinth Bulbs"
DIY Beautify, "Blue and White Decoupage Chargers"
2 Bees in a Pod, "Painted Frame Makeover"
Postcards from the Ridge, "Simple Spring Mantel with Milk Glass Vases and Daffodils"
Creekline House, "How to Whitewash a Stone Wall"
The How To Home, "Easy DIY Paper Bunny Garland"
The Tattered Pew, "Flea Market Style Spring Centerpiece"
Virginia Sweet Pea, "Easy to Make Spring Wreath"
Meegan Makes, "Champagne Bucket Spring Floral Arrangement"
Cottage at the Crossroads, "DIY Bunny Garland"
White Arrows Home, "Nautical Candle Holders"
Our Crafty Mom, "How to Tint Mason Jars with Food Coloring"
Chas' Crazy Creations, "How to Stencil on Wood"

Sharing at these lovely parties: