Favorite Thanksgiving Table Setting Ideas for a Cozy Gathering
Set your Thanksgiving table with these 5 details for a cozy, beautiful celebration.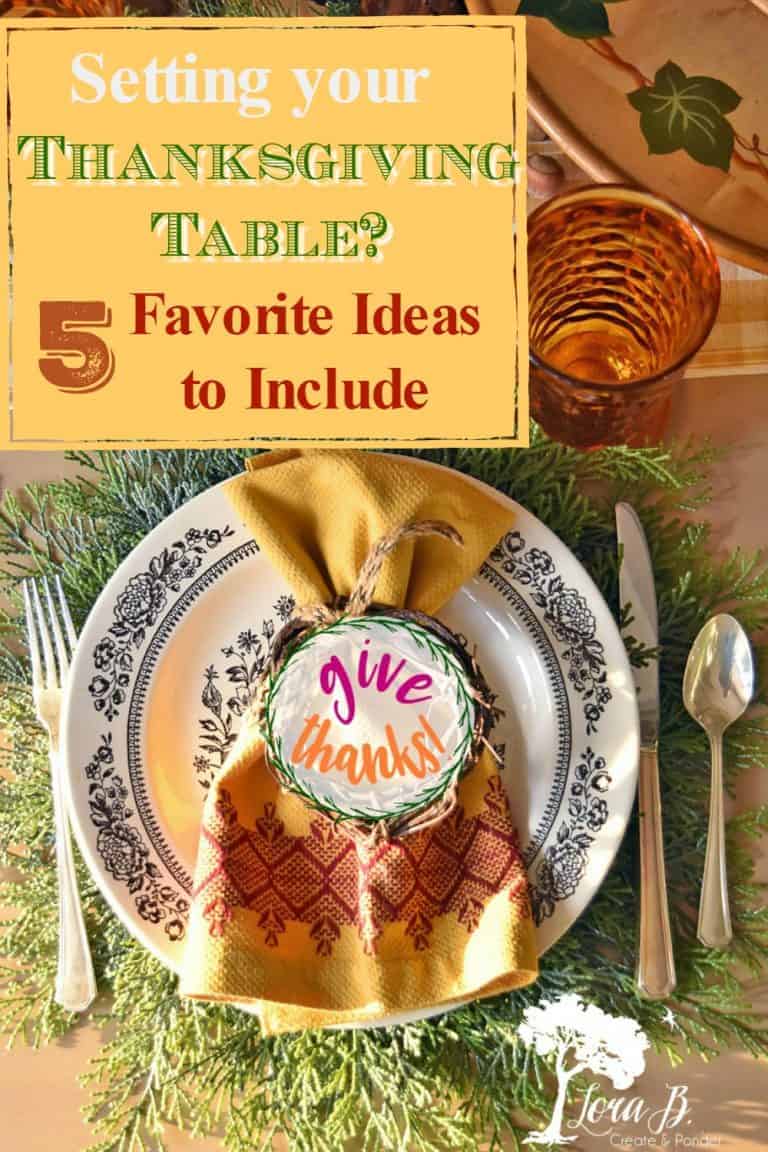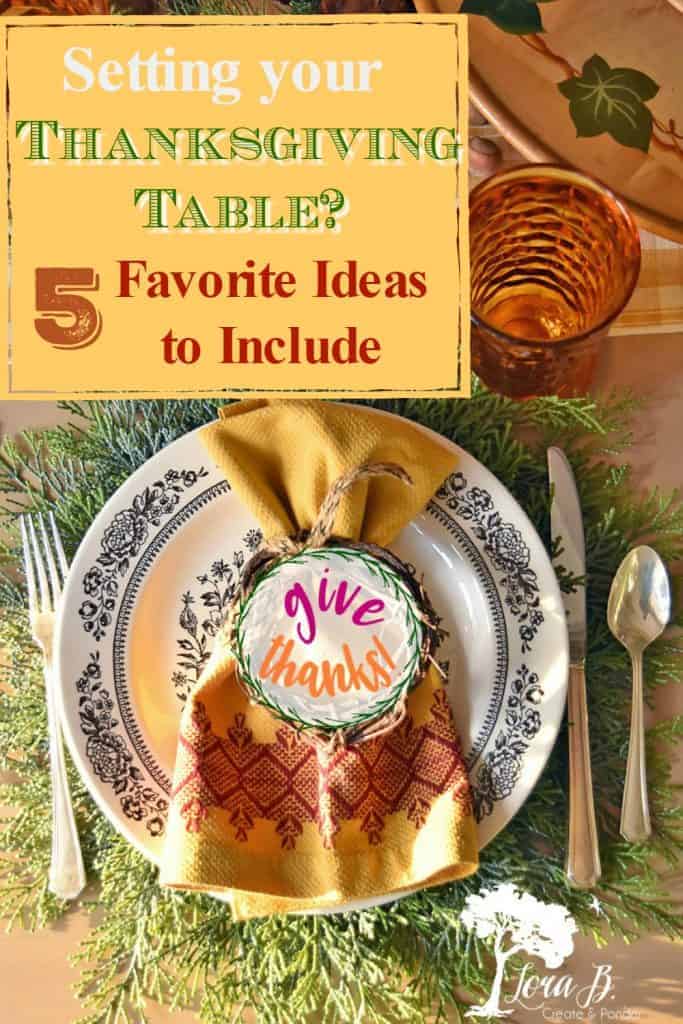 More than likely, your Thanksgiving dinner will be a smaller celebration this year. Because everything's different right now:( But that doesn't mean it can't be memorable. There's no better time to plan a special meal using pretty and heartfelt details; especially this year! Today I'm going to share some glimpses into some of my past Thanksgiving table settings, so you can use some of the same elements for yours. Here are 5 Favorite Thanksgiving Table Setting Ideas for a Cozy Gathering.
Today's post is part of "A Season of Thanks" blog hop, organized by Amber of Follow the Yellow Brick Home (definitely check out her new kitchen). If you're visiting from Panoply, welcome! Rita is going to enjoy a cozy, yet beautiful, Thanksgiving at home, too! I'm so excited to see all the amazing ideas and inspiration from this talented group of bloggers! I'll have all the links down below.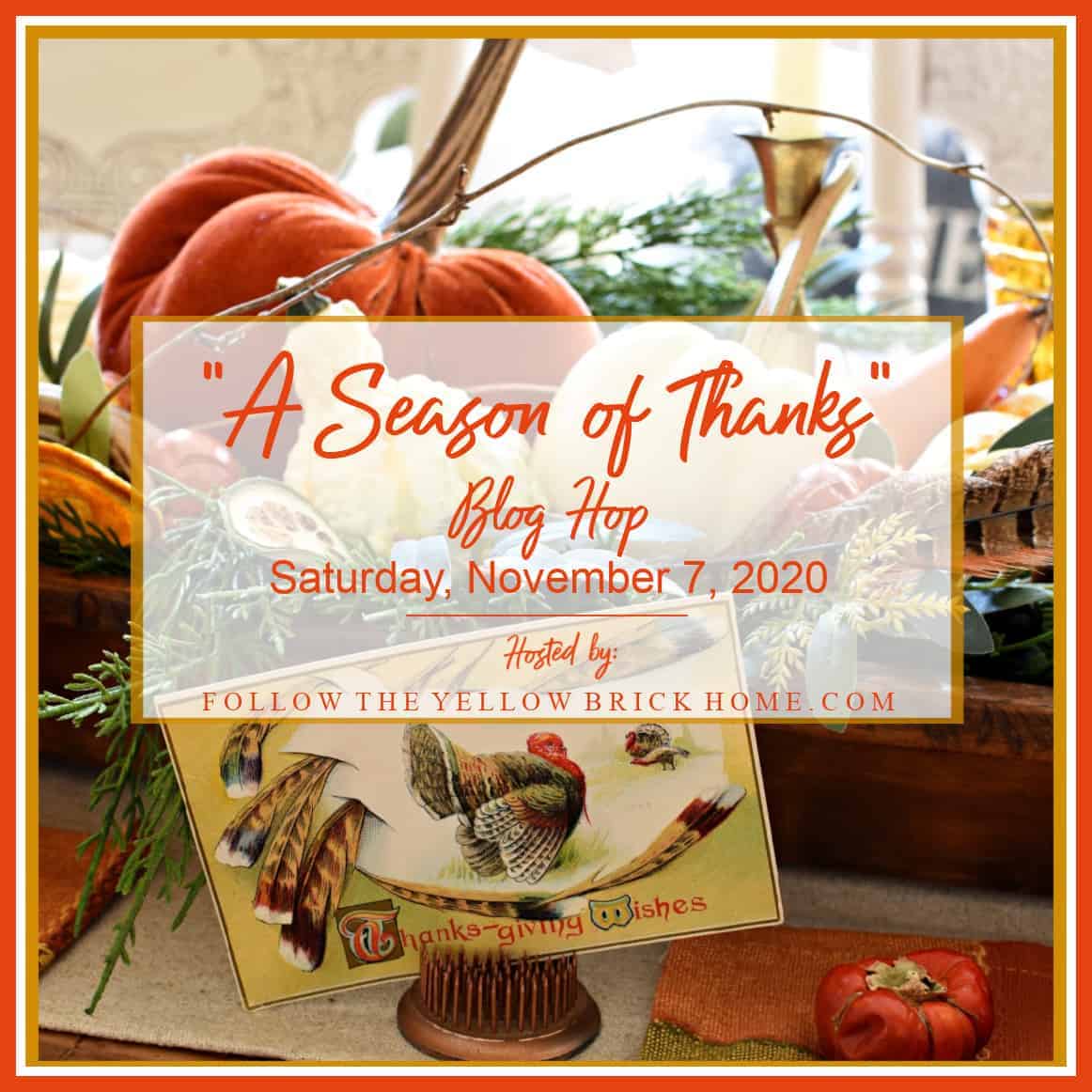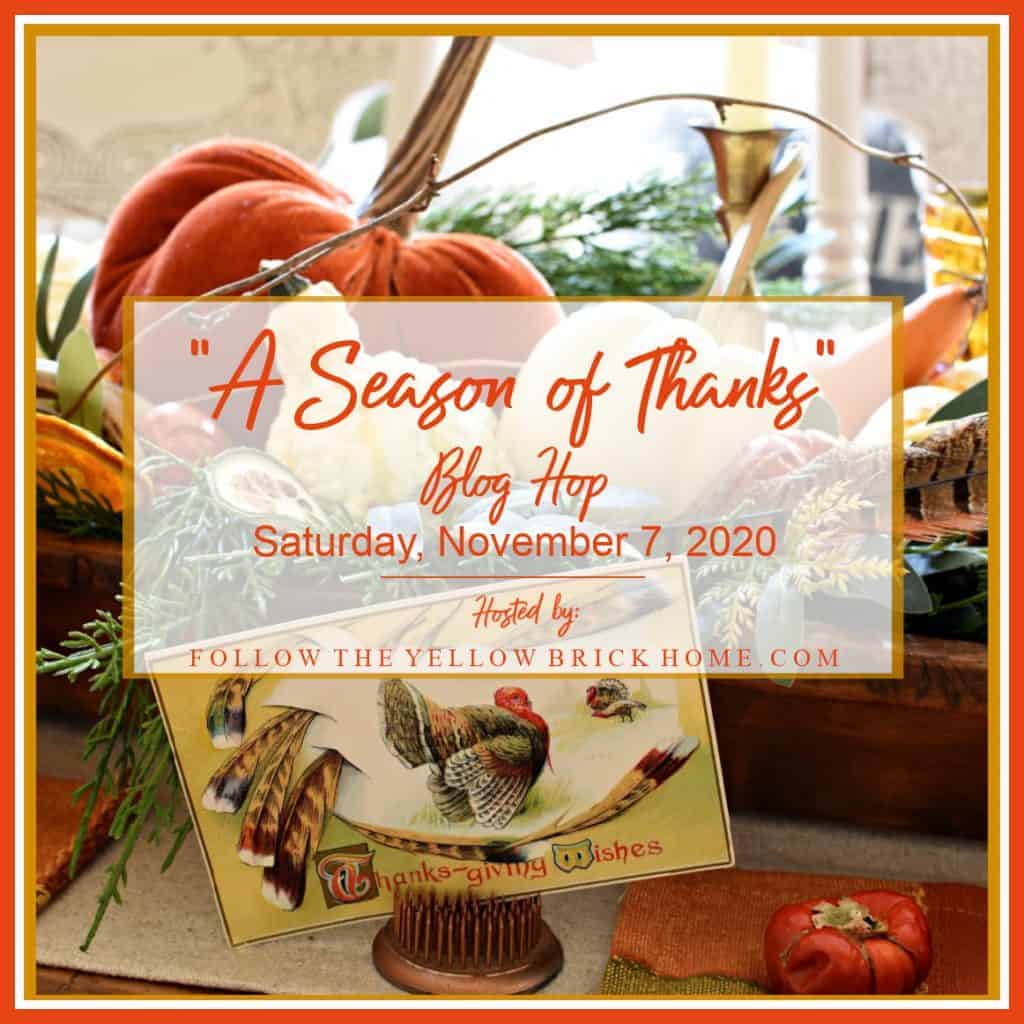 Favorite Thanksgiving Table Setting Ideas for a Cozy Gathering
For your convenience, this post contains affiliate links. If you make a purchase, I may receive a commission. There is no additional cost to you. My full privacy policy is here.
Set Your Thanksgiving Table With Many Textures
The Thanksgiving table looks the most bountiful with many various textures. The weather has gotten colder, and just like our wardrobe, it's time to layer it on! As you are deciding what tablecloth to use, what dishes and glasses, if you're going to use chargers or placemats, or both, be conscious of all the textures.
Here are some of the different materials and textures that are perfect to incorporate into your Thanksgiving table:
nubby and thicker fabrics such as wool, burlap, velvet
metals: galvanized, copper, brass
colored glass
heavier china, pottery
paper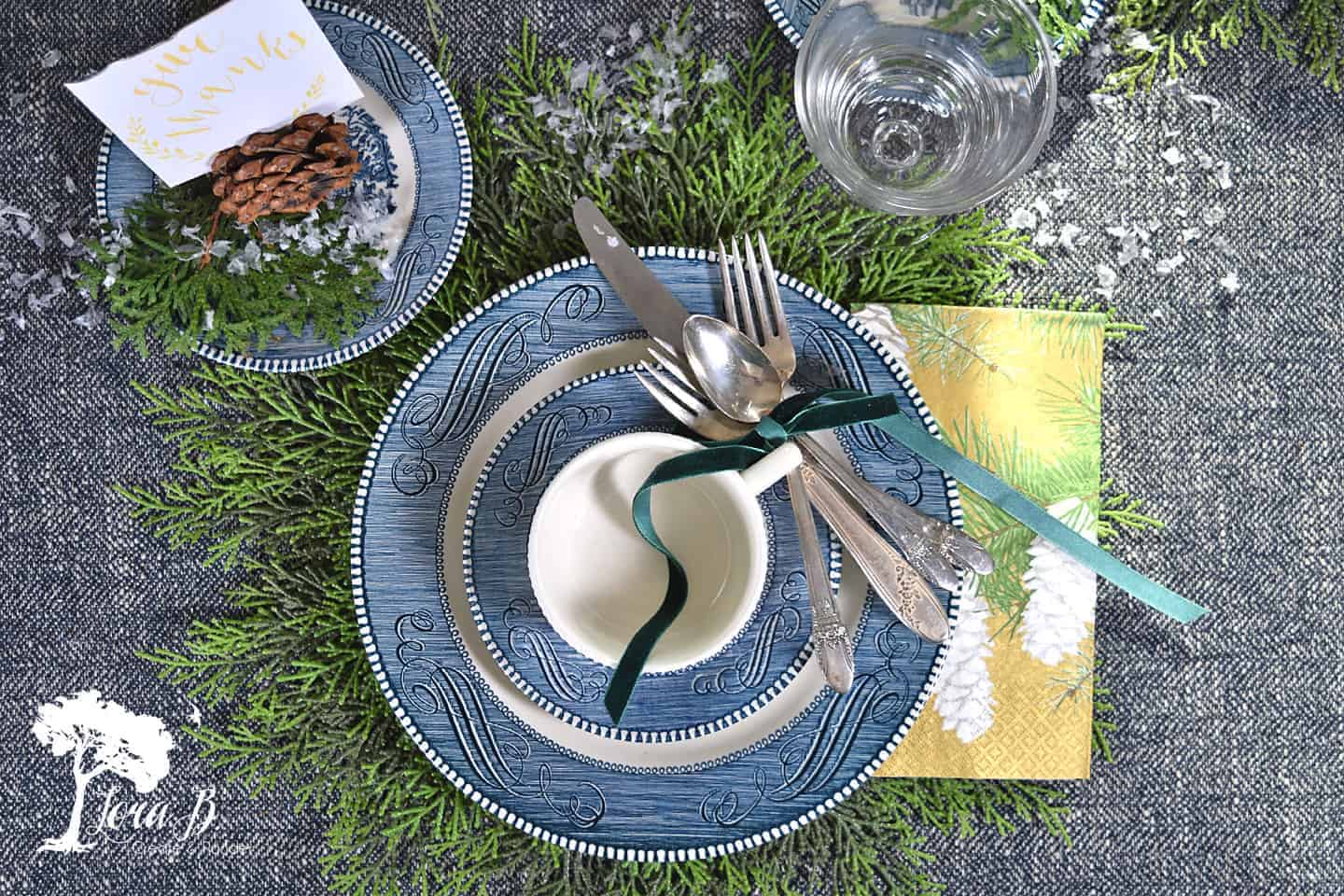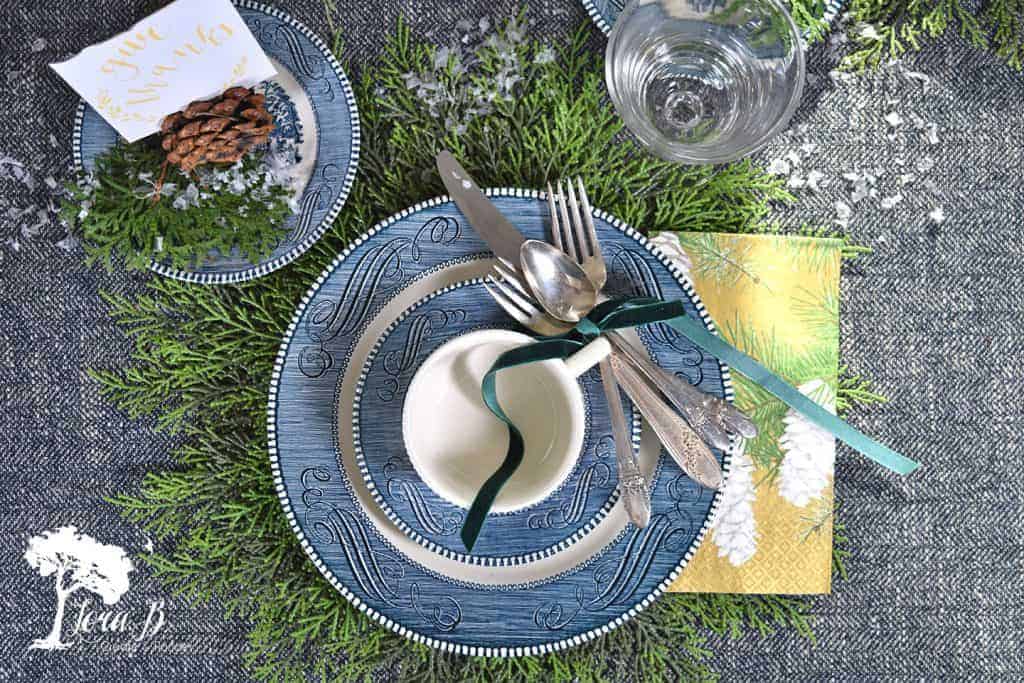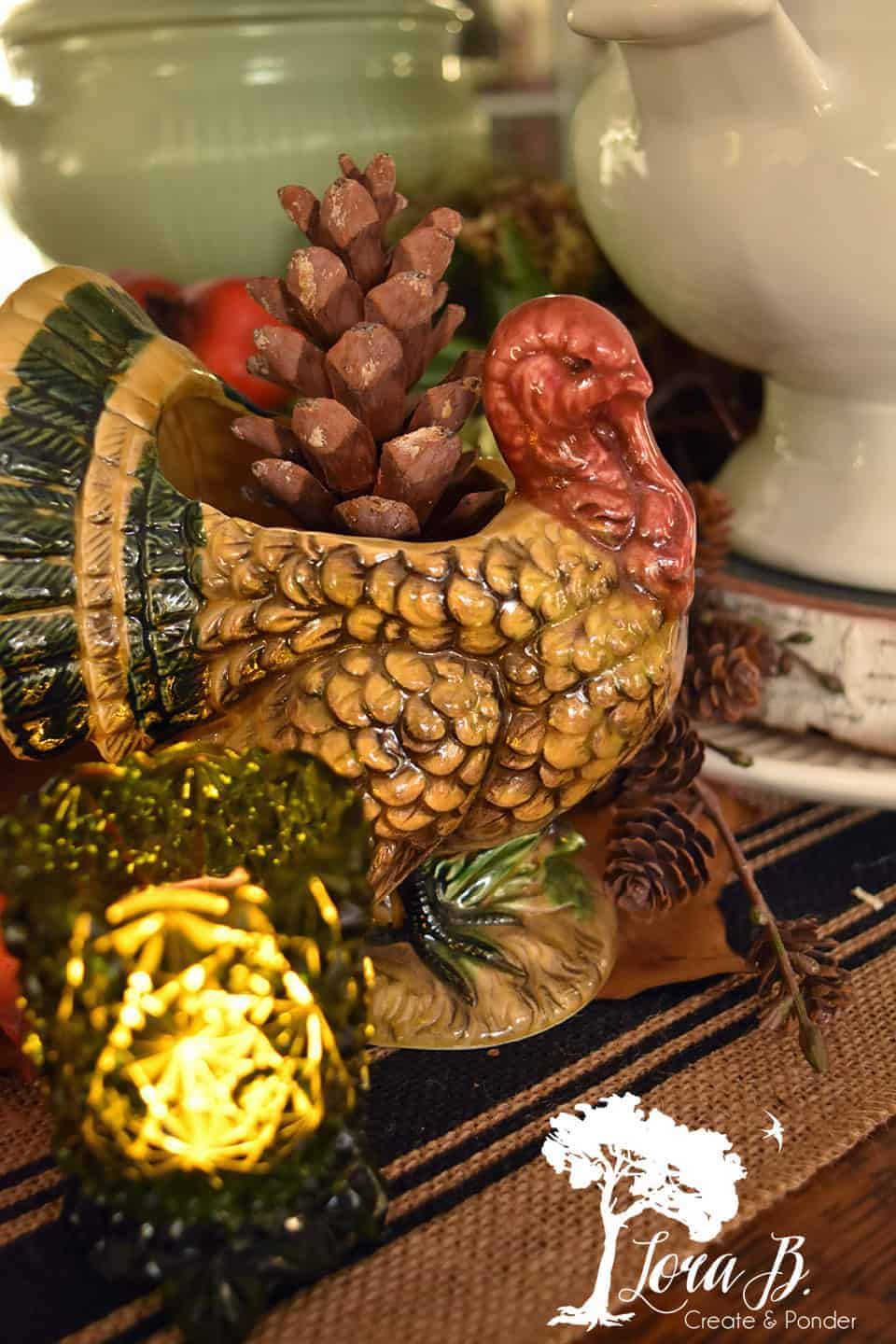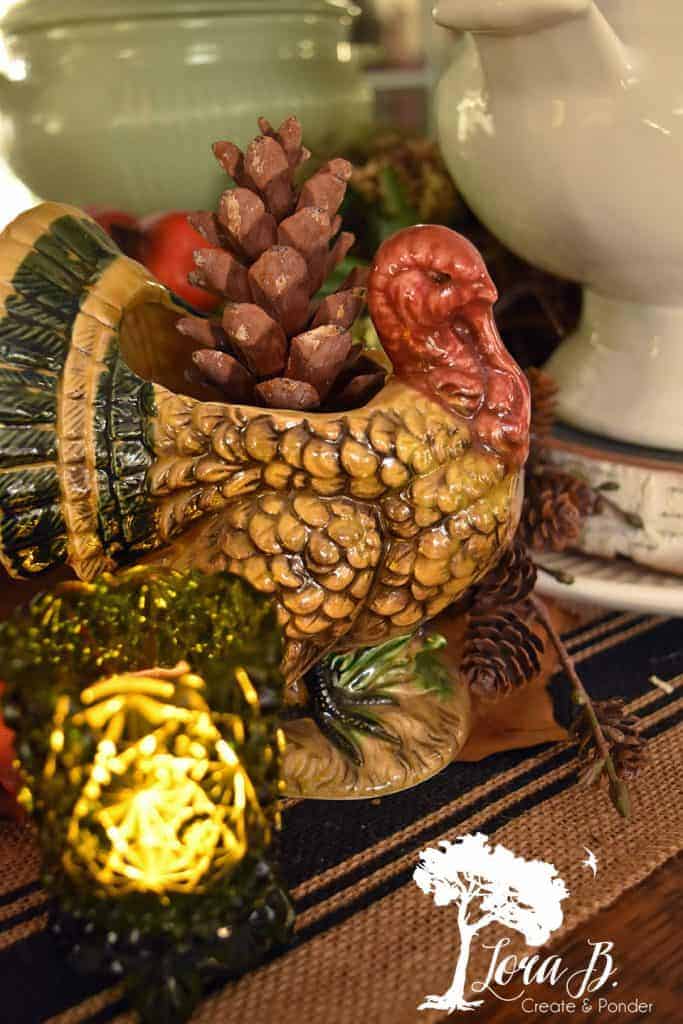 Tip: If you don't have a tablecloth that will work, just get some fabric, like I do all the time, "How to Use Fabric Yardage on Your Table Settings".
Use Produce for Traditional Style
Thanksgiving is a traditional holiday. To harken the history of our ancestors and pilgrims, I love to use fresh produce from the grocery store. You can make it more special by sugaring it, or poking cloves into it. But all you really have to do is walk through the produce area and see the beauty of real fruits and vegetables.
Here are some grocery store items to incorporate into your centerpiece and tablescape:
sugared fruit: pomegranates, pears, apples, grapes
layered legumes
harvest vegetables: pumpkins, artichokes, corn
pineapple-represents hospitality
oranges studded with cloves (so fragrant;)
nuts in shells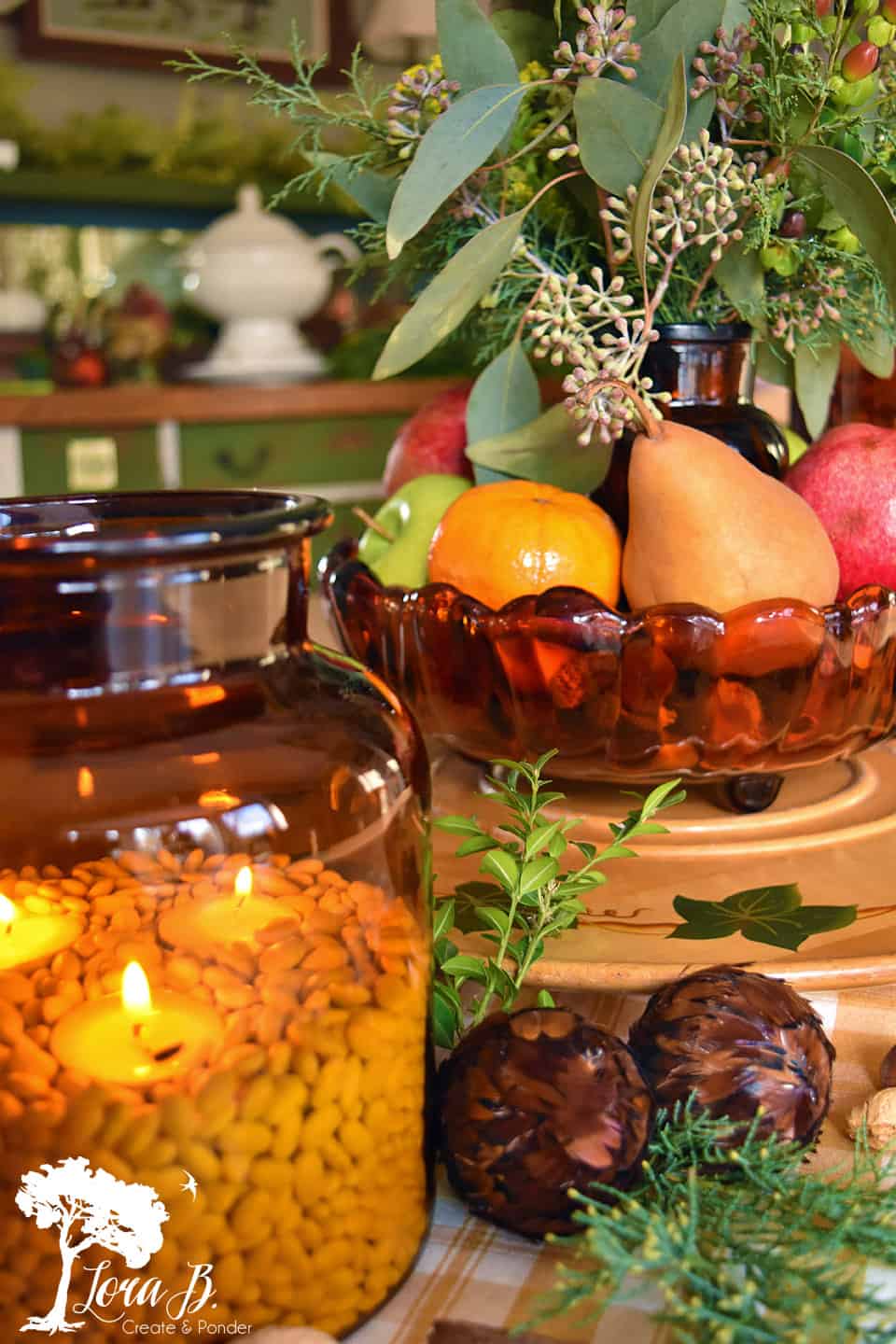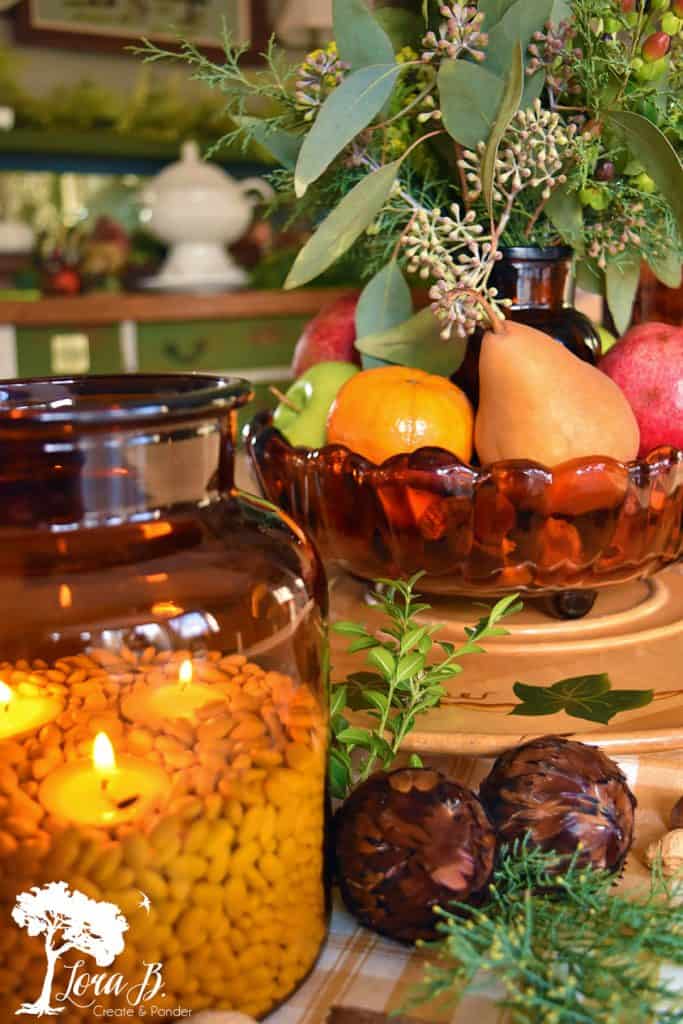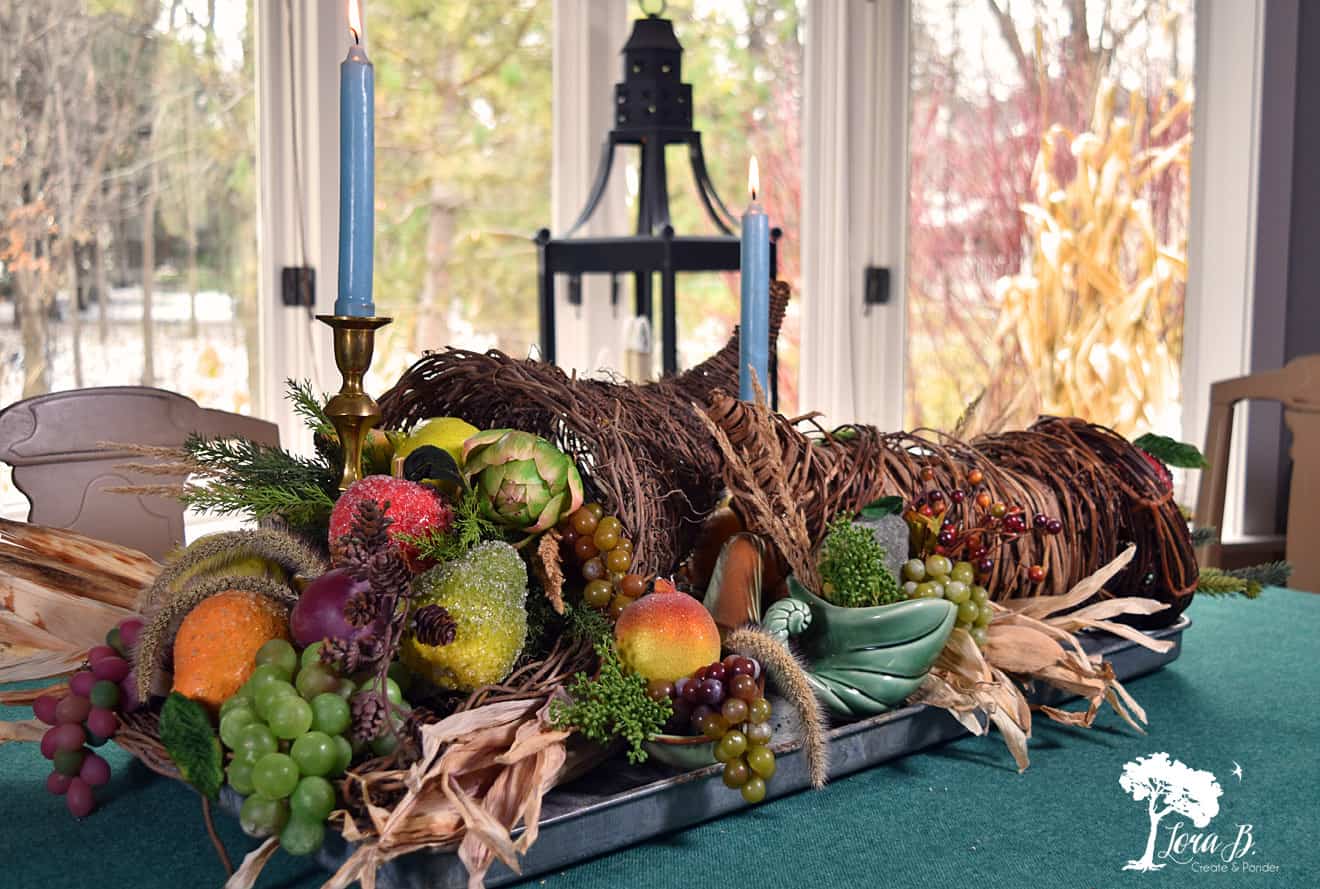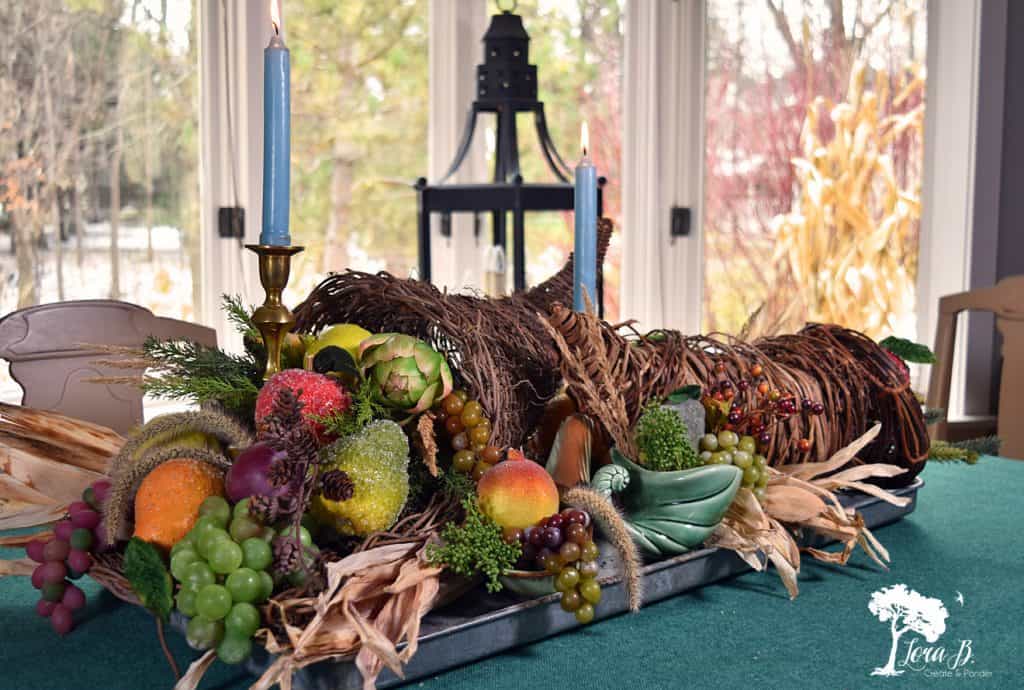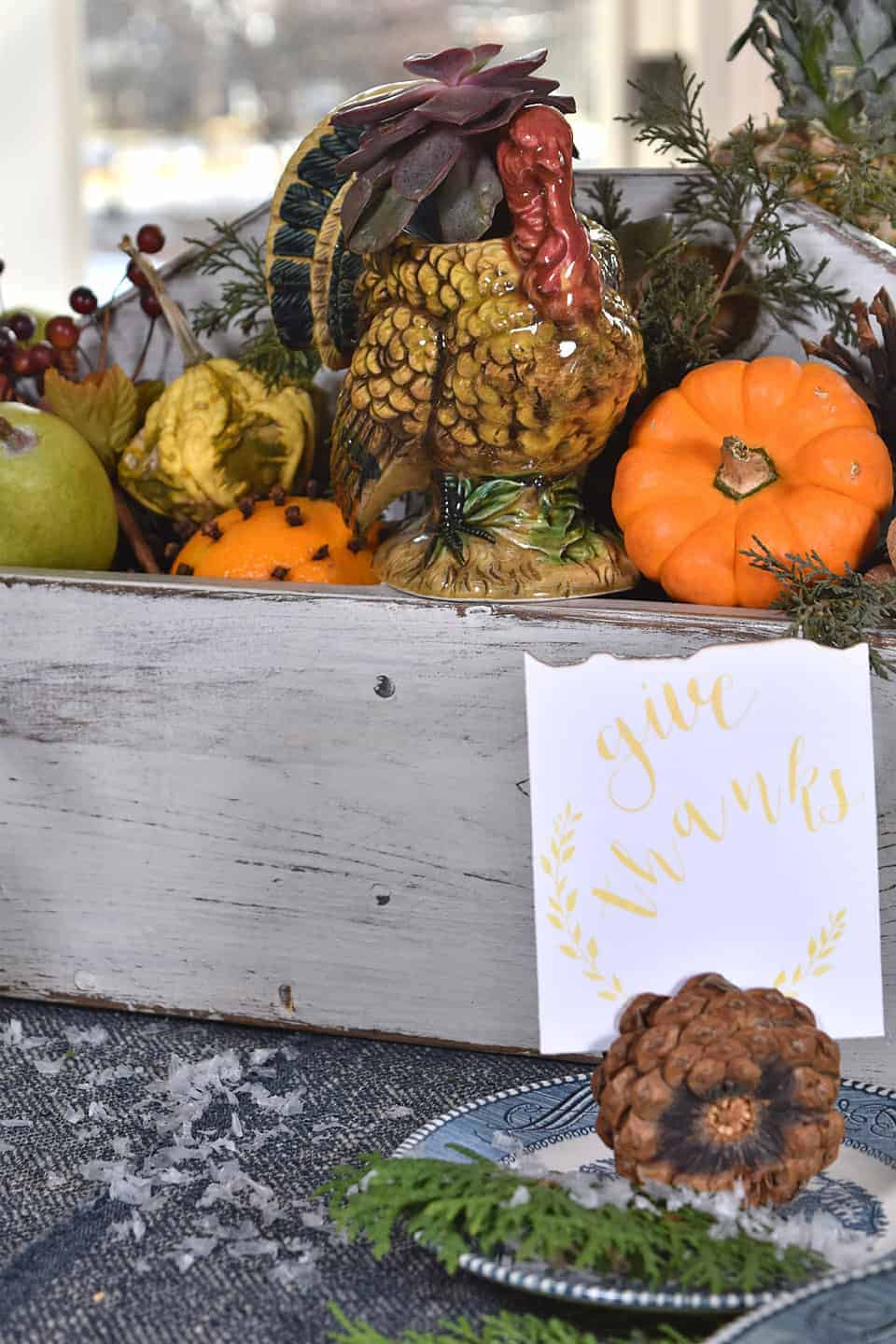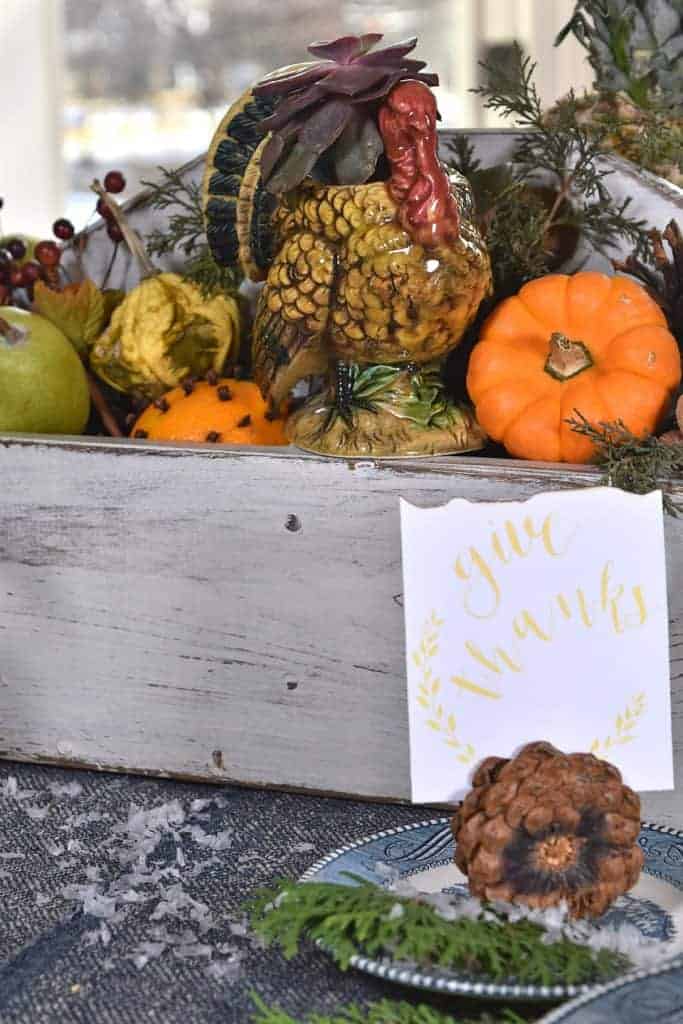 Fresh Flowers and Foliage Make Every Table Setting Beautiful
You don't need to spend big money on a professionally arranged bouquet. Some simple flowers from the grocery store and fresh clippings from your yard or side of the road will do just fine!
Here are natural touches to add to your Thanksgiving table:
grasses, seedpods
succulent cuttings
evergreen clippings
pinecones
feathers
acorns
fall flowers
berries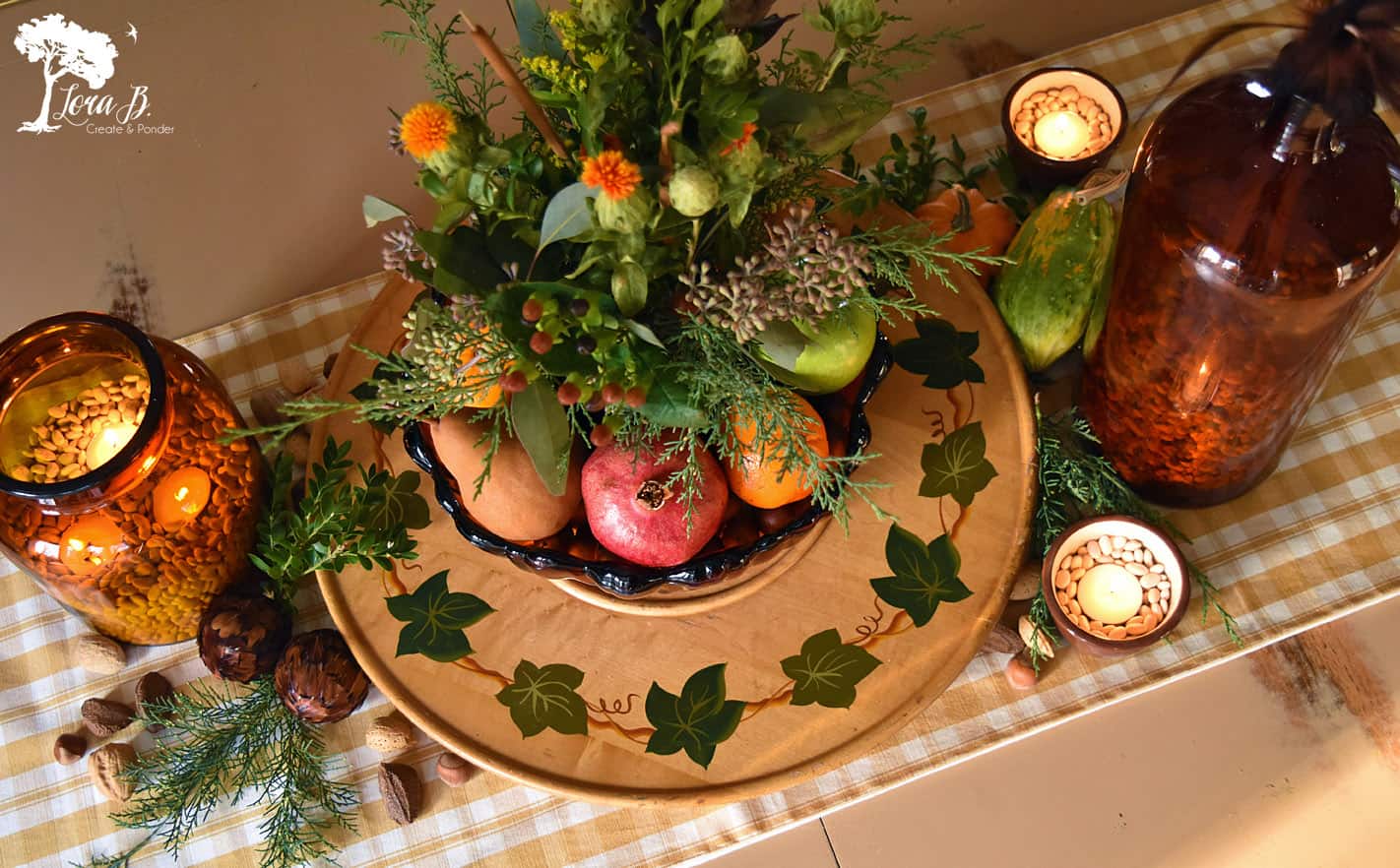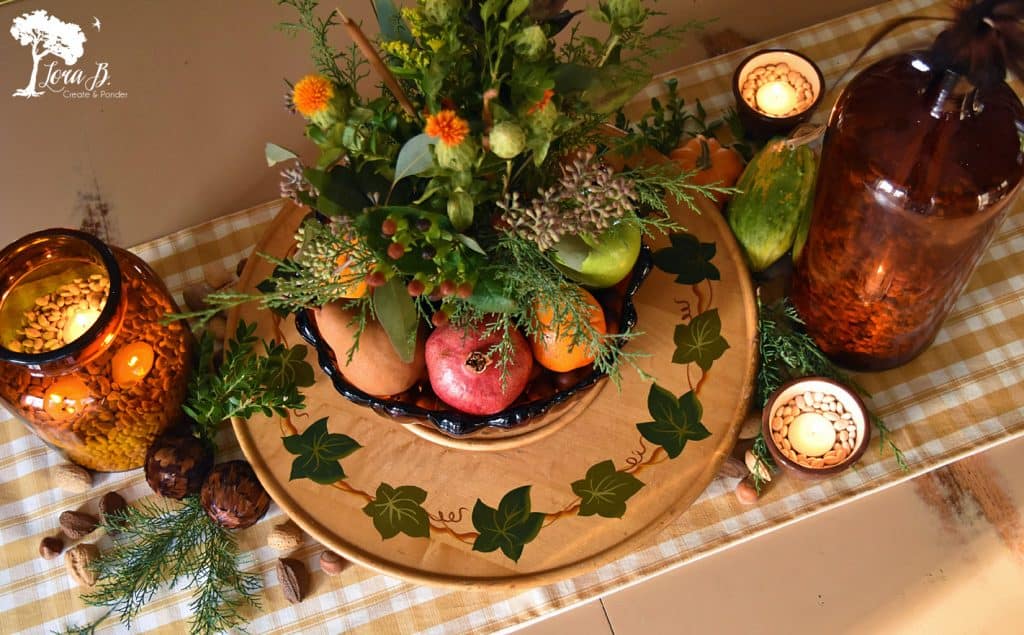 Every Cozy Celebration Table Setting Should Have Candlelight
The flickering light of candles makes everything special. Don't use candles with fragrance at the table though; it gets mixed up with the good aroma of the food!
A combination of differing light sources can be beautiful: battery-powered twinkle light strings, faux candles and real. Use some votives and some pillars for high and low lighting.
Here are some candlelight ideas:
candles in colored, faceted glass is beautiful
candles under something metal with holes like a cheese grater gives dimension
have your lighting at different levels: some high, some low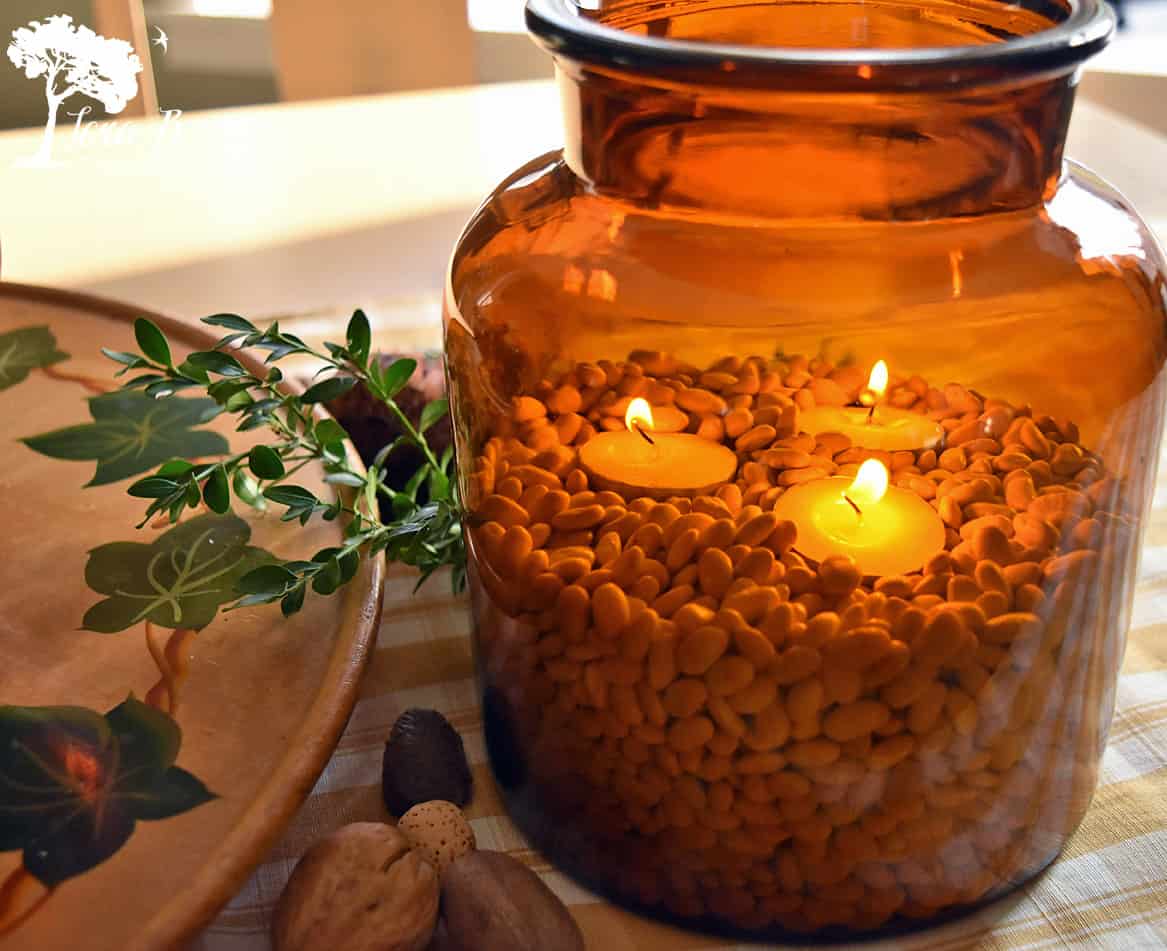 Include Words of Thanksgiving in your Tablescape
Thanksgiving is the holiday where words of affirmation need to be expressed. It's the perfect time to lavish love on those around you and give them a blessing. You can include these special words in a number of ways on your table.
Ways to include words of blessing, love and thanks:
print off free placecards with a special sentiment (I have a couple options in my Resource Library, if you become an Insider, down below)
display a small frame with a verse or blessing in your centerpiece
incorporate a hymnal into your table with a Thanksgiving song, laying flat or propped up
use game boards and letters to spell out character qualities you love in those around your table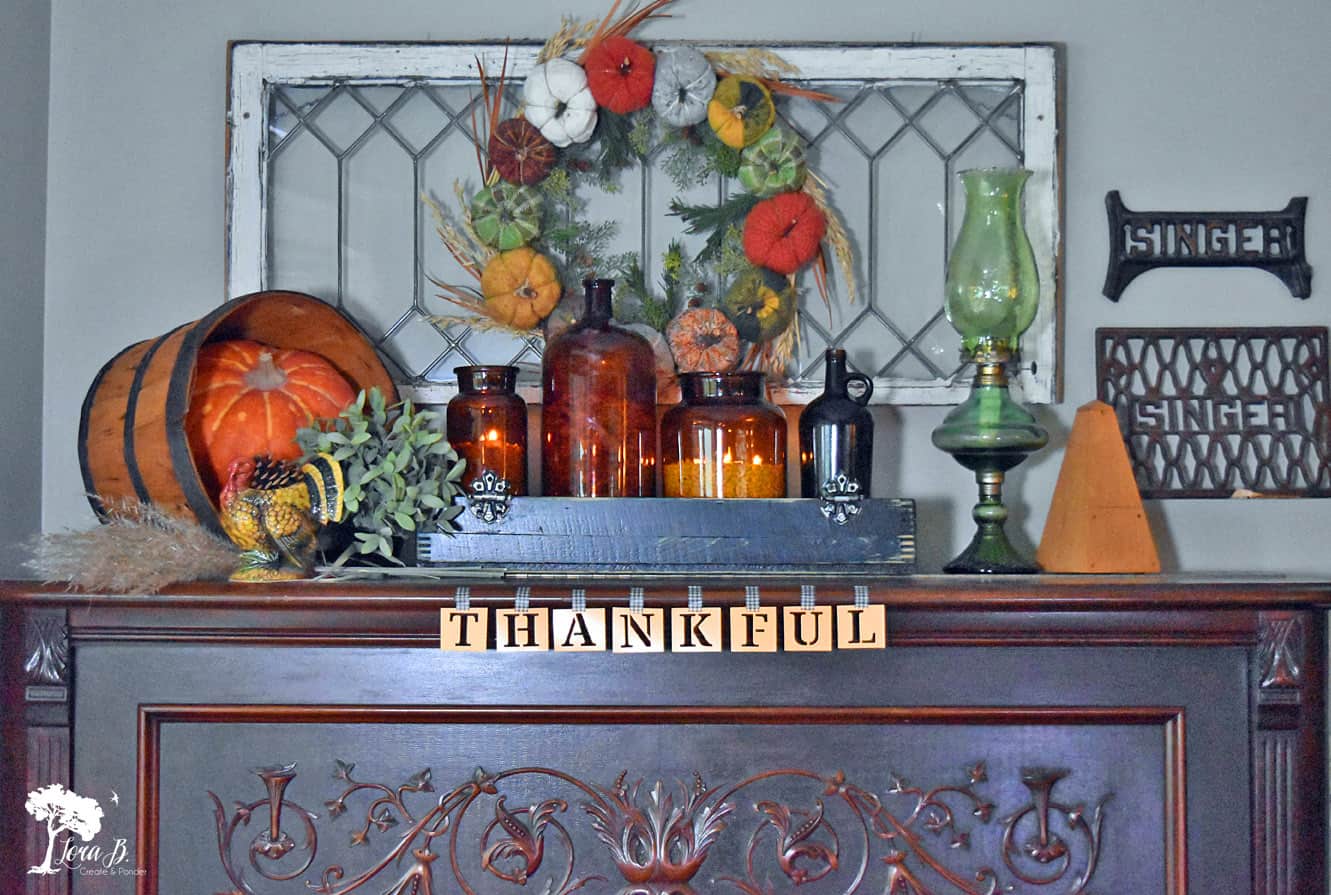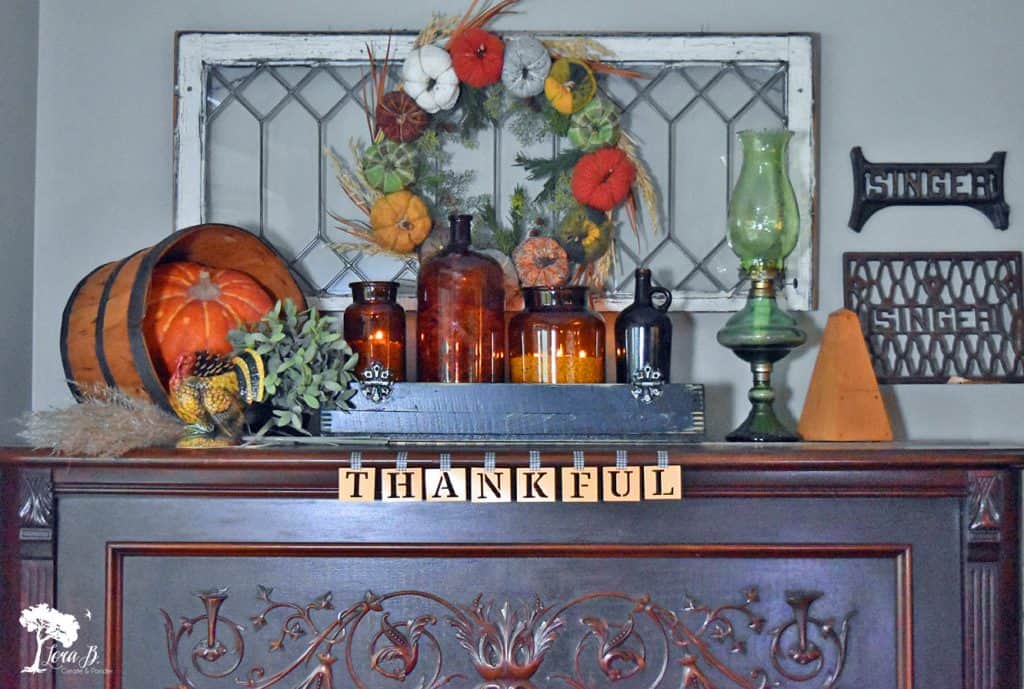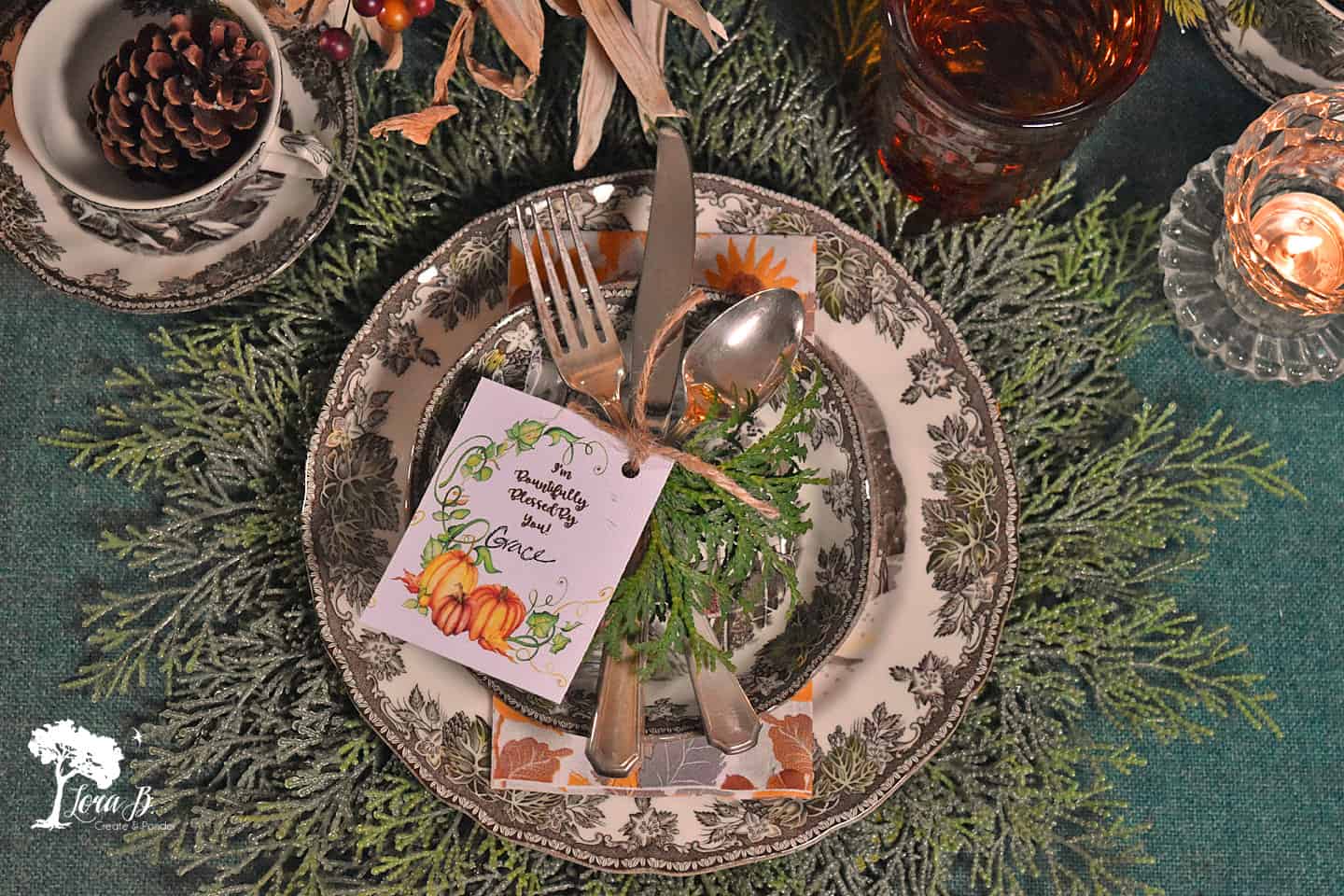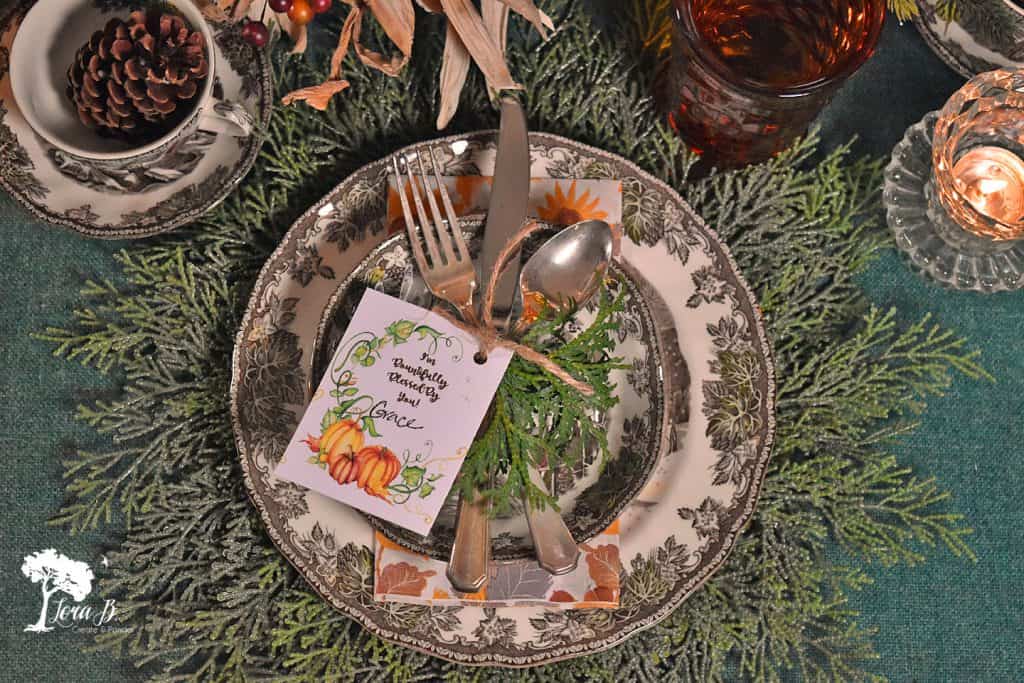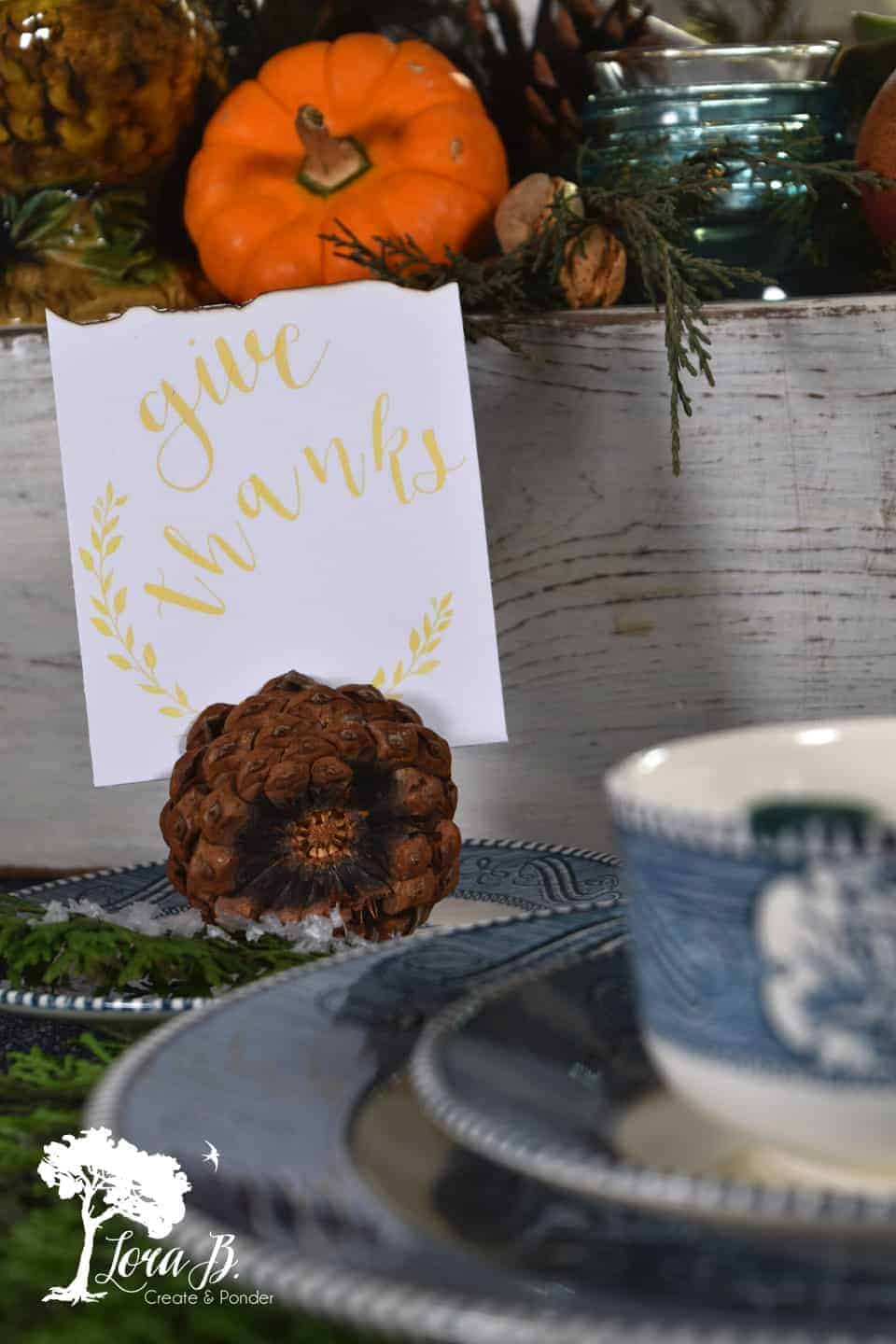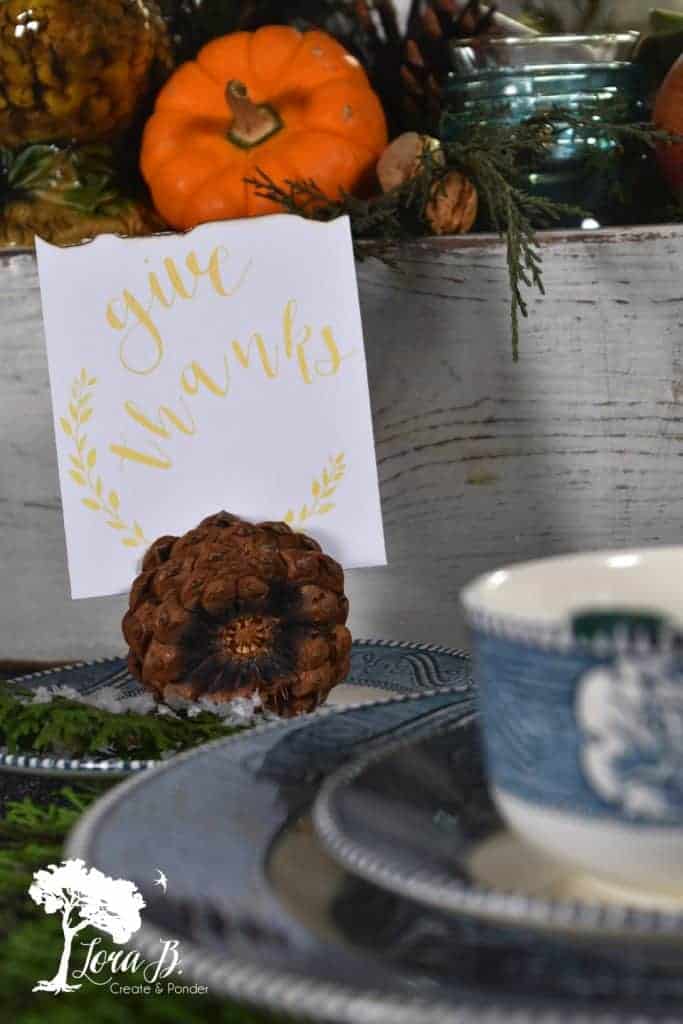 Become an Insider for Free Placecard Printables and more!
Are you excited to set your Thanksgiving table now? I hope so! Setting a beautiful tablescape is one of my favorite decorating things to do. Probably because I love dishes, but mostly because every table setting is different. The interplay of different textures and placement is like a fun game!
Having a smaller celebration can be just as special when you add beautiful and natural accents, along with heartfelt words and sentiments.
For more Thanksgiving ideas and inspiration, check out the rest of the "Season of Thanks" blog hop. If you're going in order, visit Belle Blue Interiors next; Shannon is hosting the prettiest autumn tea.
Thanks for reading 5 Favorite Thanksgiving Table Ideas for a Cozy Gathering! Become an Insider down below, if you enjoyed your visit!
Please Pin, Share, and Enjoy the Rest of the Inspiration!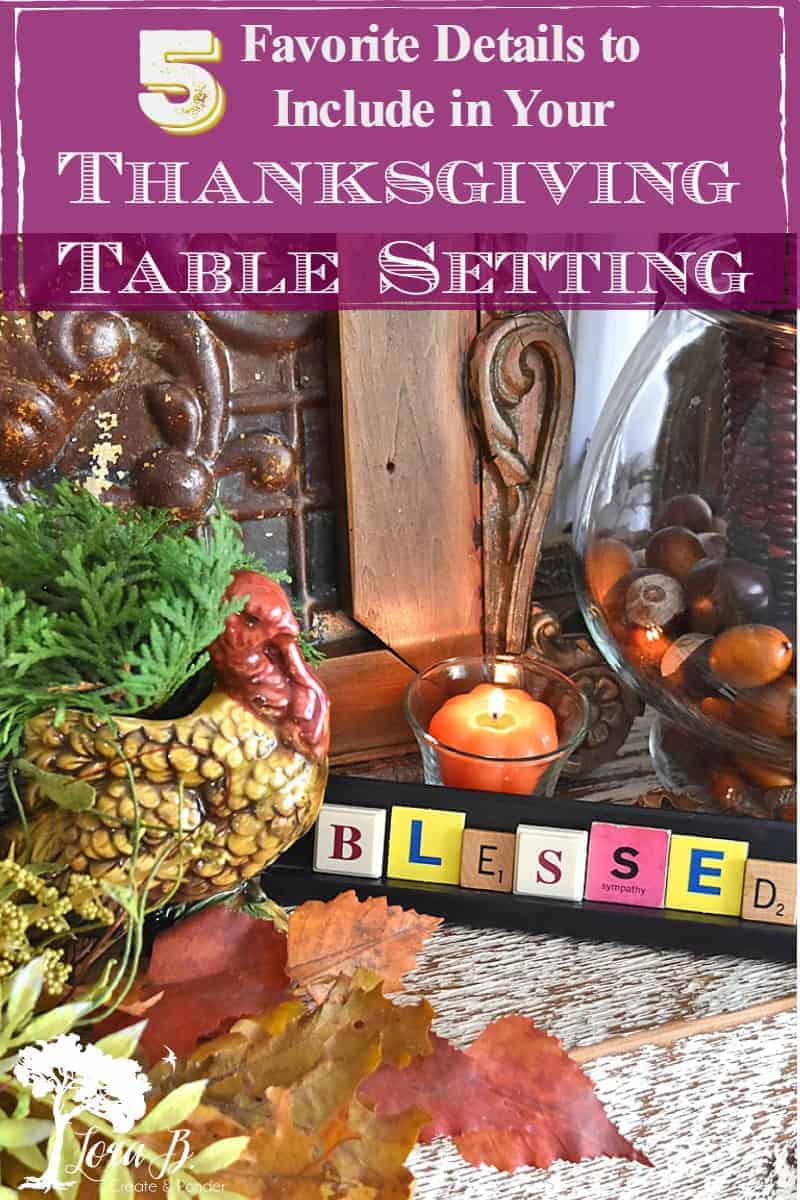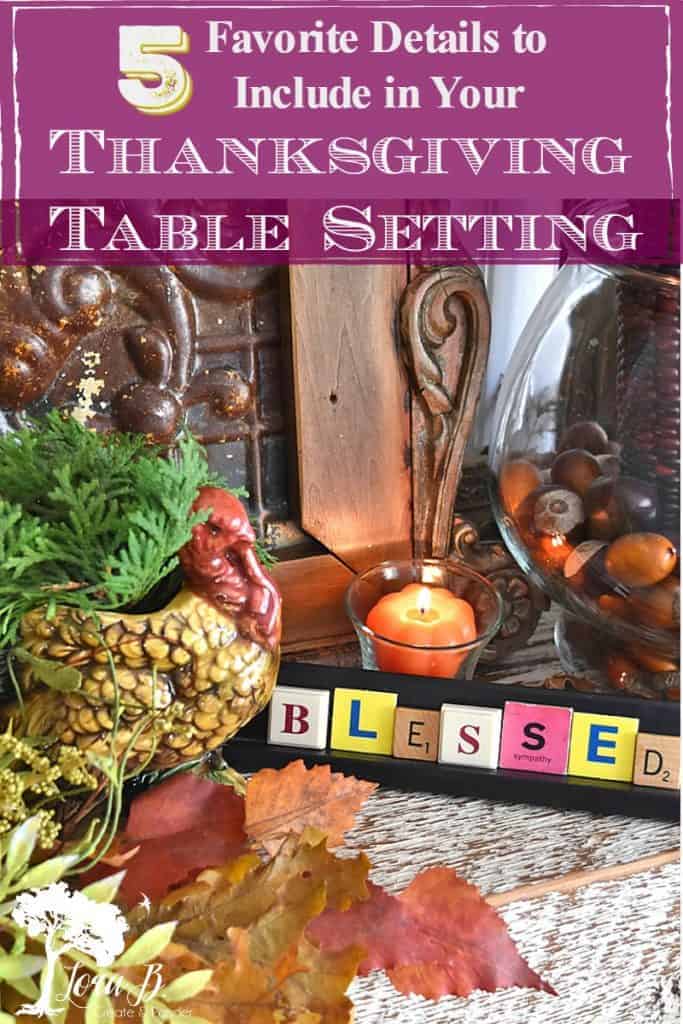 You are invited to the Inlinkz link party!
Sharing at these lovely parties: