How to Use Fabric Yardage on your Table Settings
see how easy it is to use fabric yardage on your table settings instead of a tablecloth!

The foundation of any beautiful table setting (well, most) is a tablecloth that sets off all the other elements. It sets the color tone and overall feel of the landscape you want to create. Today I'm going to share my secret sauce for creating a unique tablescape that will open up a world of possibilities you may never have thought of before! Here's my How To Use Fabric Yardage on your Table Settings, that will hopefully inspire a beautiful table at your next event!
Today's post is part of a monthly Pinterest Challenge, organized by Cindy at County Road 407. Make sure to check out her 3 great simple Thanksgiving Place Setting ideas (I love the burlap pocket one). If you're stopping over from Let's Add Sprinkles, I'm sure you enjoyed Katie's ideas for creating a simple, elegant table. Katie and I share a love for vintage, and I always enjoy seeing peeks into her home! I'll have links to all the rest of the inspiration at the end!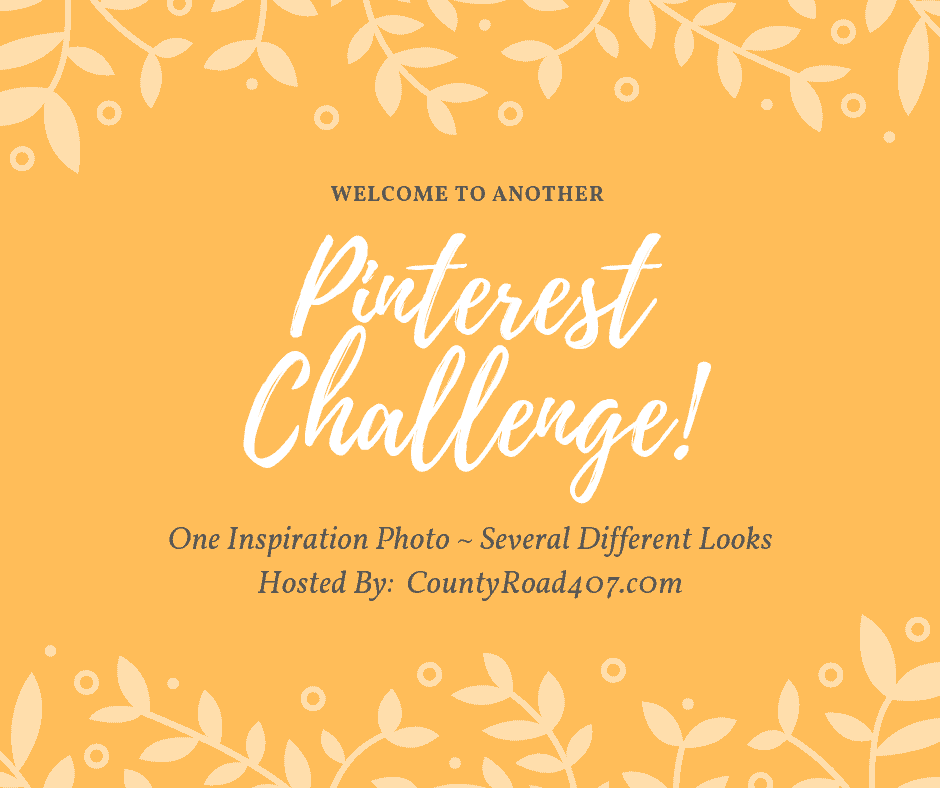 This month's challenge pic is a simple elegant Thanksgiving table setting from Lindsey Brunk. You can see the whole gorgeous table HERE. This is the picture we all used to inspire our creativity: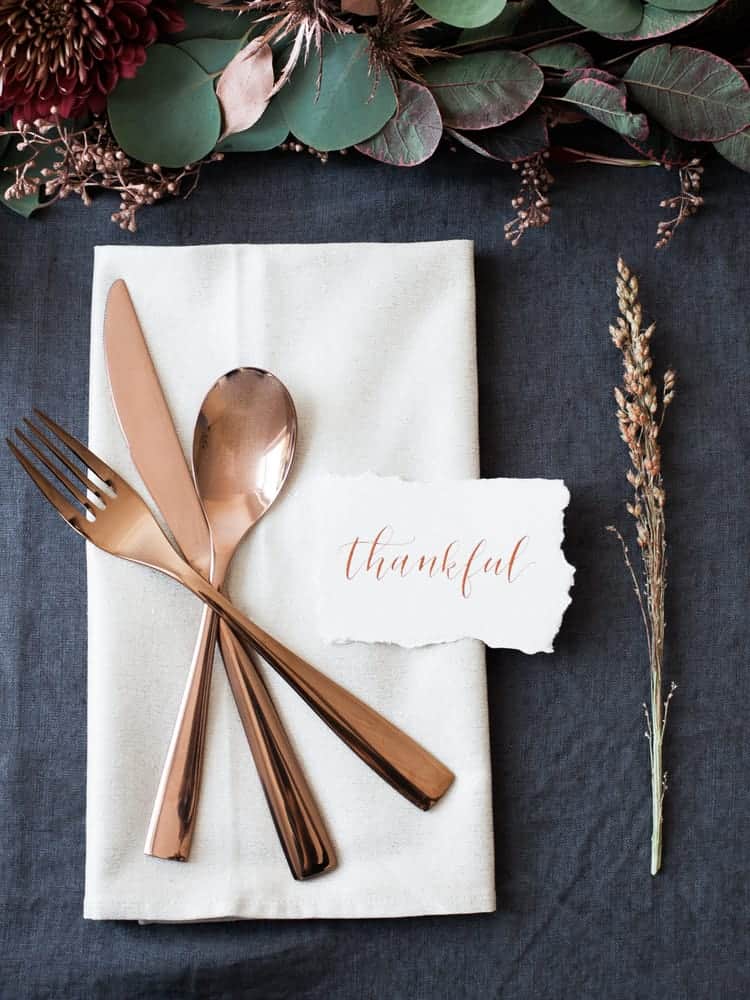 "The tablecloth is the foundation of every beautiful table setting"
This is the part where I usually have you notice all the details so you can create your own version. But today we're going to only focus on the tablecloth, because it's the foundation of every beautiful table setting. I'll share my secret way to create a lovely unique tablescape, so you can start planning out your special holiday tables! I also created a simple "give thanks" placecard you can print off for yourself by becoming a Lora B Insider (more details below;).
How to Use Fabric Yardage on your Table Settings
For your convenience, this post contains affiliate links. If you make a purchase, I may receive a commission. There is no additional cost to you. My full privacy policy is here.
Regular Tablecloths are Limiting
Last Thanksgiving my best friend asked me to come over and help her set her Thanksgiving table. We've been friends since preschool and are opposites when it comes to a lot of things! I have hoards of decorating items, and she is a minimalist. I asked her what tablecloths she was thinking about and she had 3 options, all too small for her long Ikea table. The problem with tablecloths? They're limiting.
You maybe own a few tablecloths you bought for your previous table, but it's not the right size for your new table. Or you have one that fits on your kitchen table but not your dining table. Or maybe the tablecloth fits perfectly without the leaves, but when you put them in it's too short.
And a person only wants to store a few of them, right? You've got the basic colors of white, etc, and you're bored with the already-been-there options. Let's not even start with ironing all those inches!
Am I right? Anyone else have these thoughts?
Fabric Yardage for your Table Settings is the Answer!
Call me lazy, but I've learned through the years that fabric yardage from the big box fabric store creates the most beautiful, unique table setting foundation. The pattern and texture possibilities are endless and I don't have to iron anything when I need to be cooking and cleaning. Taking advantage of coupons, you can cover the table fairly inexpensively and either use it again on a future tablescape or for some other decorating project.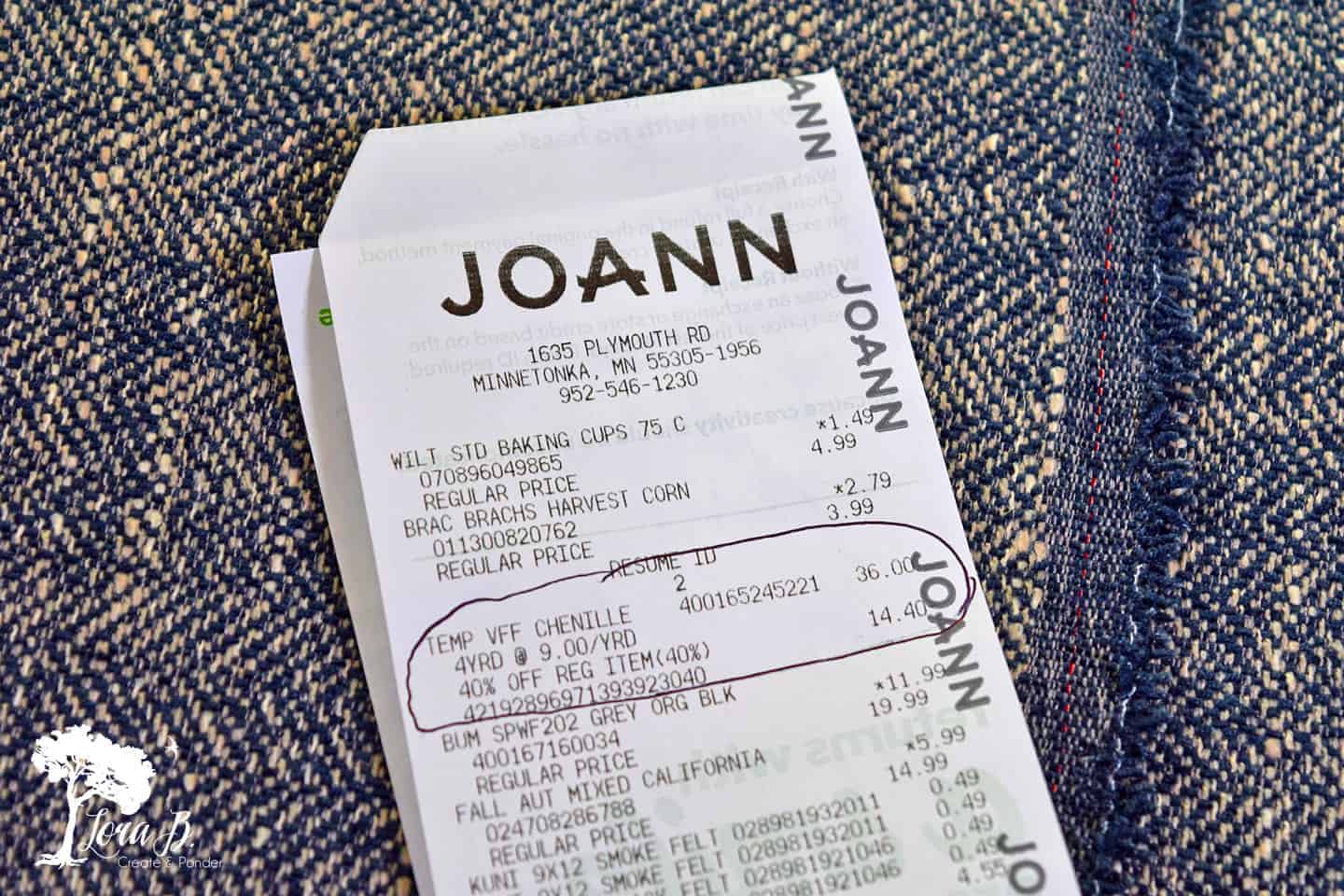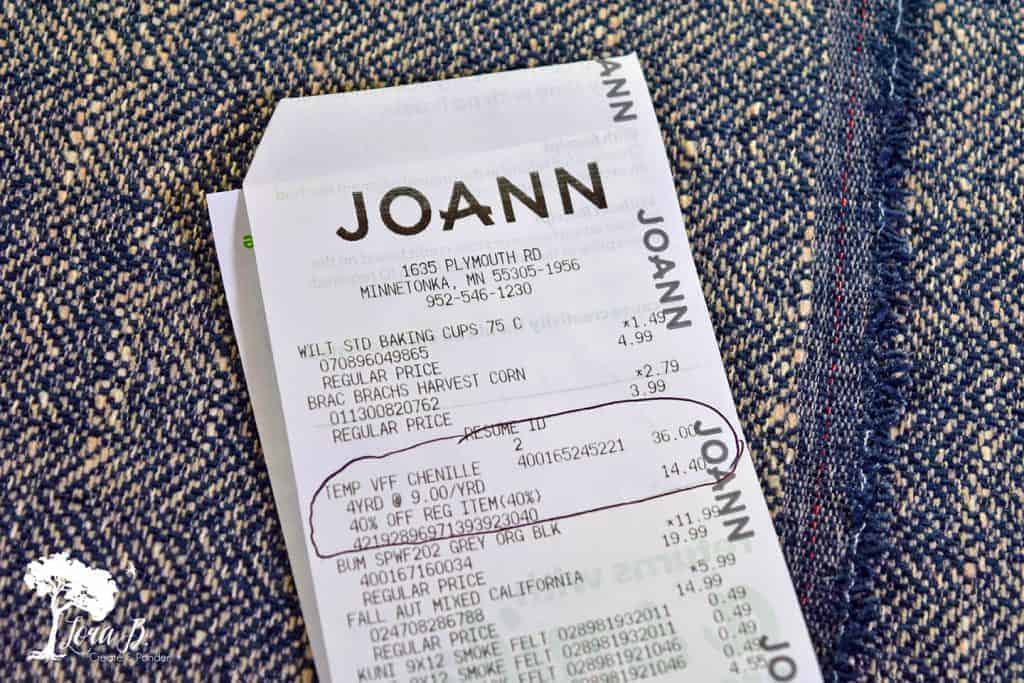 Notice the beautiful color and texture of the fabric in our inspiration picture. Lindsey calls it slate, but it sure looks like a steel blue to me. And I love it's crinkly linen texture. If you click through to the full table setting, you will see how the yards of flowing fabric drapes down to the floor and creates a sumptuous scene. Yes the individual table settings are simple, but the overall look is gorgeous enough for a wedding.
Have an Idea of Your Completed Table Before You Go Shopping
I had this pretty steel blue color in my mind when I headed to the fabric store. You never know what you'll find, but if you have an idea in your head it will give you some direction. This textural blue and white chenille fabric was on the clearance rack. It was 40% off, plus I had a 20% off total purchase coupon. To make sure I had plenty, I bought 4 yards of the 54″ fabric, which came to about $17!
Brainstorm Your Tablecloth Layout Options
Throw out any old rules about tablecloths you learned when you grew up. If there's any rule out there, I'd say just don't be skimpy! A skimpy tablecloth looks cheap, just like a too-short skirt;)
Here's my store-folded fabric laying out on the table to get started: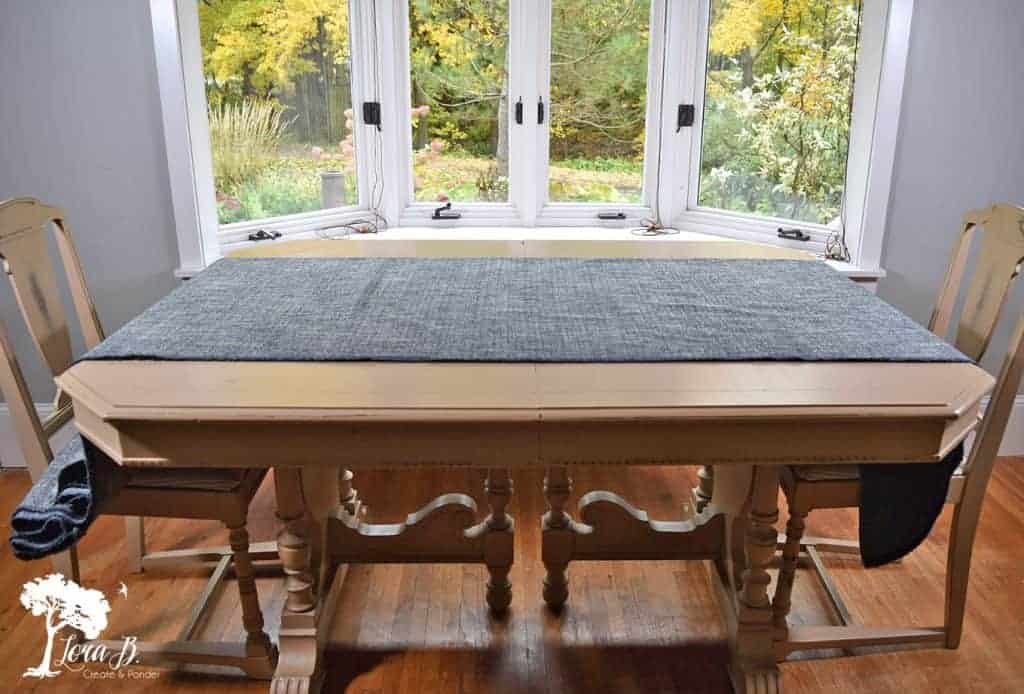 This is my table without leaves, probably only for a gathering of 6. You can see I've got plenty of length on either side to use.
Here's the fabric opened up to it's 54″ width: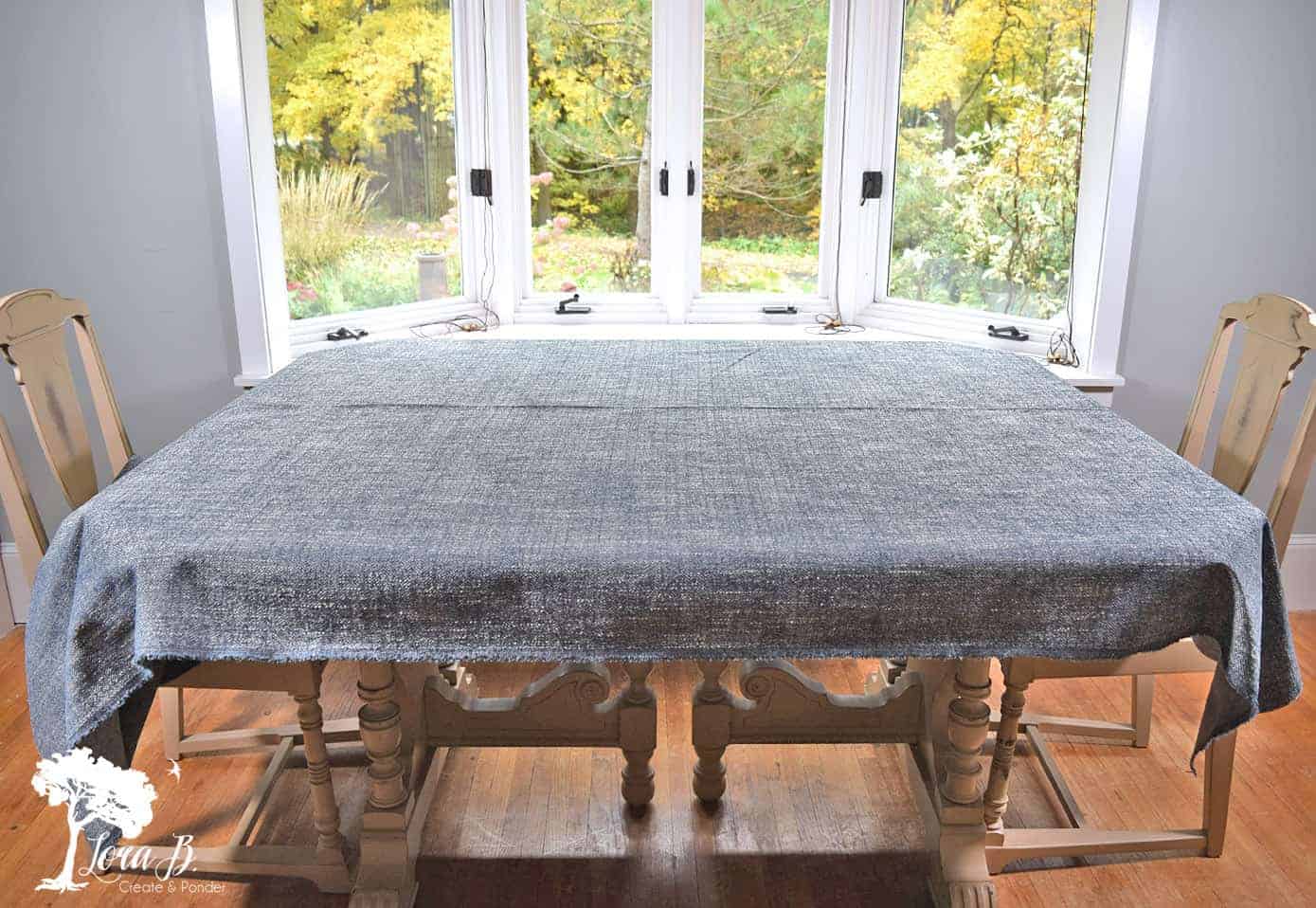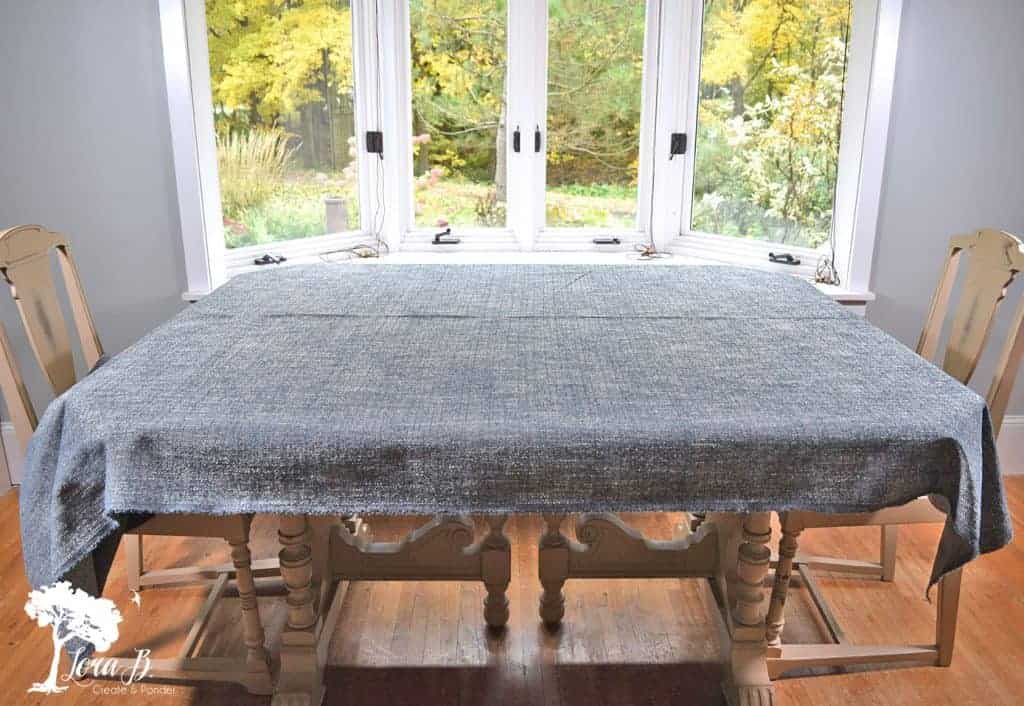 There's about a 5″ overhang on the sides, which could work, but doesn't feel full enough for a special holiday table to me. I'd rather have at least a 10″ overhang or more, like you see at the right end.
Turn the Fabric Yardage to Get More Coverage
To get more coverage, turn the fabric yardage and overlap pieces. I cut my 4 yard length of fabric in half to get 2- 6 foot sections. You can overlap however many sections you need to go the length of your table. Oh, how I wish I would have had fabric yardage to go the length of my friend's table last Thanksgiving!
Having a cutting mat, a large plastic ruler and a rotary cutting tool is very helpful for this type of table decorating DIY! Once you cut your projects with these, you'll wonder why you used to use a normal scissors! (Get a combo set HERE). You may have so much fun creating new tablecloths with your rotary cutter, you can graduate to decorative blades with scallops, waves or pinking options. (Find them HERE)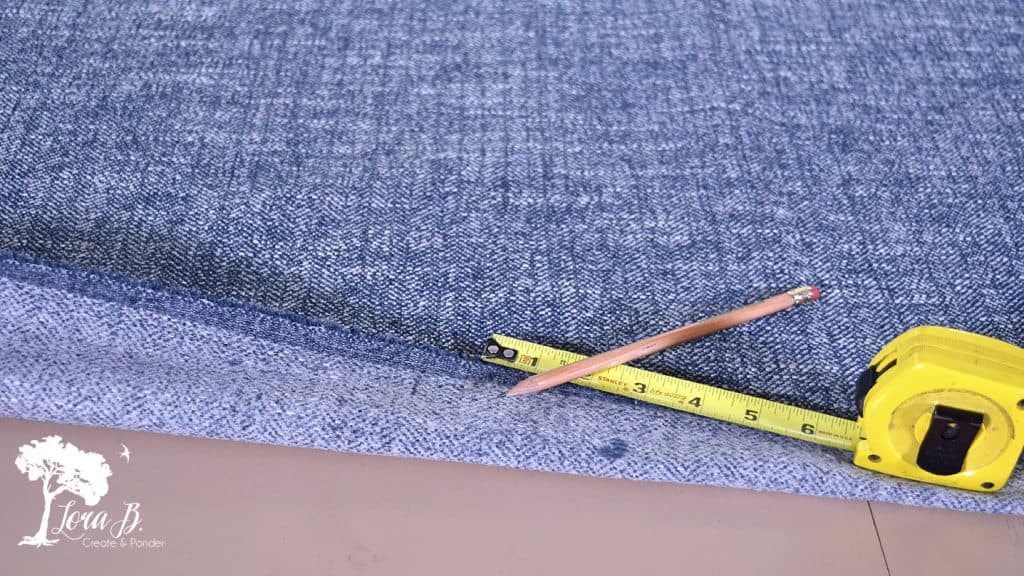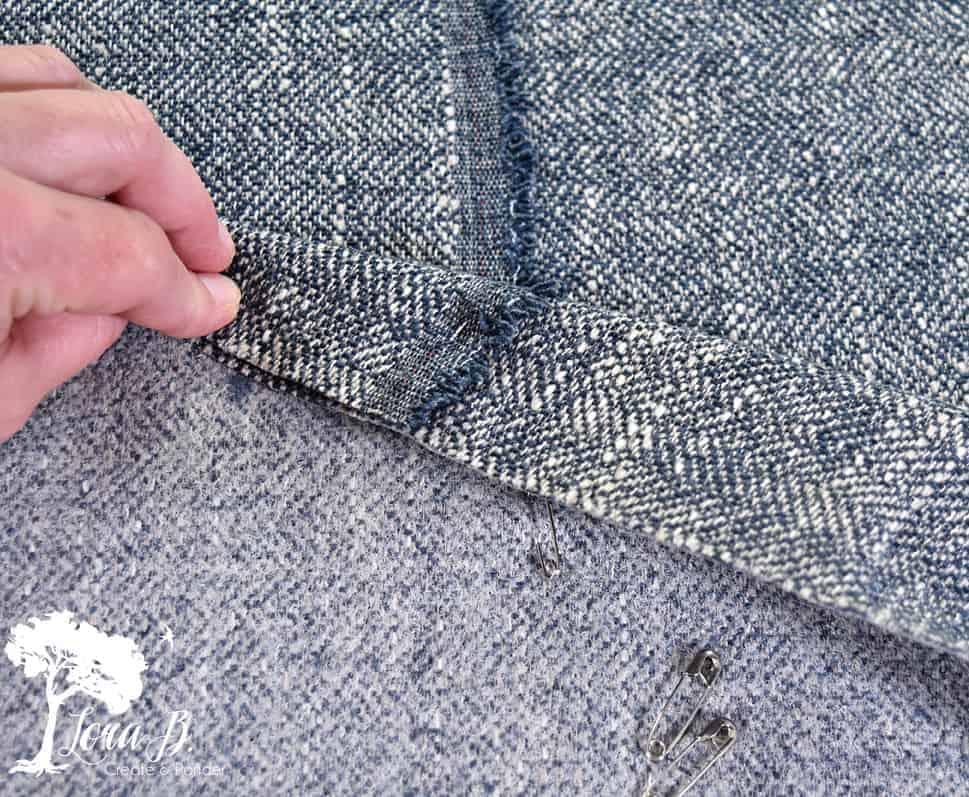 If you're worried about the fabric slipping around, depending on it's weight, etc, you could use safety pins to anchor them together. Once I get a heavy centerpiece, plus placemats and dishes on the table, the fabric isn't going anywhere! If your overlap is minimal, you may want to do this just to keep the layers together, though. Each table is different; just do what works best. Remember…no rules!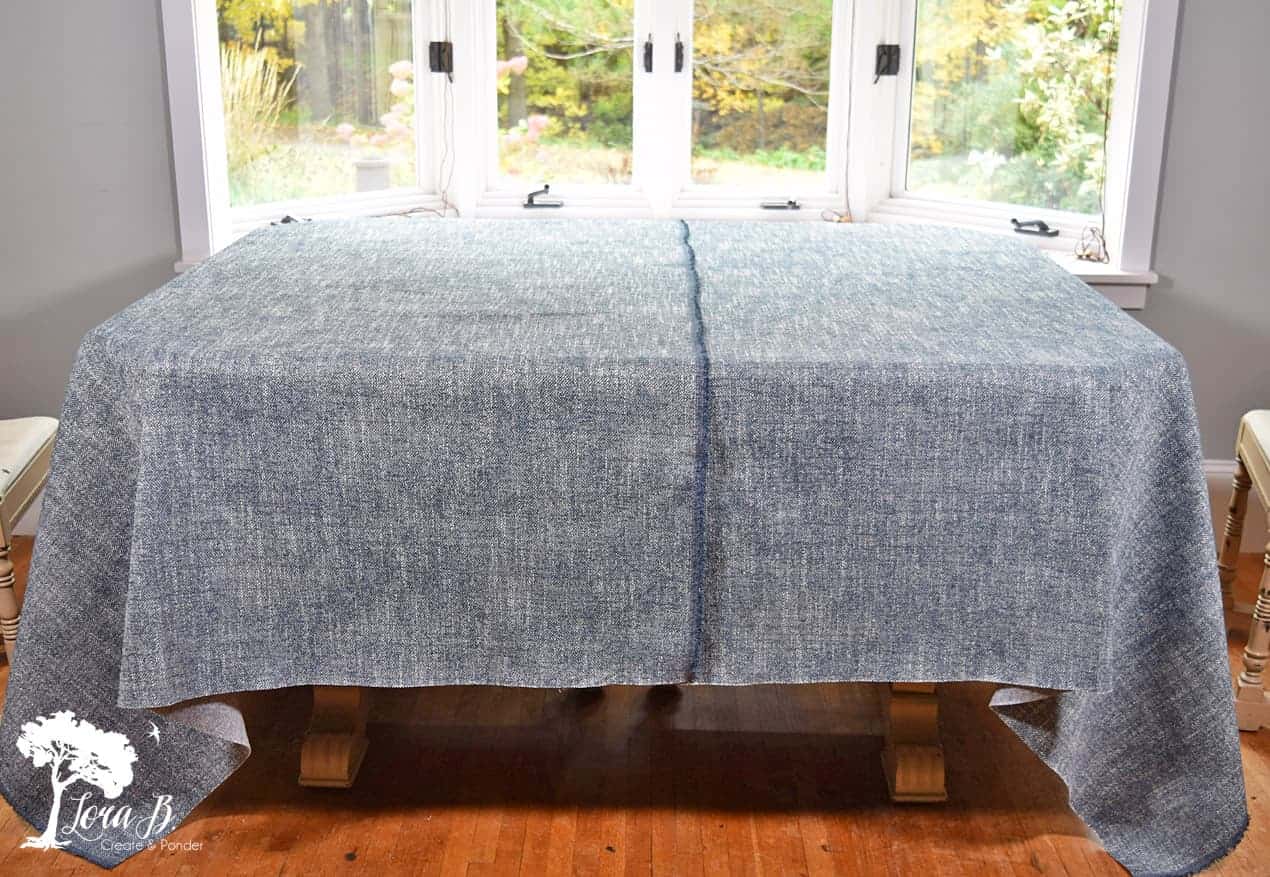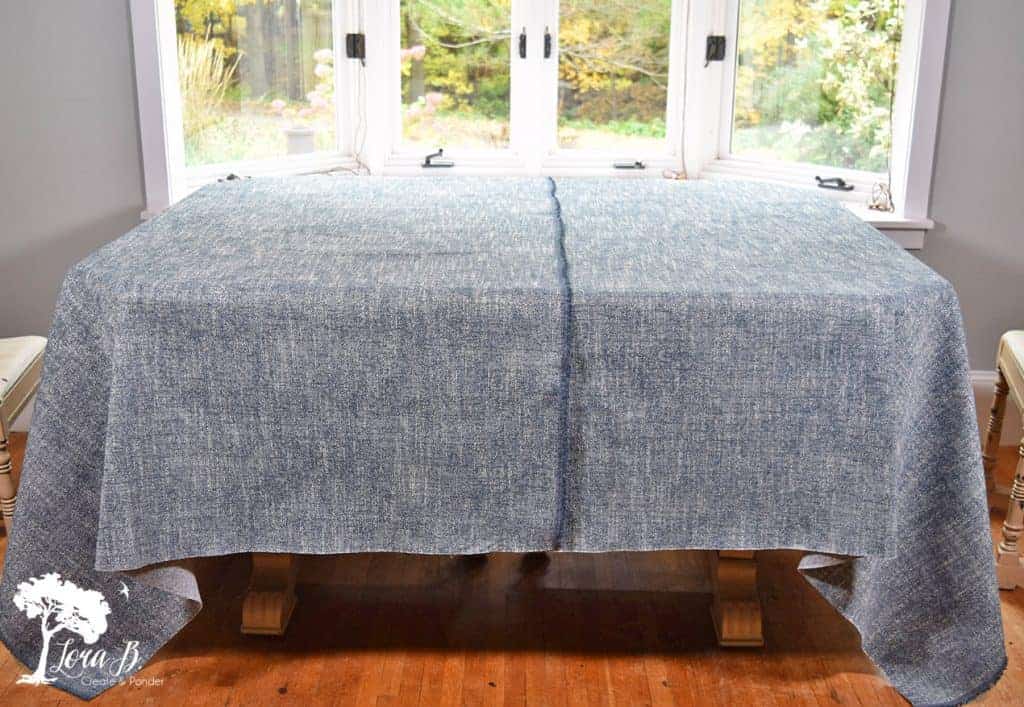 I love how this weighty, textural fabric hangs on the table. It will give the Thanksgiving table a rustic, simple backdrop for tone-on-tone vintage blue and white dishes. I maybe need to adjust that overlap a little to the left to get it in the center though. Just work with it until you get the look you want!
Use Fabric Yardage for Other Table Setting Elements Also
You can take this same fabric yardage idea and make DIY placemats, napkins, or runners. You can have so much fun when you have a whole fabric store full of possibilities for your table decor! Don't let only the sewers enjoy all that fabric store goodness!
But What About After the Party?
What do you do with all the fabric after the party? If you eat buffet style like we do, along with placemats and a centerpiece, chances are your fabric may be perfectly clean when the meal is done. You can simply fold it up and use it for another party, or another creative project. If it's dirty, simply wash it up, following the washing instructions. If it's a cotton fabric, the unsewn edges will fray a little, which I think gives it nice texture.
This blue chenille fabric of mine said dry clean only. Sometimes I follow that and sometimes I just go ahead and try to wash it gently myself (no rules, remember?). Either way, for $17 it will set a beautiful table and I will get to use it again for something! (Now you know why I have a bunch of color-coded fabric bins: "10 Storage and Organizing Ideas for Seasonal Decor and Crafts"} You can never have too much fabric;)
Become a Lora B Insider and get the FREE "give thanks" placecard printable!
Inspired by our inspiration pic, I created a simple "give thanks" placecard printable you can access for FREE in my Insider's Resource Library. My Insider's love all the Free seasonal printables and decorating tips in the Resource Library! I add items regularly. You'll also stay creatively motivated with my weekly email!
If you're already an Insider, check your weekly email for the Resource Library password to grab this placecard printable!
Add the Rest of Your Tabletop Elements to Your Fabric Yardage Tablecloth
This Thanksgiving tablescape is still developing, but think I'll use my vintage blue and white dishes along with soft, subtle Fall wheat colors and everygreens in the centerpiece. Stay tuned! I've got a tool trug I want to refresh and repurpose for the centerpiece:)
Instead of ripping the placecards like the inspiration pic, I gave them a little burned effect on the top edge for texture. Kind of an interesting look with the crisp white paper.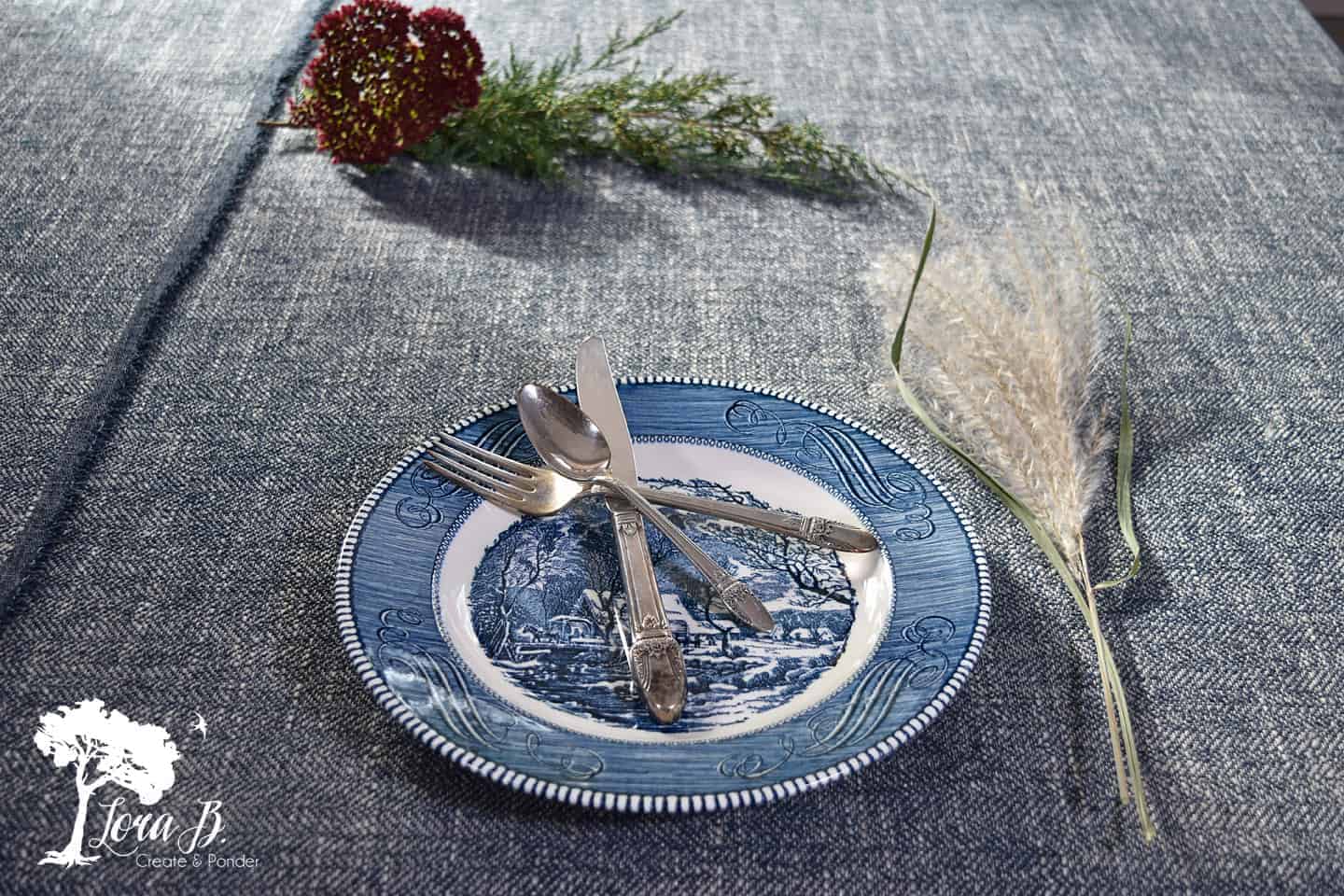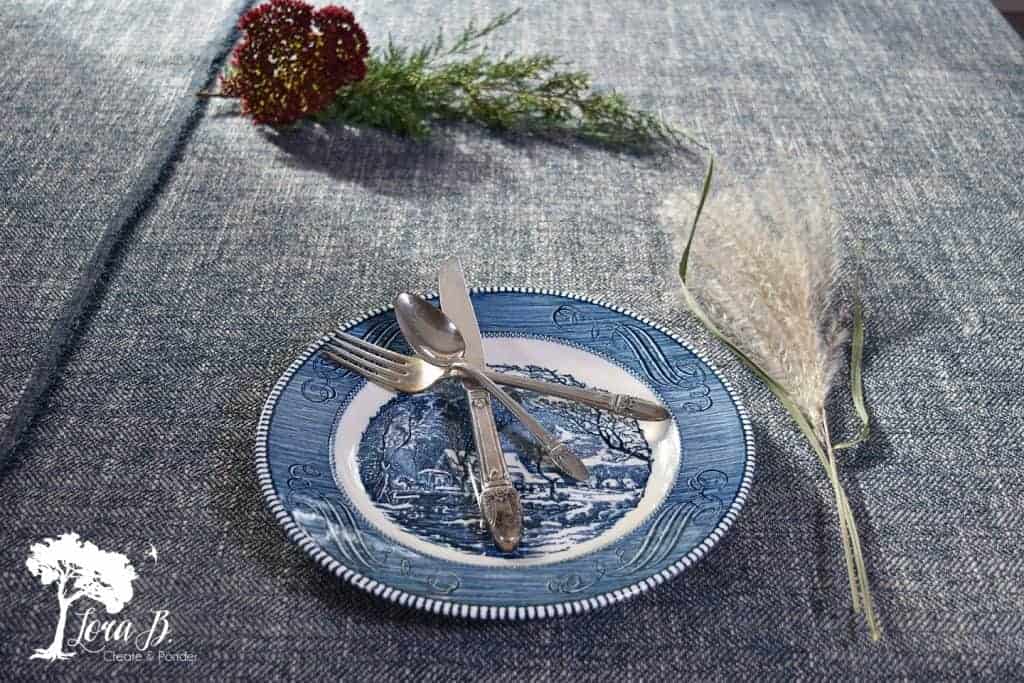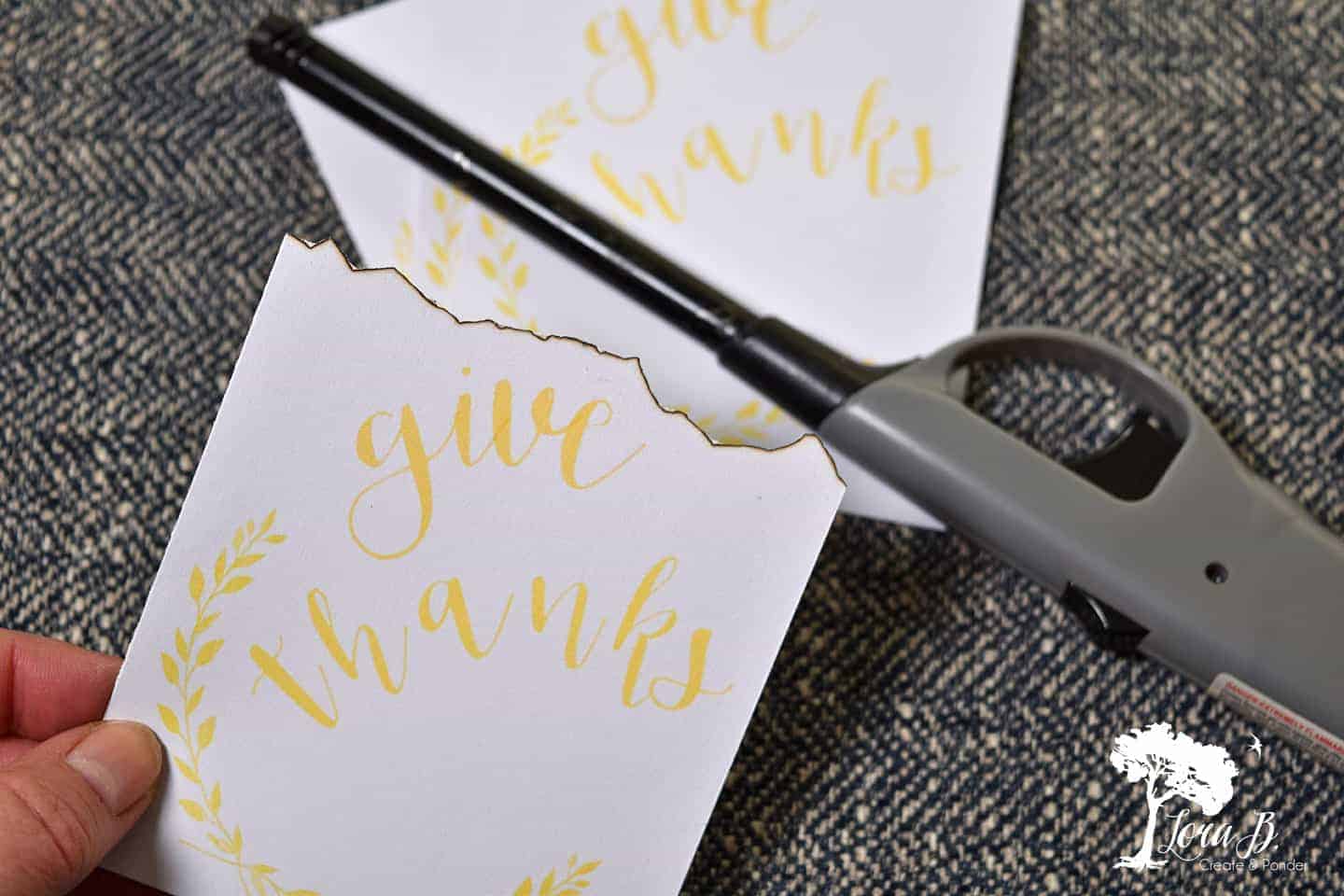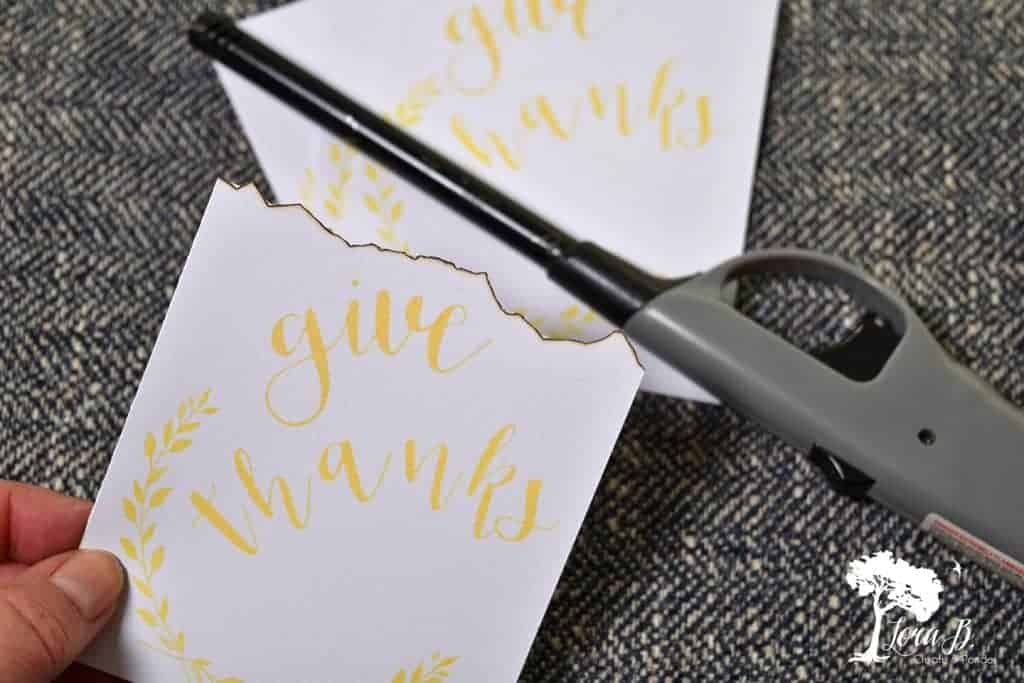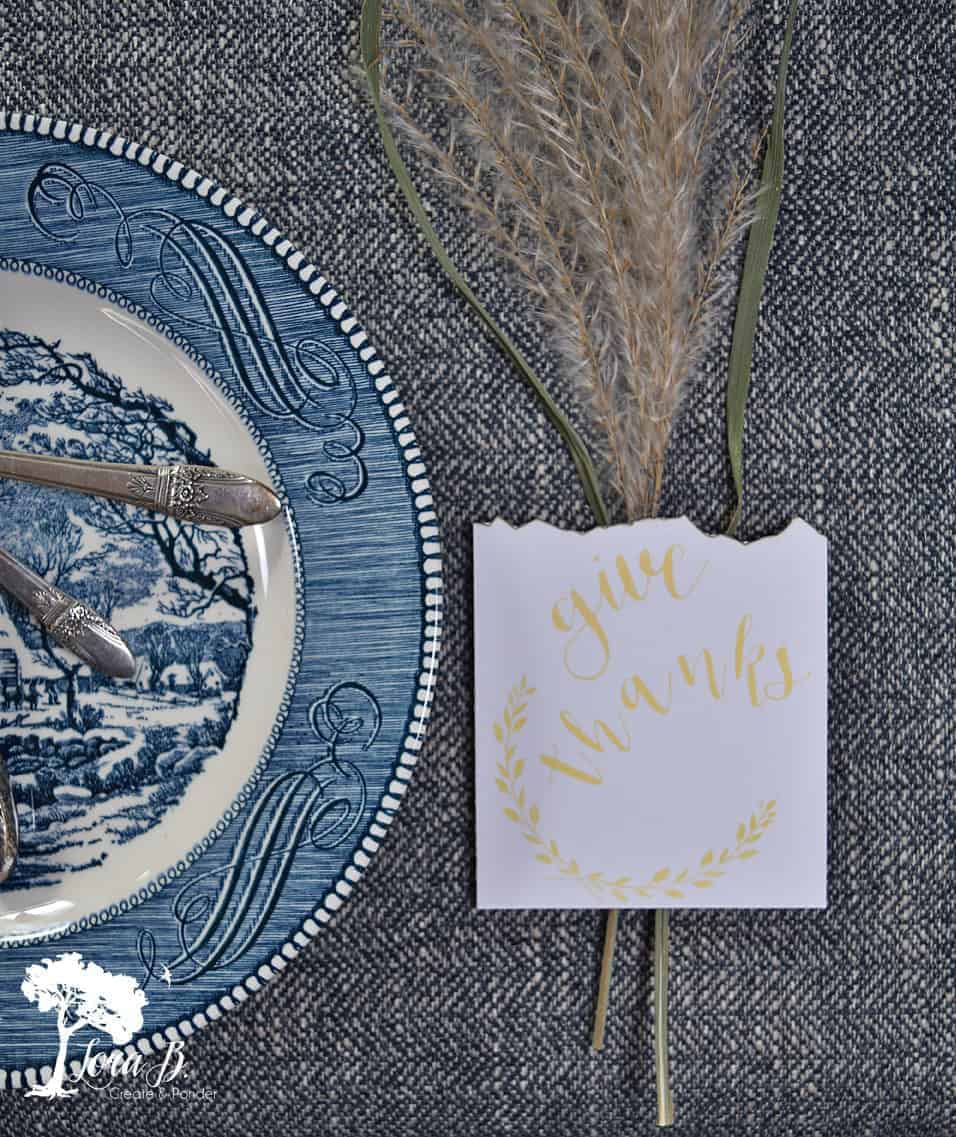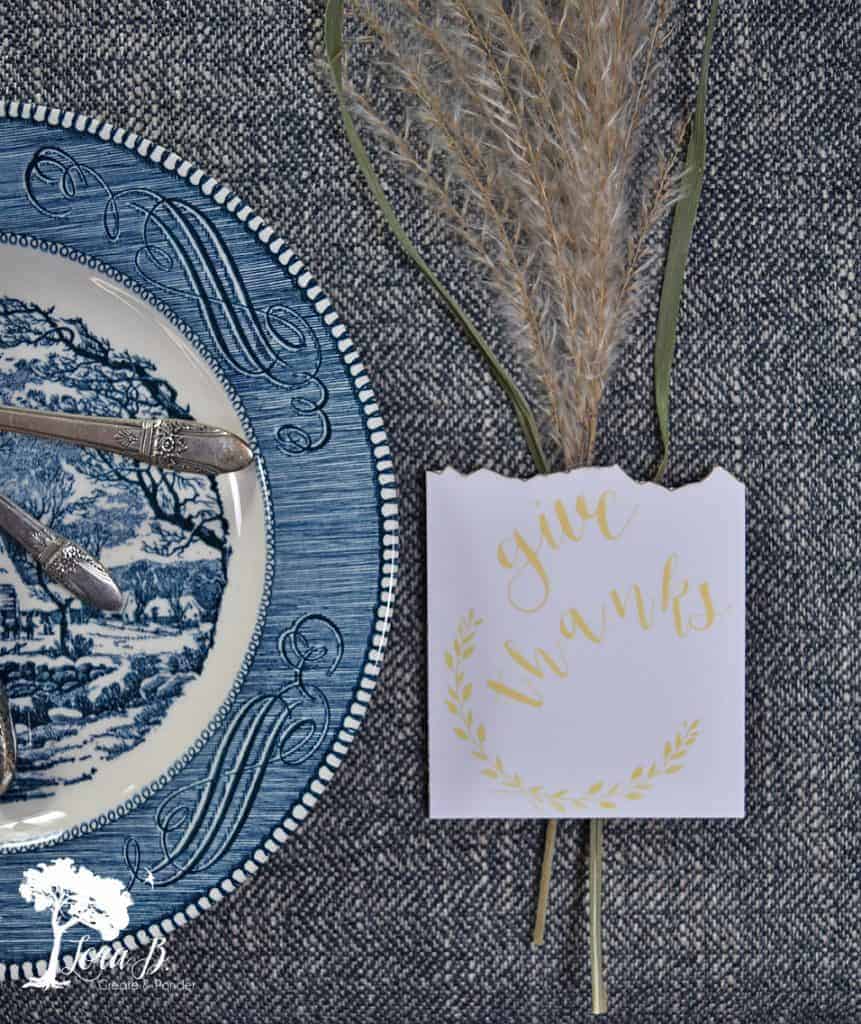 Links to Helpful Items for this DIY: (click on pic)
Now to enjoy all the rest of the ideas from my Pinterest Challenge friends! Check out Terrie's ideas for a Thankful table at Decorate and More with Tip next!
I hope I opened up a whole new world of tabletop decorating possibilities with this How to Use Fabric Yardage on your Table Settings post! Setting a table for special events can be such a fun adventure; I hope this idea will help you create something unique for your next party!
Pin, Share, and Enjoy the Rest of the Inspiration!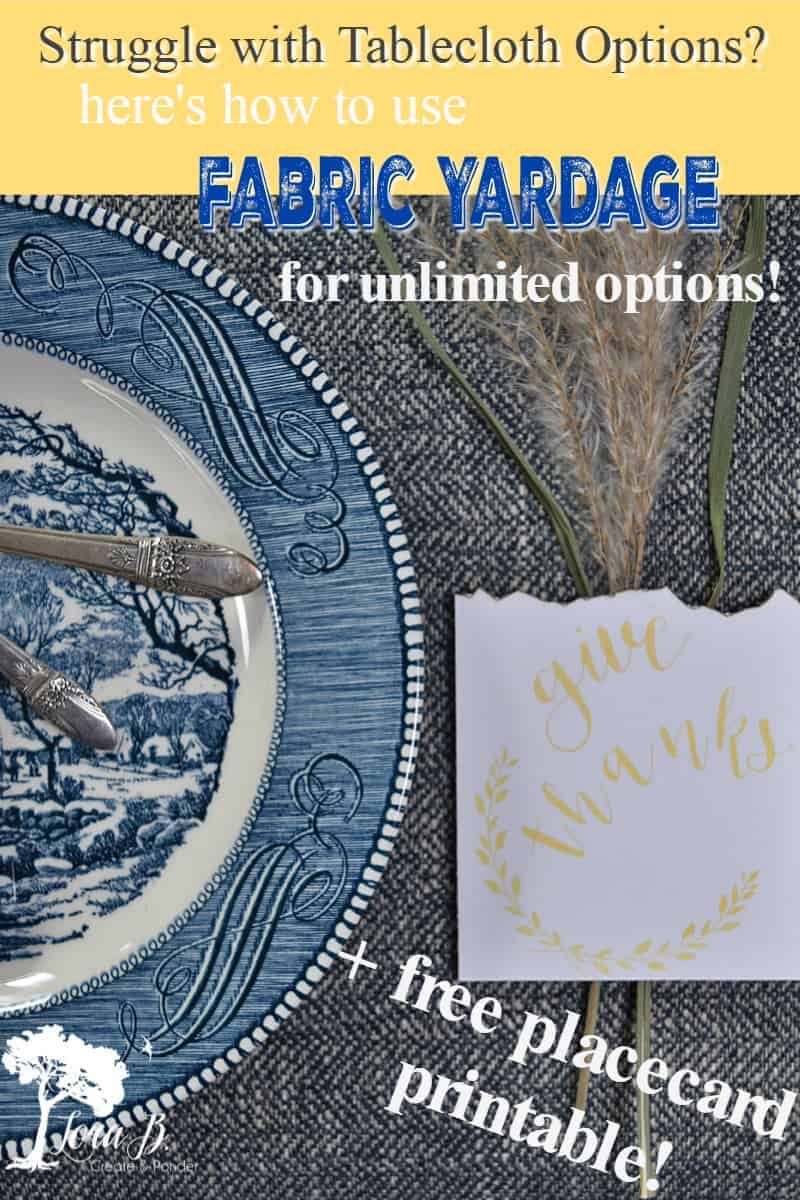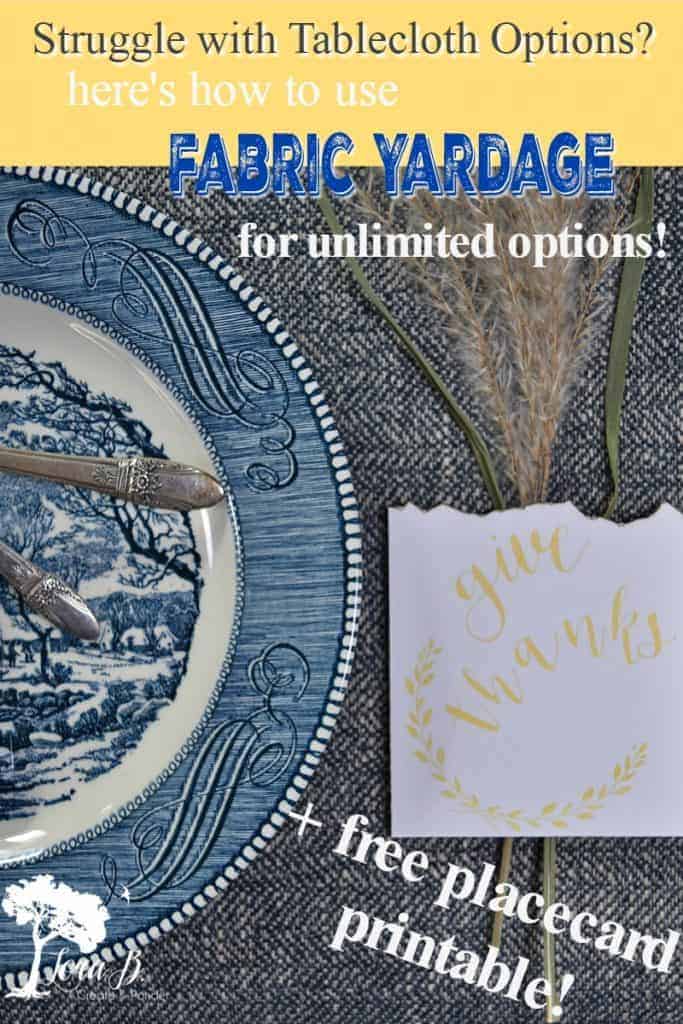 October Pinterest Challenge
You are invited to the Inlinkz link party!
Sharing at these lovely parties: