Fall Decorated Porch and Patio with Salvaged Style
Get loads of repurposing ideas on this fall decorated porch and patio with vintage salvaged style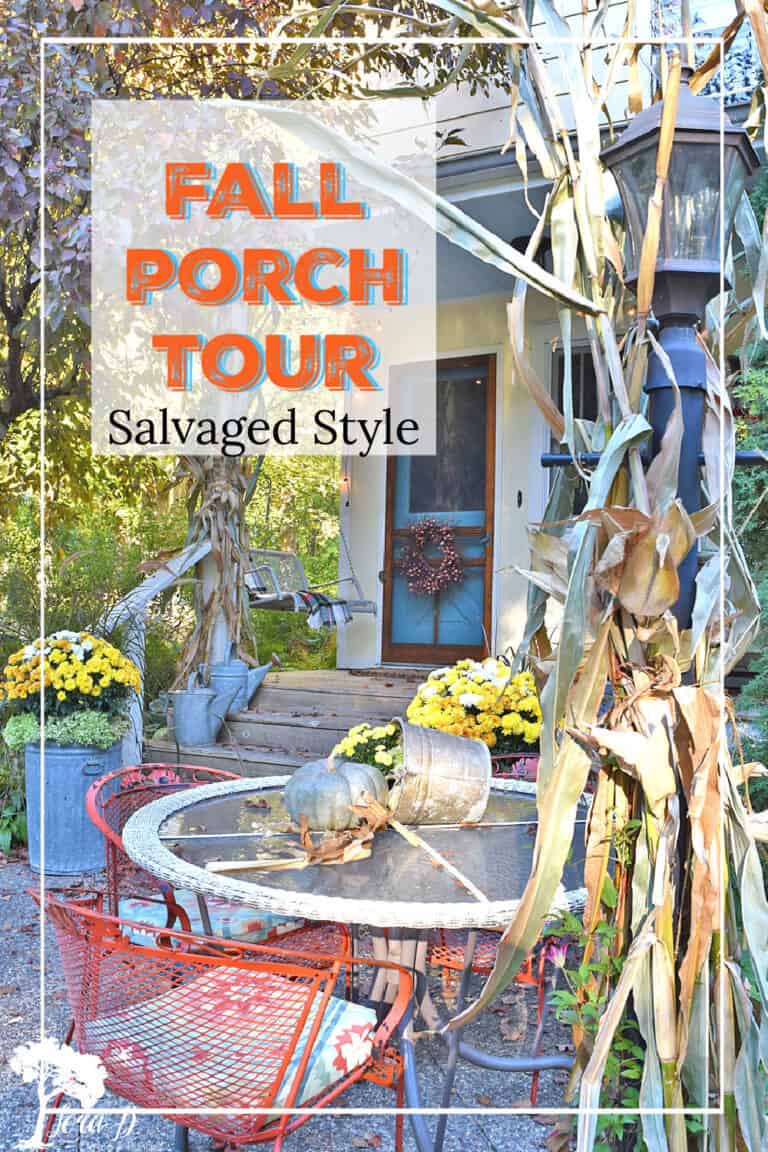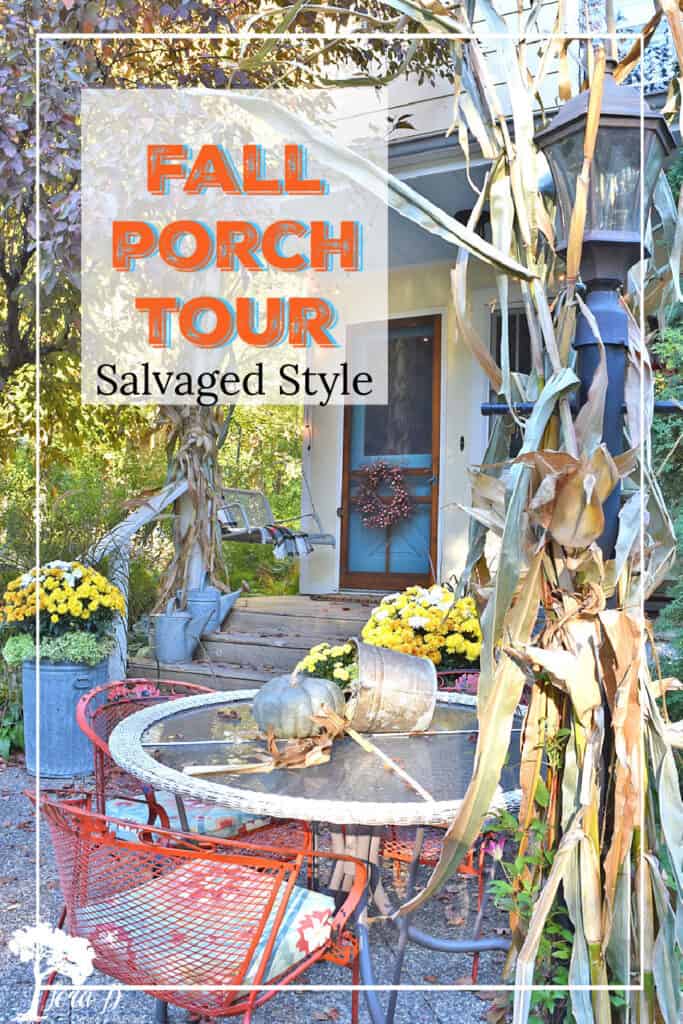 Fall has arrived and it's time to embrace it's beauty! Here in Minnesota we have a full-colored, beautiful Fall that many say is their favorite season. But, it's fleeting, so we want to soak up every ounce! One of my favorite ways to kick off Fall is to decorate our Fake Farmhouse's porch and patio. The outside provides a huge canvas where I can add natural elements to all my vintage salvaged finds. Hope you enjoy this tour of our Fall Decorated Porch and Patio with Salvaged Style!
I'm joining a group of 30 home decor bloggers this week to share our Fall decorated homes! Thanks to Kelly from The Tattered Pew for hosting us! If you're visiting from County Road 407, I'm sure you enjoyed Cindy's tips for a Fall party. I'll link to the rest of the inspiration at the end!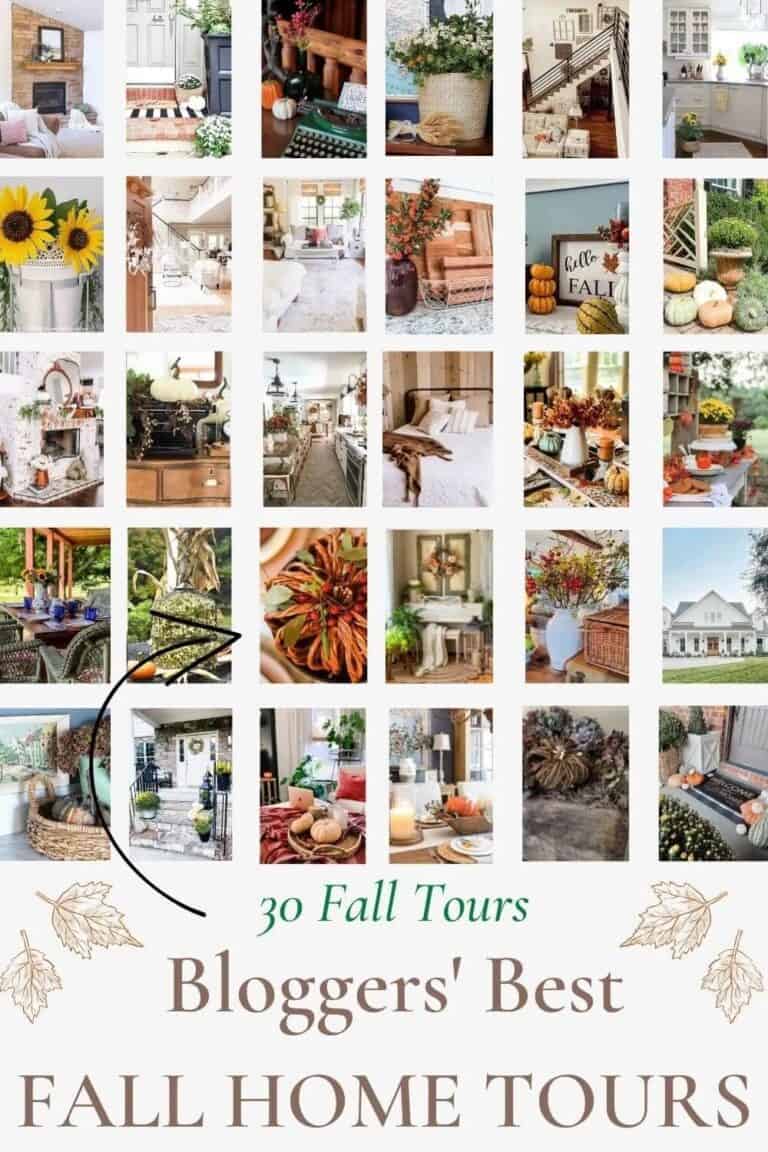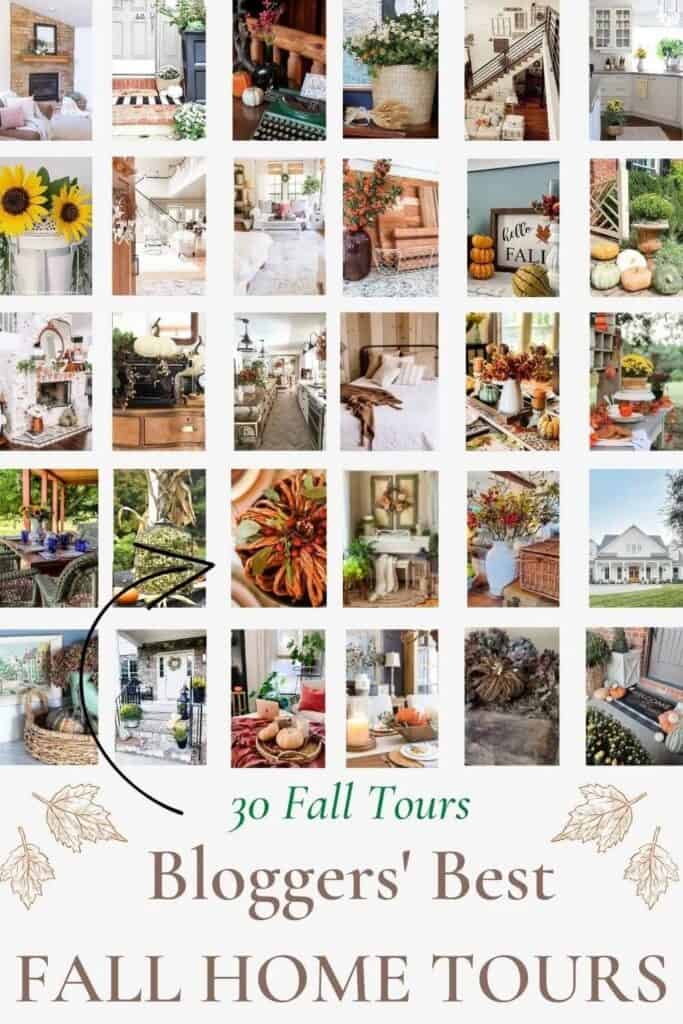 Let Me Introduce Myself First
I'm Lora, and I love vintage. I've been decorating my home with curbside finds for way too many years. I've been a seller at several shops and owned my own store for 6 years. These days I get to share all my vintage hunting, reviving, repurposing and decorating adventures here on the blog. If you enjoy your visit, definitely become an Insider down below (or in the sidebar).
We've lived in our 100+ year old Fake Farmhouse for 19 years! We've redone pretty much everything inside and out, and we're tired;) Our 3 adult children are still home, which makes for cozy quarters; totally why you're only seeing the outside today! Luckily we have a couple acres and use our garage and driveway more than our living room; we're always working on projects!
Glad to have your here! Enjoy the Fall porch and patio tour!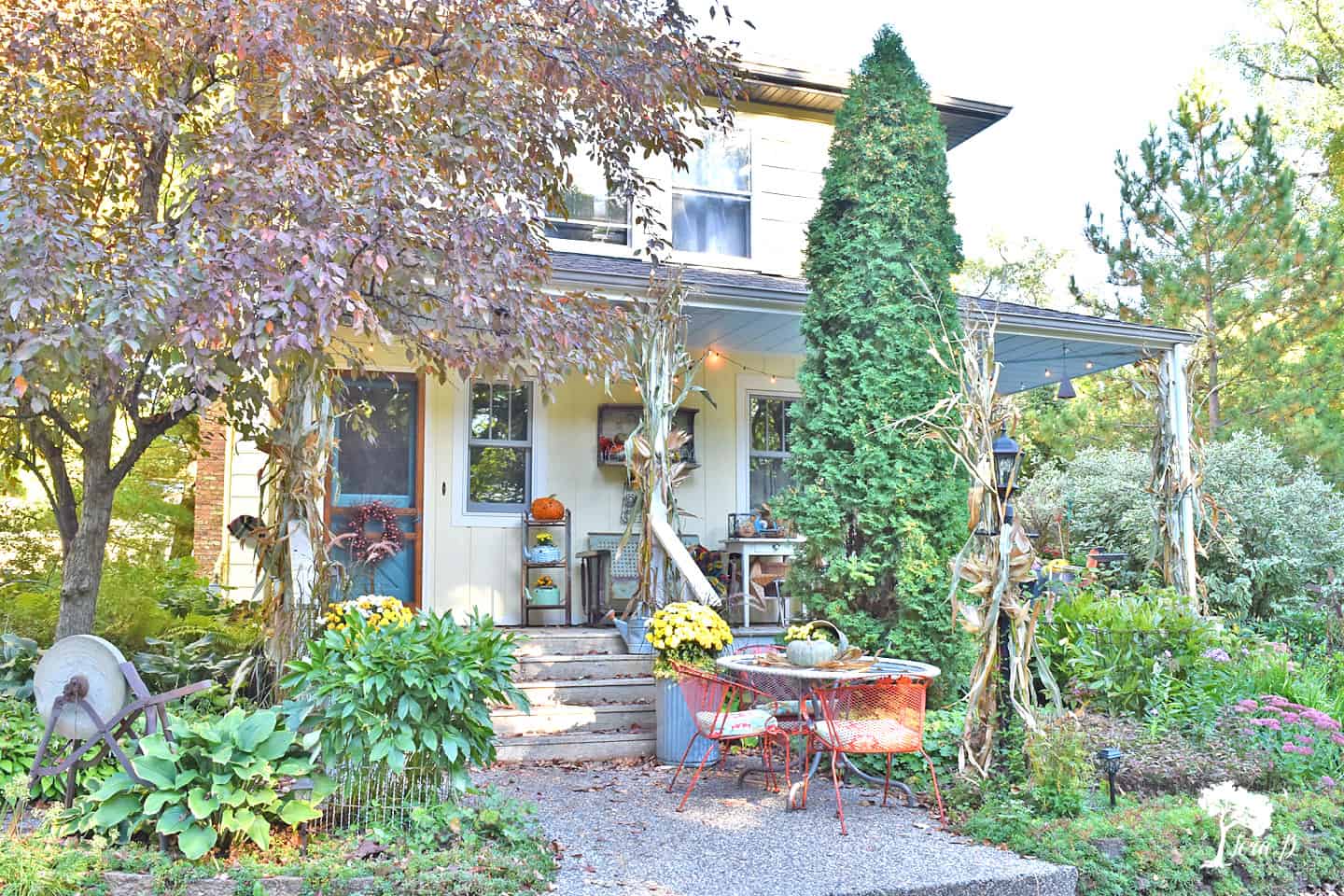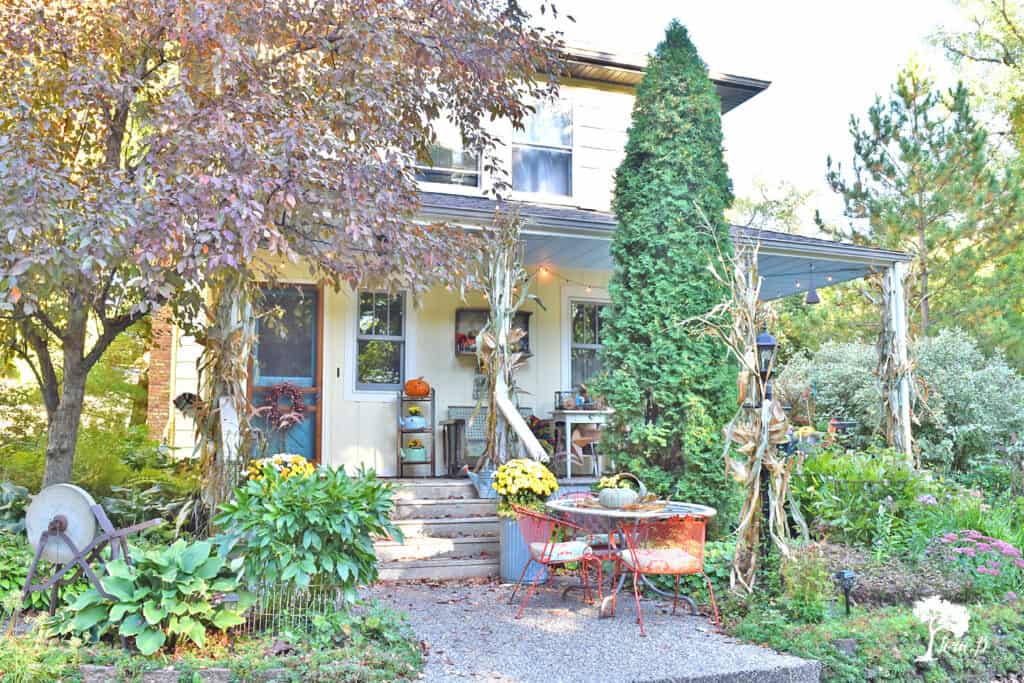 Fall Decorated Porch and Patio with Vintage Style
For your convenience, this post contains affiliate links. If you make a purchase, I may receive a commission. There is no additional cost to you. My full privacy policy is here.
Decorate your Outdoor Spaces Like Rooms
Each area of our porch and patio is decorated like it's own room. Every season I switch around the furniture pieces so we can enjoy watching the seasonal beauty in our yard. Like a lot of old homes, our back door is the main entry. I love to create a welcoming greeting for us and the UPS man:) I mean, he does bring the dog a treat!
I love decorating our porch posts with cornstalks. They are the biggest bang for the buck…well, I actually get them free from a friend's field. When those cornstalks go up, it's instant Fall!
Thrifted plaid afghans provide a fun punch of color and pattern, and they're handy when the nights get chilly. The vintage green glider is one of my favorite finds and I have fun decorating the repurposed stove top shelf above through the seasons.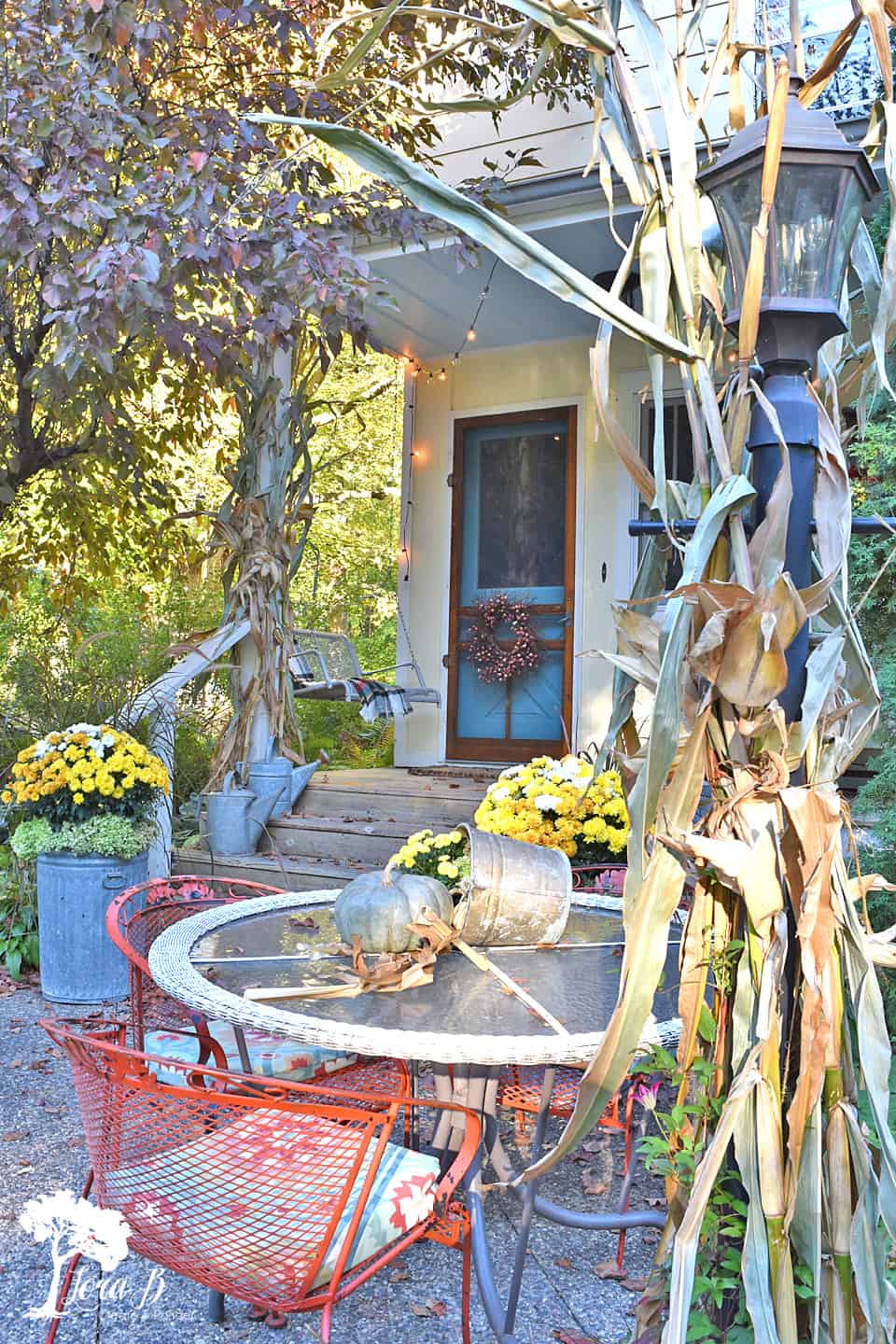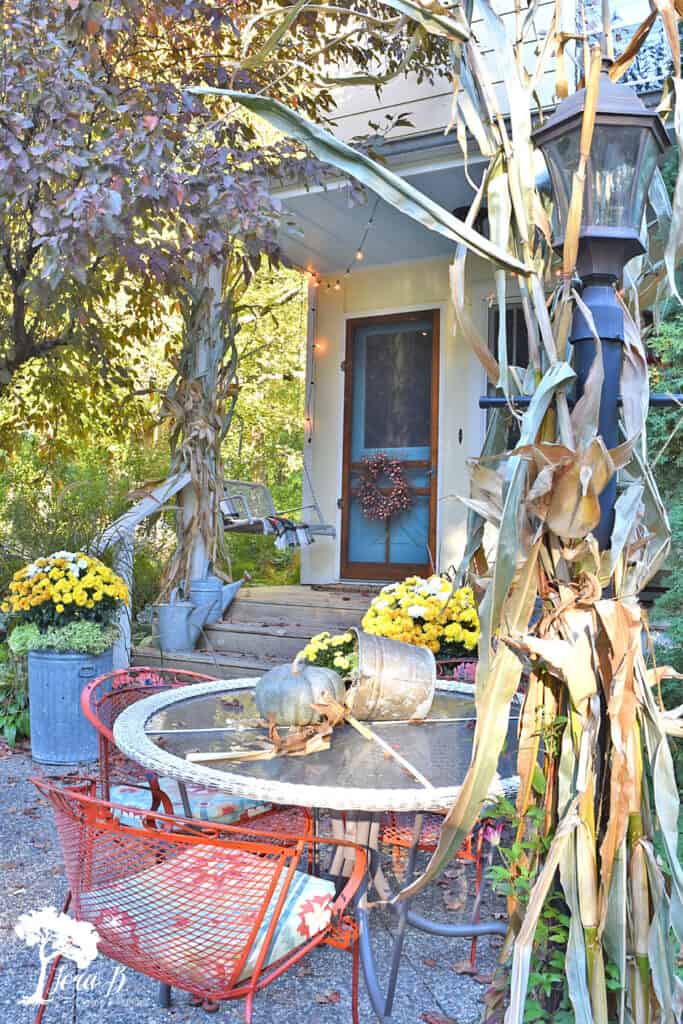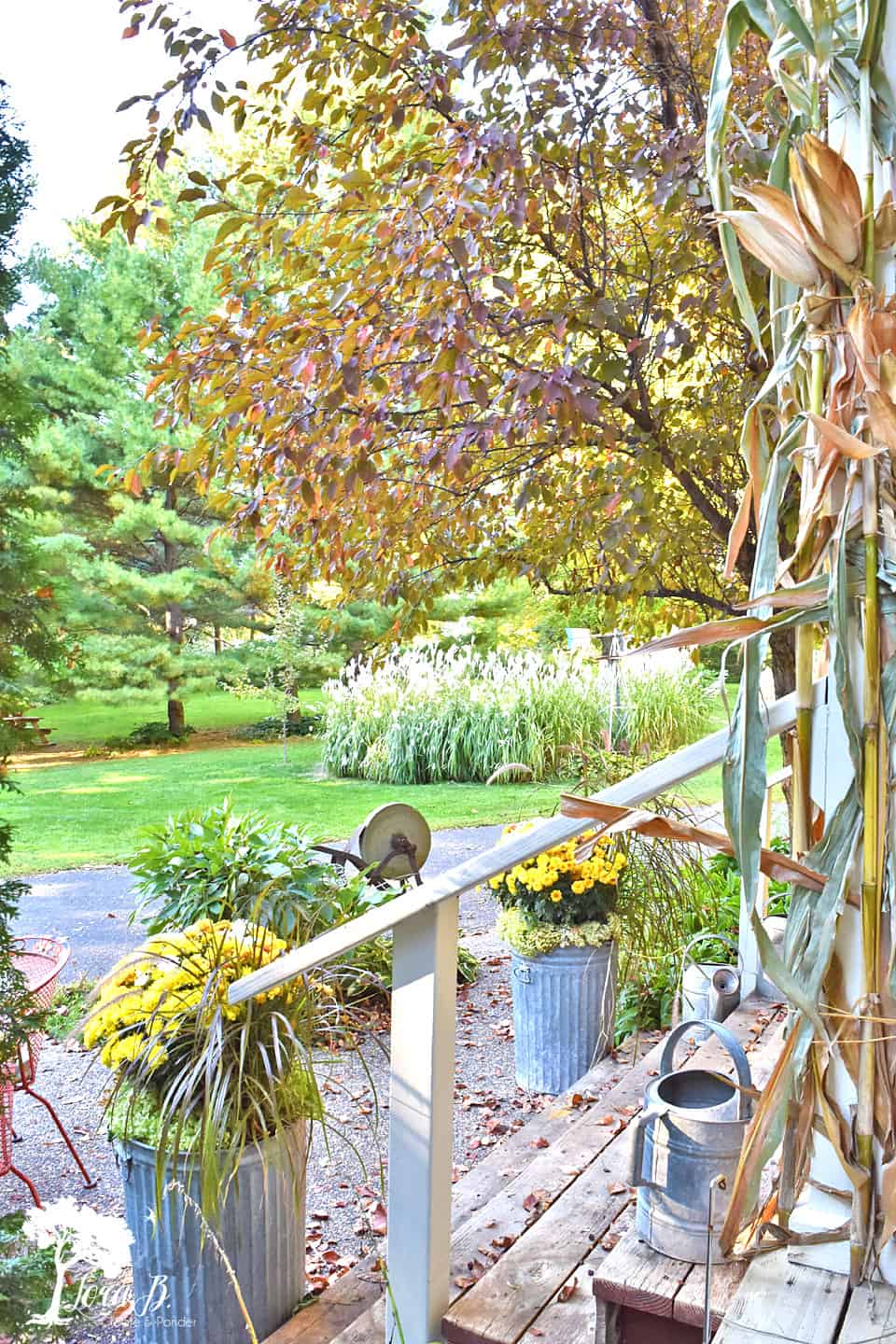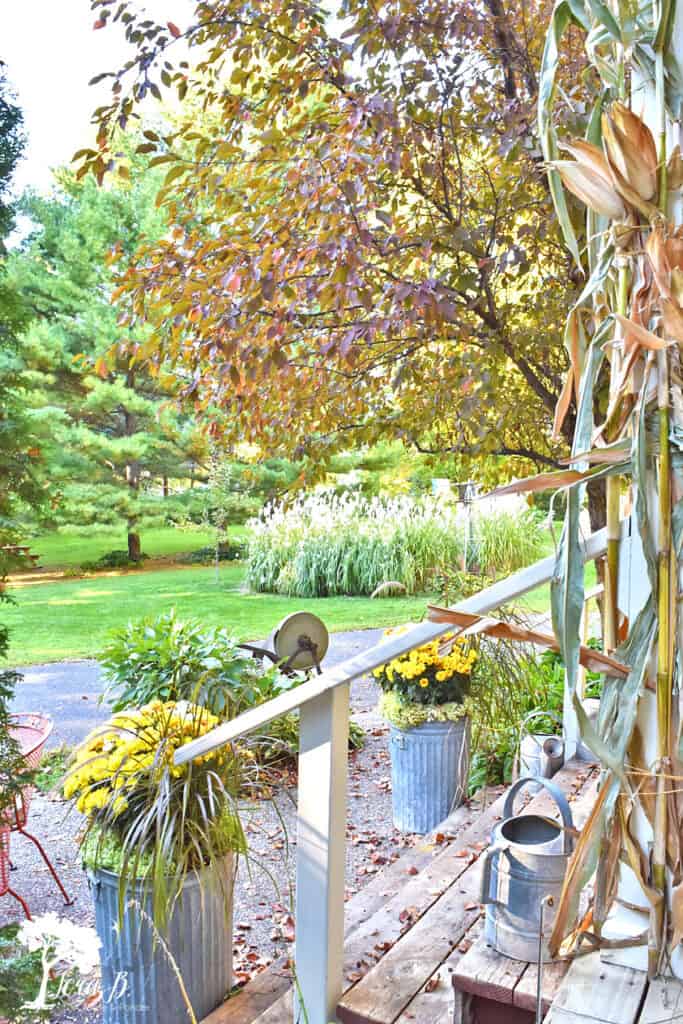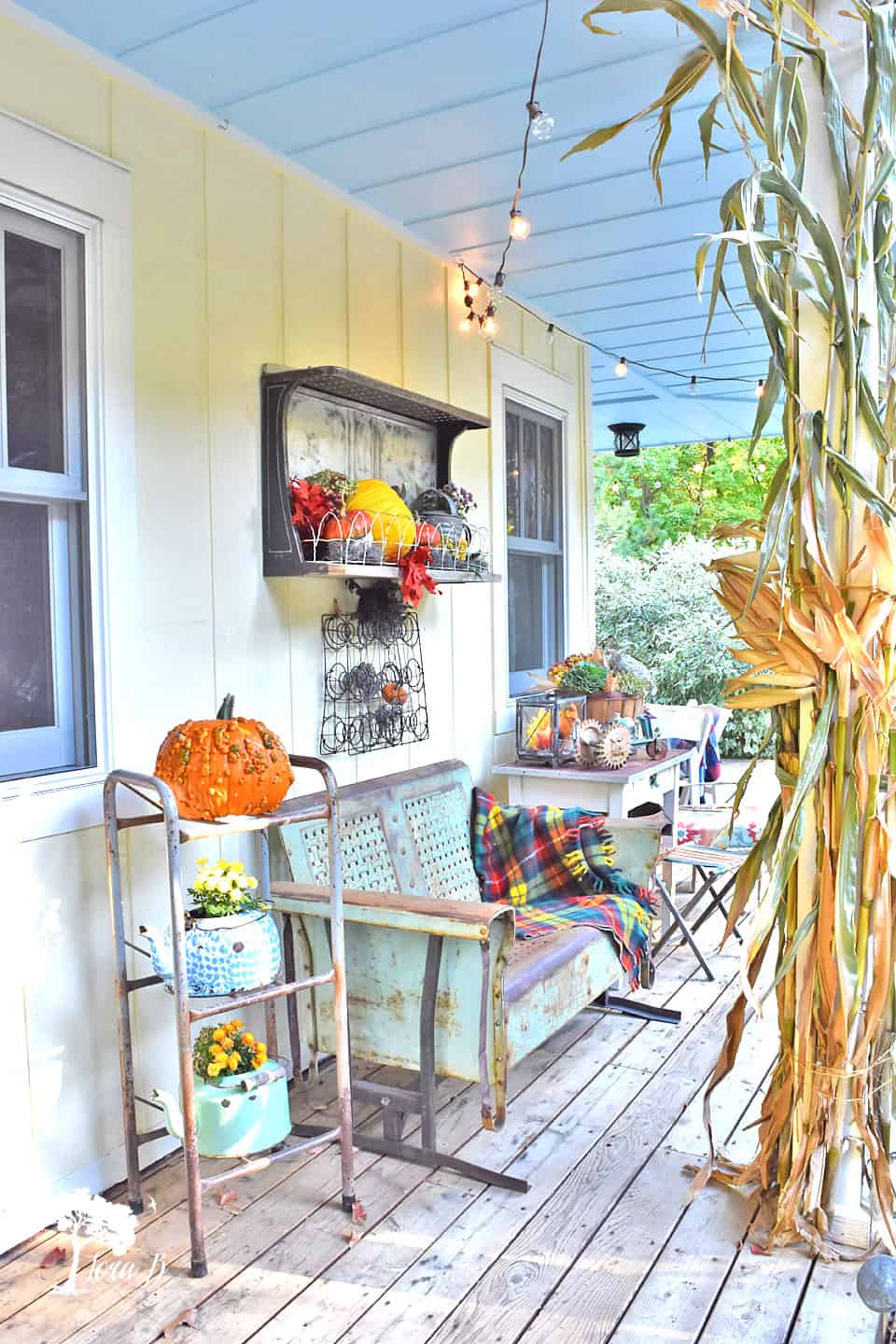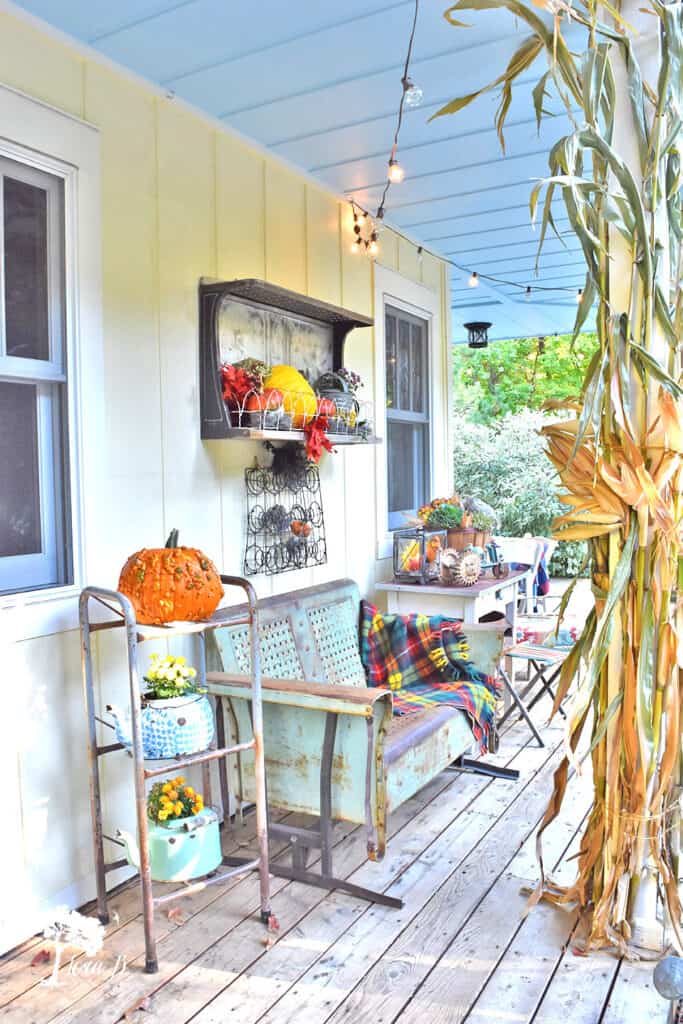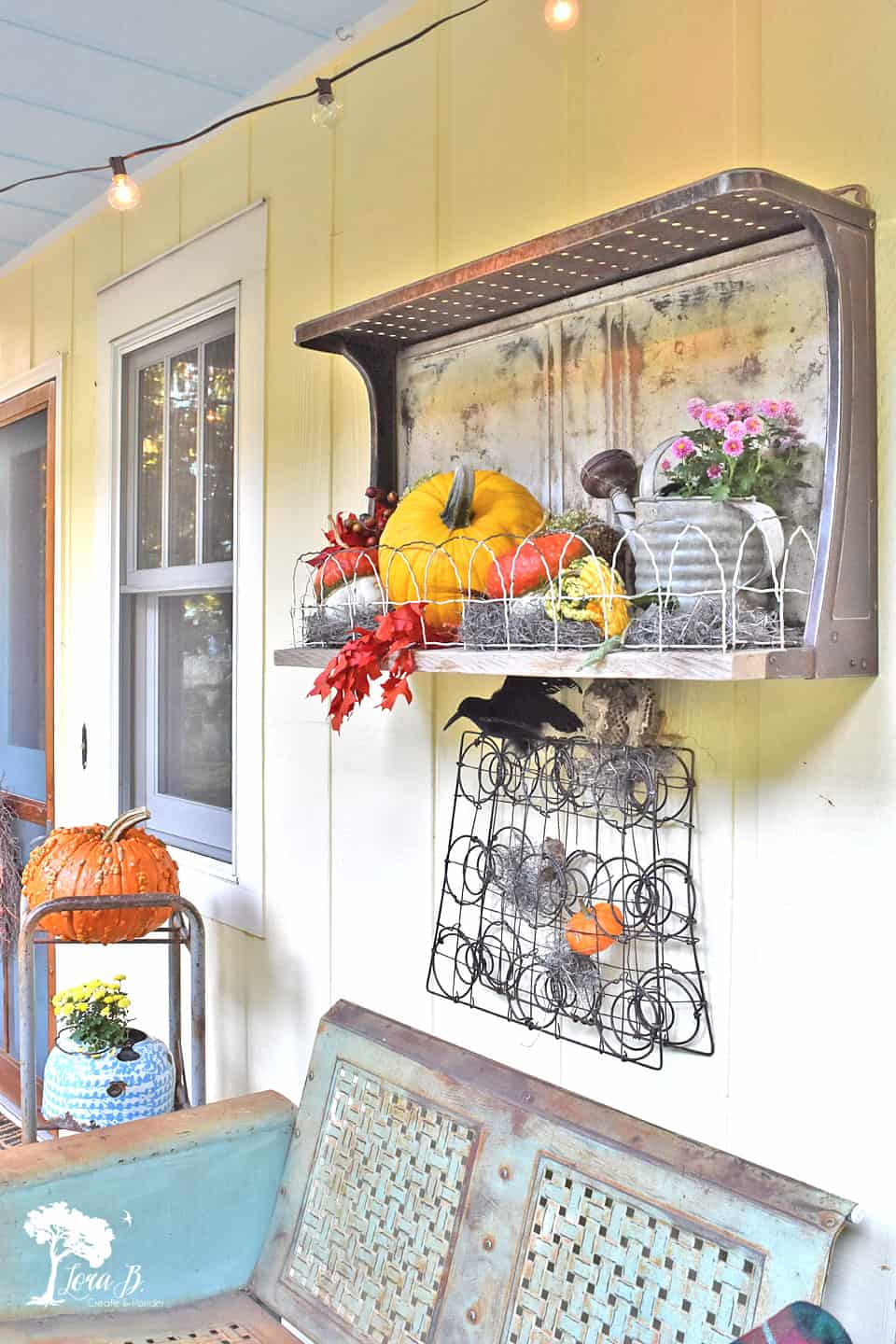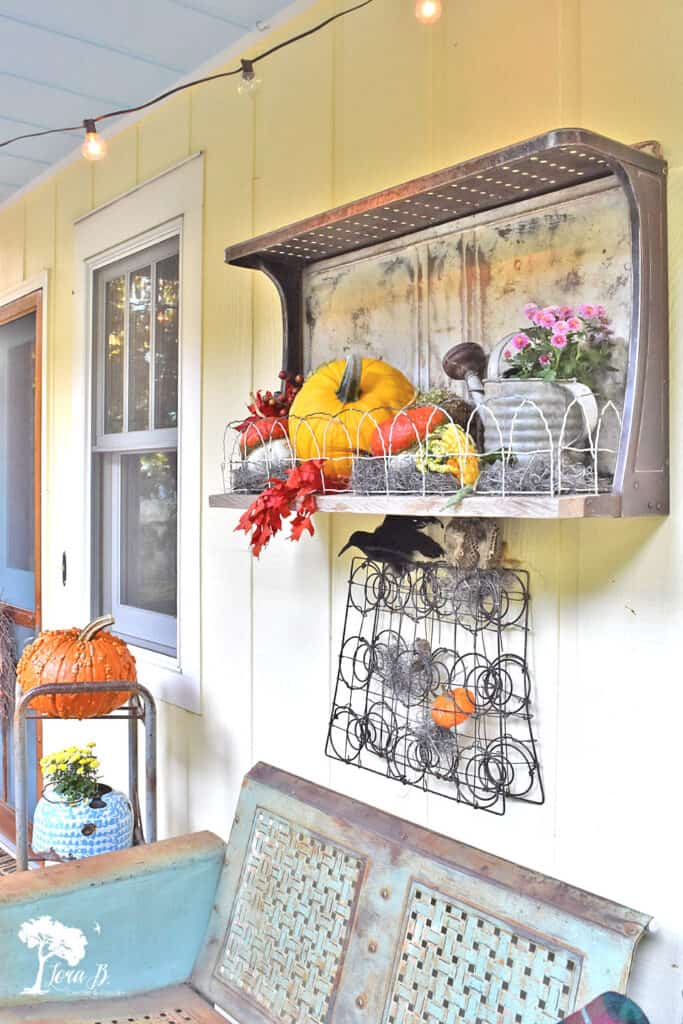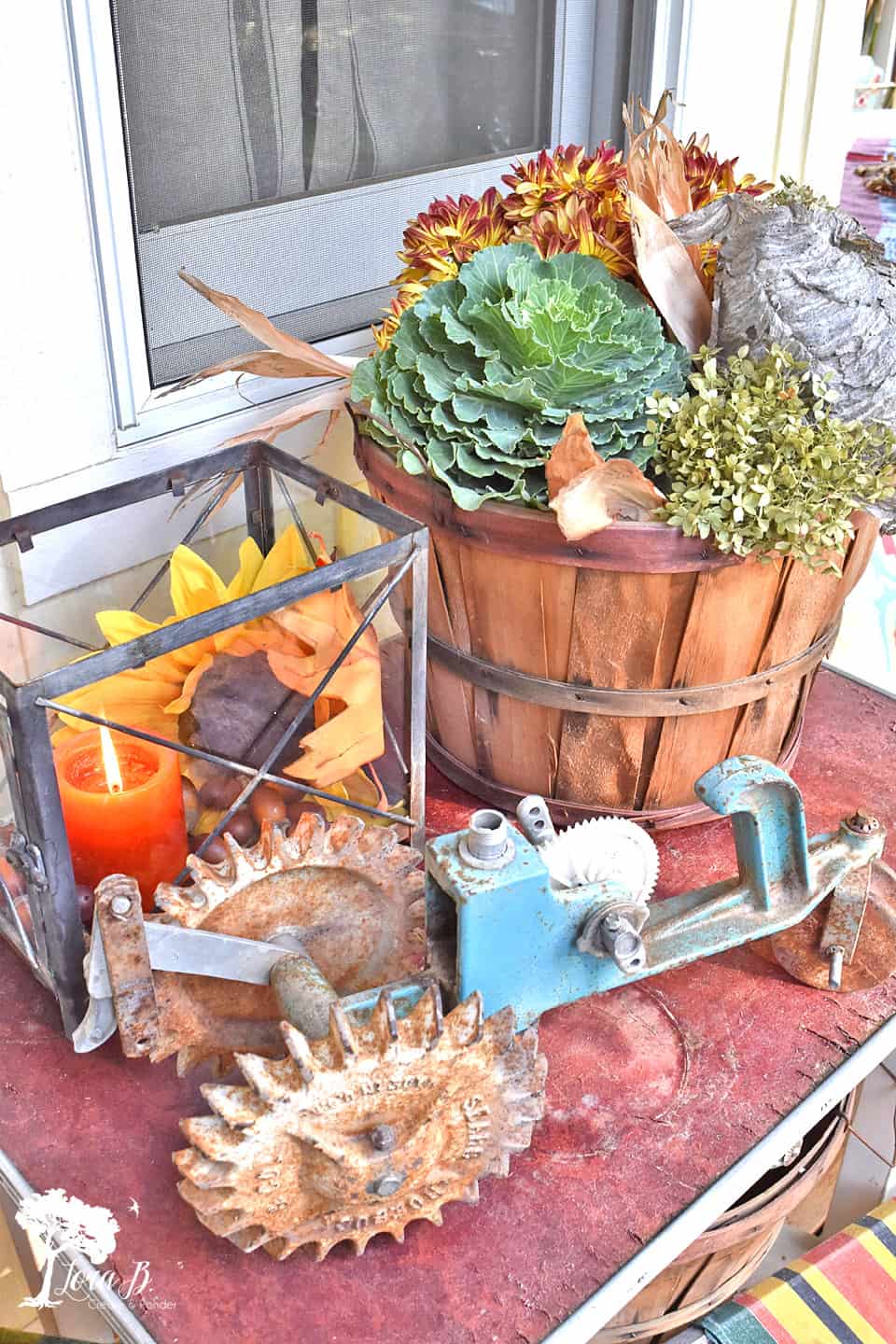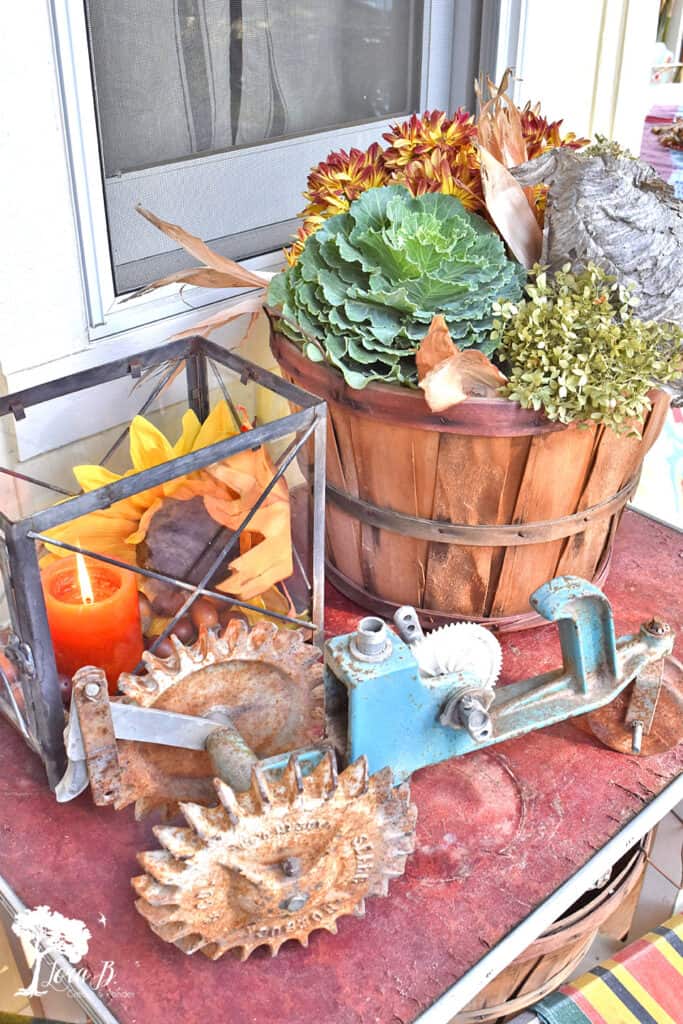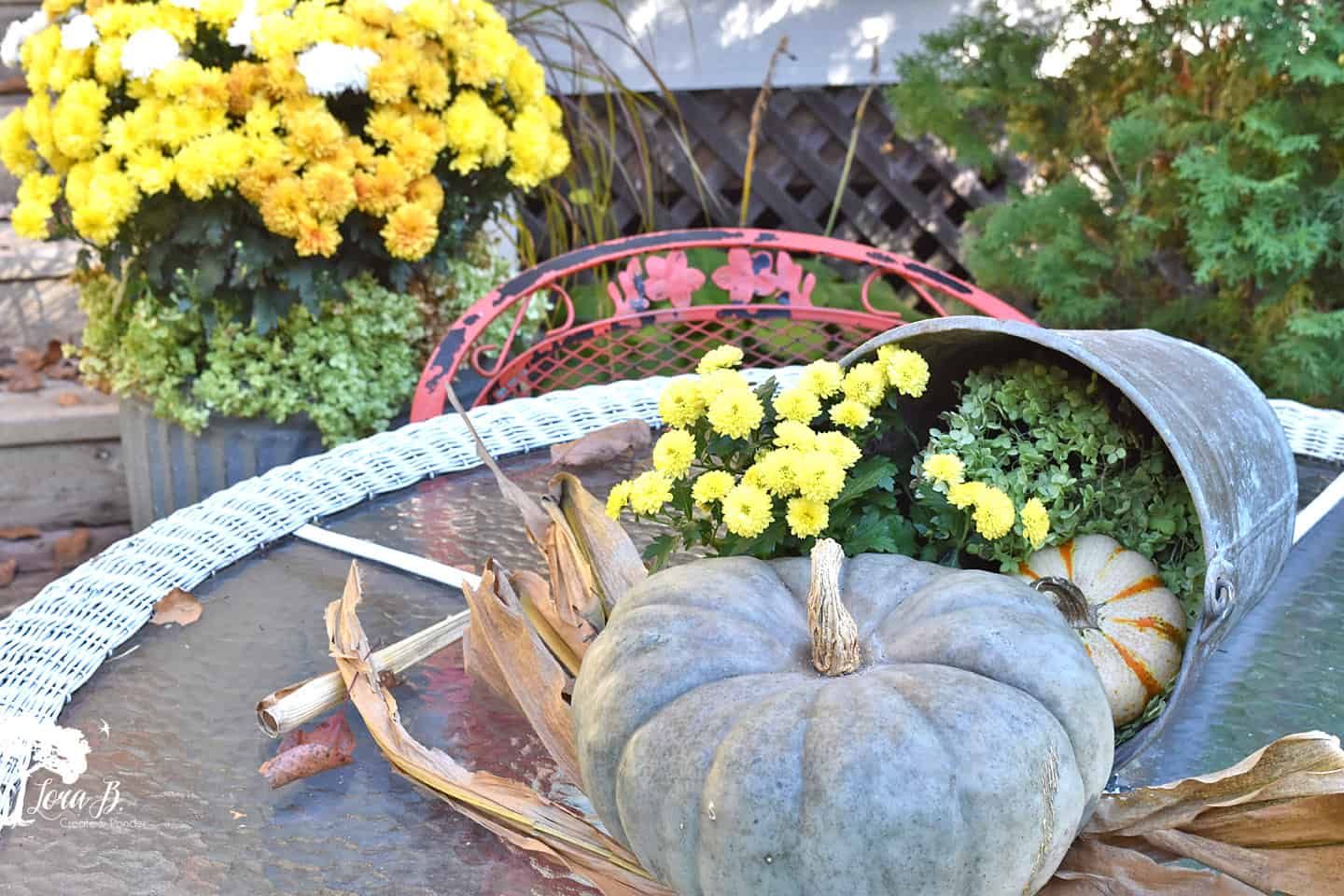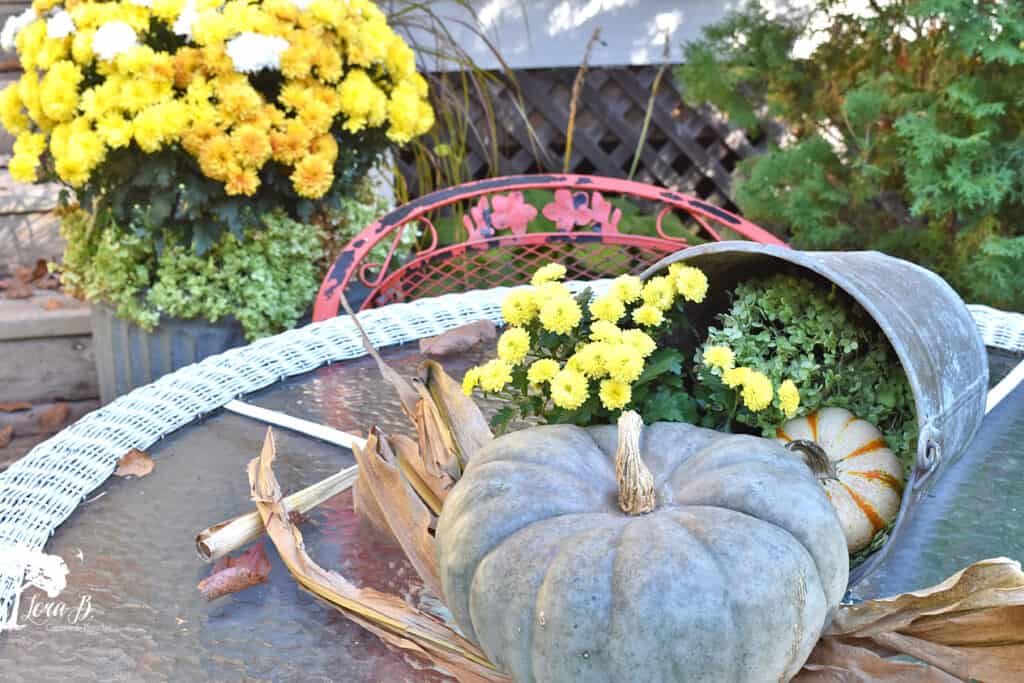 Add Natural Touches to Salvaged Finds
My favorite combination is salvaged junk and natural elements. How can you go wrong when you tuck pretty flowers and foliage into anything with patina? I had plenty of mums this year because I used them to decorate at my mom's funeral. I was able to tuck those $1 walmart mums everywhere! Some funky pumpkins, a couple kale and plenty of snipped hydrangeas and spent flowers from the garden are a joy to arrange.
I filled a wicker planter I'd found curbside this Spring with Fall foliage. This corner table is a favorite spot to still be able to see the laptop and be able to plug it in. A patchwork wool quilt top keeps the elbows warm on the glass table.
I was going to swap up my "DIY Garden Hoses Wreath" for the season, but then just added a few preserved leaves for a Fall touch.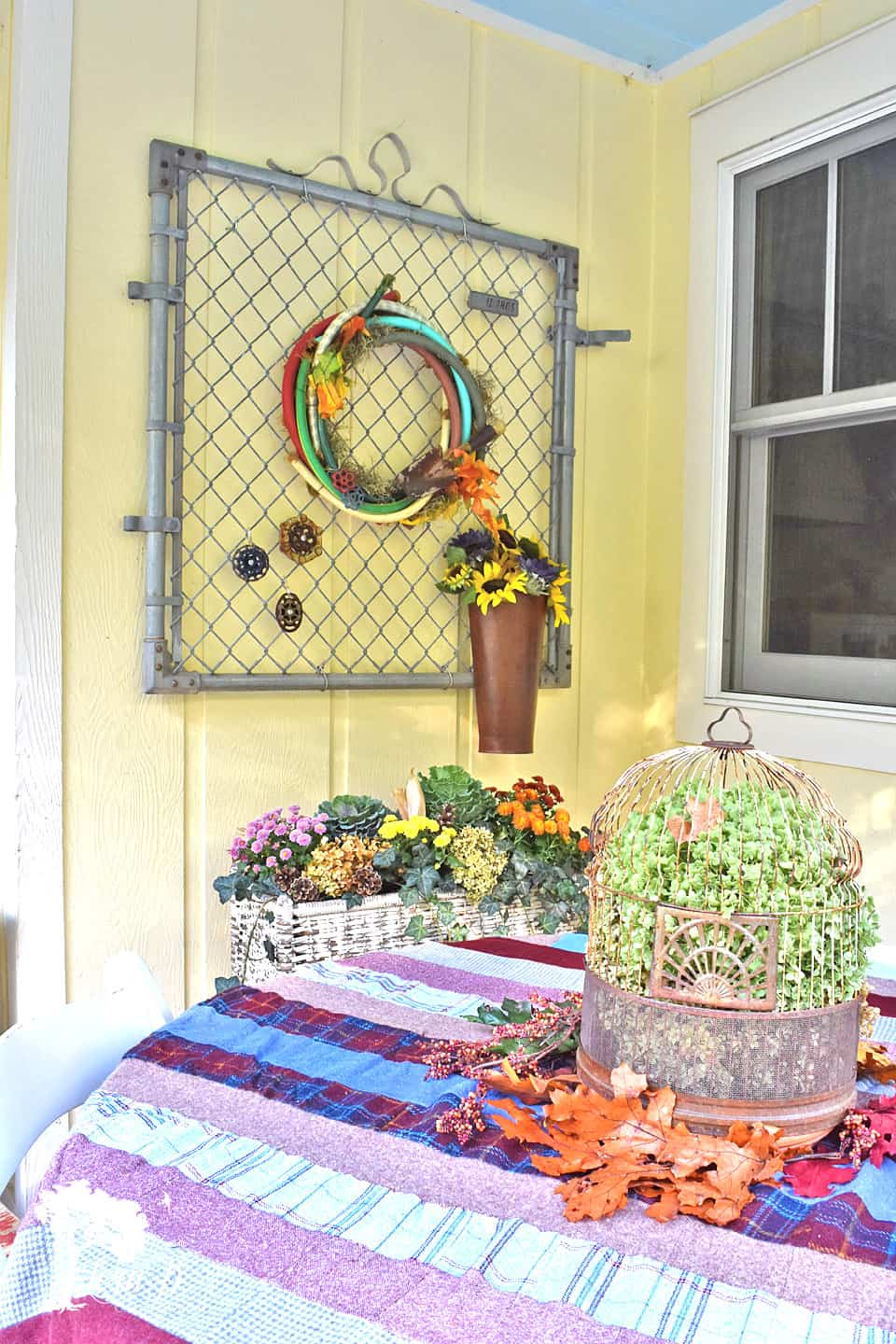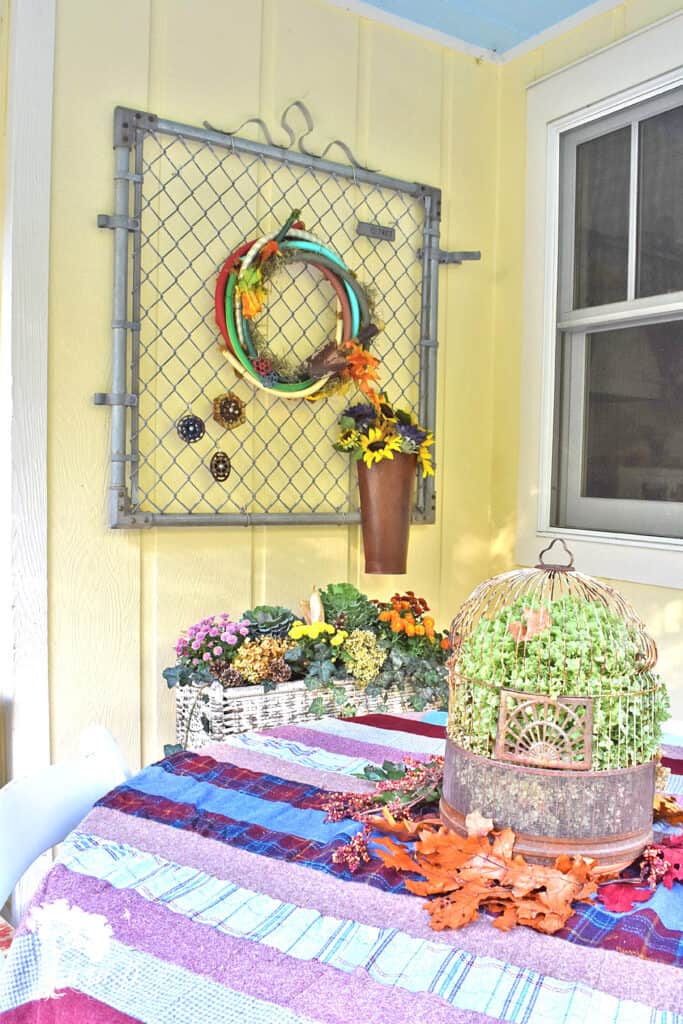 Place Fall Outdoor Decorations in Your View
Our sliding glass kitchen door is our favorite connection to the outside. Both inside and outside we have a grouping of furniture to promote conversation. I also place a fun, seasonal vignette so I can enjoy it from my stove and when cooking on our kitchen island. We also love watching the birds…when the chipmunks and squirrels aren't eating all their food!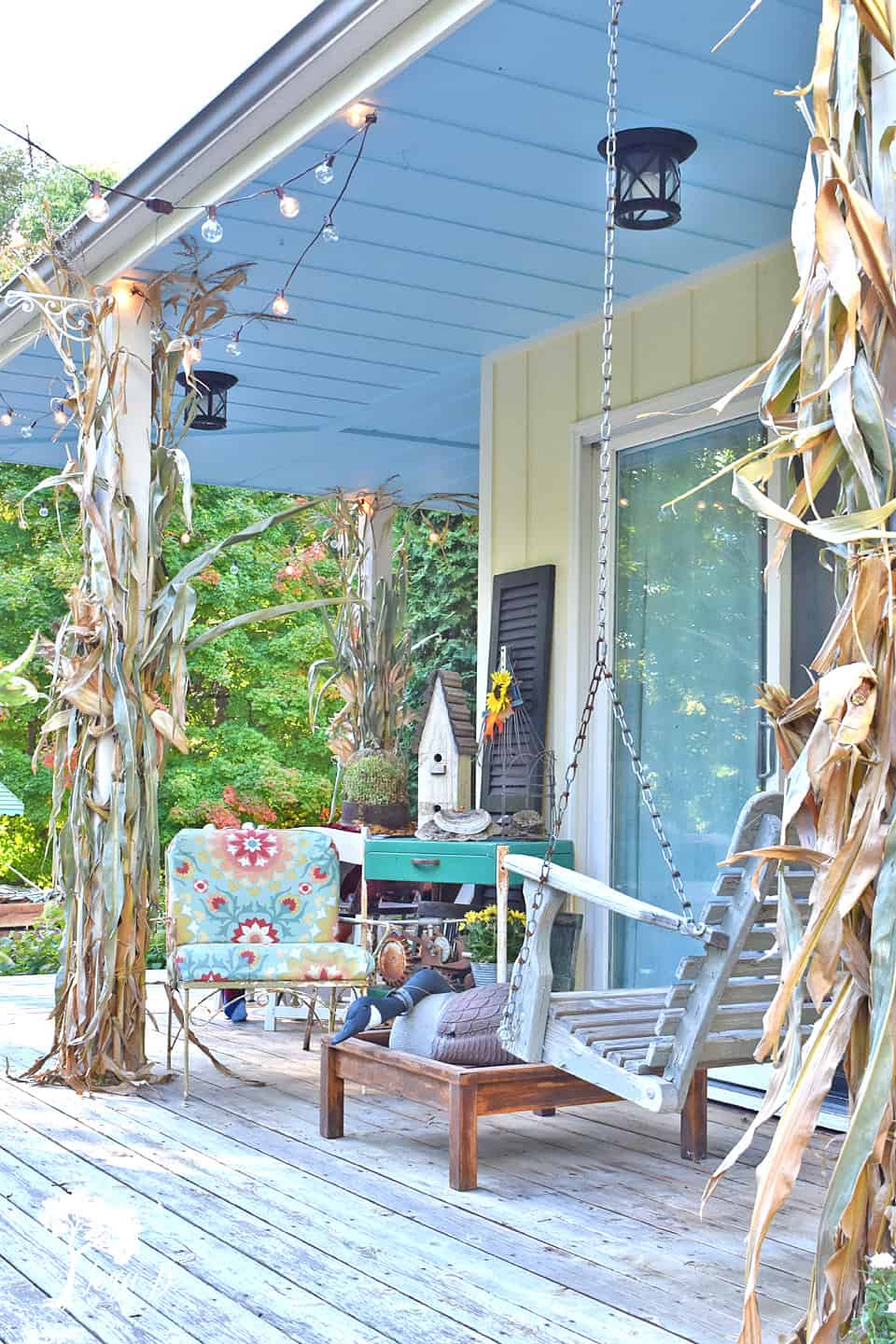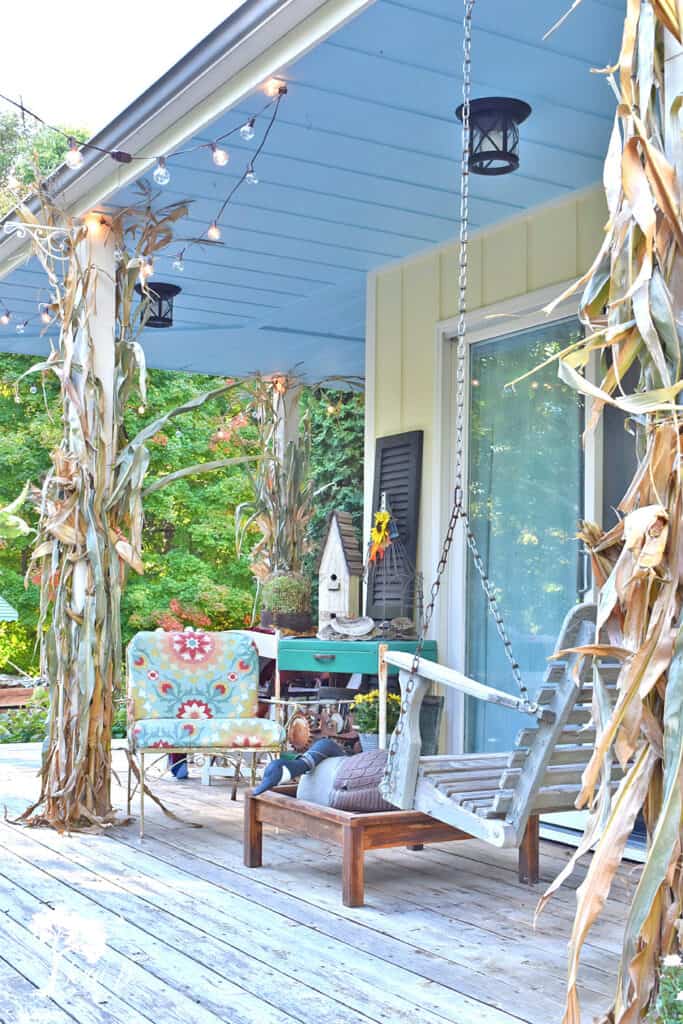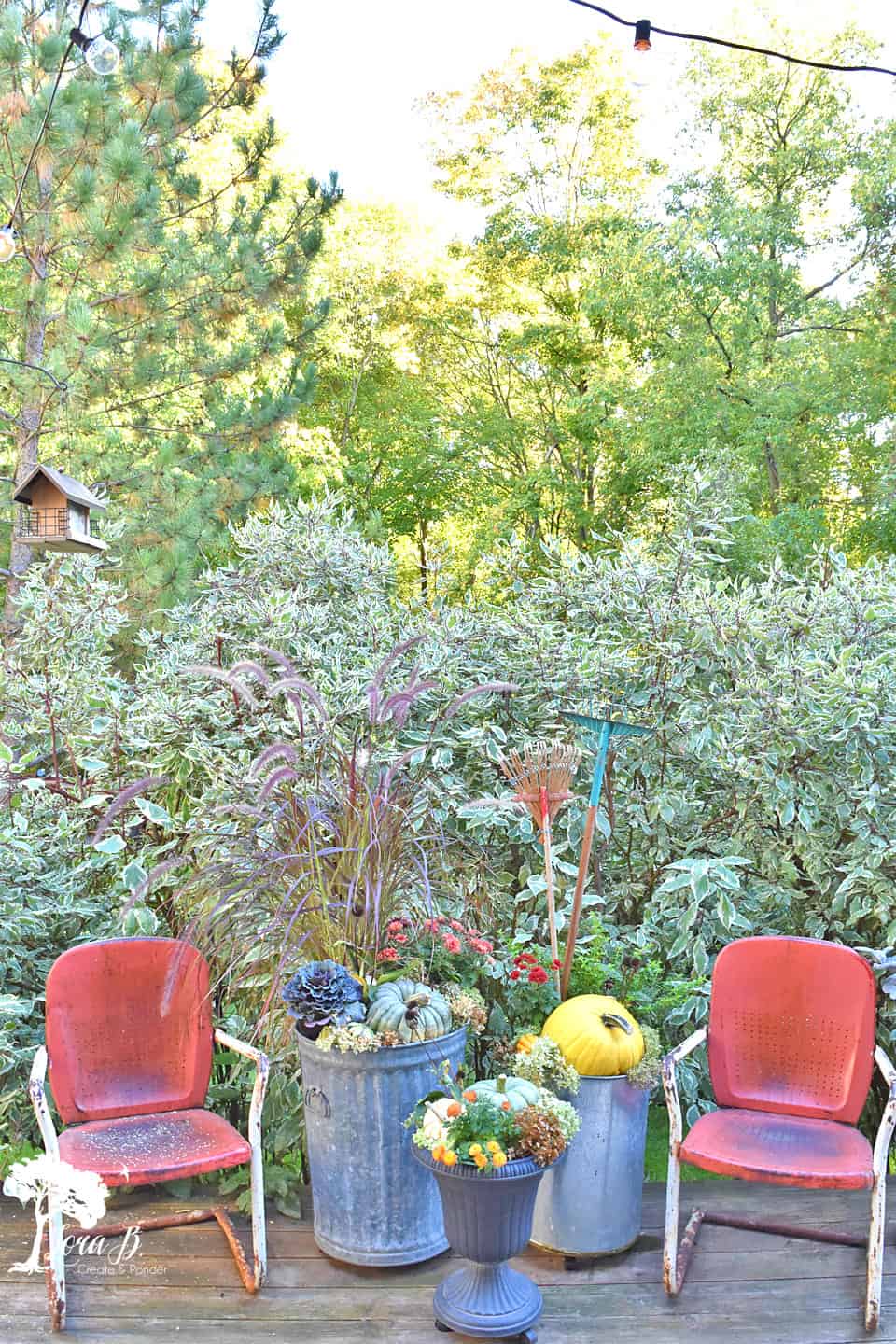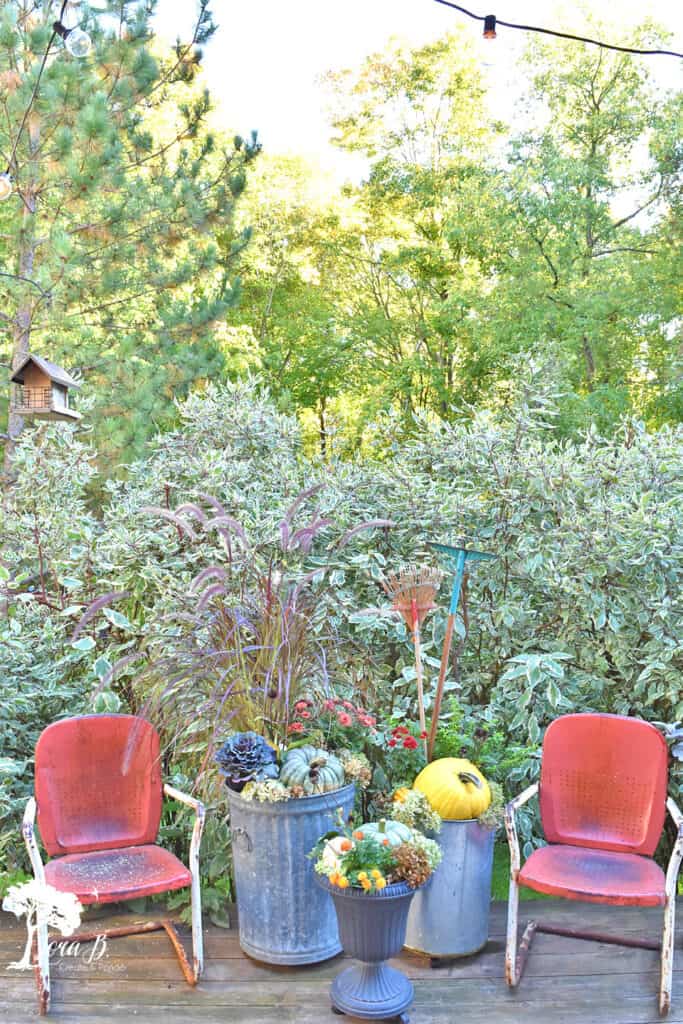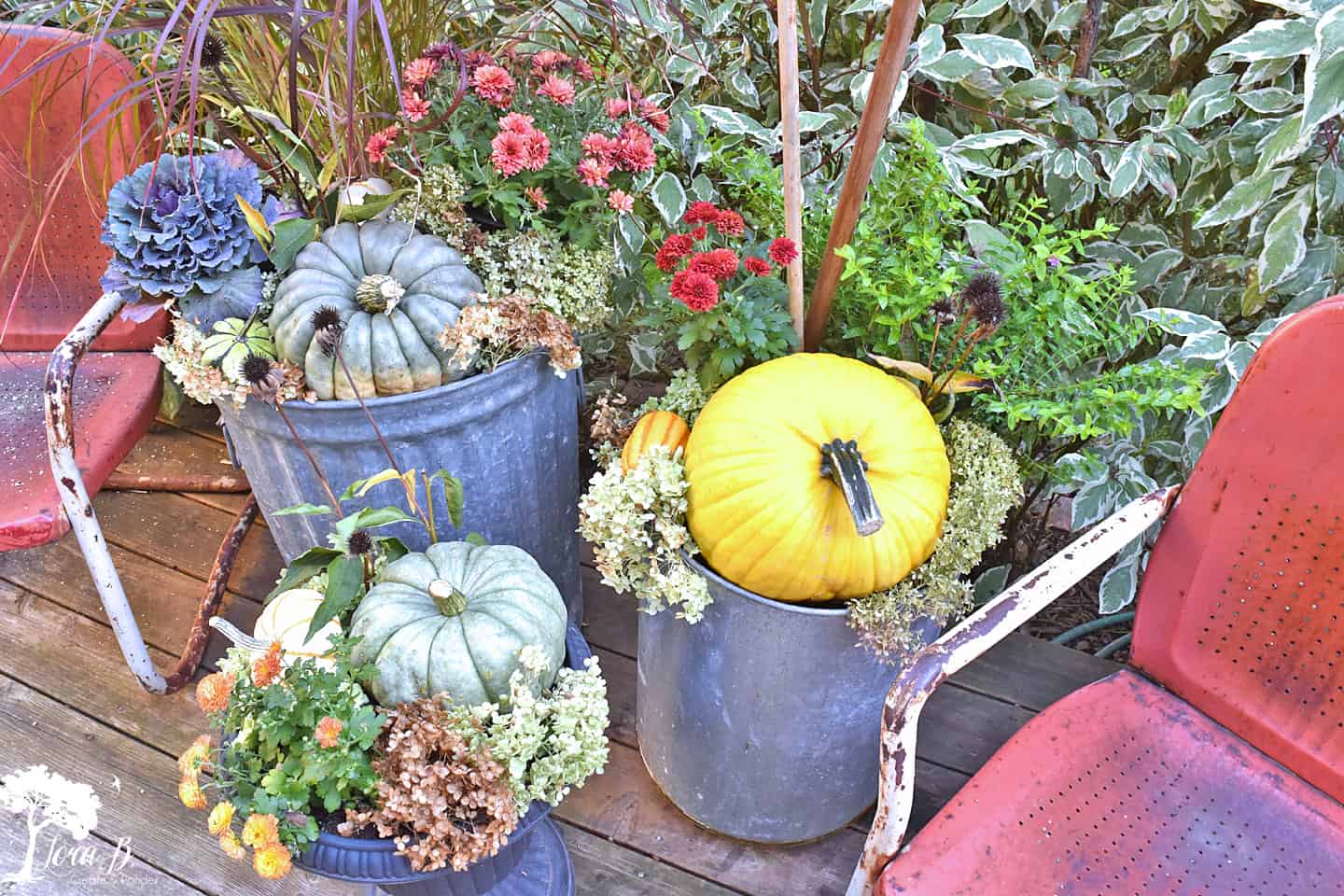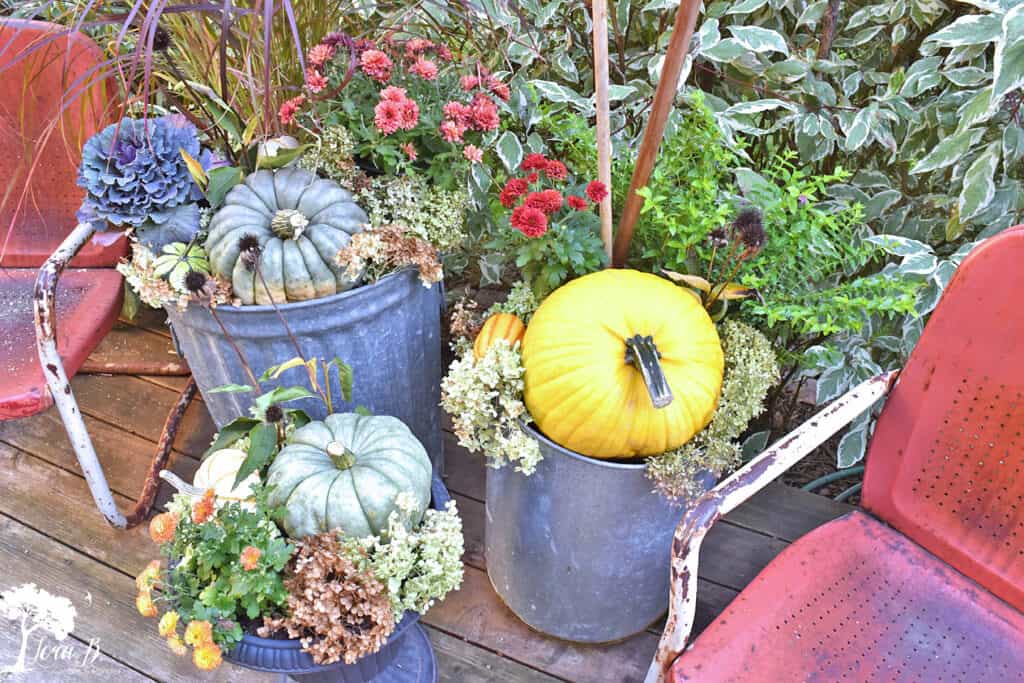 Vintage metal chairs are one of my favorite collections. To see how I revive them, check, "How to Refresh and Enjoy Vintage Metal Lawn Chairs (and keep their classic appeal)".
And yes, I've gathered quite the collection of old ribbed galvanized garbage cans! I love them as outdoor containers; I fill them 2/3 of the way up with plastic planter containers so I don't have to use as much dirt, and I can move them!
Bring Out the Quilts for the Fall Patio
We try to enjoy the Fall days outside as long as we can. I always have plenty of vintage wool patchwork quilts at the ready. We love sitting by the chiminea, gazing at the pretty Fall side garden, and we try to eat outside as many evenings as we can.
I thought it would be fun to set the table with my latest obsession-vintage restaurant ware. I love mixing and matching the patterns in the colors I decorate with. The plum tones in the quilts inspired me to snip a few hydrangeas and simply lay them in the middle of the table, along with some of our grasses.
The backdrop of this eating/grilling area are 2 trellises and an old bedspring. I added cornstalks and sedum and Fall foliage to the base of the summer topiaries. It just makes eating out more appealing!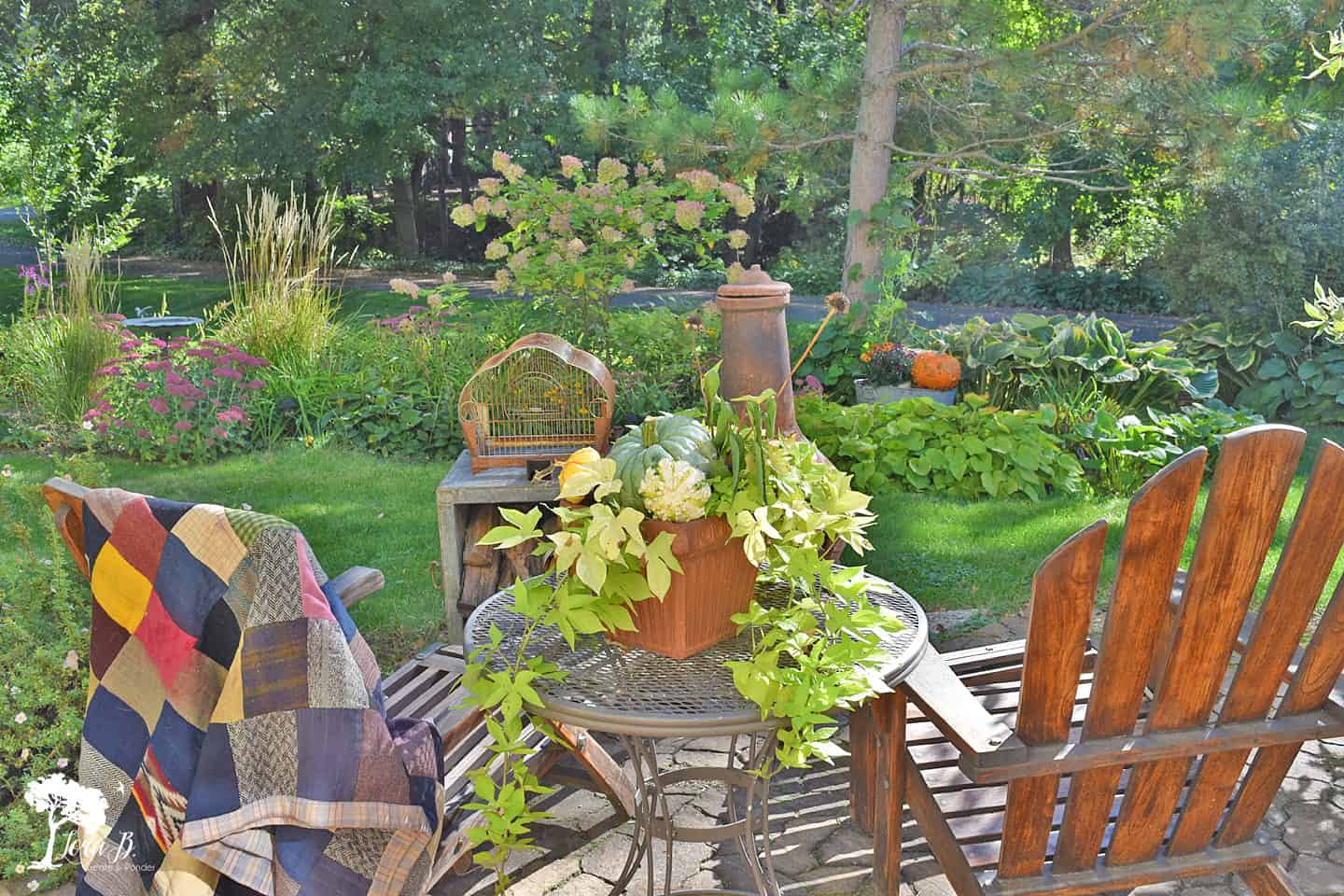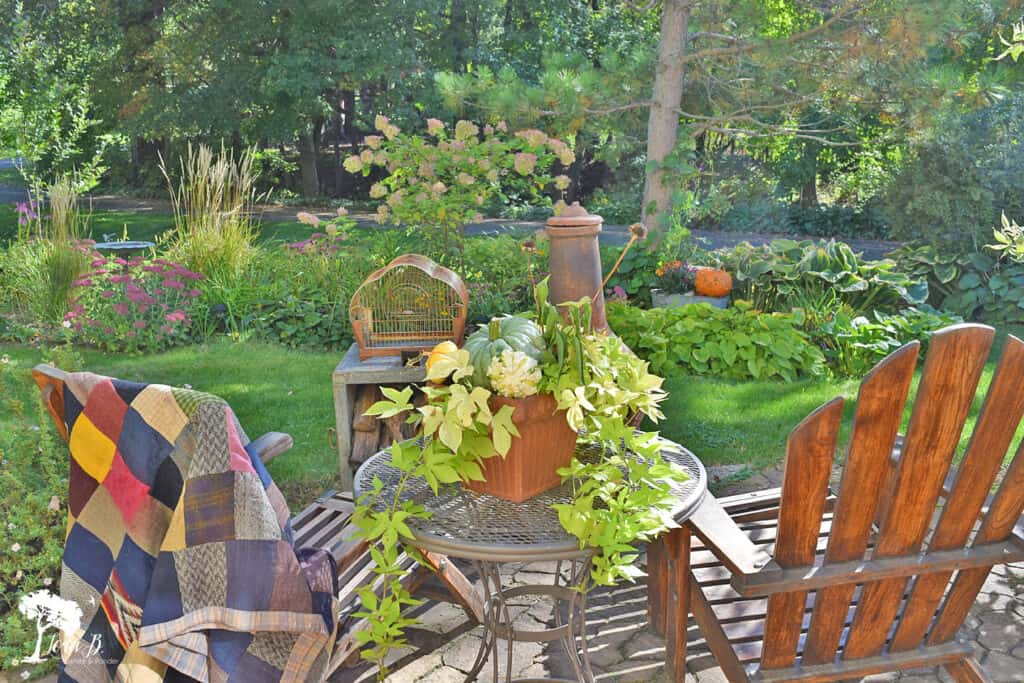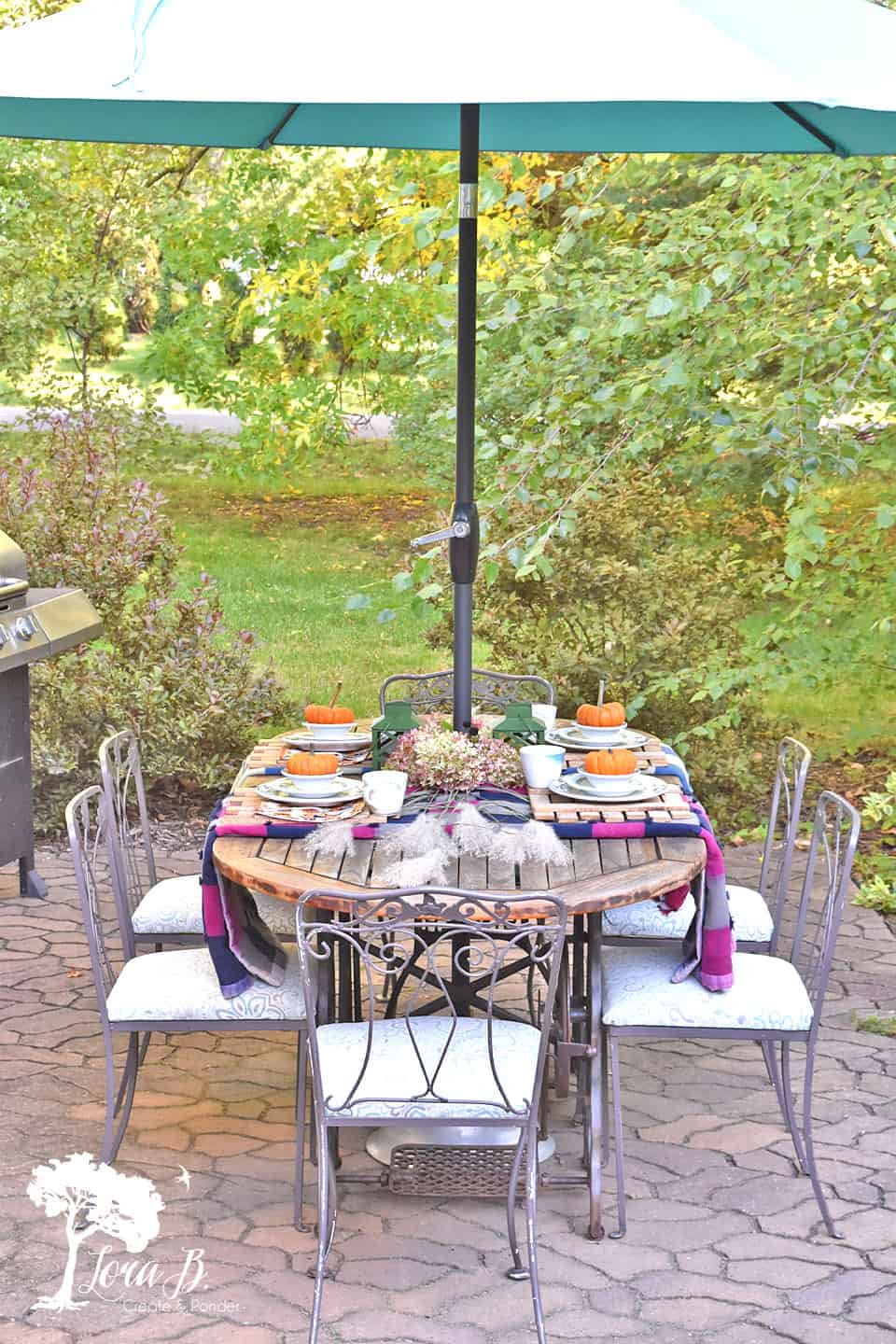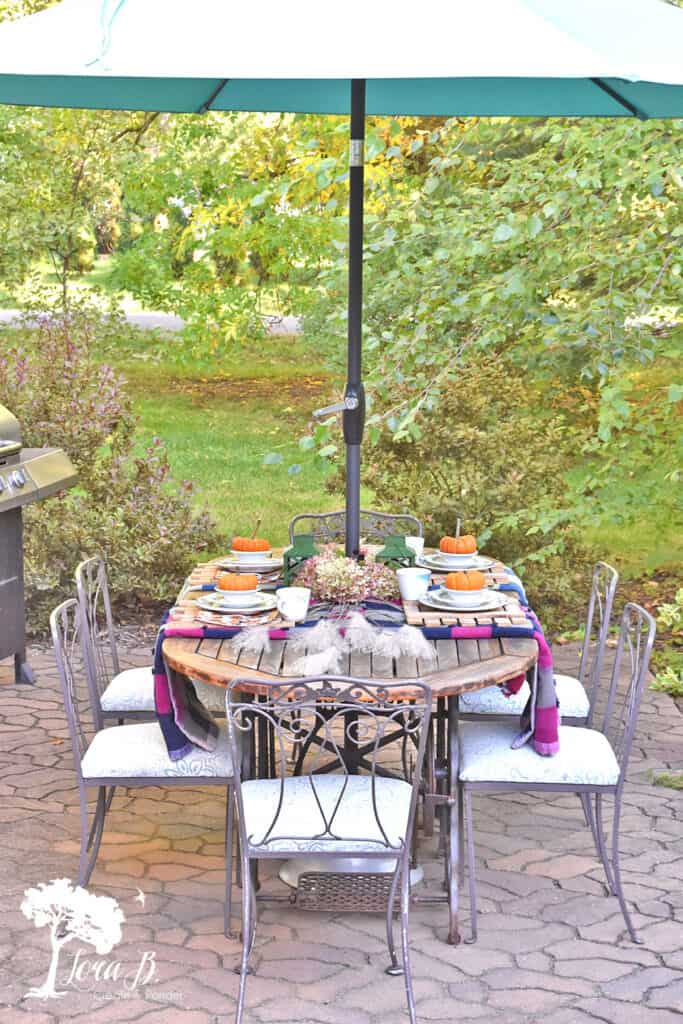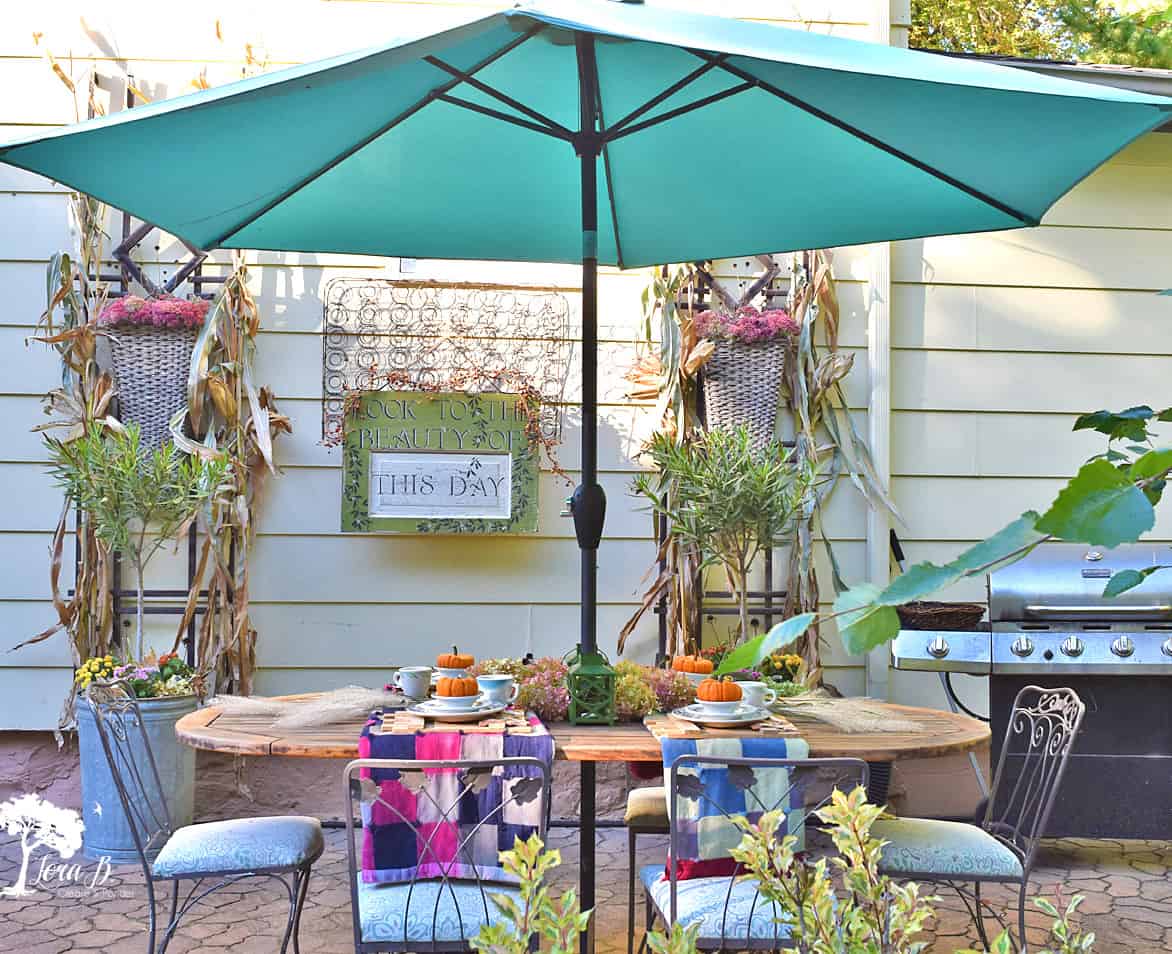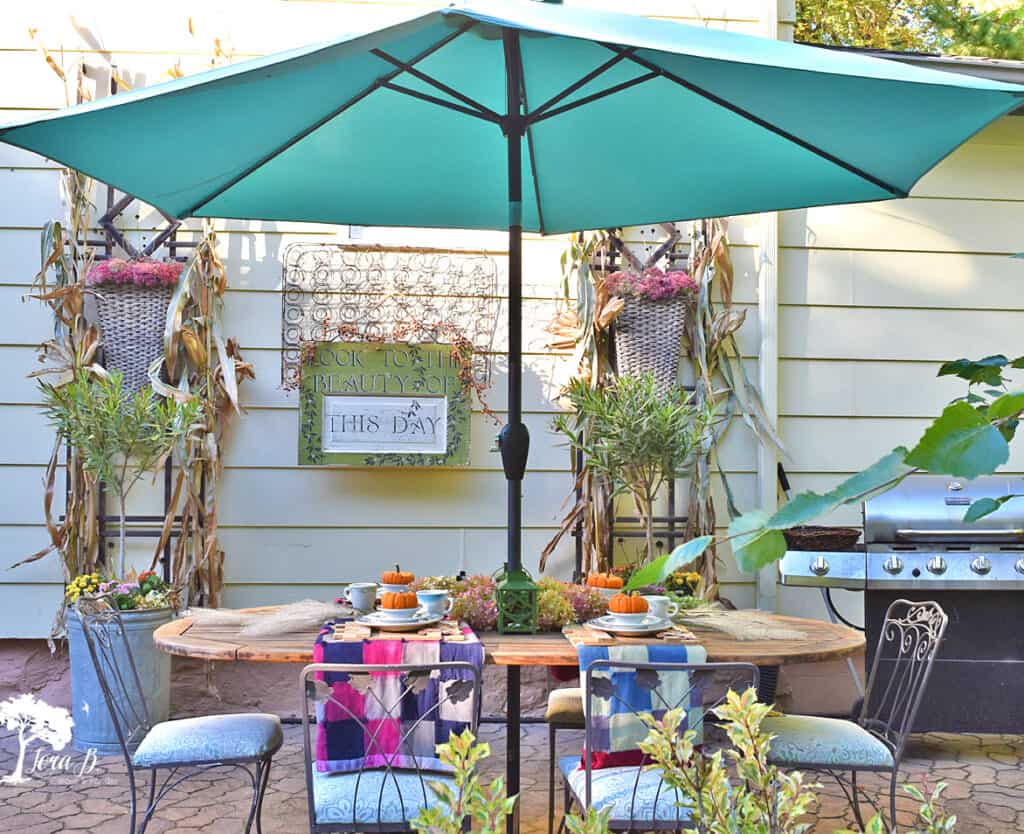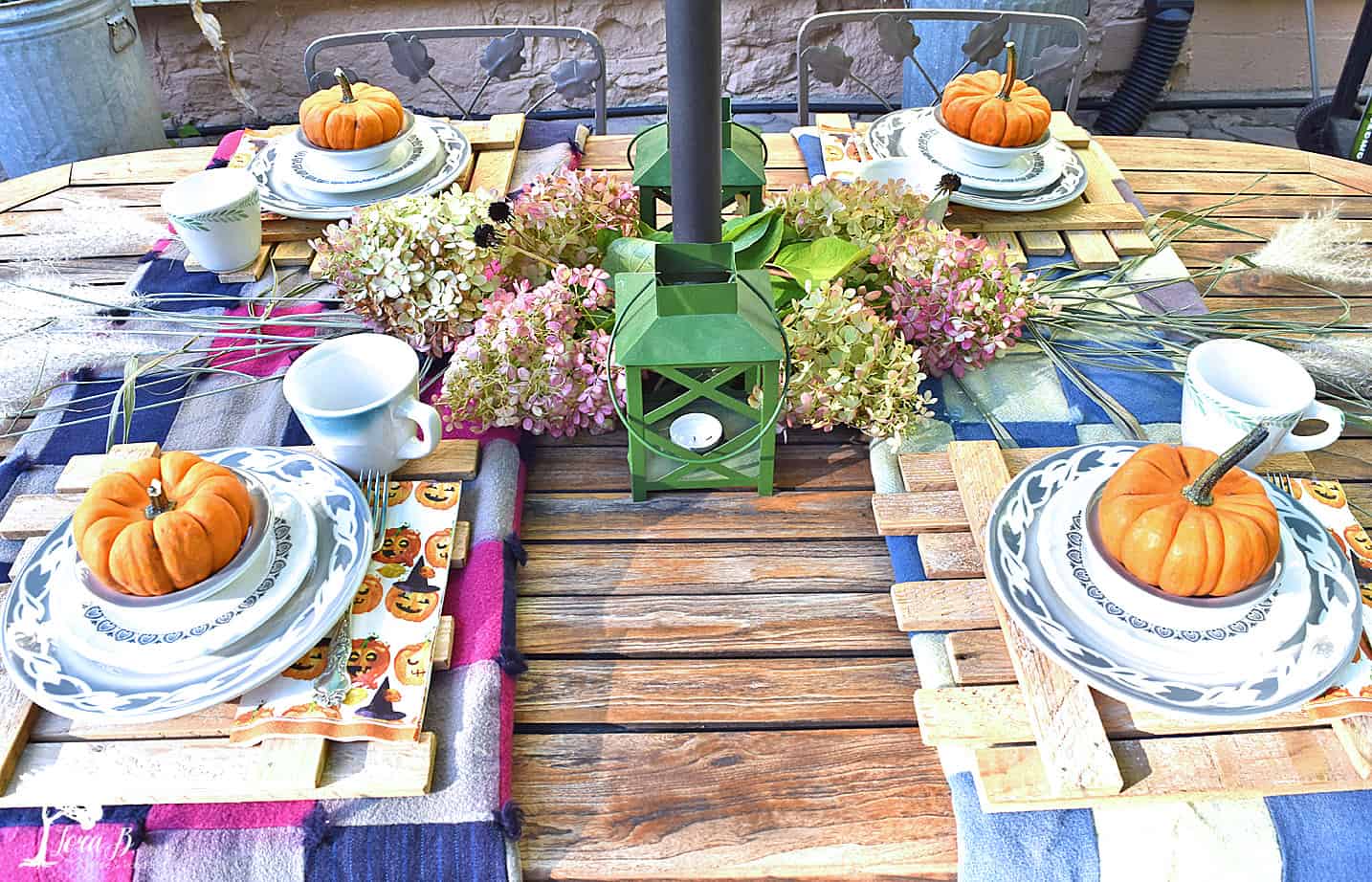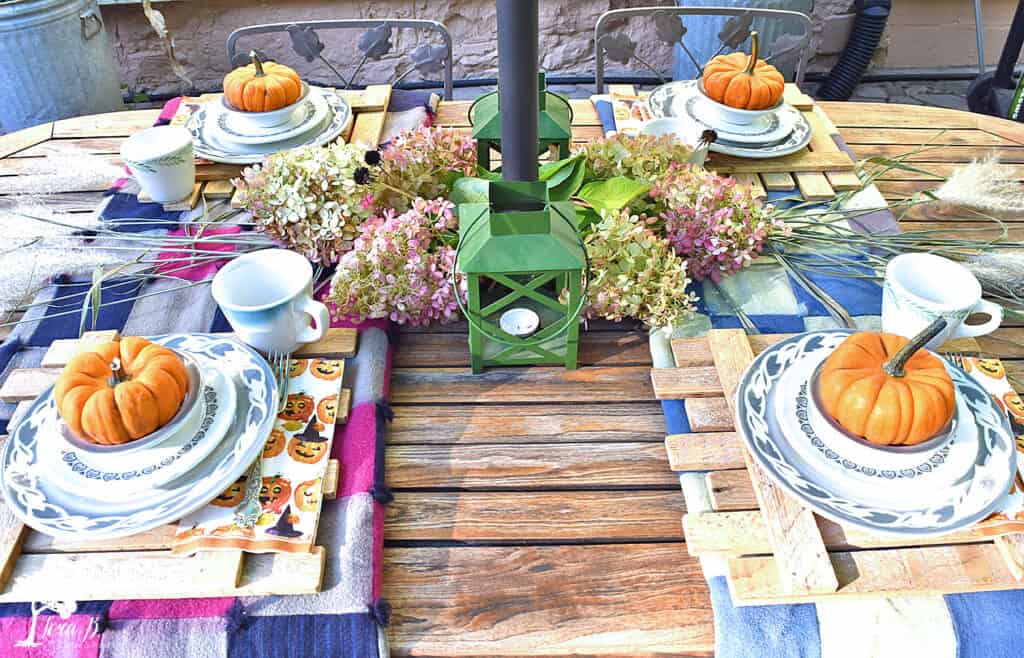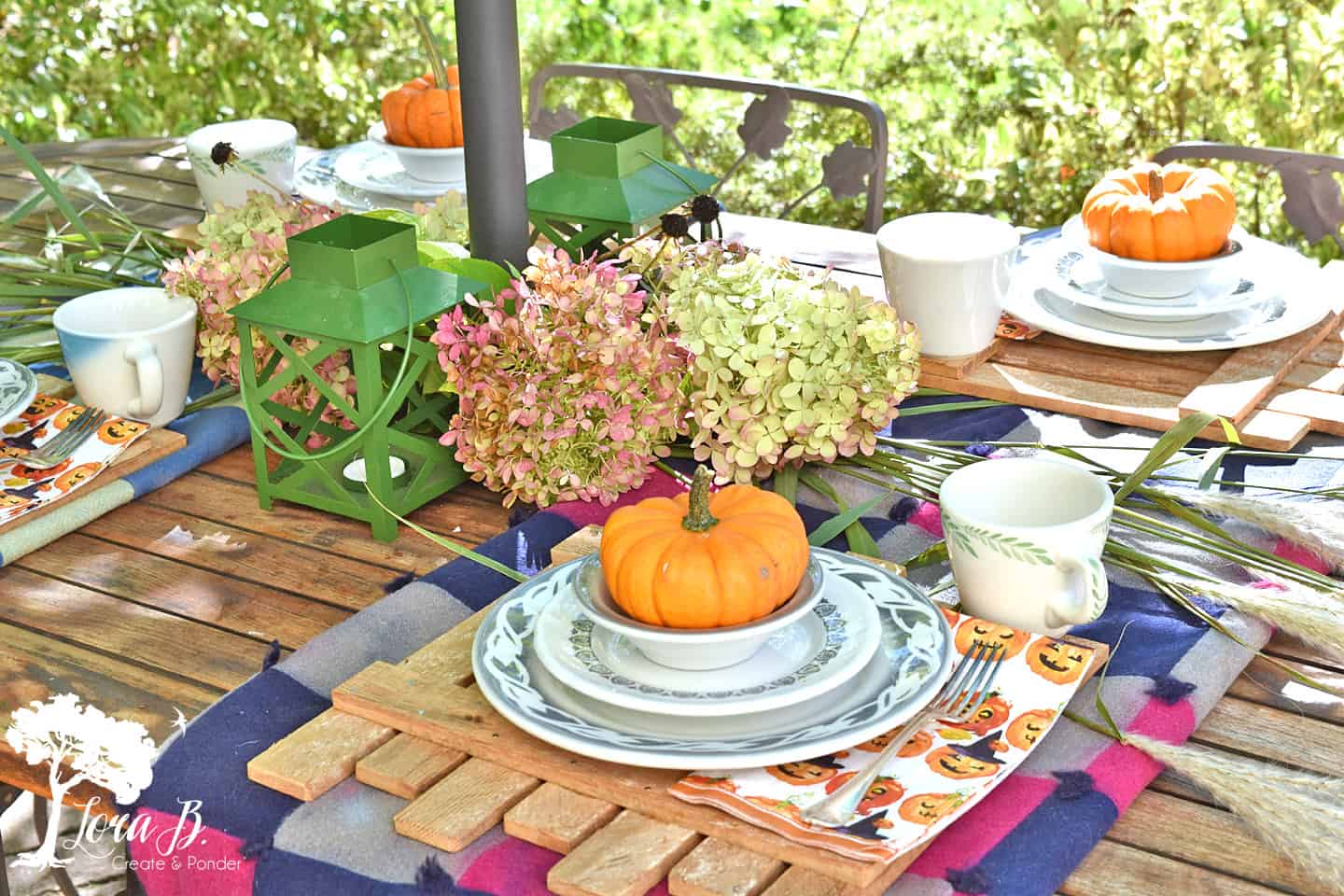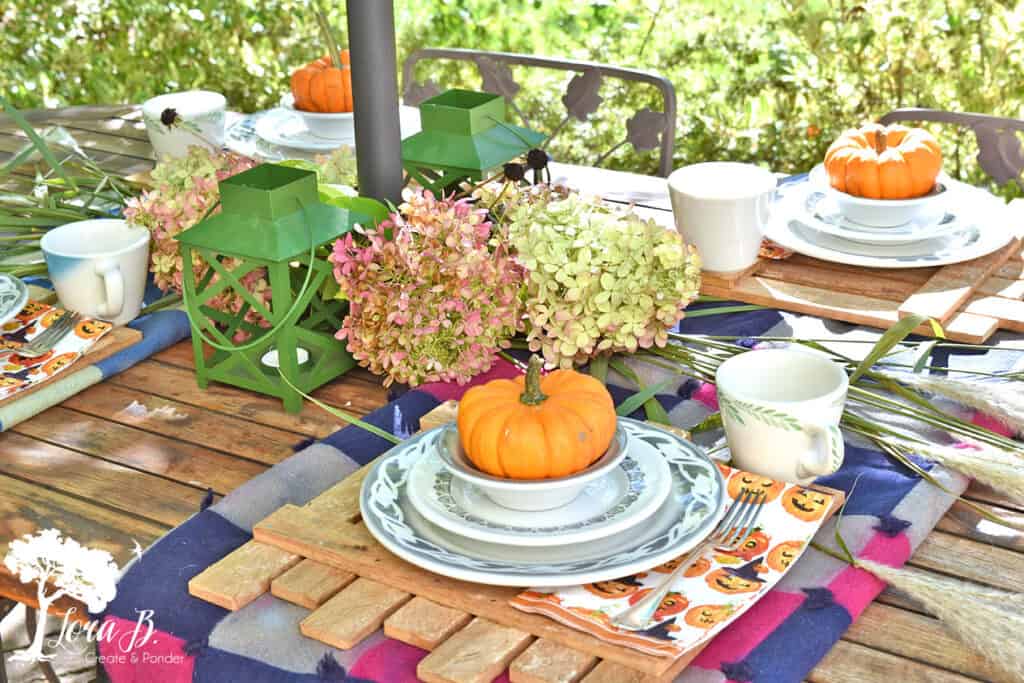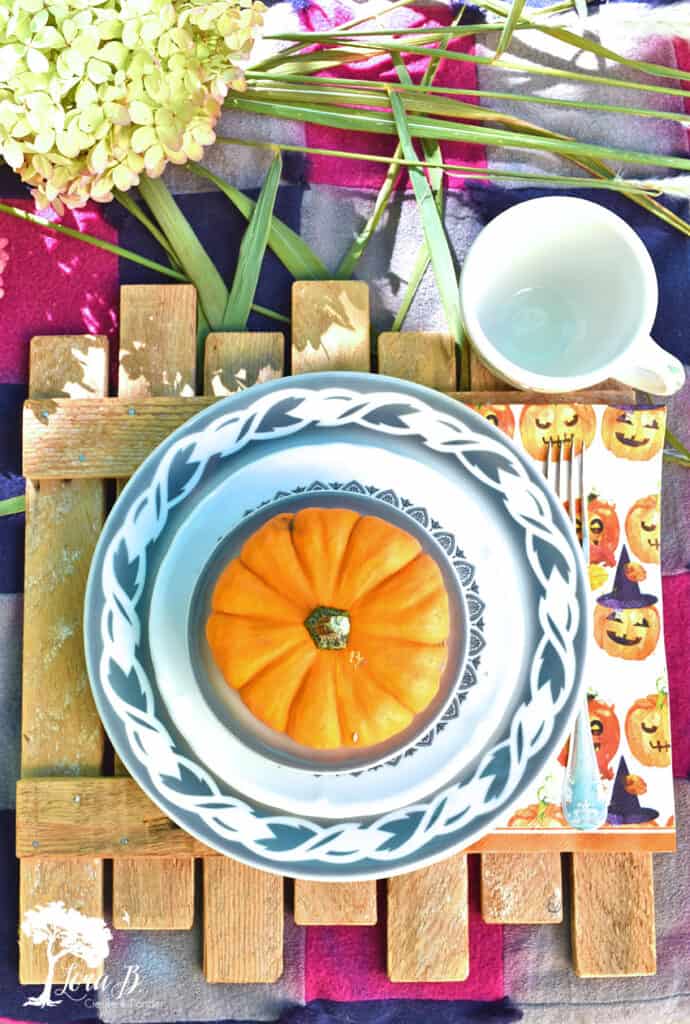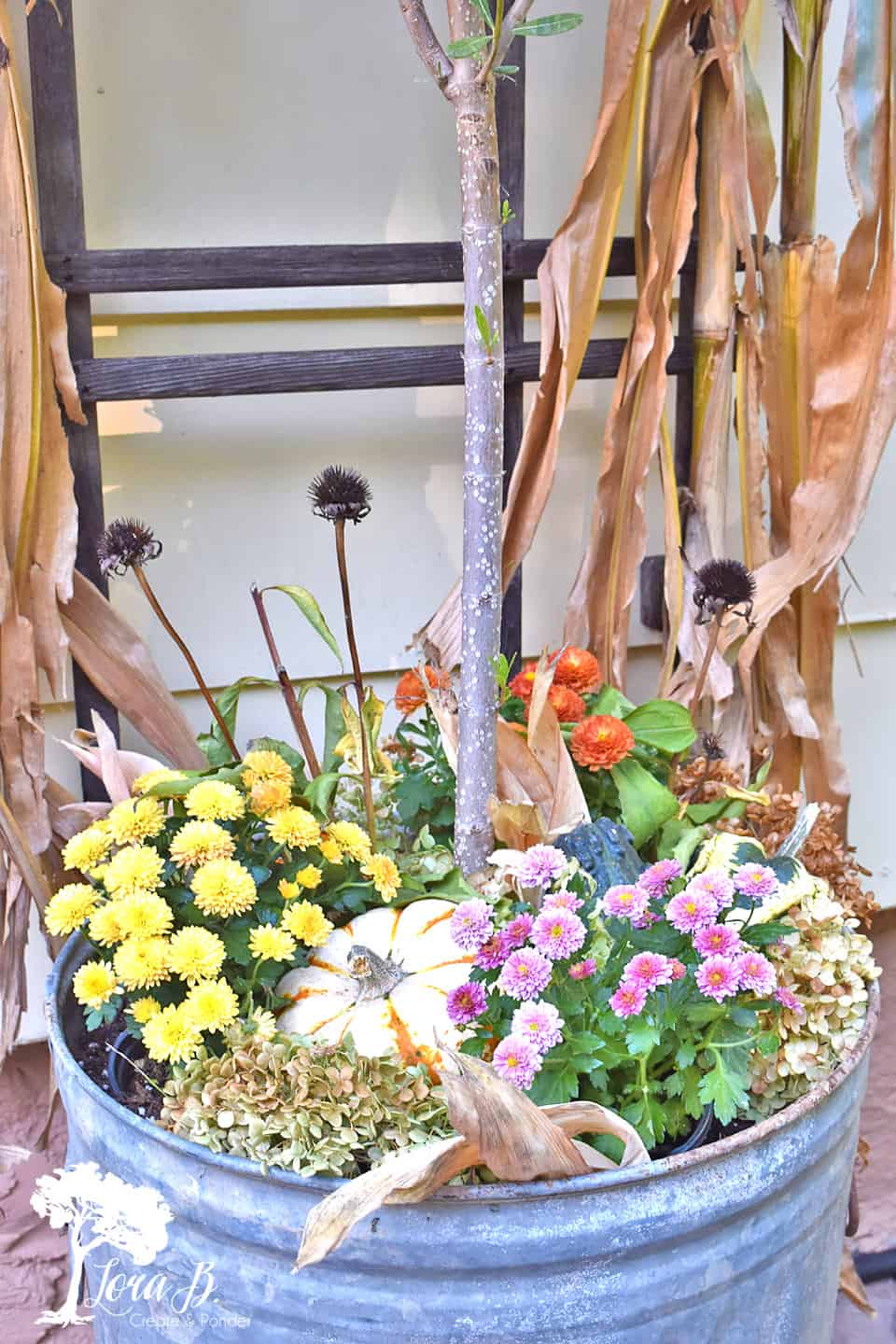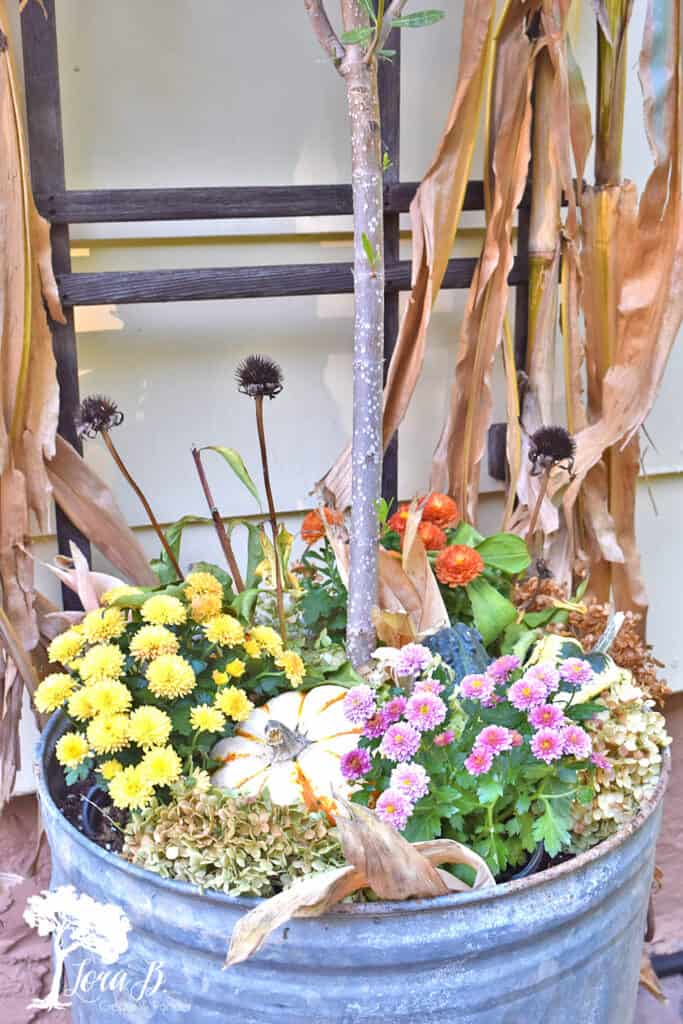 I hope you enjoyed touring our Fall Decorated Porch and Patio with Salvaged Style! For even more inspiration, visit Thistle Key Lane next; I'm sure you'll enjoy Michelle's Fall entryway tips.
pin, share, and Enjoy the rest of the inspiration!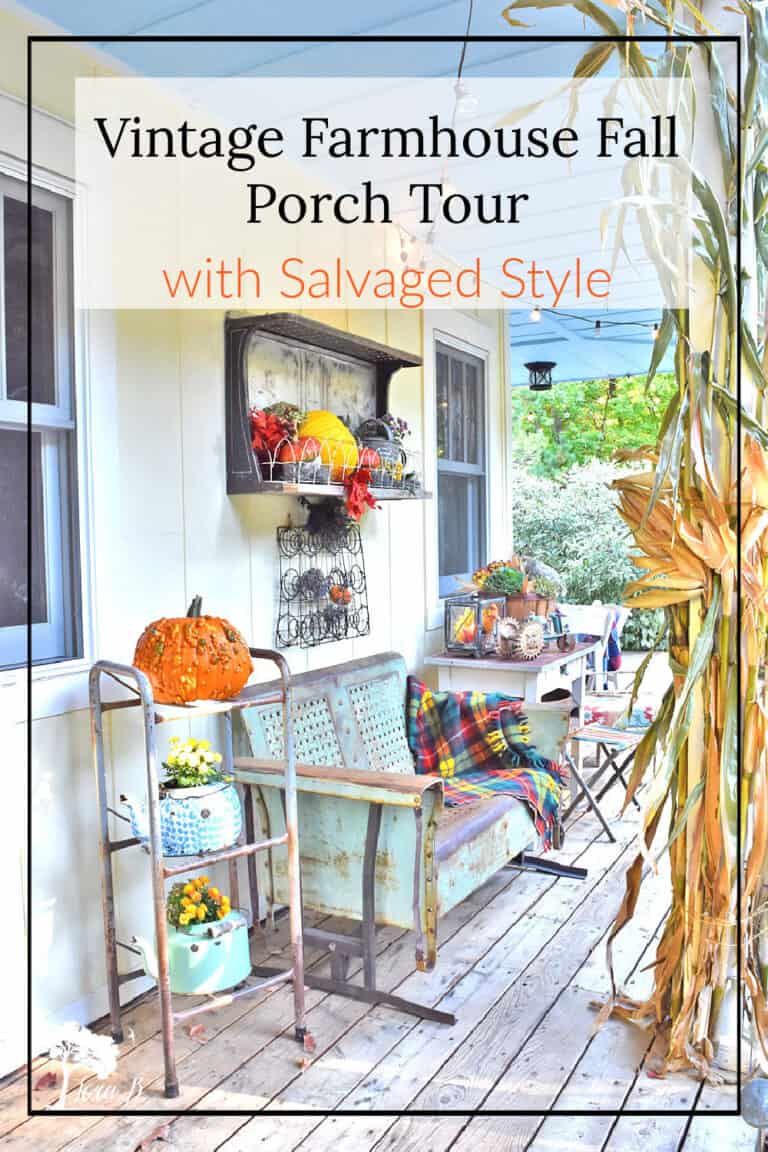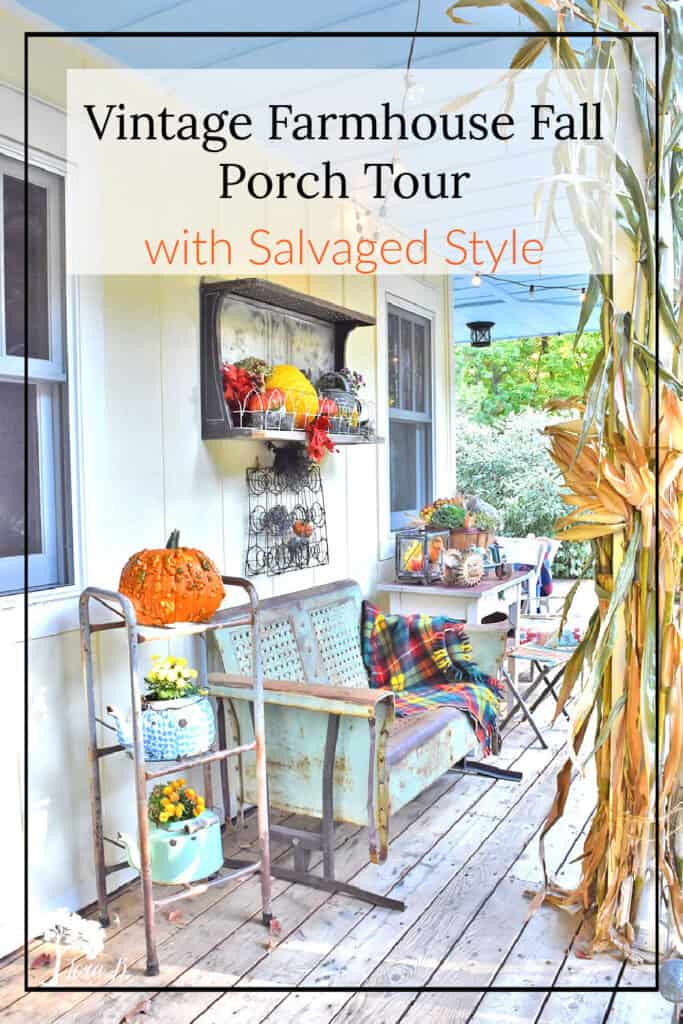 Bloggers' Best Fall Home Tours
Monday's Tours

The Tattered Pew / Midwest Life and Style / Bricks 'n Blooms
My Thrift Store Addiction / Pasha Is Home / Willow Bloom Home Blog
Tuesday's Tours

Open Doors Open Hearts / White Arrows Home / Cottage On Bunker Hill
Simply2Moms / Cottage In The Mitten / Fiddle Leaf Blog
Wednesday's Tours

Sweet Pea / County Road 407 / Lora Bloomquist Create and Ponder
Thistle Key Lane / Cloches and Lavender / A Life Unfolding
Thursday's Tours

First Day of Home / The Old Barn / Tatertots and Jello
The Ponds Farmhouse / StoneGable / Noting Grace
Friday's Tours

Dabbling and Decorating / She Gave It A Go / Sand Dollar Lane
Robyn's French Nest / My Family Thyme / Shiplap and Shells
Sharing at these lovely parties:
New Upcycled Projects to Make