Bedspring Shiny Brite Tree, Aqua Version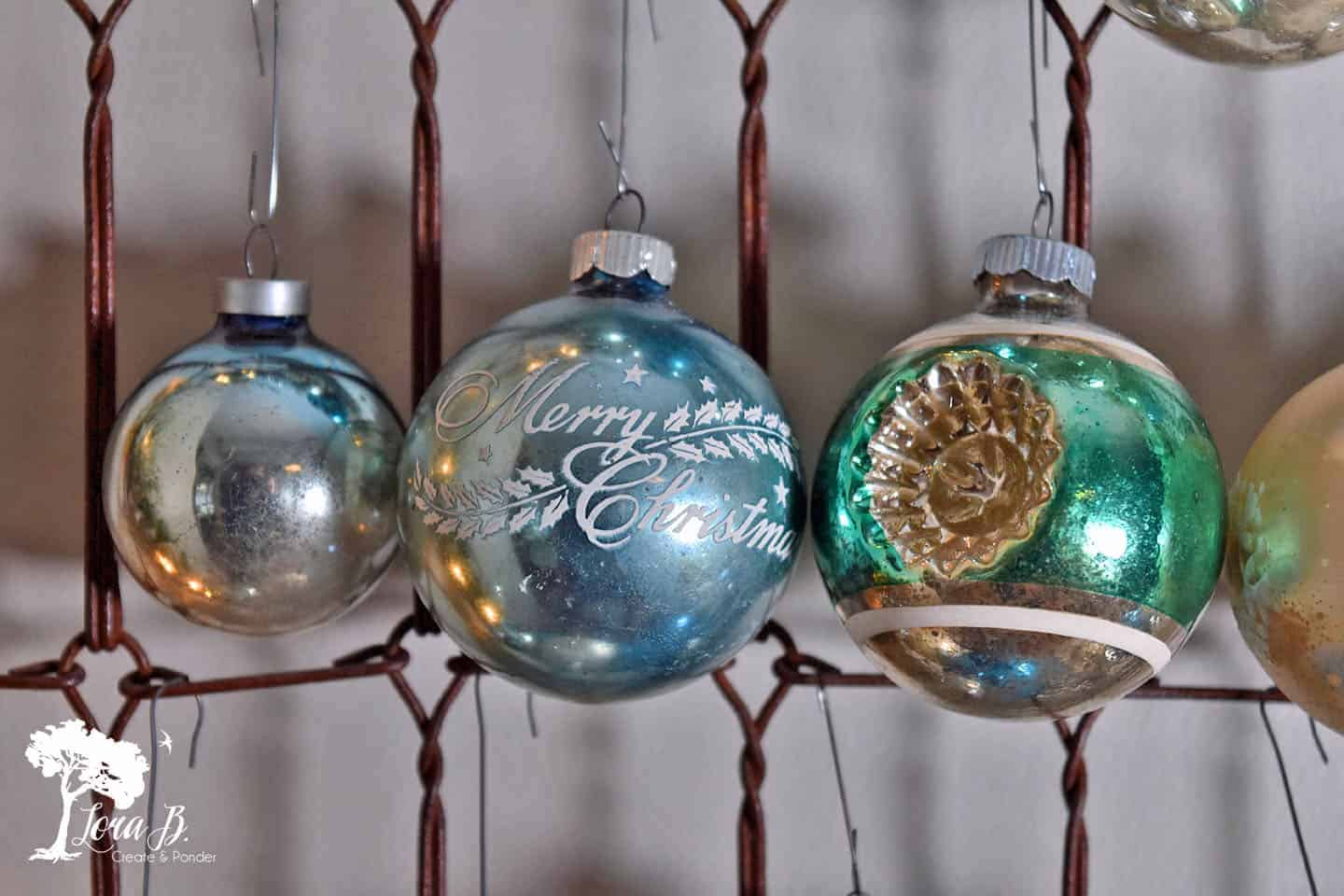 Vintage Shiny Brite ornaments are fun to collect! Their timeworn beauty and variety of colors and designs makes them a popular find for vintage lovers. My collection started with these aqua beauties from my mother-in-law. I must admit years ago I didn't appreciate any type of shiny orbs, but just like fashion ebbs and flows, I've grown quite a liking for them. My collection has grown through the years, buying some and receiving others from relative's estates. A couple years ago, I arranged my first "Bedspring Shiny Brite Tree" as a way to use them somewhere other than on our tree. This year I decided to have a Take 2 and improve on my original idea. If you've got an old bedspring, I'll show you how to create a Bedspring Shiny Brite Tree, Aqua Version.
I hung the aqua, white and a few green Shiny Brite ornaments on first to create the tree. But it would honestly be safer to attach the lights and greenery around the perimeter of the bedspring first, so you don't accidentally knock any of the breakable orbs off, while you're creating the frame. For pictures sake, the tree is already in the middle (learn from my mistake;)
Use chenille bendy stems every so often around the bedspring, so you can attach your light strings.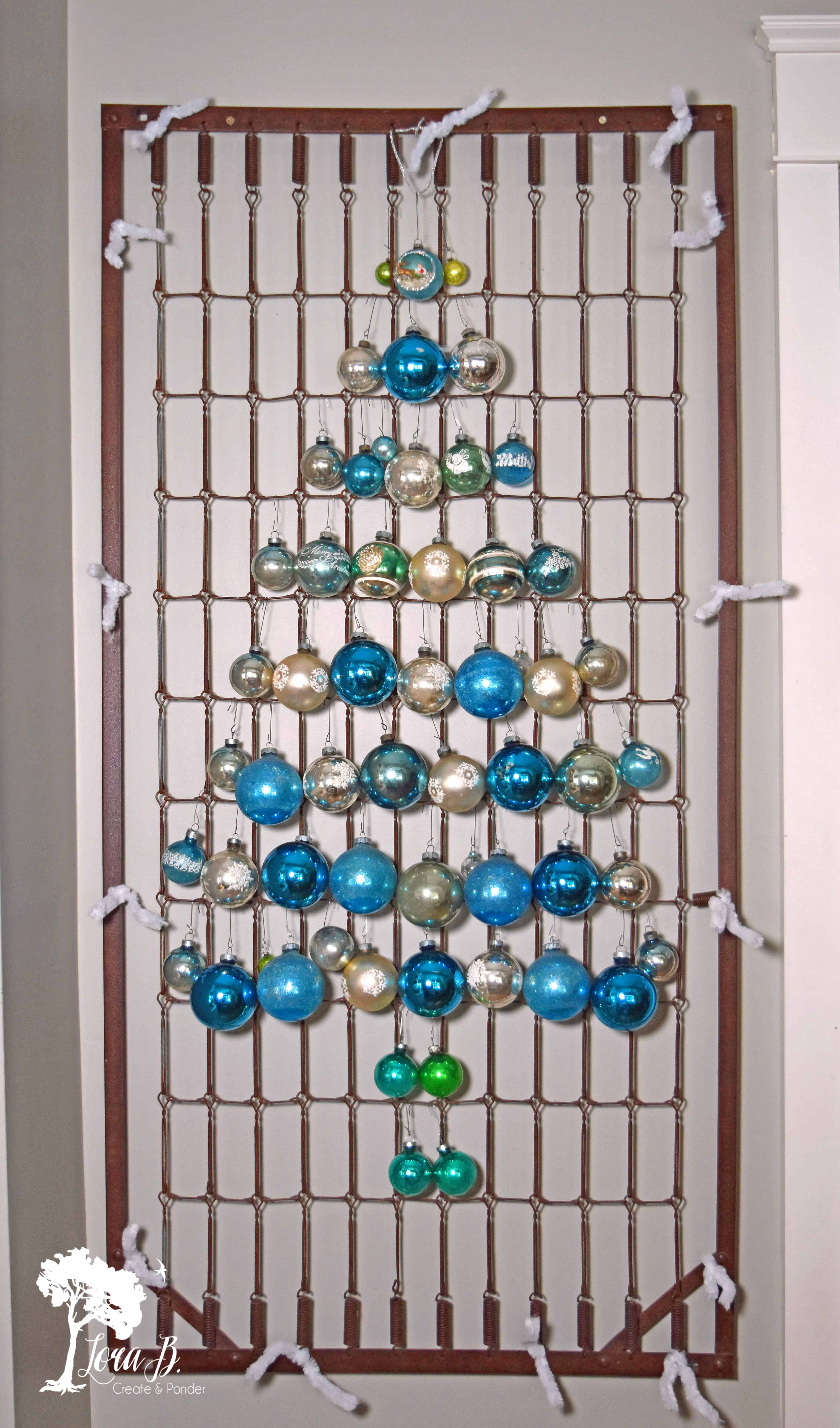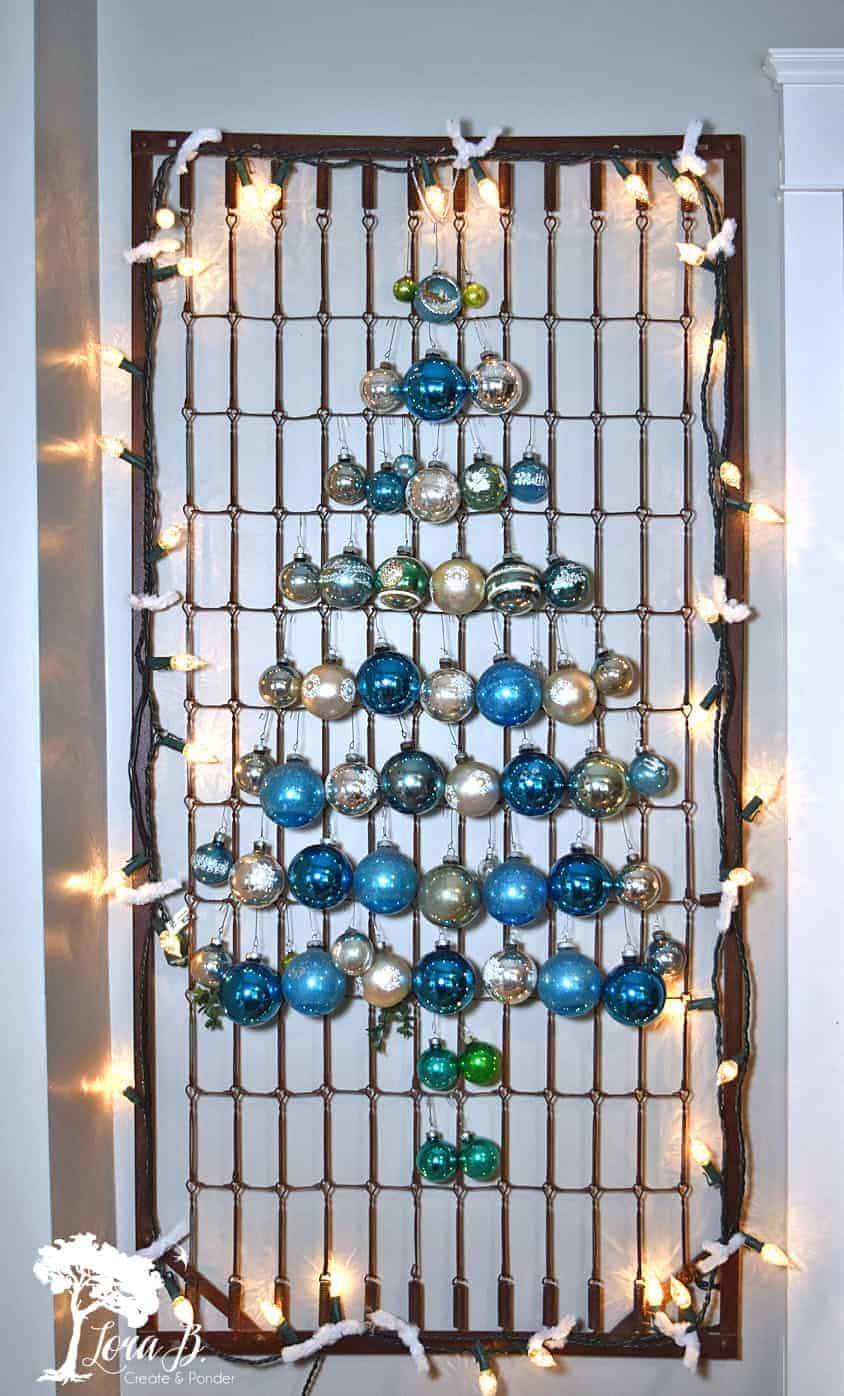 I used faceted glass lights, so their pretty designs could be seen on the wall and reflecting in the ornaments.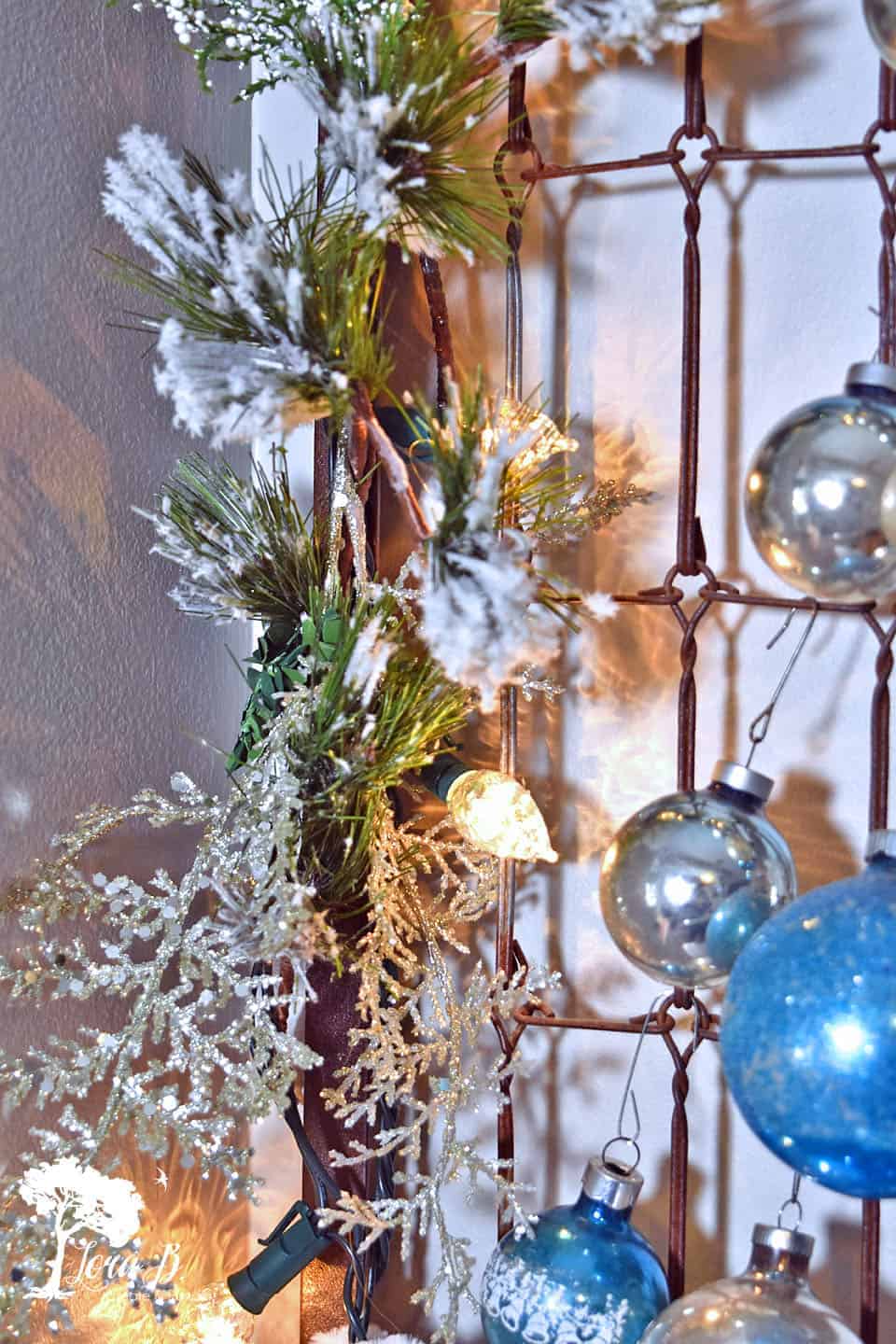 To achieve an icy theme with the aqua bulbs, I chose frosted greenery and icy sprays. I honestly used the leftovers from the rest of my decorating! I tucked the greener ends into the chenille stems and added more to attach where needed. If you use white or green chenilles, you can disguise them quite well.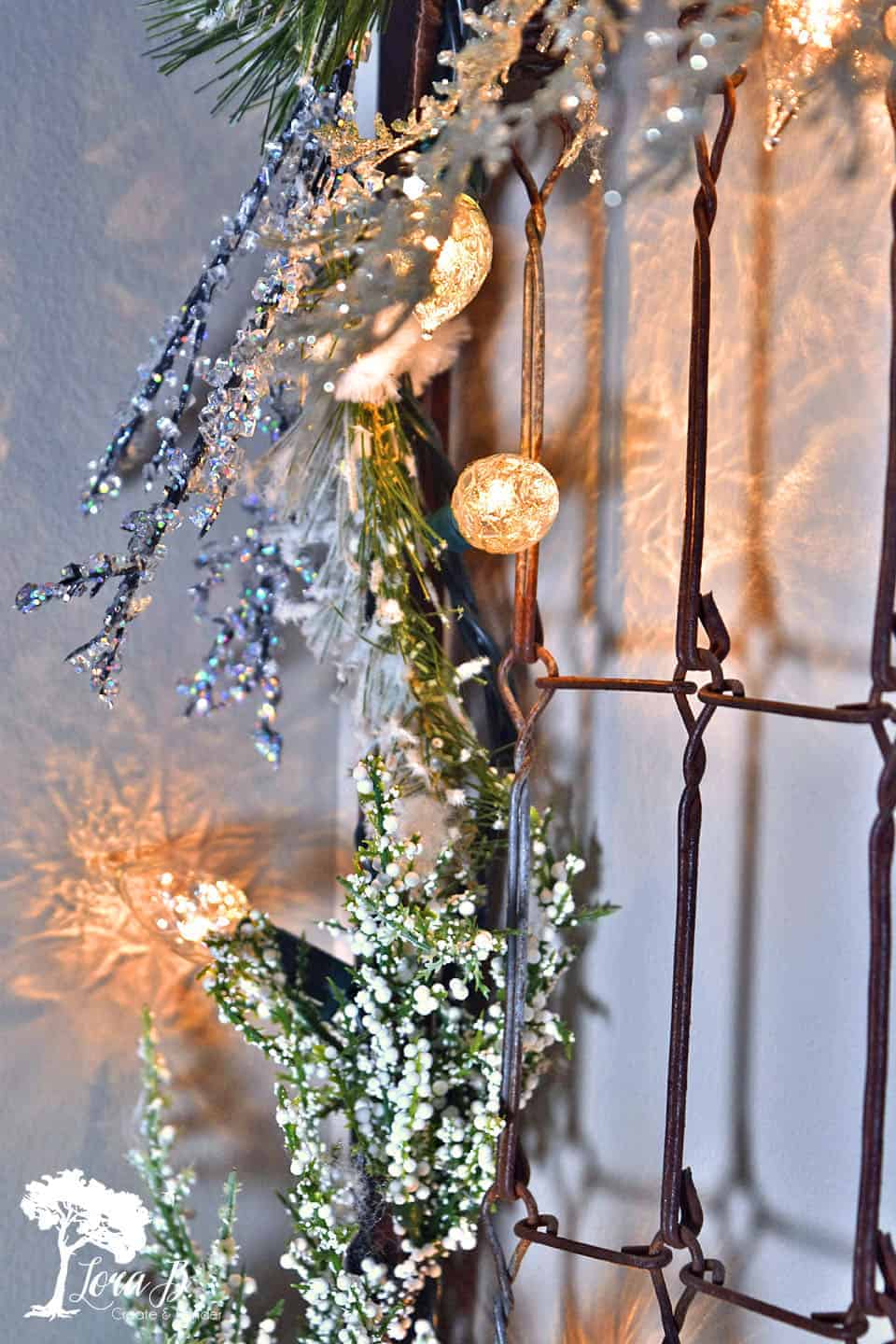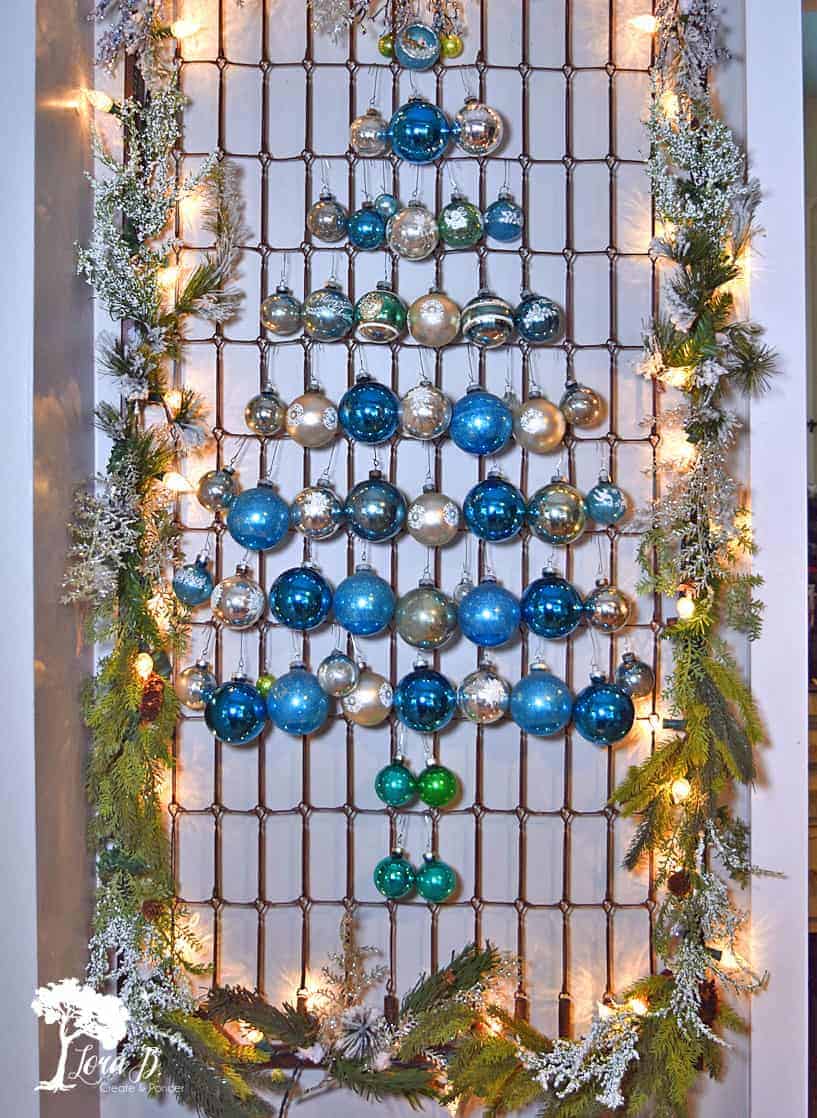 Arranging the ornaments to create a tree shape is kind of a try and see adventure. I did add smaller bulbs alongside the outside edge for a stronger line and made sure the patterns and colors were varied. Santa and his reindeer got the premier spot up at the top of the tree. This ornament is a family heirloom; hope I never break this one!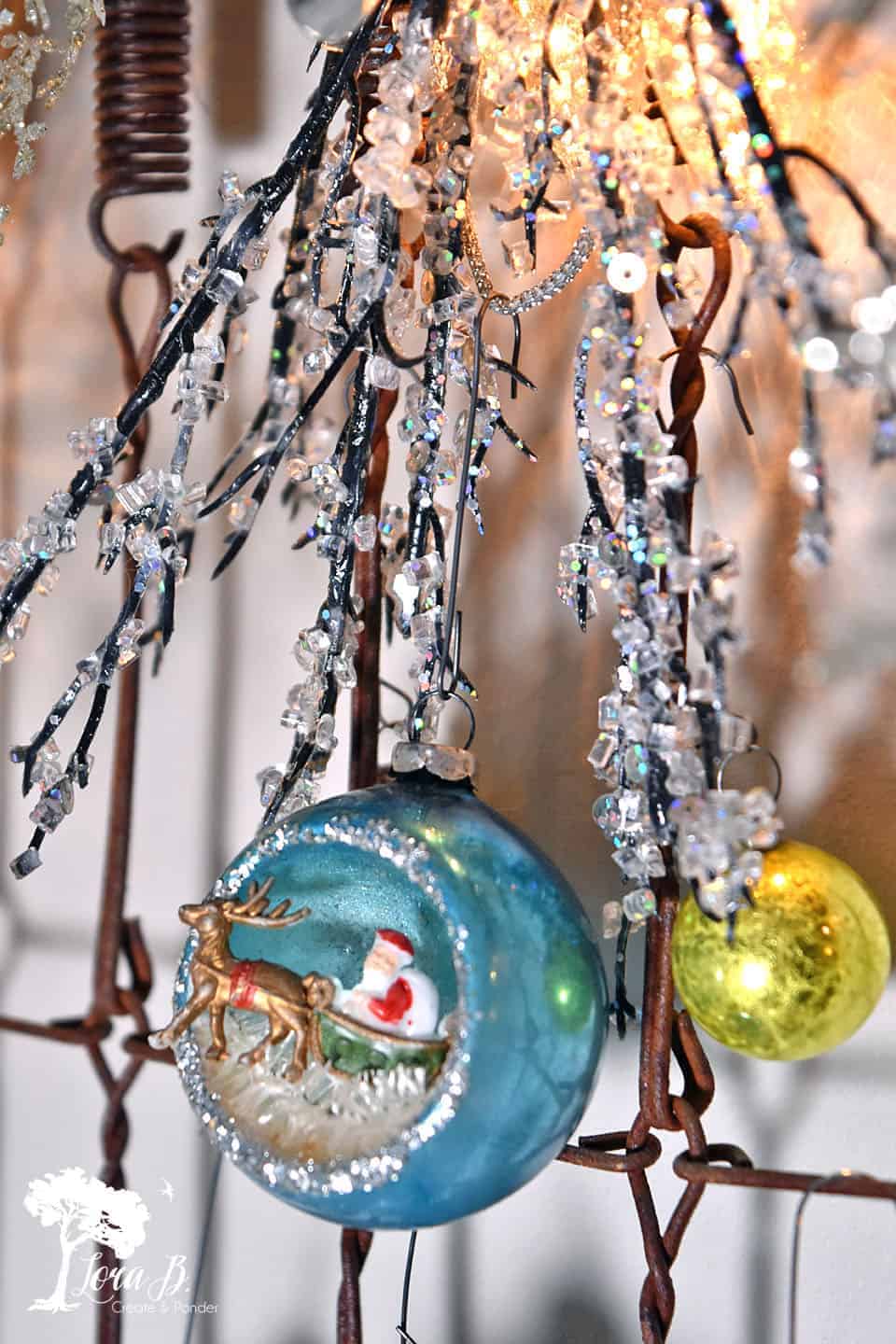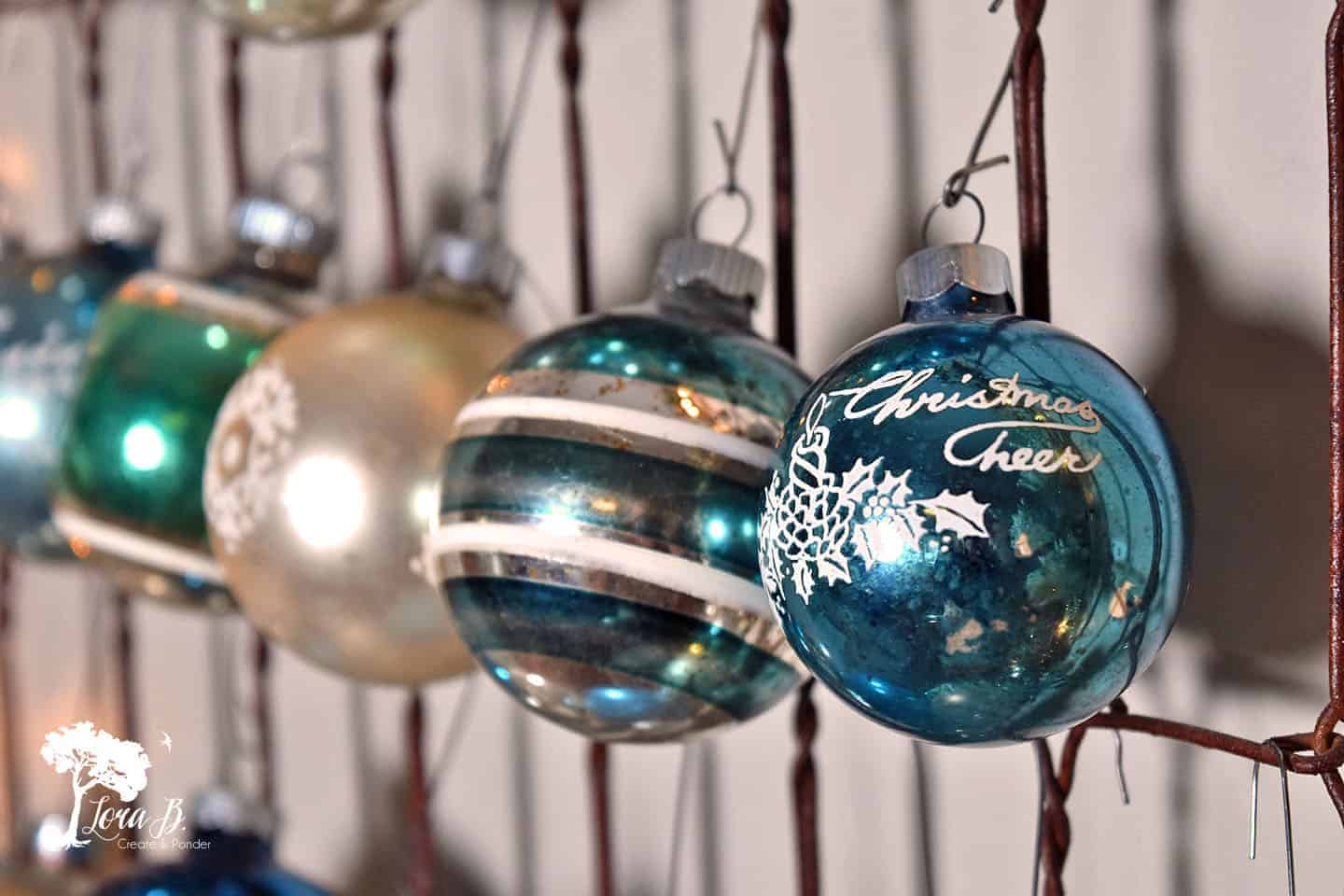 The sparkly tree was crying out for a star at the top. I went and grabbed 4 vintage molds that I had leftover from my "Vintage Tart Mold Wall Art" and hot glued them to a cross of craft sticks (real fancy;). I also glued a clothespin to the back to attach it to the greens. My impromptu star is the perfect topper for this Bedspring Shiny Brite Tree, Aqua Version!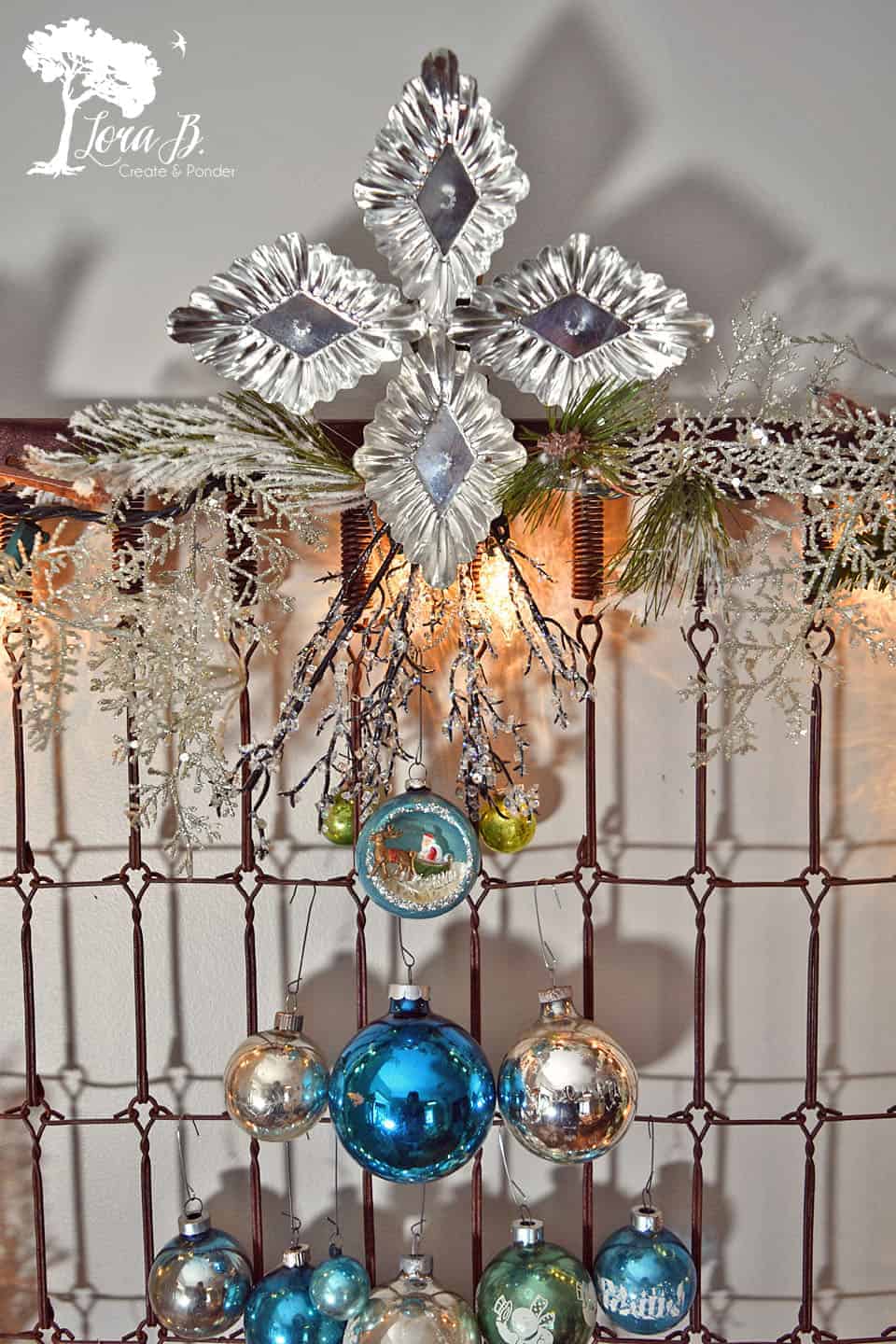 I think I may like version #2 almost better than the first one!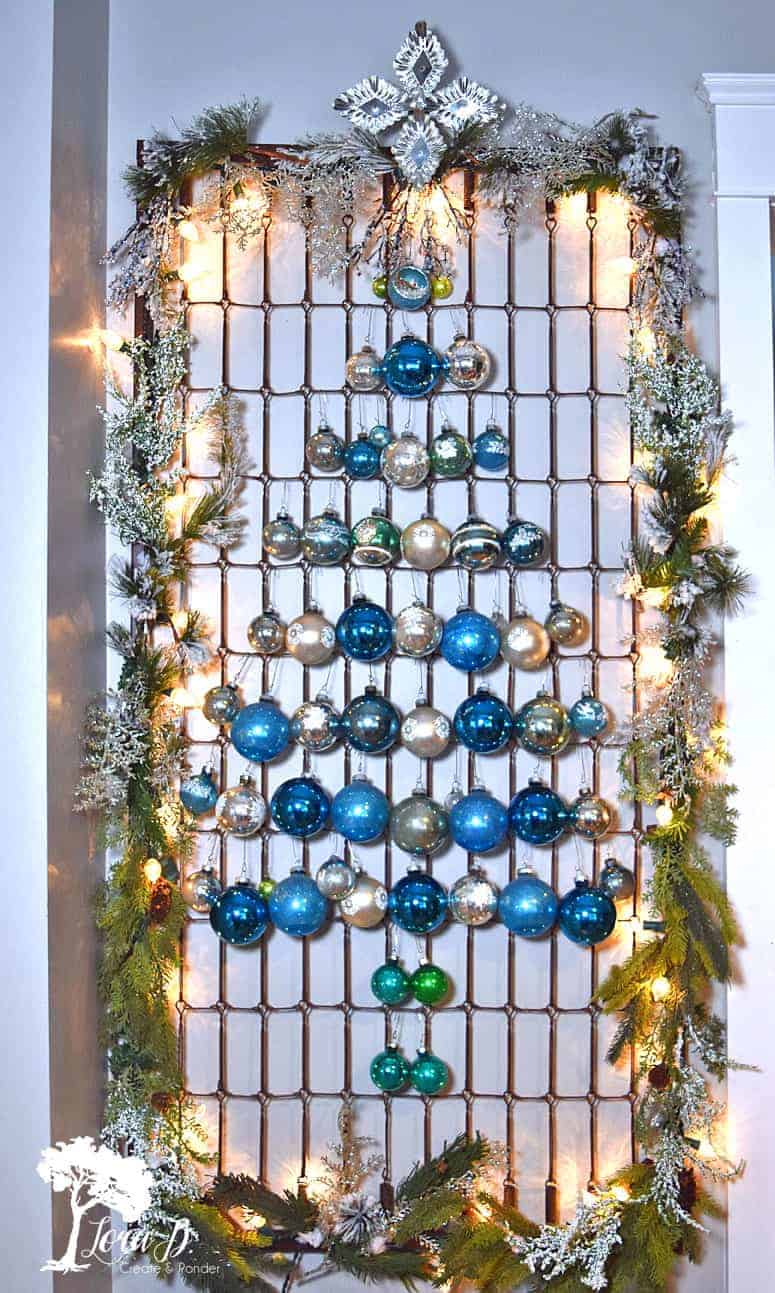 It's so fun to have on, glowing in my dining room at night! Which version do you like better? The previous colorful one from a couple years ago, or this aqua version?
If you've got a larger collection of Shiny Brites, color blocking and using them in different areas of your home can really be a fun change! Maybe you only ever thought about using them on the tree, all together. Once you start collecting these beauties, you'll want to get creative using them in all sorts of places! Hope you enjoyed seeing how this Bedspring Shiny Brite Tree, Aqua Version came together!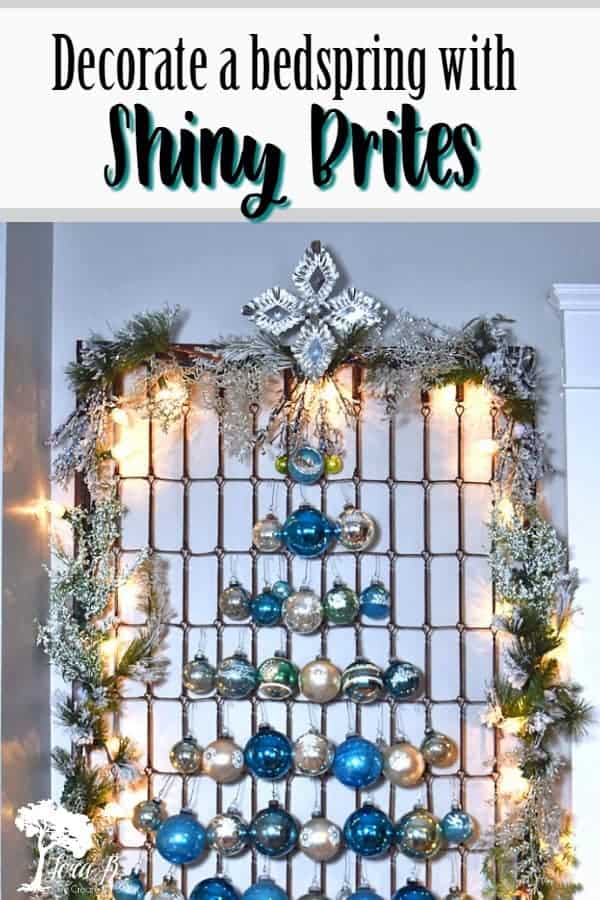 Sharing at these lovely parties:
Best of the Weekend