Woodsy Bedroom Makeover Reveal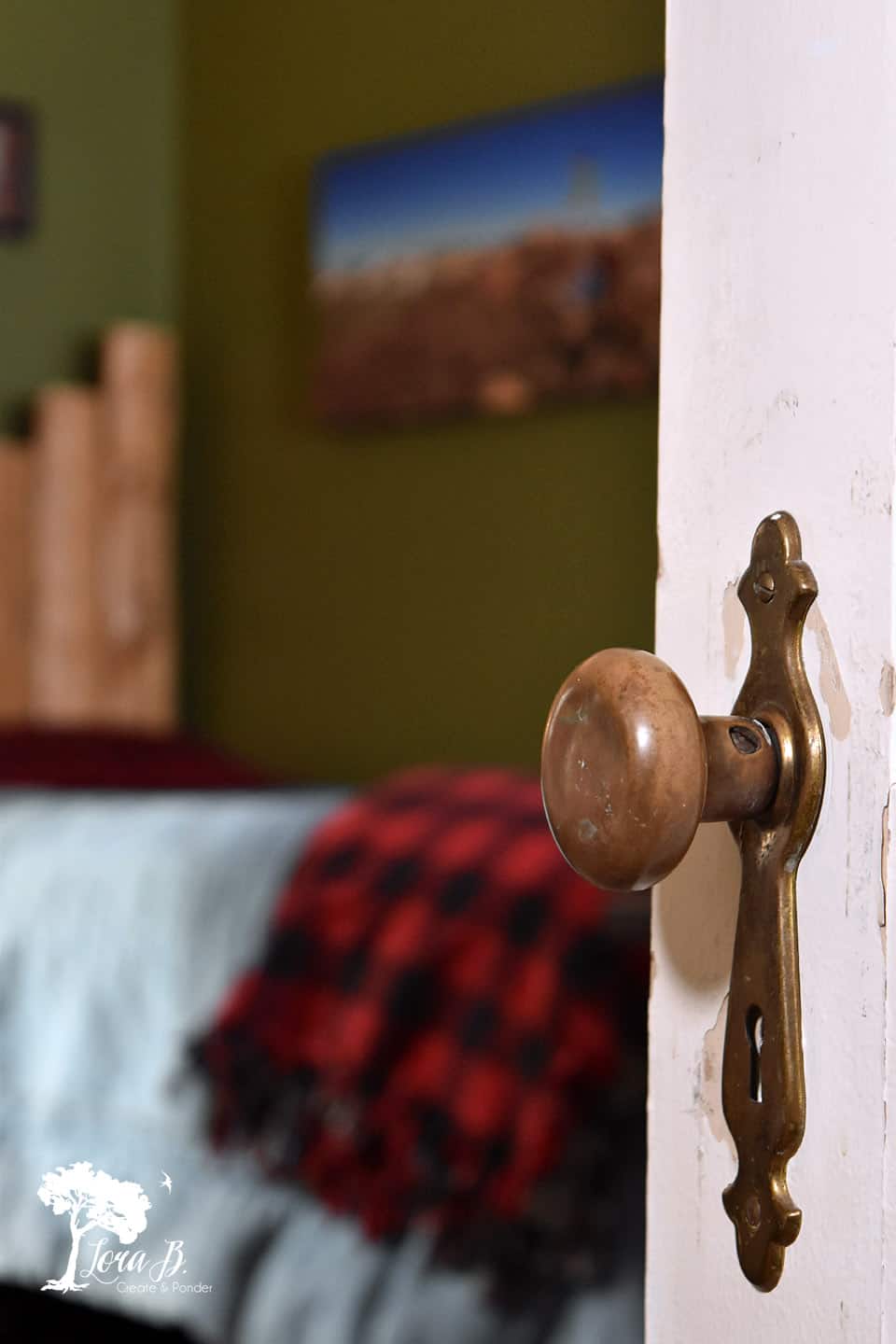 In the span of my children's lives, I've redecorated their rooms, on average, about 4 times. First there was the baby nursery, then there was something fun and juvenile for the grade school years. Once they were in about junior high or high school, they wanted a room that reflected their hobbies and interests. We're down (or up) to the last phase of room decorating for my kiddos (sniff), creating a comfy room they can come home to when coming and going from college, and using these spaces as guest rooms for anyone else who comes to our home. Last week I shared our daughter's "Vintage Modern Bedroom Makeover Reveal". Today I'll share the very different but right across the hall "Woodsy Bedroom Makeover Reveal" we've been working on for Mr. Freckles.
If you saw last week's bedroom makeover, you'll notice the door and knob are different. When we bought our Fake Farmhouse 15+ years ago, the doors were a mish mosh of hollow core, cheap doors from the 70's and 2 panel wood doors from the 50's. Nothing original from this 1900's home:( When we first re-did the kids' rooms, I happily kicked in the hollow core doors;) I decided to embrace the wonkiness of unmatched doors and hardware and enjoy many different types of vintage doors and hardware on each. One of these days I'll take a pic of each, so you can see the wide variety! Some are stained, some are painted; this one is obviously chippy. Some day I'll maybe strip it…but not today (details…).
Mr. Freckles is a 6'1″ nature-loving young man who loves to climb trees 40 feet up (I just pray). He also loves to play his guitar for hours each day, writing his own songs and jamming out with friends. He's a creator like his momma and is constantly dreaming up things he can make in the garage or out in the woods. The room we came up with reflects his passions and is a cozy place for him to be this last year at home, and will hopefully be an appealing place for him to come home to…often;)
When he was off on a mission trip with church this summer, Mr. Fix-it and I got busy recreating his room. I can't find any "before" pics, but basically there were 3 deep red walls and one tan. It had originally had a "doggie" theme and I had 3 beautiful paint-by-number dog pics on the wall. (I'm not parting with them, but who knows where they'll end up next;) The first challenge was wall color.
His favorite jacket is a pretty, olive green and before he left on his trip I said, "What if I paint your room green, like your jacket?" Bingo. When he came home, he said, "I can't believe how much I like my room this color." I got smart mom points for this decision!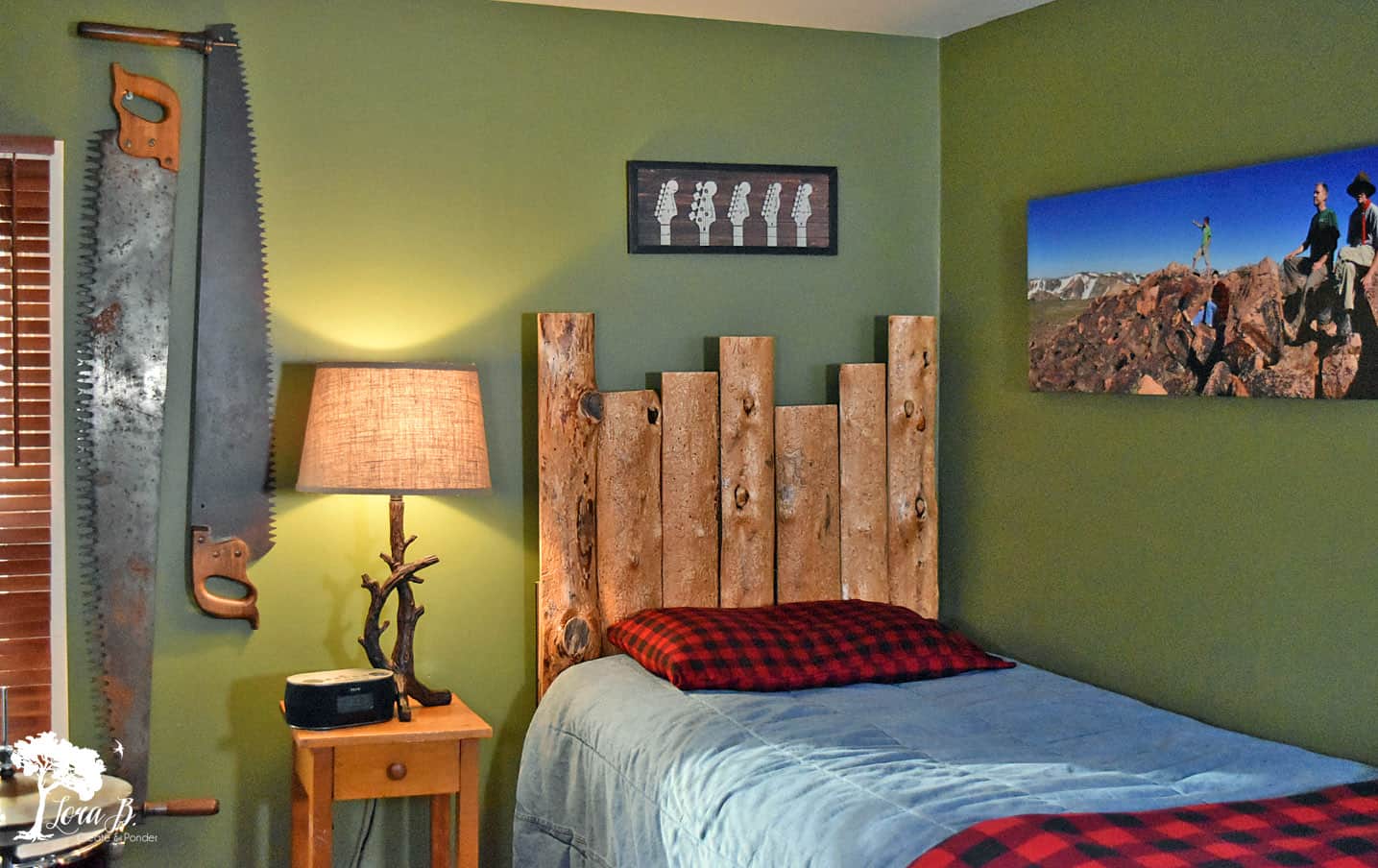 I also painted the ceiling a crisp white to make everything look fresh and new. While I was painting, Mr. Fix-it was creating the half-log bed I had in my mind. I'll share the how-to in another post, but this is how it turned out! I wanted it to look tall and be farther off the ground for his tall body. Next to the bed is a taller side table, built by his grandpa years ago. I found the branch lamp at none other than Walmart. He had found the old 2 man saws vintage shopping with me years ago and just requested they not hang above his bed!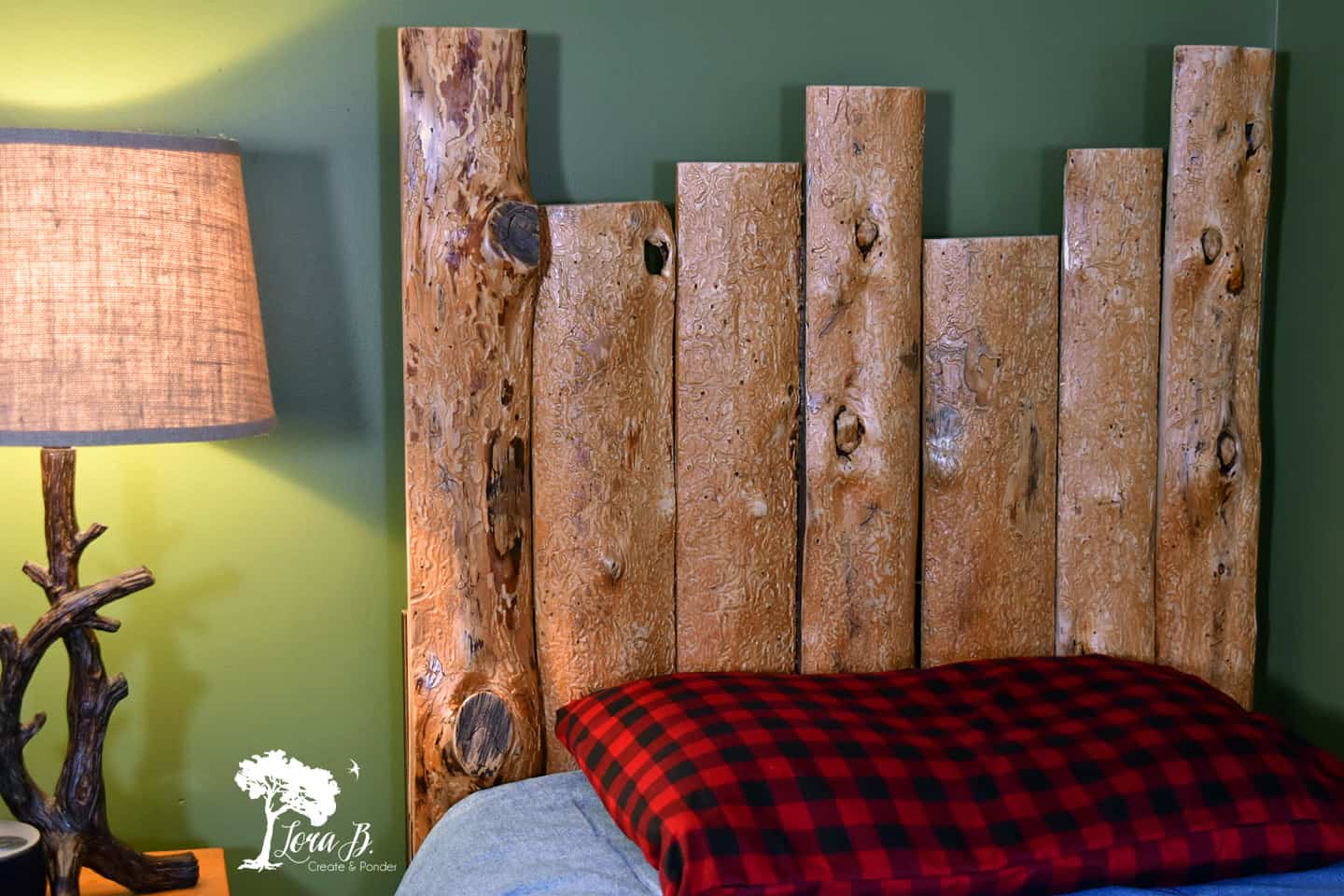 The bed really is the central figure in the room. It sets the theme for the whole Woodsy look. Red and black lumberjack sheets and a denim bedspread imitate a logger's wardrobe and help to make the room not so matchy-matchy.
Once the bed was made, we still had more of the character-filled half-log boards. Instead of having guitars sitting all over the room, I envisioned hanging them on the wall for function, but also elevating them to art status. He really likes admiring his guitar collection and having them readily available.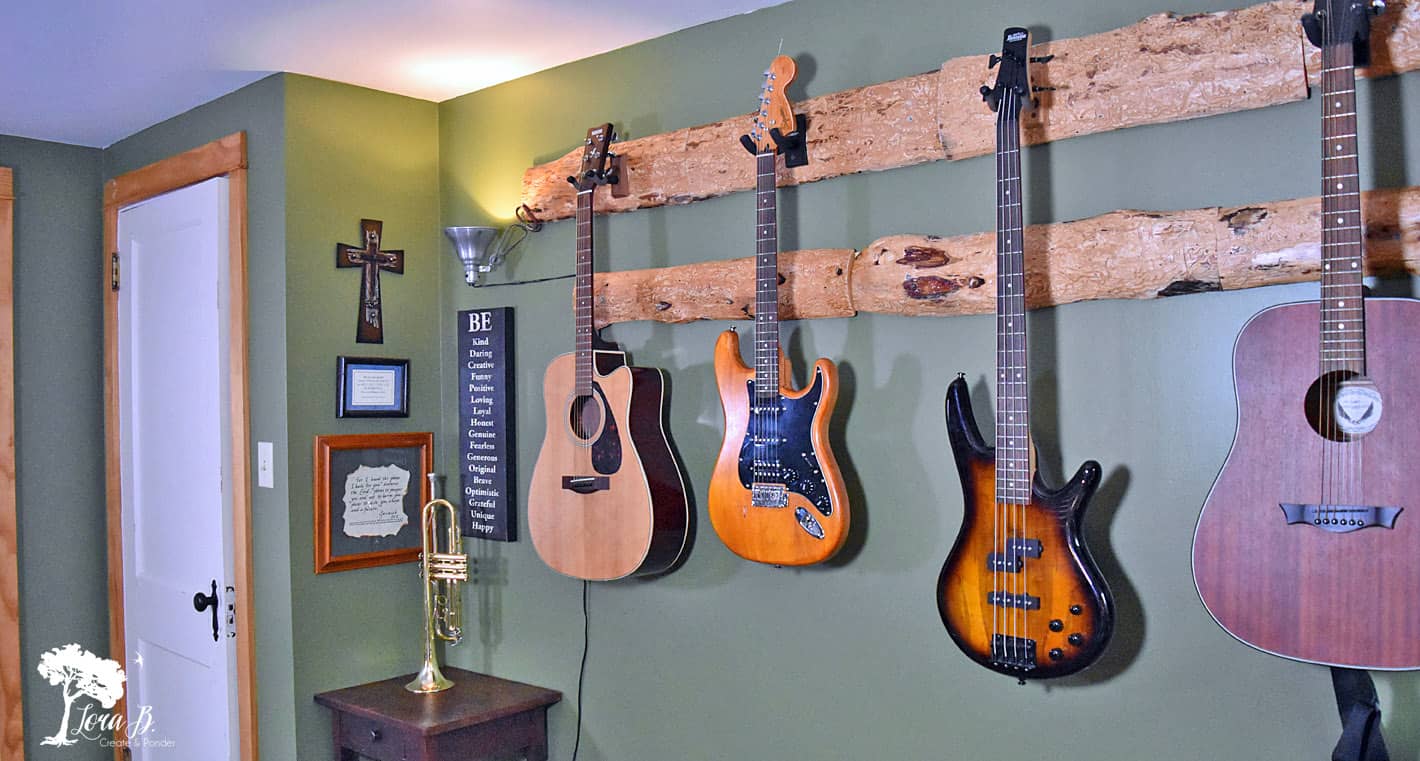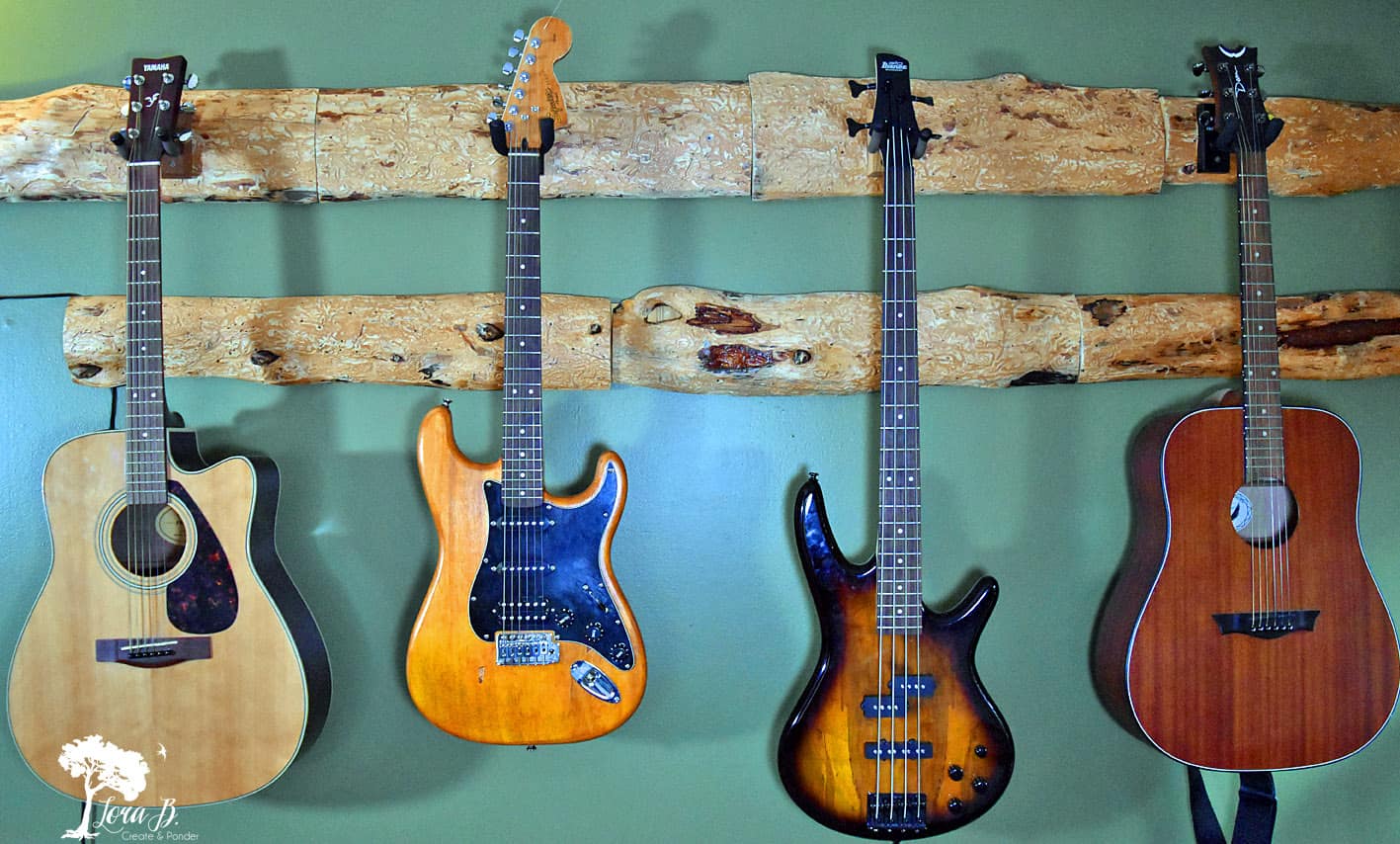 I love how he's embraced the room and put his own creative mark on things. He's added up lights here and there for drama and even created his own pedal board for his guitar pedals: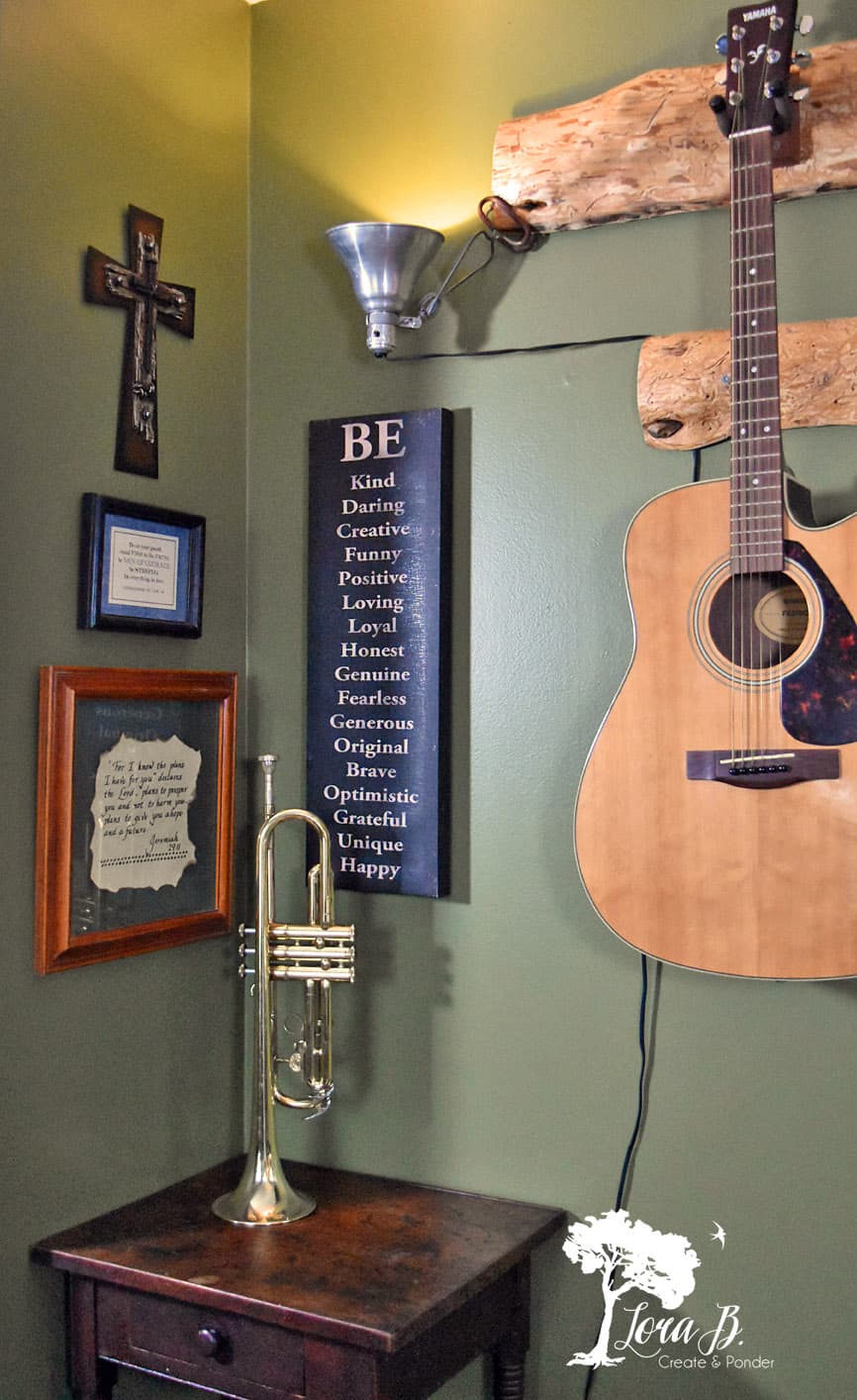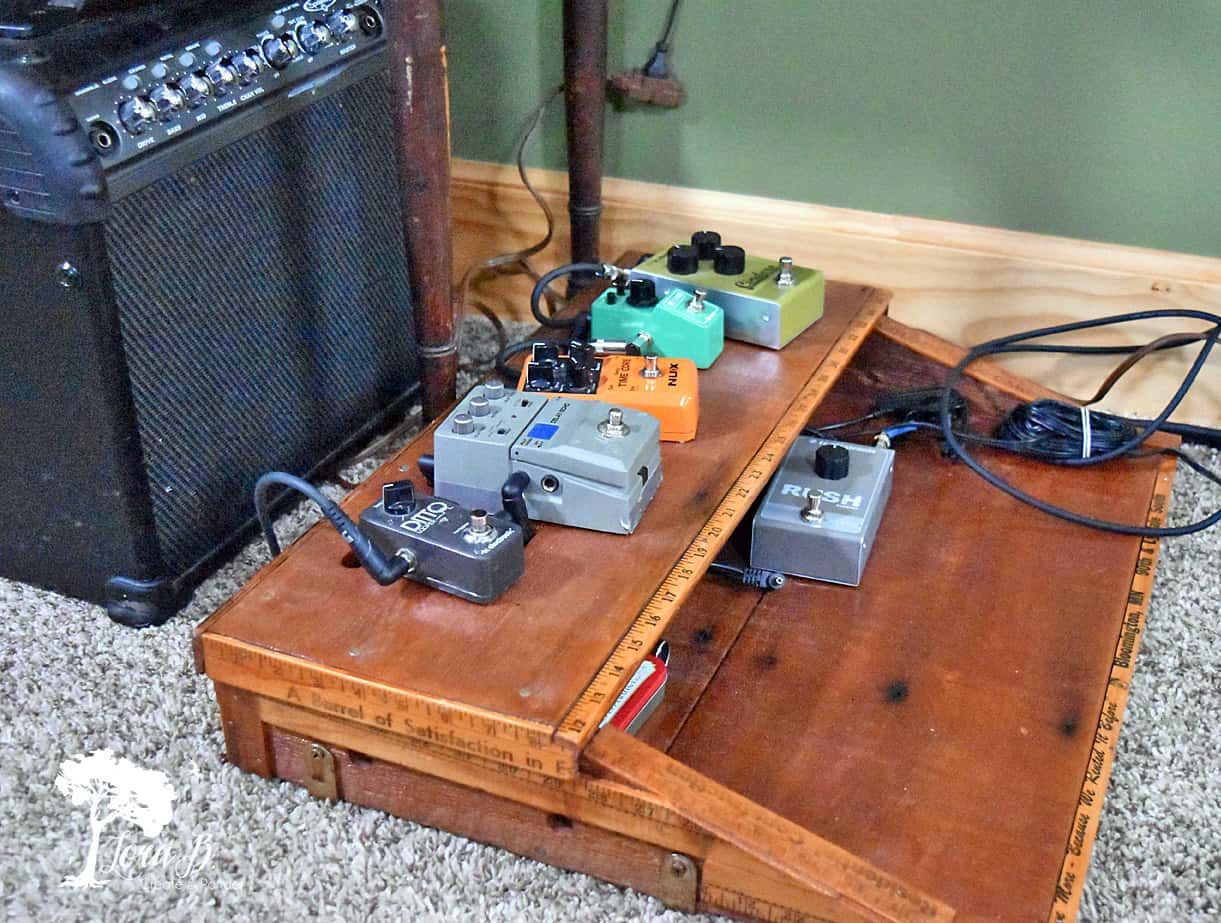 This guy's a maker like his mom and is always creating something. I wanted him to have a place for all his "creations", but was frustrated with clutter filling every flat surface. I moved a tall, metal bookshelf I'd had in our living room to his room, to corral and display all his creations. It's a simple, utilitarian metal bookshelf I carried out of an estate sale basement and Mr. Fix-it backed it with barnboard. The different wood texture adds another element to the woodsy room.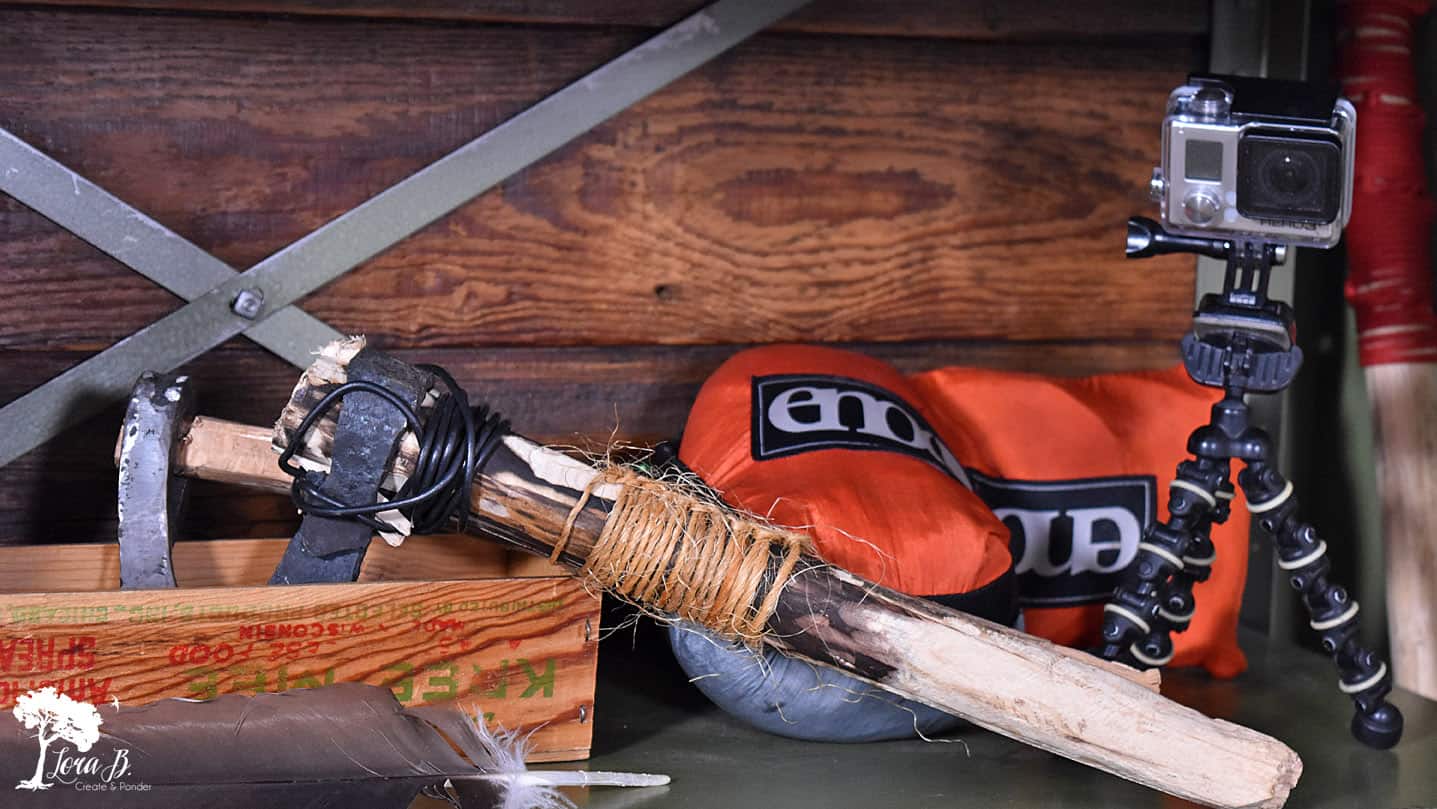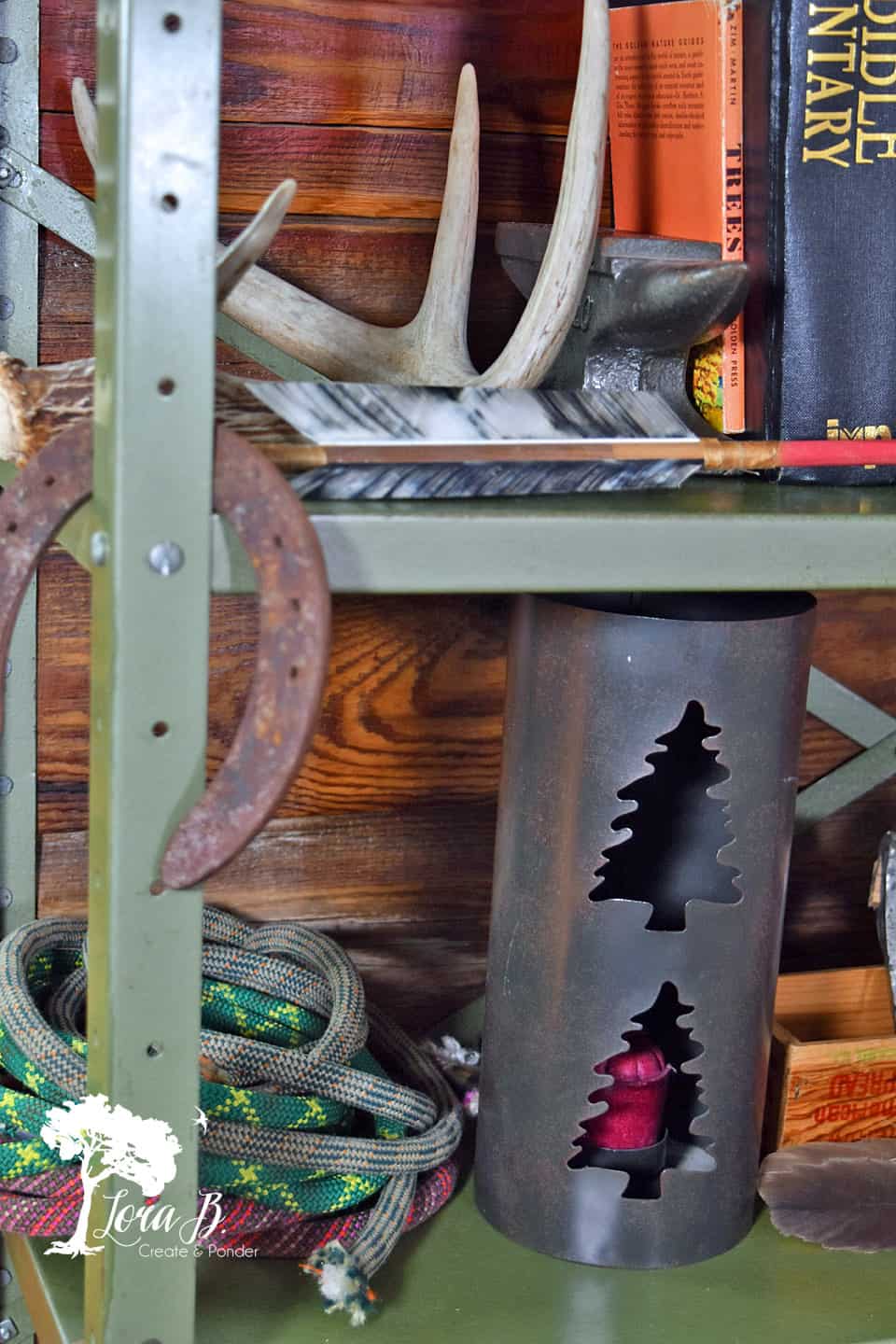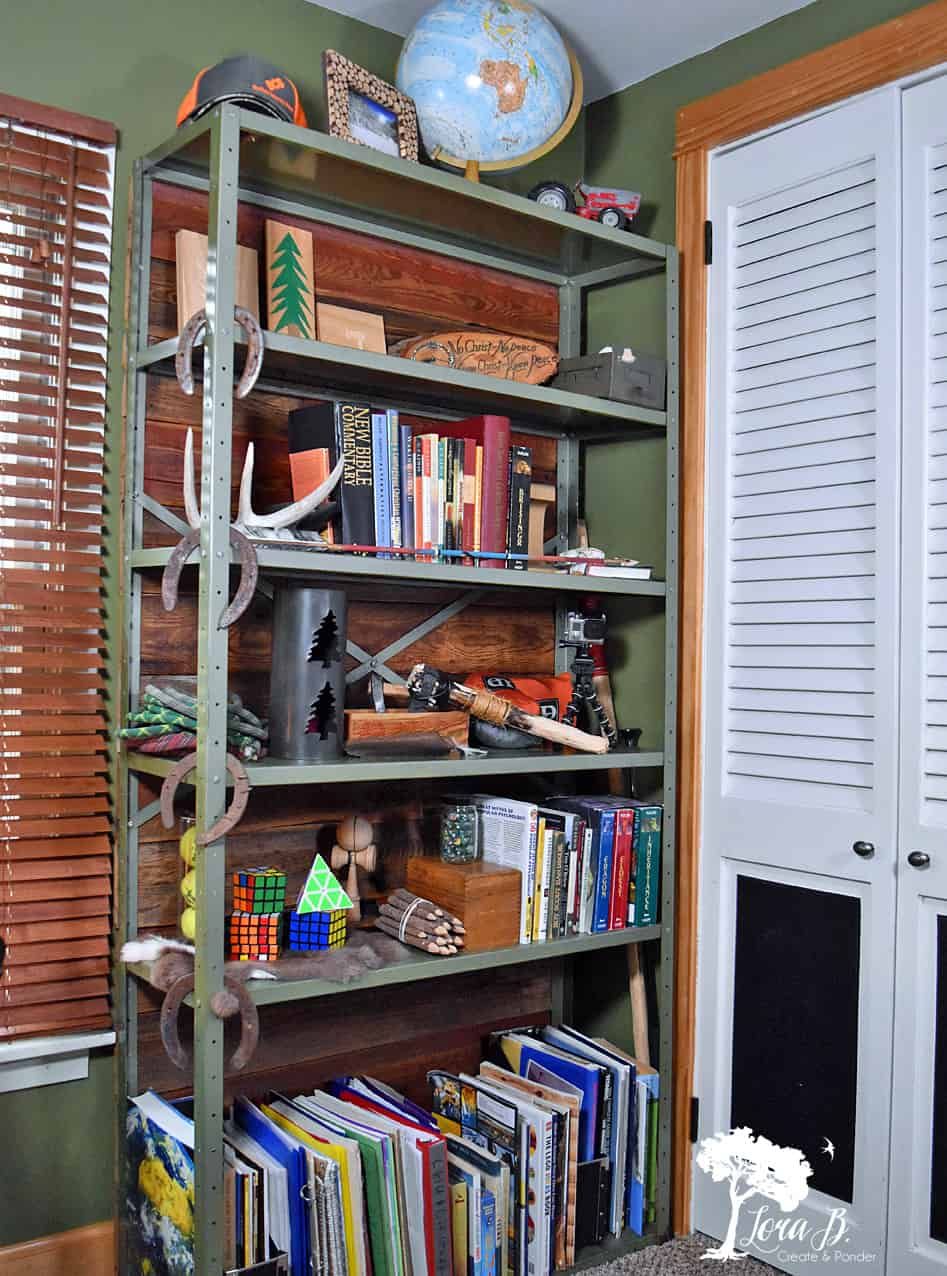 His desk is an old mission-styled table I recreated years ago. He's placed it right next to the window so he can further feel like he's up in the treetops. A more modern lamp makes sure the room is a nice mix of eras.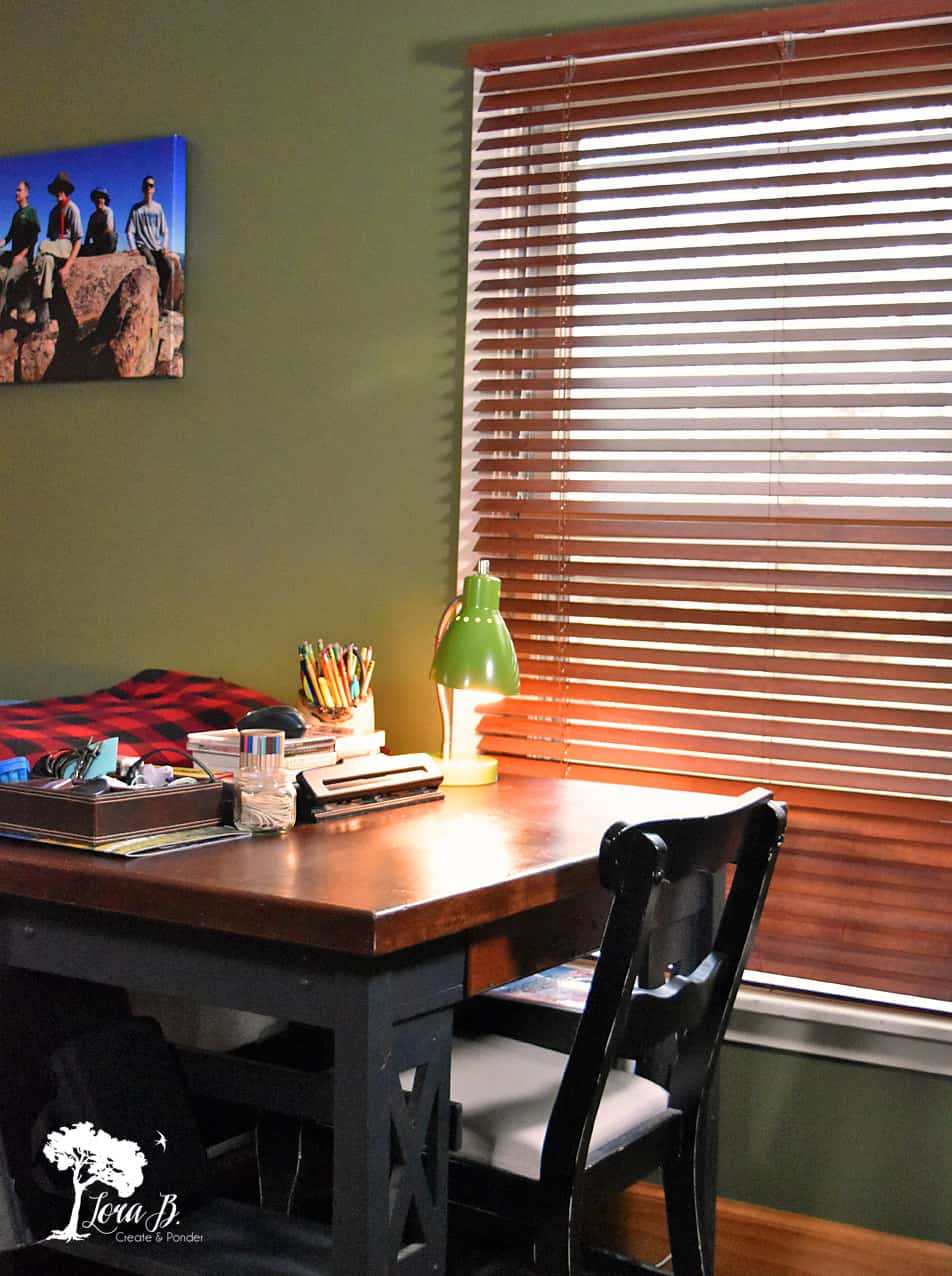 The windows are covered in fairly cheap fake wood blinds from Ikea. I like how this room has all different wood tones and textures from the blinds to the natural wood trim, to the mixed pieces of furniture, and finally the headboard. It reflects the different types of trees in nature, and he loves them all!
I'd still like to top off the windows with some type of cornice board, maybe corrugated metal? But I'm always tweaking and getting new ideas for rooms; they're never "done" in my opinion!
Creating a space for your kids to feel comfortable in, that reflects their passions and interests is so fun! I love how each room can be so different like they are, and yet still fit into the whole of your home. And once they're off living their own lives with their own homes, these rooms can still extend a welcome to anyone else that visits our home.
How many room decor changes have you been through with your kiddos? Am I the only psycho-decorating mom out there that loves to create spaces for her kids to feel at home in? Hope you enjoyed this Woodsy Bedroom Makeover Reveal, and it gave you some new decorating ideas!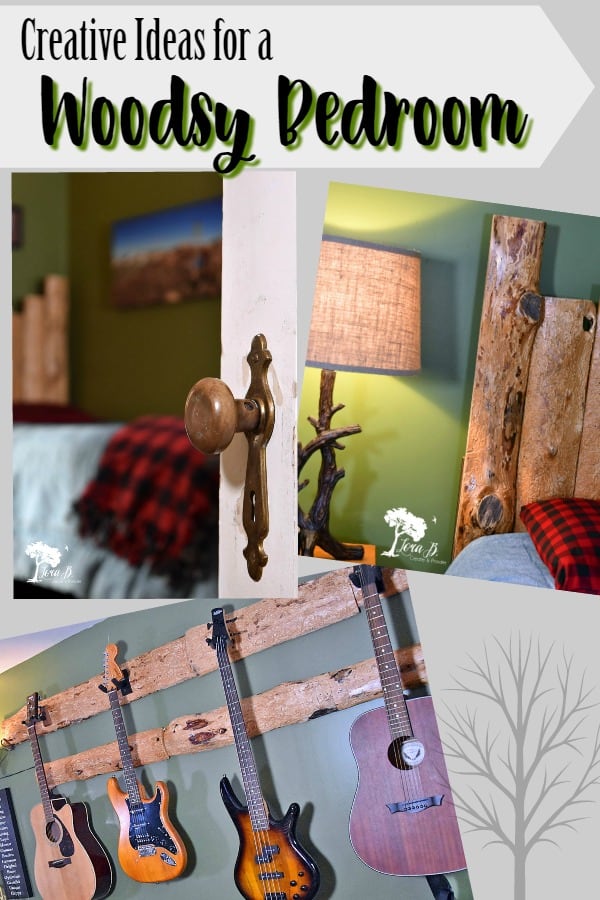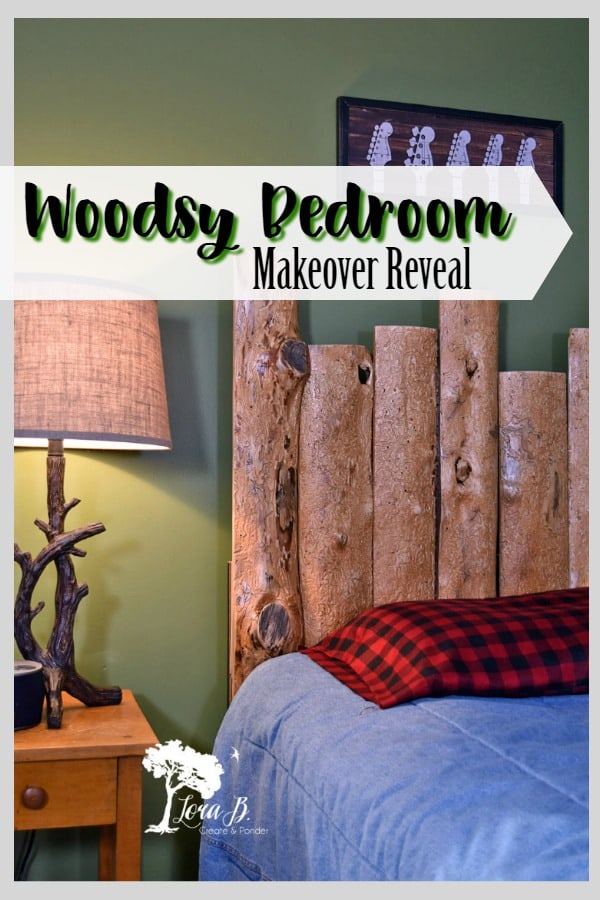 Sharing at these lovely parties: