Fun Vintage School Decor Ideas
Reminisce your childhood days by creating a vintage school days display. here are some fun ideas to get you started.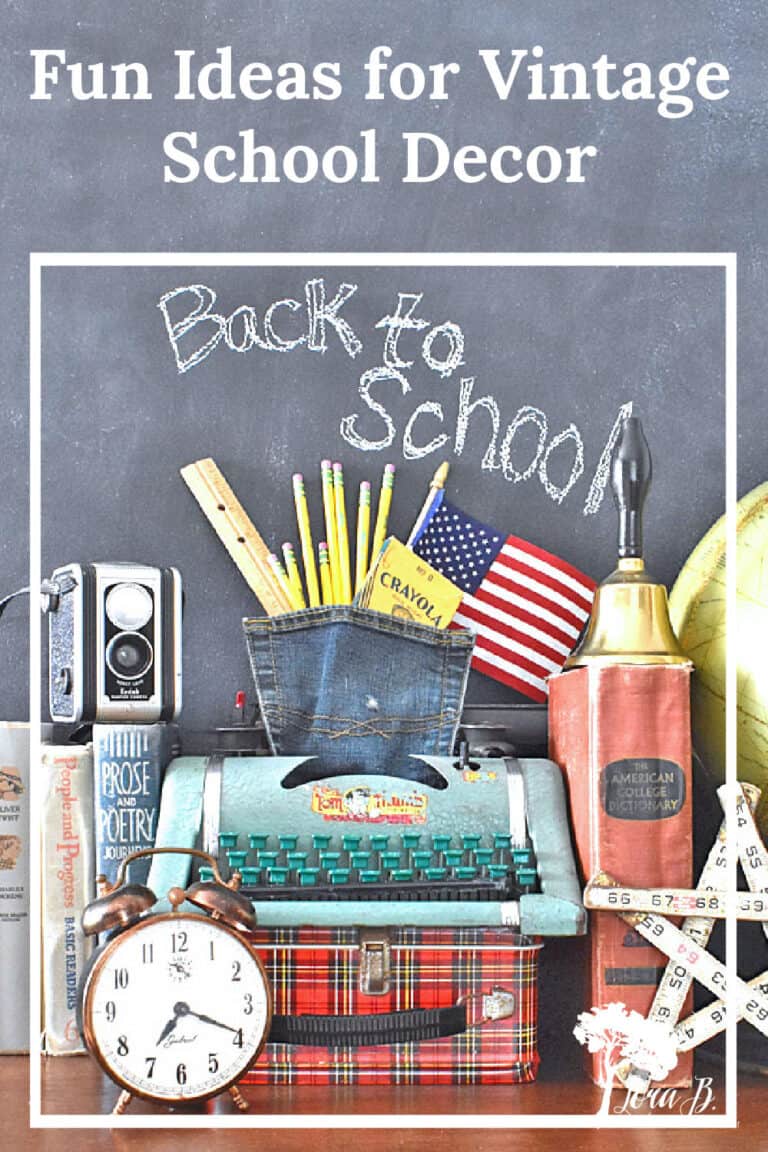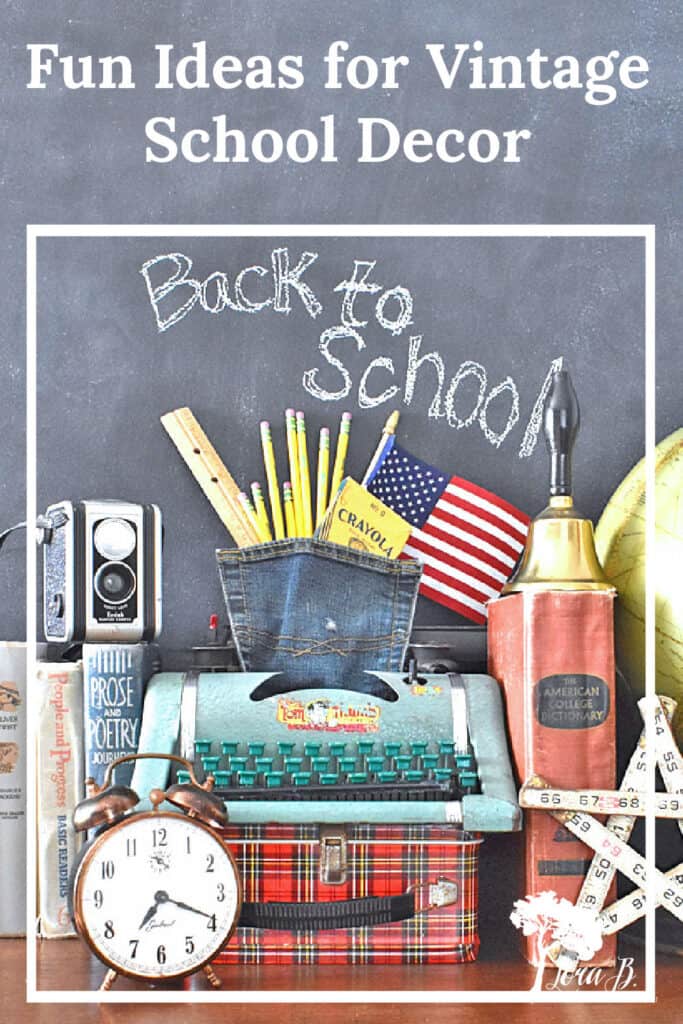 Whether you've got kiddos who are going back to school, or you've "graduated" on from that stage of life, it's still fun to look back and reminisce. Only the baby of the family is going back to school at our house, but I still like to celebrate the good old days by decorating with some fun "school supplies". Here are some Fun Vintage School Decor Ideas, if you're a sentimental decorator, like me.
Today's post is part of our Thrifty Style Team monthly inspiration. Thanks to Julie at Redhead Can Decorate for rounding up this talented group of thrifty, creative ladies. I'll have all their ideas at the end.
Fun Vintage School Decor Ideas
For your convenience, this post contains affiliate links. If you make a purchase, I may receive a commission. There is no additional cost to you. My full privacy policy is here.
DIY Blue Jean Pocket Garland for Back to School Decor
Did you always get a couple of new pairs of jeans to start school, too? What better way to begin a memory-making school decor display than with an easy DIY blue jean pocket garland. All you do is cut off the pockets from some old jeans, leave a little flap of fabric on top, and glue them over some twine. Easy and cute. Hang them as a backdrop wherever you're creating your school display.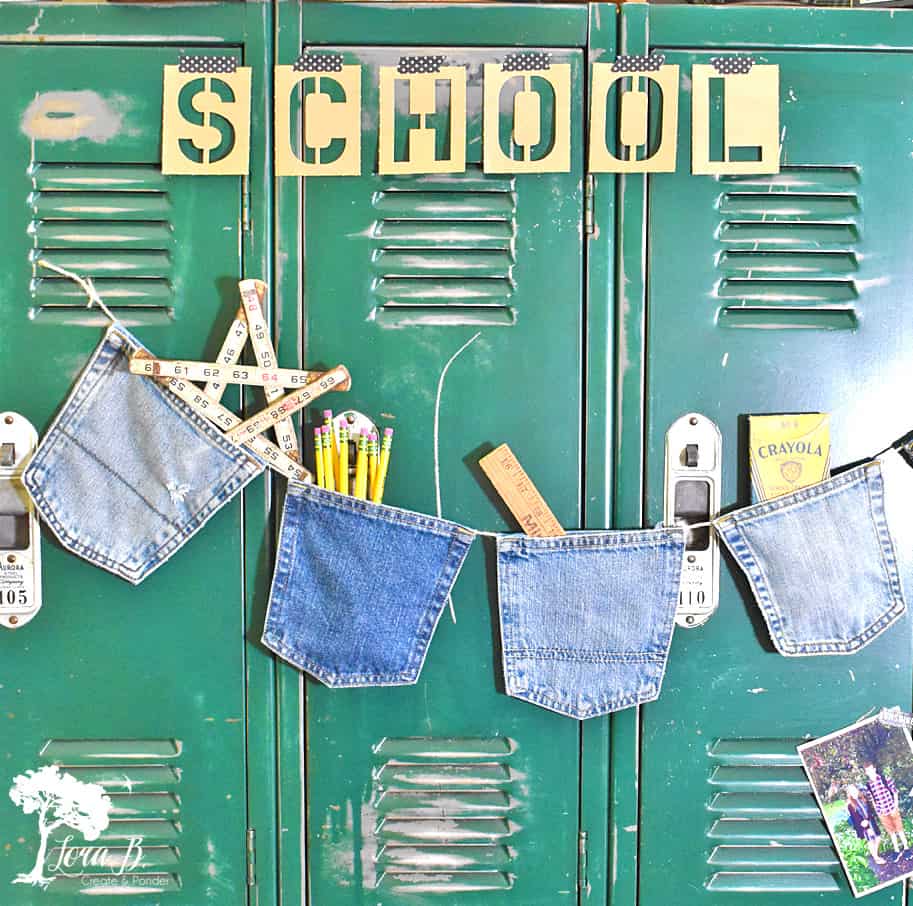 Round Up These Vintage Items for a School Days Theme
You may not have as many of these vintage items as I do, but I'm sure you can find some of them. Your display doesn't have to be as big as mine (since I have a bank of lockers in my living room). Or, you may want to use this as an excuse to do a little vintage shopping; I've been known to motivate people that way;)
Some items you can include:
globe
map
old books (bonus points for dictionaries, or anything with tabs)
typewriter
camera
lunch box
thermos
school bus
pennants
flag
chalkboard
alarm clock
letter jacket
bell
Once the gears start turning, I'm sure you'll come up with some more! Decorating with what you have does mean a lot of running around your house, but it's a thrifty, fun way to personalize your decor.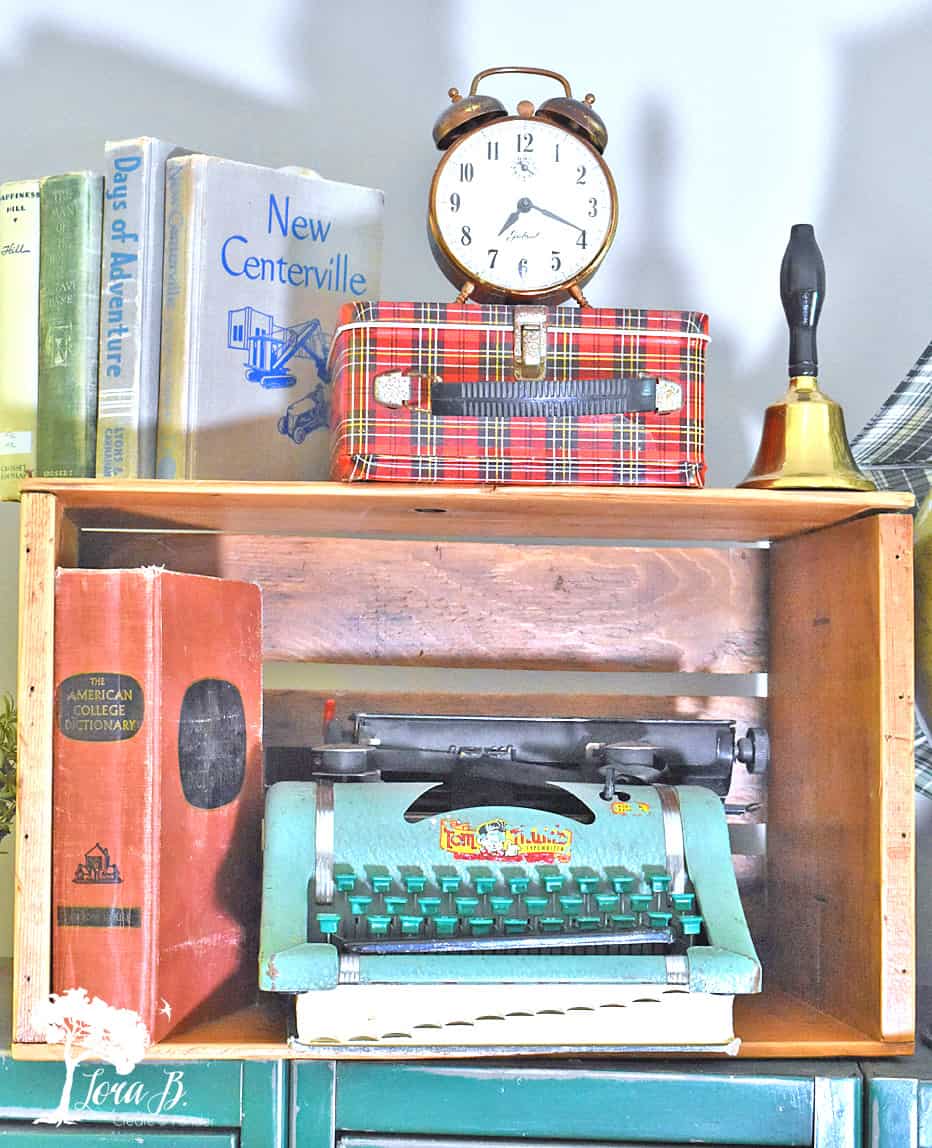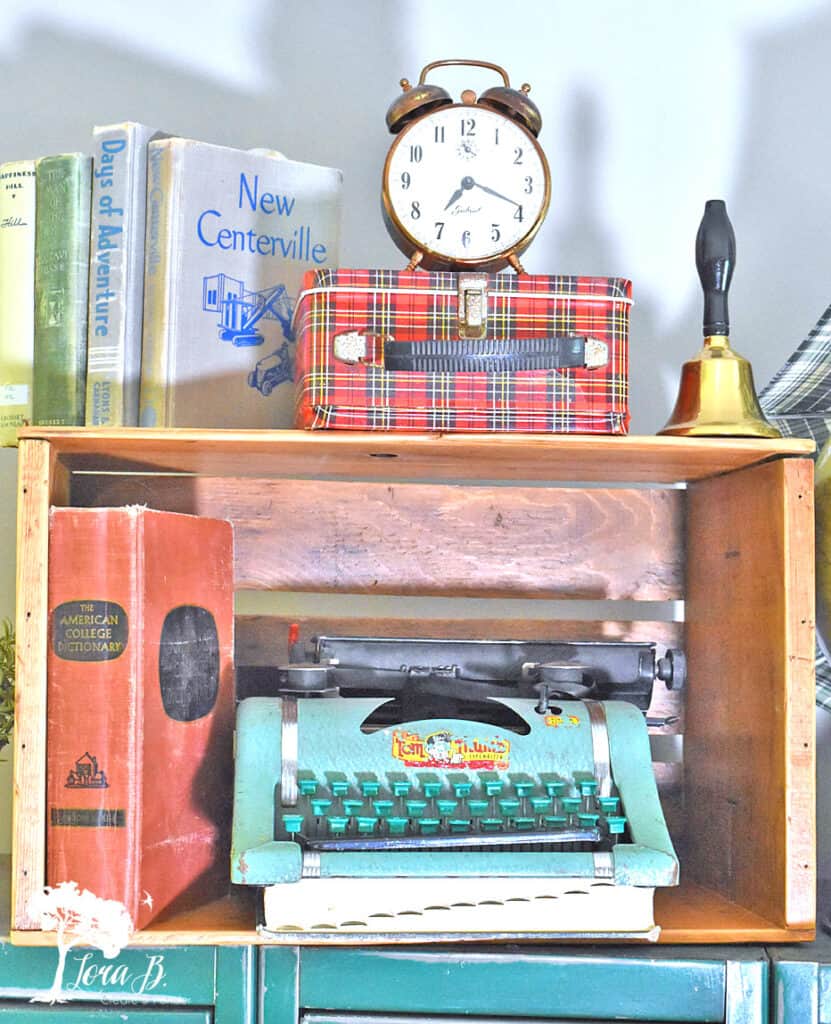 Add Personal Items and Personality to your Display
Since we're a family that's almost through the back to school years, I was hoping to stir up some fun memories with this decor. I pulled out my old letter jacket and printed off some old first day of school pics when the kids were young. We moms always like to look at those, right? And the big kids get a kick out of it, too ("Look how long my hair was!") It would also be fun to pull out some old black and whites of the grandparents.
Hang the pictures locker-decor style with cute washi tape. Remember when decorating the inside of your locker was all the rage? Home decor can be easy, too!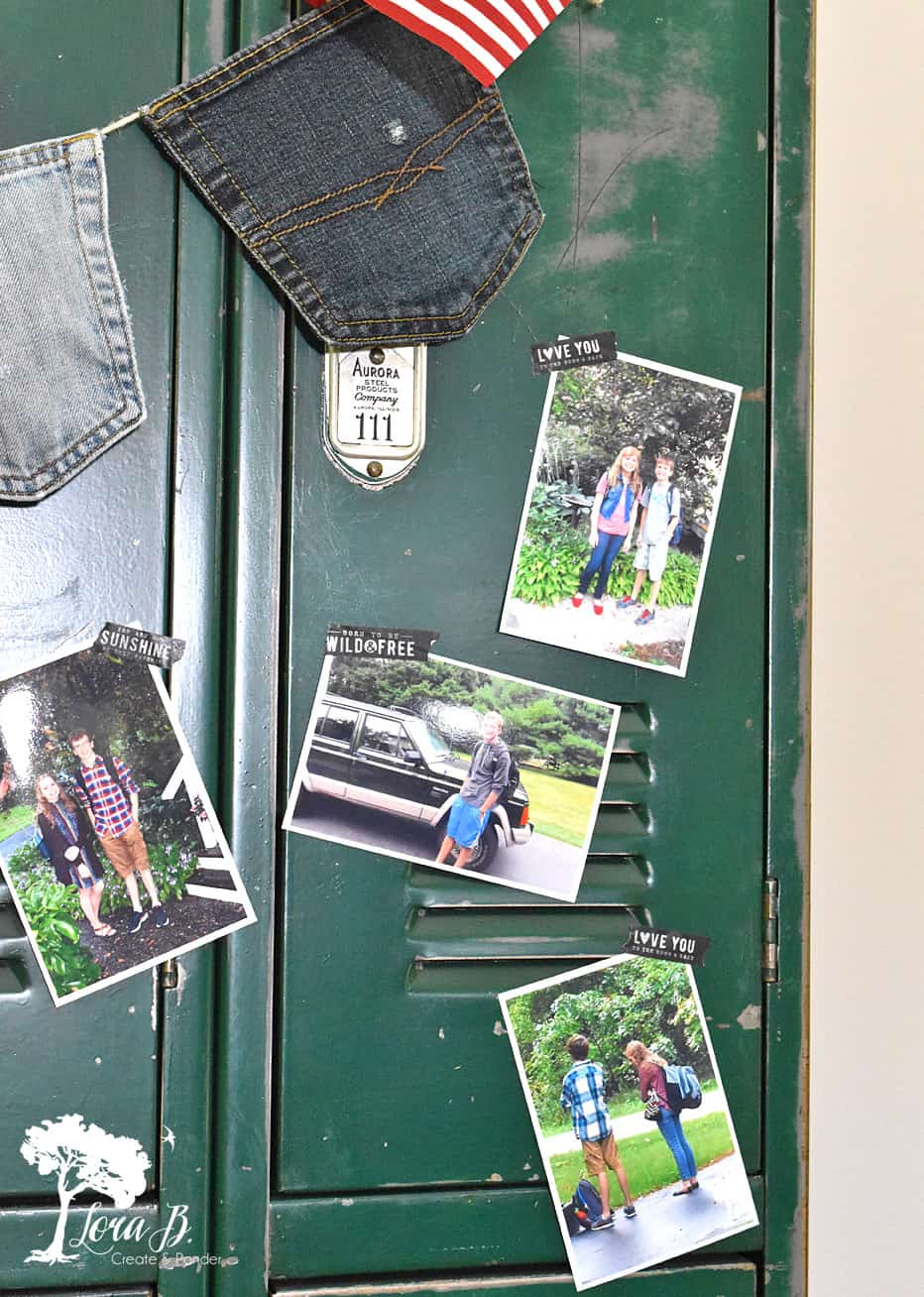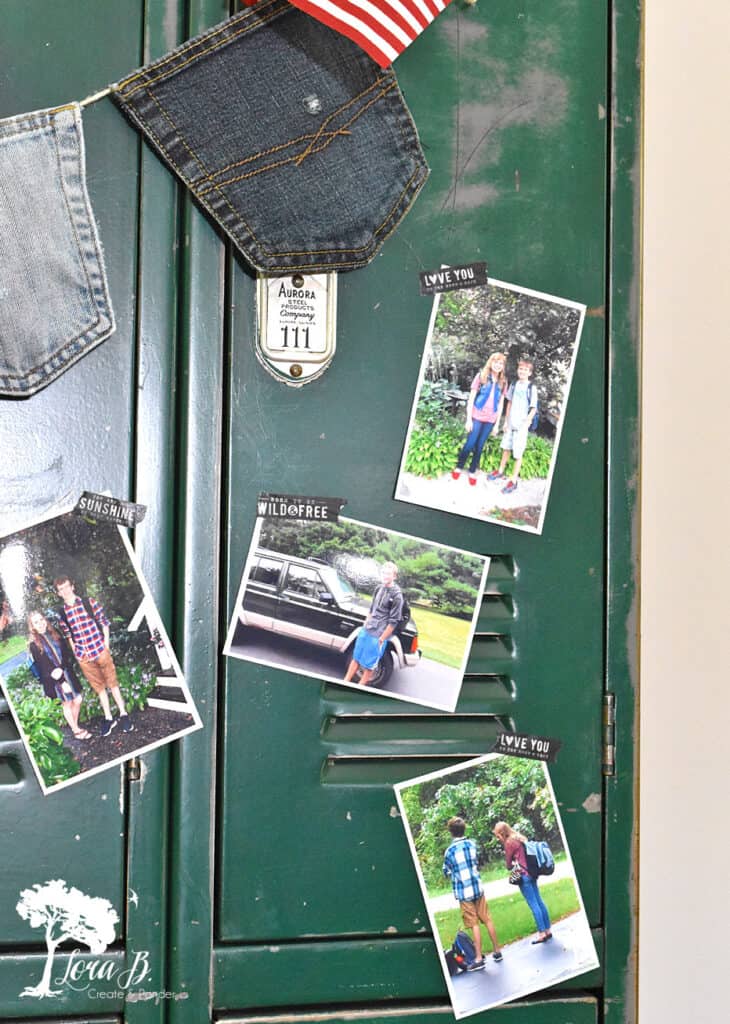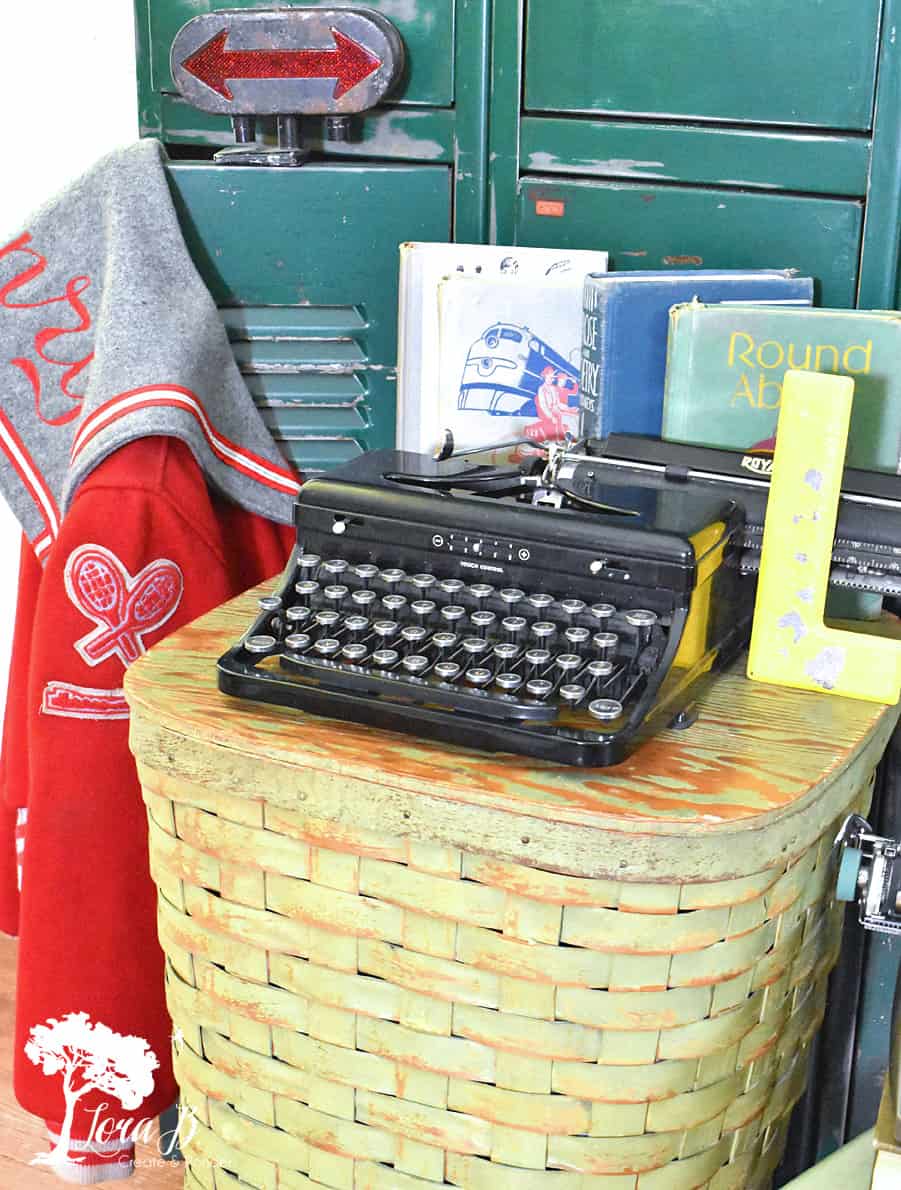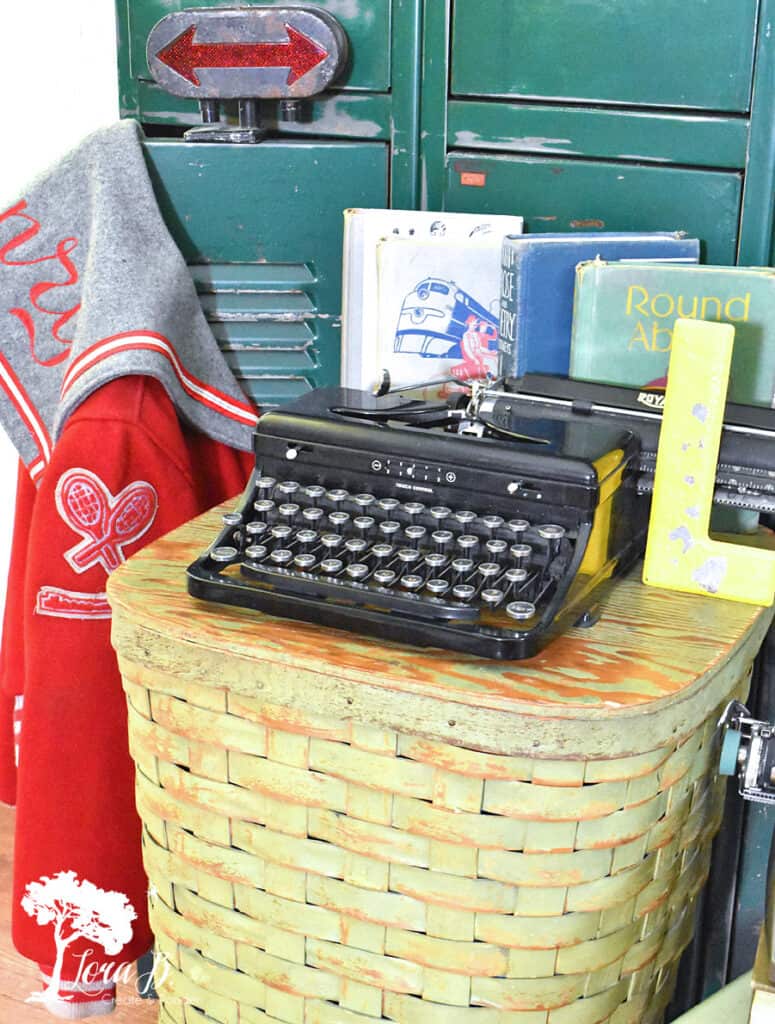 Back to School Means Plaid
Somewhere around high school, I realized that every Fall my mom would say, "Plaid is 'in'". It's gotten to be a family joke. Yes, plaid just gives us the back-to-school vibes, just like denim does. So make sure to add a little plaid into your display.
I just picked up this awesome green and white umbrella and always love using an old family plaid lunchbox. Thermoses are another way to bring in good, graphic punch.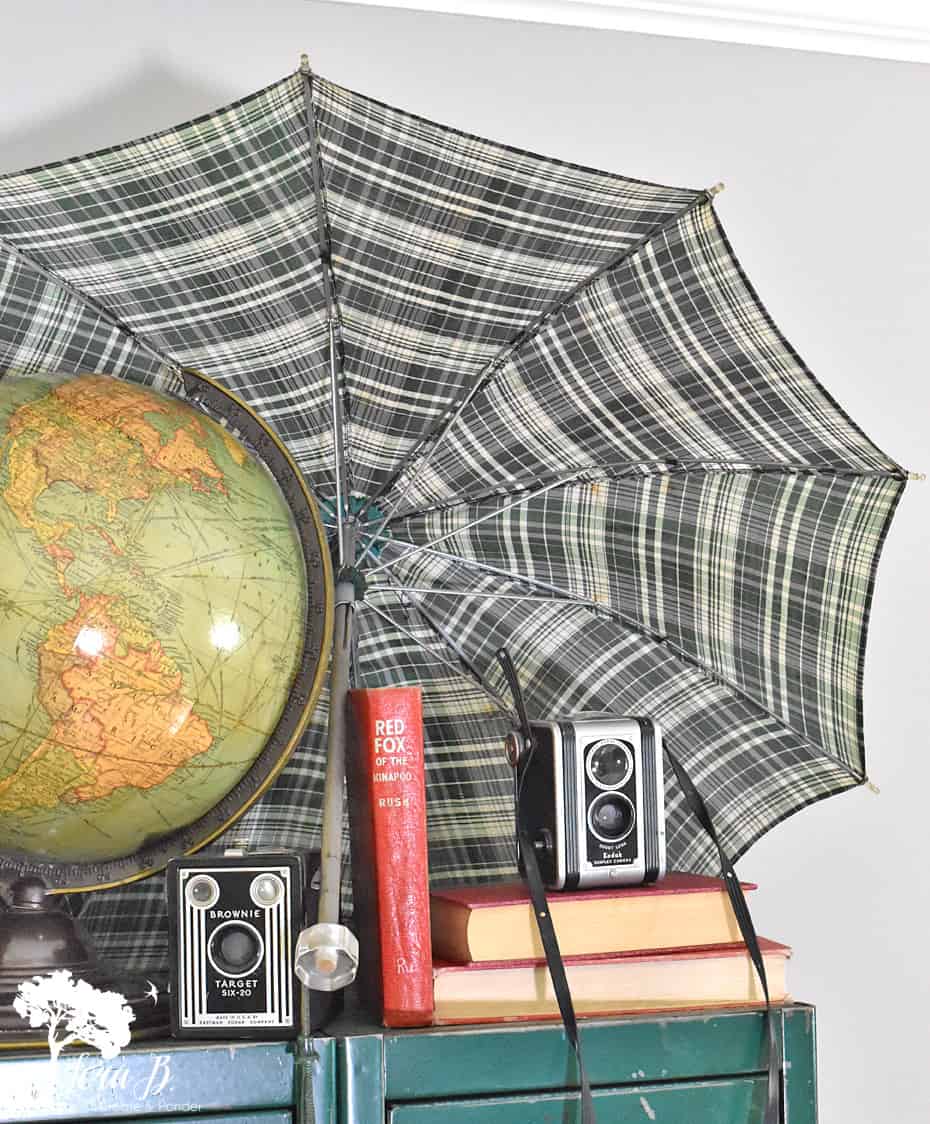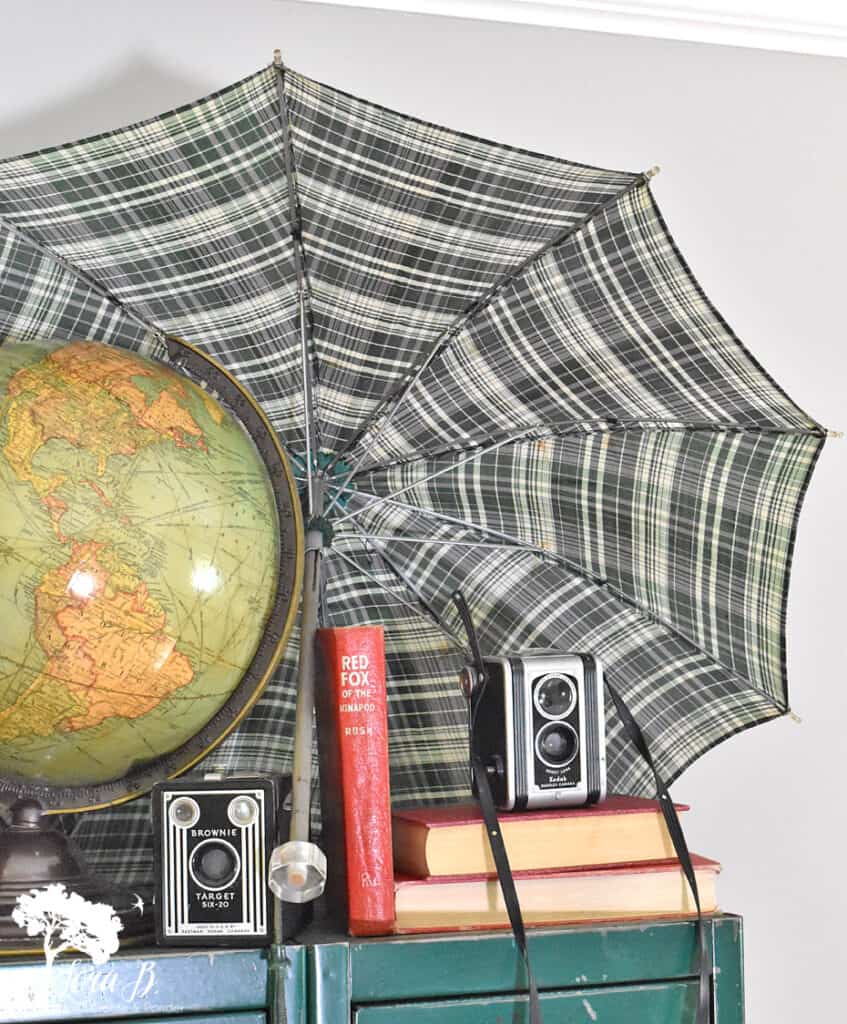 Finish off your Vintage School Decor with Fillers
The last touches of texture finish off every good display. These items don't need to be old; you can scrounge them up from around your house or pick them up at the store for cheap. Tuck them here and there throughout your display.
Here are some ideas:
letters/ numbers/words
rulers
pencils
flashcards
apples
sunflowers
crayons
old book pages or art (an old Pledge of Allegiance would be awesome)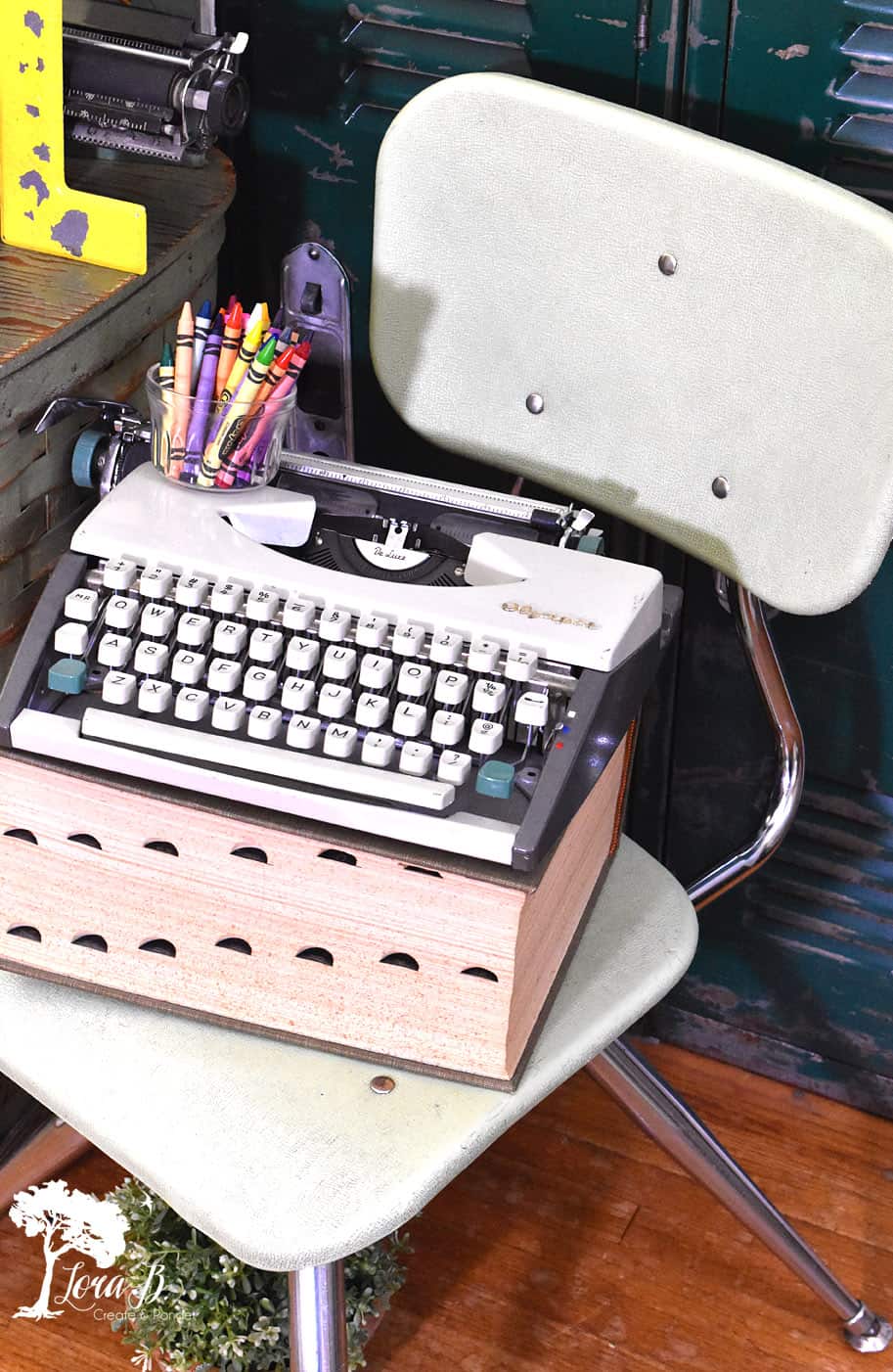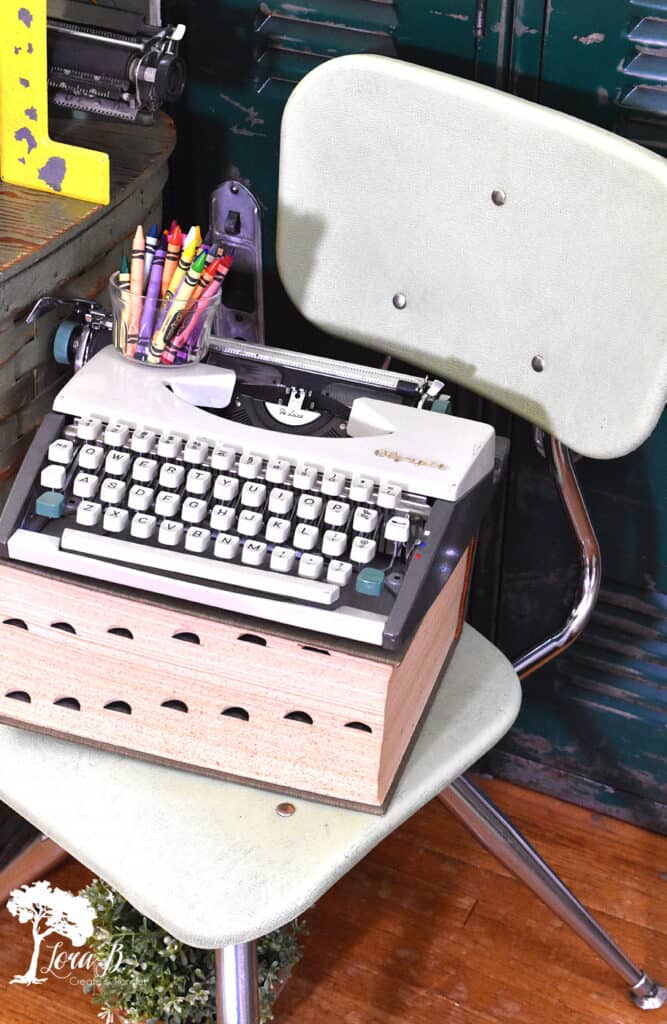 (yeah, I created this display just to show off my vintage typewriter collection)
Are you thinking about all the items you've got around your house that you could create a school-themed display with? It really is a fun way to decorate and will hopefully promote some great reminiscing with your family. It can be as small or as large as you like.
Hope you enjoyed these Fun Vintage School Decor Ideas! Get more inexpensive, thrifty inspiration from the rest of the Thrifty Style Team below!
Pin, Share, & enjoy the rest of the inspiration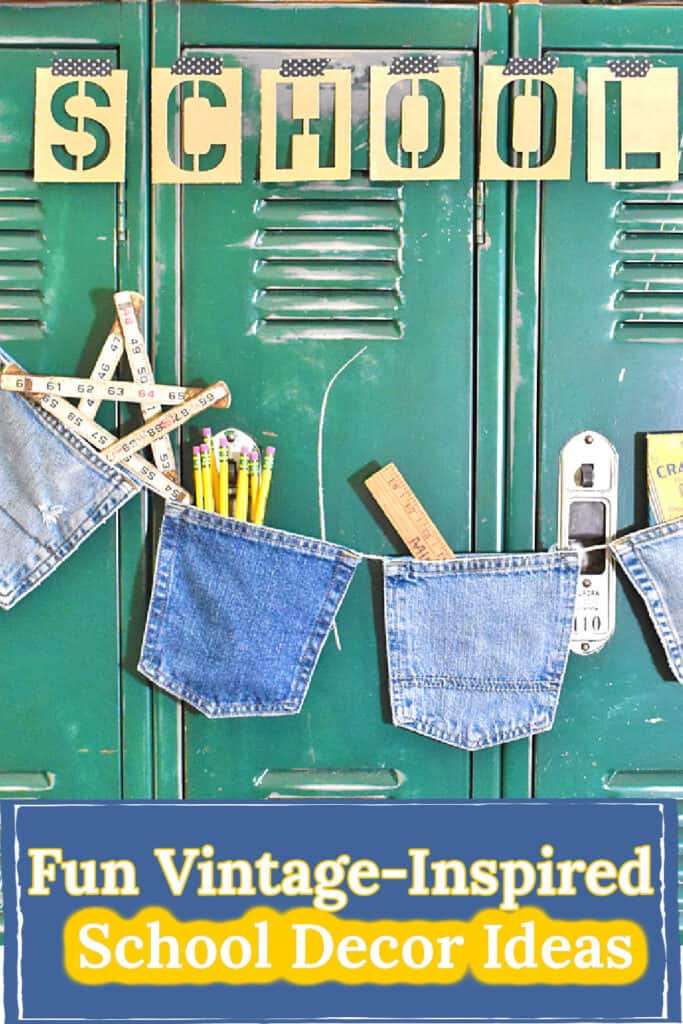 Redhead Can Decorate, "Old Martini Glass Repurposed into Q-Tip Holder"
Our Crafty Mom, "Beautiful Buffalo Check Bench Makeover"
DIY Beautify, "No Cost Decorating Tips"
2 Bees in a Pod, "12 Fall Decor Items to Buy at the Thrift Store"
Postcards from the Ridge, "29 Creative Ways to Repurpose and Upcycle Things for Your Home"
The How-To Home, "Simple Seashell Centerpiece"
The Tattered Pew, "5 Simple Ways to Decorate With Flea Market Finds"
Sweet Pea, "Easy Upcycled Twine and Lace Cans Craft"
What Meeghan Makes, "Late Summer Tablescape In Pink"
Cottage at the Crossroads, "Thrifty Peat Pot Pumpkin Holder"
I Should be Mopping the Floor, "Garden Gift Ideas and Tags"
Chas' Crazy Creations, "Vintage Drawer Pulls Jewelry Hanger"
Cottage on Bunker Hill, "Anthropologie Dupe Moss Wreath"
Vinyet Etc, "DIY Decor Beads From a Thrifted Beaded Seat Cover"

Sharing at these lovely parties: