Vintage Decor Ideas at Junk Bonanza
Love Vintage Junk? Enjoy the best vintage home decor ideas and displays from the Spring Junk Bonanza antique show.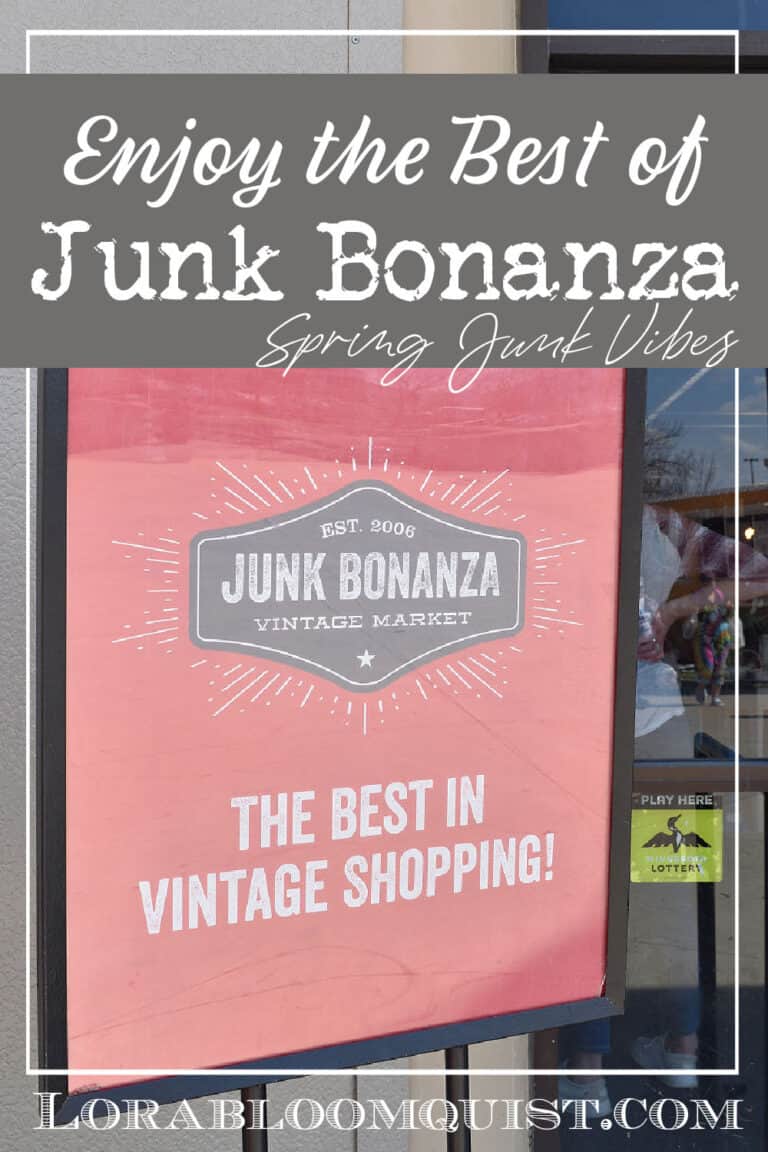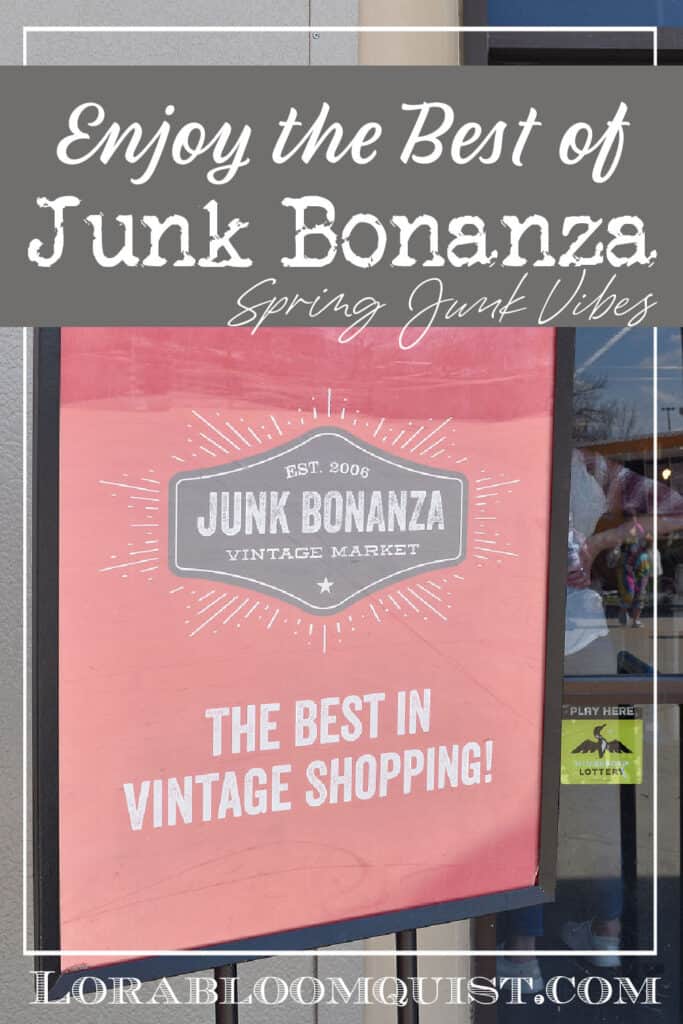 The beginning of a new season means there are wonderful vintage shopping events to enjoy! Junk Bonanza, started by Ki Nassauer years ago, is the biggest and best vintage shopping event in my area. Dealers from all over bring their best finds and style them into beautiful displays. It's a great boost of seasonal inspiration! Enjoy the best Vintage Decor Ideas at Junk Bonanza!
Vintage Decor Ideas at Junk Bonanza
For your convenience, this post contains affiliate links. If you make a purchase, I may receive a commission. There is no additional cost to you. My full privacy policy is here.
Epic Vintage Decorating Displays
Junk Bonanza is held at Canterbury Downs in Shakopee, MN, 30 minutes south of Minneapolis. With it's high ceilings and sprawling spaces, dealers can reach to the sky with their elaborate displays. The ooh aah factor is definitely encouraged!
Creating beautiful displays is an art. I loved planning and crafting displays when I owned my store and sold in booths. I know firsthand how much effort goes into these displays, making them both beautiful and safe for the shoppers. The Junk Bonanza dealers pull out all the stops for these seasonal events. I love enjoying their hard work!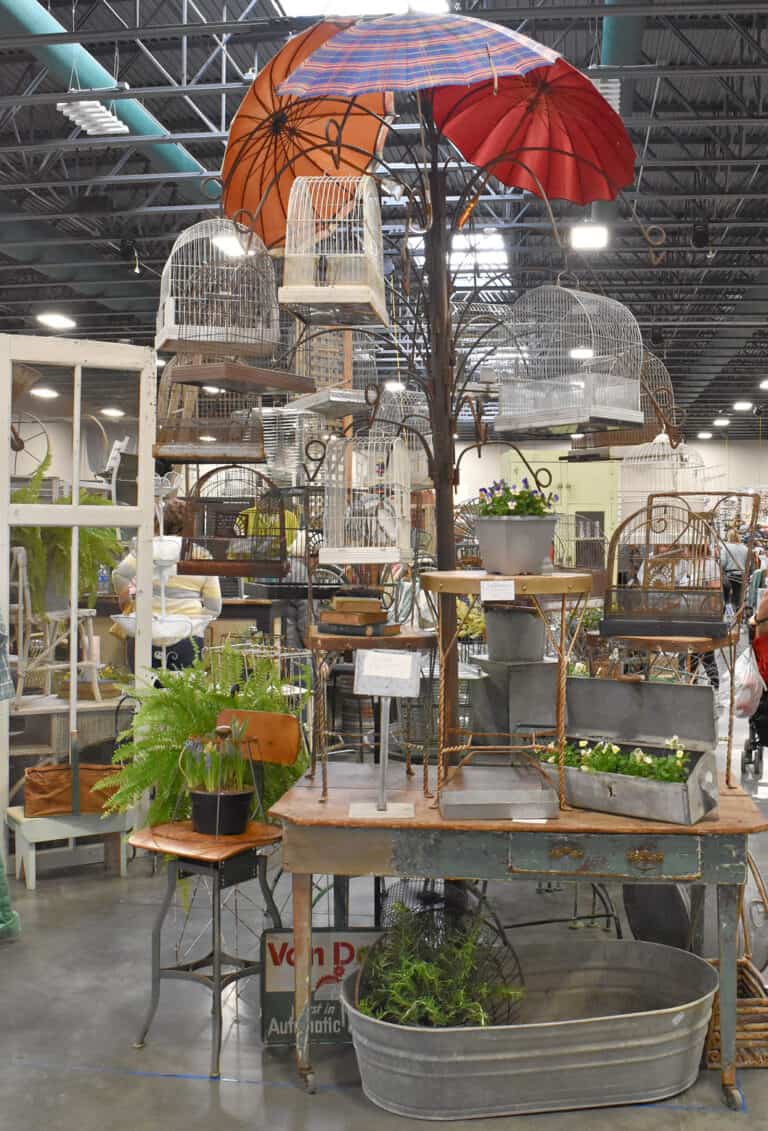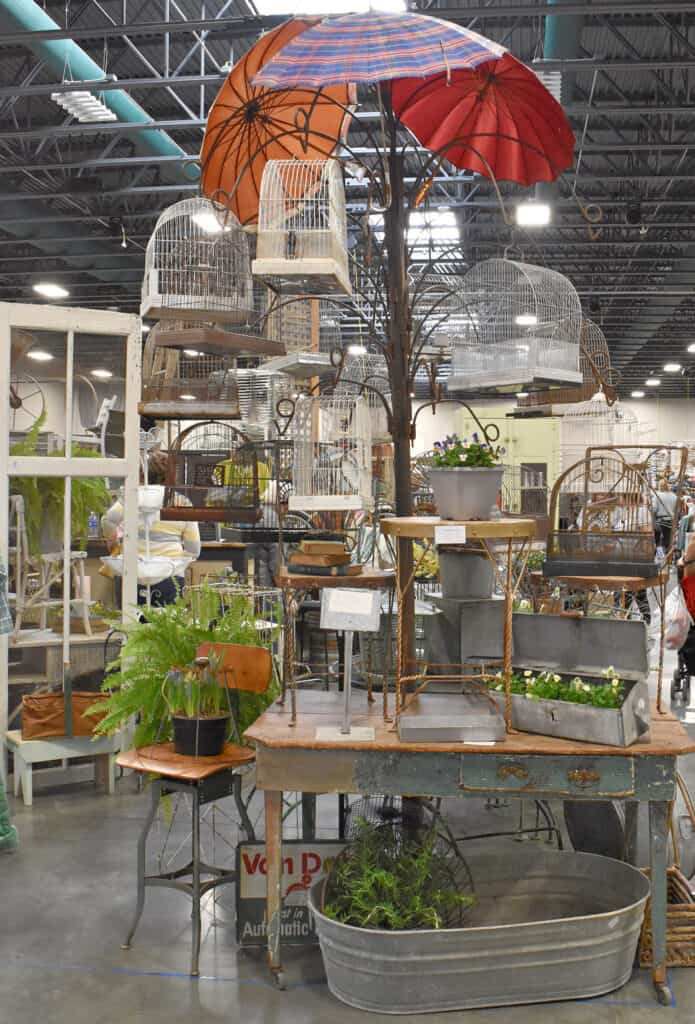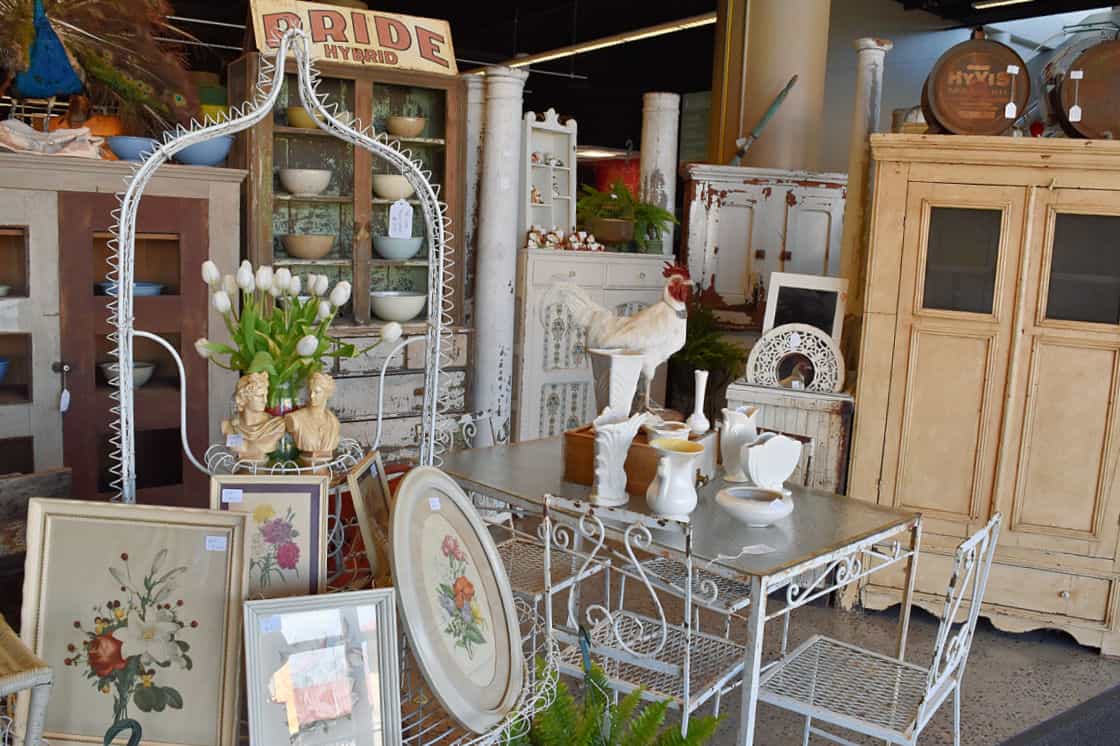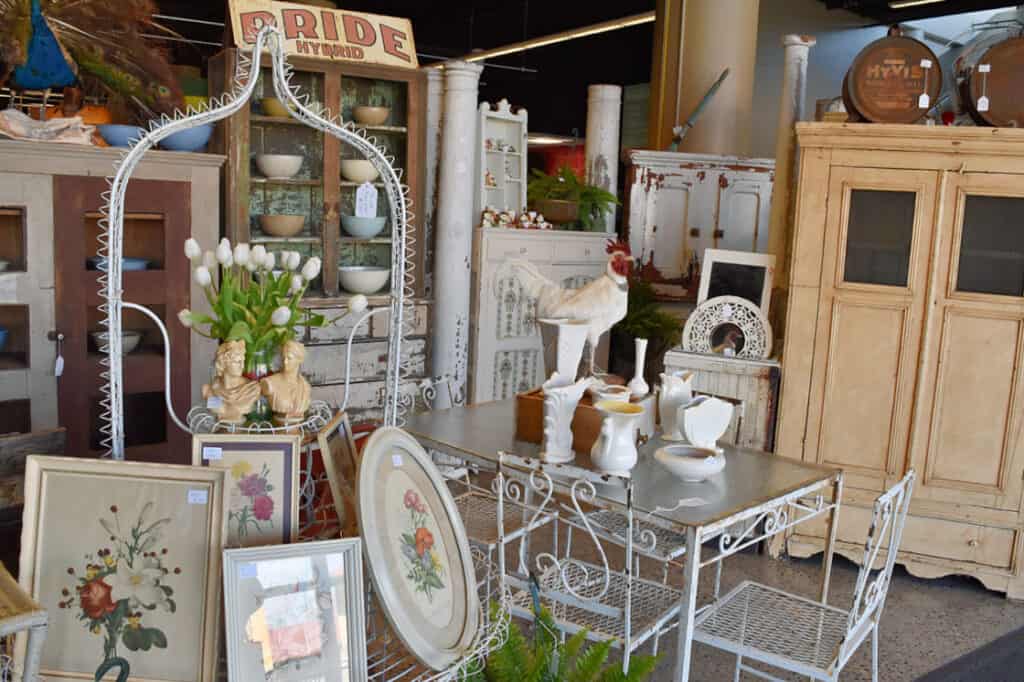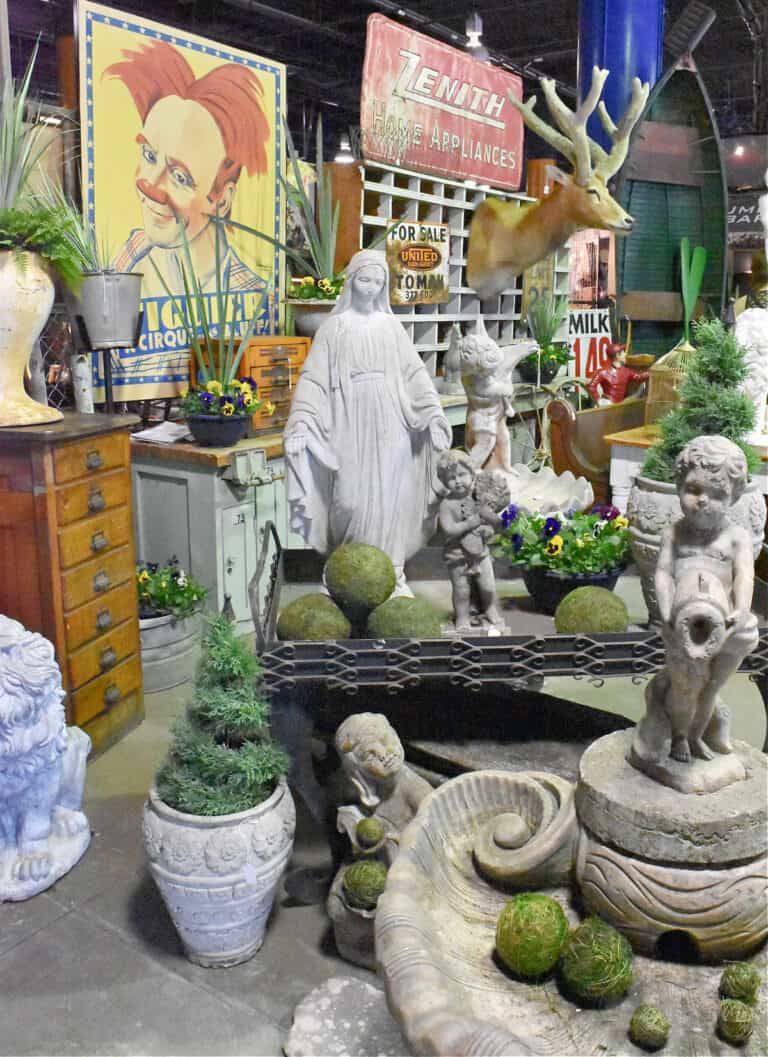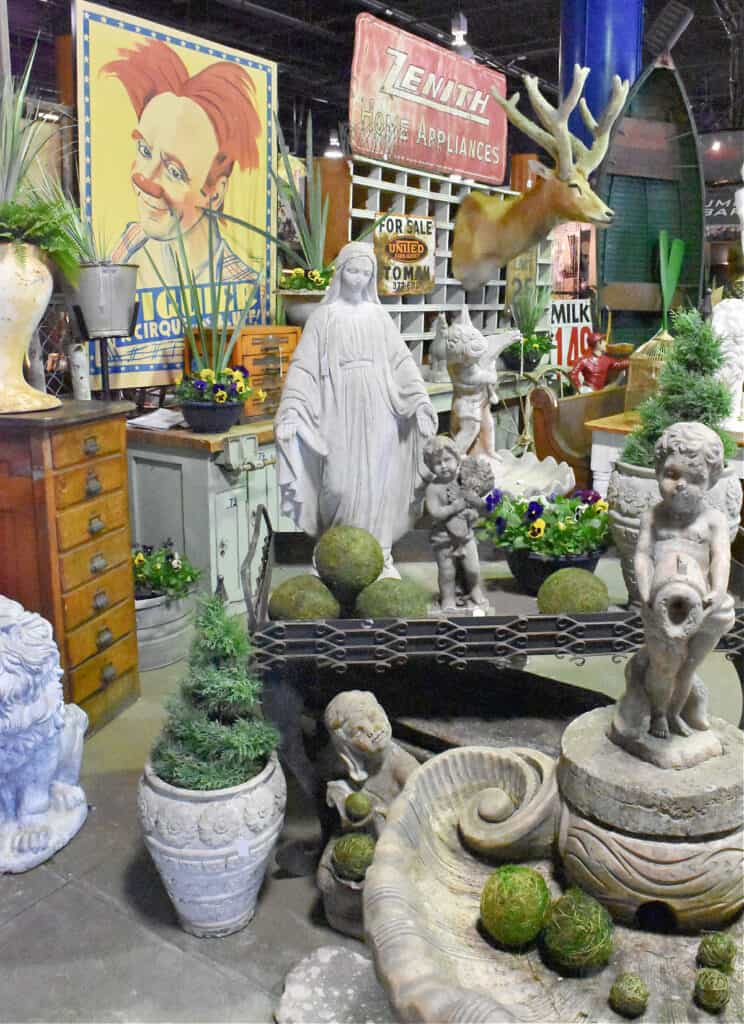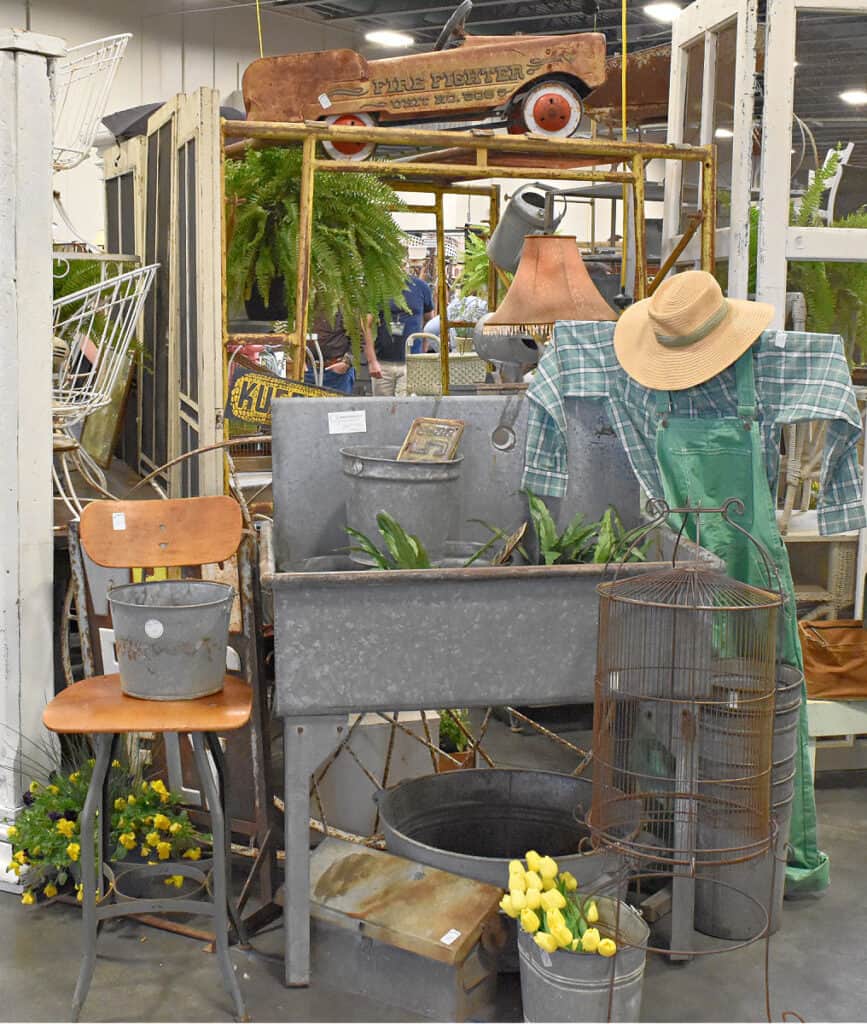 Best of Industrial Vintage Junk Finds
Junk Bonanza is just that; the best collection of vintage junk finds. This area loves industrial- styled vintage and the dealers have amassed their largest, wow-worthy finds to sell at this show. Huge banks of metal cubbies, architectural pieces and oversized cupboards are the anchor pieces for smaller vintage treasures. If you're looking for impressive, unusual furnishings, you'll find them en masse here.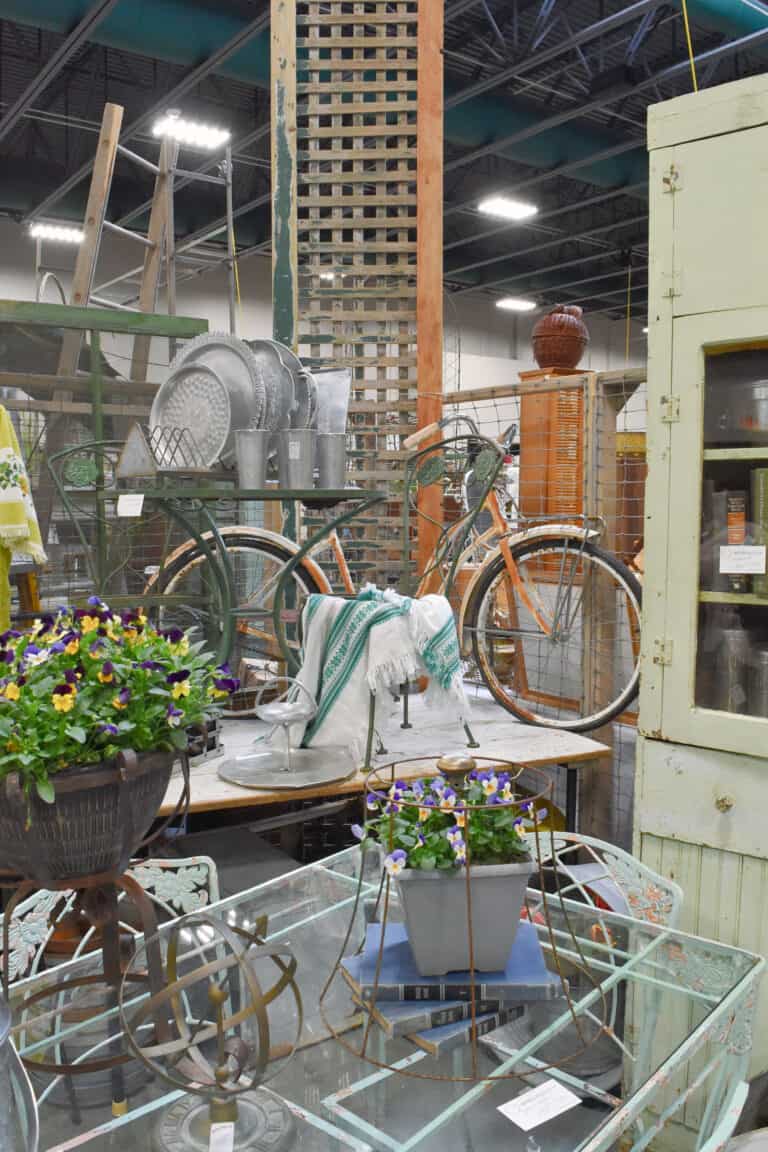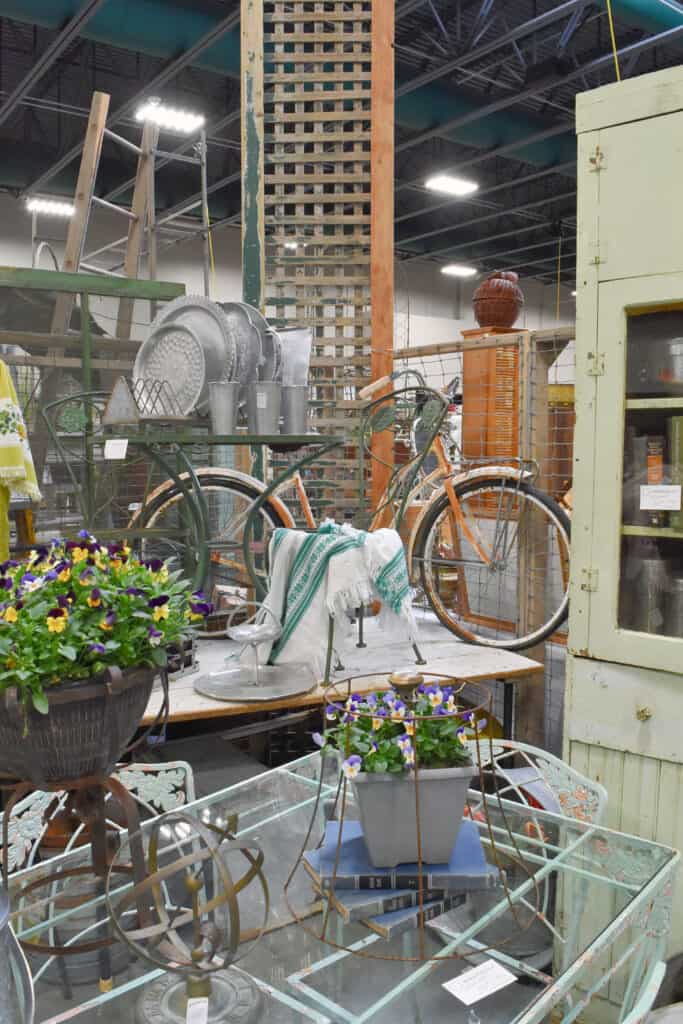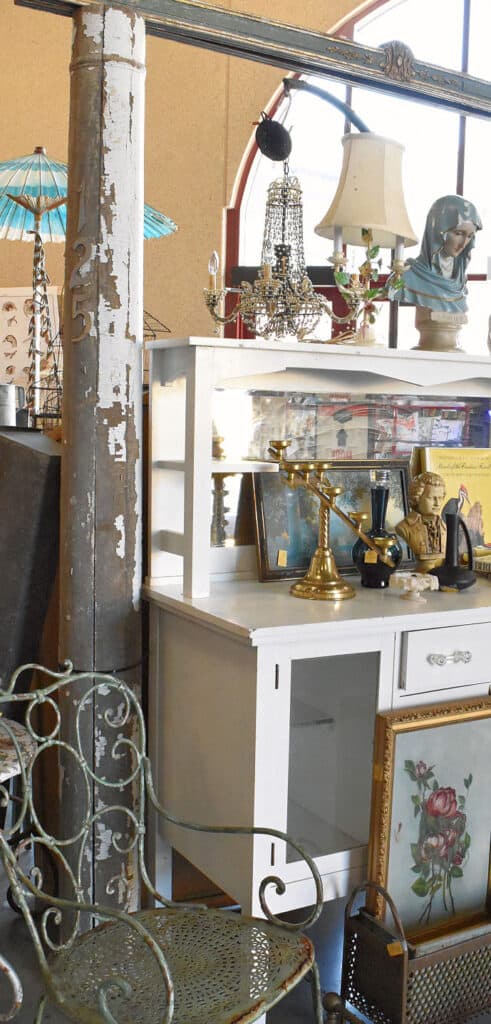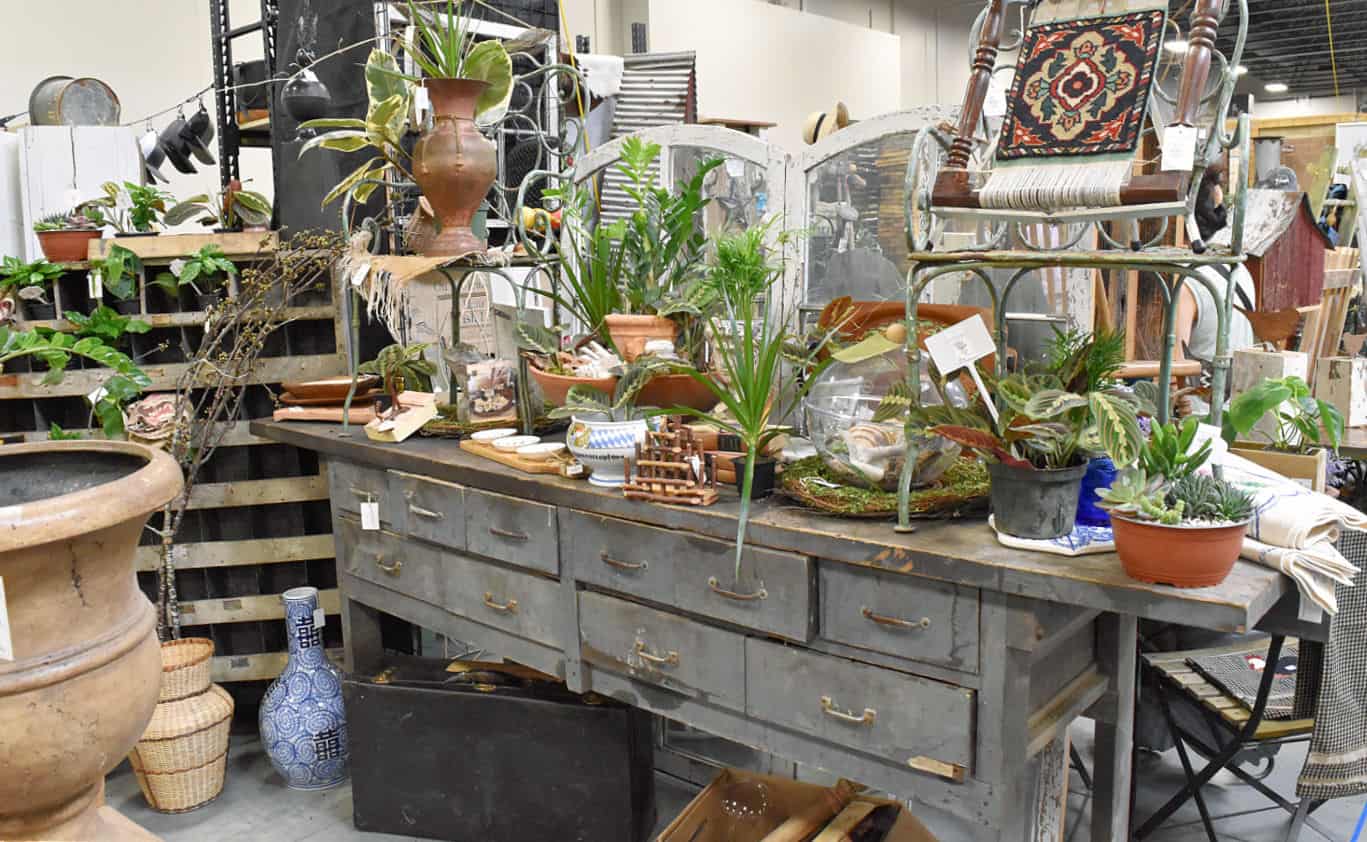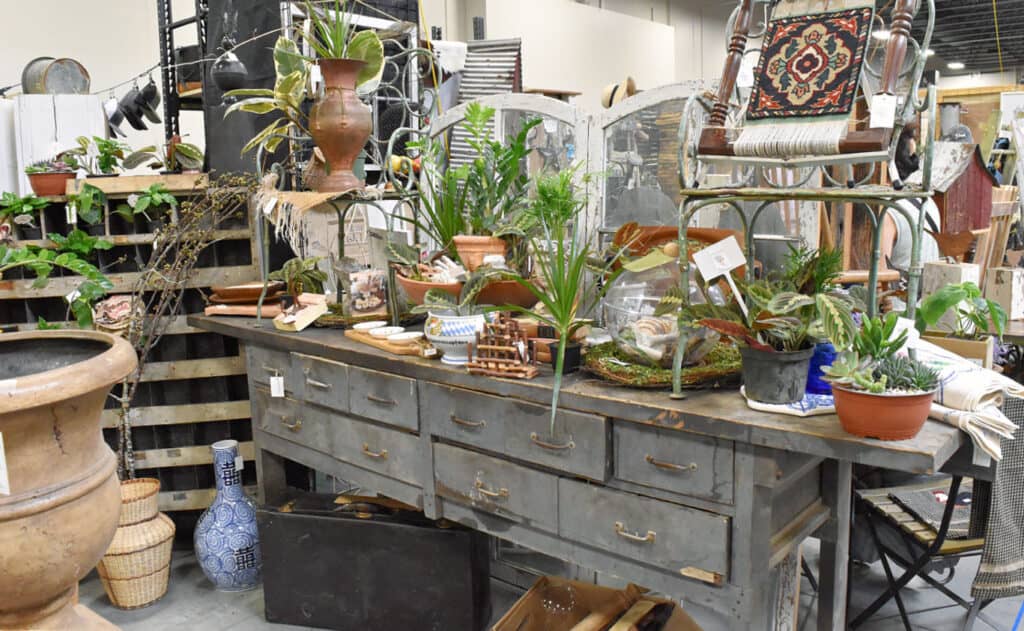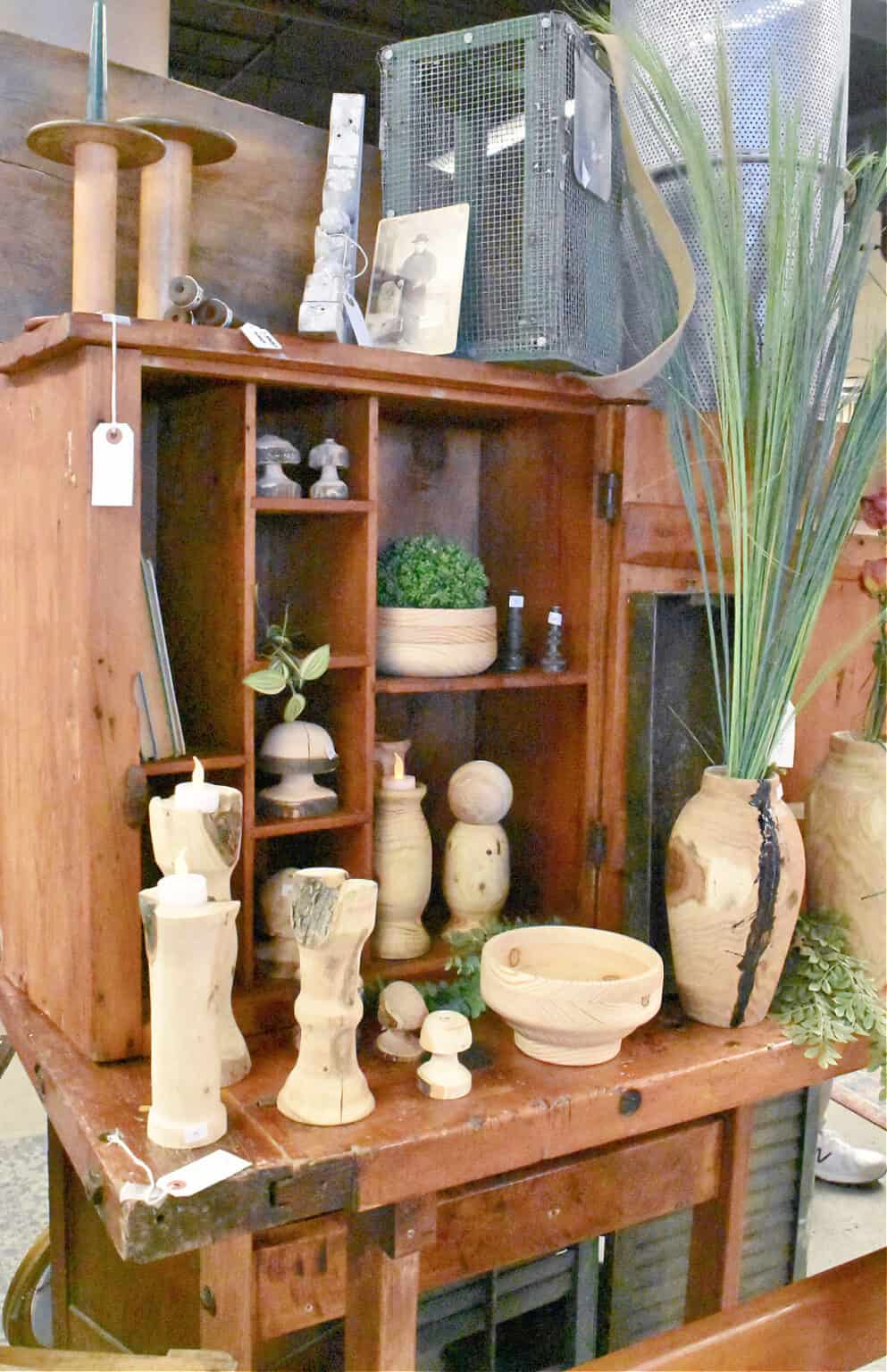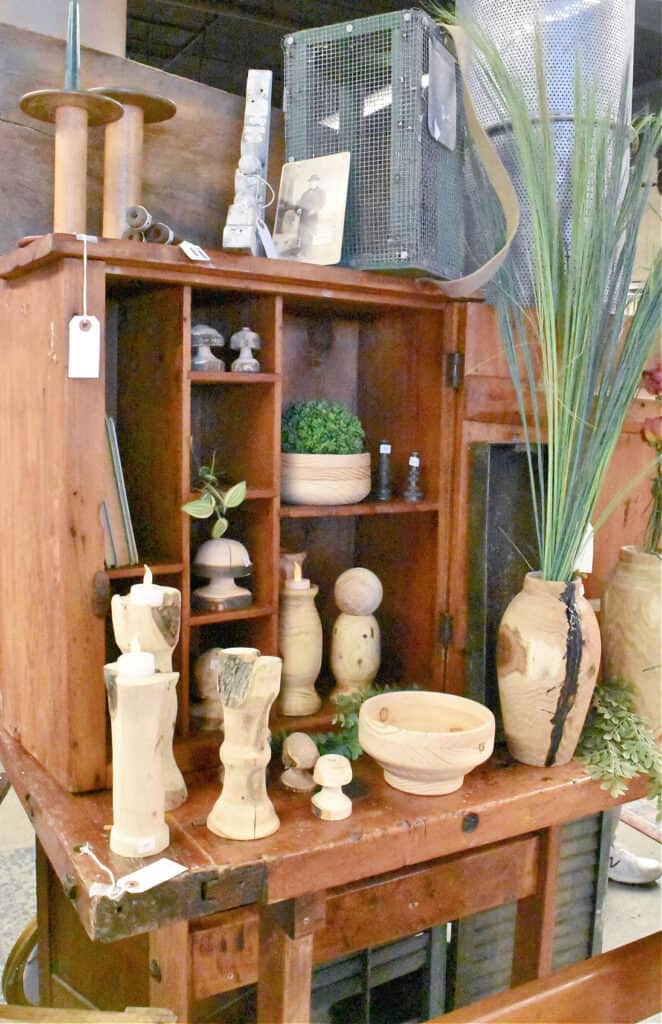 Pretty Seasonal Decor Ideas and Accents
Junk Bonanza is held in the Spring, the Fall, and at Christmas and always inspires with lovely seasonal touches. Shoppers were scooping up live plants to usher in Spring. Topiaries, succulents, and other plants are the perfect pairing to rustic junk finds.
Winter has been long here and we are so ready to usher in Spring, pairing fresh plants with our old things! We can't wait to enjoy our patios and porches again. I spied many amazing furniture pieces that would be fun porch decor!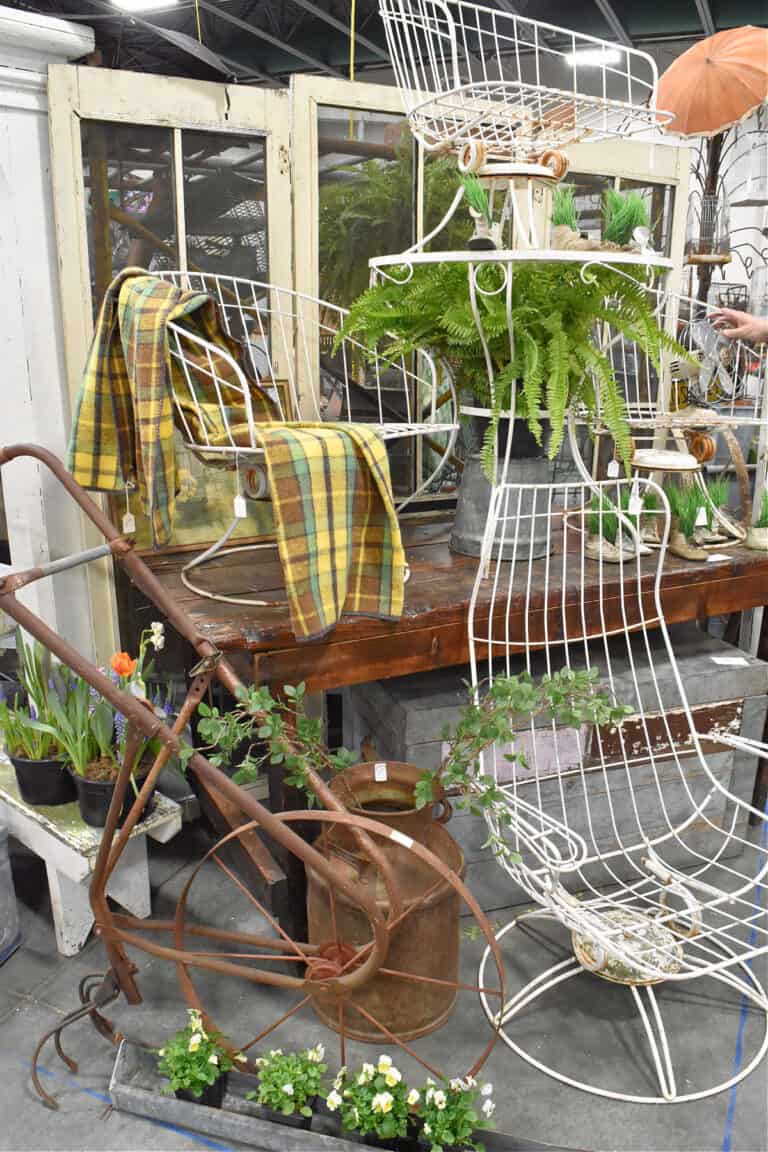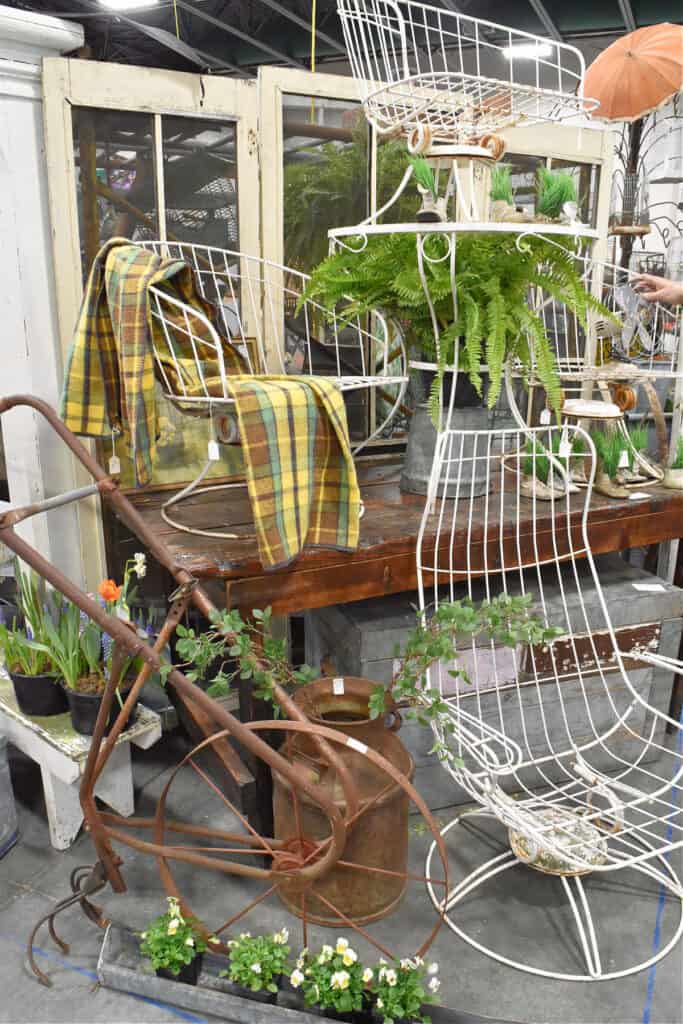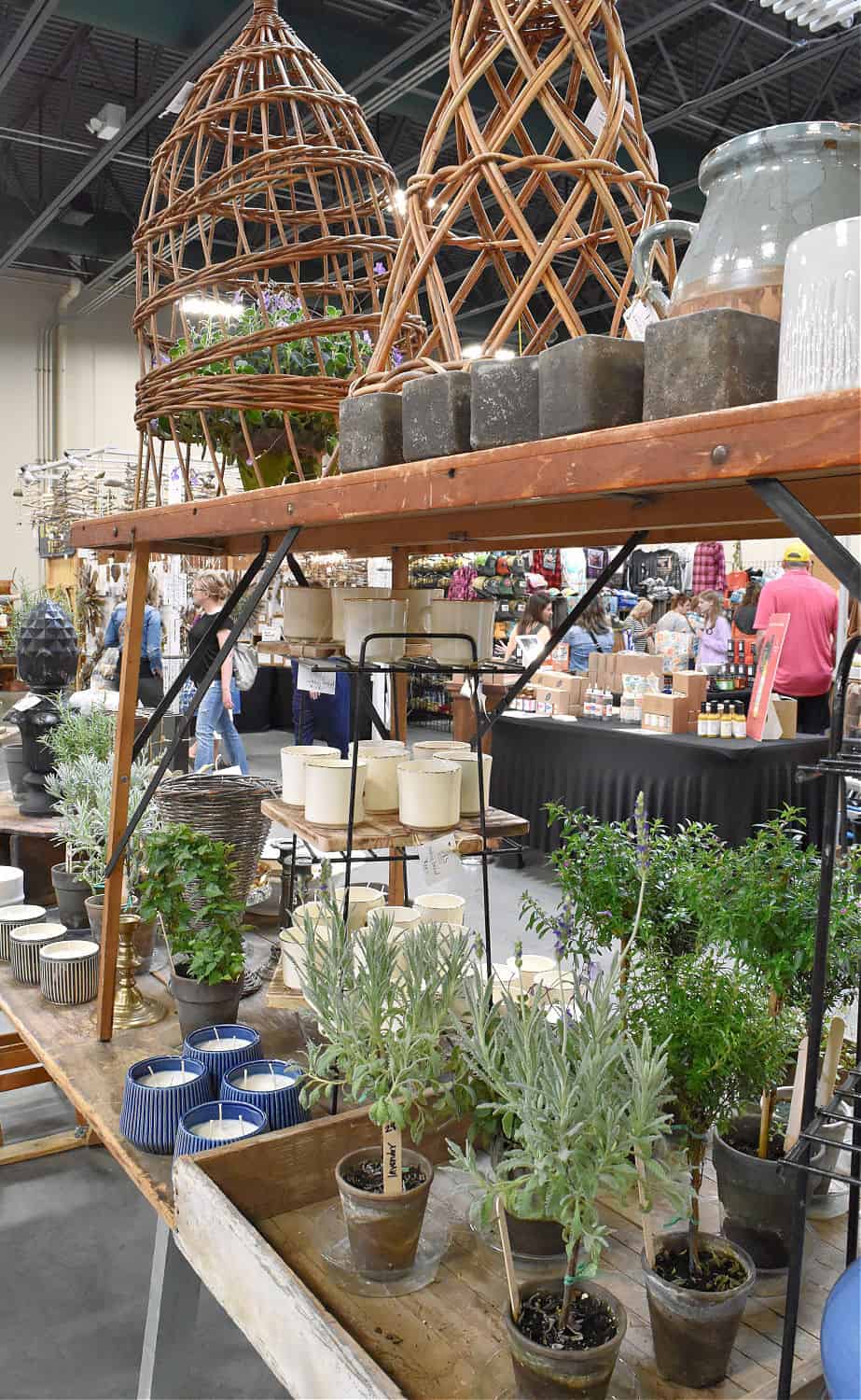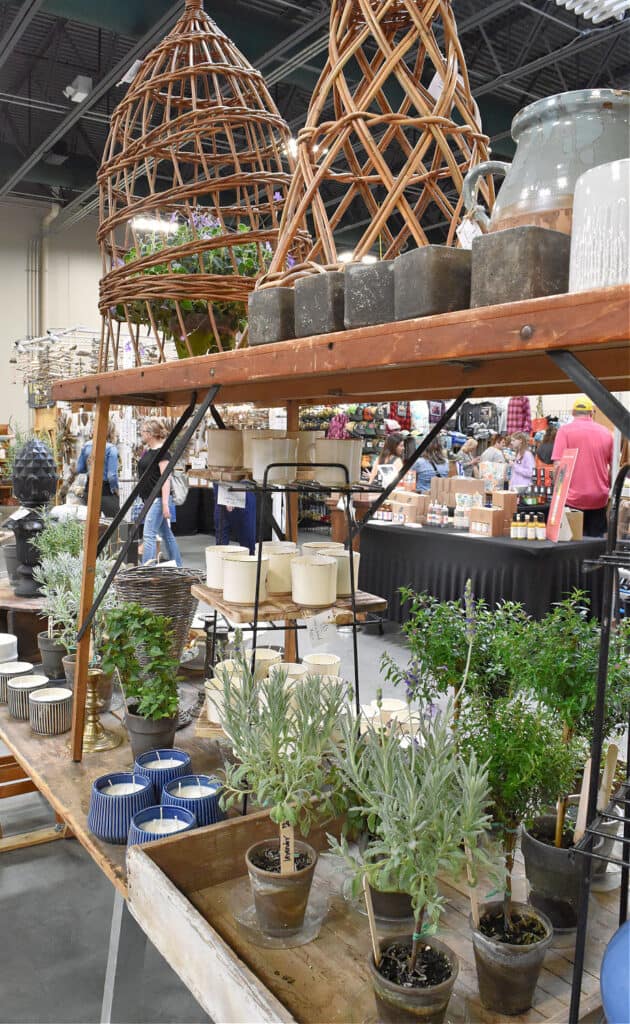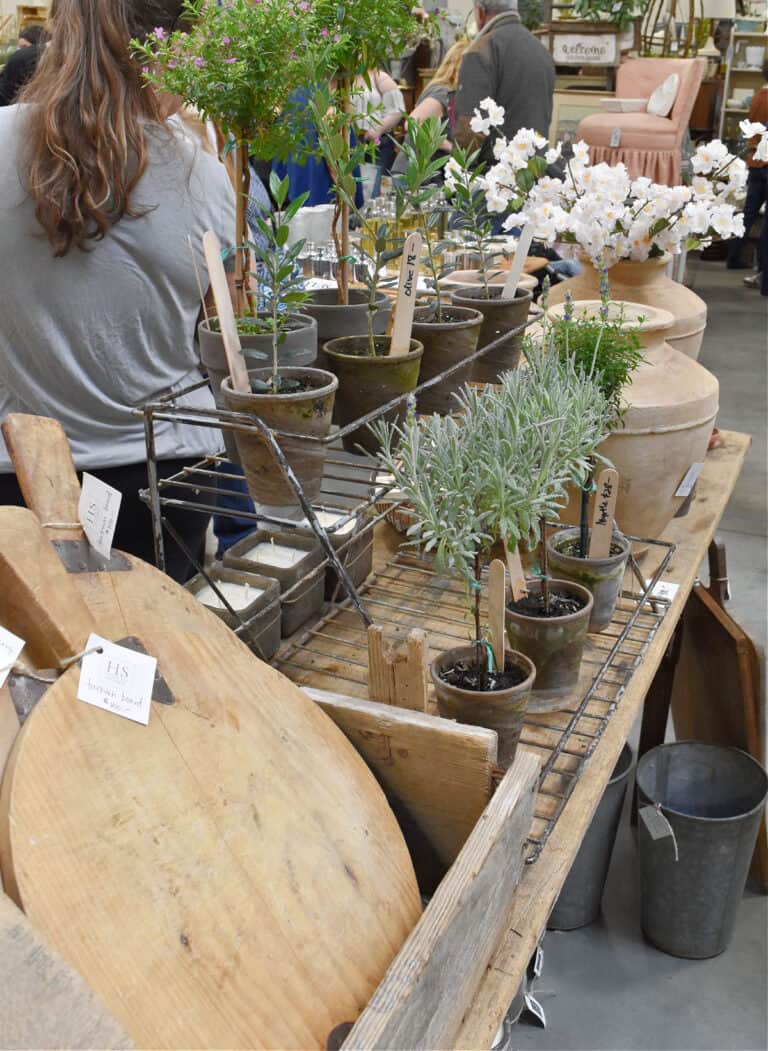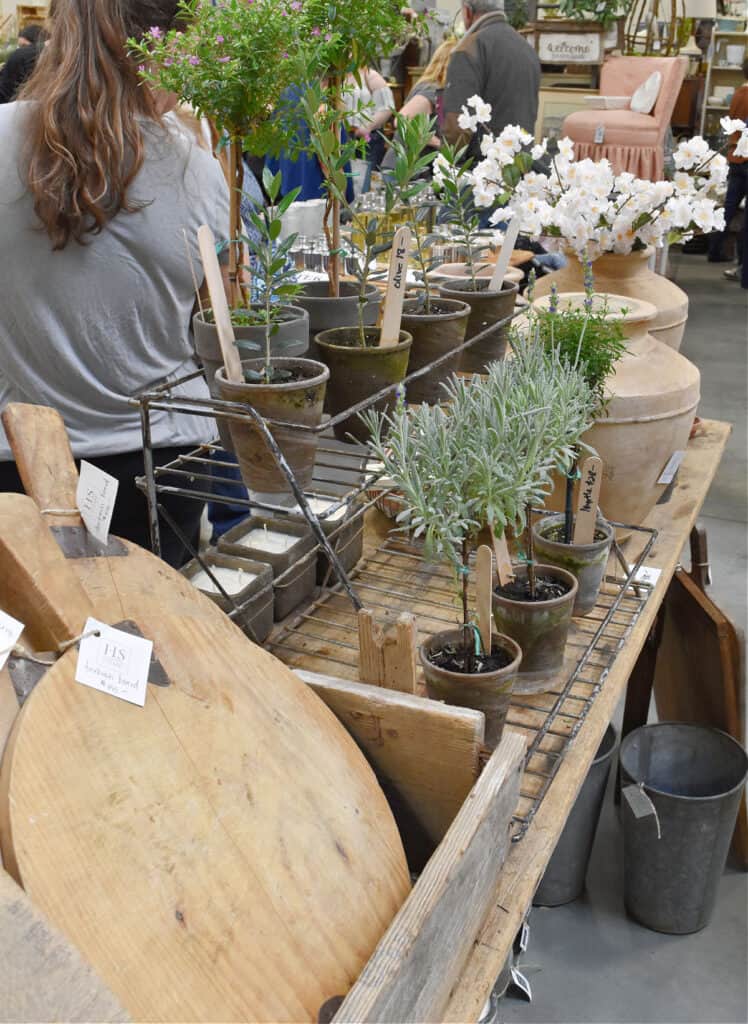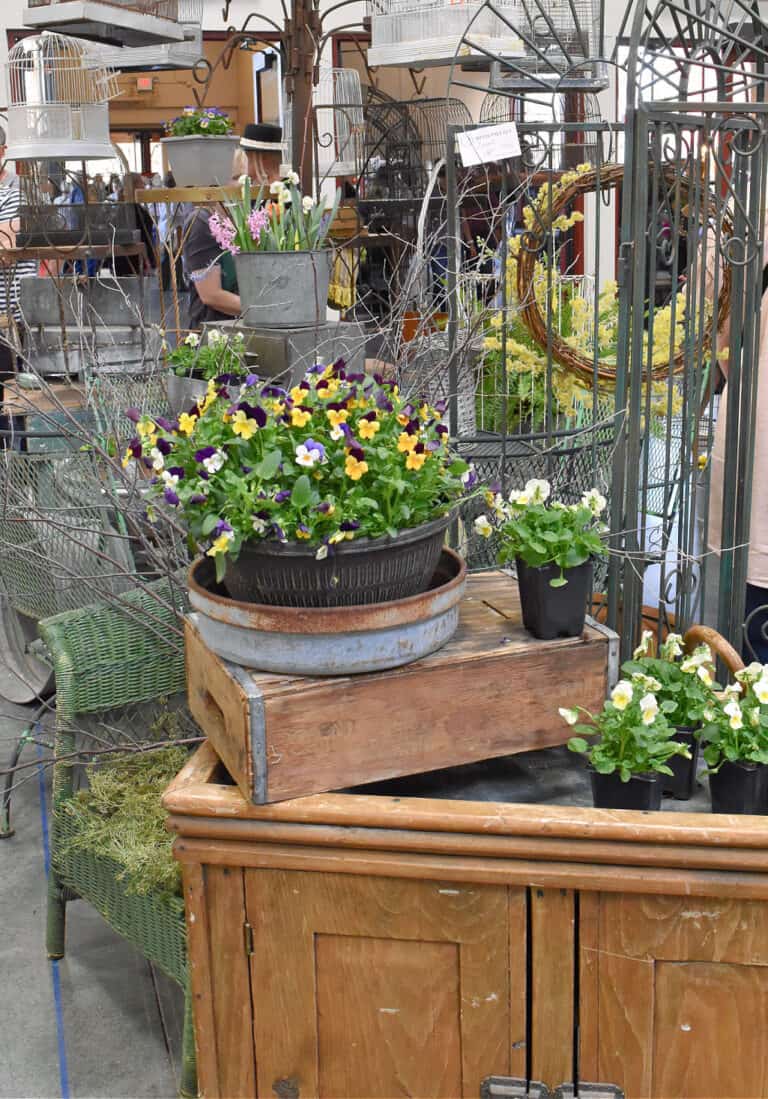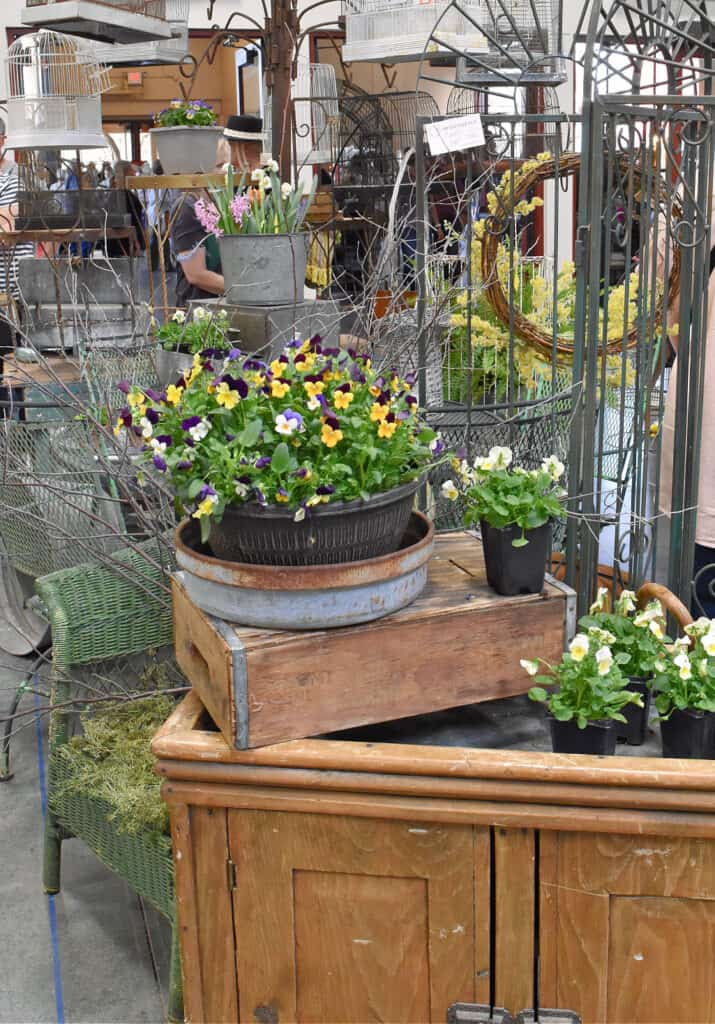 Repurposed and Upcycled Vintage Finds
The creativity these dealers share is amazing. So many fun upcycled and repurposed vintage ideas. They are talented makers that are bringing new life to old things. Decorating your house with their creations is a sure way to have a unique, personal home.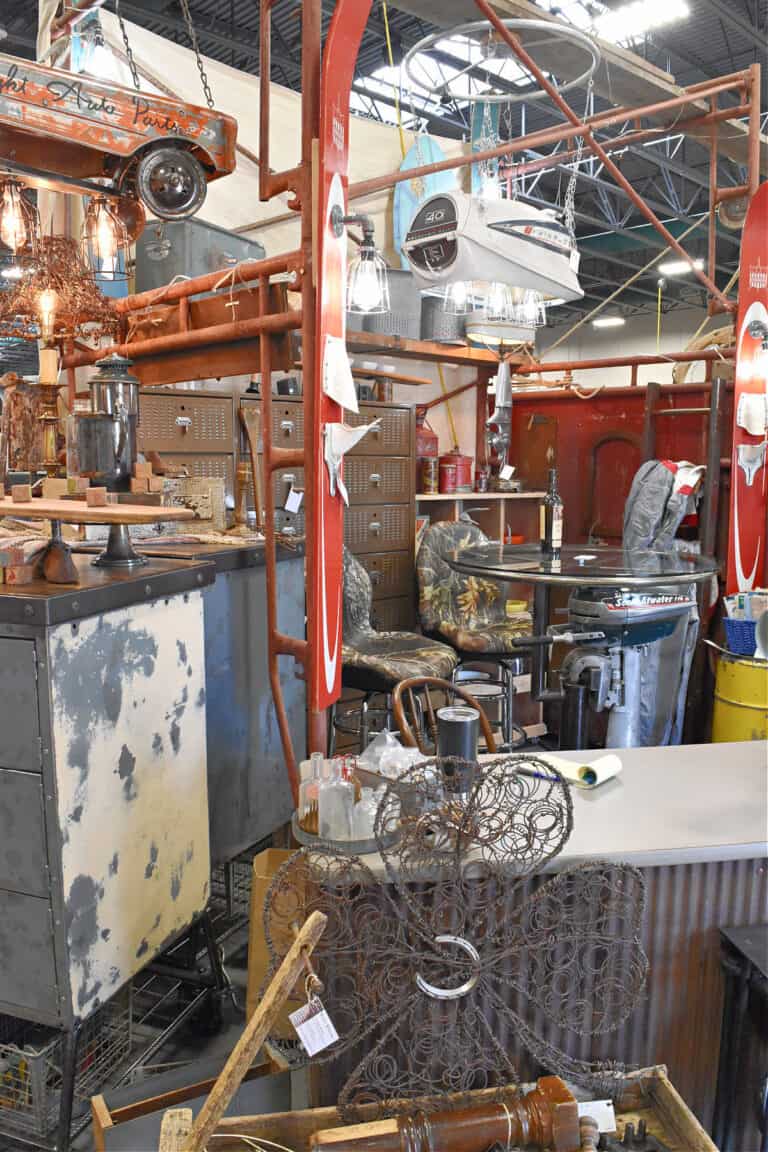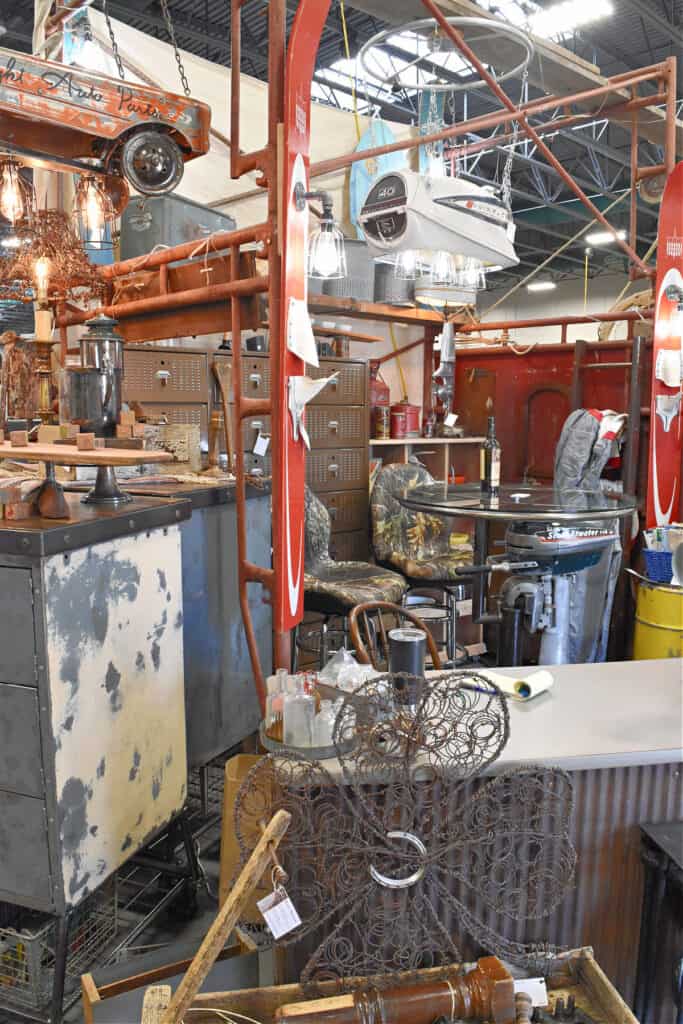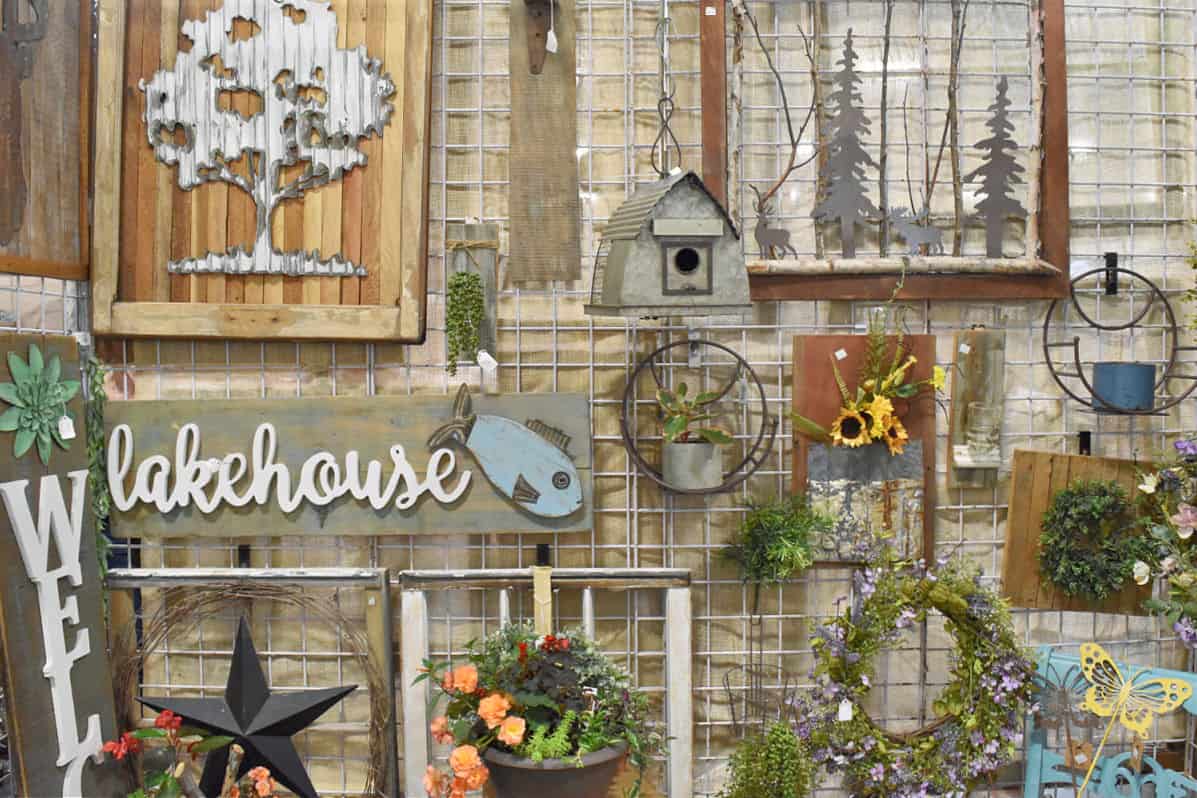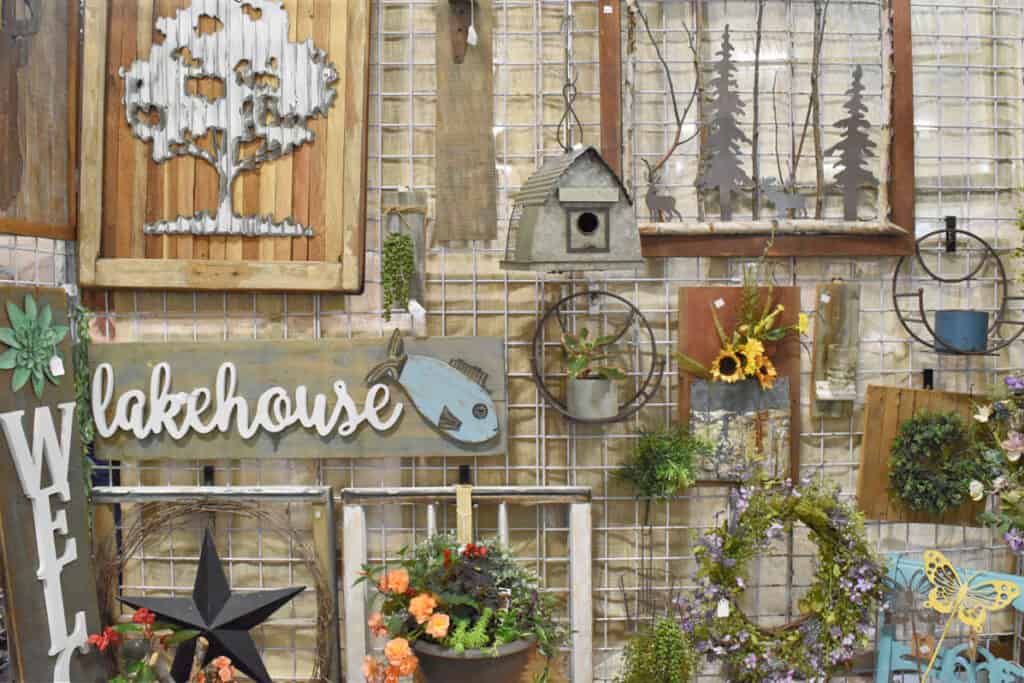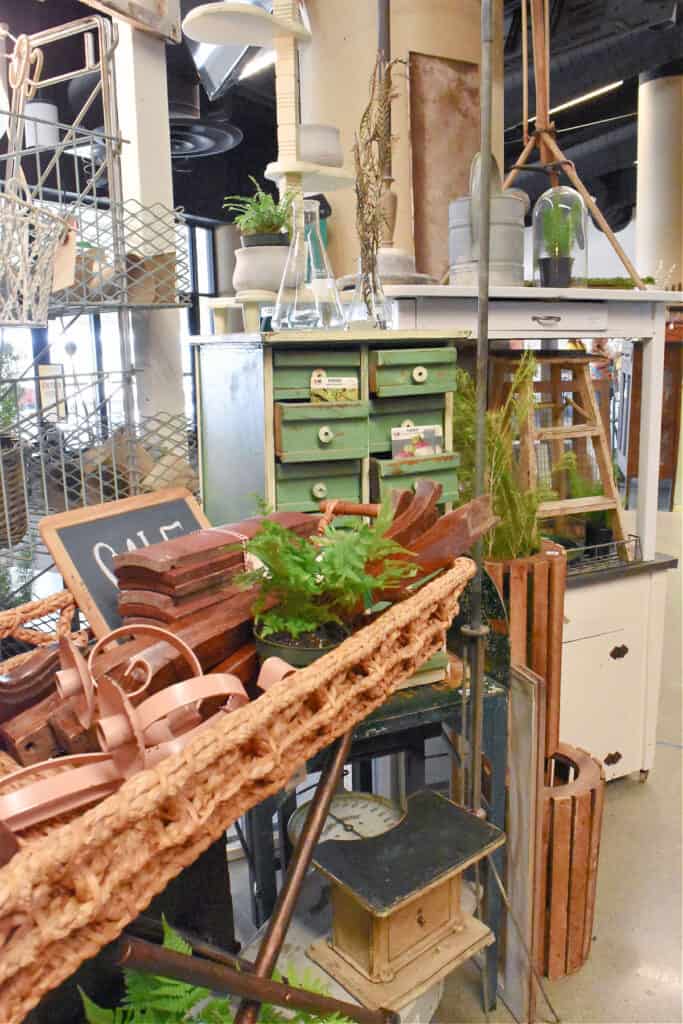 Vintage Decor Ideas and Finds
There is something for every vintage collector and decorator here. Whether you like your vintage large or small, the variety is amazing. Yes, shoppers come from long distances for this show and bring trailers to haul their goodies home.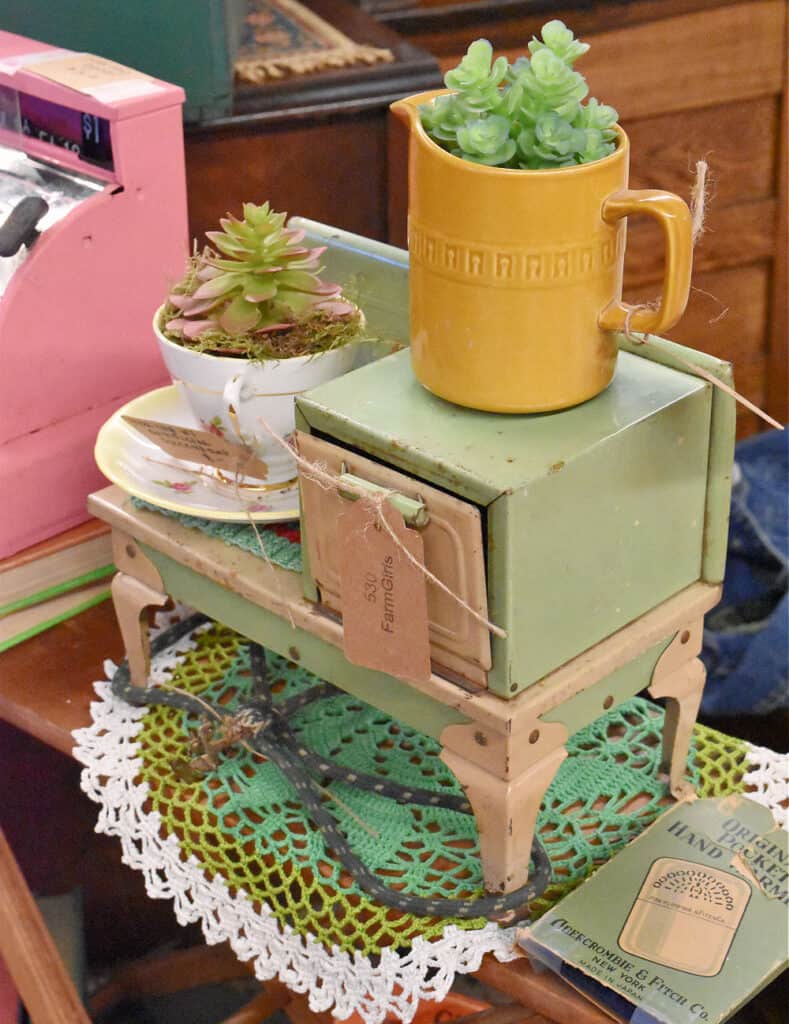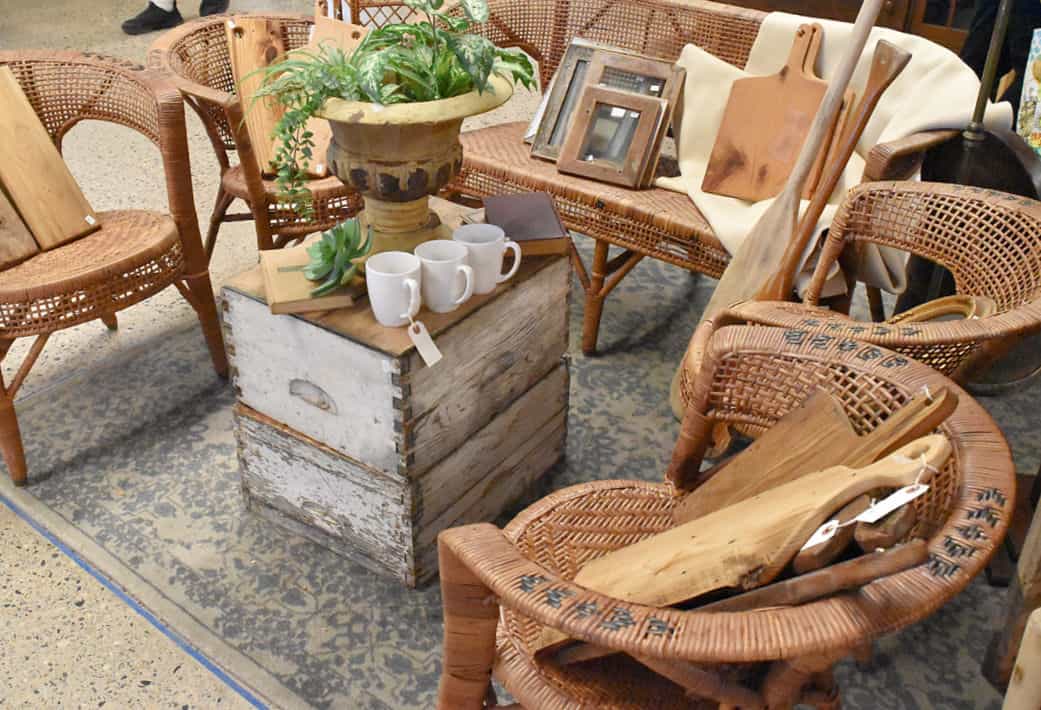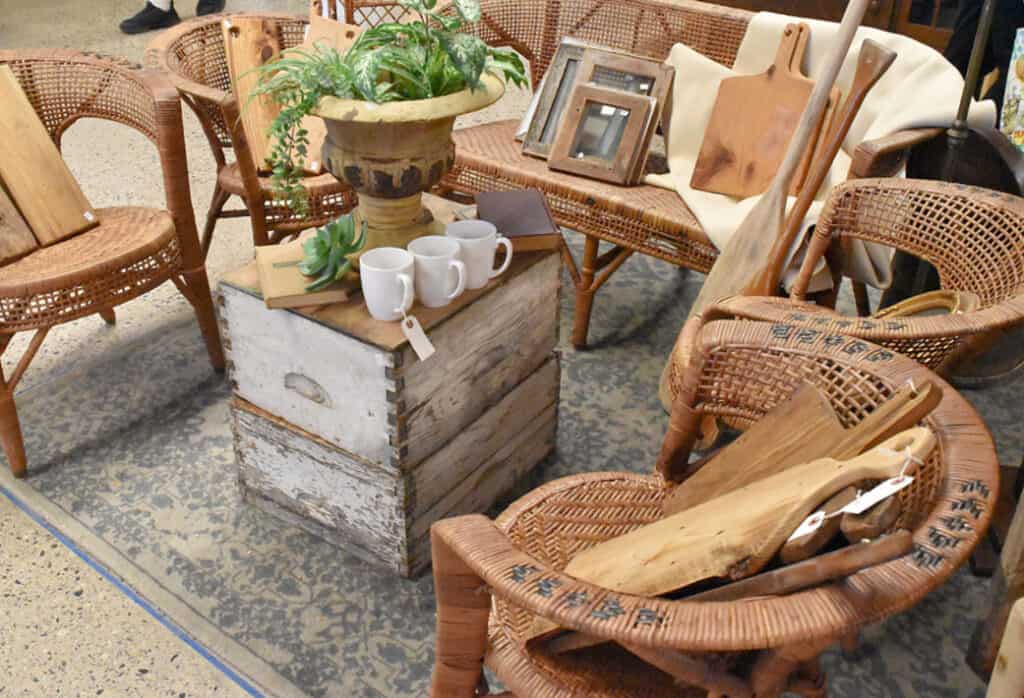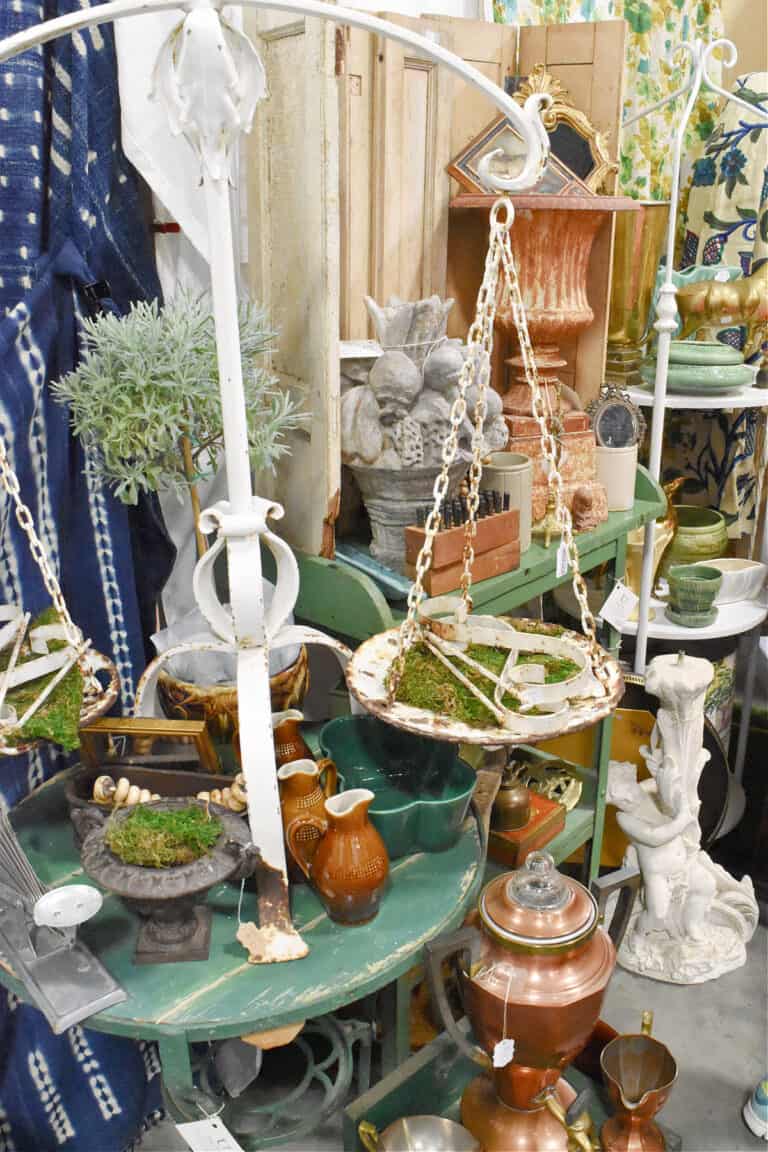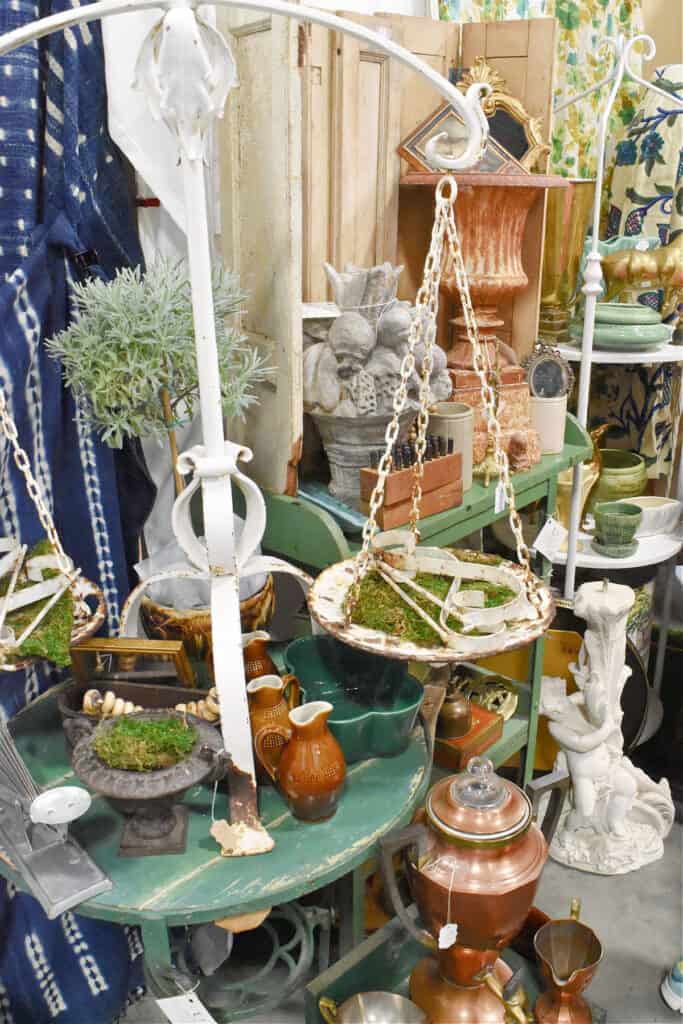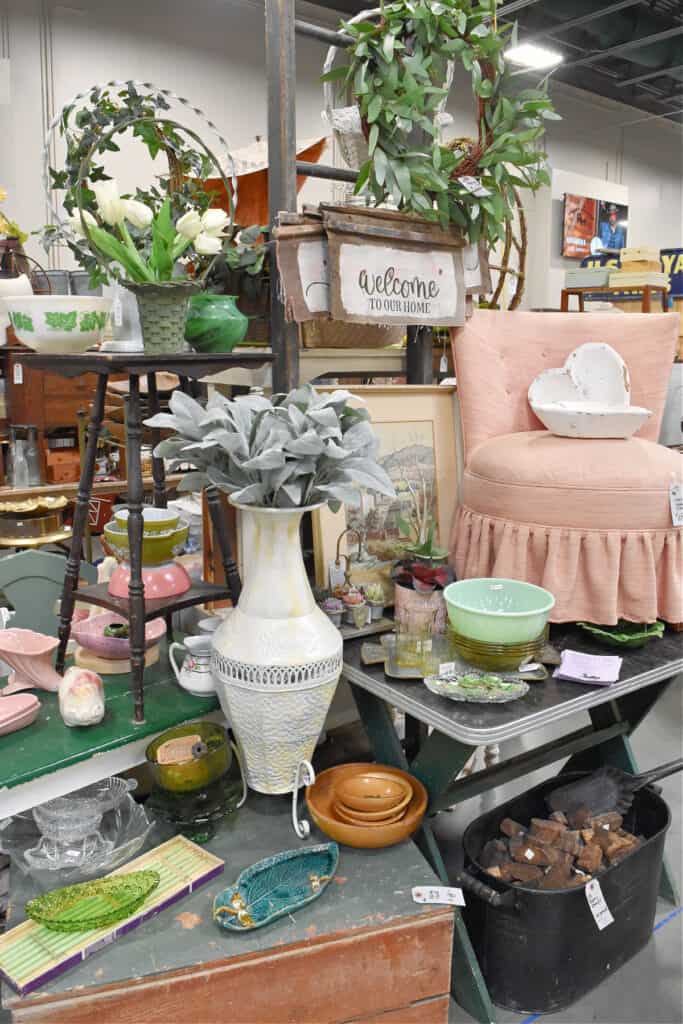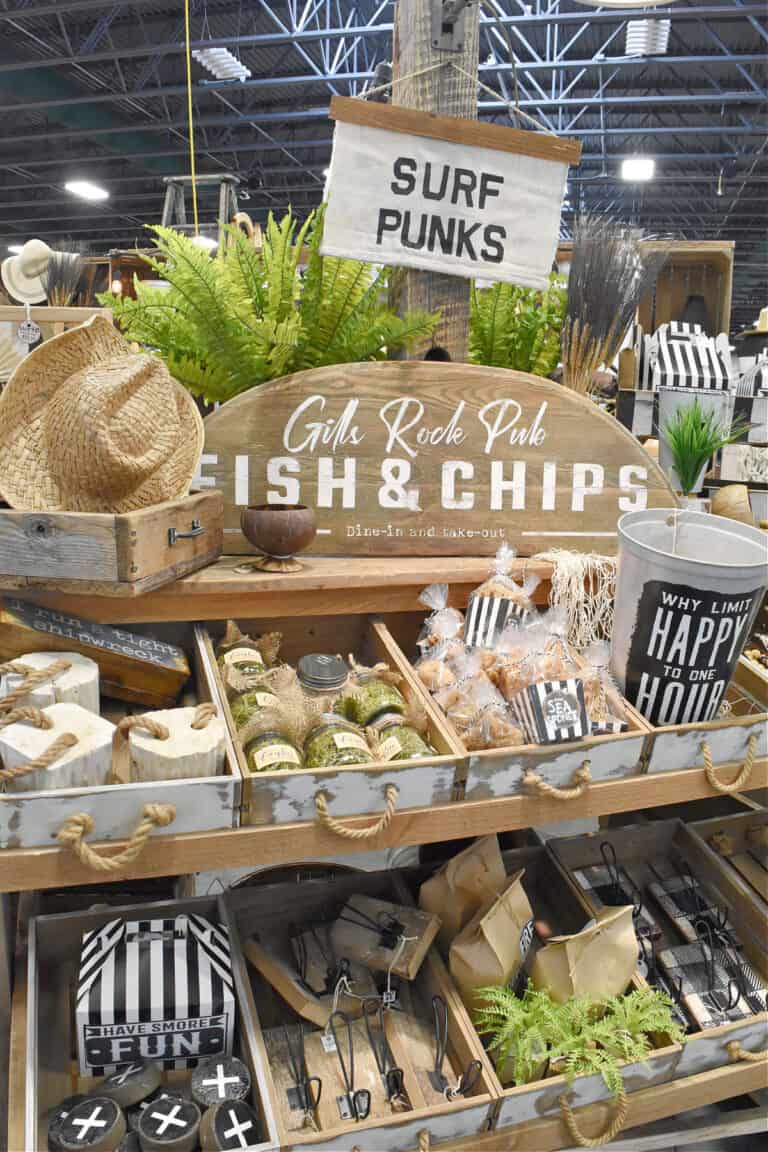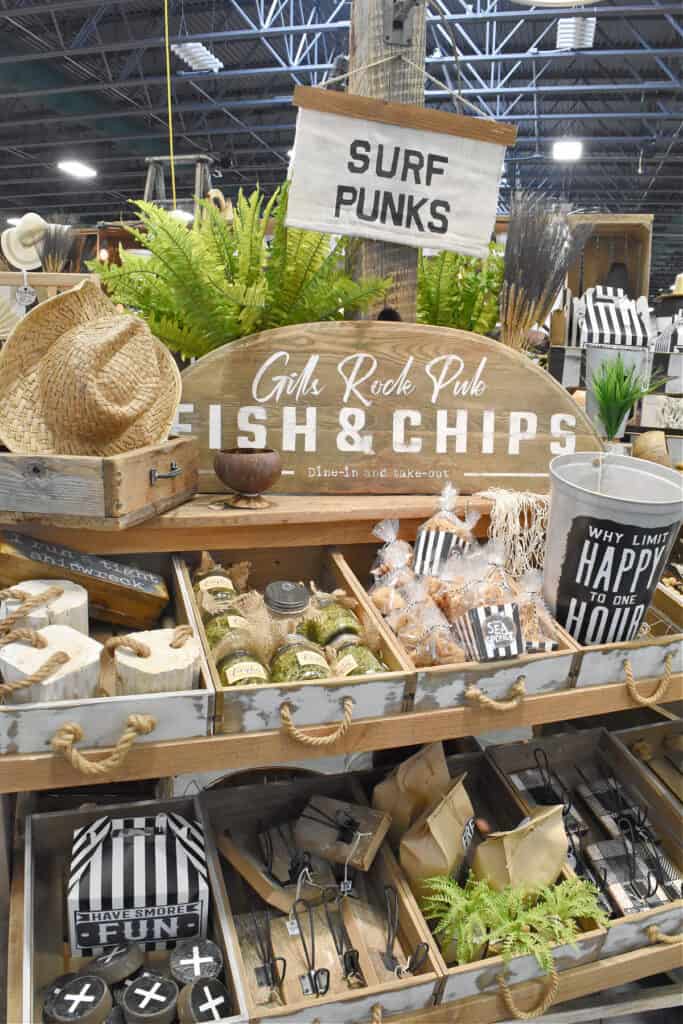 What Came Home with Me?
You may be wondering what came home with me? Well, the bag of freshly made mini doughnuts was yummy. But just before my friend and I headed for the car, I decided I needed to lift some weight…or maybe keep track of mine after the doughnuts;)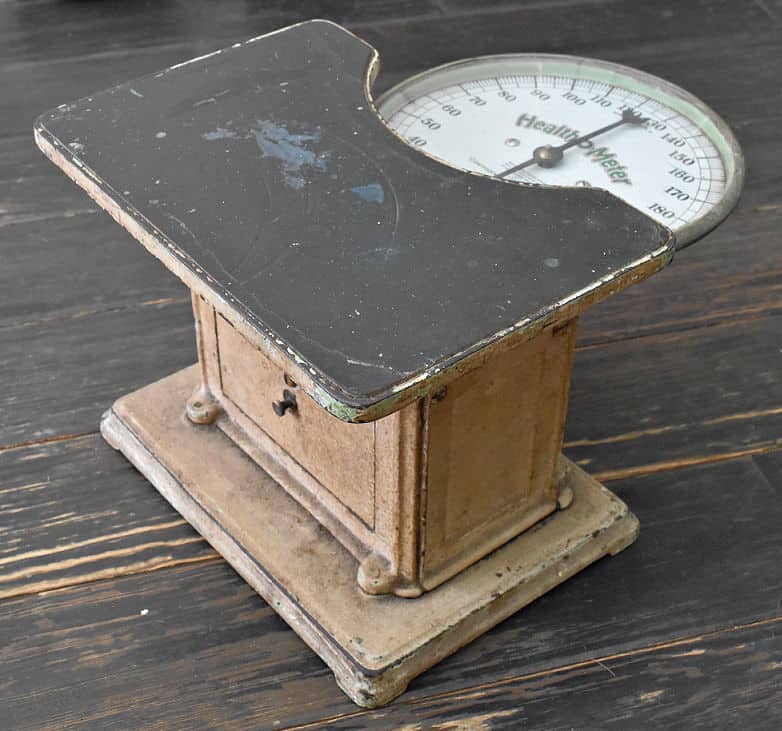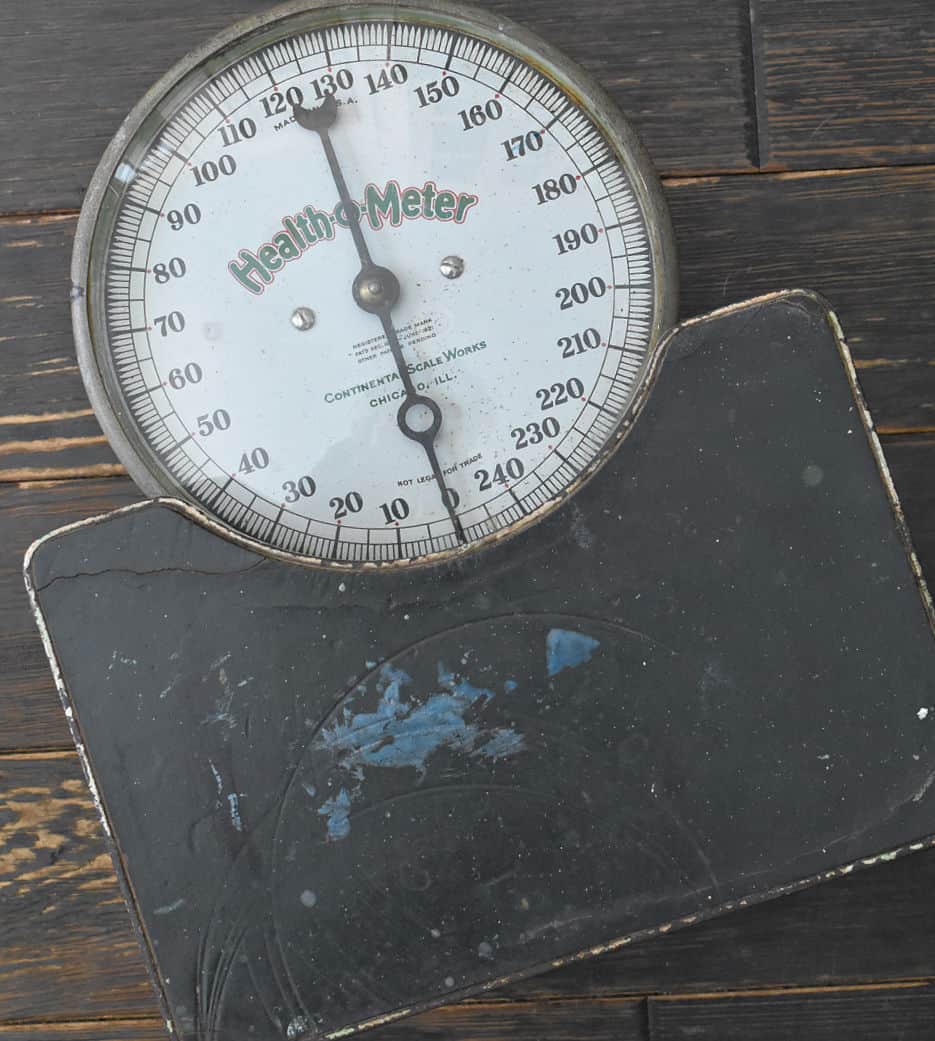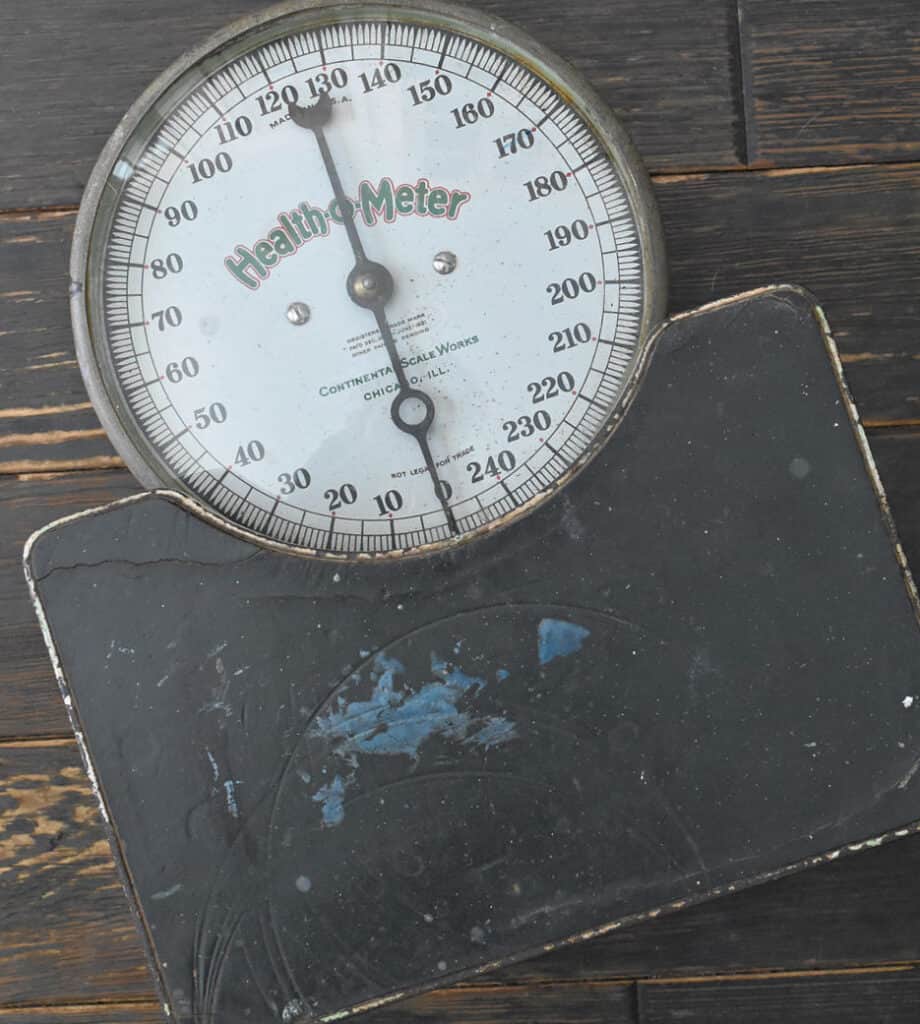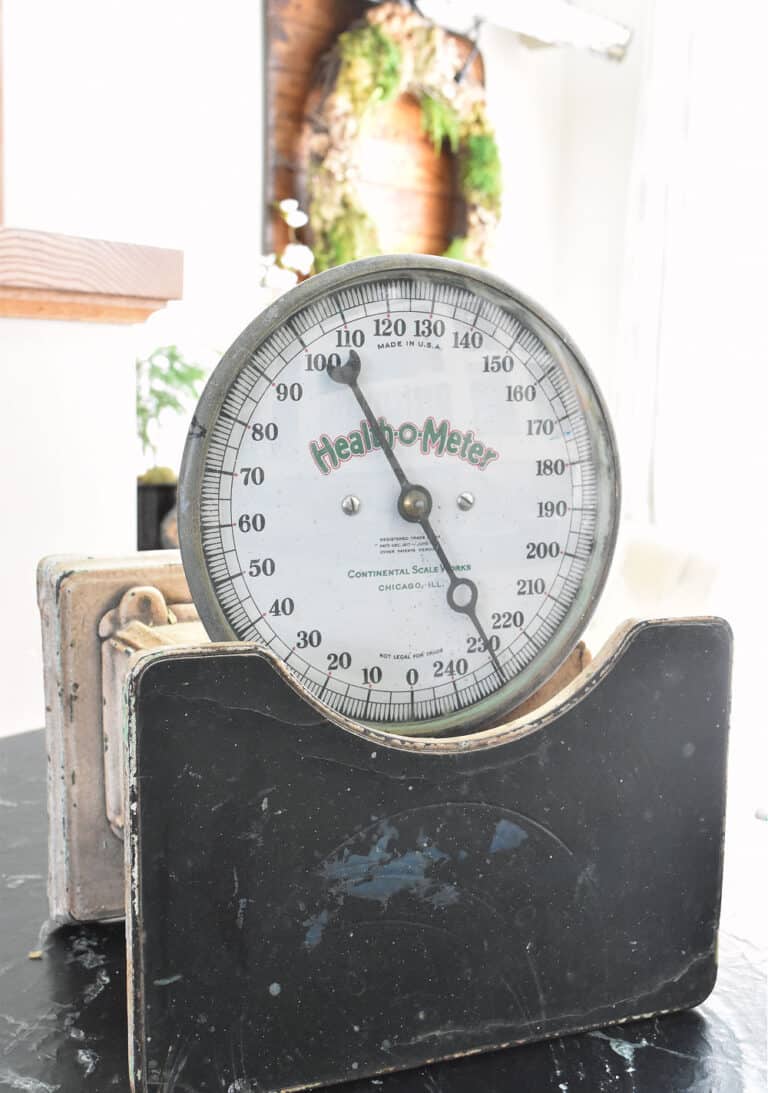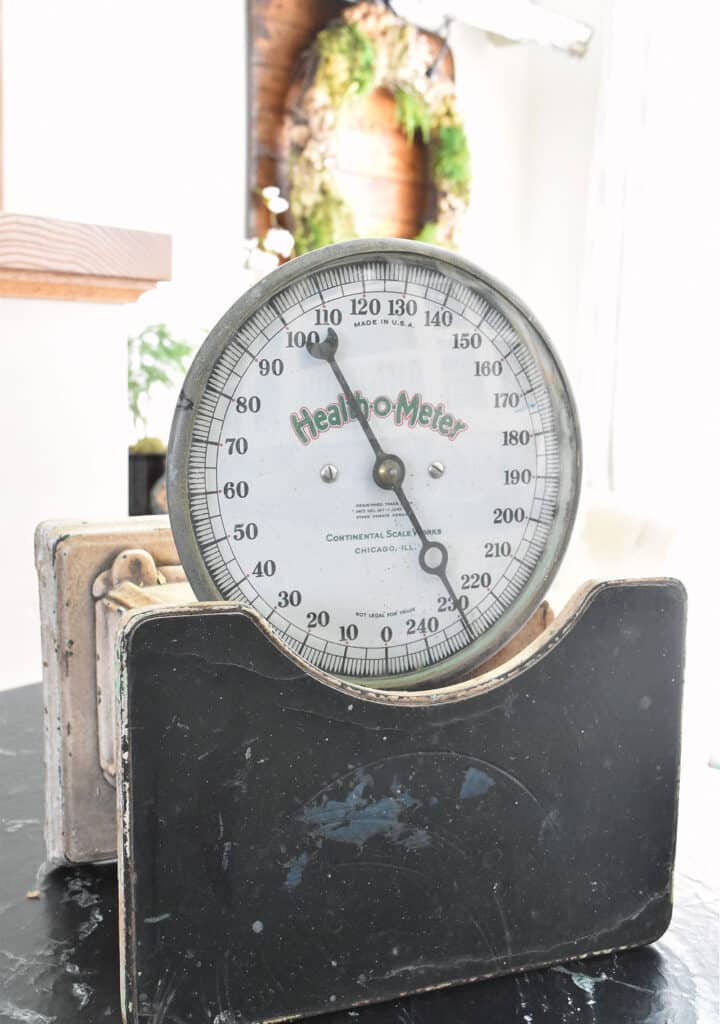 My old scale collection is large already, but this vintage floor scale caught my eye. I loved the green accents and cute drawer accent. It's totally grimy and needs a good scrubbing. I'm hoping to expose more of the original vintage green paint. With a fresh plant or basket of fruit, I think it will be a fun centerpiece for the kitchen island.
Shop My Favorite Vintage Decor Books

Visiting Junk Bonanza is a treat! If you're anywhere near, definitely put it on your calendar! Or maybe you have another version that's near you. It's always fun to see what treasures vintage dealers have found and enjoy the beautiful displays they create! Great way to get decor ideas for your home and bring home a few "new" things for a decorating boost!
Today I'm joining a few other thrifty, vintage loving friends to send inspiration your way! Enjoy their ideas down below.
Thanks for reading Vintage Decor Ideas at Junk Bonanza! If you enjoyed your visit, be sure to sign up to become an Insider, so the inspiration can be sent right to you! ( See HERE)
Follow Me: LTK | Amazon | Pinterest | Instagram | Facebook
Bricks N Blooms, "Vintage Crock Bouquet with Sunflowers"
Stacy lives in a beautiful, historic home surrounded by acres of gorgeous gardens in New Jersey. She decorates her home with thrifty vintage finds and loves to inspire others to garden. Let's see the pretty arrangement she created this month!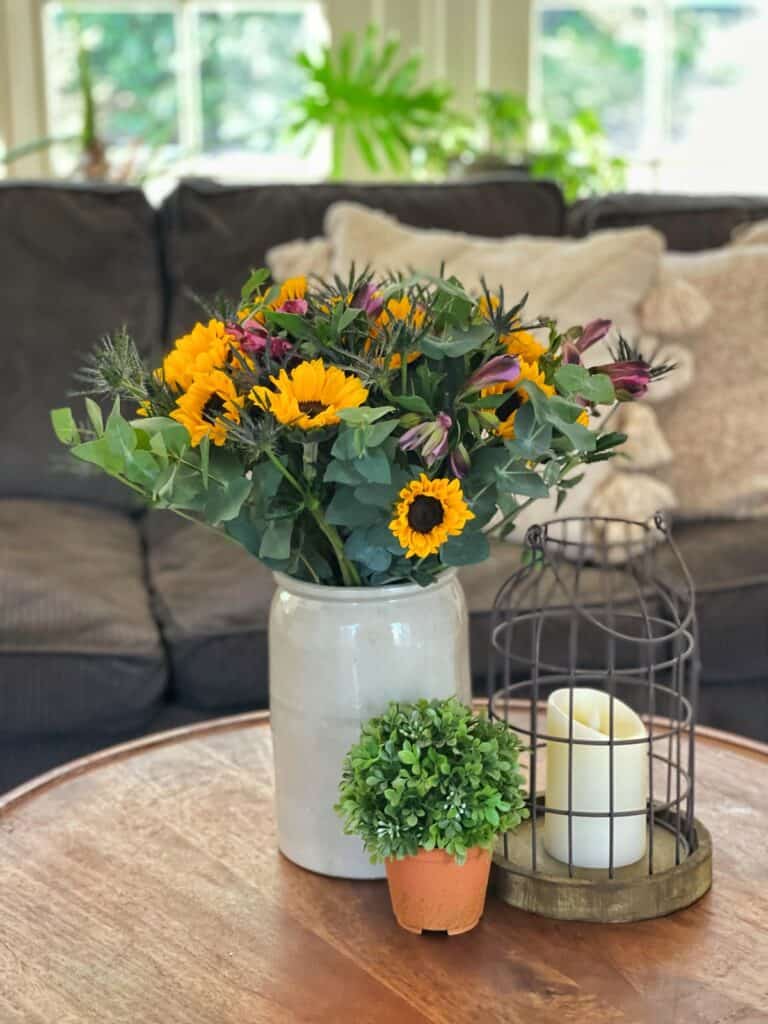 Shiplap and Shells, "Bedroom Vintage Decorating Ideas"
Kim lives on the Pugent Sound in the Pacific Northwest in a cozy vintage cottage. She decorates her home beautifully with vintage finds, incorporating her love of the garden and flowers. Today you'll get to see her lovely bedroom and get pretty decorating ideas!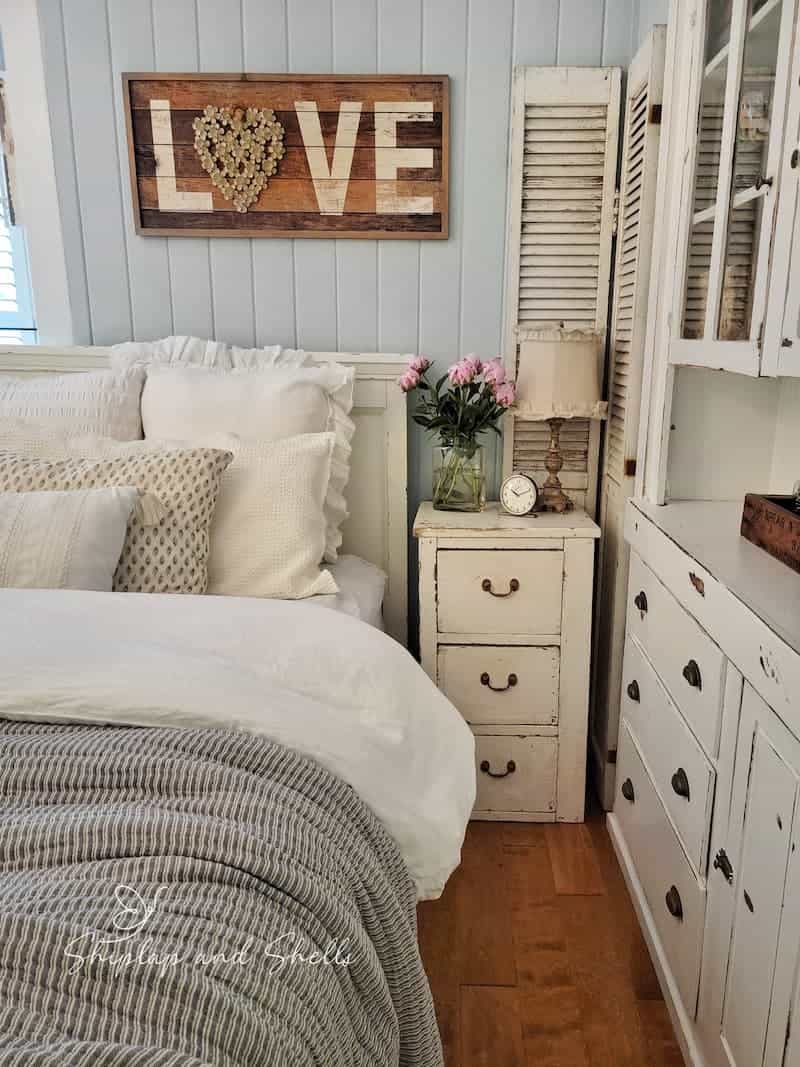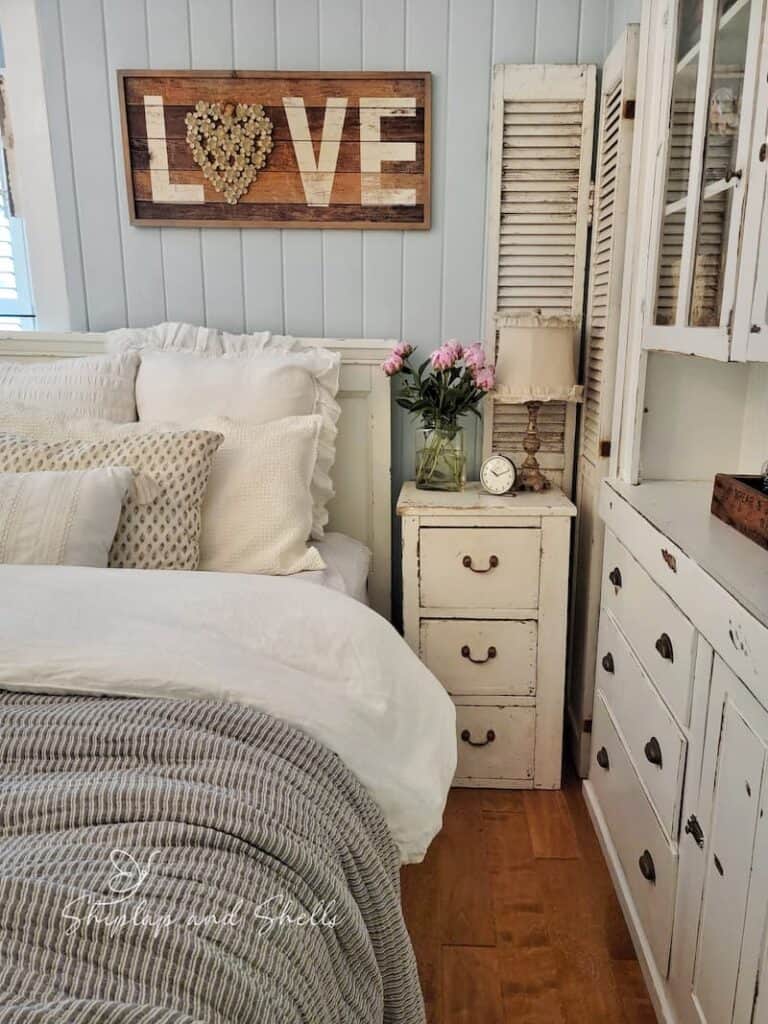 Cottage on Bunker Hill, "From Drab to Fab: Upcycling an Ugly Thrift Store Lamp"
Jennifer is a DIY dynamo; she can turn any ho-hum thrift store find into stylish home decor. Today we get to see how she's transformed an old lamp into the perfect addition for her home in coastal New Hampshire.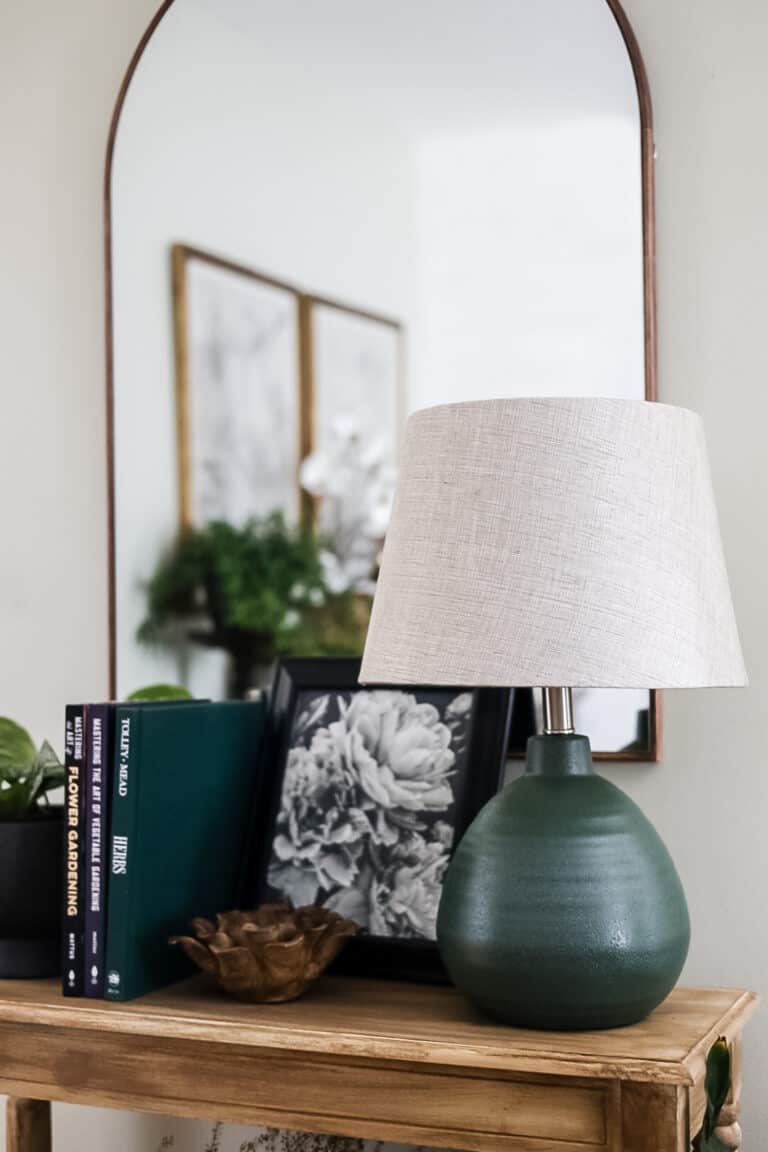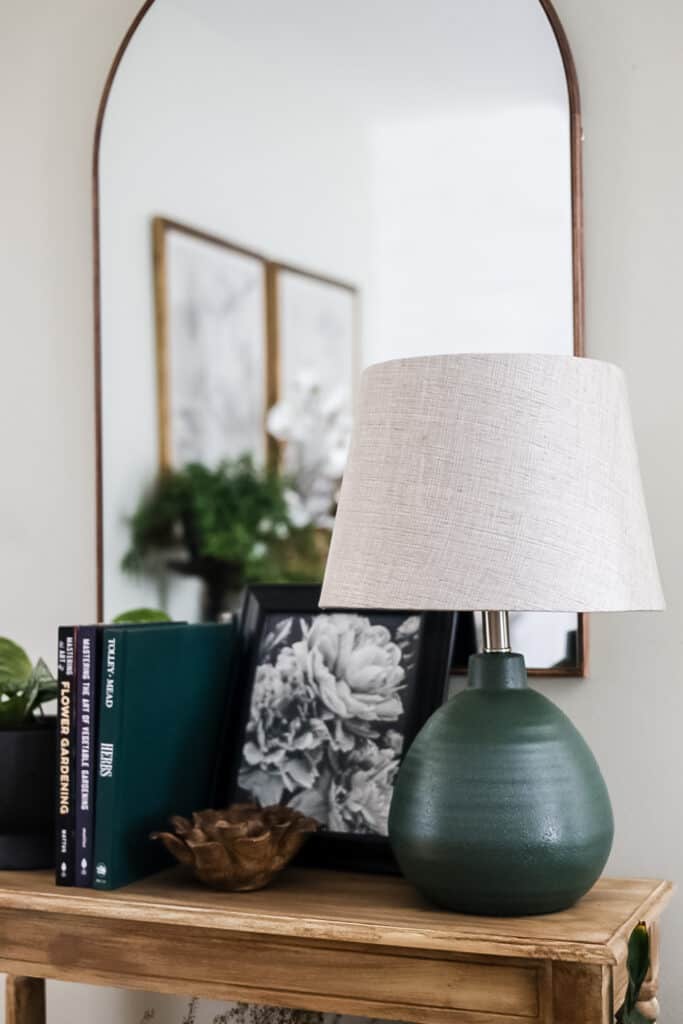 Please Pin and Share this post