Great Ways to Repurpose Vintage Ceiling Tin
Repurpose and upcycle old embossed tin into beautiful, unique home decor accent pieces. Easy DIY!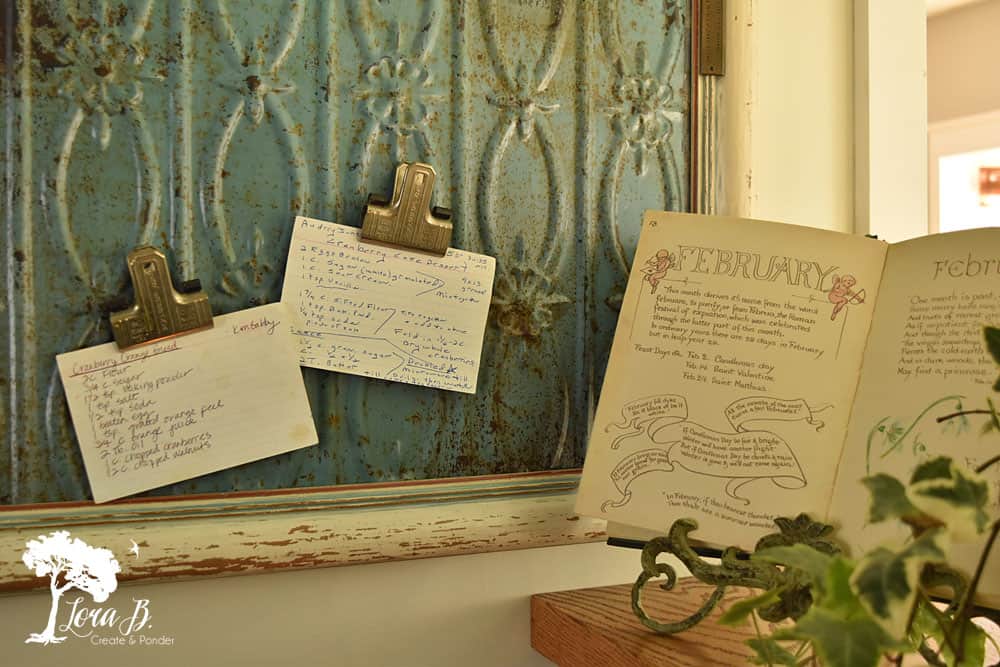 I love vintage ceiling tin! The geometric relief patterns, the multitude of chippy paint layers peeking through each other; all with the perfect amount of rust…Love it! Whenever I can find a piece, I start figuring out what item of furniture or frame I can add it to. If you happen to score some yourself, here are Great Ways to Repurpose Vintage Ceiling Tin. (Because it makes any piece more beautiful)
Great Ways to Repurpose Vintage Ceiling Tin
For your convenience, this post contains affiliate links. If you make a purchase, I may receive a commission. There is no additional cost to you. My full privacy policy is here.
But Where Can You Find It?
The best places to find vintage ceiling tin is architectural salvage places or flea markets. The expert pickers have pulled it out of an old house or building. Sometimes it's a whole ceiling-full or just a few random pieces. Once in a while you can find it on Facebook Marketplace or Craig's list if you're lucky. And don't forget online resources! If you don't live near places to source it, it can be found online and can be shipped to you.
Clean and Refresh Before you Repurpose
Before you start your repurposing project, make sure your ceiling tin is clean and safe. Often the paint is chipping and is probably lead based. I scrub it with a nylon brush and soapy water to get in all the raised areas. If it's rusty, I scrub it with a soap-filled steel wool pad, like S.O.S. or Brillo. Rinse well and dry thoroughly.
To seal, brush or spray with water-based polyurethane. This will bring out the beautiful colors even more, especially if there's rust and seal it well.
Repurpose Old Tin by Framing It
The easiest way to enjoy old ceiling tin is simply to frame it. The edges are very sharp, so enclosing them in a frame will be a much safer way to add them to your decorating.
It can be enjoyed alone as architectural interest, or use magnets to hang something decorative or functional.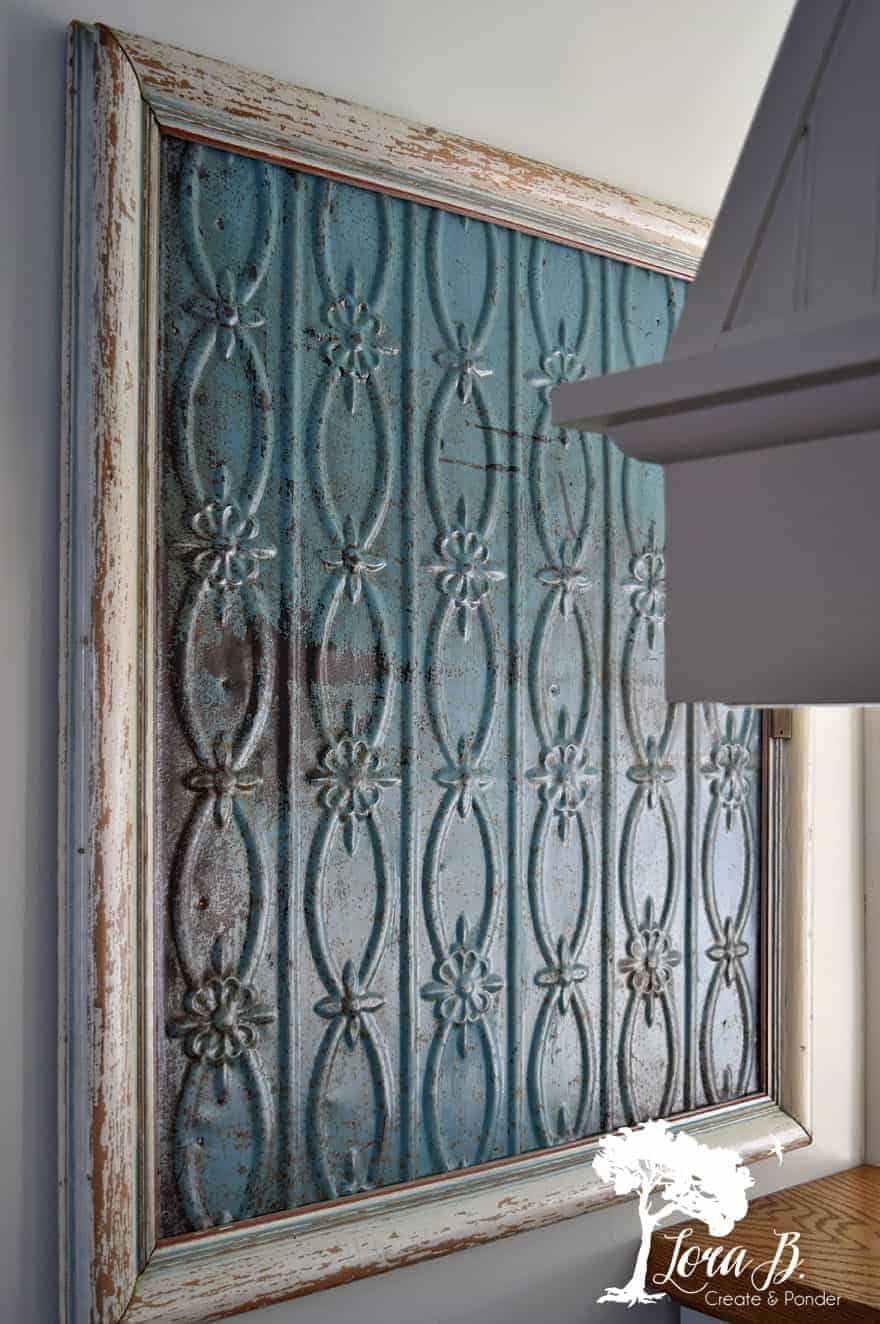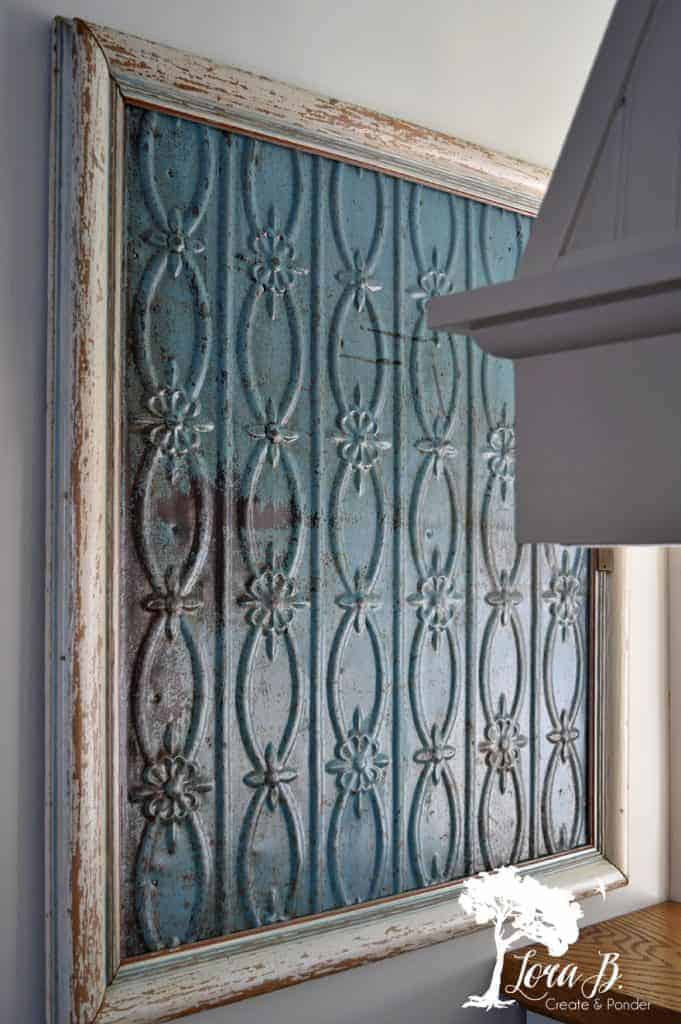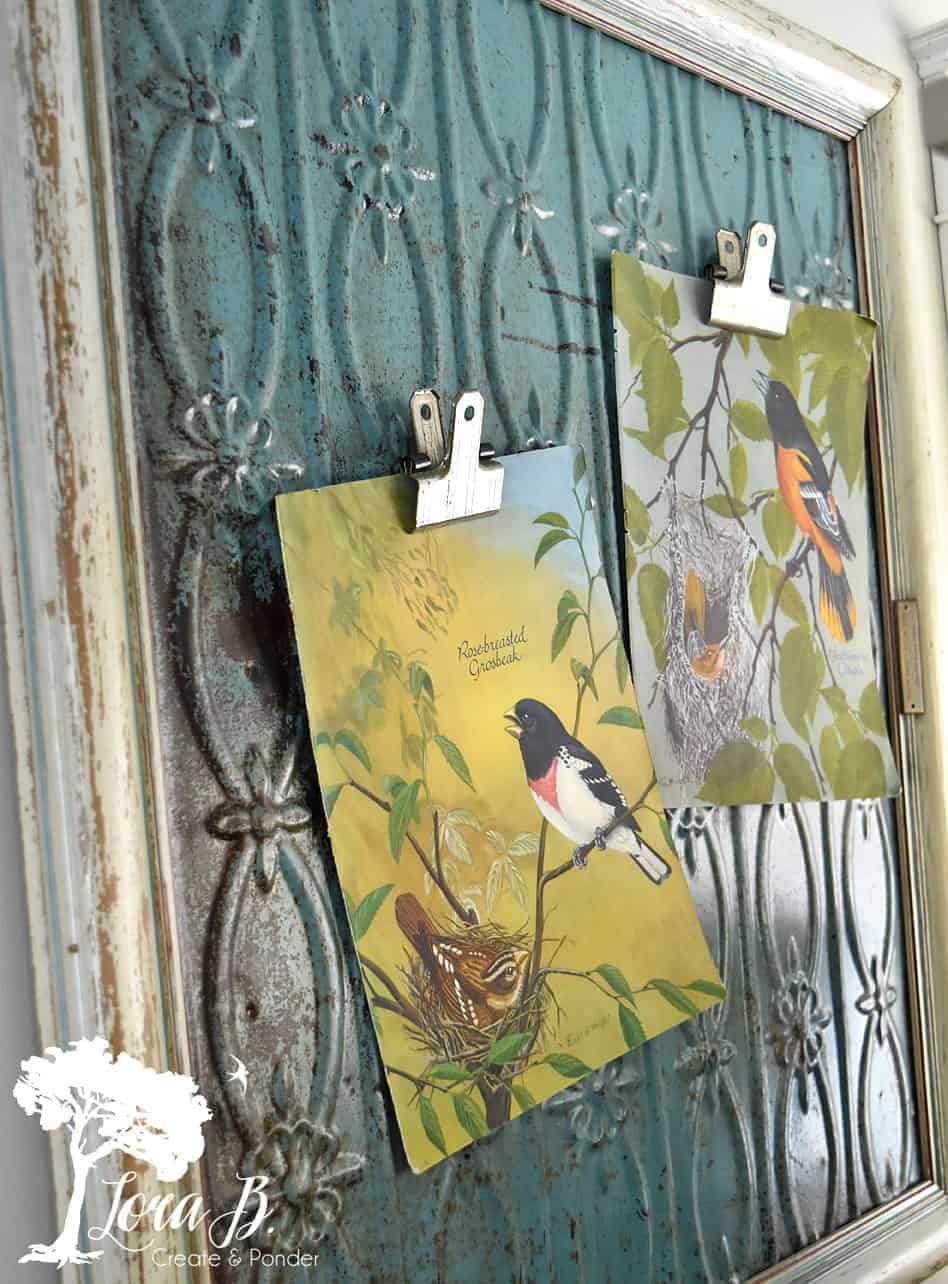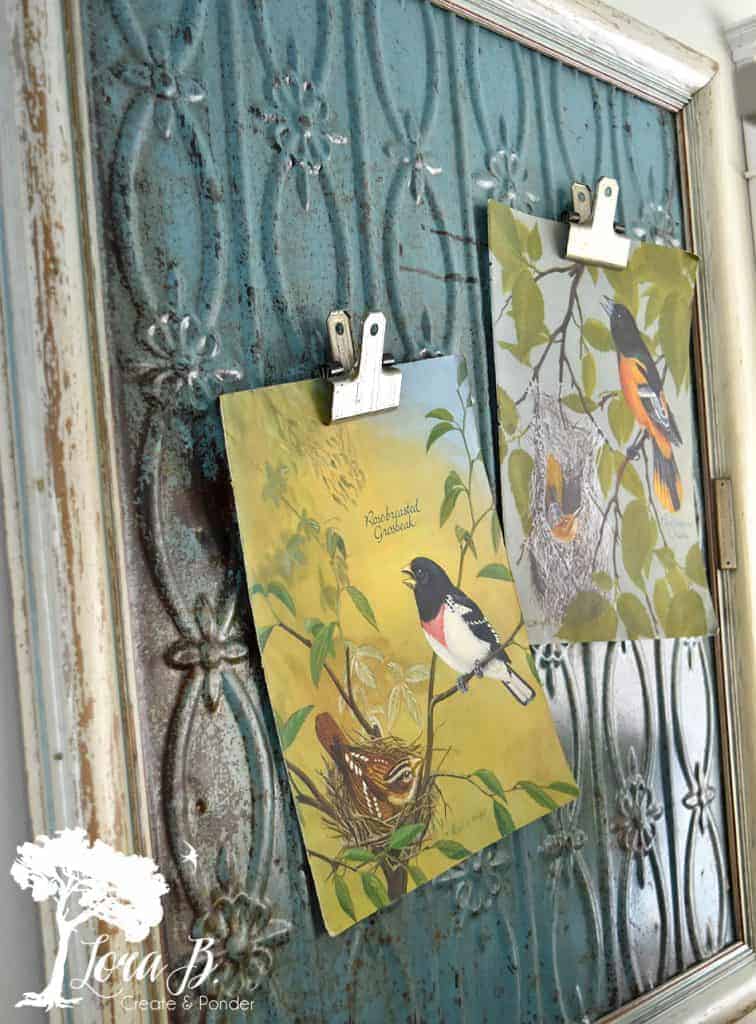 You can achieve a totally different look depending on your frame shape and the color and design of your old tin. This pretty divided old mirror frame got a whole new life with the addition of old embossed tin. I use it as a backdrop on the mantel and will be hanging a wreath on it, too.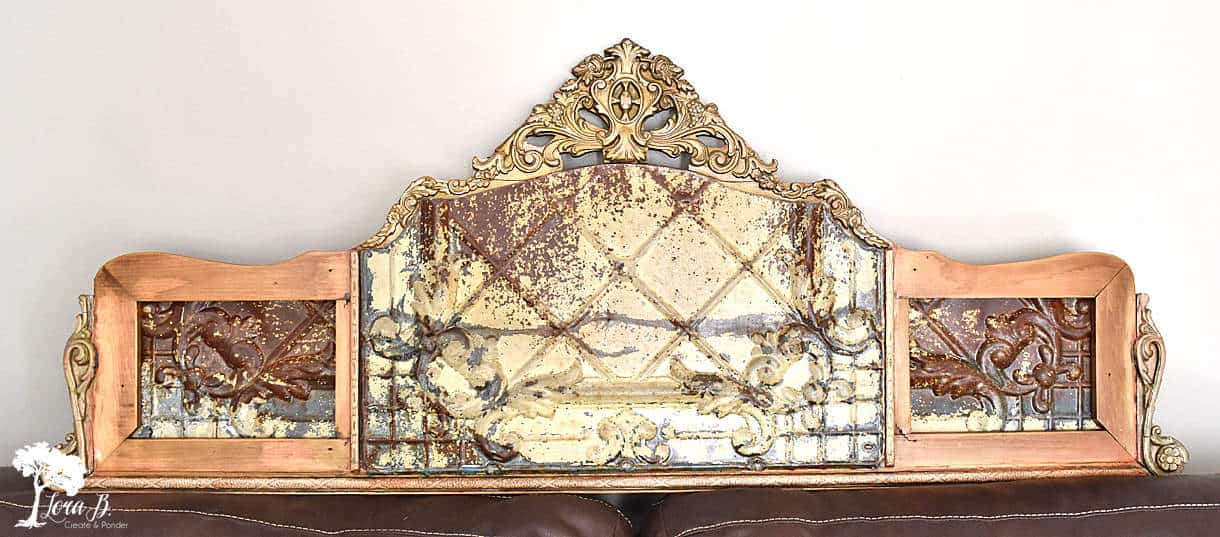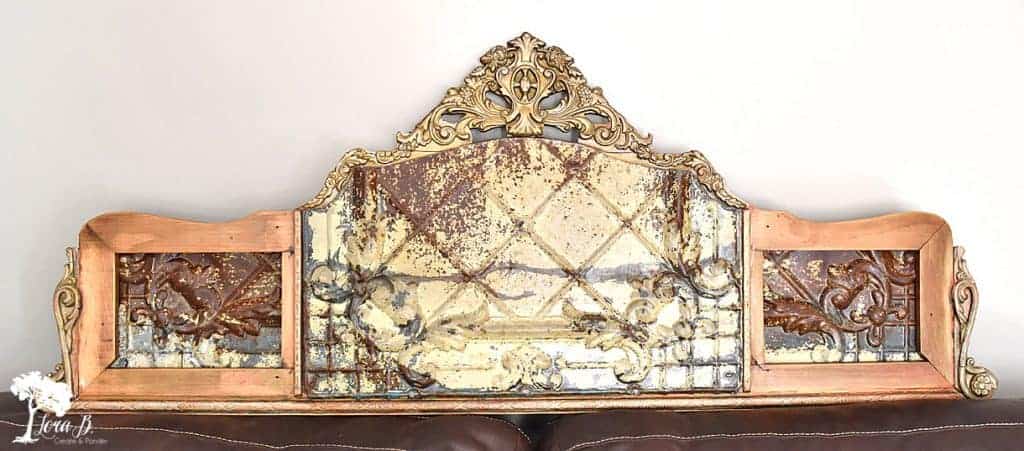 See how we made it in "DIY Repurposed Mirror Frame with Vintage Ceiling Tin". And check it out in it's leading role on our Harvest mantel in "Bountiful Thanksgiving Mantel with Vintage Gold Frames".
Repurpose Embossed Tin into a Decorative Awning
The curved piece that acted as crown molding where the wall met the ceiling is always a tricky piece to use. A great way to repurpose it is to turn it into an awning. You can hang it over a window, or simply on a wall as architectural interest.
Mr. Fix-it simply created a curved piece at the end, similar to a wooden shelf bracket and connected the two ends with a board. (one of these days I'll get around to doing a tutorial for it…promise)
With this piece of tin, I sanded it a bit so the pretty colors underneath would show more.
Artistic Tip: Lightly sand with a palm sander (and a mask) to reveal colors underneath.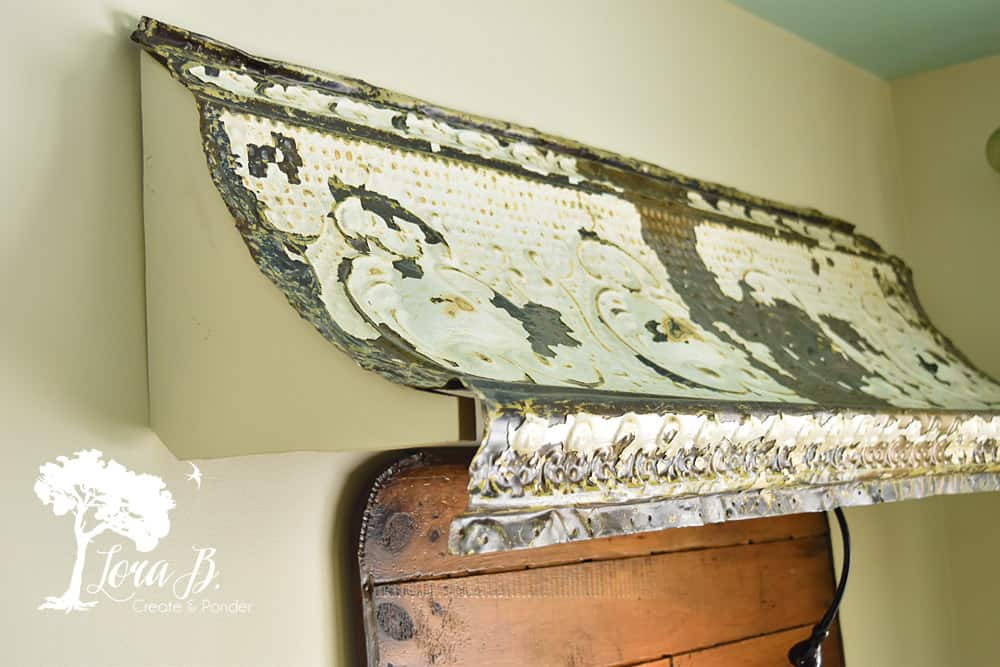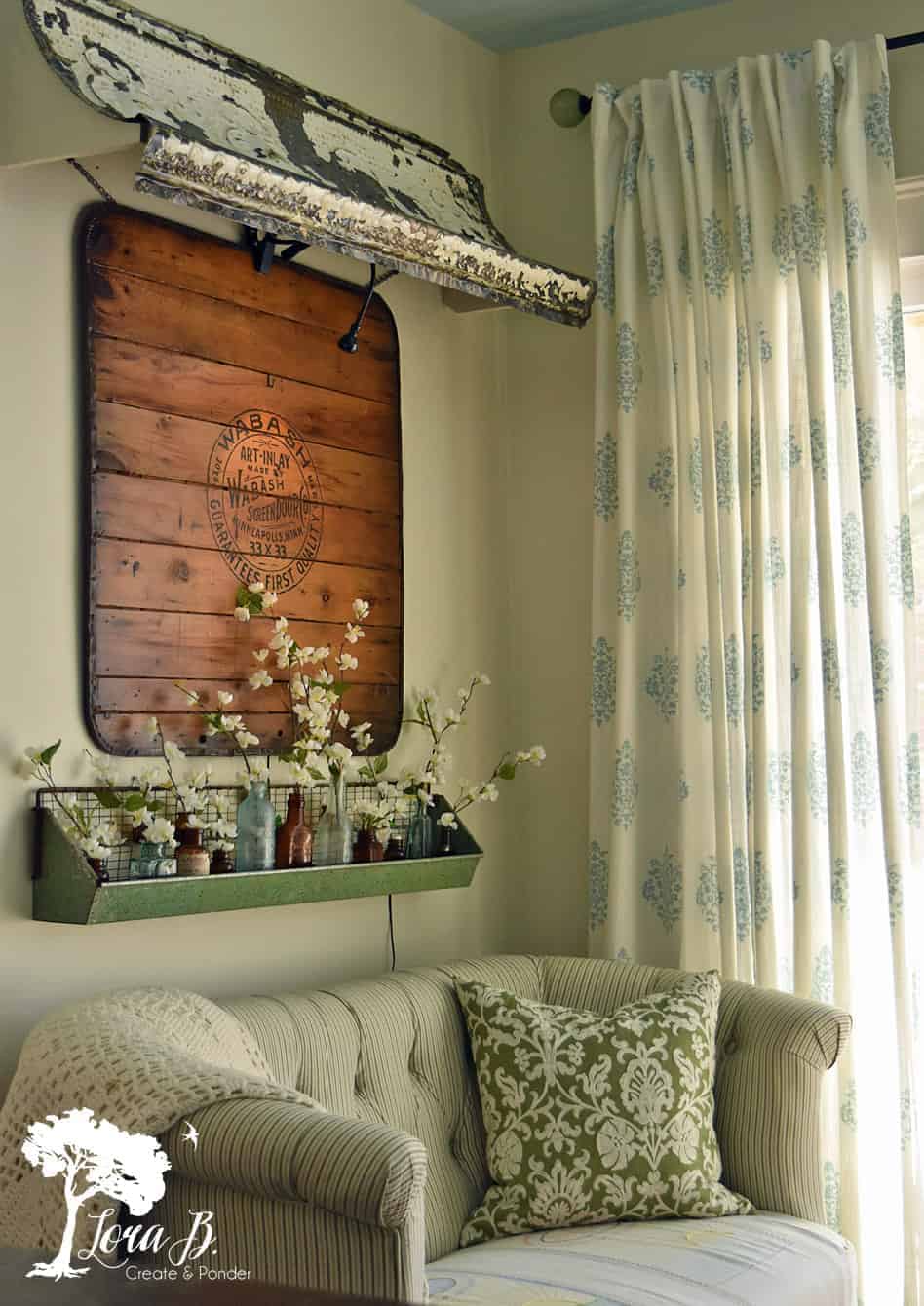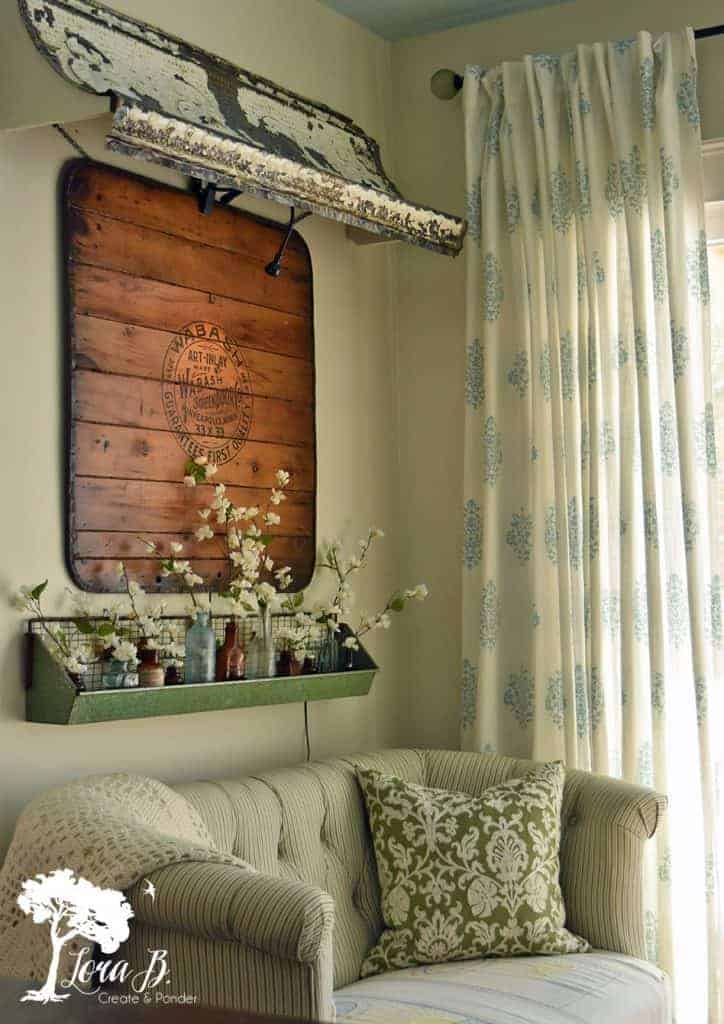 Add Vintage Ceiling Tin to Furniture
Often all you find is a small piece of embossed vintage tin. With just a little bit of it, you can add junky bling to an old piece of furniture. You can put it in a cupboard door or side panel inset easily. It will make the whole piece more special!
This "Dresser Makeover in Vintage Green" went over the top when it's side panels got some vintage tin! The original mix of paint colors added through the years makes it even more interesting.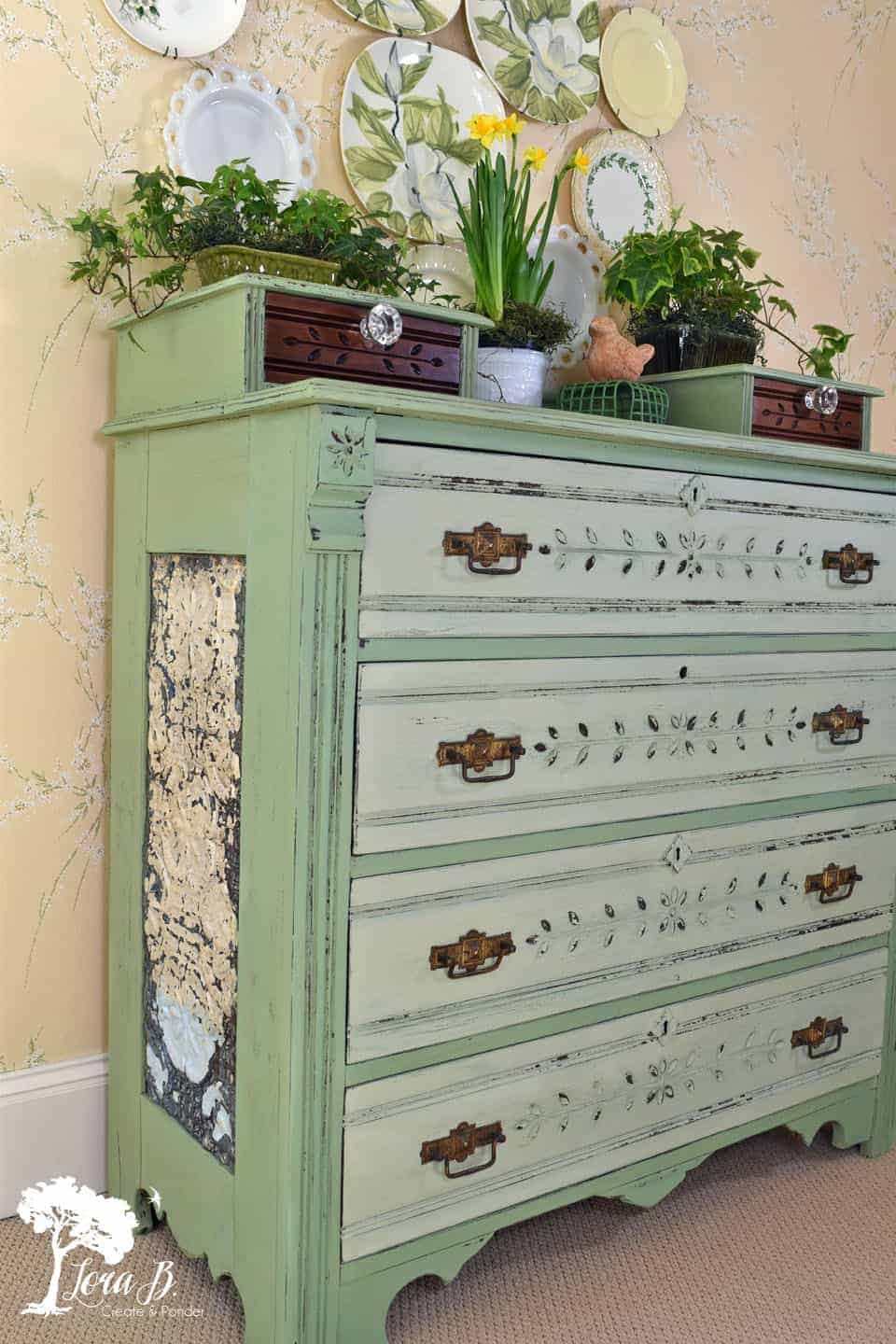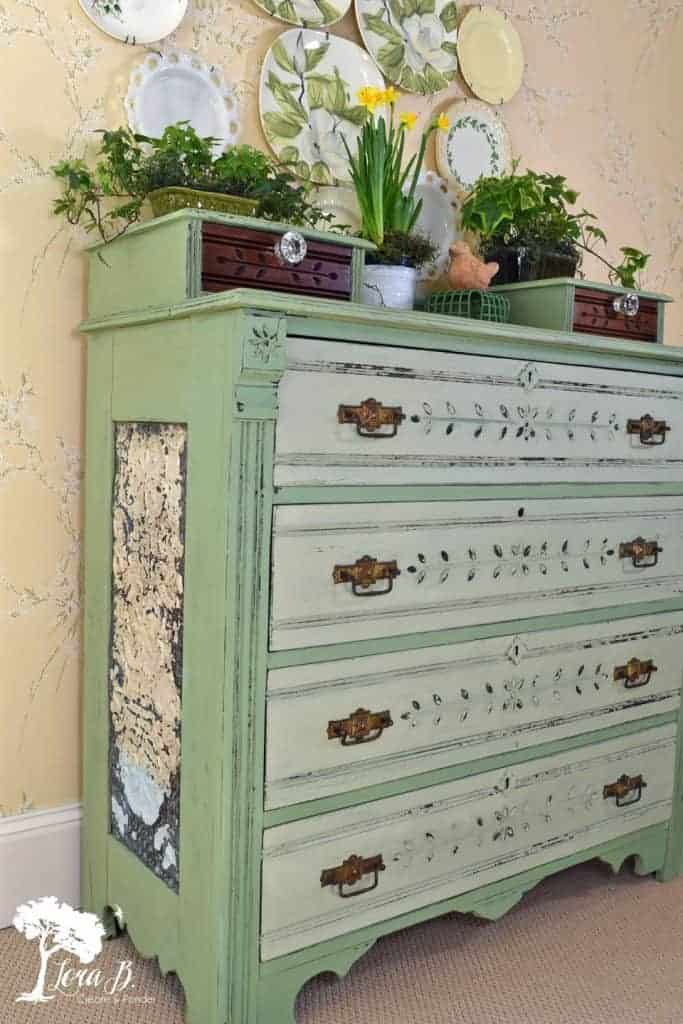 If you've got one door insert that is broken, replace it with embossed tin, like we did on this old hoosier top.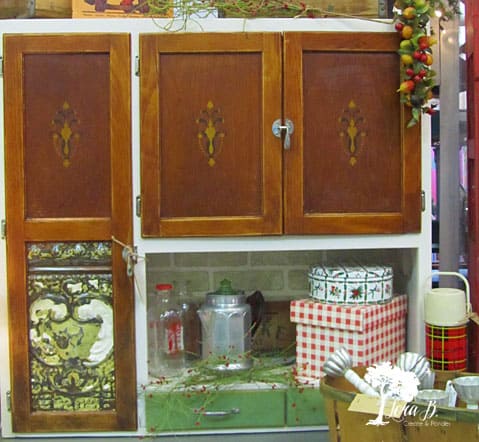 This base cupboard's doors were revived with an inset of pretty blue embossed tin.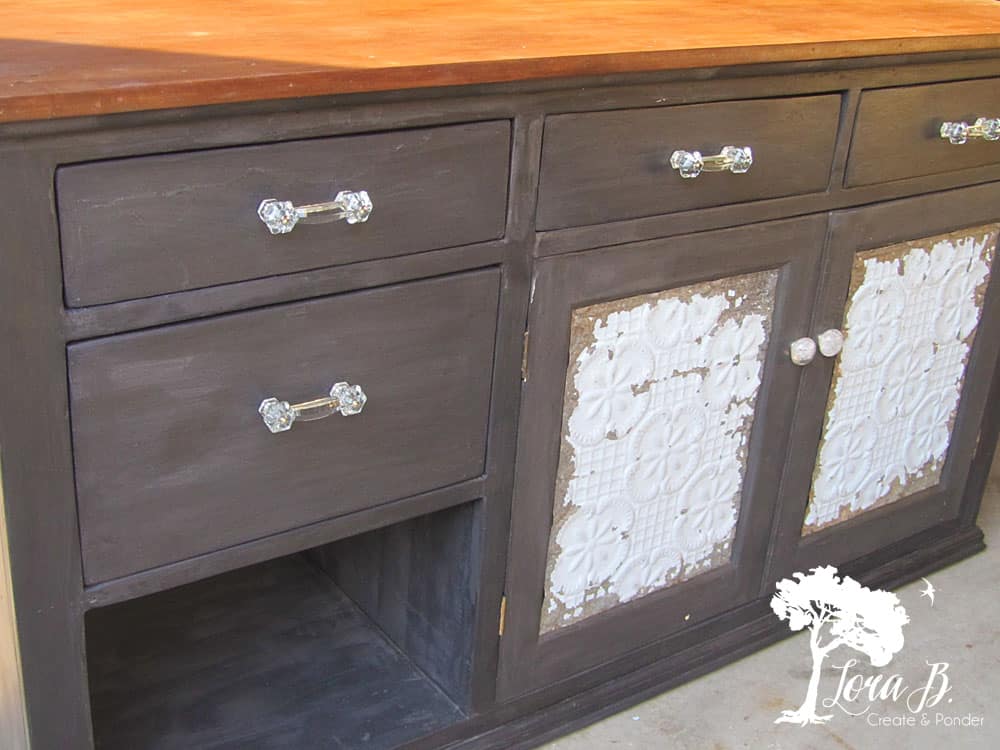 A little bit of sanding to reveal the silver underneath made this old tin even prettier, once the poly was sprayed on. A decorative molding frame around gives it even more artistic beauty.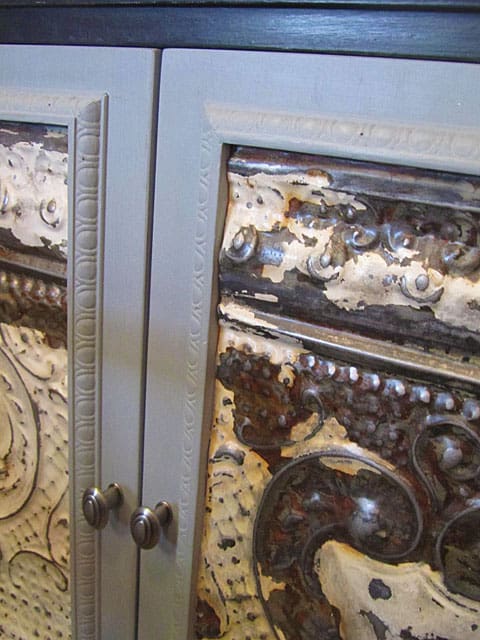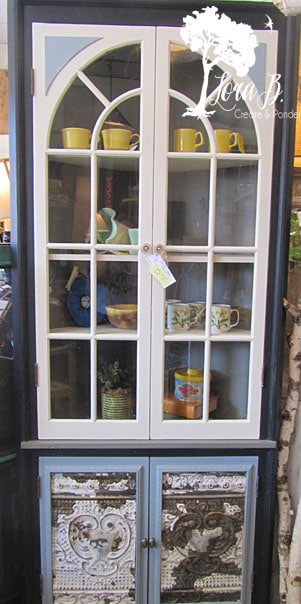 See how much more beautiful a piece of furniture can be when you add a bit of vintage embossed ceiling tin? It's like a magic ingredient to make the whole recipe better!
Hope you enjoyed seeing all the ways you can use vintage ceiling tin! See why I think it's as valuable as gold? If you've got some, you're lucky! Keep an eye out for it, now that you know all the ways you can use it!
Thanks for reading Great Ways to Repurpose Vintage Ceiling Tin. Become an Insider down below for more vintage repurposing tips and ideas!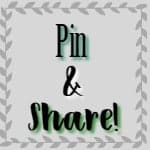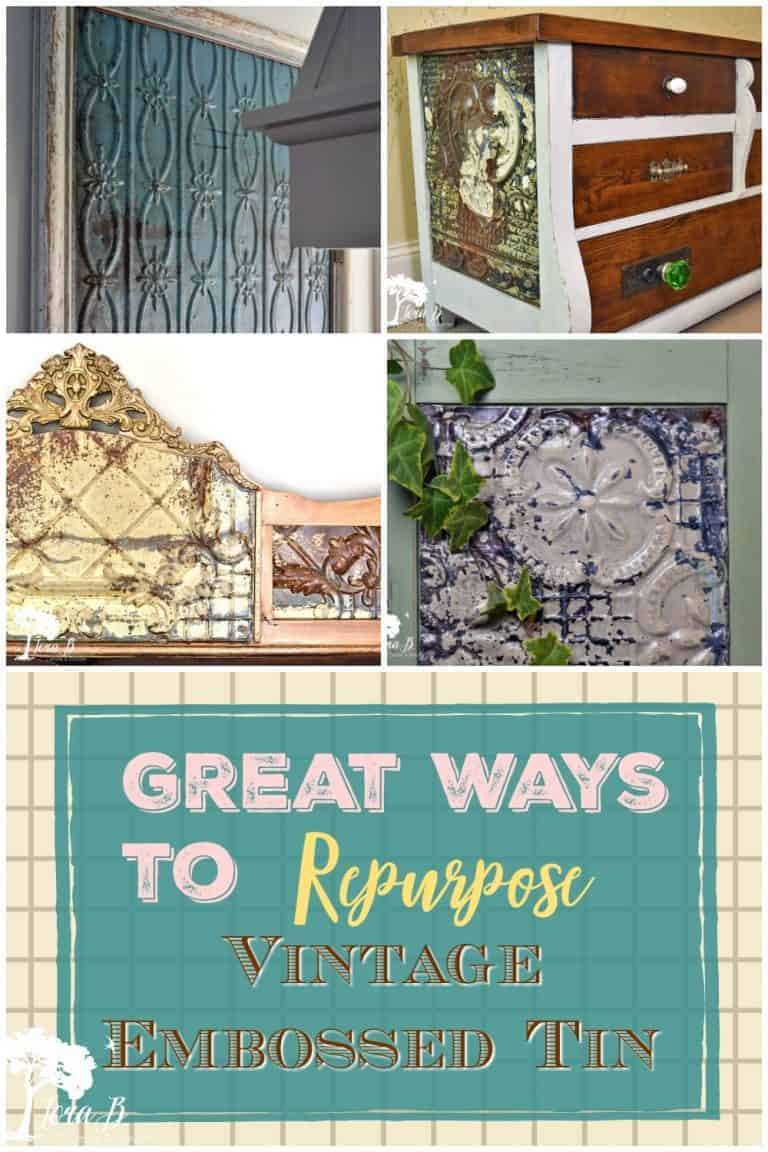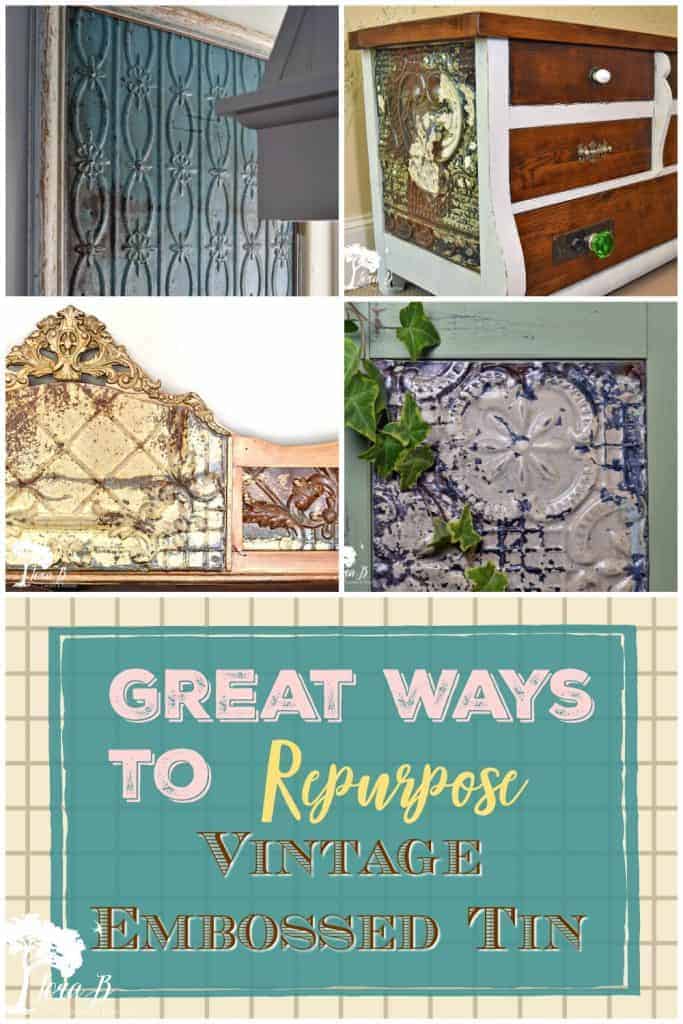 Sharing this at: