Two (sewing machine bases) are Better than One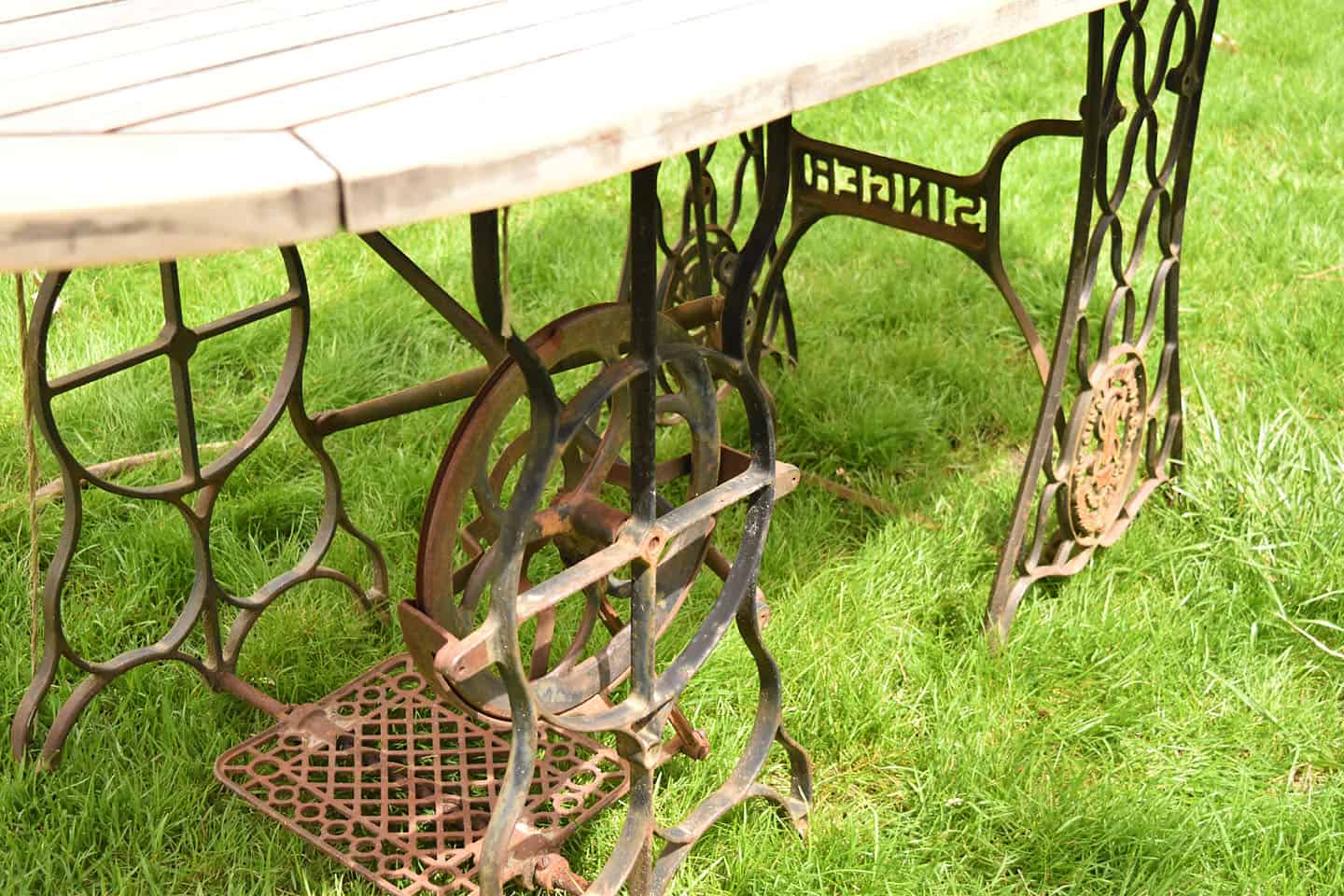 Using the base of an antique sewing machine is such a great way to preserve the industrial beauty of these vintage workhorses. Many times the beautiful sewing machines themselves cannot be functional any longer, but add a new top to the cool legs and you've got a great, sturdy side table. And I figure, two is always better than one, right?
Several years ago Mr. Fix-it scored a whole vanload of free teak furniture off of Craig's list. I have to admit I was less than excited, since we had just cleared out our screen porch and fall was really past season to sell picnic furniture. But when it's free, you can't plan the timing, right?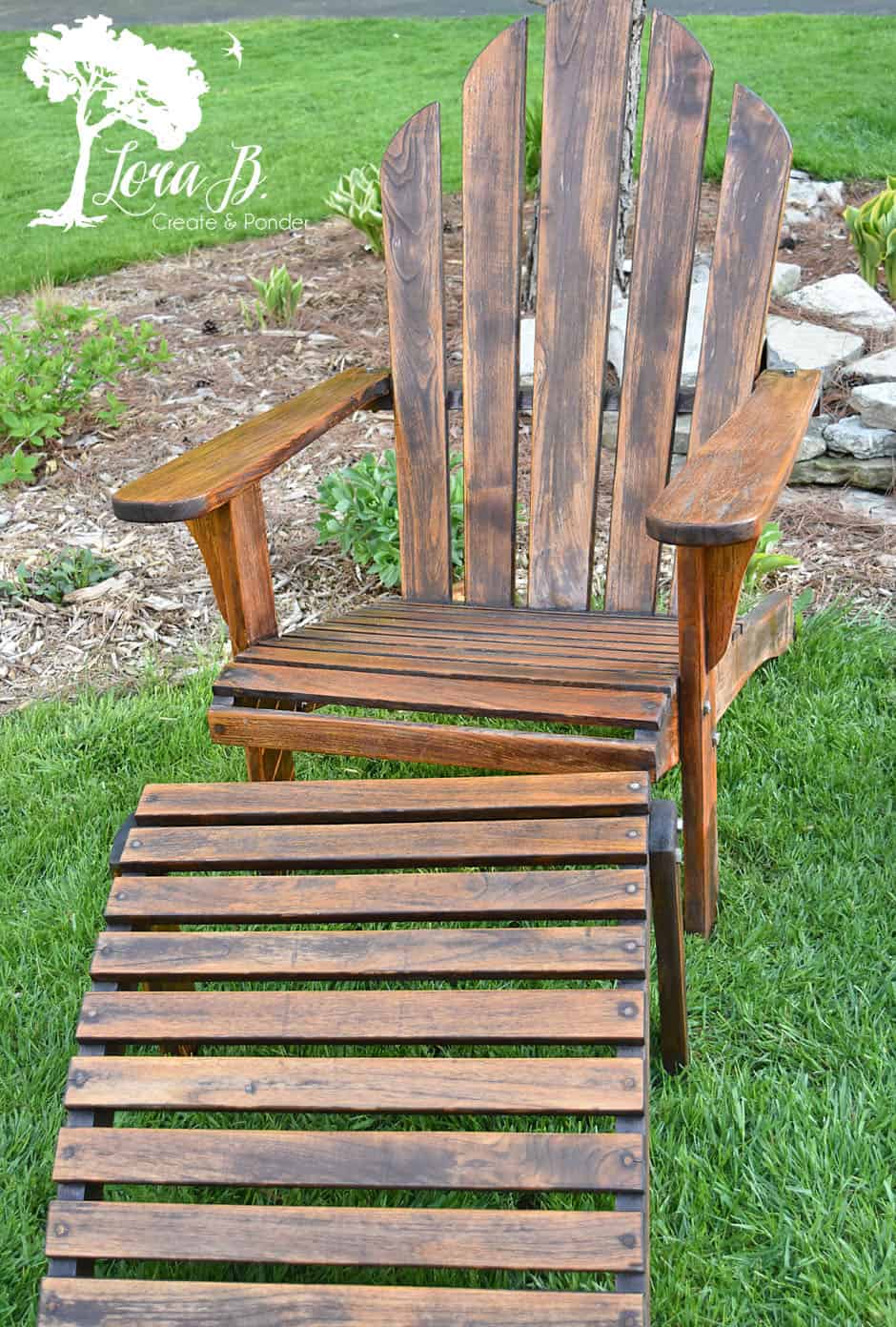 We probably made close to $1000 on that load, once we had re-built and refreshed several large tables, and a couple of chairs and coffee tables. I gave one table to my brother and then kept a big oval table top for ourselves, 2 chairs and 2 coffee tables. Yep, I was eating my words on that score.
I was looking around the garage, trying to figure out what I could use as a base for this huge tabletop. Old sewing machines, because of their uselessness, seem to find their way to me. Someday I'll count how many of the machines I actually have in the garage, waiting for me to come up with an amazing use for them. But the bases…they come in handy!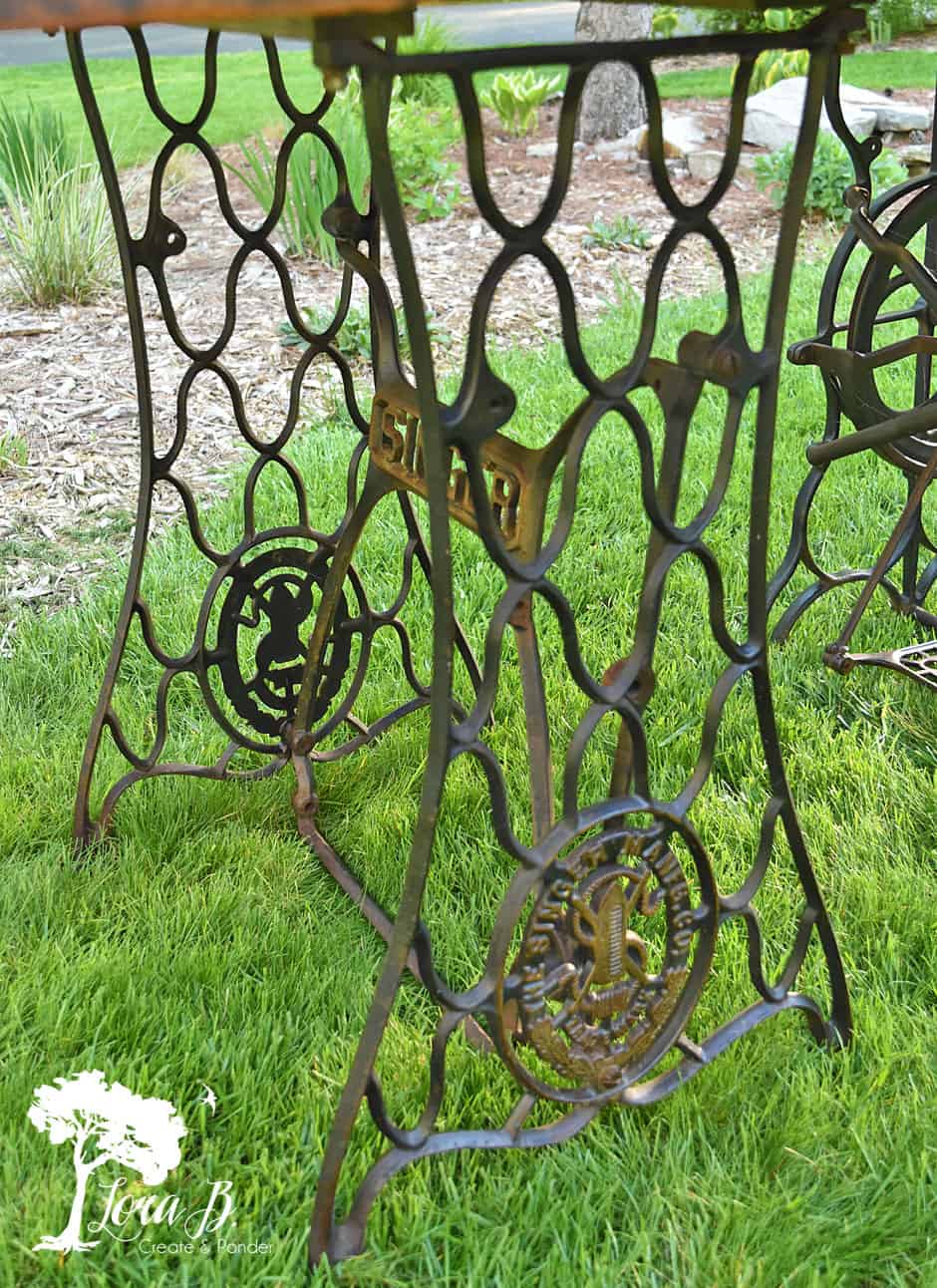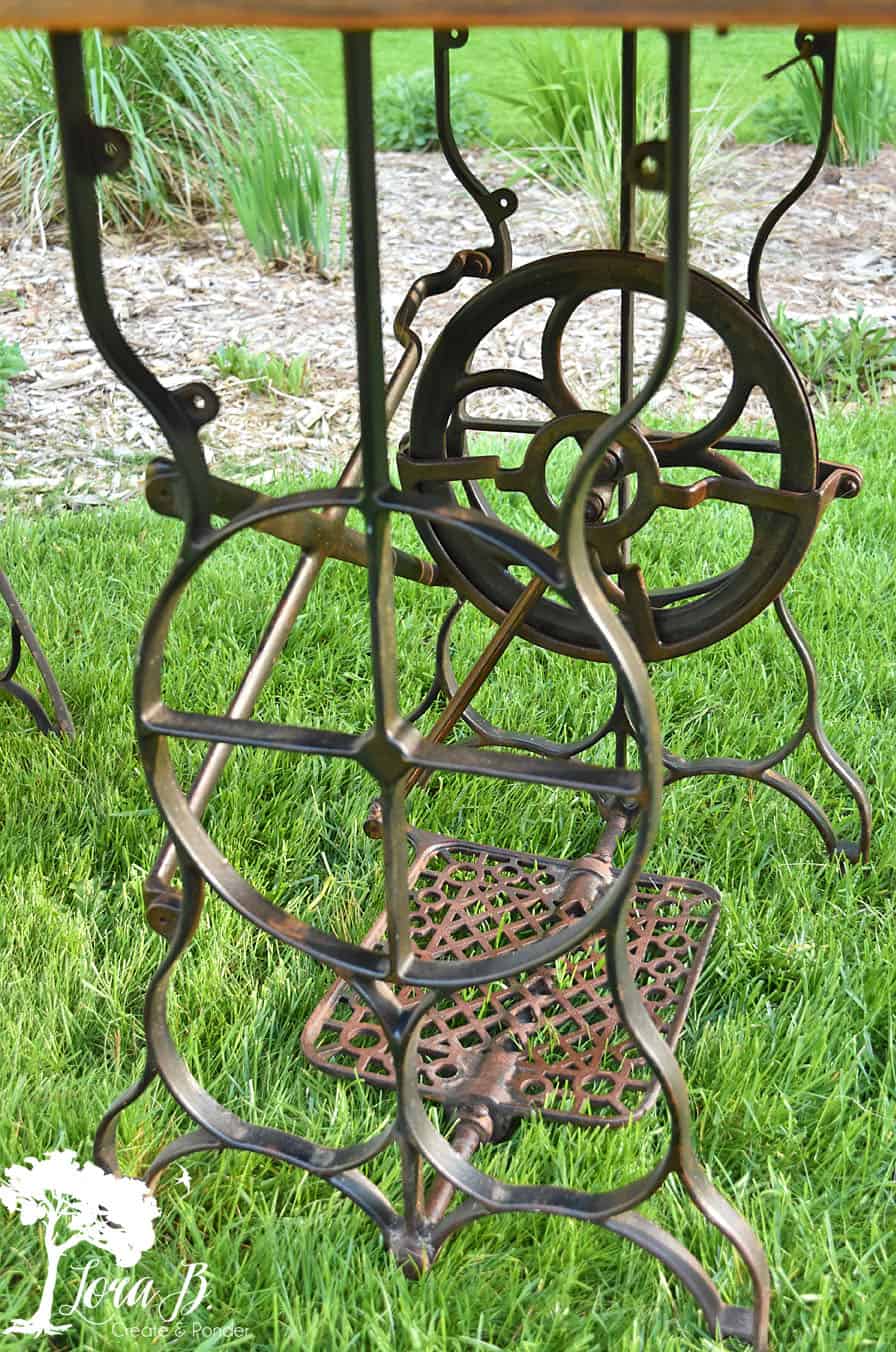 I had my Grandma's Singer sewing machine that holds sentimental value, and another base I'd purchased from someone for $20, mostly for the drawers. Because there's lots of fun uses for the drawers, right? The perfectionist in me had to get over the fact that the bases were not the same, but I've learned whenever I embrace the wonkiness, I'm usually happier with the result. In this case, I think having matching bases would have looked like too much of a good thing.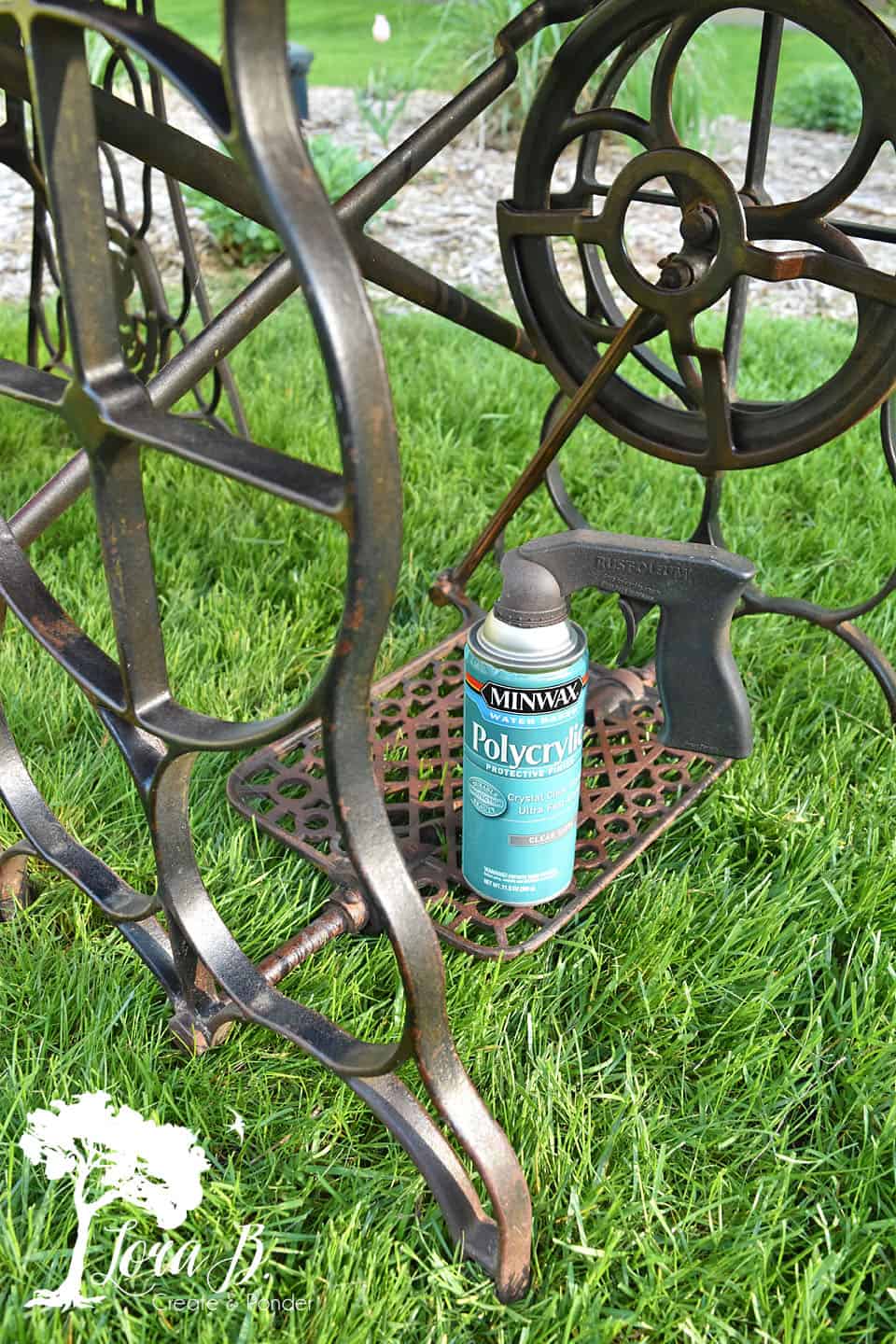 As you can see from the first pic, the metal bases had a little rust and wear and tear. Spraying them with Minwax's Polycrylic brings out the patina of the metal and seals it from further rust damage. I just love the sheen of old metal with poly. A simple step that makes such a big difference. I just give it a fresh coat each new season.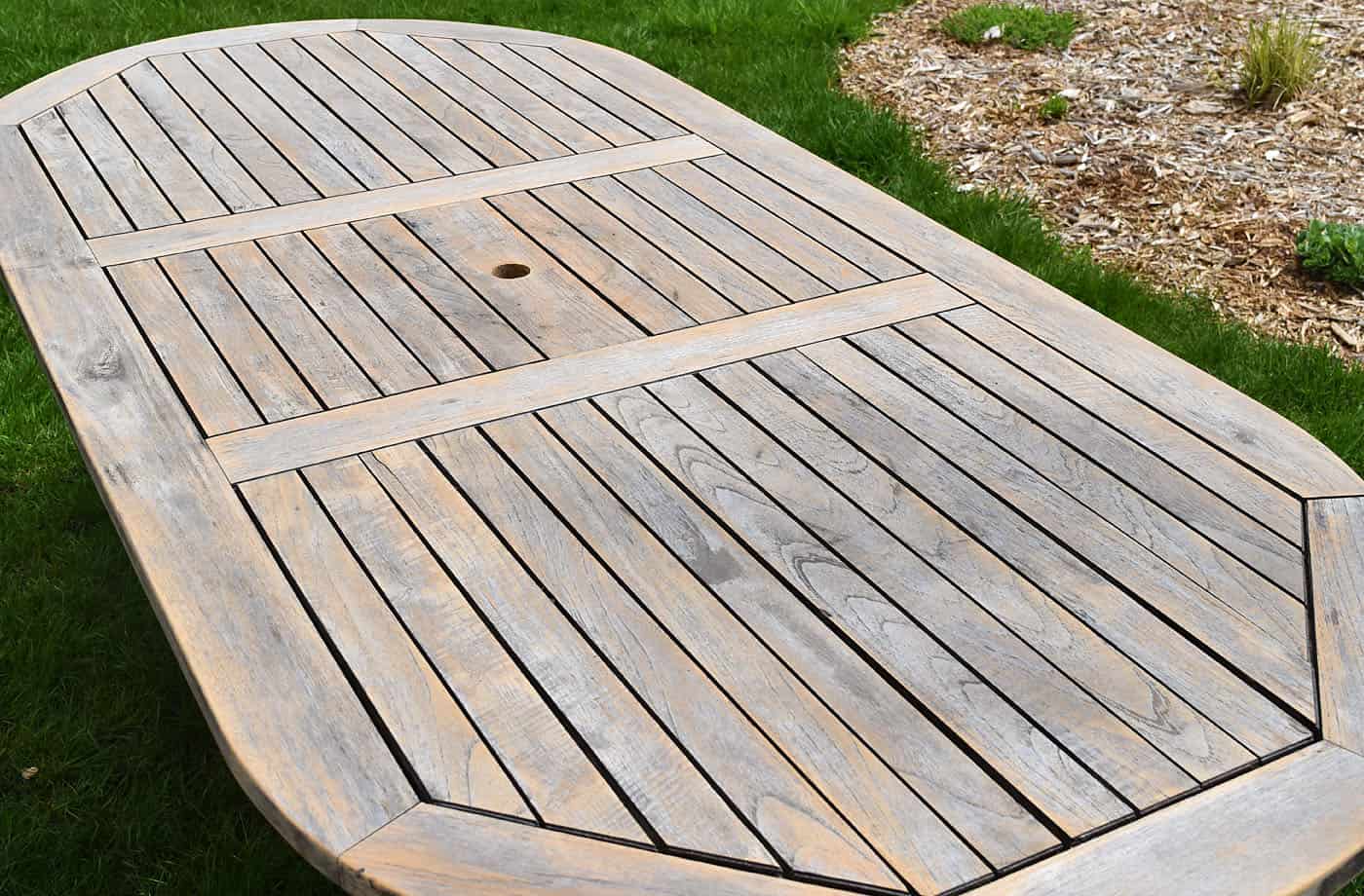 Teak is a hard wood. Underneath my tables have a label that says they're from Indonesia. Having real wood is definitely not maintenance free, but the payoff for a little bit of work is natural beauty.
Every couple of years I sand the surfaces with 100 grit sandpaper in my palm sander to loosen any flaking and even out the surface. I then brush on teak oil with a sponge brush or a brush made for stain application. It's basically the consistency of water, so it goes on quickly, but you don't want to leave any standing liquid on the wood, because drips and pools will show.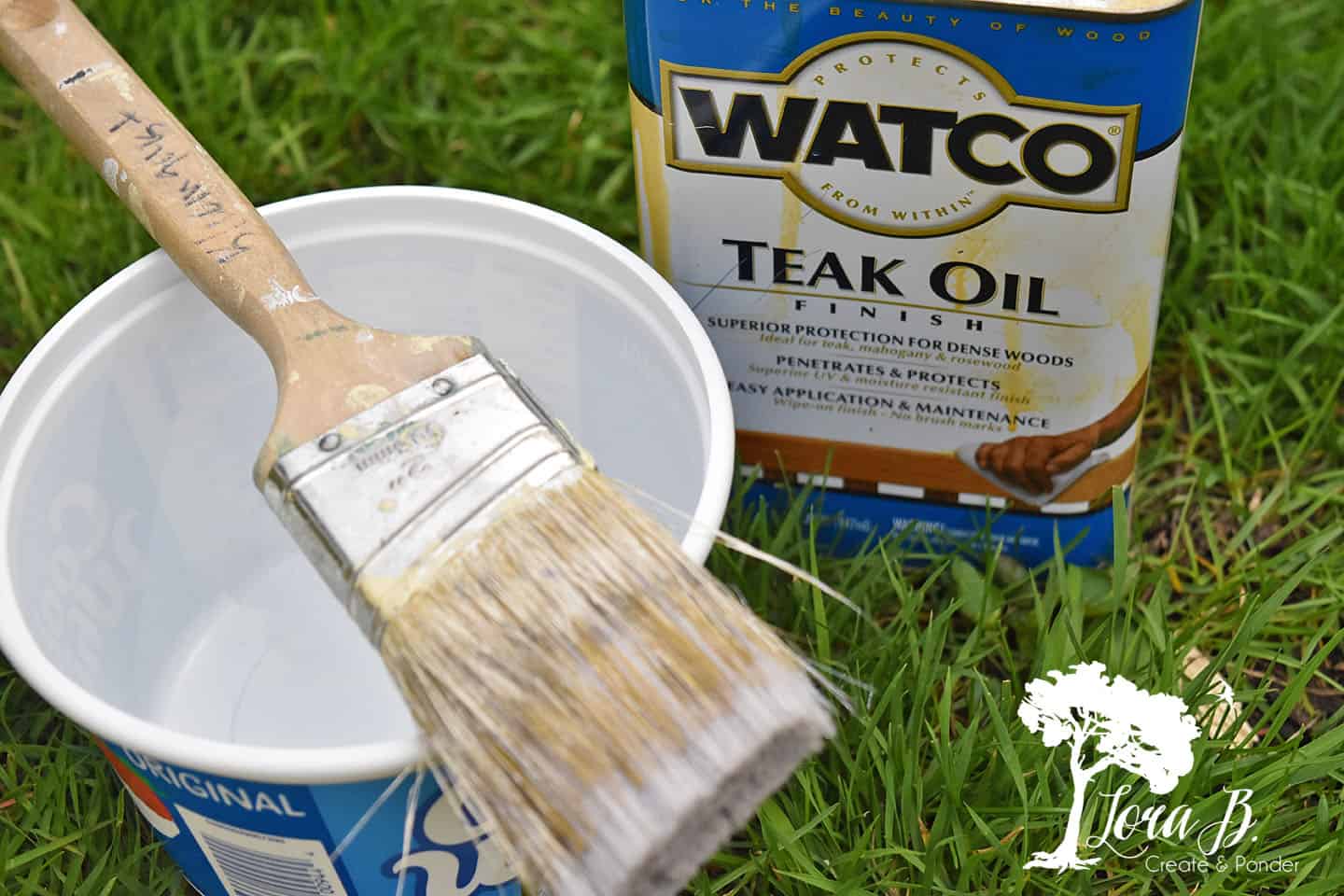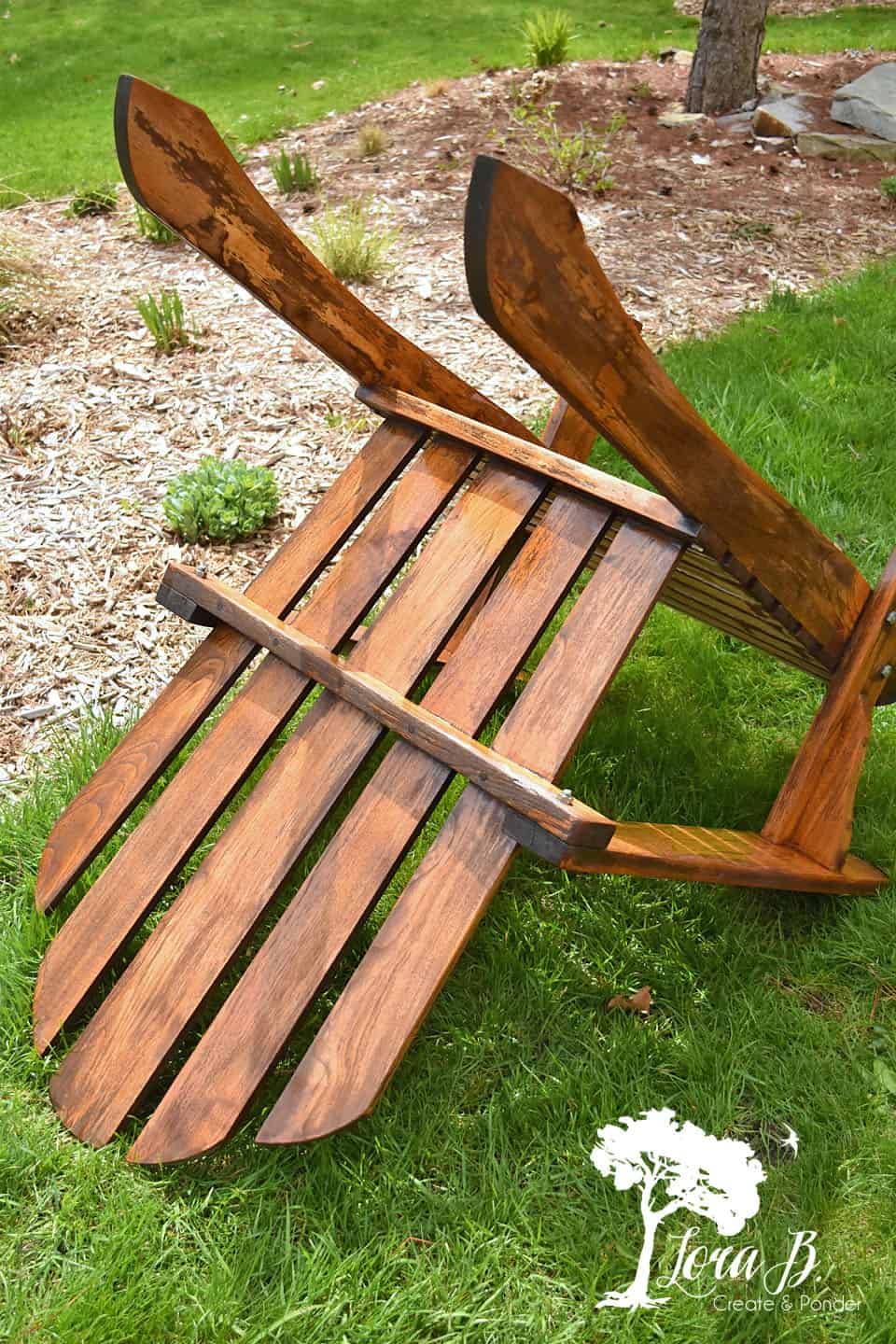 And whenever I'm painting or staining chairs, I always do the underside first. Because once you're right side up, you can fix any drips or imperfections you may have caused. The underside needs to match the top, but doesn't have to be perfect.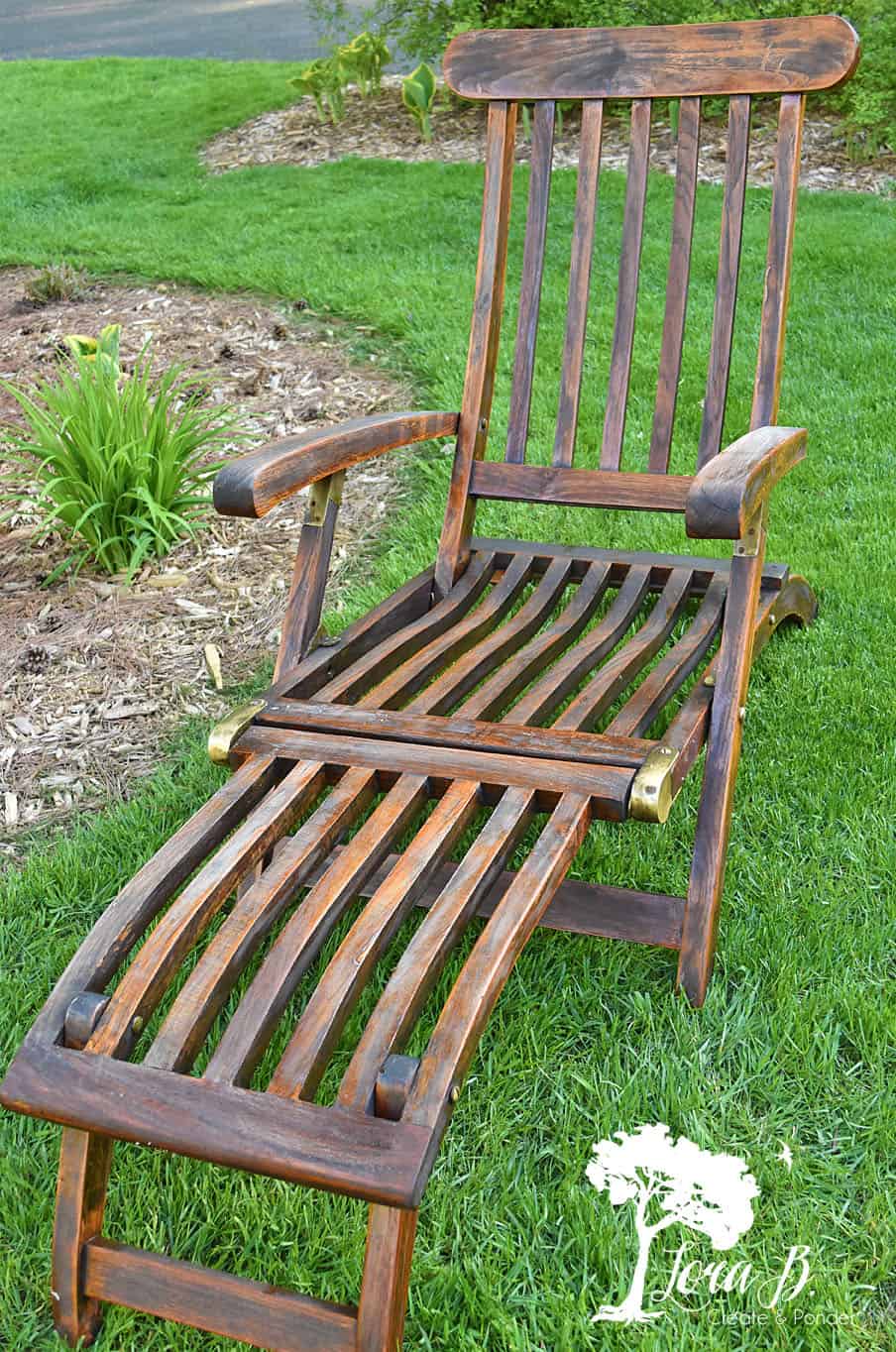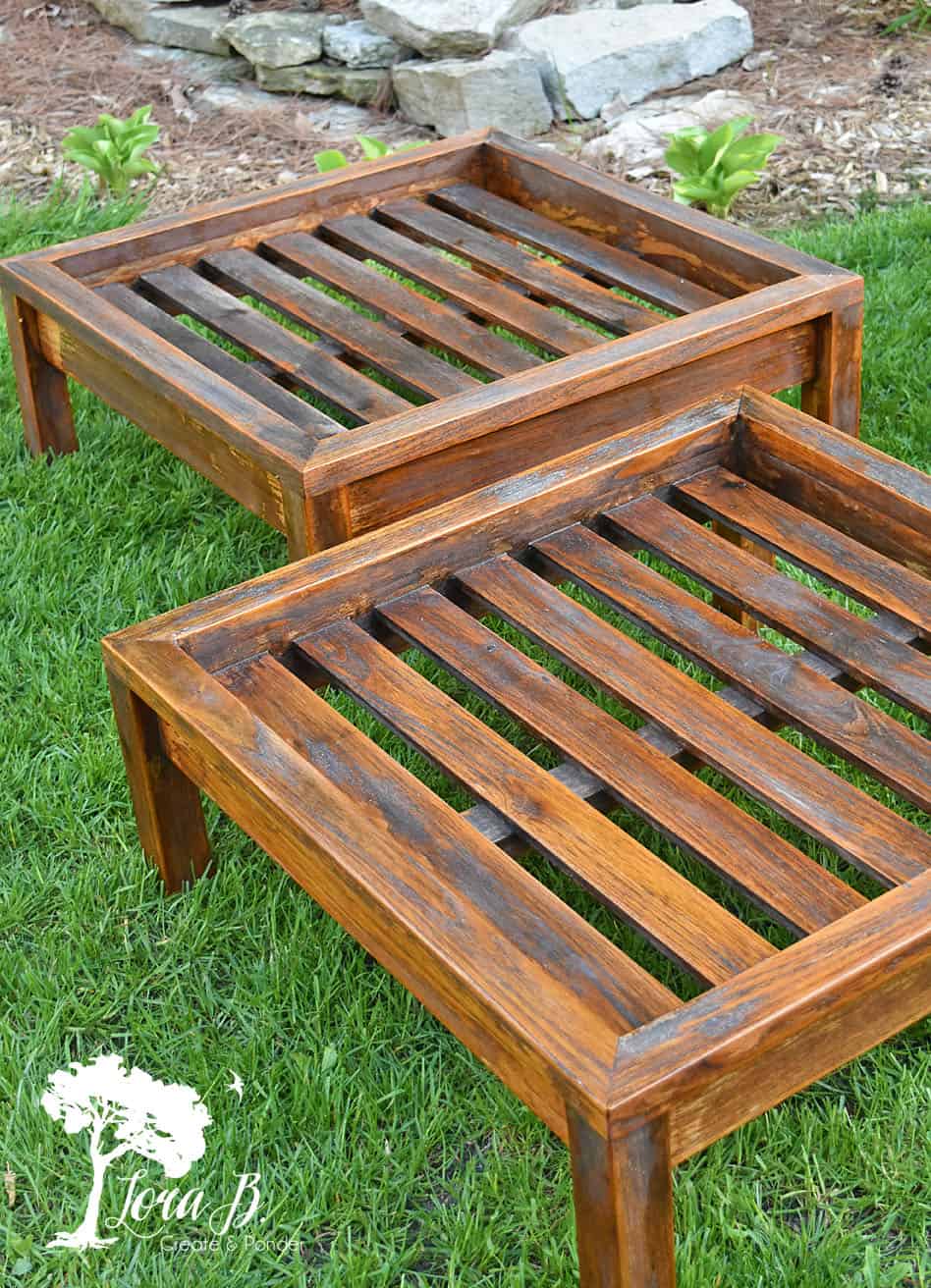 I applied two coats of teak oil this time around and was amazed at the beautiful character it brought to the wood. Natural materials seem to get better with age when given the proper care.
And the big, racetrack oval table is so pretty and completely unique with it's sewing machine bases for sturdy support and beauty. Think I'll get to put the umbrella in it this week, and once I get the chair seats redone, we'll actually get to enjoy a meal on the patio!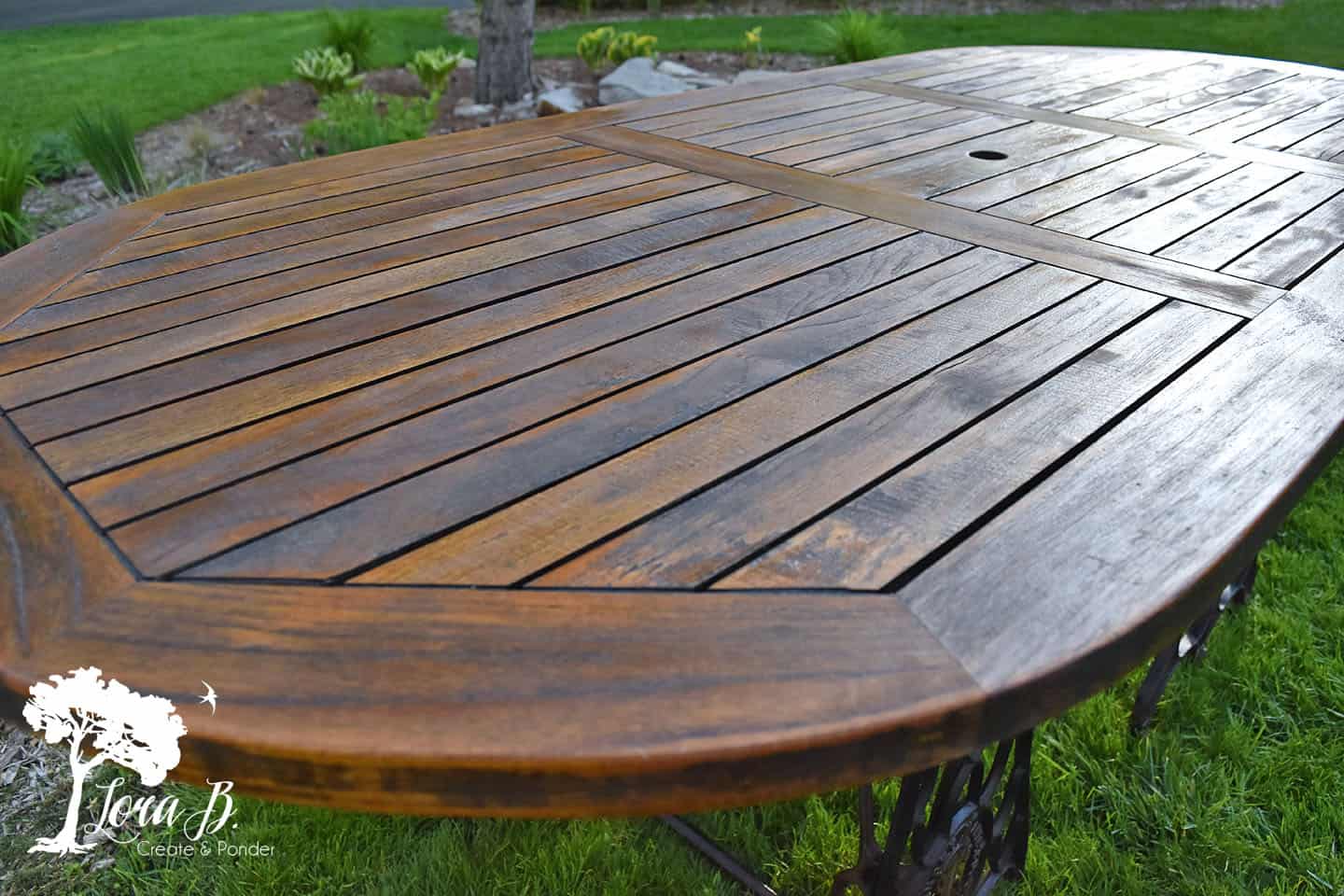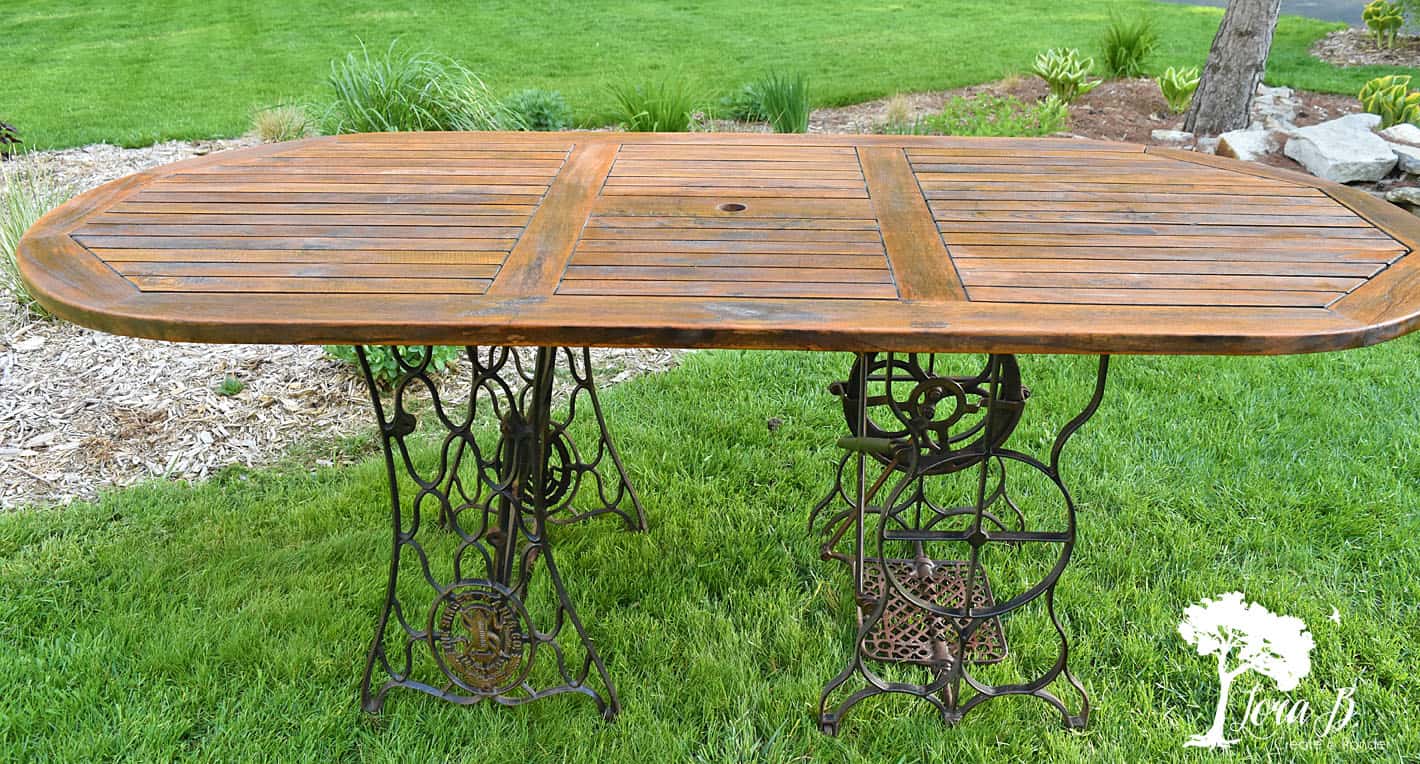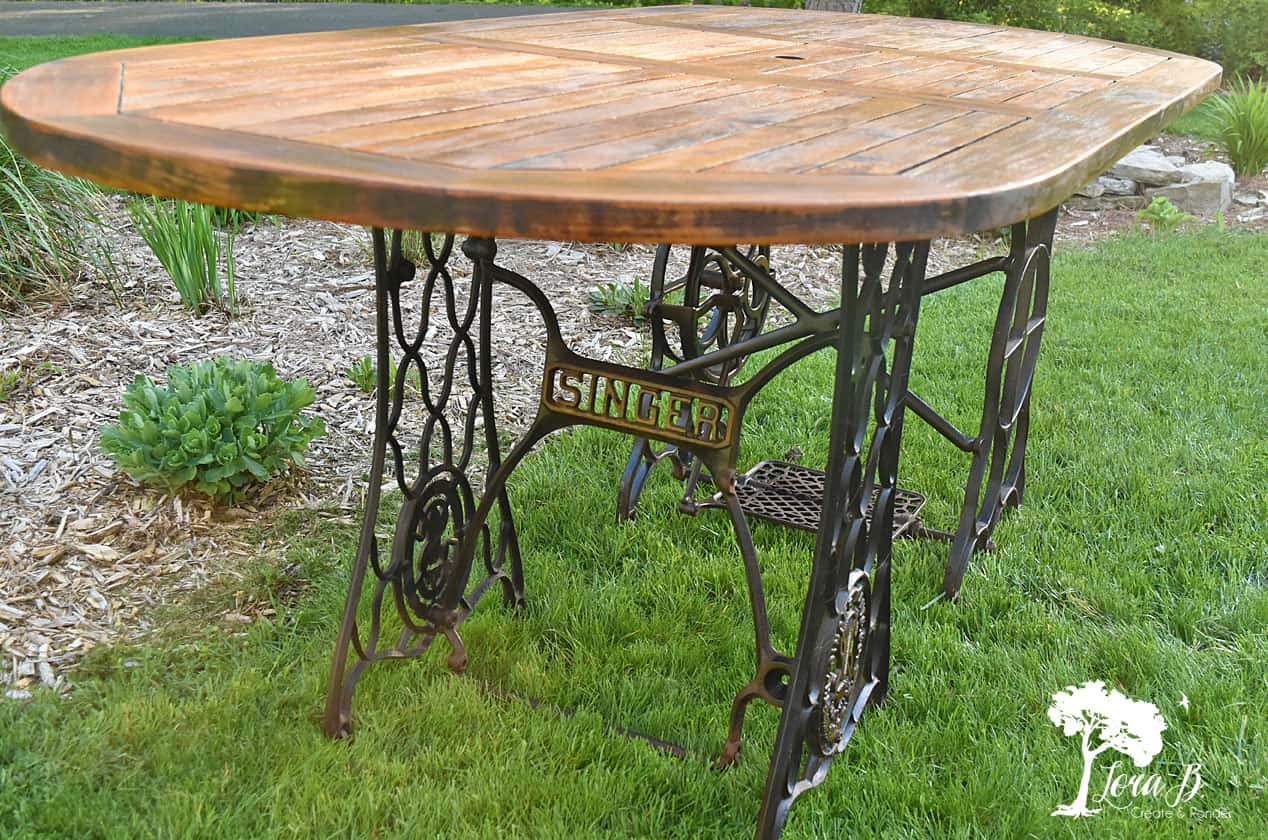 I guess this table represents some of my favorite things…something free and something sentimental, combined with character-filled wood and patina-rich metal. All it takes is a little creativity, a little heart for junk, and a little elbow grease!
So next time some free furniture comes your way…put on your creative hat and think outside of the box. You'll end up with a totally unique, beautiful piece that you can enjoy for years!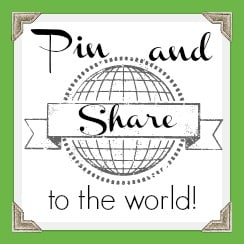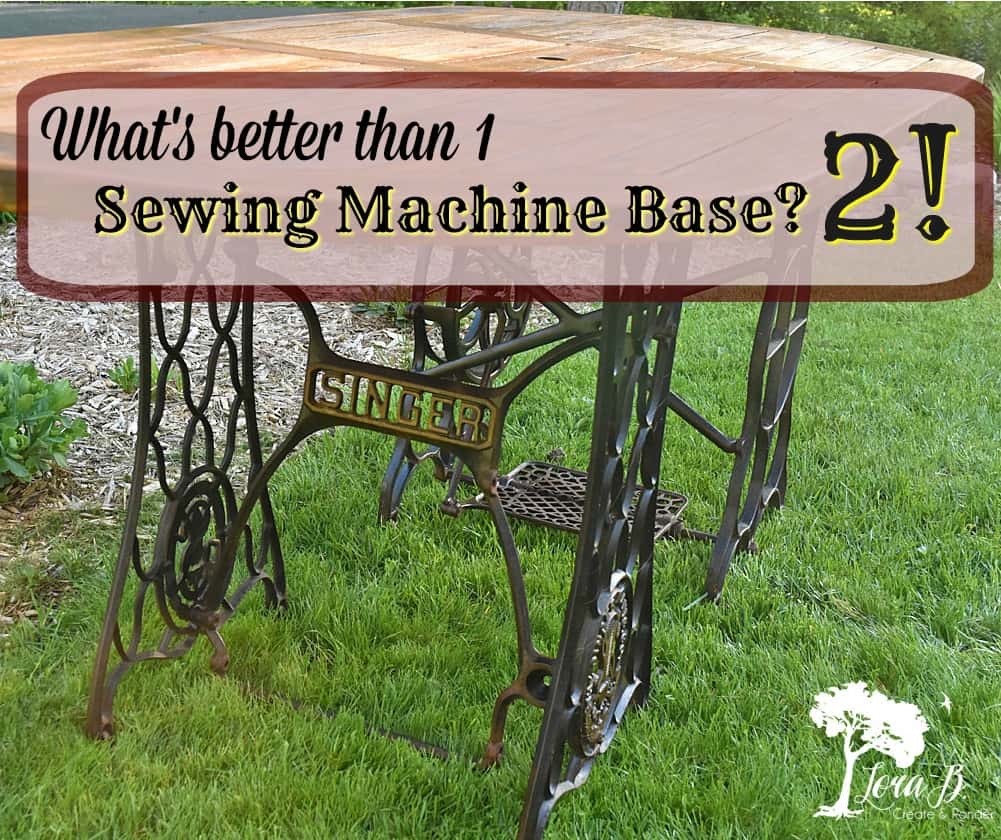 Sharing at these lovely parties: