5 Easy Ways to Transition Your Home Decor from Winter to Early Spring
how do you transition from winter to spring decor? These Simple spring decorating ideas will move your home from winter to spring in no time.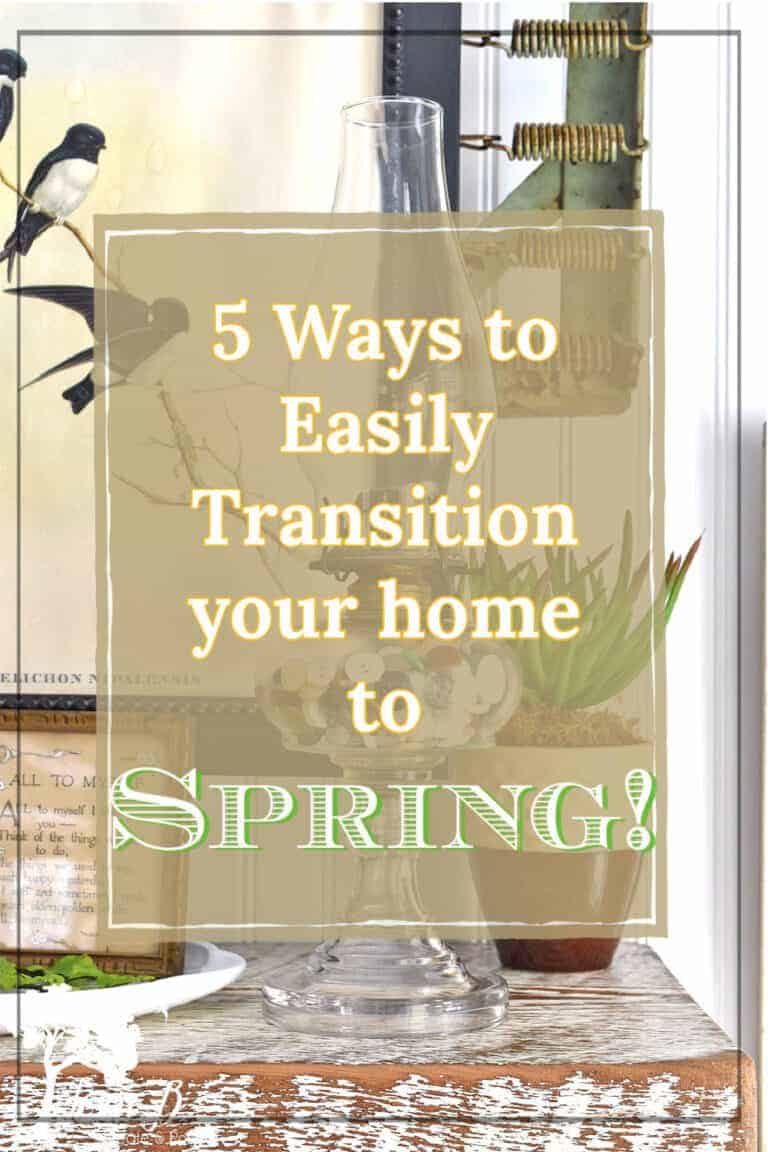 When winter's been hanging around a little too long (and a little too severely), it's time to make it change! Faster than snow can melt and cheaper than a tropical vacation, these Spring decorating ideas will help you swap up your home decor for the new season. Here are 5 Easy Ways to Transition your Home Decor from Winter to Early Spring.
Today's post is part of our monthly Pinterest Challenge, hosted by Cindy at County Road 407. Cindy chooses an inspiration photo from Pinterest, and we all design around it; it's so fun! If you're visiting from Bluesky at Home, welcome; I'm sure you enjoyed Carol's tips for styling a sofa table for Spring. I'll have links to the rest of my friends' inspiration down below.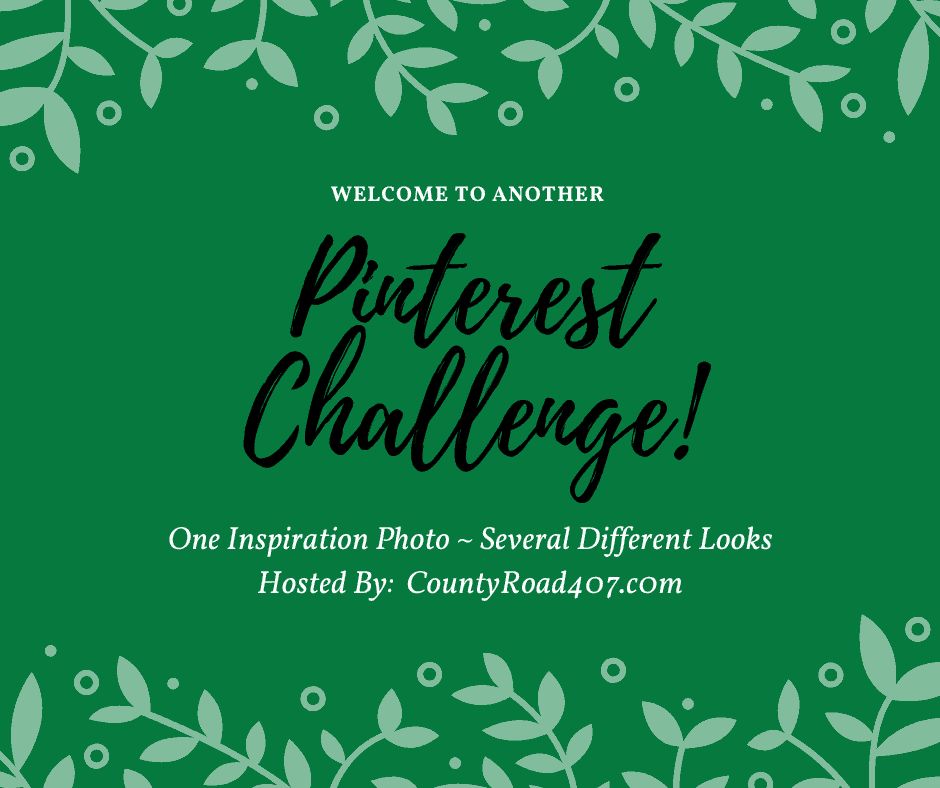 This month our inspirational pic is a Spring Decorated Sofa Table from Sincerely Marie Designs. Amanda used traditional accessories and various textures to usher in Spring beautifully, yet in a subtle way.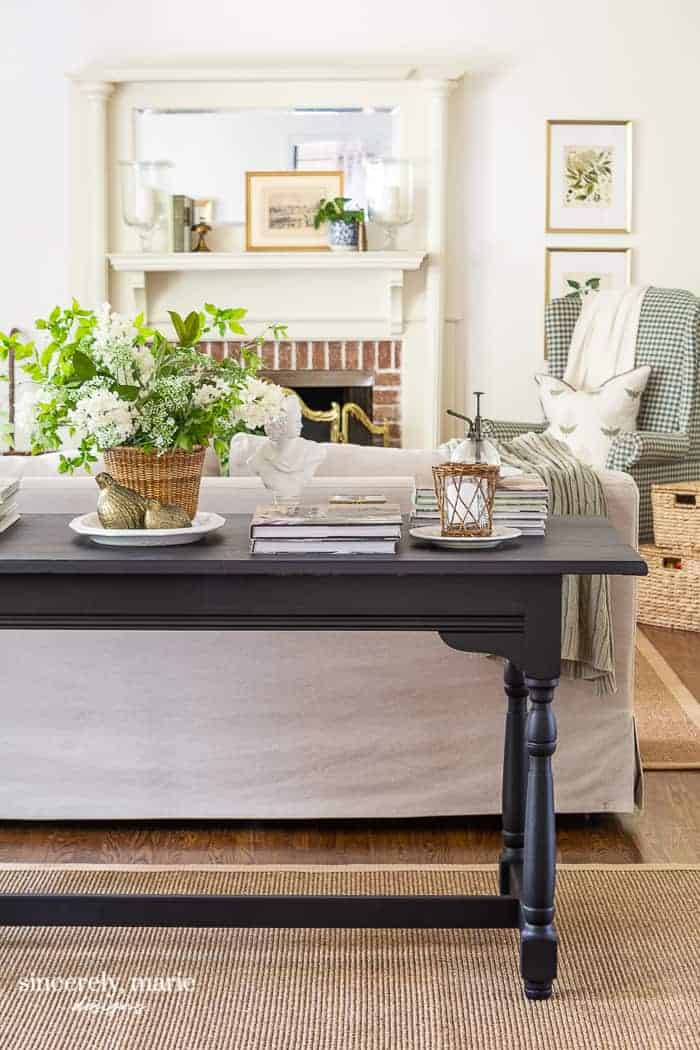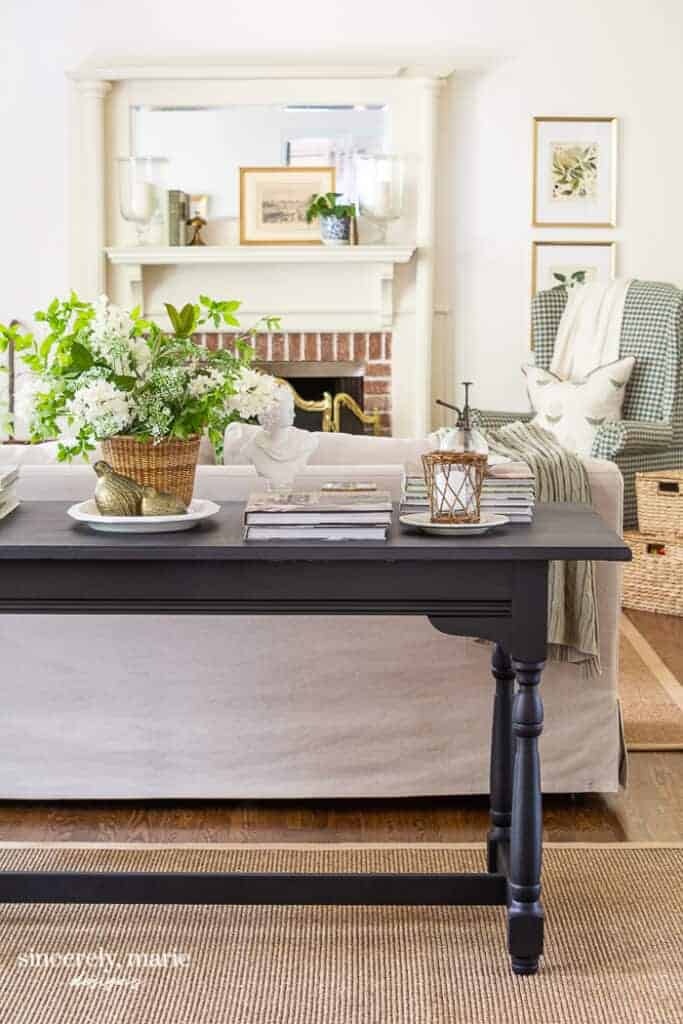 Start by Noticing the Design Elements
I always like to start these Pinterest challenges by noticing all the design elements used. We were supposed to be focusing on the sofa table vignette, but I took decorating cues from everything in this pretty Spring room. I love this fresh look for March!
Here are the things I noticed:
mostly neutral color scheme of white, black, beige with plenty of green and a touch of blue.
traditional, classic style: bricks, columns, statuary, balance
accents of vintage brass, gold
natural woven textures: jute, rattan, wicker
botanical accents of plants, birds
Unfortunately, my house isn't laid out right to enjoy a sofa table:( So, I'm substituting a side table instead. Actually, it's not even a table; it's a vintage farmhouse old wood box I picked up curbside and refreshed. Sofa and side tables are a great place to start your Spring decor transition!
5 Easy Ways to Transition your Home Decor from Winter to Early Spring
For your convenience, this post contains affiliate links. If you make a purchase, I may receive a commission. There is no additional cost to you. My full privacy policy is here.
Start your Spring Decorating with Botanical Art
The transition from Winter to Spring is simple if you begin with botanical art pieces. I had just received this cool pencil drawing of trees that had been my mother-in-laws. The birds on a branch pic had been gifted to me by a friend years ago, and I've always loved it's subtle nature colors. These two framed prints became the foundation of this Spring vignette.
And yes, you can see my side table vignette spilled over onto the mantel. Because once you get started…)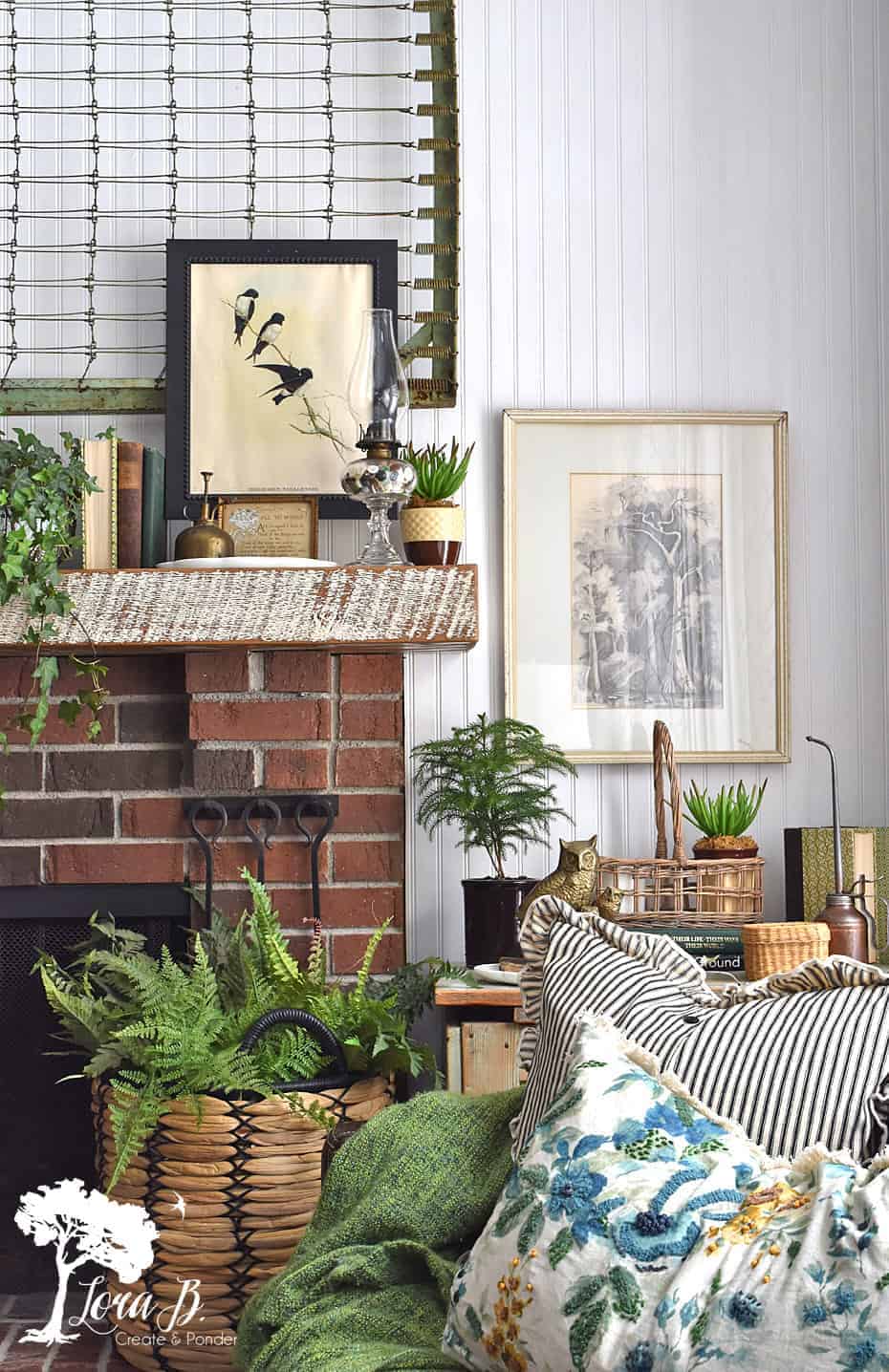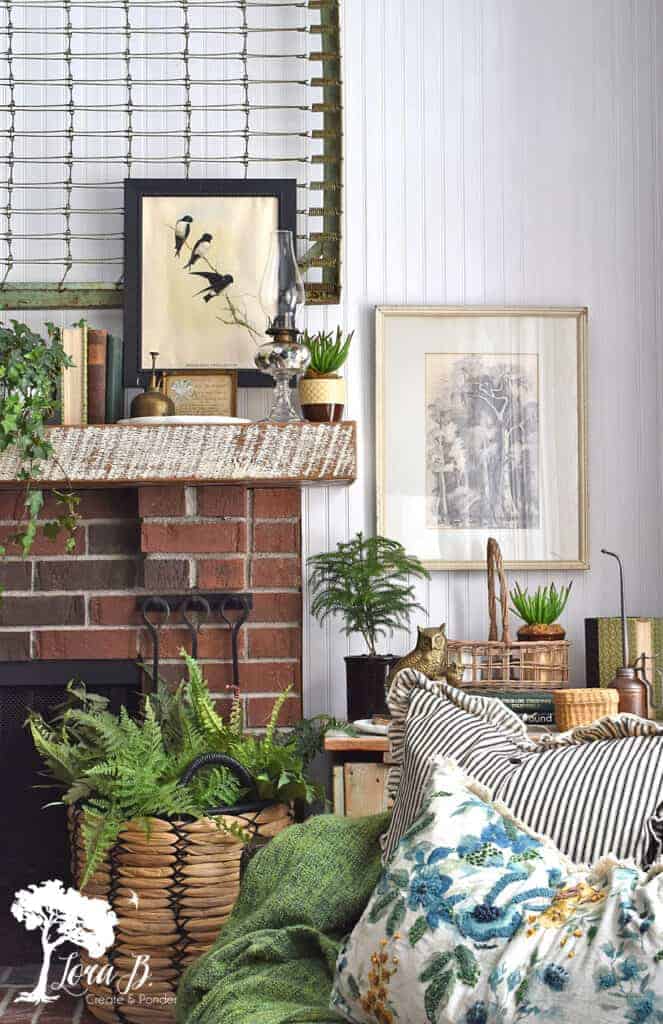 Layer in Lots of Texture for Early Spring Decor
Taking the cues from our inspiration pic, I layered in a lots of textures for a fresh, Spring vibe. These textures compliment the botanical theme, too. A large rattan basket I'd purchased recently, a handled basket, and a little covered container are all woven. The brass water mister was a nod to the glass one I saw in the inspo pic. I added a vintage metal oil sprayer for a junky vibe.
Add these textures to your Spring decorating:
rattan
wicker
macrame
jute/rope
mixed metals: brass, gold
books with leather covers or green papered covers
I loved how Amanda brought another layer in by using ironstone plates under her accessories. I did the same with a couple of vintage milkglass luncheon plates.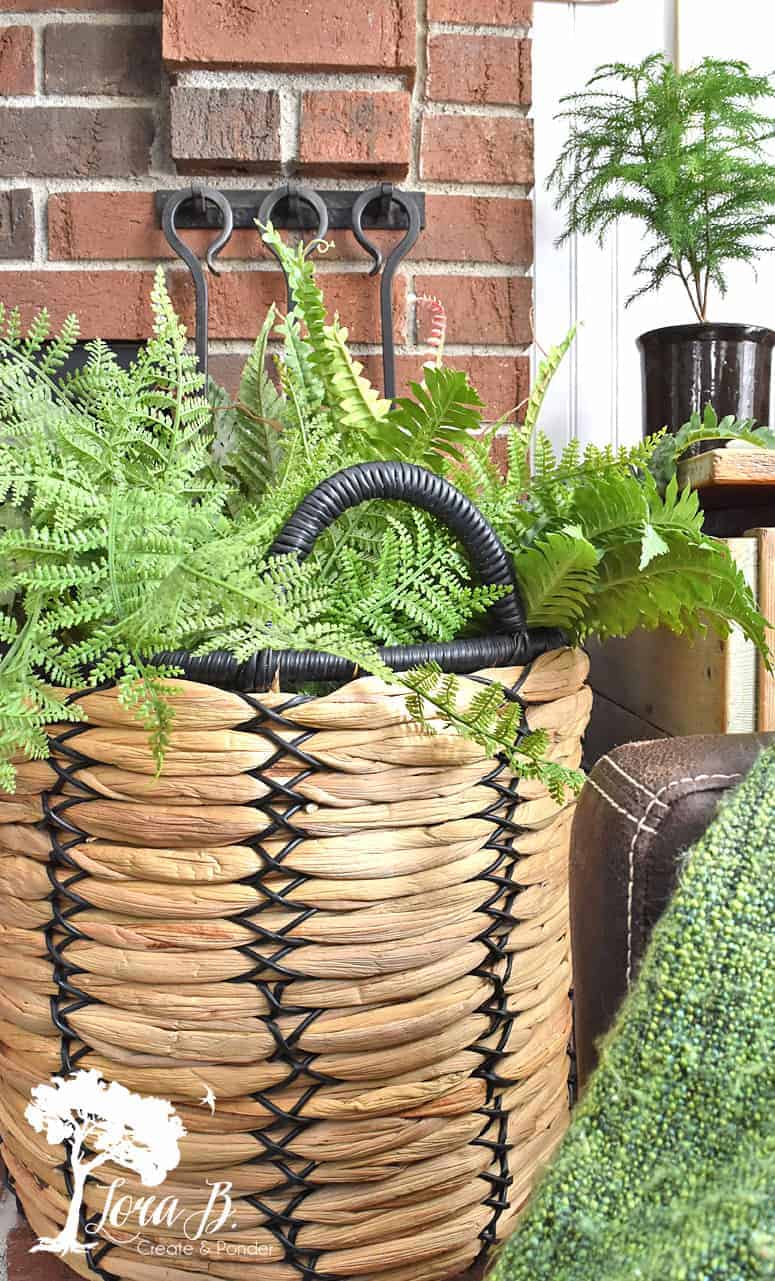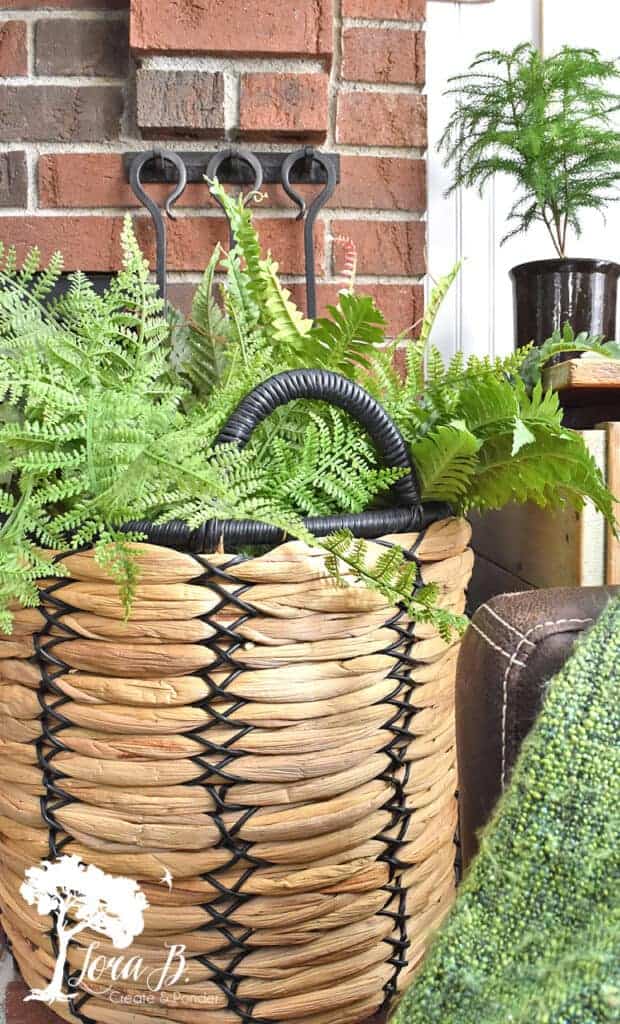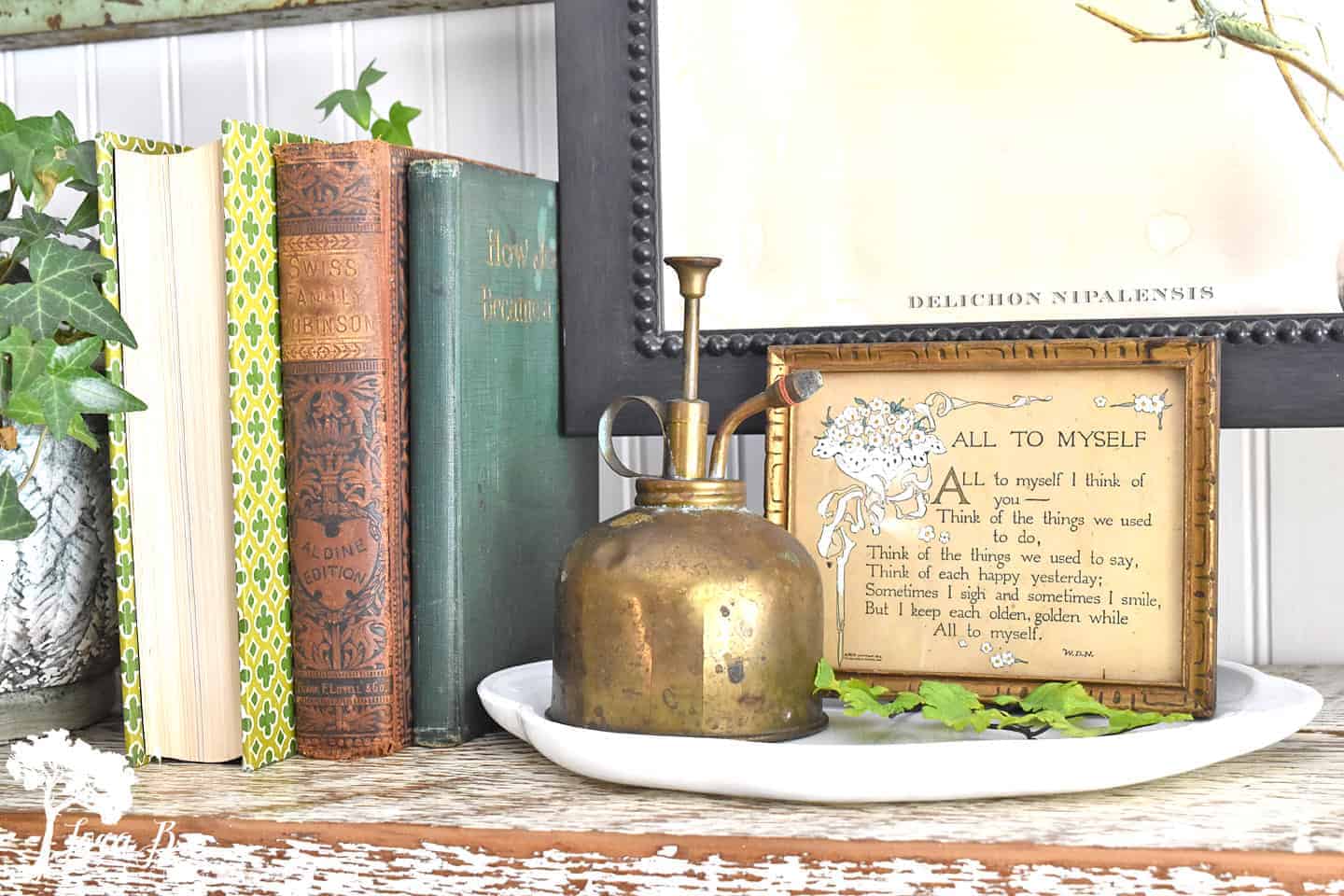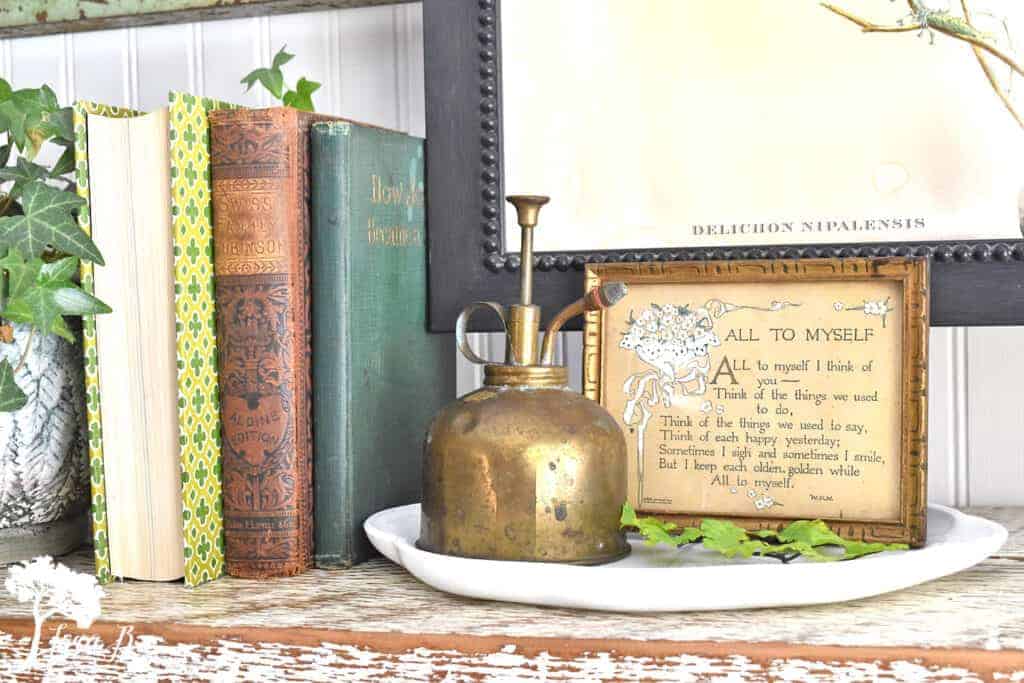 Use Plenty of Faux and Real Greenery for Fresh Spring Decor
The buds aren't even popping outside yet, but you can make Spring happen inside with plenty of foliage, real and faux. Now is the time to fill your home up with green! If your stash of greens is a little dusty, give them a quick refresh like I do, "How to Clean Artificial Plants."
My big woven basket got filled with faux fern plants. I stuffed packing paper in the bottom to fill the void under the ferns. A cheap after-Christmas Norway Pine plant popped into a thrift store pottery vase compliments the trees picture nicely. And faux succulents look good in so many seasons!
Foliage to add to your Spring decorating:
ferns
succulents
ivy
tropical plants
topiaries
moss, lichen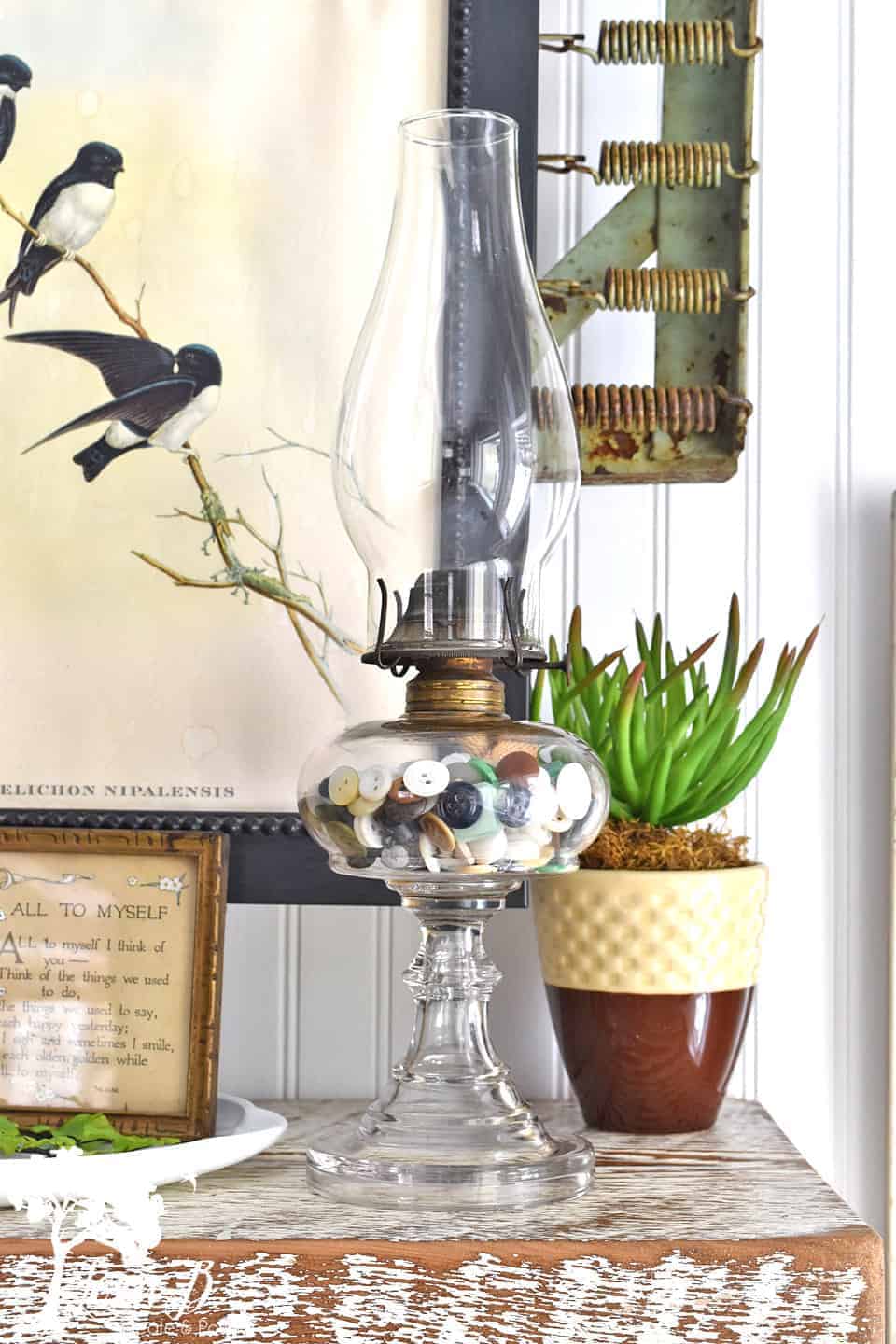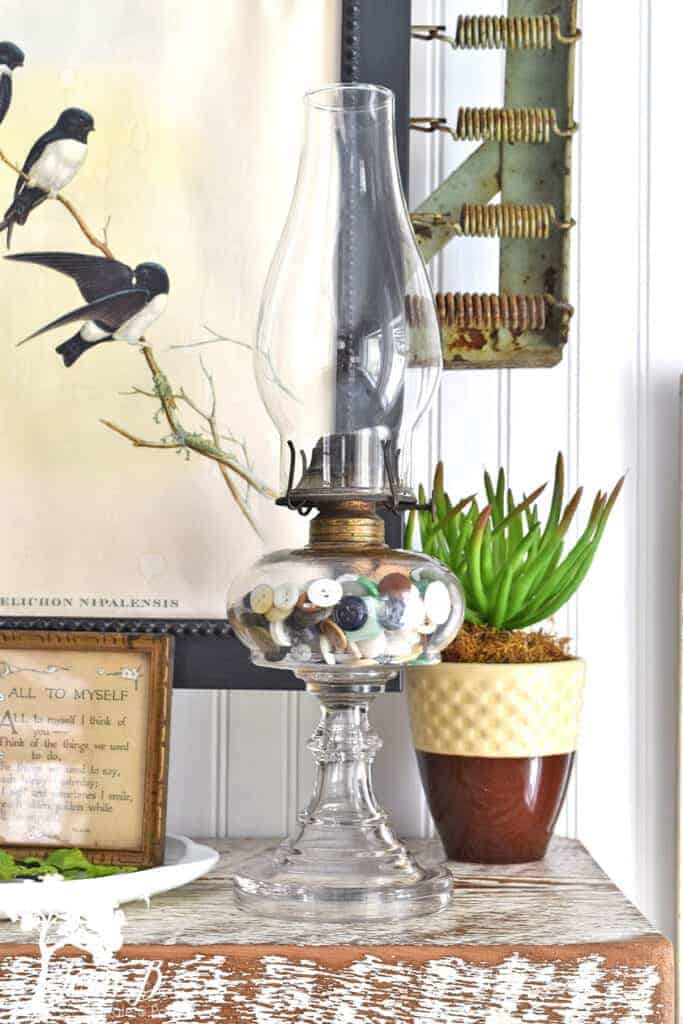 Include Feathered Friends in your Early Spring Decor
Our feathered friends are getting so busy this time of year. Just yesterday, I spied a momma cardinal acting coy as a couple of males fought for her attention. And I swear the singing birds welcome Spring in long before the snow melts away!
Whether you have illustrations, photographs, books or figurines, definitely include birds into your Spring decor. They bring life to vignettes. You can also use everything related to them, like nests, eggs, and birdhouses.
I've had this vintage brass momma owl for a while now; think she was from a church sale. The gold accent tied in well with the other metal accents and catches the bright sunshine gleaming in the window.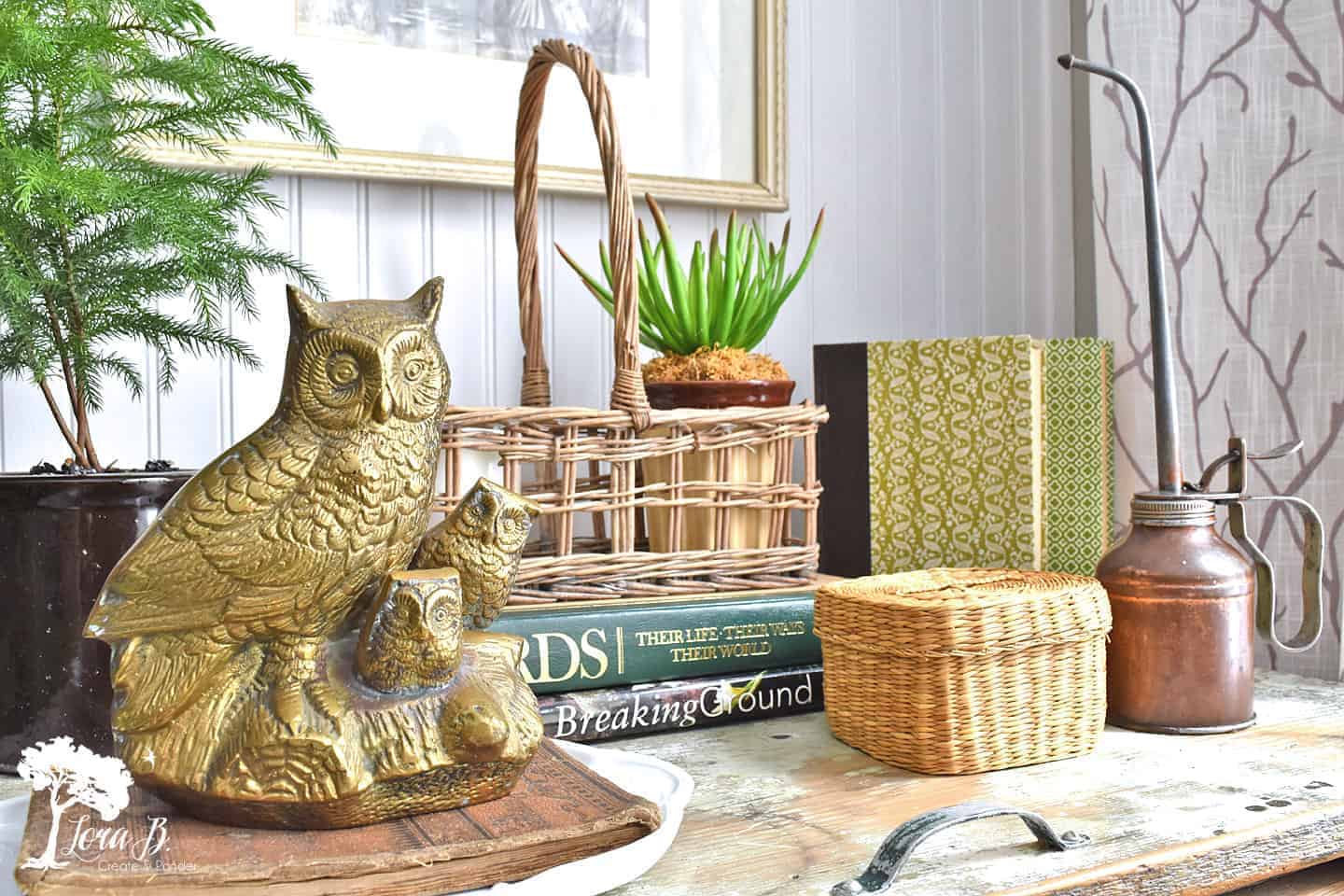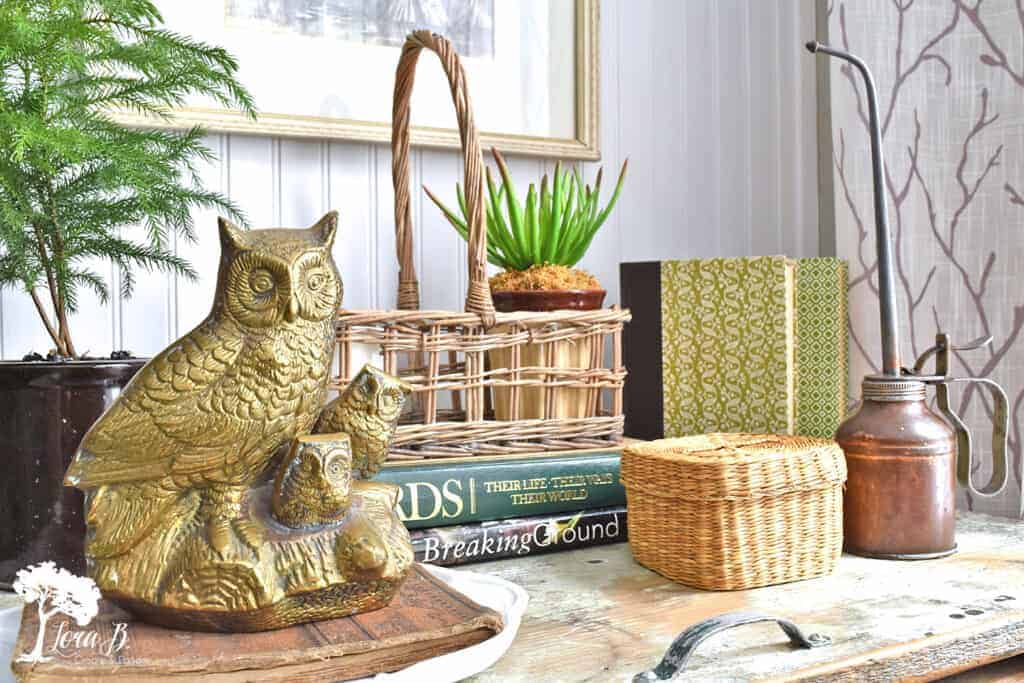 Lastly, Focus on Spring's Clear Colors to Transition from Winter
Along with all the green and white in our inspiration pic, I noticed the bright flash of blue up on the mantel. Spring is the perfect time to focus on the colors of nature: fresh, mossy greens, bright sky blues and sunshiny yellow. I picked up a pretty new pillow from Homegoods to add that pop of blue and represent Spring's colors.
Did you also notice the definition of black to make all the other colors and textures pop? I love adding a black outline to my decor in any season. It adds that punch and makes all the other colors prettier.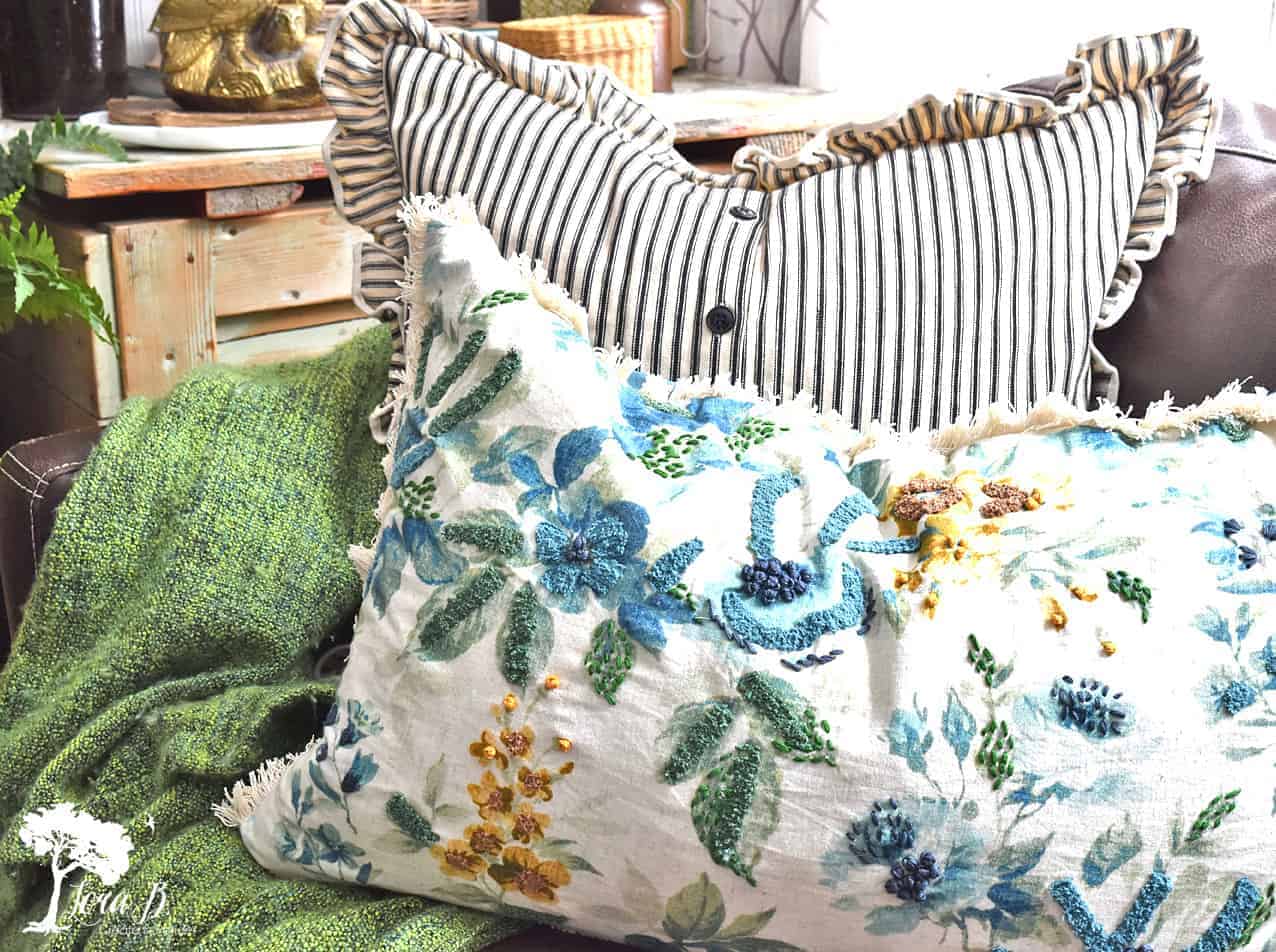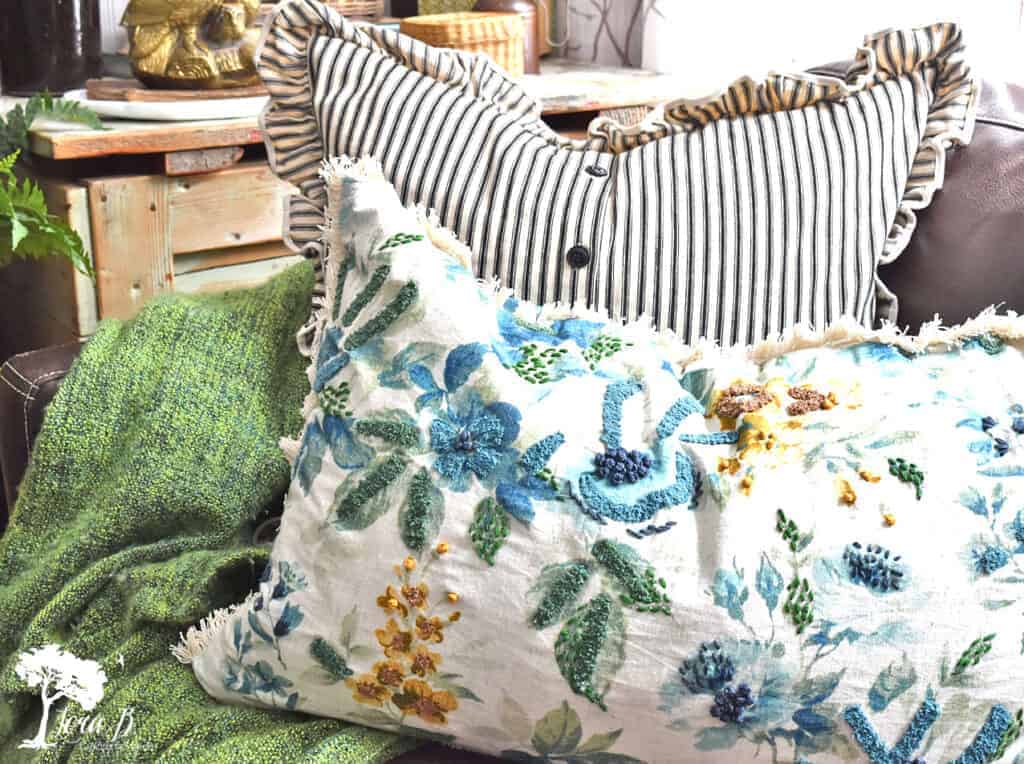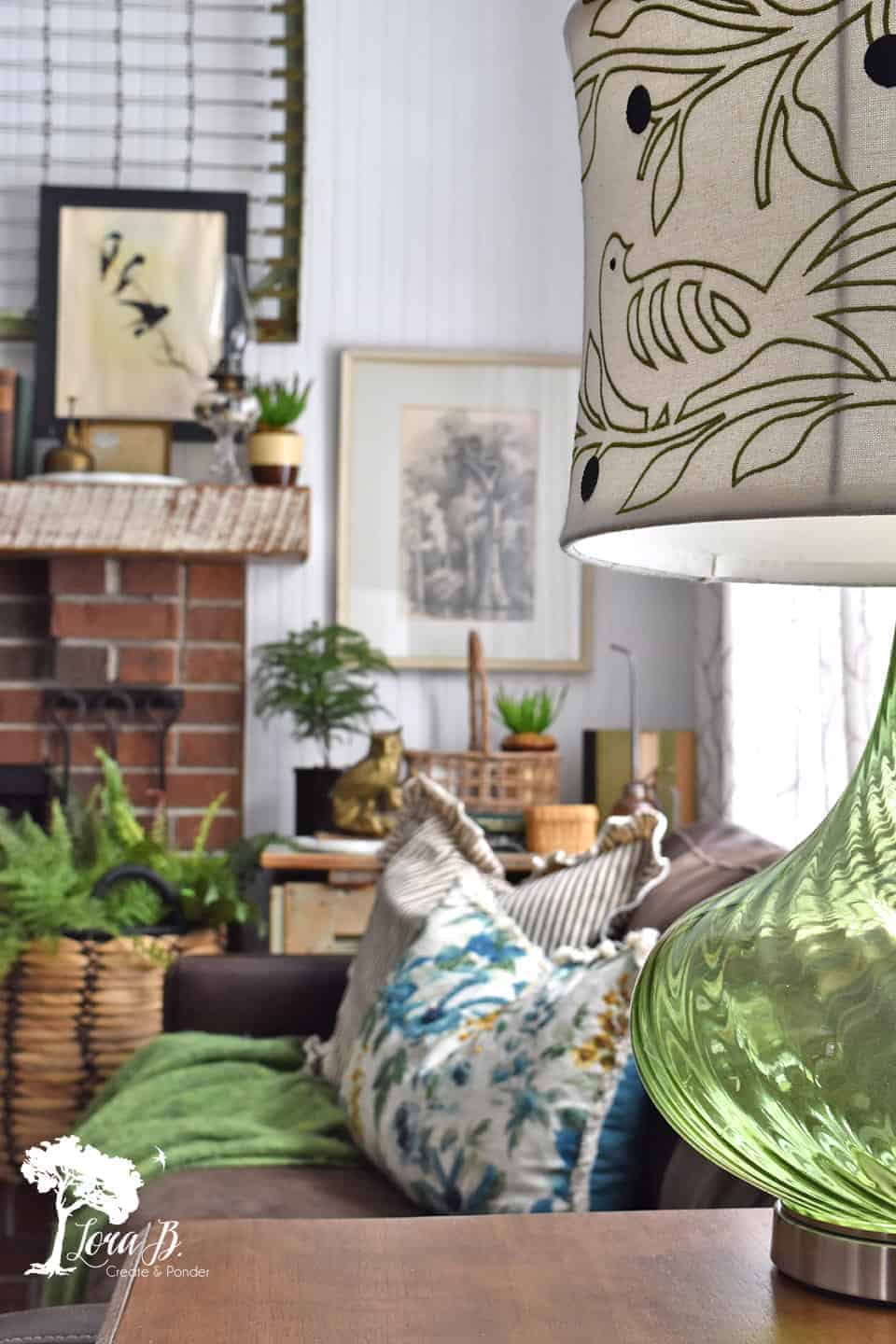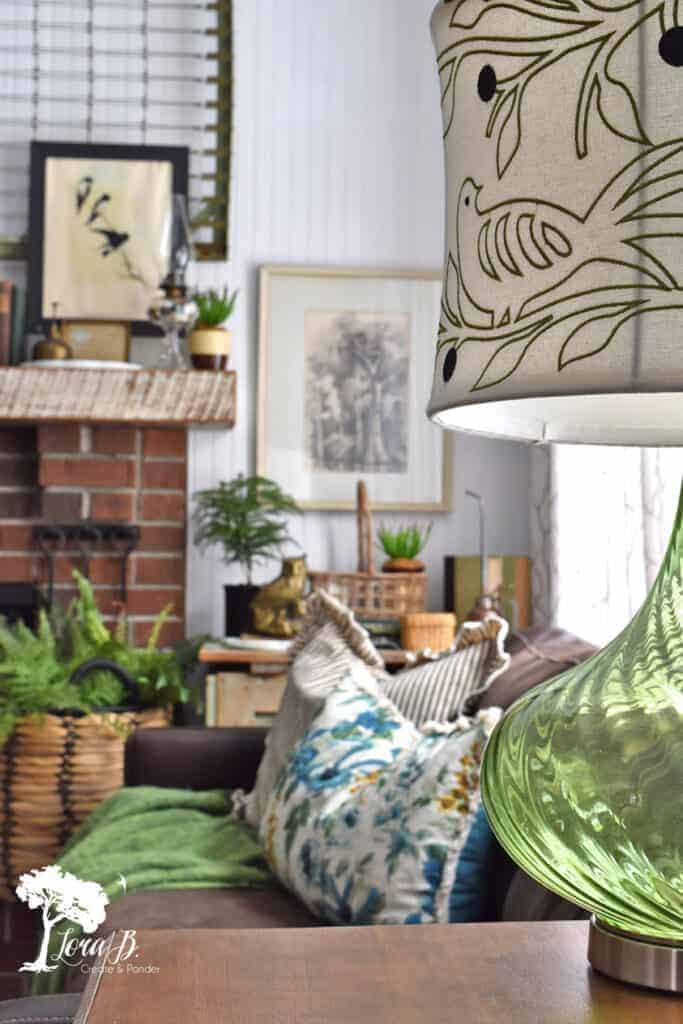 When Should I Switch From Winter to Spring Decor?
Once Valentine's Day is over, it's the perfect time to switch your Winter decor to Spring. Give the evergreen foliage a rest and brighten up your textiles and textures. Spring arrives differently depending where you live, but by mid-February everyone's tired of looking at winter!
Time to put winter to bed and start the fresh, early Spring decorating! Now that I got started with a little corner, I'm ready to spread it throughout the house! Can't wait to see how my other Pinterest Challenge friends decorated their sofa and side tables. If you're going in order, visit Thistle Key Lane next. Michelle decorated her entry table so sweetly; I love her style!
Enjoy more of our Pinterest Challenges HERE.
Thanks for visiting! If you enjoyed your visit, be sure to become an Insider to keep the ideas flowing!
Please pin, share, and enjoy the rest of the inspiration!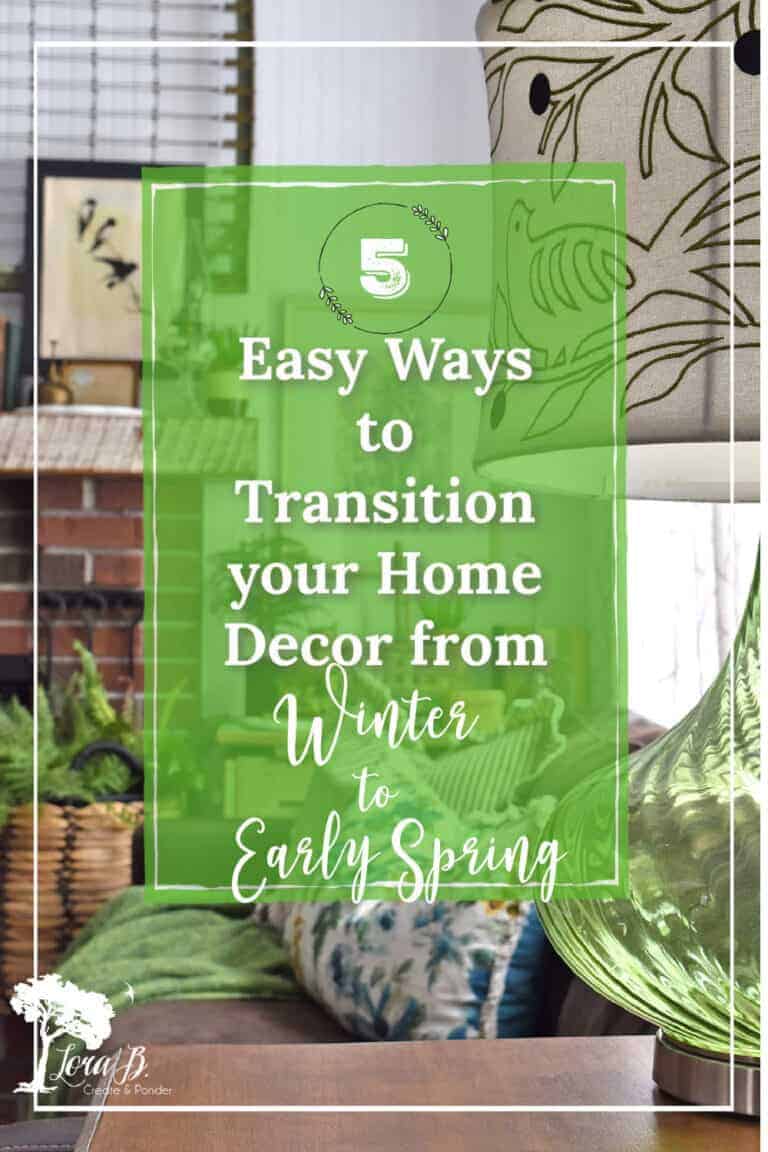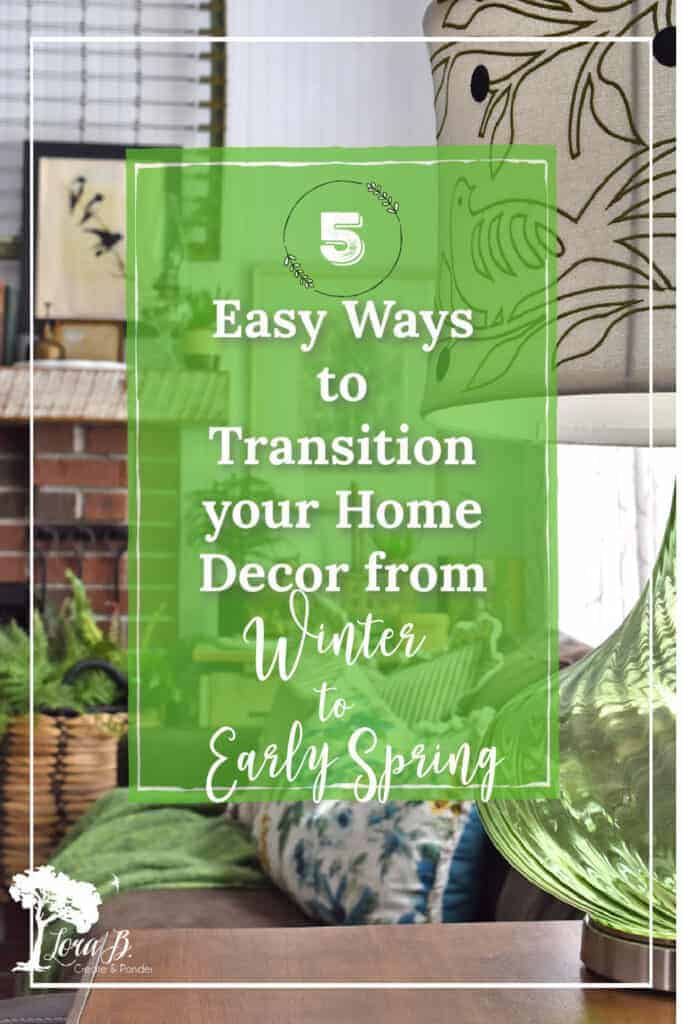 Pinterest Challenge: Spring Decorated Sofa and Side Tables
You are invited to the Inlinkz link party!

Sharing at these lovely parties: