this charming cottage printable with verse makes spring decorating easy…and free!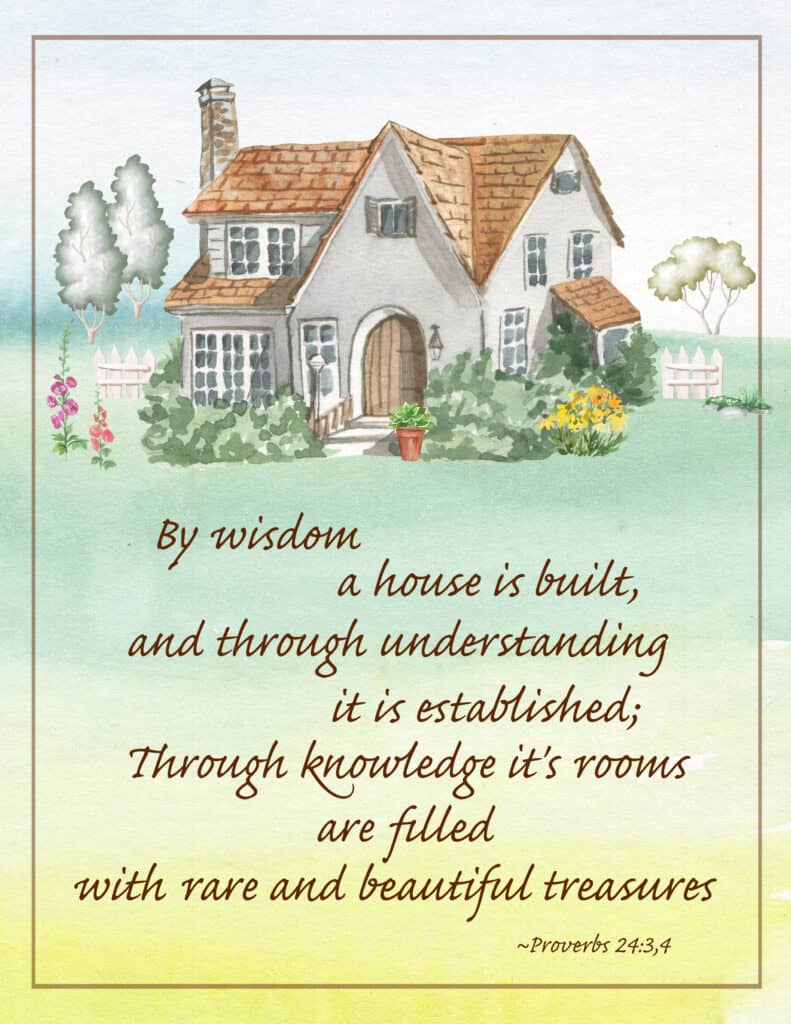 Cottage-style decorating has returned with it's charming, old-fashioned style! It has definitely influenced my Spring decorating this year. Pictures of garden-wrapped cute houses with picket fences and flower-filled trellises embrace feminine style. To celebrate, I whipped up a cute Sweet Cottage Printable for you!
Sweet Cottage Printable
For your convenience, this post contains affiliate links. If you make a purchase, I may receive a commission. There is no additional cost to you. My full privacy policy is here. 
Cottage Style Decor
Cottage style decor or cottagecore-as it's being called now-embraces all the cute, cozy things. Flowers and florals, lace and vintage furniture; it makes you want to sip tea out of an old teacup. It's the perfect style for thrifty, secondhand vintage lovers to embrace. The perfect cousin to farmhouse style.
Enjoy my cottage-styled Spring kitchen tour, "A Charming Spring Kitchen with Cottage Style".
Decorating with Free Printables
Years ago I overcame some tech challenges and learned how I could make cute, fun printables for my readers. I've always loved old fashioned watercolor illustrations. My inner graphic designer enjoys creating custom printables with art that is available online.
My printables are available to my blog subscribers that I call my Insiders. They're the faithful readers that enjoy my style and follow my creative adventures closely, receiving my emails. The printables are found in my free Resource Library; I give the Insiders a password they can use anytime.
By Wisdom…House Printable
I've always loved this verse, Proverbs 24: 3,4. To me it describes how we treasure hunt and gather unique, pretty things for our homes. We lovingly revive them and bring back their character and beauty. Then we style and decorate to create our own beautiful homes.
Our homes are an extension of us; they convey comfort and security to our families and communicate love and caring to those who enter.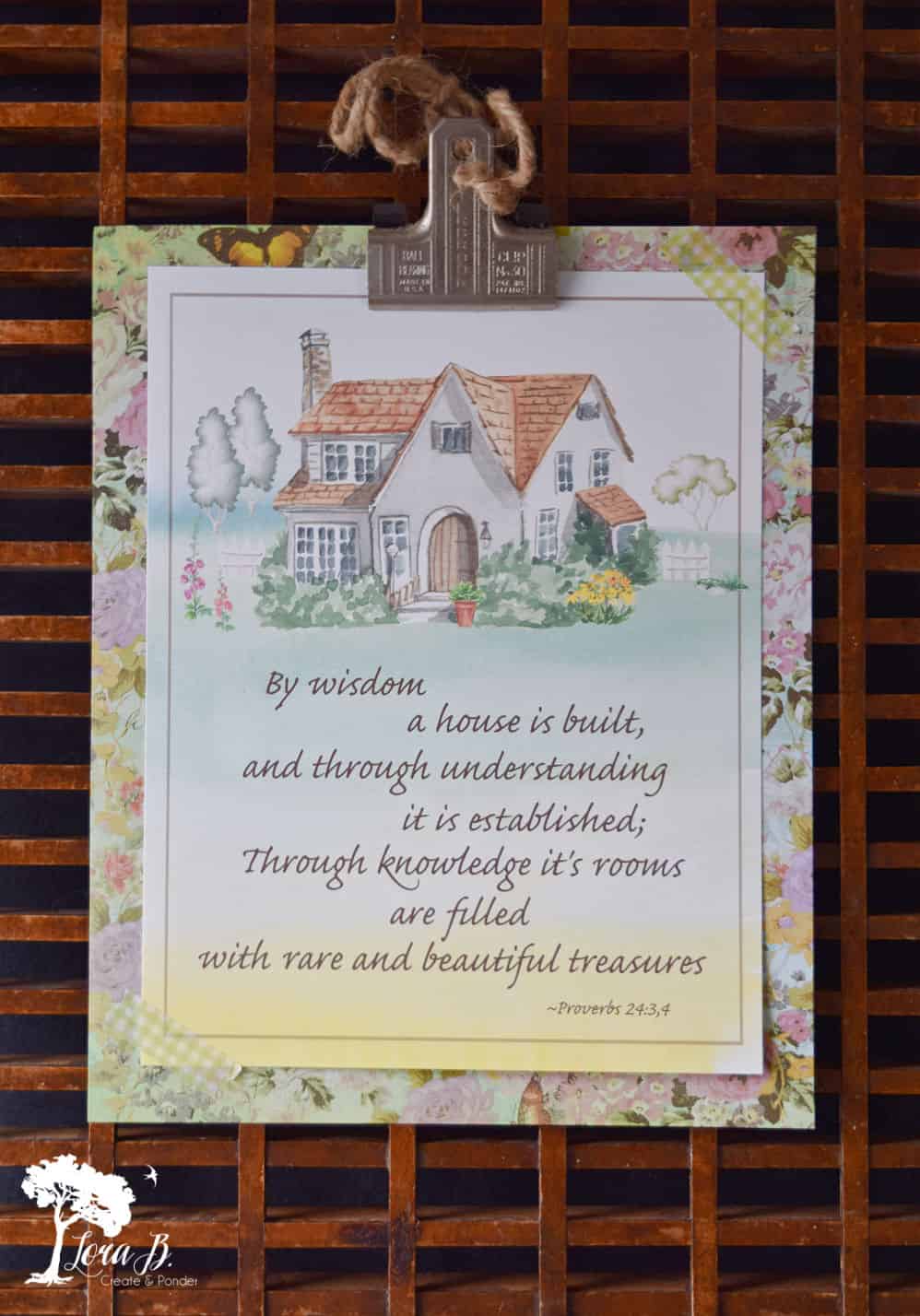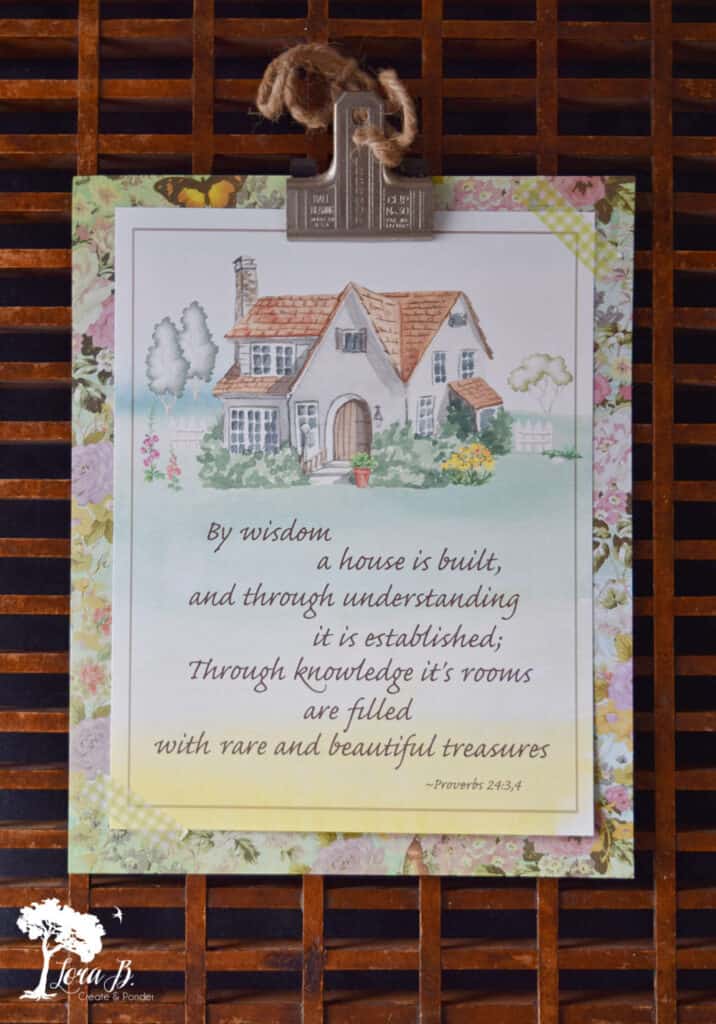 How to Decorate with Printables
Many beautiful printables are available from bloggers online; many are free. You can check my Pinterest board for more HERE. (be sure to follow me when you're there, too).
You can frame pretty printables, or hang them simply on a clipboard or with a clip. I like to back them with a page of pretty background paper that coordinates with my decor. Washi tape adds a fun element, too. I recommend printing them on cardstock.
If all this technology is too much for you, I totally get it! If you don't have a printer or know how to use it, ask someone younger to do it for you;) I always had to print these off for my mom so she could enjoy them. There's no shame in not understanding the technology around here; we're vintage lovers…we take a while to embrace new things;)
Thanks for reading the back story on this Sweet Cottage Printable. I hope you enjoy it! Become an Insider to keep all the ideas…and printables flowing!
pin and share!