10 Simple Ways to Bring Spring Into Your Life (without leaving the house)
Many of us find ourselves stuck at home, trying to keep germs at bay. But it's springtime, and now more than ever, we need to give ourselves a morale boost! Today I'm going to share 10 Simple Ways to Bring Spring Into Your Home (without leaving the house).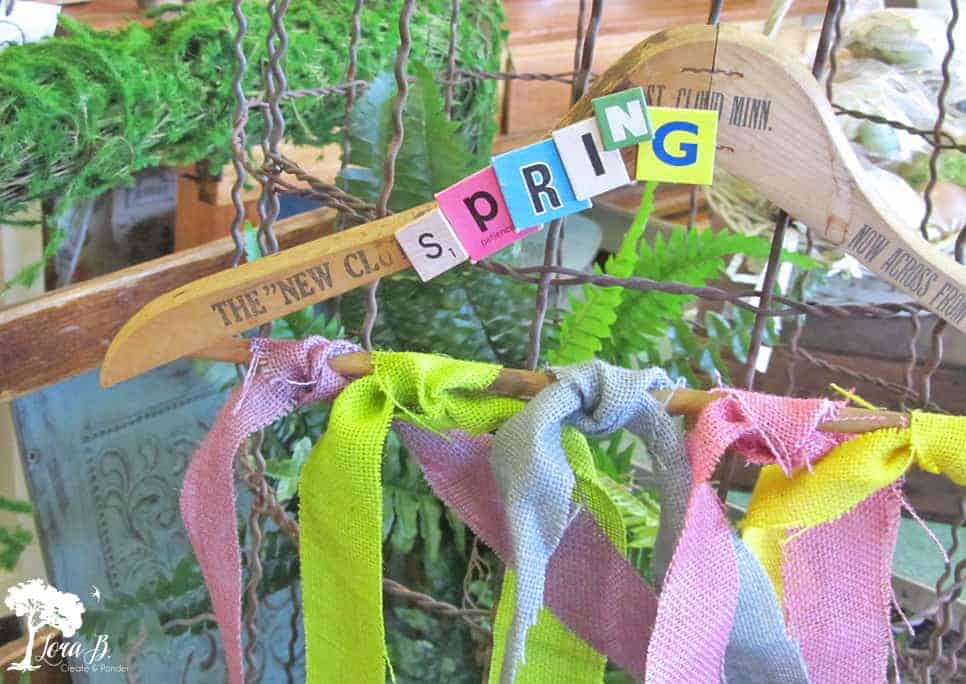 10 Simple Ways to Bring Spring Into Your Home (without leaving the house)
For your convenience, this post contains affiliate links. If you make a purchase, I may receive a commission. There is no additional cost to you. My full privacy policy is here.
Light a Springtime-smelling Candle
Nothing gets me thinking Spring more than getting my nose going! For many years at my former store, we enjoyed Lantern Hill Candles' wonderful hand-poured candles. We ushered in each season by burning one of Barb's candles; the customers always commented on the beautiful fragrance and often bought one for themselves and one as a gift.
Recently they were even featured in Country Living Magazine! My favorite Lantern Hill Candles Springtime scents are Fresh Cut Grass, Lilac, and Lily of the Valley. You can get them HERE.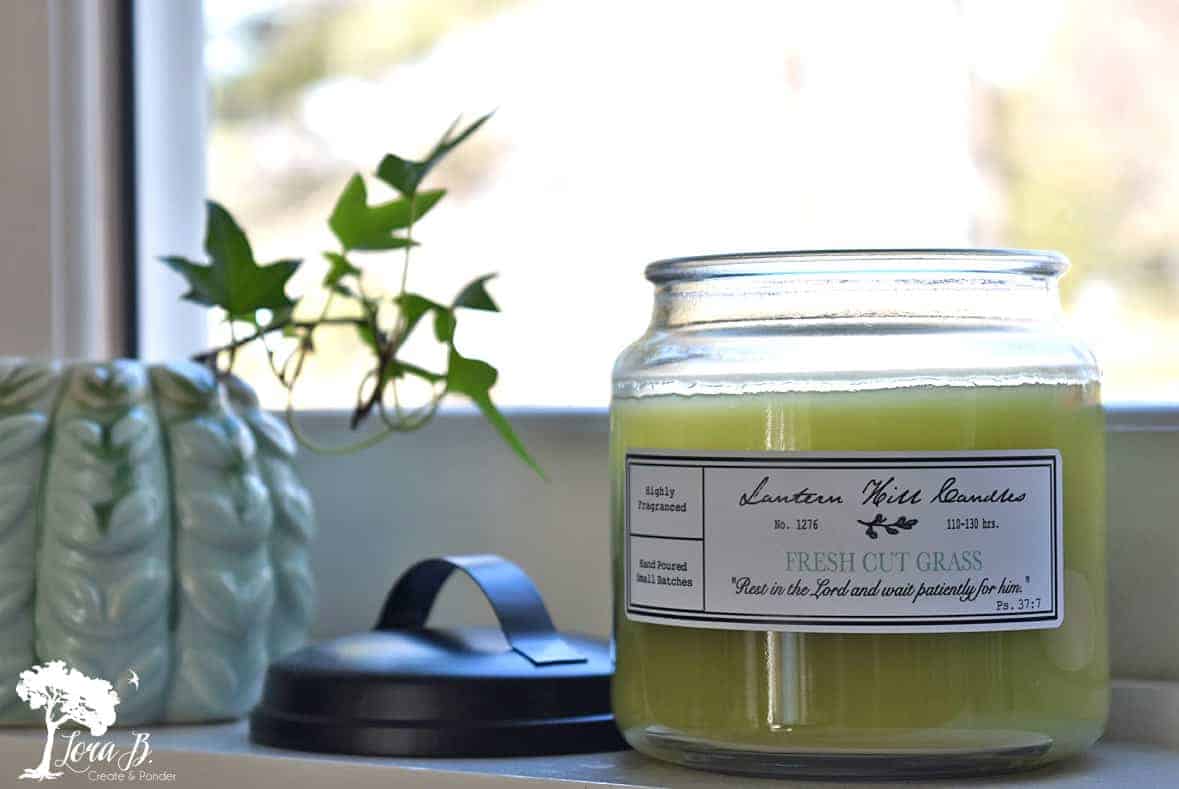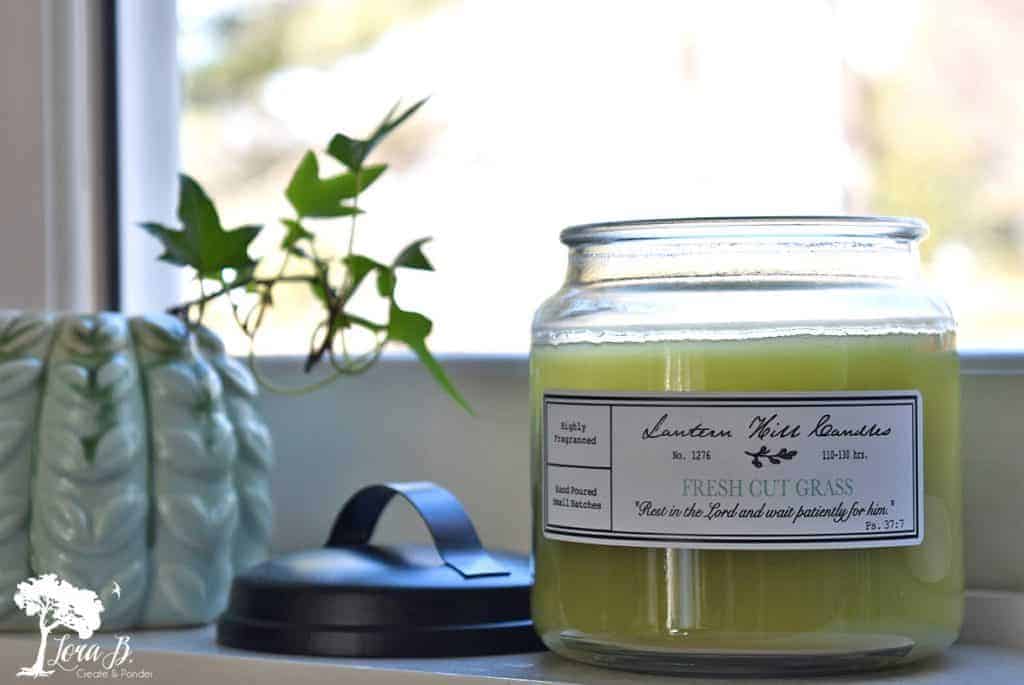 Force Spring Branches
I guess you do need to go outside for this one! When the spring branches haven't quite leafed out yet, it's a special treat to force them inside. Simply cut branches from any spring flowering trees or bushes you have in your yard (or a neighbor's if you ask). Lilacs, crabapples, and forsythia branches work well. Just pop the freshly cut branches in warm water, and you'll get to enjoy buds, leaves, and sometimes flowers within a week or so!
You can also add Spring and Easter decor to the branches and make an Easter tree. Sometimes I will add a branch or two of artificial flowering branches to the fresh for a nice combo.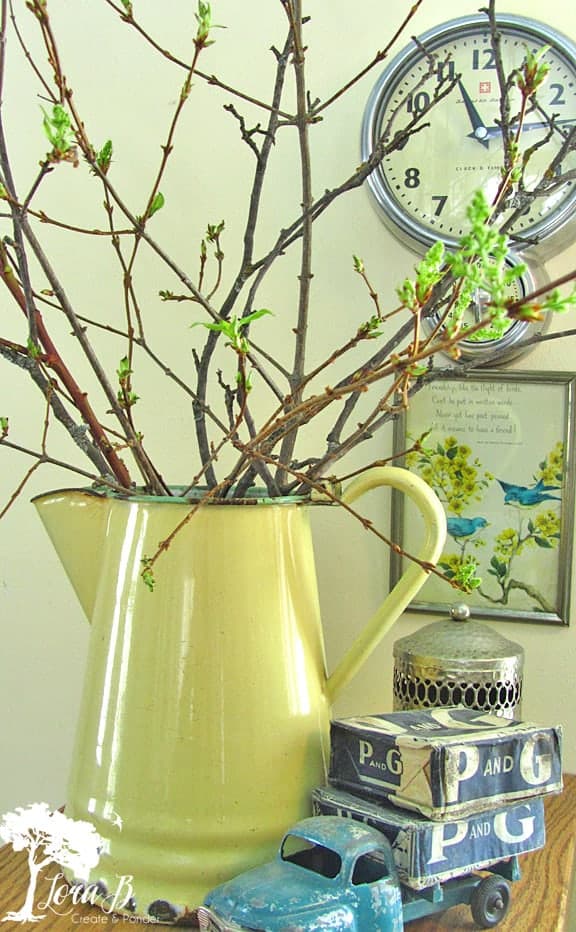 Use Spring-scented Cleaning Products
Keeping up with a clean house is extra important when everyone's home. I encourage myself to clean with spring-scented cleaning products and soap. Everyone may have their favorites, but Mrs. Meyers products have been my go-to's since we used to sell them in cute little 4 packs years ago at my store.
Here are some of my personal favorites (which are sometimes hard to find on the store shelves!):


Add Springtime Pillows to Sofas and Beds
Adding springtime pillows to your sofas and beds can visually lift the room. You don't need to purchase a whole new pillow, just get a new cover for the outside. It takes up much less space in storage! Just purchases new seasonal covers for the pillows you already have. There is a huge variety on-line that can arrive on your doorstep within days!
Here are some pillows I think are adorable to Spring up your home (bonus-most of them come in multiples):


Bake Something Lemon
Baking something lemon-flavored just feels like spring. The tart, bright flavoring is like sunshine for your taste buds! I've been baking THIS delicious version for years and love it's glazed frosting. I sometimes add a drop of almond flavoring and some toasted almonds to the top, too.
How about baking a batch of muffins or a cake to make your extra time at home together special this spring!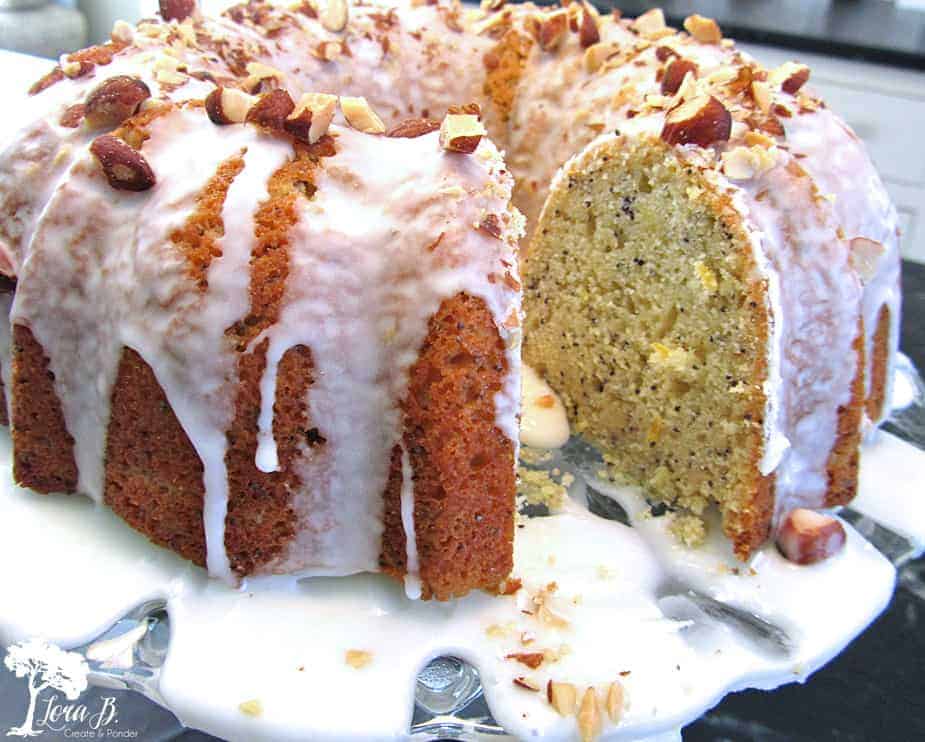 To Bring Spring into Your Life, Plant Some Seeds Indoors
With extra time at home and scarcity fears looming, this spring is as perfect time as ever to start your own seeds for veggies and flowers. Plants can easily be started in a sunny window spot or with grow lights. Seeing little seedlings popping out of soil can bring hope and be fun, too!
My favorite seeds to start indoors are Zinnias, Shasta Daisies, Tomatoes and lettuce.
Here are some seed planting basics to get you started:


And make some cute Seed Packet Bunting when you're done with the packages! Check out cute ideas on Pinterest!
Be Inspired with a New Book for Spring
With less "social" time and noise in our lives, we can rekindle the joy of reading the written word. Sit in a sunny window and soak up some good old-fashioned inspiration from others!
Here are the books on my reading list; some of them are coming out soon.


Take a Springtime Drive
Yes, you do have to go out of your house for this one, but you don't have to come in contact with anyone, or spend any money! You can breathe your own air and only touch the surface of your car while you enjoy a drive. Go for a drive in the country or go for a drive in a neighborhood with cute houses. Enjoy seeing the trees budding out and the bulb flowers popping up.
I love a good drive in the country, admiring horses or cows in a pasture. But I also know of a few neighborhoods full of perfectly manicured older homes that never disappoint. Go ahead and bring back the classic past-time of going for a drive…just for entertainment! Cuz' gas is cheap right now!
Treat Yourself to Springtime Kitchen Linens
Every Spring, I treat myself to a couple new, brightly colored handmade crocheted dishcloths. I love their classic, cotton feel and homespun style. I usually find them at church sales, but who knows if they will even be happening this year (oh, I will be so sad). If you want to get a couple new, handmade spring washcloths for yourself, you can find some HERE.
And if you'd like some spring kitchen towels for a fresh look, here are my picks for the season:


Decorate with Free Spring Printables!
Free printables abound from bloggers! If you become a Lora B Insider, you'll get FREE access to my whole library-full!
I've also got a whole Pinterest board so you can find printables! Check out my Printables Pinterest Board HERE, and follow me, too, so you'll see my posts in your feed!
Here's my newest printable for your Spring enjoyment! Get FREE Access to it by becoming an Insider!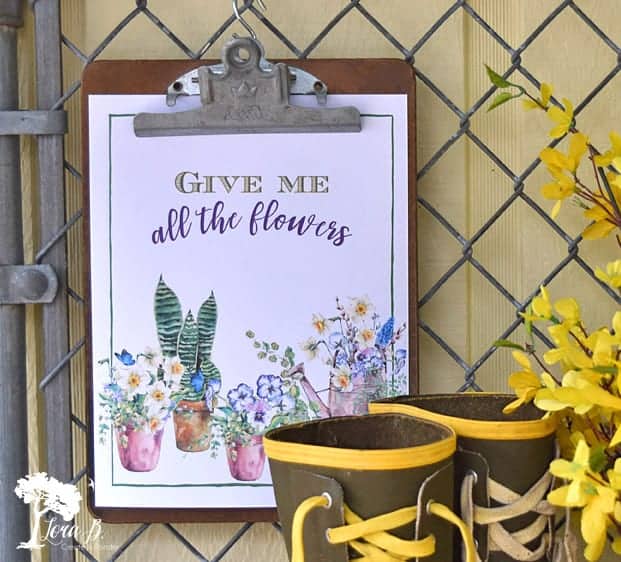 Did this list of 10 Simple Ways to Bring Spring Into Your Life (without leaving the house) give you some mood-boosting ideas? I sure hope so! I've been so encouraged to see how people are getting creative in many different areas with the current challenges we are facing. Breathing some Spring into your home and life will make the best of difficult circumstances, and hopefully create special memories in the process.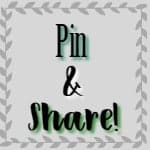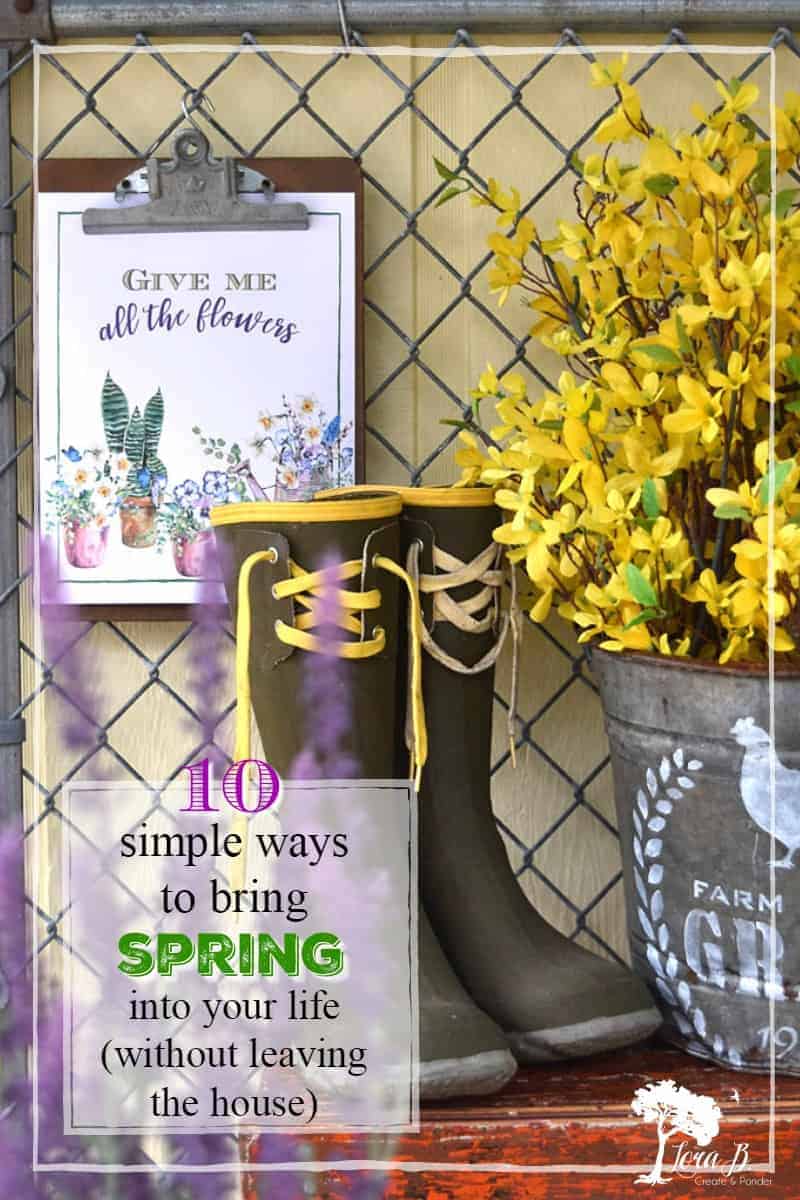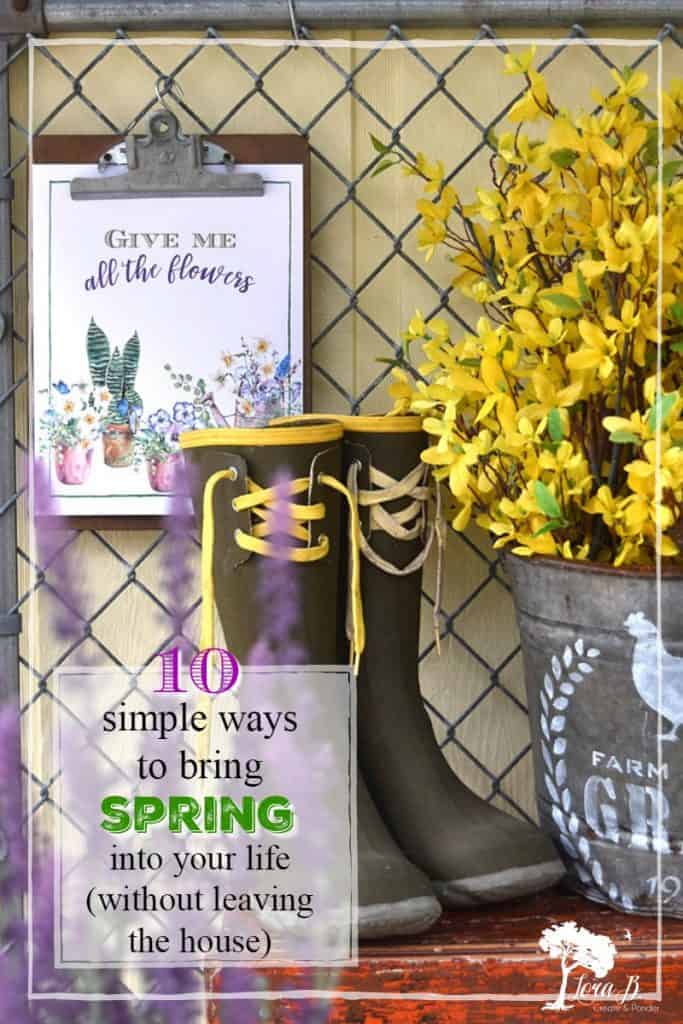 Sharing at these lovely parties: