Creator's Tips: Simple, Smart Uses for Plastic Baggies
Here are simple, smart ways you can use plastic baggies for DIY projects or seasonal decor organizing.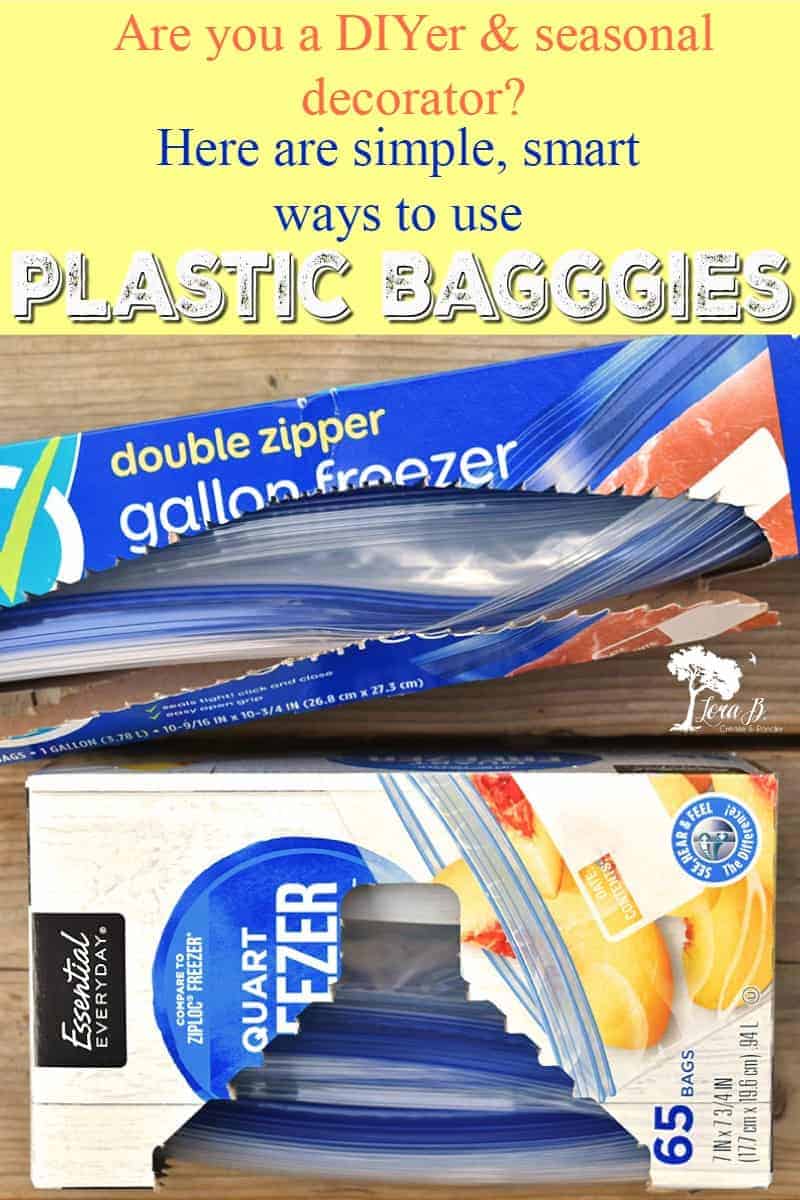 Sometimes it's the little tips that are the most helpful. Whenever I would sew alongside my Grandma, I would learn little tips she did to make her creative process run more smoothly. They're not things I could have learned in a how-to book, they were simple hacks that made me think, "Why didn't I think of that?". Today I'm going to share some of my own Creator's Tips: Simple, Smart Uses for Plastic Baggies.
Creator's Tips: Simple, Smart Uses for Plastic Baggies
Everyone's got plastic bags in their kitchen drawers. But you don't have to use them for food storage only. Let me help you get out of your status quo thinking and open a whole new set of possibilities for these humble packages!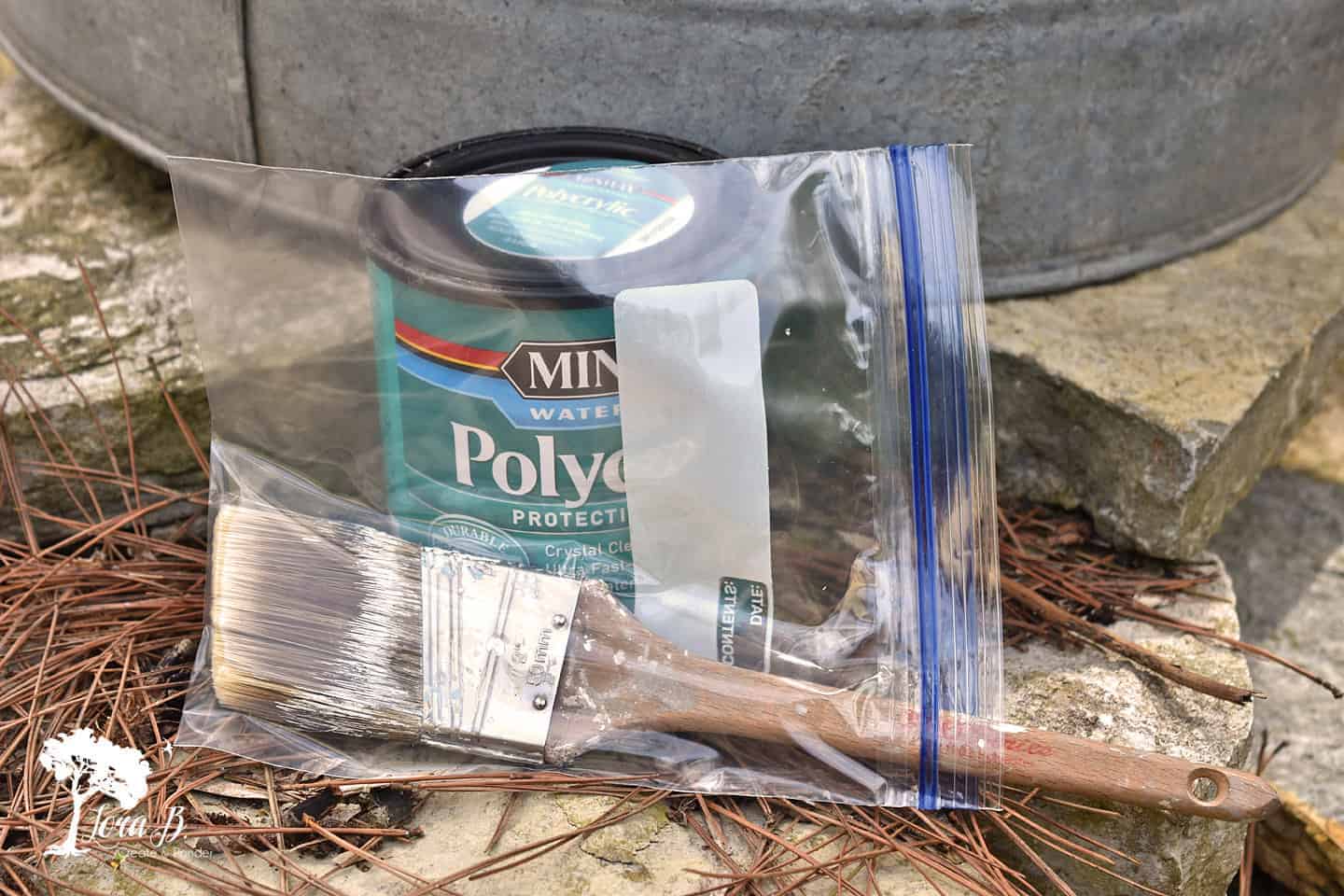 When You're Painting, Staining or Poly'ing, Use a Plastic Bag for your Brush
If your DIY projects happen like mine, you're bound to get interrupted in the middle, or maybe you jump from one task to the other. Even if it's just stopping for a bite of lunch, grab a plastic baggie and pop your wet brush into it. Rather than drying out and wrecking the brush, the brush will stay moist until you come back to finish the project. I usually clean the brush at the end of the day, but the couple times I forgot, the plastic bag covered my loss of memory!
If you're painting with a roller, pop it in a plastic store bag (which is a little bigger) and twist tightly. It should stay moist until you can get back to your project.
For other everyday items to make the creative process easier, read "4 Everyday Appliances Every DIYer/Crafter/Maker Should Own"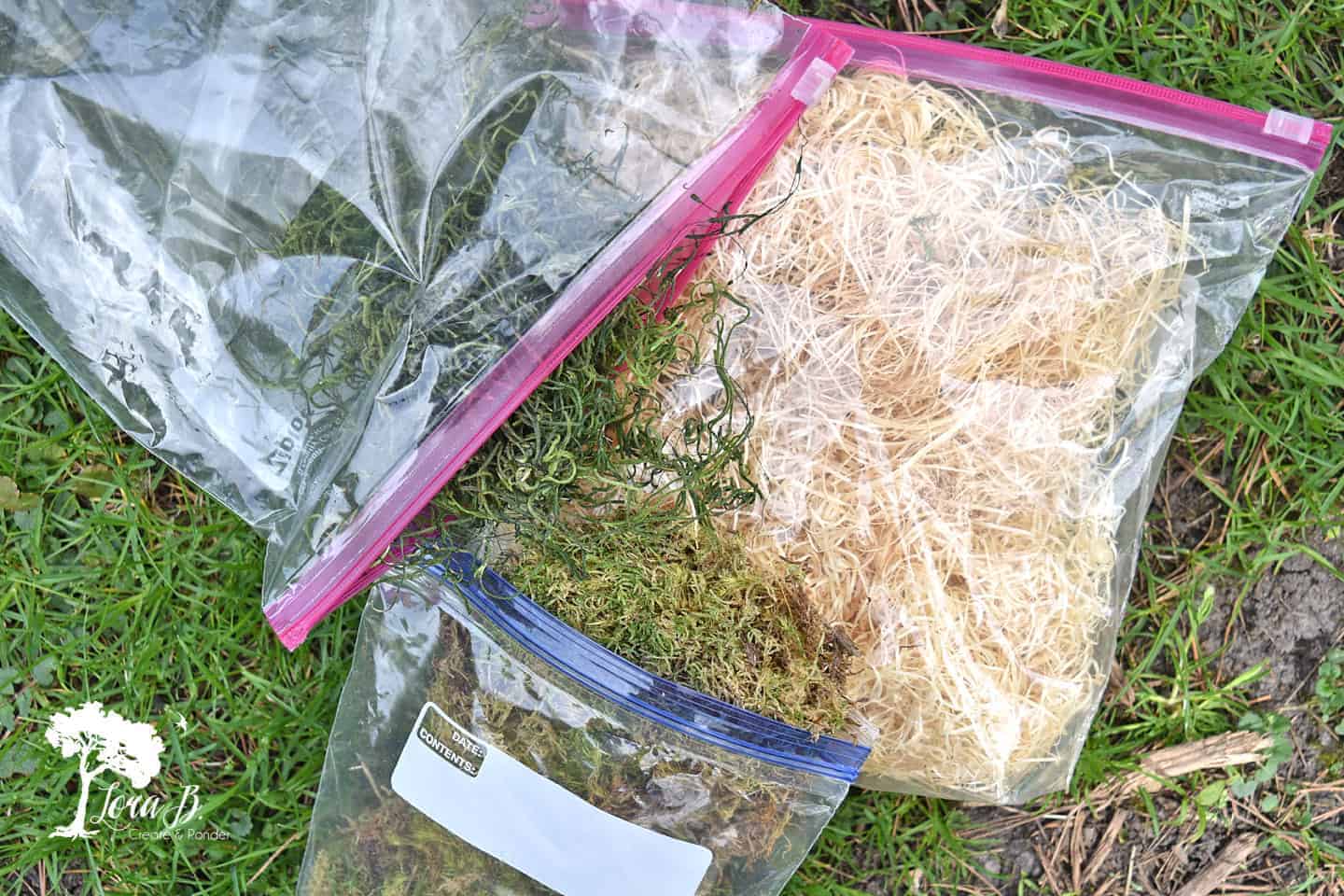 Use Plastic Baggies to Store Textural Floral Fillers
Textural Floral Fillers can be used and reused through the seasons in different vignettes and arrangements. To keep them contained and pliable, store floral fillers such as moss, lichen, excelsior grass, etc. in sealed plastic baggies. I keep all of these textural accents together in one cupboard. When I need a bit of covering or an extra touch of foliage, they're all together so I can easily choose which texture works.
For more organizing ideas, read "10 Storage and Organizing Ideas for Seasonal Decor and Crafts"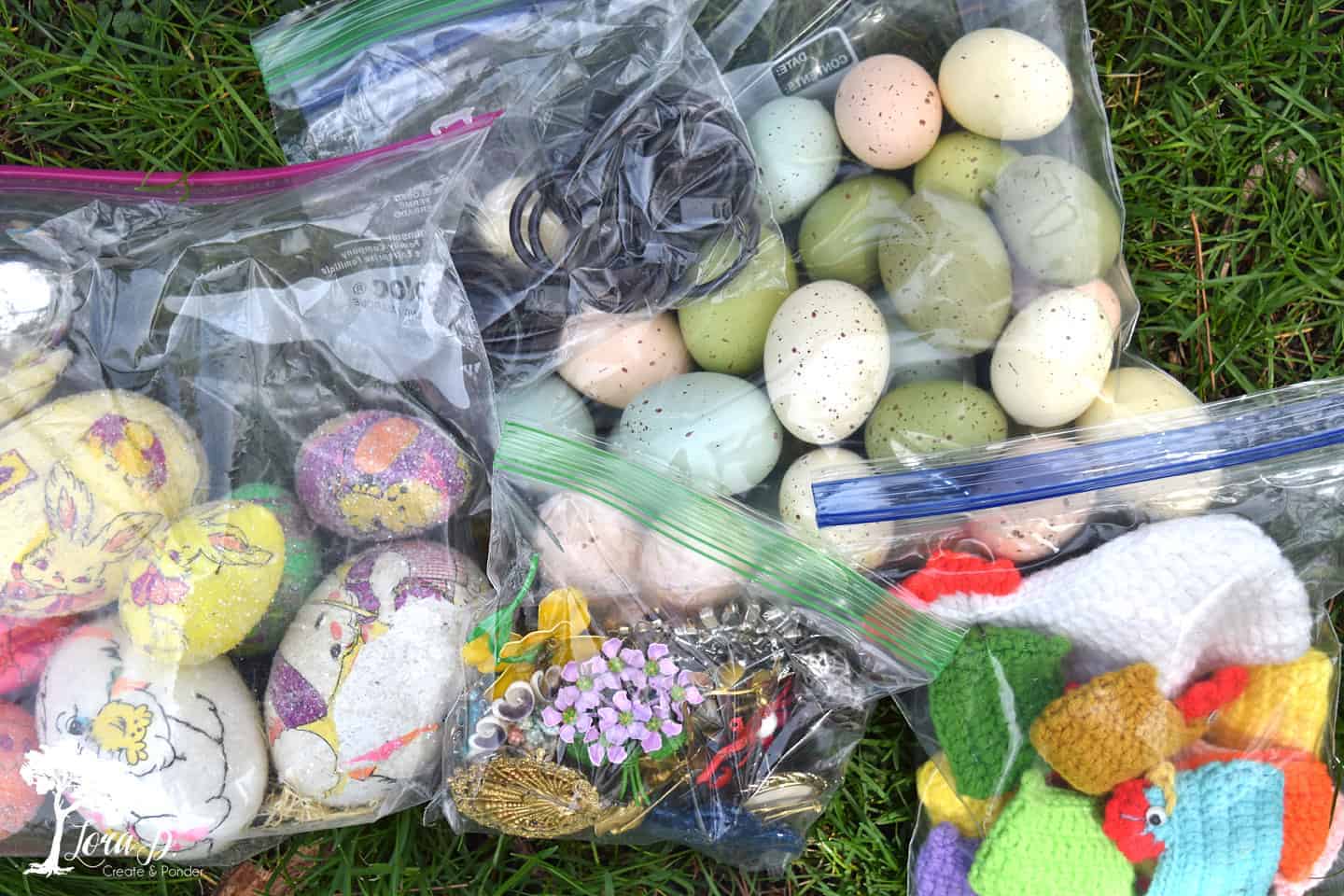 Organize and Store Small Accessories in Plastic Baggies
Small accessories and decor can get lost when stored. To keep all their pieces or all of one kind together, place similar ones in a plastic baggie. Then the baggie-full can be put in a bin, a drawer, or a cupboard and you won't lose any of them! Whenever I have a collection of small pieces of something, I pop them in a plastic baggie before putting them away.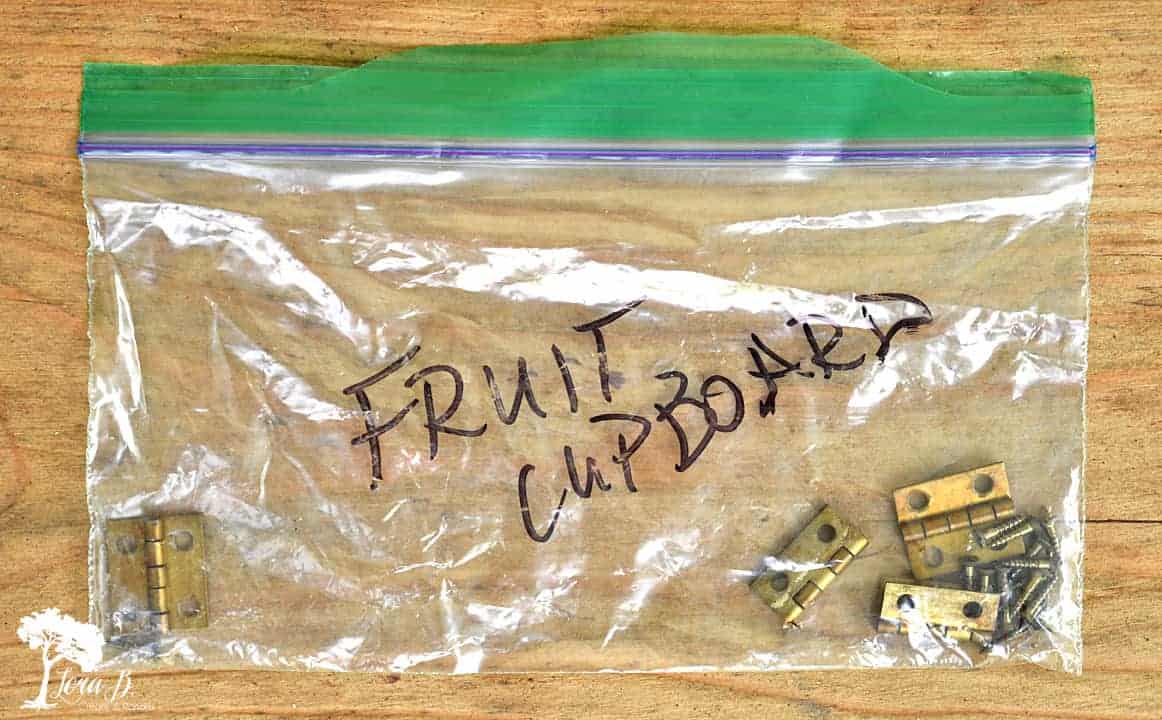 When Refreshing a Piece of Furniture, Place all the Hardware in a Plastic Baggie, Right Away!
I can't tell you how many hinges, screws and hardware pieces I've lost because I'm all excited about disassembling a piece of furniture to refresh and l set the hardware on a flat surface in the garage, thinking I'll come back for them:( Bring a plastic baggie with you before you start taking all the hardware off. And then take a sharpie and write what piece of furniture piece it's for. You'll be so happy you did, believe me! (FYI…l found this baggie in my junk drawer and still haven't finished this little project from over a year ago!)
Have you used plastic bags in any of these ways? Do you have some other simple, smart ways to use them? I'd love to hear more ideas! I try to limit my use of plastic, due to it's impact on our environment, but plastic baggies definitely come in handy. If I can use them over and over, I feel like I'm extending their life and limiting the number I use, at least.
Hope you found this Creator's Tips: Simple, Smart Uses for Plastic Baggies helpful! I'm hoping to come up with other simple tips and tricks in the future! Thanks for visiting!