Shiny Brite and White Christmas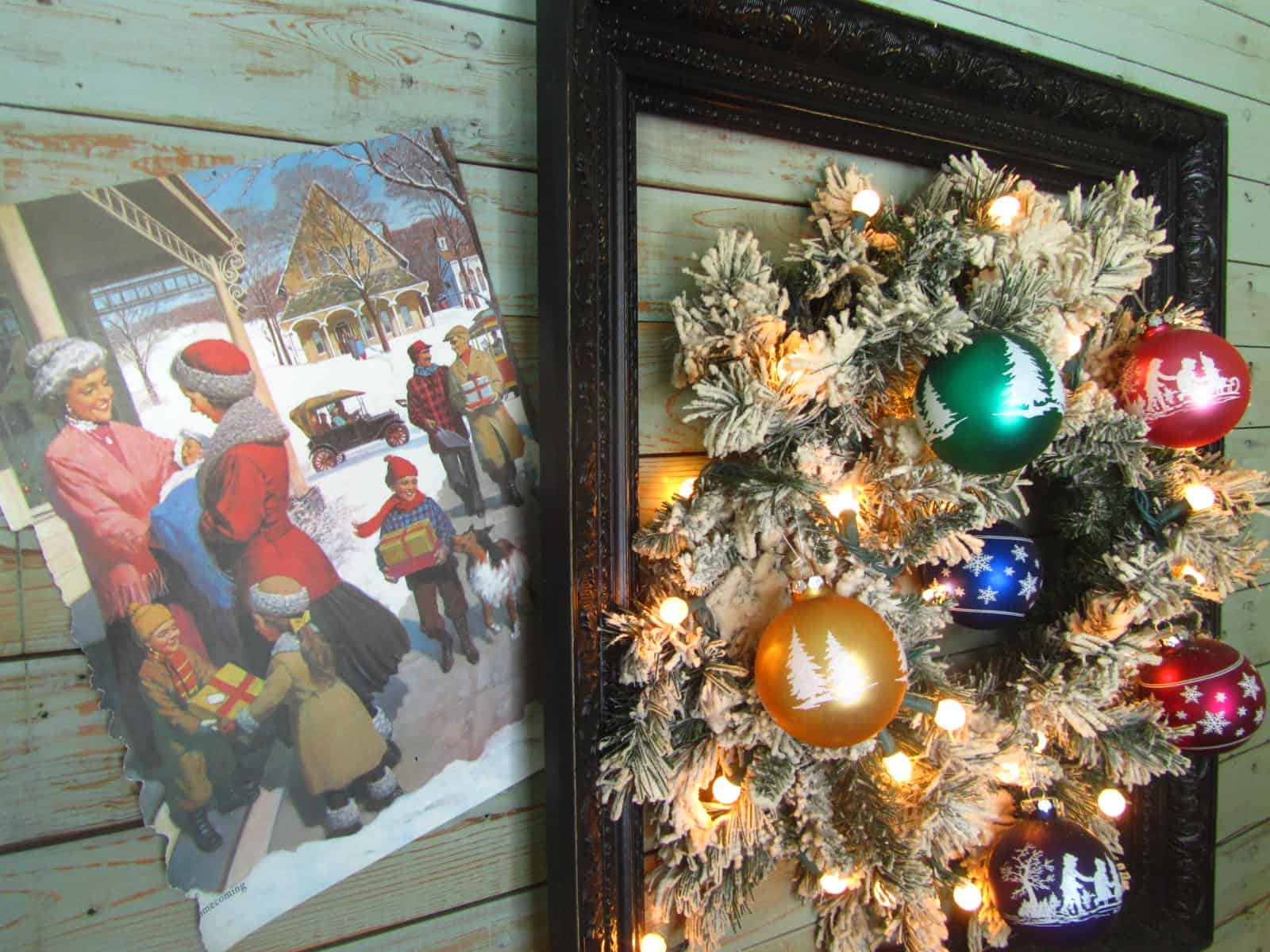 A little more Christmas, and some "Shiny Brite and White" daytime pic's before putting the season to rest and moving on to the 2015-2016 transition.
This great illustration, pulled out of one of the old "Ideals" books had the perfect colors for my decorating this year, and I loved the iconic scene of the young family coming to grandma's house for Christmas. I just slapped it up on my wood planked entryway wall with scotch tape; as easy as dorm room decorating!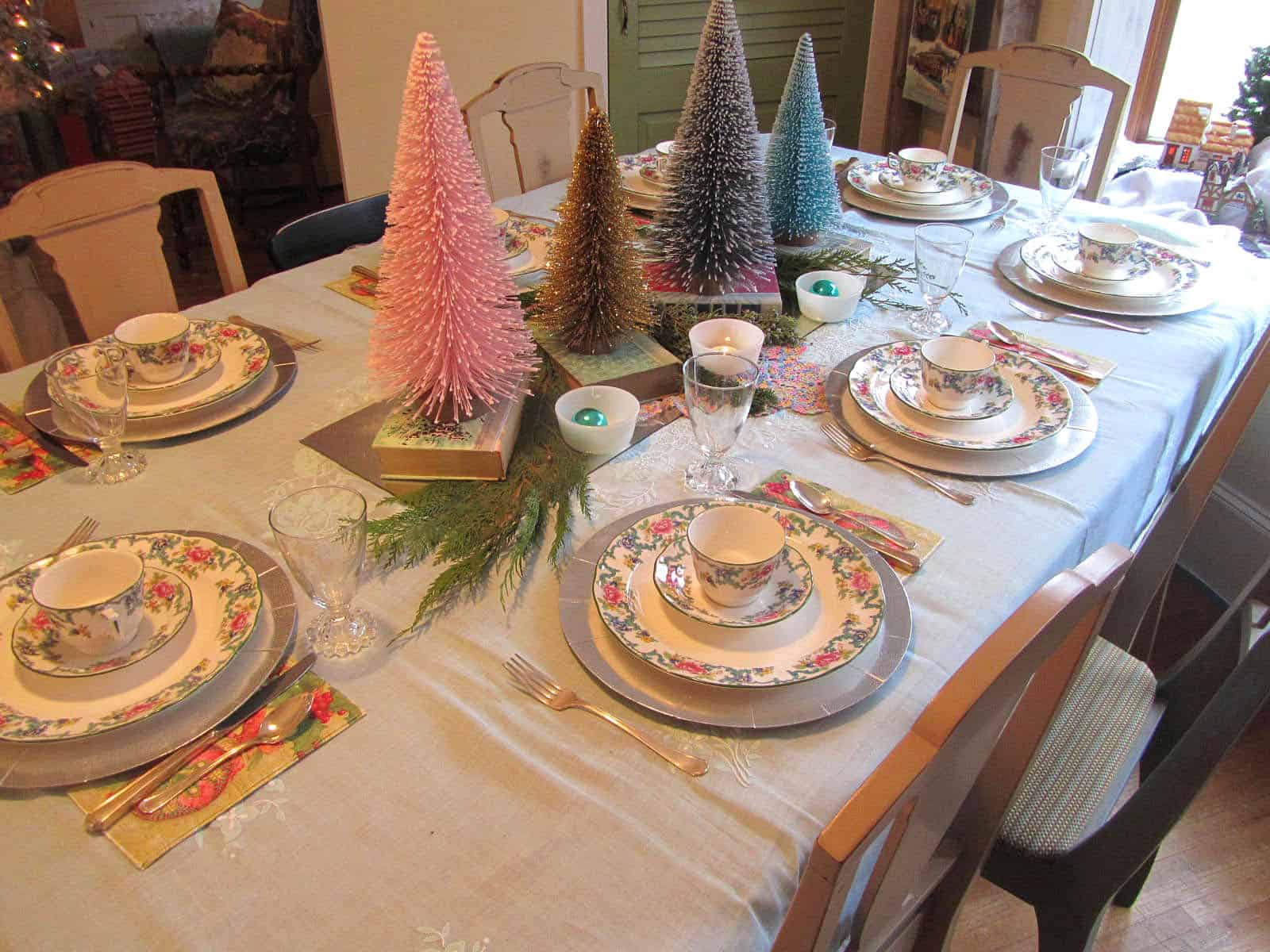 We started out Christmas day with brunch with my family at our house. We were 14 1/2 in all…quite a bit for our modest house, but cozy makes tight-knit in my book. Half of us ate in the dining room, the other half around the kitchen island. I used the funky trees I got from Target as my centerpiece in the dining room, and a pink feather tree and my collection of green handled vintage cookie cutters in the kitchen.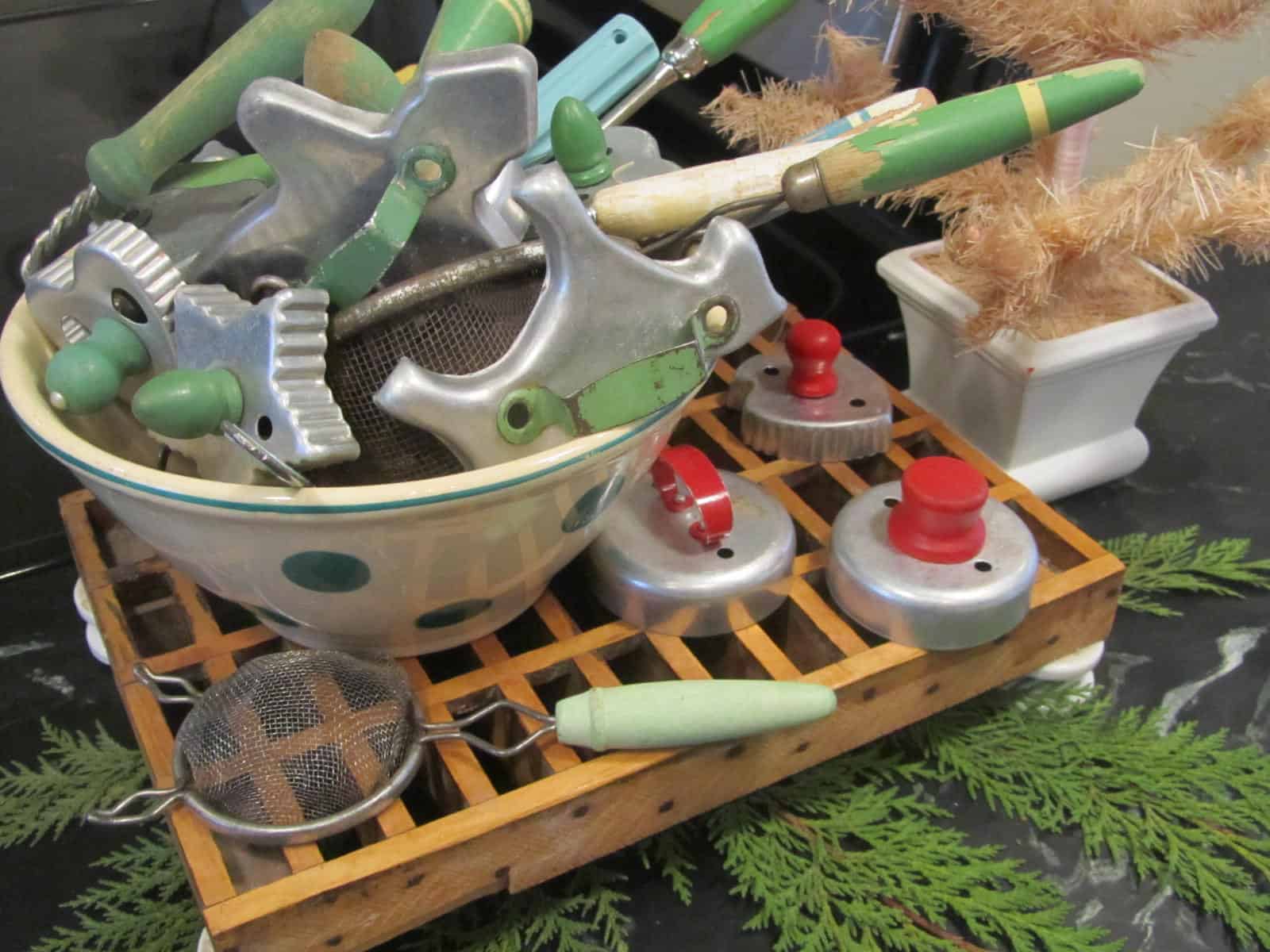 I don't think I've ever used our wedding china for Christmas, but this year it just seemed right for my Shiny Brite and White theme. I filled my collection of tart mold pedestals with old fashioned style hard candies. I remember my grandpa having these in a candy dish next to his chair. I served our breakfast citrus punch on my newest member of the furniture family, my Masterpiece buffet. I've moved the centerpiece trees over to enjoy it a few more days…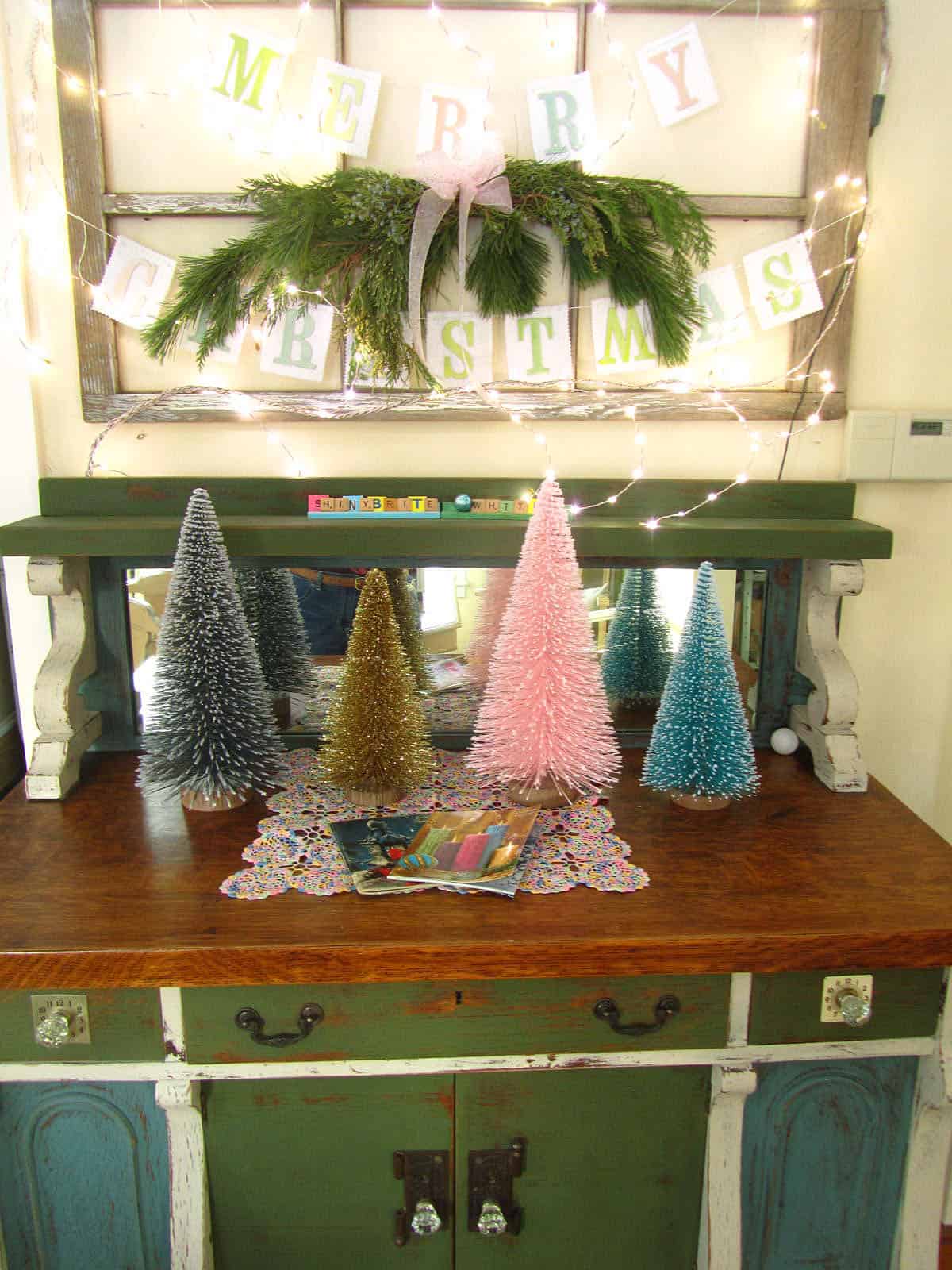 We brought home quite a few of the leftover fresh greens after December Occasional, so I made some swags to spread around the house, and laid some fresh greens here, there, and everywhere.
I especially enjoyed the ones I placed on the sconces in the main floor bath. The glittery pink and white, gauzy ribbon was not only on the presents, but spread around the main floor also.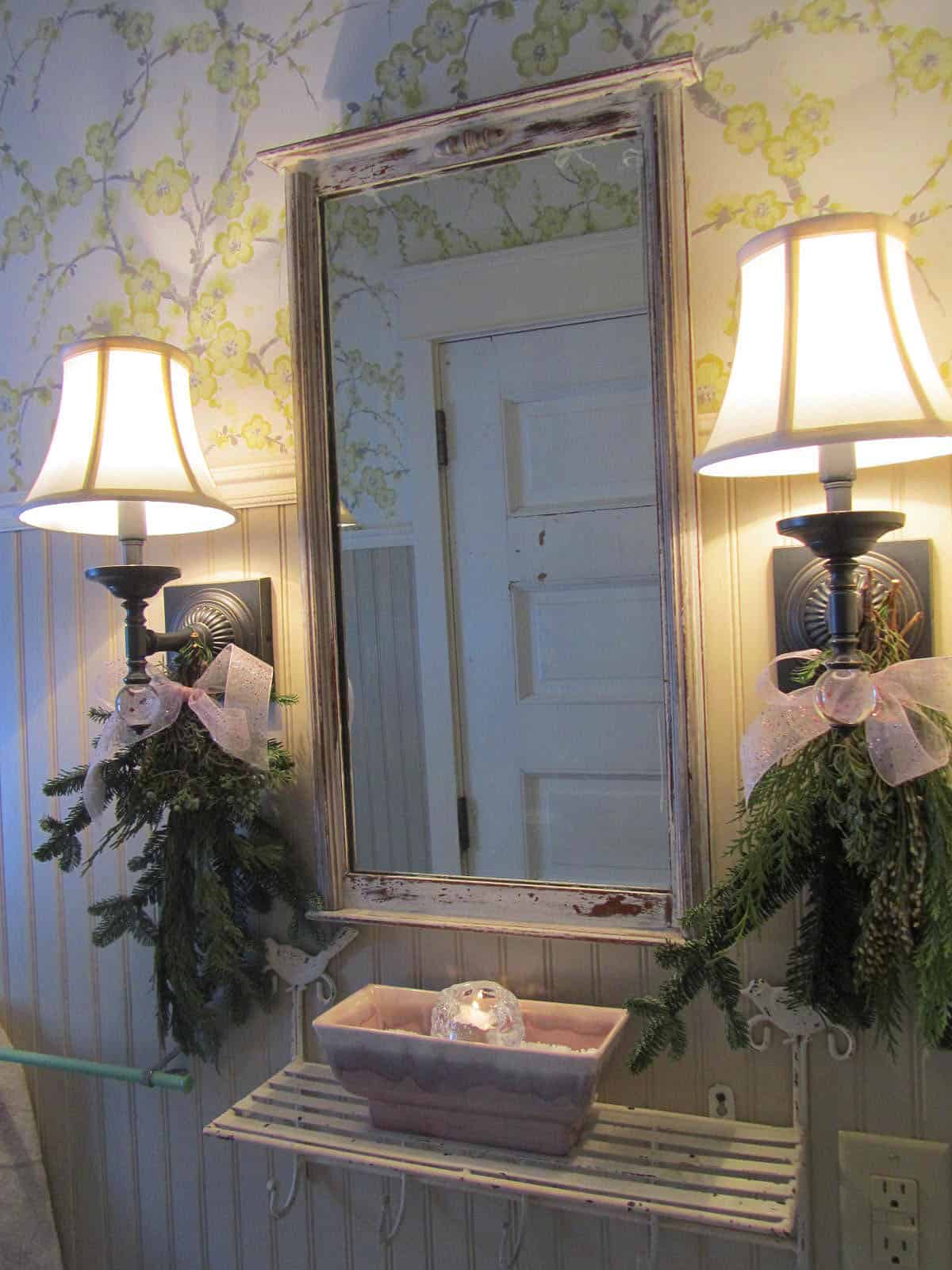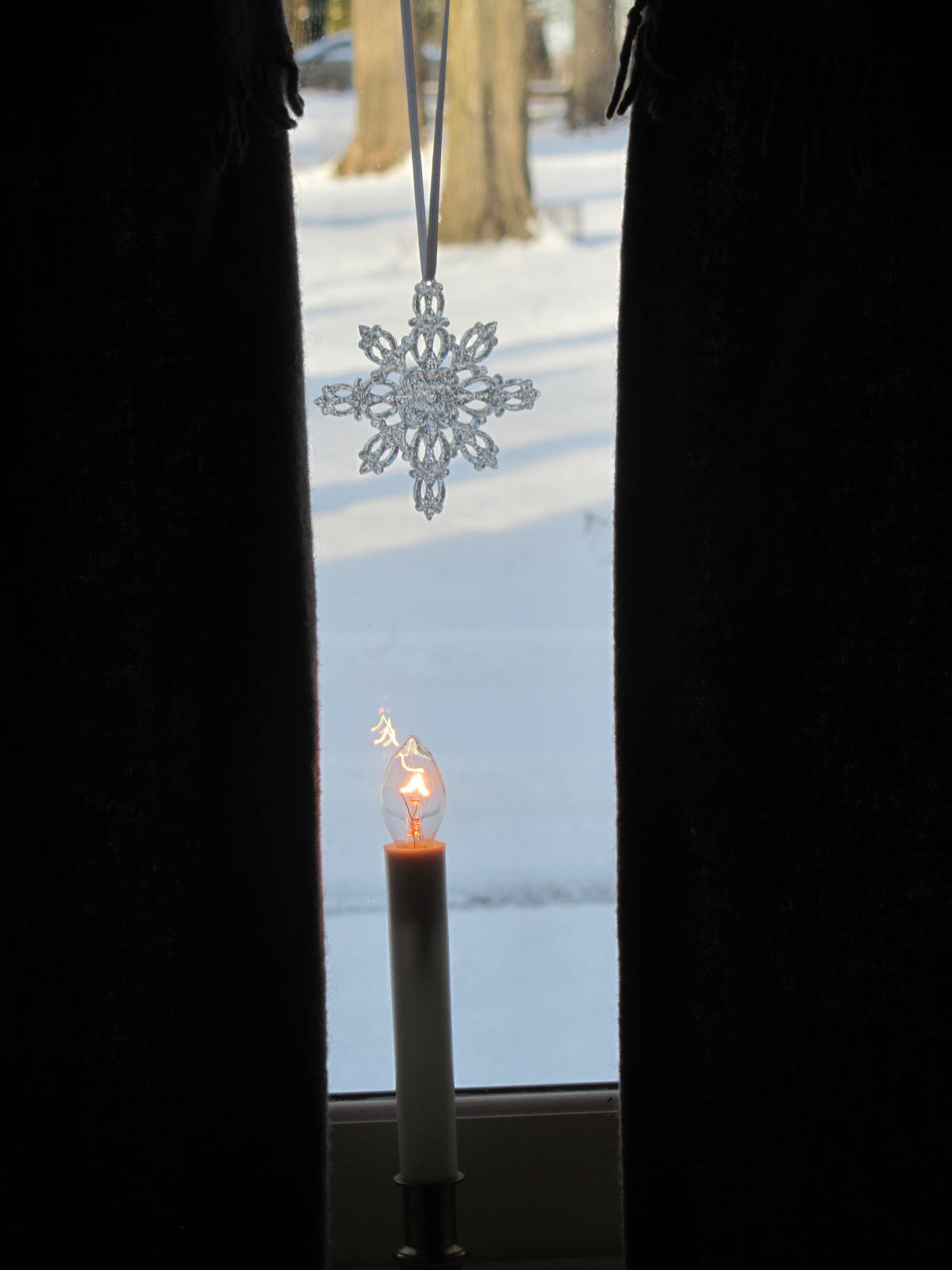 The glass front cupboards in my kitchen have not been filled since summer, so they were due for some prettiness. I decided to use all my cake plates and all the colored glass I could find in the cupboards to replicate all the colors of vintage ornaments. Each shelf got a color, and the middle shelves a mixture, along with whatever silver and gold accents I could find, for sparkle.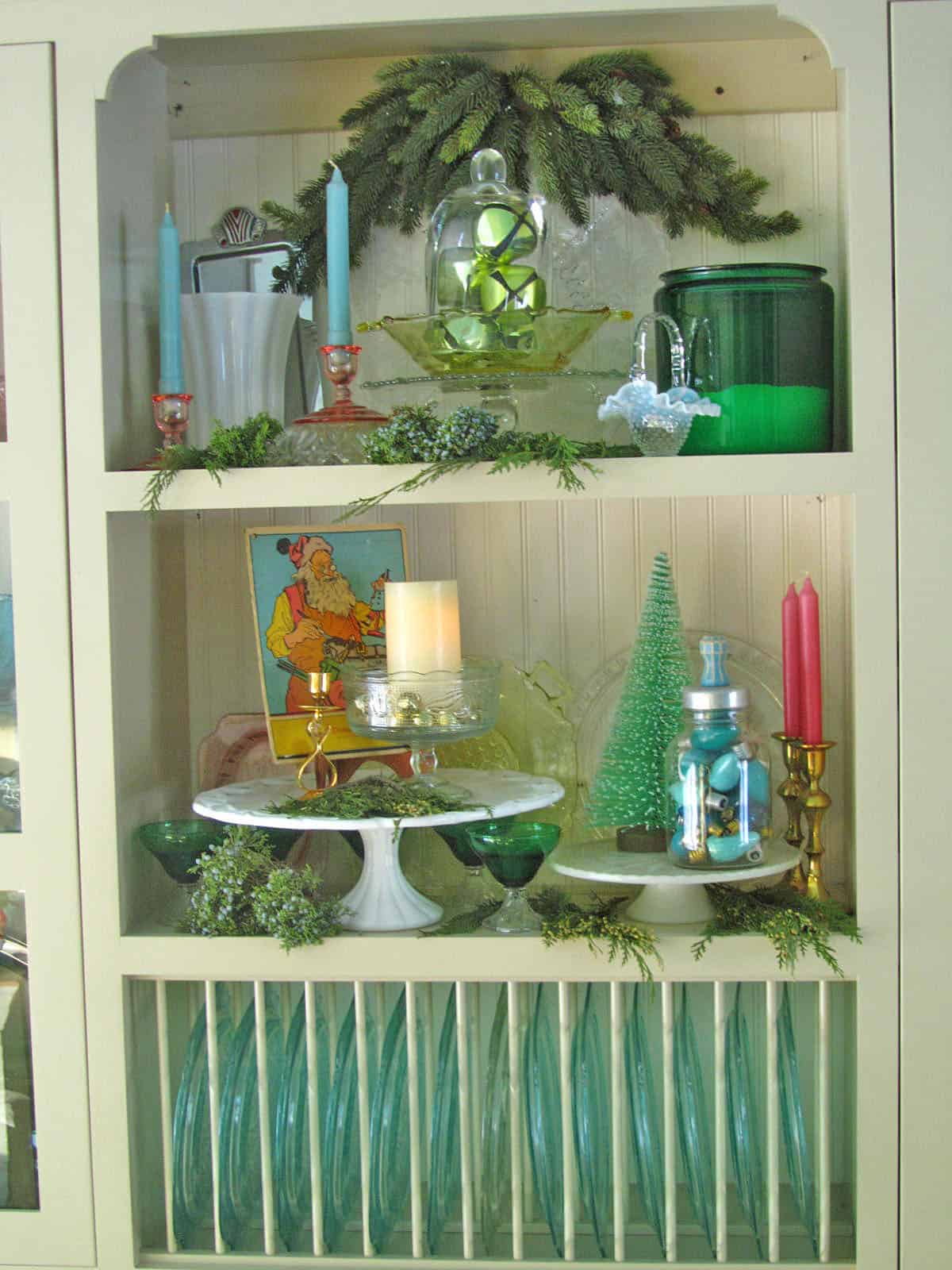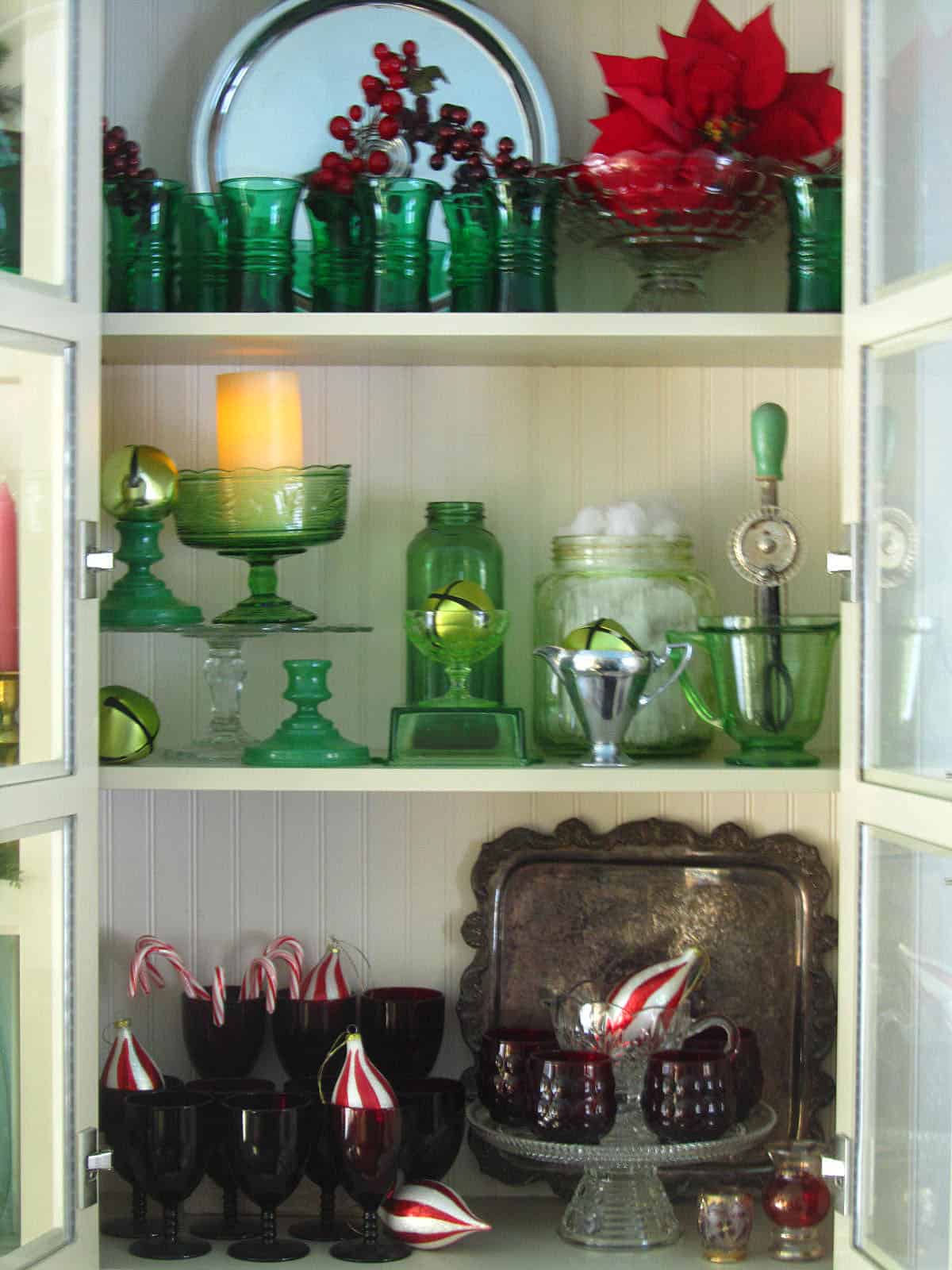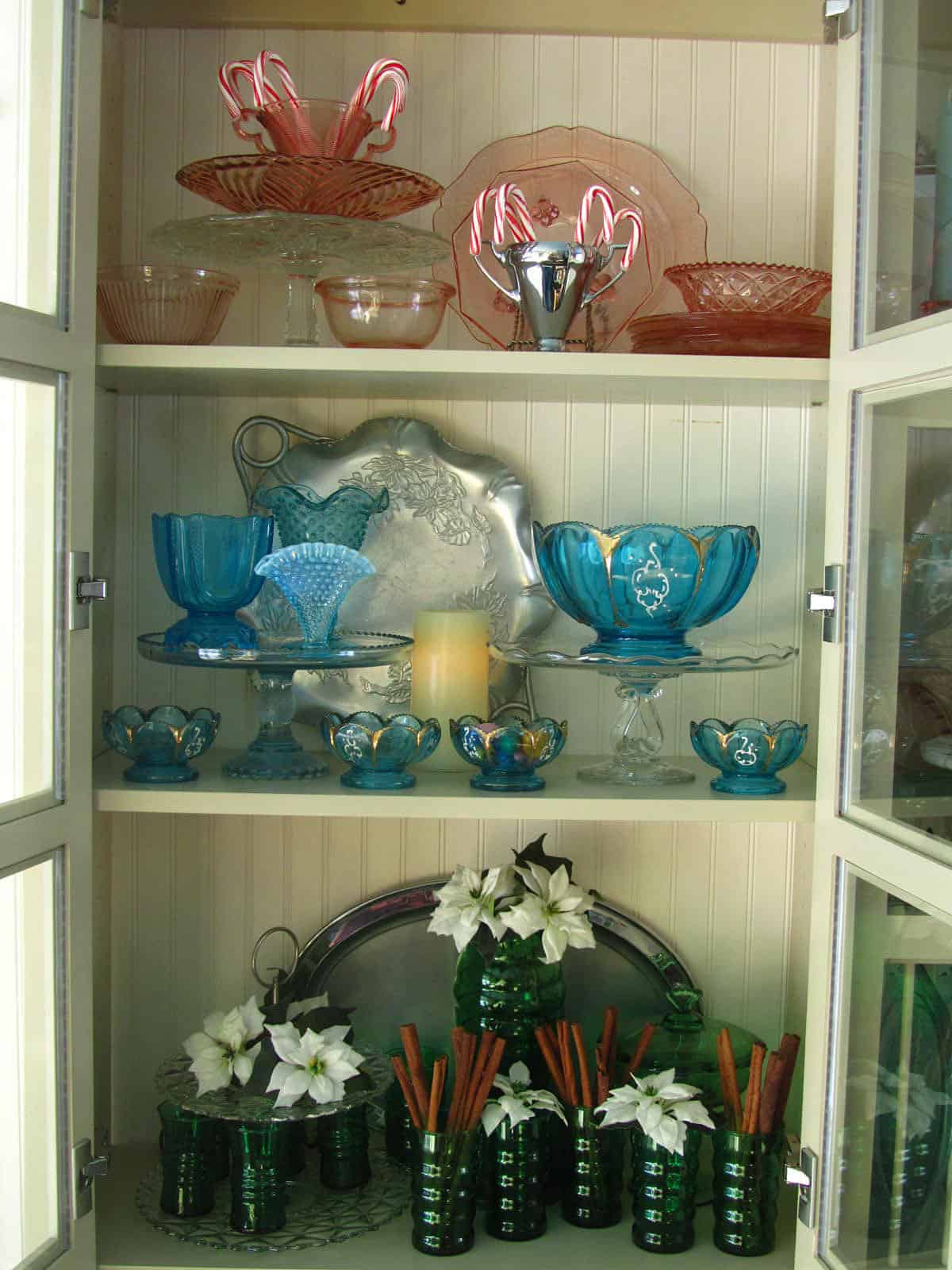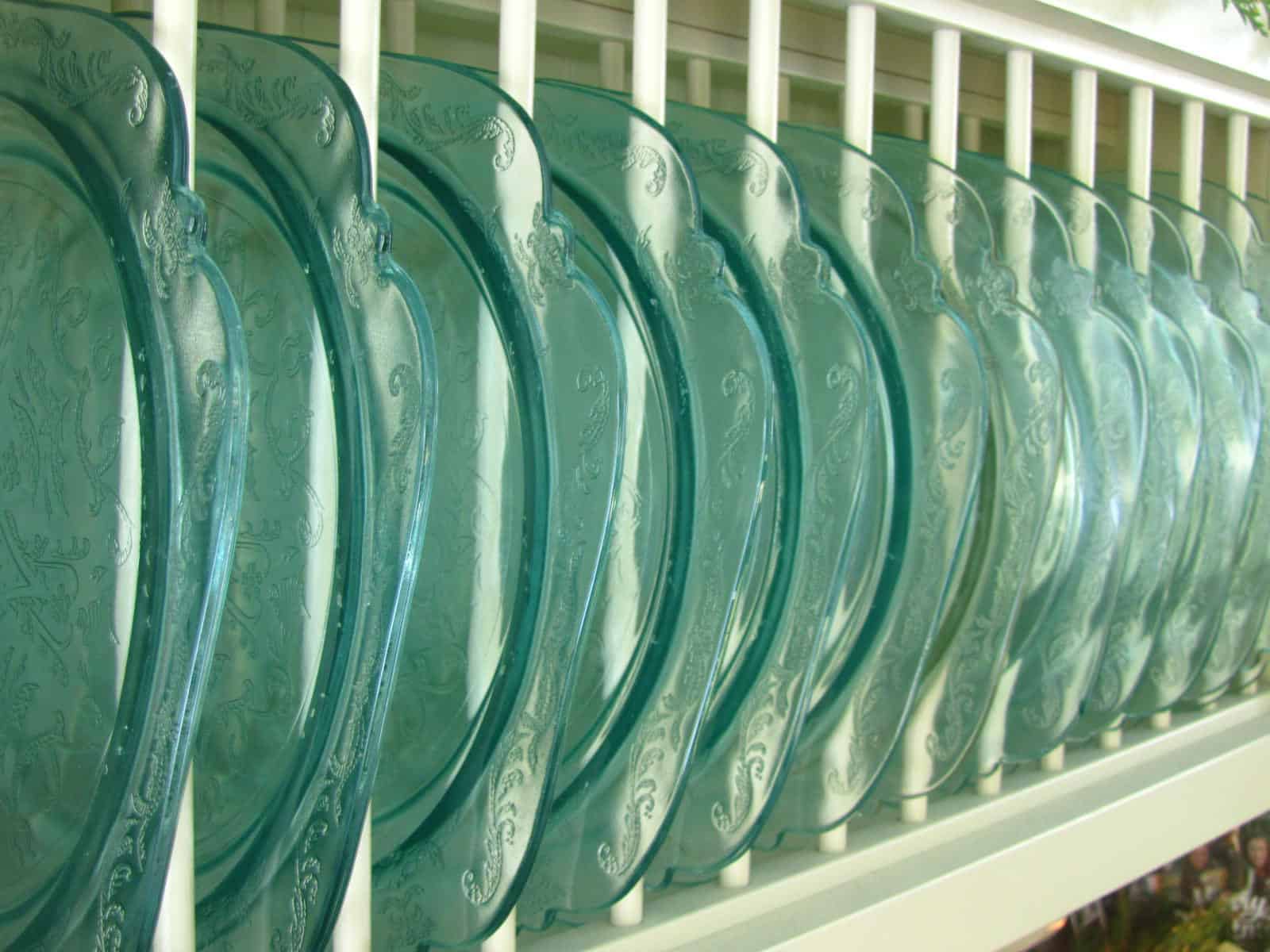 I used my favorite aqua sandwich glass dinner plates in the plate rack. Along with the colored glass, I placed different fillers on each shelf to coordinate with the colors. I thought it was more unusual than just using greens everywhere. Candycanes, vintage bulbs, white poinsettias, cinnamon sticks, large and small bells, red poinsettias, white stuffing, and red and white stripe ornaments were my "fillers". It looks a little busy with the doors open, but with the doors closed, the different colors really shine.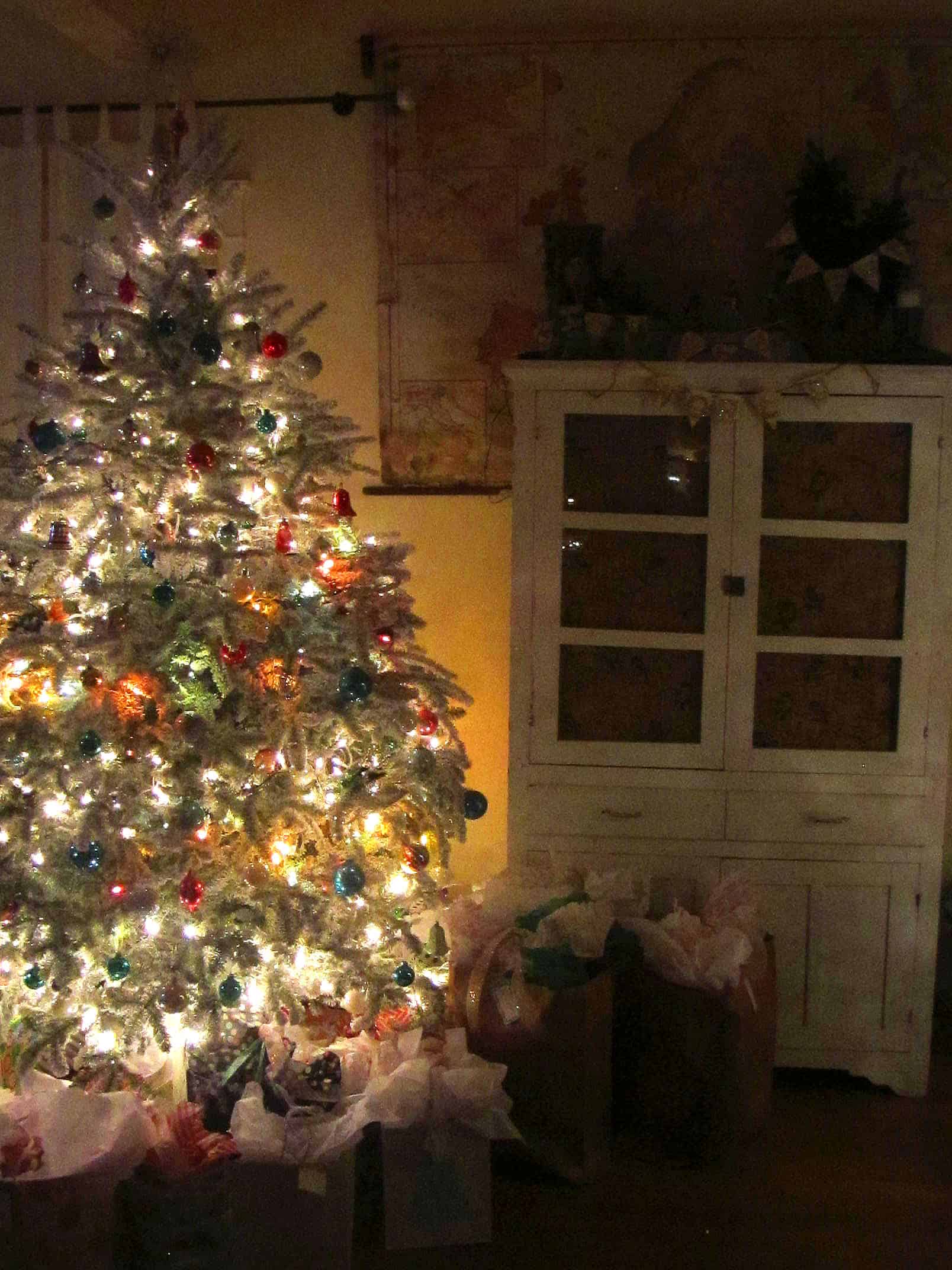 We all thoroughly enjoyed our white flocked tree full of beautiful, vintage ornaments. I think we've all agreed the rest of the ornaments are happier on the trees in our bedrooms, and it's totally o.k. if they all don't come out every year. This year all our trip-related ornaments and any red accessories (beads, cardinals, etc.) stayed in the bins. I'll be happier to see them another year.
I did want to use my stenciled, burlap bunting somewhere, though. And it didn't seem to fit with the glittery, shiny look downstairs. I decided they'd be fun in our bedroom with our vintage yellow tree, filled with garden-y themed decorations. The bunting was a quick way to get some Christmas special-ness in our bedroom. The candles in the windows were fun this year, too.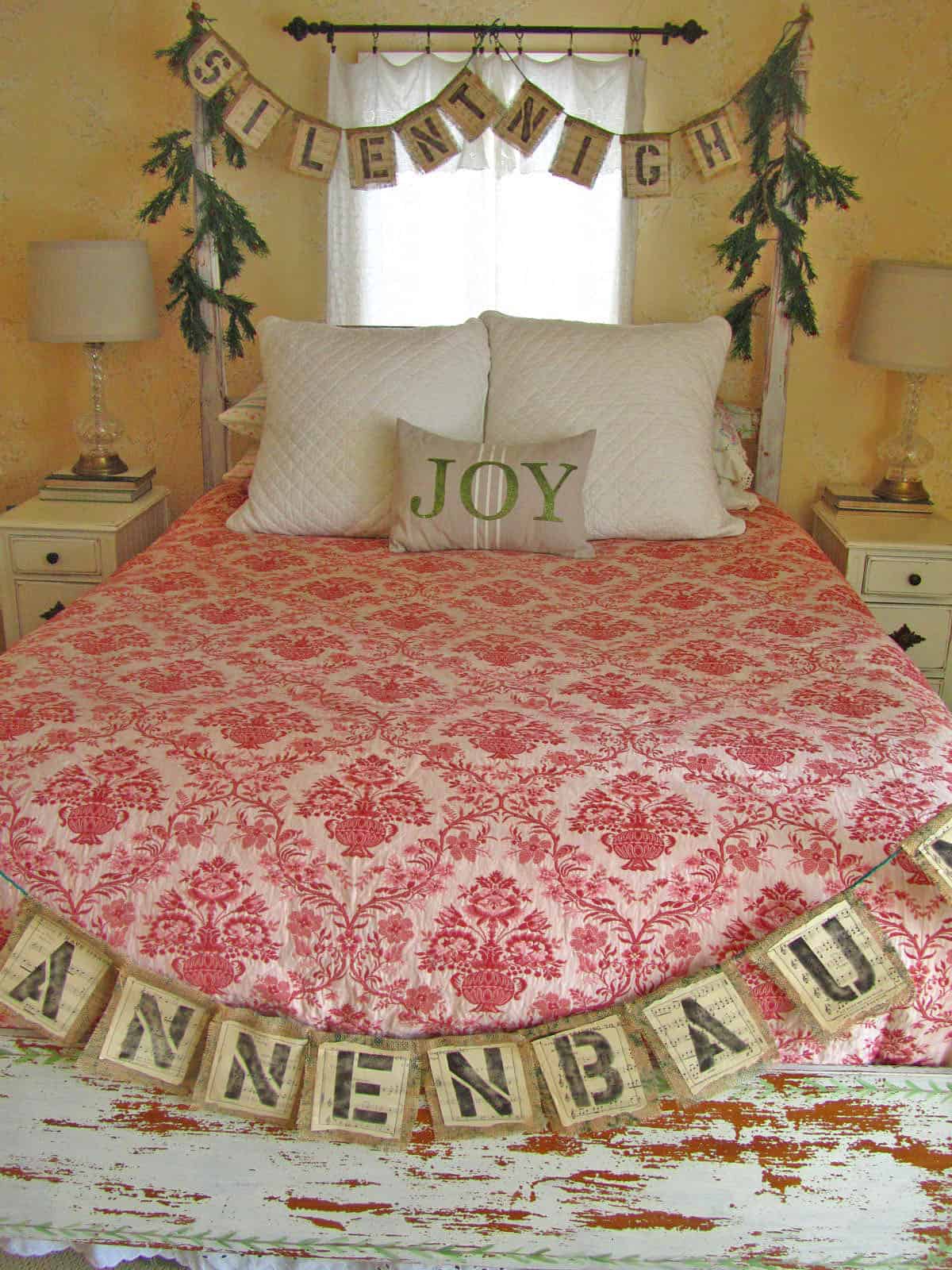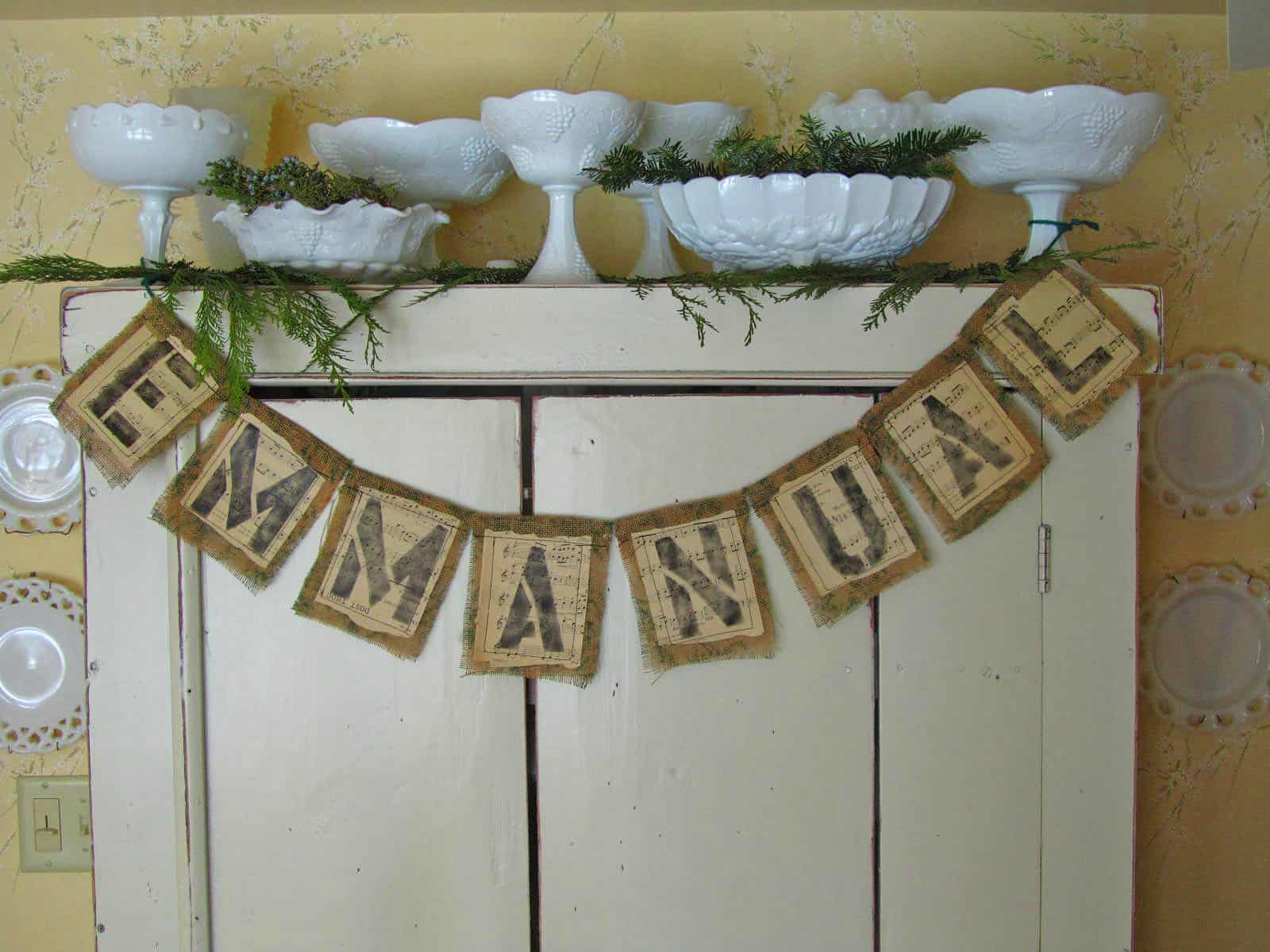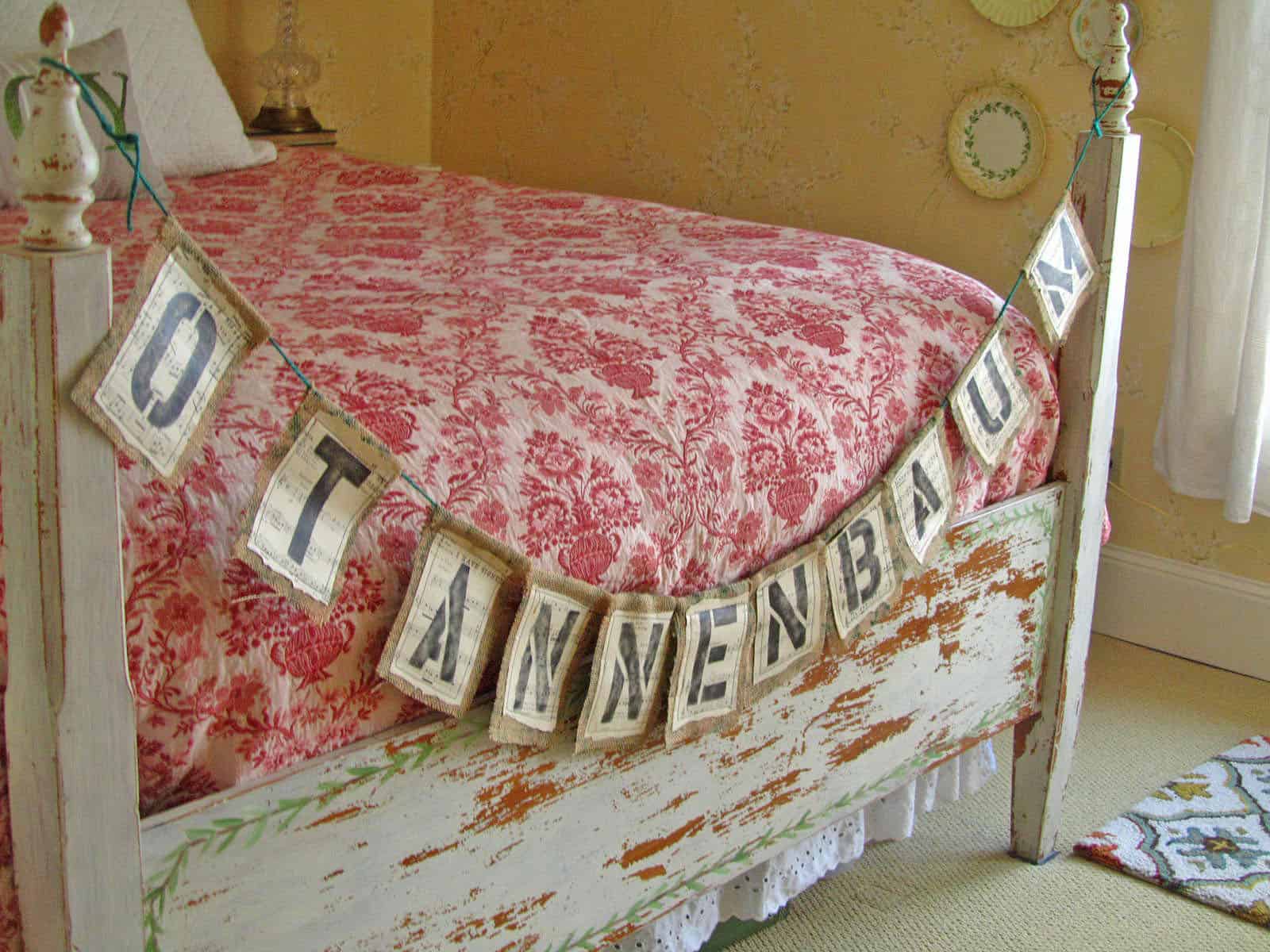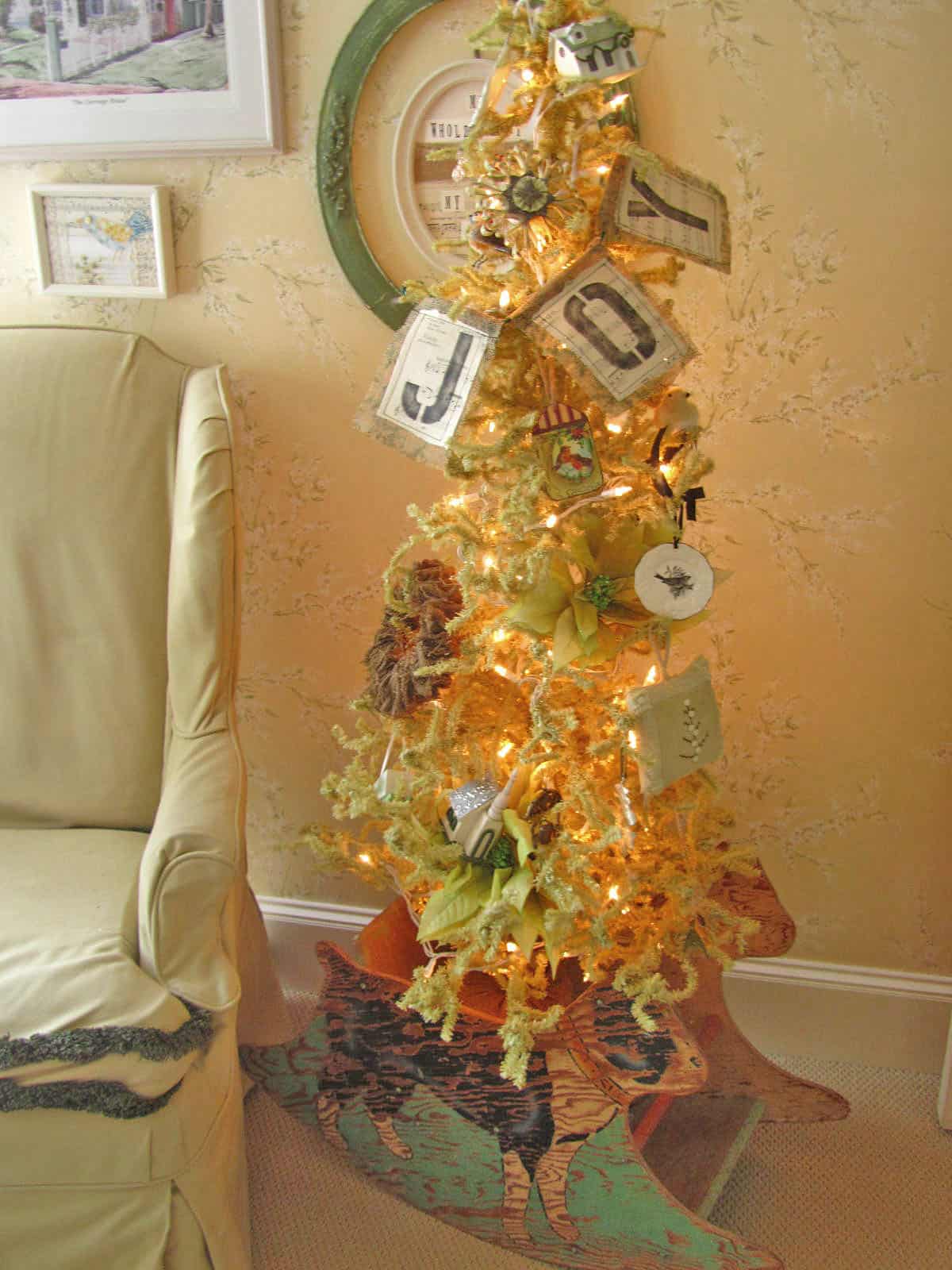 Yep, I put our bedroom tree in a vintage, child's, rocking dog. Think I picked up "Bob Dog" at a garage sale in high school. I've had it so long, I can't remember, but I still love the perfect old paint colors of green, black and white and it's home-made folk-ish personality. I've been doing this junk thing a looong time…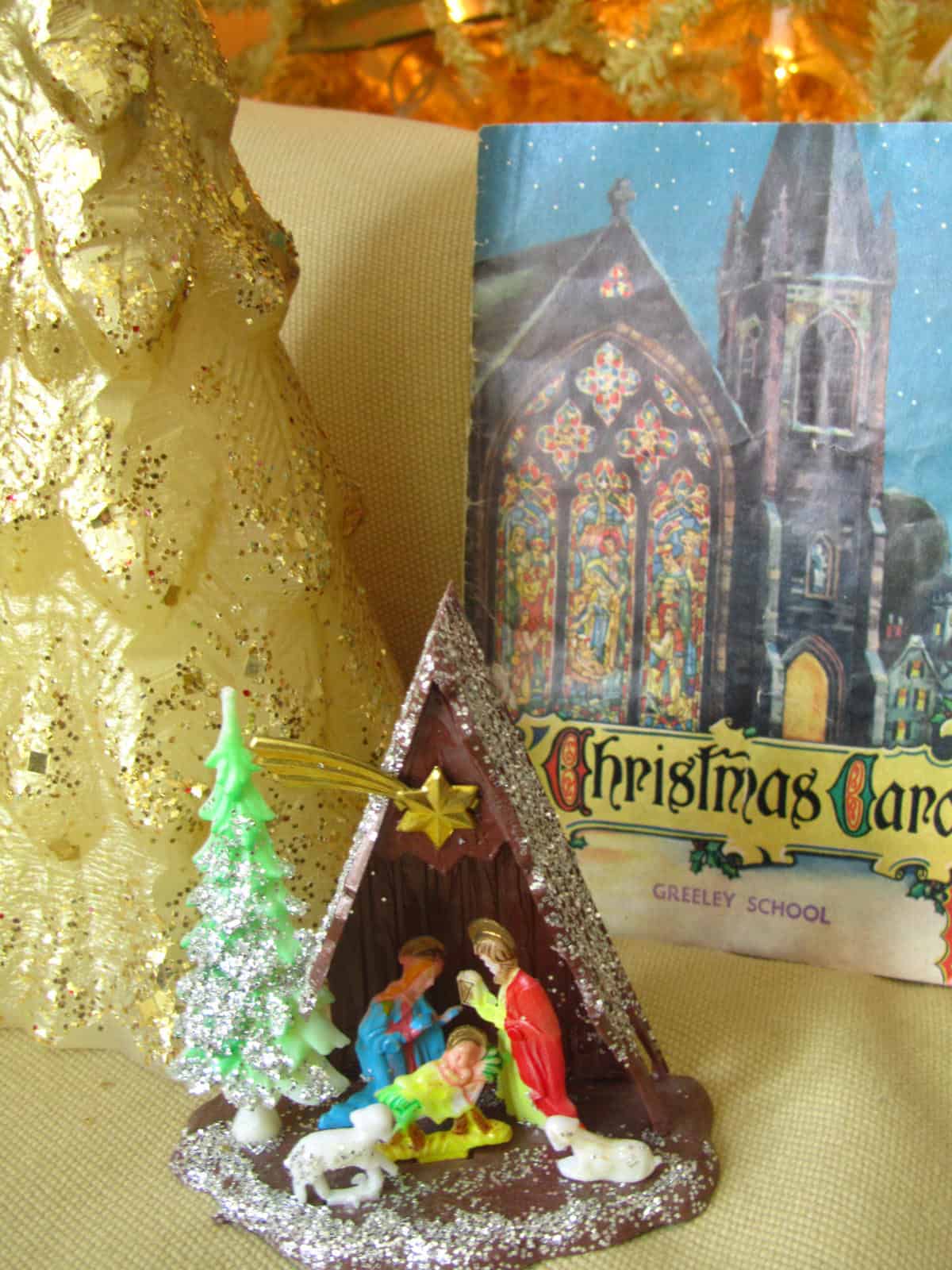 Hope you're enjoying your home, along with family and friends this "12 days of Christmas". I'm relaxing, enjoying my clean oven, stove, cupboards, bathrooms and frig, along with all the prettiness. I like to leave it all up this week, so the kids and Mr. Fix-it can enjoy it while they've got extra days at home. The work of taking it all down can wait till the normal routine starts again. For now, we're enjoying this special time of year. And we are finally getting some snow to play in, here in Minnesota!!