Quick and Easy Christmas Crate Centerpiece
Create a quick and easy Christmas centerpiece with an old wood crate. Here's how!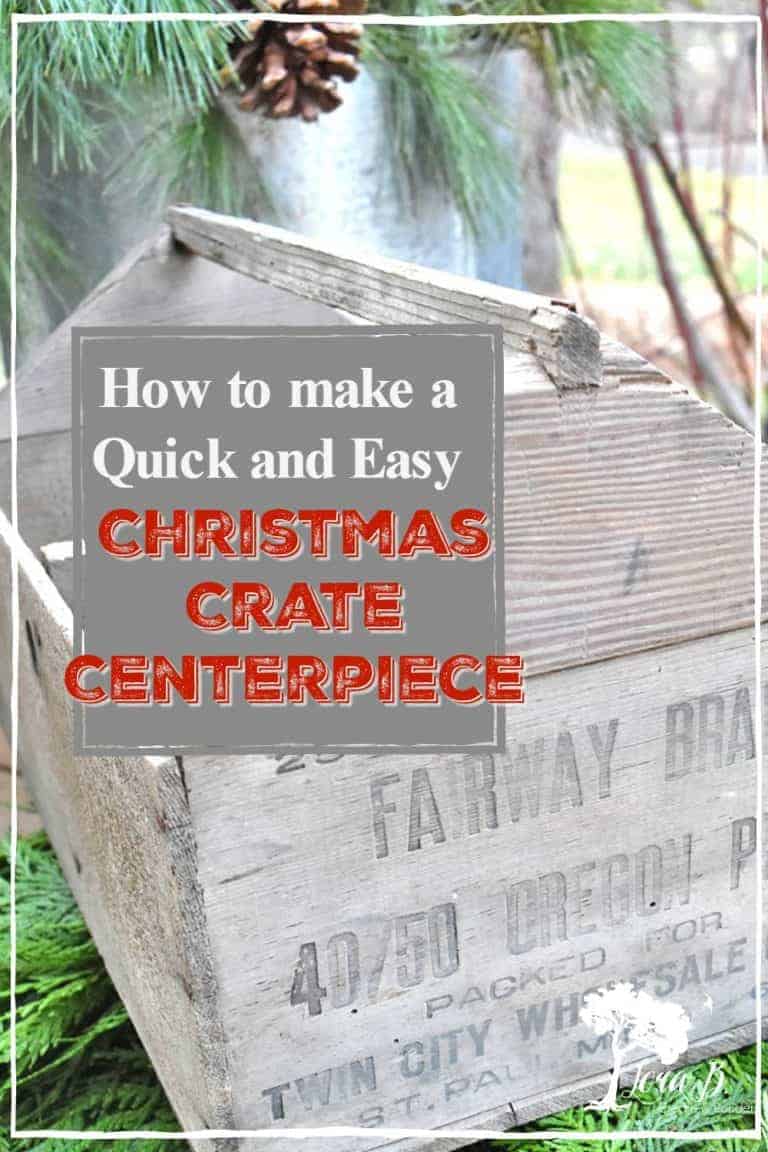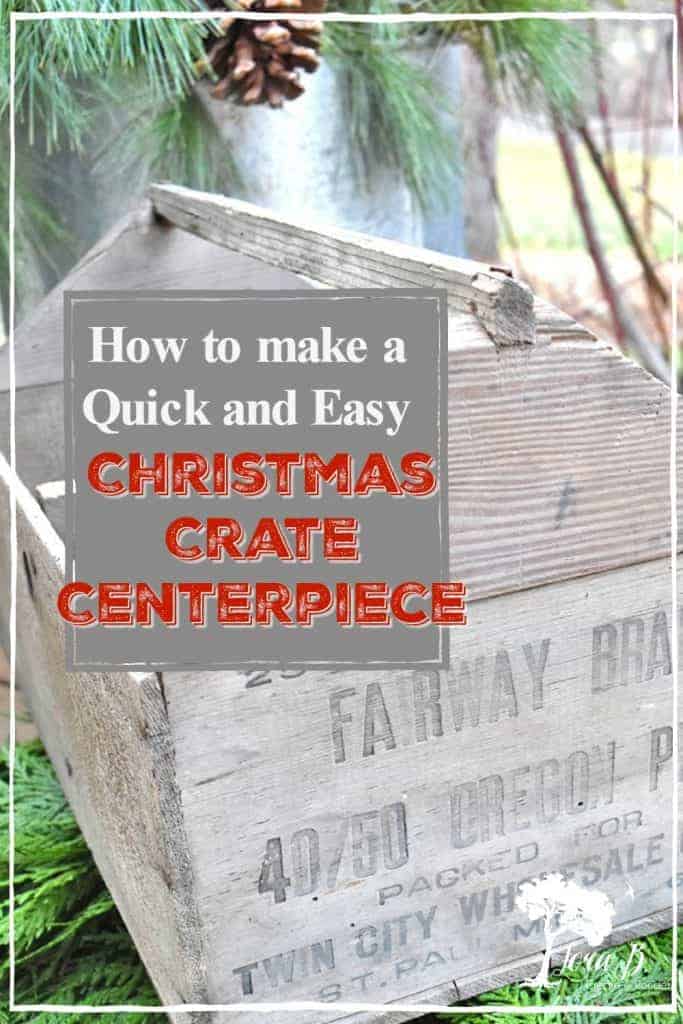 Christmas decorating can be long process. Yes, it's fun, but who doesn't love the idea of whipping together a cute centerpiece quickly and easily? If you've got an old wooden crate hiding somewhere, it's time to get it out and whip up a Quick and Easy Christmas Crate Centerpiece. You'll be ready for the Holidays in no time!
Today's post is part of our monthly Pinterest Challenge, hosted by Cindy at County Road 407. This month we're all designing with a Christmas crate or basket theme. If you're stopping be from White Arrows Home, I'm sure you loved Kristin's Woodland Christmas Crate, it fits her lodge home perfectly!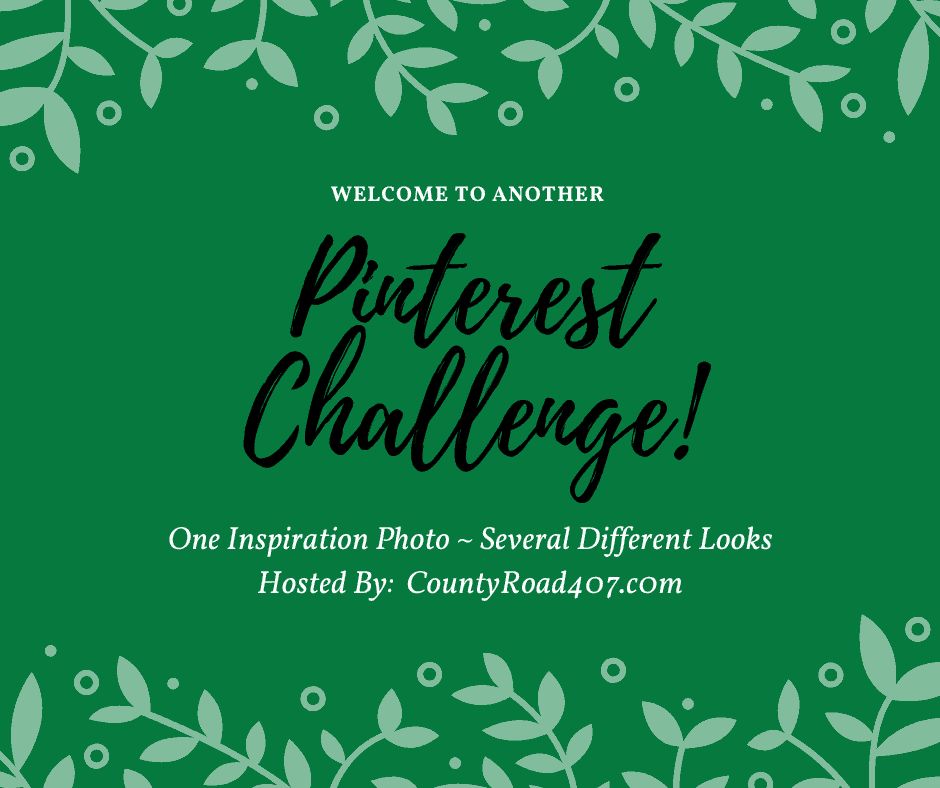 Our inspiration pic is a Christmas crate arrangement done by Jennifer at The Grace House Interiors.  Her entire Christmas home tour is lovely.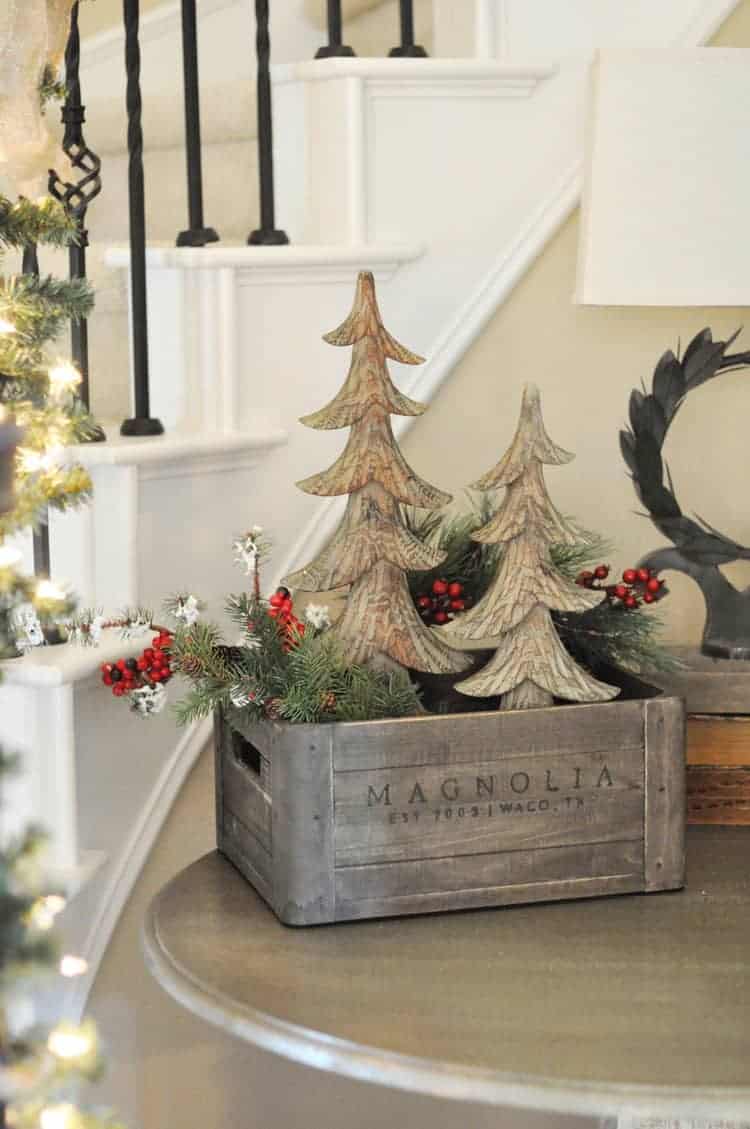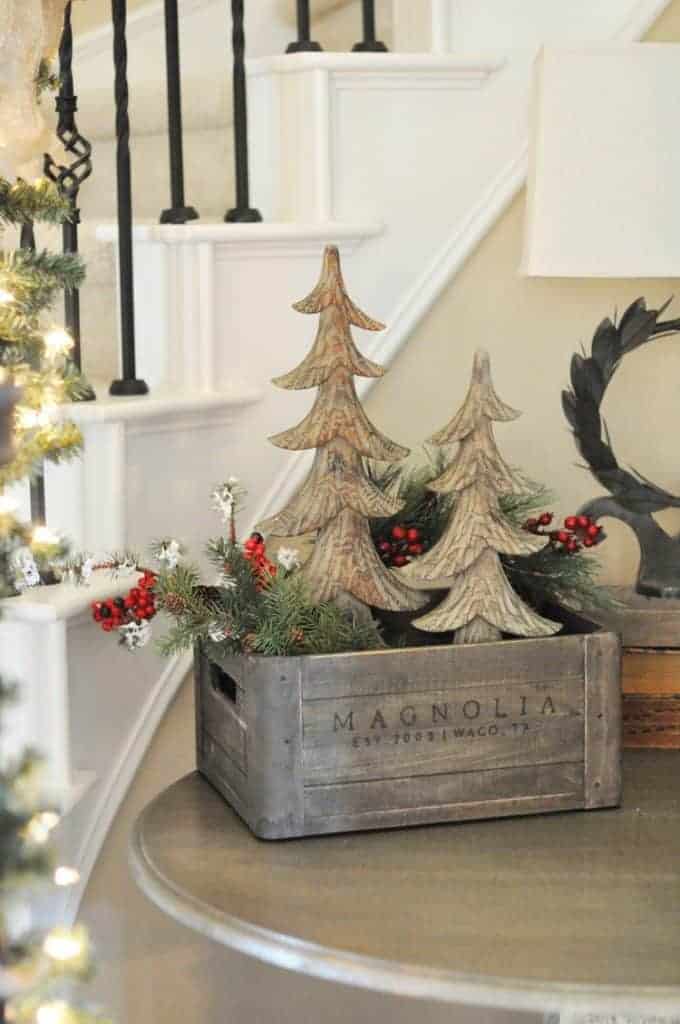 First, Let's Take a Look at the Design Elements…
wooden crate
2 decorative tall trees, one taller than the other
evergreen sprays with white snow tips
red berries
Not too many elements, yet it's a perfect centerpiece for an entry or a coffee table (maybe a little tall for a dining table).
For this challenge, I'm making a centerpiece for our kitchen, the first room I'm decorating for Christmas! See how easy it is to achieve when you start with an old wooden crate. Bonus…if you need to move it, you simply pick it up and set it somewhere else!
Quick and Easy Christmas Crate Centerpiece
For your convenience, this post contains affiliate links. If you make a purchase, I may receive a commission. There is no additional cost to you. My full privacy policy is here. 
First, Make Sure Your Old Wood Crate is Clean & Refreshed
I recently picked up this old wood crate with Minnesota graphics at a vintage shop. Some handyman had turned an old crate into a tool caddy by screwing on a triangle to either end and cutting a notch for a rustic handle. Perfectly wonky and unique; that's why it called to me!
Obviously it had been used in the garage; it was quite greasy and dirty on the inside. And the rustic-ness was great, but I don't want to get splinters when I'm decorating. I lightly sanded the edges and corners with my palm sander (I like THIS one for smaller hands). Then I scrubbed it up with my favorite de-greaser (you can get it HERE). Once dry, I brushed on a coat of my go-to poly (get it HERE) to seal and make it easier to clean. It also brings out the beautiful character of the old wood.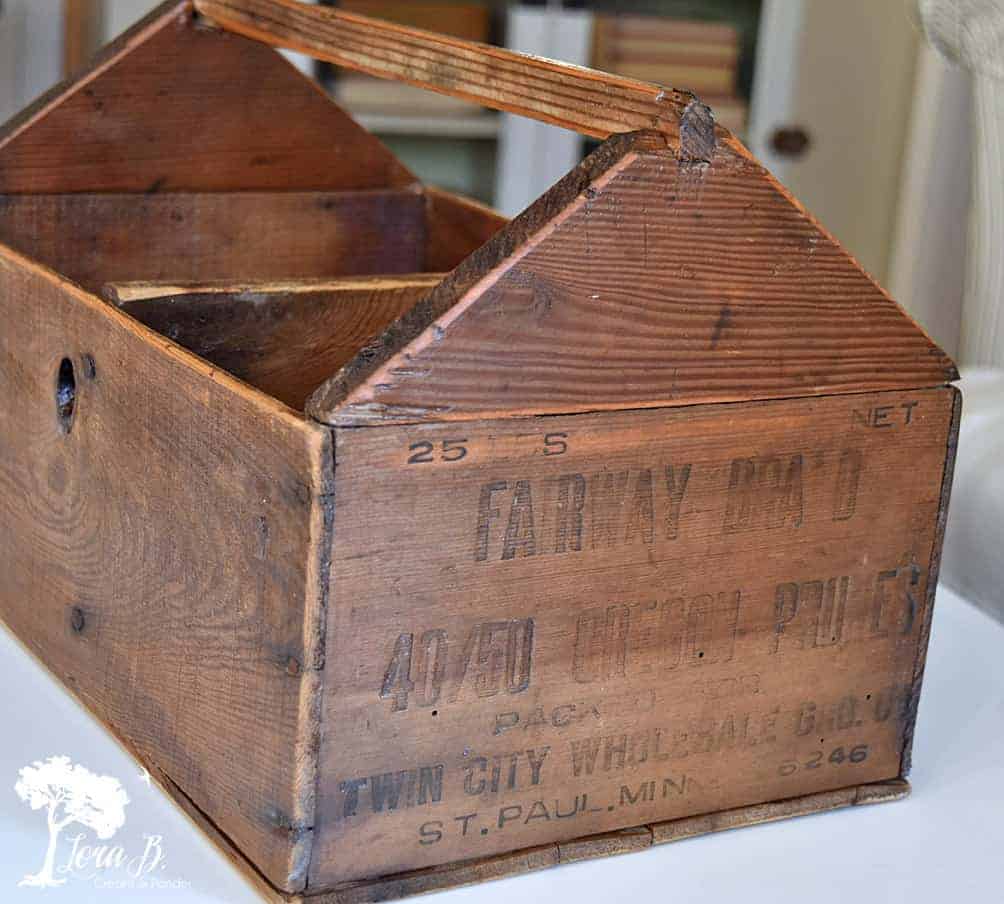 Now it's pretty enough for a centerpiece!
How to Start Your Centerpiece
Start by choosing 2 Christmas trees that aren't the same height. The crate should be about 1/3 of the overall height of the finished arrangement. Notice the height balance in the inspiration pic.
Adjust the heights of your trees by placing books in the wooden crate. They won't show once you get all the rest of the foliage in.
I chose 2 bottlebrush trees in a pretty aqua and  gray, which matches perfectly with the fabric on our cozy loveseat and chair. Even though these trees are new, they're definitely vintage-inspired.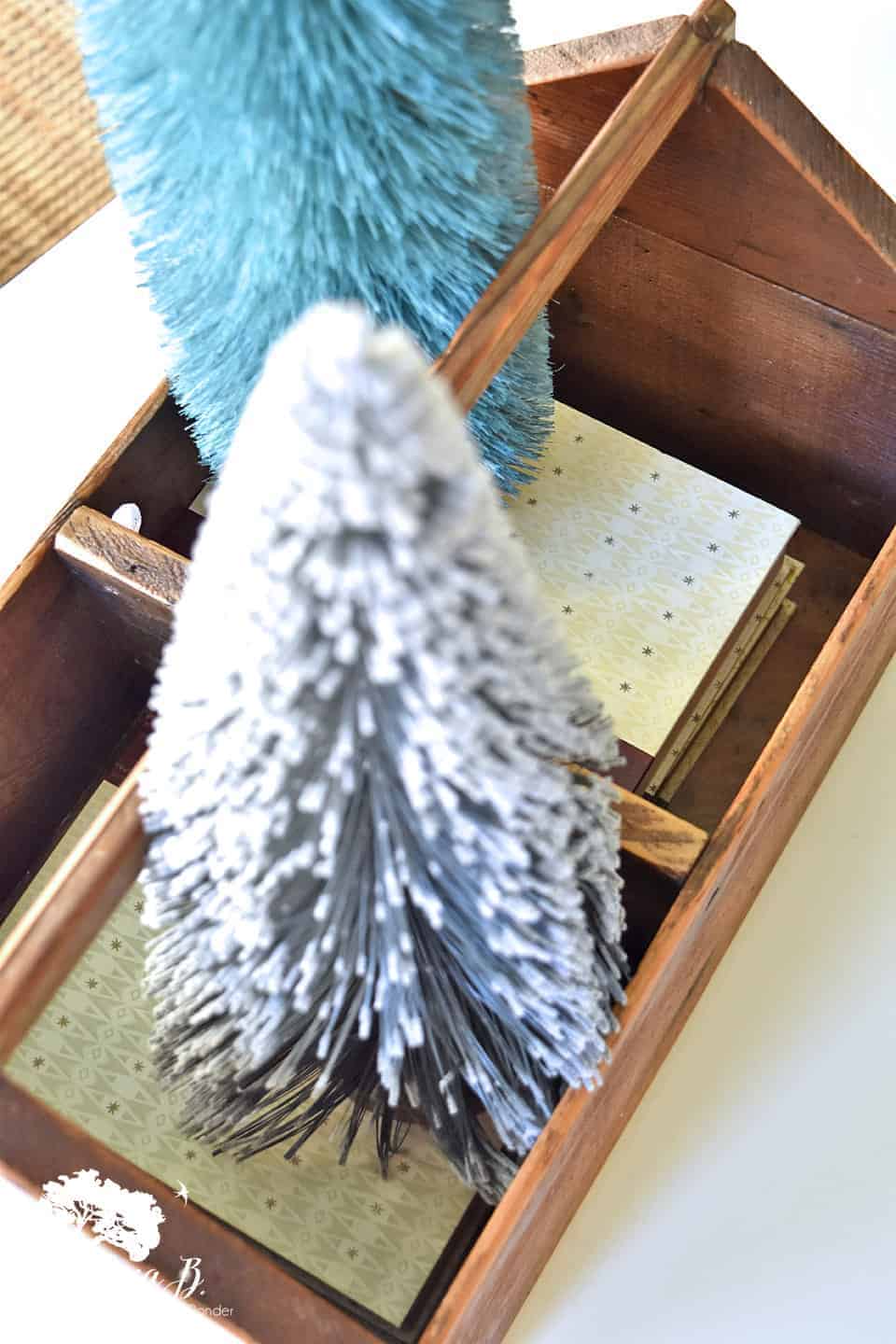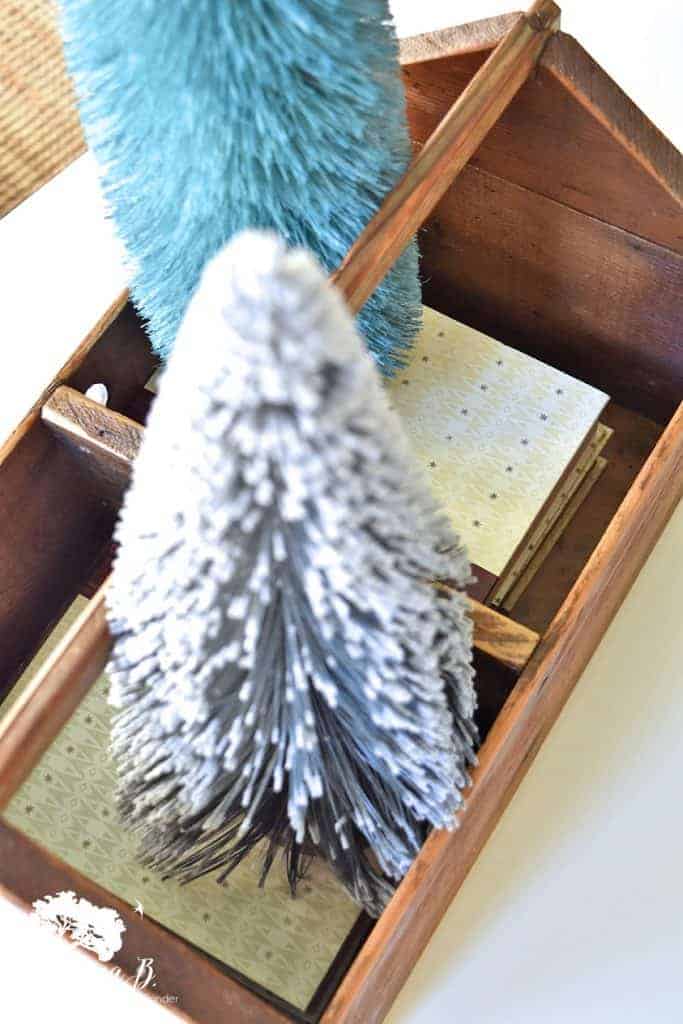 Tuck Evergreen Foliage Coming Out of Wood Crate
Use 3 evergreen sprays as a base. Place them so they come out of the middle, angling towards the opposite corners. I added the foliage layers in this order:
evergreen sprays(3)
white tipped evergreen sprays (2)
red berry snippits (2)
pinecone sprays (2)
white yarn poms (2)
red cardinals (2)
Once I got all the foliage layers in, it seemed a little dark. The white poms brightened everything up and looked like 2 snowballs tucked in.
Adding a couple of red cardinals brought life to the arrangement. And since this centerpiece is right by our big kitchen windows where we get to enjoy the birds, it will blur the inside/outside line.
See how you can just keep adding layers until you get the look you want? Quick and easy; this took about 10 minutes, seriously!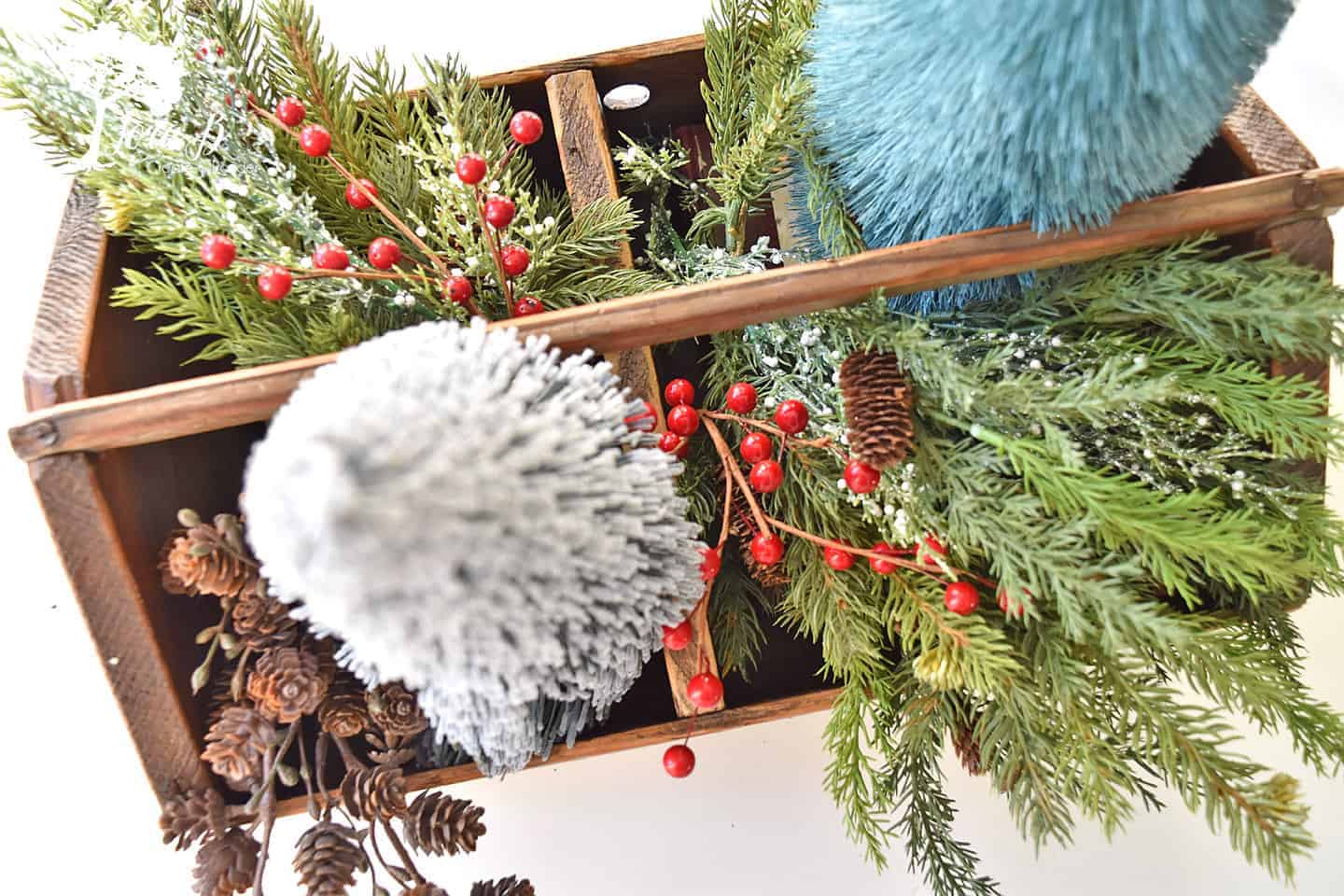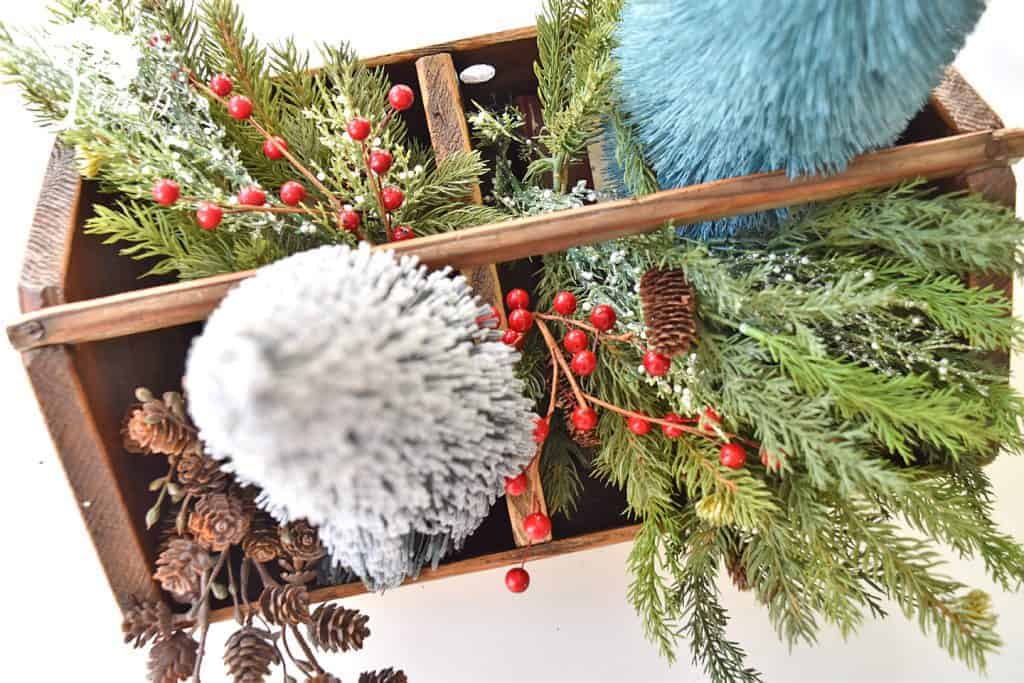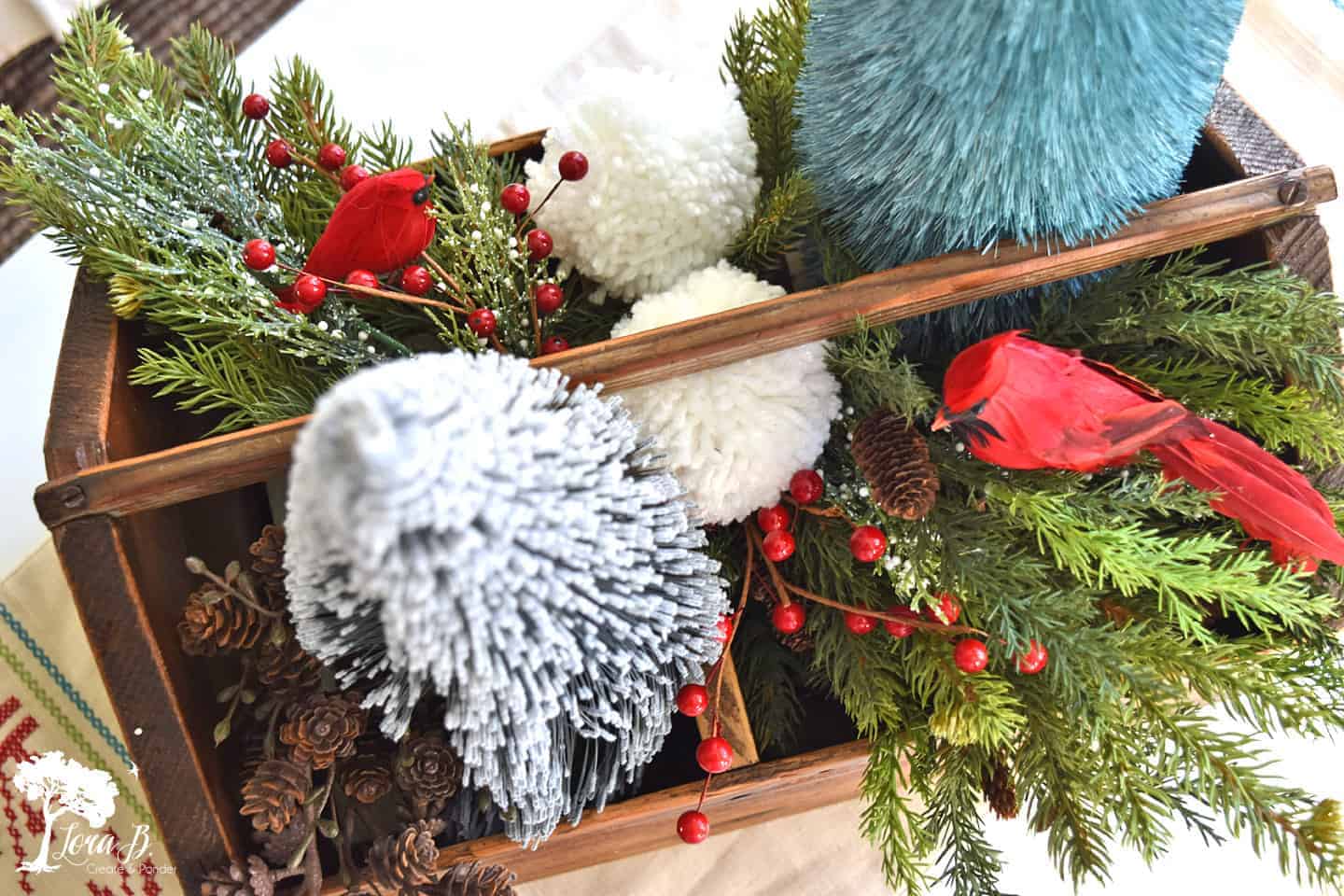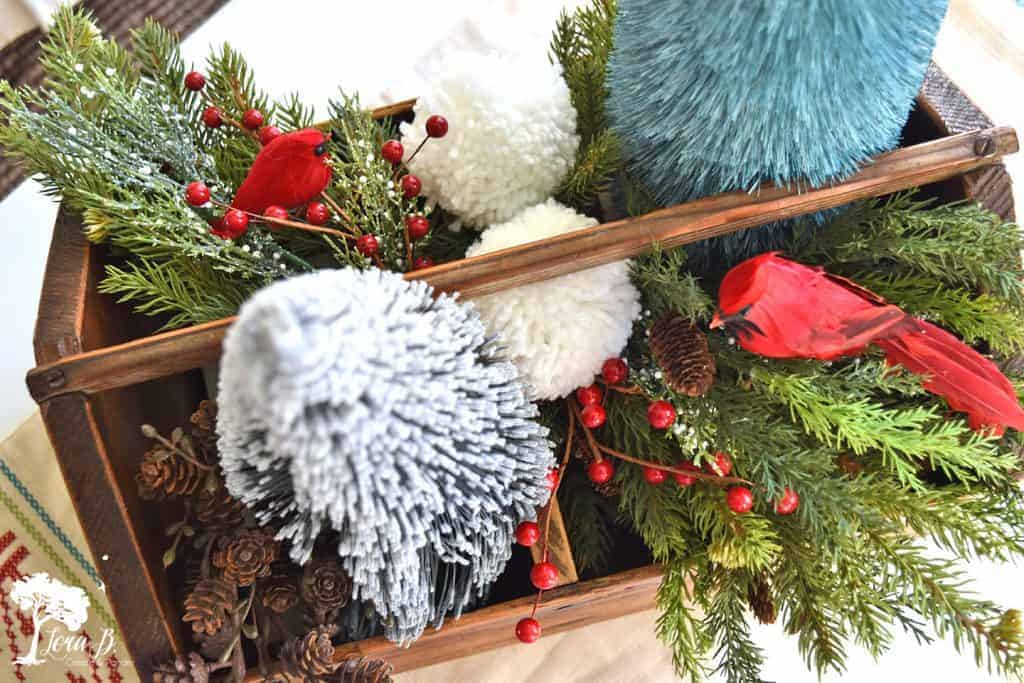 Enjoy your Quick and Easy Christmas Crate Centerpiece
I tucked a store-bought cross-stitch runner underneath and placed a stack of Christmas magazines next to it. Now all I need is to get out a beautifully fragrant candle for a little glimmer.
Making a centerpiece in an old crate is so easy and cute!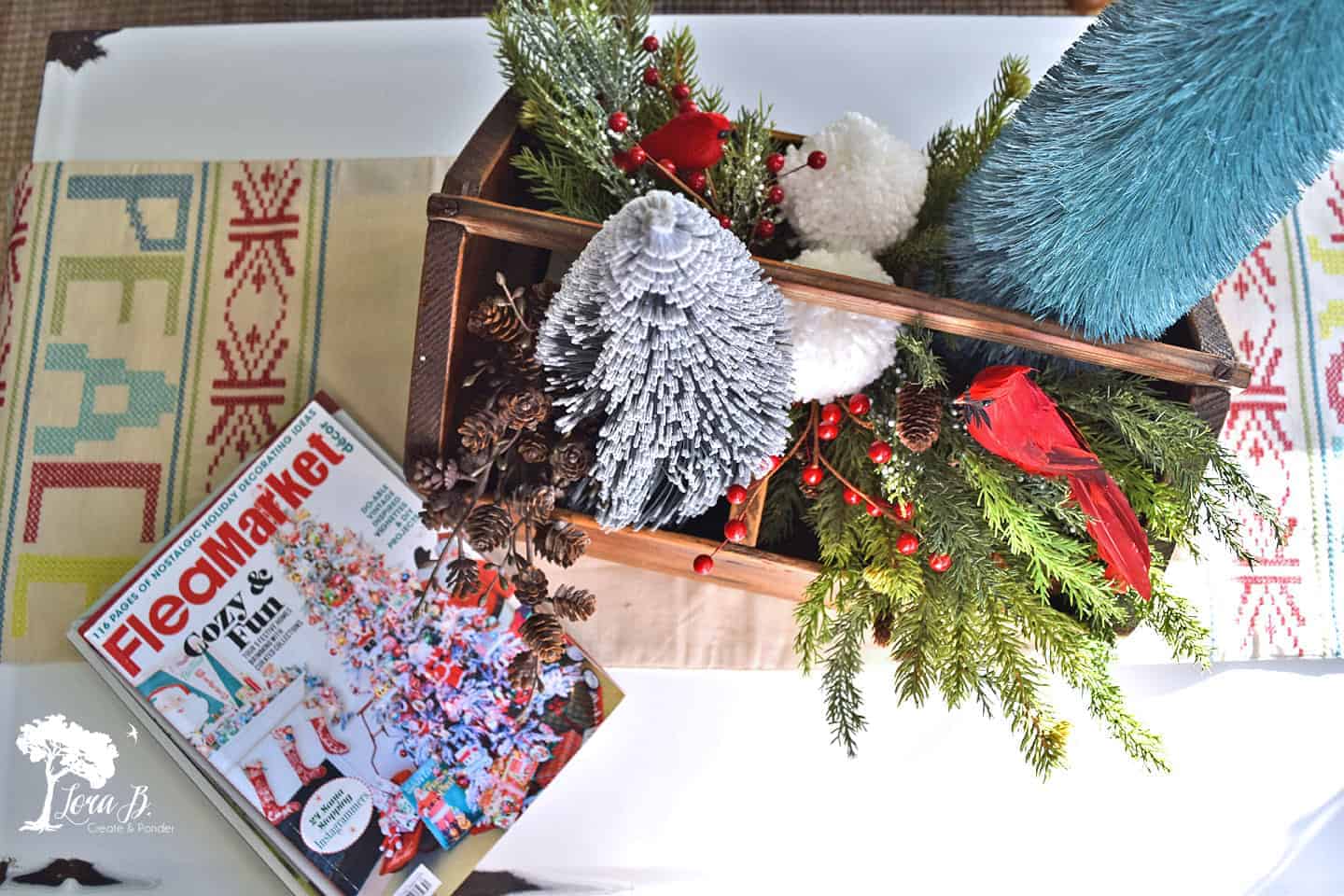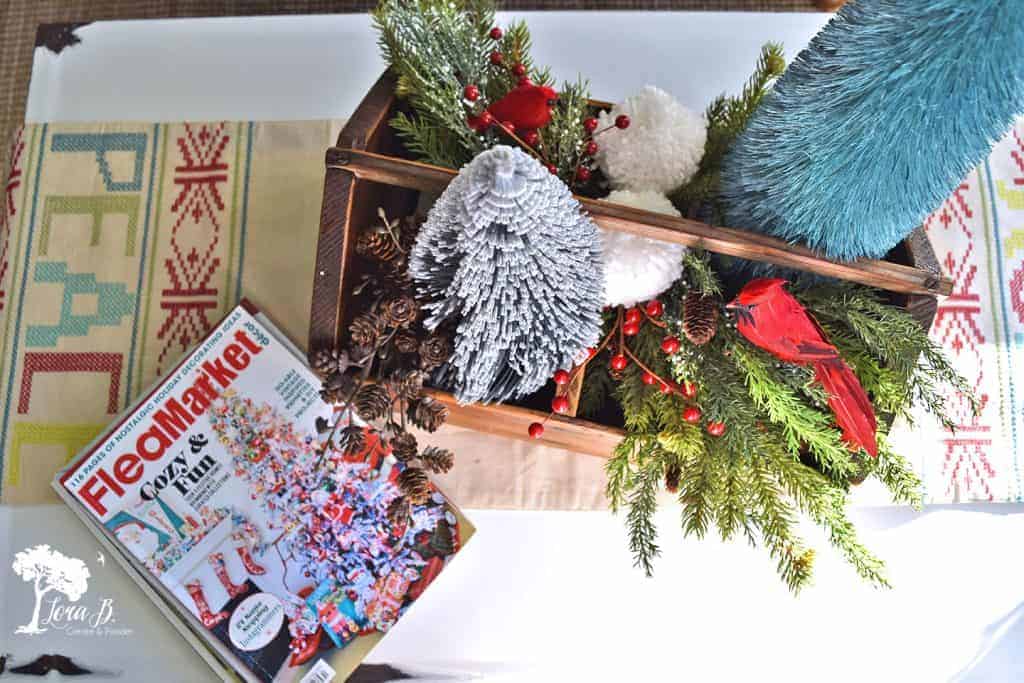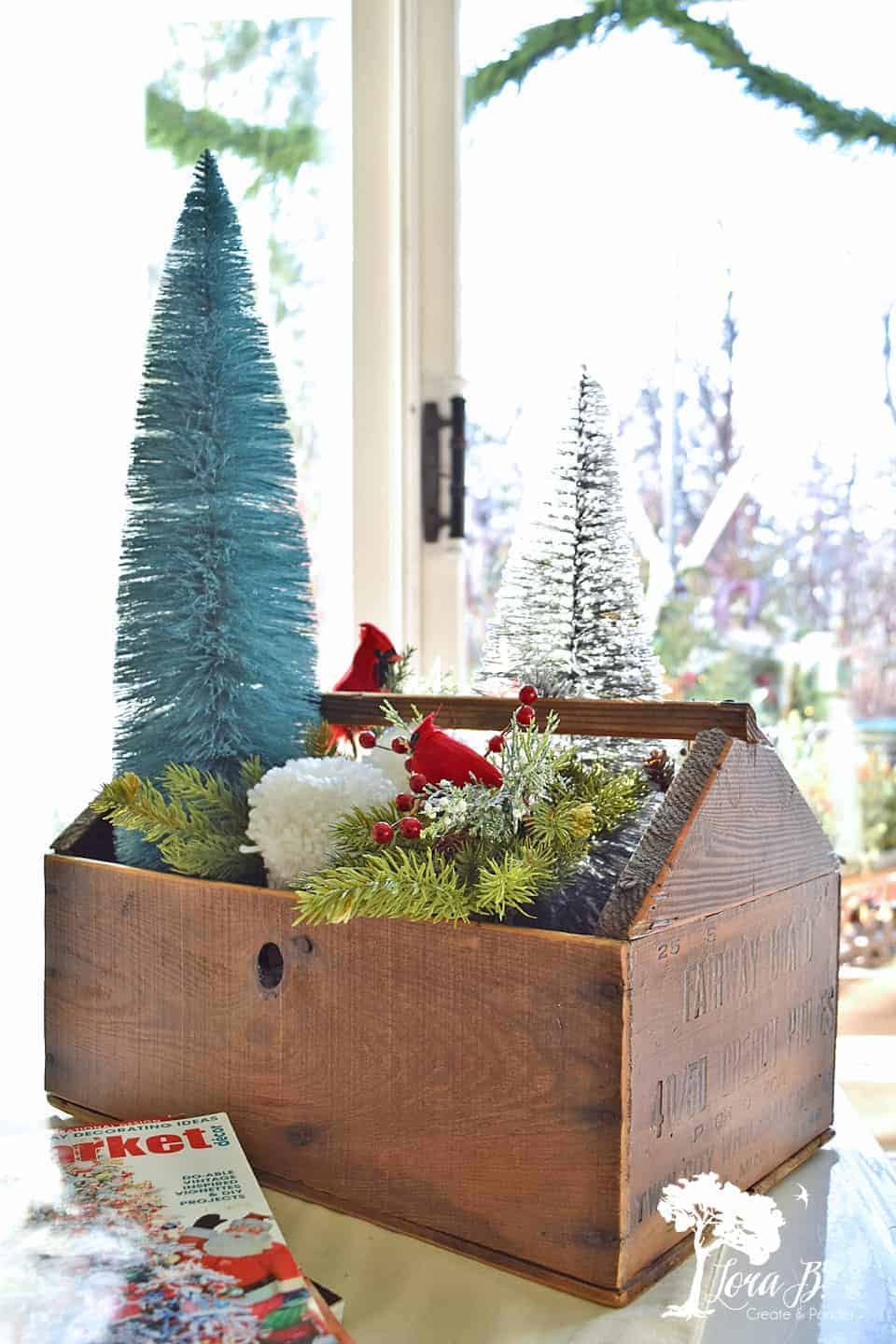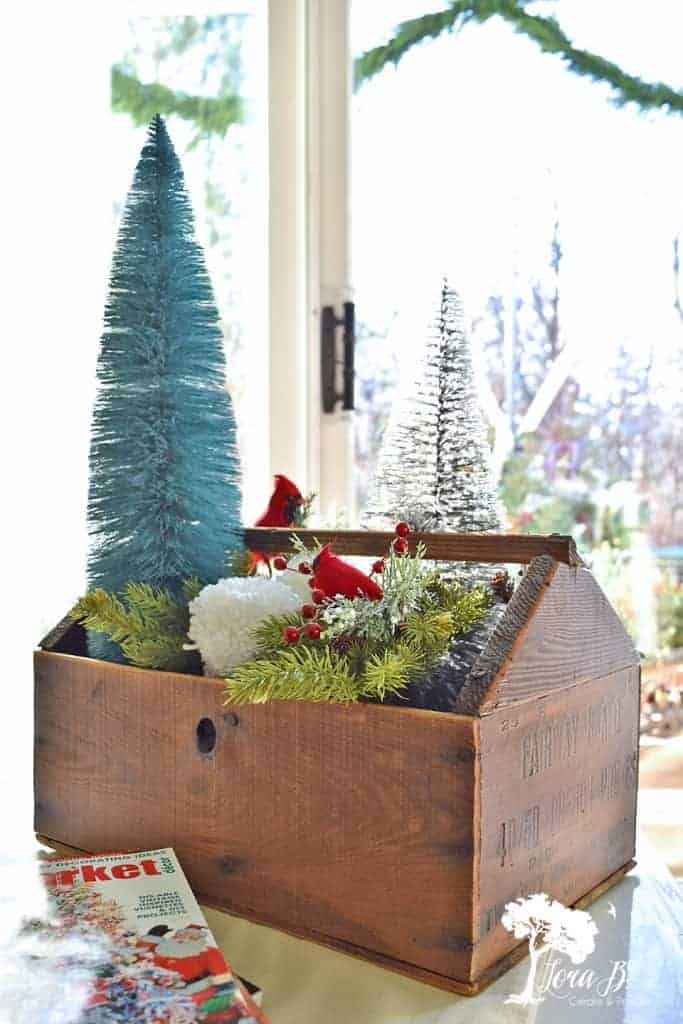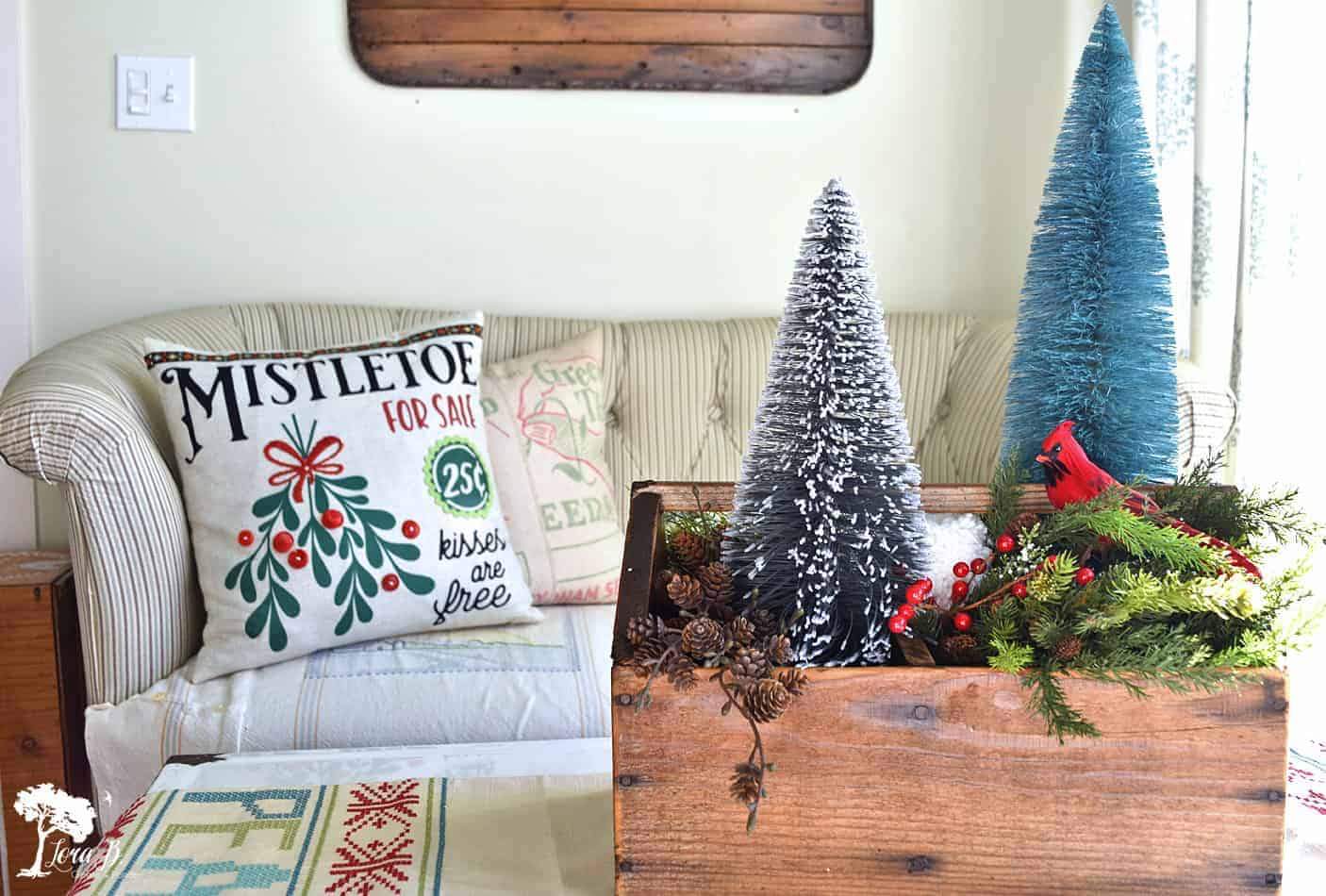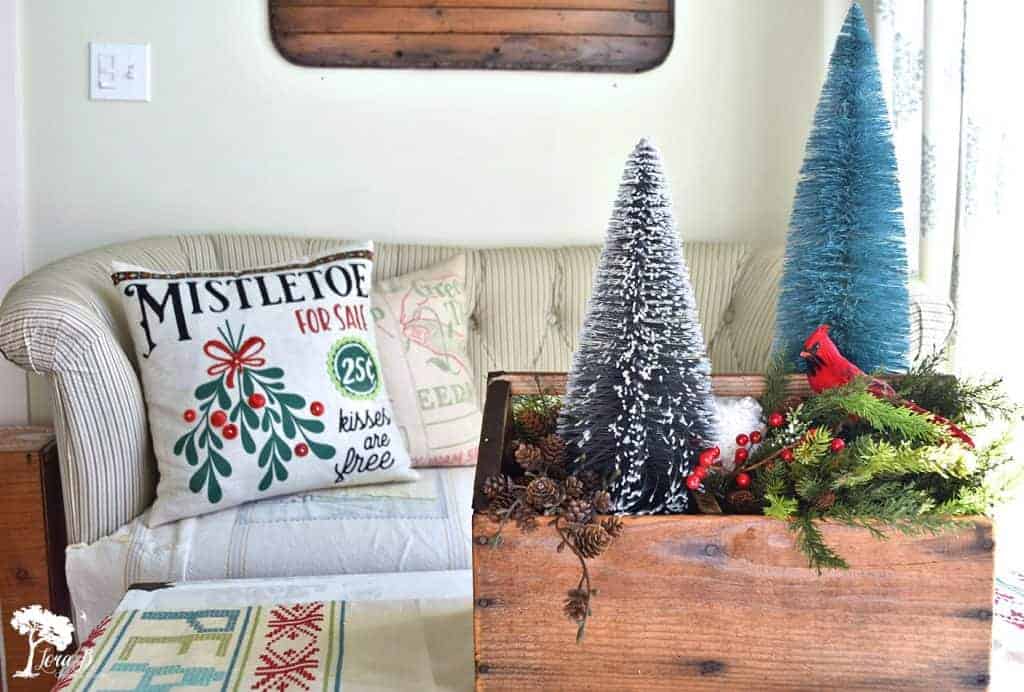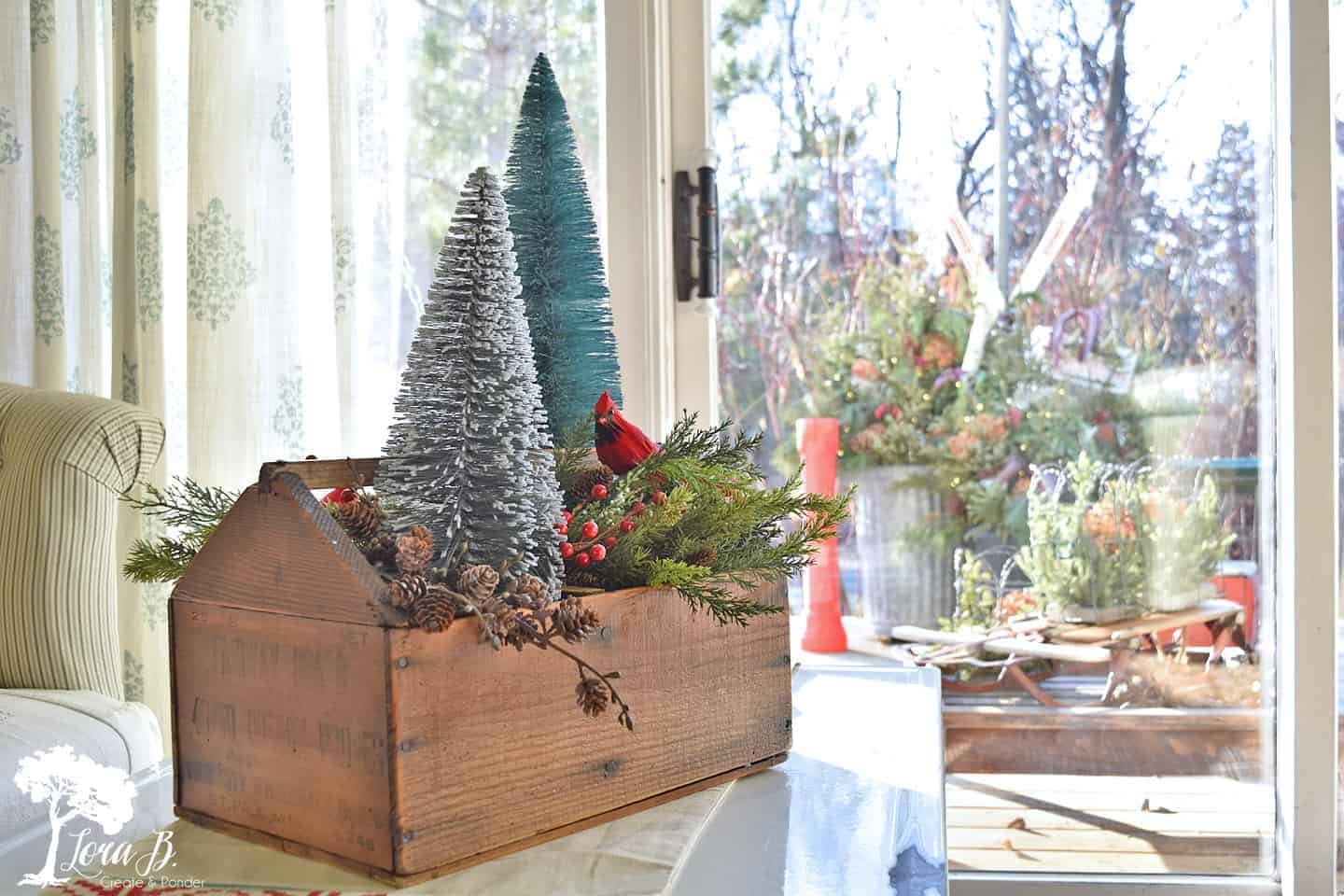 Since this centerpiece is on a coffee table, it should look good from all directions. Just keep in mind where you are placing your arrangement, if it will be up high, down low, etc.

Shop to Create the Look:

See how quick and easy it is to arrange a fun Christmas centerpiece when you use an old wooden crate? My version has similar elements to our inspiration picture, yet fits the style of my home. That's whats so fun about these challenges; seeing everyone's unique versions!
If you're hopping in order, visit The Farmhouse Life next. You'll be oohing and ahhing over Kori's historic farmhouse in New Hampshire. (and check out her IG while you're over there; her reels are hilarious;) Have fun seeing all the Pinterest challenge ideas!
Hope you enjoyed a Quick and Easy Christmas Crate Centerpiece! If you'd like more vintage-inspired wooden crate ideas, see " Easy and Fun Ways to Decorate with Vintage Wooden Crates". And become an Insider down below to keep the ideas and inspiration coming!
Pin, Share, and enjoy the Rest of the Inspiration!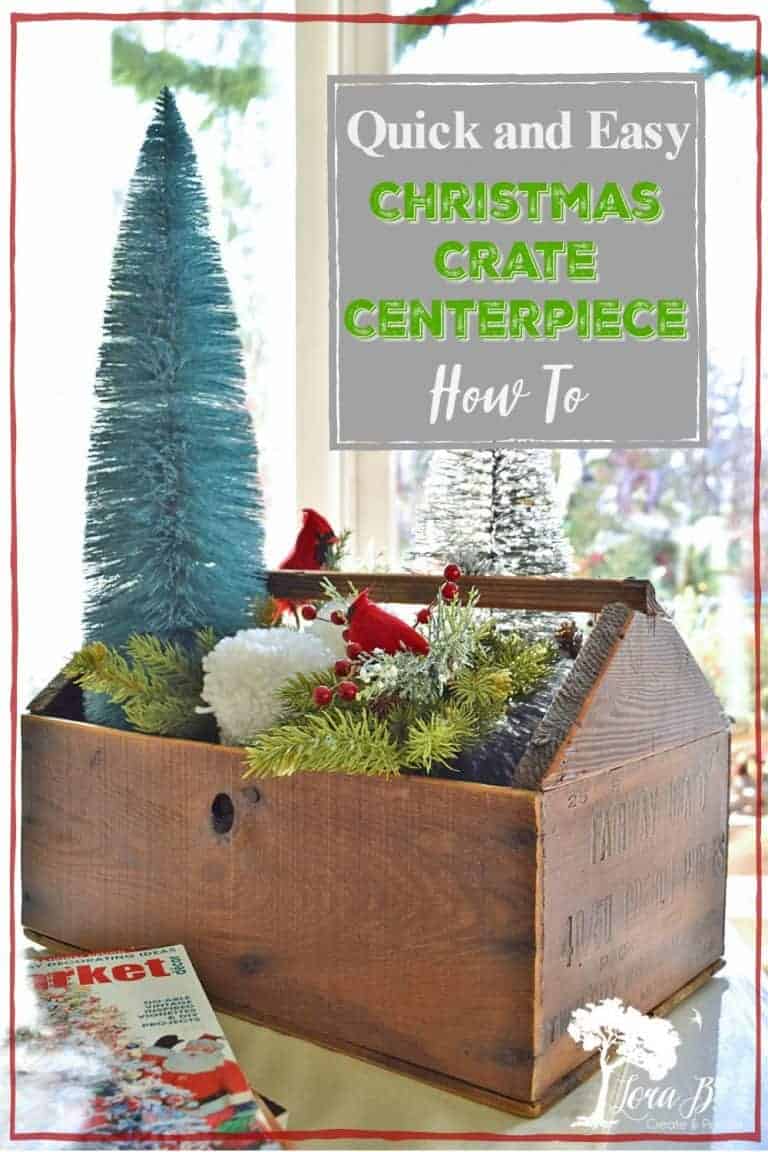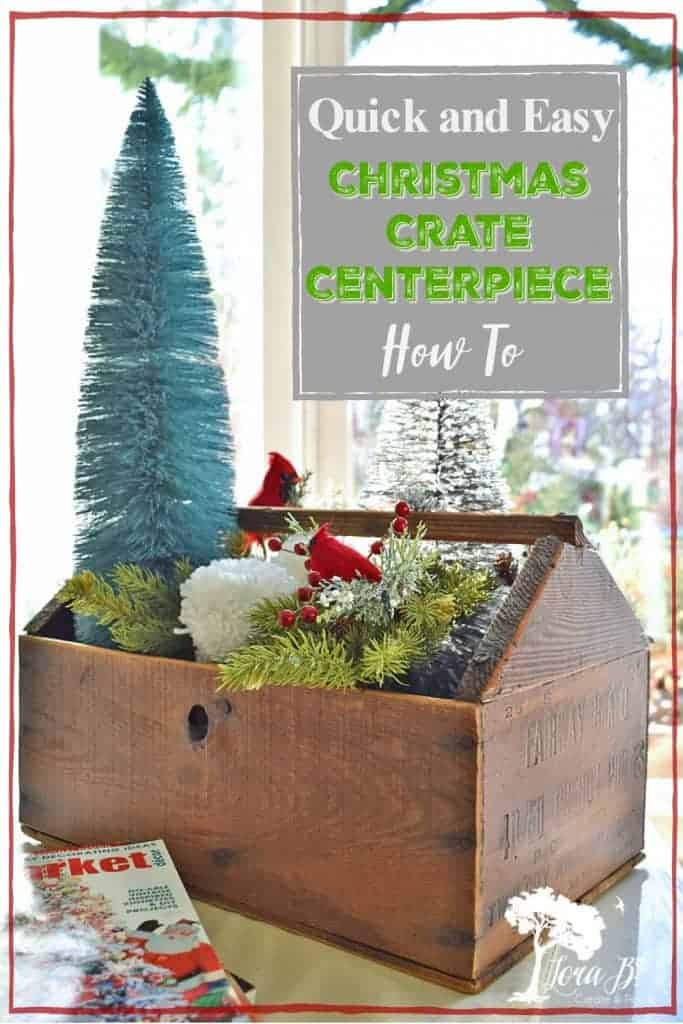 Christmas Crate or Basket Pinterest Challenge
You are invited to the Inlinkz link party!

Sharing at these lovely parties: