On-line Auction Finds and Adventures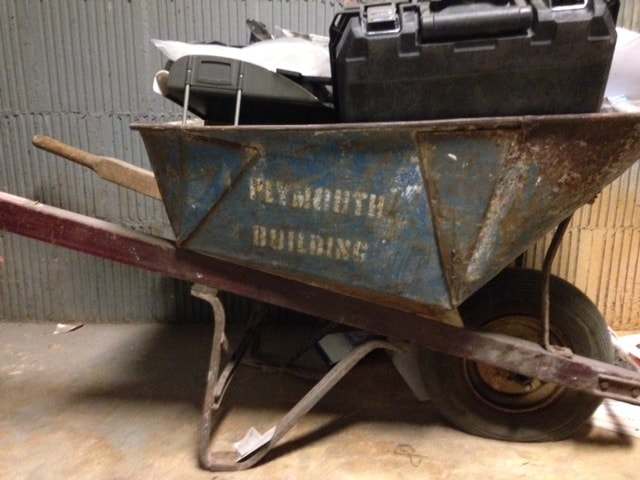 The junk finding business gets a little slim in Minnesota winters. Yet, the store still needs to be fully stocked of new and unusual treasures. I decided this was the year to dabble in a few on-line auctions and see what I could find…
In my town there's a company called K-Bid that handles auctions for many different auction companies. I can put search words into their site, requesting within 25 miles, and items will come up that I may be interested in. The item has several pictures and information and displays when the auction will close-date and time. I got a bidding number and started looking around. There is usually a day when you can preview the items for sale. If you win the bid, the items need to be picked up on a certain day at the specific site.
The first bid I got was a couple weeks ago: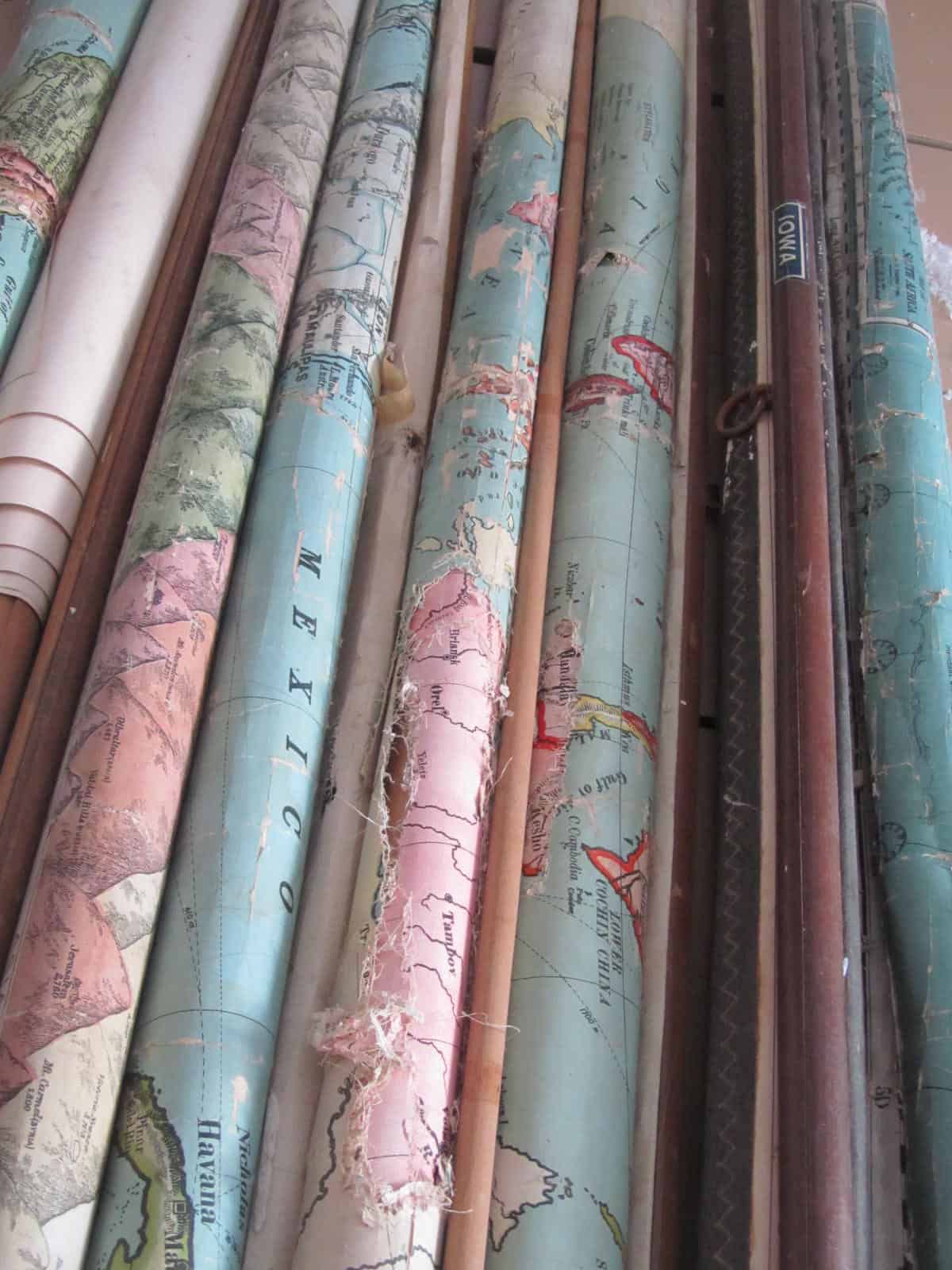 A set of Sears-Roebuck classroom maps. I didn't take advantage of the preview items date, because the location was pretty far away. I have to admit they were in rougher shape than I had expected, but I am pretty good at reviving items.
The next auction I won bids for found Mr. Fix-it and I trying to find room to park a trailer on a busy afternoon on East Lake Street and Chicago. The bookshelves I was retrieving supposedly needed to be "removed". Luckily we brought a crowbar, a hammer and our muscles. The long, vintage wood shelves were in the upstairs office of an old Minneapolis business that was closing: Robert's Shoes.
I also got two cute vintage paymaster machines and an adorable vintage green stepstool that is in my sand & poly pile. We had an hour to retrieve and pay for the items, and we accomplished it all in 57 minutes!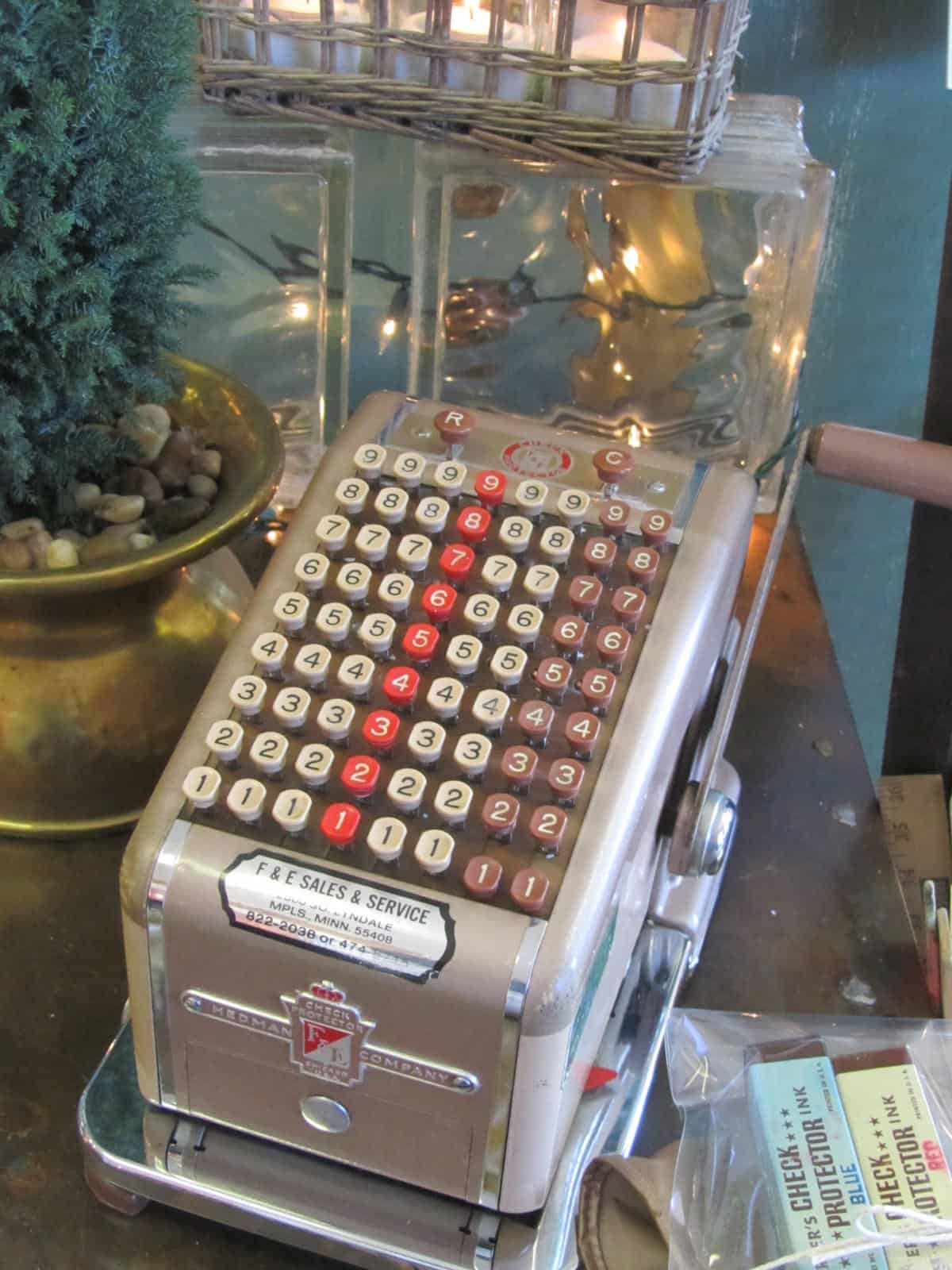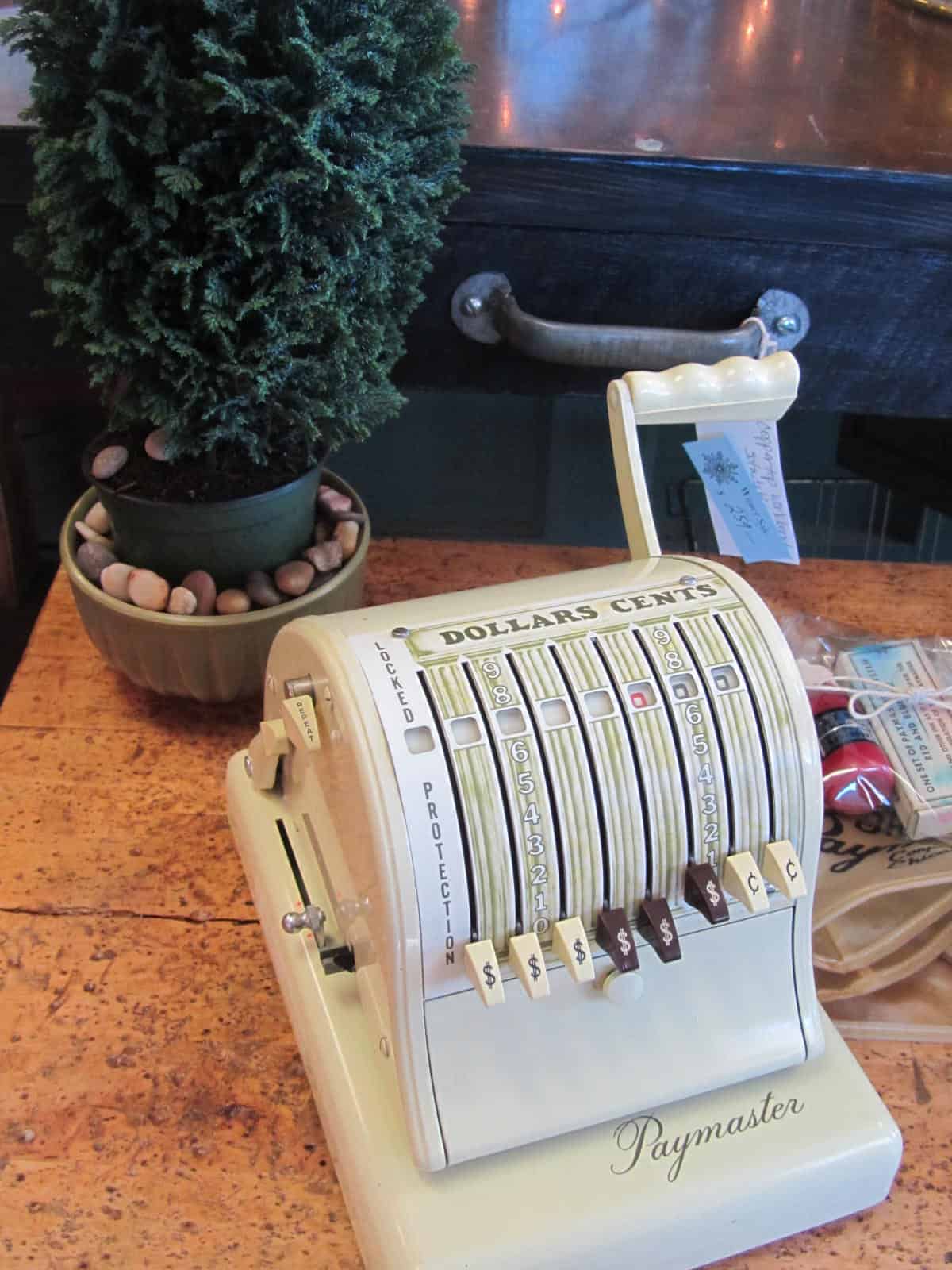 These first two experiences got me prepped for the most recent adventure. As I perused auctions, one was described as "historical downtown building"; 11 stories of items being auctioned off! I was interested in the items in the basement. I learned as I bid on the "contents" of drawers, that the time on an item does not close if there's a bidding war…quite different than Ebay. There's a three minute chance to keep bidding higher. I had tried to preview the "contents" of drawers, making a special trip downtown, but the room I wanted to get into was locked. I was bidding blind, except for the description of "misc. hinges, hardware, keys, etc". I figured a 100 year old building has got to have some treasures hiding in the maintenance man's workshop!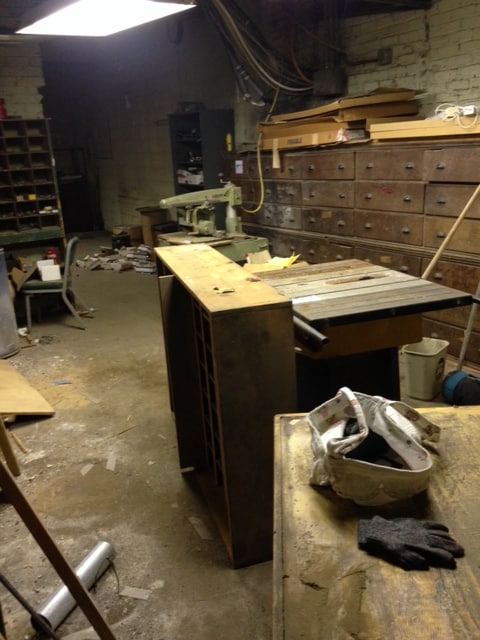 After a 45 minute on-line bidding war, I got the bid on the row of bottom three drawers, above. The other bidder got the top three drawers, and possibly some great stuff…but I'll never know what I missed. I was pretty happy with the two van loads and huge trailer-full we brought home though.
So, as the rest of you were preparing your end of the year holiday celebrations, my family was sweating bullets in the sub basement of an old historic building!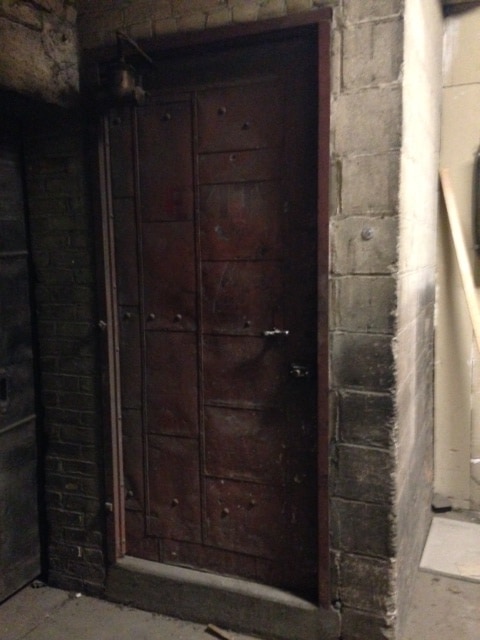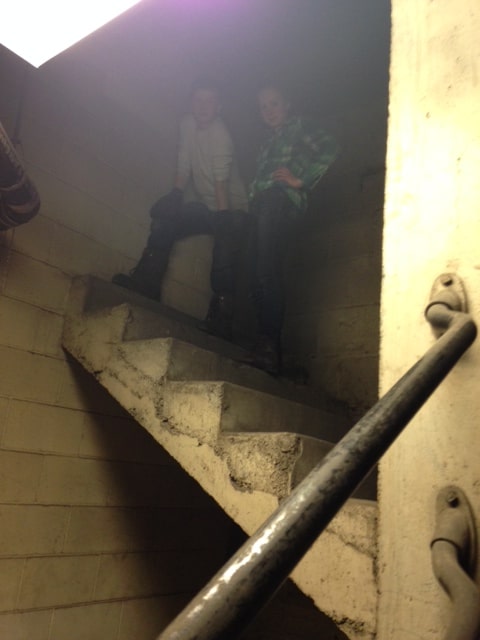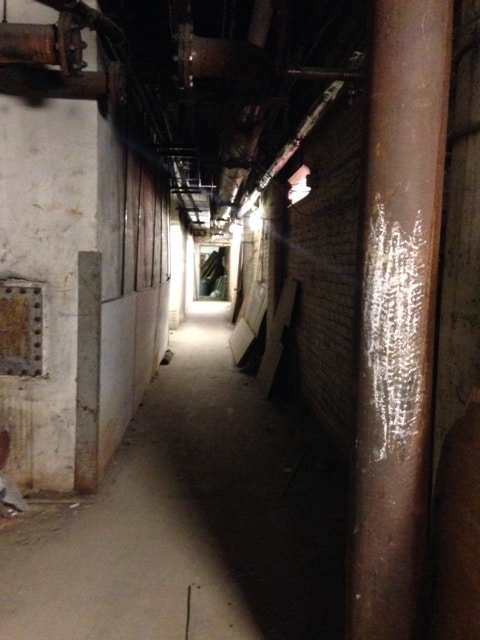 We navigated the maze-like hallways surrounding the massive boiler room to retrieve items in three different areas. This sub-terrainian world intrigued the kids. Books they've read about underground societies had them picturing living down here. I, on the other hand, was just keeping an eye out for anything that was larger than a mouse…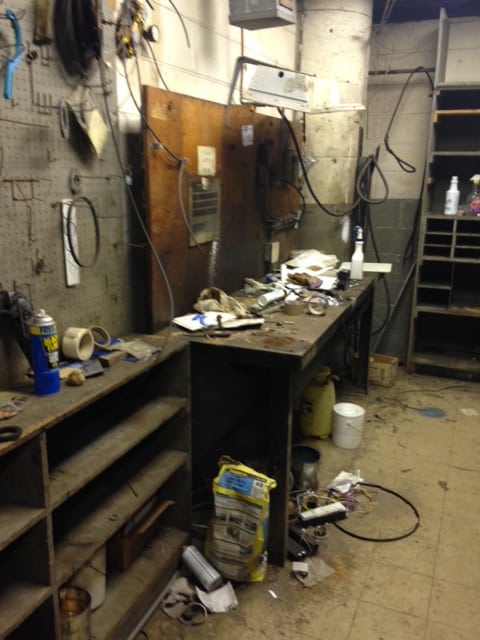 The boys headed to retrieve the industrial workbenches and lot of trim, while Happy Girl and I spent quite a while filling up empty bins in the workshop. We went up and down the shipping elevator quite a few times. You'll notice who's smiling in the picture, and who was wishing this was not happening.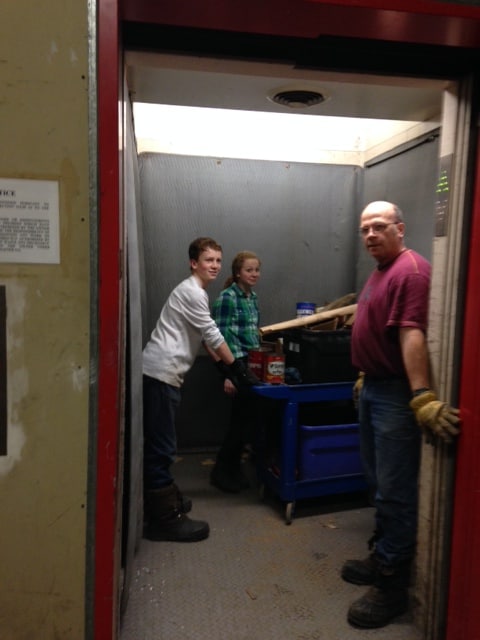 There was so much history in the bowels of this building. I was wishing I could take the doors right off their hinges and wanted to take the old organizing cubbies right off the walls. I was pretty happy with the two van loads and trailer load that we took home with us, though!
Yep, our three-hour-tour was pretty productive! I've got a lot of scrubbing and sanding to do…
I'm sure these pictures will produce all kinds of different emotions. Some of you die-hard junkers will be wishing you were along, and others will be glad you can come to the store when it's all been cleaned up and refreshed!
So if winter scarcity has got you wondering where to find the good stuff, check out some on-line auctions!