Mixed Moss Grapevine Wreath DIY
Isn't it fun to celebrate spring with a new wreath for your home? I was perusing the latest Country Living magazine, when I came across this array of spring wreaths. I've got a new spot to hang a seasonal wreath and was trying to figure out what would be pretty. I loved all the variety shown in this layout, but of course the "splurge" wreath, the moss covered one pictured was what I liked best! Leave it to me to pick the most expensive one; yes, I do have good taste! Since there's no budget for an almost $150 moss wreath, I decided to make my own version! Here's a Mixed Moss Grapevine Wreath DIY, if you'd like to create your own!
Begin by Taking a Closer Look at the Wreath You Want to DIY
If we're going to imitate something, we need to take a closer look. Then we can decide how we're going to vary it. Before I bought my materials, I wanted to make sure I was purchasing the right amount. There seemed to be at least 4 kinds of moss and lichen on this wreath. Each type was represented at least 4 times on the wreath. I loved the subtle gray and green tones; just like the forest floor during springtime. The springtime forest floor also inspired me when I created my "Easter Bunny Centerpiece How-To".
Mixed Moss Grapevine Wreath DIY
For your convenience, this post contains affiliate links. If you make a purchase, I may receive a commission. There is no additional cost to you. My full privacy policy is here.
Materials Needed:
grapevine wreath of desired size (will determine how much moss you need, I used a 30″ HERE)
Mixed varieties of moss and lichen ( I used some of THESE, THESE and THESE.
optional: feathery greens
old hair drier
Purchase and Find the Materials You Need for Your Wreath
The wreath in the picture looked like it may be constucted on a styro or straw form because of it's exact shape, which you could totally do. I wanted to use a grapevine wreath form I already had, so that's what you'll see here. As a result, mine has a little more irregular, organic vibe. My only expense was the different varieties of moss. I bought 4 bags of a mixed type, a large bag of green and a bag of a brighter type of lichen. I knew I had a little bit laying around just in case, too.
Lay Out the Moss
Lay out all the different varieties of moss so you can see what you're working with. Heat up your glue gun.
Construct Your Wreath, Looking at Your Example Picture
Hot glue the basic green moss at about 12, 3, 6, and 9 o'clock. Glue on small clumps at a time. Have a width of a couple inches of each type. I arranged the moss by color, the greens together and the grays together. Glue the moss around the outside and inside edges, not just on the flat front. You'll want it to look good from the sides, too.
It is a time consuming process, but very easy. Perfect project for when the springtime birds are singing outside the window, and the sunshine is streaming in! Just be careful of your fingers…I always burn my at least a couple times when I use the glue gun!
The finished Mixed Moss Wreath is a wonderful, subtle mixture of textures! I liked how the rustic grapevine could be seen sticking out in different spots, too. Even though my example wreath only had moss and lichen, I decided to add some feathery ferns for an additional texture. I had THIS pretty feathery garland and simply snipped a few snips off it.
Lastly, Finish Your Mixed Moss Grapevine Wreath With the Hair Dryer!
Pro tip! The last step whenever you're creating something with a hot glue gun is to melt all those pesky strings with a hair dryer. Glue strings are definitely not at home on the forest floor! On a low setting, gently melt those glue strings away without blowing any moss off.
The final result is a wonderfully textured array of woodland springtime! It's a nice change from flowers, and a look I will not tire of quickly. So different to have moss and lichen as the main character and not just a supporting foundation.
Shop to Create the Look: click on pics for more info
To see this beauty in it's springtime vignette, see "Old Window Chalkboard Spring Display". It really was easy to make, once I had all the packages of moss and lichen. And I only spent about $50, compared to the $150:) It just involved patiently hot gluing little pieces, while I kept referring back to the original picture. Maybe this how-to will inspire you to create your own Mixed Moss Grapevine Wreath DIY!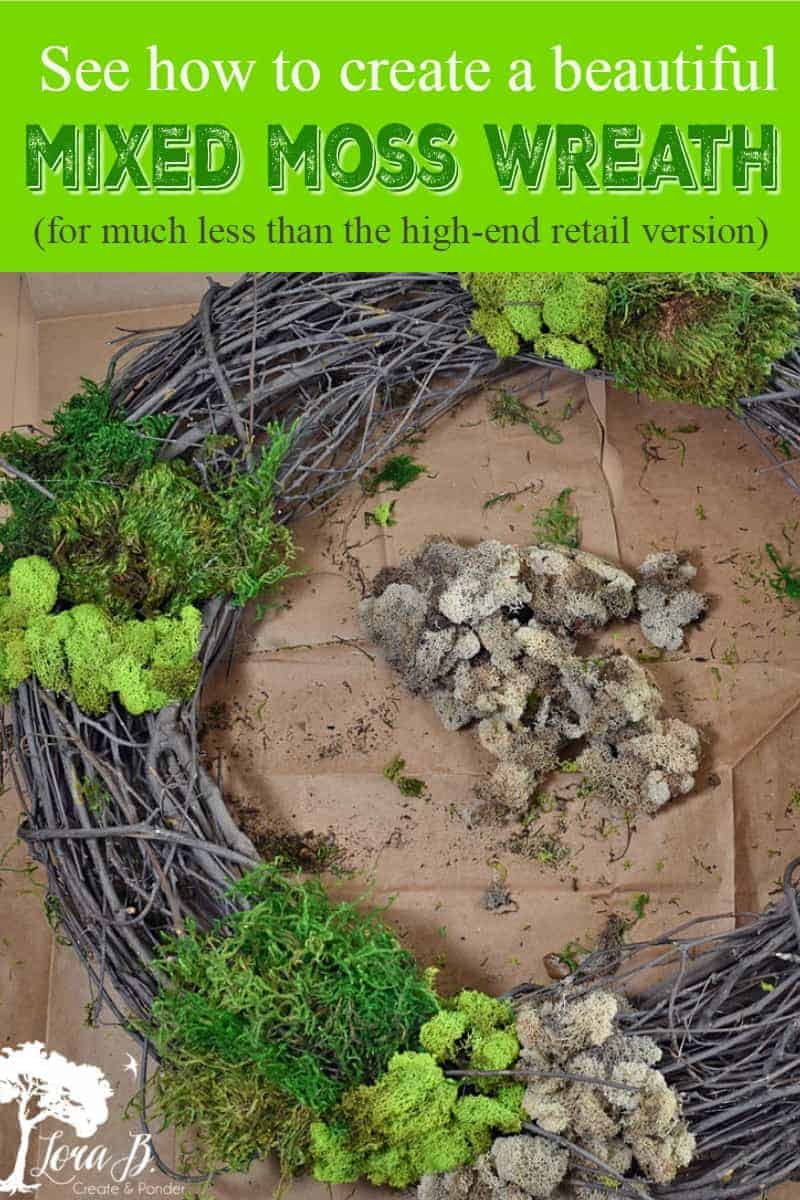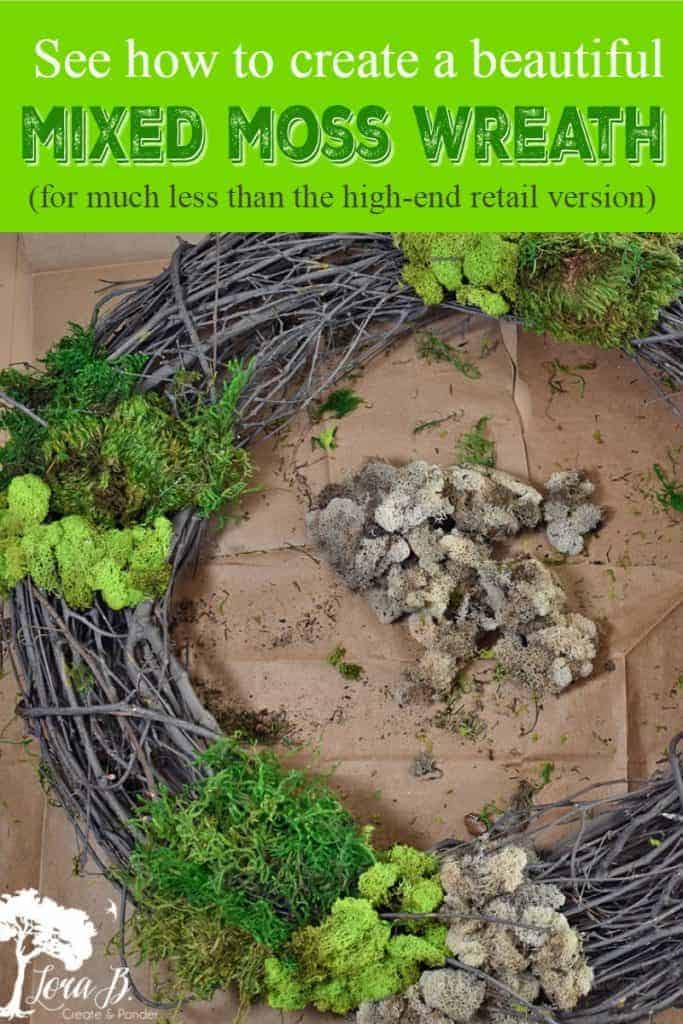 Sharing at these lovely parties:
Wall to Wall DIY Wednesday