Mantle Shelf with Fall Textures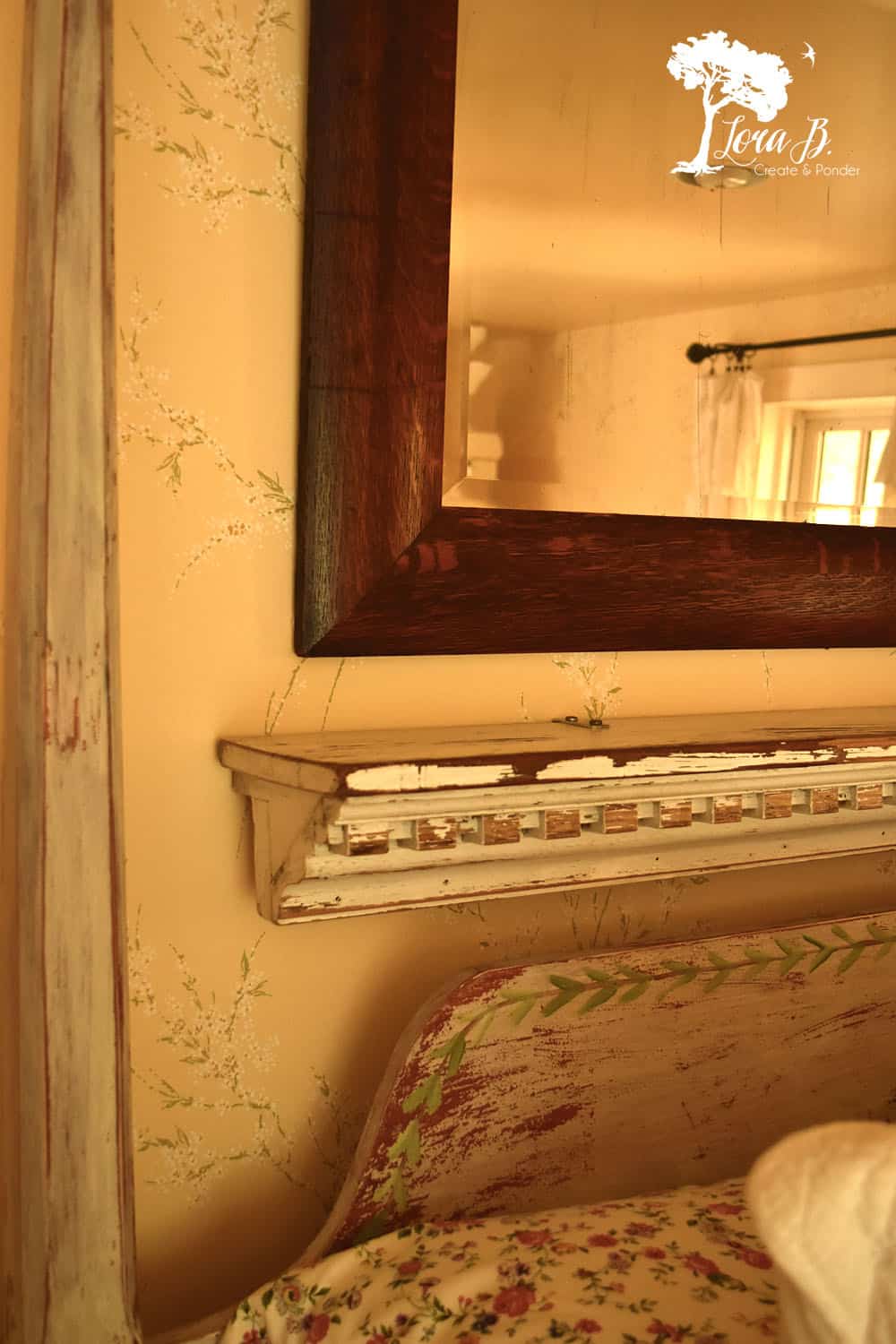 Found this awesome mantle piece on the side of the road during one curbside clean-up day and it's been languishing in the garage ever since. Since I have been working on the wall architecture for the main floor, thought I'd have Mr. Fix-it take the huge, killer nails out of this beauty so I could sand and poly it.
Moving our bed to a different wall gave me the excuse of a blank wall canvas. And remember last week when I said my favorite wall decor combo was a shelf with some type of architecture hanging behind it? Well, here is another great example! My mom had given me this huge, heavy mirror that's been in the family, and I just hadn't known where to put it. Having a mirror on an inside wall to reflect the light and trees of the outside is always a good thing.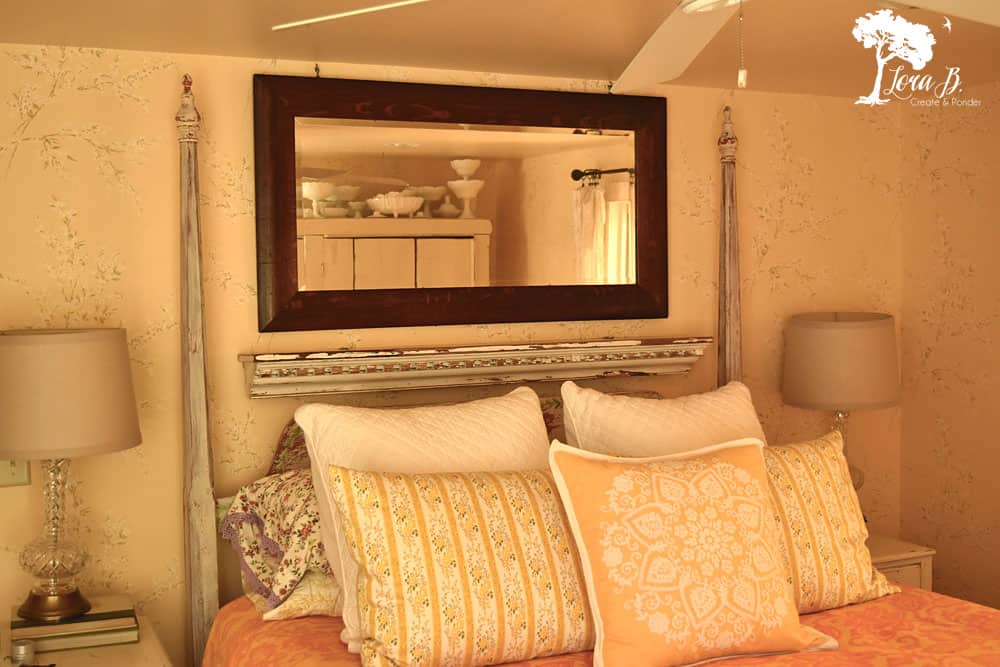 And honestly, it's pretty cool and classic just like this…but I wanted to have more fun with it, and fill it with fall textures.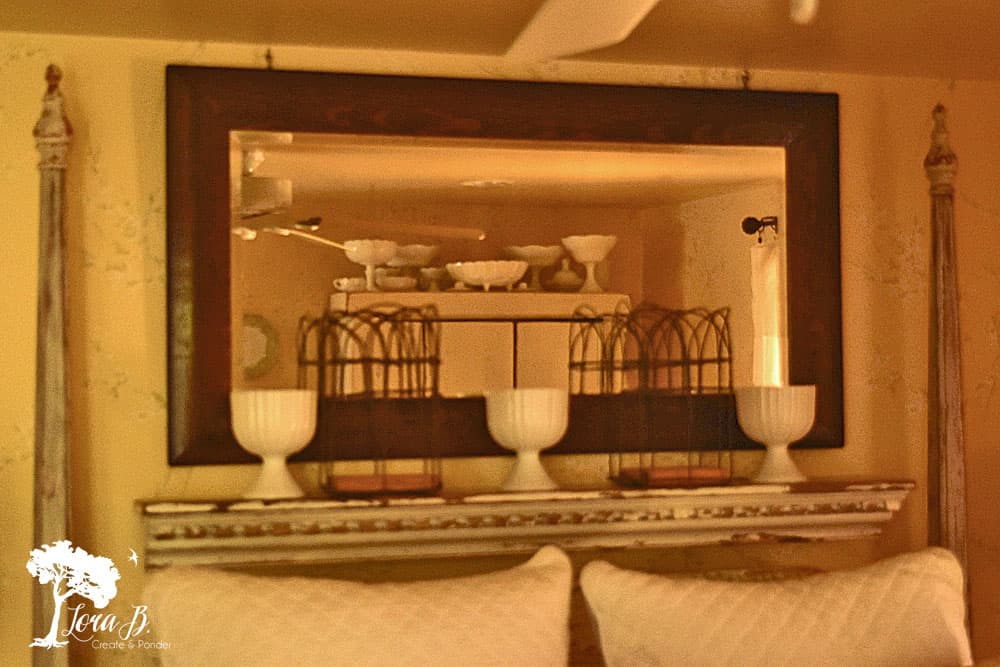 I like a very symmetrical look in here, because it fits with our pencil post bed, and it just feels more soothing to me. (Sorry for some blurry pics in this post-still learning how to adjust the new camera in a darker room).
I already had the chippy wood texture of the mantle, the dark, oak grain of the mirror frame, and the reflective quality of the mirror. I added white milkglass to coordinate with everything else white in the room, and keep the arrangement light. I put a tealight candle in each for nightime glow (and a little romance:). I added two of our vintage fencing squares we created and used to sell at the store to add in some metal for an additional texture.
Then I started adding the natural, fall textures.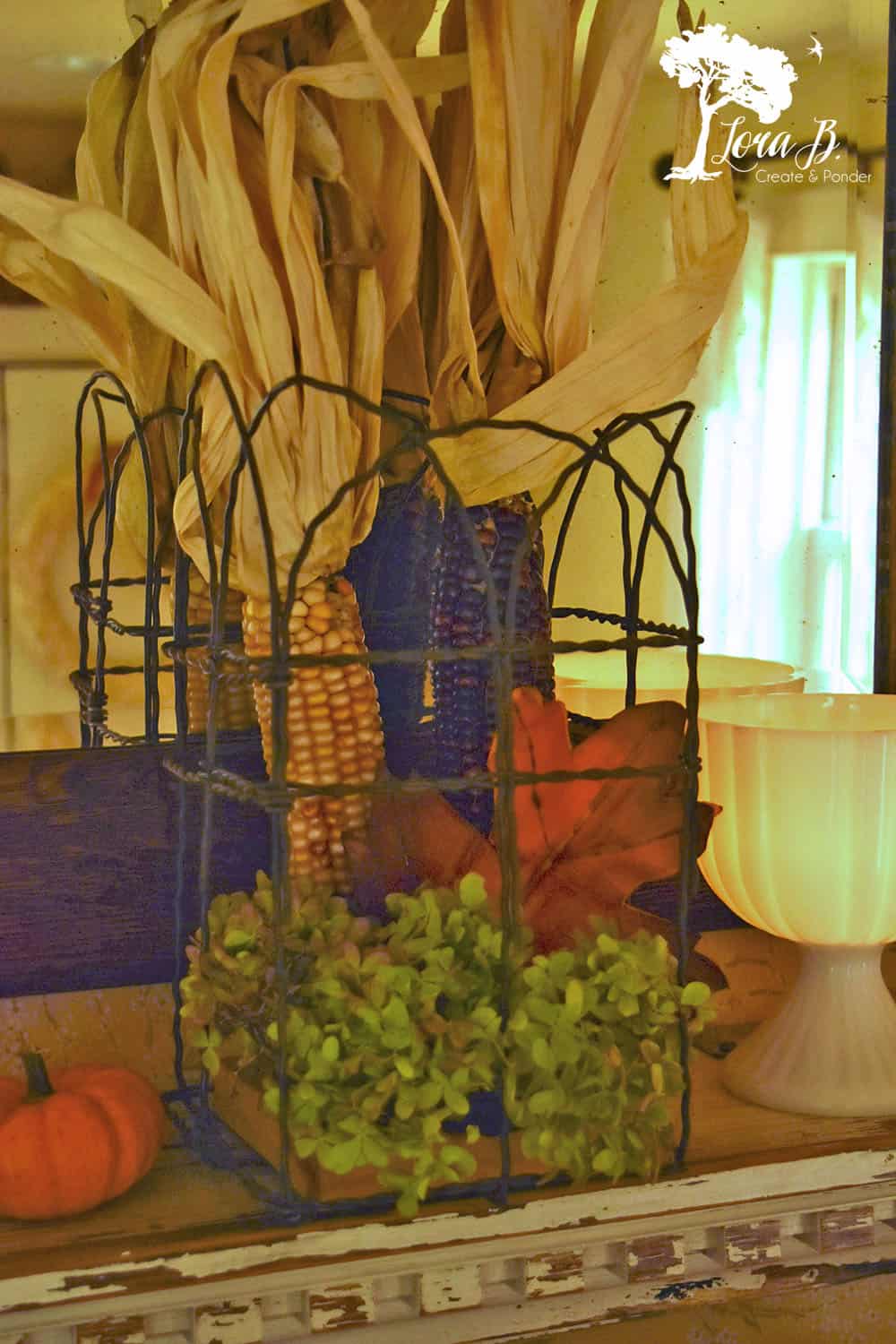 I bought some pretty corn at the grocery store, along with some little pumpkins from Walmart. I dug up two large oak leaves in my fall trove and propped them up next to the corn. I grabbed my now dried hydrangeas and clipped off pieces, skirting the other elements and bringing some pretty olive green and purple tones into the grouping.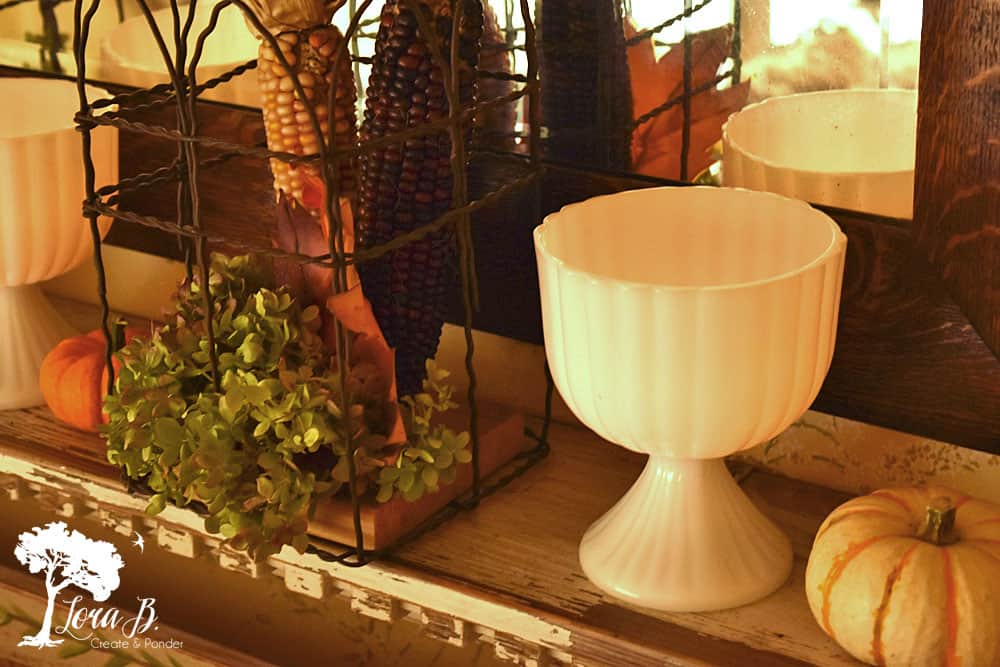 Don't you love how the mirror reflects all the textures? And at night, the candles will simply glow in the pretty milkglass, and reflect in the mirror, too.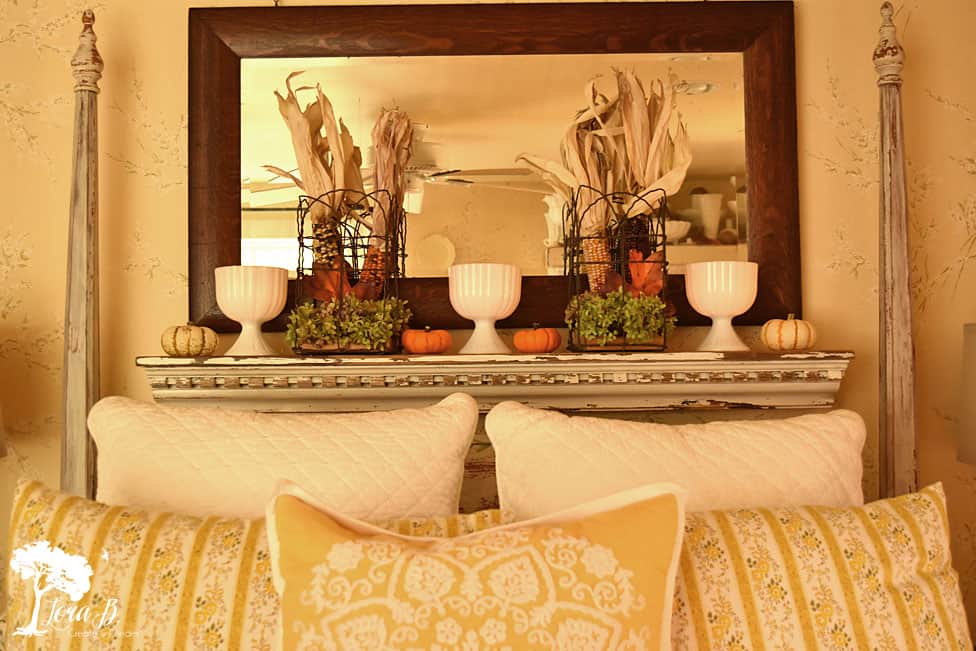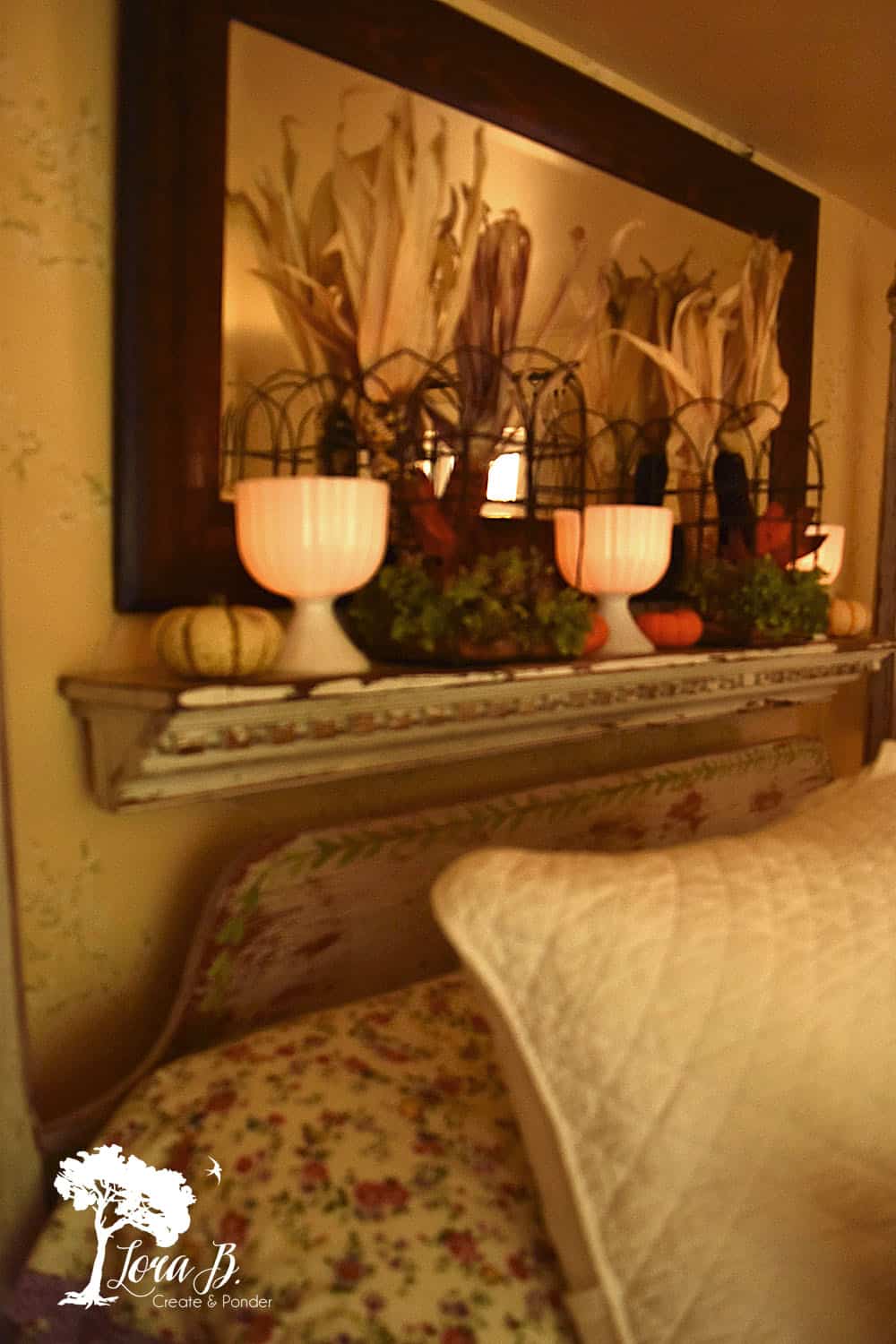 Mr. Fix-it will probably worry it's all going to fall on his head at night!
It's always fun to have a new, little spot to decorate.
And while I was at it, I added a straw wreath and some other fall textures to my milkglass collection above our wardrobe.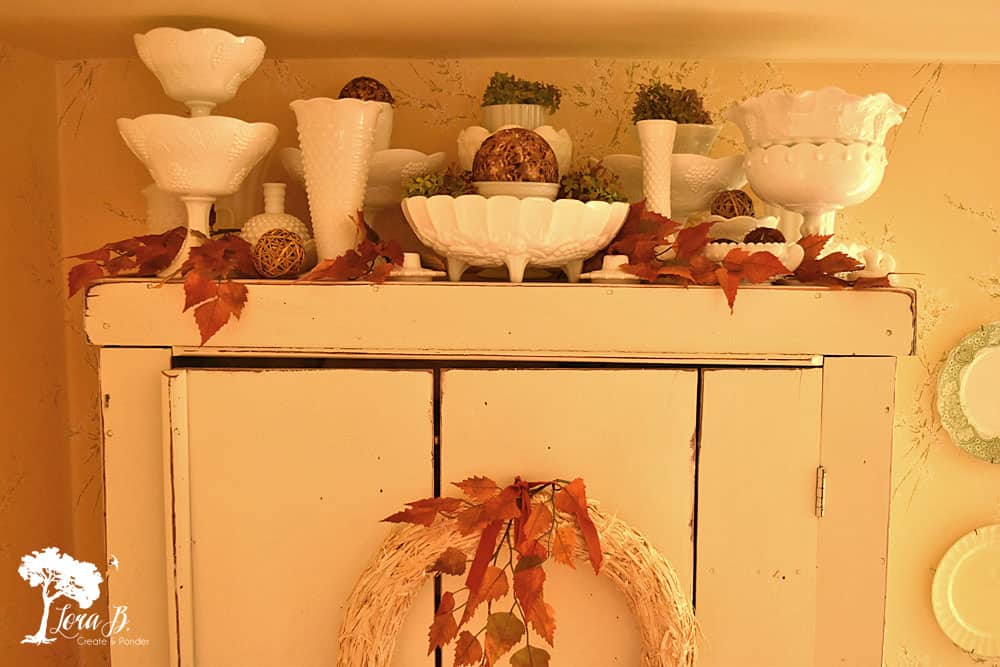 Autumn is a wonderful time to decorate with a variety of textures. Incorporate, glassware, wood, metal, mirrors, and many natural elements including straw, feathers, and dried flowers, along with wonderful everlasting foliage.