How to Easily Make a Decorating Theme Using Photo Prints
See how easy decorating can be when you use photo prints to launch your theme.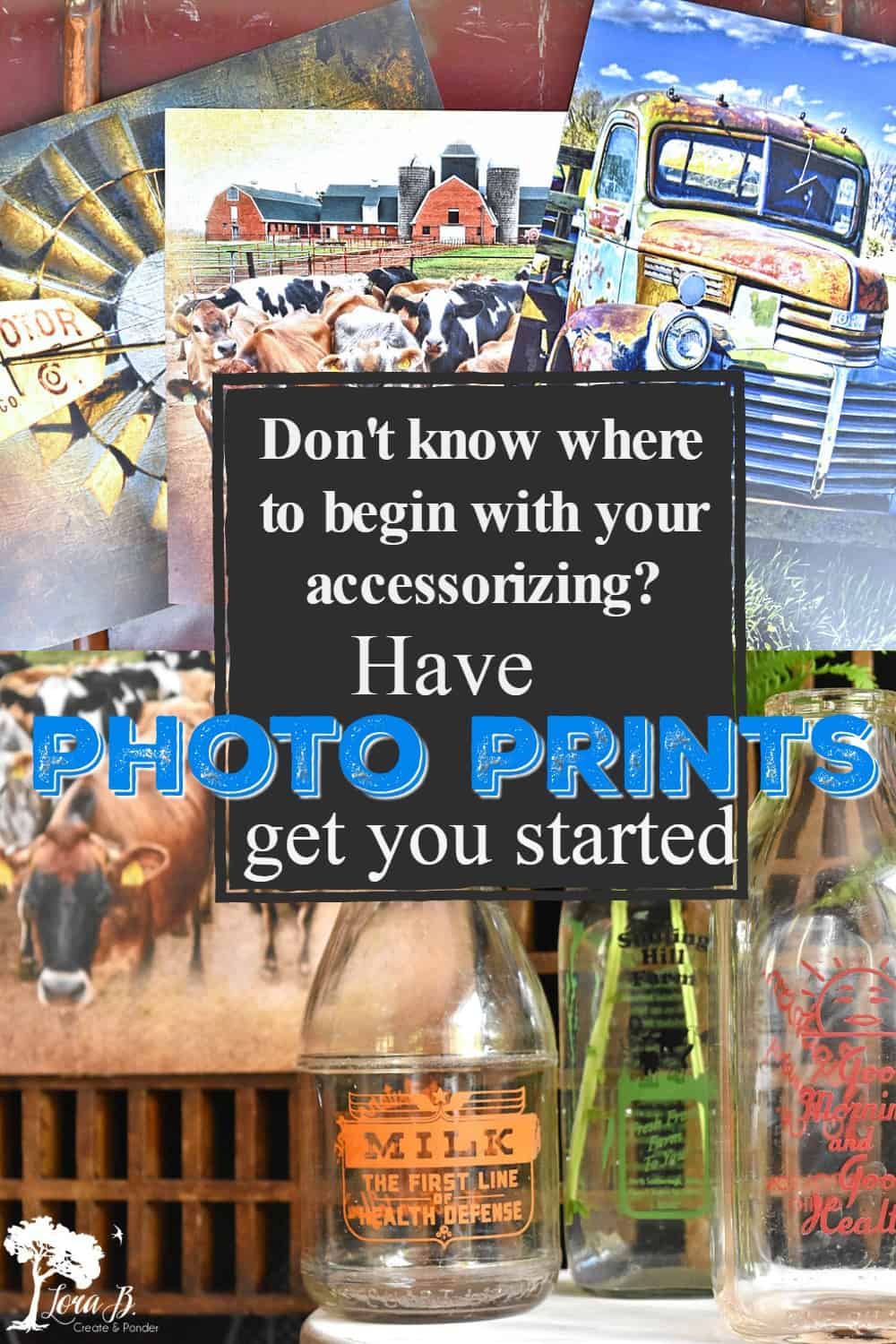 Struggle knowing where to begin with your decorating? You need a spark; something to launch your ideas, a foundation to build upon. Today I'm going to share one of the easiest ways to create a fun arrangement or vignette in your home. All you need to begin is a photo print you love (I'll let you know where you can find one) and a list of ideas. Here's How to Easily Make a Decorating Theme Using Photo Prints.
This is a sponsored post. Dibble and Son Furniture and Art Gallery provided me with complimentary photo prints for this project. All opinions about their products are my own.
How to Easily Make a Decorating Theme Using Photo Prints
For your convenience, this post contains affiliate links. If you make a purchase, I may receive a commission. There is no additional cost to you. My full privacy policy is here. 
To Begin, Choose a Photo Print You Love
Dibble and Son Furniture and Art Gallery has a great variety of rustic, farmhouse-friendly photo prints that fit with vintage-inspired style. A family run business, their brick and mortar store is located in Stillwater, Oklahoma. They handcraft beautiful one-of-a-kind furniture pieces. If you happen to be in the area, definitely give them a visit!
Besides making furniture, this artistic family business also offers amazing photographic art to decorate your home in an artistic, budget-friendly way. In partnering with them, I chose 3 of their 11″ x 14″ prints to decorate around. They also have larger canvas prints. You can see their entire online store gallery HERE. (Stay tuned for a special discount down below!)
It was hard to choose! But these were the 3 photo prints I knew I could decorate with in my home: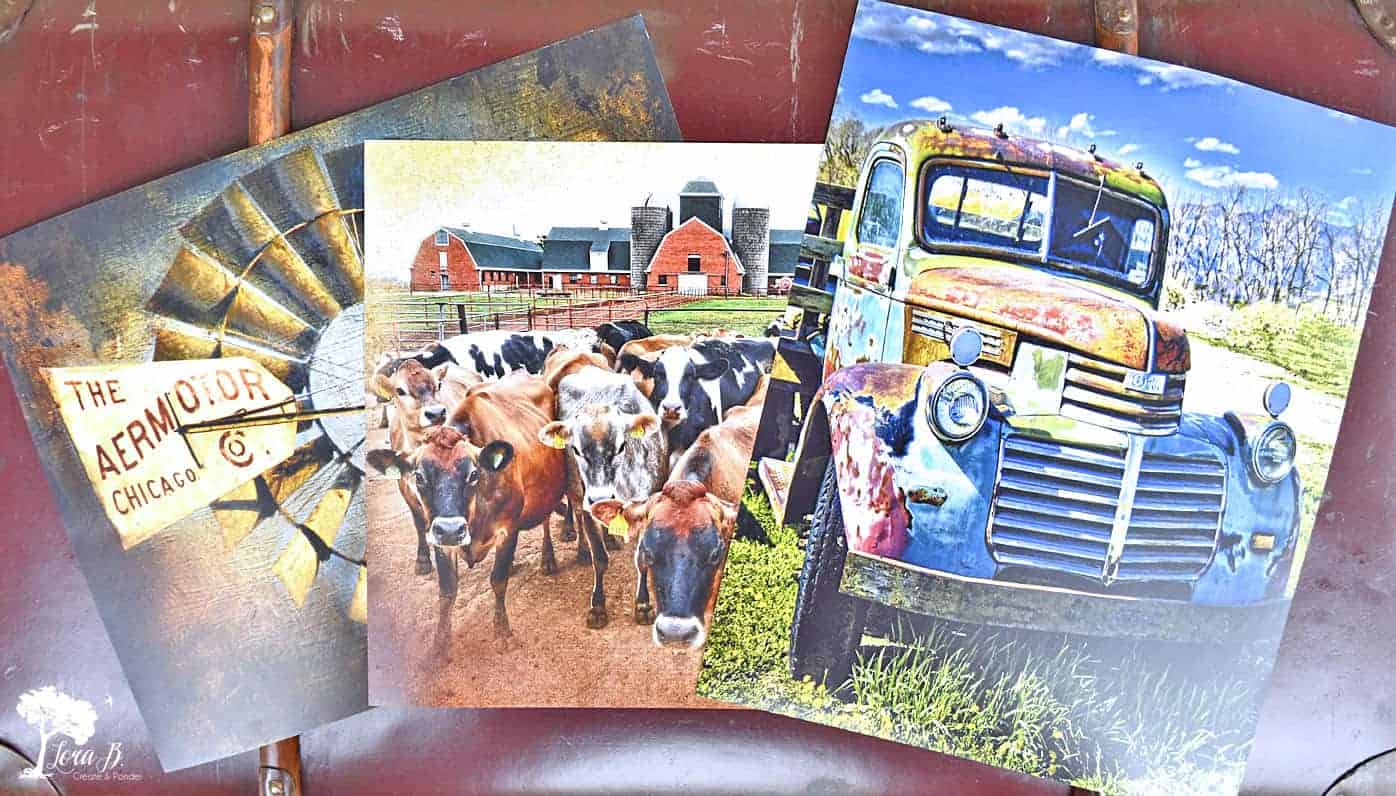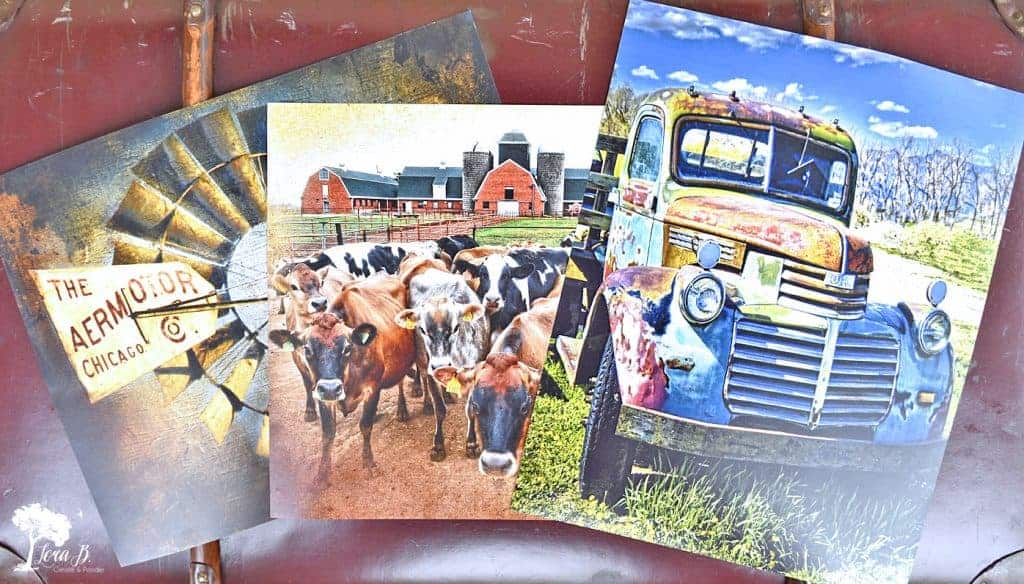 An old, beautifully patinaed truck, a herd of dairy cows with an amazing barn in the background, and a vintage windmill. These photos have been expertly edited and beautified to create interesting wall decor, suitable for many interior styles.
Decide How You Will Display Your Photo Print
These photo prints could easily be placed in a frame and hung on a wall. But my decor style is a bit more casual than that, and I like to switch up my vignettes often. In order to be able to display these photo prints in a wide variety of ways, I back them with simple cardboard to give them more substance.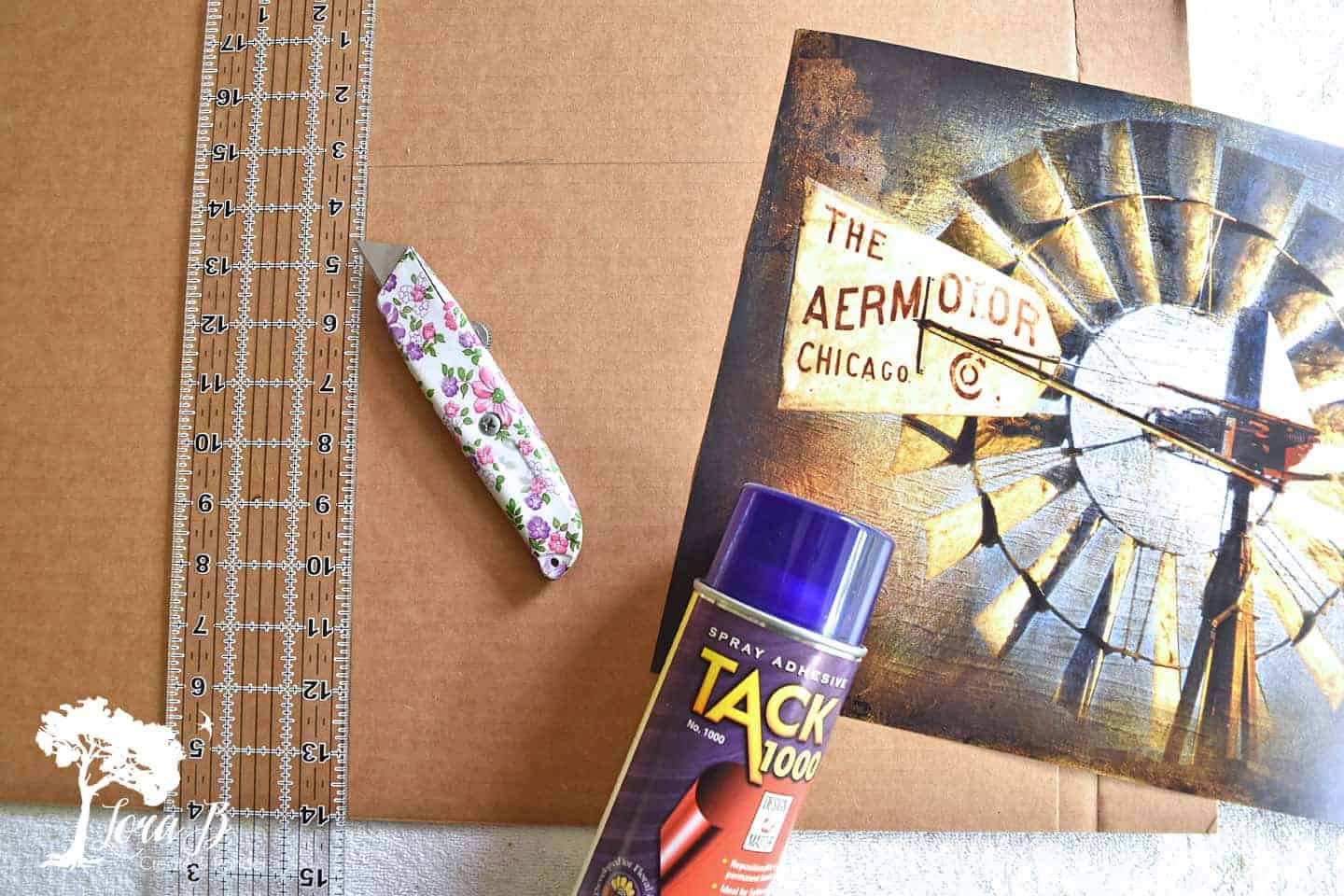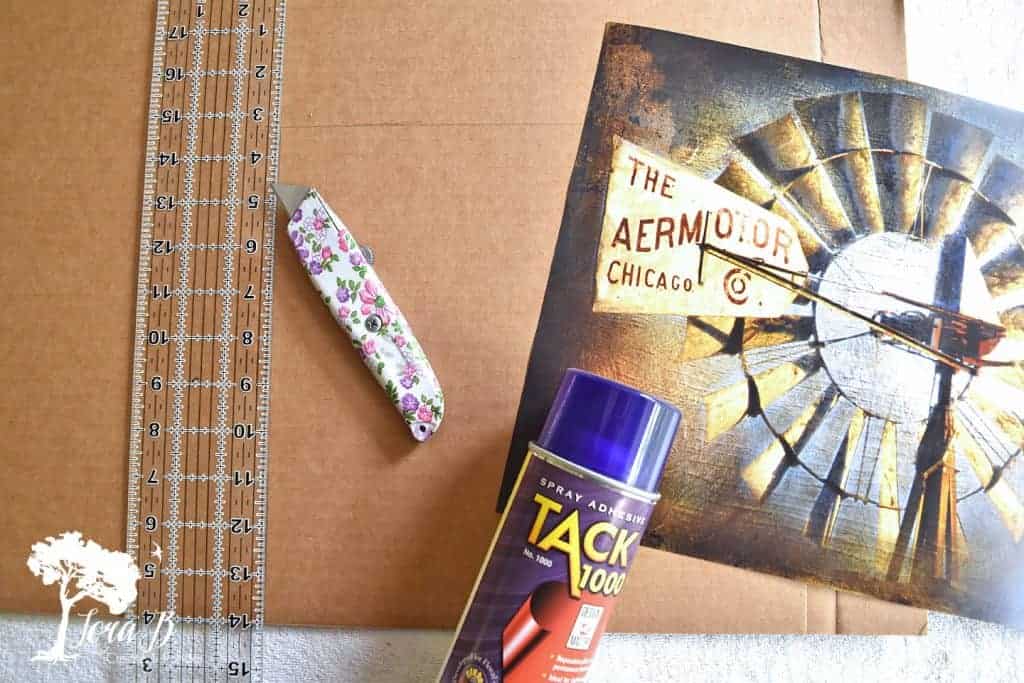 Cut cardboard to perfectly fit the back of the photo print (11″ x 14″). Adhere the print to the cardboard using spray adhesive. Make sure you don't get any sticky on the front side of the picture. Once dry, you'll be able to decorate with this photo print in a wide variety of ways! Here they all are on the piano, waiting to be decorated with!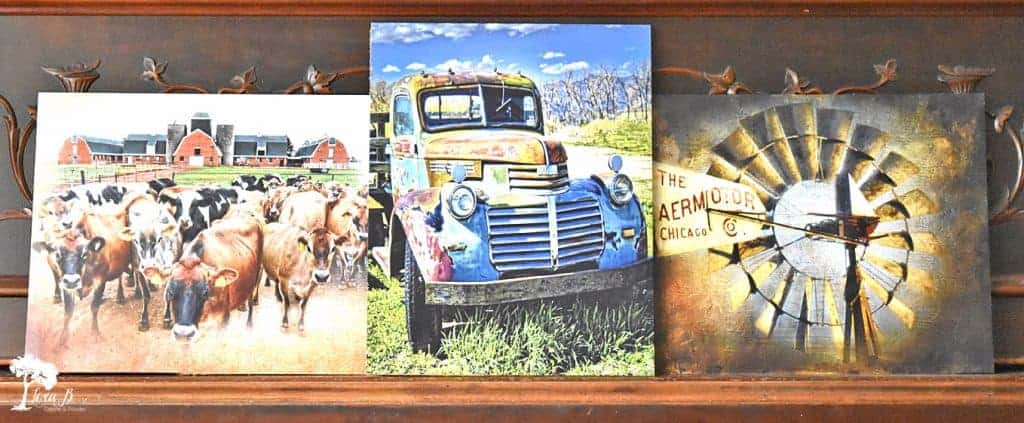 Brainstorm to Create a Decorating Theme
Time for the fun part! Here's how to create a theme around the photo print you love! Look at your photo print and make a brainstorming list of everything that comes to your mind when you look at the picture. Here's how this process went for the 3 pictures I chose: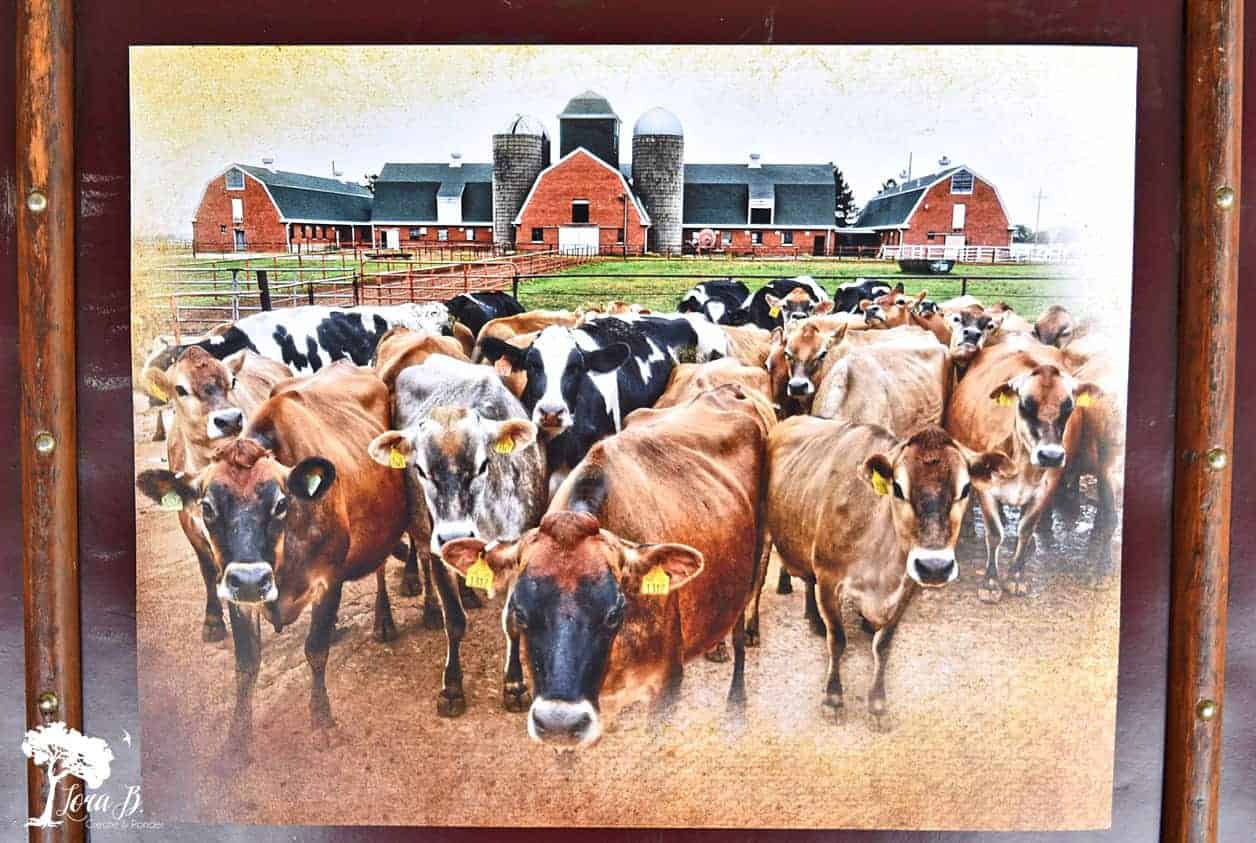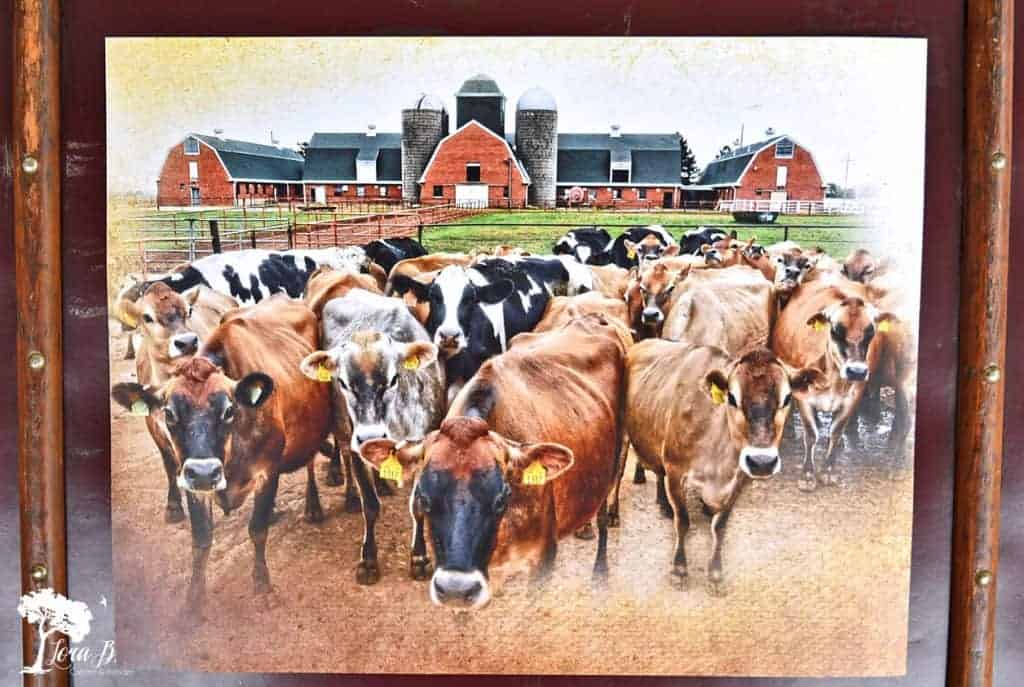 Dairy Cow Herd:
Milk, All Cows Eat Grass (from piano lessons 101), barns, leather, hay, cow pies, the colors brown, black & white,  barns, barn board, red, vintage milk bottles, milk man, chewing their cud, moo.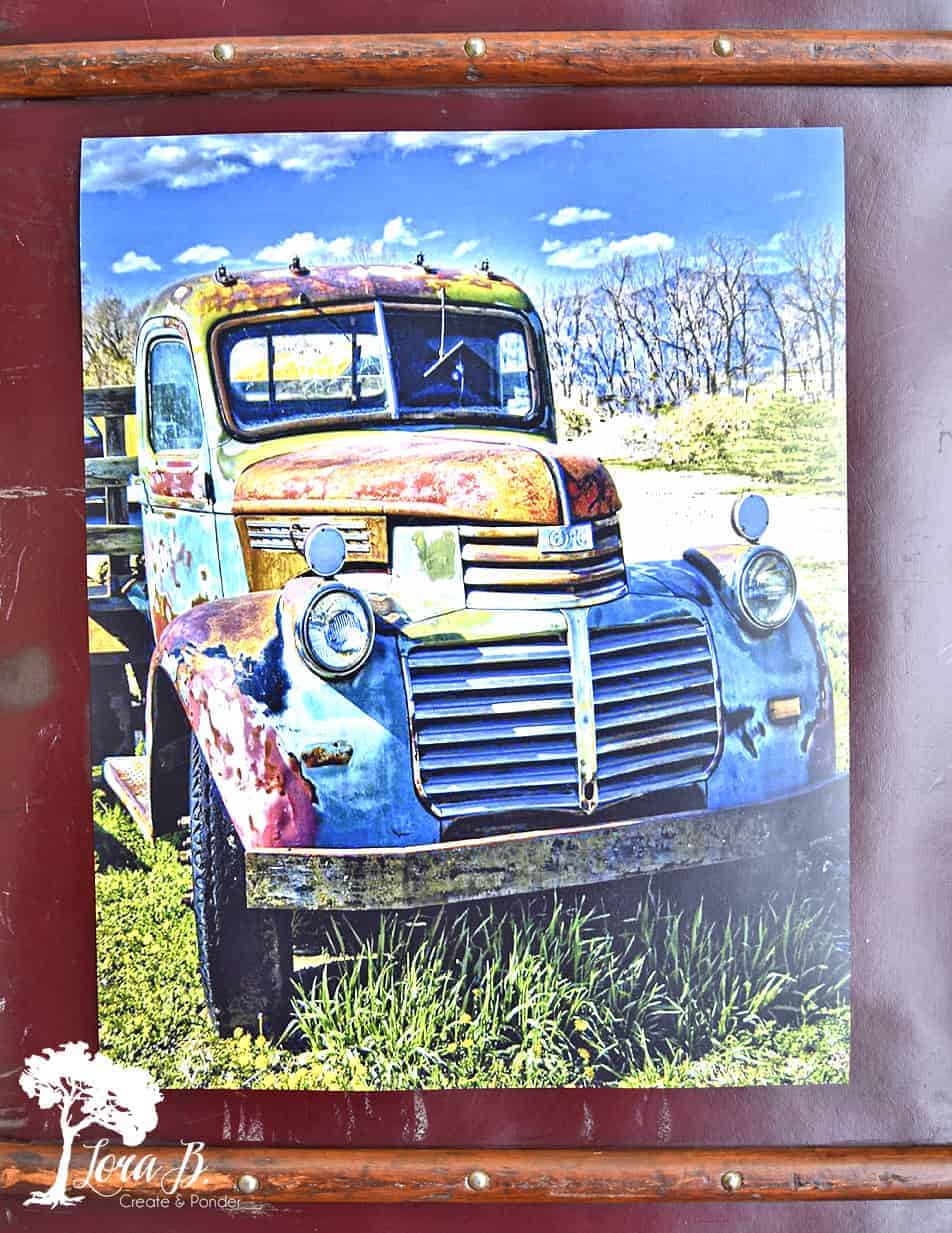 Old, Colorful Truck:
Metal, rust, wheels, license plates, grass, headlights & tail lights, horn, gasoline, keys, country songs about trucks, colors: blue, red, yellow, green.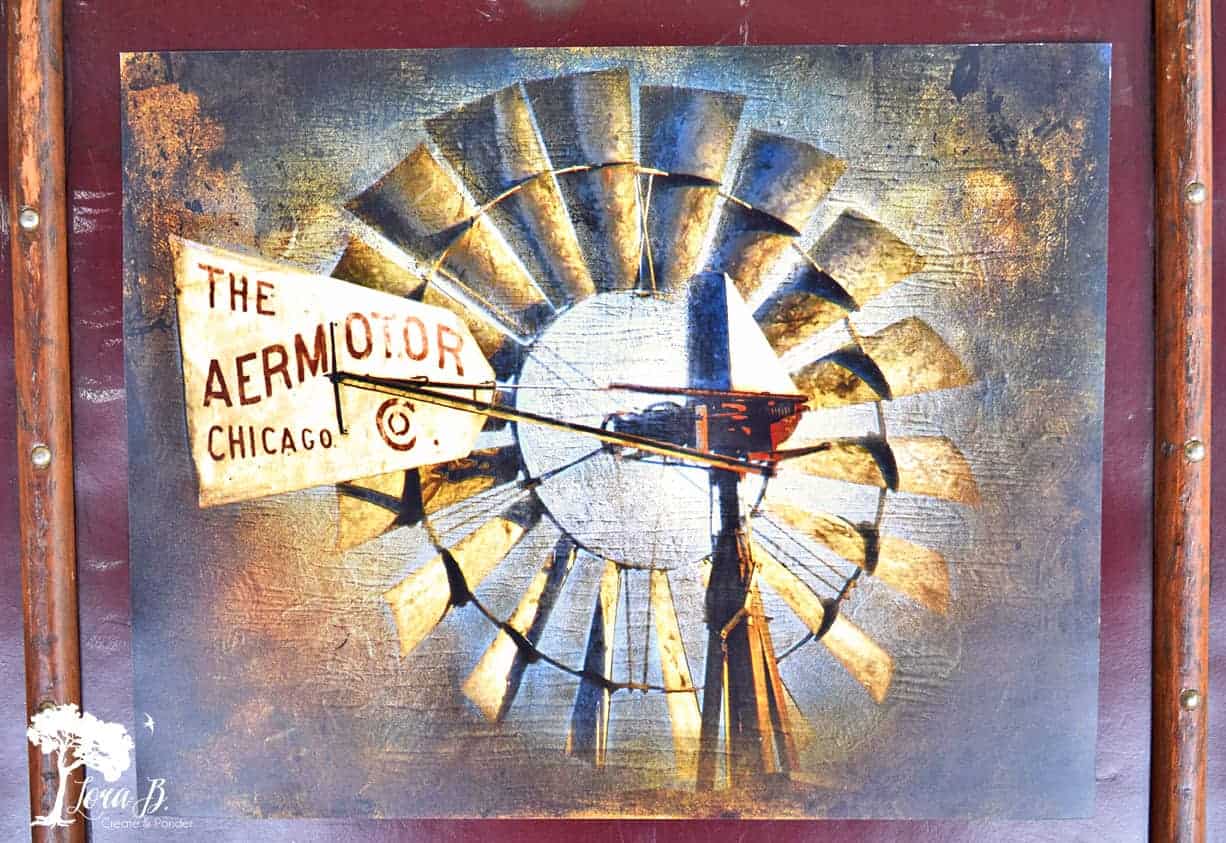 Vintage Windmill:
Wind, power, lightbulbs, fans, electricity, triangles, trapazoids, colors: blues, golds, browns, silver & gold.
Do you get how this process works? This is how you come up with a theme to decorate around. Now to turn these ideas into fun home decor!
Find Accessories to Coordinate with Your Decorating Theme List
Time to scrounge your house, your garage, and your basement. Maybe even hit a couple thrift or vintage stores! You've got a list to work from. Keep those ideas in your head as you look. You'll be amazed at what you find now that you have a framework, a theme to work from!
Ready to see the themed vignettes I created? This process was so fun, working with the photo prints as inspiration!
Themed Decor Vignettes with Photo Prints
Dairy Cow Herd
First, the adorable dairy cow herd. Luckily, I had quite a few vintage accessories to fill out this grouping. With all those pretty brown cows, I placed this vignette on our fireplace mantel. The bricks were the perfect backdrop. To hang the photo print on cardboard, I simply used a vintage binder clip and tied it to an old floor grate with string.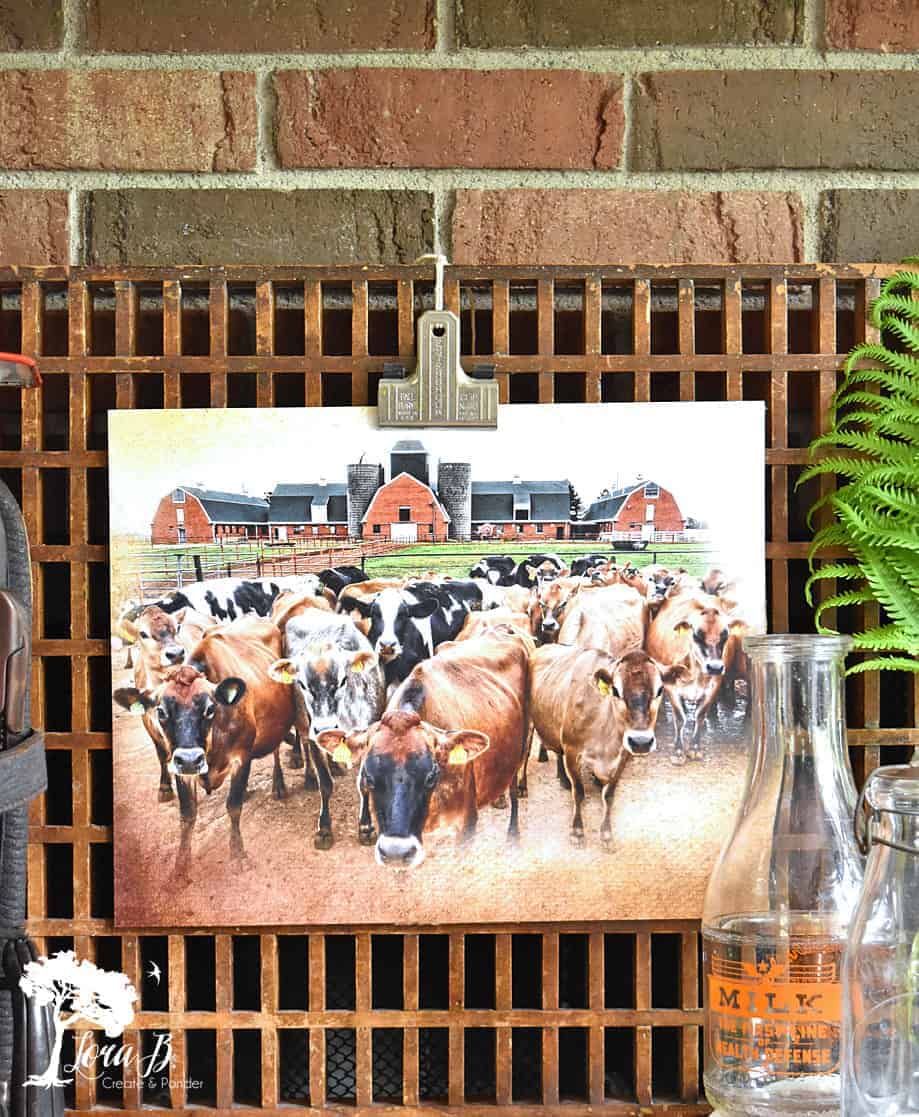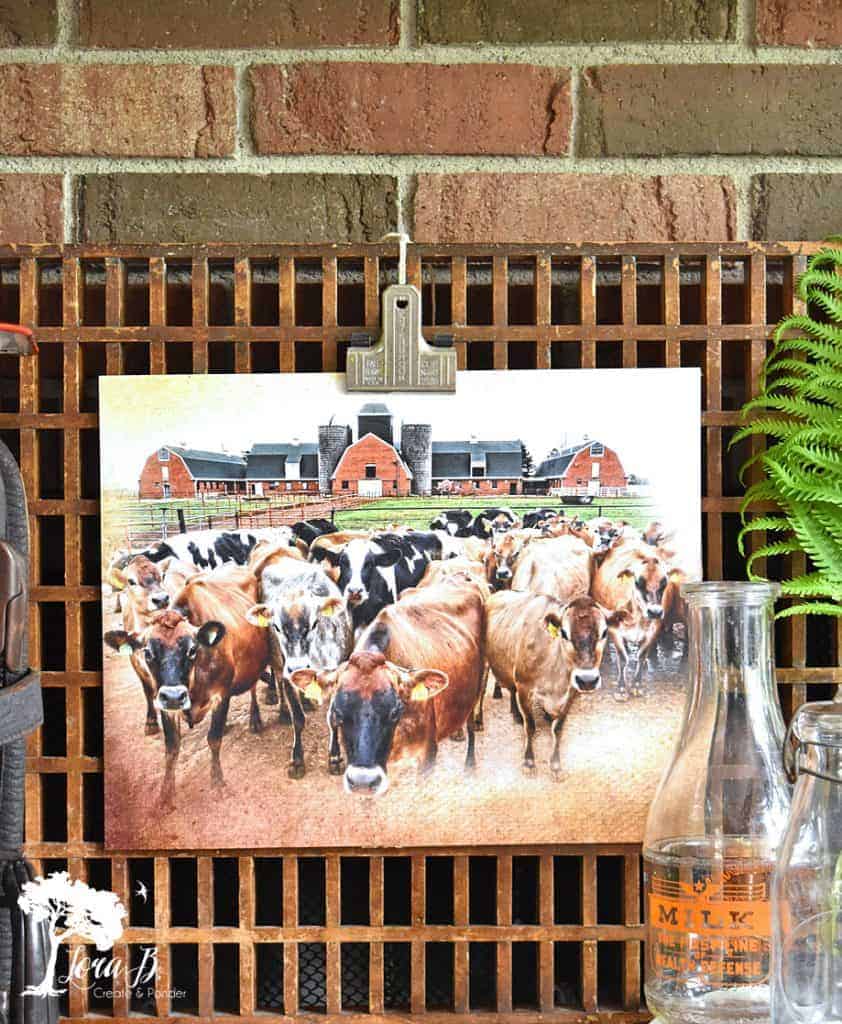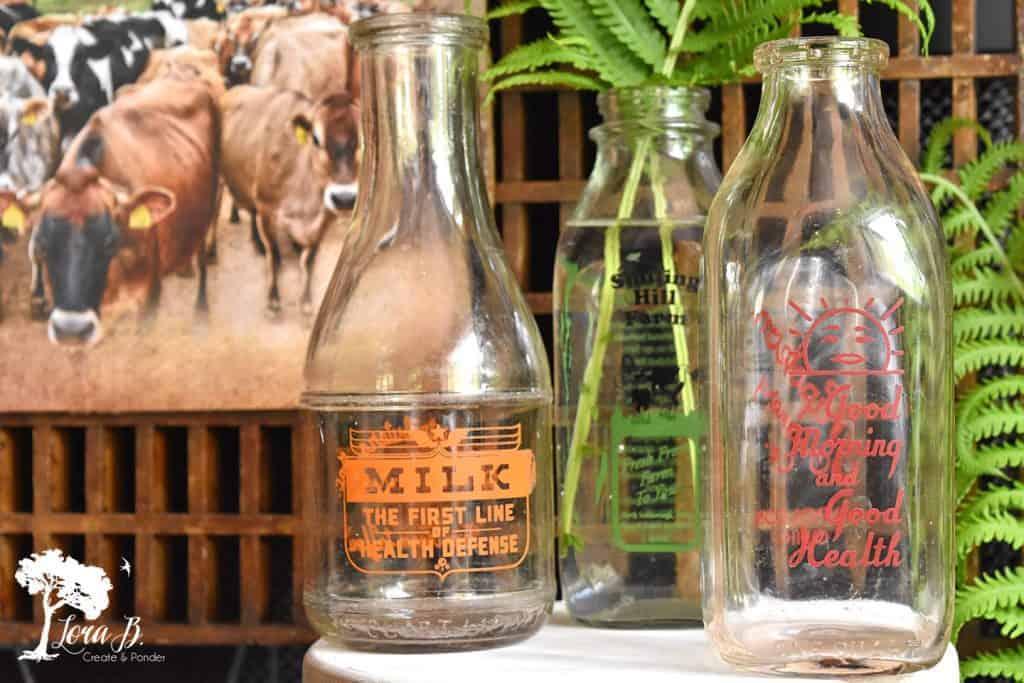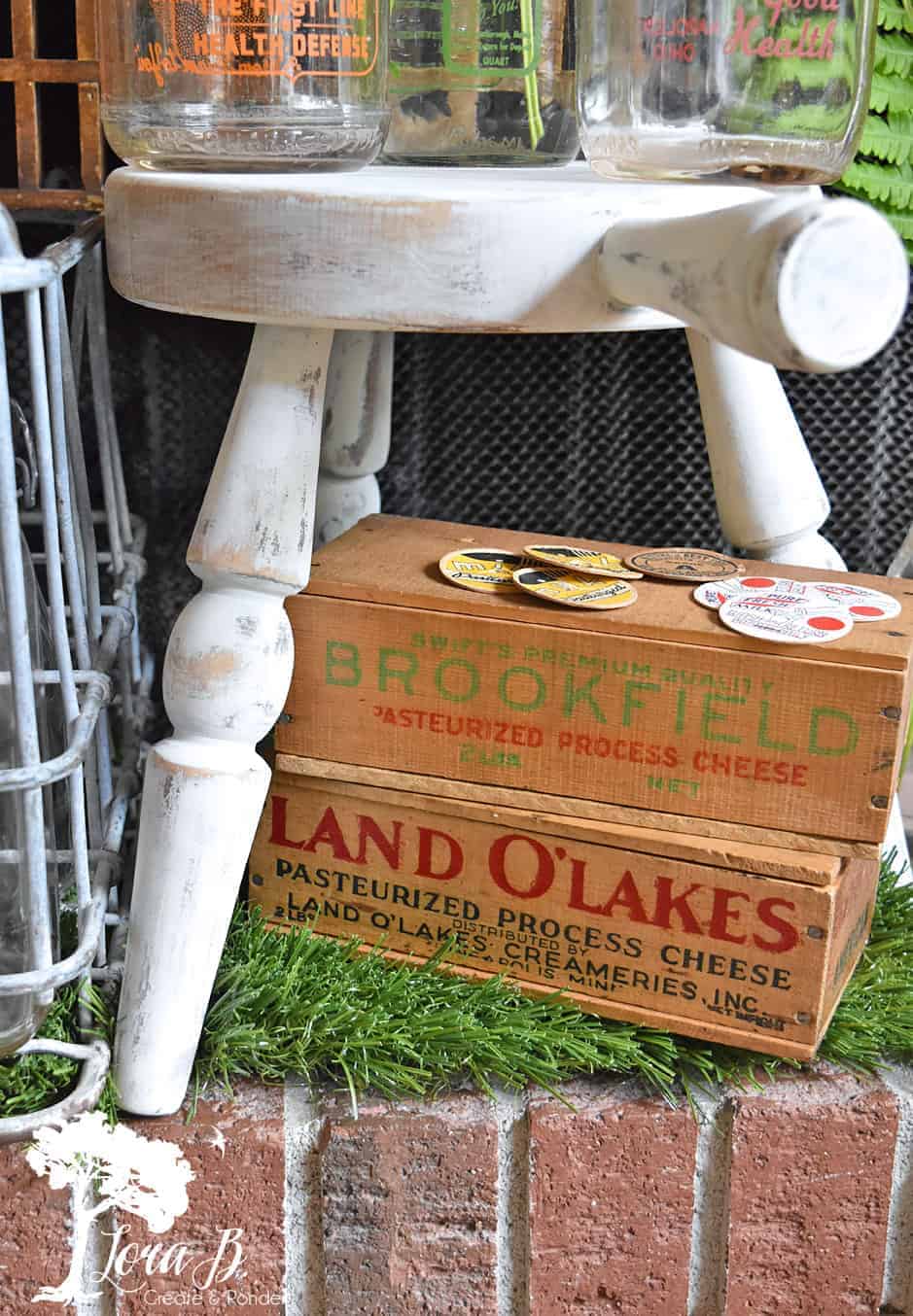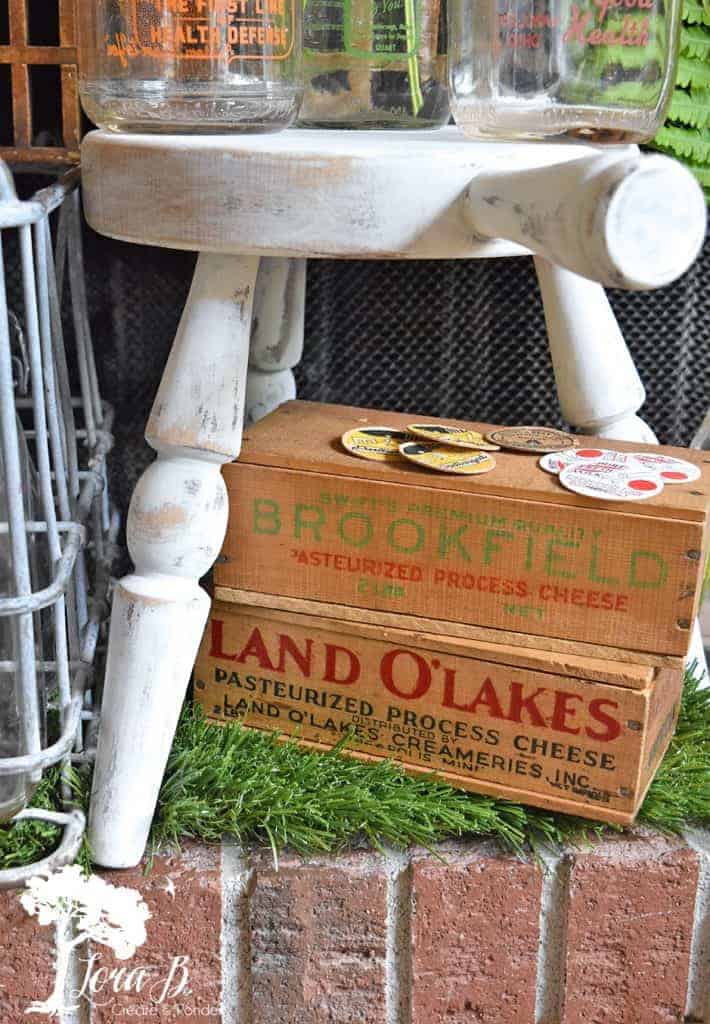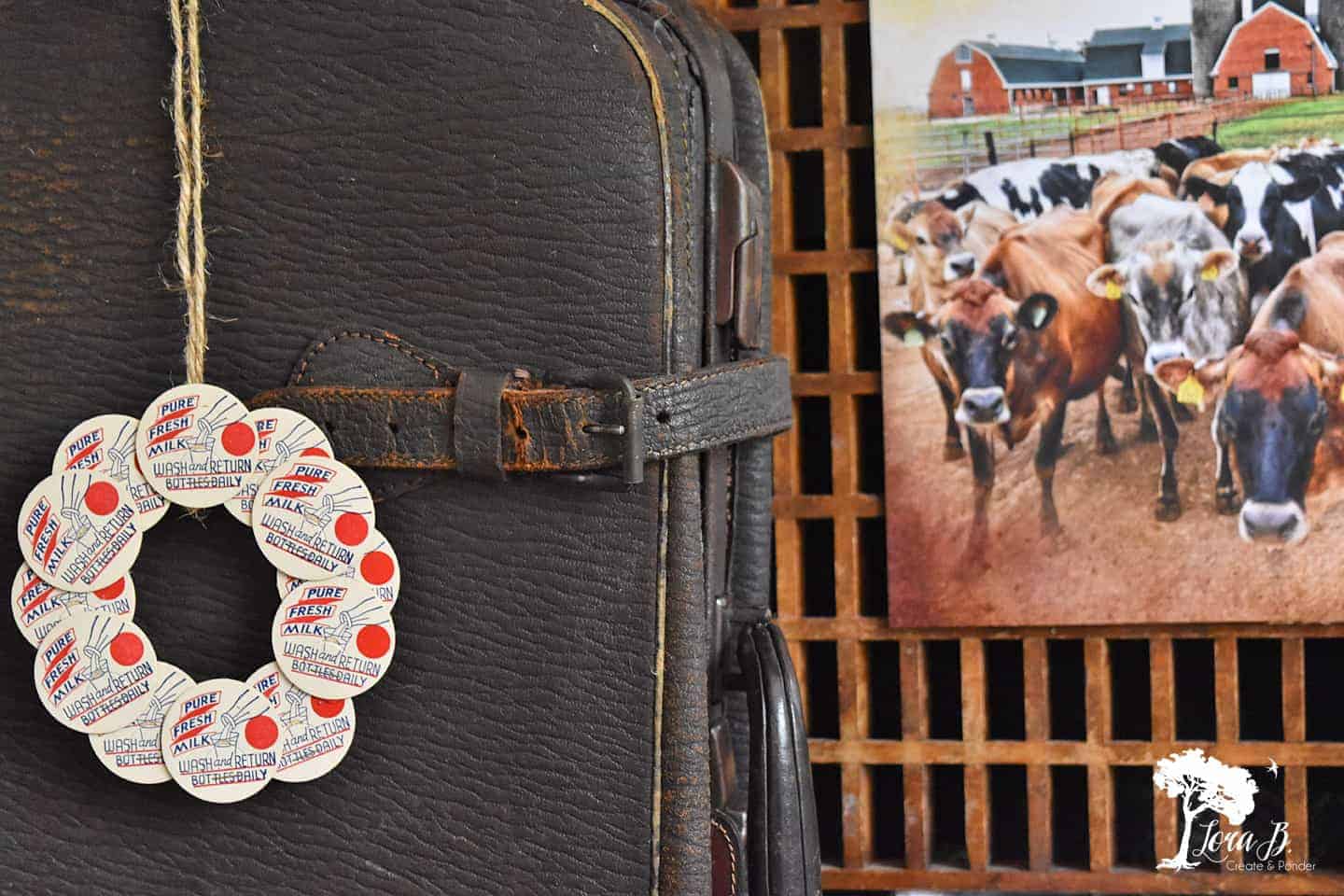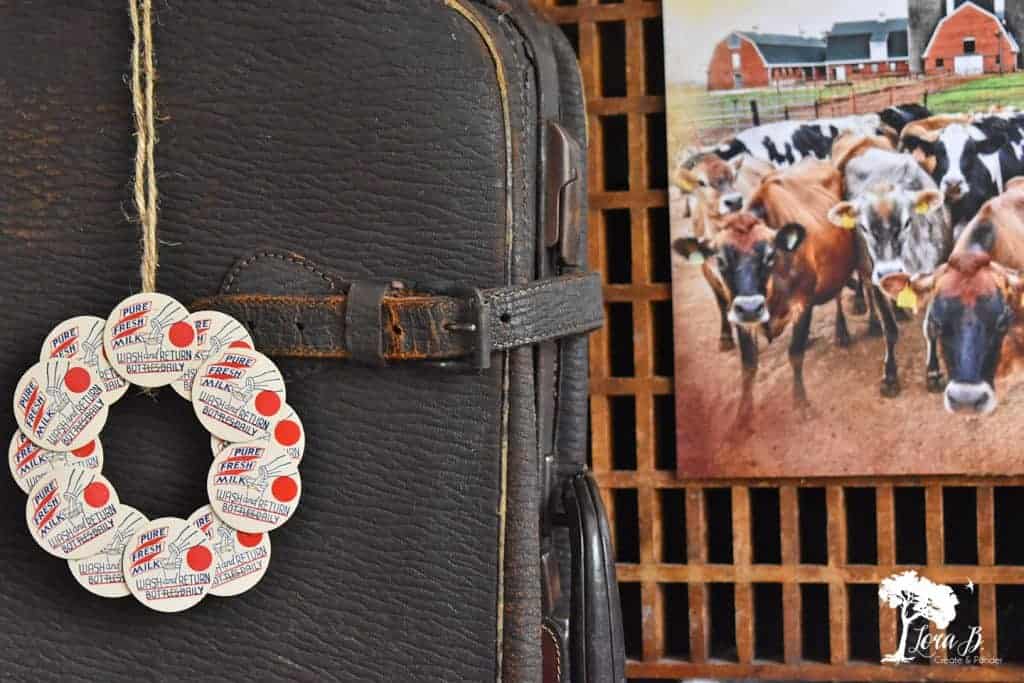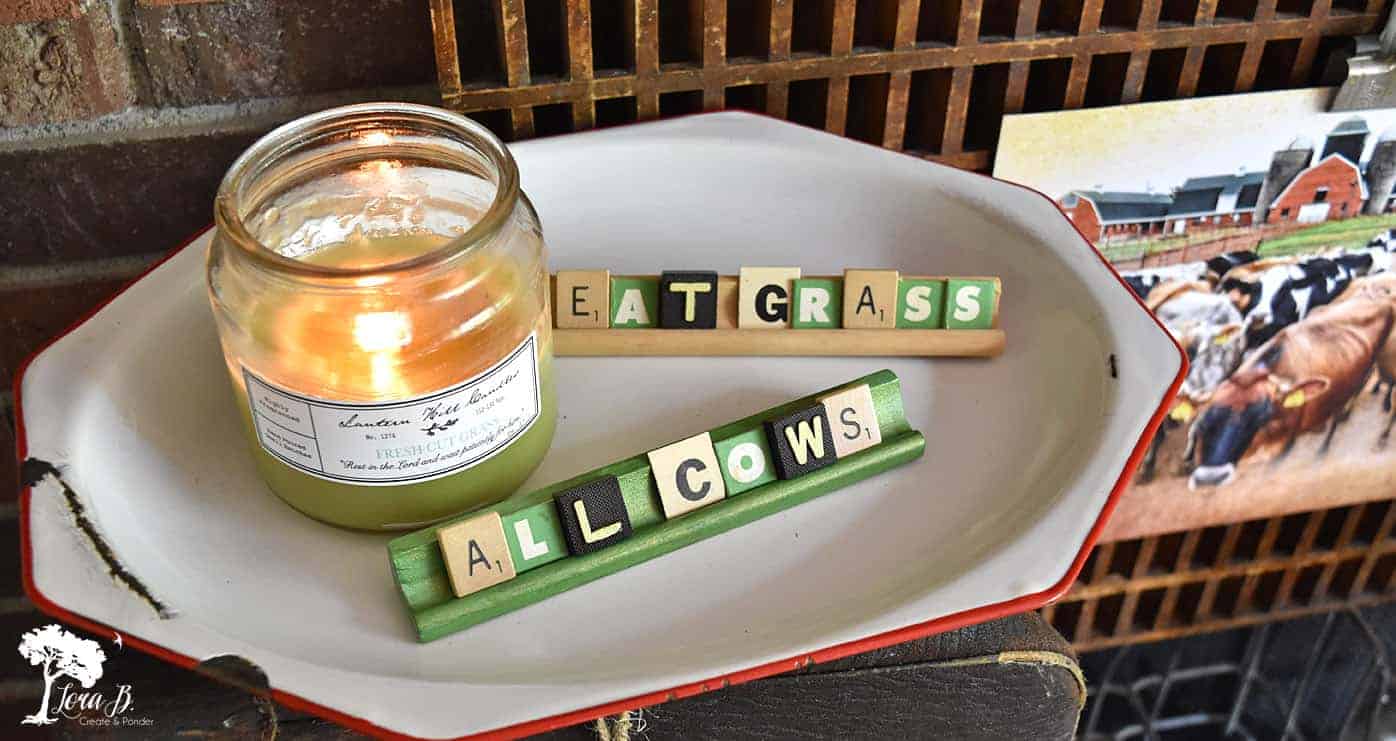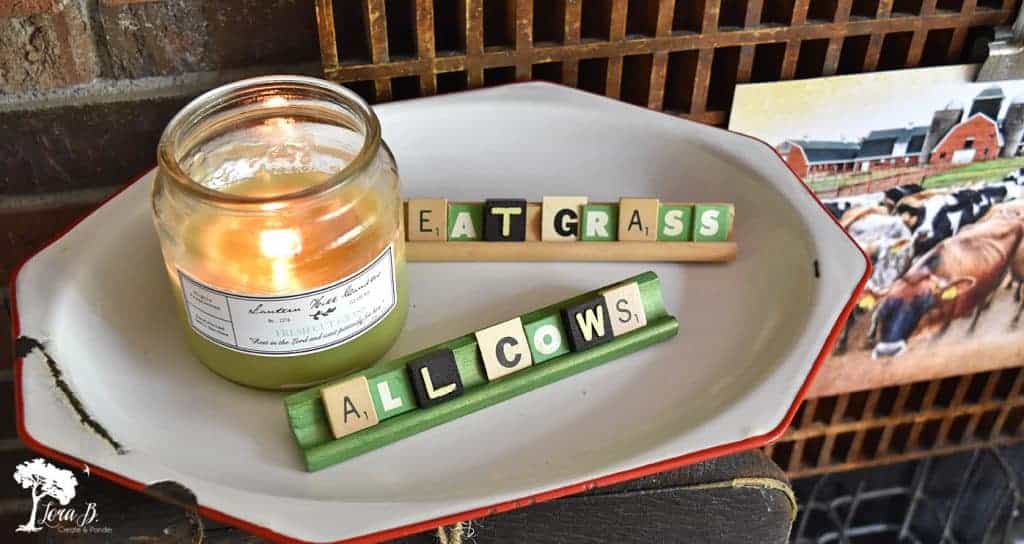 Can you catch all those dairy and milk cow references? Can you see how that brainstorming list came alive? What a fun combo of accessories! And the colors all coordinate nicely with the photo print, too. The photo is definitely the springboard for this whole scene and tells the story!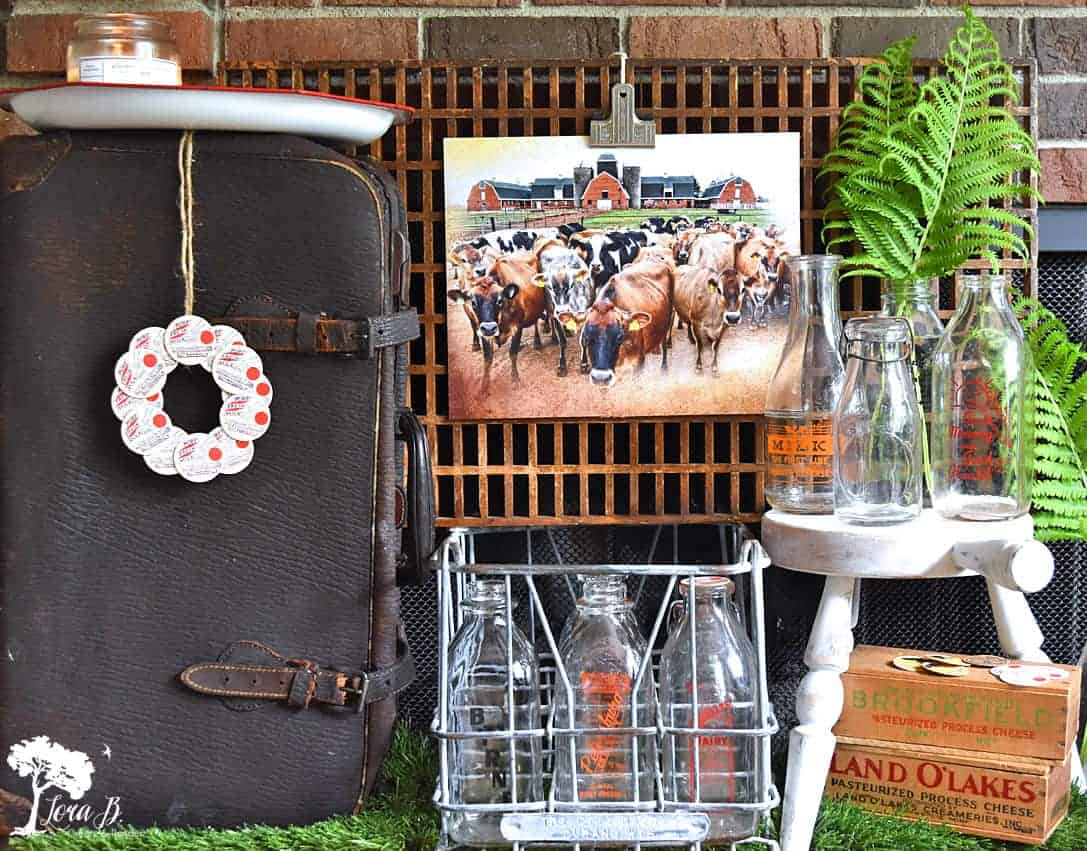 Colorful Truck
The old, colorful truck seemed to fit nicely in Big Boy's room with it's faux brick wall. I knew the bright colors would pop against the crisp white and I pictured the old truck parked next to a crumbling down, old brick building. I grabbed an old gasoline can from the garage and any other car-related accessories I could find. Unfortunately my old black and white license plate was packed away. I used what I could find!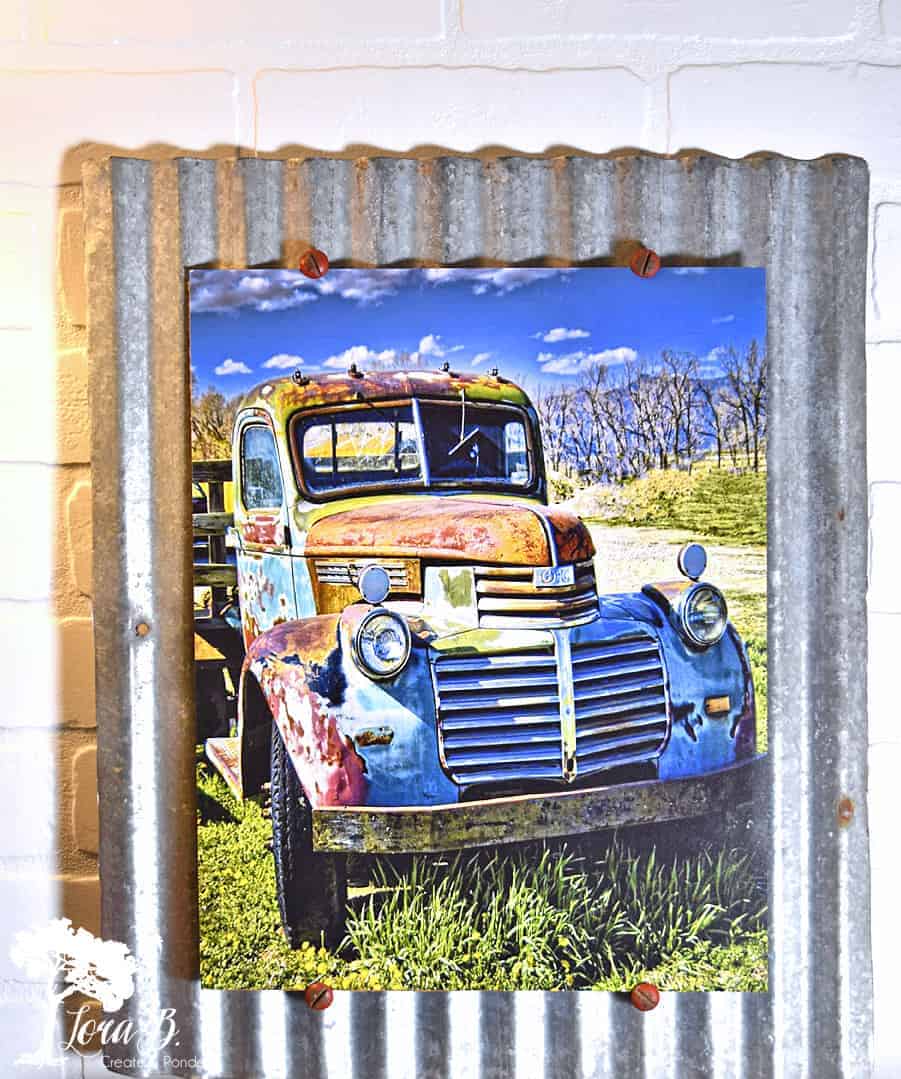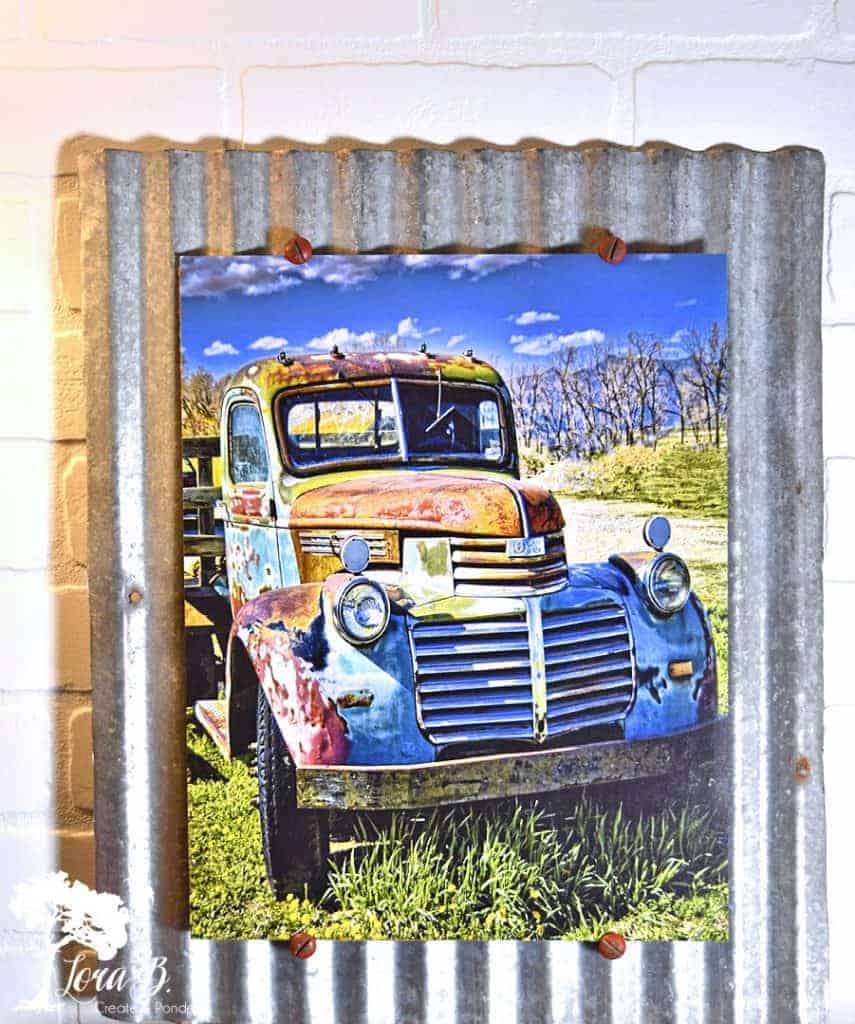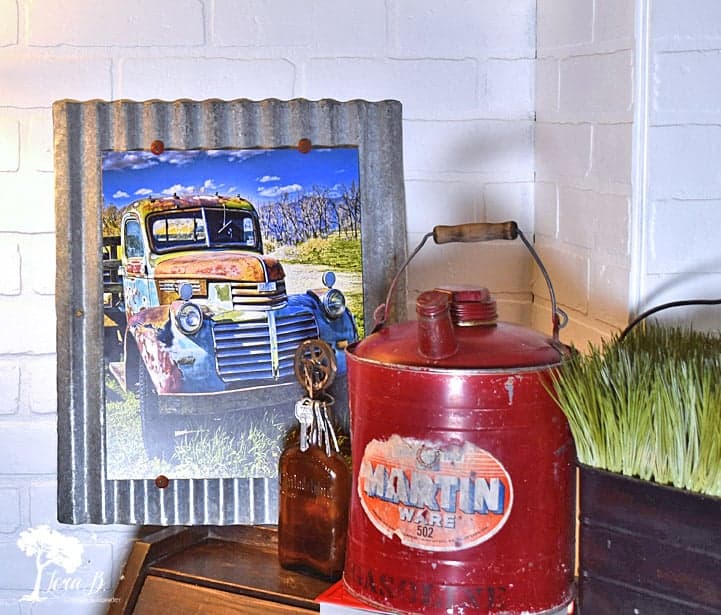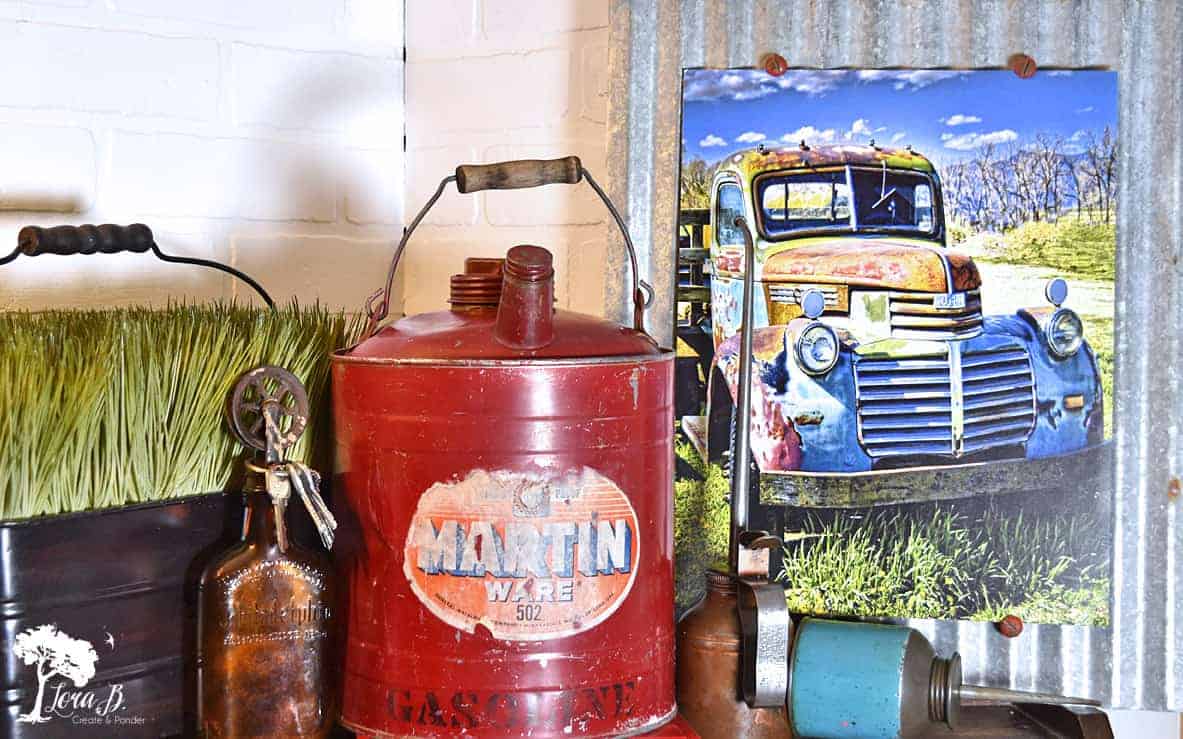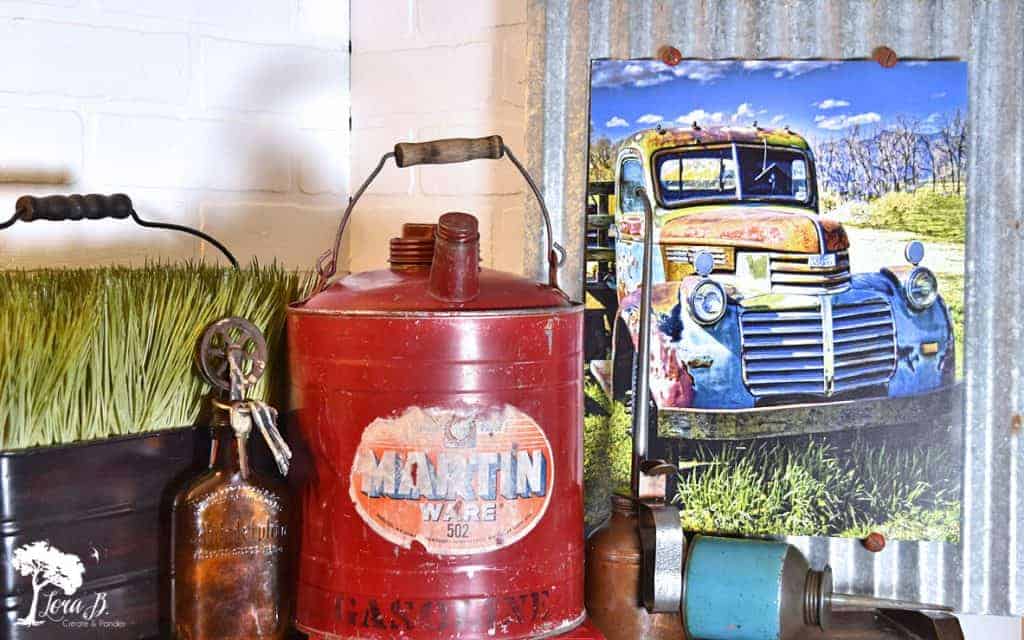 For both the old truck and the windmill photos, we displayed them on corrugated metal. We simply drilled holes and created an easel slot with screws and nuts. There's also a nut on the back. These displays could be hung if you glued picture hangers on the back. I simply leaned them in my decor vignettes.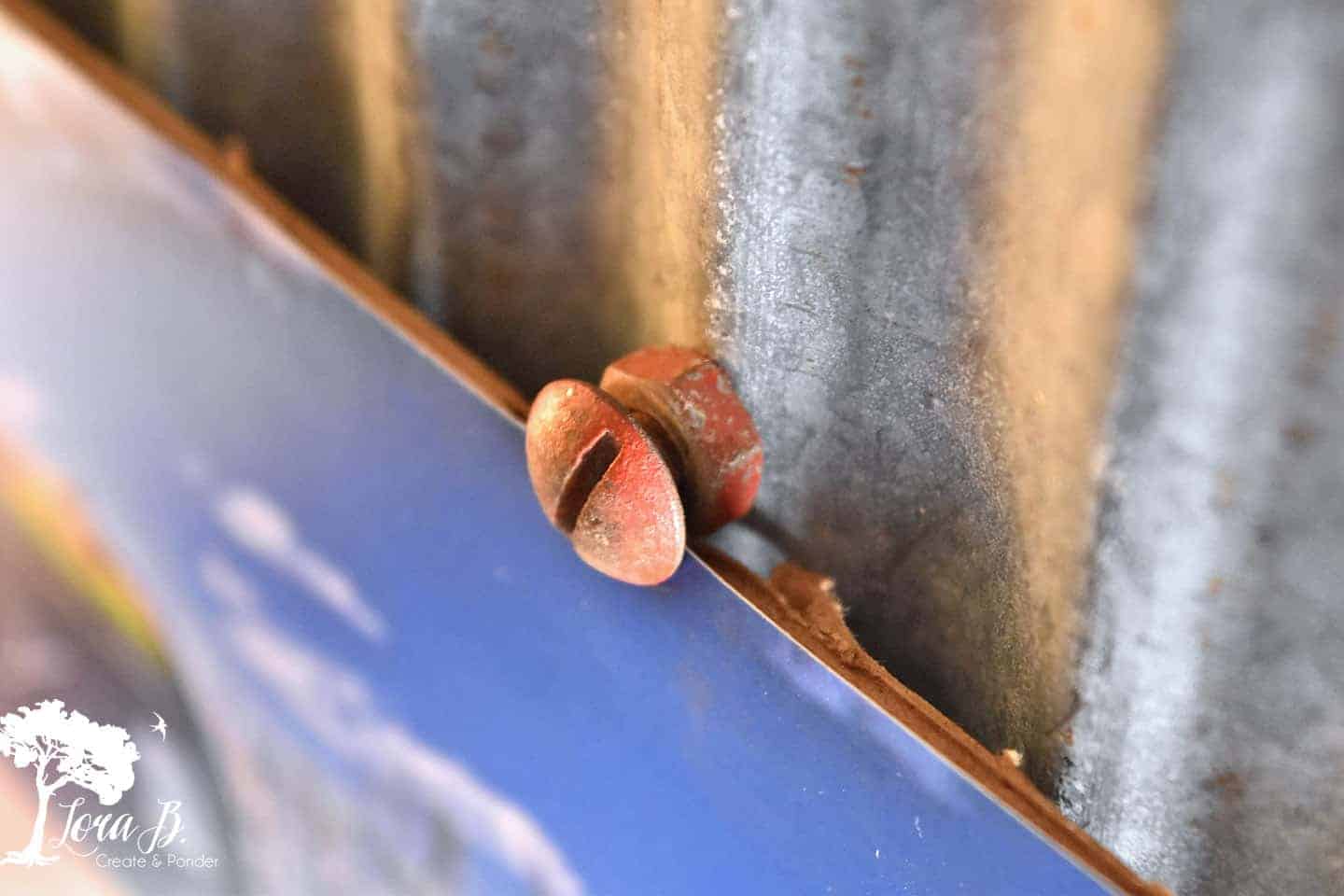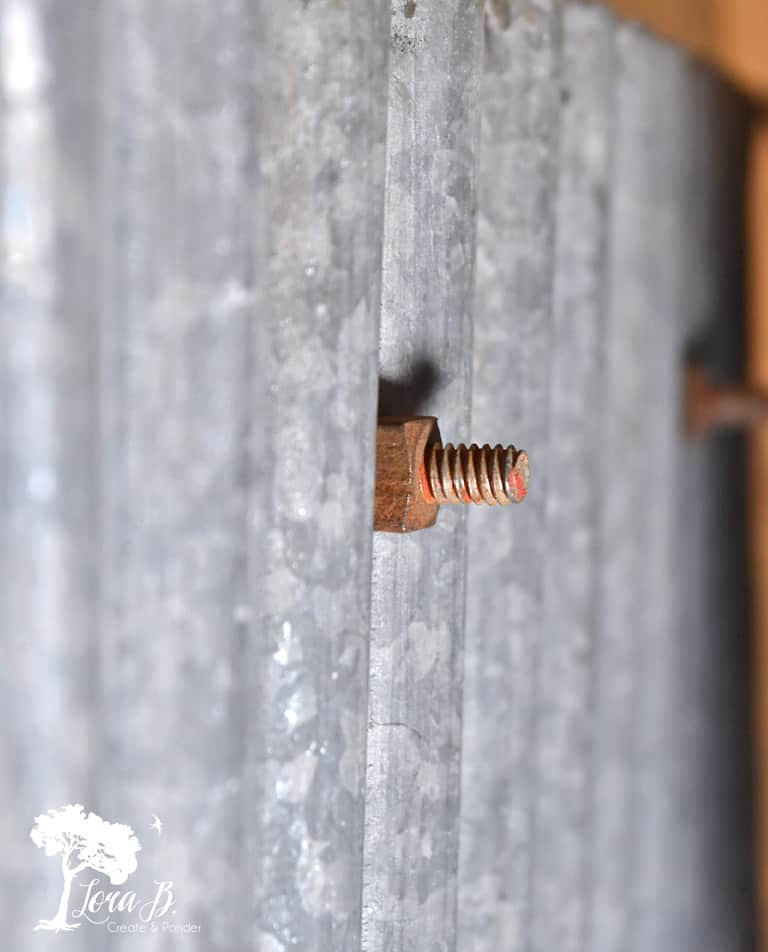 If you worry about the photo print getting damaged, you could get plexiglass cut to size at the home store and place it over the top.
Vintage Windmill
The subtle blues and golds in the vintage windmill picture made it perfect for our newly remodeled bathroom. The floor tile has graphic shapes that resemble the windmill parts along with a scrolly pattern that reminds me of wind. The photo print on cardboard was placed on a piece of corrugated metal with rusty square bolts.
To coordinate with the brainstorm list, I grabbed an old large lightbulb, some old radio tubes, and a vintage fan. An old cut off table leg proved to have the perfect coloration and shape to add to the scene.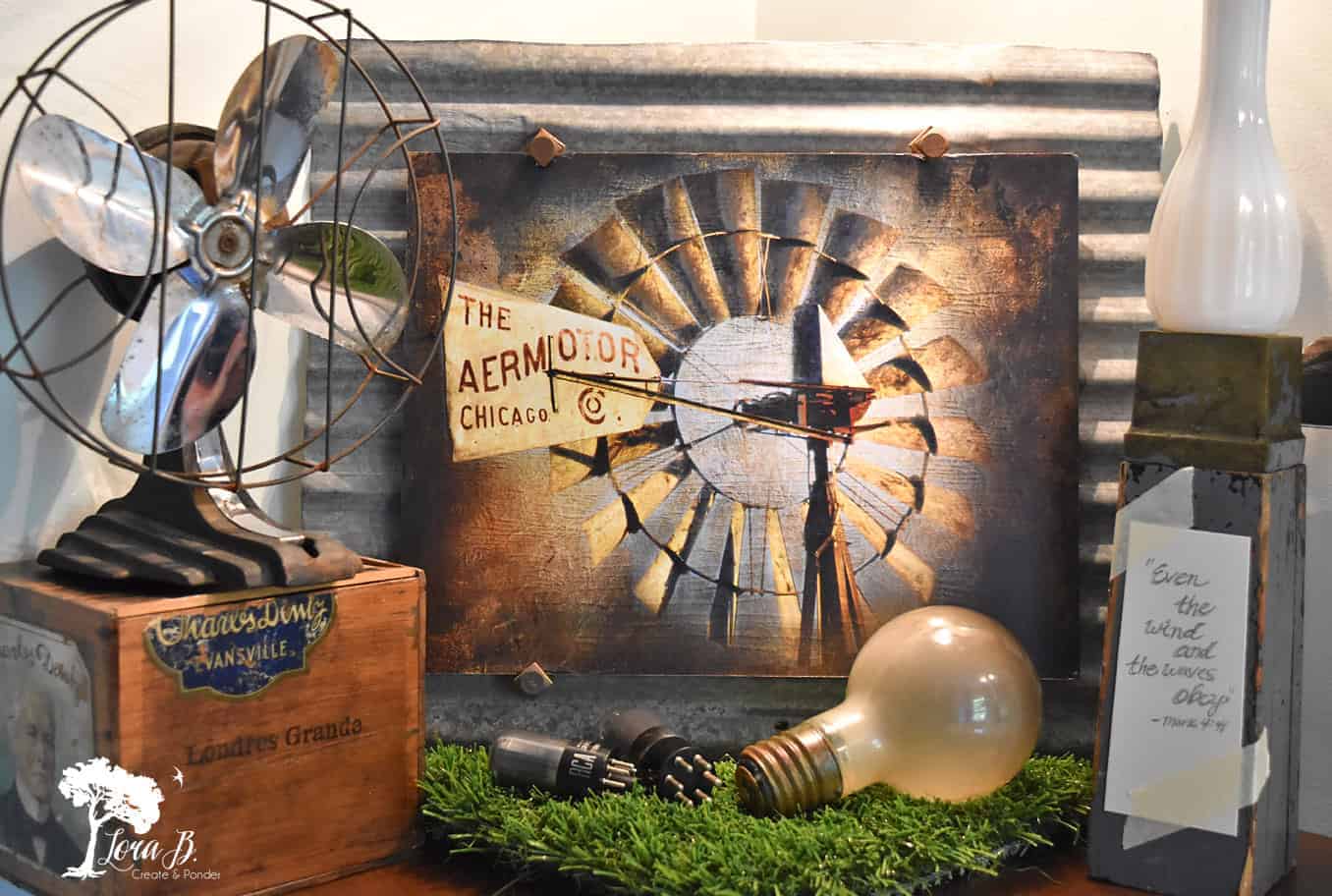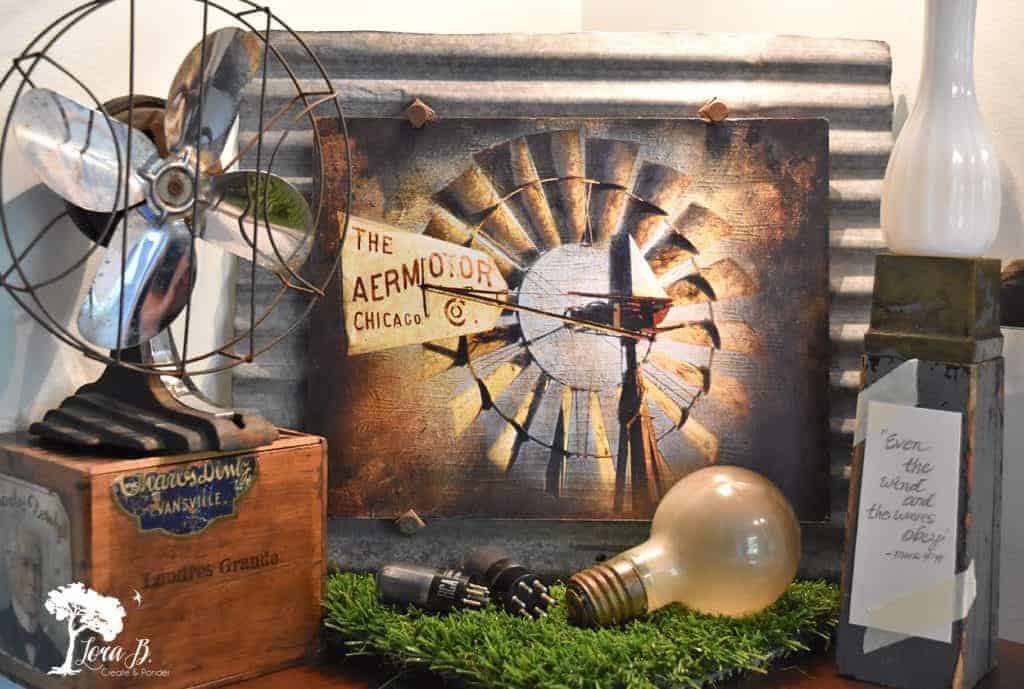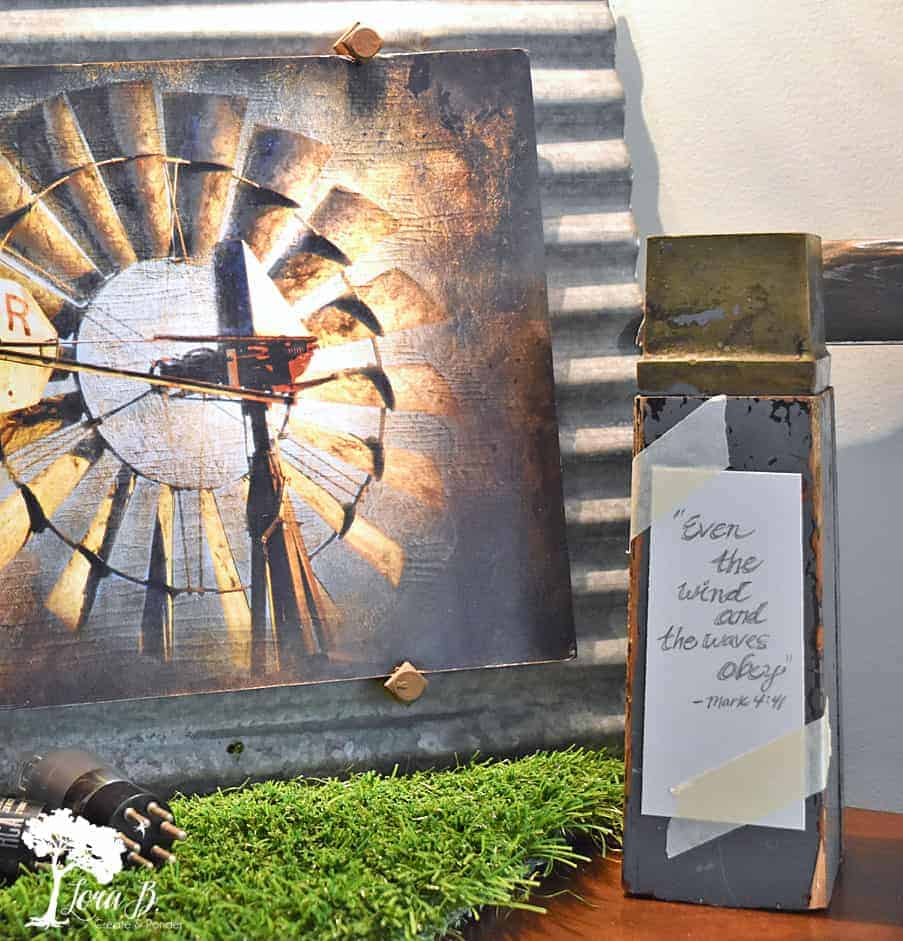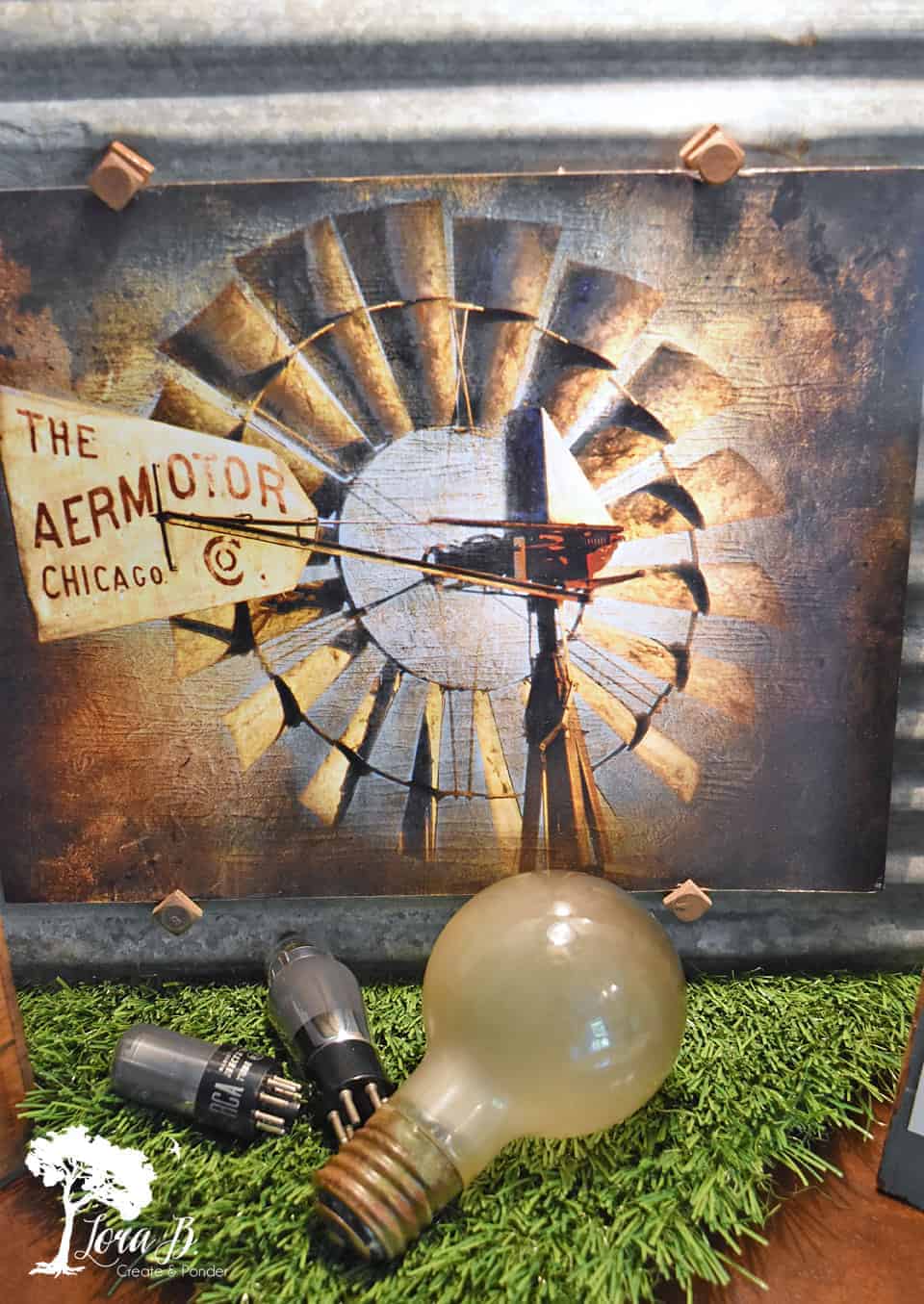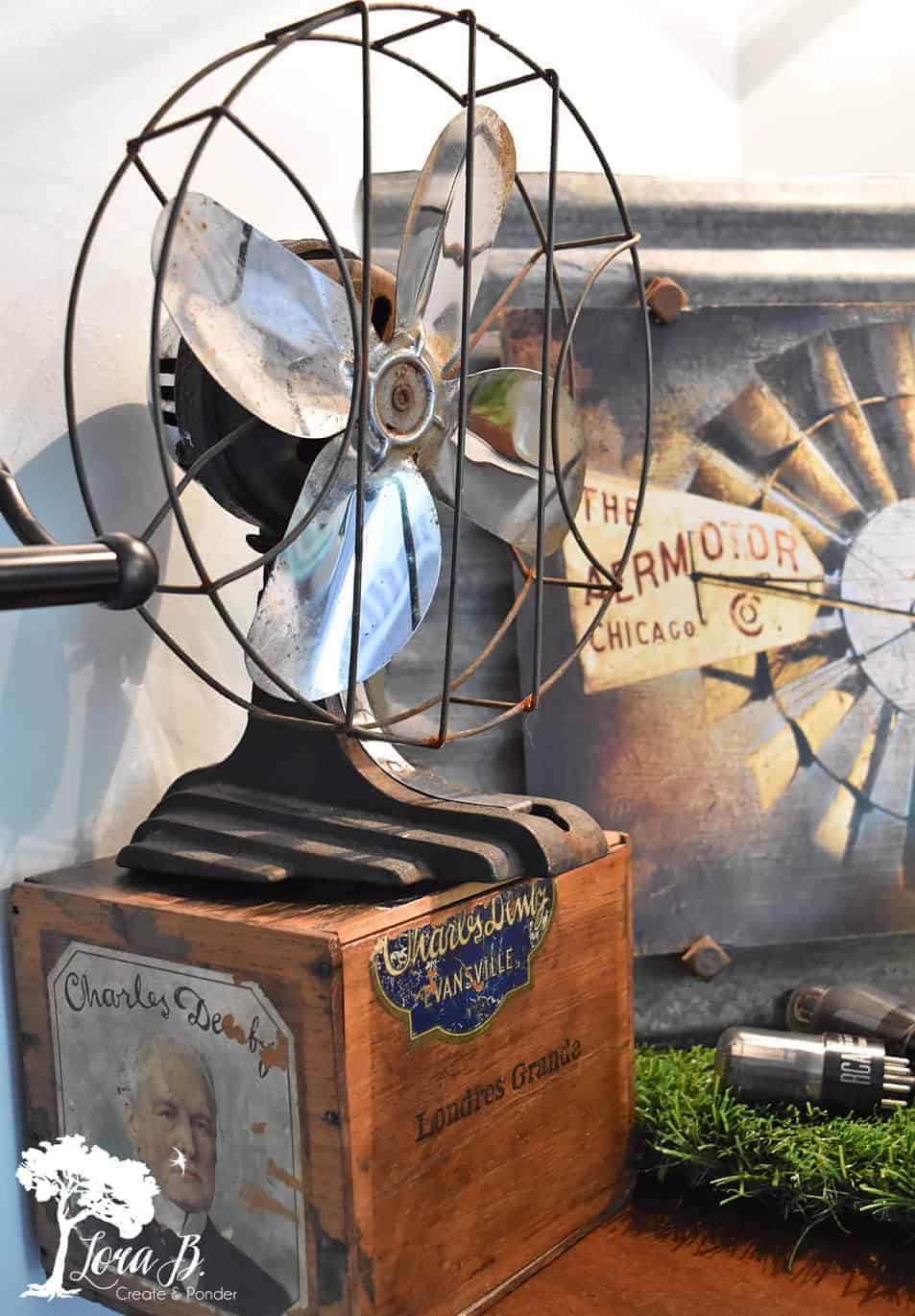 I'm still working on the finishing touches of this room, but love how these accessories add to the decor. I may hang the windmill pic, but for now this little collection looks quite handsome!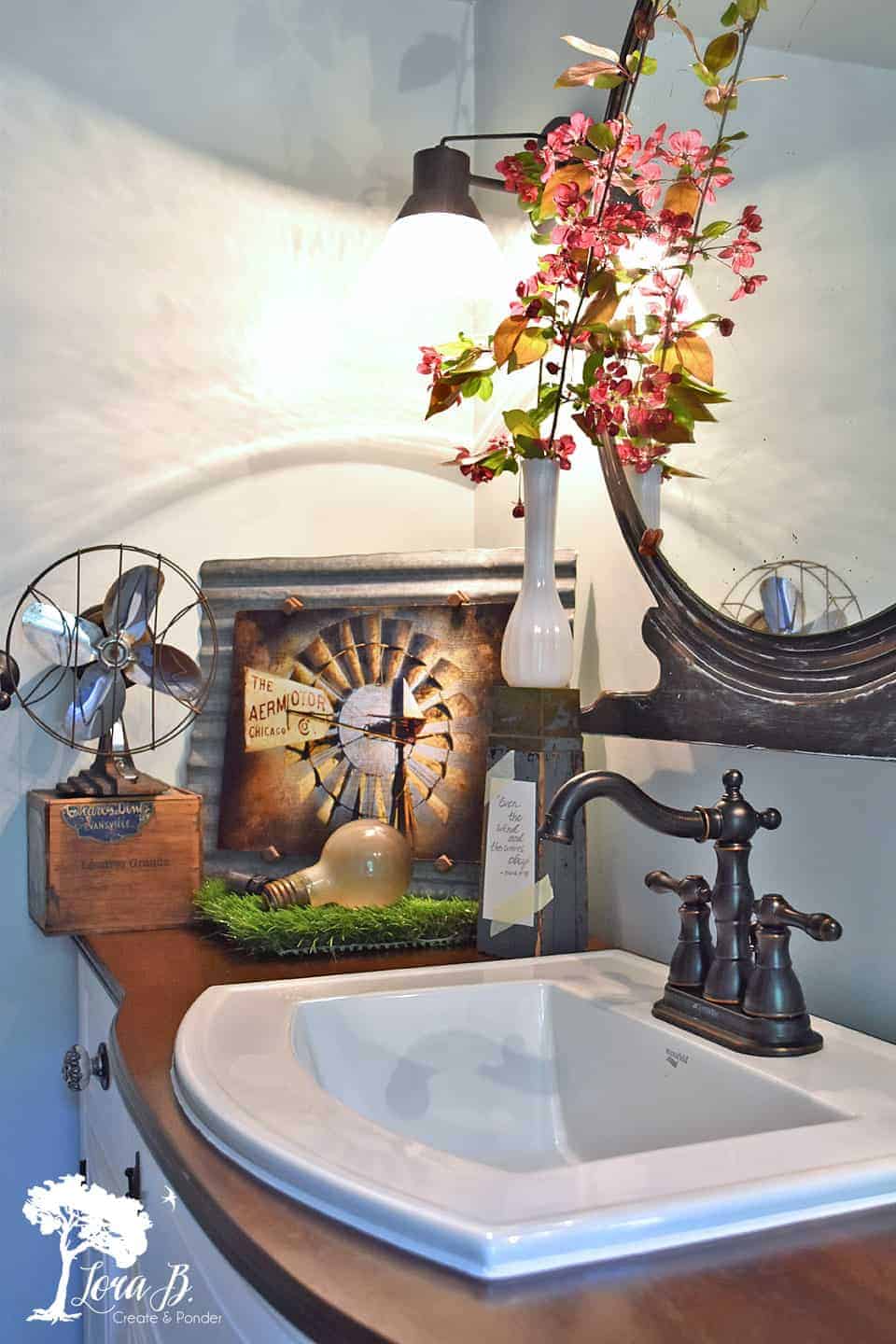 Can you see how photo prints can be a great launching point for your decorating? They help establish a theme for you to brainstorm. You can play off the colors, textures and anything else that comes to mind! I hope you enjoyed seeing the process and are inspired to give it a try yourself.

A Special Discount on Photo Prints for Lora B Readers!
Dibble and Son Furniture and Art Gallery is offering Lora B readers a special 10% off their photo print collection! You can shop HERE. Simply use LoraB as a coupon code when you check out!
Let me know which photo print you're going to be creating a theme and decorating with! I'd love to hear about it.
I hope you enjoyed this post and learned How to Easily Make a Decorating Theme Using Photo Prints. Thanks, Dibble and son for partnering on this post. Thanks for reading and visiting!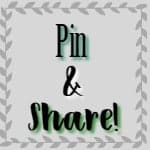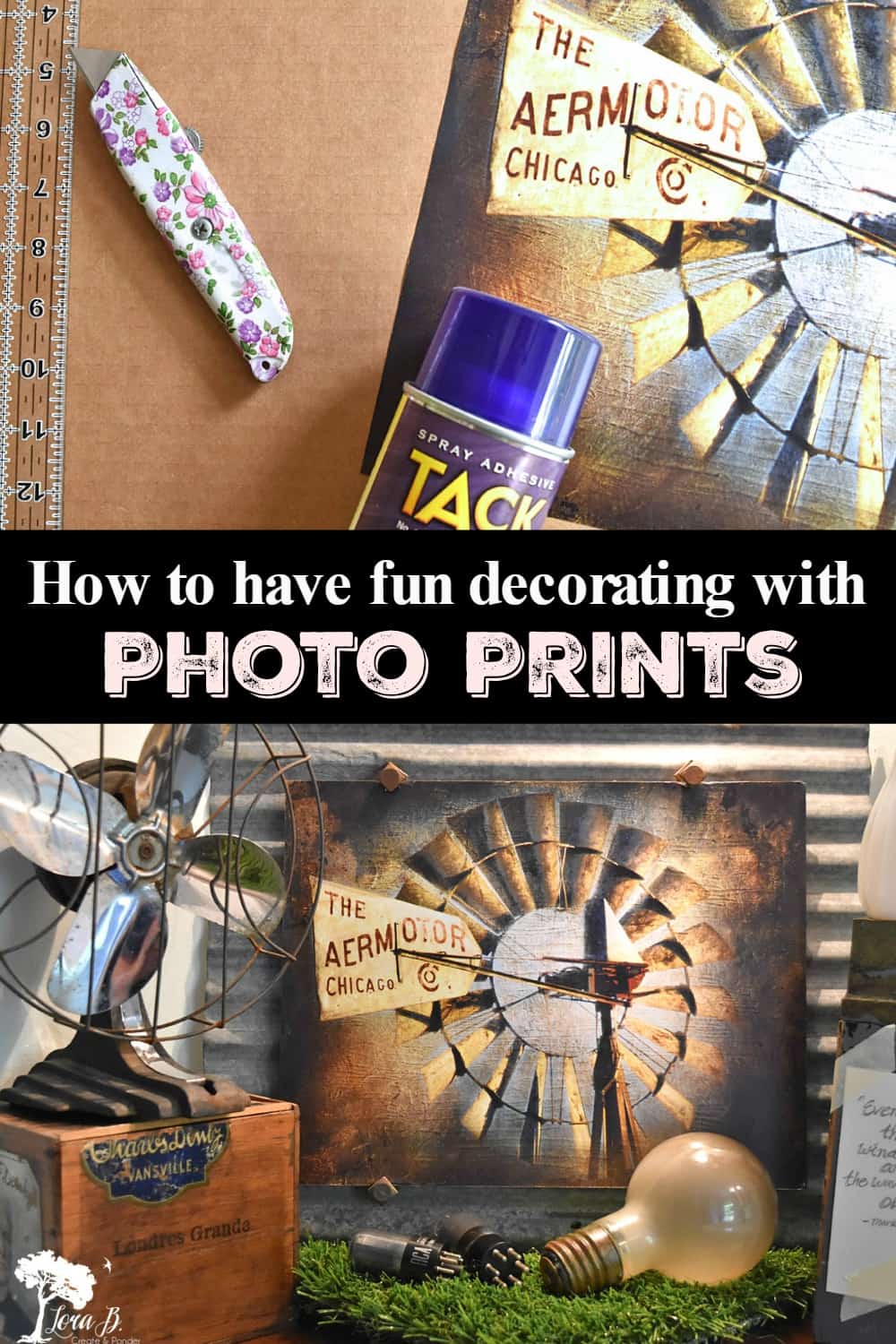 Sharing at these lovely parties: