Leg-o-Matic Chair Refresh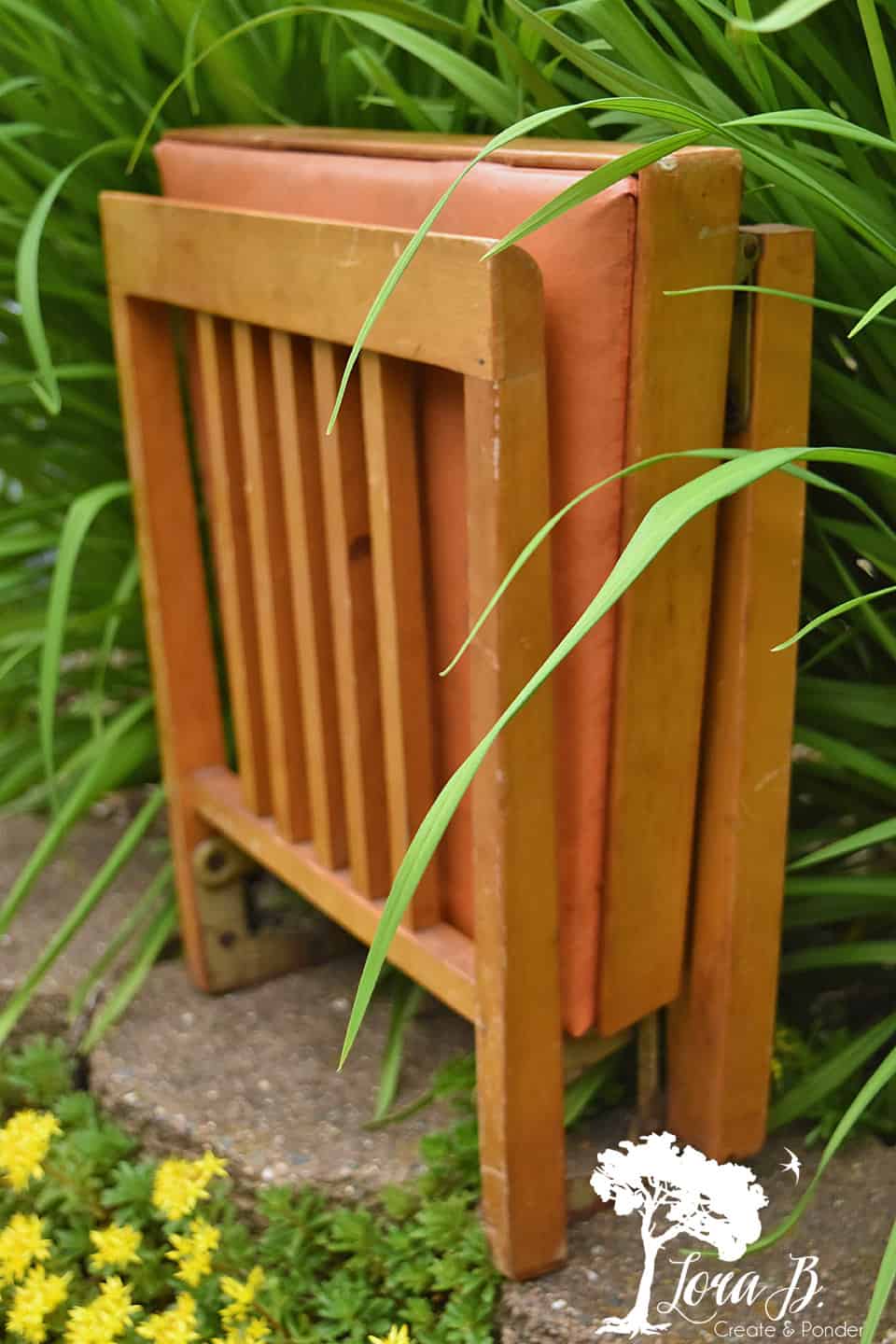 Have you ever heard of a Leg-o-Matic folding chair? Because I'd never come across one of these amazingly engineered, compact chairs until recently at a church sale, where I was ironically on the hunt for grad party seating! (Read more about church sales in "For the Love and Comfort of Church Sales" and "Church Sales 101") And join me in my first ever Thrifty Chicks Junkover Party with 6 other talented DIYer friends! The links to their projects are at the end of this post!
When I saw a bunch of chairs en masse, I scooped them up, making sure they had all their parts. Not until I got home did I notice the label on the bottom of their seats: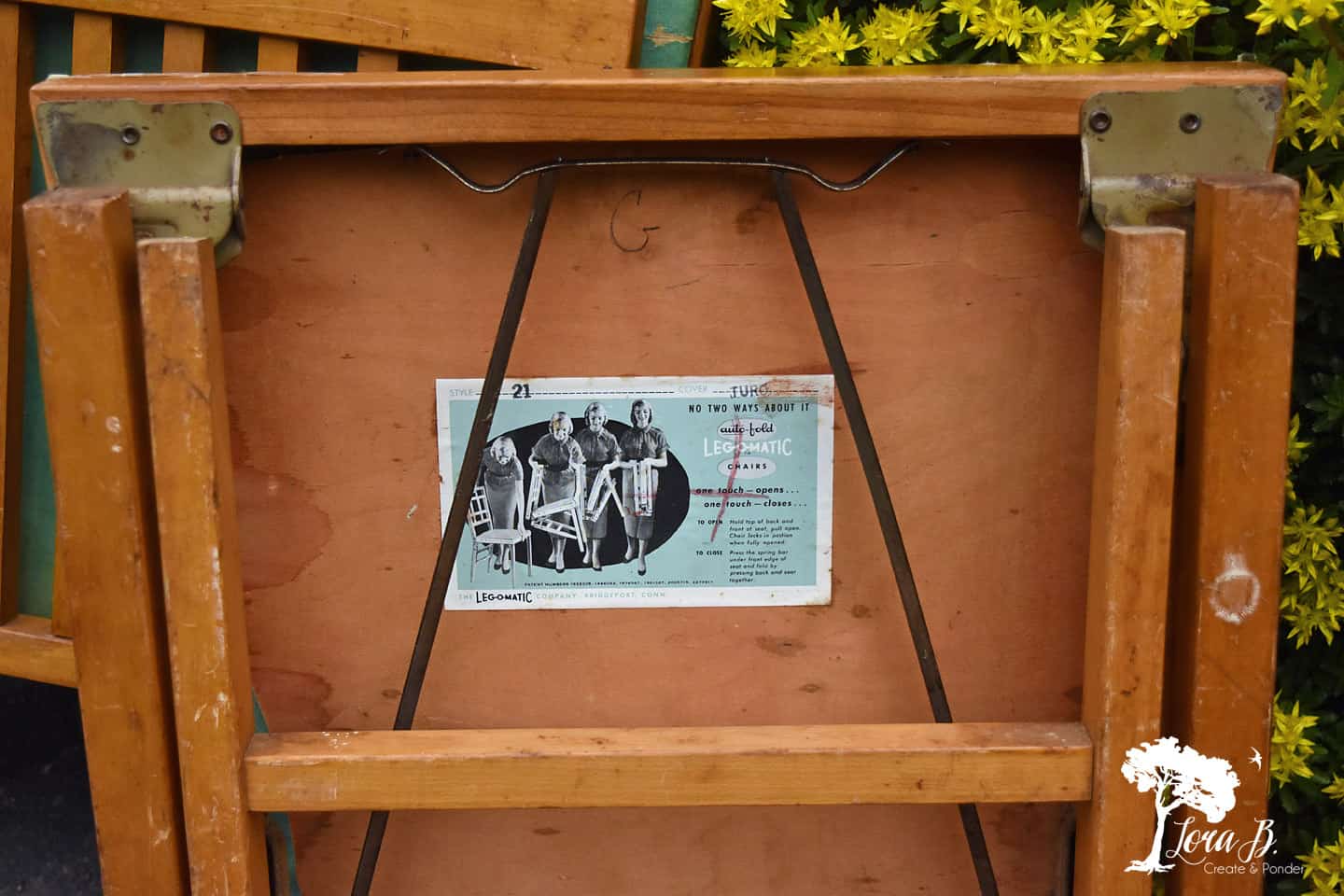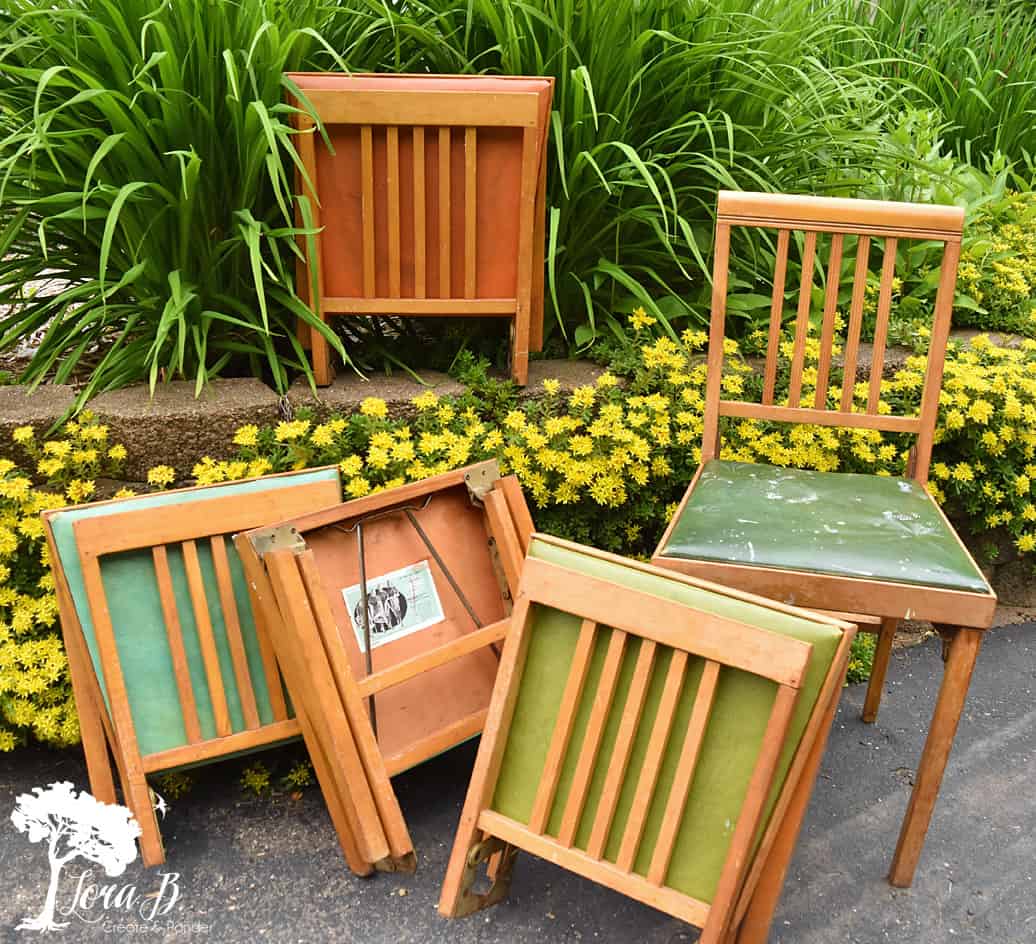 With a little search, I found out they were made by the Leg-o-matic Company from the 1940's -1970's and were heavily used in Airstream Trailers because of their compact size when folded. My version seemed to be made out of maple, and although looked well used, were in fairly good condition.
Although I liked the retro colors of the original vinyl seats, there were paint splatters that could not be remedied, so I decided some new fabric was definitely in order. The wood frames were dinged and dented, and the clear coat finish was chipping off. I decided some light sanding and a fresh coat of poly would bring back the beauty of the pretty wood. I just couldn't bear to paint these cuties.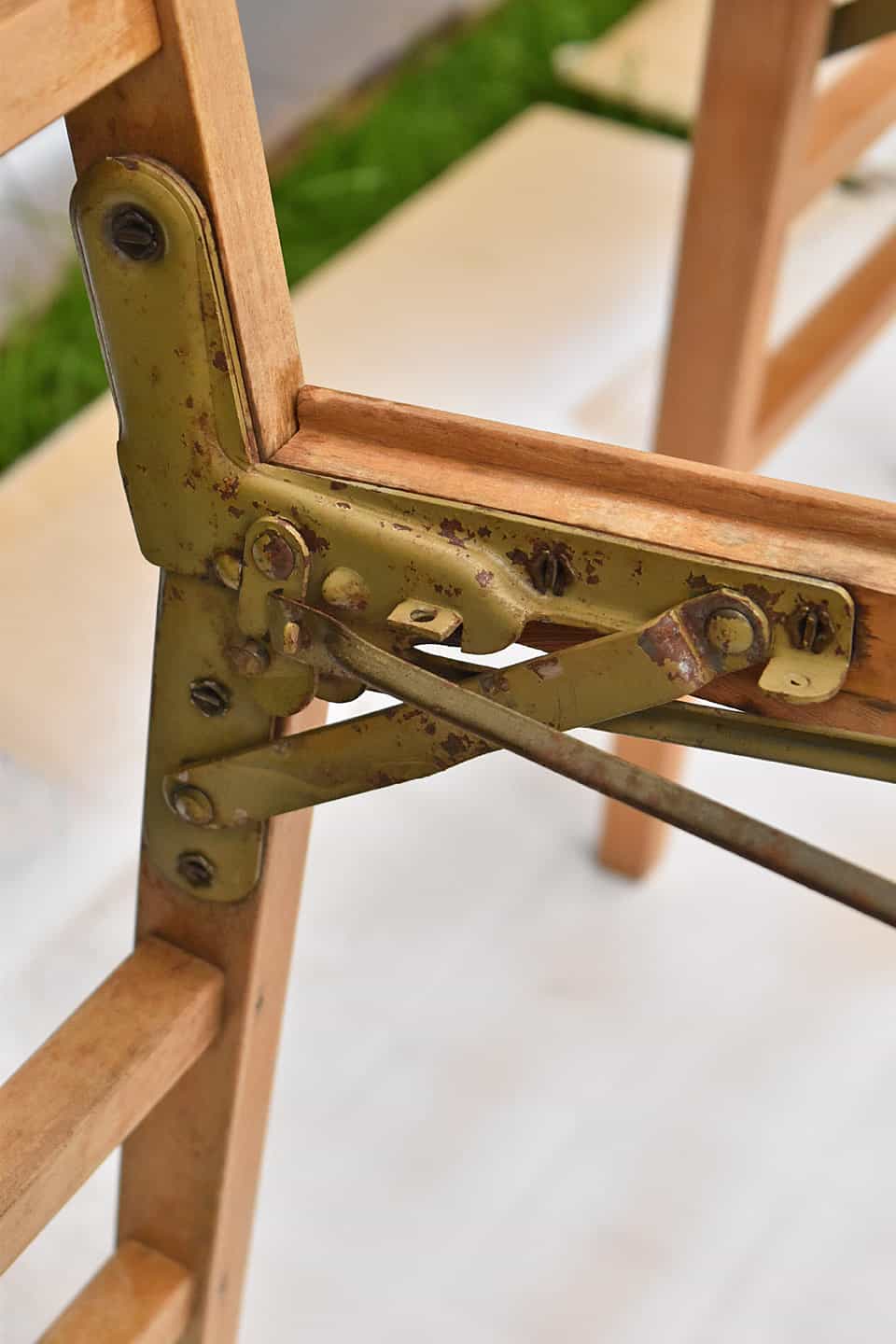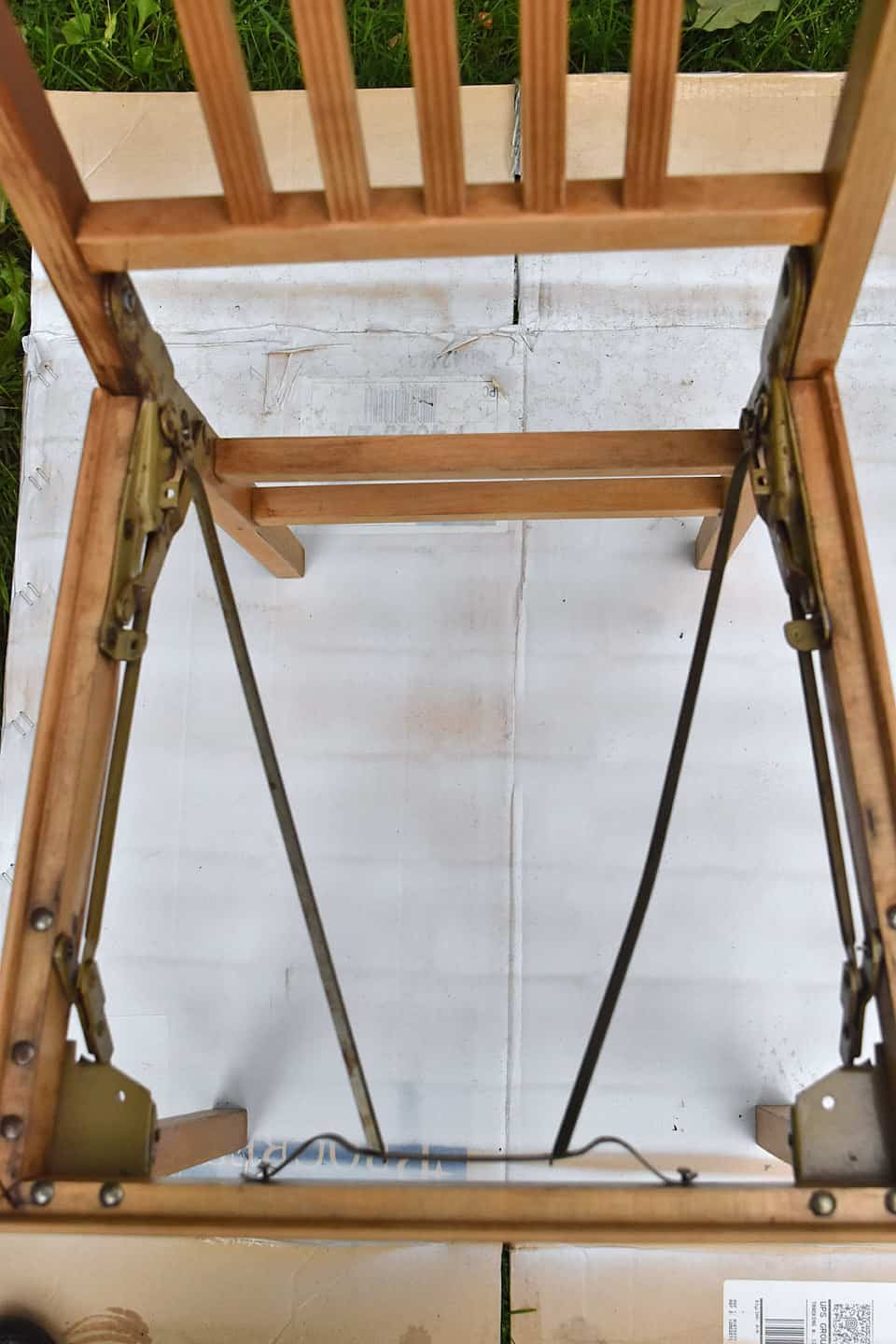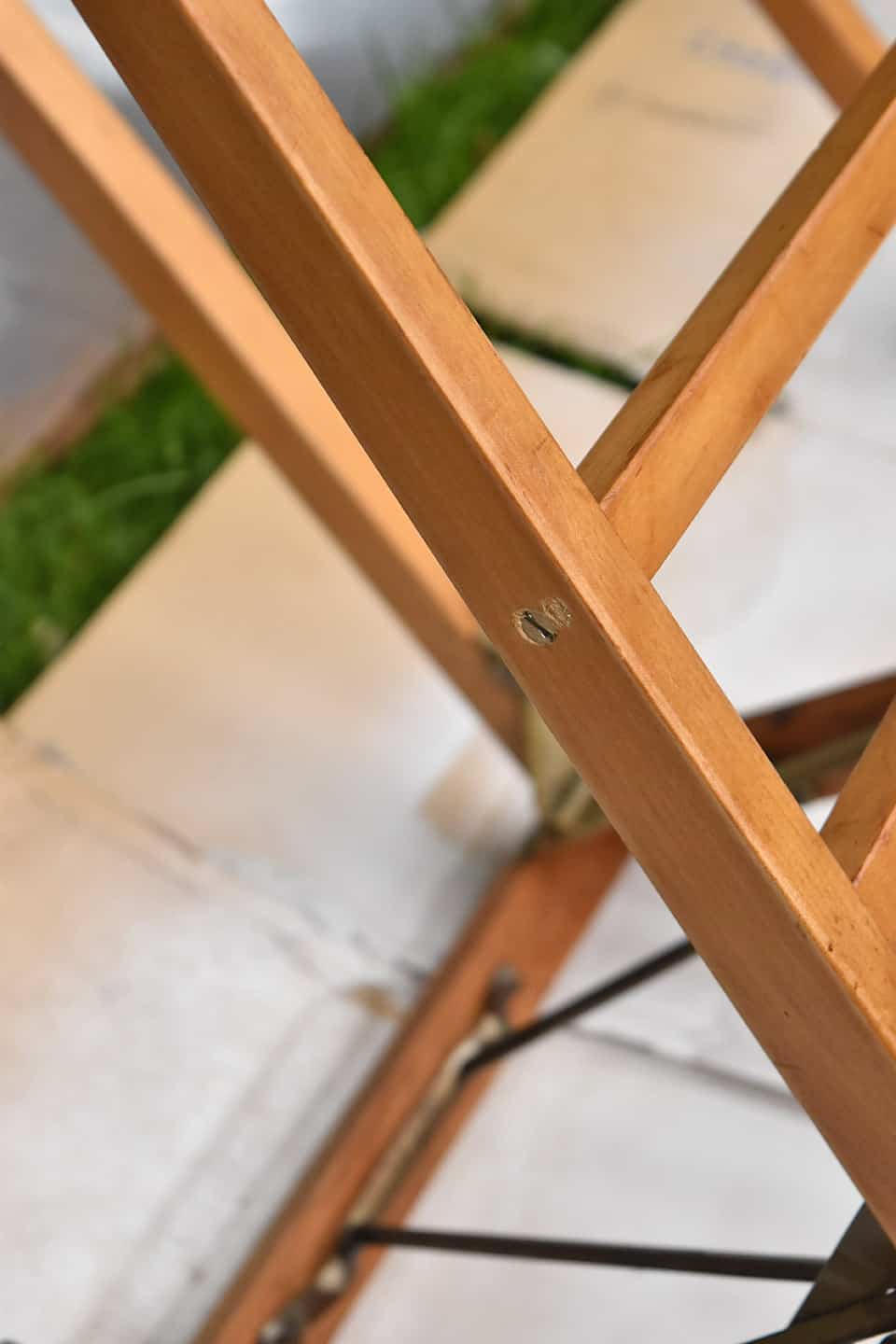 As Mr. Fix-it added a few screws to strengthen some spots, he marveled over the well-engineered folding mechanism on these chairs. Despite being a little rusty, the hinges worked well and functioned smoothly.
After a light sanding with 120 grit paper in my palm sander, the character of the wood was beginning to show. The chairs had definitely been touched by plenty of sticky fingers, so a good scrubbing followed.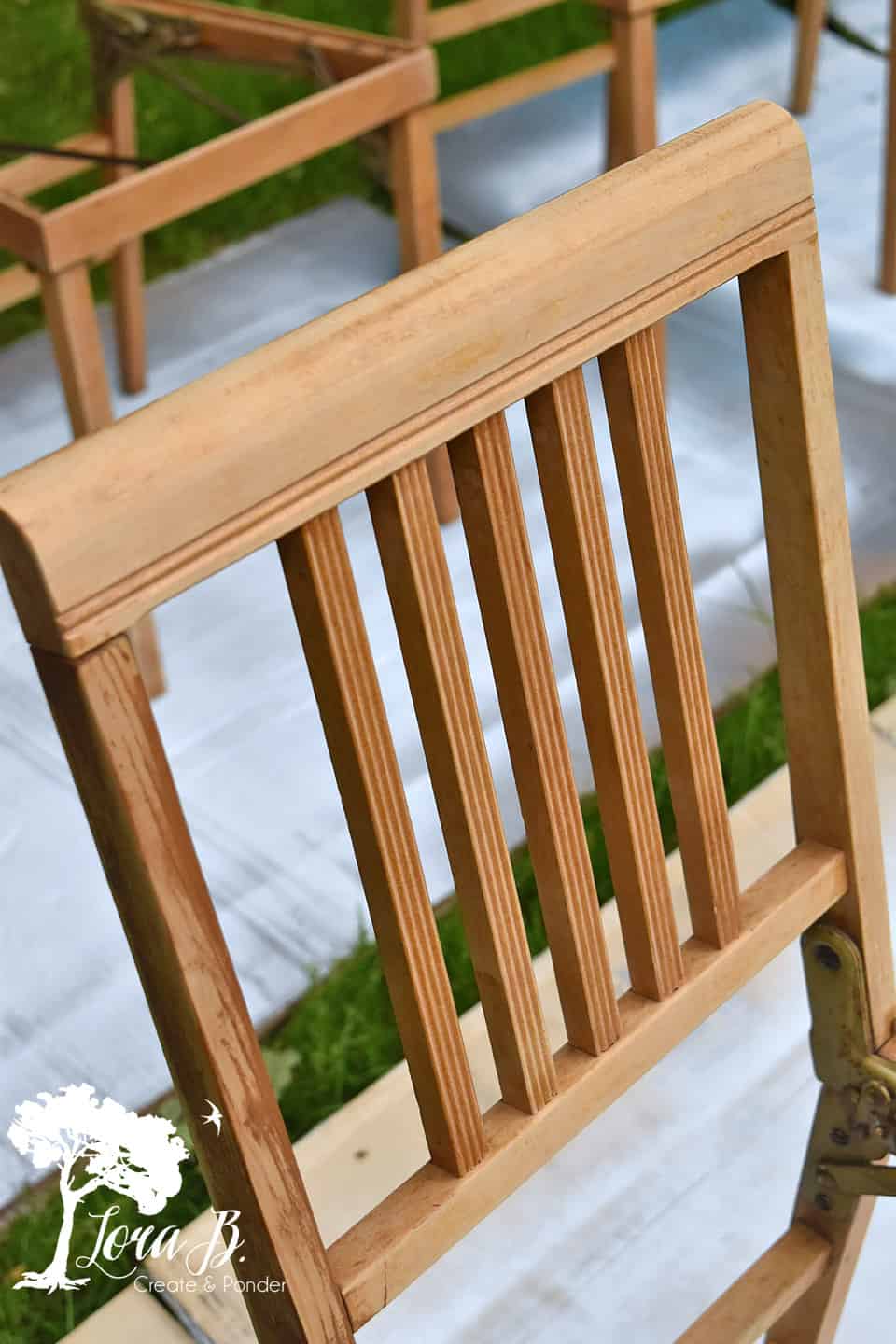 Whenever I am applying paint or poly to chairs, I always start on the underside (like I showed in "How to Refresh and Enjoy Vintage Metal Lawn Chairs"). If you make any mistakes, you can remedy them when you flip them right side up.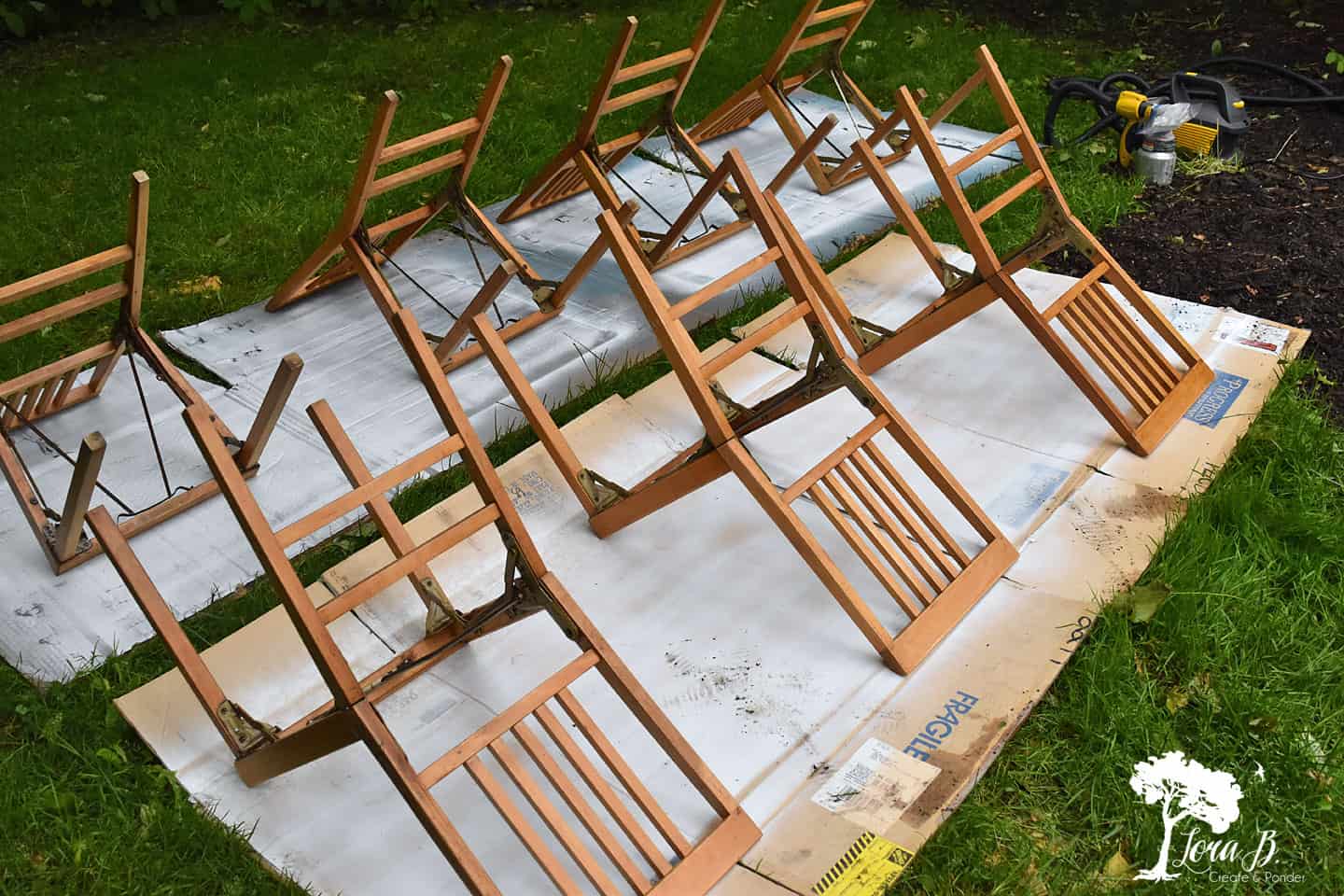 Always begin your paint or poly job on the underside of your chairs.
And in between sprayed coats of poly, applied with a Wagner sprayer, I cover the nozzle with a wet paper towel and a ziplock bag so it won't dry out while I'm waiting (and usually working on another project). One of my favorite applications for sprayed on poly is on old rusty metal. You can see the big pile of great junk I polyed in my post, "Wagner Sprayer".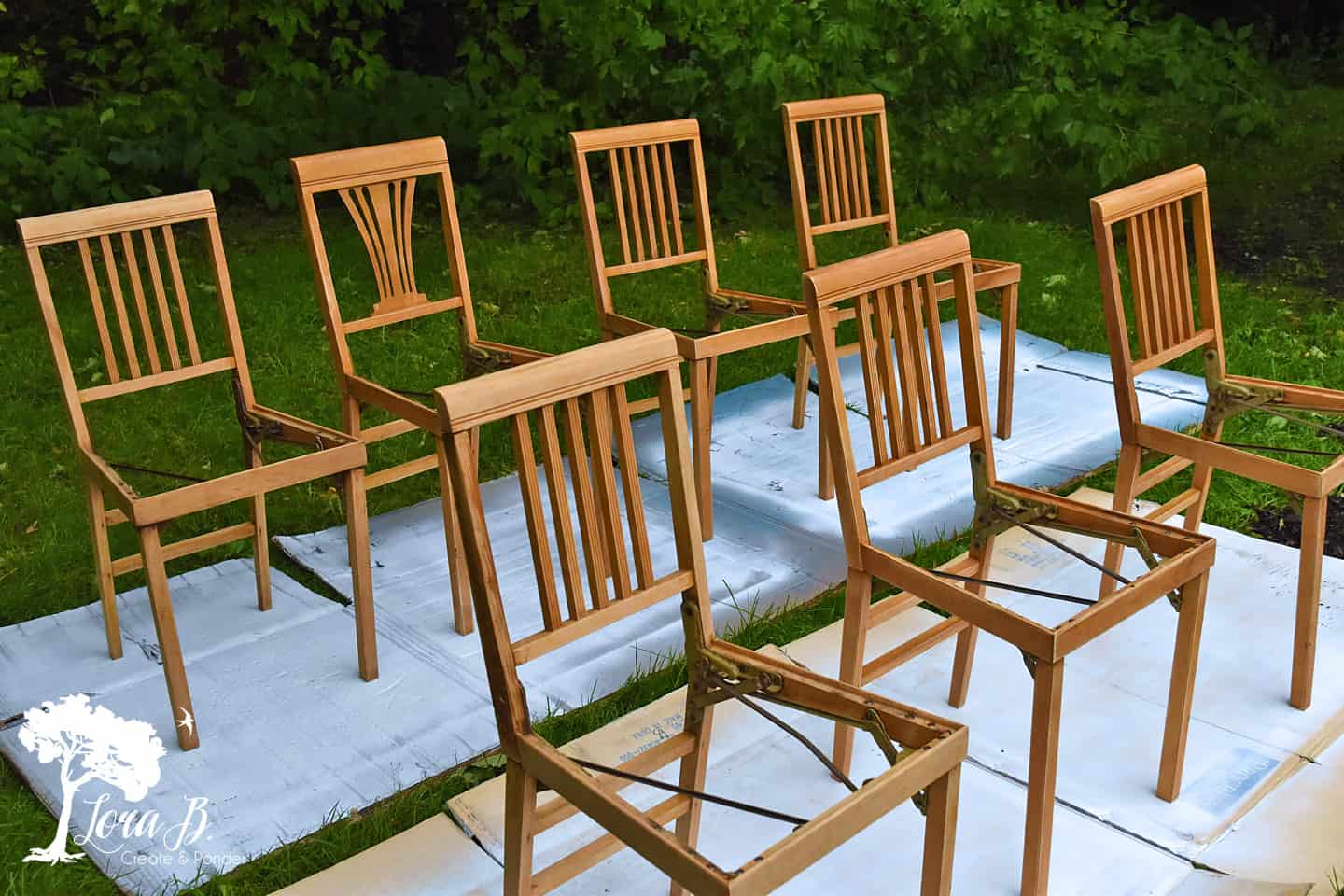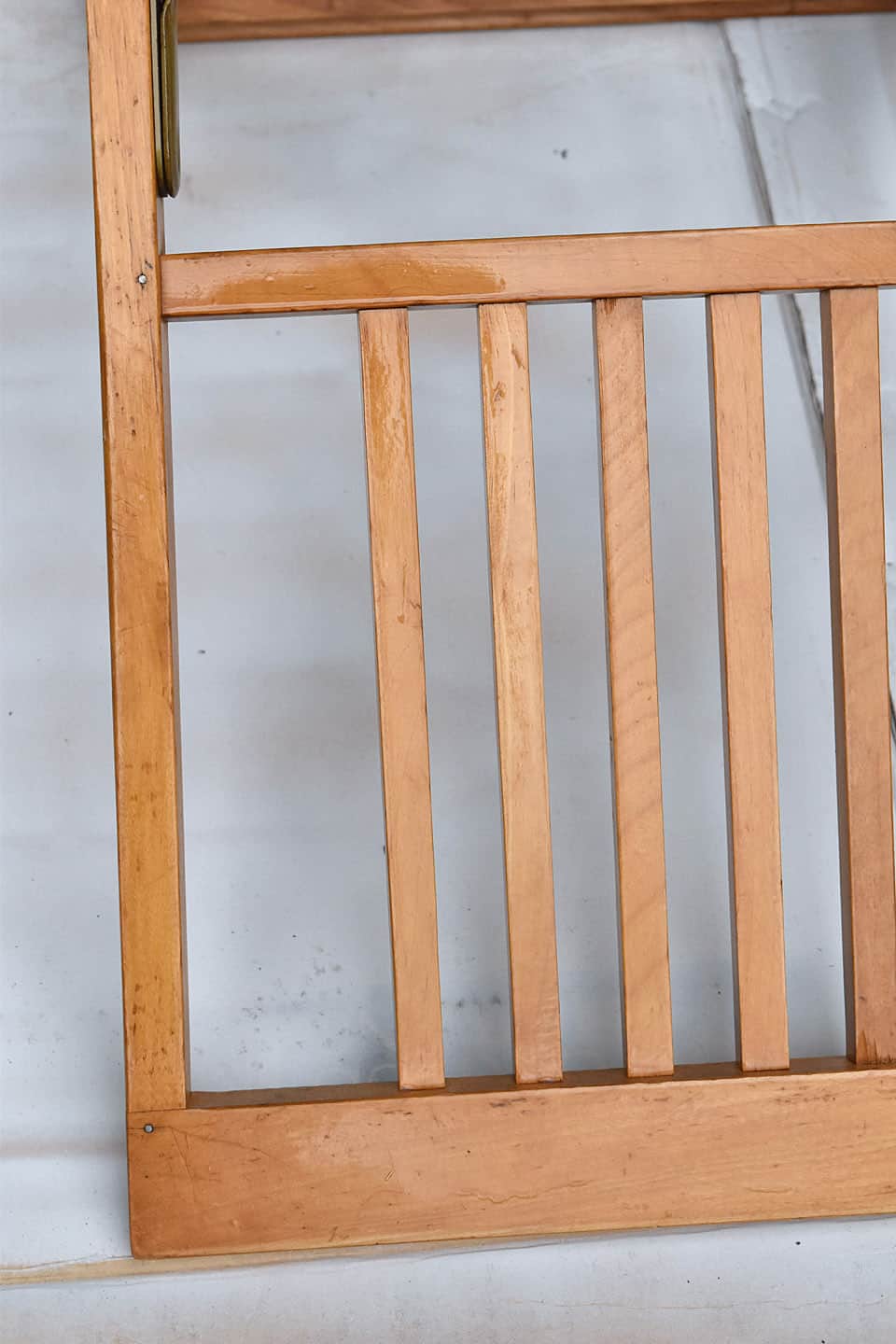 A couple of light coats of poly sprayed on really brought out the beautiful warm tones of the vintage maple. These chairs were happy to be getting a makeover!
As I chose a fun fabric for the chair seat pads, I was mystified by the hand written note on the bottom of the seats…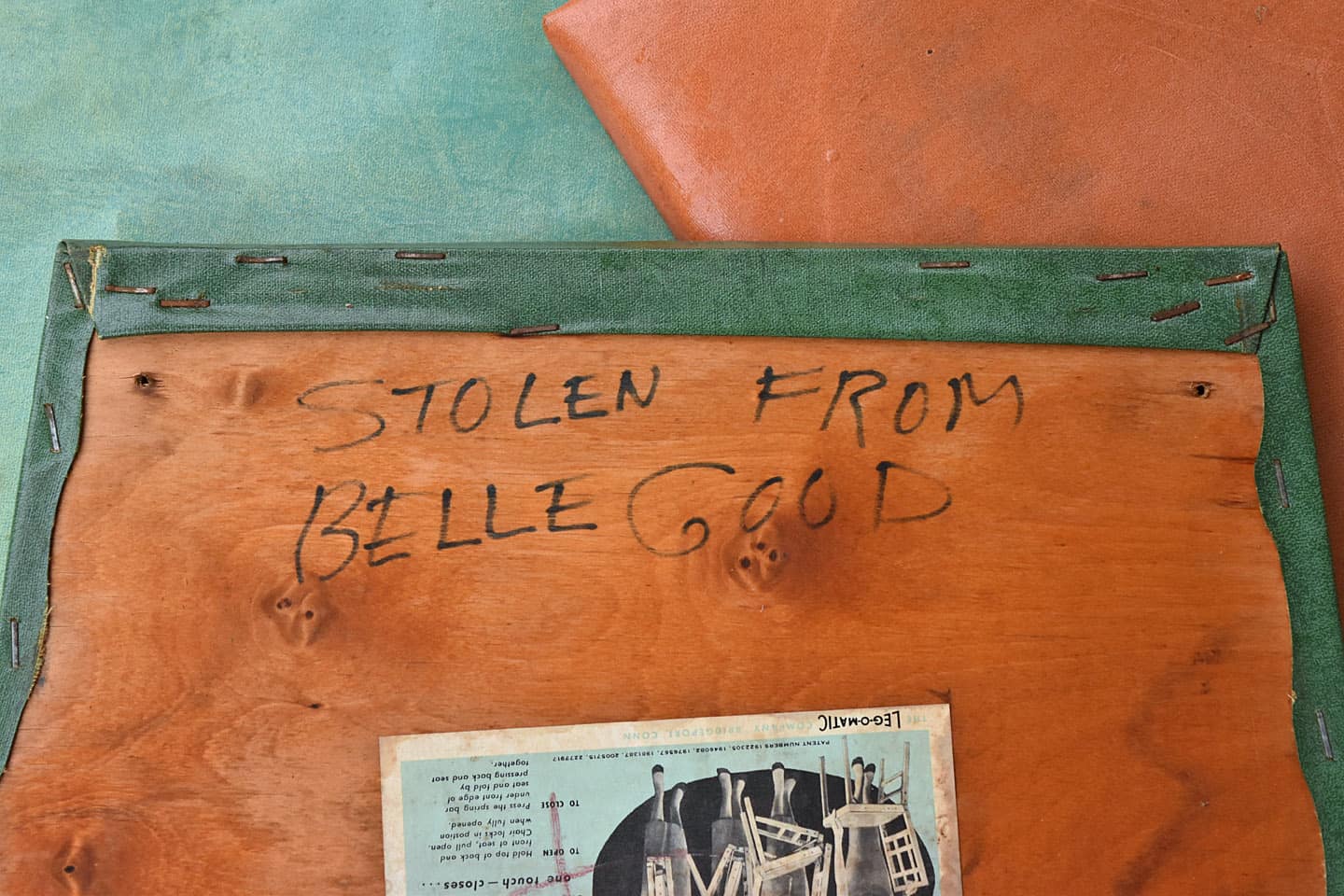 Who or what was Belle Good, and why would someone write that they stole chairs from them, for all to see? Don't think I'll ever know the answer to that mystery, but it makes the vintage chairs all the more interesting, don't you agree? I decided the vintage Leg-o-matic label with the sharp-dressed lady demonstrating the folding technique, definitely could not be covered up with fabric (like I usually do), and the "Stolen from Belle Good" needed to be seen also, for conversation's sake;) I decoupaged the label securely on and brushed on a liberal coat of poly to seal it all in.
Then I stapled on some cute new fabric, carefully folding over the edges so everything looked neat from the back. (Because you know they'll all want to check out the story on the bottom!)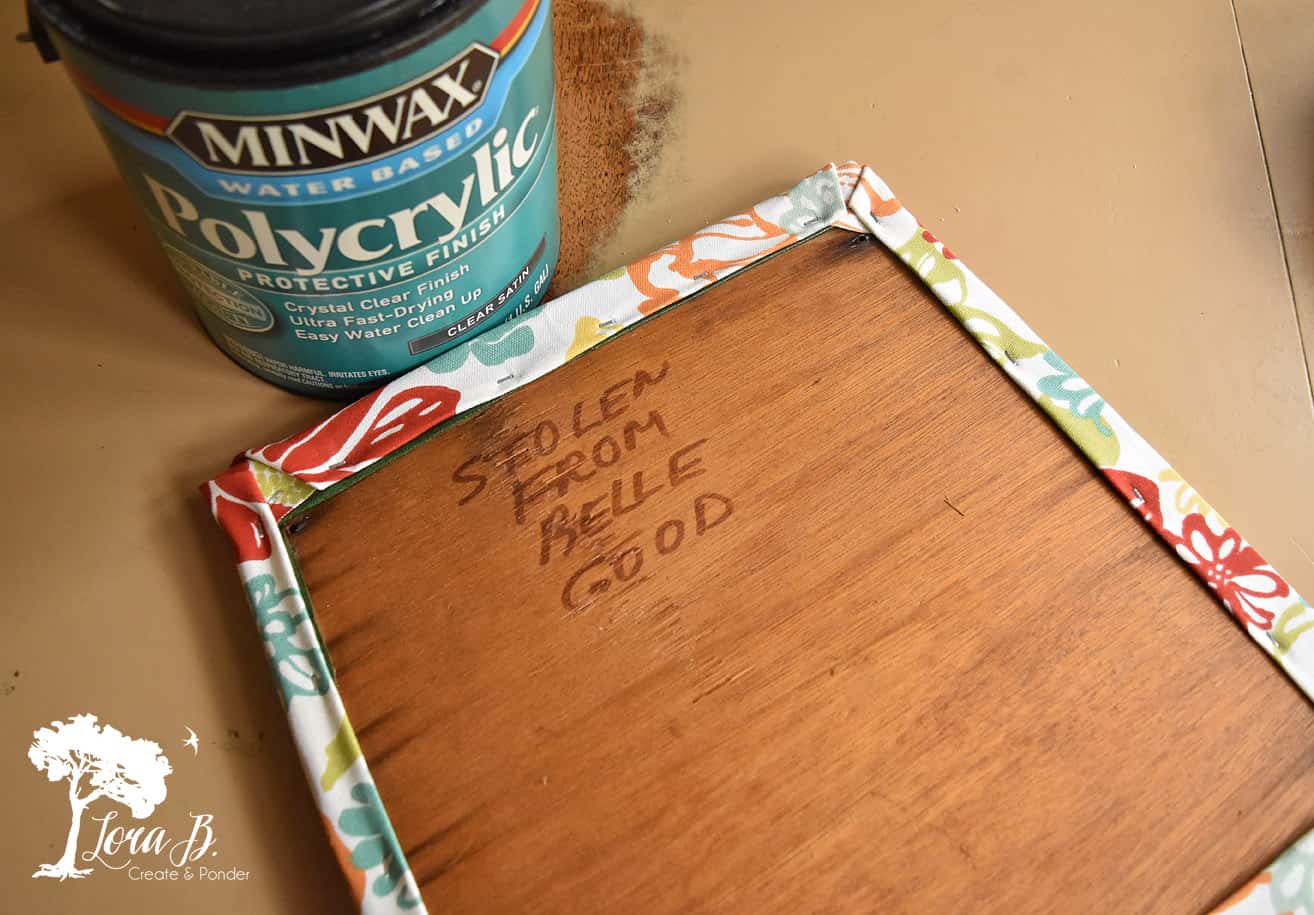 We reunited the newly covered chair seats with their refreshed frames, and voila'…I have 7 more seats for our upcoming grad party! (See the details in my post, "Grad Party Planning Tips, The Decor")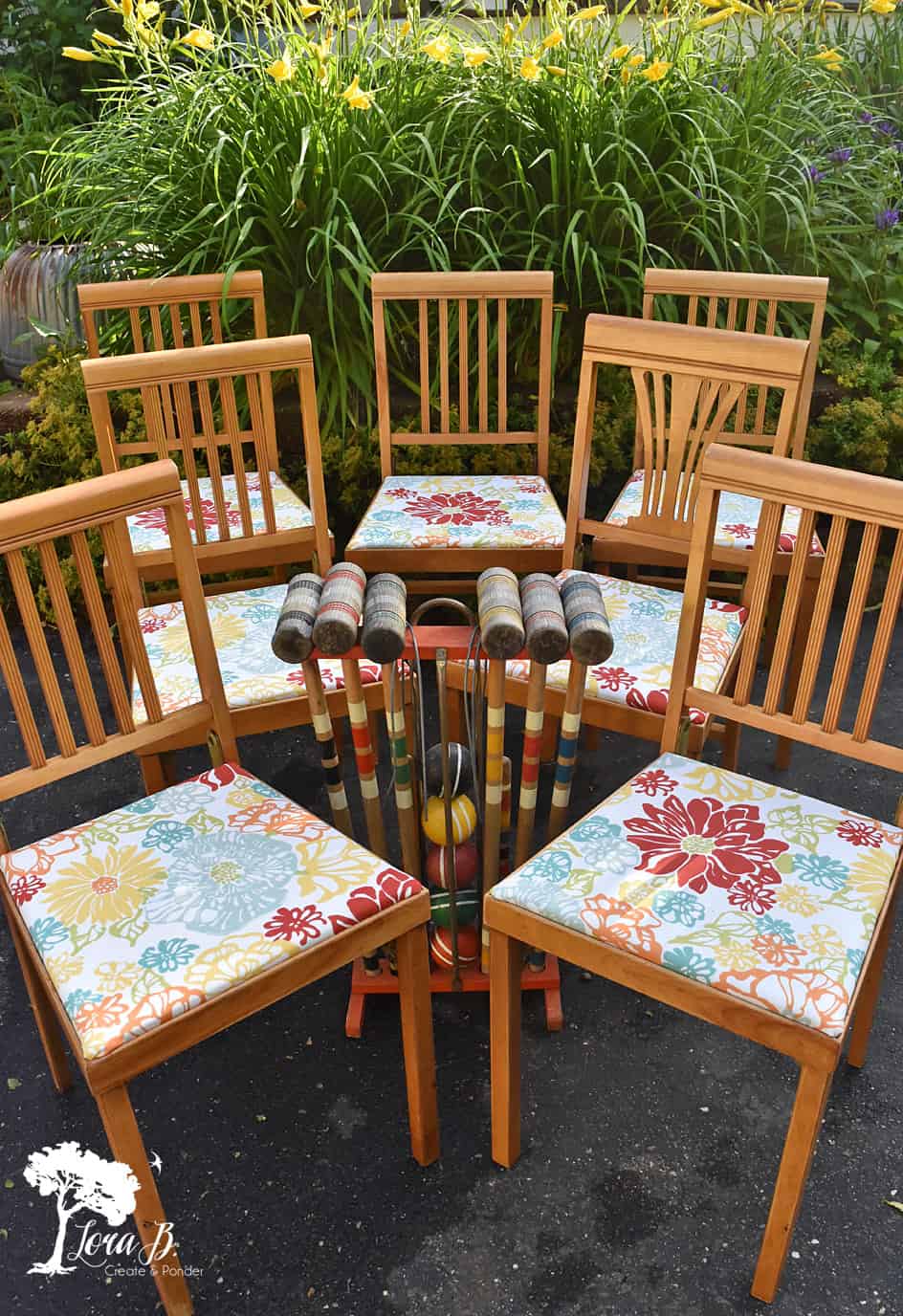 And I'm joining in with 6 talented and creative ladies every second Wednesday of the month to share our themed projects! This month we're featuring projects with chairs and I can't wait for you to see them all!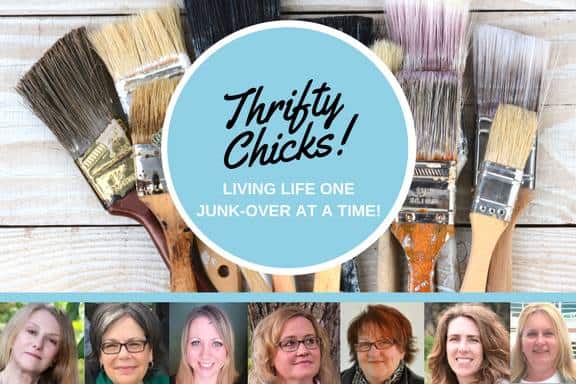 Click on the the names of their projects to check them all out! Here are their "Before" pics to whet your appetite: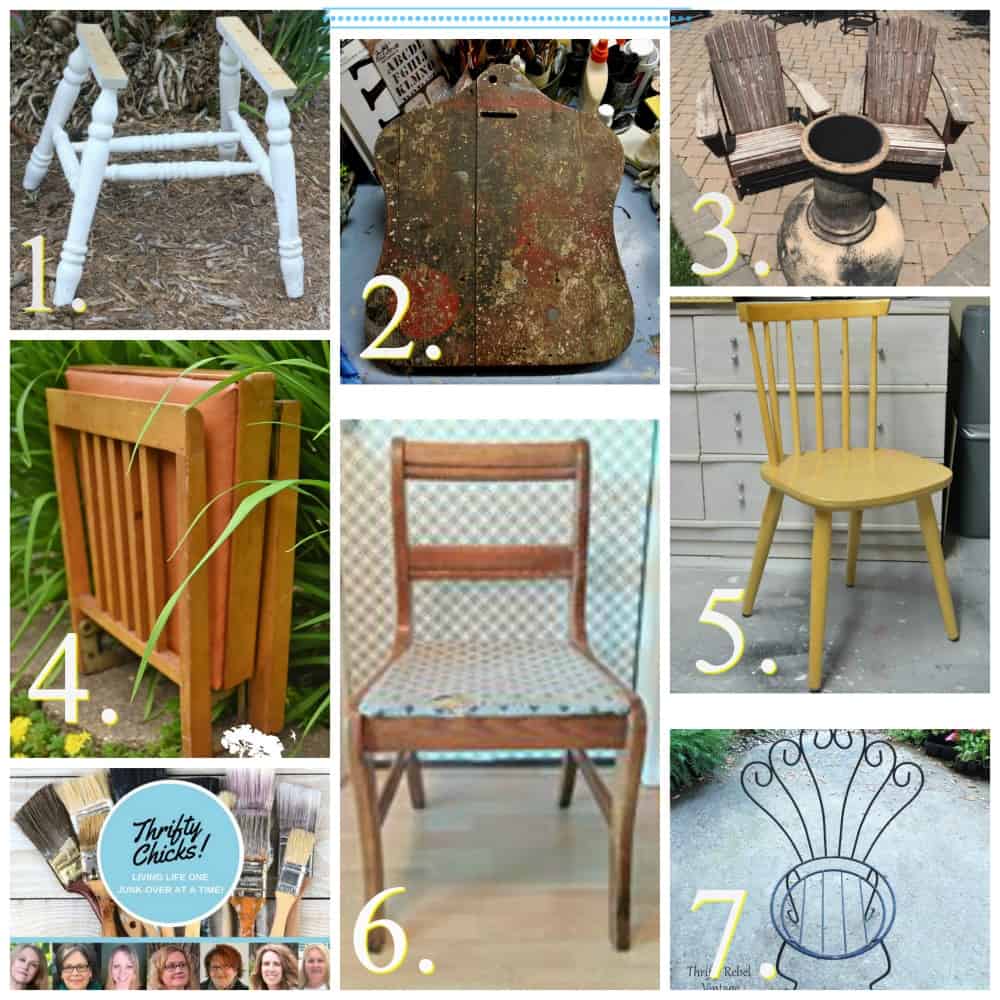 1. Debra at Shoppe No. 5, "What Can You Make With An Old Chair?"
2. Diana at Adirondack Girl at Heart, "How to Turn an Abandoned Chair Seat into a Farmhouse Sign"
3. Kandice at Just the Woods, "Painting Outdoor Adirondack Chairs with Home Right Finish Max Extra"
4. Me;)
5. Marie at The Interior Frugalista, "Playful Scandanavian Half-Painted Chairs"
6. Tania at Little Vintage Cottage, "Repurposed Dining Chair"
7. Tuula at Thrifty Rebel Vintage, "Repurposed Chair Birdfeeder"
And a big shout out to these ladies for including me in the fun! It's a whole new adventure to be included, and I've so appreciated their encouragement!
And don't forget to…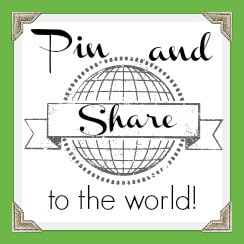 Linking up with these lovely parties: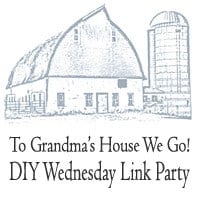 Sundays at Home