Kitchen Sink Magnet Board; What to Keep, What to Throw
when it comes to vintage finds, sometimes you need to know what to keep and what to throw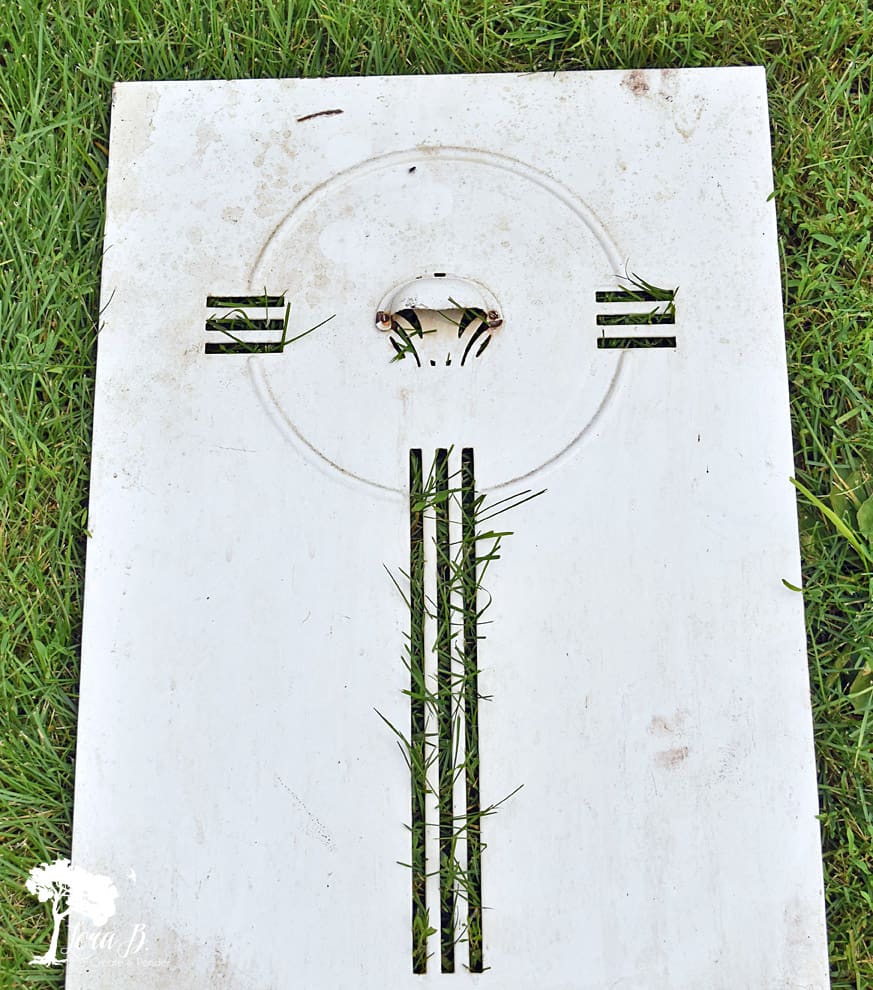 When you love vintage junk and see potential in…everything, it can be hard to determine what to keep and what to throw. If you keep everything, you're going to become a reality T.V. hoarder, and too much stuff definitely gets overwhelming! Parting with potential is sometimes a step by step process for me. Seeing how I came up with this Kitchen Sink Magnet Board will hopefully help you through the struggle of learning what to keep and what to throw!
Because the struggle is real when there's so many possibilities, and so many ideas out there (hello, Pinterest). Later, I'll share the steps I go through when I'm deciding how to re-purpose a great find. It really does take challenging your mind and asking yourself questions. (Please don't ask Mr. Fix-it if I'm winning the battle or losing;)
Through the years, I've acquired a few 50's-style metal kitchen sink cabinets. I sold one or 2 as-is when I used to do sales in my yard. The metal bodies were usually in pretty rough shape; the metal had been painted and they'd rusted through the bottom. These old workhorses survived the 50's housewives using them constantly, before fast food existed, and they show it!
With the last cabinet I picked up, I decided to part with the body and just keep the drawers, the sink top with the drainboard, and the door below the sink (in the pic, above). Getting rid of the body of the cabinet certainly took up less space in my life! All the parts got shoved into the shadows of our scary cellar. Out of sight, out of mind, right?
Phase 2 of deleting came a few months ago when Mr. Fix-it was cleaning out the scary cellar. "Do you still want all these metal drawers?" "And how about this sink?" Yes, I still have hopes to turn the drainboard sink into a potting bench for myself (I actually have another one in the screen porch, but who's counting?). My re-purposing engine always runs faster than my hands can accomplish (by years;).
But the drawers? They were looking pretty scary and I didn't have a vision for them. The hardware, though… that was worth keeping!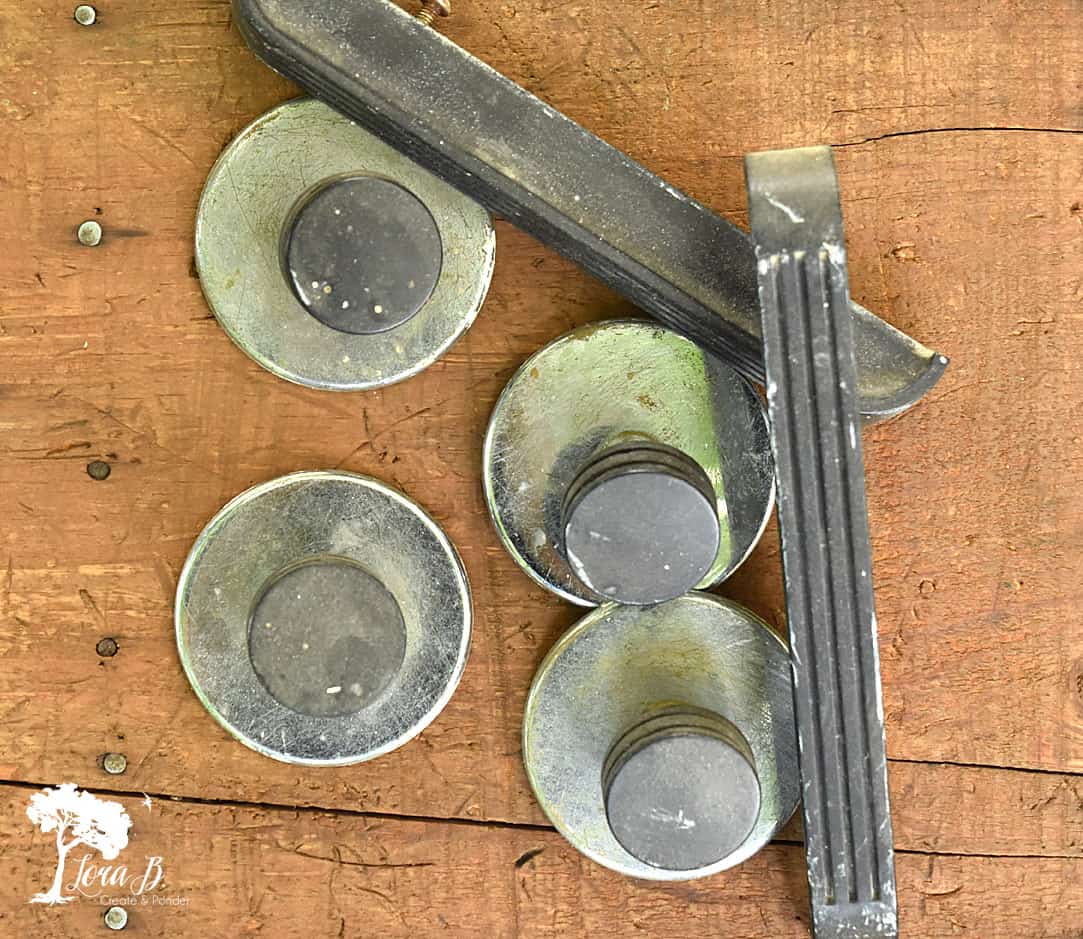 Who knows when I'll use it, but character-rich old hardware is always worth keeping, in my book! And getting rid of the old, crusty drawers I had no intention of scrubbing up was good weight lifted! We always say getting-rid-of is easy…most things can be scrapped or burned. And there's always that "free" sign at the end of the driveway!
The door on this old kitchen sink cupboard that's been slowly dissembled was unique enough for me to keep, too. The art deco details were cool and I wanted to enjoy it's good architectural bones in my house.
I decided to simply start sanding to clean it up a bit and pop the details. The bad, drippy white paint job needed to be evened out, and I wanted to see some of the metal though.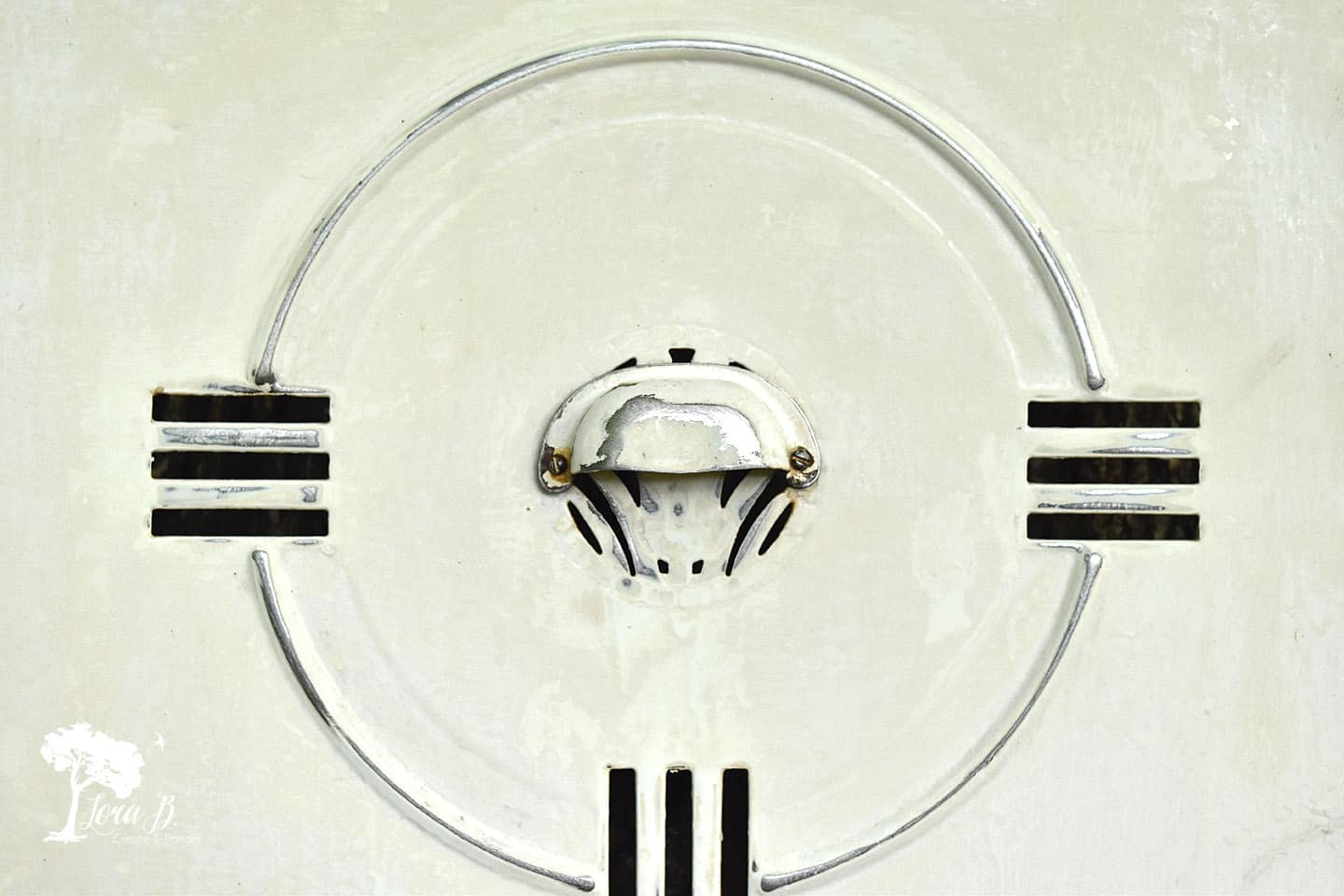 I am so glad I kept this part of the kitchen sink! The elimination process on this one has taken years, but the door, the sink itself and the hardware were definitely the redeeming qualities with the most potential!
If you'd like help challenging yourself with what to keep and what to throw, you can grab my "5 Ways to Boost Your Re-purposing Ideas" in my free Resource Library, by subscribing to my newsletter. I'll send you a password to access all my downloadable/printable tips and tricks, and you'll never miss a junky project!
f you're already a subscriber, check my weekly email for your password and grab this idea-provoking resource!
Now that the metal kitchen sink door is all sanded, I'm going to brush it with a coat of poly to seal it, and turn it into my kitchen message board with magnets!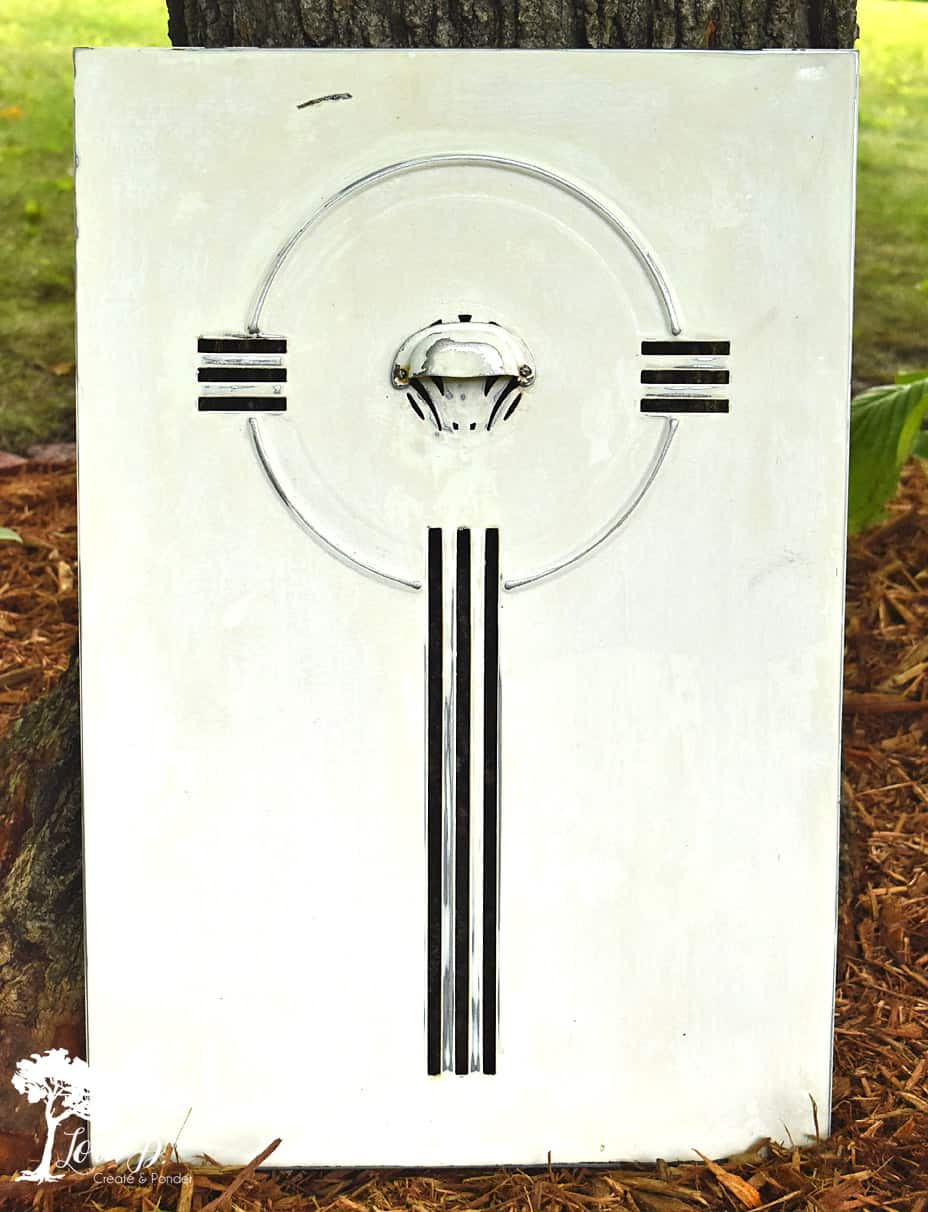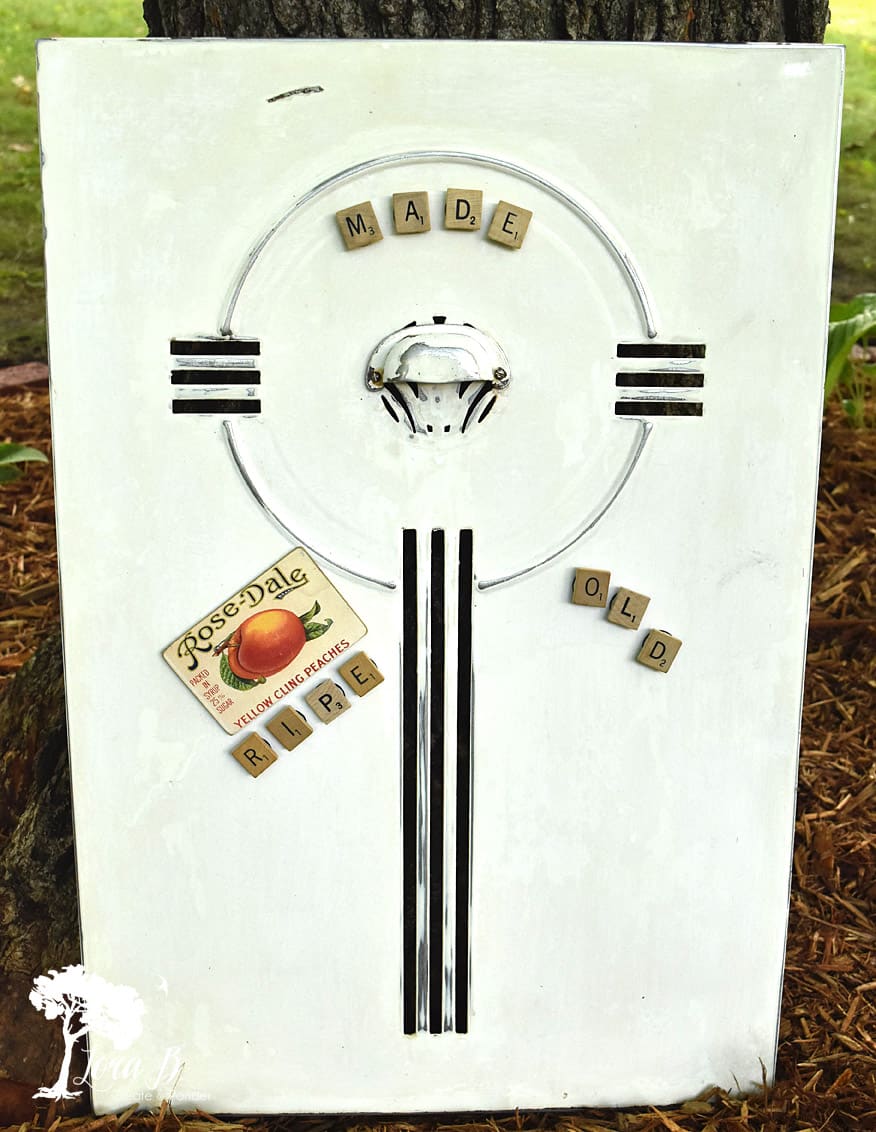 It won't be going far from it's old house, farmhouse kitchen days, but it's function will change. A great architectural piece like this on the wall can change with the seasons, too. I may even pop a green wreath on it for a little texture.
I hope this letting go process will help you when you're trying to decide what to keep and what to throw. The struggle is real for us vintage junk lovers! It doesn't have to be an all or nothing decision. Grab my "5 Ways to Boost Your Repurposing Ideas" and think through what you really like and don't like about a piece. It could be the beginning of your next creation! Maybe you've got something to create a Kitchen Sink Magnet Board, too!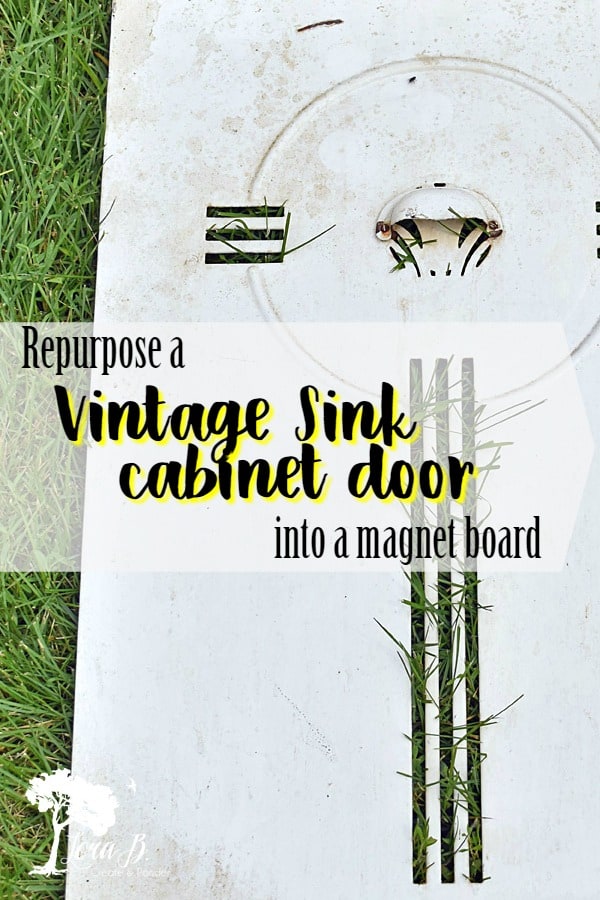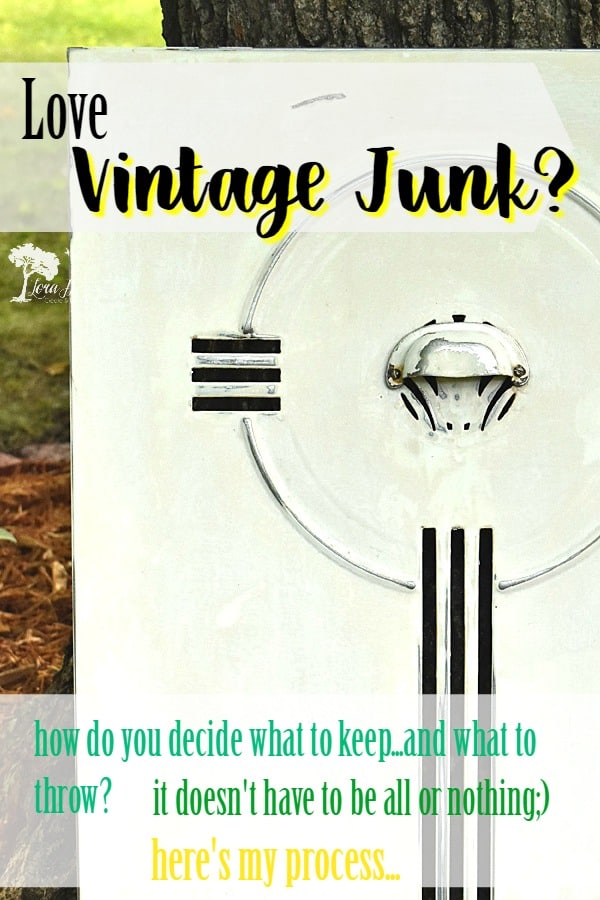 Sharing at these lovely parties: