Have a Vintage Umbrella Ready!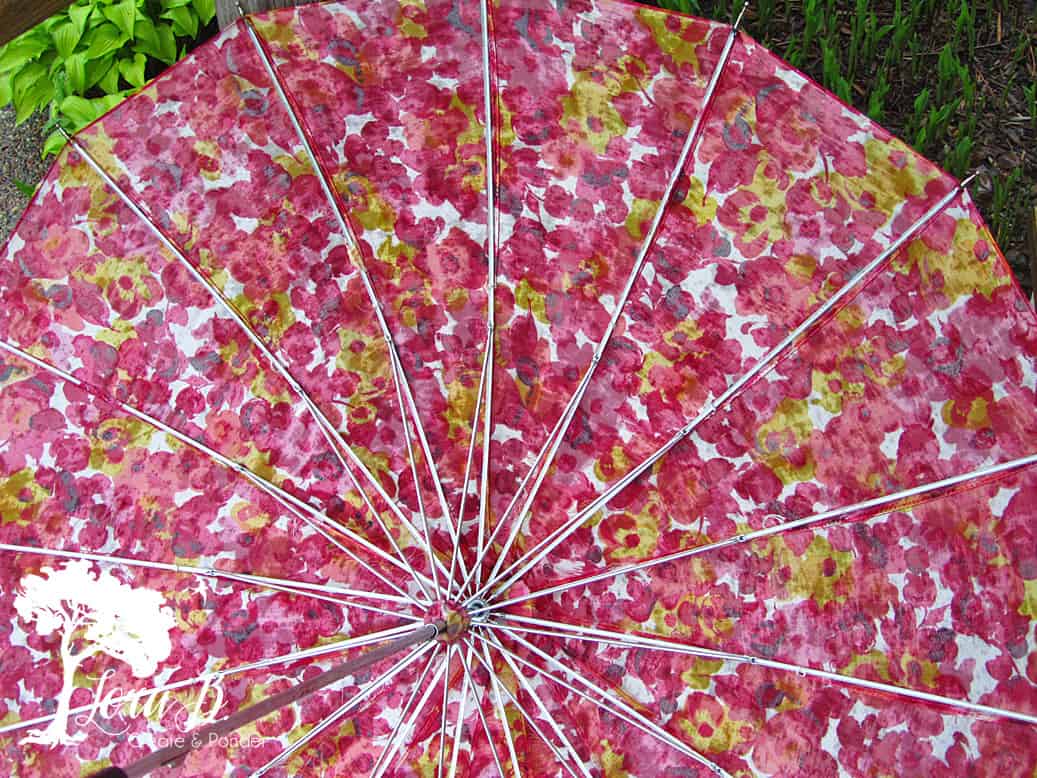 April showers have arrived early this year, so I've already hung my vintage umbrellas by the back door, ready to enlist their function and beauty at a moment's notice. Pretty soon the  fountains and birdbaths will be overflowing, the ravine that wraps our property will be rushing, and the worms will be taking over the driveway!
I thought I should remind you, that if you're hitting any sales or thrift stores, you should definitely keep an eye out for some of these pretty, vintage umbrellas!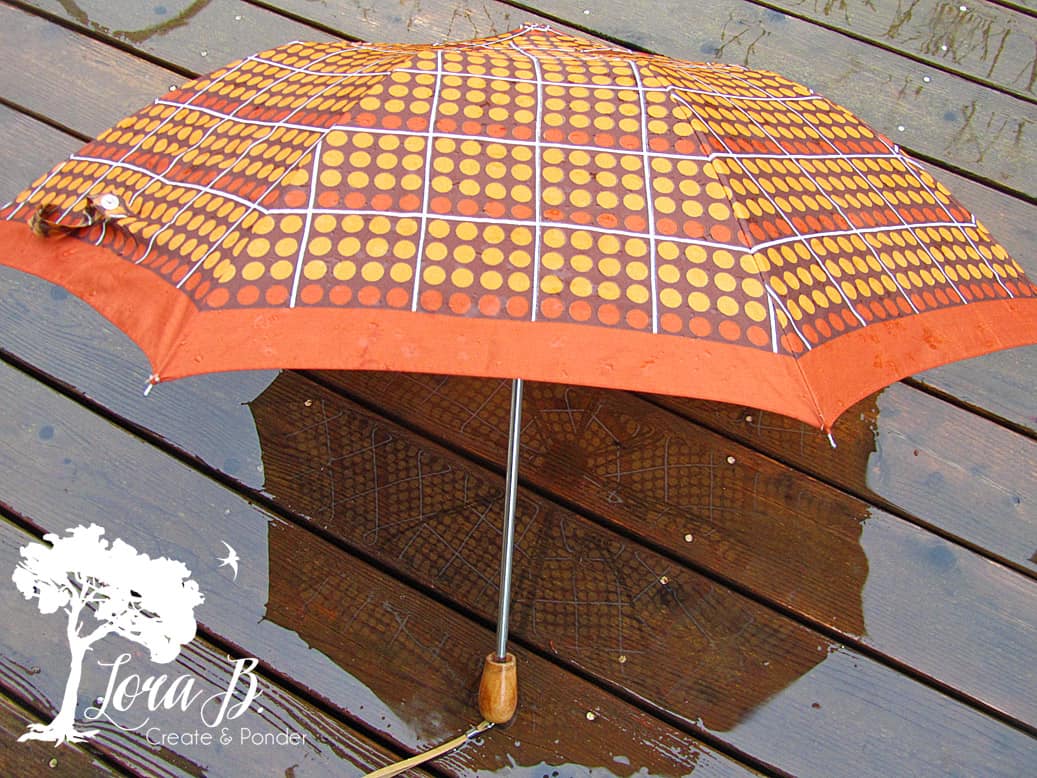 I picked up my first vintage umbrella at a Flea Market in Florida years ago. Think my favorite colors of blues, greens and yellows punctuated with black in a floral pattern is what sealed the deal. Once opened, the pagoda shape was an extra bonus.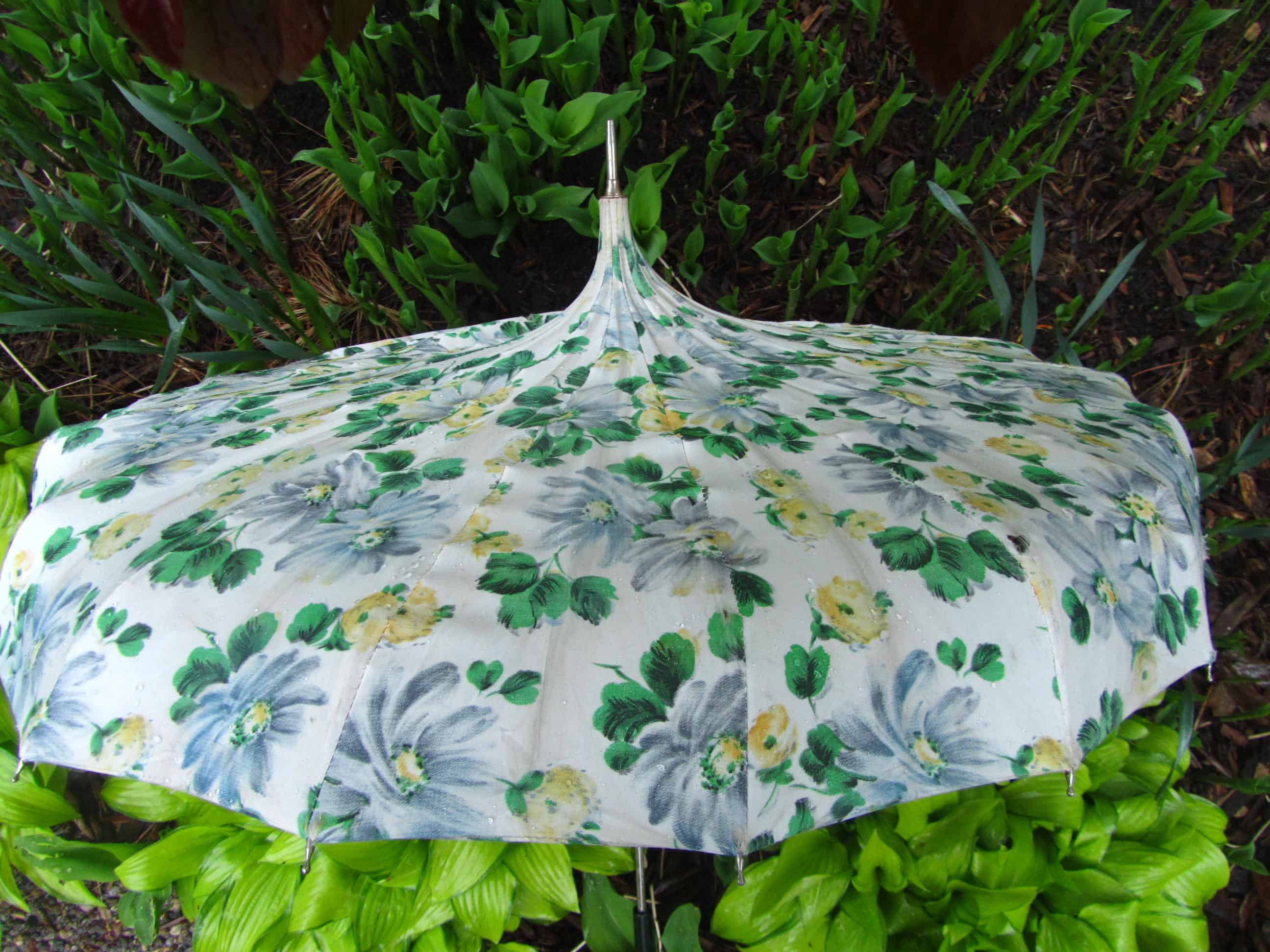 Raindrops hitting the taut fabric of a vintage umbrella sound like beautiful pings in a springtime symphony. This cutie is unfortunately showing it's well-loved state, and probably needs to spend it's retirement as a closed-version decoration.
Luckily, some new additions to the family have wandered my way…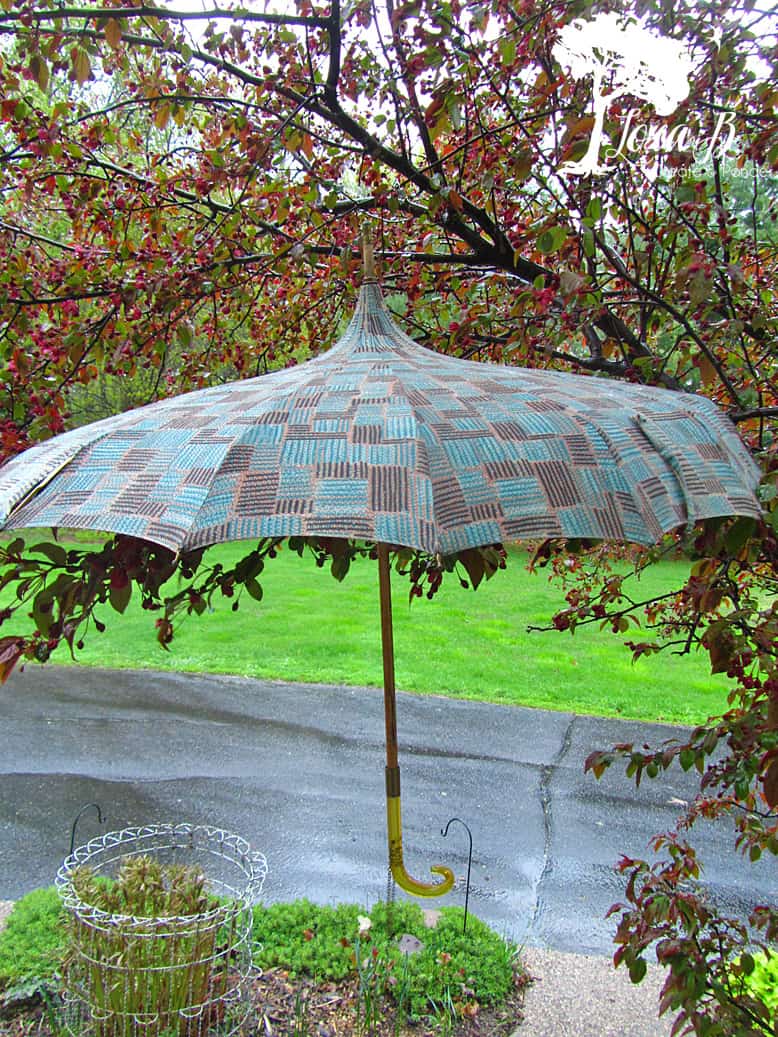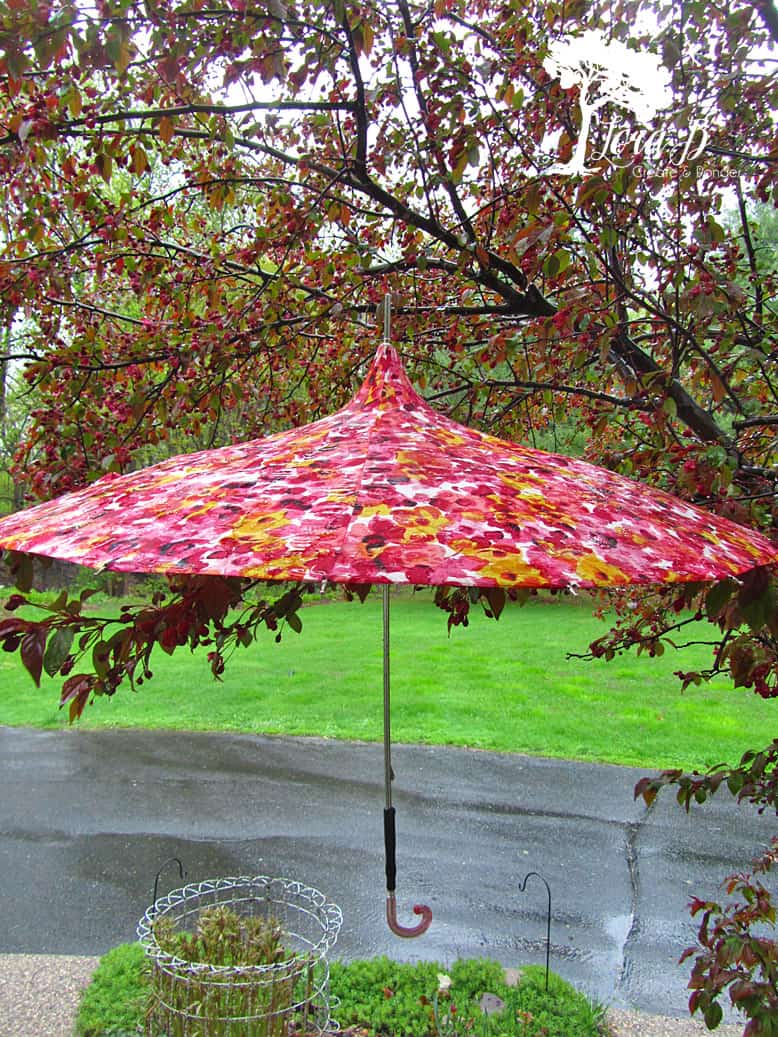 The blue and brown one is obviously the oldest with it's wood stem and decorative chain on the gold lucite handle. The portable brown geometric is Happy Girl's favorite. It's probably from the 70's because it's the type I remember using as a kid. The pink flowered pagoda is my favorite, because it's bright colors just make me smile on a gloomy, rainy day (or week).
It's kind of nice to have some fabric options to match my outfits (which is usually a white/grey/black T-shirt and jeans:)…
Instead of just a straight, boring handle, these vintage cuties sport curlique, lucite handles in coordinating colors, for extra fashion vavoom.
And if it's not raining, the wire skeleton on the underside is perfect architecture to be enjoyed propped up on a high shelf.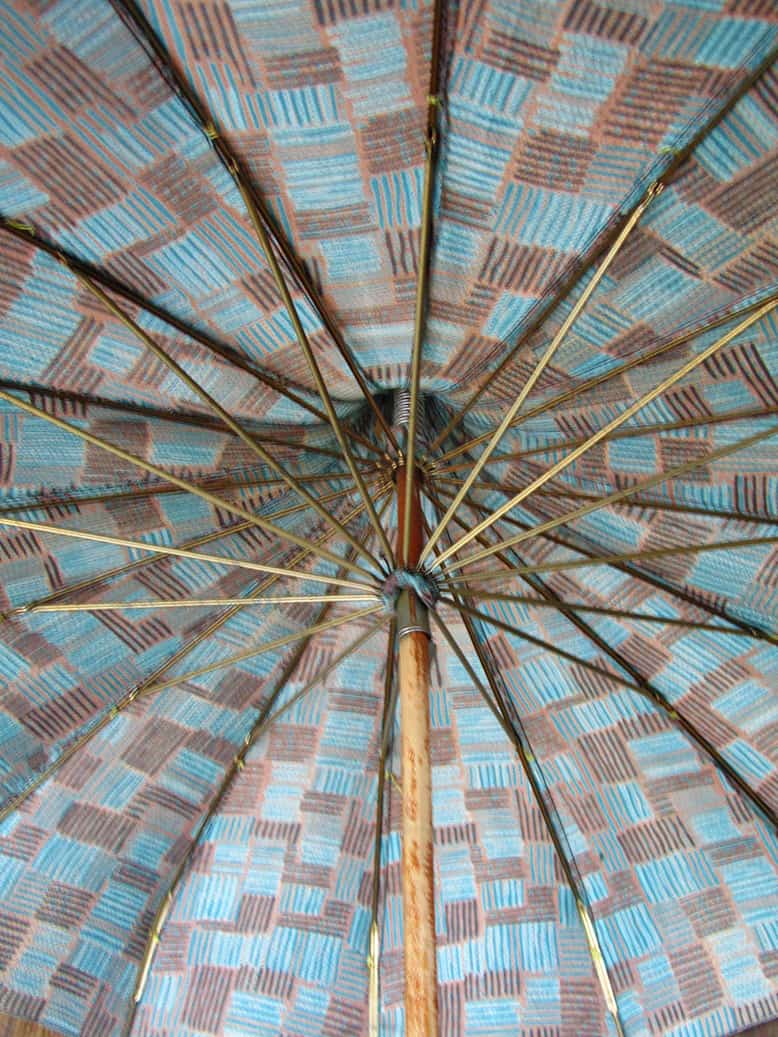 Vintage Umbrellas…keep an eye out for them at the next estate sale, church sale or old-grandma garage sale you go to, and you know what they say…
April showers bring May flowers…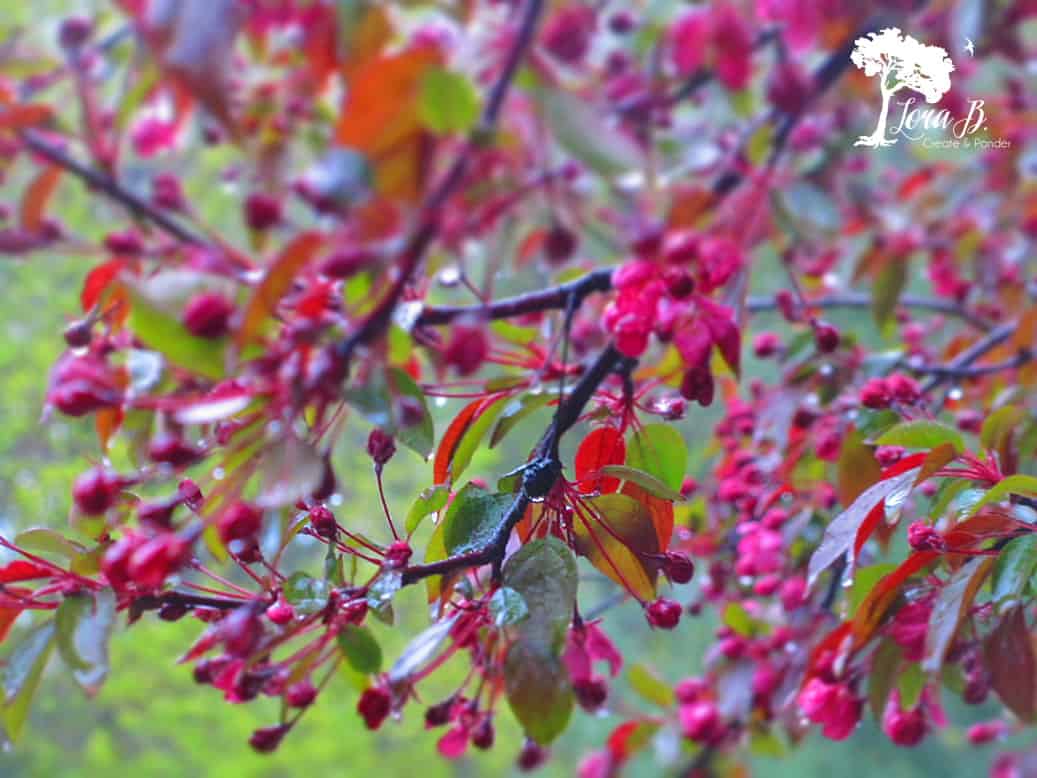 Linking up with these lovely parties: