Give purchased pillow covers custom charm with handmade details. Perfect for home decor or gift giving.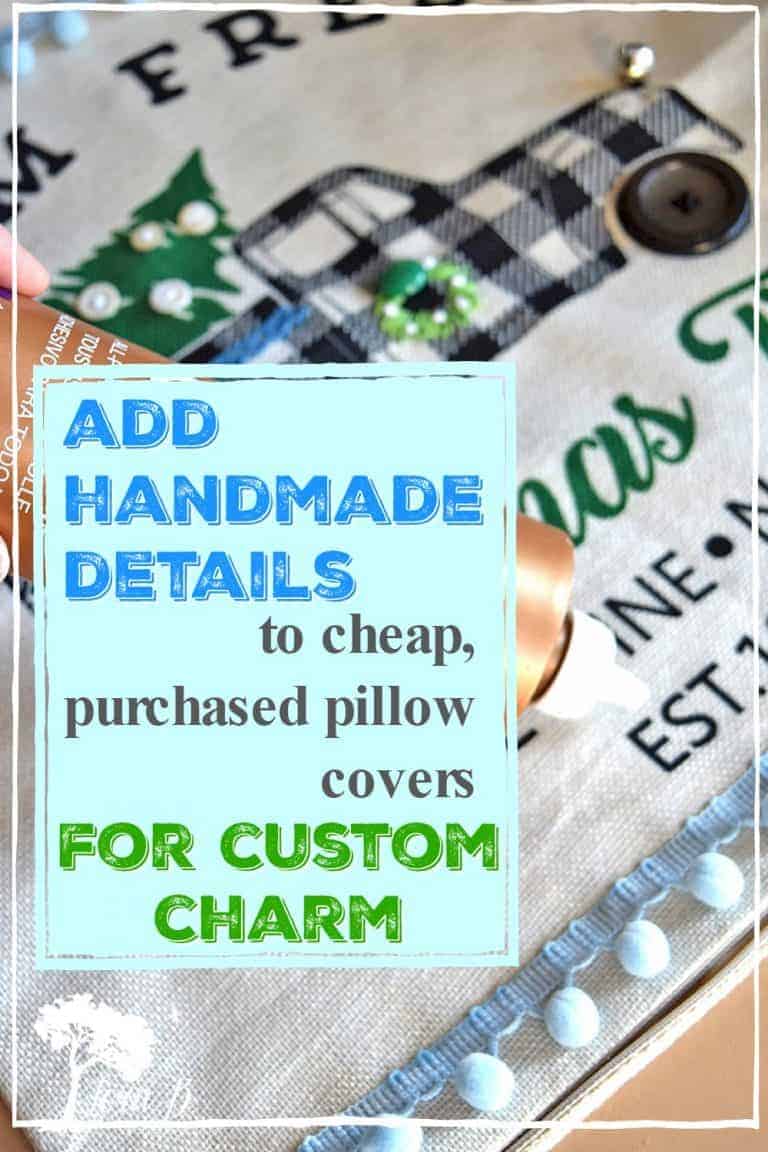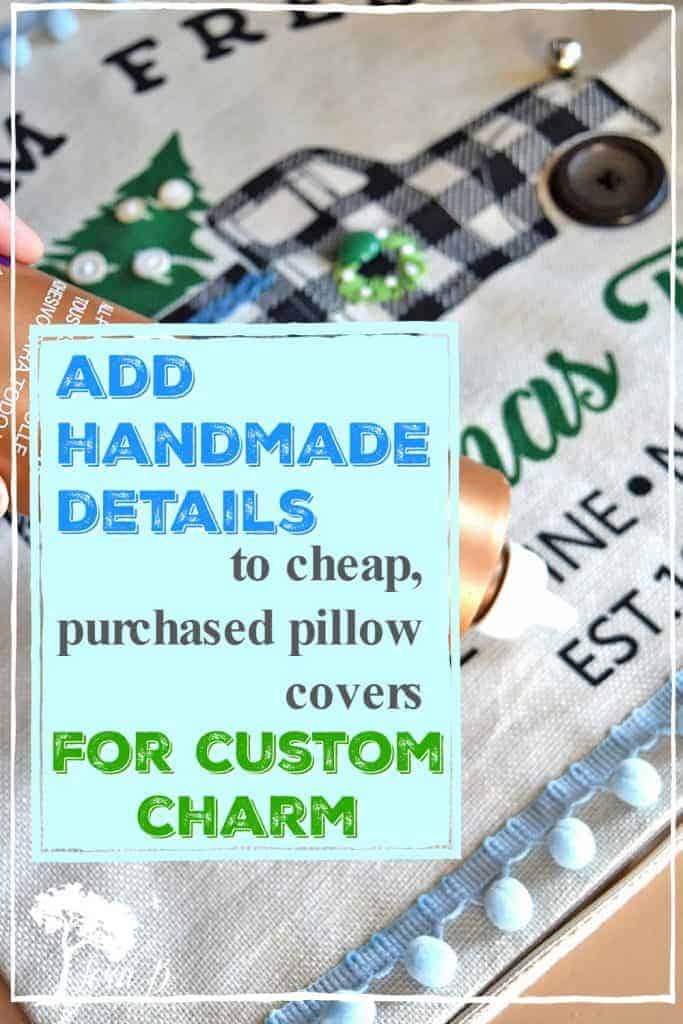 When you're wanting a unique look for your home decor, you don't have to start from scratch. You can get fun, custom, seasonal pillows by simply adding handmade details to cheap pillow covers, purchased online. With a needle and thread, buttons and trims, and a little glue, you can enjoy beautiful pillows for your own home, or as a special gift! Here's How to Easily Give Purchased Pillow Covers Custom Charm.
For awhile, I've been admiring all the seasonal pillow covers Amazon offers. Their graphics are so cute, and they're cheap! They're a great way to usher in the new season, and I can spread them all over the house and mix with other pillows.
But the truth is, when they come out of the box, they're kind of…well, flat. I love the graphics, but I'm a girl who needs more details. So I decided to pull out my buttons and trims and take these throw pillow covers to the next level! I think you'll agree that by adding a few 3D effects, these purchased pillow covers easily turned into something special. And it was easy and fun!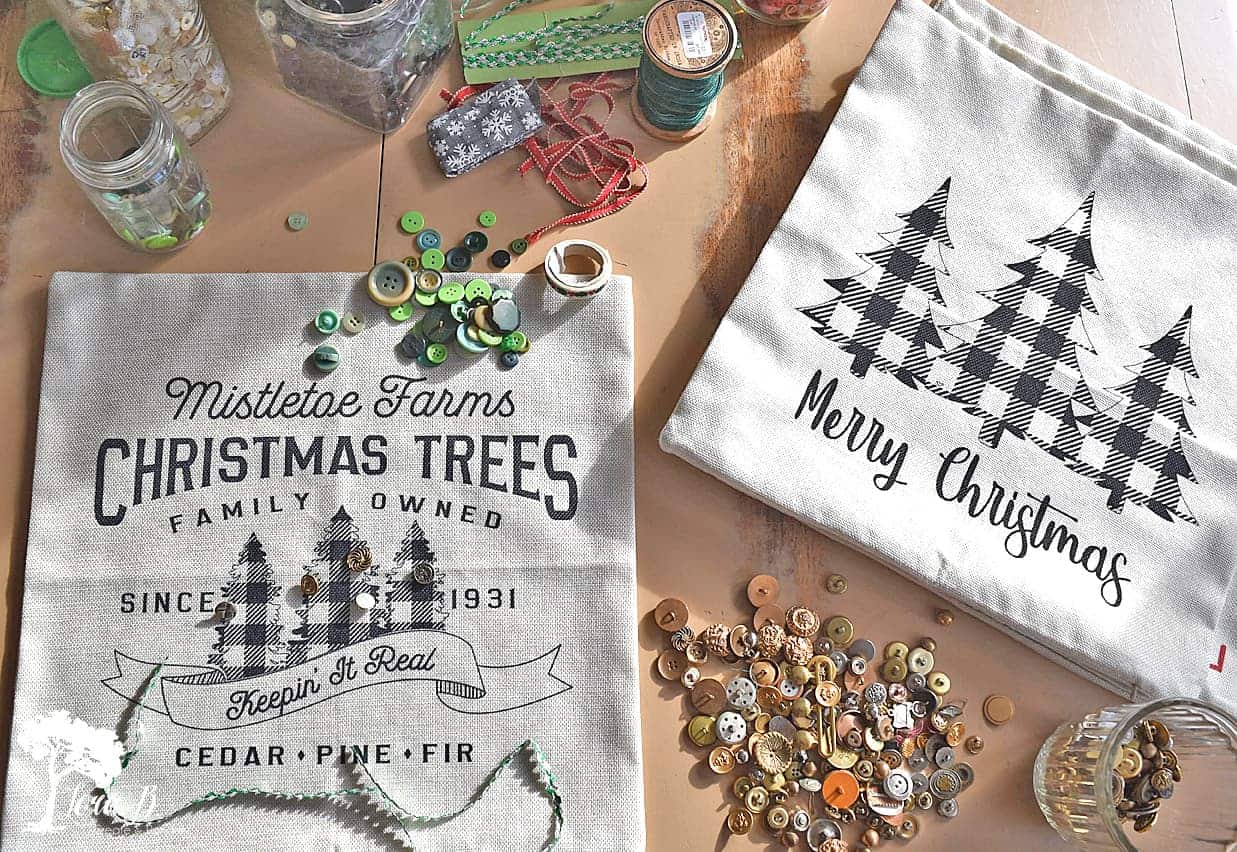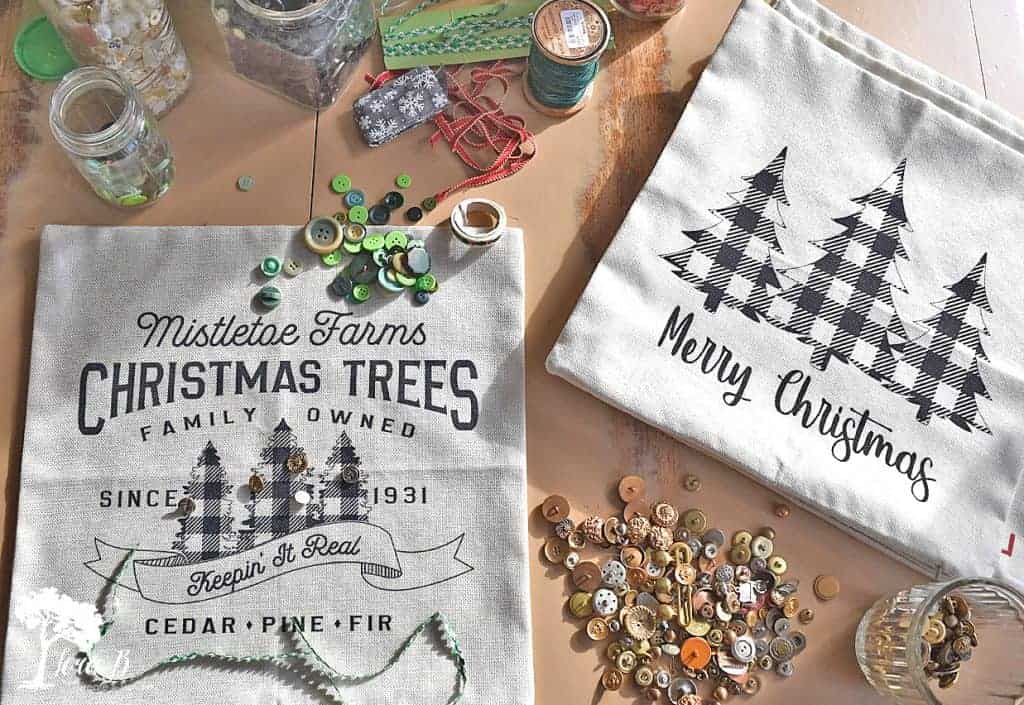 How to Easily Give Purchased Pillow Covers Custom Charm
For your convenience, this post contains affiliate links. If you make a purchase, I may receive a commission. There is no additional cost to you. My full privacy policy is here. 
Materials Needed:
Purchased Pillow Covers (I picked THESE and THESE)
buttons and trims (I have a pretty big stash;)
embroidery thread and embroidery needle
scissors ( I love THESE for handwork)
First, Launder the Pillow Covers
Follow the manufacturer's directions for laundering your new pillow covers. When you pull them out of the box, they're pretty wrinkly. Laundering will tighten the new fibers and get them soft and pliable. I washed mine on cold and dried them in the drier with a dryer sheet.
The packages I bought came in a grouping of 4. These were the 2 sets that fit my Christmas decor, vintage farmhouses styled. (this is how they looked fresh out of the box)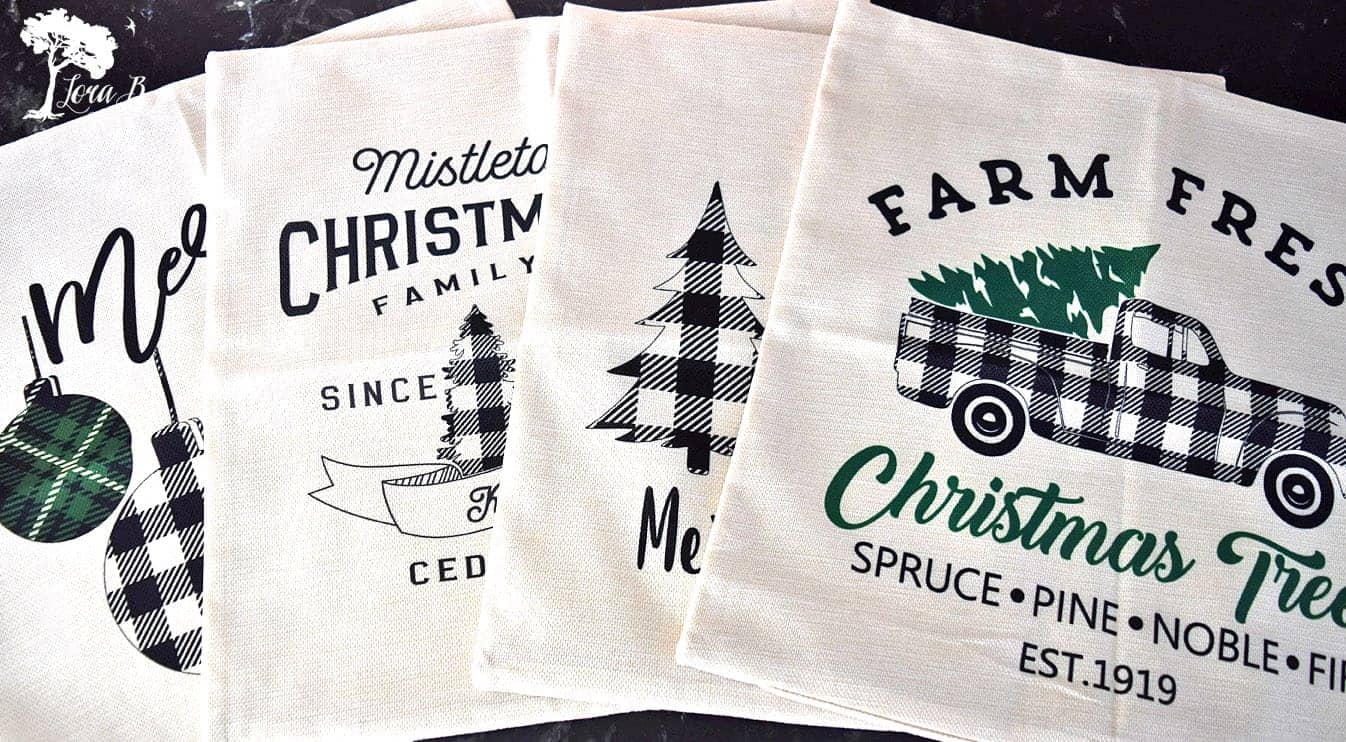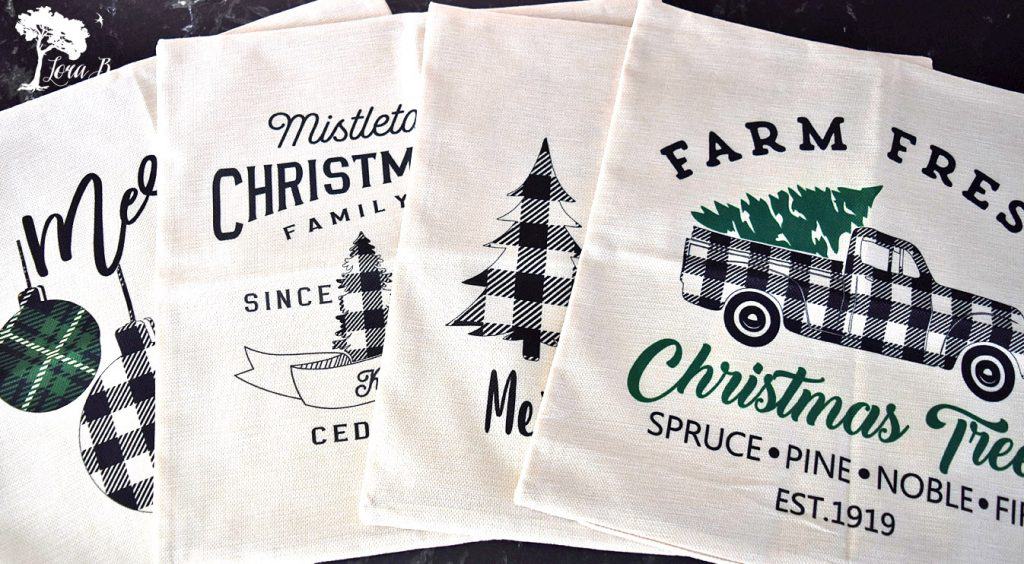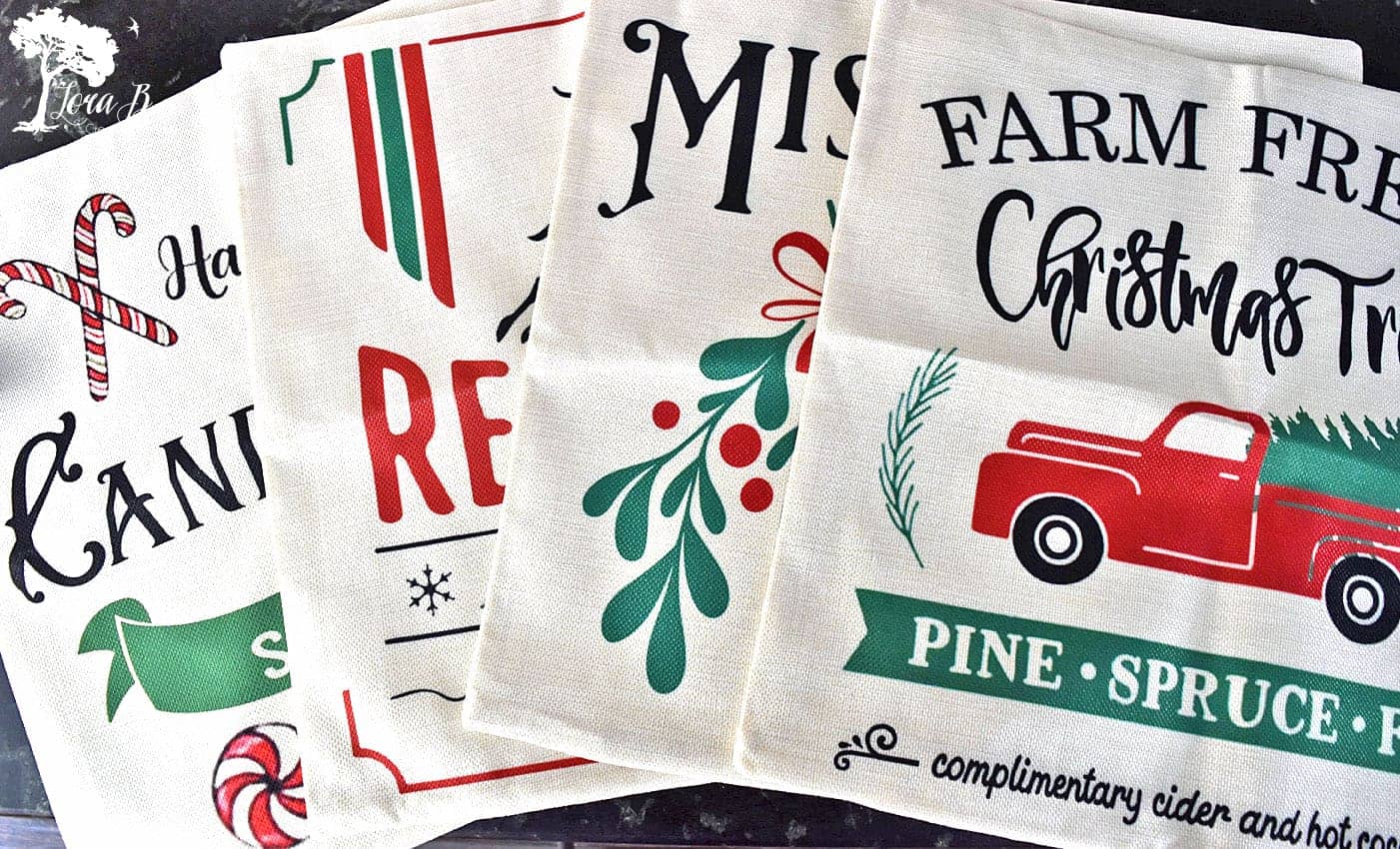 Attach Buttons, Trims and Embroidered Details
Because you're not starting from scratch, you can pop certain details on the pillow cover's design. You can add as much or as little as you like. If you're not a sewer, you can simply add trims with glue. If you know how to sew a button on, the sky's the limit for cuteness!
Try adding:
rickrack, ball fringe, or ribbon with glue
new and vintage buttons with colored embroidery thread
sewn on ribbon bows or knots
embroidered details
vintage trims and sequins
anything you can find!
Here are some of the details I added, to give you ideas and inspiration: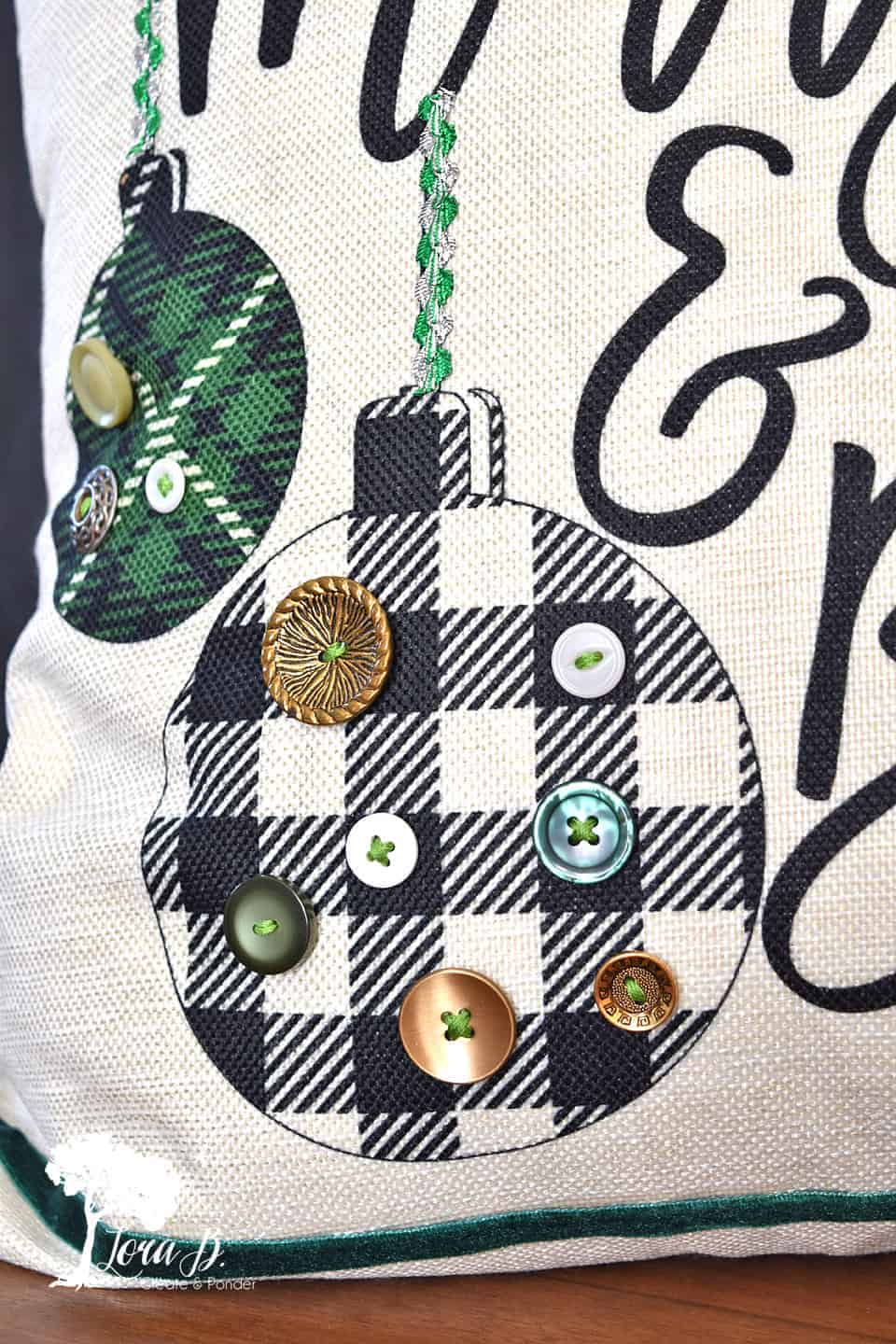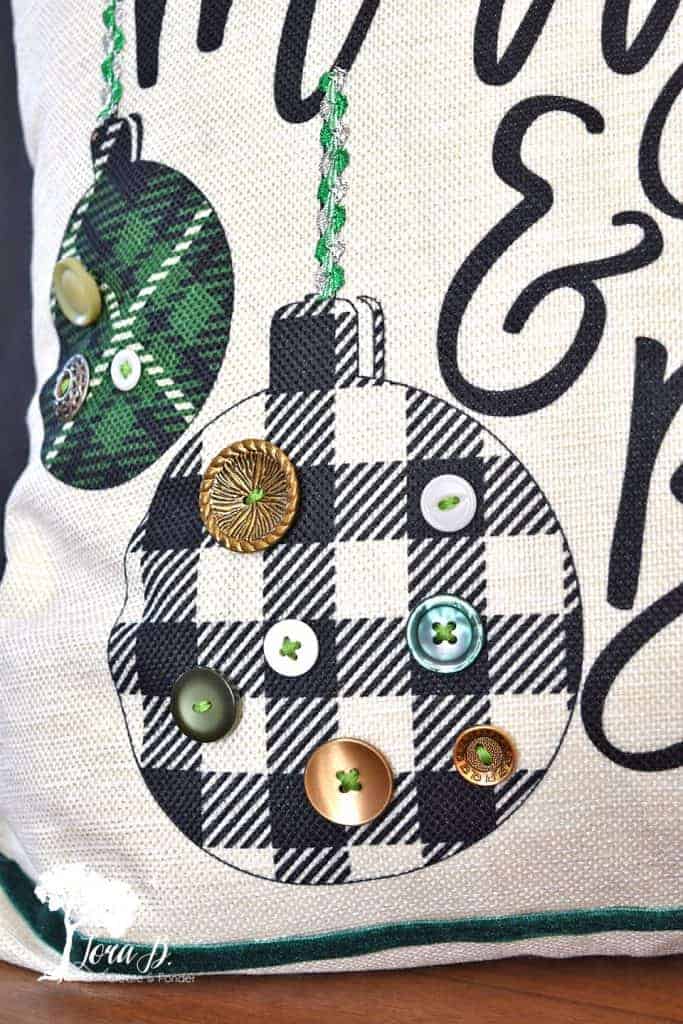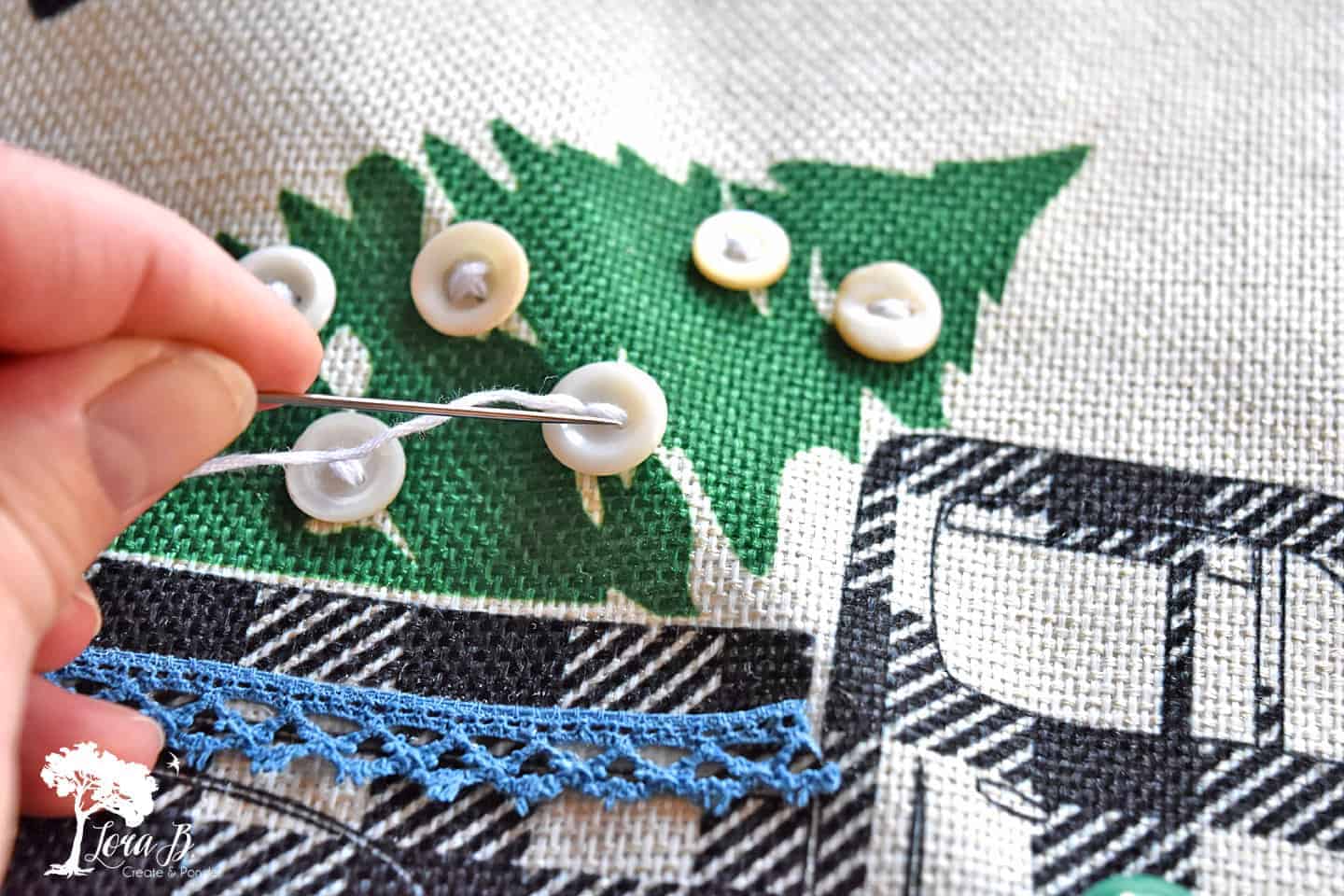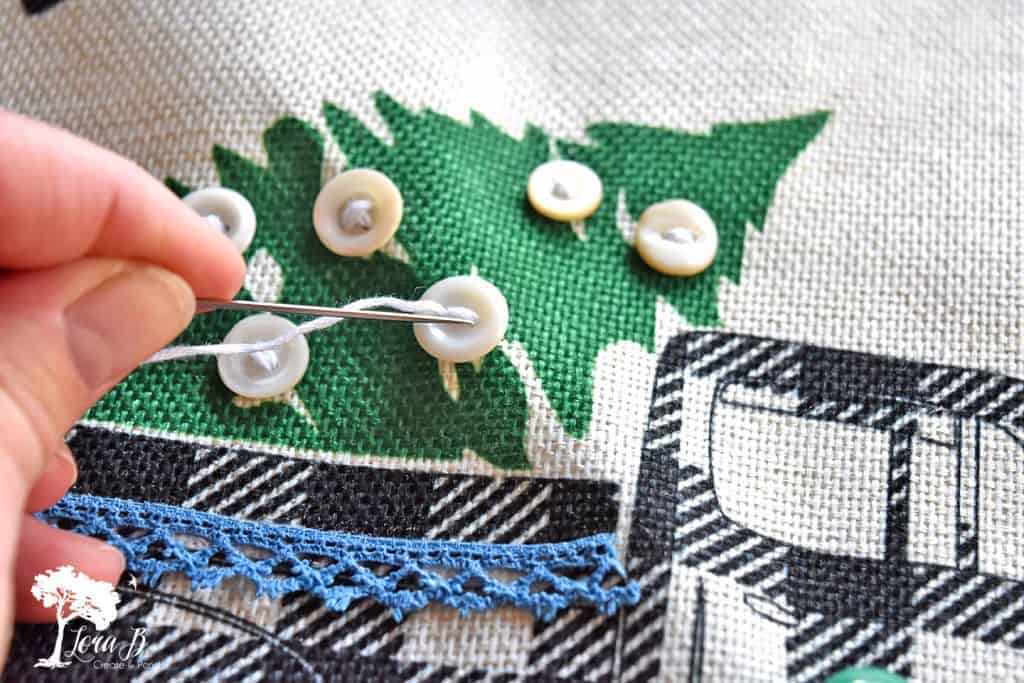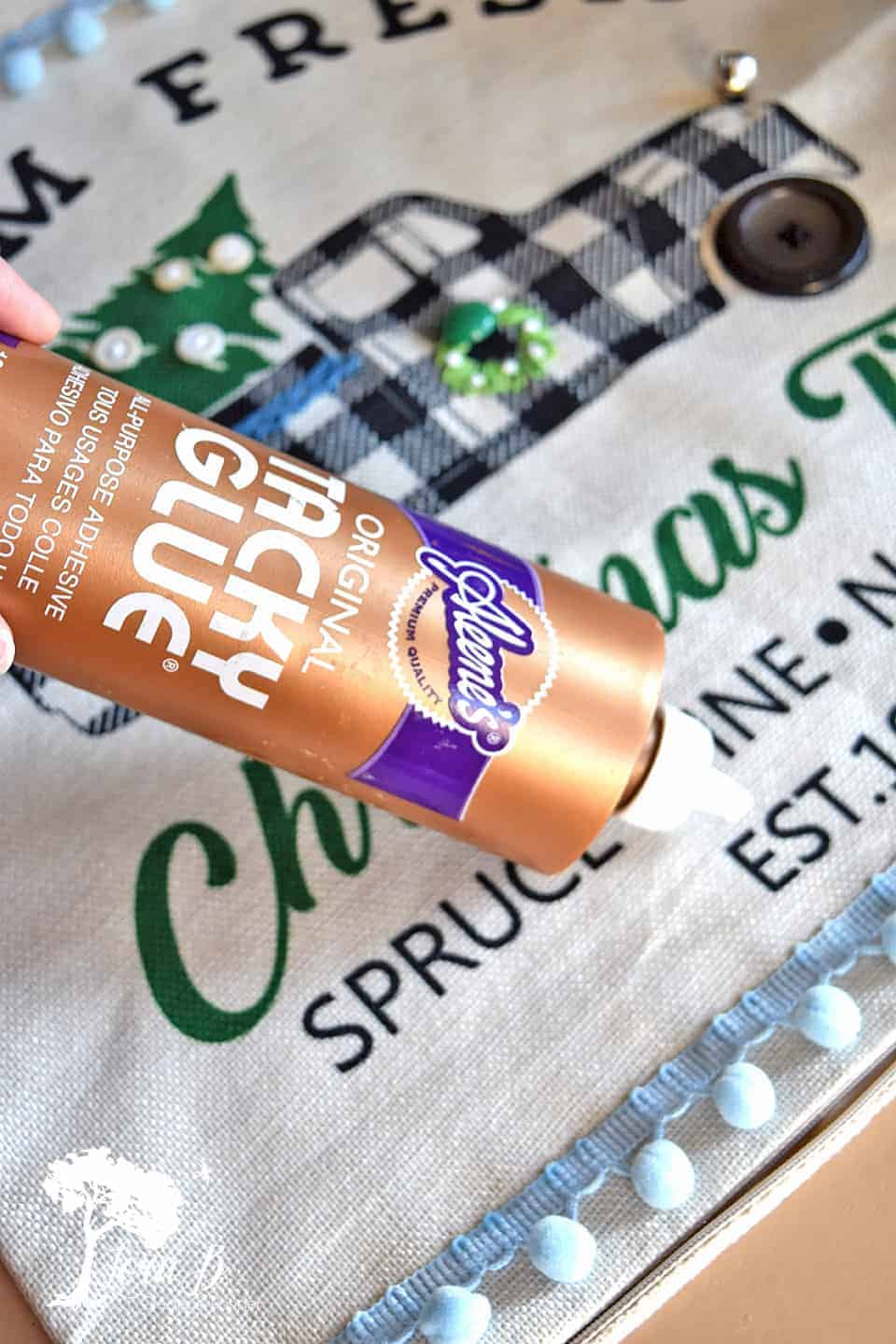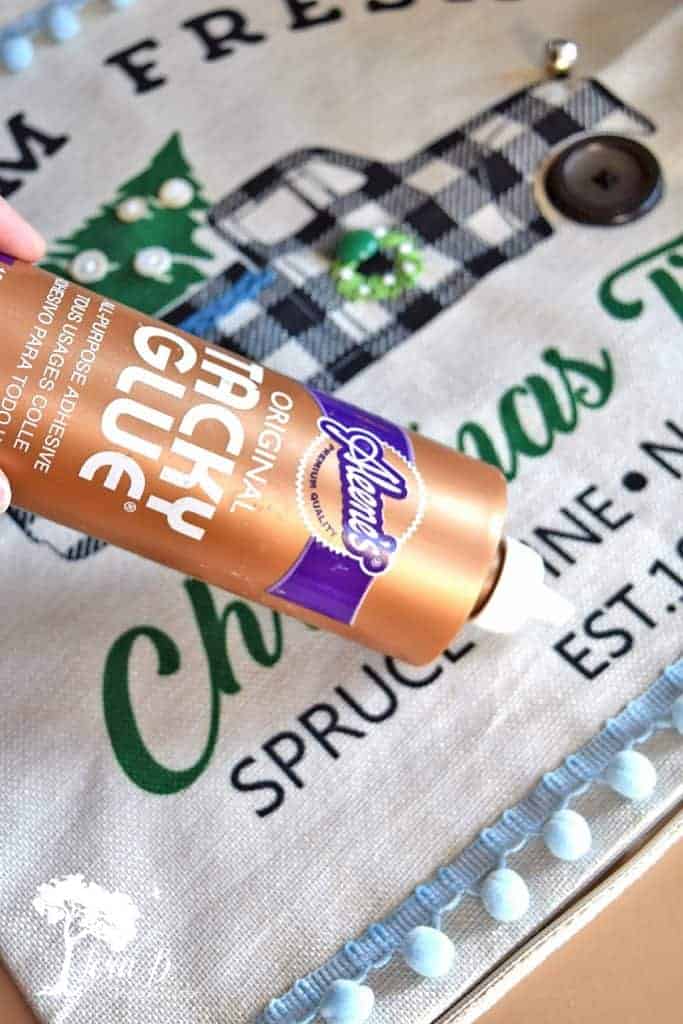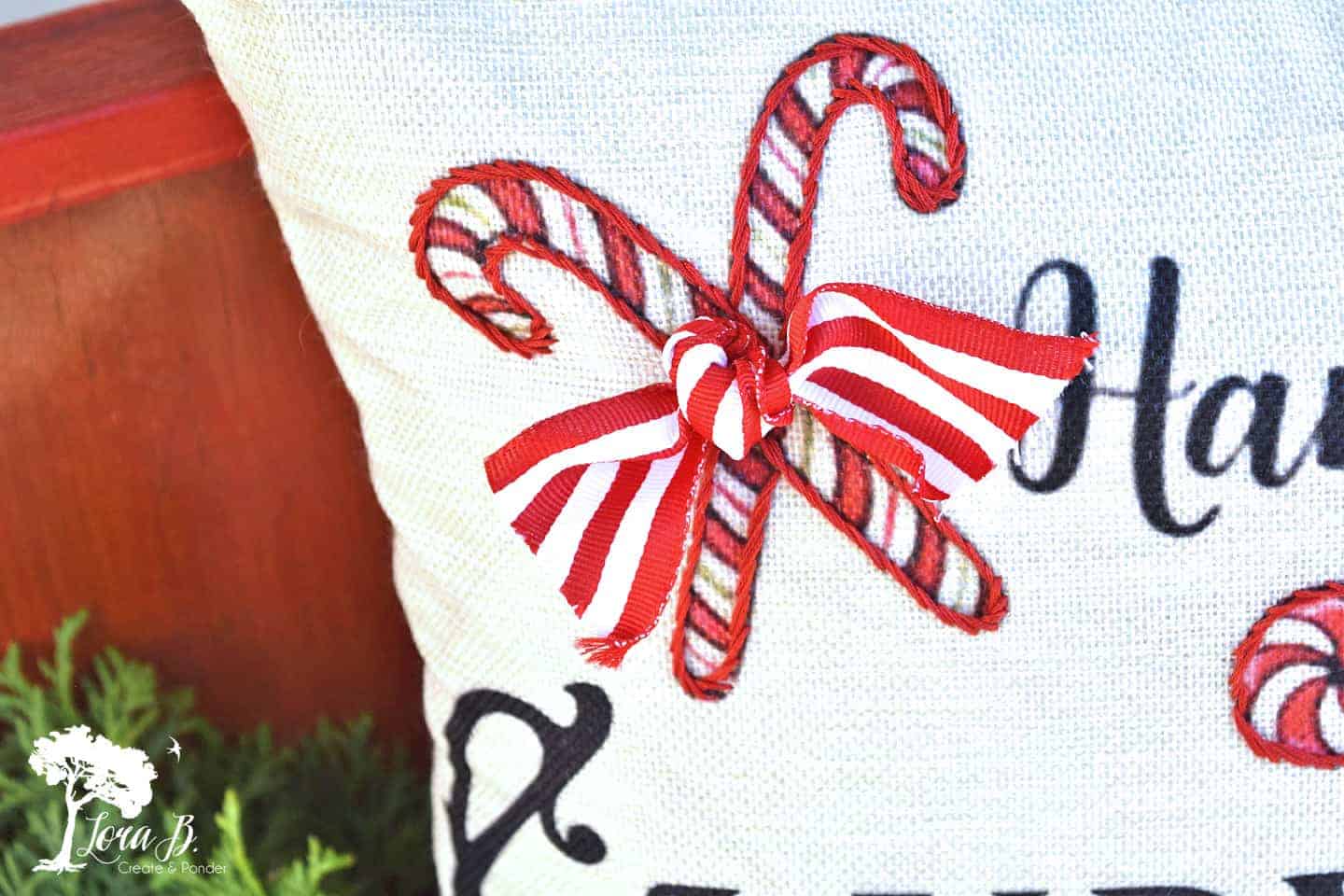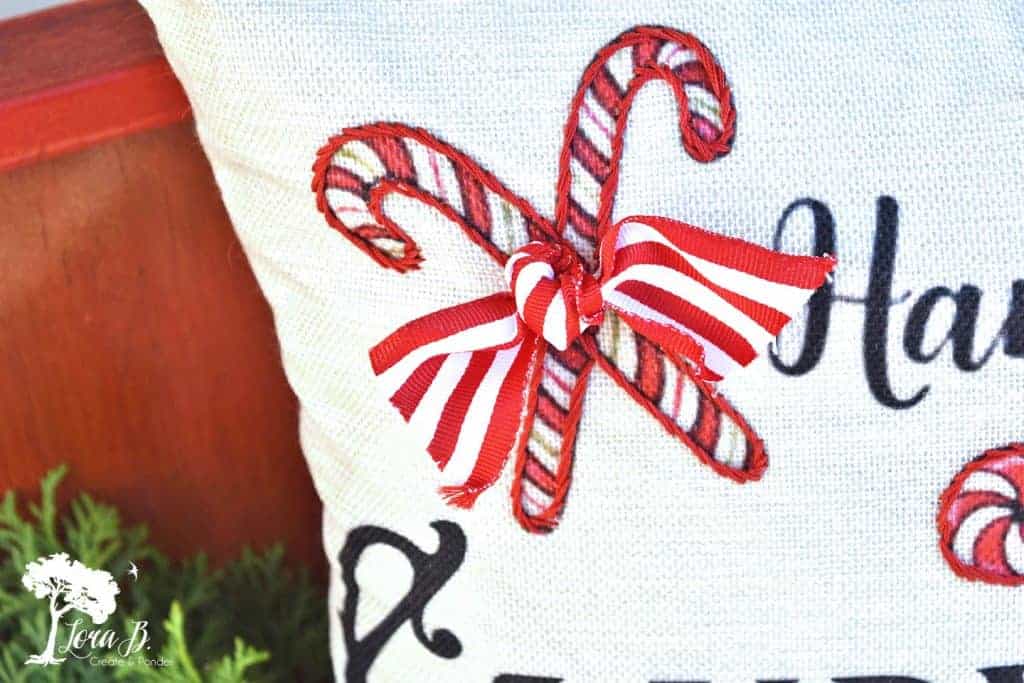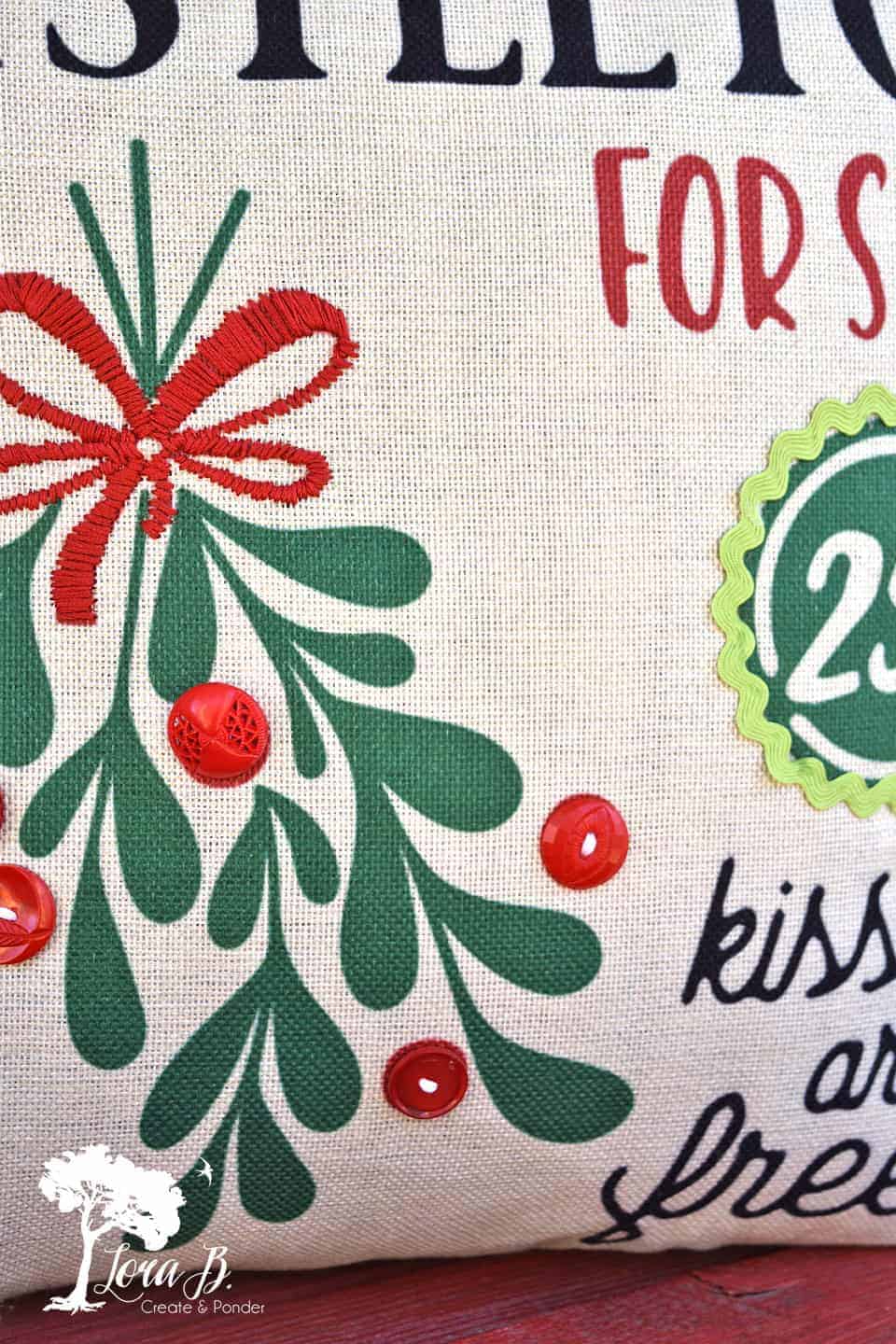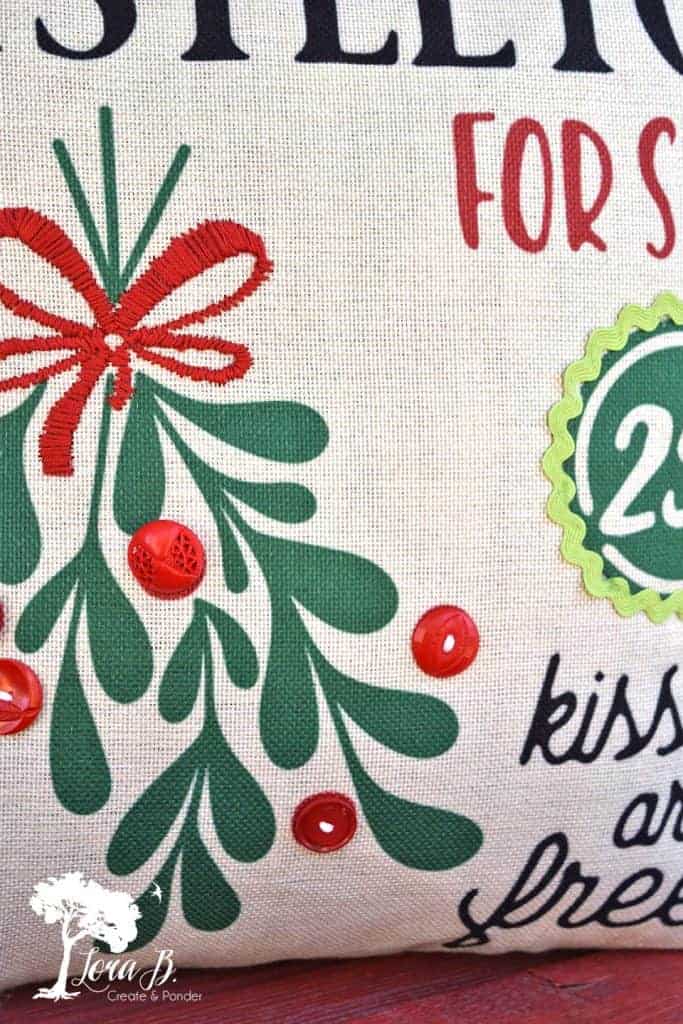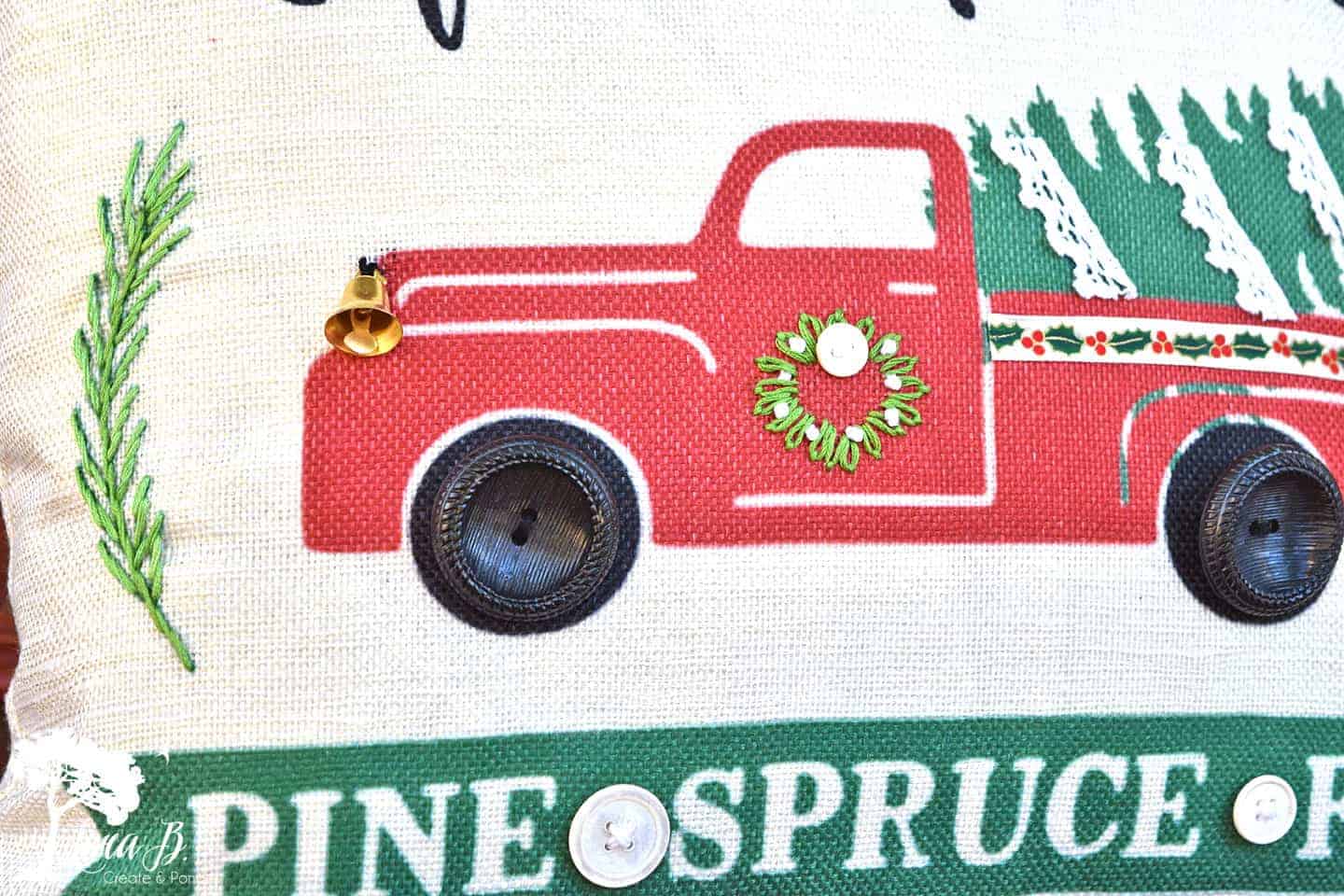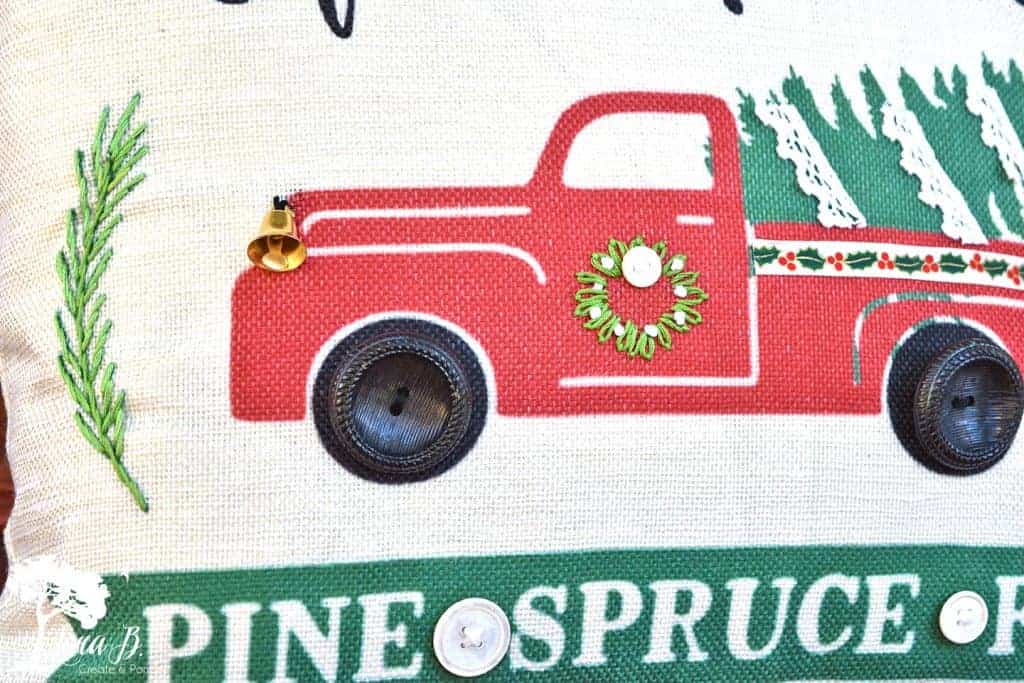 Adding custom embellishments and trims definitely upped the cute factor on these pillow covers! If you're thinking, "But I don't know how to embroider"…seriously, learn. Just think 70's revisited. You can do so many things with just a few, simple stitches. Get a basic how-to book like THIS, and start stitching! My grandma taught me when I was little, and I only know the basics. But it's so fun to add little handmade details to clothes and crafts!
Decorate With or Gift Your Custom-Detailed Purchased Pillow Covers
Once you've got all the handcrafted details done, fill your newly decorated pillow covers with down pillow inserts, so they look their best.  You'll be able to switch them up seasonally for a quick, cheap change! I'm going to spread these cuties around my house to get my Christmas decorating started. But now I'm thinking…these would make a great gift, too!
Here are the black and white buffalo plaid ones. I embellished them with the same colored trims, so I could mix and match. The truck may be my favorite, but I've always had a case of vintage truck envy:)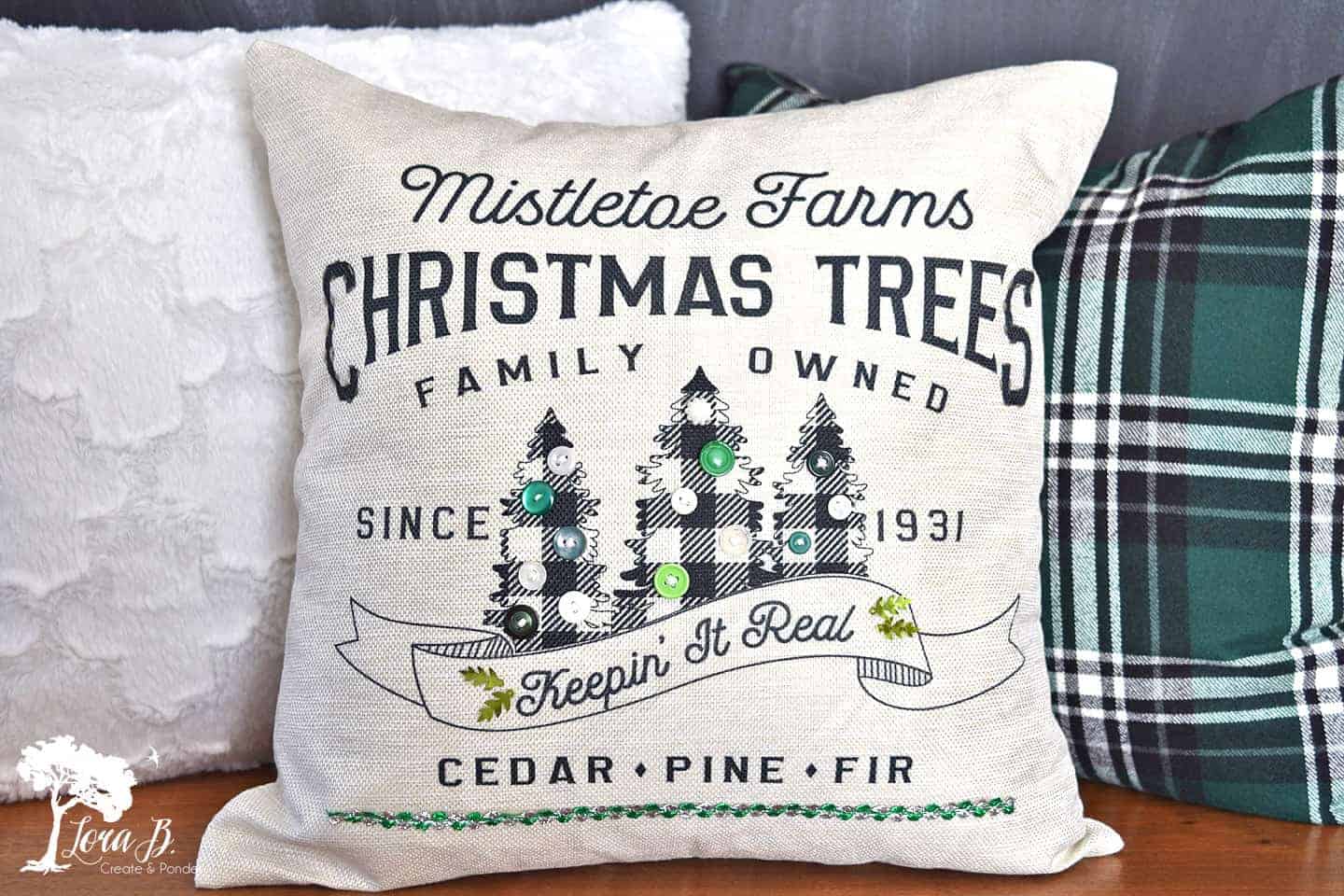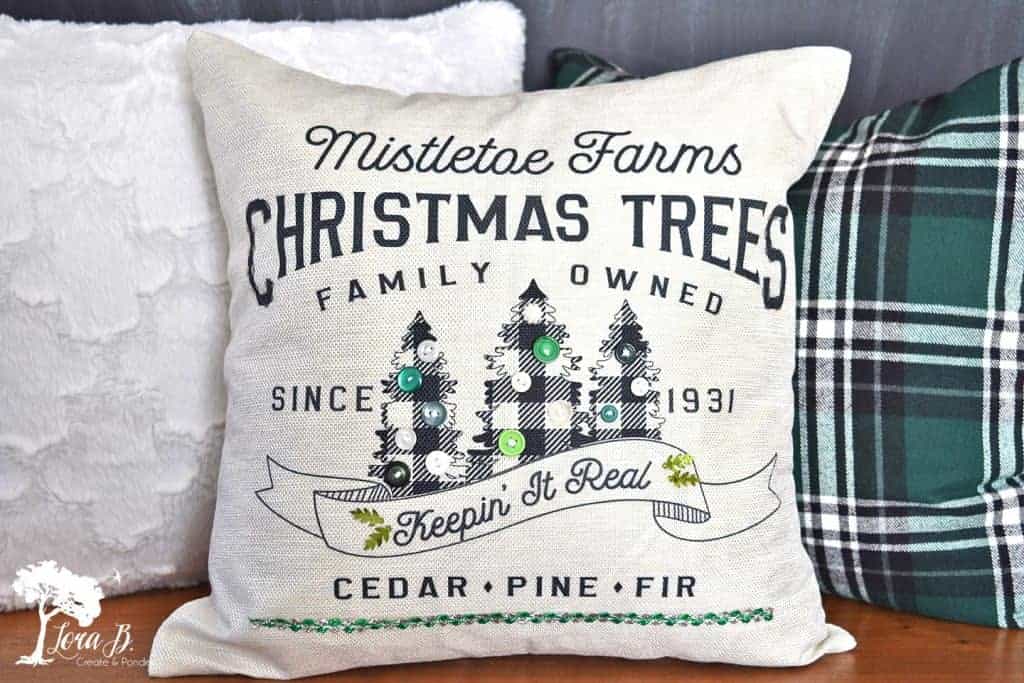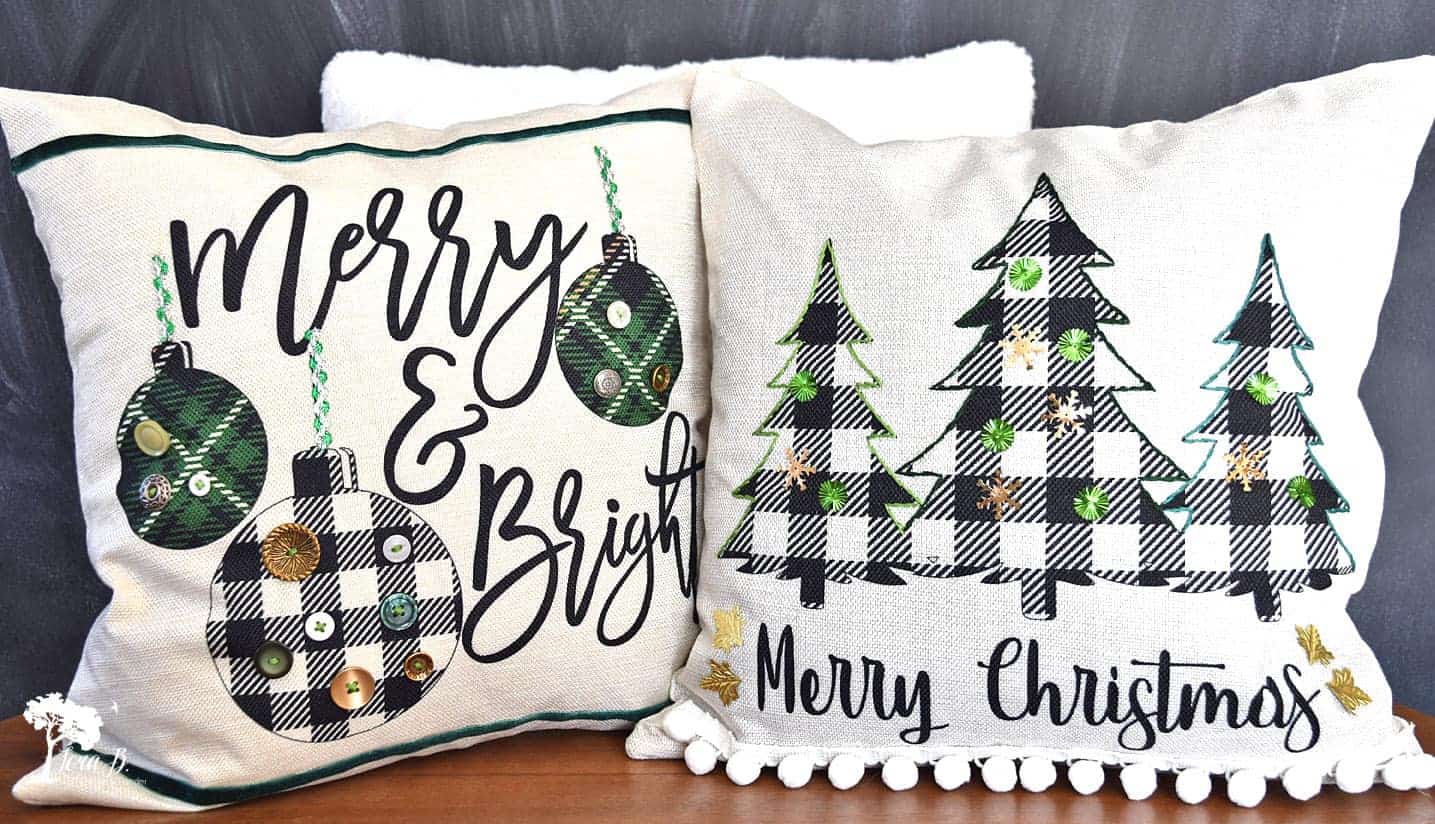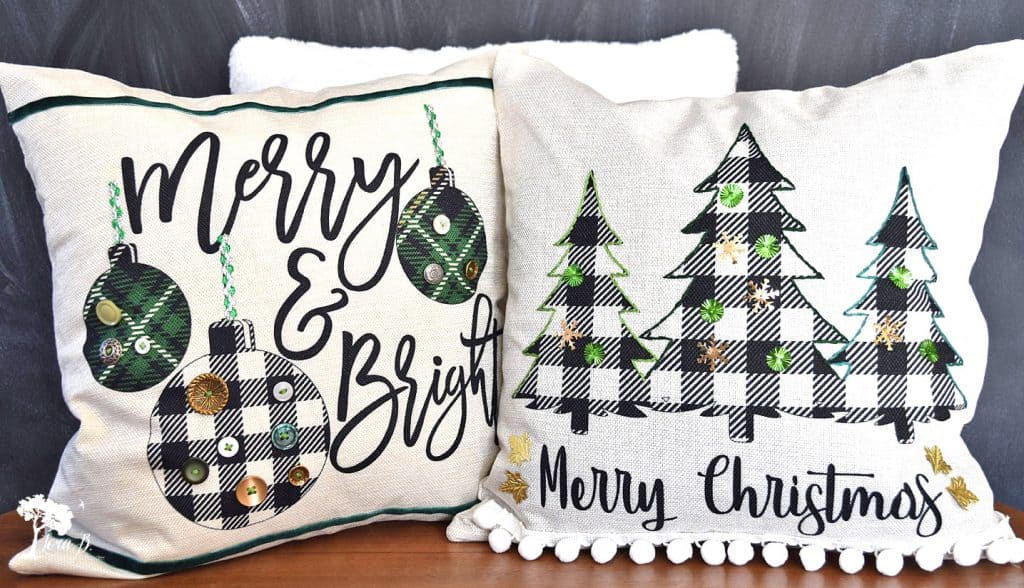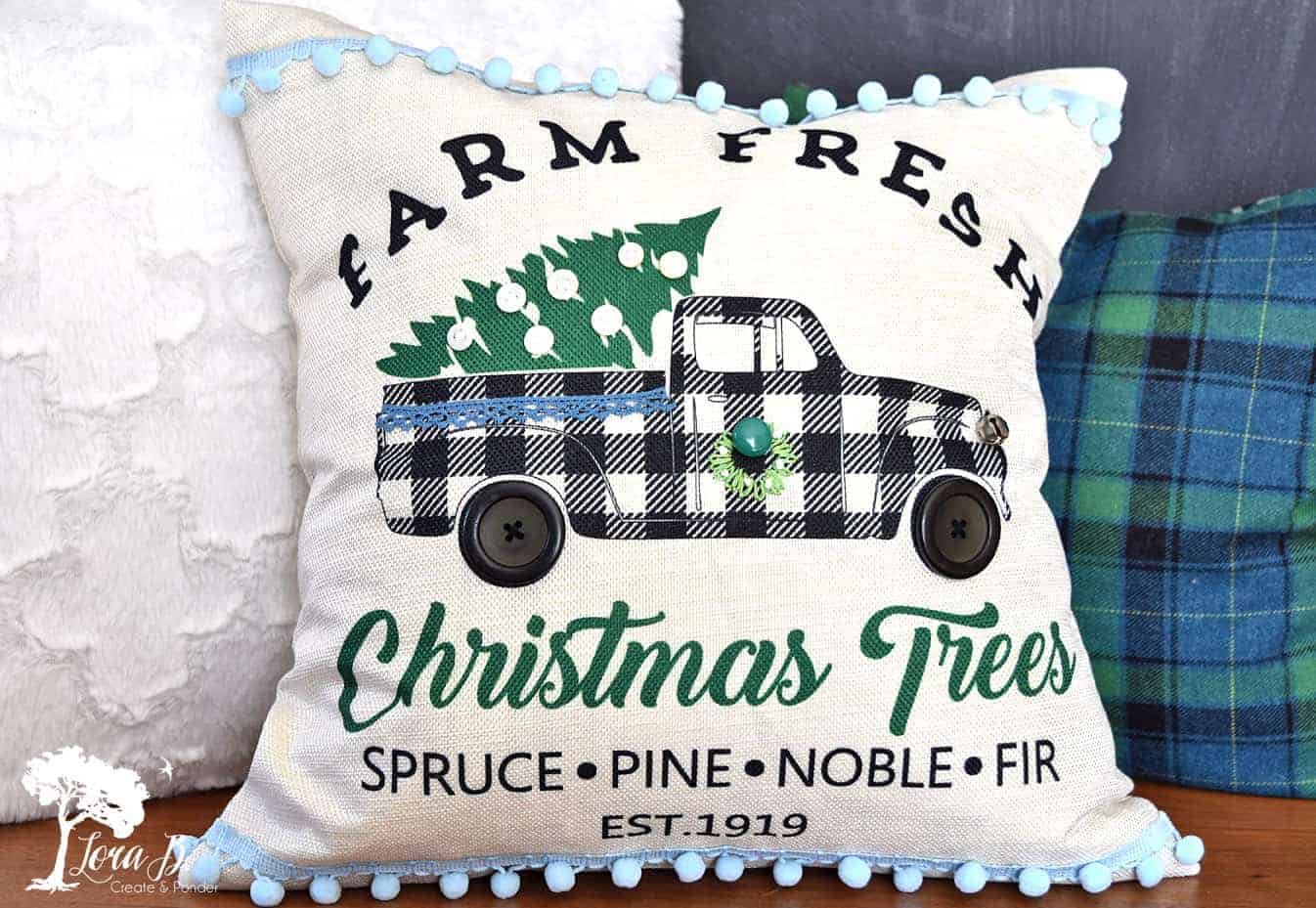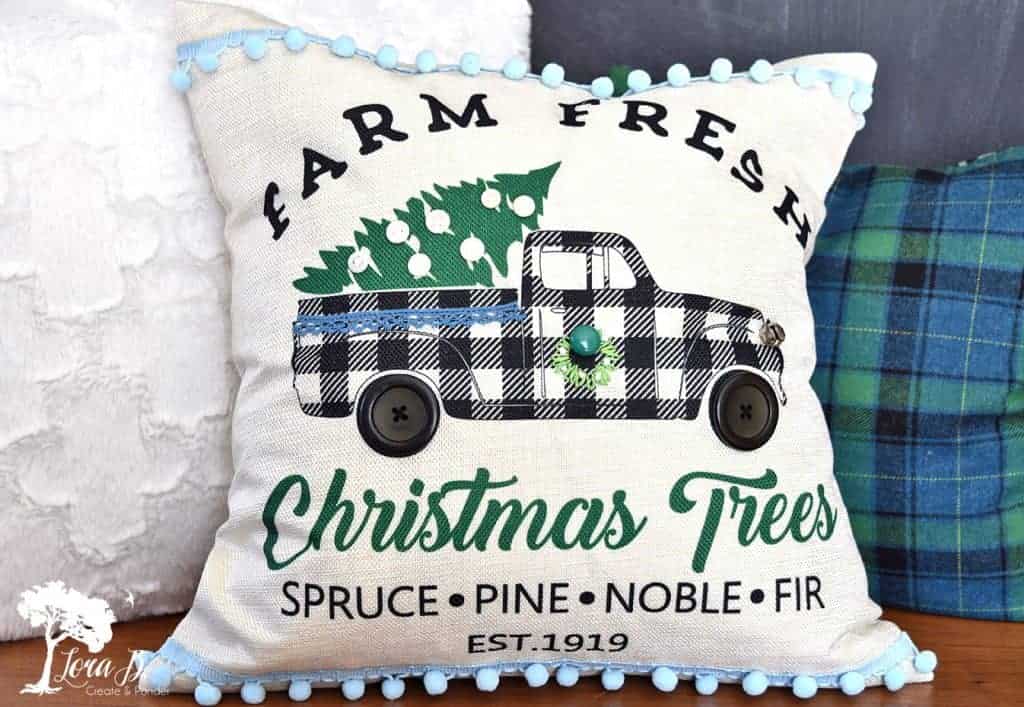 And for the Classic Christmas colored version. I love this red truck, too, but I'm in love with the bit of trim I found for the top of the Mistletoe one.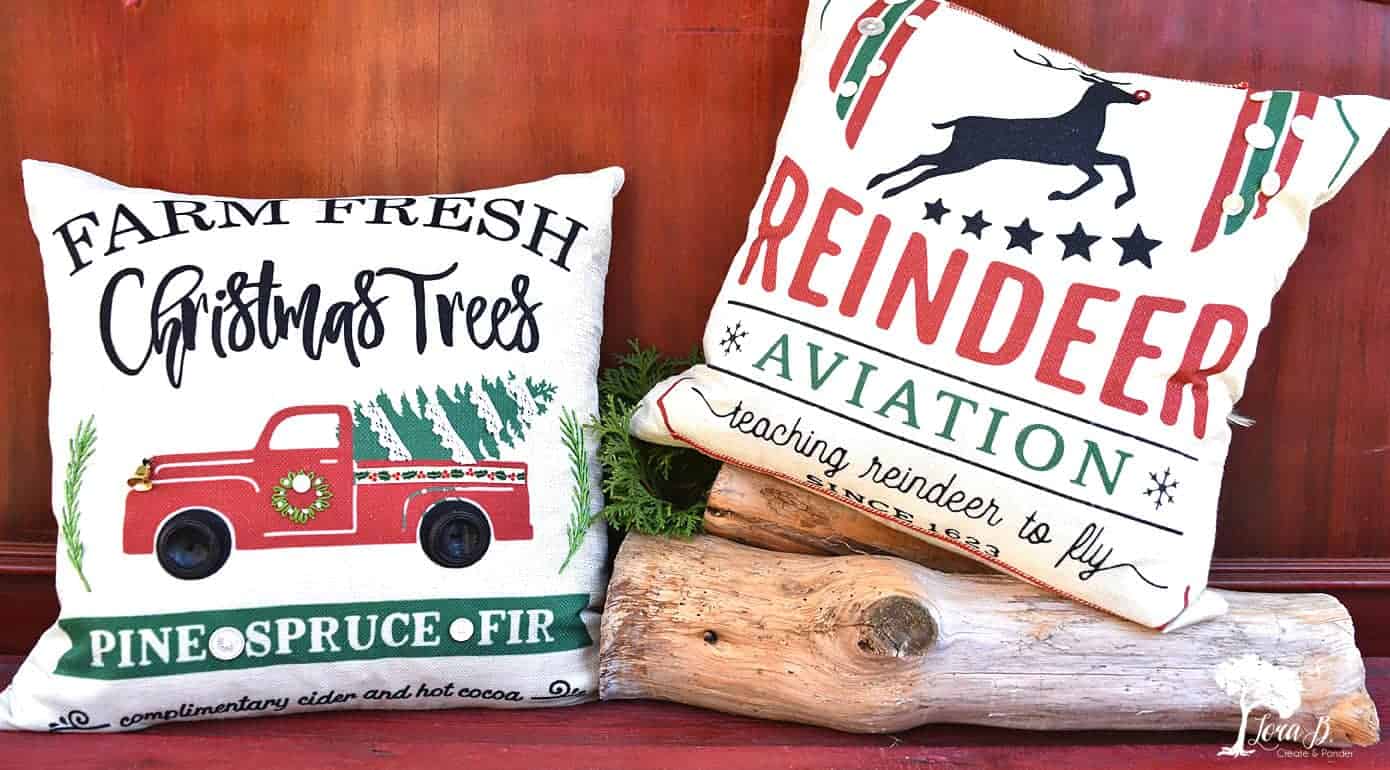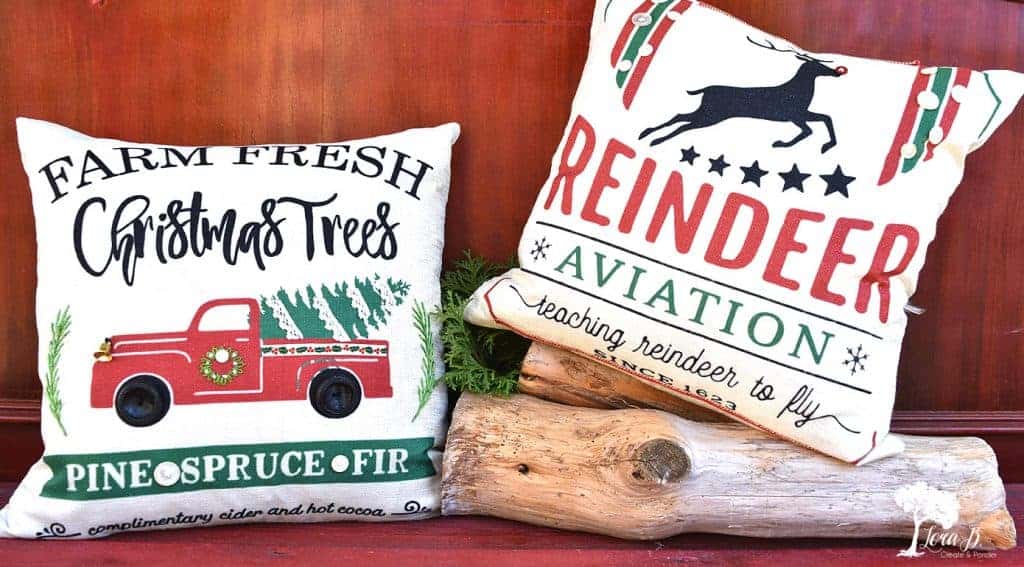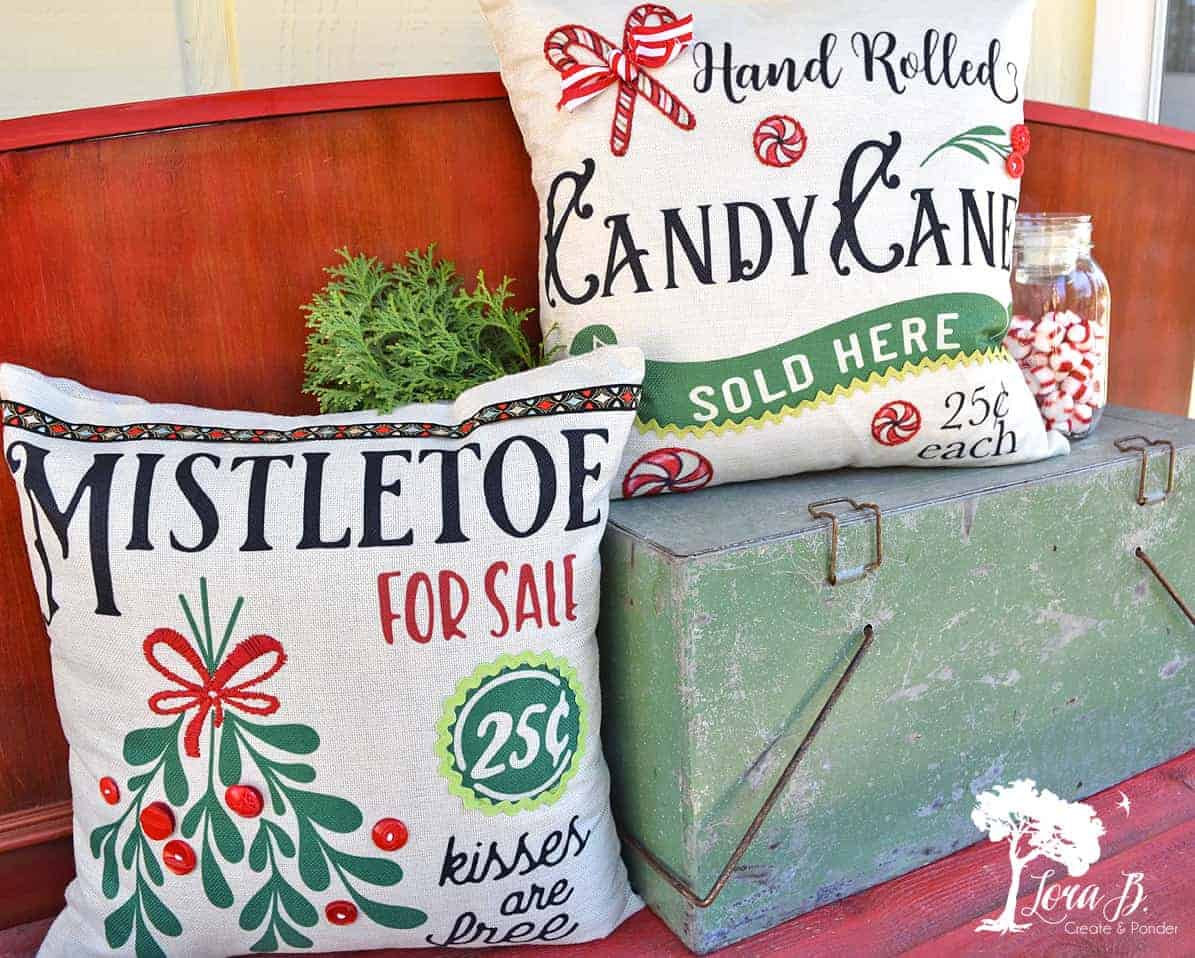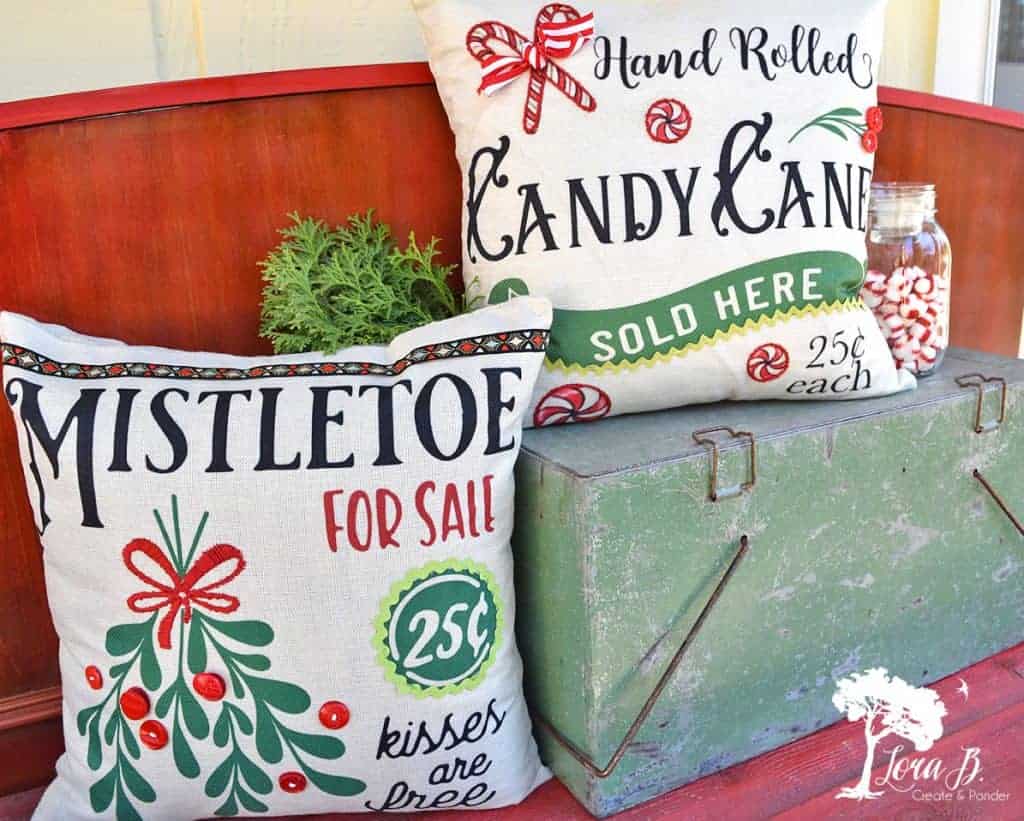 Do you have a favorite? Do you like the classic reds and greens, or the black and white grouping?
There's a bunch of other adorable options available, too. (it was honestly hard to pick) But order early; I heard they do sell out as the holiday gets closer!
I hope you're encouraged to get creative and add some custom, handmade touches to pillows for your own home! Or maybe you'll want to give one as a special gift. It's so much easier when you can start with something ready-made and purchased and simply take it to the next level.
Thanks for reading How to Easily Give Purchased Pillow Covers Custom Charm!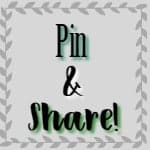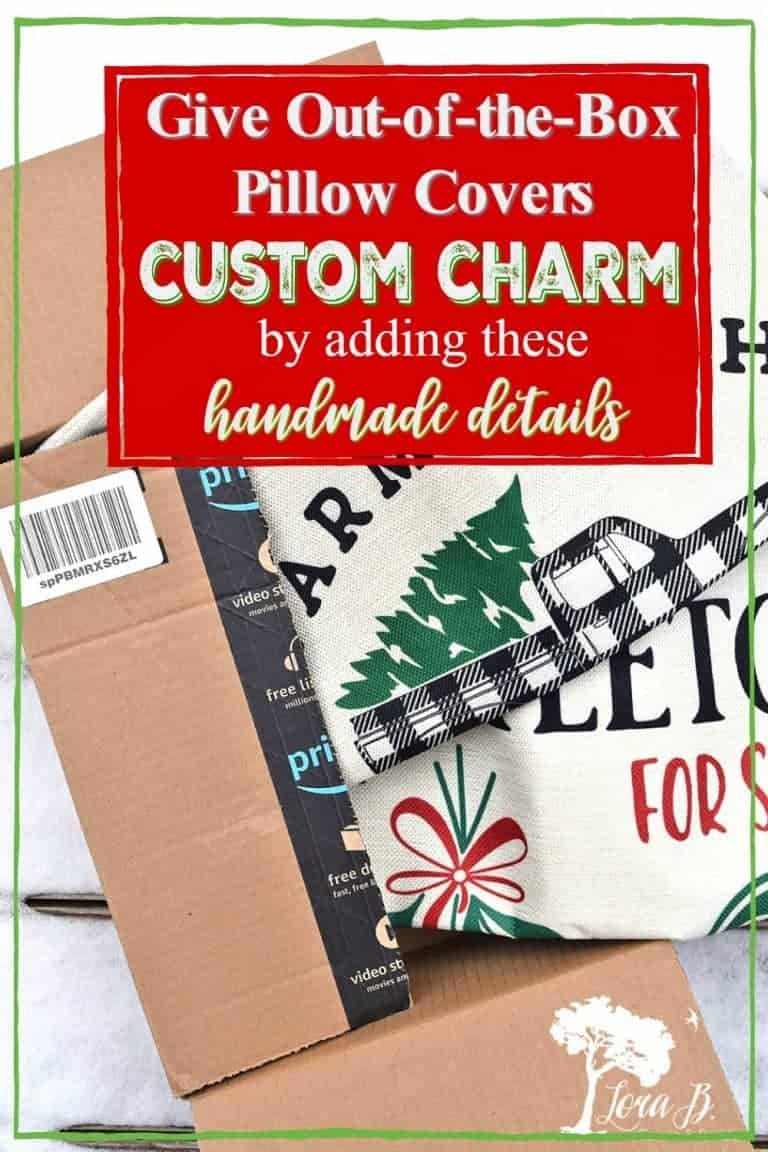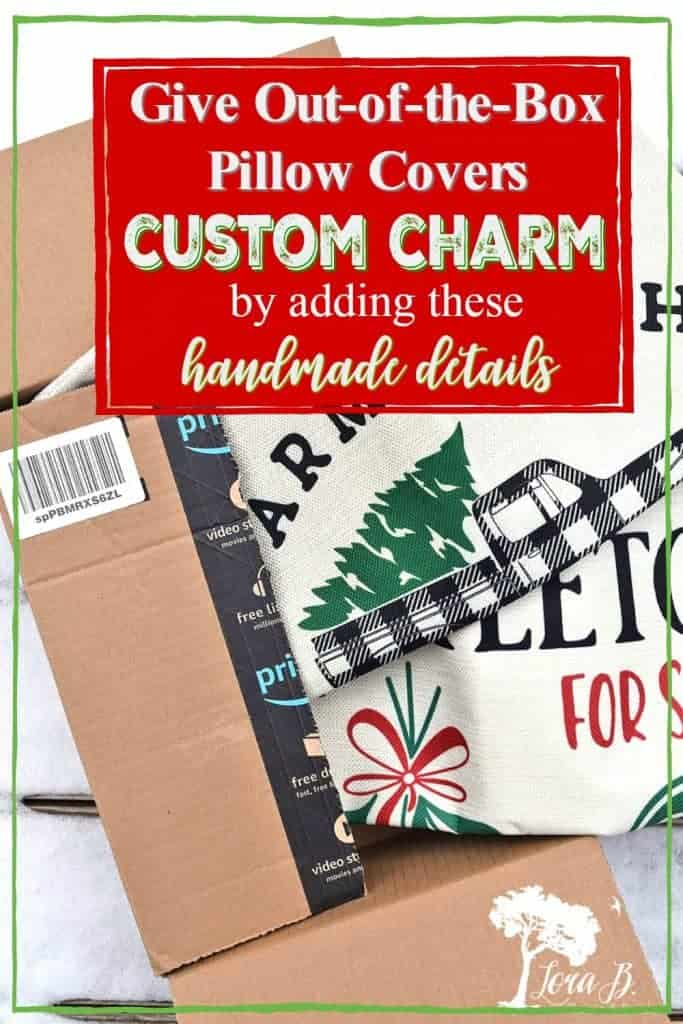 Sharing at these lovely parties: