Easy Yarn Ball Garland How To
Wonder what to do with leftover Yarn? Make easy yarn ball garland with this simple how to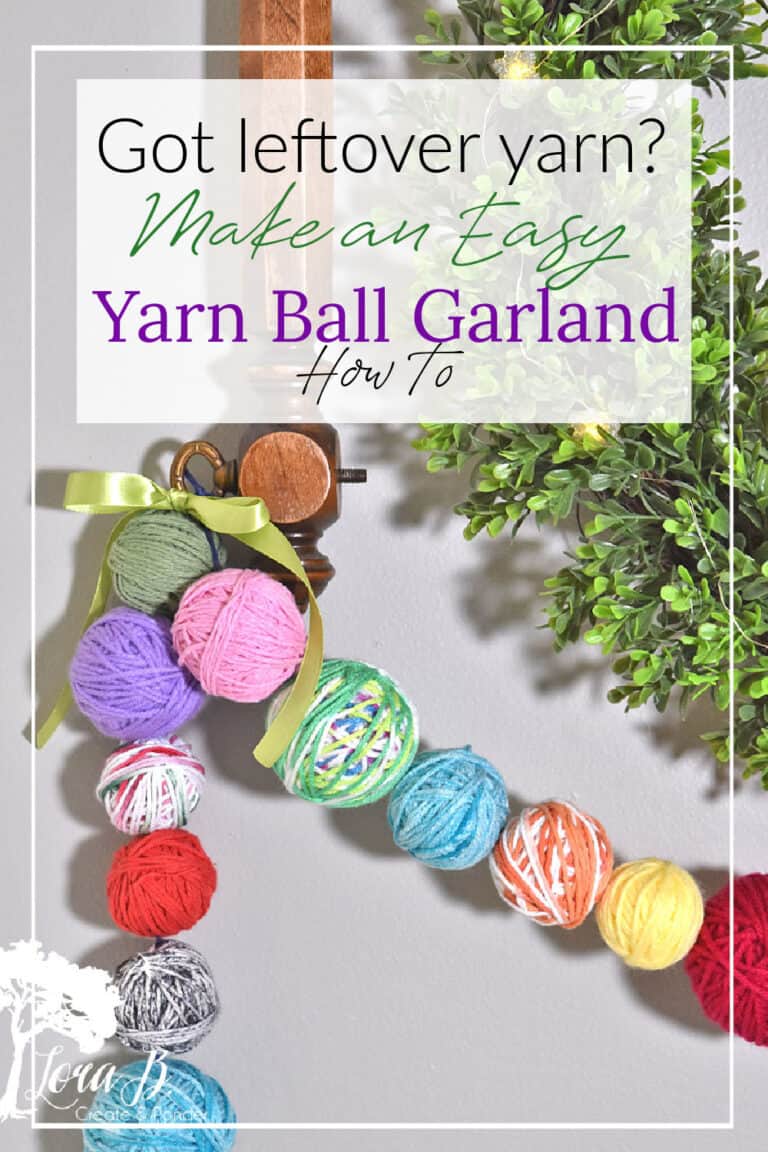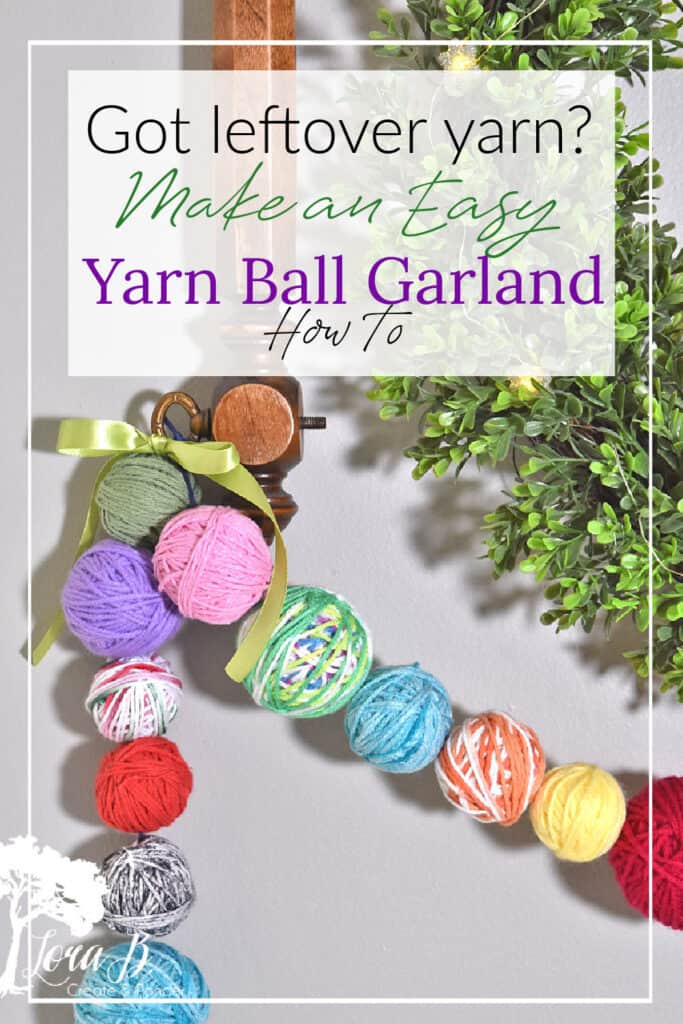 Ever wonder what to do with all that leftover yarn, once you've finished your project? If you knit or crochet anything, you've probably got leftover yarn. Or, if you're lucky like me, you may find someone else's yarn balls while thrifting! I seem to gravitate to what others have left behind. Today's Easy Yarn Ball Garland How To is a fun and pretty way to upcycle extra yarn scraps.
I'm joining my Pinterest Challenge friends today, headed up by Cindy at County Road 407. Instead of choosing a photo to design around, we're all going to inspire you with garlands! It's going to be a special treat, I think! If you're visiting from DIY Beautify, I'm sure you enjoyed Cindy's bannister garland ideas. I'll have the rest of the links at the end.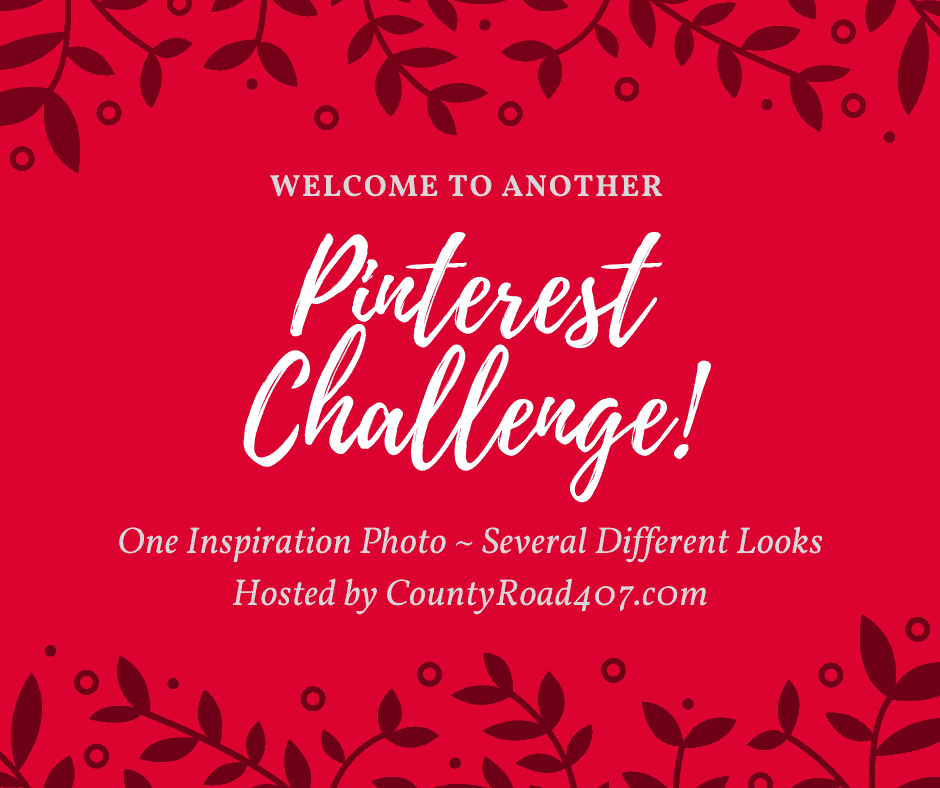 Easy Yarn Ball Garland How To
For your convenience, this post contains affiliate links. If you make a purchase, I may receive a commission. There is no additional cost to you. My full privacy policy is here.
What to Do with Leftover Yarn
Whether you're making small projects like washcloths, or a bigger project like an afghan, there always seems to be scraps of yarn leftover. Over time, you can amass quite a few different colors of yarn! That's what must have happened to whomever decided to donate bags of their leftover yarn balls to the church sale I recently went to.
When I saw several bags of the brightly colored, mostly cotton yarn balls, I envisioned fun craft room decor! At .50 a bag, I scooped up as many as I could find! Other people's trash inspires me:)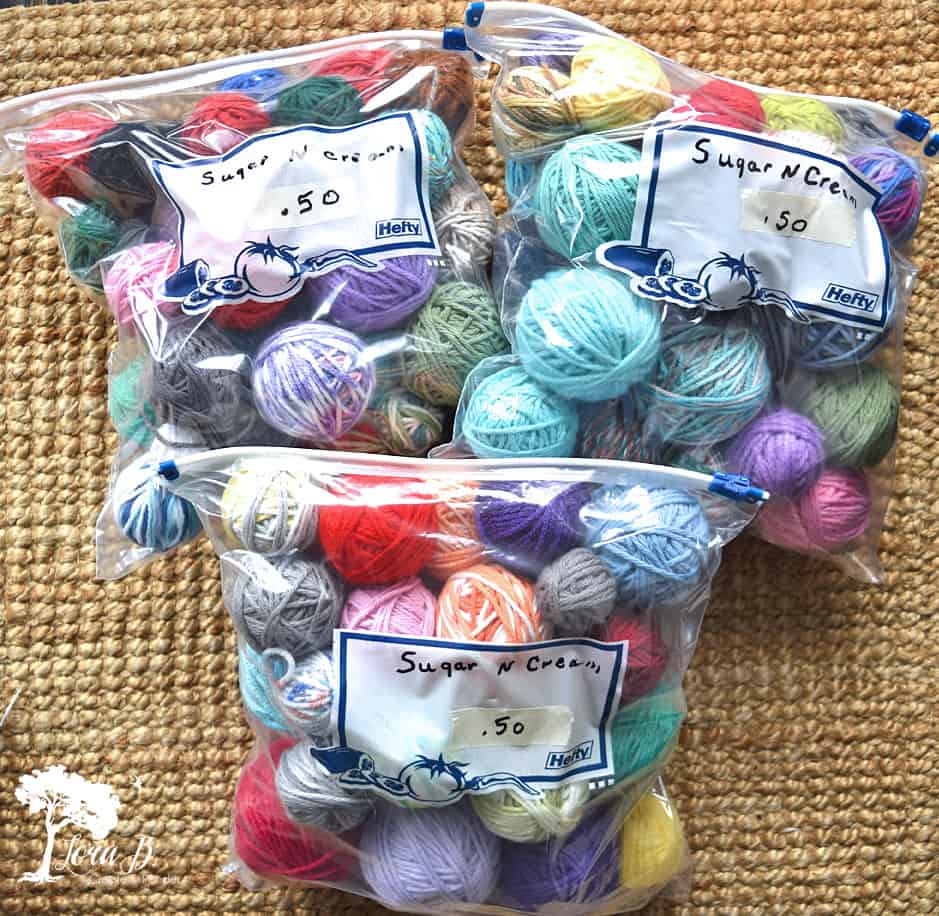 At first, I was thinking of just placing them in large glass containers, and maybe having a small Christmas tree coming out the top. But then I remembered the fun, brightly colored garlands I saw last year in the stores and decided to make my own, DIY-styled.
Tips for Making Yarn Ball Garland
This project was super easy, and turned out so cute! Most of the yarn balls were cotton yarn, which made them quite solid. I'll give you a trick for getting the needle through.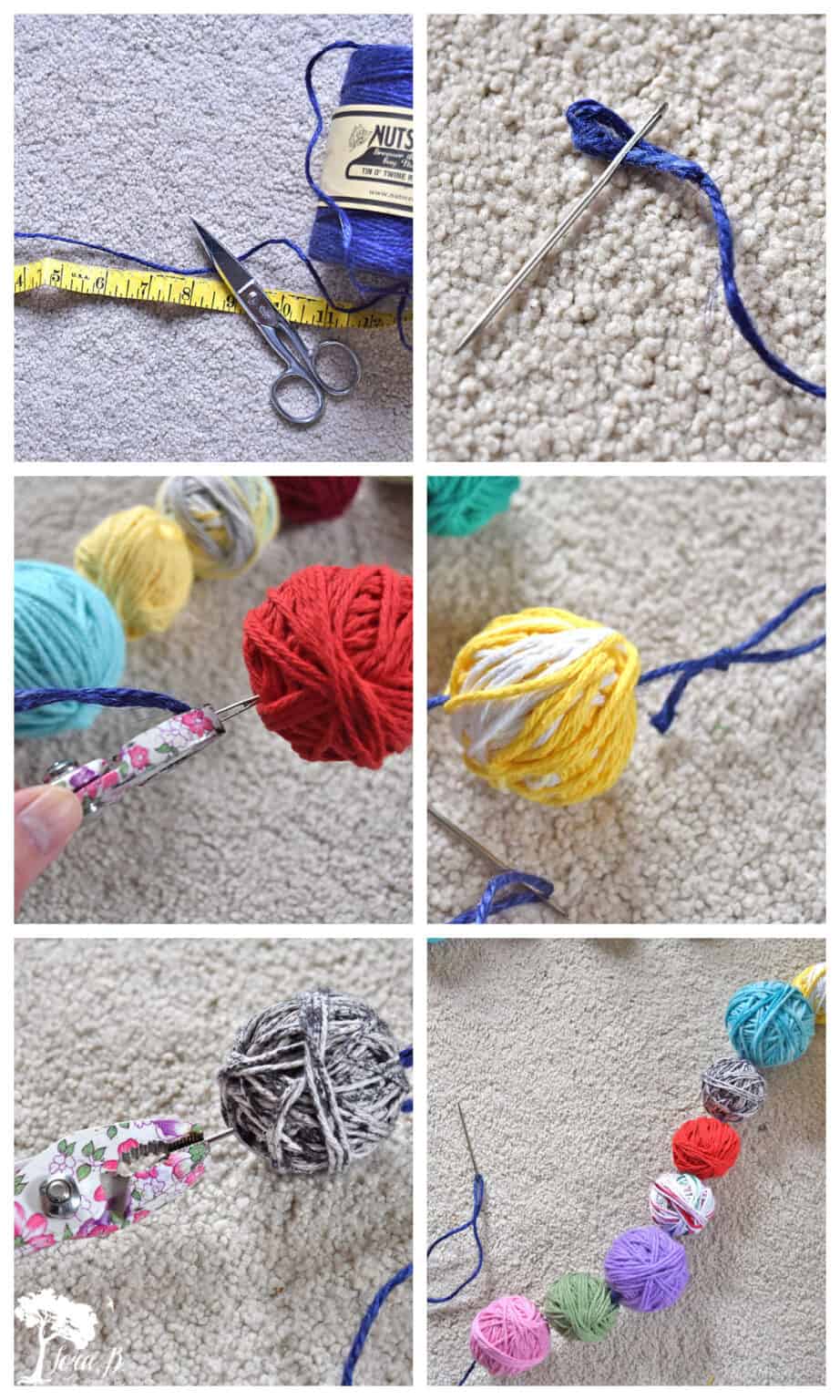 Cut twine to 72″
Thread large-eyed needle by folding over twine on itself and flattening.
Use a pliers to push threaded needle through yarn ball; it will save your fingers.
At first yarn ball, make a knot to create a loop to hang. You'll do this at the end also.
To pull needle through yarn balls, use the pliers again.
Vary 1-3″ yarn balls on twine. Don't pull them too tightly together; you want to be able to flex the garland.
How to Decorate with Your Yarn Ball Garland
You can place your yarn ball garland on a wreath, suspend it from a shelf, or weave it through your decor. I hung it from the scaffolding shelf we just hung in my new craft room/studio. It was so fun to have a new place to decorate!
I added a little bit of twinkle for Christmas. I may add some vintage tinsel garland to the yarn ball garland, too.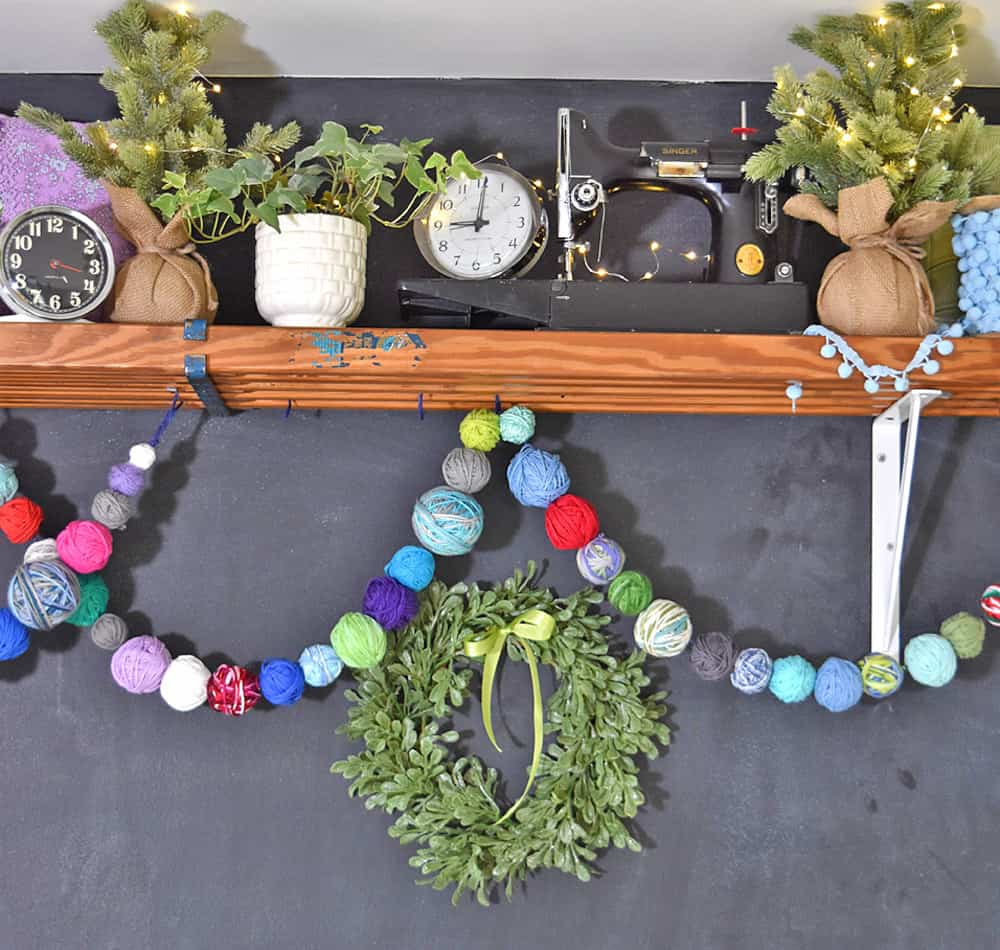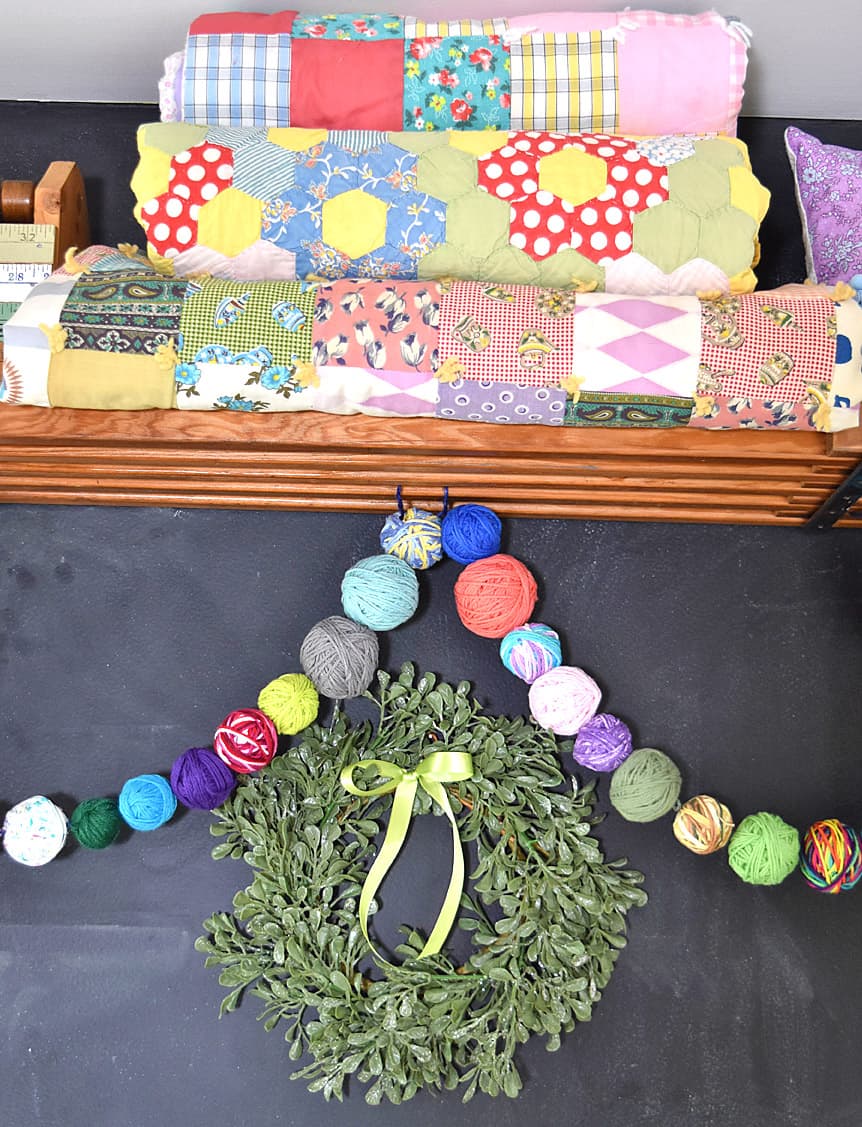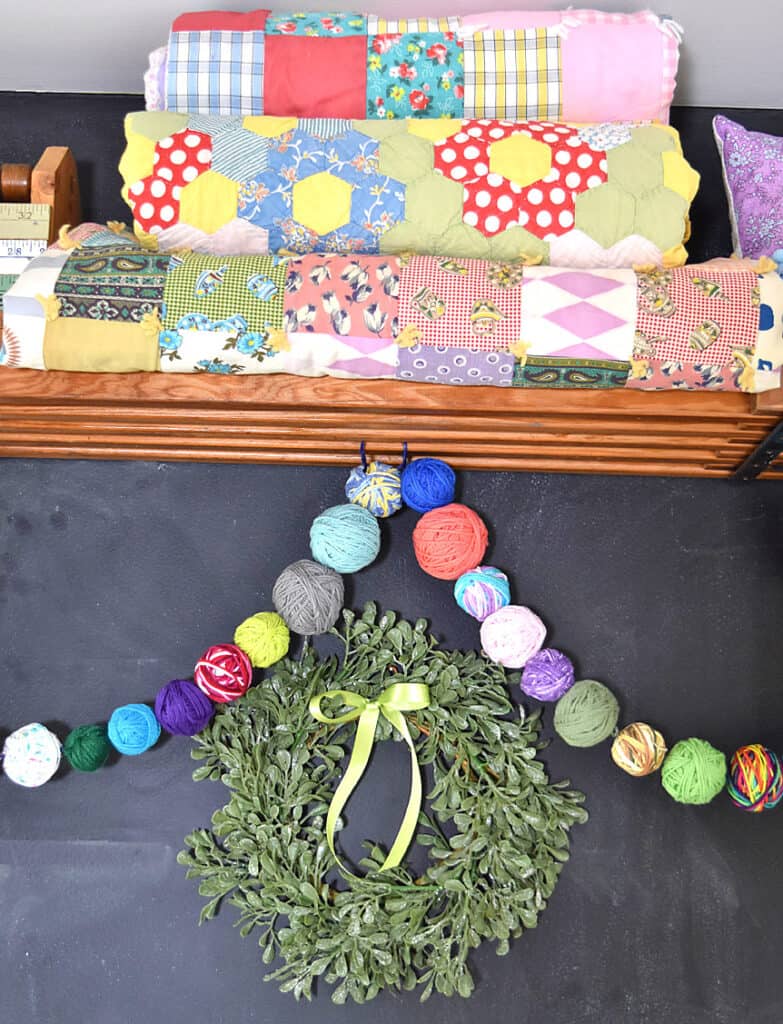 Don't all those bright colors just make you smile? I love how they coordinate with some of my vintage quilts. I think I just want to decorate my new craft room for Christmas…the rest of the house can wait;)
If you ever come across someone's stash of leftover yarn pieces, or happen to have your own, have fun whipping up this easy garland. Depending on the coloration, you can enjoy decorating with it anytime of year, in any room of your home. I made a length of neutral-colored yarn balls to bring out after Christmas.
To enjoy more garland ideas, visit Carol at Bluesky at Home next! Thanks for reading Easy Yarn Ball Garland How To!
Pin, Share, and Enjoy the Rest of the Inspiration!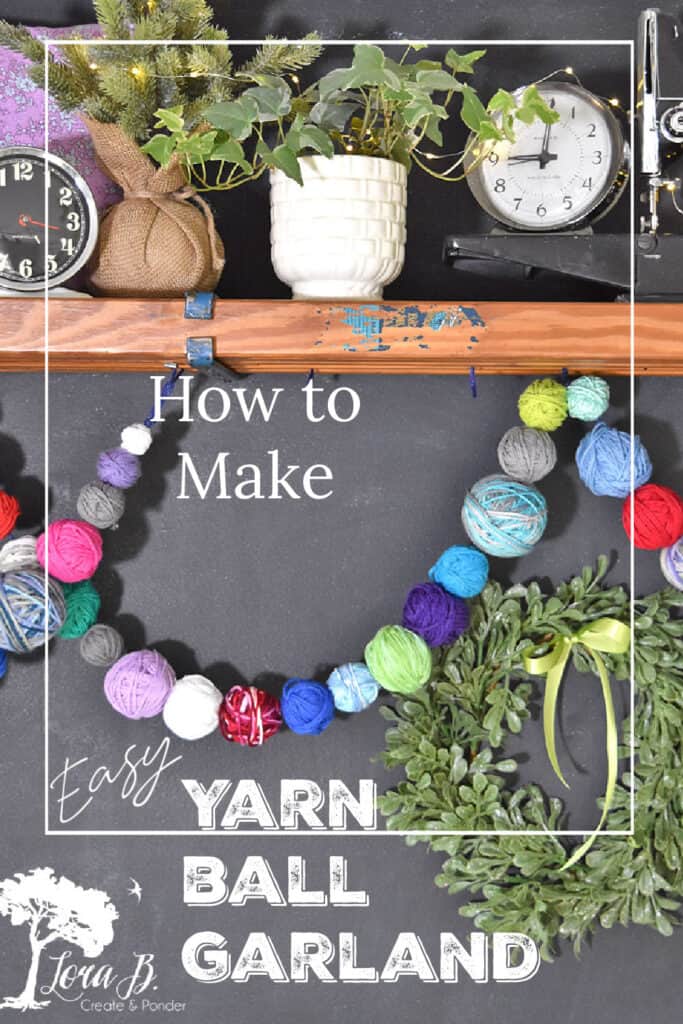 Pinterest Challenge: Garlands

Sharing at these lovely parties: