9 Smart Christmas UnDecorating Tips
bestTips for Taking Down your Christmas Decorations to be more organized next year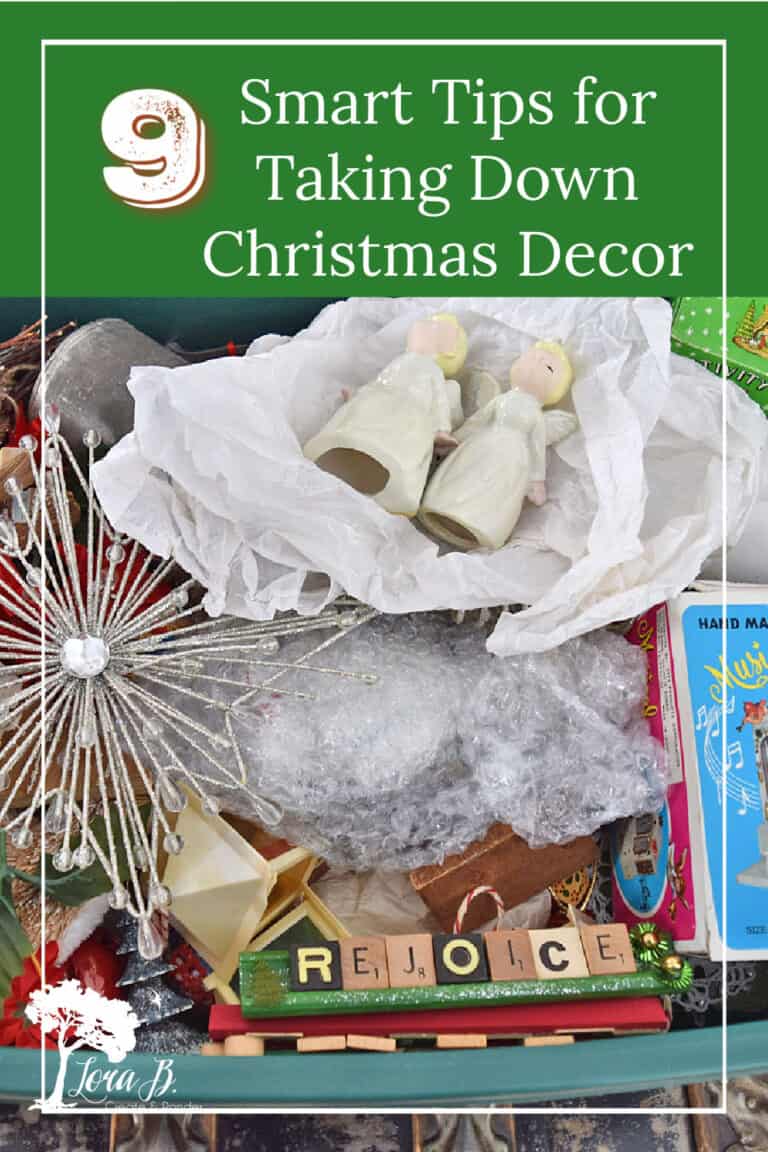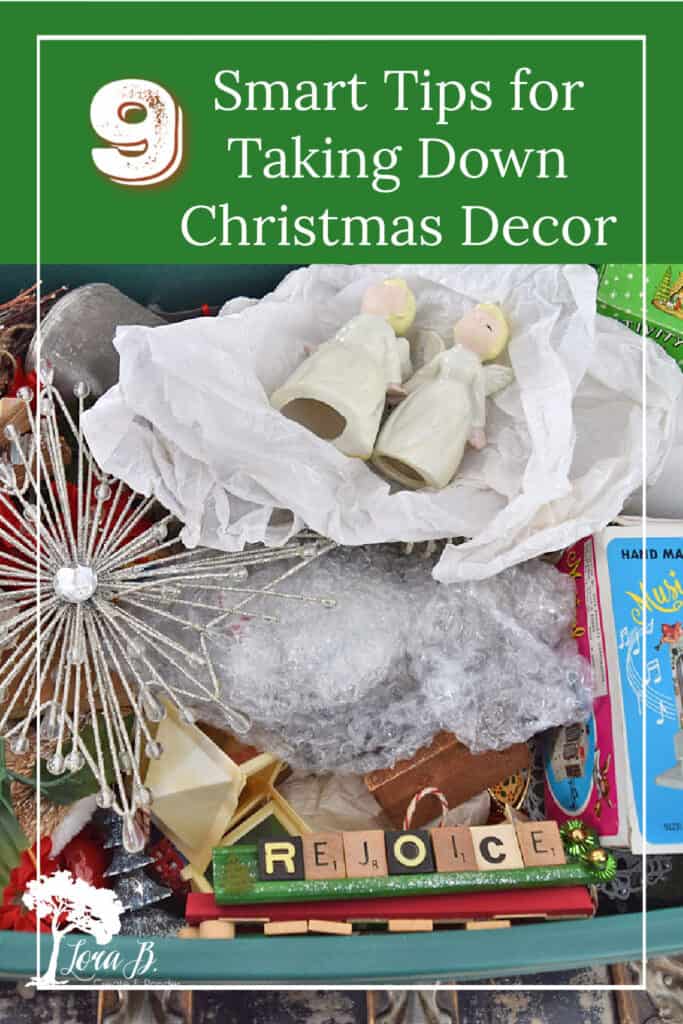 Taking down the Christmas decorations is not a fun job, period. The quicker you can get it done and move on to the new year, the better, right? You will be so much happier next Christmas if you put things away in an organized way now. As you know, my Christmas decor fills every nook and cranny of my house. Here are 9 Smart Christmas UnDecorating Tips to make the task go more smoothly!
9 Smart Christmas UnDecorating Tips
For your convenience, this post contains affiliate links. If you make a purchase, I may receive a commission. There is no additional cost to you. My full privacy policy is here.
Start the UnDecorating by Gathering and Making Piles
On each level of my 2 story house I make a pile zone. The dining room table on the main floor and our bed on the 2nd floor become a dumping ground. In each room I dismantle the pretty and make sorted piles on the table and bed.
Sort your decorations by item:
evergreen sprays
evergreen garlands, wreaths
pinecones
lights
yarn balls
paper decor
larger decor items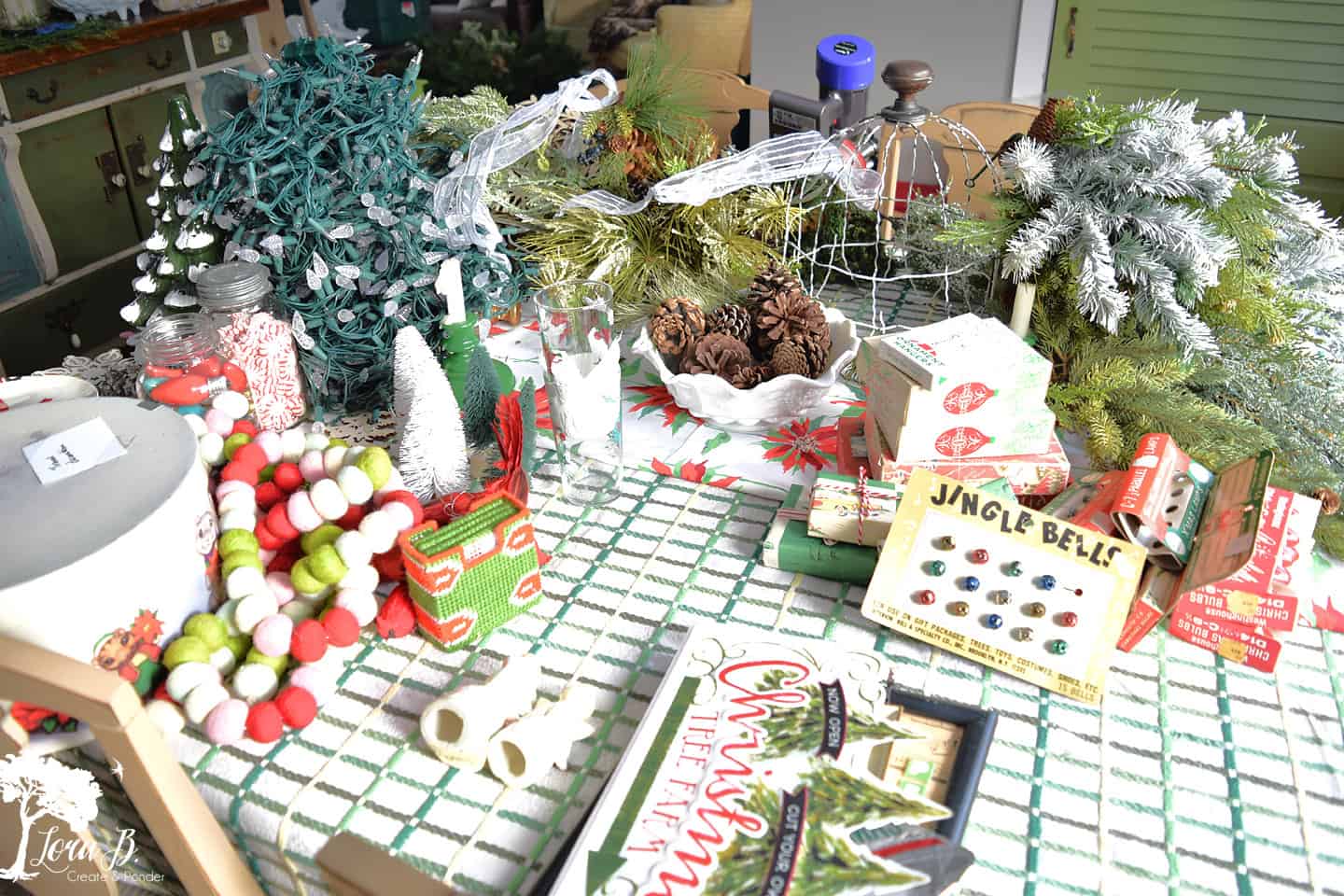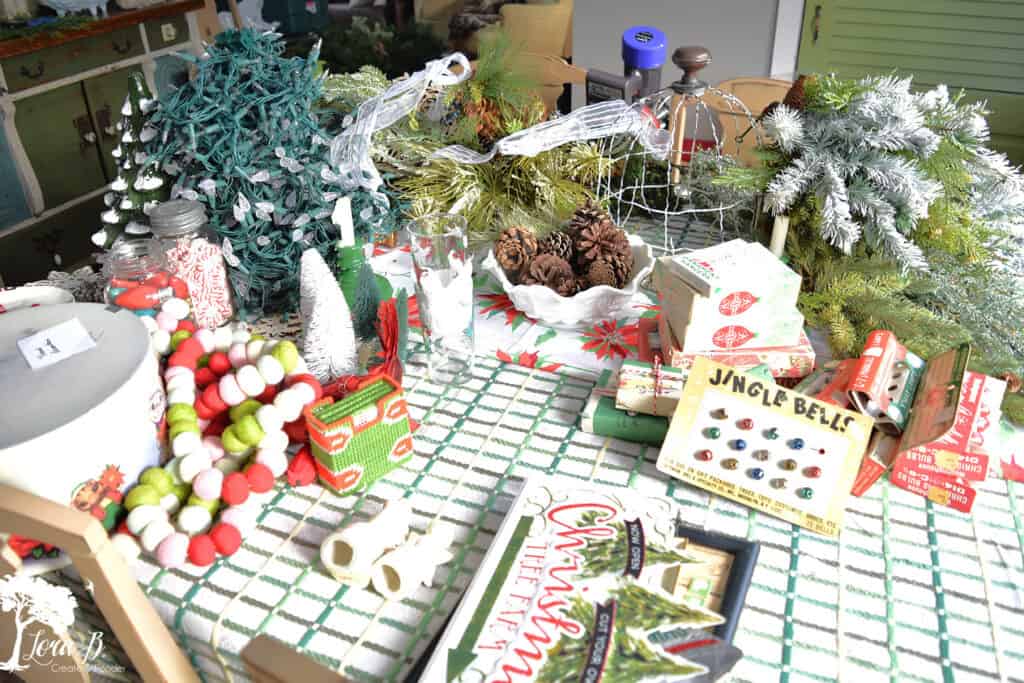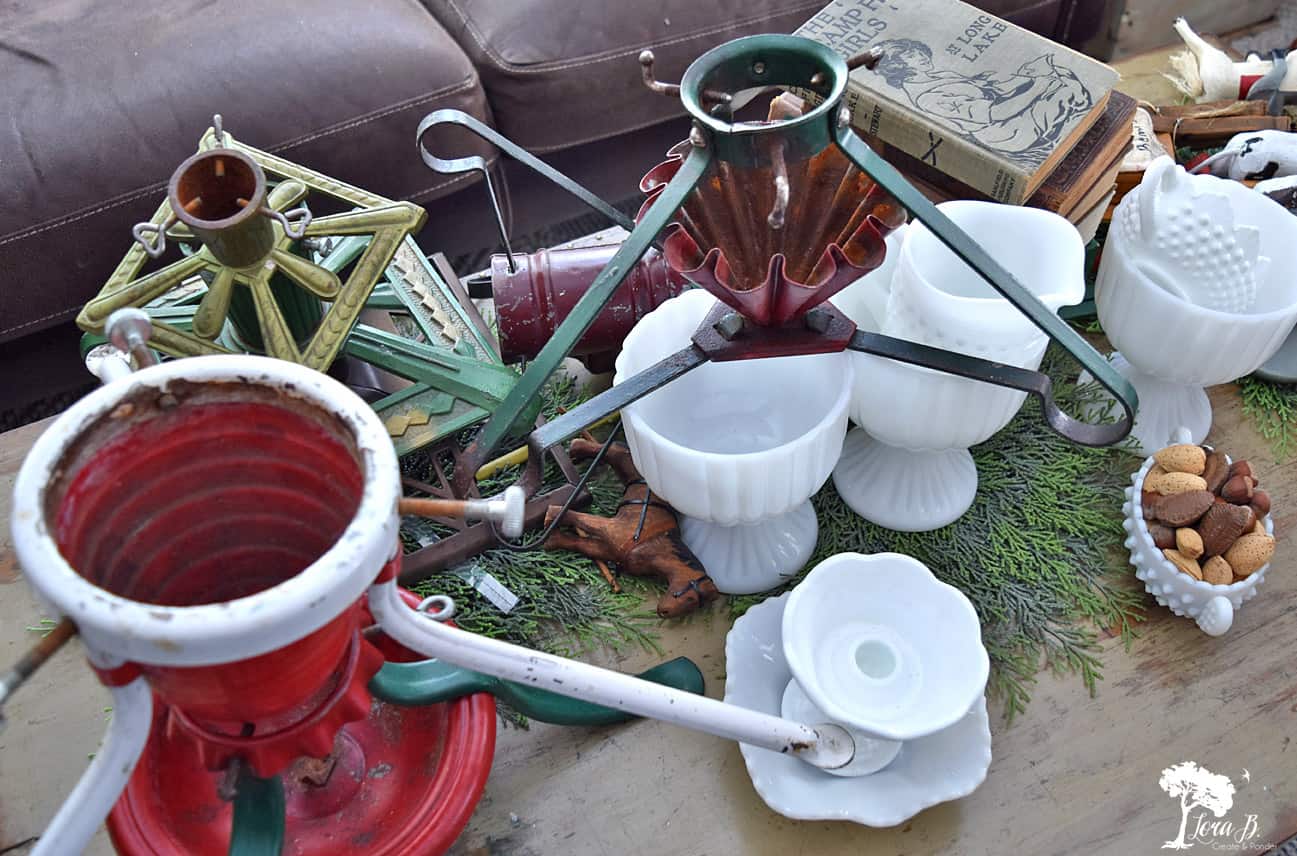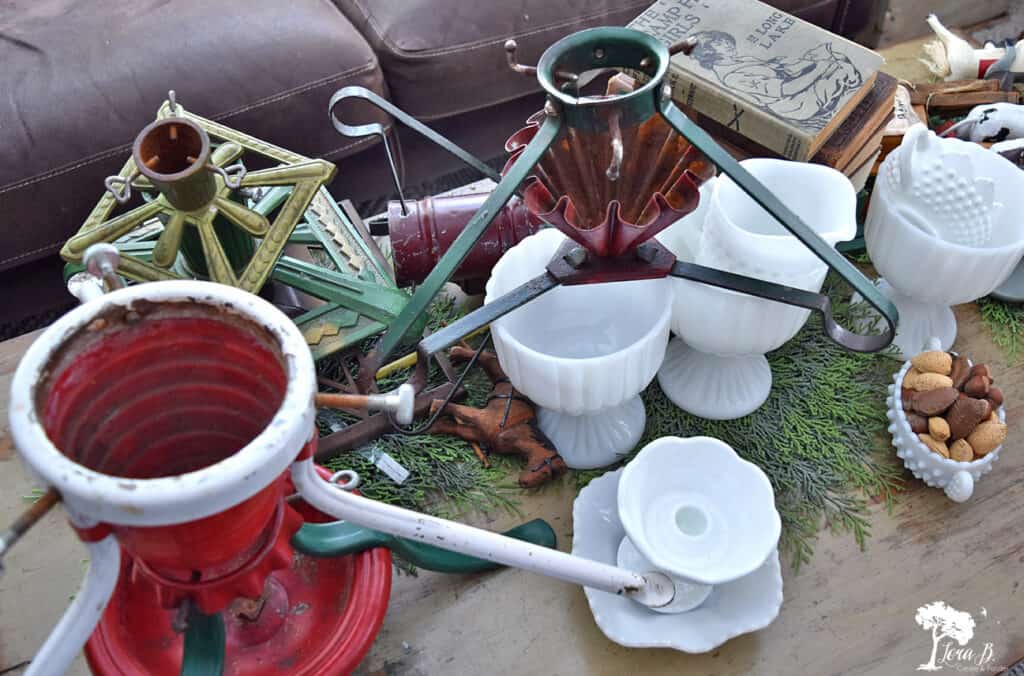 Place Tree Decorations Directly in Storage Boxes
To minimize breaking ornaments, place them directly into storage boxes. Round, glass balls are best stored in divided boxes. I have most of the original vintage boxes that I store my vintage bulbs in, but new containers can also be purchased. (You can see many options at the end of this post)
Other handmade and sentimental tree decorations can be placed directly in a storage container. Have paper tissue on hand and wrap any breakable ornaments. Add packing paper to the top of the storage boxes so they'll be full when others are stacked on top.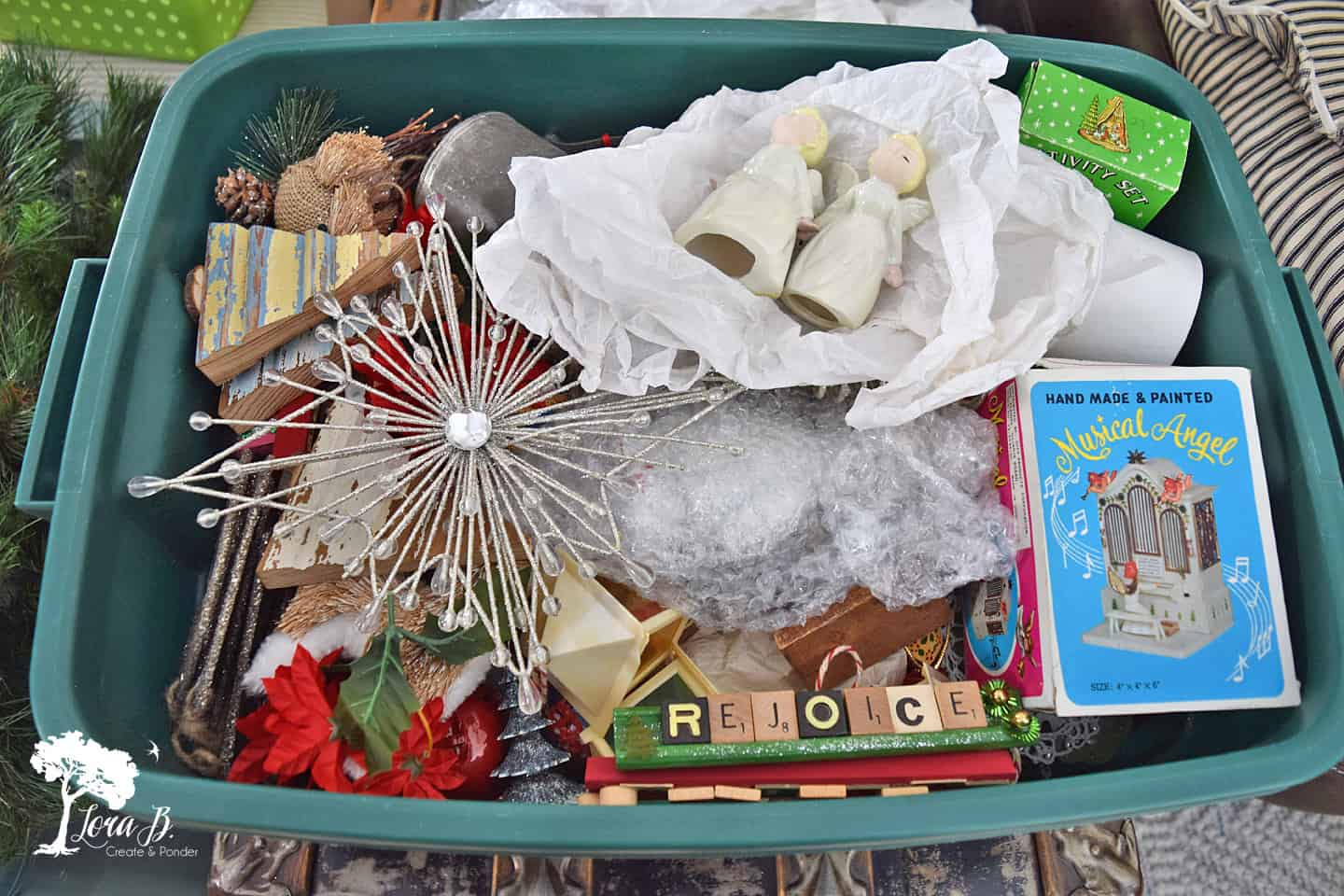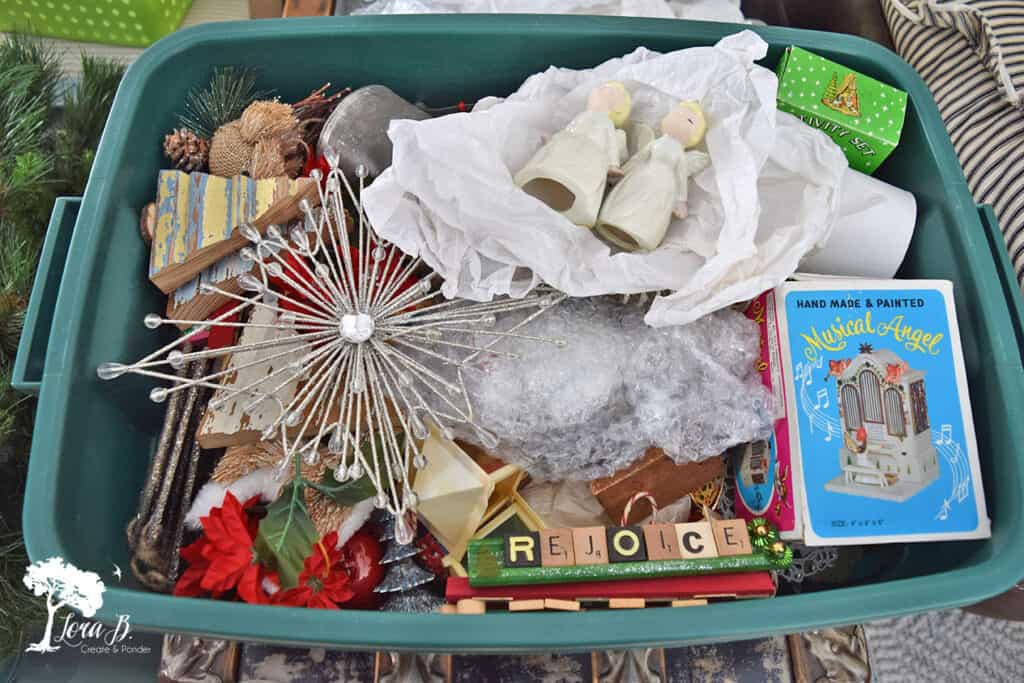 Keep Your Vacuum Handy
As you're undecorating, you'll have white flocking, glitter or needles everywhere. Rather than waiting until the end and tracking the mess all over, do some quick vacuuming as you go.
Store Like Items Together
Some people store their Christmas decor by room because they use the same items in the same rooms every year. For me, every year's decor is different. I never know where I may use a certain color of decor next year. It makes sense to group the similar items together, so I can go to that bin when I'm looking for a particular thing.
Ideas for Storage Bins:
Soft decor items: pillows, pillowcases, stockings, mittens
evergreen sprays and small evergreen trees
evergreen garland
lights (I wrap them from my thumb to my elbow and then wrap the ends and plug together)
paper decor items: old books, music, decorative paper, vintage boxes
Shiny Brite ornaments and garland
other garlands: beaded, decorative
themed Christmas tree decorations: travel-themed, each kid's room, our room, main tree
by color: red and white themed decor gets boxed together(because I'm not always in the mood to use it): red cardinals, candy canes, red poinsettias, red berry picks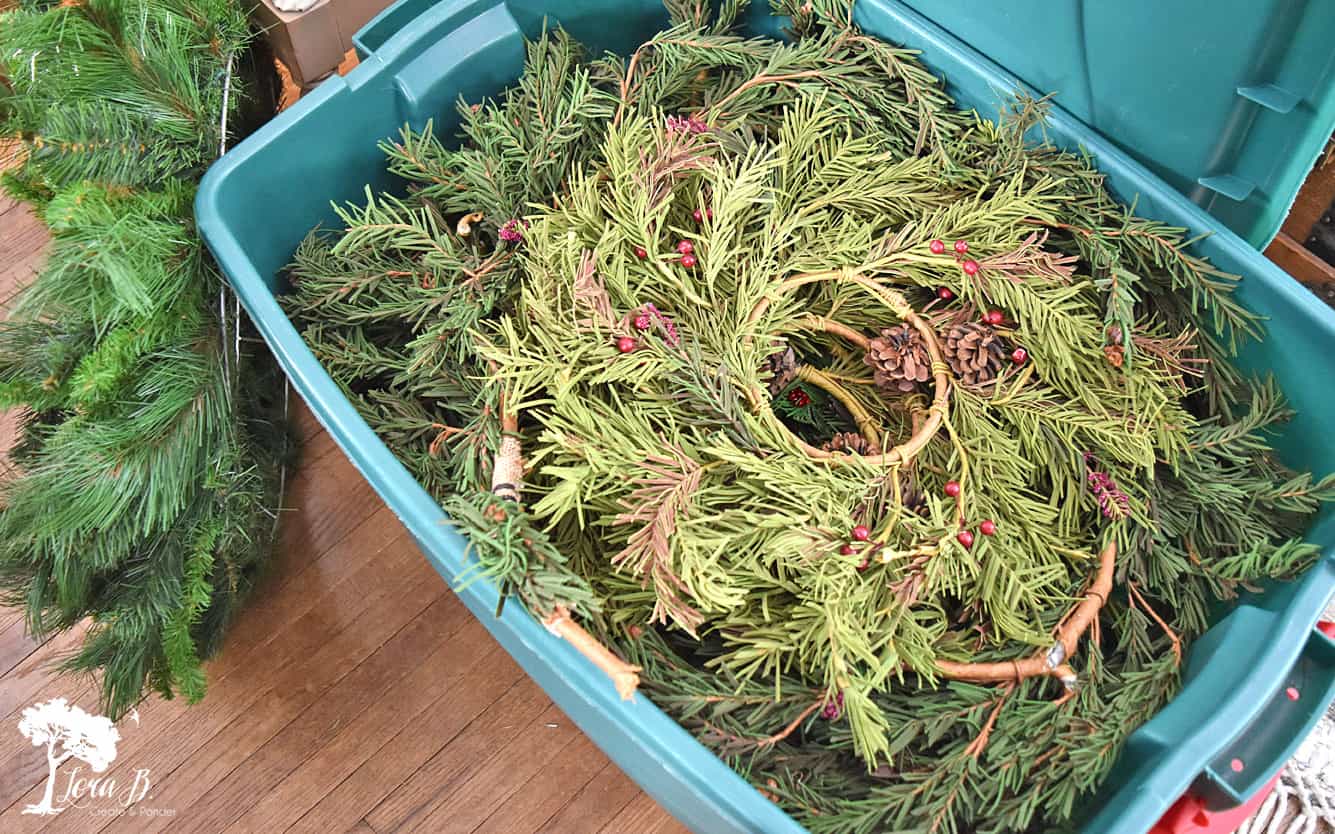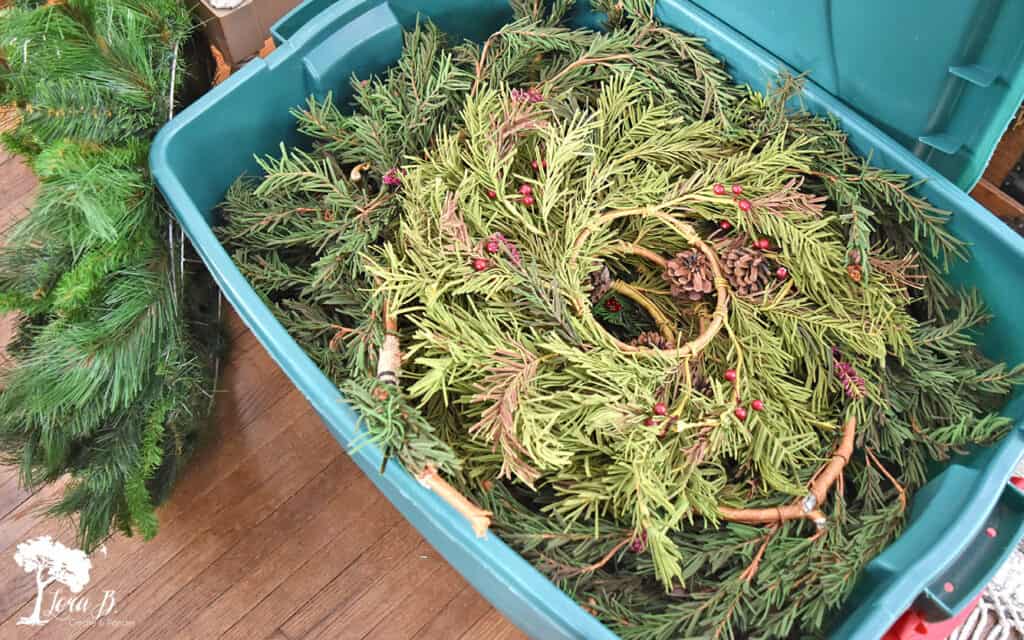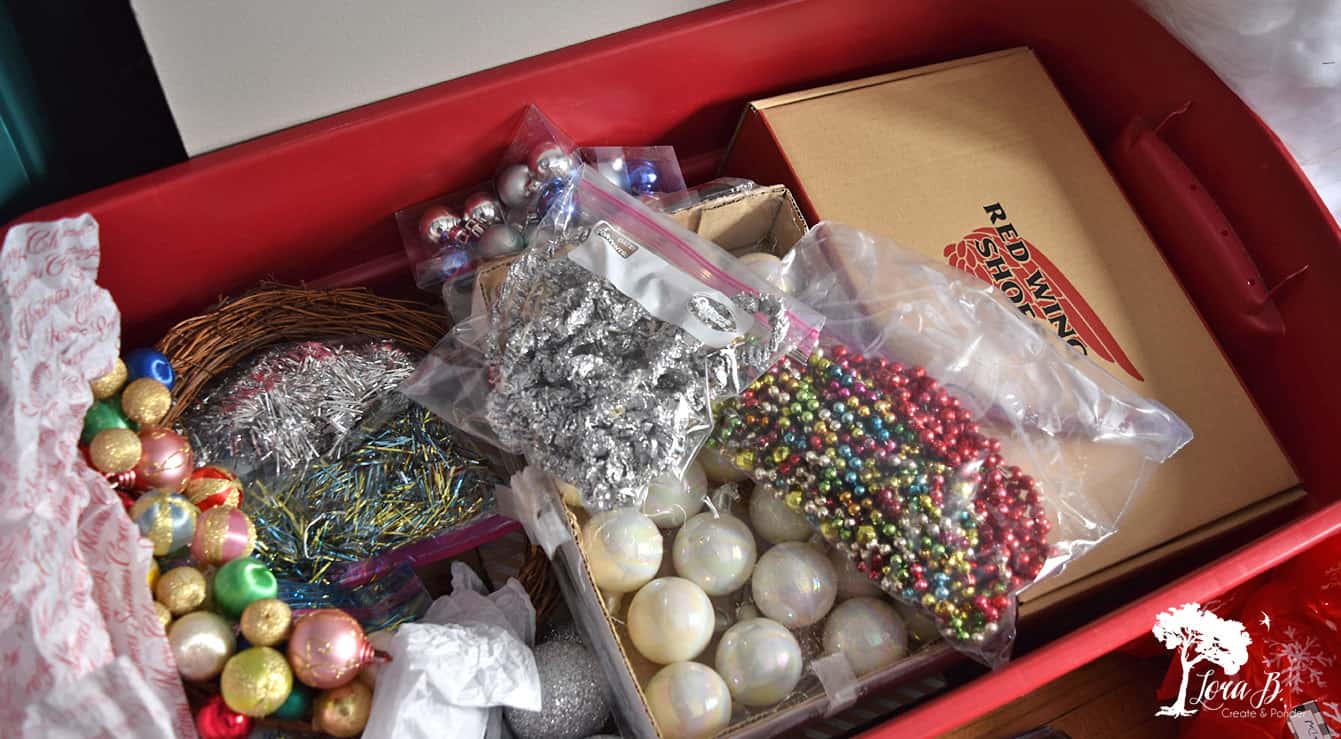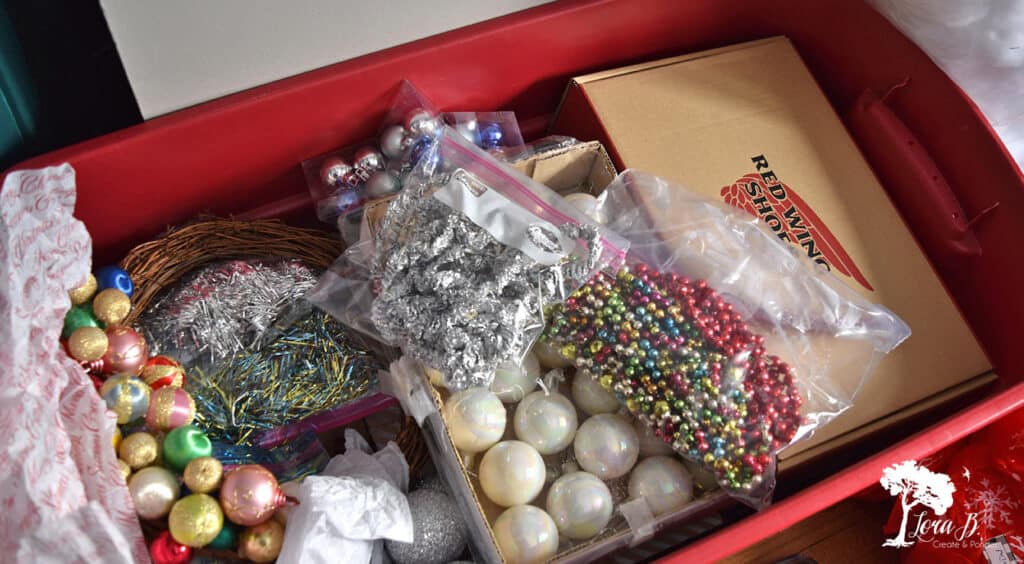 Use Plastic Bags to Store Smaller Items
Garland strands and other small items will stay neater ( and not get lost) if you place them in a clear plastic bag before you put them in a storage box. Egg crates are another inexpensive option to store smaller orbs.
Label Storage Boxes
I use a package of those disposable nametags and simply write what's in each bin. Most of my bins are red and green, so they can be easily identified in the attic. Using clear containers is a great way to easily see what's inside, too!
Give Away/ Throw Away
Each year it's my goal to have less decorations than the year before. Of course, I've usually picked up a few new or vintage things;) My tastes change from year to year, but if I haven't used something for a couple years, it gets put in a donate pile.
Keep Original Boxes
It's so much easier to pack away your small Christmas trees if you keep the original boxes. Simply bend the branches back near the trunk and squish them back in their boxes. Clear packing tape around will keep them tightly closed and critter-free.
But if you've already thrown the original box out, there is a wide variety of wonderful tree storage bags available. You can even store your tree standing up, if you have the closet space! I've listed a bunch of great storage options at the end.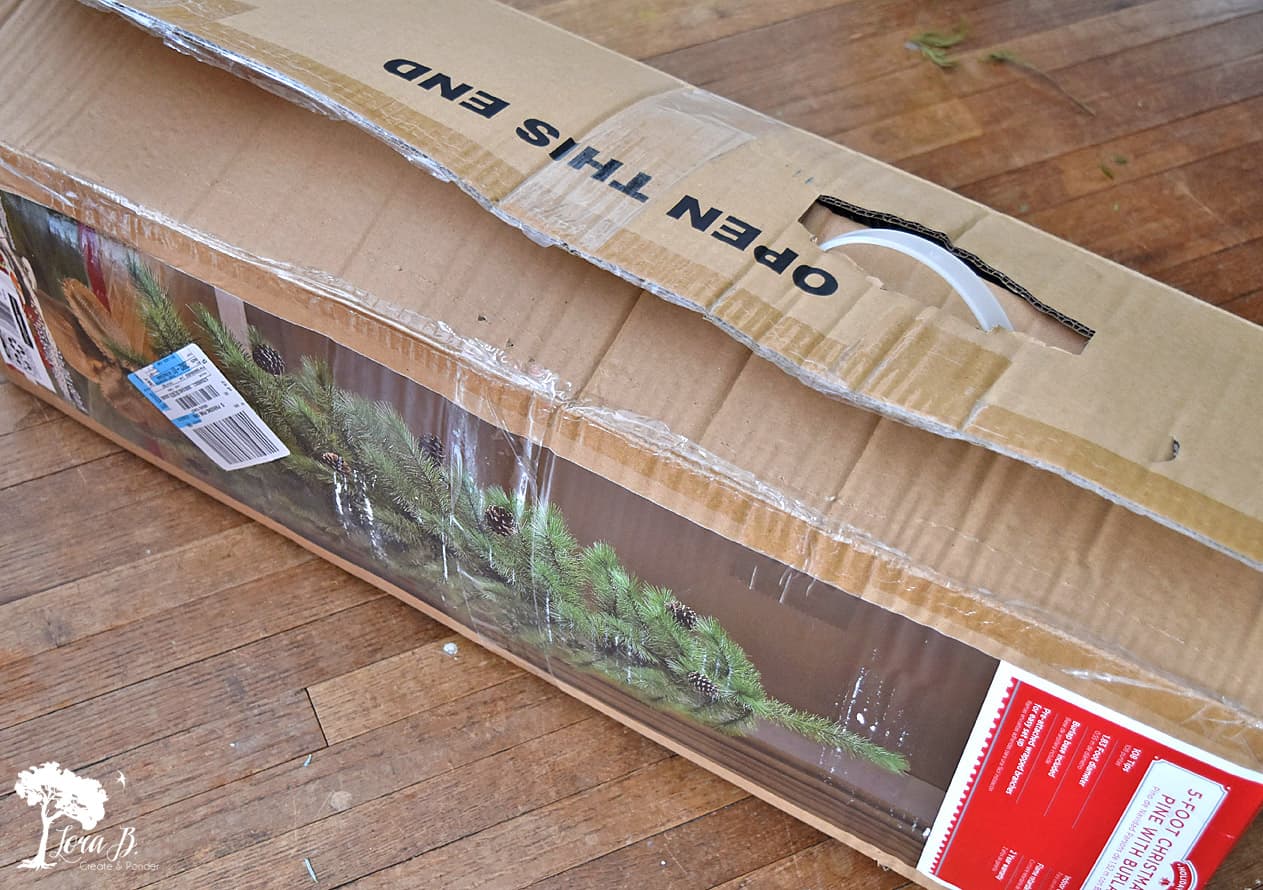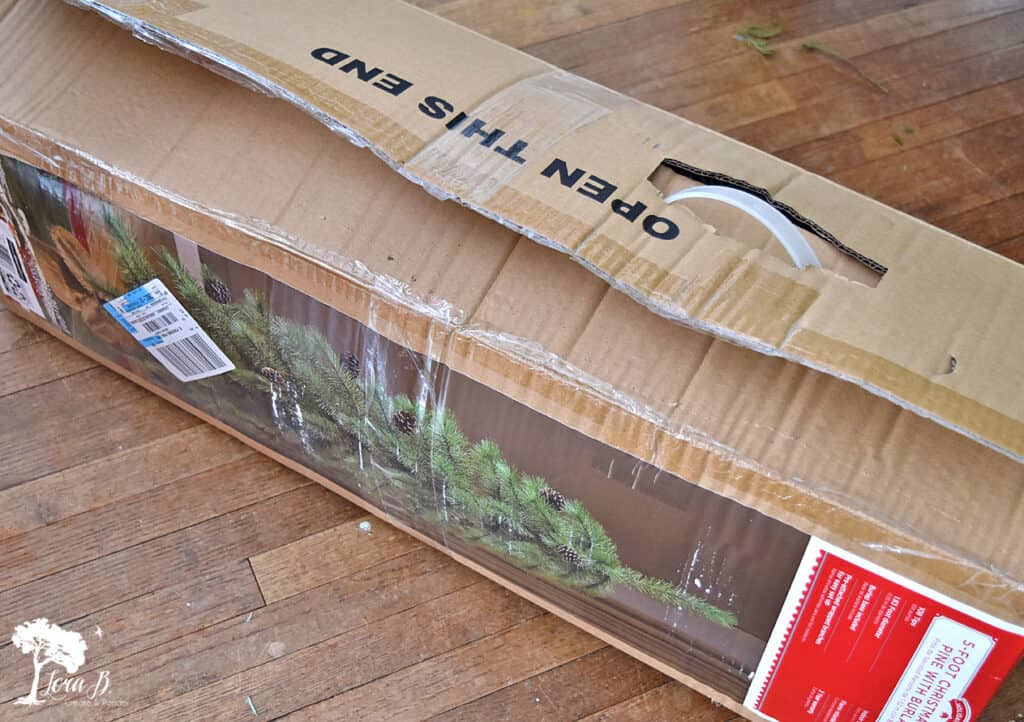 Leave Out Cozy Winter Decorations
Don't pack everything away; it's nice to have some cozy winter decor for a little while longer. Where I live we'll be looking at the white stuff for awhile; it's nice to keep some twinkle lights around on dark nights.
Here are some items to keep out for winter decor:
pinecones, pinecone garlands and pinecone sprays
evergreen sprays
small evergreen trees
fairy lights
yarn balls
snowflake ornaments
glittery picks
Yes, taking down the Christmas decorations is a big job! If you had helpers to put it all up, they're usually not around on this side of the project. Put some motivating music on or listen to a podcast and just. keep. swimming…like Dory said in Finding Nemo. You'll be more motivated for the new year when it's done! And next year when you pull out those organized bins, decorating will be more fun, too!
For more organizing tips, read "10 Storage and Organizing Ideas for Seasonal Decor and Crafts".
Shop Christmas storage items down below.
Hope these 9 Smart Christmas Undecorating Tips were helpful! If you enjoyed your visit, be sure to become an Insider to keep the ideas flowing!
Pin and Share!