Add Flouncy Sleeves to a Flannel Shirt, Vintage Style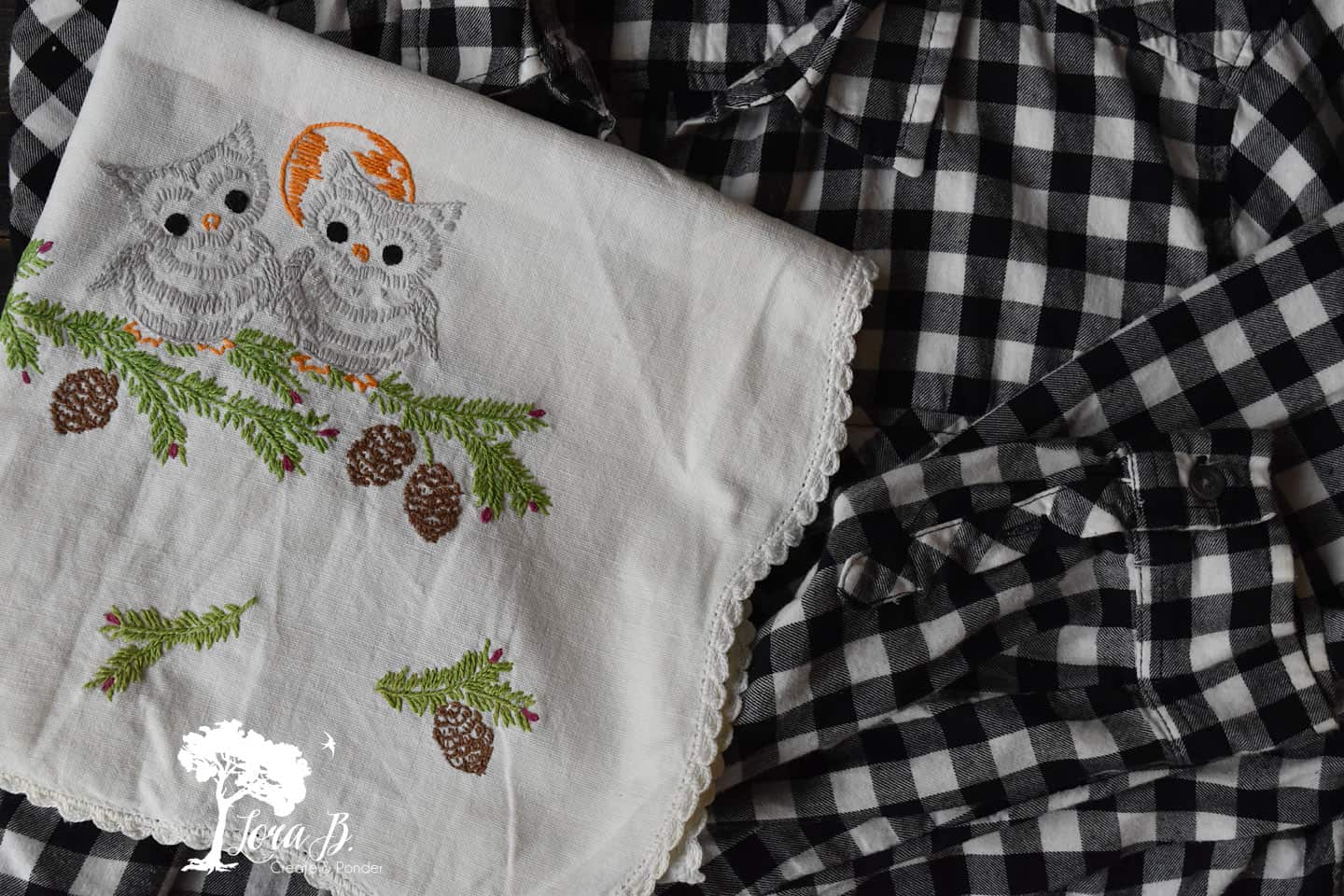 Each fall, it's time to pull out the flannel shirts and jeans! I welcome the switchover of my wardrobe, because I love change;) I've spied a couple unique boutique trends lately, and decided to try to imitate the cute flannel shirt upcycles I'd seen. Today I'll show you how to add flouncy sleeves to a flannel shirt, vintage style.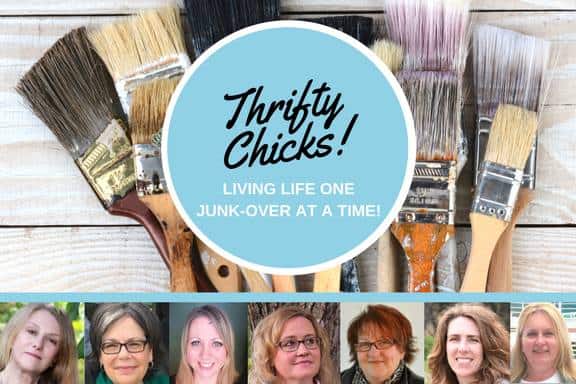 It's time for another Thrifty Chicks Challenge, and this time we challenged ourselves with upcycling flannel! Perfect theme for our cooler fall temps, right?
Everyone's Flannel inspired project links will be at the end of this post. Make sure to check them out. I can't wait to see what these talented ladies came up with this month!
I usually do projects that revolve around home styling or repurposing junk, but this time I was inspired to take a stab at fashion:0 Kind of scary for this jeans and t-shirt girl, but I'm pushing myself out of my comfort zone!
Have you been noticing all the flouncy sleeves at every store like I have? I've kind of got a crush on this new fashion. And then when I spied some flannel shirts with vintage linen flounces decorating the sleeves at a couple vintage markets, I was hooked. I just had to give this upcycle a try myself, and I've got boatloads of linens to experiment with!
As you can see in the top pic, I decided to experiement with one of my black and white buffalo check flannel shirts from a couple years ago. The cute owl runner seemed to coordinate well with the black pop of their eyes. Let the cutting begin!
I cut 10 1/2″ off my shirt sleeves, so the flounce would start above my elbow.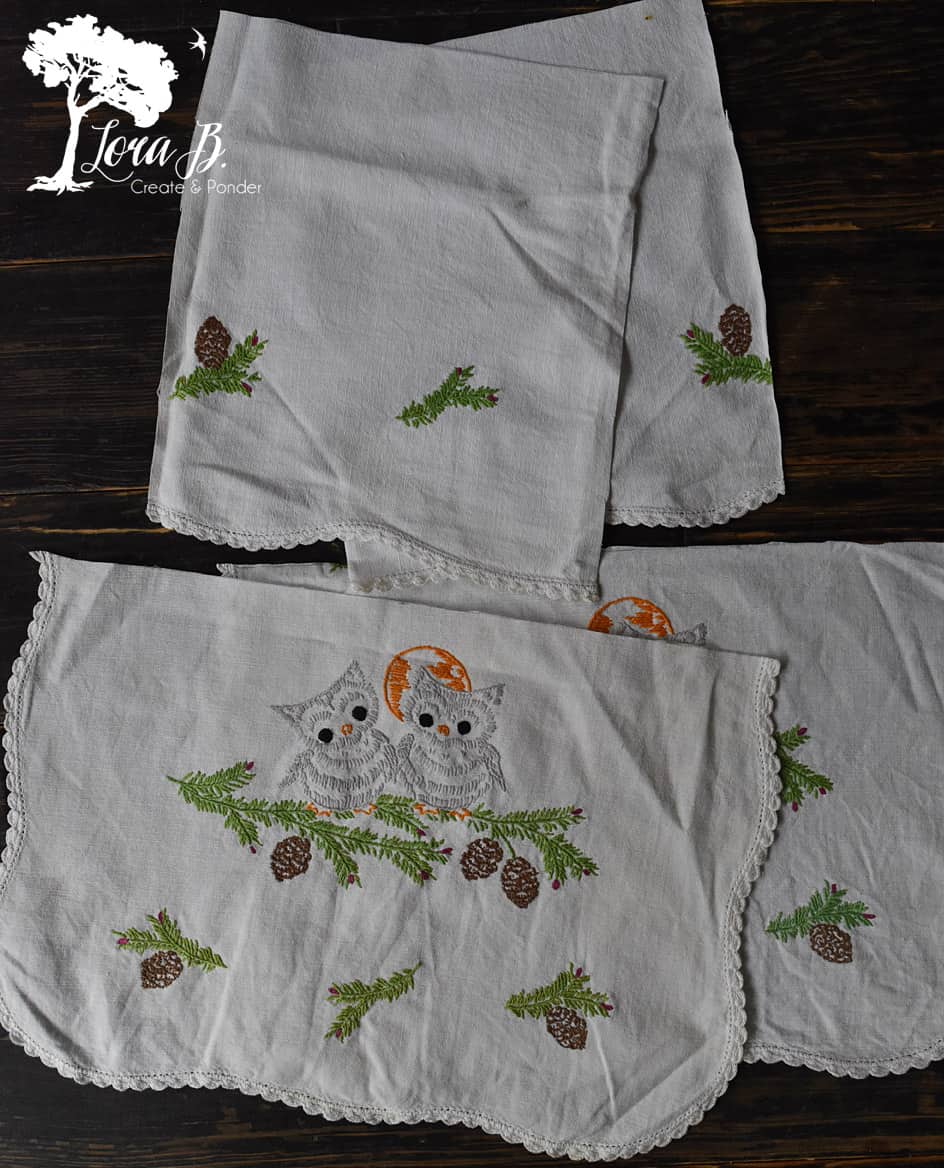 I knew I wanted the owls and the moon to show, so I worked with the pattern of this dresser scarf. I really liked the scallopy edge and how it would look for sleeves. I already own a shirt with 7 1/2″ flouncy sleeves, but these sleeves were going to end up being 9 1/2″ because of the owls. The width of the runner was not quite full enough, so I split the middle piece of the runner also to add enough width to gather.
My black and white sleeve opening was 14″. My owl piece ended up being 22″, once I pieced the pieces together like this: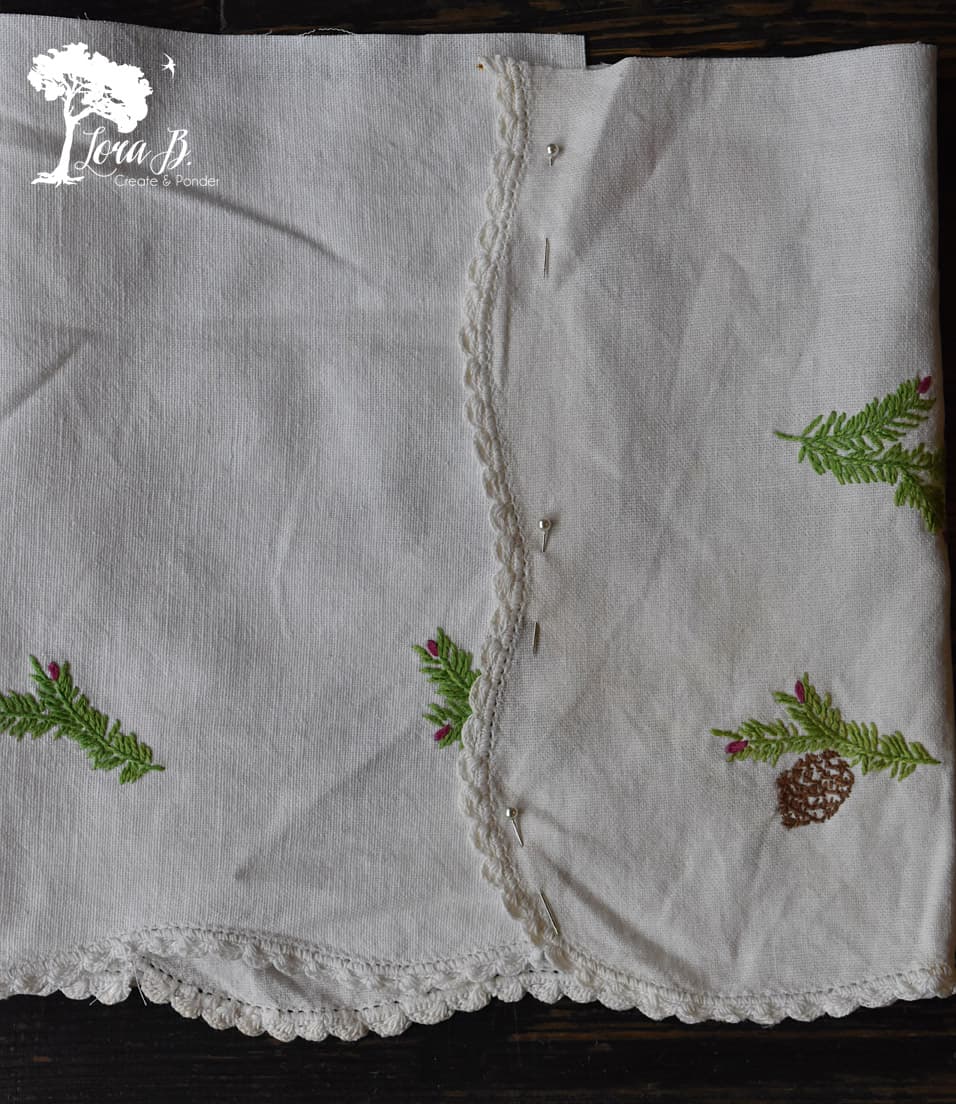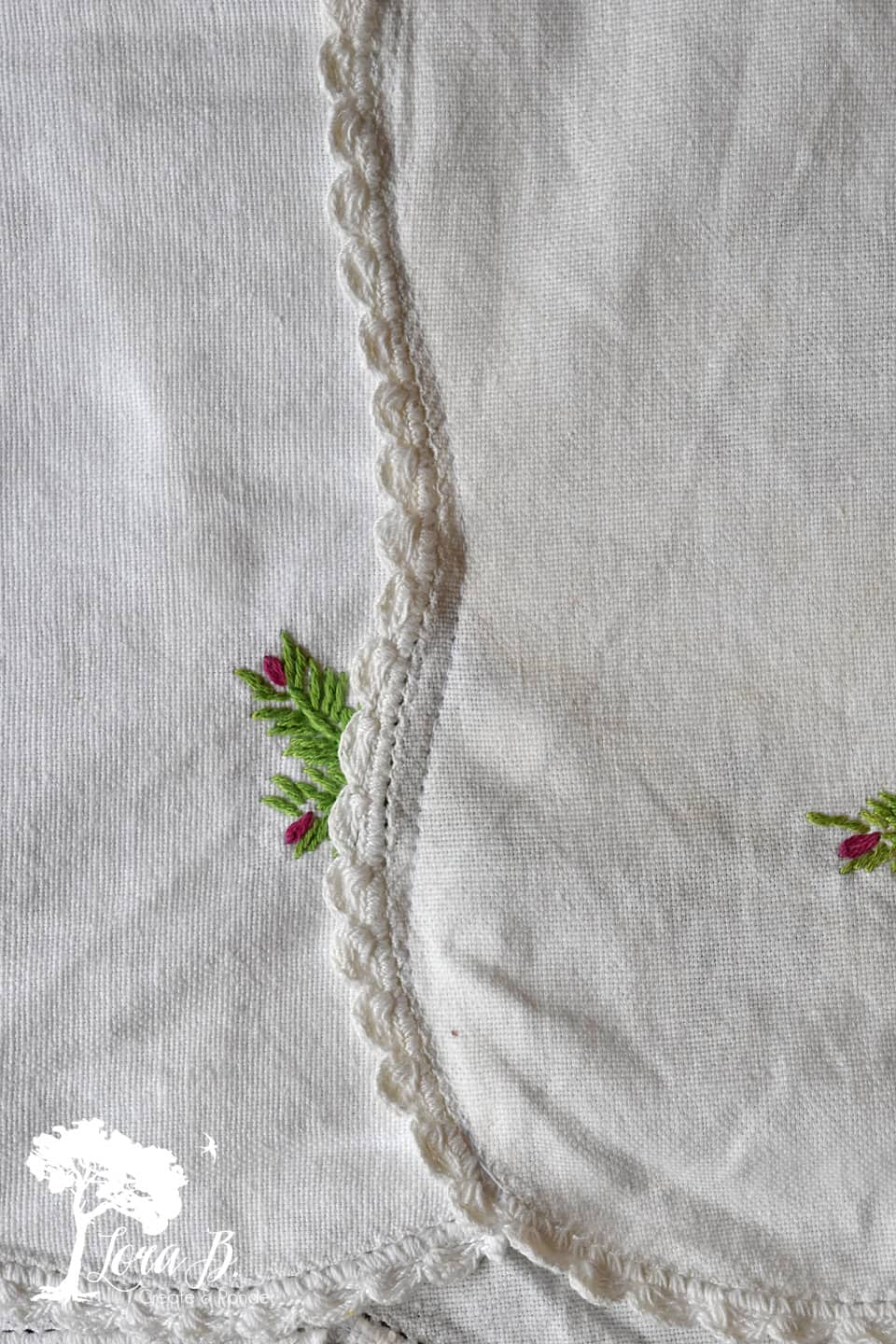 I did a flat seam so the detailed edge would be on top. I sewed along the scrolly edge and then tucked under the seam on the back side, sewing it again. Perfectionists might have a hard time with my process, but it worked;)
Once I sewed that extra piece on both sides of the owls piece, I had a round sleeve that just needed some gathers.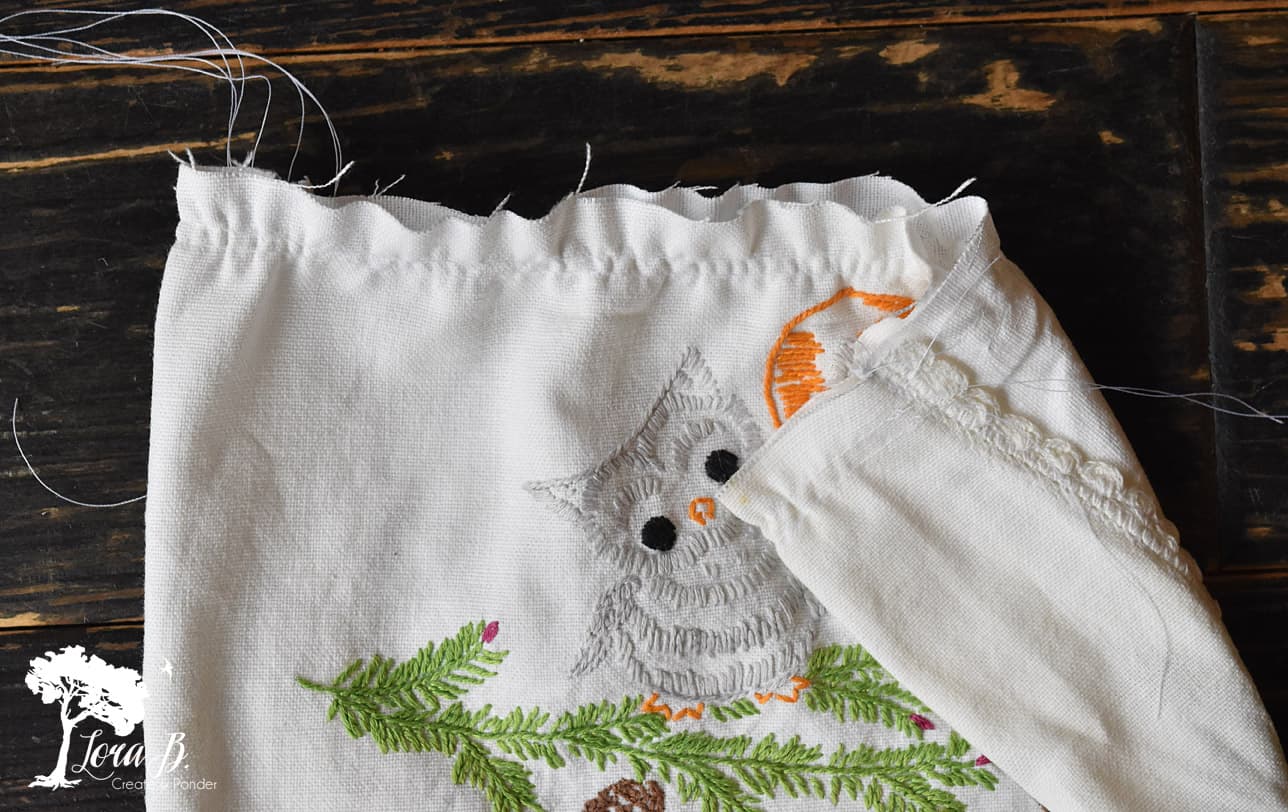 Between the detailed seams I sewed two rows of a basting stitch, 1/2″ and 5/8″. Then I pulled the stitching to create gathers.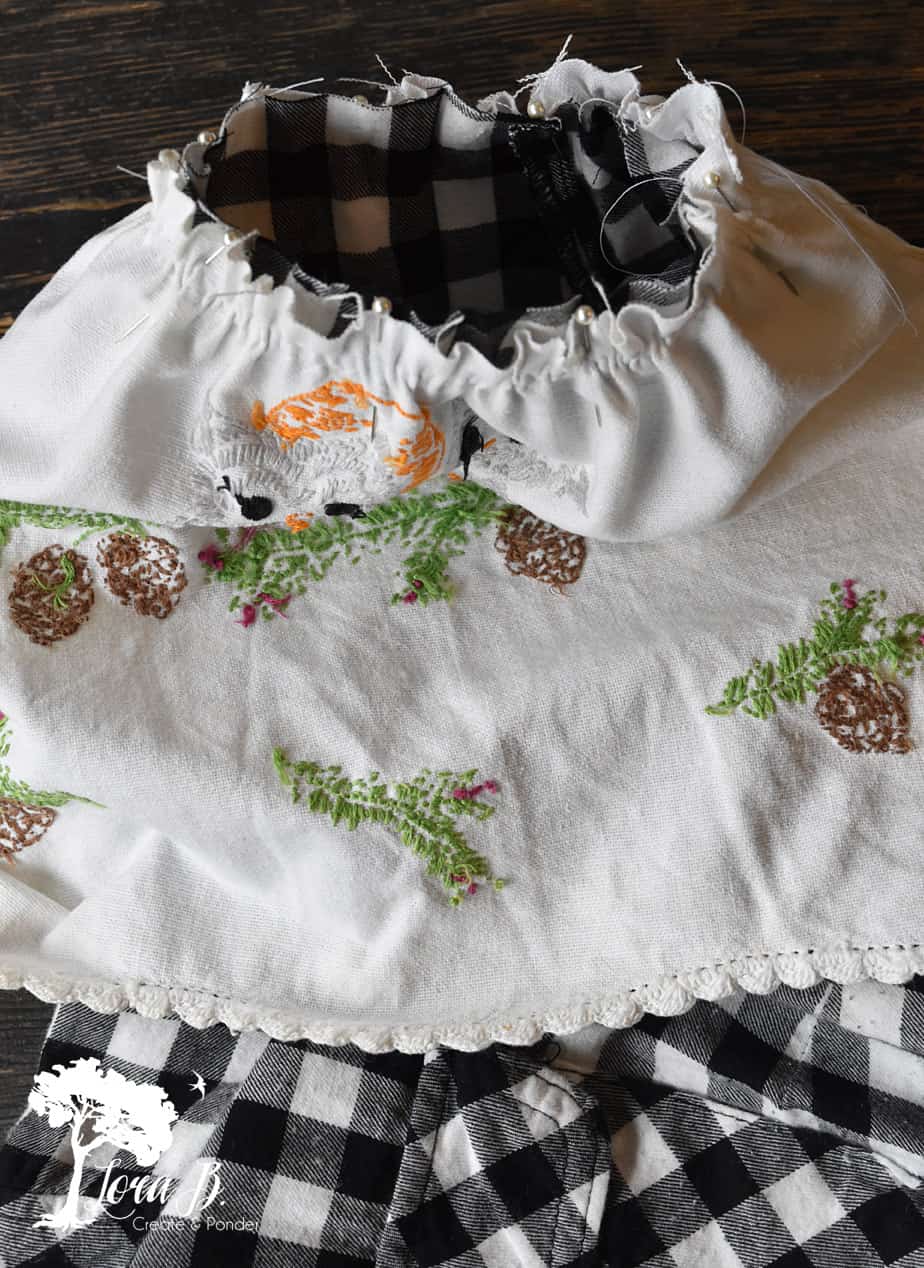 With right sides together, making sure the cute owls would be placed on the top of my sleeve, I pinned together, adjusting the gathers. Then I sewed the seam and held my breath!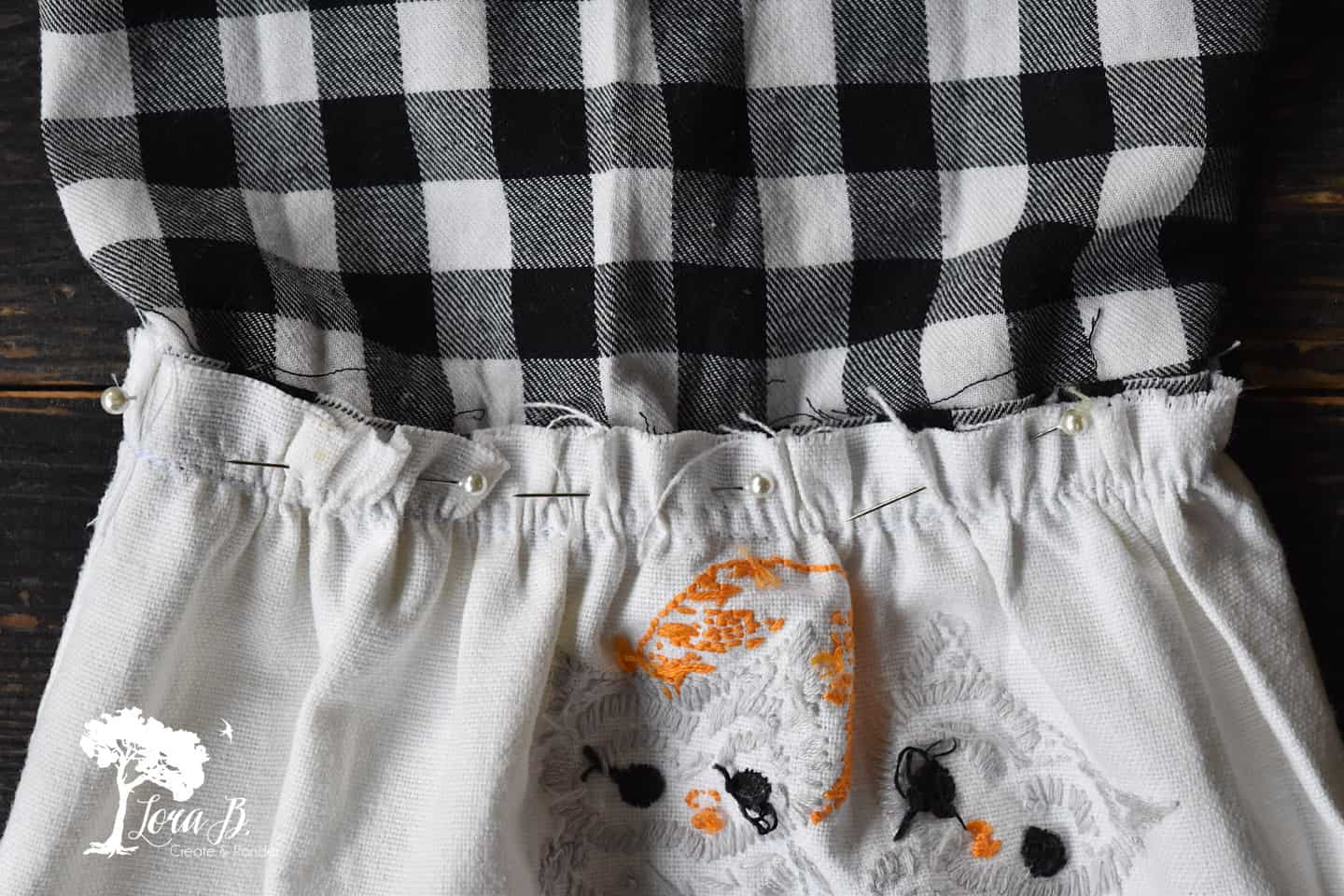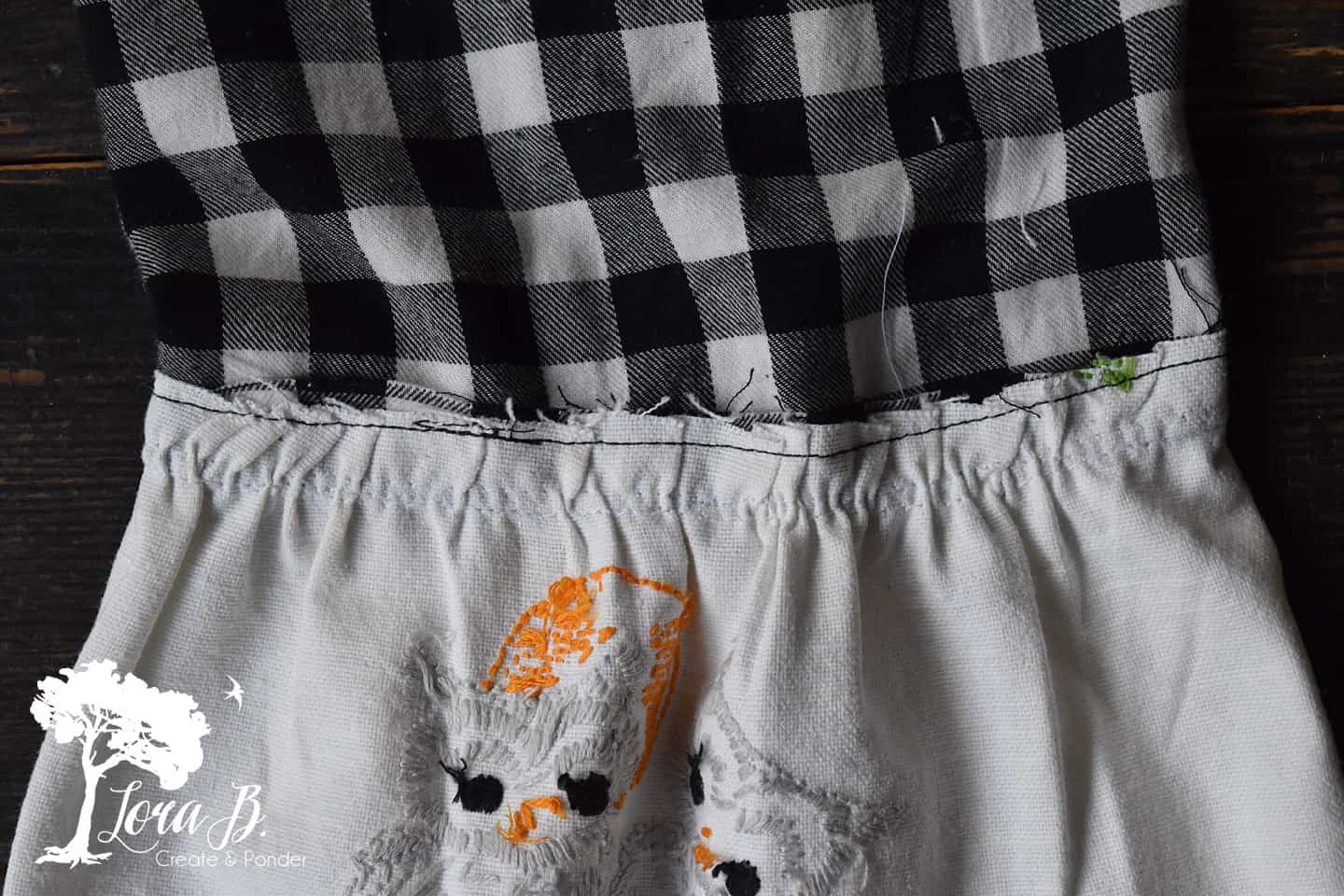 I ironed the seam toward the shirt and pinned and then sewed the seam down. I didn't want to be catching that seam every time I put my arm into the sleeve.
Ready for the big reveal??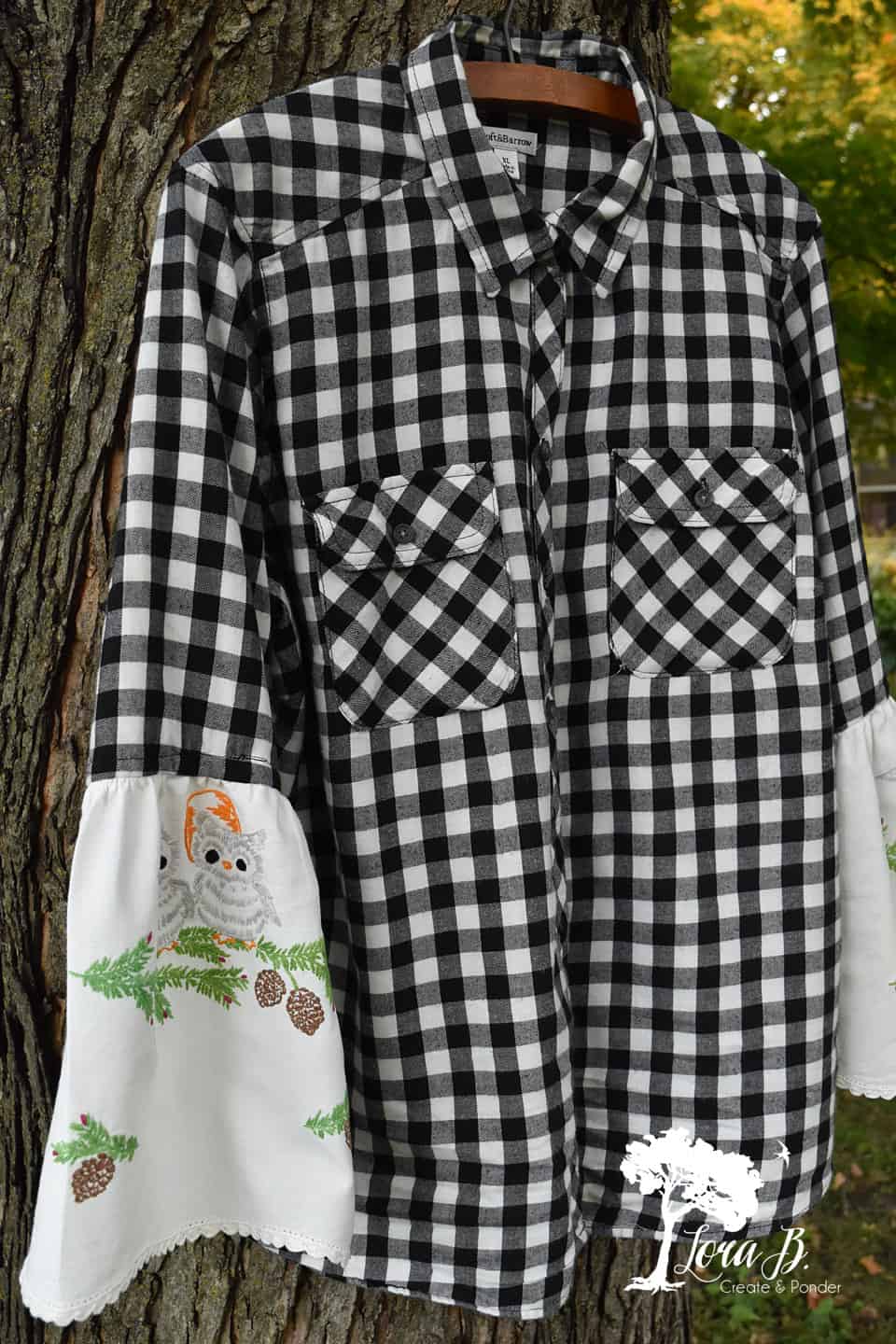 Kinda cute, I'm thinkin'!
Some thoughts for next time: Since my runner was longer, think I may cut more of the black and white sleeve off, cuz my arms are not the longest. Then it would be more like a 3/4″ sleeve which I like better. Guess you just need to adjust to your body and with whatever vintage linen you're using.
I would highly recommend using a linen with a detailed, scalloped edge for interest. Vintage runners or even pillowcases with embroidered details are perfect.
Fun project to try if you have basic sewing machine skills! Hope this tutorial will convince you to add flouncy sleeves to a flannel shirt, vintage style!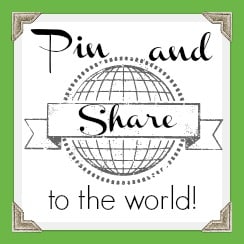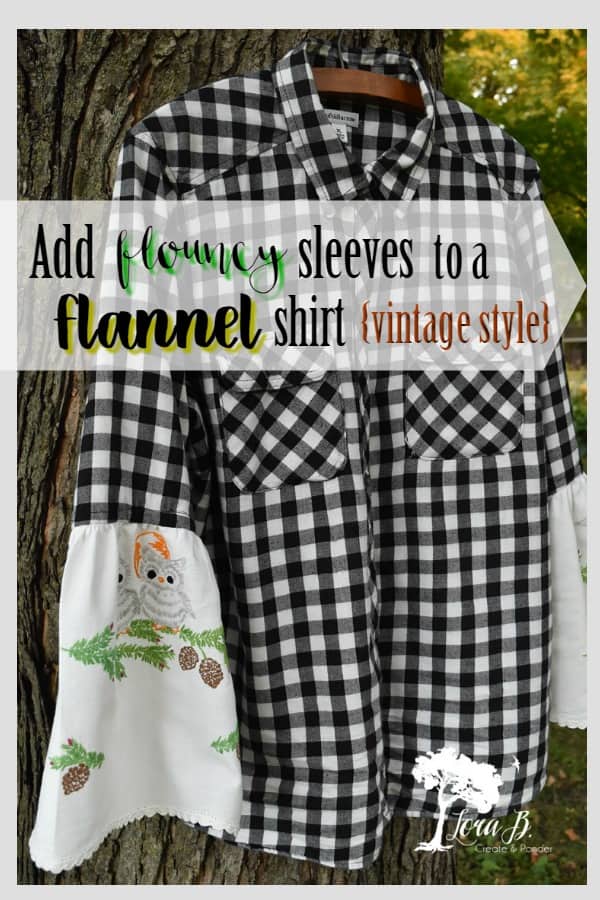 Now to see all my friends' Flannel Projects!
Here are their befores: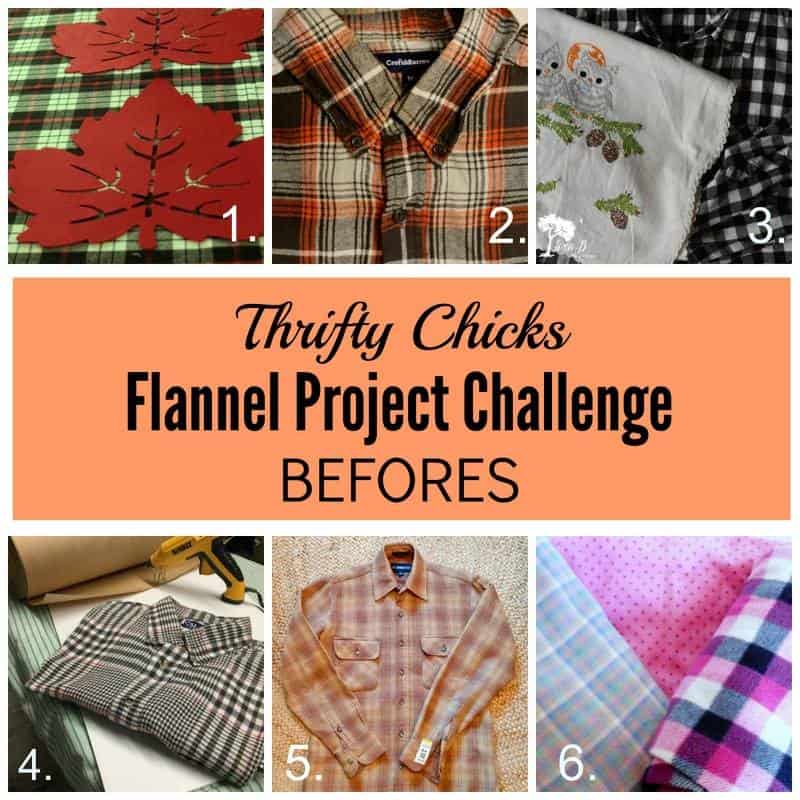 Click on the post title to see each of their projects:
Debra at Shoppe No 5, "An Easy Way to Make Cozy Fall Flannel Placemats"
Diana at Adirondack Girl at Heart, "3 Fall DIY's, One Thrifted Flannel Shirt"
Me;)
Marie at Interior Frugalista, "How to Line a Trunk with An Old Flannel Shirt"
Tania at Little Vintage Cottage, "5 Things to Make With One Flannel Shirt"
Tuula at Thrifty Rebel Vintage, "Quick and Easy No-Sew Pumpkins Made from Flannel Pants"
If you'd like to see more of our monthly Thrifty Chicks Challenges, check out these posts:
September's theme, Chalkboards: "Chalkboard Wall in the Pantry"
August's theme, License Plates: "License Plate Trug How-To"
July's theme, Kitchen: "Sewing Machine Drawer Kitchen Organizer"
June's theme, Chairs: "Leg-O-Matic Chair Refresh"

Sharing at these lovely parties:
Sundays at Home